Water Bottle Refill Stations at Disney World
Refillable water bottles are a great way to stay hydrated while you're touring Disney World, and they're good for the environment too. There's just one problem – where do you get them topped up? Disney has been gradually adding water bottle refill stations, and below is a list (with pictures!) of all the locations we could find in each park. Tap any link below to skip directly to that section. And Disney? Note for the future? We'd love it if these were marked on the map in My Disney Experience.
Water Bottle Refill Stations at the Magic Kingdom
Water Bottle Refill Stations at EPCOT
Water Bottle Refill Stations at Hollywood Studios
Water Bottle Refill Stations at Animal Kingdom
Water Bottle Refill Stations Outside the Parks
General Tips for Refilling Water Bottles
Before we get to the list, let's talk about the big picture. Most of the water bottle refill stations you'll find at Disney World are attached to drinking fountains, although some of them are dedicated fillers. But not every water fountain has a refill station. In the bad, bad old days when none of these fountains had bottle fillers, we still filled bottles from these bubblers. Mostly it works (unless the water pressure is really bad); you just need to hold the bottle at an awkward angle and you might not be able to get it completely filled. Still, it's an option.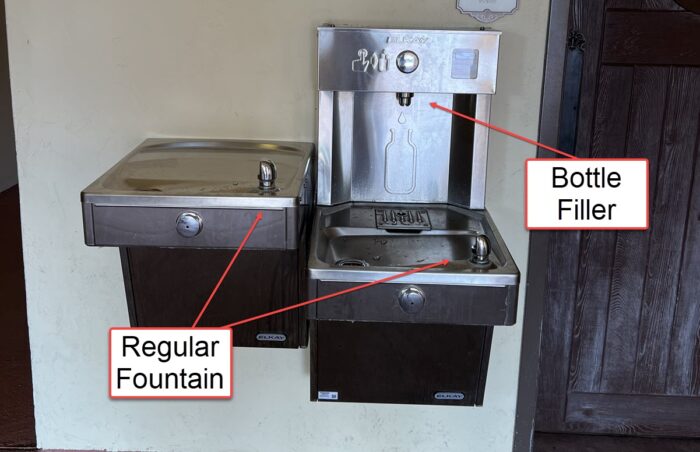 Another option is to ask for free ice water at the counter of a Quick Service restaurant. (Note that it has to be an actual restaurant with a kitchen and dedicated seating, not a snack stand or cart.) The downsides here are that you'll have to wait in a line and the cup may be small in comparison to your bottle. If your goal was to be eco-friendly, using the cup to refill your reusable bottle isn't going to help with that. But the upside is that those cups of water will come with ice, which might matter to you. If a Quick Service restaurant has a self-serve soda fountain, you can use it to refill your bottle, getting the ice and the water without the wait or the cup. The best of both worlds!
This article is focused on convenient refilling, so the section for each park only includes bottle fillers and not regular water fountains. And we've also included restaurants with self-serve soda fountains, sometimes known as beverage islands, since you can refill there yourself. (Don't try to refill with soda, that's a no-no. The soda cups have RFID chips and the soda dispensers won't activate without them.)
No matter where you're filling up, it's going to be tap water in your cup. If Florida's water doesn't taste great to you (and you'd be far from the only one), you've got two options. The first is to use a filter bottle such as those made by Brita, LifeStraw, and others. The second is to carry flavor packets or concentrated liquid flavorings such as Mio.
For more tips about getting enough water at Disney World, see How To Stay Hydrated at Disney World.
Water Bottle Refill Stations at the Magic Kingdom
Remember that Magic Kingdom is the oldest park and the bottle fillers are generally retrofits. For a long time it was the worst park for finding hydration stations, but Disney has been gradually adding more. None of the Quick Service locations have self-serve fountains, but there are bottle fillers at both Cosmic Ray's Starlight Cafe and Pinocchio Village Haus. And there's also a bottle filler outside the TRON restrooms.
The bottle filler at Cosmic Ray's is between Bay 2 and Bay 3, and the one at Pinocchio Village Haus is just as you exit to the courtyard. For the filler at TRON, note that the restrooms are just outside the queue entrance; unlike some other fillers we'll see later you do not need to enter the TRON queue to get to the bottle filler. Tap the images below to expand them.
Water Bottle Refill Stations at EPCOT
EPCOT is a great park for refilling water bottles. There are two filler stations in the middle of the park; one at the Odyssey between World Showcase and World Discovery, and the other near Refreshment Port between World Showcase and World Nature. There are also three refill stations at the front of the park in Worlds Nature, Discovery, and Celebration.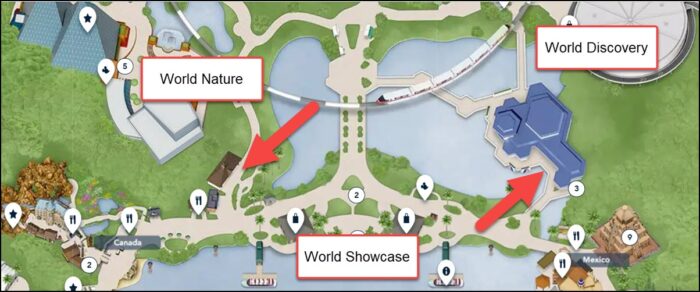 In the Odyssey, the station is located at the end of the long counter, on the World Showcase side of the interior. Near Refreshment Port, the station is located outside the Companion Restroom.
In Worlds Nature, Discovery, and Celebration, you'll find bottle fillers at Guest Relations, Connections Eatery, and Journey of Water Inspired by Moana. Outside Guest Relations, the hydration station is to the right as you approach the doors. At Connections Eatery, the filler is near the restrooms. At Journey of Water, look to the right of the entrance as you face the attraction. Tap the images below to expand them.
You can also refill your bottle at the far side of World Showcase by taking advantage of the self-serve fountain at Regal Eagle Smokehouse: Craft Drafts and Barbecue. Near the front of the park, you can find a self-serve fountain in the Connections Eatery (where there is also a filler), or in the Land Pavilion at Sunshine Seasons. It's not a Quick Service, but we've occasionally seen guests fill water bottles at Club Cool. Last but not least, if you're hopping to or from EPCOT through the International Gateway, you can find a bottle filler outside the bathrooms between the Skyliner and the park entrance.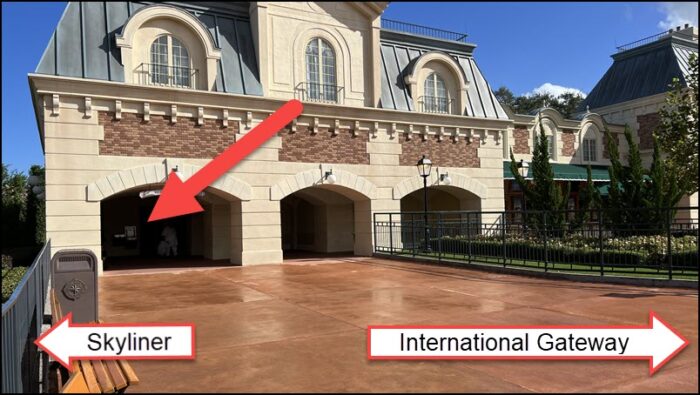 Water Bottle Refill Stations at Hollywood Studios
Remember how we said the fillers are more likely to be found in newer lands or new construction? At Hollywood Studios, all three water bottle filling stations inside the park are in Galaxy's Edge. Two are marked on the map below; they are basically on opposite ends of Batuu.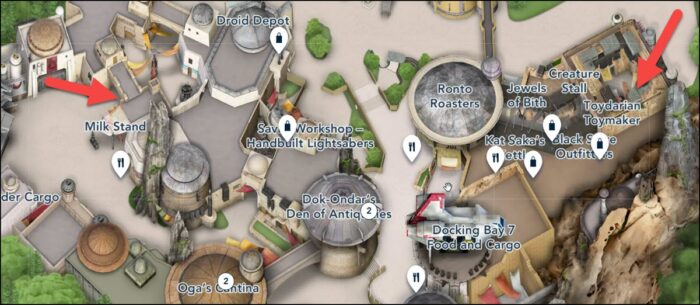 There's one near the restrooms in the marketplace, one around the corner from the Milk Stand, and one in the exit tunnel from Millennium Falcon: Smuggler's Run. The filling stations are shown in more detail below; tap to enlarge.
In addition to the three bottle fillers in Galaxy's Edge you can refill your water at self-serve soda fountains at Backlot Express in Echo Lake, and ABC Commissary in Commissary Lane. If you're entering or leaving the Studios, you'll also find a pair of water bottle fillers at the restrooms just outside of the parks. There's one outside each of the Men's and Women's side of the bathrooms.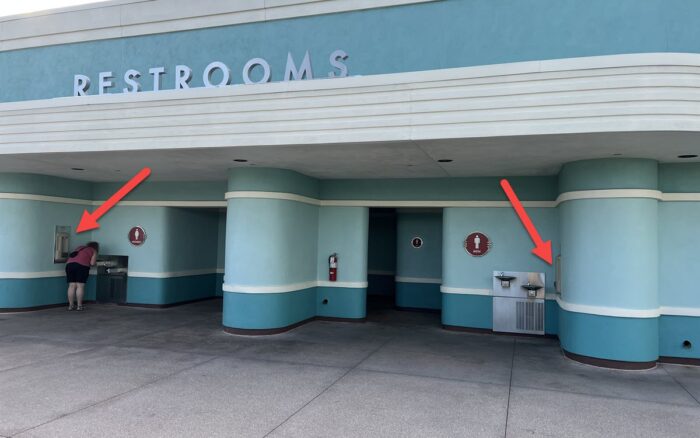 Water Bottle Refill Stations at Animal Kingdom
At Animal Kingdom the bottle refill situation is … unique. There are two bottle fillers, but they are both in attraction queues. This seems like an odd choice, but since there's also a bathroom in the Flight of Passage queue who are we to argue? Both of these fillers are in Pandora, one in the queue for Flight of Passage, shortly before the bathroom, and one in the queue for Na'vi River Journey. The one in the Na'vi River queue can be seen from behind as you approach it, so you'll have plenty of time to get your bottles ready. There are also two Quick Service locations that have self-serve soda fountains: Satu'li Canteen in Pandora, and Restaurantosaurus in Dinoland.
Water Bottle Refill Stations Outside the Theme Parks
Outside the theme parks, there's a lot of Disney World to cover. The good news is there are also a lot of bottle fillers, and more being added all the time. There's so much ground to cover here that we don't have pictures of all of them.
At Disney Springs
At Disney Springs, water bottle fillers are found outside many of the restrooms. To be clear, we're talking about Disney Springs restrooms here, not restrooms in individual restaurants or shops. You can also get ice water from Quick Service locations, the same as in the parks. We've also spotted them
At the Resorts
There are bottle fillers at almost every Disney resort. Unlike most of the fillers in the parks, which are hydration station combos of a bottle filler and a water fountain, we've seen several filling stations installed as an "add-on" placed into the wall as shown below. My guess is that these are easier to retrofit into the resort's plumbing.
Accordingly, since more are being added all the time, I'm not going to list any resorts as "not having" filler stations, because next week they'll probably put one in and prove us wrong! Instead, here's what to know about how to find them. First things first, the fastest way is to ask at the front desk. But if there's a line or you're just passing through for a meal, here are the most common locations.
Near lobby restrooms
At or on the way to bus stops or transportation hubs
At or nearby to pool restrooms
At playgrounds
Don't forget: if you're staying at a resort and it doesn't have a bottle filler, it will still have a self-serve Rapid Fill station at the Quick Service or Food Court, and you can fill your water bottle there. At resorts where the Quick Service is not near the main pool, there's often a second Rapid Fill Station at or nearby to the pool.
At Mini-Golf
At Fantasia Gardens, there's a bottle filler at hole 9 of the Fairways course. Although the filler is located near the Fairways hole, it's also accessible from the Gardens course.
Did we miss anything? What are your tips for using refillable bottles in the parks? Let us know in the comments!
Originally published May 9, 2023. Last updated September 21, 2023.