Keeping Your Cool at Disney World
The season of Disney World heat is upon us. Take a look at the chart below and you'll see that while it's warm most of the year in the Orlando area, during July and August it never cools down, even at night. While the icky stickiness is real and persistent, there are some things you can do to take the edge off. Walt Disney World is HOT, but you don't have to be.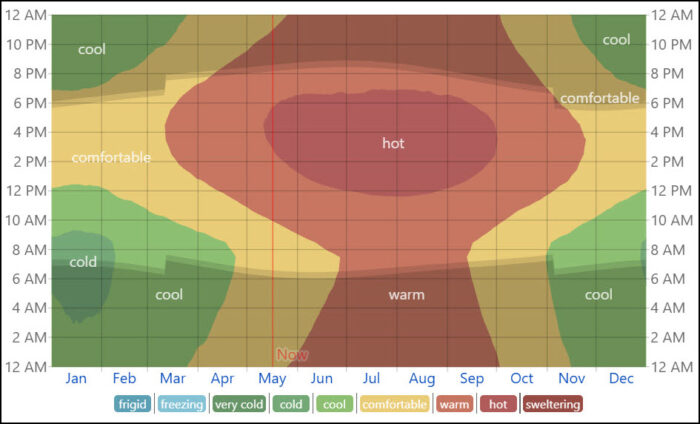 Plan Your Day Around the Heat
Looking back to the chart above, you'll see that the worst of the heat occurs in the noon to six p.m. range. You probably can't avoid all outdoor activities during those hours—but you can plan your day to minimize situations like long waits in unshaded outdoor queues. Things to consider working into your plan:
1— Arrive as early as possible. In August at Disney World, rope drop isn't just a strategy for beating the lines, it's a strategy for beating the heat.
2— Do outdoor park attractions first thing in the morning or near park closing. This is also a smart strategy because there are often thunderstorms in the afternoon that might close outdoor attractions.
3— Do indoor, air-conditioned attractions during the afternoon. This is another smart strategy, because if it's not raining then this is when many of the popular attractions will have their longest lines. But many of the indoor attractions are shows, with shorter lines.
4— Have a long-ish sit-down indoor lunch as your main meal of the day, leaving more time for park touring in the cool evening. Try aiming for 1 p.m. or a bit later. That will put you at the end of the lunch rush in addition to getting you indoors right as peak heat really sets in.
5— Leave the parks during the afternoon to nap or swim. I haven't gotten to it yet, but the last item on this list will say something about touring the parks in the cool of the evening. If you want to arrive early and stay late, a siesta will serve you well.
6— Stay late. By 6 p.m. the worst of the heat will start to break, or perhaps earlier if it rains. Crowds tend to be lighter in the evening, and touring is much more comfortable as well.
Take it Slow, With Frequent Breaks
During the winter months, I'm happy to race from one end of a park to the other, getting my steps in and hitting every attraction. During the heat of the summer, I like to keep excess movement to a minimum. If you're a repeat visitor, maybe this is the trip where you decide not to "do it all" and instead just enjoy your favorite rides supplemented by others that are nearby and have lower wait times. If you're a first-timer and really want to get it all in, consider trading a longer – but nearby – line for one that's across the park.
It's not just the heat: the high humidity makes it harder to cool down. One of your body's natural cooling mechanisms is the evaporation of sweat, but in the doldrums of summer, nothing evaporates outdoors at Disney World. Taking frequent breaks will let you go "slow and steady" when it comes to managing the heat. Ducking into an air-conditioned store for a few minutes can be a good way to take a small break.
Stay Hydrated
Adequate hydration is key to surviving the heat. Disney World sells bottled water at stores, restaurants, and kiosks throughout the parks and resorts. Prices for bottled water vary, but in most cases you'll pay in the $3-6 range for a single-serve bottle. If you want to save your pocketbook (and be kinder to the environment), a better bet is to use a refillable water bottle.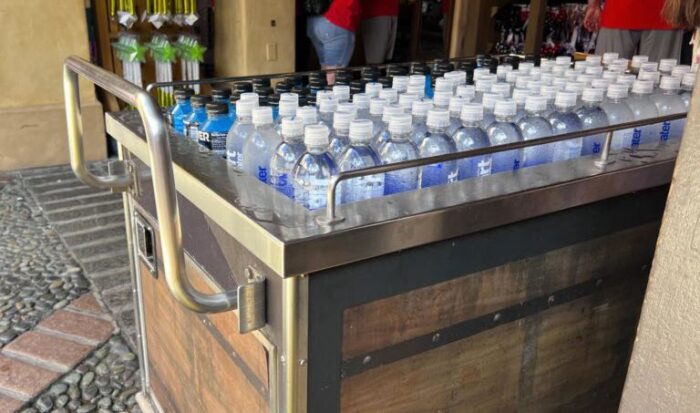 Disney will provide free ice water at any Quick Service restaurant. Be aware, however, that the free ice water comes in small, lidless paper cups. If you want to fill up your own bottle, you might be better off asking for a cup of ice (to put in your bottle) and then getting the water elsewhere. See: Water Bottle Refill Stations at Disney World
If you want to replace electrolytes as well as water, Powerade is also widely available at Disney World, with single-serving containers typically priced at about $5.00. As a savings alternative, you may want to consider buying a product like Nuun Sport electrolyte drink tablets to put in your own water bottle. There are a variety of flavors, as well as being more economical.
Eat Lightly, Choose Wisely
I too want ALL THE SNACKS at Disney World, but during this time of year, you might want to save your heavy snacking for the evening or avoid it altogether. When you do grab a daytime snack, think about choosing foods that are high in water content. They won't leave you feeling draggy and they'll help with hydration. We have tips on the best things to eat for hydration (hint: Dole Whip is on the list).
The early start of the Epcot Food & Wine Festival (opening July 27 this year) is a strange bit of torture. Everything is yum, but indulging in hot cheddar cheese soup when it's 90+ degrees out is a sure ticket to gastric distress. As to the "Wine" part of the Festival: a cold beer or cocktail on a hot day sounds delightful, but make sure that you don't imbibe enough to make you forget sun safety. And not to beat a dead horse, but make sure to hydrate properly if you're drinking alcohol – have a glass of water for each alcoholic drink you take in.
Find the Pockets of Cool
In addition to indoor air-conditioned spaces, Disney World has a number of outdoor cooling spots. Among them are the misting stations at the Coca-Cola stand in Tomorrowland and at the giant totem statues near the Jungle Cruise, both in Magic Kingdom. There are misting stations at each of the other parks as well.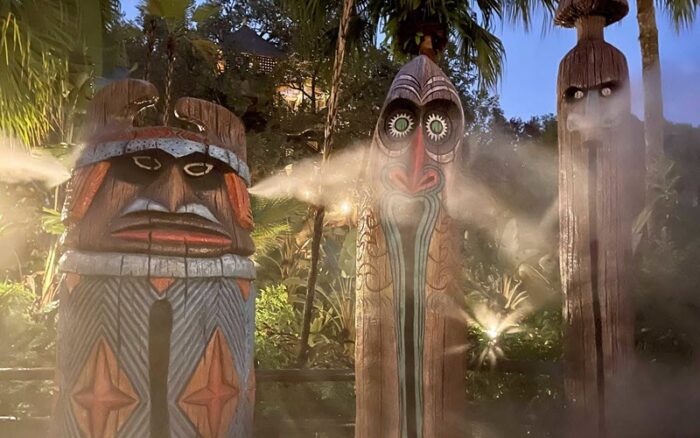 For a more thorough soaking, there are water play areas such as Casey's Splash Zone in the Storybook Circus area of Magic Kingdom. And some attractions, such as Kali River Rapids, are bound to get you soaked – a drenching might not be ideal in the winter, but during Disney summer it can be a welcome refresher. One thing to keep in mind with these attractions that can get you really wet is timing. If you'll be heading for an air-conditioned Table Service lunch right afterward, you might want to hold off.
If it's so hot that no amount of planning will help you to stay cool while touring the theme parks, a visit to a Disney Water Park can be a great way to cool off. Even if you didn't purchase the Water Parks & Sports option, you can add it on with a visit to Guest Relations – it costs about the same as a one-day ticket to a Water Park. Less, if you already have Park Hoppers!
Make Your Own Pockets of Cool
Savvy park-goers will also make use of personal cooling devices. These might include special cooling towels (about $17 in the parks, but widely available elsewhere for less), handheld paper fans (about $14 in the parks), handheld electric fans (USB or battery charged), or misting fans. Misting fans are typically available for $15-20 in the Disney World parks. For more about personal cooling devices see Keeping Cool in the Parks: Battery Power or Ancient Tech?
Don't forget about your little ones! There are many variations of fans and misting fans that clip onto strollers to help keep your kiddos cool.
Wear Sunscreen and Dress Lightly
Wearing sunscreen won't keep you cool in the moment. But sunburned skin actually produces heat, which is the last thing you need! Preventing burns will make your stay at the parks much more comfortable, not to mention safer. Coppertone is available at many shops in the parks and resorts. If you prefer a different brand, bring it from home or have it delivered to your hotel by Amazon or Instacart.
Loose clothing in light colors is one key to keeping cool, and it might be part of your sun protection plan too. Opt for flowing tops in cotton or linen. Technical exercise clothing is another good option. If you're not planning to make a mid-day trip back to your hotel, you might consider bringing an extra shirt to allow you to freshen up during the afternoon.
Don't forget about your face and eyes. Sunglasses, wide-brim hats, and even parasols can all play a role in keeping you cool, comfortable, and protected from the sun.
Think About Your Transportation
The hottest I ever was at Walt Disney World was on a 100+ day in August walking through the EPCOT parking lot searching for my rental car. The blacktop reflected and radiated so much heat that the lot looked like a mirage. And then when I finally found the car, the inside was almost too hot to touch.
If you will have a car with you, consider a windshield shade. Or perhaps avoid this situation altogether and decide to use the Disney buses or an Uber, both of which will be air-conditioned and cool when you enter.
Do you have any favorite tips for managing the heat at Disney World? Let us know in the comments!