What Can I Book Before My Disney Cruise Line Sailing?
You've booked your Disney Cruise, yay!
While you could be done with your planning until it's time to check in for your sailing, many guests take them extra step to book additional elements of their vacation in advance. Here's what you need to know.
When can I book additional DCL items?
Your booking window opens after you've paid in full for your cruise, based on your Castaway Club status or stateroom level.
First Time Guests may make reservations 75 days prior to sailing.
Silver Castaway Club Guests may make reservations 90 days prior to sailing.
Gold Castaway Club Guests may make reservations 105 days prior to sailing.
Platinum Castaway Club Guests may make reservations 120 days prior to sailing.
Pearl Castaway Club Guests may make reservations 123 days prior to sailing.
Concierge-level Guests may request reservations from the shoreside concierge 130 days prior to sailing. They will add the reservations to you account 123 days prior to sailing.
Am I required to book anything in advance?
No. If you want to stick to a modest budget or if you just want to have a totally unplanned vacation, then you don't have to bother with any of the things below. That said, if you do want to partake in onboard or port activities that are available for pre-booking, you should reserve them in advance. Popular items like mixology classes will almost certainly fill up in advance and will likely be unavailable for onboard walk-ins.
Will all my options be available when my booking window opens?
Mostly.
The vast majority of items that can be pre-booked will be available on the DCL website when the first booking windows open. However, I've seen enough exceptions to this to know that it makes sense to check back periodically, even during the morning of embarkation. DCL may add extra classes or additional slots on a port adventure if interest warrants. And other guests make cancellations all the time. Don't panic if your preferred activities are not available right away.
What Can I Book Before I Cruise?
Adult Dining
All five (soon to be six) Disney Cruise Line ships have at least one restaurant that is available only to guests ages 18+. The lower priced adult dining venue is called Palo on the Magic, Wonder, Dream, and Fantasy and called Palo Steakhouse on the Wish and Treasure. Additionally is there a more luxe, and more expensive, adults-only restaurant on four ships, called Remy on the Dream and Fantasy and called Enchante on the Wish and Treasure.
These venues all offer brunch and dinner on select days of every sailing. Additionally you may find that your sailing has special events such as dessert tastings.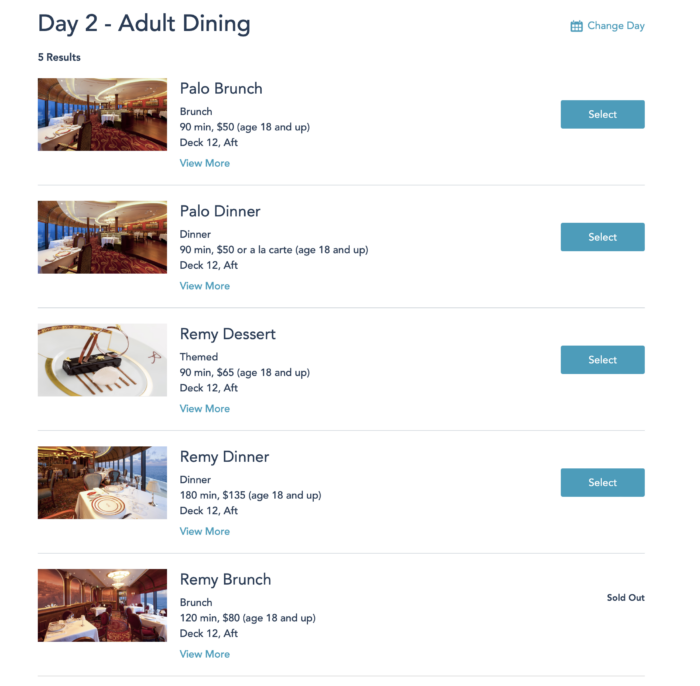 Port Adventures
Port adventures are planned excursions off the ship during port days. Port adventures vary widely depending on your ship's itinerary and may include anything from an inexpensive city walking tour to a multi-thousand dollar helicopter ride to a glacier.
Beverage Seminars
Every sailing hosts a range of adult beverage seminars. These last approximately one hour, cost between about $40 and about $100 depending on the beverage, and are limited to guests ages 21+. The seminars are lead by an onboard bartender or sommelier. They include some education information about the drinks as well as tasting-size portions of five or so representatives of type of alcohol. These seminars are extremely popular and are some of the first activities fully booked on every sailing.
You may find that your sailing offers seminars focused on bourbon, champagne, rum, cognac, beer, wine, tequila, or general mixology.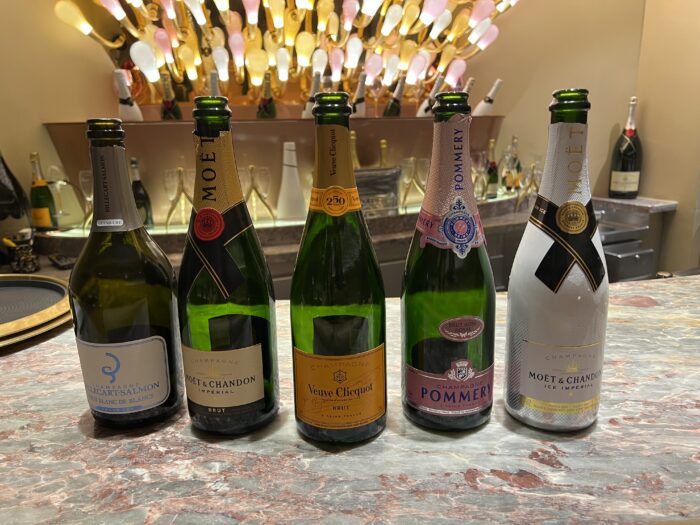 Spa and Salon Treatments, for Kids and Adults
Every DCL ship includes a spa and salon for adults as well as a Bibbidi Bobbidi Boutique makeover venue for children.
Treatments for adults (and sometimes teens) include things like hair styling, manicures, facials, shaves, massages, and minimally invasive medical procedures like teeth whitening, aucpuncture, and Cool Sculpting. BBB makeovers are designed to transform your child into a princess, prince, or pirate.
Photo Packages
You may book onboard photo packages in advance of your sailing. There's no true imperative to do this ahead of time; DCL will never "sell out" of photo opportunities. However, these is a modest price break if you reserve your photo package in advance.
Some Character Meet & Greets
Most sailings have a few reservation-only character greeting opportunities. These might include a session with four of five princesses at once or a meeting with rarer characters such as Guardians of the Galaxy Heroes on a Marvel-themed cruise. There is typically no fee for these Meet & Greets.
During a non-themed sailing (not Marvel, Pixar, or Halloween), most of the reservable characters will also be available to all guests at other times, you might just encounter a longer wait.
Character Dining
Some longer sailings offer character breakfasts that may be reserved in advance. They operate similarly to the character dining experiences in the Disney theme parks – characters stop by your table to pose for photos during your meal. There is, however, one giant difference between character breakfasts on the ships versus those in the parks: the character breakfasts on the ship are free.
Decidedly NOT free are the specialty children's experiences on some sailings such as the Royal Court Tea and Olaf's Royal Picnic, which also can, and should, be booked in advance.
Nursery Time
Reservations are not required for the youth spaces for potty-trained children and youth ages 3 and up (Oceaneer Club/Lab, Vibe, and Edge).
Reservations ARE required for the it's a small world nursery. Use of the nursery also requires a modest fee, while the clubs for older kids are included with the price of your cruise.
Sports Simulators
The Dream and Fantasy only house an indoor sports simulator on their sports decks. If you want to faux play a round at Pebble Beach, you can reserve this in advance.
Cabanas
There are fewer than 30 private cabanas available on Castaway Cay and presumably there will be a similar number available at Disney's second private island, Lookout Cay at Lighthouse Point, when it opens in 2024. The popularity of these few private oases means that they are almost always fully booked by Concierge, Pearl, and Platinum level guests. Try not to get your hopes up for a cabana if you're not at least a Platinum level guest.
Note: Don't confuse beachside cabanas with the buffet restaurant on the Magic, Wonder, Dream, and Fantasy named Cabanas. Everyone is welcome to eat at Cabanas with no reservation; pre-booking is not available.