Photo Packages on Disney Cruise Line – Frequently Asked Questions
You're going on a Disney Cruise. Yayyy!
Most folks are going to want to document some of that fun with photos. You can, of course, use your own phone or camera to take pictures, but like the Disney theme parks, there are professional photo packages available. Here's what you need to know.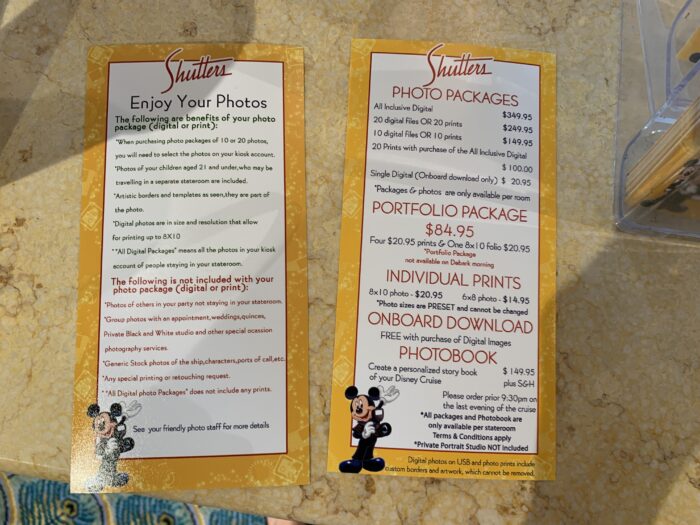 Do I have to have my photo taken while on a Disney Cruise?
Currently, no onboard DCL photo is mandatory. If you hate being photographed, or are 100% certain that you will never buy a photo, then feel free to wave off the photographers and go about your business.
That being said, there may be some situations where it's simply easier to smile and say cheese rather than go into a lengthy explanation about why you think your hair looks frightening when exposed to salt water. If you don't opt to buy the pictures, they'll simply be deleted at the end of your sailing and no one will see them
Why would I want someone else to take my photos?
A few reasons why you might want someone else to take some of your vacation photos include:
You want everyone in your party to be included in the photos.
You know that you're not a good photographer.
You want to have your photos printed with special Disney borders.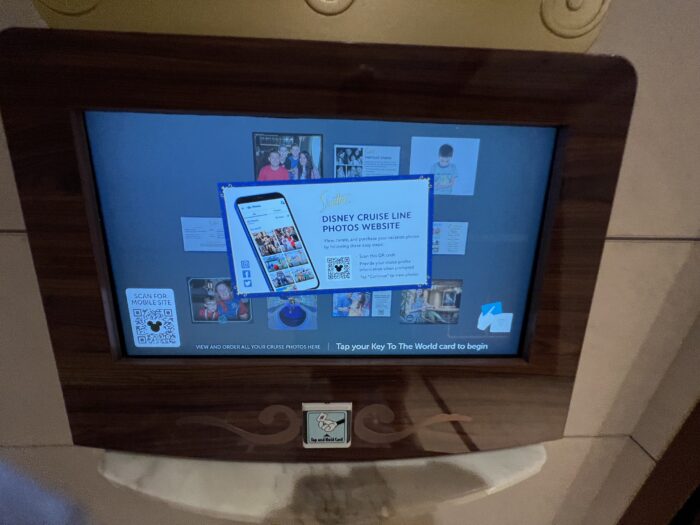 How much do DCL photo packages cost?
Just like in the Disney theme parks, you're welcome to pose for photos for free. But if you want to download any pictures or keep any of the images taken by the onboard professional photographers, you'll have to pay.
There are a variety of price points, but the most common is the all-inclusive photo package. These packages include the digital files of all the photos you have taken onboard. Depending on the length of your sailing, the size of your party, and how aggressive you are about putting yourself in front of the photographers, this could be anywhere from a dozen to several hundred pictures.
Prices vary based on the itinerary and number of nights of the cruise. In recent months, I've encountered prices of $349.95 for a six-night sailing and $229.95 for a three-night sailing.
Note: package prices are per stateroom, or possibly per two staterooms if you're traveling with minor children (more on this below).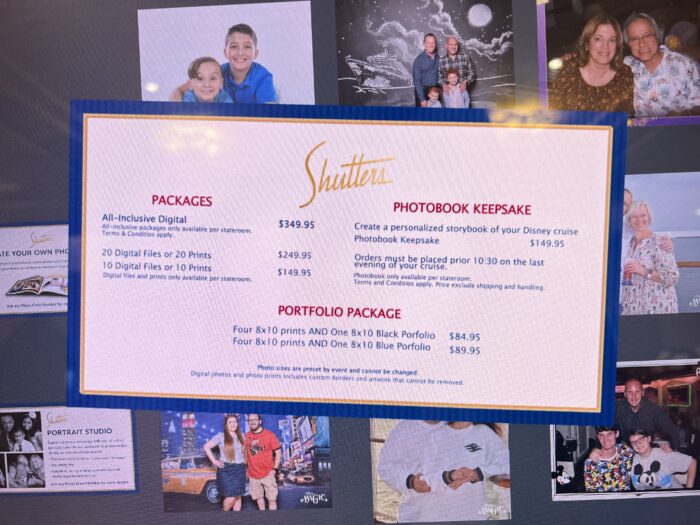 That seems like a lot, are there ways to make the photo package less expensive?
The prices above are the rates for photo packages purchased onboard the ships.
There is a small price break (often 10-15%) for buying your photo package online in advance of your trip. You can do this in the Cruise Activities activities section of the DCL website after you've paid in full for your sailing and your activity booking window has opened. (Activity booking windows are based on your Castaway Club status.) Advance photo booking must be completed at least three days prior to sailing in order to get the price break.
Pearl Castaway Club members (guests who have completed 25 or more sailings) are given a free photo package as part of their benefits, but other than that there are no discounts other than the early purchase rate.
You can, however, make the package more valuable by taking advantage of the photographers as much as possible. My family tends to buy the photo package on every second or third sailing. On sailings where we know we're buying the package, we make a game of seeing how many photos we can have the onboard photographers take of us.
Will taking lots of photos take too much of my time?
Depending on the itinerary and your interests, it might.
Let's say you're on a three night sailing with no sea days and you have lots of things to do in port. In this case, you'll have limited hours on the ship itself. Do you want these hours to be consumed primarily with finding enough photo opportunities to make your package "worth it"?
At the other end of the spectrum, you might be on a 12-night repositioning cruise with half a dozen sea days and not much of import on your agenda. In that case, you might end up acquiring dozens or even hundreds of photos with barely a blip in your day. Most cruisers are somewhere in the middle.
Is this a once-in-lifetime family reunion during the holidays? Probably buy the package.
Are you couple of frequent DCL cruisers on a quick 3-night jaunt. Maybe don't buy the package.
The choice is up to you.
I'm traveling with a larger party, can everyone be included in my photo package?
Not exactly.
In most cases, photo packages are allotted one per stateroom. However, cruise staterooms are tiny. It's common for even small parties to book multiple staterooms to give everyone more personal space. And of course larger parties may be booked across a similarly large number of cabins.
Let's start with the easiest example, two parents and two or more minor children staying in two staterooms. If you have two staterooms as part of the same booking, and guests under age 21 are in the second stateroom, the photos for both staterooms will show up in one package. This should happen automatically, but in my experience it often takes a trip to the onboard Shutters photo desk to make it happen.
In another example, I recently traveled on the Disney Wish with friends. They were in one stateroom and I (an adult) was in my own stateroom, but our reservations were linked and we ate dinner together and participated in some Port Adventures together. My friends opted to purchase the photo package and I did not. During our sailing, I posed in many photos with them. The pictures of us together (with me in them) were included in their photo package. Photos of just me were not included in their package. Once my friend downloaded her photos, she was welcome to share them with me, but none of these would be my own individual shots because I did not opt to buy them.
The upshot is – a purchased package is exclusive to the stateroom, but other people can be in the image. As long as at least one person from the stateroom with a purchased package is in the photo, then that photo will be included in their purchase.
My own children are now all over age 21. If my husband and I were traveling on DCL with them and we were in one stateroom and they were in another and I bought the photo package, their pictures would not be included in my package unless my husband or I were in the photo. If I wanted to get their pictures as well, I could do this at 50% discount (off the onboard purchase price) by stopping at the Shutters photo desk during my sailing.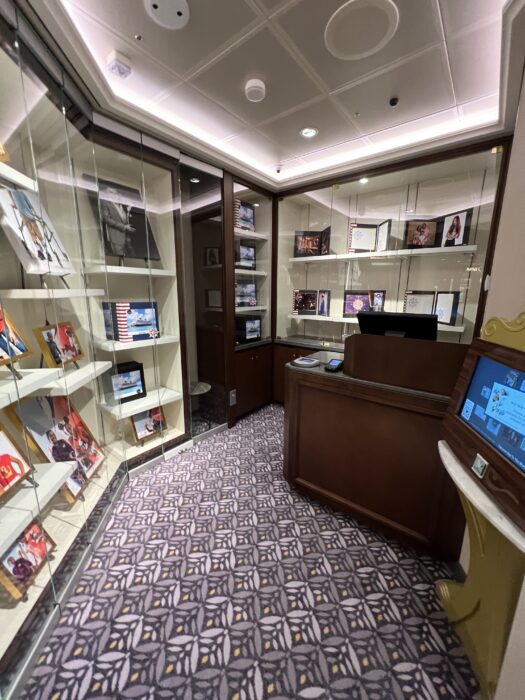 Are there options if I just want a few photos?
DCL offers different sizes of photo packages. Depending on the sailing, you may be able to buy a package of just 10, 15, or 20 pictures, rather than an unlimited package.
You can also buy individual pictures, though the fewer shots you buy, the higher the per-photo cost will be. If you're waffling between a total photo package and a smaller package, take a minute to look at the pricing for your sailing and figure out the break point number of photos you'd have to take to make the full package "pay out".
Typically single photo downloads cost about $21, packages of 10 cost about $150, and packages of 20 cost about $250.
How does Disney get the onboard photos into your account?
Two ways. For many photos, you'll tap your DCL Key to the World Card (room key) or DisneyBand+ on a reader held by the photographer. In other cases, DCL will automatically link pictures to your account via facial recognition. There can be glitches with this leading to either missing or extraneous photos. If you have an issue that needs to be resolved, stop by the Shutters photo desk during your sailing.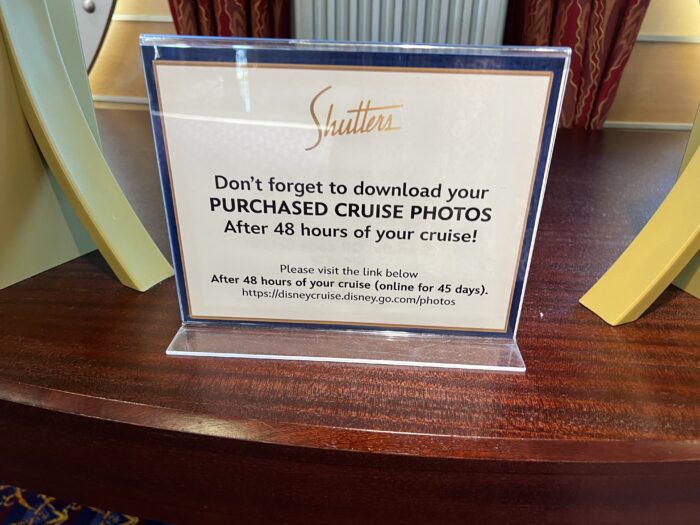 Can I get prints of my photos onboard?
Pre-pandemic, onboard photos were routinely printed for all guests.
Currently you can buy prints of your photos, in a limited number of sizes and quantities. You'll likely save money by buying the digital files and printing them at home yourself or having them printed via any of the dozens of places that do photo printing: CVS, Walgreens, Costco, Shutterfly, Snapfish, etc.
How are the photos formatted?
Standard aspect ratios of photos in the US are 4″x6″, 5″x7″, or 8″x10″. If you you print photos via any of the services above, those will likely be your options. DCL takes many of its photos in a 6″x8″ ratio, this means that there may be some unintentionally wonky cropping when you have your pictures printed.
Additionally, Disney slaps some sort of border or identifying information on every photo it takes. In some cases this will be a teeny trademark symbol, but most of the time the border is a larger, showing the name of the ship, the location your sailing to, a holiday or special event that's being celebrated onboard, or the name of a ship's restaurant.
Can I get my photos without the DCL borders?
Nope. Disney reeeeeeealy wants their logo on your pictures. That said, once you have the digital download in your possession, you're welcome to crop out their border/logo. Depending on the picture, this may be easier said than done.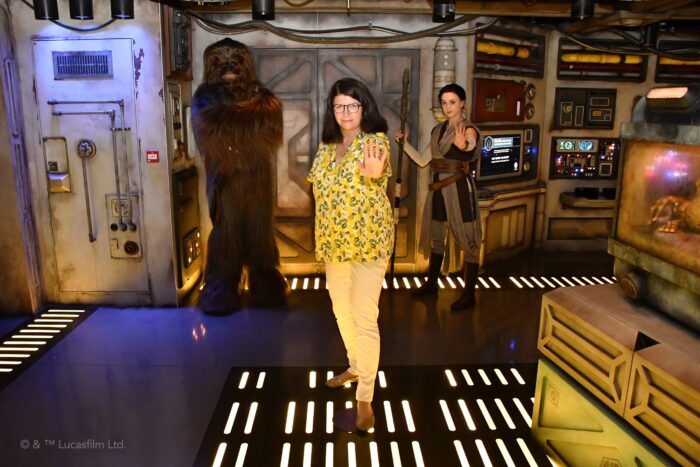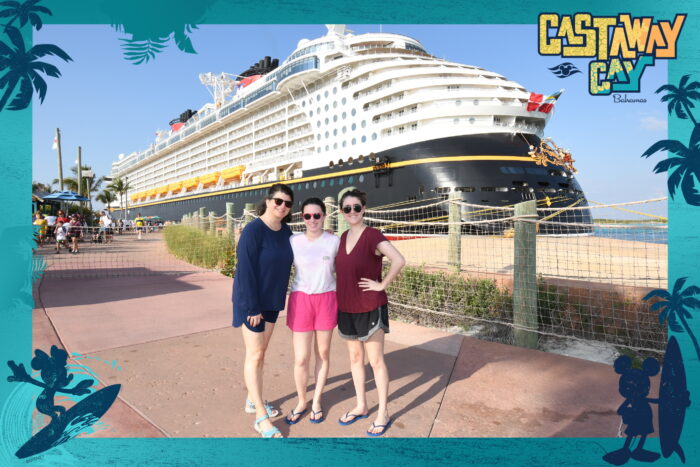 Am I better off ordering a photo book?
DCL does offer a photo book product, typically priced at $149.95 regardless of the length of your cruise. Photo books can include up to 34 pictures. This seems like it would be a good deal, you get to have 30+ images for the typical price of a ten image photo download package. However, I have heard near universal complaints about the photo books – everything from missing pictures to extremely poor image and paper quality. You may just be better off buying the downloads and making your own photo book via one of the photo printing services mentioned above.
If you choose the photo book option, the book will be delivered to your home several weeks after your sailing, adding a level of challenge to any remediation you might need.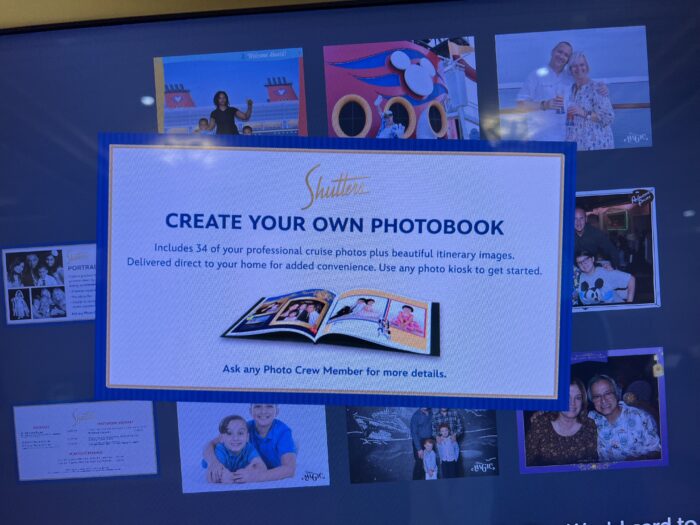 Are there other photo products available for purchase?
Yes, DCL offers mugs, mousepads, plaques, and other items imprinted with your photos. You can order these on the ships or via the DCL photo website. In either case your items will be delivered to your home several weeks after you disembark.
If you've purchased a digital download of your photos, you're also welcome to order similar products from any of the many independent photo printing services, typically at a lower cost.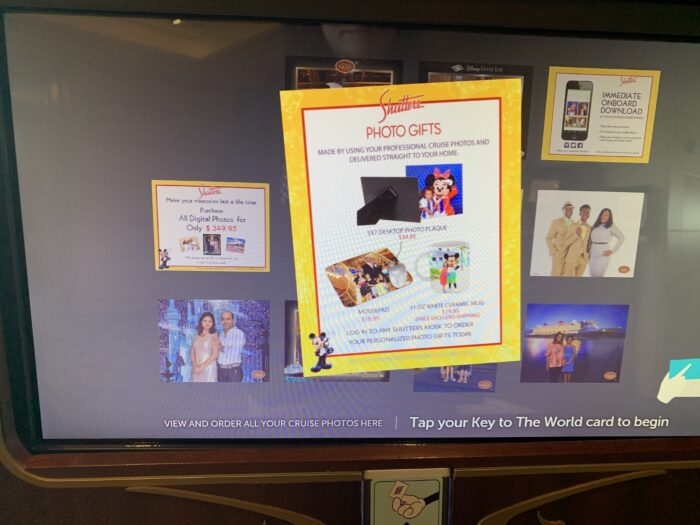 Where are the onboard photos taken?
You'll begin encountering photographers even before you board. Expect to find photographers in the embarkation port terminal. They'll be stationed in front of DCL logoed backdrops.
On many cruise nights, you'll find stations for general family photography. These are either staged photos opportunities in a dramatic setting (the lobby atrium stairs) or staged photo opportunities with a Sears-Portrait-Studio-style fabric backdrop. Backdrops range from inoffensive and nondescript solid colors, to in-your-face (literally) photos of the ships.
Photographers will visit also every restaurant on the ship on select nights. This usually includes formal night and pirate night (if there is one), plus additional nights on longer sailings or specially themed sailings. They'll stop by each table and will take as many shots as you want. Feel free to ask for group and individual pictures.
Photos are taken during meals? Won't we get lots of gross half eaten food in the shots?
The photographers are quite good at capturing faces without getting a lot of visual noise in the shot. They'll often tell you to move some glasses to reduce clutter in the frame. If you see a photographer coming, you can help by moving some of your meal detritus out of the way.
Are there character photo opportunities on the ships?
Of course there are! (It's Disney, what did you expect.) Character meet & greet photo opportunities are listed on daily Navigator app and on video screens around the ship's lobby.
With some exceptions, the character photo process is essentially the same on the ships as it is in the Disney theme parks. Guests form a queue to meet the character. When it's your turn, you approach the character, pose, and the photographer takes your picture. The photographer will scan your Key To The World card (your stateroom key) or DisneyBand+ to link your photo to your stateroom account.
If you're interested in the complete scoop on onboard characters, check out our full FAQ post on this topic.
Are there any places off the ship where I'll find ship photographers?
Weather permitting, there will be at least a few photographers available when the DCL ships dock at Castaway Cay (and presumably at Lighthouse Point when it opens). On rare occasion, you may find a DCL photographer stationed outside the ship in another port. For example, during a Mediterranean voyage, I encountered DCL photographers on the disembarkation pier when leaving the ship at Villefranche and Civitavecchia.
Are photos taken on my excursions included in my photo package?
No.
Many guests choose to take Port Adventures (excursions) while they're docked in port. Some of these excursions may include a photography element. For example, if you're swimming with dolphins, the tour provider will almost certainly have a photography component of the event. Be aware that these photos will NOT be included in your DCL onboard photo package. Unless your Adventure description specifically states that photos are included in the excursion price, the photos will be an extra charge (sometimes a substantial extra charge) over the price you've already paid for the excursion.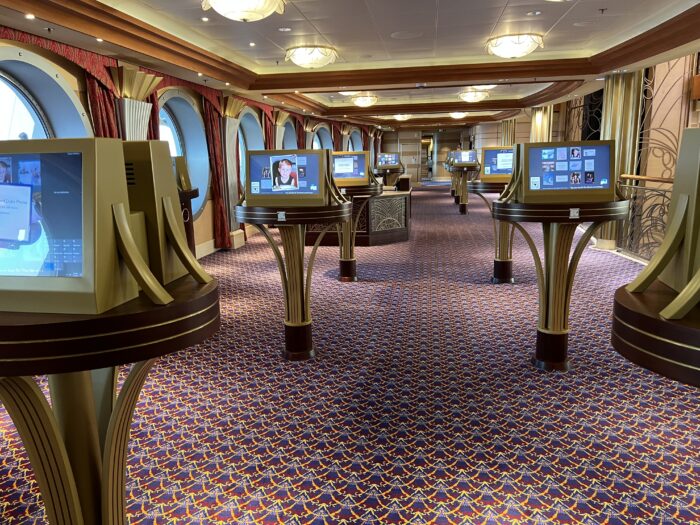 How can I look at the photos taken on board?
Every DCL ship has an area of electronic kiosks where you can view your pictures. In addition to the kiosks, there is a Shutters photo desk on every ship. You can tap your Key to the World Card or DisneyBand+ on the kiosk reader and you'll be able to view the shots taken during your sailing.
During Shutters open hours (which will be posted on the Navigator app and on the Shutters desk), you can ask questions or buy products in person.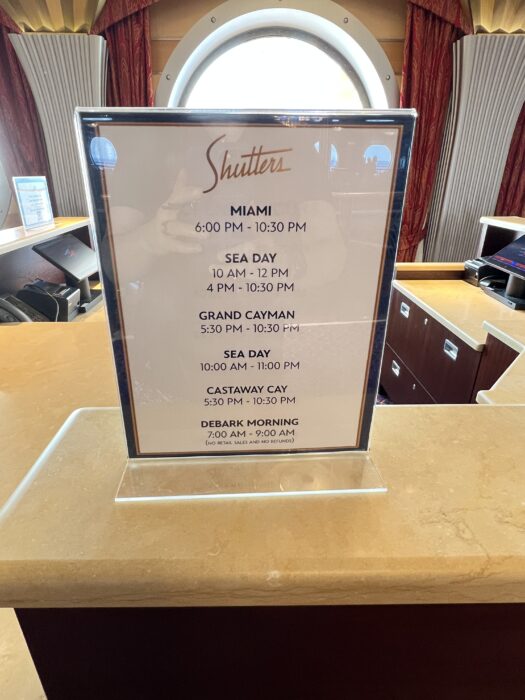 How can I access my photos once I buy a package?
DCL now uses an electronic download system.
If you've purchased pictures, go to https://disneycruise.disney.go.com/photos and you'll be able to access your photos and download them to your phone, tablet, or computer. Log into this site with your Disney web credentials. Click the Link option at the top right of the screen. Enter your Castaway Club ID and click the Link Photos button. Everyone is automatically assigned a unique Castaway Club ID number during their first DCL cruise.
If you don't have a Disney web account prior to cruising, you'll need to create an account and link your Castaway Club ID to see your photos. To find your Castaway Club ID, log into http://disneycruise.disney.go.com. Under the Already Booked tab, click My Profile in the My Account section. Then click Membership & Passes.
Photos expire and are no longer available for download or purchase 45 days after they are taken. Note: This is not 45 days after you disembark. Photos taken on the first day of your sailing will expire before photos taken on the last day of your sailing.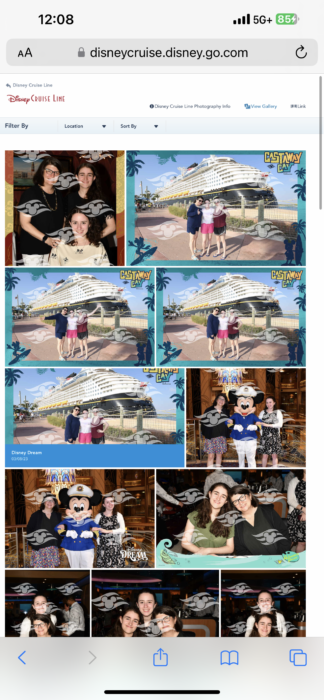 I want to have a private photo session. Is this available?
In addition to the standard photo packages, DCL also has an onboard portrait studio. Private portrait sessions photos are not included in the regular packages. Prices are steep – starting at about $600 for a just a handful of images (though there is no fee to sit for the photo session). You can book portrait sessions in the Onboard Activities section of the DCL app after you've paid in full for your sailing and your booking window opens. There may also be opportunities to book this experience while you're on the ship.
Additional information on the DCL website includes:
Private sessions last approximately 30 minutes.
We recommend that groups larger than 6 Guests book 2 consecutive sessions.
Portraits are professionally shot in an artistic black-and-white format (color is not available).
There is no sitting fee and no obligation to purchase the images created.
While many Guests prefer to schedule their shoots for formal evenings, more casual attire is perfect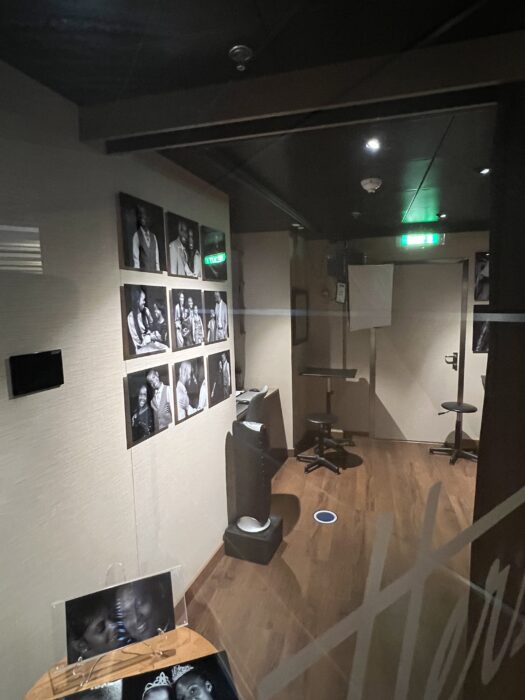 I'm sailing DCL with a special event like a wedding. What do I do about photos?
There may be special rates available or required for events. Speak to your DCL event planner for details.
Do DCL photo packages ever "sell out"?
No. The photo package is available to everyone on board. The advantage of booking online in advance is simply the modest price break.
What happens if I bought the photo package in advance, but I don't like the photos that were taken onboard?
As long as you have not yet downloaded any photos, you can go to the Shutters photo desk on your ship and you can have your purchase cancelled and refunded. Cancellations must happen on the ship.
Use the onboard photo kiosks to see whether you like the photos that have been taken.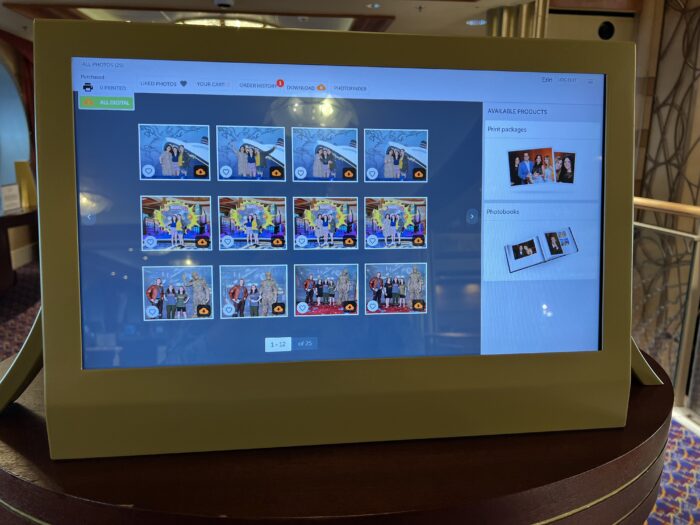 Will the ship photographers take pictures with my camera?
The photographers themselves usually won't do this. However, during some character greeting photo ops, there will be an assistant available who will be happy to use your camera to take a few shots. In my experience, they often don't take much care to compose the shot well. They'll get the job done, but it may not be pretty.
Other DCL guests are often happy to help with photography. If you want a photo of your entire group and there is no ship photographer available or you've chosen not to buy ship photos, then it couldn't hurt to ask a passing guest if they'll use your phone/camera to take a shot or two. It's then polite to offer to reciprocate.
This topic gives me an opportunity to annoy you all with one of my favorite DCL stories. The photo below was taken on New Years Eve 2019 onboard the Disney Fantasy. The ship's photographers (on the lower left) were still setting up and we wanted a photo with the tree in the background. I flagged down a teenage girl walking out of the Royal Court restaurant (teen girls always take the best photos) and asked her if she had a moment to take a photo of our family. As it turned out the girl was a daughter of Bobby Lopez and Kirsten Anderson-Lopez, the composing team behind Frozen and countless other musical theater masterpieces. She was happy to help, but Bobby arrived a moment later and ended up taking my phone and snapping a dozen shots for us. You never know who you'll meet on a Disney cruise.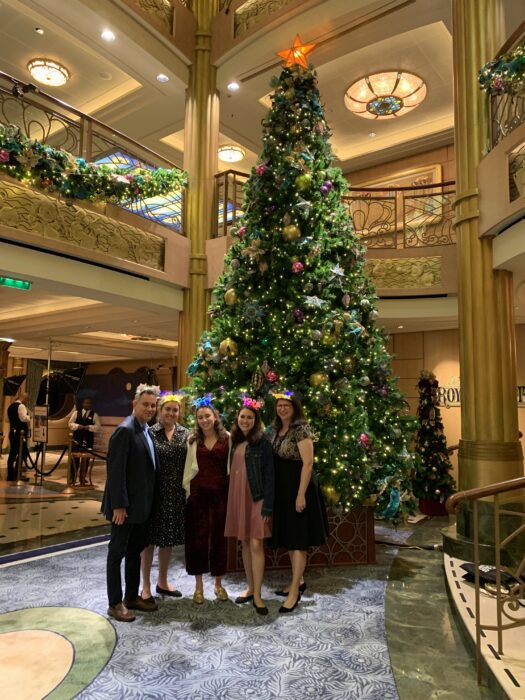 How good are the onboard photos? What's the quality like?
Quality is in the eye of the beholder. I've found that most of the DCL onboard photos are adequate to good, but rarely excellent.
As a compare/contrast, see the two photos below. The one with the Disney Dream logo was taken by a DCL photographer and included with the photo package we purchased. I took the non-logoed photo with my iPhone 13 about two seconds later. Neither of them are particularly good or bad.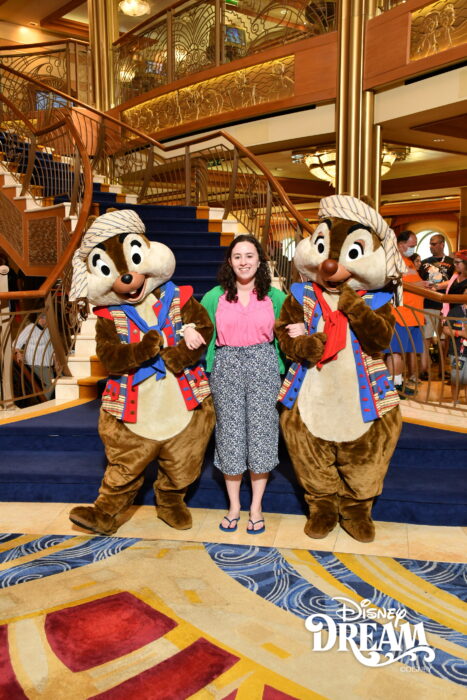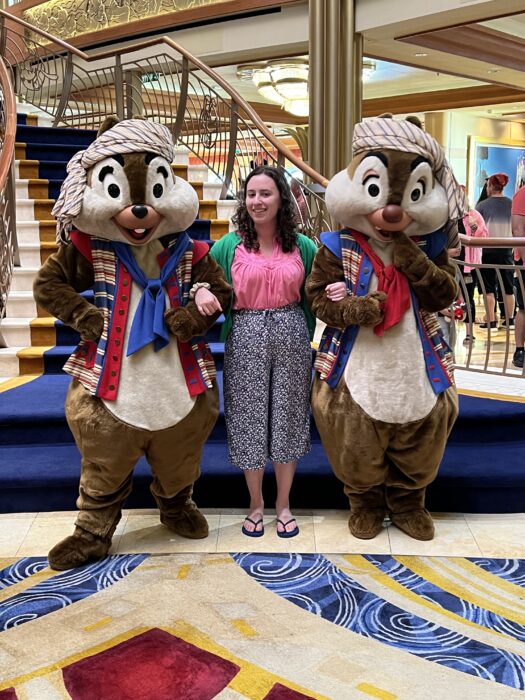 I'm trying to book a photo package online in advance of my sailing, but it's not available for the first day of my cruise. Does this mean those pictures won't be part of my package?
This sometimes happens. Don't worry about it. Just book the photo package online once, on whatever day you happen to see it. The package will include photos taken of everyone in your stateroom for the entire duration of your sailing.
Are there limits to what I can do with the photos I have taken onboard?
There is some legalese that you agree to when you buy a photo package. You should read it yourself, but the upshot is that you're fine to use your downloaded photos for nearly any personal purpose: post them on your social media, print a photo to hang over your mantle, use the photo on your holiday card, etc.
You are not allowed to use the DCL photographer photos for commercial purposes. If you're thinking about selling something with a DCL photographer image on it, make sure you're complying with the legal agreement and consult counsel if necessary.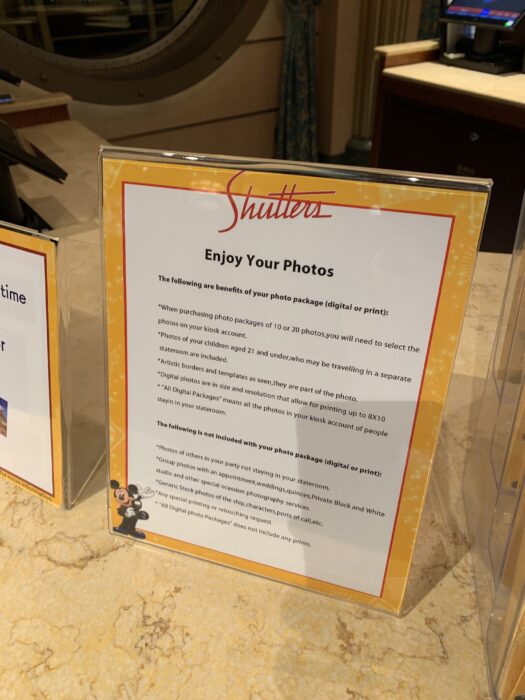 I'm doing a land/sea vacation, Walt Disney World and a Disney cruise, can I get one photo package that covers both parts of my vacation?
Unfortunately not. If you want photo plans for both halves of your travels, you'll need to buy them separately.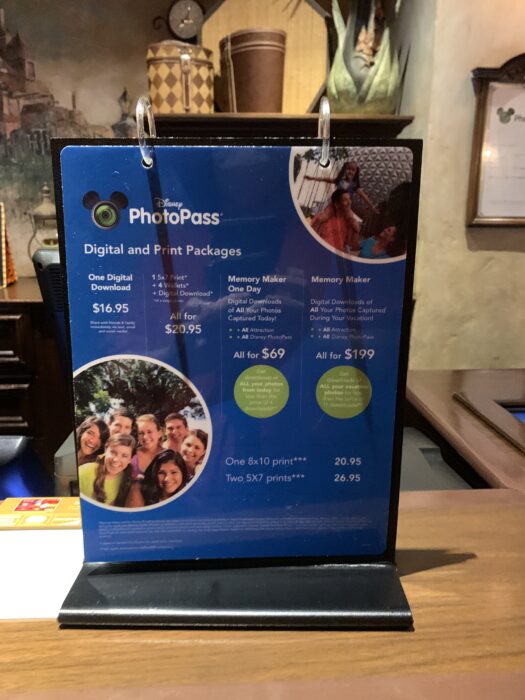 I'm back at home an  have had a change of heart. Can I buy a DCL photo package after I've disembarked?
Unfortunately not. Once you're off the ship, your opportunity to buy photos from your sailing is over.
If you're looking for additional advice and planning assistance with any Disney Cruise Line sailing, be sure to check out the Unofficial Guide to Disney Cruise Line or ask for a free quote from one of our expert travel agents.