Ultimate Marvel Comic Fan Touring Plan for Universal Orlando Resort
In a unique custody agreement, Disney and Universal Orlando "partner" as theme park guardians of Marvel. Back when Marvel was going bankrupt, they were selling parts of their company.  If you are a Marvel Cinematic Unvierse film buff, then you know Marvel Studios has been forced to work around not having rights to certain characters.The Disney megalith has been patching this back together. However, the legendary Marvel theme park contract with Universal Orlando has no end date if Universal continues to pay the rights fees. This awkward relationship means Marvel fans on east coast, especially comic book ones, will have to visit Universal's Island of Adventure for most of their Marvel fun.
Since this site specializing in touring plans, I wanted to create an ultimate Marvel fan touring plan. This plan will use some aspects of a TouringPlans Universal Orlando subscription to create a tour to help you soak up the Marvel theming.
Plan to arrive early so you can "rope drop" for donuts at Voodoo Doughnut in CityWalk for some super themed doughnuts (and maybe Nick Fury will ask you to exit the donut). Many Marvel comic-book personalities (and those who created them) have a borderline unhealthy obsession with donuts so enjoy yourself but do not take too long. You have an epic day ahead.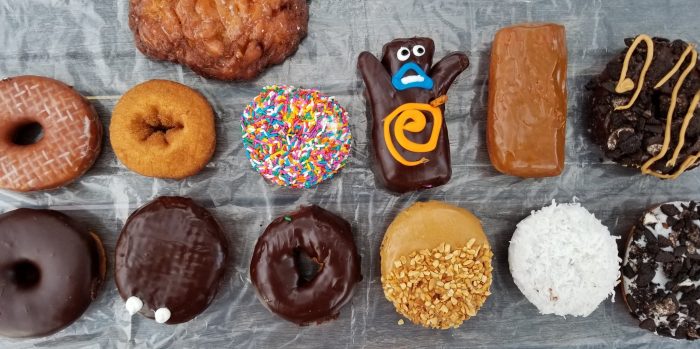 Proceed to Islands of Adventure. Pass through Port of Entry to turn left toward Marvel Super Hero Island. Most of crowd will turn right for Wizarding World or VelociCoaster. You will be able to enjoy the major Marvel attractions with less wait by heading there first. Consult your Lines app but expect to visit The Incredible Hulk Coaster first so you can volunteer for Gen. Thunderbolt Ross's experiments. Afterwards, let Dr. Doom extract your fear on Dr. Doom's Fearfall so he can defeat the Fantastic Four. You will then pass through Kingpin's arcade, but you can come back later. You should then be hero yourself by entering The Amazing Adventures of Spider-Man. Try to count how many times you see Stan Lee and look for the Iron Man easter egg along with others.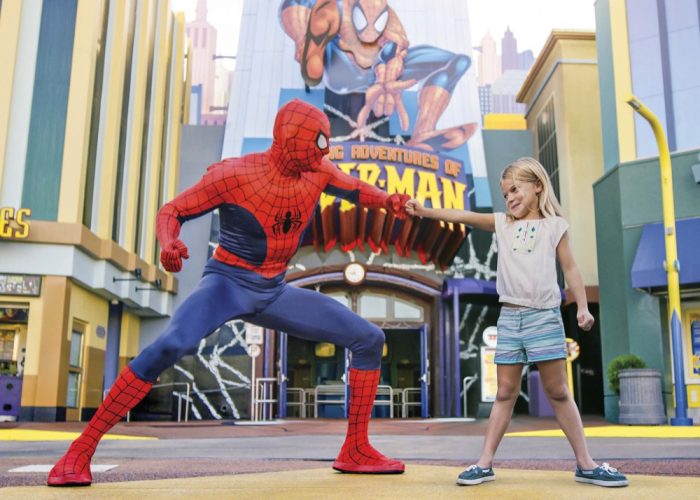 Now that you have experienced the headline attractions, you should enjoy the theming of the island. To gain a better appreciation of the land, you should go to the meteor crash site area (or backstory of this land). You can recognize this area with the artwork showcasing Marvel character through the ages. Try to see how many Marvel characters you can name.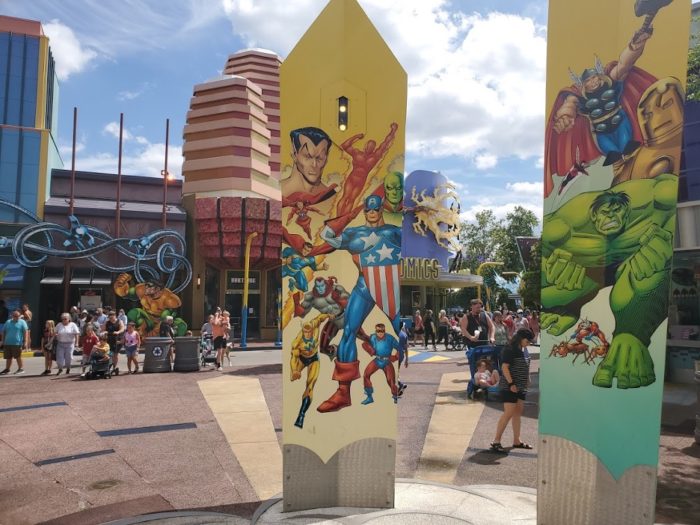 After refreshing your Marvel memory, it's time to meet some of these characters. You may find heroes riding ATVs to enter the land and then scattering to their photo op areas or you may find heroes near Lemon Slush stand at a socially distanced photo op. The heroes you can meet are Rogue, Storm, Cyclops, Wolverine, and Captain America. Spider-Man has his own photo op where currently you can get a comic book style photo with him.
You should also be on the lookout to meet the villains, Green Goblin and Dr. Doom. Historically, they have appeared either at the top or bottom of hour from around 10:00 a.m. to 4:00 p.m. each day. Currently, you can find them in alley to Dr. Doom Fearfall. In the past, they would be in street around Kingpin's Arcade.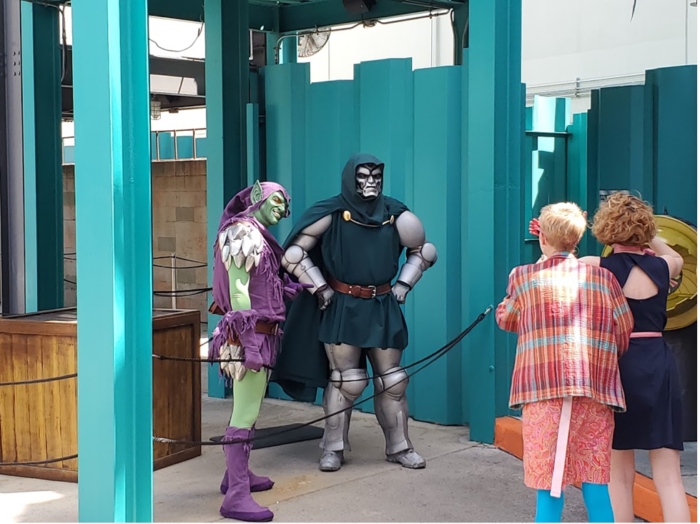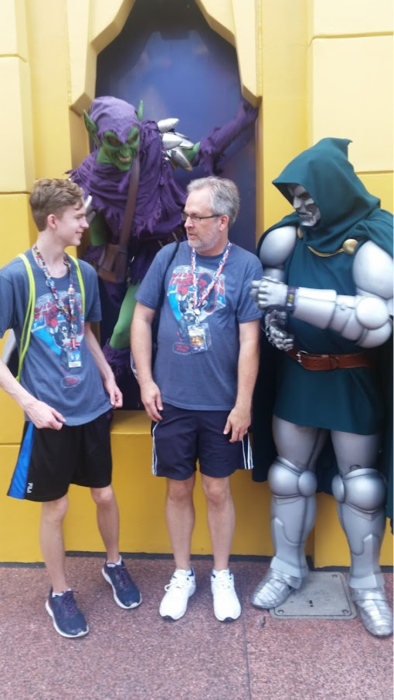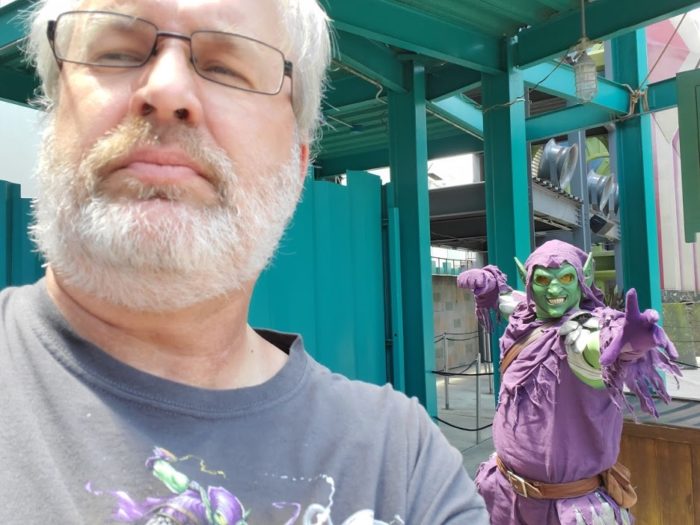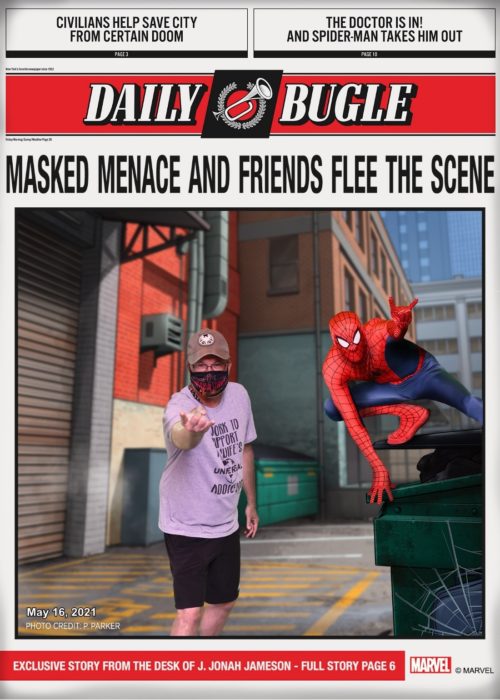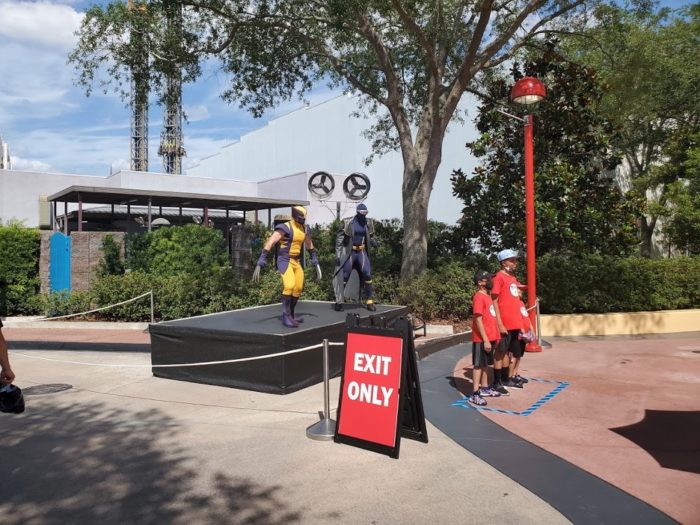 At this point, you should consider doing what heroes do after saving the world: EAT! This is where your Marvel-ous adventure can go various directions. You can eat at Captain America's Diner for typical theme park food with great view of the lagoon. You could visit Café 4 for pasta/pizza style food. Getting an Avengers-style shawarma fix isn't an option, but you could get close with a gyro from Fire Eaters or a kabob at Doc Sugrue's in Lost Continent area. Whatever you decide, eat like a hero!
After lunch, explore like a true Marvel comic book fan until the evening time. Take a few breaks along the way with perhaps some ice cream because "Baskin Robbins always finds out!" Feel free choose what works for you:
Do some shopping! There is a comic book/collectibles store. There is the Spider-Man gift shop at the exit to Spidey's attraction. The Alterniverse Store is home to the Spider-Man photo op, but also has an assortment of Marvel merchandise. If those do not meet your needs, the Boutique store has recently reopened. This Boutique is focused on the more fashion items like dresses, scarves, purses, and other items hard to find anywhere. If that is not enough shopping, The Marvel contract requires all Universal Studios branded stores to carry some Marvel products so the main gift shops of CityWalk, Islands of Adventure, and Universal Studios Florida will all have Marvel merchandise.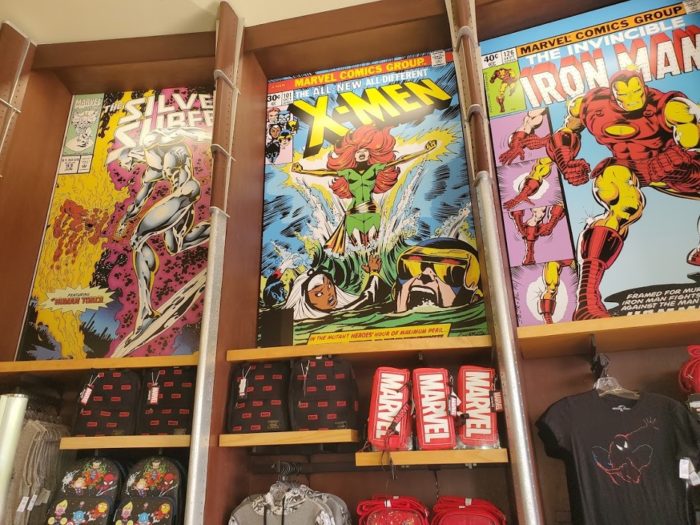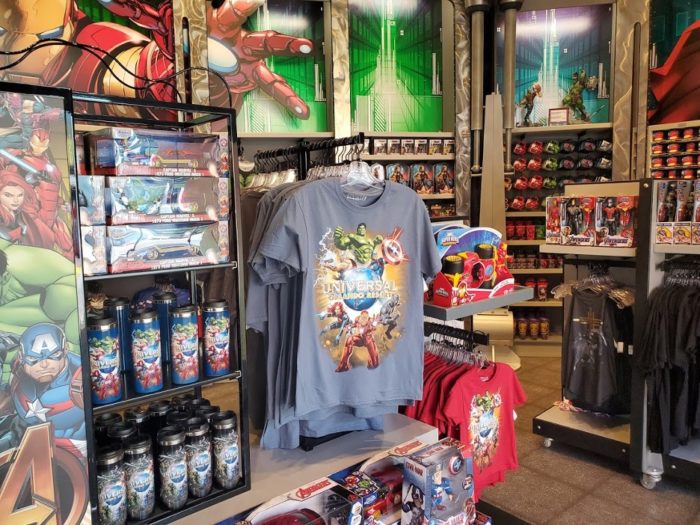 \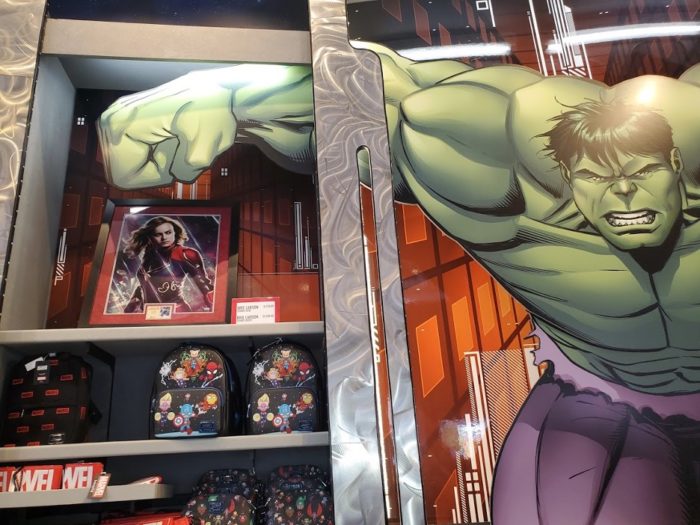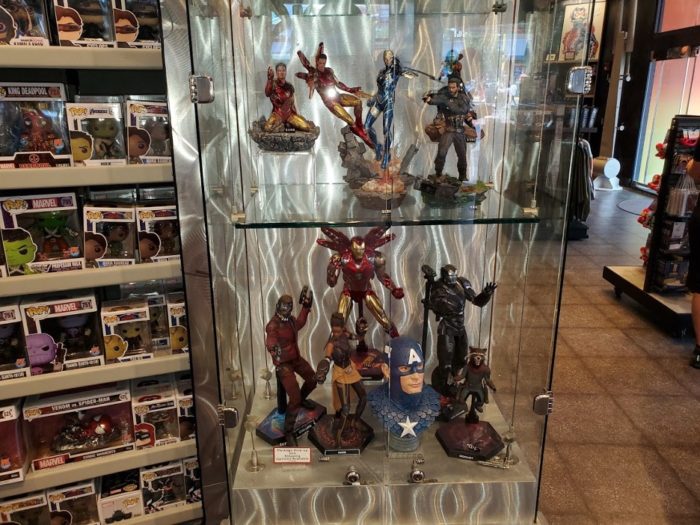 Explore the interactive parts of the land. The land is full of call boxes/phones that you can interact with. I will not spoil them, but some messages are for heroes and others for villains.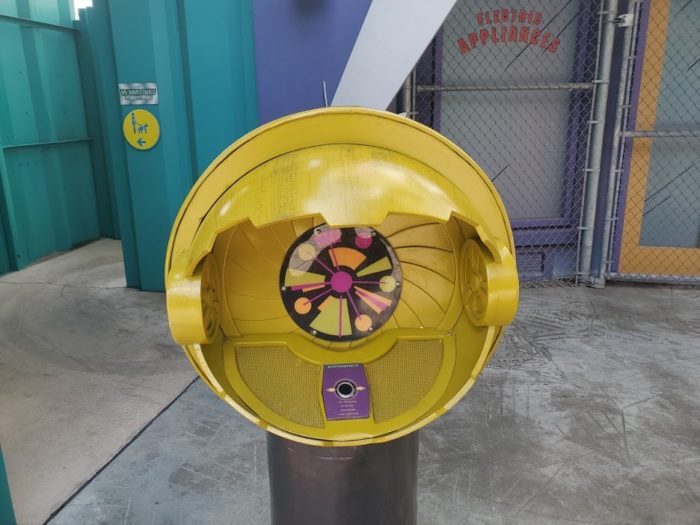 Ask a team member if they are doing villain tours. If you get lucky and find a veteran team member, they might take you on a tour of all the easter eggs of the land. This tour was available periodically before 2020 but it never hurts to ask.
Explore all the comic book references yourself. If you need some guidance, you can check out this resource: https://touringplans.com/blog/s6_marvel_superhero_island/.
Take photos. The photo ops are everywhere including quick service dining places. You might find "WandaVision", Stark industries, or Thor's hammer.
Search for "Adam." Adam Kubert drew so much of the artwork of this land, and he hid his name in drawings.
Go to Cinemark CityWalk location to take in a Marvel movie matinee. If after July 9, 2021, there will be at least one Marvel movie playing there.
Go enjoy Kingpin's Arcade with photo ops, villain banners, and games.
All this exploring should put you near dinnertime. If Marvel Character Dining is available and you were willing to pay $50/person for slightly above average theme park food, then you are good. Marvel Character Dining is available at Cafe 4, but currently on hiatus during COVID-19 reopening procedures. If you aren't doing character dining, then Captain America's Diner is your choice.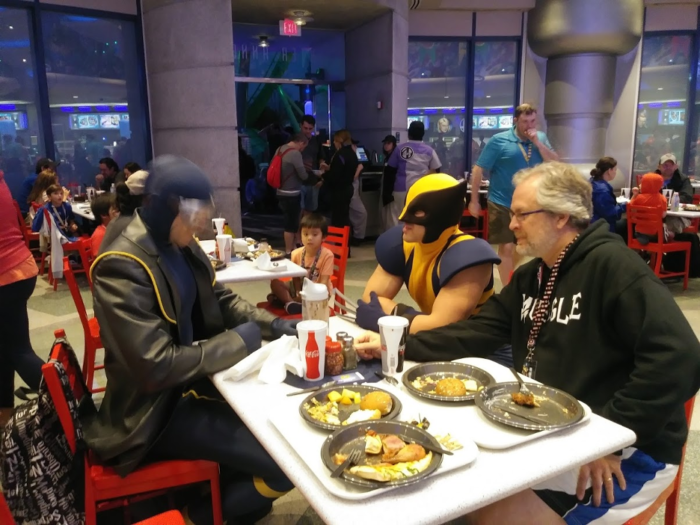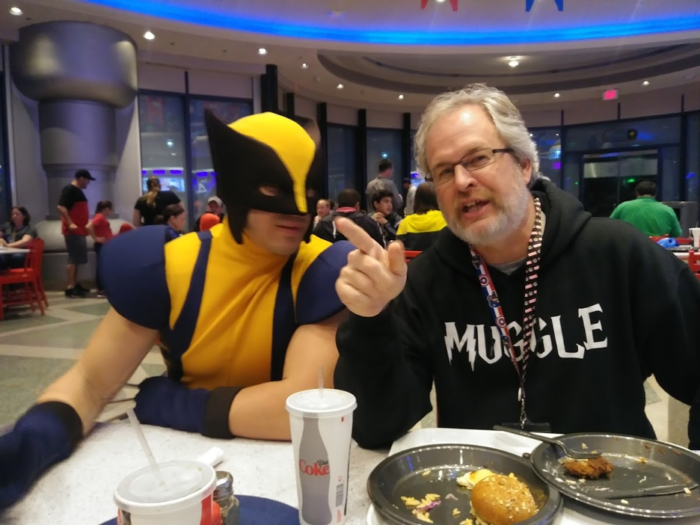 After dinner, and if your stomach can handle the excitement, head back to do any re-rides of attractions you loved at Marvel Super Hero Island.
With a little planning, you can have a truly Marvel-ous at Universal Orlando.
Does this sound like a "super" day for you at Universal? Let us know what you think in the comments.