Where to Find Brunch at Disney World
Is your plan to get up at 6:30 and scarf down a granola bar en route to a 7:30 Early Entry? After 3 hours in the parks, heading out to a lazy brunch just as the weekend crowds (and the heat) start to peak might be just the ticket. In this article we'll run down which restaurants serve brunch at Disney World.
Last updated September 17, 2023.
I've divided these up into three categories, "Every Day Brunch", "Official Brunch", and "Secret Brunch". Here's why you need to care: you'll have a hard time finding some of these options without a list like this. When you search for reservations on Disney's site, you'll have the opportunity to select "before 12 p.m." or "12 p.m. to 4 p.m." as the times. If you select one of these, and a restaurant serves brunch during those times, then you'll see the meal listed as Brunch in the available times that are returned. Since the Secret Brunch restaurants and the Every Day Brunch restaurants usually don't label those menus as brunch, they're hard to track down by searching the site. (Note: at the moment, there's a bug in the Dining Search – if you're searching all restaurants and you select "All Day" as the time, you won't see any times for brunch at all.)
Tap any restaurant name to see the brunch menu (even if it's not labeled "Brunch").
Every Day Brunch
This category includes restaurants that serve brunch every day. In some cases, the menu is actually labeled brunch. In other cases, there is a breakfast menu and a lunch menu – but they're exactly the same 7 days a week and offer the mixed selection of breakfast, lunch, and fancy-breakfast dishes that we expect to see on a brunch menu.
On the Disney World website the Grand Floridian Cafe sports both Breakfast and Lunch menus. But a keen eye will note that they're identical, and the waiting area proudly advertises that they serve "B'Lunch". The breakfast-y side of the menu runs from basics like pancakes and waffles (yes, you can get a full-size Mickey waffle here) to brunch classics like Eggs Benedict (with a smoked salmon version too!) and Chicken and Waffles. The heavier fare includes a Reuben, a Miso-Glazed Salmon, and a Signature Burger that's also available at dinner.
"B'Lunch" is served every day at the Grand Floridian Cafe from 7:30 a.m. to 2 p.m., and reservations are often available at the last minute. How last-minute? Well, I've made them in the app while waiting in the queue for Jungle Cruise and sat my rear in a seat about 45 minutes later. Don't let that availability fool you though, the food is good.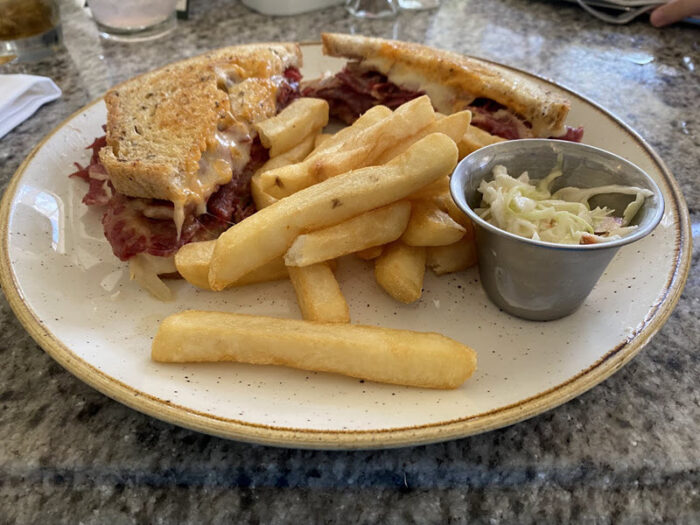 Tucked away in Disney's Old Key West Resort, Olivia's Cafe is widely regarded as a sleeper pick for great food. At one point Olivia's was an "Official Brunch" restaurant, but the brunch is great and it was a win for everyone when they moved to serving it every day.  The breakfast end of the menu starts at Buttermilk Pancakes and Eggs and Papa's Hash and continues on to the Sombrero Beach Omelet and Banana Bread Pudding. Lunch-ish fare includes a variety of sandwiches, as well as a Bacon Cheeseburger and the long-time favorite Shrimp and Grits.
Olivia's brunch starts bright and early at 7:30 a.m. and is served through 2 p.m. Reservations are often available in the same week, and on weekdays you can frequently find them same-day.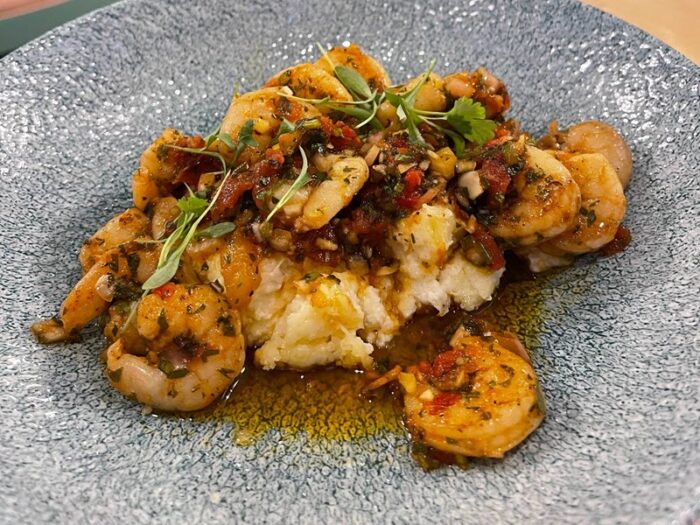 Like the Grand Floridian Cafe, Whispering Canyon serves an identical menu for lunch and breakfast – although they do it without the whimsical "B'Lunch" name. Nothing to complain about on the menu though. There are three flavors of All-You-Care-to-Enjoy skillets, including one that's clearly breakfast (the Heritage Skillet) and one that's more clearly on the lunch side; the BBQ-centered Carnivore. Individual entrees run from the Belgian-style Waffle and Western-Style Benedict to the Applewood-smoked Turkey Sandwich and Chopped Bison Burger. And did I mention the All-You-Care-to-Enjoy Shakes? I recommend not combining those with the skillets, because … it's obvious, right?
This Every Day Brunch at Whispering Canyon is served from 7:30 a.m. to 2 p.m., all 7 days of the week. Reservations are often available on short notice.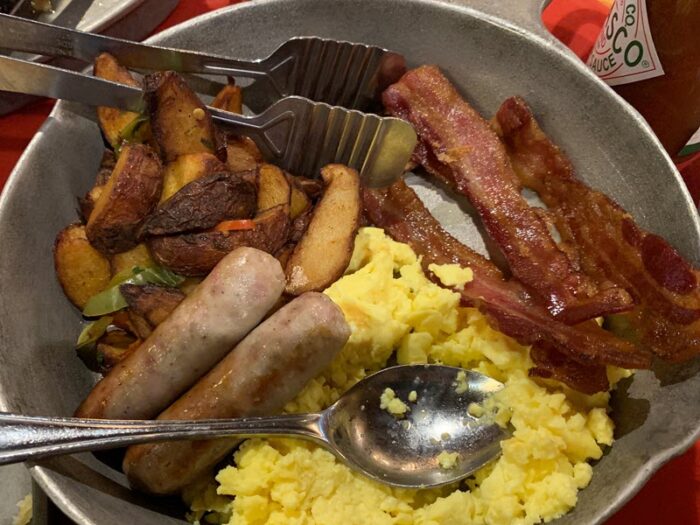 Official Brunch
The "Official Brunch" category includes restaurants that serve a meal that they call … wait for it … brunch! But, only on weekends, not every day. And that brunch menu has to include some dishes that aren't found on either the regular breakfast or lunch menus, it can't just be a mashup of the two. Most of these restaurants are in Disney Springs, and as with all Disney Springs restaurants, don't forget to look on Open Table if you can't find anything through Disney's restaurant search. And for the nearest parking garage, see Where to Park for Your Disney Springs Dining Reservation.
Art Smith's Disney Springs eatery is known for its Southern-inspired dishes, particularly the fried chicken. The brunch menu features a few standards from the lunch and dinner menus including Bee Haven Bay Fried Green Tomatoes, Church Lady Deviled Eggs, and Fried Chicken & Doughnuts.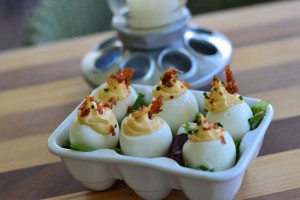 Most of the menu though is a brunch-only lineup, including Biscuits and House-made Donuts on the starter menu, followed by entrees such as Short Rib Hash, Hush Puppy Benedict, and Hallelujah Biscuit alongside standards such as French Toast or the Grand-Daddy Plate with eggs, biscuits, and bacon. Not forgotten is the liquor side, with several brunch-only cocktails like the Blueberry Mimosa and a Sweet Tea Shine.
Brunch is served Saturday and Sunday from 9 a.m. to 12:55 p.m., and Homecomin' is one of the most sought-after brunch reservations. We recommend booking ASAP if you'd like to try it out.
City Works features an eclectic brew pub menu with Tex-Mex and smokehouse touches. Favorites from the shareables and mains sections such as Kung Pao Cauliflower, City Works Chopped Salad, and Nashville Hot Chicken Wrap are joined on the weekends by more breakfast-oriented fare such as Jon Bun Jovi, Sweet Child O' Mine, Chimi Hendrix, and Let It BLTE. Yes, we do know that you might not be able to tell what those dishes are from the names; we recommend clicking on the menu link above. On the beverage side, unique brunch offerings include a Golden Honey Margarita, the Hot Blooded (a loaded Bloody Mary), and a Cranberry Mojito.
Brunch is served Saturdays and Sundays from 10 a.m. to 2:55 p.m., and reservations are often available within the same week.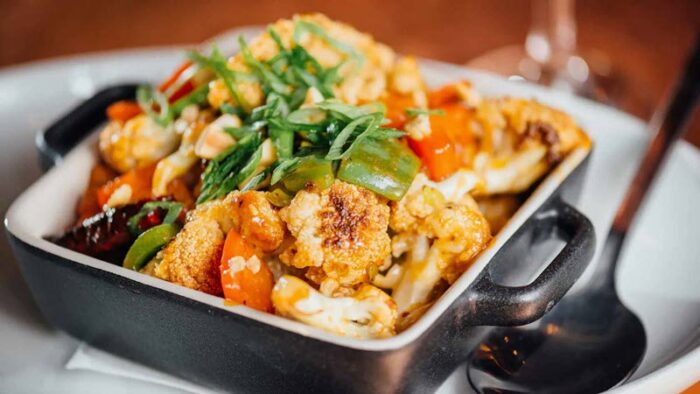 House of Blues in Disney Springs' West Side is generally a solid pick for its meat-focused menu at lunch and dinner. But on weekends, brunch trots out an entirely new set of dishes. Breakfast standards such as Steak & Eggs, Breakfast Burrito, and Barnyard Breakfast (eggs, sausage, home fries & toast) are found next to offerings such as Pig Grits & Shrimp, Morning Smash Burger, Chicken 'n' Donuts, and Summer Salad. The drinks menu features bottomless Mimosas or Bloody Marys, and a Morning Mule.
Pre-COVID the House of Blues Gospel Brunch with live music was a popular event, but it has not yet returned and reservations are often available within the same week. Brunch is served Saturdays and Sundays from 10 a.m. to 1:55 p.m., with live music and the full menu available after noon.
This trattoria-style restaurant with an airline theme serves classic Italian fare. The brunch menu is a bit of a mashup, with much of the Antipasti, Insalate, and Pasta sections from the weekday lunch menu joined by select Secondi from the dinner menu such as Pollo alla Parmigiana and Bistecca alla Griglia. There's also a selection of dishes that are only available at brunch, including Crunch Toast, Frittata al Forno, and Eggs Benedetto. (That's Eggs Benedict, but like most things it sounds better in Italian.) The beverage menu features Bottomless Mimosas, Bellinis, or Rossinis in addition to a Breakfast Margarita and Iced Coffee Flight.
Maria & Enzo's serves brunch on Saturdays and Sundays from 11:30 a.m. to 3:30 p.m., making this one of the latest-running brunches at Disney World. Reservations are often available within the same week.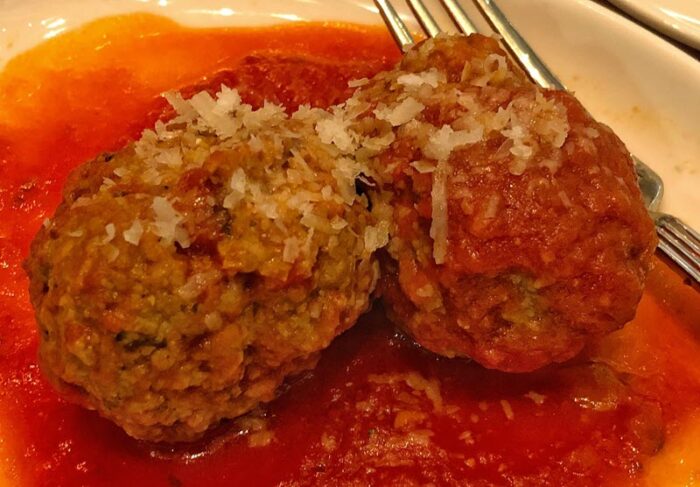 Raglan Road's regular lunch menu boasts a few breakfast items that are available until noon, and some of these, including the Full Irish, have made their way to the brunch menu. A number of other popular items from the lunch menu are also found at brunch, including the Worth the Wait Beef Sandwich and their well-regarded Fish & Chips. In fact, the menu is divided into "Starty Stuff", "Brunchy Stuff", and "Lunchy Stuff" sections, and almost everything found under Starty Stuff and Lunchy Stuff can be found on the weekday lunch menu.
So what's only for brunch? Among other classics, two versions of Eggs Benedict (one on a scrumpet), multiple pancake dishes, and scrumpets galore. In case you don't know what a scrumpet is, it's kind of like a cross between a scone and a crumpet (it's a portmanteau word) and yes they are very scrumptious. If you are a fan of Raglan Road's regular lunch and dinner menus, as many are, you will not be disappointed by their brunch.
Brunch is served from 10 a.m. to 3 p.m. on weekends, and reservations at Raglan Road can often be found within the same week for either brunch or lunch. You may need to book lunch directly on the restaurant's site, as Disney's site oddly doesn't allow you to select times before 3 p.m. on weekdays right now.
STK Steakhouse, in Disney Springs' Landing, serves … steak. And in fact, all of the steak on the regular lunch menu can be found on the brunch menu as well, with a couple of additional Surf 'n' Turf and Wagyu options at brunch. The Salads and Starters are also mostly the same, including the Baby Gem Caesar, the Bigeye Tuna Tartare, and STK's version of Crispy Calamari. Amidst those popular items, the 8 items in the entree section are found only at brunch, including two Benedicts: Smoked Pork Belly Benedict and Lobster & Eggs Benedict, as well as Cinnamon French Toast, Truffle Steak and Egg, and more. On the liquor menu, brunch offers a bottomless Mimosa or Bloody Mary.
STK brunch is from 11 a.m. to 3 p.m. on weekends, and reservations are often available in the same week.
I am always surprised by how often there are reservations available for next-day or within-the-week dining at Wine Bar George, given that it has a 92% thumbs-up rating from TouringPlans users. Maybe it's partly because the regular menu is mostly small plates with relatively few full-size entrees. That shouldn't be a put-off at brunch though; the small plates are mostly off the menu at brunch and the entree section increases in size to make up the difference.
In addition to Charcuterie and Cheese Boards, you'll find dishes like the Wine Country Omelet, French Toast, Fried Chicken Biscuit, and Shakshuka. The beverage menu is a highlight (as you might guess from the restaurant's name), and includes a few brunch-only cocktails such as the Paloma and the Aperol Spritz.
Brunch at Wine Bar George runs from 10:30 a.m. to 2 p.m. on Saturdays and Sundays, with reservations often available a few days in advance.
The brunch menu at Wolfgang Puck contains a number of items from the regular lunch menu, including a selection of pizzas (with a smoked salmon option for brunch only) and the popular Chicken Schnitzel. There are quite a few special-for-brunch-only items though, including Smashed Avocado Toast, Crispy Chicken & Waffles, Breakfast Pizza, and a Sweet Corn Pancake. Brunch-only cocktails include a Bloody Mary, Strawberry Bellini, and Bottomless Mimosa.
Wolfgang Puck's brunch menu is available on weekends from 10 a.m. to 3 p.m., with reservations often to be had on short notice. Within a week is usually good enough to snag a table here.
Secret Brunch
Like the Official Brunches, Secret Brunches have extra dishes that are only available on the weekends. But they differ from Official Brunches in two important ways. The first is that the full regular lunch menu is available, instead of some dishes being piffed to make way for the brunch offering. The second is that the meal is still called lunch, and you won't know about these brunch dishes unless you read the menu all the way through and notice the sections labeled "Available on Weekends Only". So where are the Secret Brunches of Disney World? As it turns out, all three of them are in Disney Springs.
In addition to its formidable lunch menu of sandwiches and steaks, scrolling aaallll the way to the bottom of the menu at the BOATHOUSE brings you to a section titled "Brunch Mains", another labeled "Brunch Sides", and a final weekend-only offering of "Boat Drinks". These sections contain some pretty classy brunch classics such as Shrimp and Grits, a Belgian Waffle, and a Crabcake Benedict. The weekend cocktails include a Bloody Mary and an Espresso Martini among several more unique libations.
The BOATHOUSE offers its brunch extras from 10 a.m. to 2 p.m. on weekends. Weekend lunch reservations can be hard to come by less than a week out, but unless it's Mother's Day a month or so should net you a table easily.
On Saturdays and Sundays, the weekday lunch menu at Morimoto Asia is punched up with some dishes that normally appear only on the dinner menu. You could make an argument that it isn't really brunch, just a hybrid menu, but honestly the food is so delicious that I don't care. The Dim Sum section lists the Crispy Popcorn Shrimp Tempura and Egg Drop Soup from the dinner menu, as well as Berkshire Lettuce Wraps that are only on the weekend lunch. The Morimoto Gomoku Fried Rice and Beef Lo Mein from dinner also appear on the lunch menu on the weekends. And the weekend lunch menu also includes a section of Sushi Rolls that aren't available on weekdays.
If you visit at dinner, you'll find everything on Morimoto's weekend lunch menu and more. But if lunch is the only time that suits your schedule, the weekend menu has a lot more to offer than if you stop in on a weekday. Morimoto Asia's weekend extras are available beginning at noon on Saturday and Sunday. It's a fairly large restaurant, but it's also pretty popular and reservations can be hard to come by at times. We recommend planning in advance, although it might turn out not to be necessary.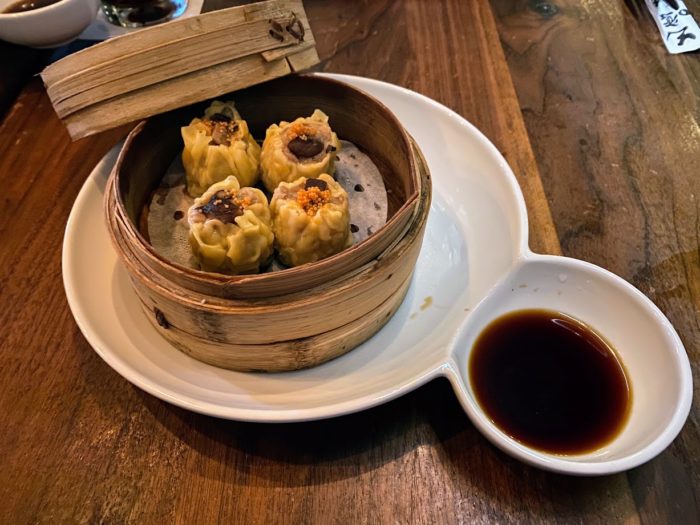 Terralina's lunch and dinner menus are the same, but if you don't blink you can grab some brunchy fare between noon and 3 p.m. on Sundays. That's right, Terralina's brunch is available for only 3 hours a week. It's a pretty small menu section too, with 4 dishes and 2 drinks, but I've gotta be honest, they look pretty tasty. Just be sure to read the descriptions, because Poached Eggs is a more interesting preparation than it sounds from the name (Potato Planks, sautéed Spinach, with a Garlic and Tomato-Olive Vinaigrette), as is the Omelet. Bread Pudding French Toast doesn't need a description to dress it up for my tastebuds.
Reservations at Terralina's Crafted Italian are normally available on short notice. Although we don't have any specific data on whether that's still uniformly true for the three hours from noon to three on Sundays, a rapid search of the next few weekends from my sofa suggests that it is.
What's your favorite brunch at Disney World? Let us know in the comments!
Originally published July 12, 2022