10 Attractions No longer At Disneyland That I Miss!
Yep, this list should be closer to 50 than 10!  There are whole websites dedicated to the scores of attractions no longer at Disneyland.  While there are some former attractions that deserved to go the way of the dinosaur (Superstar Limo anyone?) others are truly missed.  I've listed some of mine below and I know there are a lot more.  We didn't move to California until 2005, and as an adult I only visited Disneyland once before then, so I know I'm missing some!
I confess, when it comes to rides and attractions at the Disney parks, I don't mind change.  I'm of the opinion that when something is feeling old and losing popularity faster than you can say Carousel of Progress (ha!), it's okay to update or replace it.  But I do understand that sometimes people grow attached to attractions, often purely for sentimental reasons.  I'm the same way (occasionally)!  Even about the landscaping and decor!  For example, I'm going to miss those giant letters outside of Disney California Adventure just because they were the first thing that greeted us when we arrived.  I've got so many pictures of my kids on those letters!  And I'm really going to miss watching the monorail zip over the Golden Gate Bridge.  Do I think the new California Adventure will be wonderful and worth losing some attractions for?  Absolutely.  But there are things at both parks that have slipped into history that I now miss.  Even if only for sentimental reasons.
1. The People Mover – Who's with me?  How could they take this away?  Why have they not brought it back?  I know they were trying some other stuff there, but it didn't work out!  Bring back this ride!  Walt Disney World has kept theirs and we enjoy it every time we go.  The continuous loading of this ride means it almost never has a wait.  It's a leisurely trip through Tomorrowland with a gentle breeze to keep you cool and views of rides that you won't even see when you're actually on said rides. Disneyland needs it back.  Although I guess if some rumors are to be believed, it could be coming back sometime in the next few years.  I hope it's true!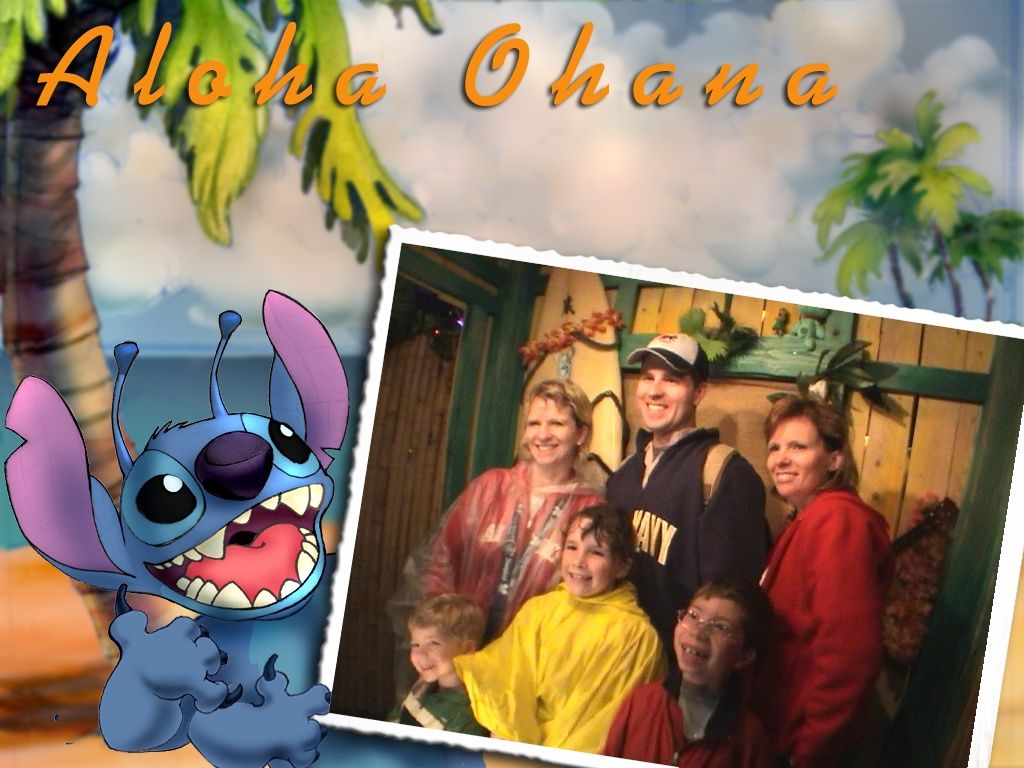 2. The Stitch Satellite Phone – Okay, I can't find the official name for this anywhere!  Anybody remember?  The Stitch phone was located inside Innoventions on the second floor.  It was easy to miss if you weren't looking.  A cast member stood just outside the waiting area to greet you and put your name on the waiting list.  While you waited your turn to talk to Stitch, there were coloring sheets and crayons to entertain the kids.  When your name was called, another cast member took you to make small talk, and perhaps got some details about your traveling party, in a second waiting area while the guests in front of you finished.  Finally, you were led into a Tiki hut where you picked up a phone to talk to – who else would you meet in a Tiki hut – Stitch!  Similar to the Turtle Talk with Crush technology now in California Adventure, Stitch was fully interactive and even mysteriously knew some details about your family.  Unlike Turtle Talk, this was your own private one-on-one session.  There were times on multi-day trips where Stitch would remember seeing us the day before.  My kids absolutely loved it!  We all did!
3. Country Bear Jamboree – This may fall into that why-do-people-like-this category, similar to my feelings about Carousel of Progress, but it's sentimental for me.  I remember being slightly scandalized as a child listening to giant bears singing about blood on a saddle.  I also remember being thrilled and slightly amazed at the moving, singing, dancing bears.  Yes, the technology is dated at this point.  But it's a classic!  So I know there are some people out there like me that think it should still be on both coasts.
4. The Skyway – How cool was the Skyway to Tomorrowland?  Or the Skyway to Fantasyland for that matter?  Any rides that can get you from one area of the park to another in a different way are a bonus to me.  The train, the trolleys, the horse and buggy rides, all means of transportation but a nice change from walking.  The Skyway was as different as they come.  The sights you could see from that vantage point!  The photographer in me wants them back desperately.  The people in my family who don't like heights are not in as big of a hurry to relive them, however.
6. Snow White- An Enchanting Musical – So we actually liked this show.  Are we the only ones?  I've actually never heard any real rumblings to bring it back, so maybe we are!  I'm a big fan of live stage shows.  Disney does them so well on the cruise ships and in the parks.  It was certainly nowhere near the category of Disney's Aladdin – A Musical Spectacular over in California Adventure, but the theater is lovely and the show was very well done.  The set was just beautiful, and for all the Trekkies out there who didn't know, Patrick Stewart was the voice of the Magic Mirror!
7. Who Wants to Be a Millionaire – I was sad when this show closed on both coasts.  Partly because I have a husband who is excellent at trivia and I just know he would have won us a cruise if he'd ever made it down there, and partly just because it was entertaining!  It was also unique.  It's pretty rare (and exciting) in a Disney park when an average guest can actually win something more than a pin.  I think that's why the Year of a Million Dreams generated so much excitement.  You could spend a lot of money to go to Disneyland and have an incredible time, and as an added bonus, there was a miniscule chance you could win something cool!  I think it just adds an air of extra excitement to your day.
8. Mission Tortilla Factory– This tour is missed for obvious reasons – fresh, warm tortillas.  The movie beforehand was interesting, but the real highlight was going into the next room where you could see the tortillas being made.  There were also some very cool edible character rub-ons that you could add to your own tortillas at home.  As you exited, there was always a cast member standing there handing out fresh warm tortillas.  On your birthday they'd give you a whole bag!  Here's hoping that Ghirardelli will follow their example and hand out chocolate!
9. Maliboomer – I know this ride was despised by lots of Disney purists.  It was a carnival and midway-type ride that represented everything about California Adventure that so many complained about.  Like it or not, however, Disney did have a vision for Paradise Pier.  When we first moved to California several years ago, my husband worked about a block from the Santa Monica Pier and beach.  We met him for lunch there frequently; we took out of town guests there; we loved the whole area.  Whether you realize it or not, you've all seen it on countless TV shows and movies because it is an iconic representation of California.  So we "got" the Paradise Pier area at California Adventure as it tried to replicate the famous piers of California.  In hindsight, however, even Disney ultimately came to the conclusion that they didn't execute their vision particularly well—but the Maliboomer was a fun ride and the views were simply amazing!
10. Disney's Electrical Parade – I know I'm not the only one who misses the Electrical Parade and are hoping all the rumors are true that it's coming back!  It started in Disneyland as the Main Street Electrical Parade and then moved to California Adventure where it was renamed Disney's Electrical Parade.  When all of the construction began in California Adventure, it moved again.  This time to Florida!  Once Cars Land opens, there is hope that it will make its way back over to California to one of the parks.  My money's on Disneyland, but as long as it comes, it works for me!
I know there are dozens upon dozens of attractions that have gone away over the years at Disneyland.  Mission to Mars, Flying Saucers, and Pack Mules just to name a few.  What about you?  What do you miss at Disneyland?