A Review of California Grill's New Plant-Based Menu
Perched atop the Contemporary Resort's iconic A-frame, California Grill is one of Walt Disney World's most famous signature restaurants.
In addition to California Grill's modern dining room with its open, onstage kitchen, the real draw is the restaurant's panoramic views of the surrounding area which include the Magic Kingdom and the park's nightly fireworks display!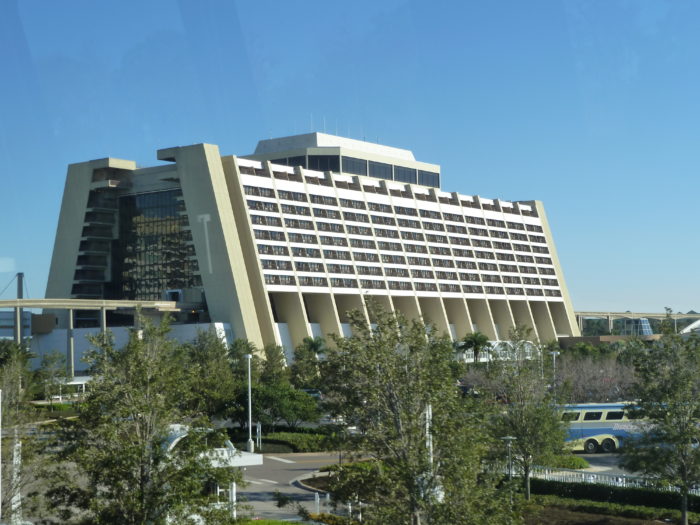 This fine dining experience is typically known for its sushi and steak – including the now social media famous 35 oz Rib-Eye Tomahawk for two. (If you're a carnivore, keep our tradition alive. Get a photo with that bone!)
But recently, Disney unveiled a new plant-based menu curated just for California Grill that we just had to check out!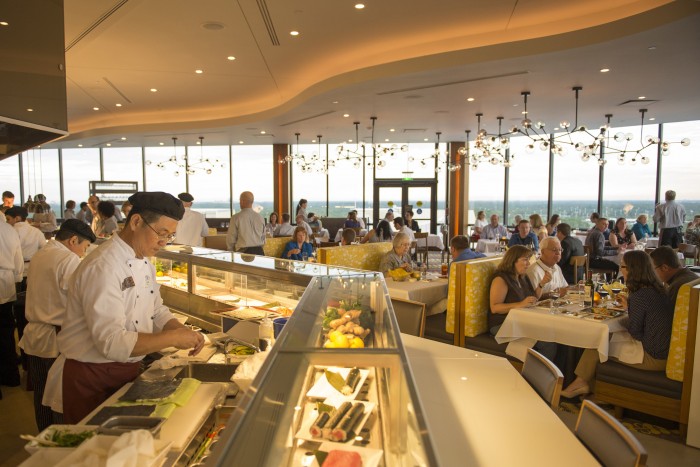 What You Need to Know
California Grill is only open for dinner from 5:00 p.m. to 10:00 p.m. The standard three-course menu and the new plant-based menu are both priced at $89 per adult and $39 per child, plus tax and gratuity.
Guests are free to mix and match from both menus to complete their three courses!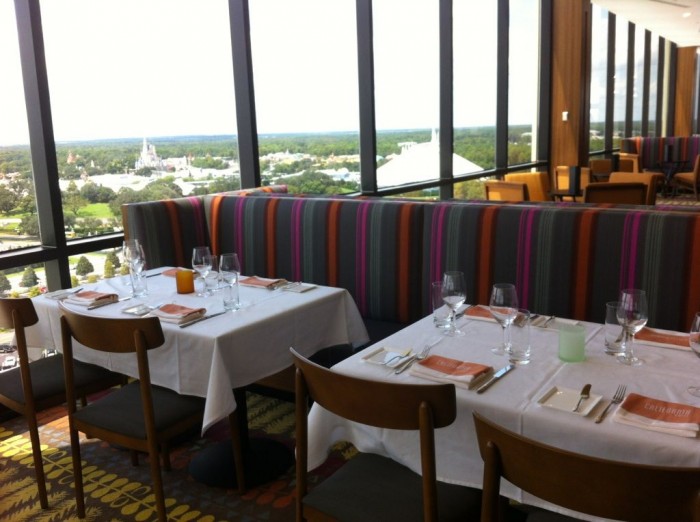 Those with reservations are encouraged to check in on the My Disney Experience app upon arriving on the second floor of the resort. This is where a Cast Member will escort guests to an elevator exclusively reserved for those dining at California Grill.
While California Grill offers a walk-up list (based on availability) that's also accessible on the My Disney Experience app, Advance Dining Reservations are encouraged. But if you're already within that 60-day window, consider using the free TouringPlans Reservation Finder.
It's also important to note that California Grill has a dress code.
Men must wear khakis, slacks, or dress shorts, as well as collared shirts. Women must wear capri pants, skirts, dresses, or dress shorts. Jeans are acceptable for both men and women if they're in good condition. Tank tops, flip-flops, swimsuits, swimsuit cover-ups, hats for gentlemen, cut-offs, torn clothing, and t-shirts with offensive graphics or language are not permitted.
Fireworks Tip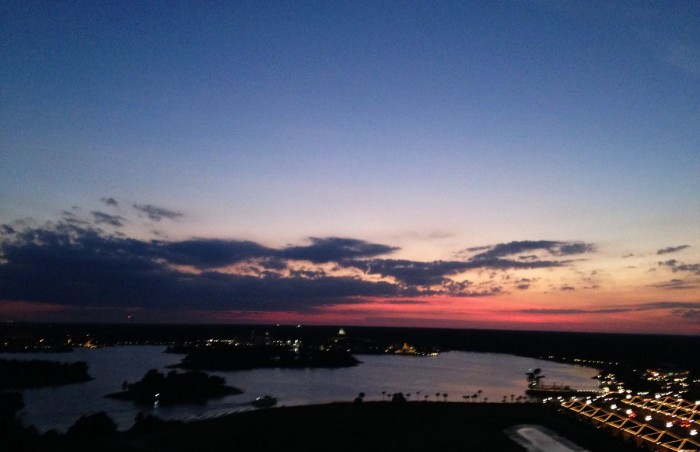 If early diners save their receipts, they can still come back to California Grill's rooftop walkway to see the fireworks! The walkway from the main dining room doesn't open until 15 minutes prior to Enchantment, and the second walkway just beyond the restrooms has a view of both Epcot and the Magic Kingdom's display.
Now, let's get to the food!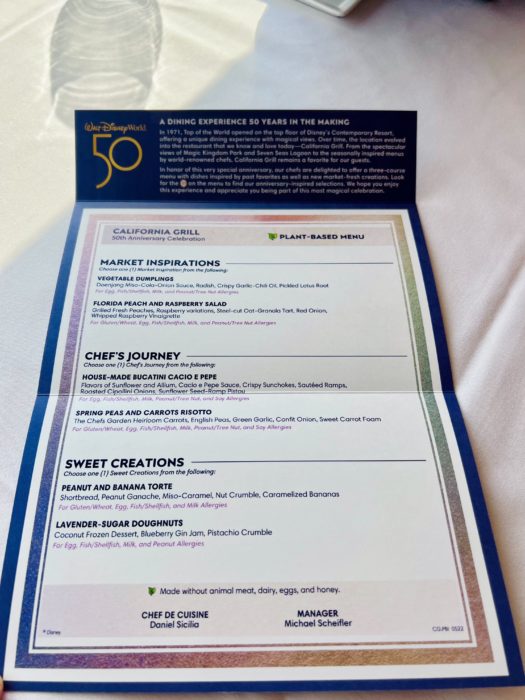 California Grill chefs Daniel Sicilia, Matthew Birch, and their team rolled out this new veggie-based menu on May 26, and our team was there the following day to sample it all.
Vegetable Dumplings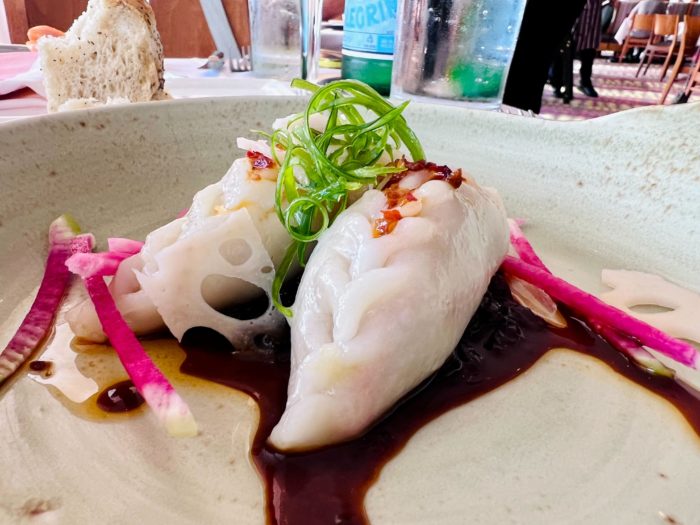 So this dish was both spicy and delicious! The Deonjang miso-cola onion sauce was particularly fantastic. The other ingredients consist of radish, a crispy garlic-chili oil, pickled lotus root, and crystal dumpling dough.
Florida Peach & Raspberry Salad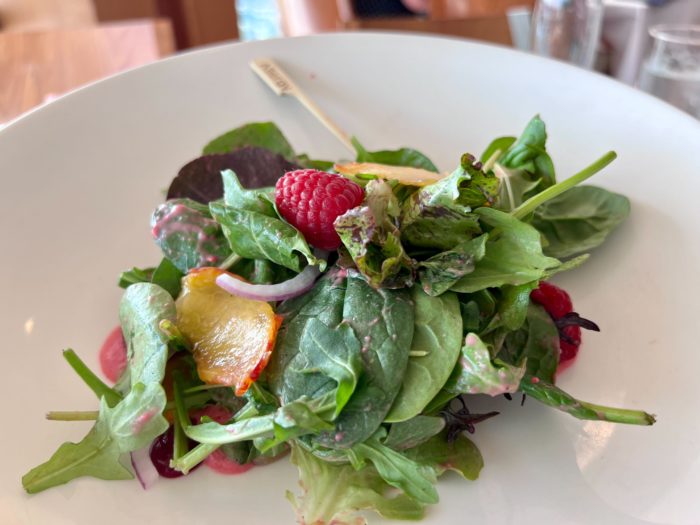 Described as having grilled and fresh peaches, raspberry variations, oat granola tart, red onion, and whipped raspberry vinaigrette, this item was super good, super colorful, but sadly, super boring. We'd skip this one next time.
Spring Peas & Carrot Risotto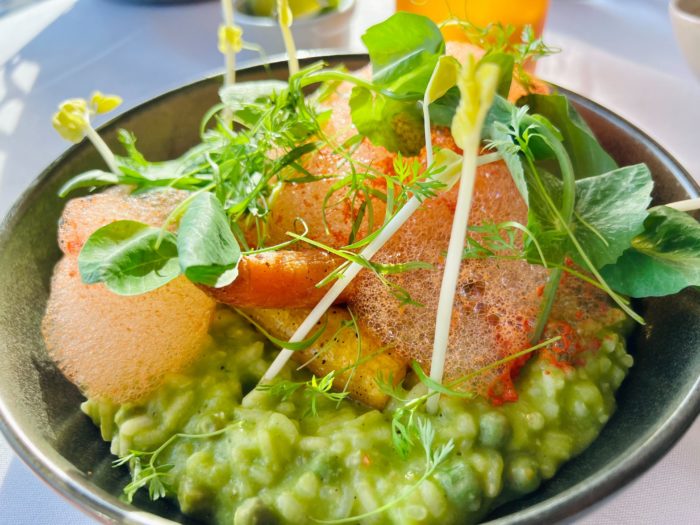 This risotto was bright, filling, and oh-so-tasty! Disney says that Chef Matthew Birch created the dish to look like it's sprouting from the ground, and we think he succeeded. We would get this item again for sure!
House-made Bucatini Cacio E Pepe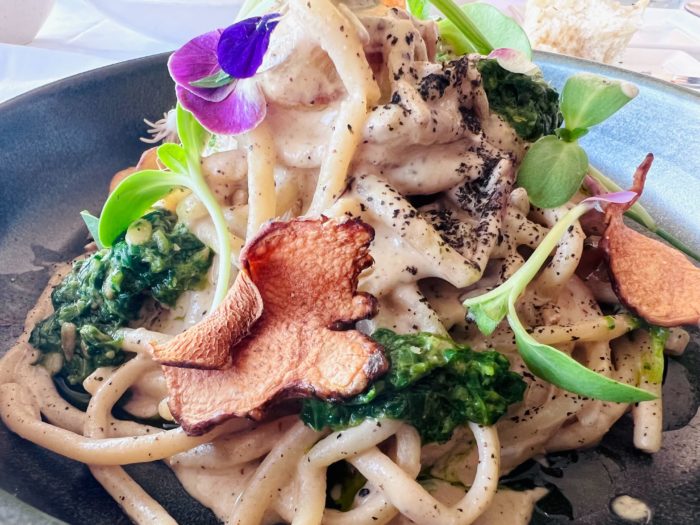 This was the clear stand-out of the night! Seriously, it may be the most spectacular bucatini our team has ever had. The sauce (pistou) is so good that you won't even miss the cheese; that is REALLY saying something. We promise this is amazing.
The menu lists the dish's ingredients as being sunflower, allium, crispy sunchokes, charred green onions, toasted onions, sunflower seed-ramp pistou, house-made bucatini, and a cashew cream sauce.
Peanut and Banana Torte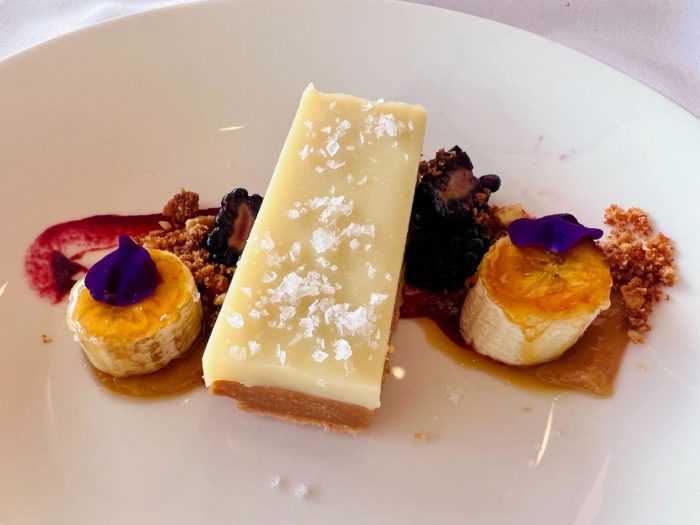 Brace yourself. This is our team's new favorite dessert at California Grill. Who got the last few bites may or may not have caused some tension amongst us.
Anyway, the torte is basically a fancy candy bar. The blackberries do nothing to enhance the flavor, but having some fruit will make you feel better about having dessert so that's a win, right?
Final Thoughts
Our team is thrilled that Disney is putting so much thought and care into creating creative and delicious plant-based options without relying on jackfruit and cauliflower.
Each dish at California Grill was complicated (in a good way!) and delicious.
Our recommendation? Get the risotto, the bucatini, and the torte. If you skip the salad, you can't go wrong with anything else on this new menu.
Are you a fan of California Grill? Are you looking to learn more about Walt Disney World's plant-based menus? Let us know in the comments!