Disney Vacation Club The Villas at Disneyland Hotel Review
This is a review of the The Villas at Disneyland Hotel, which is the newest Disneyland Hotel tower at Disneyland Resort in Anaheim, California. In this post we'll review a Deluxe Studio room, take a look at hotel amenities, the new Palette Pool, and everything else about this Disney Vacation Club property. Does this new hotel tower live Disneyland Resort's other fantastic on-site hotels? Keep reading to find out.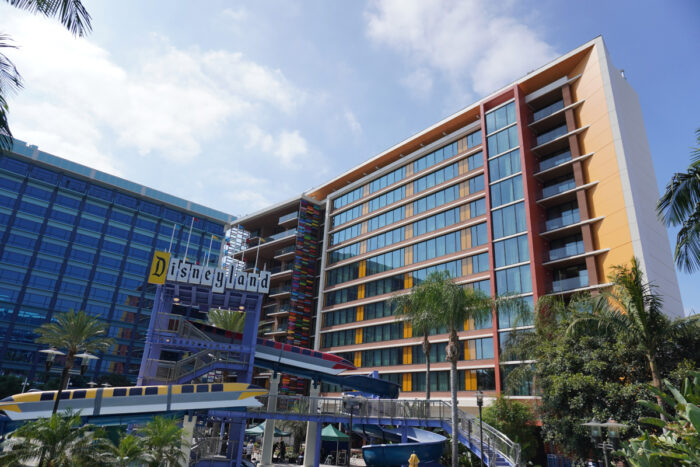 What is the theme of The Villas at Disneyland Hotel? In Disney's words: "Here, classic stories seamlessly blend with contemporary designs and timeless works from iconic Disney artists to create a modern masterpiece that is truly magical." There doesn't seem to be much more than a hint of this on the tower's exterior. In fact, it looks more like many of the other newer modern-style hotels found in the Anaheim Resort area. Disney did throw on a splash of color rather than making it stark white or grey like many of the other hotels. Bafflingly this color scheme does not match the other three Disneyland Hotel towers, one of which is only feet away.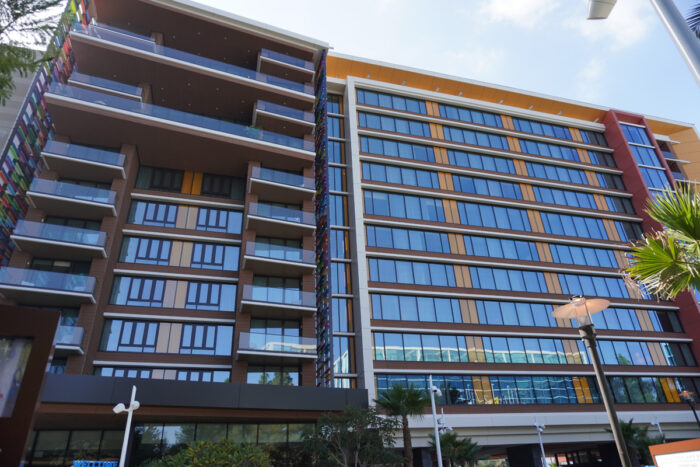 The Villas at Disneyland Hotel 344 rooms spread across 5 different room categories:
Duo Studios – Sleeps 2, features a kitchenette and has a Jungle Book theme
Deluxe Studios – Sleep up to 4, features a kitchenette kitchenette and is themed after either Sleeping Beauty or Princess and the Frog
1-Bedroom Villas – Sleep up to 5, features a full kitchen, living area and a washer and dryer. Rooms are Princess and the Frog or Fantasia themed
2-Bedroom Villas – Sleep up to 9, features a full kitchen, living area and a washer and dryer. Rooms are Princess and the Frog or Fantasia themed
3-Bedroom Grand Villas – Sleep up to 12 and feature all the amenities of other Villas, in addition to a 2-story window, and a double-sided fireplace. Grand Villa bedrooms are inspired by Bambi, Frozen and Moana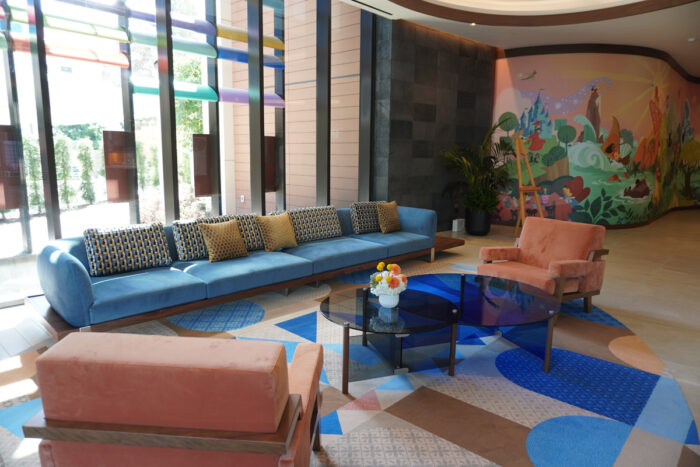 The lobby of The Villas tower has a lot of open space and floor to ceiling windows that let in a good amount of natural light. There's also a decent amount of seating and a few tables.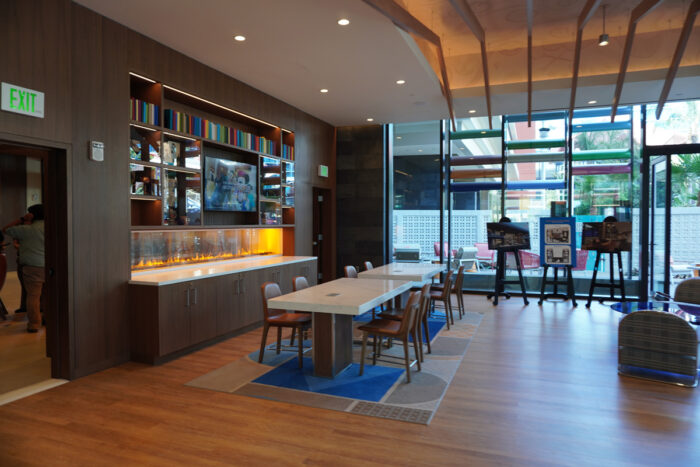 The lobby mixes natural colors along with blue, teal, and green. This color scheme is consistent throughout the The Villas at Disneyland Hotel.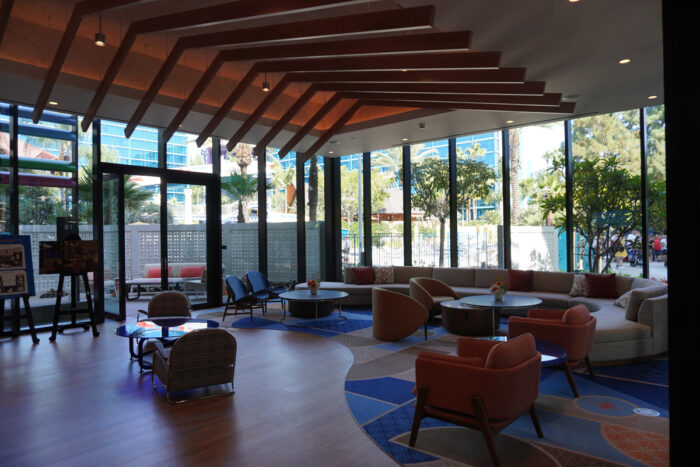 I'm not sure if Disney will enforce a DVC member with reservation rule for this area. They didn't seem to be doing that on opening day. People seem to get really anxious about this sort of thing so I thought I'd mention it here.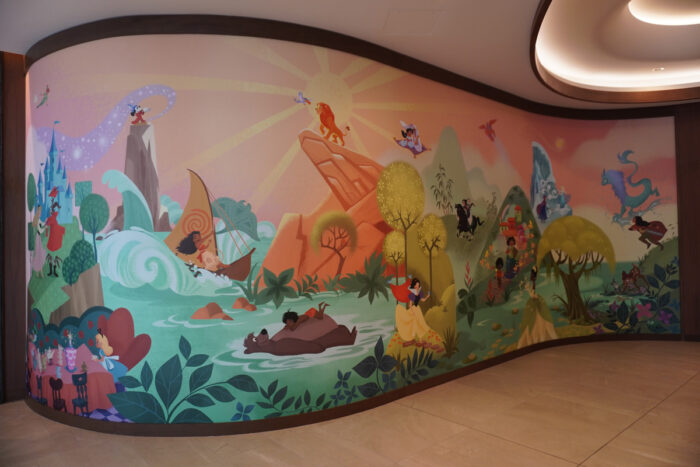 This mural shows all the characters that are found in the various rooms in the hotel.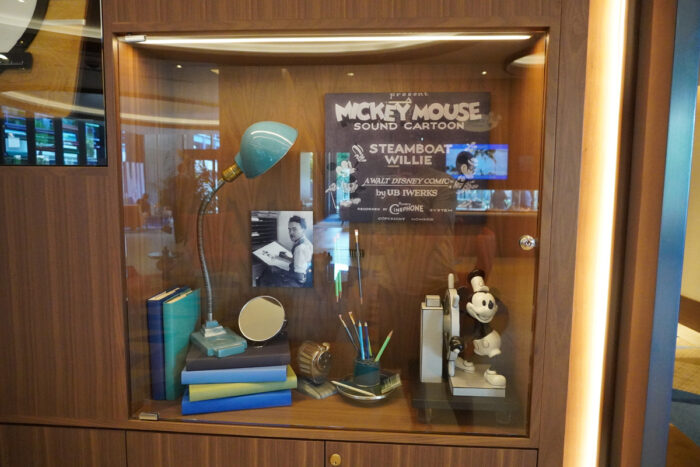 As you can tell by now, this portion of the Disneyland Hotel is dedicated to animated movies. This is opposite of the rest of the Disneyland Hotel, which is themed after Disneyland Park itself.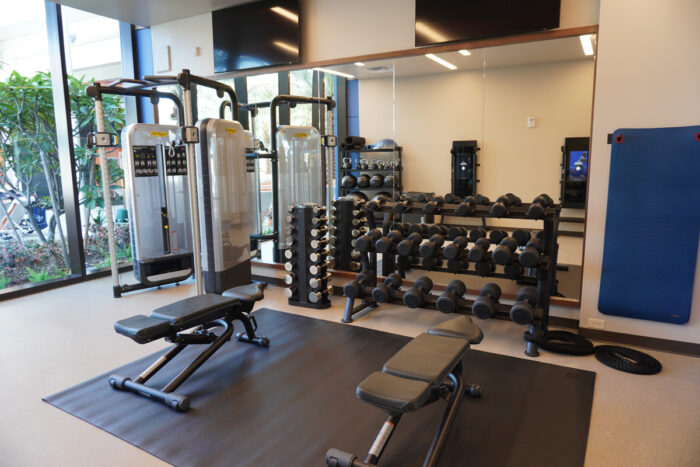 Before we get to the room, lets take a look at The Villas at Disneyland Hotel fitness center. It features weights, ellipticals, exercise bikes, and treadmills.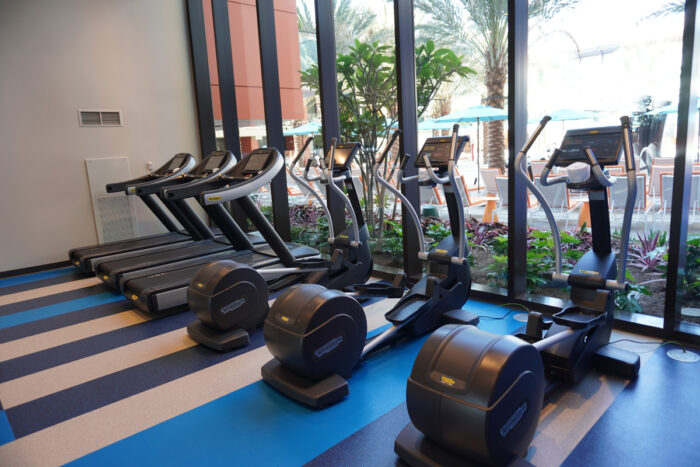 There's plenty of machines, some of which look out onto the tower's pool area.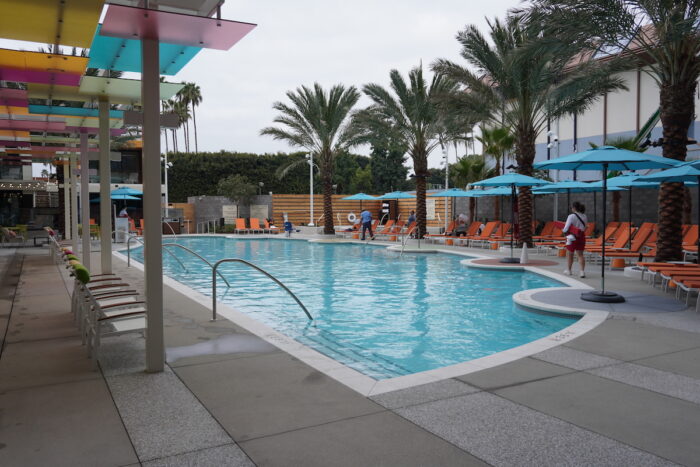 New to the Villas at Disneyland Hotel is the Palette Pool, which Disneyland Hotel guests will also be able to use.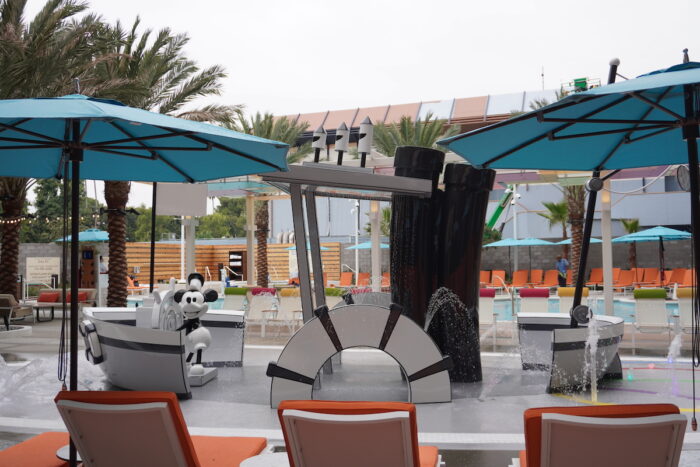 A fun feature of the Palette Pool is this Steamboat Willy water play area.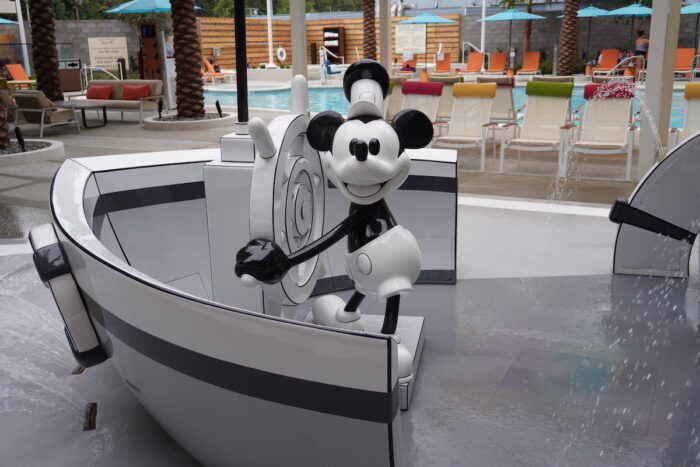 Here's another look at the Mickey statue.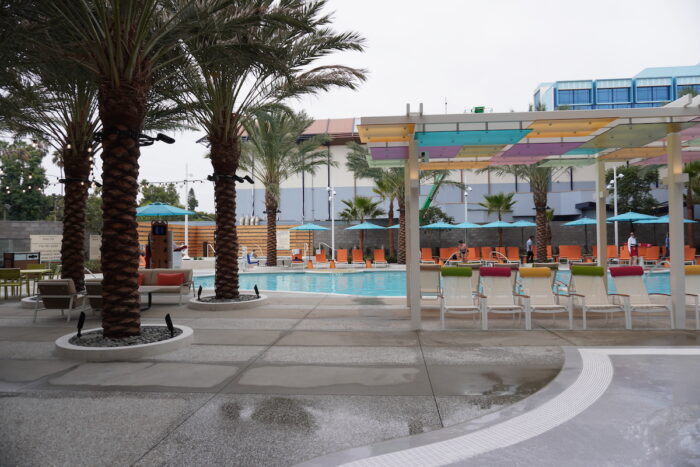 There's a decent amount of seating and a good amount of the chairs are covered.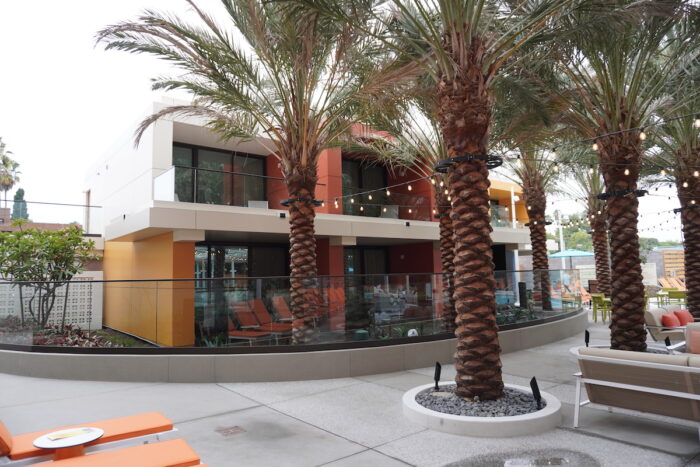 Next to the pool complex is a small group of Duo Studios with balconies.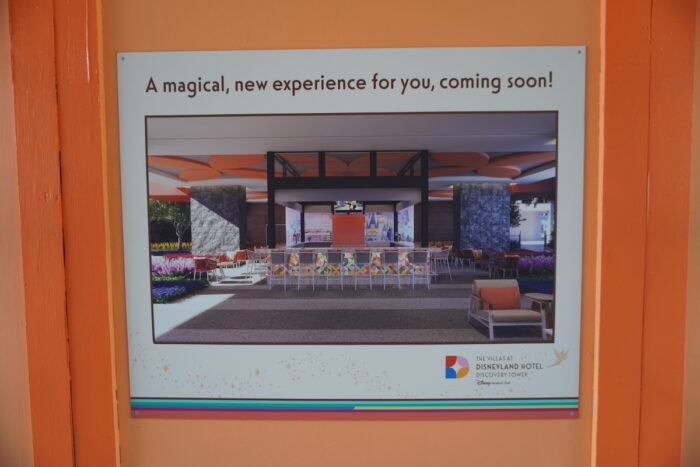 The Palm Breeze Bar is located in a breezeway connecting the Pallet Pool area and Monorail slide. It will feature artwork inspired by Disney Legend, Mary Blair, and will open in October.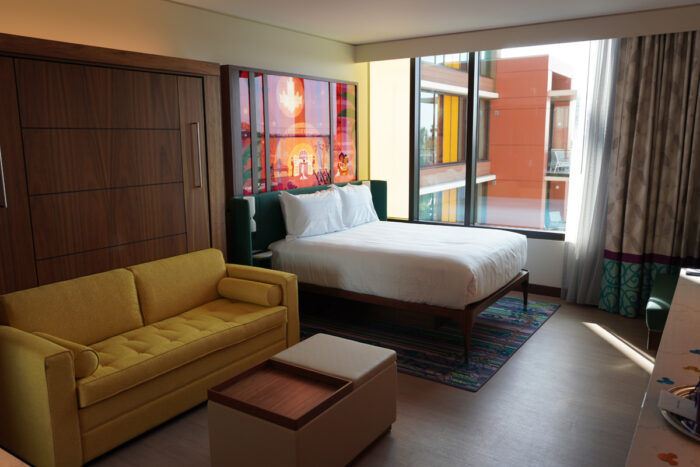 As I mentioned before in this post we're taking a look at a Deluxe Studio room. Deluxe Studios either have a Cinderella or Princess and the Frog theme. Our room was themed to the latter.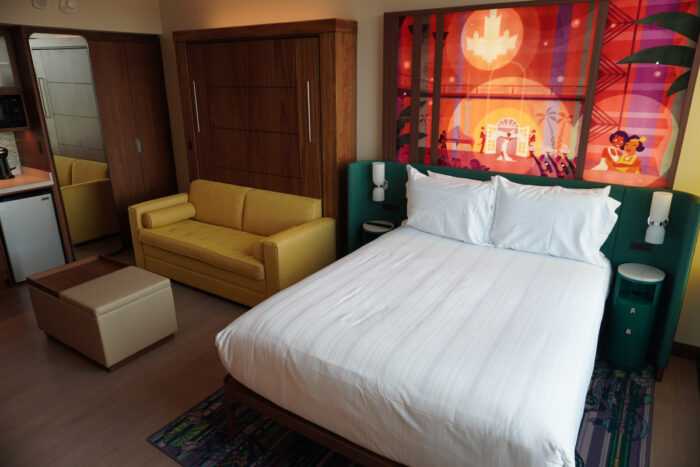 I thought the room had a lot of great colors that blended well together. The colors pop, but aren't too garish. What stood out to me was the quality of materials used in the room. Fixtures and decor have nice textures and every item is made with substantial materials.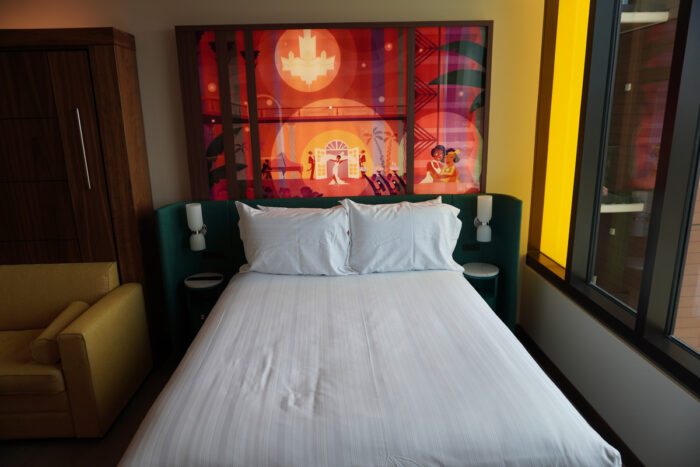 Here's the room's queen bed is a bit on the firm side, which I like. The pillows are soft, but not too soft. The Princess and the Frog art above the bed is rear illuminated, but it can be turned off. On each side of the bed there are power outlets, USB-C, and USB-A plugs to charge your devices. There's also lamps with switches.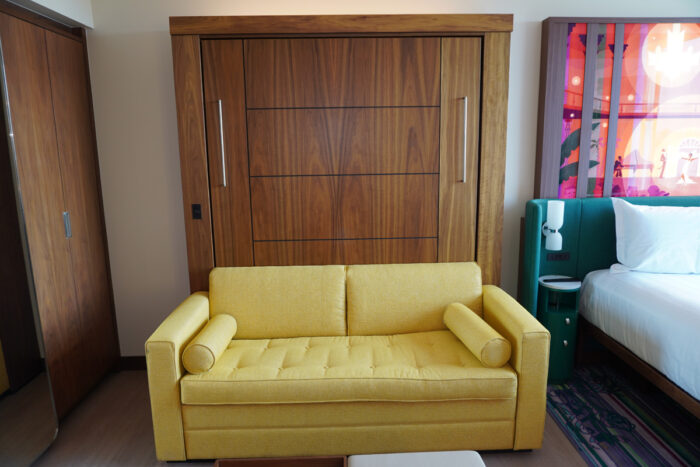 A nice feature of the Deluxe Studio is the murphy bed that also doubles as a couch.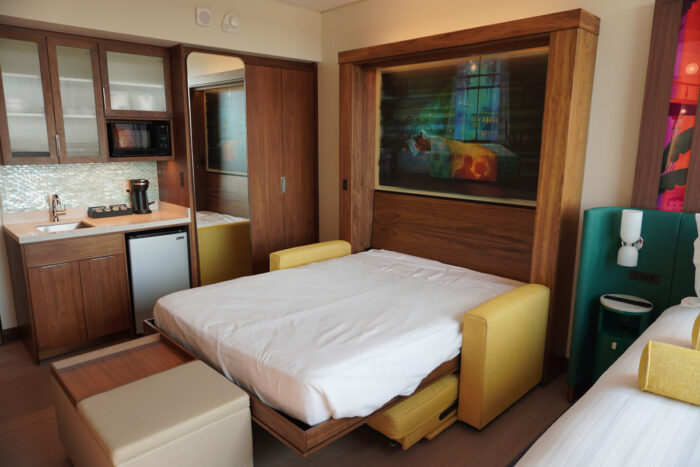 The bed folds down easily but it may be a bit heavy to some.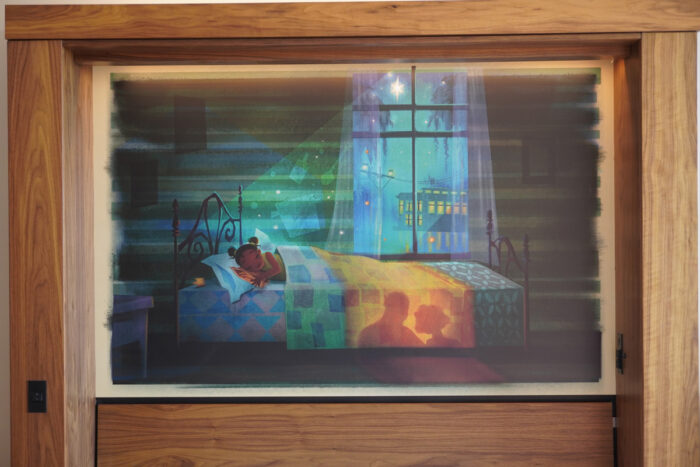 Some cute Tiana artwork is reviled when the murphy bed is folded down.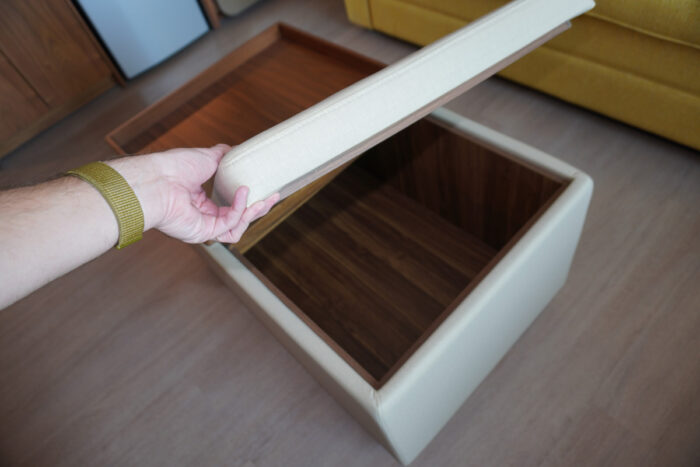 This ottoman has a lot of storage space and can be easily rolled to move out of the way of the murphy bed.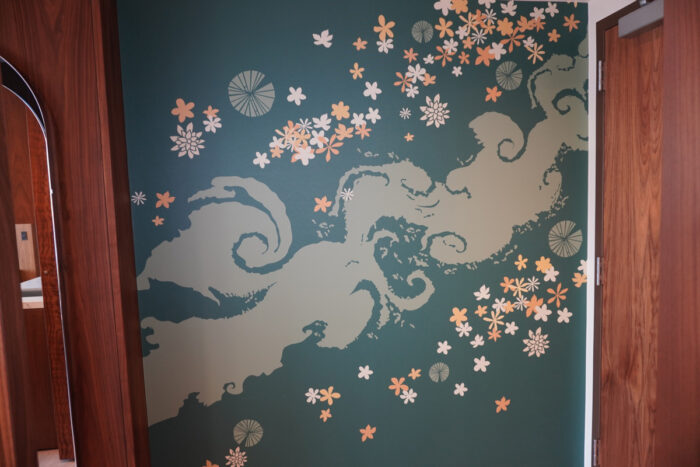 At the entrance to the room is this nice mural with art inspired by Princess and the Frog.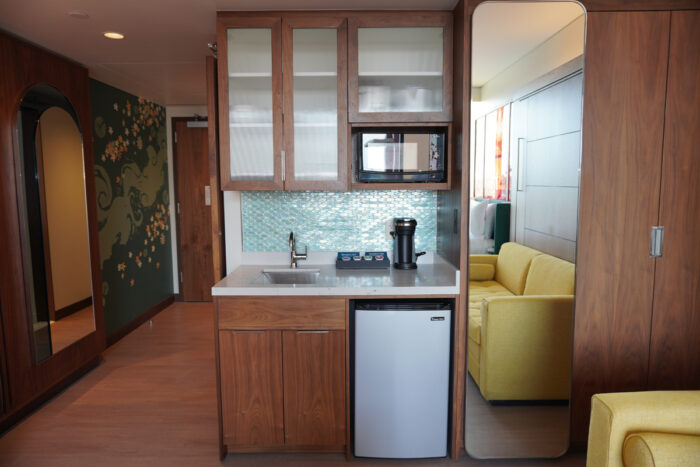 Each Deluxe Studio is equipped with a kitchenette. You'll find a mini fridge, microwave, single cup coffee maker with pods and condiments, a toaster, ice bucket, plates, bowls, glass cups, coffee cups, and cutlery.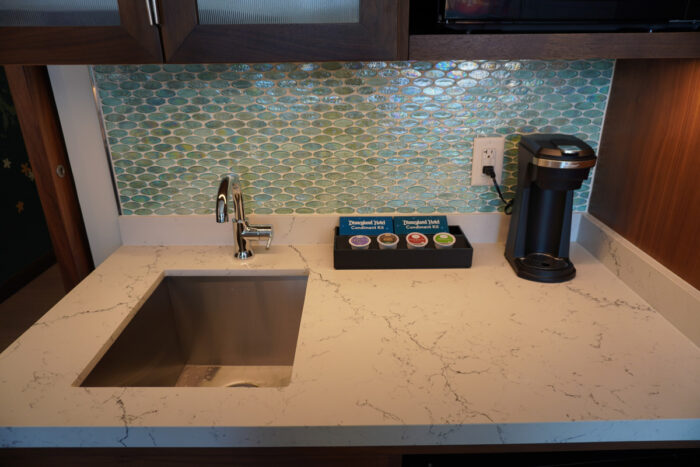 Here's a look at the sink and amount of counter space you get.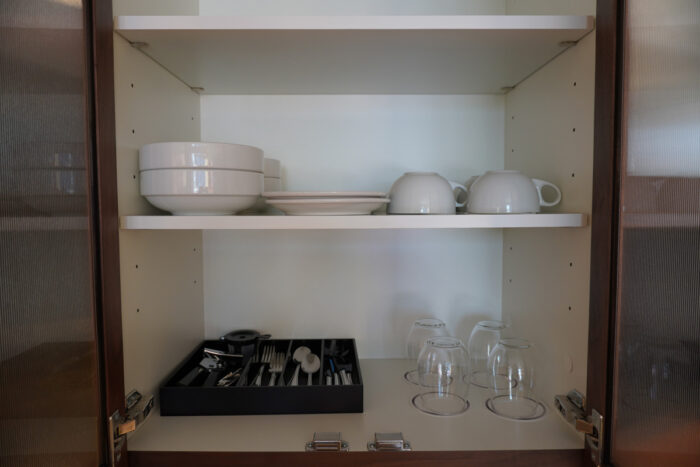 There's a couple of each item but the front desk can send more if you need them. Dish soap and a sponge are located under the sink.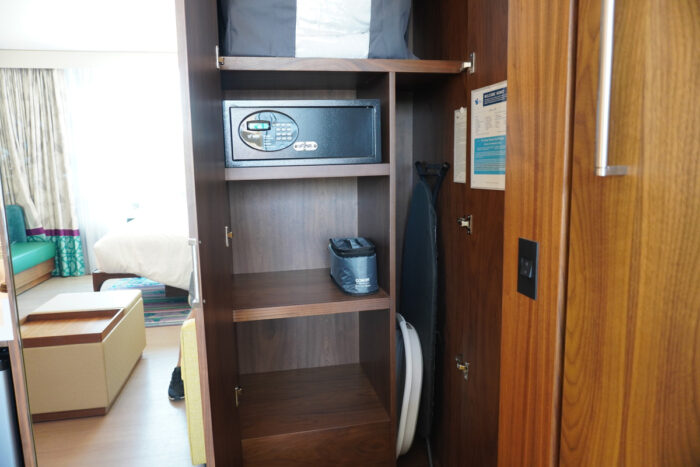 Located next to the kitchenette is a closet and storage area. Included are extra blankets, an ironing board, iron, safe, and a foldable laundry basket.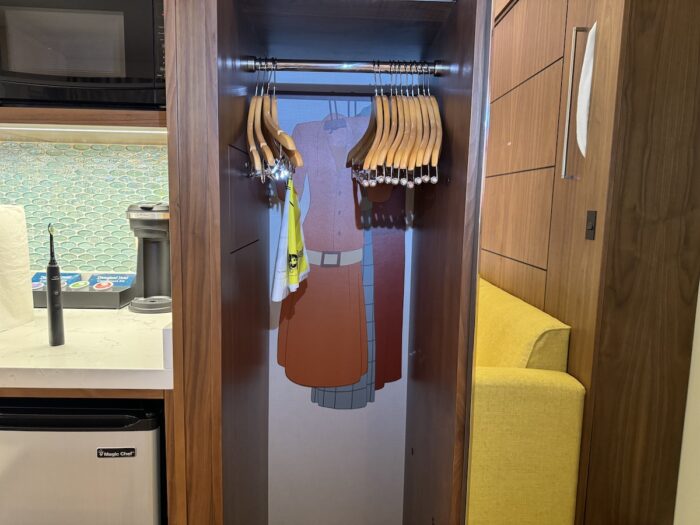 Sliding over the full length mirror you'll find the other side of the closet with hangers and some fun artwork.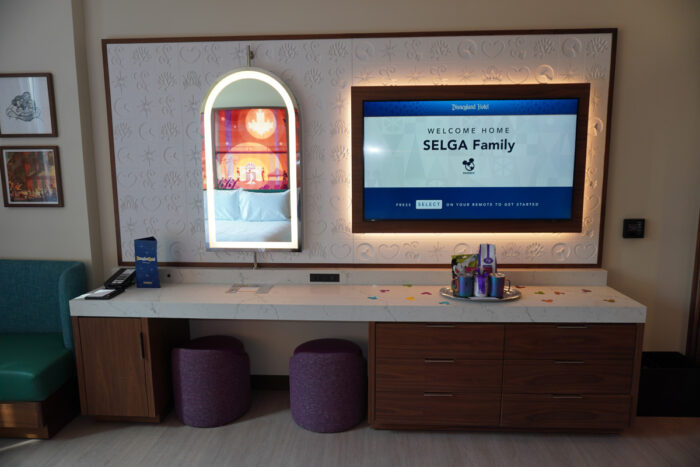 Six dresser drawers and a storage cabinet can be found at the front of the room, along with a illuminated mirror and TV. There are outlets to plug in more devices and an area to get some work done. This line of work has me working in hotels quite often, and while this area does provide enough space for a laptop and some other items, the chairs are extremely uncomfortable. There's no back to the chairs. They look good, but are unfortunately not very functional.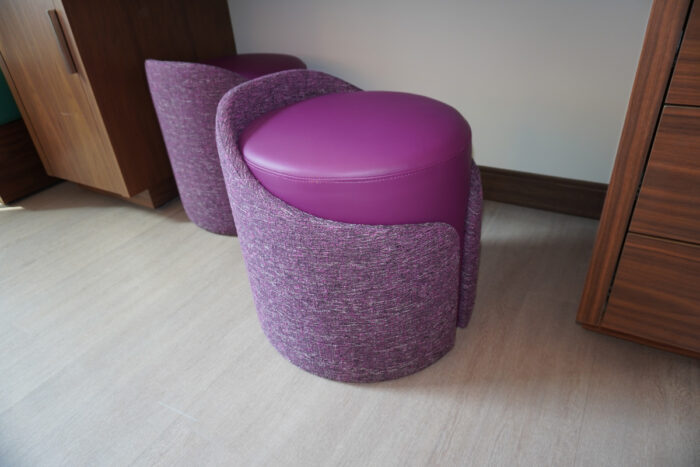 Here's another look at the chair.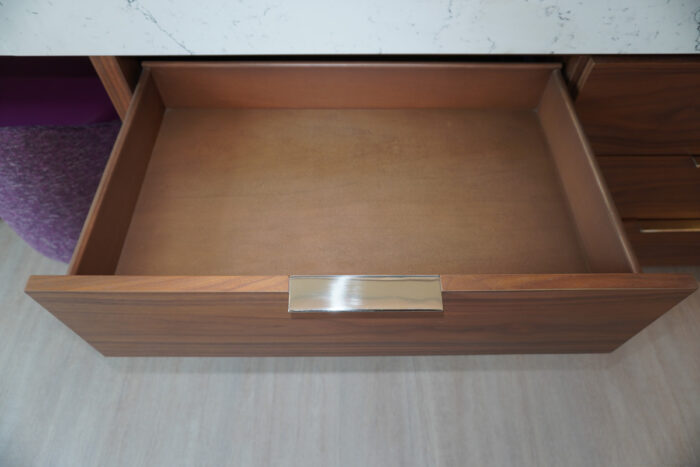 This rooms sleeps 4 and there's enough dresser drawers to fit a significant amount of items.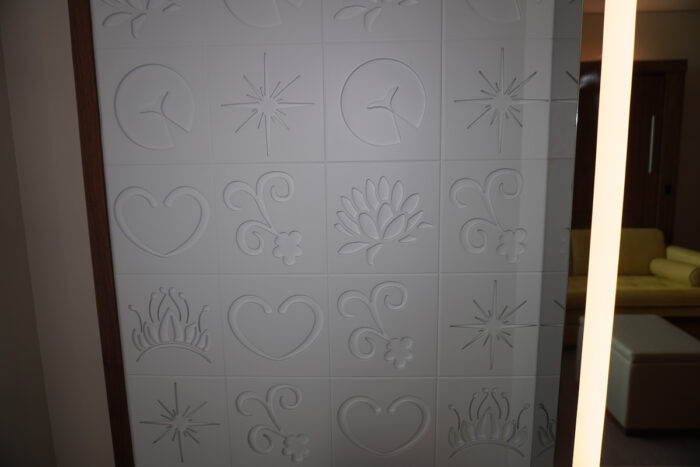 Behind the TV and mirror at the front of the room are these nice Princess and the Frog themed tiles. It's hard to tell from the picture, but these tiles have the art embossed into them.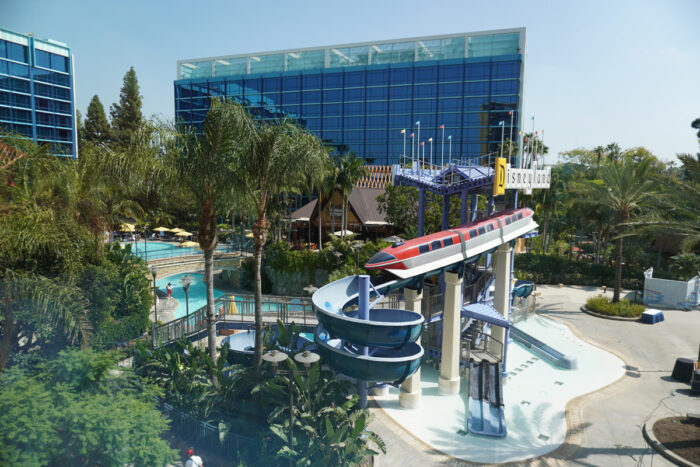 Views facing west look out onto Disneyland Hotel's Monorail slide and pool complex.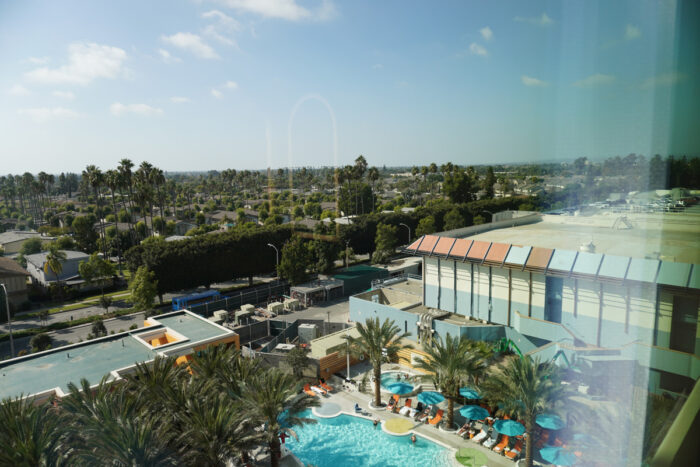 Rooms facing east and north look out onto a Anaheim neighborhood and The Villas at Disneyland Hotel's Palette Pool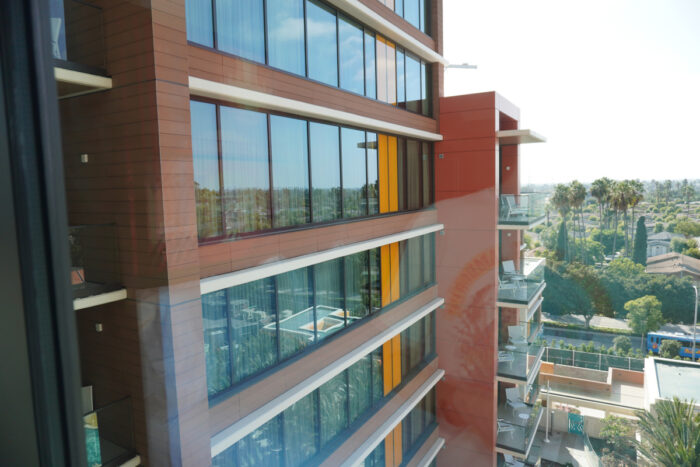 My room, which was facing east, also looked almost right into other people's rooms.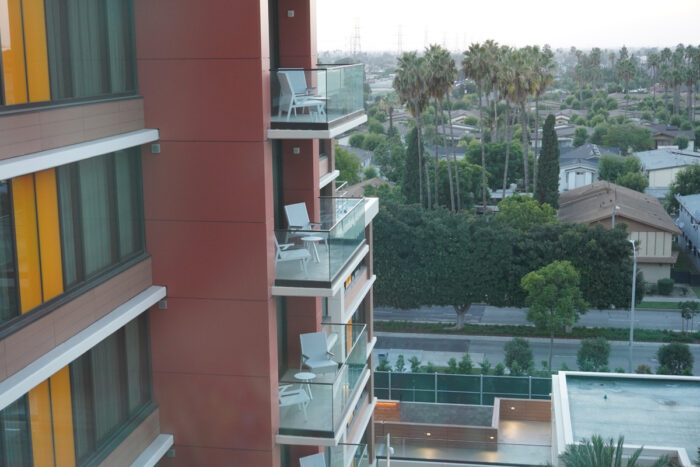 Some of the other room categories feature balconies, which can be seen here.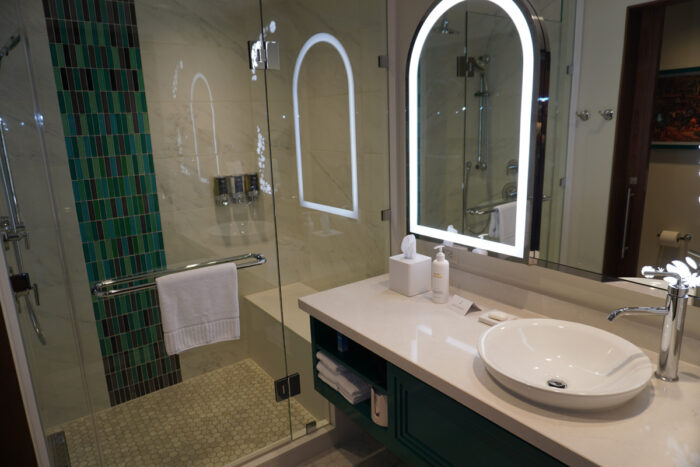 The bathroom is fantastic in terms of both look and functionality. The lighting is good, there's a good amount of counter space, and the shower is roomy.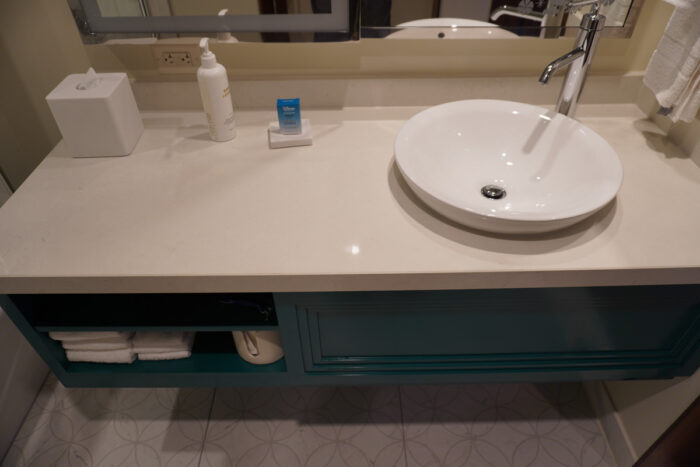 Here's a look at the sink area.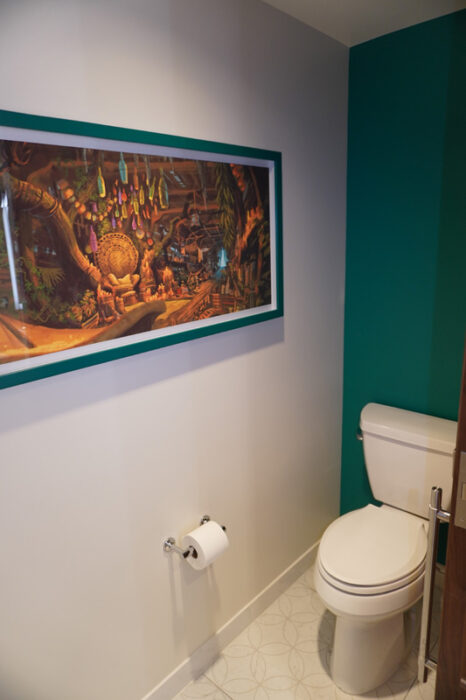 The toilet room is separated by a sliding barn door.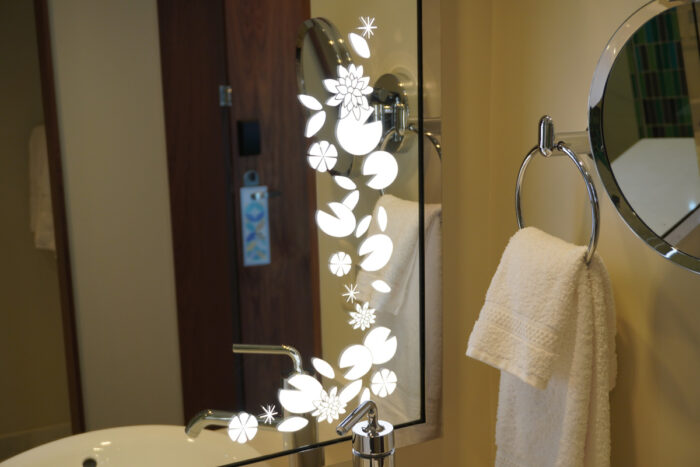 Another nice touch is this illuminated Princess and the Frog art on the mirror.
Overall I'm a big fan of the Deluxe Studio at The Villas at Disneyland Hotel. Disney greatly improved the non-DVC rooms at Grand Californian Hotel back in 2018 (check out our review of those rooms here), and in terms of functionality these rooms are even better. The Disney Vacation Club wing at Grand Californian (see our review here) has received no such upgrade, which makes the rooms at The Villas at Disneyland Hotel lightyears better. With all that said, it doesn't even matter. The demand for DVC rooms at Disneyland Resort far outweighs the supply and DVC rooms at Grand Californian immediately sell out when their booking window opens. It's safe to assume the same will happen at The Villas at Disneyland Hotel. Thankfully you'll know you're getting your money's worth when you stay at The Villas at Disneyland Hotel, whether it be by using DVC points, or by paying the high cash rates.
Planning a trip to Disneyland? See how busy it will be during your visit on our Disneyland Crowd Calendar, which rates every day of the year on a scale of 1 to 10 . Also check out our Disneyland Touring Plans. These itineraries can show you how to beat the crowds and spend less time in line at your favorite rides. Our Touring Plans can also be personalized! All of our tools are used by hundreds of thousands of visitors each year and are constantly being updated by our in-park team of researchers and data scientists.
When are you planning on staying at Villas at Disneyland Hotel? Does it look worth the price/points? Leave a comment or let me know if you have any questions.
Note: Disney did not sponsor this post, provide a room, or host us, and did not pay for, or receive copy approval.