Disneyland Hotel Tangaroa Terrace: A Tropical Dining Getaway
Located on the grounds of the Disneyland Hotel, Tangaroa Terrace is a quick service restaurant and bar that serves Asian-Polynesian inspired food and drink. This poolside tropical retreat attempts to evoke an island feeling, and is decorated with Tiki torches, shaded with palm trees, and has South Seas music playing.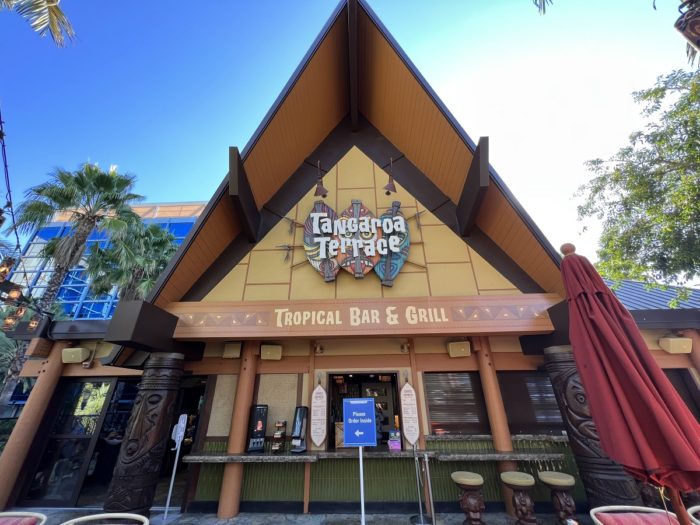 As you can see, Tangaroa Terrace is a little slice of Walt Disney World's Polynesian Village Resort.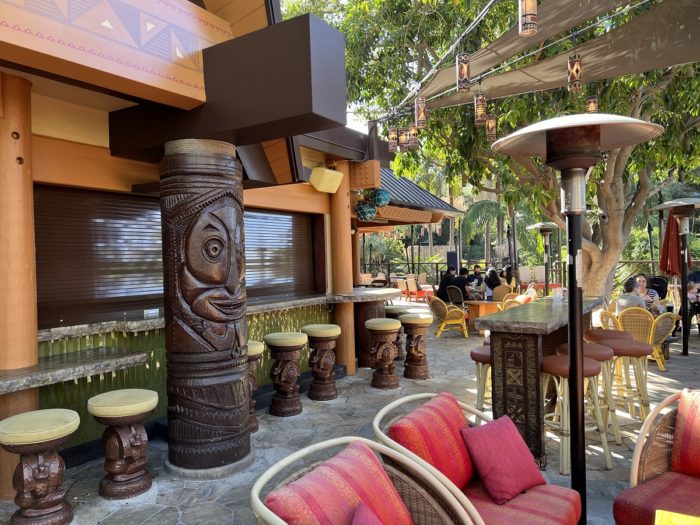 Most of the outdoor seats are dedicated to the neighboring Trader Sam's Enchanted Tiki Bar, but Tangaroa Terrace has a decent amount of indoor and outdoor seating.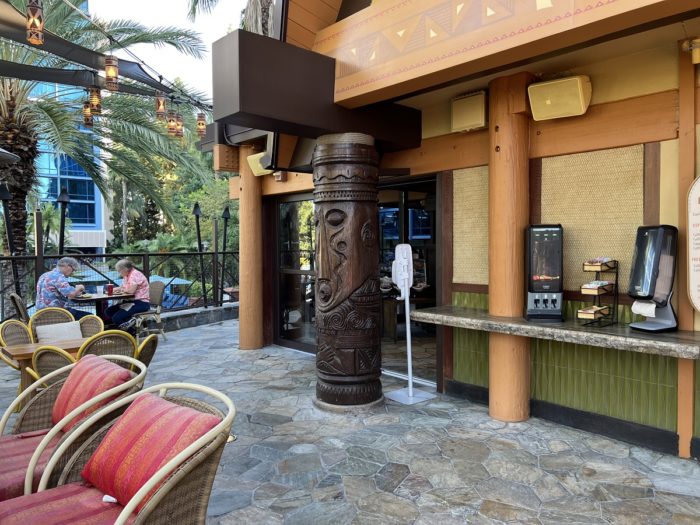 These pictures show hardly any people but the scene looks much different during weekends and holidays as visitors flock to the bar to wet their whistles.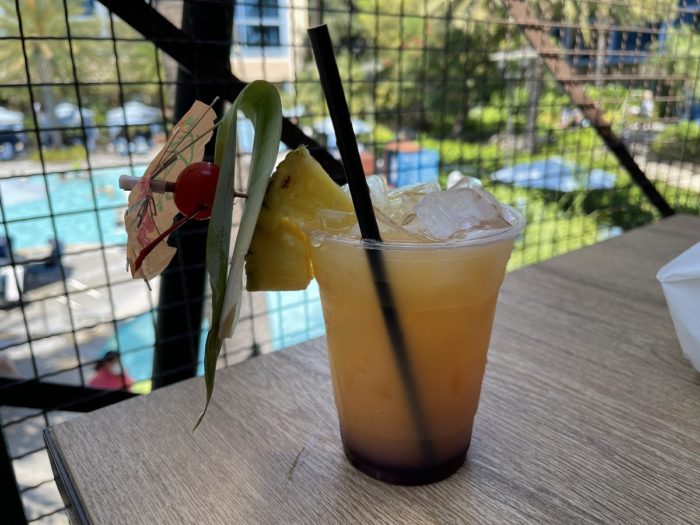 Tangaroa Terrace has an attached bar with an extensive drink menu (which offers the same drinks as Trader Sam's). You'll have to order these separate from you meal, which means waiting in two different lines if you want a cocktail with your food. Pictured here is the non-alcoholic Schweitzer Falls with tropical juices and Sam's Gorilla Grog topped with Sprite. It's on the sweet side (as are all of Trader Sam's mixed drinks), but this is my favorite of the non-alcoholic offerings.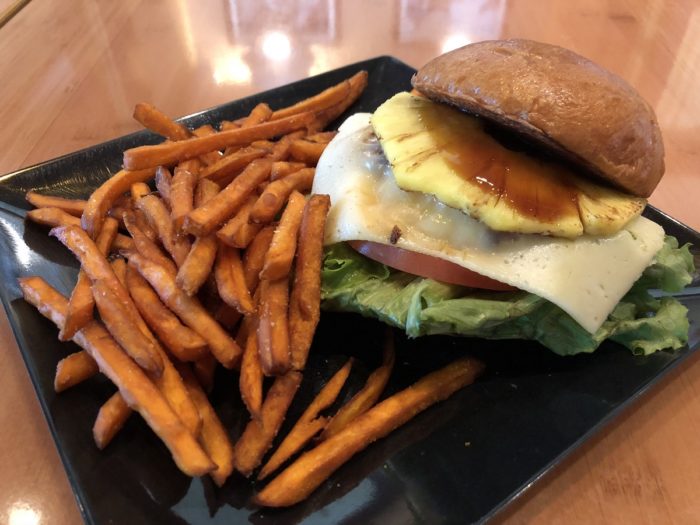 First up we have the Angus 1/2 lb Hawaiian Cheeseburger with grilled pineapple, applewood-smoked bacon, havarti cheese, lettuce, tomato, onions, and sweet-and-spicy spread, and served with sweet potato fries. This is a very good sweet and savory burger and I really enjoyed the tangy spread. But good lord $18 is a lot for what is essentially a cheap theme park burger with a slice of pineapple thrown inside. Also I'll take this opportunity to talk about how much I love sweet potato fries. Disneyland had a stretch of time a few years back when most quick service restaurants in the park included sweet potato fries instead of normal french fries and it was glorious. If you want a legitimately good burger for only a few dollars more check out Black Tap Craft Burgers & Beer in Downtown Disney.
Real quick, the rest of the entrees in this post were purchased via mobile order, which is why they're in to go boxes instead of on a plate.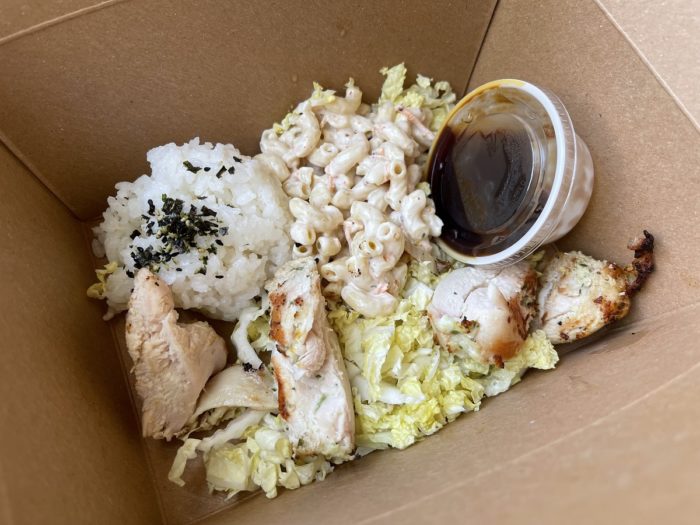 Here's the Hawaiian Platter, which includes furikake seasoned Thai jasmine rice and macaroni salad, served with choice of roasted pork belly or poached chicken breast. I opted for the chicken and was disappointed by the miniscule amount that was provided. I hate to again focus on the price over quality here, but $17 for four slices of chicken and a tiny scoop of rice and macaroni salad is unactable to me. Again, this was tasty, but I can't recommend it due to the small serving size. If you want a chicken and rice bowl that is overall better, cheaper, and larger in portion size, go to Lucky Fortune Cookery inside Disney California Adventure.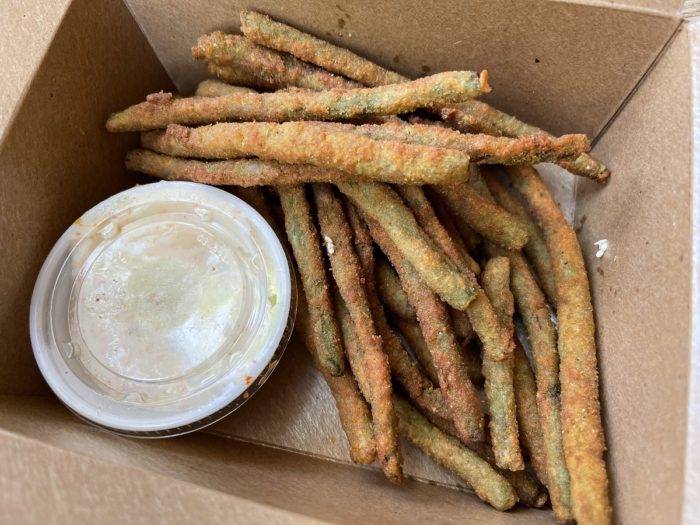 A staple of Trader Sam's since it opened is the Panko-crusted Long Beans ($10). Thankfully it's been added to the Tangaroa Terrace menu. It's a perfect shareable snack while you sip your drinks, or as a side to any of the entrees you order. The long beans have are delightfully crispy and flavorful, and the included togarashi aïoli is good too.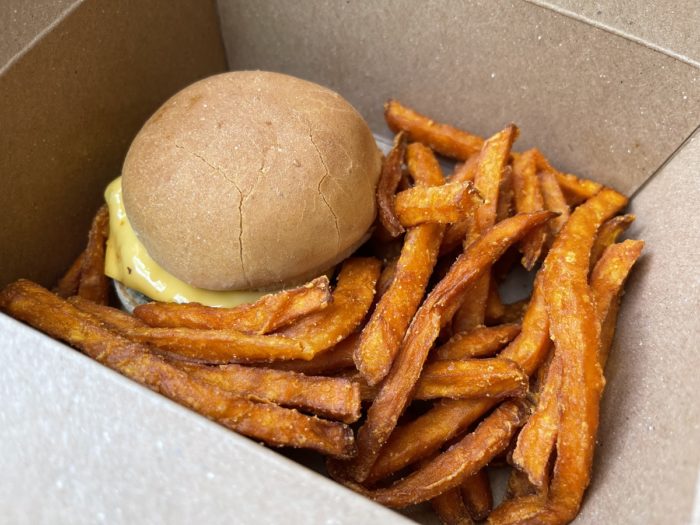 While the Hawaiian Cheeseburger is not a good value the kid's cheeseburger isn't bad. You get the burger, sweet potato fries, fruit, and a milk or water all for $10.
Overall we enjoy Tangaroa Terrace for its food, drinks, and atmosphere, but it is very pricy for fast food. But perhaps if you're paying up to $650 a night to stay at Disneyland Hotel you'd also be okay with paying $18 for a hamburger. Also as we mentioned earlier Trader Sam's drink menu is available at this location, which makes it a good and quicker alternative to the very busy and popular bar.
Do you have any favorites from the Tangaroa Terrace or Trader Sam's menus? Let us know in the comments.