All About Character Dining at Walt Disney World
When you're planning your meals at Walt Disney World, you'll encounter the terms "Character Dining" and "Character Meal". What do these mean? Should you try to do one? Here's everything you need to know.
The Basics of Character Meals
What's a character meal?
These are restaurants where you can meet Disney characters as part of your dining experience. In most cases, Disney characters will visit your table during your meal. While you eat, characters stop by your table to chat (or mime chat), pose for photos, and sign autographs.  In some cases, one or more characters will be stationed in a central location and you'll visit them for photos/hugs.
Not surprisingly, character meals cost money. The greeting is included with the cost of your meal, but you'll have to pay for the meal to meet a character in this situation. And yes, they tend to be more expensive than a similar meal without the character experience.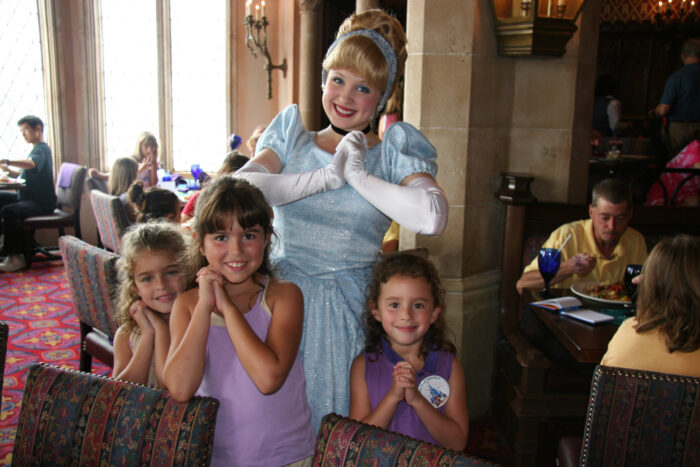 What exactly are characters?
Characters are the live version of animated creatures/people found in Disney films and television programs. While a character may be just inches tall when you see him on TV, all the in-park characters are adult human size or larger (sometimes much larger). There are two types of characters: "fur" characters and "face" characters.
Fur characters are those with an oversized, non-moving mask serving as their entire head. Typically the fur characters are animals such as Mickey and Minnie, Goofy, and Donald Duck. There are some "human" fur characters, notably Captain Hook and the Incredibles, but these are less common and none of them currently appear at character dining experiences.
Face characters have a fully human form – they look like real people, with nothing obscuring their eyes/nose/mouth. The essence of the character is conveyed via costuming, wigs, and makeup. Face characters include all of the princesses and their princes, Jack Sparrow, and more.
Other than appearance, one of the key differences between face characters and fur characters is that face characters talk, while fur characters generally do not; they communicate through gestures.
What kind of food can I find at Disney World character meals?
Most of the character meals serve some version of standard American cuisine. At the buffet-style venues, there might be a few more interesting options. For example, an Asian or African noodle dish is offered alongside Mickey waffles (breakfast) or carved meats (lunch and dinner).
Before booking a character meal, it makes sense to take a look at the restaurant's menu to ensure that there are items available that you and/or your children will actually eat. All WDW restaurant menus are readily available online.
What is the dining style? Buffet? Table service? Something else?
There are several different types of character meal service, including:
Buffet: there are many items located in a central location in the restaurant. You walk up to the central location yourself to retrieve your food. Examples include Crystal Palace (Magic Kingdom), Cape May Cafe (Beach Club), and Tusker House (Animal Kingdom).
Platter-based food (also known as family style or All You Care to Enjoy): servers bring a heaping platter to your table from a set menu. You don't get to choose the items on the platter, but you can get more of anything you are particularly fond of at no additional cost. Examples: 'Ohana breakfast (Polynesian), Garden Grill (Epcot)
Menu-based: served substantially like a traditional restaurant, where you choose what you want to eat from a menu, or a hybrid where some courses (appetizers or dessert) are pre-selected and your entree is chosen from a menu. Examples: Cinderella's Royal Table (Magic Kingdom), Storybook Dining at Artist Point (Wilderness Lodge)
The style of service can have a large impact on your enjoyment of the meal. Some families prefer buffets because finicky children can see what the food options are, thus increasing the chance that food will actually be consumed. Other families dislike buffets because there is a constant "up and down" feel to the meal as family members go back and forth to the food line. Buffets are particularly challenging for single parents of small children.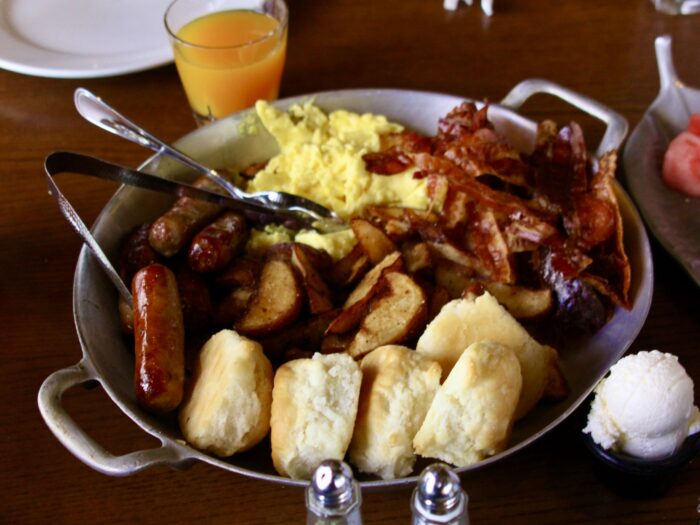 How much will eating at a character meal cost?
Most character meals are currently priced at $35 for children (ages 3-9) and about $60 for adults (ages 10 and up) for lunch or dinner. Cinderella's Royal Table, Akershus, and Storybook Dining at Artist Point are considered Signature dining experiences and cost more than this. At the same venue, breakfast is often priced lower than lunch or dinner.
How do I make reservations for a character meal? When can I make them?
Character meal reservations work in the same fashion as other table service meals at Walt Disney World. Head on over to our Table Service Meals FAQ for all the details.
How many character dining experiences are there at Walt Disney World?
There are currently 11 character dining locations at Walt Disney World.
Where are the character dining experiences located?
Character meals are often chosen based on who you'll meet, so we've grouped them that way below. Unless otherwise specified, you can meet the characters at breakfast, lunch, and dinner. For restaurants that offer the same character experience throughout the day, breakfast is often more difficult to reserve than dinner because it is cheaper. For meals that are located inside the theme parks, you'll need park admission, as well as a theme park reservation if your ticket requires it.
Character meals where you can meet members of the Fab Five
Disney's "Fab Five" are Mickey, Minnie, Donald, Goofy, and Pluto; these characters are very popular and several Disney World character meals feature them; sometimes Daisy will be included in this group. Not all of the meals include all of the characters, although Mickey is always in the mix—generally, you'll meet at least four and occasionally five. Aside from the food and service style, a big difference between these meals is the character outfits. For instance, at Cape May Cafe you'll meet characters wearing beach bash outfits, whereas at Tusker House they'll be garbed in safari gear.
Cape May Cafe – breakfast only

Disney's Beach Club Resort; characters wear beach bash outfits
Buffet
Getting reservations may be easier than other character meals

Chef Mickey's – breakfast and dinner only

Disney's Contemporary Resort; characters wear chef outfits
Buffet
Getting reservations can be challenging

Hollywood & Vine – lunch and dinner

Disney's Hollywood Studios; character outfits change seasonally
Buffet
Getting reservations may be easier than other character meals

Topolino's Terrace – breakfast only

Disney's Riviera Resort; characters wear artist outfits
Menu-based service
Getting reservations can be challenging

Tusker House

Disney's Animal Kingdom; characters wear safari outfits
Buffet
Getting reservations may be easier than other character meals
Character meals where you can meet princesses
Princesses are also quite popular. How popular? Well, the only character meals that are designated as Signature Dining Experiences have princesses. As with the Fab Five, if a meal doesn't list a specific lineup it will feature four or five of the most popular princesses, usually including Cinderella and Snow White. Other princesses in the rotation may vary, sometimes even between meals; you may encounter any of Ariel, Jasmine, Belle, Aurora (Sleeping Beauty), Tiana, or others.
Akershus Royal Banquet Hall

EPCOT, Norway Pavilion
Family-style service
Getting reservations can be challenging

Cinderella's Royal Table

Magic Kingdom
Menu-based
Getting reservations can be challenging

Story Book Dining at Artist Point – dinner only

Disney's Wilderness Lodge
Snow White, Dopey, Grumpy, and their Queen
Menu-based service
Getting reservations may be easier than other character meals
Other character meals
Several character meals are "unique" offerings that feature other popular Disney characters. Where "classic Disney characters" are listed, this is often Mickey and Pluto but may vary. Reservations for all of these meals tend to be easier to get, with the exception of 'Ohana breakfast.
Crystal Palace

Winnie the Pooh and friends
Magic Kingdom
Buffet

Garden Grill

Chip & Dale, plus classic Disney characters
EPCOT
Family-style service

'Ohana – breakfast

Lilo & Stitch, plus classic Disney characters
Disney's Polynesian Resort
Family-style service
Getting reservations can be challenging

Hollywood & Vine – breakfast

Disney Junior stars
Disney's Hollywood Studios
Buffet
Pre-pandemic there were also character meals at 1900 Park Fare at Disney's Grand Floridian Resort, but this restaurant has not yet returned to service. The character breakfast at Trattoria al Forno has also not yet returned.
Be Our Guest (Magic Kingdom) is not a character meal. However, at dinner only, the Beast greets guests in a central location in the restaurant. He is the only character available. The food is ordered from a menu. Do not book this expecting to have a full character meal.
I've been able to get a breakfast character meal reservation at 10:30 a.m. but lunch starts at 11:00. Will my meal be rushed?
No worries. You won't be rushed out of the room.
Once you're seated, you can continue to meet characters and eat to your heart's content throughout the breakfast to lunch transition. The only way you'd even know that a switch is happening is by looking at the buffet line offerings. The foods displayed will gradually shift from breakfast-focus foods like eggs and waffles, to lunch-focused foods like carved meats and veggie-based sides. In my opinion, you're actually in a terrific position to sample foods from both day parts – sort of like a covert way to enjoy a traditional brunch menu. Yum!
Is a Character Meal Right For You?
Do I have to have a character meal to interact with characters?
Absolutely not. Almost all characters that appear at meals also visit with guests in other areas of the parks. You can meet them there at no charge beyond the cost of your park admission.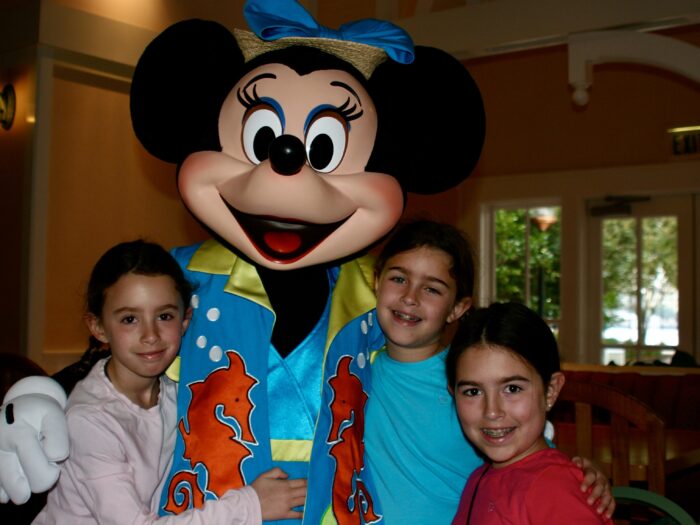 Why would I choose to have a character meal rather than just meeting characters in the parks?
There are several reasons, including:
You want to kill two birds with one stone – eating and greeting.
You want a guaranteed way to meet characters without waiting in line.
You want to meet characters in an indoor, air-conditioned environment.
You want to get into a theme park early. Some breakfast character meals start before an official park opening time.
Are there reasons why I wouldn't want to make character meals part of my vacation?
Sitting in a restaurant means you're not out in the parks enjoying rides.
Character meals can be expensive. They may not be the best choice if you're in money-saving mode.
Some children may be overwhelmed or afraid of characters, potentially making the meal chaotic.
Will my child be afraid of the characters?
It really depends on your child's temperament. Few children are afraid of face characters – they just look like people wearing odd clothing. The fur characters are the ones that cause problems for a small, but vocal, subset of children. Most kids are unfazed by meeting Mickey and the gang, while others are reduced to a quivering ball of tears any time they get within 10 feet of a giant mouse.
If you have some concern that your child might exhibit character fear behaviors, try finding a costumed character in your hometown (perhaps at a birthday party or Chuck E. Cheese-type venue) to practice with. At least with the information, you'll be able to plan accordingly. Out in the parks, it's possible to keep characters at a distance, but not at a character meal. If your child is in an anti-character phase, you should probably skip character dining situations during this trip.
If I talk to a face character, I'll have a pleasant interaction, right?
Mostly, but not always. Face characters in the parks have the same personality as their counterpart in the Disney films. If you're talking to a  princess, you'll have a lovely, gentle conversation. Villains like Snow White's Queen will be brusk.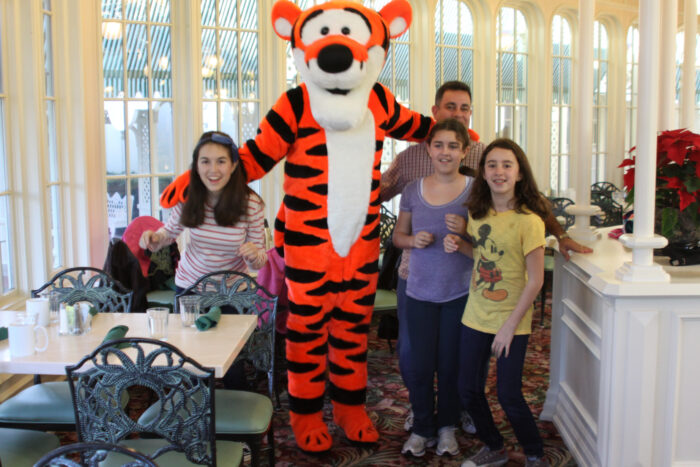 My party includes someone with a food allergy, can they be accommodated at a character meal?
Common allergies such as gluten or egg can be easily accommodated at many WDW restaurants in all categories. Guests with multiple allergies or other food-related needs should submit a Special Dietary Requests email prior to their trip.
How long does it typically take to eat at a character meal?
A typical rotation of characters through a restaurant takes about an hour. If you've eaten quickly (very possible at a buffet) and all the characters have passed your table, then it might take closer to 45 minutes. If you like to linger over your meals, it might take as long as an hour and a half. I've rarely seen a character meal go longer than that.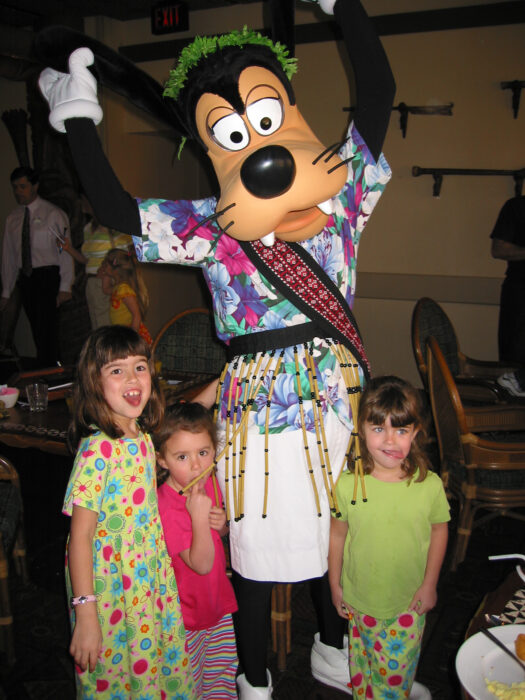 Is it weird for a party of only adults to book a character dining experience?
Not even a little. If you like characters, then by all means book yourself a character dining experience. I can't even count the number of times I've enjoyed character dining with groups of adults.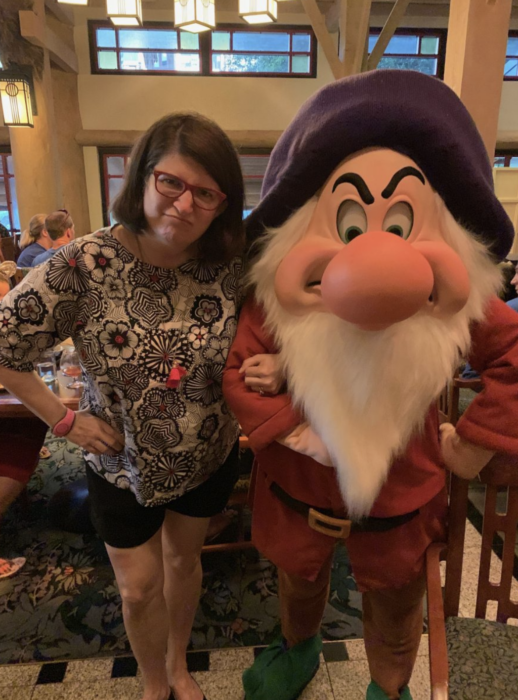 How do I know which character meal is right for my family?
Here are some things to consider:
Budget. Breakfast costs less than lunch or dinner.
Character preferences. For example, if your child is obsessed with Piglet, then Crystal Palace is your only character meal option. If she likes Minnie Mouse, there are lots of alternatives.
Time of day. If you want a character meal at lunch, you'll have fewer options than breakfast or dinner.
Park admission. A theme park admission ticket is required for the restaurants located inside the parks. If you don't want to use a park admission, opt for one of the meals located in a WDW hotel.
Location. You may want to choose the location closest to your own hotel or one located in your preferred theme park.
Noise level. The larger the restaurant, the louder you can expect it to be. And even some of the smaller restaurants can be a wall of sound during mid-meal parades or dance parties. If you have a child with sensory processing issues exacerbated by noise, your best bets might be breakfast at Cape May Cafe (Beach Club) or lunch at Garden Grill (Epcot) which tend to have a somewhat lower ambient sound level.
Menu preferences.
Service style preferences.
Availability of reservations. Sometimes the best character meal is the one you can get.
Is character dining worth the time? Wouldn't we be better off going on rides?
Oh, those "Is it worth it?" questions are such a challenge. The answer to this really depends on your personality and what your vacation goals are. Some people think that meeting a character is just plain silly. (I mean, we all know what's really going on inside Mickey's head, right?) Other folks are obsessed with character greetings and endeavor to have every possible version of character interaction.
In my experience, children in the 3 to 6 age range often think that Disney Parks characters are really, really, really real. If they LOVE Belle and then, gasp, they get to actually MEET Belle, then their entire vacation is a dream come true. Your basic five-year-old may care much more about meeting characters than they would about any ride attraction.
My daughters are young adults now. When we go to the Animal Kingdom these days, we head straight for Expedition Everest, but back when the girls were preschoolers, characters were the main draw. My kids were THRILLED to get quality character time at character meals and this made our vacations very happy.
TouringPlans contributor Jennifer Heymont initially thought character meals were overrated and couldn't understand why anyone would pay extra for the experience. After waiting 90 minutes in the hot sun on a late morning in August to meet Ariel in her grotto, she rapidly revised her opinion.
Even if you're generally a character naysayer, I recommend that you try at least one character meal to see what the fuss is about (assuming it's in your budget).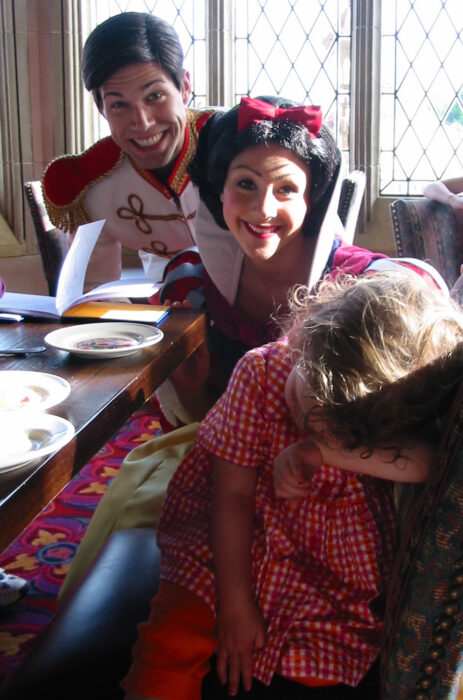 We're not fans of characters, but we do want to have a fun meal. Any suggestions?
Sure. There are several dining venues at Walt Disney World that don't have characters but do offer unique theming or enhancements that can make your meal memorable. Some options are:
Whispering Canyon Cafe, Wilderness Lodge Resort.  Hootin', hollerin', and hijinks while you dine in a cowboy-themed environment.
50's Prime Time Cafe, Disney's Hollywood Studios. American comfort food served in a 1950's themed environment. Black & white TVs play clips from old sitcoms. "Mom" might tell you to take your elbows off the table.
Be Our Guest, Magic Kingdom. Dine in The Beast's castle.
Biergarten, EPCOT, Germany Pavilion. A German band entertains guests.
California Grill, Contemporary Resort. Time it right and you can watch the Magic Kingdom fireworks while you dine.
City Works, Disney Springs. A sports bar with a full menu. A great spot to watch the big game.
Hoop-Dee-Doo Musical Revue. Dinner with a show. Fun for all ages.
Oga's Cantina, Disney's Hollywood Studios. It's the Star Wars Cantina! There aren't many food options, but the drinks all have a Star Wars twist.
Sci-Fi Dine-In, Disney's Hollywood Studios. Dine in "cars" while watching drive-in style science fiction movie clips.
Space 220, EPCOT. Dine while you're in outer space.
Splitsville, Disney Springs. Dine while you're bowling.
T-REX. Disney Springs. Dine with dinosaurs.
Rainforest Cafe. Two locations – Animal Kingdom and Disney Springs. Dine with jungle animals.
Autographs and Character Interactions at the Meal
You mentioned autographs, what's that all about?
You will see lots of kids in the parks toting around autograph books. When the kids meet characters, they hand them the autograph book and the character signs it. Personally, I don't really get why this is a thing (then again, I don't really understand the appeal of getting autographs from actual human celebrities), but it does seem to be a big deal to many Disney guests.
Of course, you don't have to get autographs when you meet characters. If you and your kids are content to skip this part of the process, then by all means do so.
One bit of advice … if you do end up collecting character autographs, but sure to write your name and contact information in the front of the book. This will greatly facilitate the return process if you accidentally lose the book.
Where can I buy Disney autograph books?
Disney autograph books are available in virtually all shops at Disney World and Disneyland, at stand-alone Disney stores, and often on shopDisney.com. They range in price from about $15.00-$20.00 depending on the model you choose. That said, there is absolutely no requirement that you use a Disney-branded autograph book when you get signatures. A 99-cent notebook from Target works just as well.
Do I have to get autographs in an autograph book?
Nope. The characters will sign many types of items. I've heard of guests asking characters to sign calendars, photo mattes, postcards, baseball caps, footballs, quilt squares, and much more.
You should know that characters will not sign any clothing while you are wearing it. This means that they're happy to sign a tee shirt, but not one that you're wearing at the time. Nor will they sign any part of a human body. Don't even ask. Other things they won't sign are the currency or flag of any nation or political signs or statements.
If you will be asking characters to sign something non-traditional, be sure to give them a mechanism so they can do this easily. For example, if you want a character to sign a shirt, bring a clipboard or piece of sturdy cardboard to provide a backing surface for them to lean on. Also, if you're having characters sign fabric, you will want to consider whether you need to bring indelible fabric markers or the like.
Do you have any tips for having a good character interaction?
If the characters are super busy (like if the restaurant is over-booked), you might not be able to get more than a quick hug. But there are many times when you can get a more substantial or personal interaction with a character. The trick to get characters to engage with you is to give them an opening or hook they can latch onto.
This is perhaps easiest with the "face" characters, the ones that will talk with you. For example, ask the character a question relevant to their movie storyline – something like, "Cinderella, what size shoe do you wear?" or "Belle, what's your favorite book?" or "Jasmine, what's it really like to fly on a magic carpet?" They will often give you charming and very elaborate answers.
With the non-speaking "fur" characters, a prop is often helpful in getting a more substantial character experience. For example, if you're meeting Donald Duck, bring a toy Mickey Mouse with you and see how Donald reacts.
Are there PhotoPass photographers at the character meals?
Typically not. For the most part, you'll be on your own for taking photos. If you want a picture with your entire party, you can ask your server or someone sitting at a nearby table. Most folks are helpful and open to swapping photographer duties with other families. One exception is when there is a single character in the lineup who meets in a special area for a souvenir photo; a PhotoPass photographer is often available to snap this picture. Some of the meals that offer this are Chef Mickey's, with Mickey Mouse, Storybook Dining at Artist Point, with the Queen, and Cinderella's Royal Table, with Cinderella.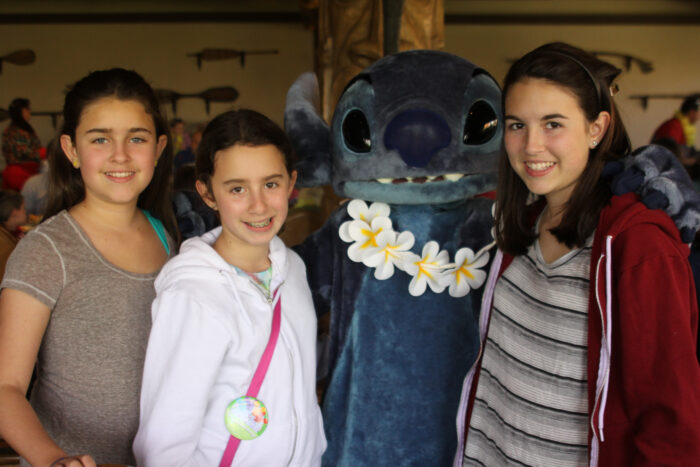 Can our family get more than one picture with each character during a character meal?
Sure, but try to be as efficient as possible.
For example, with most characters I'd get a shot of my three daughters together and then say a big THANK YOU so that they character knew it was OK to move along to the next table.
However, there are some particular favorites that require the group pose plus an individual shot of just one of the girls with the character. In this case, I'll typically tell the character what we want to do saying something like, "Hi Piglet, we want to get one photo of you with the family and then one just with you and Josie. You're her favorite."
We're obviously eating during a character meal. Will there be lots of dishes or half-eaten food in our photos?
There might be.
You can generally get a sense of when the characters will arrive at your table. You can tidy up a bit when you see them coming or you can step a few feet away from your table to take your pics.
What are your tips and tricks for character dining? Let us know in the comments.