FAQ: Holiday Dining at Walt Disney World
You've decided to make a holiday trip to Walt Disney World – hooray! After you've sorted out where you're staying, the next question for many guests is, "Where will we eat?"
Choosing restaurants and securing dining reservations at Disney World can be anxiety-provoking at any time, but the entire process can be especially fraught during the holidays, when high crowd levels make reservations scarce and family food traditions may turn even flexible eaters downright picky. Here are things to think about as you plan your Disney holiday dining.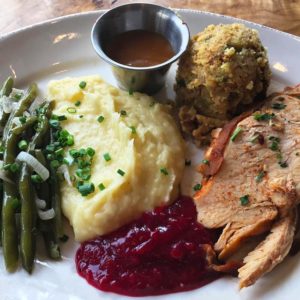 Note: When I say "holiday" here, I'm mostly referring to U.S. Thanksgiving, Christmas Eve, and Christmas. If I mention a particular holiday, the information generally applies to all of these. Additionally, aspects of this post apply to other holidays such as Easter, Mother's Day, and Valentine's Day.
My family wants a real holiday dinner. Where can we find that at Walt Disney World?
The classic spot that gets recommended for holiday meals is Liberty Tree Tavern in Magic Kingdom because of the Americana decor and the turkey-and-fixin's menu. EPCOT's Garden Grill is another spot that offers turkey, gravy, stuffing, and mashed potatoes every day of the year. Plus, they have characters!
But obviously those two spots can't service everyone visiting Walt Disney World on a given day.
So what are my alternatives?
Nearly every signature restaurant, many table service restaurants, and some of the resort food courts tweak their menus for holiday dining, adding traditional favorites such as roast turkey, ham, stuffing, sweet potato dishes, pies, and the like.
Disney often takes a frustratingly long time to announce what the exact holiday modifications will be to each restaurant – sometimes they will only make announcements a few weeks, or even a few days, in advance. You should make your restaurant selections based on their typical menu, and then hope that the holiday items will fit the bill.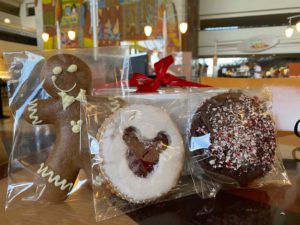 Can you give some examples of holiday food modifications to WDW menus?
Sure. Here's a small taste of what you might find added to the typical offerings at WDW restaurants. All the items below were served during the 2022 Thanksgiving season:
Riverside Mill and other locations at the Port Orleans resorts, Thanksgiving featured roasted turkey dinner with cornbread stuffing, mashed potatoes with turkey gravy, seasonal vegetables, and cranberry relish
Boma at Animal Kingdom Lodge added items to their buffet on Thanksgiving Day including carved turkey, turkey gravy, doro wat, cornbread stuffing, cranberry chutney, and candied fufu
Beaches and Cream at the Yacht & Beach Club offered an open-face Thanksgiving Sandwich (available Nov. 24 only) and a Pumpkin Pie Shake (available Nov. 1 through 27)
California Grill at the Contemporary Resort will offered on Thanksgiving Day braised turkey leg and thigh, cornbread dumplings, whipped potatoes, sautéed green beans, gravy, and cranberry relish
All-Star Resorts food courts featured turkey, mashed potatoes, gravy, stuffing, and cranberry sauce, with apple or pumpkin tart (Thanksgiving only)
Additionally, EPCOT's Festival of the Holidays features booths positioned around the World Showcase that sell a variety of tasting portions of holiday items. In 2022, a few of the booths were:
American Holiday Table: Turkey with stuffing, mashed potatoes, green beans, and cranberry sauce; holiday pot pie with jackfruit, mushrooms, veggies, and puff pastry; pumpkin gingerbread cheesecake
L'Chaim Holiday Kitchen: Pastrami on rye; potato latkes; sufganiyot
Chestnuts & Good Cheer: Cinnamon-glazed almonds, cashews, and pecans
Donut Box: Pumpkin cake donut with pumpkin spice icing; chocolate peppermint donut; eggnog cream filled donut; gingerbread milkshake
Holiday Hearth Desserts: Snowball cookies; peppermint bark; hot cocoa; cinnamon apple cider
Las Posadas Holiday Kitchen: Giant tostada de chorizo; dulce de leche churros; cranberry cinnamon margarita
Shanghai Holiday Kitchen: Curry chicken rice bowl; crab and cheese wontons; themed bubble tea
Tuscany Holiday Kitchen: Breaded mozzarella-filled ravioli with pomodoro sauce; chocolate-filled Italian doughnut with chocolate-hazelnut spread and powdered sugar
Yukon Holiday: Beef Bourguignon with crushed potatoes; maple buche de noel; peppermint cookies
Funnel Cake Stand: Sweet potato casserole funnel cake with marshmallow topping, honey-roasted pecans, and caramel drizzle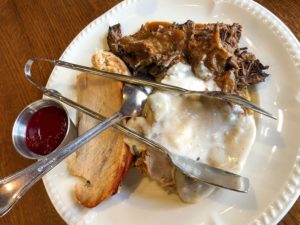 Do I need reservations to eat at these places?
You don't need reservations for quick service venues. Though during the holidays you'll want to keep a close eye on mobile order window availability.
We do recommend making reservations any time you want to eat at a table service restaurant – this goes double for any holiday.
Currently reservations are made available 60 days in advance, plus up to an addition 10 days for guests of the Disney World hotels, based on the length of stay.
Expect that reservations for larger parties will be particularly difficult to come by. If you have a group of more than four or six people, consider breaking your reservation into smaller parties at approximately the same time. Of course in an ideal world you'd all eat your holiday meal together, but sometimes that's just not possible at WDW table service venues. If this happens to you, perhaps ask to have your dessert boxed "to go" or opt for dessert and drinks at a quick service location elsewhere. This way you can all enjoy at least a portion of your dining together.
I couldn't get the reservation I wanted, what can I do?
TouringPlans offers a free reservation finder service. It's not guaranteed, but we have a decent track record of finding hard-to-get Walt Disney World dining reservations.
Or, unfortunately, you may have to go with a plan B.
OK, we need that plan B. What are my alternatives?
You really truly can eat quick service meals during a holiday. If you want to make things festive, opt for one of the resort food courts that has a special offering. Other good alternatives are grabbing a giant turkey leg at the theme parks or snagging a turkey and stuffing sandwich at Earl of Sandwich at Disney Springs.
There are also plenty of holiday-themed desserts in every bakery case – candy apples, rice krispie treats, and cookies all dolled up with festive sprinkles. Finish your hot dog and fries with giant Santa-shaped cookie and you're well on your way to a holiday celebration.
Plus, remember that if you save some cash by eating quick service, you may have more money for other things like awesome souvenirs (LEGO Cinderella Castle, you will be mine) or a better hotel room.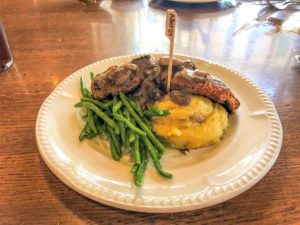 I wanted something more substantial. What can we do?
Some folks opt to cook their holiday meal themselves. If you're staying at a WDW villa hotel room with a full kitchen, this is easy to accomplish with a trip to a local supermarket.
I have spent Christmas or Thanksgiving at Walt Disney World with my family several times. While we typically opt to eat dinner at a restaurant, I often prep fancy holiday breakfasts in our villa using mostly items found in the resort gift shop. The ingredients for a meal of bacon, pancakes, basic omelets, fruit, and fancy beverages can all be found right there at your hotel. If you bring a few small things from home, such as tiny Ziplocs of your favorite spices, you'll be in even better shape.
Or, if you're going to a local supermarket anyway, you can follow in the footsteps of our own intrepid statistician Steve Bloom who brought a full Thanksgiving feast into the Magic Kingdom. (This is my all-time favorite TouringPlans blog post. Every year I am again reminded about how jealous I am that Steve thought of this first.)
Any other ideas?
Don't forget that there is an entire world beyond the World. The greater Orlando area has thousands of restaurants, you don't just have to eat on property. Some even offer pickup options for a full Thanksgiving meal.
I'm traveling with a vegetarian. Are there holiday food options for them?
Probably. There are some vegetarian choices on almost all WDW menus and most table service restaurants that offer special holiday meals will have a festive vegetarian option, or at the very least they could make you a meal out of vegetarian side dishes.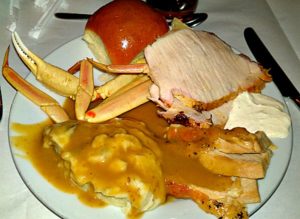 Someone in my party has a food allergy. Can they be accommodated during the holidays?
Generally, yes. Most major food allergies can be accommodated at Disney's restaurants. This holds true all the time, even during the holidays. The Disney chefs are well versed in preparing meals for guests with allergies to eggs, fish, shellfish, gluten, milk, peanuts, soy, tree nuts, or wheat. Alternative menus for these issues are often available. Other dietary requests may also be accommodated. Language on the Disney website states:
Many locations are able to accommodate lifestyle requests as well with no advanced arrangements. This includes diabetes, gastric bypass, lap band, low-carbohydrate, low-fat, low-sodium, no-sugar-added, or plant-based options. Guests with the following concerns should contact Special.Diets@DisneyWorld.com after booking dining arrangements for their visit at least 14 days prior to their arrival:
Any allergy or intolerance not listed above under common food allergies
Phenylketonuria (PKU) or dysphagia
Other medically-restrictive diets or metabolic disorders
A single Guest with 4 or more allergies/intolerances or multiple Guests with allergies/intolerances within the same party
The Special Diets team will assist you in navigating the dining process. Be sure to communicate your dietary restrictions upon arrival at the restaurant. You will have the opportunity to speak with a chef or special diets-trained Cast Member if desired. While our restaurants will do their best to accommodate dietary requirements, we cannot guarantee that they will be able to meet all requests.
Turkey is not part of my family's holiday tradition. What can we do?
You're in HUGE luck here. While the Disney restaurants often add menu items for holidays, they rarely subtract them. If you eat Italian or Mexican foods (for example), during the holidays, eat at any of the numerous restaurants at Disney World themed to those cultures.
I don't celebrate Christmas. What are my options?
Disney makes tiny nods to non-Christian food traditions during the EPCOT holiday festival. For example, see the offerings from the Jewish food booth above, but frankly, those options are insubstantial. Here again, this is the time to explore the many other options in the parks and resorts.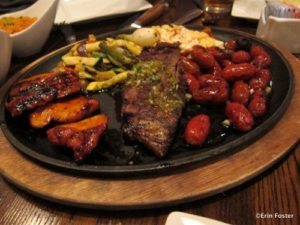 I'm afraid my family will really miss the holiday meal we alway have at home. Help!
Well, there's no law that says you have to eat Thanksgiving dinner on Thanksgiving. Go ahead and make your family's faves before or after your trip. That way you'll be free of holiday expectations during your travels.
Since you won't be missing out on your favorite foods from home, use this opportunity to think out of the box. Have sushi at the Japan pavilion at Epcot, egg rolls from a cart in Adventureland, or tacos at the Mexico pavilion. These won't be anything like your usual holiday meal, so they won't seem like a poor substitute.
I like that idea, any variations on this?
Holidays are celebrations filled with tradition, but there are no rules about when traditions have to start. I hereby grant you permission to make up a totally wacky, fun, indulgent, holiday-of-your-dreams food plan.
My family planned a holiday meal at T-Rex Cafe one year. Festive dinosaurs for the win!
Or maybe you've always wanted to eat at three character meals in one day. Maybe you want to only eat cupcakes, or only peppermint-flavored foods (fudge, candy canes, cocoa), or only foods shaped like Mickey. I give you permission. Merry Christmas from me.
I've never eaten a holiday meal in a restaurant. Is this weird?
I get it. I was an adult with kids of my own the first time I celebrated a major holiday at a vacation destination rather than at my home or the home of friends or family. It can feel odd at first.
I work through some of these feeling by remembering that my trip to Disney World is helping, in a small way, to keep thousands of cast members employed. After an agonizing few years of intermittent employment snags during the pandemic, the return of jobs to the Orlando area is a big win for many.
That said, remember that it's holiday time for the cast members too. If it's Christmas Day and you're taking the monorail to a restaurant, having a nice meal, then heading to the theme parks to enjoy some rides and shows, that's fun for you. But it is work for the many thousands of cast members it takes to make all that happen. Try to be mindful that the cast members you'll encounter have all given up part of the holiday with their family so that you can have a better time with your family.
Cast members deserve and extra measure of patience, courtesy, and respect during the holidays. And a generous tip certainly helps as well.
Have any other questions about holiday dining at Walt Disney World? Let us know in the comments.