Magic Kingdom Resorts: A Guide for Day Guests, Part 2
Exploring Magic Kingdom's resorts as a "day guest" is a great way to experience the Disney magic outside the parks. This article wraps up a tour of Magic Kingdom resorts for day guests, whether you're staying off-property or at another Disney World resort. Part 1 focused on touring the Polynesian and Grand Floridian and offered some general day guest tips and strategies. In Part 2, let's take a look at touring the Contemporary, Wilderness Lodge, and Fort Wilderness Resort, including their overall ambience, dining options that make them worth a day trip, and other fun things to do on a visit to these resorts.
Contemporary Resort
Atmosphere. Monorail transportation is a fun and convenient feature of all three of Disney's monorail resorts (the Grand Floridian, Polynesian, and Contemporary). But the Contemporary is where the monorail is an integral part of the resort's ambience by passing directly through its atrium. Although the monorail and multi-floor lobby make the Contemporary seem more like a center of activity than a place to relax, its wide open spaces keep foot traffic well dispersed and provide a visual break from crowds in Magic Kingdom. Take your time browsing in the several shops or find a good vantage point for watching the next-arriving monorail.
Tip: The Contemporary is a 10-minute walk from Magic Kingdom; it and the adjacent Disney Vacation Club resort Bay Lake Tower are the only resorts within walking distance to the park.
Dining. California Grill, a signature restaurant on the 15th floor of the Contemporary, offers top-notch dining and a lively atmosphere. Plus, it's yet another place to watch Magic Kingdom's Wishes Nighttime Spectacular fireworks away from the crowds in the park. (Part 1 of this article covers places to see the fireworks at the Polynesian and Grand Floridian.) Window tables at California Grill have a fantastic view, and there is an outside observation deck. You can book your reservation to coincide with the fireworks, and guests who dine earlier are allowed to come back up to the observation deck.
On the bottom floor of the resort is The Wave…of American Flavors serving in-season and sustainable dishes for lunch and dinner (plus a breakfast buffet with lots of variety). And you can order unique cocktails and organic beer in the cool, cobalt-lit Wave Lounge. Whether dining or enjoying the bar, The Wave or its lounge is a great place to feel far away from Magic Kingdom with minimal travel time.
On the other hand, Chef Mickey's, located on the main level of the resort's Grand Canyon Concourse, feels like an extension of Magic Kingdom, with a character buffet featured at all three meals. The opportunity to meet Mickey, Minnie, Donald, Goofy, and Pluto without using a day on a park ticket makes Chef Mickey's a great option on arrival day, but it doesn't provide much of a break from the bustle of Magic Kingdom.
Close by Chef Mickey's is the Outer Rim Lounge, which is most enjoyable if you can score some of the limited seating nearer the bar rather than the seating that borders the walkway to Chef Mickey's. If you're a Disney Vacation Club member staying on points, Top of the World Lounge at Bay Lake Tower next door to the Contemporary is well worth a visit (see my review here).
If a table service restaurant doesn't fit into your plans or you don't want to bother with dining reservations, Contempo Café is one of the best quick-service restaurants at Magic Kingdom resorts.
Planning ahead. Both California Grill and Chef Mickey's are ultra-popular, with reservations usually needed well in advance at both. The Wave is the table service restaurant at the Contemporary where you are most likely to get a reservation close to the date you would like to dine. Also keep The Wave Lounge in mind as an option for dining without a reservation, and California Grill has first-come, first-served seating at its bar and lounge. Both lounges have an appetizer menu.
Tip: Although it's best to make advance dining reservations as soon as possible because you can cancel up to the day before, you may be able to snag a last-minute reservation as people cancel to avoid the $10 per person fee for no-shows.
Other fun at the Contemporary. Boat rentals are available at several Disney World resorts, but the Contemporary is home to the widest selection of watersports activities at its Sammy Duvall's Watersports Centre. In addition to boat rentals, there is parasailing, tubing, wakeboarding, and water skiing. The Contemporary also has the Game Station Arcade, which is located near the shops in the Grand Canyon Concourse and is one of the largest resort arcades on property.
Wilderness Lodge
Atmosphere. A boat ride from Magic Kingdom (or the Contemporary) to the Wilderness Lodge sets the stage for an escape to the pine forests and vast lobby of a resort modeled on a National Park Lodge. Grab a rocking chair by the towering fireplace or on the deck overlooking the creek and pool. There are also comfortable chairs and couches on the several balconies overlooking the main level of the lobby. Even when the Wilderness Lodge lobby is crowded, a spot to relax can be found if you're willing to explore a bit.
Tip: Wilderness Lodge is starting a period of construction affecting parts of the resort (for more details, see here).
Dining. Artist Point is the lodge's signature restaurant featuring Pacific-Northwest cuisine. Its arts and crafts décor and tranquil view of the resort grounds are so subdued that it feels more like you are in a dining room in a national park lodge than in Disney World. Try dining at Artist Point if you're looking for a meal in a more grown-up setting.
Whispering Canyon Café, on the other hand, is the scene of raucous behavior, with servers urging guests to join in their jokes, singing, and games. Although this atmosphere doesn't really provide a break from the noise and energy of Magic Kingdom, the fun can be a great way to unwind.
The inviting Territory Lounge has the same dark woods, muted lighting, and rustic details as the rest of the resort, with an inviting bar and comfortable chairs and couches. Appetizers here are excellent, and ordering several to share can easily serve as dinner.
Planning ahead. A meal at Whispering Canyon Café is the most in-demand experience at Wilderness Lodge. Artist Point is a good bet if you want to book a meal at a signature restaurant on fairly short notice.
Other fun at Wilderness Lodge. If you are up for a Hidden Mickey hunt, ask the front desk for a clue sheet for the Hidden Mickeys that can be found throughout the lobby and surrounds. The Wilderness Lodge boat dock has a fantastic view of the Electric Water Pageant. And along with the Grand Floridian, the Wilderness Lodge is a favorite for those visiting during the holidays. Its lobby Christmas tree is enormous, and the lodge atmosphere is perfect for the holiday season.
Fort Wilderness Resort
Atmosphere. Fort Wilderness offers a wide variety of outdoor activities and several dining options, all in a campground setting themed to the American frontier and Old West. A boat runs between Magic Kingdom and Fort Wilderness. If you take a bus to Fort Wilderness, you'll then need to transfer to the resort's internal bus system to get to dining and recreation. Arriving by boat is both more convenient and sets the tone for the rustic atmosphere.
Fort Wilderness has at a more laid back pace than other Disney World resorts. Take your cue from guests staying there. I usually notice many of them taking the time to fully enjoy the dining and recreation at their resort.
Dining. Hoop Dee Doo Musical Review is one of the most popular dinner shows among repeat Disney World guests and well worth a trip to Fort Wilderness. This stage show takes place at Pioneer Hall, a short walk from the boat dock. During a family-style feast, you'll be entertained by a boisterous troupe of Old West actors whose enthusiastic singing, dancing, and jokes get the audience involved in the act.
Pioneer Hall also houses Trail's End Restaurant, my family's favorite buffet in Disney World. It features many of the same delicious barbeque specialties served elsewhere at Fort Wilderness, but this is the place to focus on the yummy food. Dinner with a show is great, but food this good deserves the spotlight.
Mickey's Backyard Barbeque is a seasonal dinner show held in a covered pavilion not far from the resort's boat dock. There's a buffet, country music band, dancing, rope tricks, and more, all while visiting with Mickey and friends. The Barbeque is a great opportunity for the kids to work off some energy.
Planning ahead. Hoop Dee Doo books up fast, as does Mickey's Backyard Barbeque; if you are set on experiencing one of these, it's best to book when reservations open. Hoop Dee Doo has three shows each night. Reservations are less difficult to get at Trail's End. I've even scored a reservation there right before heading over.
Advance reservations are best for many of the recreation activities at Fort Wilderness (see below), particularly scheduled activities like archery, horseback trail rides, and wagon and carriage rides. When my boys were signed up for archery, several children who were waiting for a standby spot were turned away.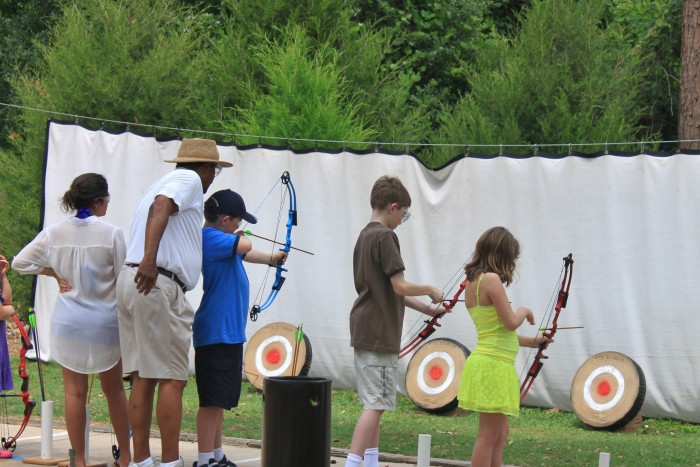 Other fun at Fort Wilderness. Fort Wilderness is a hot spot for recreation. Here we go … canoeing, kayaking, motorized boats, biking, archery, dockside fishing, guided fishing excursions, wagon rides, horseback riding, pony rides, carriage rides, holiday sleigh rides, visiting the many horses of different breeds at Tri-Circle-D Ranch, board games on Pioneer Hall's front porch, two arcades. Plus, it's worth touring the resort during the holidays when many guests go all out decorating their campsites.
If all of that isn't enough for you, there is the free-of-charge nightly Chip 'N Dale's Campfire Sing-A-Long, where you can roast marshmallows, make s'mores, sing along with a cowboy while Chip and Dale sign autographs and pose for photos, and then watch a Disney movie at an outdoor theater. (You can bring your own s'mores supplies or purchase a kit.) From Pioneer Hall, it takes about 15 minutes to walk to the Sing-A-Long, or take an internal bus to the Meadow Trading Post. The time varies based on the season.
I am amazed by the variety of dining and activities to enjoy at the Magic Kingdom resorts. Maybe you've experienced some of these already? Maybe you'll make time on your next vacation? How about making a day of touring the monorail resorts? Extend the tour on the boat that runs between the Contemporary, Wilderness Lodge, and Fort Wilderness. Have fun exploring outside the theme parks!