TouringPlans Travel Beat 5-27-2023
At Travel Beat we have all the "other" news from the last week or so—the stuff that wasn't big enough to stop the presses for. What did the newsroom bring us this week? Bullets are just ahead if you're in a hurry, and more details follow below. Don't forget to check out the Headline News Recap, in case there was something you missed!
Disneyland Fantasmic on Hiatus
Seasonal Eats at Disney World this Summer
4-Park Summer Magic Tickets Now on Sale
V.I.Passholder Days to Begin on May 31
New Details for Pixar Place Hotel
DisneyBand+ Launches on Upcoming Wish Sailings
Disney World Early Summer General Public Room Offer Yanked
Headline News Recap
Disneyland Fantasmic on Hiatus
Just as last week closed out, Disney announced that Fantasmic at Disneyland would be placed on hiatus through at least Labor Day. When the fire-breathing dragon caught fire mid-show last month, it prompted some immediate changes to operations, and when Fantasmic returned a few days later it was without the damaged dragon. Disney has now announced that they are putting the show on hiatus while they are "taking this time to evaluate the show and explore opportunities to add new magic and touches for Guests to enjoy". If you had a Fantasmic Dining package booked during the hiatus, Disney will be in touch.
Seasonal Eats at Disney World this Summer
Disney has been sprucing up menus all over Walt Disney World with seasonal snacks, sips, and meals for the summer. In addition to a recently announced new seasonal menu at the Hollywood Brown Derby, Le Cellier will be receiving several limited-time menu items. Pictured below are two plant-based options: a Fried Cauliflower appetizer with Tahini espuma, nut brittle, and radishes, as well as a Canadian Tourtière; chickpea and mushroom pie with braised endive, snap peas, stone-fruit ketchup, and a plant-based demi-glace.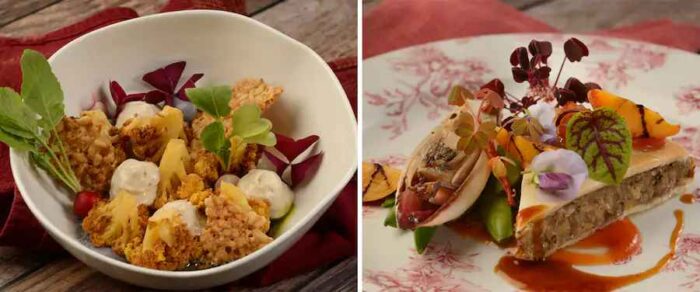 Of course, not all the summer highlights are going to Table Service restaurants. There are a wealth of dishes being sprinkled across menus at resorts and parks, including the Mickey & Minnie Sundaes pictured below that are going to food courts at all the All-Stars. If you're visiting between now and September, keep an eye out for tasty offerings everywhere.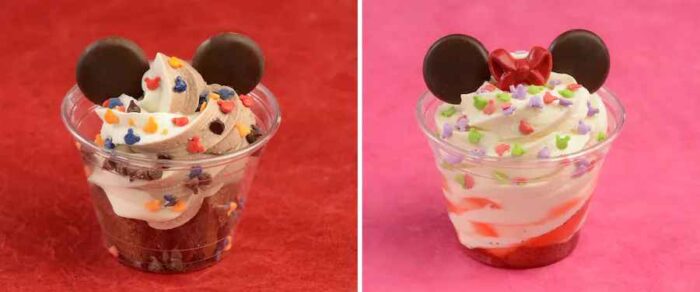 4-Park Summer Magic Tickets Now on Sale
On May 23, the 4-Park Summer Magic ticket went on sale. (Missed the announcement? Disney World 4-Park Magic Ticket for Summer of 2023). This ticket offers the first opportunity for us to see how Genie and Genie+ will work with reservation-less tickets. We'll be excited to get you the answers to questions like "Jane sets her alarm for 7 a.m. and makes a Lightning Lane reservation to ride Jungle Cruise at noon. If she then enters EPCOT with her ticket that doesn't allow Park Hopping, will her Lightning Lane get canceled automatically?"
V.I.Passholder Days to Begin on May 31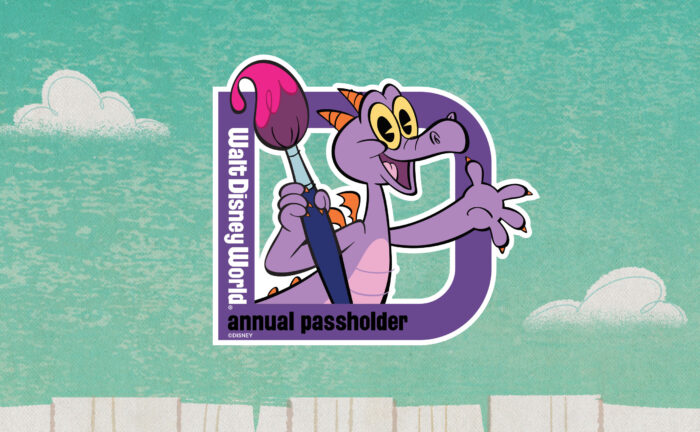 Just in case you didn't get your email, Disney is kicking off a month of Passholder appreciation. Between May 31 and June 30, Passholders can take advantage of
Increased discounts

Merchandise discount 20% –> 30% in many locations
Dining discount 10% –> 20% in many locations

20% off at Flower & Garden Outdoor Kitchens when using a cashless form of payment (except Italy)
Exclusive PhotoPass experiences and Magic Shots
… and more. See Disney's Passholder Perks page for all the details, but there's one more thing I didn't mention: a Passholder exclusive Figment magnet, pictured above. We're betting this will be popular.
New Details for Pixar Place Hotel
If you've just joined us, Disney announced in late 2022 that the Paradise Pier Hotel at Disneyland would be rethemed to Pixar. Construction began shortly thereafter, and this week we got new concept art and details about what the Pixar Place Hotel will look like when its makeover is done.
In addition to completed work on the exterior, changes in the lobby over the next few months will add Pixar imagery while maintaining the hotel's contemporary setting. Larger-than-life character artwork will adorn the walls adjacent to and behind the front desk, while a central focus of the lobby will be the Pixar Lamp (Luxo) balancing on its ball.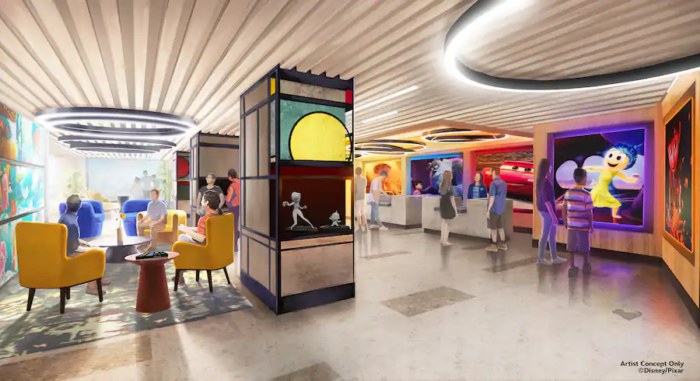 The pool deck on the third floor will be enhanced with an all-new water play area that takes inspiration from Finding Nemo. The fan-favorite fish and his friends welcome families with a waterslide, pop-jet splash pad, and more. Also coming to this recreation area is a family play court with activities inspired by Pixar's short films. Look for games and props from "La Luna", "Bao", and others, as well as a seating area under the umbrellas from "The Blue Umbrella".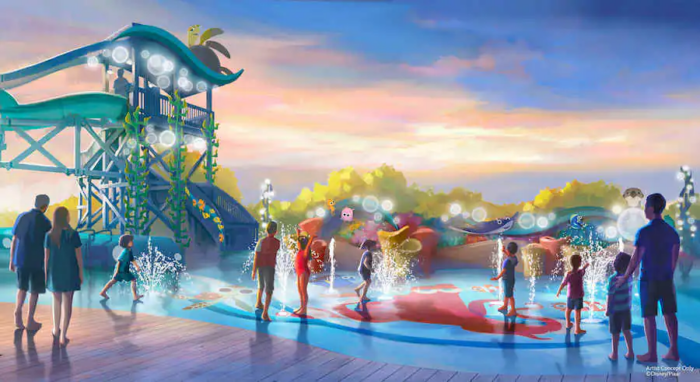 In the fall, the new Great Maple restaurant will open on the ground floor, serving "playful takes on upscale food". What does that mean? So far Disney has touted Buttermilk Fried Chicken & Maple Bacon Doughnuts, a Cajun Shrimp & Cheddar Biscuit Benedict, and Soda Pop-Braised Baby Back Ribs. Sounds yummy to me, but not so much like the heart-healthy cuisine that SoCal is famous for. Good thing you'll be on vacation.
Great Maple will be open all day, serving breakfast, lunch, and dinner, and it's "culinary creativity will abound throughout the hotel". In non-Disney speak, that means that its kitchen will also be supplying food and beverage service at the pool (under those Blue Umbrellas), as well as a grab 'n' go coffee shop and cafe in the lobby.
DisneyBand+ Makes Its Debut
At the beginning of April, Disney announced that the "DisneyBand+" would be making its way onto Disney Cruise Line sailings. (Interactive DisneyBand+: MagicBand Tech Coming to Disney Cruise Line). The band would allow guests to open their stateroom doors, pay bar and spa bills onboard, and "Discover enchanting surprises and extra moments of magic throughout your cruise", among other features. Sound familiar? It's the same MagicBand+ that can be used at Disney World and Disneyland, it's just getting a little rebranding as it goes to sea.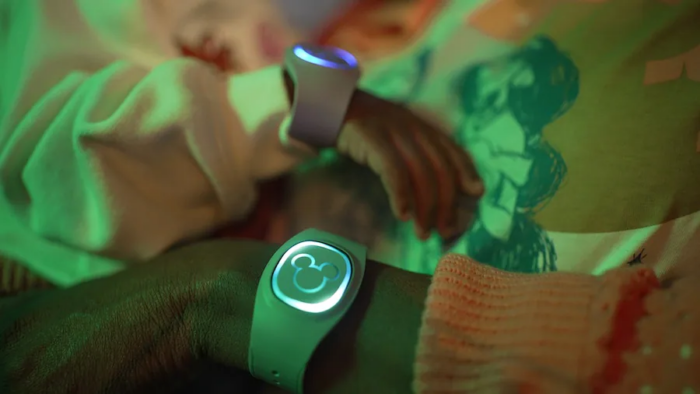 Well, the wait is over. Beginning June 12th, guests who are between 45 and 11 days of their sail date are invited to purchase a DisneyBand+ for their cruise on the Disney Wish. Solid color bands are $34.99 before tax, and themed designs are an additional $10. The good news is that if you already have a MagicBand+, you're good to go on the ship – and if that price feels a little steep to you, it might be more palatable knowing you can take it to WDW or DLR and use it as a MagicBand when your sailing is over.
Our take? I can't wait for this to get to all the ships. Not having to carry around my Key to the World card and keep track of my lanyard when I want to go swimming? Sign me up! But if you're traveling with your whole family you might want to bring a USB charging hub to ensure everyone can top off their bands' juice overnight.
Disney World Early Summer General Public Room Offer No Longer Available
On May 26, Disney notified travel agents that the general public offer to save up to 25% off Walt Disney World Resort hotel stays through Jul. 10, 2023 was no longer available for booking. The general public offer for bookings from July 11 to September 28 is still available, as are offers for Annual Passholders and Florida Residents.
Headline News Recap
It was a quiet week on the theme park headline news front. 2024 Disney World vacation packages will launch on May 31 of this year, so perhaps Disney wanted to give the agents a chance to rest up and prepare.
That's it for this week's Travel Beat. What news are you most excited about? Let us know in the comments!