Photos: Reimagined Mickey's Toontown Opens at Disneyland
Mickey's Toontown in Disneyland has received its first major expansion and reimaging since the land opened in 1993. Toontown's colorful collection of miniature buildings remain mostly the same, along with their exaggerated cartoon style. But almost everything has benefited from new props and experiences to discover. In today's post we'll walk you through Toontown and see what's new.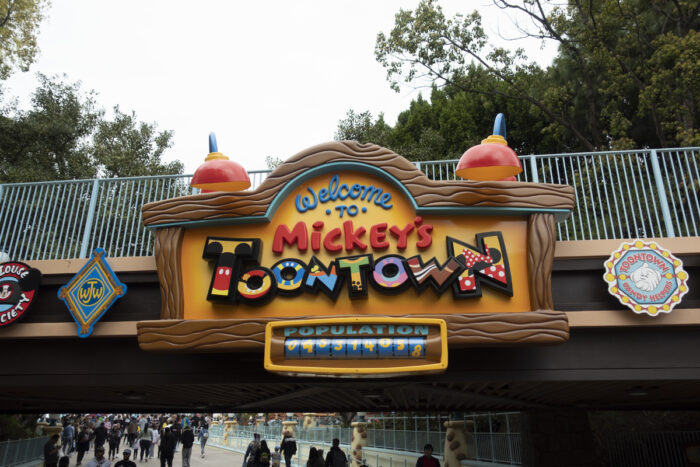 Mickey's Toontown's marquee is physically the same as before, but it sports a new colorful character inspired paintjob.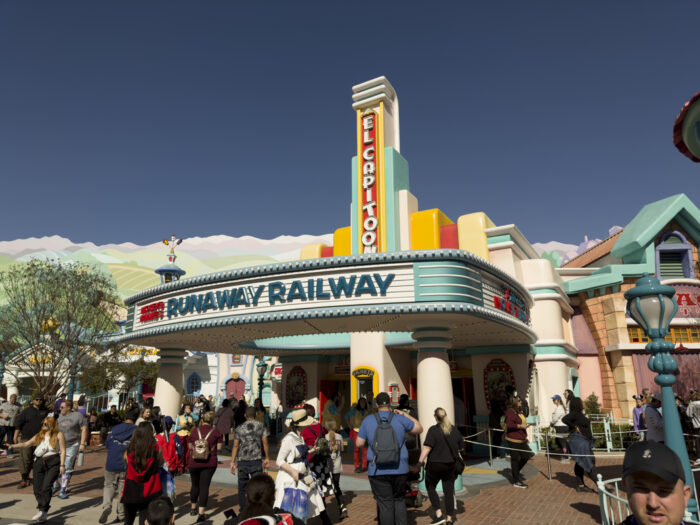 The highlight of the reimagined Toontown is of course Mickey & Minnie's Runaway Railway. Runaway Railway places you in the center of one of the modern retro-inspired Mickey Mouse cartoons. The premise is that you're on an out-of-control railroad car, courtesy of Goofy. You careen, gently, through 10 large cartoon show scenes, from tropical islands to cities to out-of-control factories. In each scene, Mickey and Minnie attempt to save you from disaster, with mixed results.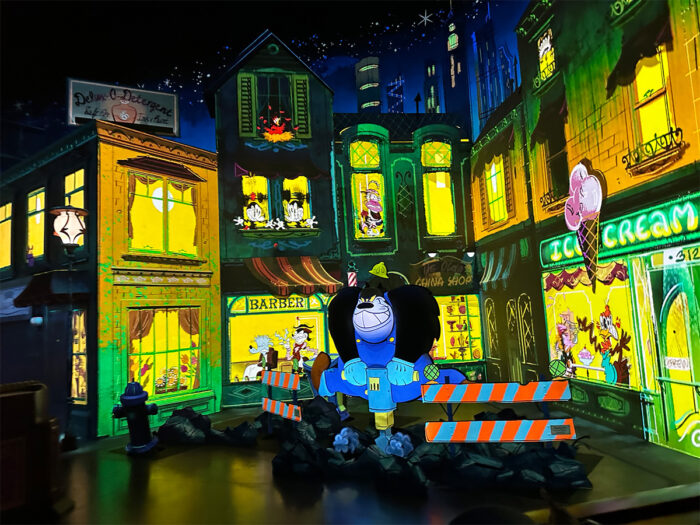 In each scene, Disney uses a mix of traditional, three-dimensional painted sets and the latest in video projection technology to show movement and special effects. It's all done very well, and there are so many things to see on either side of the ride that it's impossible to catch everything in one or two rides.
Runaway Railway is a modern classic, and it's something the whole family can ride together. We consider it a must see.
Make sure you see Runaway Railway and all of Disneyland's other great rides by planning your trip with us. Check out our Disneyland Crowd Calendar, which rates every day of the year on a scale of 1 to 10 so you can see how busy Disneyland and DCA will be during your visit. Also check out our Disneyland Touring Plans which show you how to beat the crowds and spend less time in line at your favorite rides.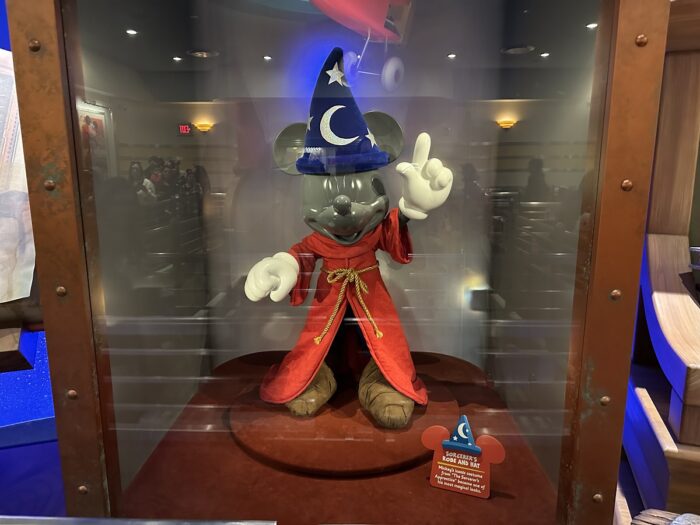 Inside Runaway Railway's fabulous queue is a collection of "real" artifacts from Mickey's shows and films from over the years. Including his outfit from Fantasia.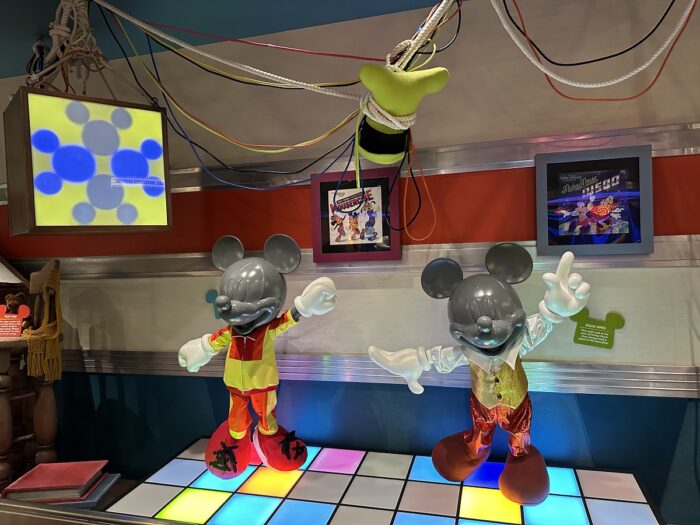 Mickey's disco era is well represented.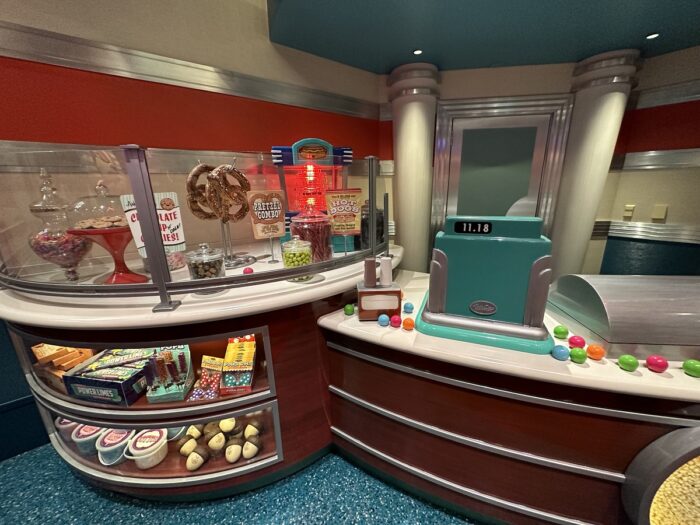 The ride takes place inside El CapiTOON Theater, so it makes sense a theater would have a concession stand.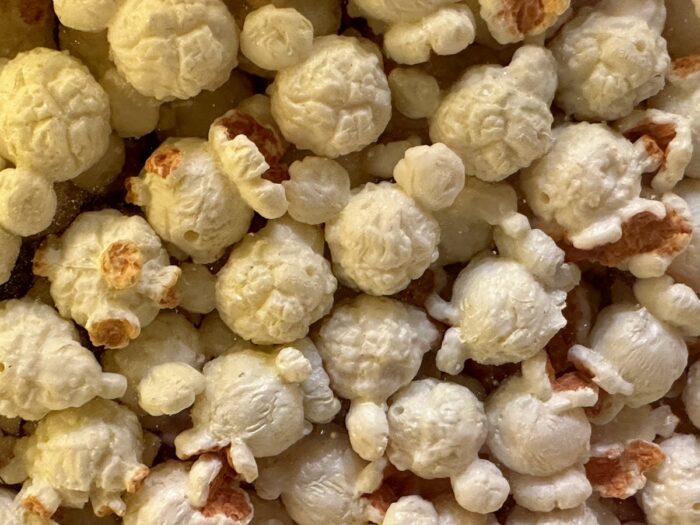 Take a close look at the popcorn.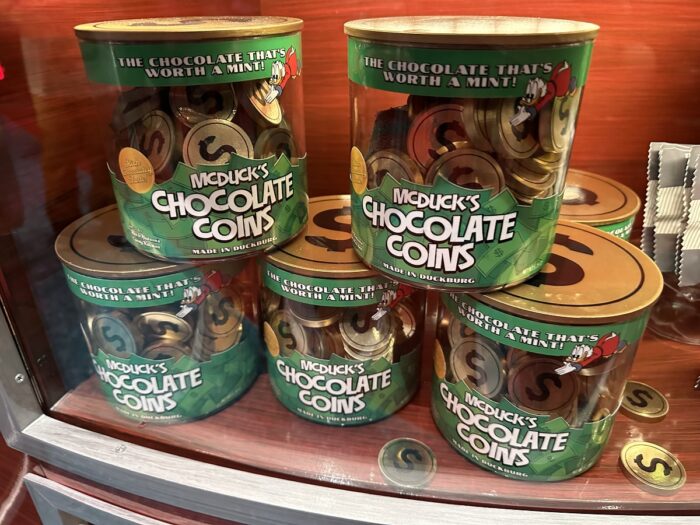 The candy in the snack stand are full of fun references to other Disney shows, such as these McDuck's Chocolate Coins.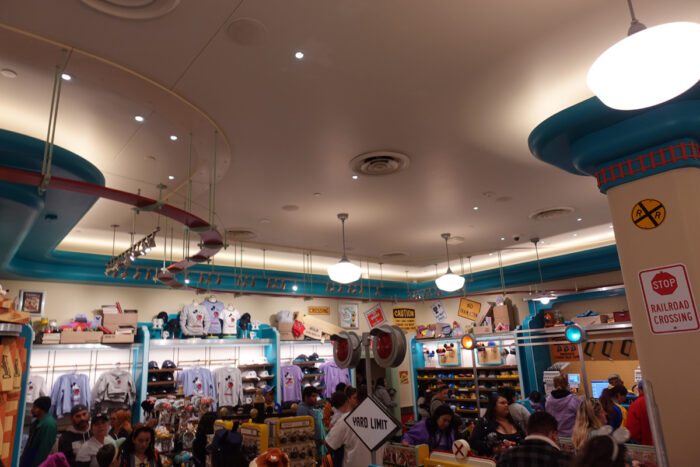 Runaway Railway's gift shop, EnginEAR Souvenirs, is themed after a railroad hobby shop. The store is full of visual gags and references to various Mickey Mouse cartoons.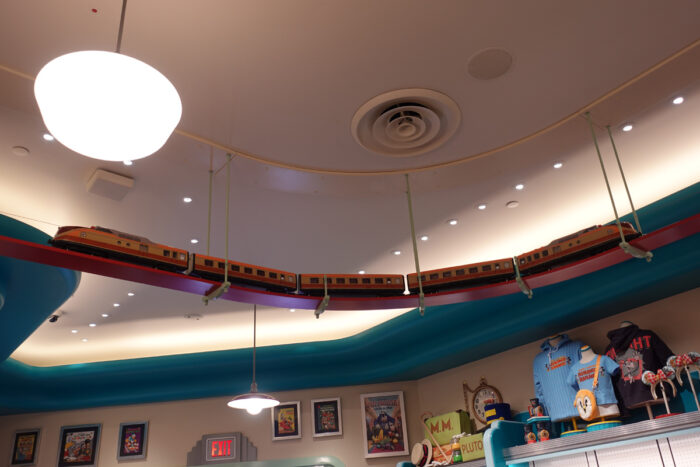 We especially like the model train that runs on a suspended track around the store.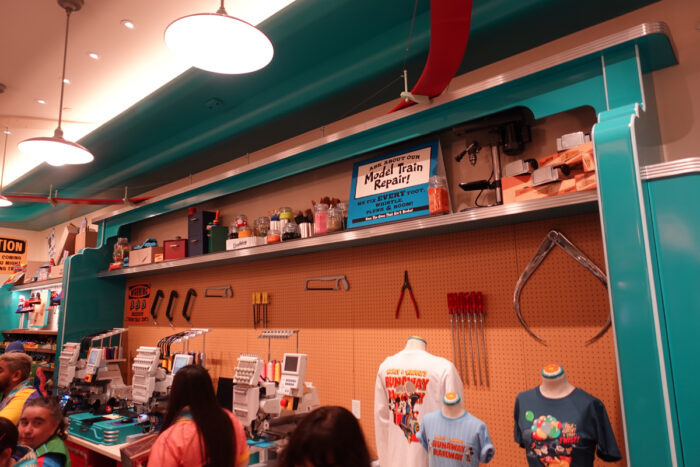 The cash register is themed to a model train repair workshop.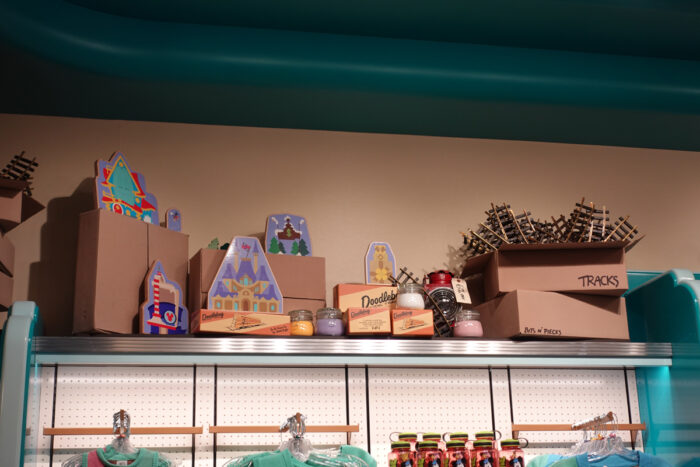 There's so many great details in EnginEAR Souvenirs to discover.
A plethora of new merchandise has been released to mark the opening of Runaway Railway.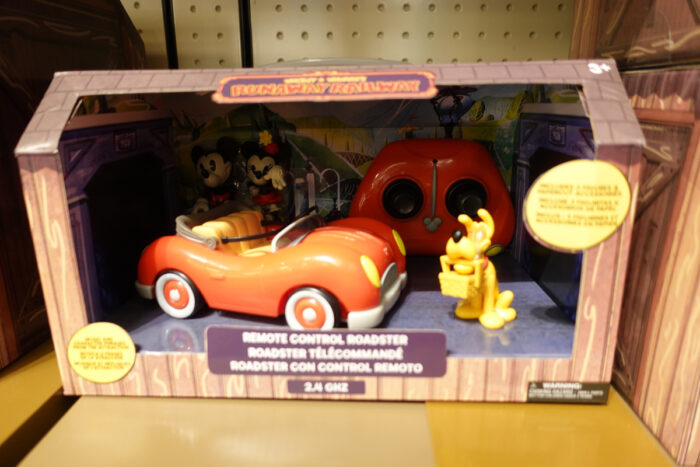 You can even get Mickey and Minnie's car as seen in the ride.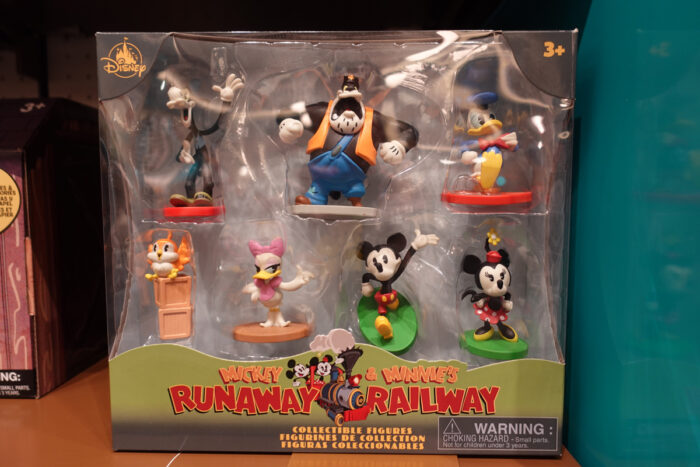 A set of figurines as they are seen in the ride.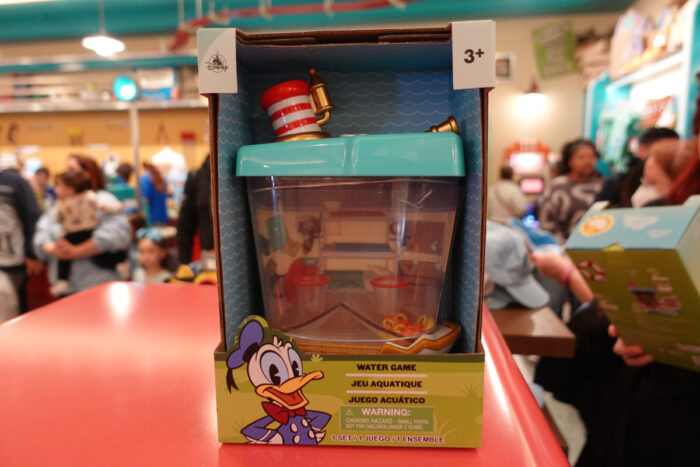 Here's a fun water toy themed after Donald's boat.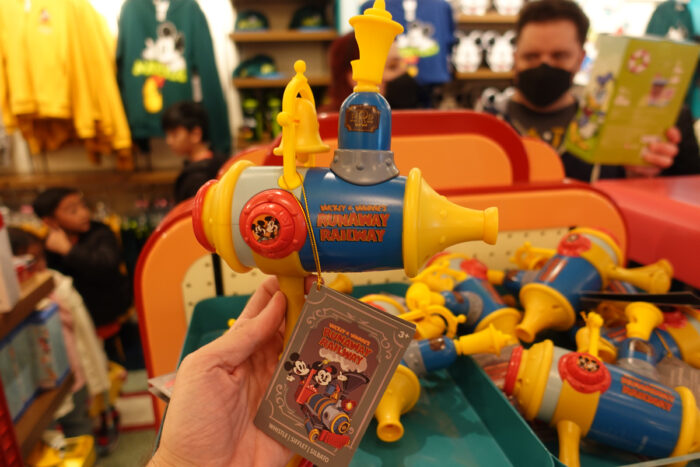 Runaway Railway train whistle.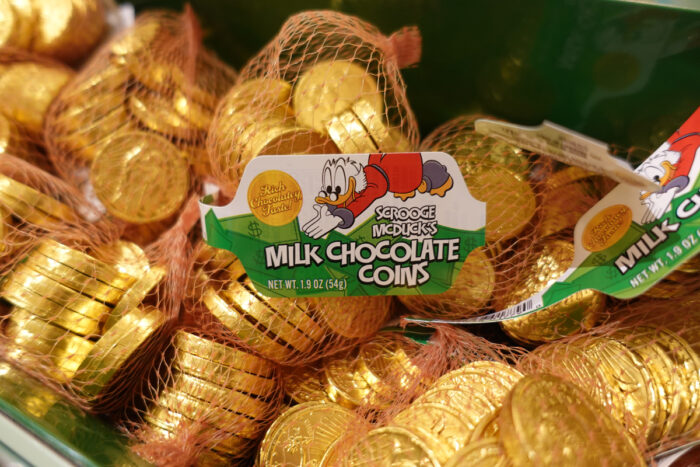 Earlier in the post you saw pictures of the concession stand in Runaway Railway's queue. Some of the candy items seen are actually sold in the gift shop!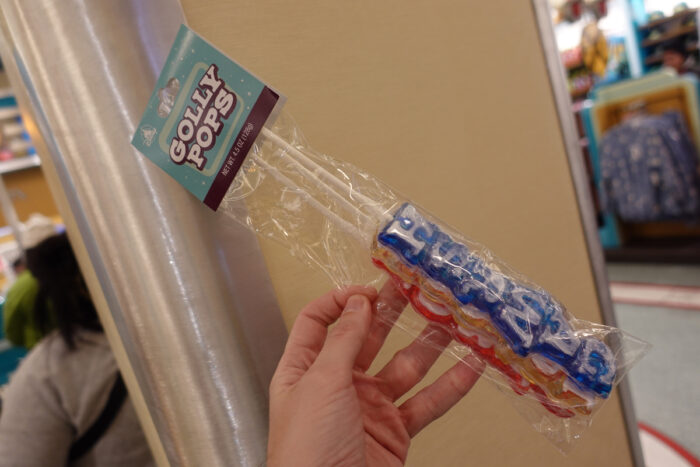 Golly Pops, as seen in the Runaway Railway queue.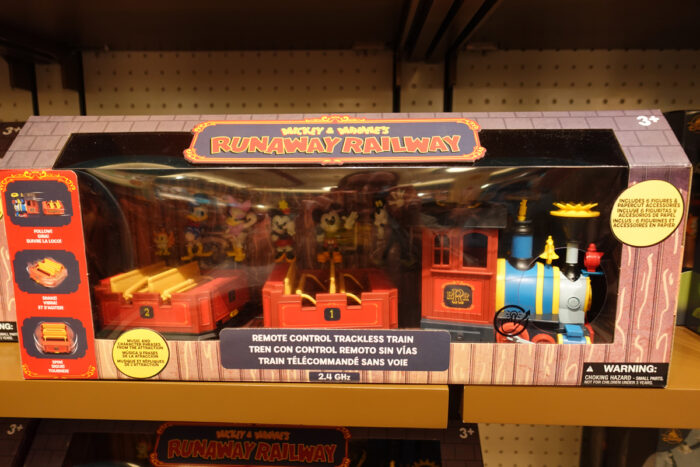 The best item by far is this remote control trackless train toy, which looks exactly like the ride vehicle seen in Runaway Railway. The two train cars wirelessly follow around the locomotive. How cool is that?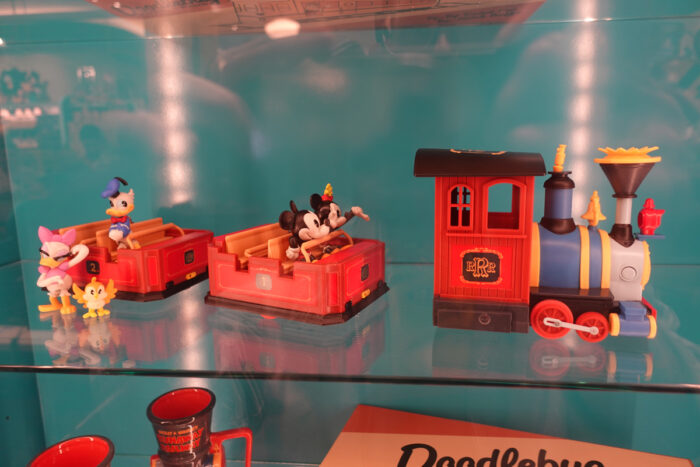 This thing doesn't come cheap. It's priced at $150.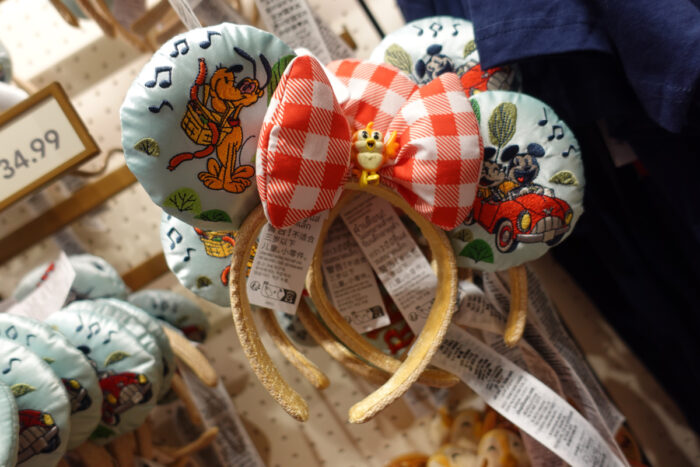 It wouldn't be a Disney ride without mouse ears to go along with it.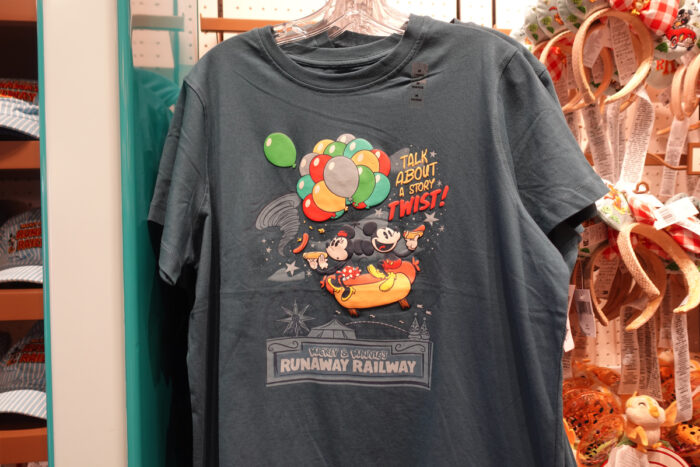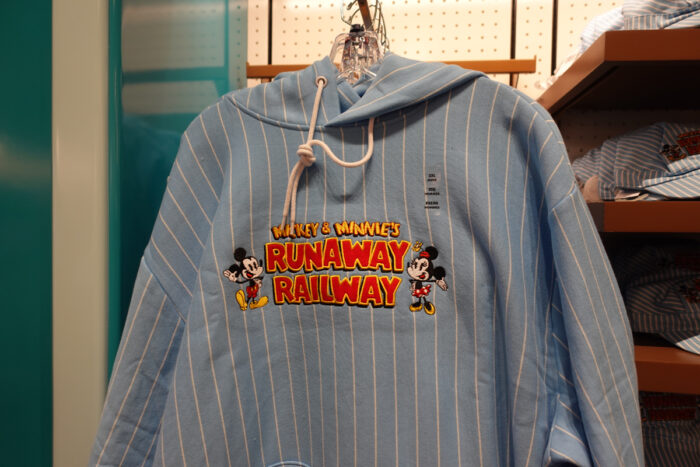 Here's just a couple of the new Runaway Railway clothing items available.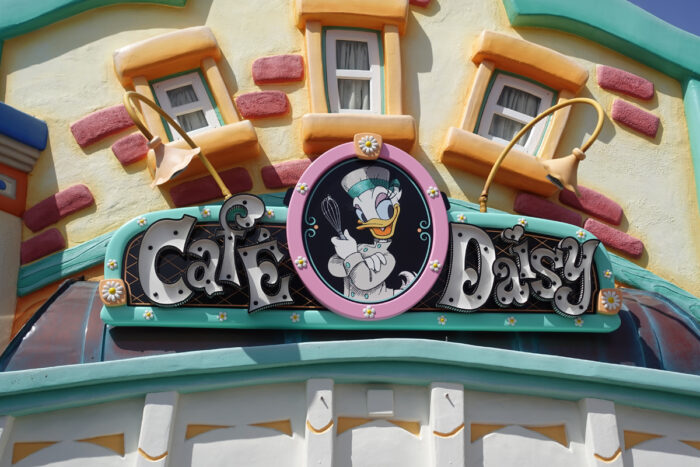 Toontown was previously home to three counter service windows selling basic hot dogs and ice cream items. Now they've all been combined into one and given a new name, Cafe Daisy.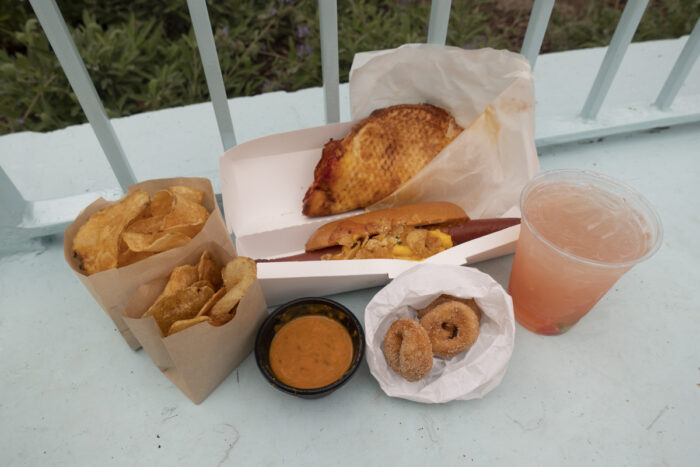 We'll have a full review of Cafe Daisy's menu next week, but spoiler alert, it's all bad. This is elementary school cafeteria level of quality.
Good Boy! Grocers, formally known as Toon Up Treats, is home to drinks and snacks.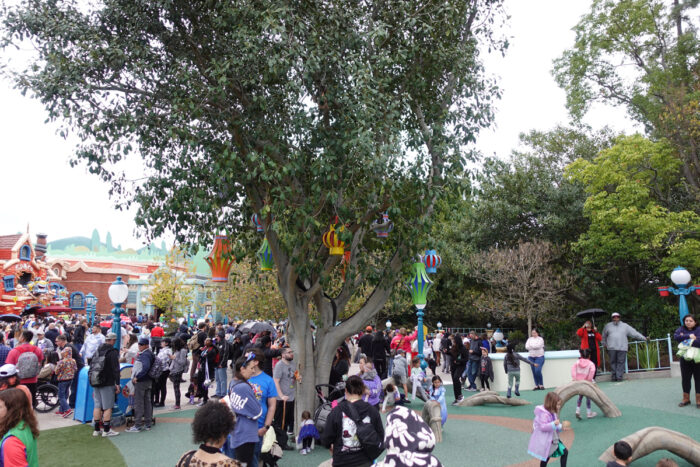 CenTOONial Park is home to a wishing tree, which is inspired by a tree in Walt Disney's home town. Looks like a standard tree to us, but this is an area for the kids to run around and burn some energy.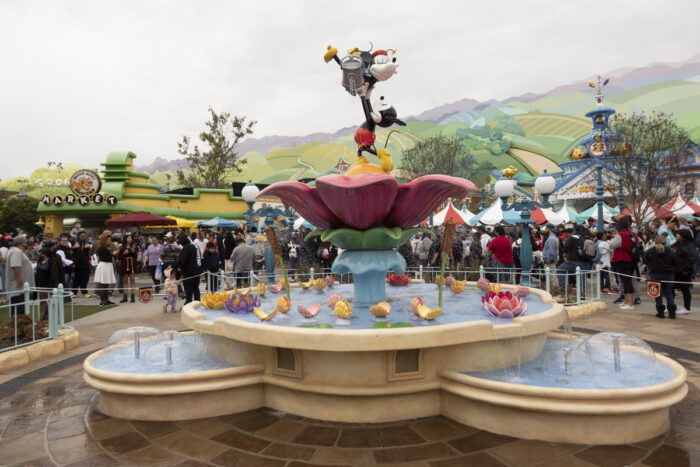 Mickey's Toontown is home to a new fountain featuring Mickey and Minnie as the centerpiece.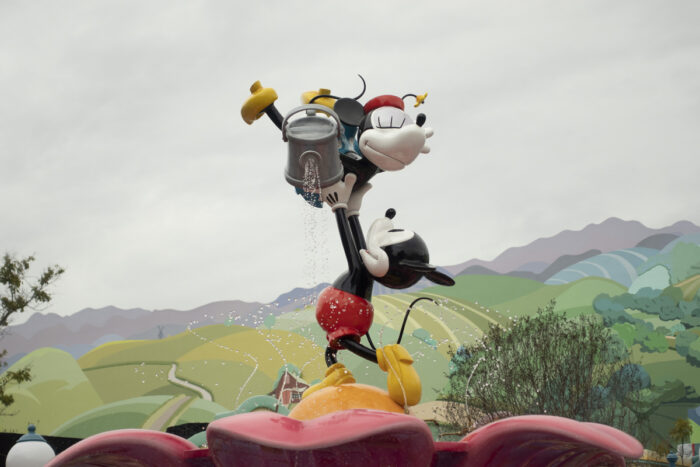 Cute!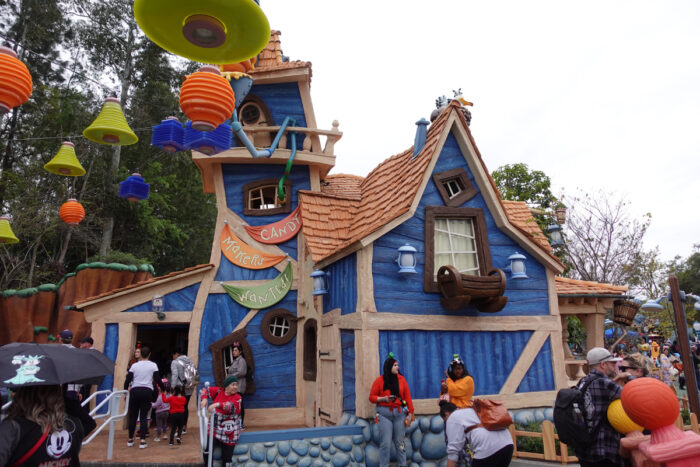 Goofy's house opened with the land as Goofy's Bounce House, but the inflatable furniture was slowly removed over the years. The house has been given a ton of new interactive props and gags, and a new name, Goofy's How-to-Play Yard.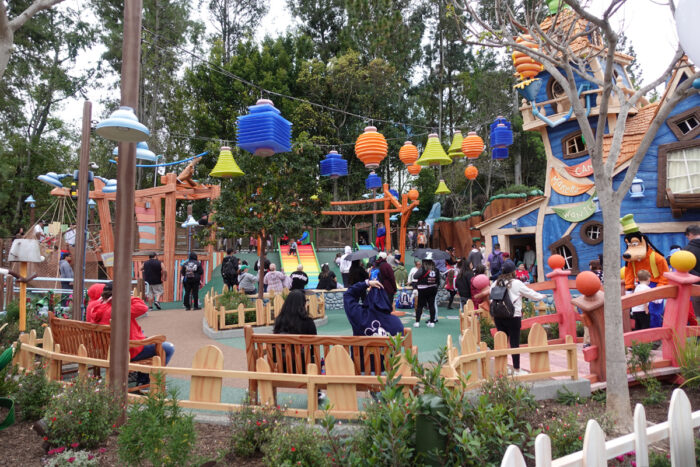 Kids can enjoy slides, climbing equipment, and other interactive props to enjoy in Goofy's yard.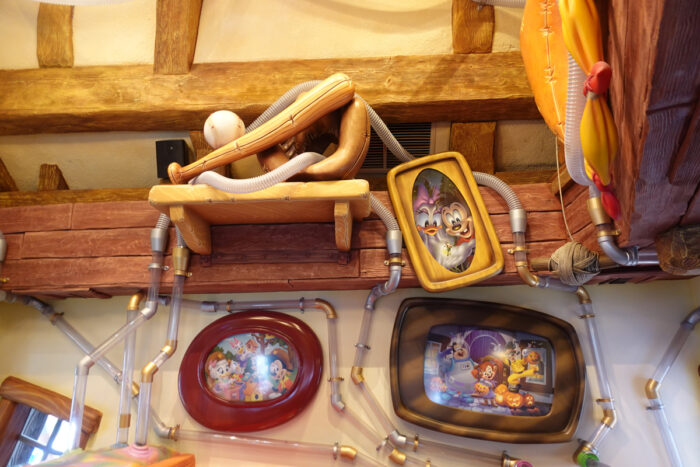 New to the inside of Goofy's house is an elaborate contraption which sends balls flying through a series of tubes from one appliance to another. It adds some great kinetic energy to the inside of the house.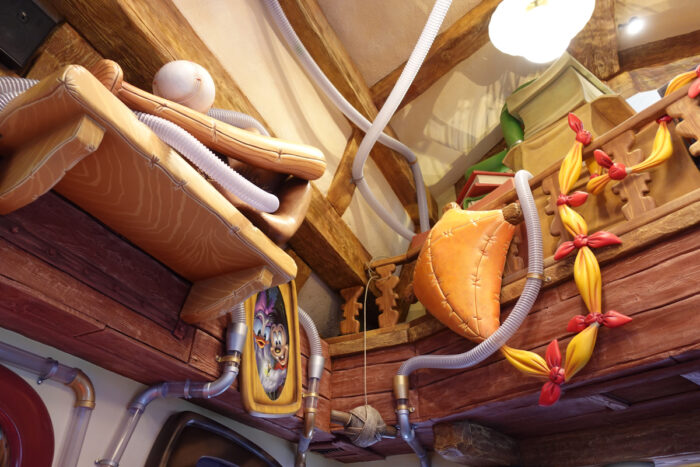 It's fun to smash a button or turn a knob and then watch the balls travel through the tubes.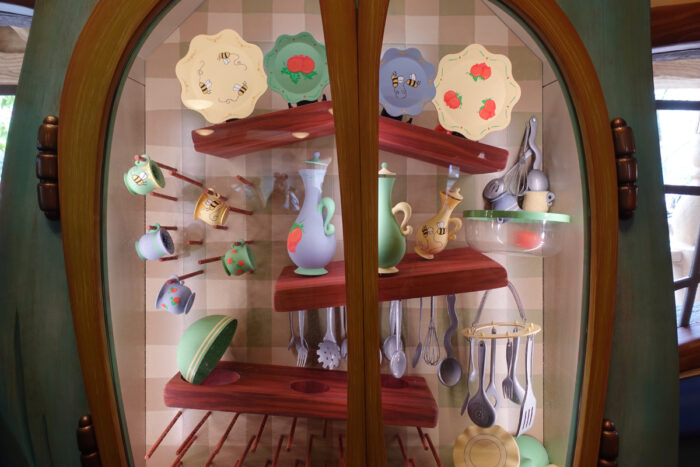 Items rattle and trigger lighting and sound effects.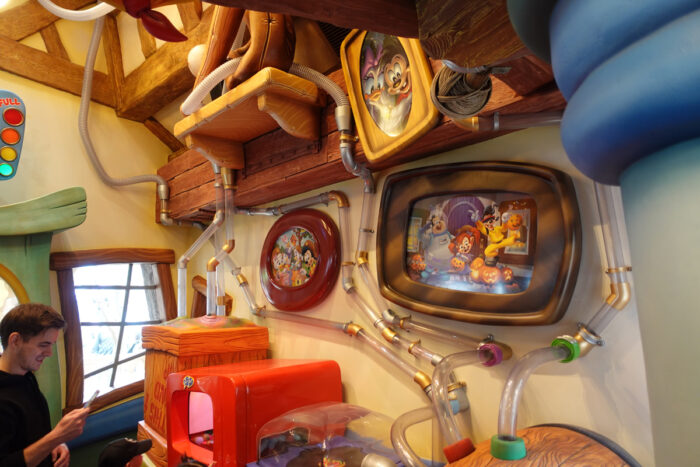 Goofy's house is worth checking out, so be sure to stop by.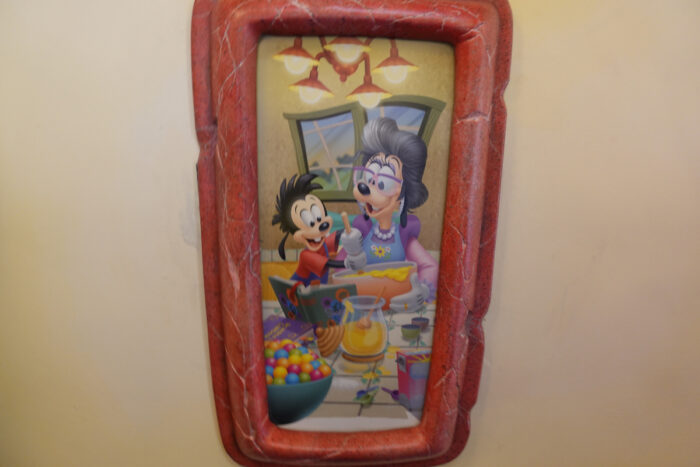 You'll also see some of Goofy's and Max's friends and family members in the pictures on the wall.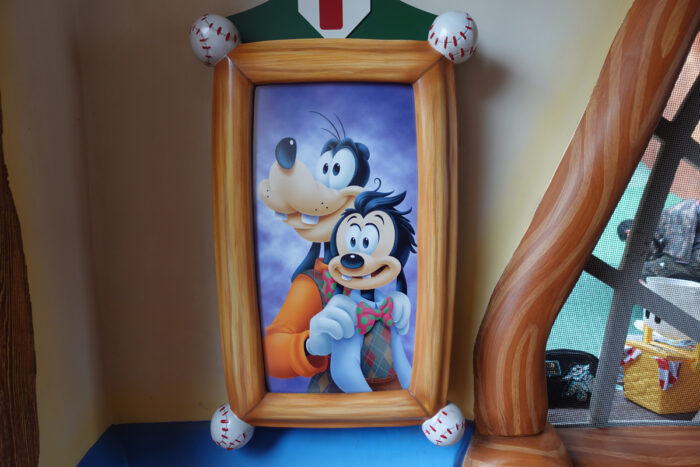 Our favorite is this Step Brothers-inspired portrait.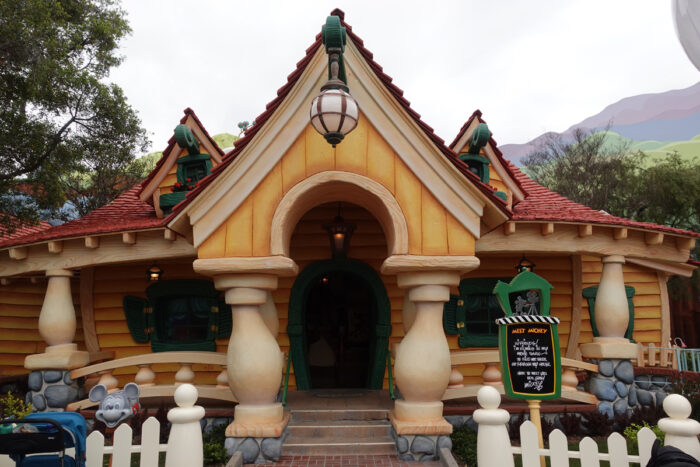 Mickey and Minnie's house are mostly unchanged, but they have been extensively refurbished inside and out.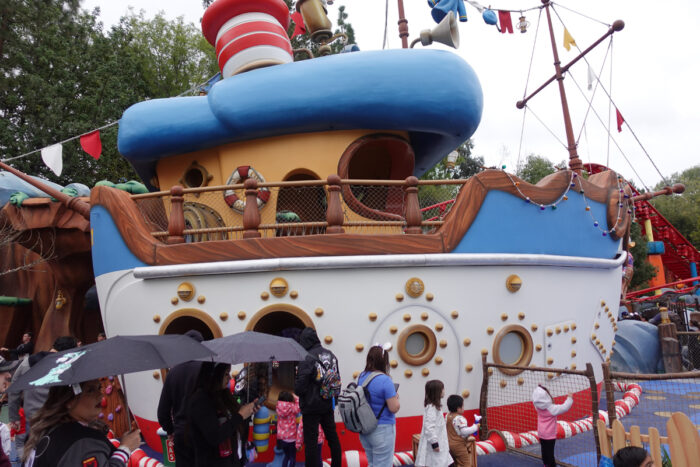 Donald's Duck Pond is home to his boat, the Miss Daisy. Here you'll find more interactive props and a splash pad to get soaked in.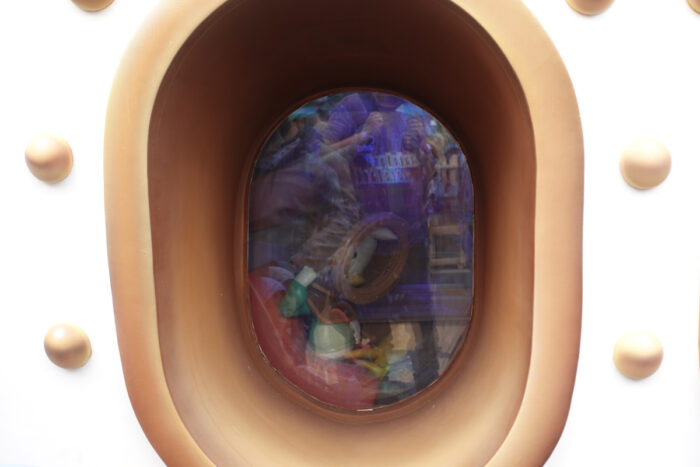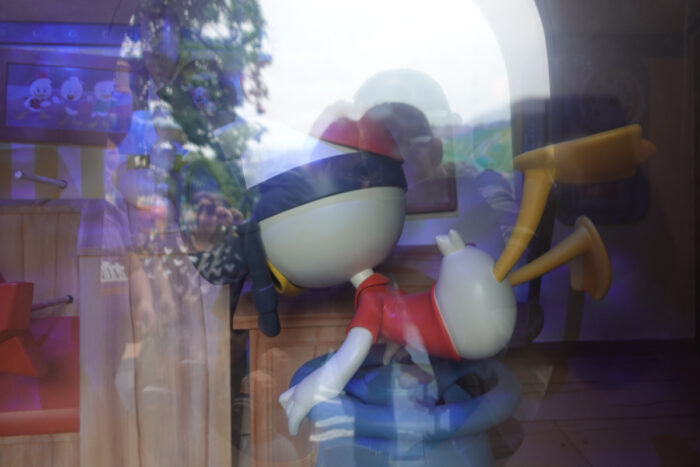 Inside each porthole is one of Donald's nephews.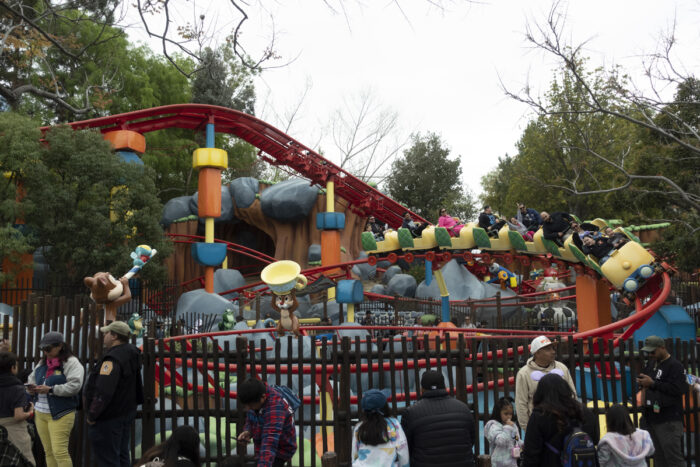 Gadget's Go Coaster has been renamed to Chip & Dale's Gadget Coaster. But fear not, characters from Chip & Dale's Rescue Rangers still remain.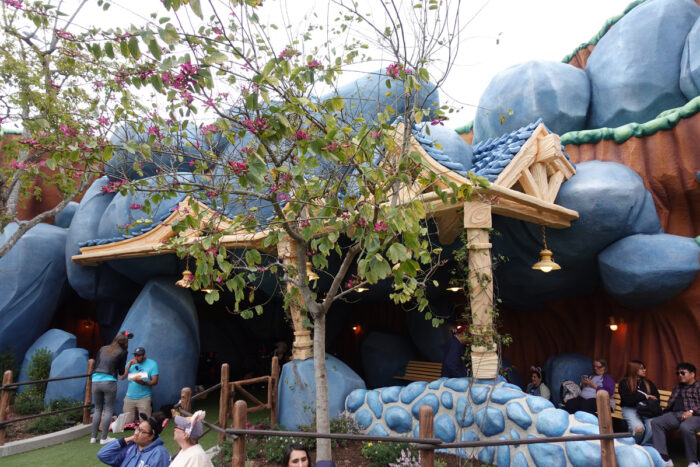 The former Chip & Dale's Treehouse and the long dormant acorn ball crawl area have been cleared out in favor of a nice little seating area.
You don't want to miss out on the new Toontown and all of Disneyland's other great rides and shows. We can book your Disneyland vacation for you. Our agents are the best in the world and they're ready and waiting to help you plan your perfect trip. Click here to get a quote!