Disneyland Cafe Daisy Review
In March, 2023 Mickey's Toontown in Disneyland reopened after receiving its first major expansion and refurbishment since opening in 1993. With the extensive refurbishment, or reimagining as Disney called it, came a new quick service dining location with an entirely new menu. Cafe Daisy replaces the land's three previous dining locations, Clarabelle's, Pluto's Dog House and the similarly named Daisy's Diner. How's the food at Cafe Daisy? Keep reading to find out.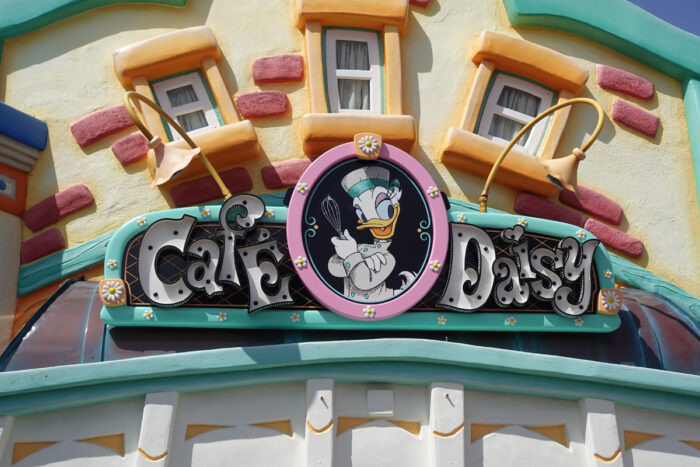 Cafe Daisy received a nice new marquee with some great artwork of Chef Daisy.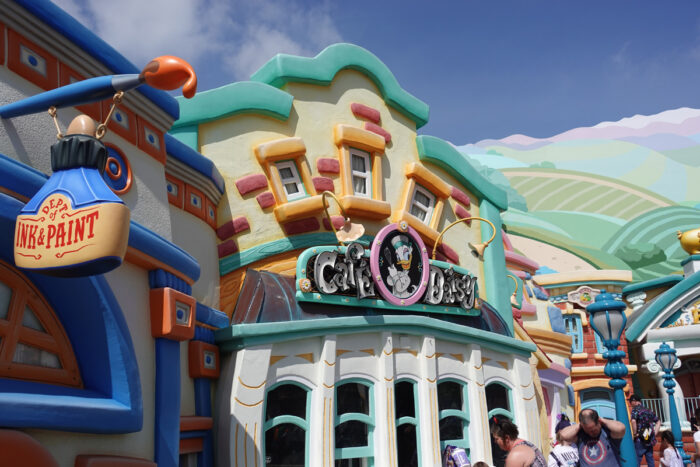 Cafe Daisy is located across from the entrance to Disneyland's newest ride, Mickey & Minnie's Runaway Railway. All seating for Cafe Daisy is located outdoors, with some seats being covered by umbrellas. With the popularity of the new Toontown and Runaway Railway, you may find tables and chairs hard to come by. But luckily there's plenty of benches and ledges to sit on around the land.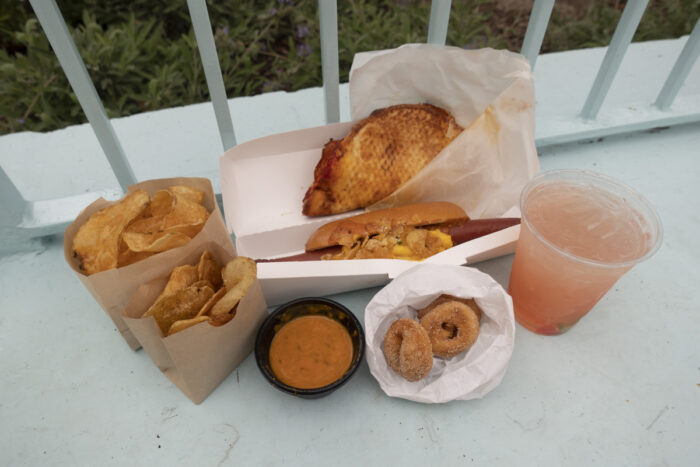 Here's a look at the menu, with the exception of the Spring Garden Wrap and a couple of drinks. As you can see these items are quick bites/snacks, but you could make a meal out of it if you needed to.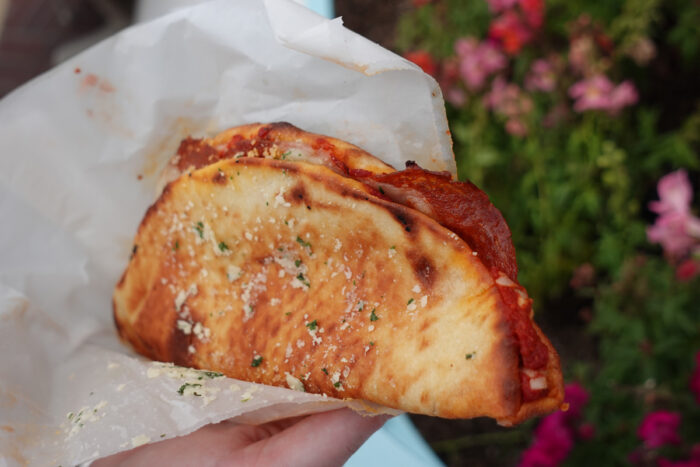 The Pepperoni Pizza Flop-Over ($10.49) is a pepperoni pizza that is folded in half like a taco. The outside is sprinkled with parmesan cheese. There's also a cheese pizza version for $9.99. How was it? I thought this was elementary school cafeteria-level quality. It had a bland taste and was extremely flimsy. Seriously, it was as floppy as a quesadilla. I don't know if I got unlucky with a botched or rushed flop-over, but it was not good. If you're in the mood for pizza there's much better flatbreads in the park, such as the flatbreads found at Red Rose Taverne, or Naples and Napolini in Downtown Disney.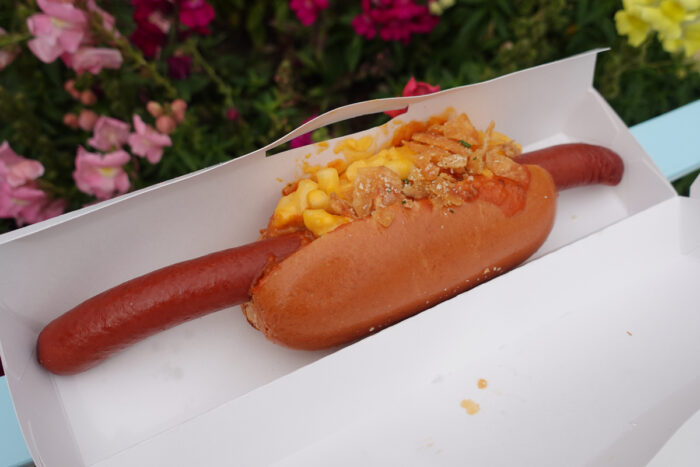 Next up was Daisy's Dressed-Up Dog with chili-cheese sauce, mac & cheese and parmesan potato crispies. The hot dog itself wasn't bad. It did have a nice snap to it, but the bland and plastic tasting mac & cheese and crushed potato chips did it no favors. This hot dog is a staggering $14.49, which should instantly make you consider other options in the park.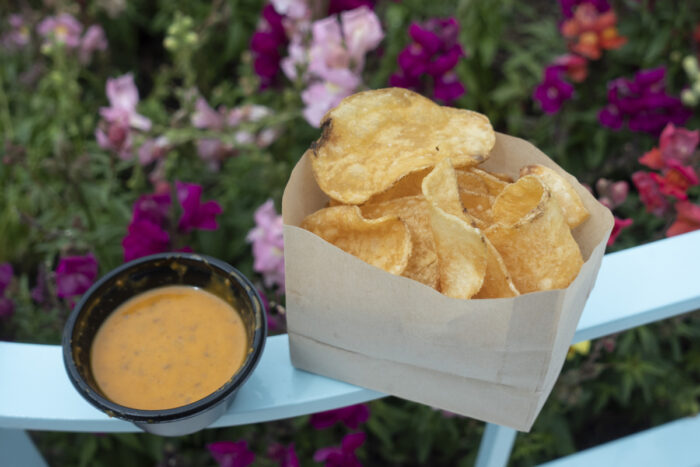 Served with Daisy's Dressed-Up Dog, or available on their own with a side of chili-cheese dipping sauce for $7.49 are Toontown 'Tater Chips. These chips are good and freshly made on site. You'll know what to expect here if you've ever had the chips at Jolly Holiday Bakery. The chili-cheese dipping sauce was fine, but a bit watered down. Overall the Toontown 'Tater Chips are okay, but not worth the $7.49 price tag.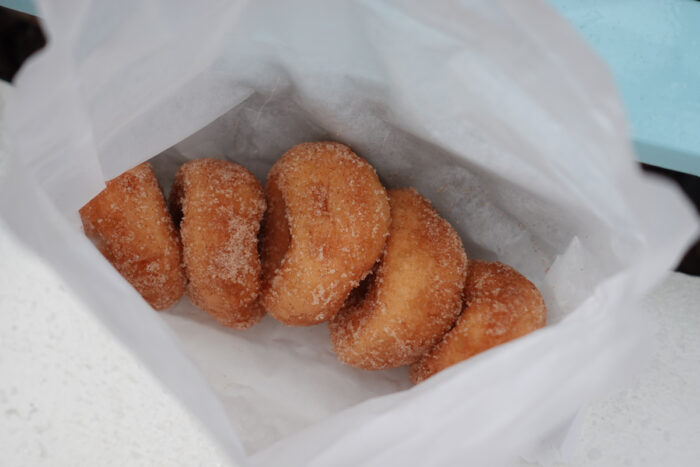 I had high hopes for Daisy's Goody-Goody Donuts after hearing so many people attended the Toontown media event rave about them. Unfortunately they were also a disappointment. I'm sure if you got lucky and received a warm fresh batch they would be a lot better, but I did not and they tasted similar to donuts you'd get prepackaged at the grocery store. $5.99 gets you 5 mini donuts, which are about the circumference as the top of a soda can.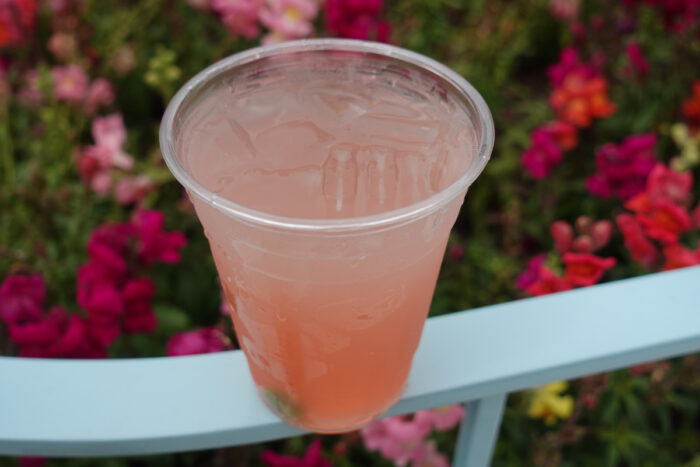 Picnic Time Watermelon Lemonade is made up of Minute Maid Zero Sugar Lemonade with watermelon syrup and watermelon gummies. This drink adequately moistened my mouth as I ate the rest of Cafe Daisy's menu. It's not a total sugar bomb thanks to the use of sugar free lemonade, so that's good. Granny Goof's Garden Sweet Tea and Specialty Cold Brrr-ew are also on the menu, but I didn't try them.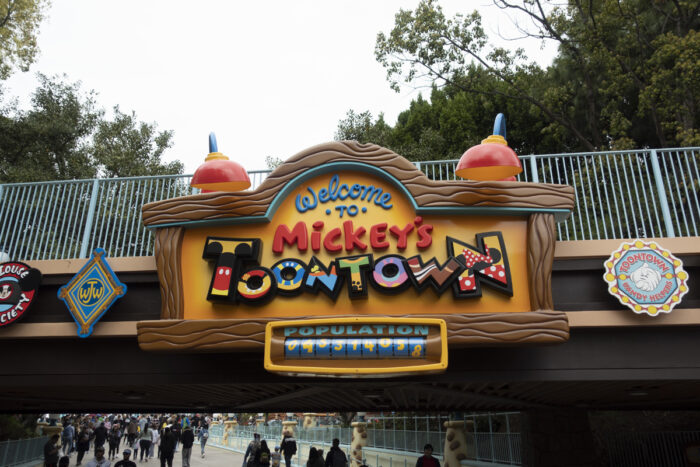 Well that was a rough one. Was I too hard on a dining menu of a quick service window in a land meant for children? All I can do is give my personal opinion on these items, but let me know if you disagree. Especially let me know if you had a better flop-over than I did.