The SATURDAY SIX Takes a Quick Trip to Walt Disney World (Pop Century, Cosmic Rewind, Best Friends Pet Hotel, Cape May Cafe and more!)
This week's SATURDAY SIX takes a quick trip to Walt Disney World! We just got back from a trip to Orlando and had an overall INCREDIBLE experience. Today we are going to go over some of the highlights, starting with…
# 6 – Bacini Goes to Best Friends Pet Hotel
A few months ago when I started planning this Disney trip, I went to Best Friends Pet Hotel website to see what would be available for Bacini when the following pop up appeared…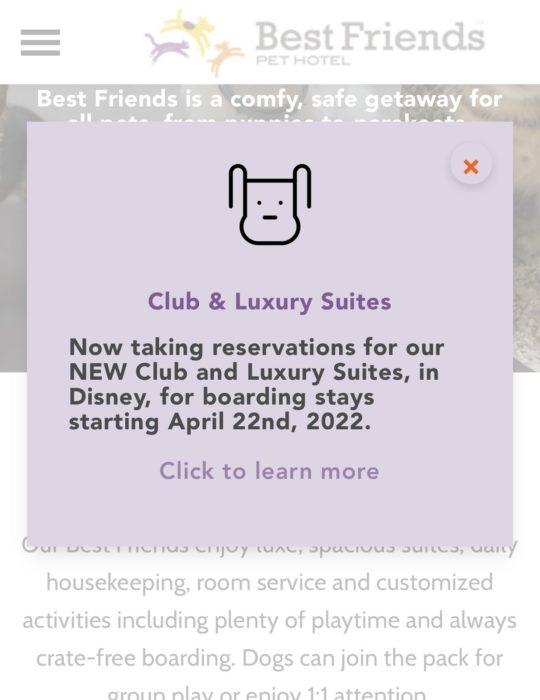 For those who don't know, Bacini is one pampered pup, especially after his last stay over at the Hard Rock Hotel experiencing their Unleashed pet program and being treated like Rock Royalty. A club suite? For dogs? There would be no living with him after this news.

So of course the suite was booked and this past week we made our journey up from the Treasure Coast of Florida to Walt Disney World.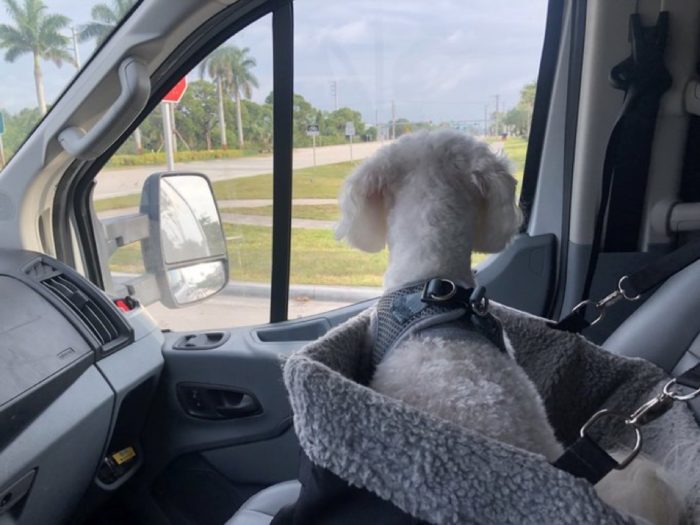 We're going to do an entire SATURDAY SIX on the Best Friends Pet Hotel experience in these very pages next week, but here is a quick overview. For those that don't know, Best Friends is located on Disney property and is basically across the street from Port Orleans Riverside. They accept dogs, cats, and pocket pets (guinea pigs, hamsters, sugar gliders, etc). You can book a "full day" experience, where Best Friends takes care of your four legged friend while you enjoy the parks, or you can also book an overnight stay.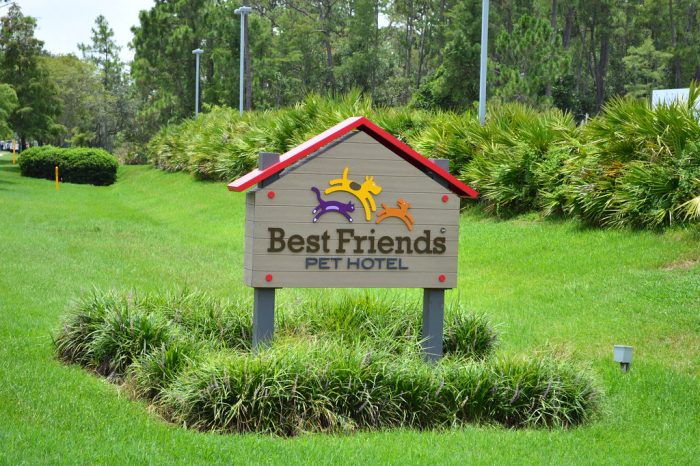 We booked Bacini for a two night stay and this was our first time back to Best Friends since the Disney Covid shutdown in 2020. There have been some huge additions since our last stay in  late 2019. Here is a look at what the Vacation Villa area looked like back then.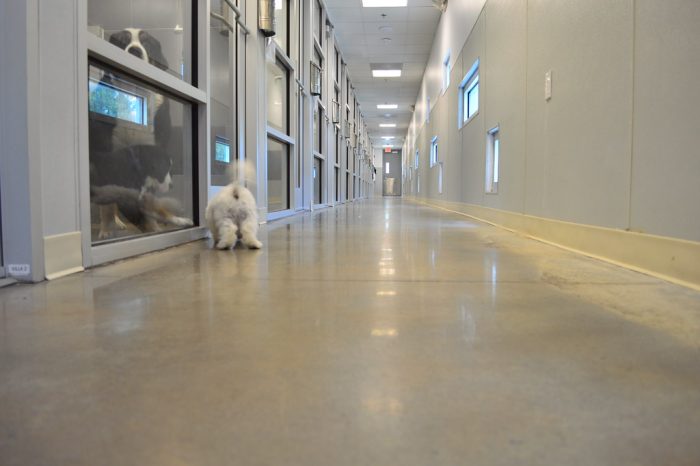 The Vacation Villa area has been completely expanded, with a whole new building at the end of the hallway seen above.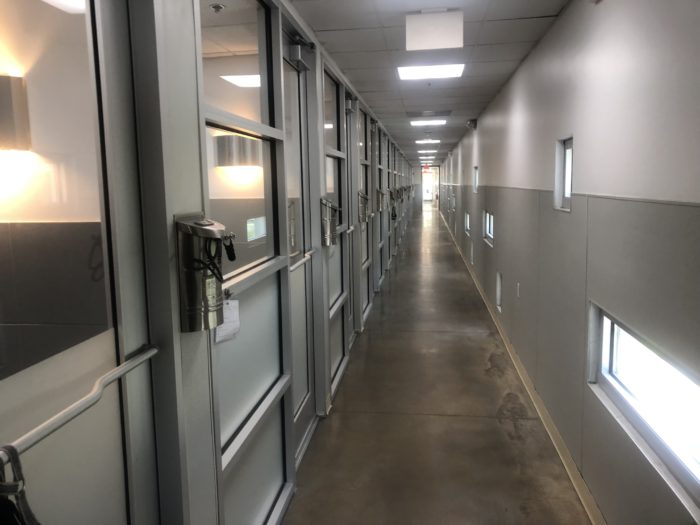 The two Club Suites are located directly past the original end of the Vacation Villa hallway.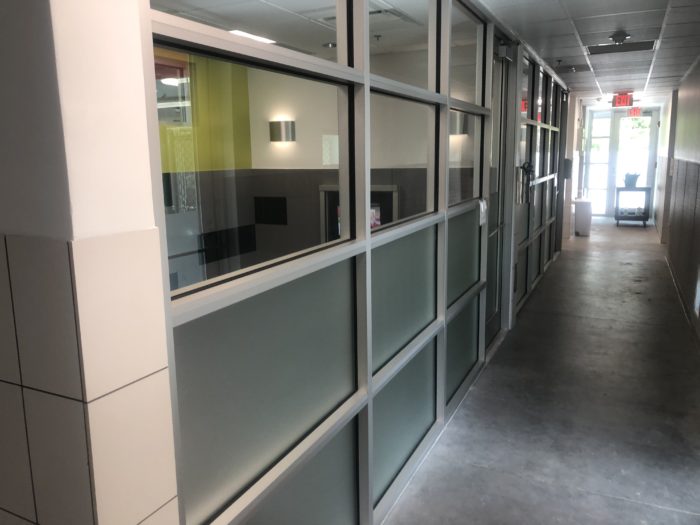 As Buddy the Elf would say, these suites are ginormous. To put the size in perspective, the 182 square feet of Bacini's Club Suite was just 100 square feet smaller than our human room at Pop Century and was actually BIGGER than our cabin on the Disney Cruise Line!
Here is a look at some of Bacini's room, with the photo taken when opening the door.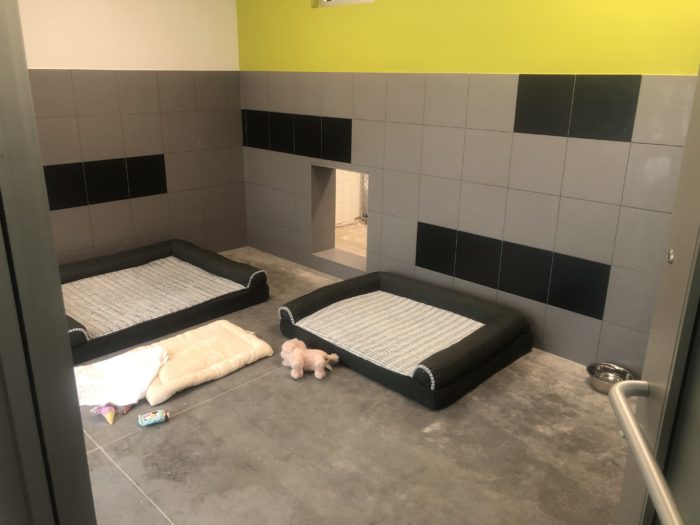 This photo was taken from the opposite side of the room. Each Vacation Villa and Suite have a TV in the room. Oftentimes it is playing Disney animated films or live action movies featuring animals (including Garfield) but during this part of the morning it was playing The Price Is Right (which was formerly hosted by Bob Barker, a person who has been a true hero to animals over the years.)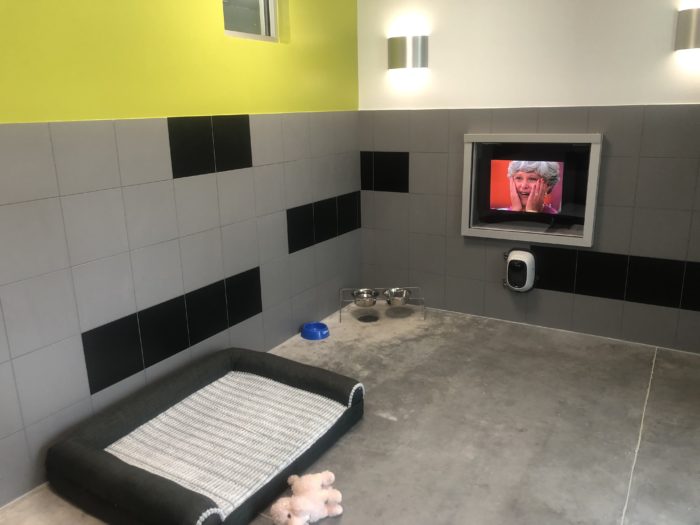 Each of the Vacation Villas and Suites have an outdoor component as well.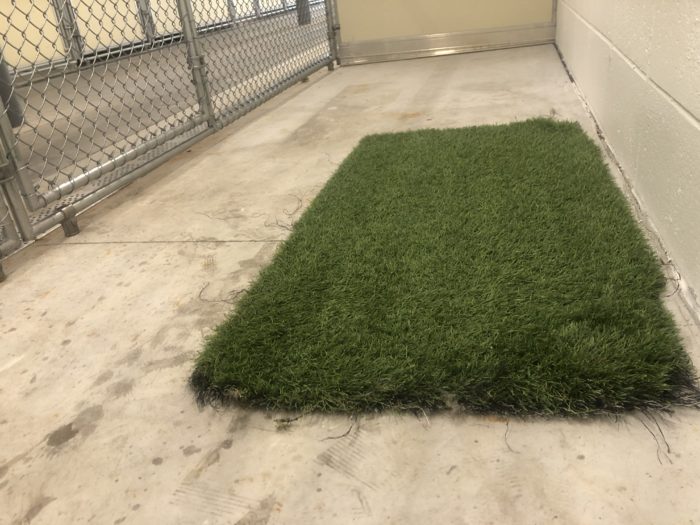 This was possibly Bacini's favorite part of the room because he kept going outside the room to see the other dogs.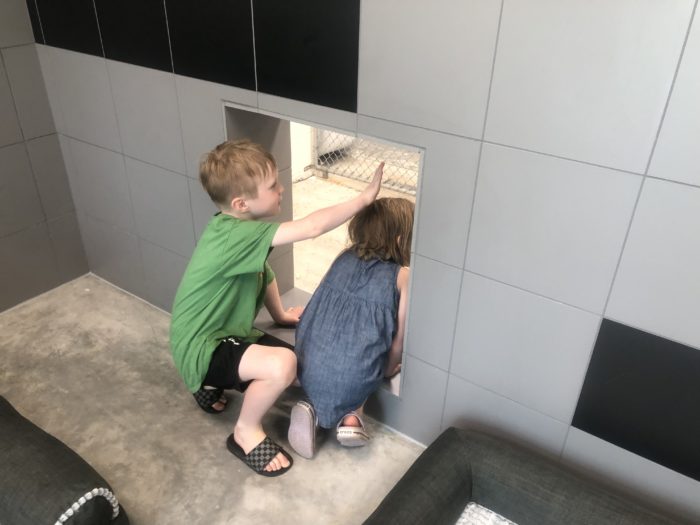 Here is Bacini about to come back into the Suite for a moment.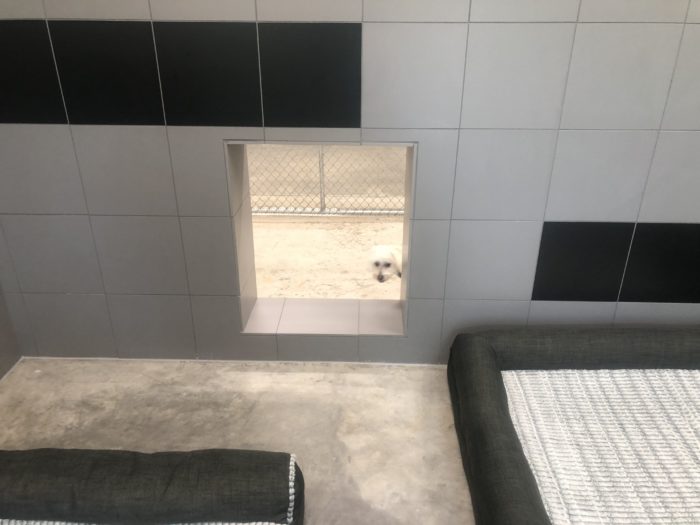 Each Vacation Villa and Suite has a camera below the TV pictured above. Upon checking in, you are given directions on which app to download, as well as the credentials to access the camera in your pet's room. When we first had Bacini stay in a Vacation Villa a couple years ago, this was a game changer because it really gave us peace of mind being able to check-in on him any time we wanted.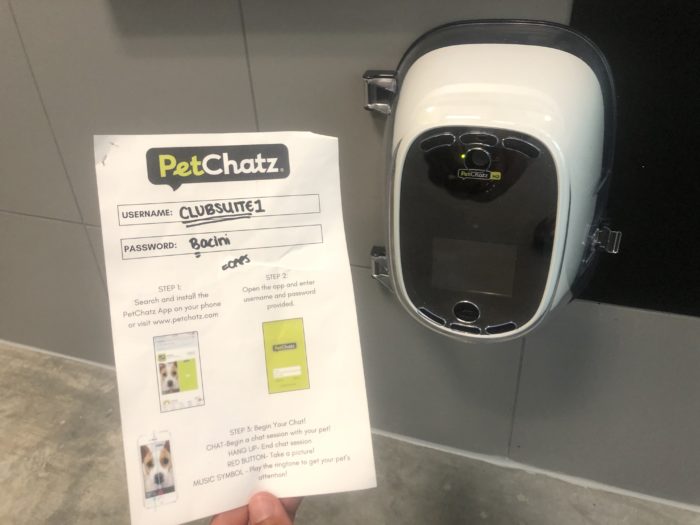 The picture below is a screenshot from my phone, checking in on Bacini. You can see in this photo, the PetChatz it is set to "silent mode," giving you the opportunity to just observe. The "chat" button on the right side of the screen allows you to talk to your pets, similar to a Pet Cube that many pet owners have in their homes.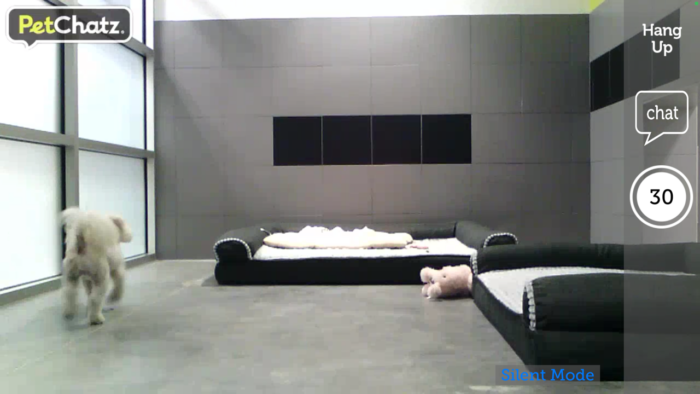 Here is us checking in on Bacini while we wait for a monorail at the TTC.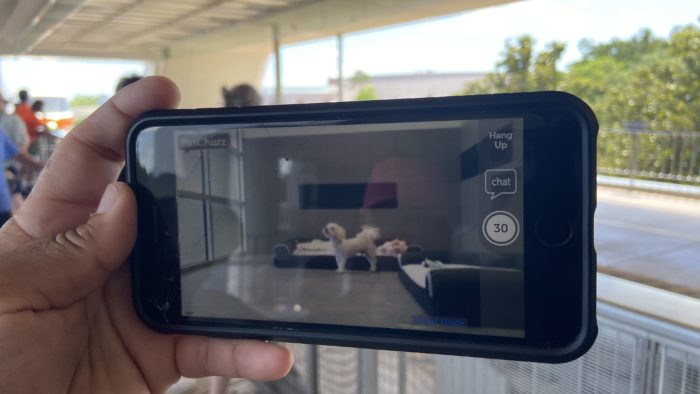 Our next photo below is back from our last stay at Best Friends back in 2019. Note at the back end of this picture you see a parking lot.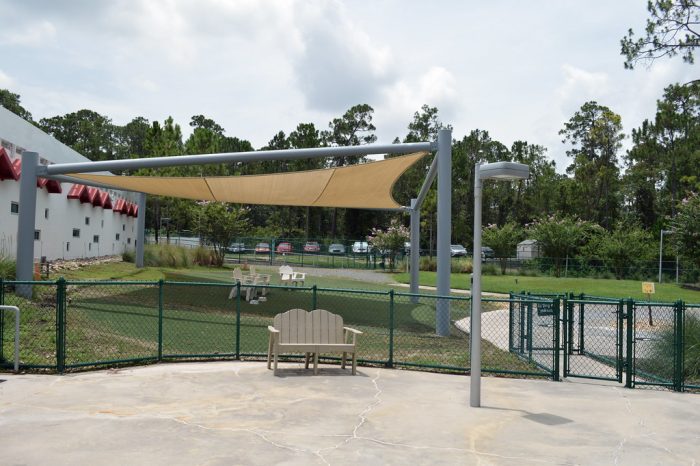 This is a current photo of that area, and you can see Best Friends is in the process of finishing a whole new wing of Vacation Villas.
Okay, there are a lot of AWESOME things which come with a Club Suite stay, and we'll cover them all in detail next week, but for now we'll say goodbye to this little prince as we then made our trip over to Pop Century (although something tells me we'll be seeing this cutie again very soon…)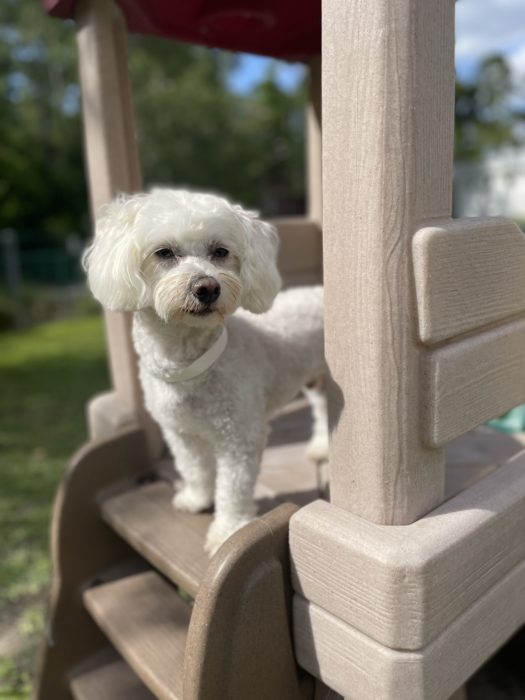 # 5 – Pop Century
We arrived at Pop Century sometime around 12:30PM and were pleasantly surprised to find out that our two rooms were already ready AND that they were directly next to each other (I had called Disney last week to see if this was possible. The Cast Member on the phone said they couldn't guarantee it but would mark on the note on the reservation that we had requested it). We were in one of the '70s buildings, with the giant Mickey phone outside ours. We were on the third floor and had the last two rooms on our particular wing. I thought this was a great area as we were pretty close to the main pool area and the food court, but also far enough away to not hear any of the noise.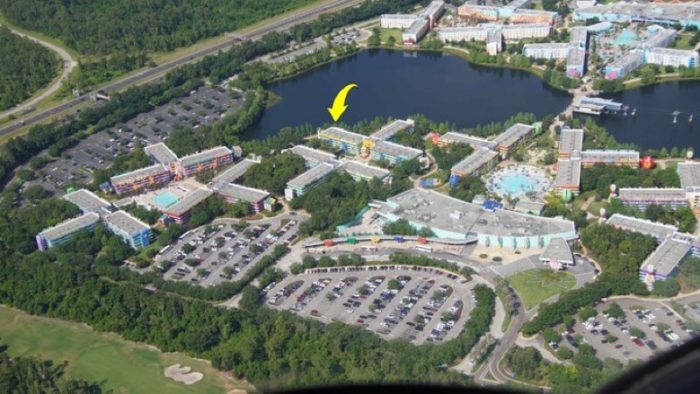 We will be doing a complete SATURDAY SIX on Pop Century in the next few weeks, so we'll just briefly go over some things here and go into a lot more detail in the article dedicated to Pop. To start off, our rooms were fine.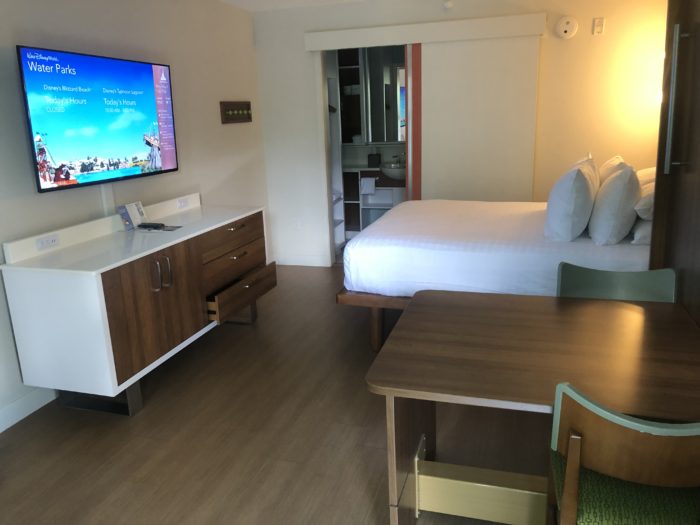 I would have liked a bit more "Disney" in my Disney hotel (say a movie poster from a Disney animated or live action film from the 1970s) but for whatever reason both Disney AND Universal seem to be following every other hotel in Orlando's model of making everything sterile and generic.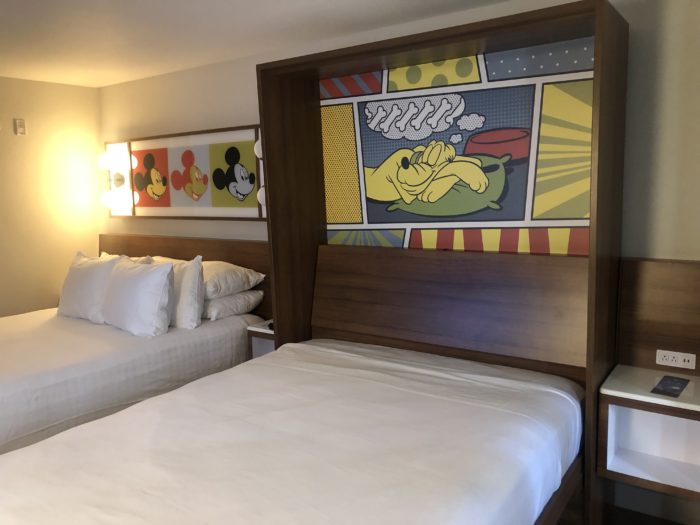 The shower area was compacted to the point where it also reminded me of our stay on the Disney Cruise Line, but the shower fixtures themselves were fantastic. I think I'll be converting our own master bedroom shower at home to this type of system.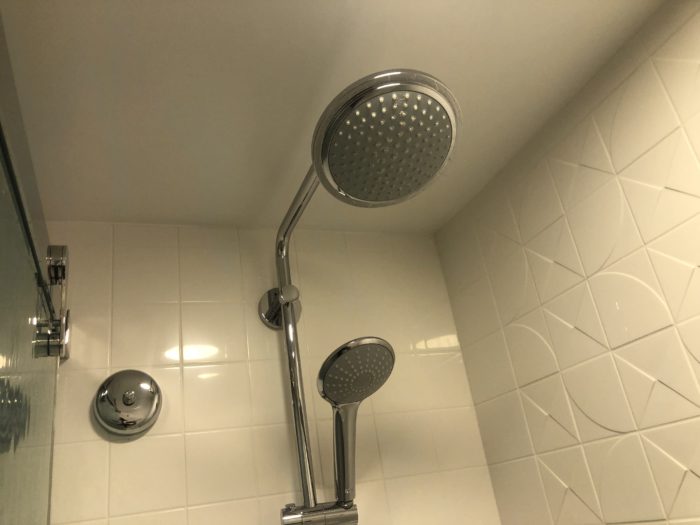 First stop after dropping off our luggage was – of course – the pool. While Babydoll and the kiddos enjoyed the water, I got us a couple of drinks at Petals pool bar.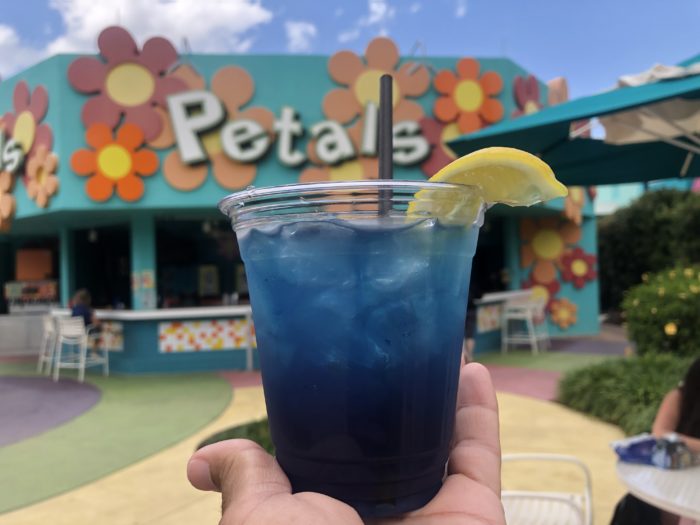 Petals was offering these flexible drink coozies for $4 each. I got one of each.
I didn't think you could make a Miller Lite more beautiful than it already was, but clearly I was wrong.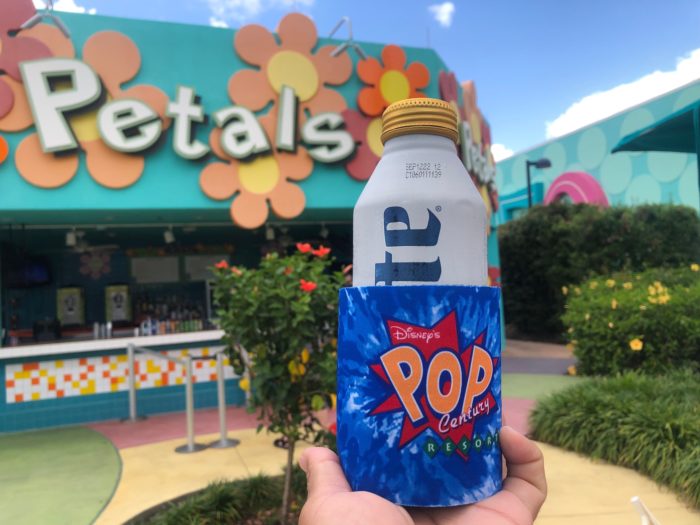 For a moment we are going to go back to Best Friends Pet Hotel, and we received the pamphlet below when checking Bacini into his Club Suite. One of the benefits of a Club Suite stay is personal concierge service.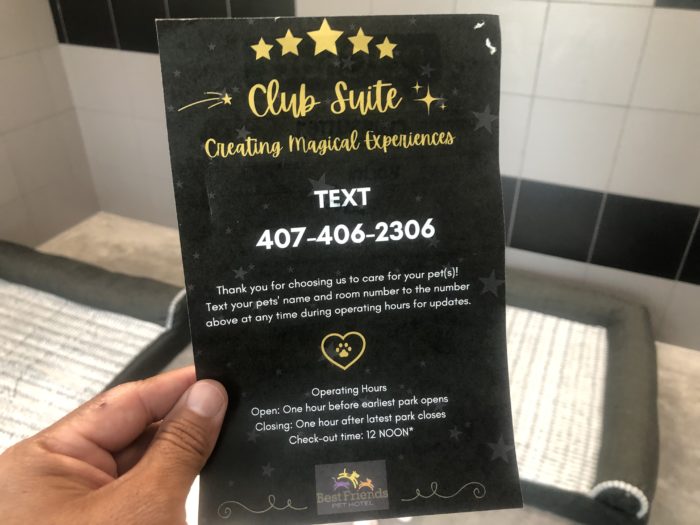 While at the Hippy Dippy pool at Pop Century, we received our first update from Best Friends. The update let us know that Bacini had just got back from his first walk and was currently enjoying ice cream. As big of a game changer that the PetChatz video feature was for us as Pet Parents back in 2019, Best Friends' concierge service was even better. Not only do you get consistent updates and pictures of how your dog is doing, but it also allows you to contact Best Friends to get a current update or ask any questions. This is a feature I have wanted at pretty much every Doggy Day Care or boarding place we have ever used for all of our pets over the years.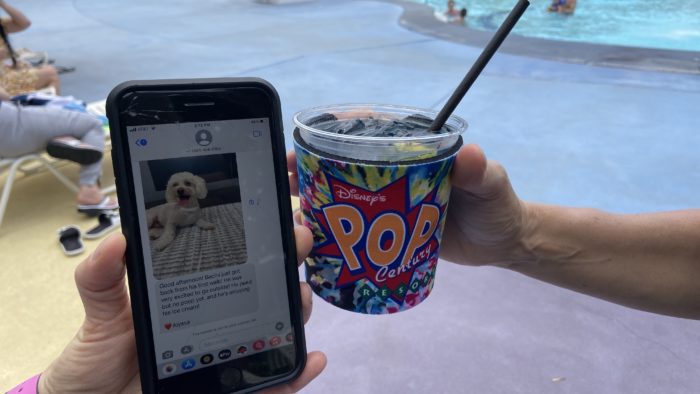 While everyone was frolicking in the pool, I made a quick run into the main building at Pop to do some recon on food and merch. You know I'm going to get a Tie-Dye cheesecake.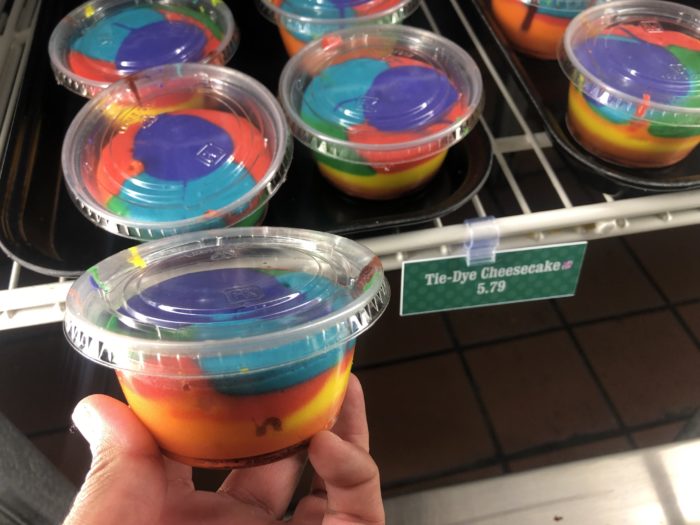 Checked the status of pressed pennies.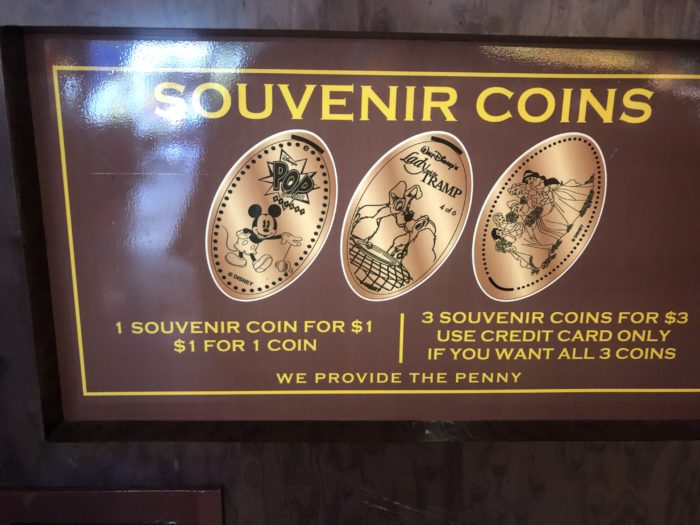 This was actually the BEST photo of the penny after about 20 attempts and I was this close to just throwing my phone into the Hippy Dippy pool behind me out of frustration.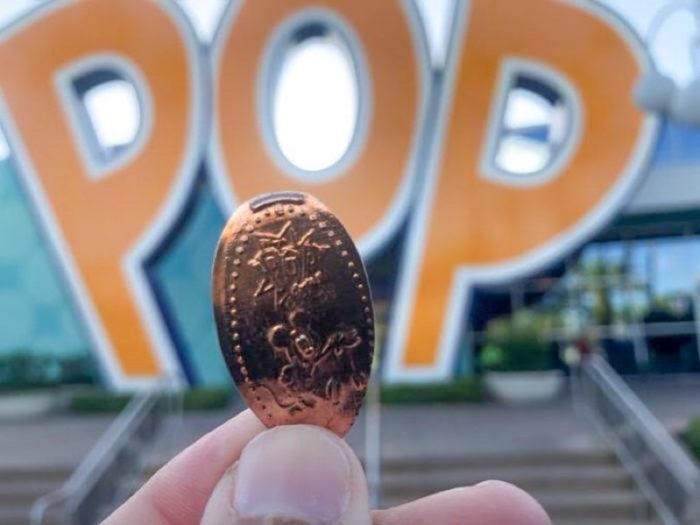 I'm late to the party on these 50th anniversary refillable mugs, but they are straight up FIRE. This is a top 5 Disney cup of all time. Even better? The design was done by none other than Sam Carter, a person we featured in a SAT 6 ARTIST SPOTLIGHT.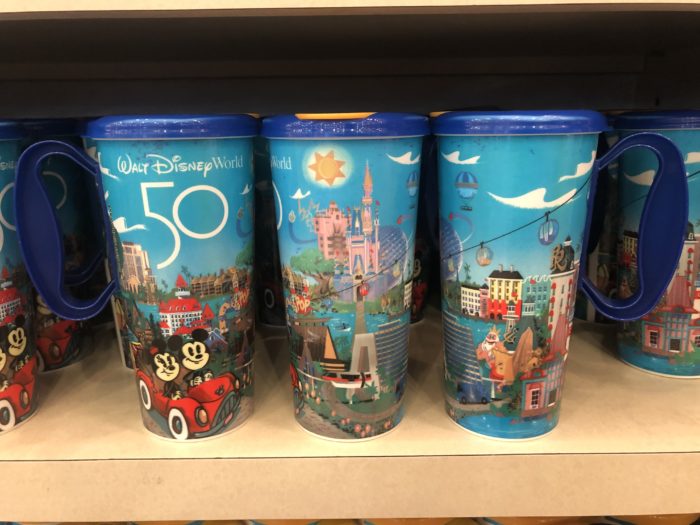 Here was another incredible 50th design created by Sam featuring elements from the Magic Kingdom resorts. Straight up E-Ticket refillable mug.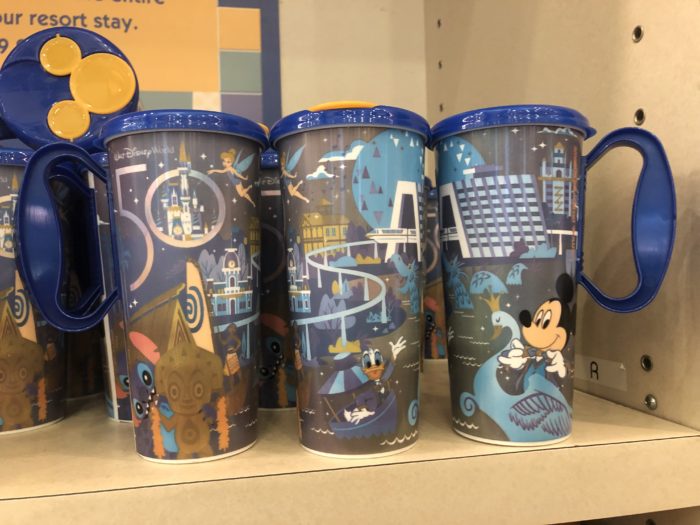 I went with this design because it featured Pop Century and will be a small souvenir from the trip.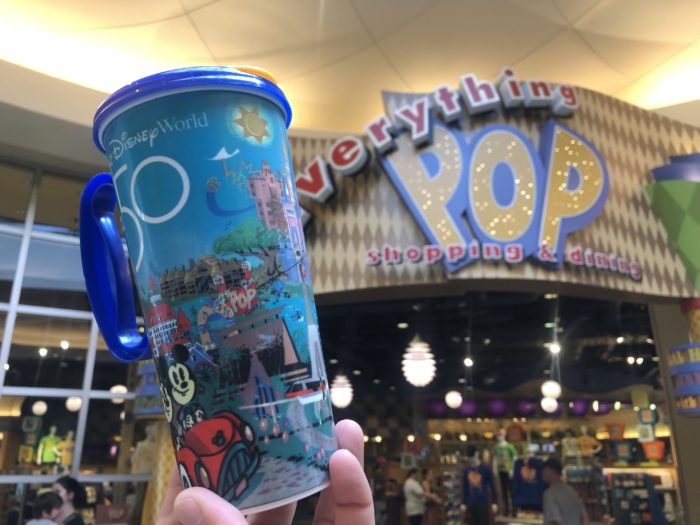 Once back at home, the cup was washed and put into the regular rotation.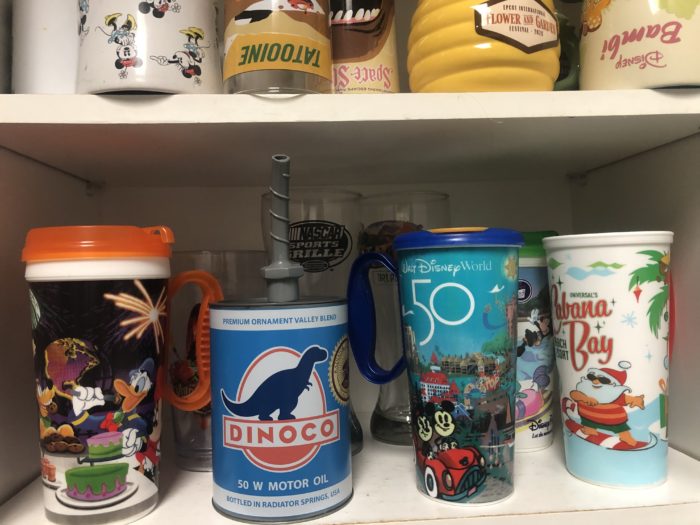 Sam also did the artwork for the 50th anniversary refillable mugs available at the Disney water parks. I couldn't love these more.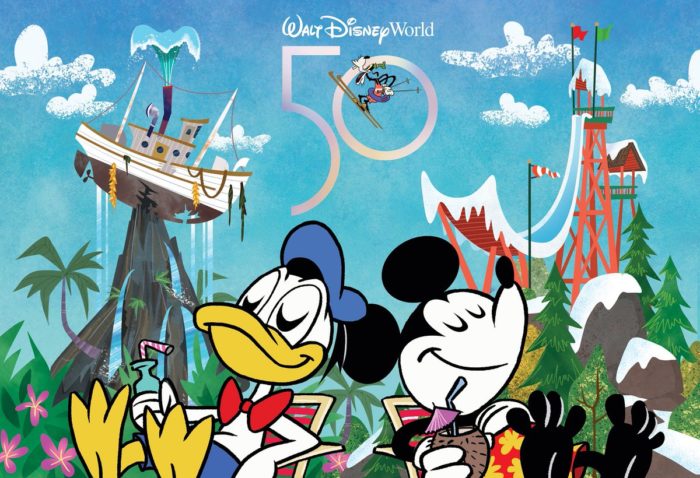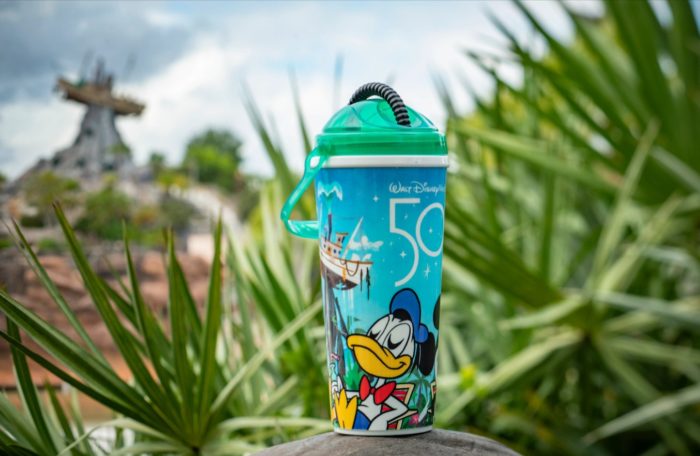 Speaking of WDW's 50th anniversary, the photo below shows a couple other items I purchased during the end of our stay at Pop including the monorail toy set and the Magic Kingdom branded bottle of Coke.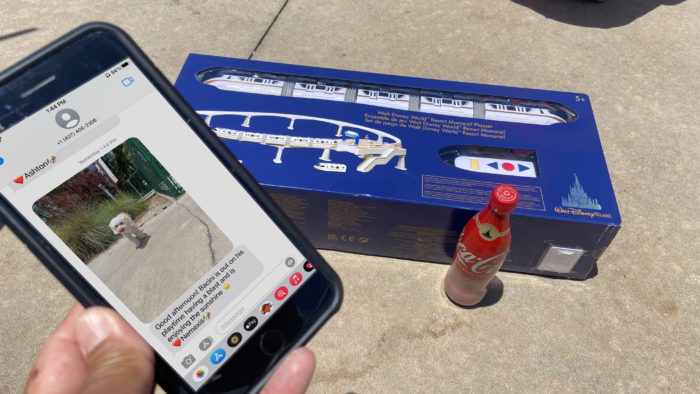 The Coke bottle went straight into the collectible fridge upon returning. Yes, that New Coke can on the right is the very same one which Babydoll opened because she was "thirsty."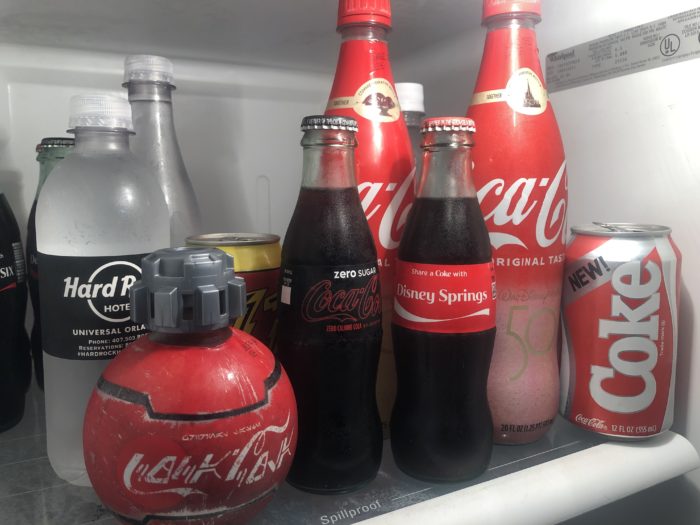 So I took the monorail toy home and attempted to put that together as well. It's pretty basic, and no tools are needed. But no matter how many ways I configured the track it wasn't working right. I felt like I was losing my mind. So I just gave up and Googled "putting together the Disney 50th anniversary monorail toy." I clicked on the first link and, well, I wasn't quite ready for this…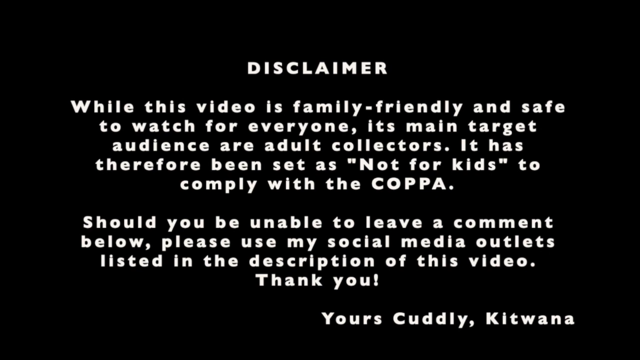 I thought that disclaimer was "interesting," but honestly it didn't make any sense to me.  Then the video started and everything made even LESS SENSE.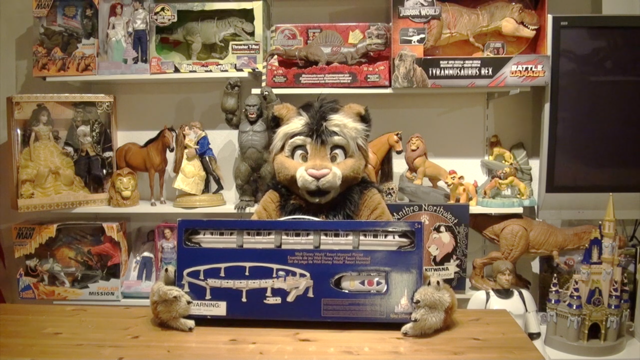 Yes, I was watching a person dressed up in a lion outfit talk about – and put together – the 50th anniversary Disney monorail toy.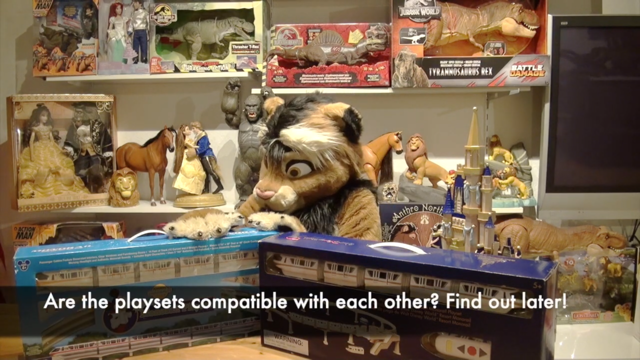 Here's the thing. The lion did a GREAT JOB over the course of the video. His (its?) directions were thorough and easy to follow.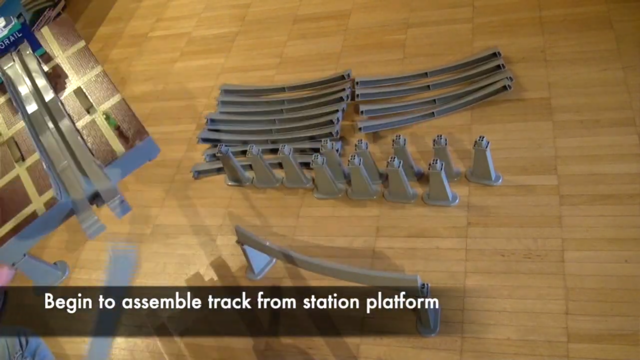 Then we get to this part….
If you do this properly…when you are done you will have a spare curve and a straight section as well." – Kitwana Lion
WHAAAAAAAAAAAAAT?!!!!!!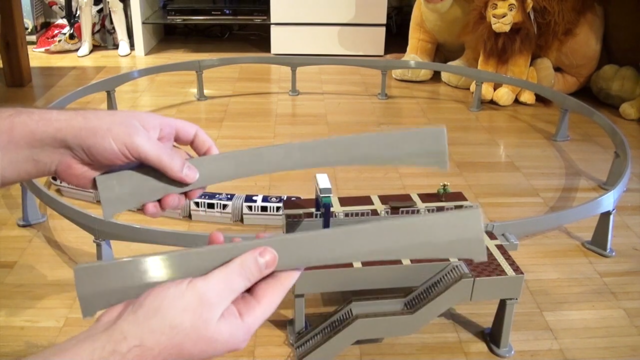 My reaction seeing that you are supposed to hold back two pieces when putting together the monorail toy (which I didn't see anywhere on the box or the simple page of instructions included).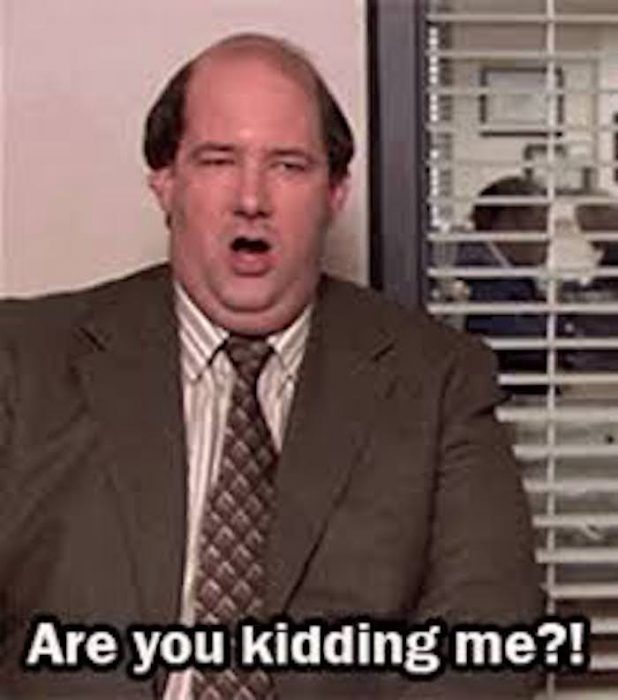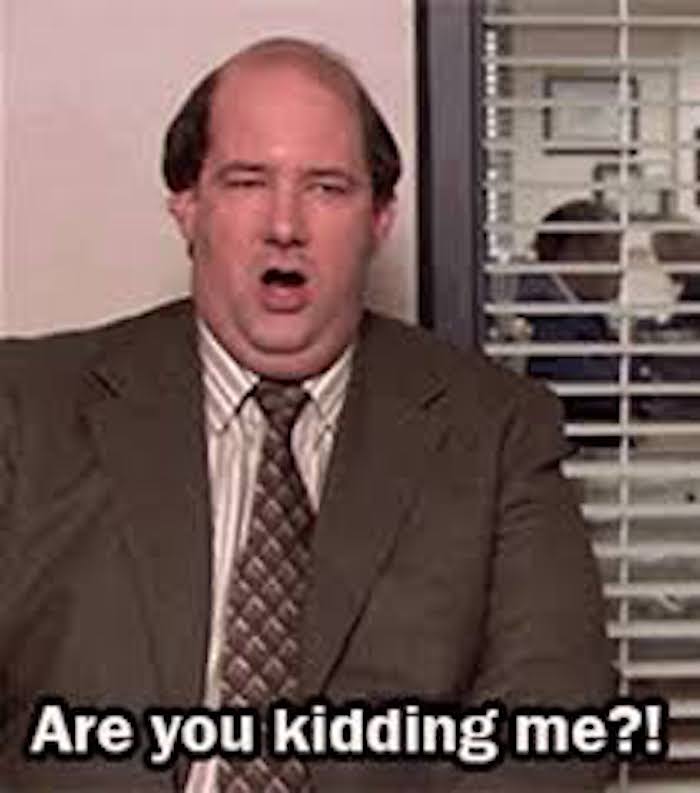 When completed, the monorail toy was actually AWESOME and one of the best Disney products we have ever purchased. It stops at the station and you can open and close the monorail doors. There are various sound effects with monorail spiels being announced.  Just an amazing toy that also introduced me to a subculture that I never knew existed (and am still not exactly sure WHY it exists, but I'm glad it does).
One of the biggest selling points for Pop to us as a family was access to the Disney Skyliner. While we were in a Skyliner  cabin on our way to EPCOT we decided to check in on Bacini. He was laying in the bed on the right side of the screen in the photo below.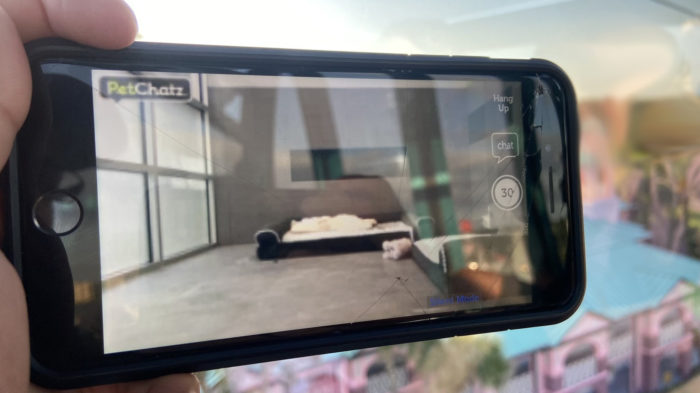 Closer up view revealing a near Hidden Bacini.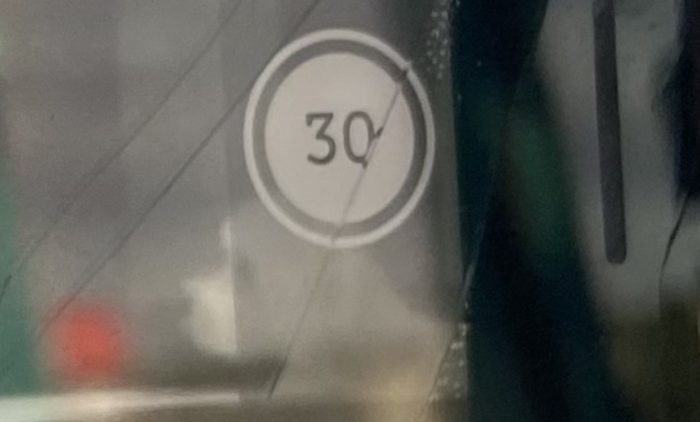 # 4 – Guardians of the Galaxy: Cosmic Rewind
We were on our way to EPCOT to experience the passholder previews for Cosmic Rewind. These had just started two days before our trip, and it was nice seeing reactions from "Real People" experiencing the ride, as previously only Disney Cast Members had been giving reviews and most of them went like this…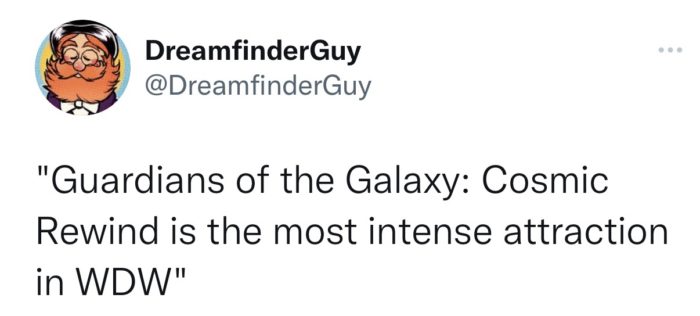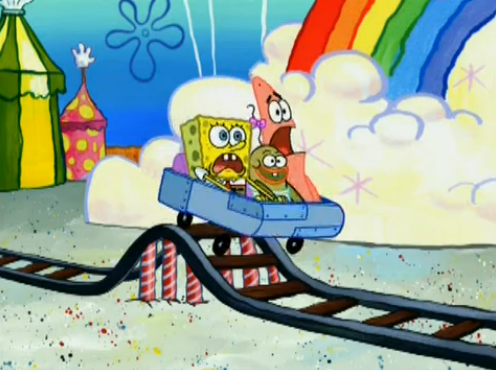 Annual Passholders, Club 33 members and others who were now allowed to book a preview time gave a slightly more realistic and honest review of how Cosmic Rewind compared to other coasters in Florida. Len Testa's close personal friend Hank Lonely even took a shuttle in from the Galactic Starcruiser to experience the new ride.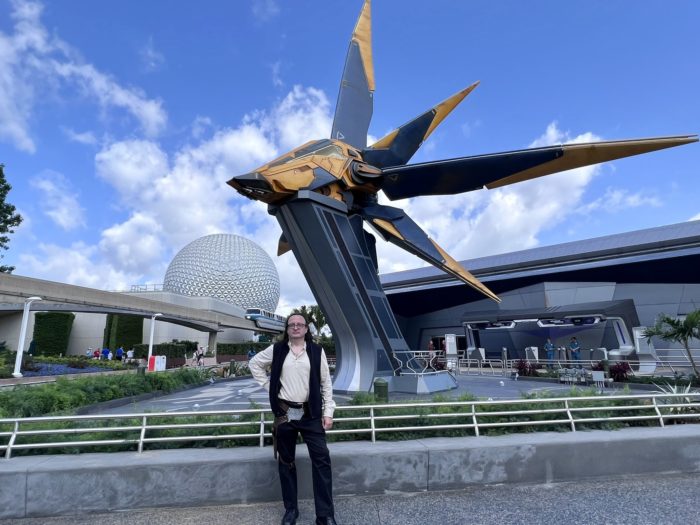 Pretty much everyone in my social media feeds were able to secure preview dates before me and, it seems to a person Cosmic Rewind is a huge hit.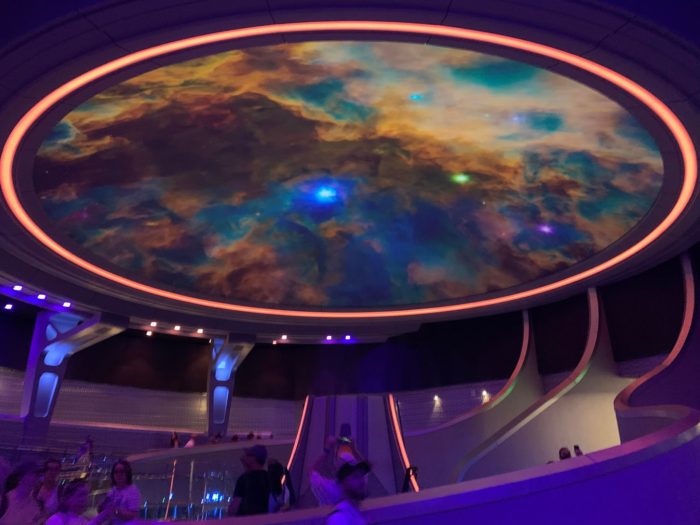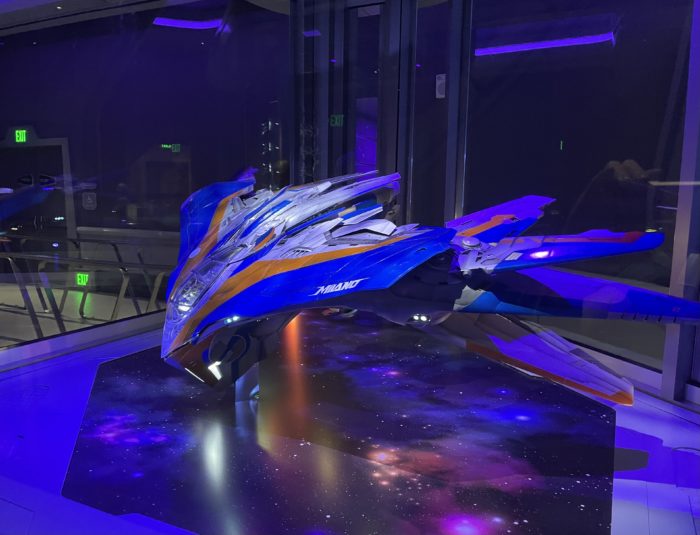 Other than Bradley Cooper not reprising his role as the voice of Rocket, everyone else of note from the 1st Guardians of the Galaxy movie is here, including Nova-Prime herself. The live action scenes were filmed by GOTG writer/director James Gunn.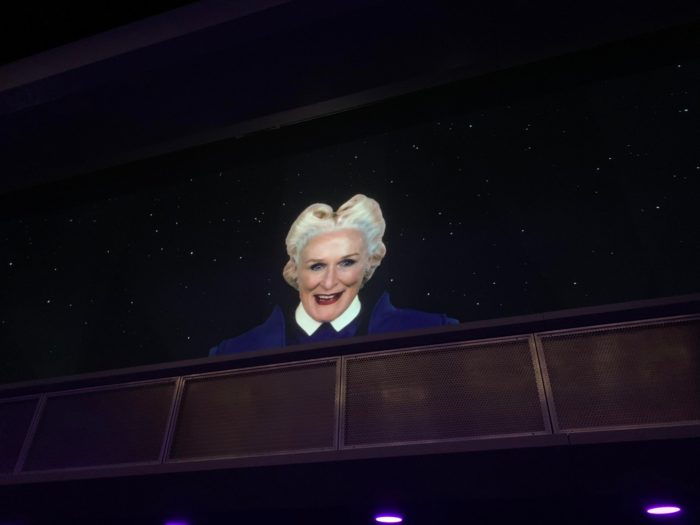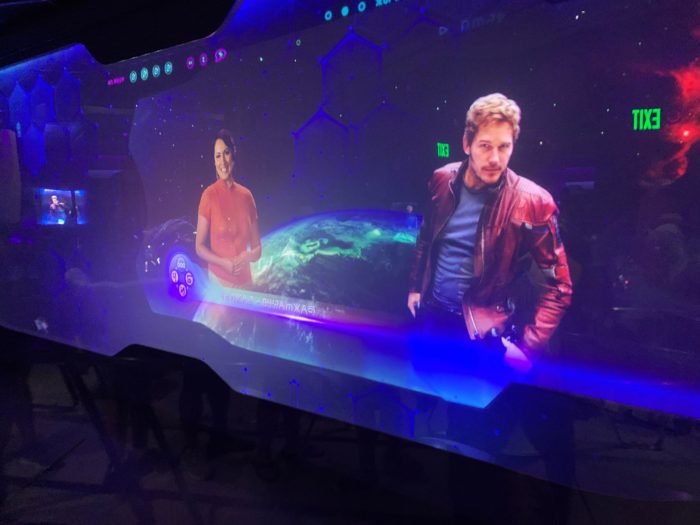 Terry Crews is a new addition to the GOTG universe.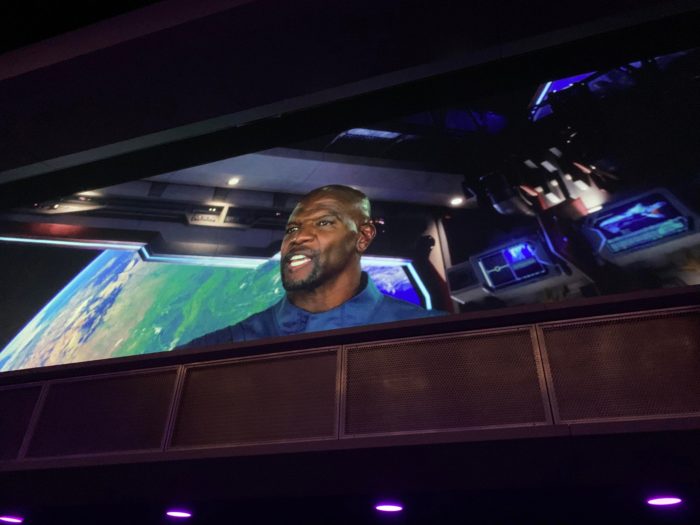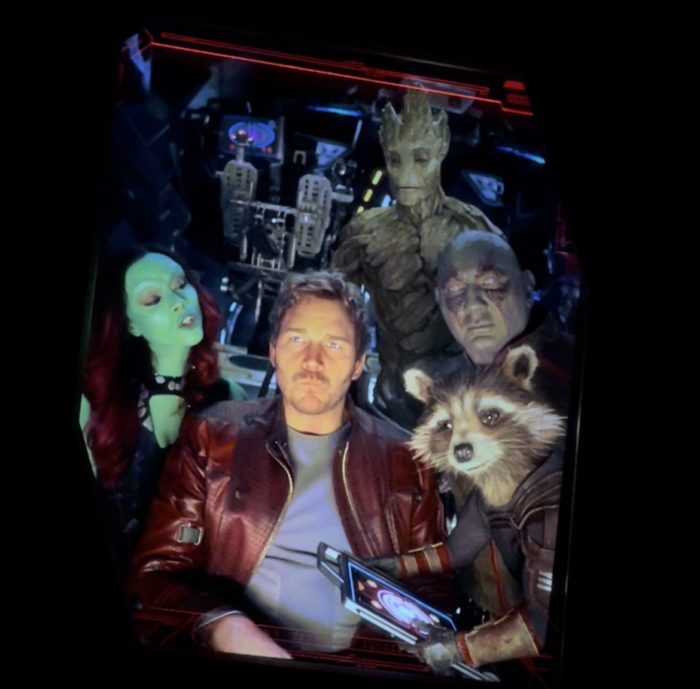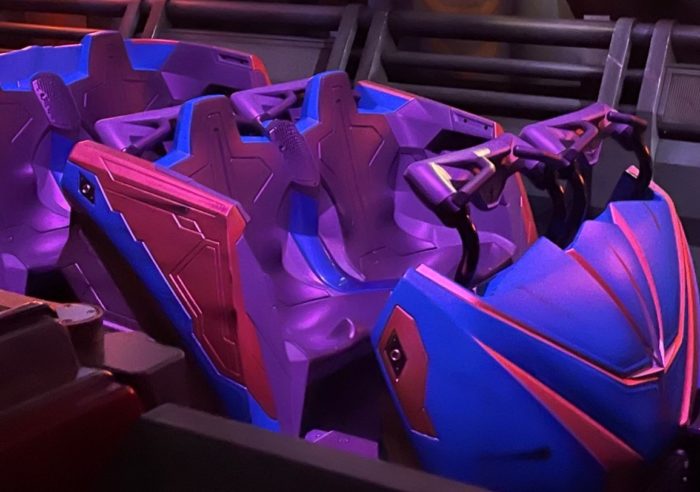 Below we have Disney photography icon Tom Bricker and his wife Sarah from Cosmic Rewind's on-ride photo-op, clearly having a lot of fun.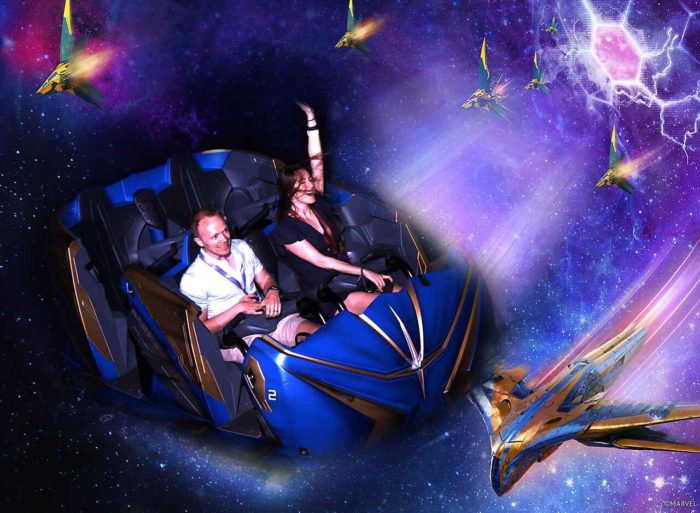 As a ride, Cosmic Rewind is everything I wanted. Granted I love coasters AND I am a huge fan of the Marvel Cinematic Universe. Does it fit in Future World at EPCOT? Well, I think that's a question we have to stop asking. One of my favorite books (which was also made into a movie) concerning the television industry is The Late Shift. It covered the period of time when Johnny Carson was retiring, and NBC was going to have to choose between Jay Leno and David Letterman to replace him on The Tonight Show. This was David Letterman's dream job, but NBC awarded the gig to Leno. To appease Letterman, NBC told him that he would get the job in a year. Letterman always wanted to host Johnny Carson's Tonight Show, but had to be told in no uncertain terms, he wasn't getting Johnny Carson's Tonight Show, he'd be getting Jay Leno's Tonight Show. Understanding that in his mind allowed Letterman to leave NBC and make his own show at CBS.
That story is relevant because people like me, who love, cherish, and adore the EPCOT of old, need to understand that park is dead and is never coming back. The Disney management of today has traded the concept of optimism for straight up capitalism and instead of being the most unique theme park experience in the world, EPCOT is transitioning to Universal Studios Lake Buena Vista.The good news? The Universal Studios parks filled with IPs and thrill rides are a blast! We'll definitely do a whole article on Cosmic Rewind later this year, but it's great that EPCOT has a new ride because one of the biggest takeaways of our entire WDW experience this trip was that 3 of their 4 theme parks DESPERATELY need more attractions.
While we were at EPCOT we also tried other attractions and enjoyed the Flower & Garden festival. Glad to report that Disney has finally added Ratatouille merchandise in carts outside the attraction. It blew my mind the first time we rode this attraction months ago that we had to walk all the way back to Future World and into EPCOT's main gift shop to buy anything related to Ratatouille.
Is it me or are Mickey pretzels a victim of shrinkflation? I feel like these used to be bigger. Still loved it.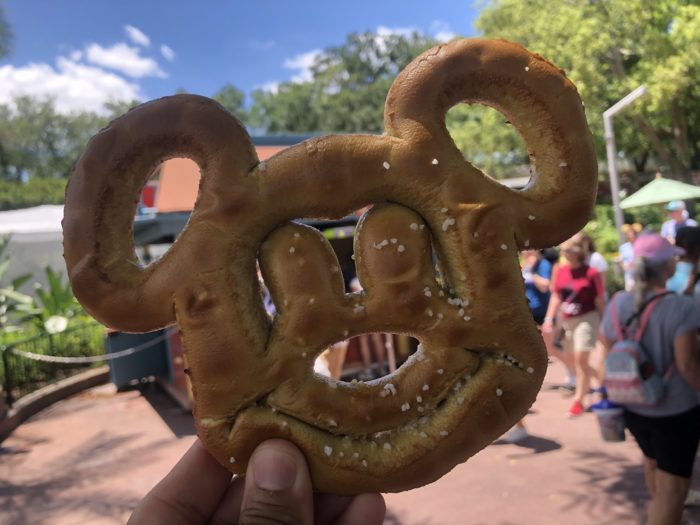 Also loved the Trowel & Terrace booth for Flower & Garden. This was sponsored by Impossible Foods, who happen to be my preferred maker of faux meat products (Babydoll prefers Beyond Meat products over Imposible). The boneless Korean short rib was FANTASTIC.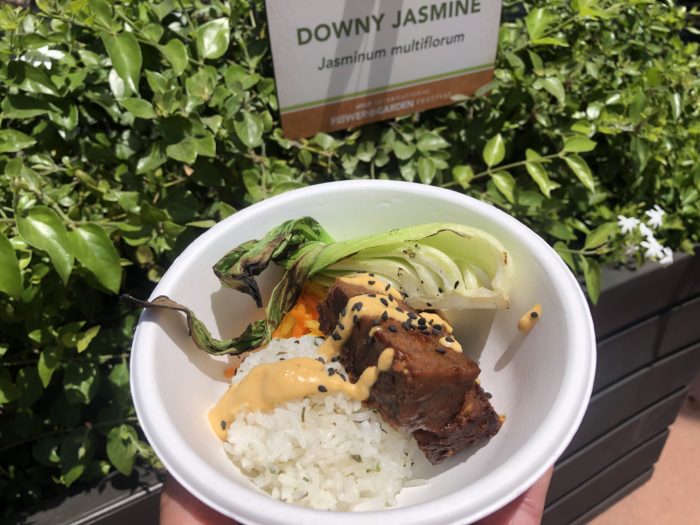 My thoughts on kale are NSFW, but this Impossible sausage and kale soup was also terrific.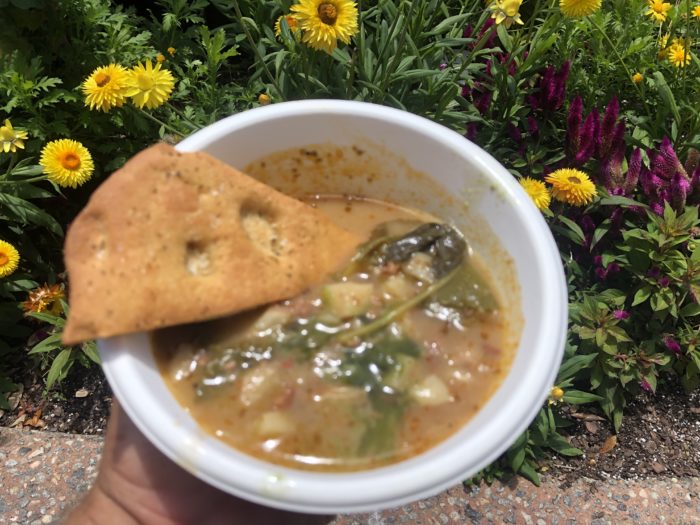 I don't know why anyone would ever go to a restaurant or a theme park and order "grilled vegetables" but Babydoll assured me these were great as well.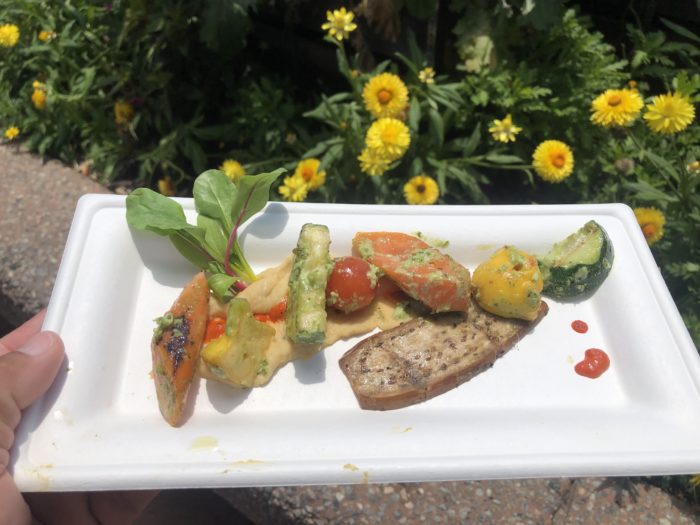 # 3 – Rope Dropping Animal Kingdom
Early this month, one post which went viral on DisTwitter featured the following spreadsheet of someone planning their upcoming visit to Animal Kingdom. I'm not sure how realistic this plan is. Note the person's plan has early entry of Animal Kingdom at 7:30-8:00 and being on Flight of Passage in Pandora by 7:40 and then on Na'vi River Journey by 7:52. In my experience over the years, even with no line going into Pandora the pre-shows alone at Flight of Passage are going to mess up that timetable.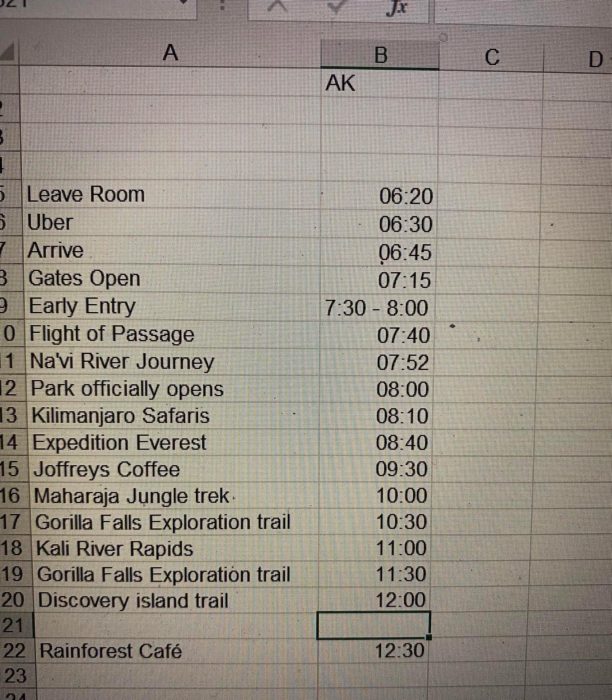 Also, on the day we rope dropped Animal Kingdom, early entry for onsite hotel guests was at 7:00AM. Here is an update we got from Best Friends at 6:55AM and the line to enter the park hadn't moved an inch.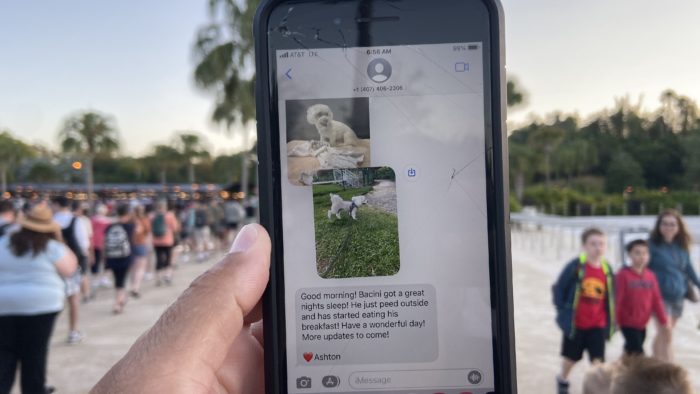 Once we got into the park, we had originally planned to immediately go to Kilimanjaro Safaris. There were signs once you entered the park that the Safaris weren't starting until 8AM. So then we decided to do Everest instead. Everest was down. Onto plan C: rope drop Chester and Hester's Dinorama in  Dinoland USA.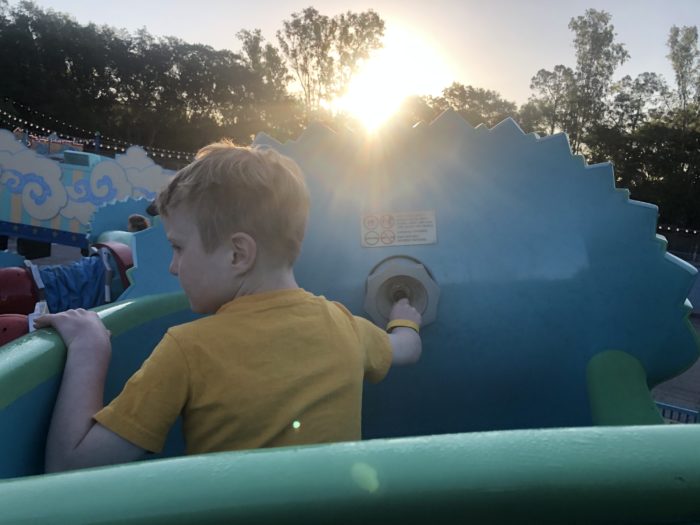 There was literally nobody in Dinorama, and this allowed us one of the rarest opportunities in all of Walt Disney World, re-rides without having to get back in line.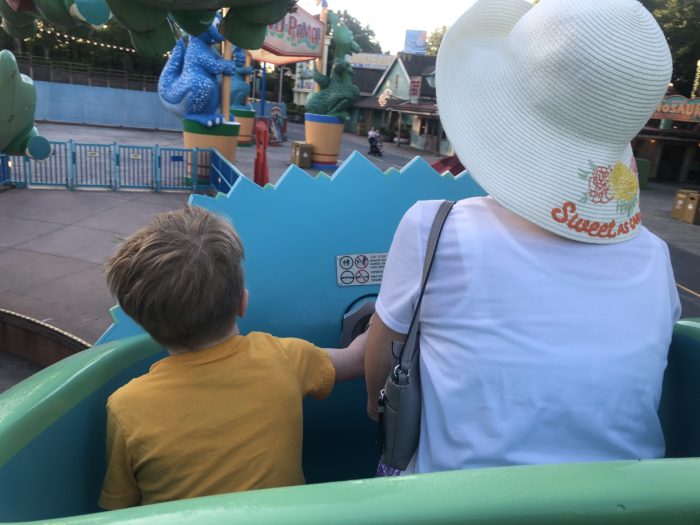 Eventually Everest opened up, so we did a couple rides on that before heading over to the Safaris.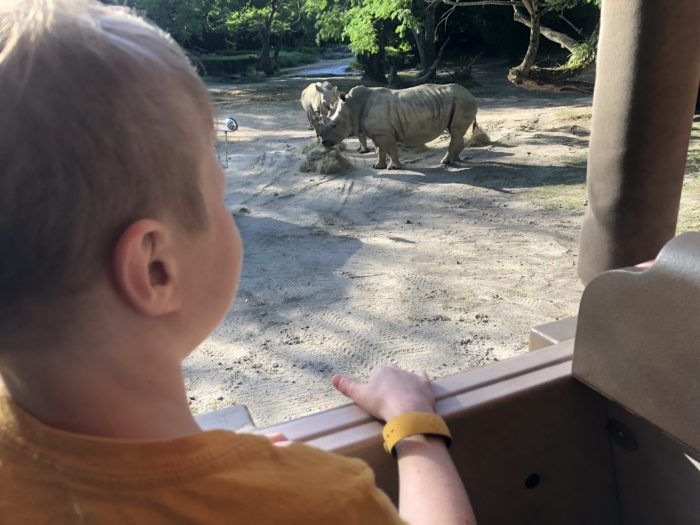 On our way over to Pandora, like we're not not going to stop at Tamu Tamu to get a Dole Whip?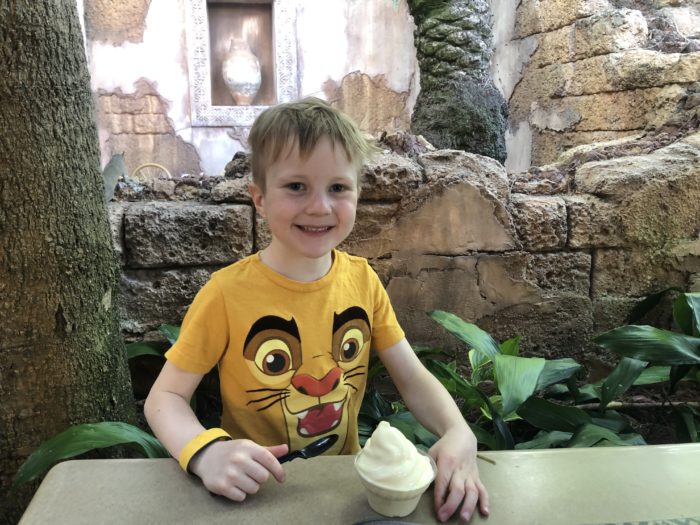 # 2 – Disney Enchantment
After Animal Kingdom, we eventually made our way to Disney's Magic Kingdom. Did a bunch of rides and then prepared ourselves for Enchantment. Got a Bacini update from Best Friends while we sat around the hub about an hour before the show was set to start.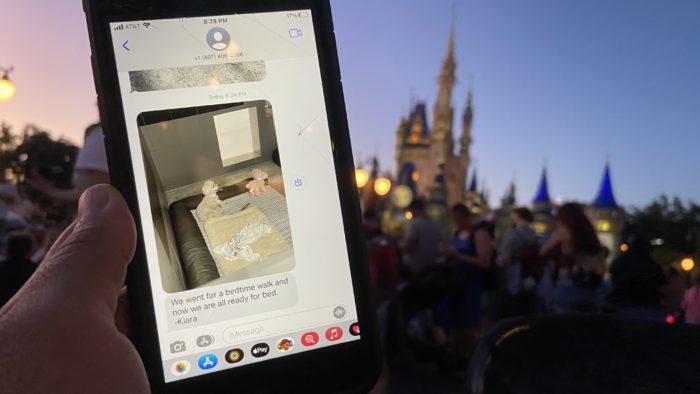 The crowds were next level BANANAS. I was trapped in the hub, but here is a shot from TouringPlans from a previous showing of Enchantment giving you an idea of what it is like on Main Street USA.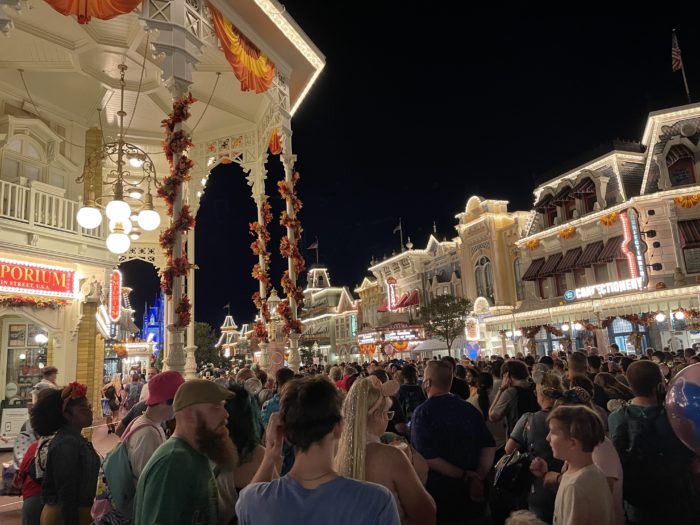 Blog Mickey is here to show us the crowds from one of his experiences. It was beyond packed, and somehow when it got closer to the actual show, IT GOT EVEN MORE PACKED. I would place mask wearing at around 0.25%, and most of the ones even wearing masks were Cast Members. If you are immunocompromised or have someone in your family/circle of friends who is, I would skip waiting for Enchantment until at least the pandemic is over (I would actually skip it for everyone else too, but we'll get to that shortly).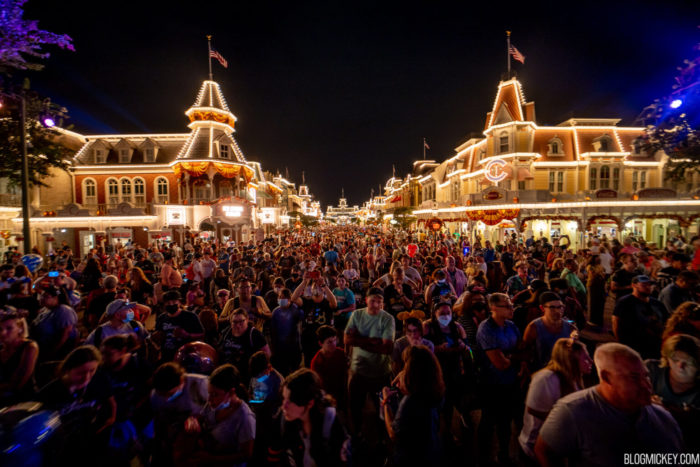 Now I was completely blown away when Happily Ever After replaced Wishes as the Magic Kingdom's Nighttime Spectacular.  My review of Enchantment is the complete opposite of that experience. By the end I was flabbergasted that THIS was the show Disney created for the 50th anniversary. I don't think there was one mention or appearance of Mickey Mouse, and it seems most of the attention was given to properties from the last decade. I loved hearing "We Know the Way" from Moana, but I think a show spotlighting the 50th anniversary should have been a deep dive into the history of WDW and not some shallow hodge-podge collection of recent stuff mixed with some nostalgia. For me, a lot of the projection mapping on the castle was non-sensical and hard to follow. Maybe I was expecting too much. To be fair it's always great to hear Disney music and the fireworks above Cinderella Castle are wonderful. However, after the show ended it made me remember seeing people camped out in the hub for AT LEAST 3 hours before the show. For this?! NAY NAY.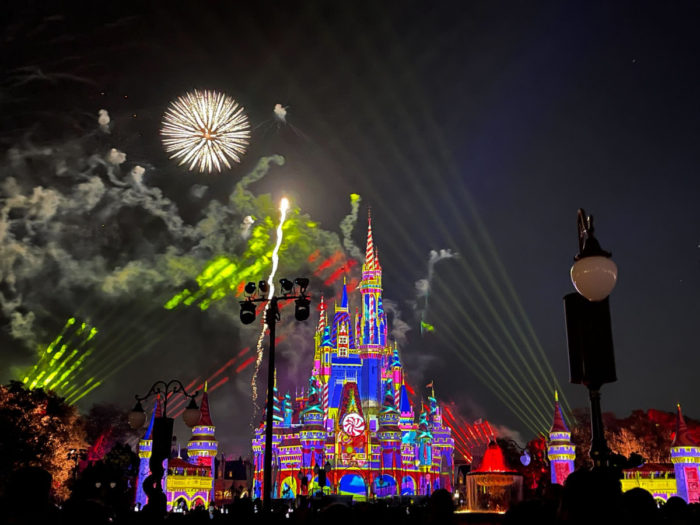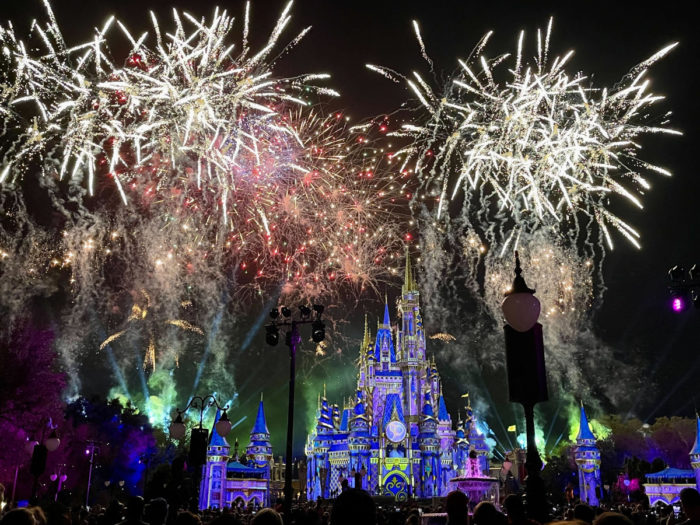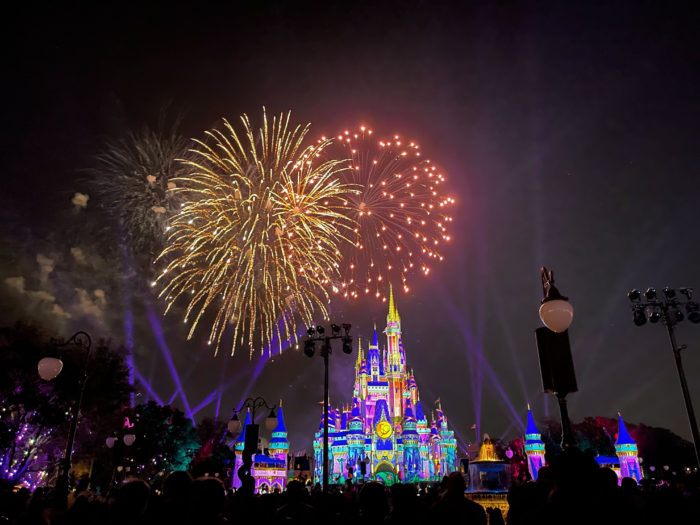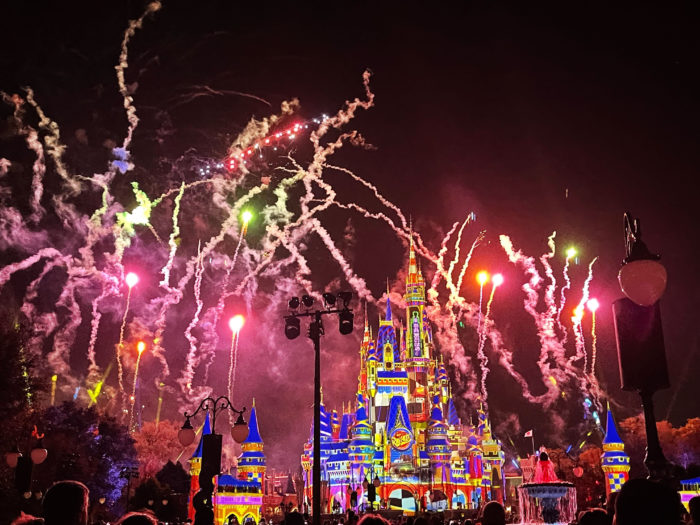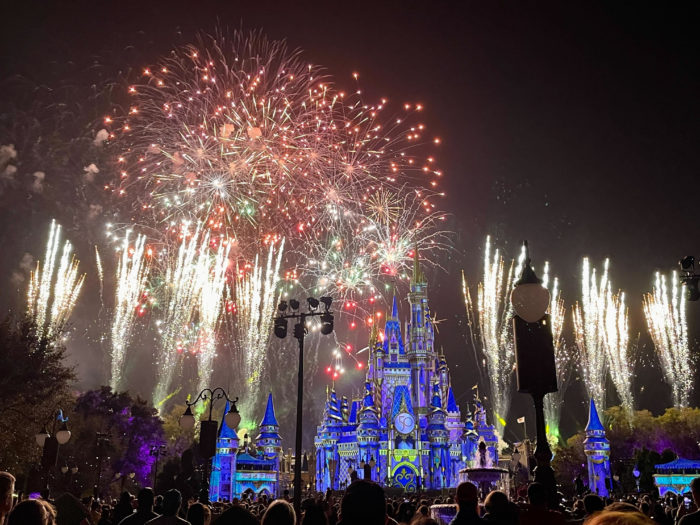 Shortly before our trip, Magic Kingdom hours extended from a 9PM close to an 11PM close, so we got about an hour and a half of ride time after Enchanted ended. First stop? One of my favorite rides in all of WDW…
# 1 – Cape May Cafe
After checking out of Pop Century, we took the Skyliner over to EPCOT and walked to Disney's Beach Club for a meal at Cape May Cafe. I had been looking forward to this for months. Cape May has always been one of my favorite Disney buffets. Without the characters, it is now even reasonable priced, so we are truly #blessed.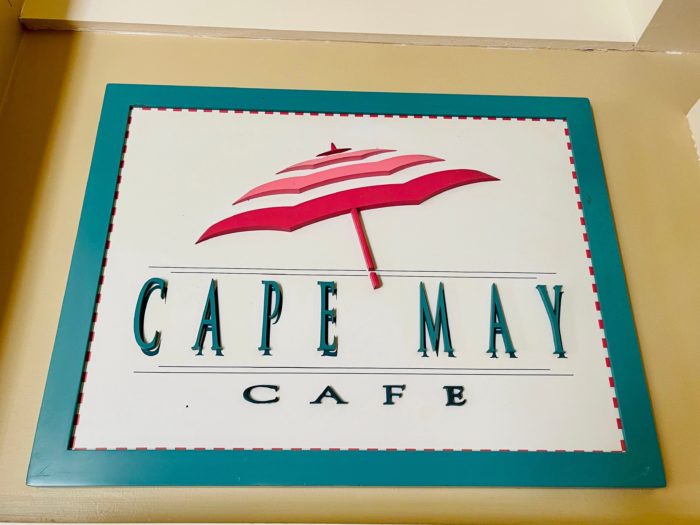 This was my first time at Cape May since they introduced the Beach Buns. These are salted caramel pull-apart rolls, topped with cinnamon streusel, and come with a side of vanilla sauce. One of the all time greatest foods in the history of WDW and need to stay on the menu even when the characters return.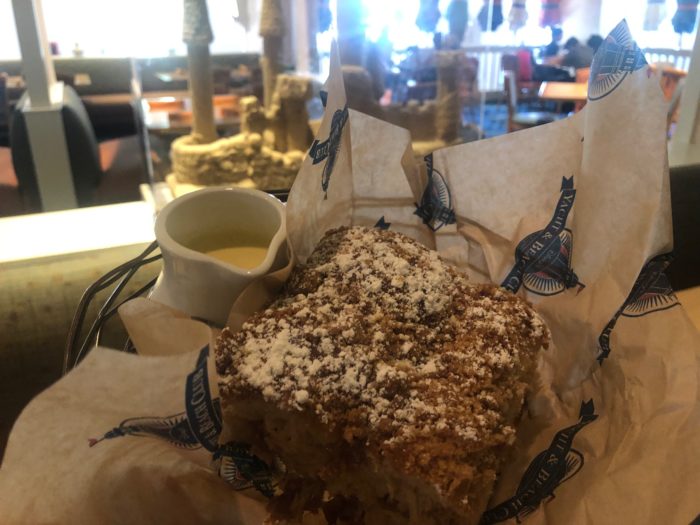 Another big draw to Cape May is both Mickey and Minnie waffles.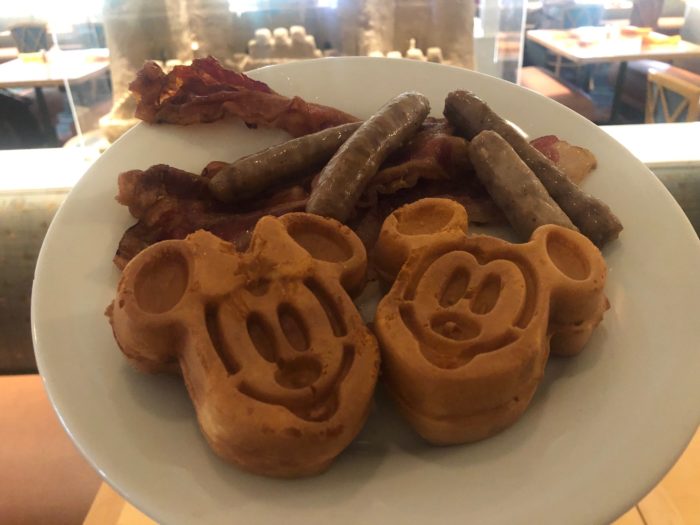 Coming from New Hampshire, to say I am not a huge fan of the standard syrup at Disney restaurants is an understatement. So we bring our own maple syrup.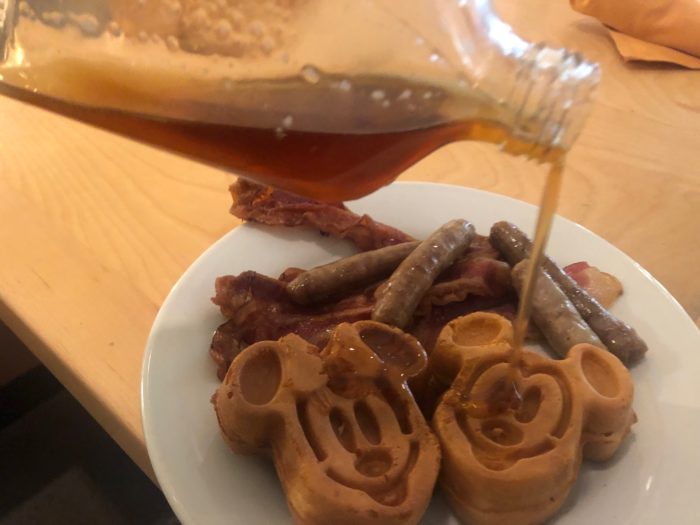 I think we need to do a whole SAT 6 on Disney themed waffles. Who's with me?!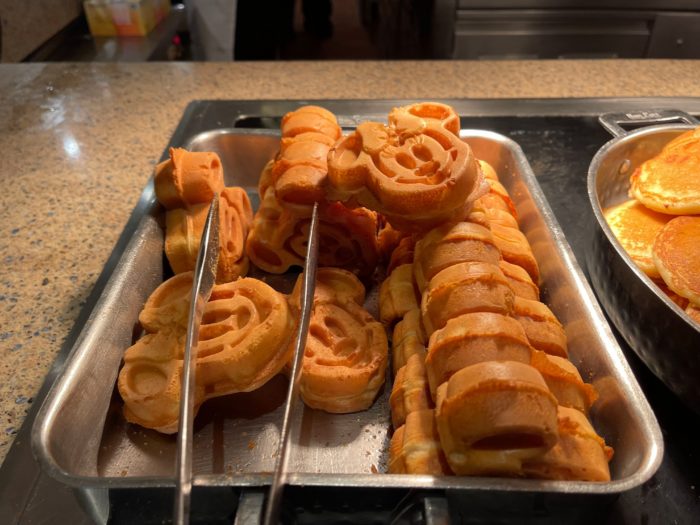 Other items on the breakfast buffet include pancakes, French toast, biscuits and gravy.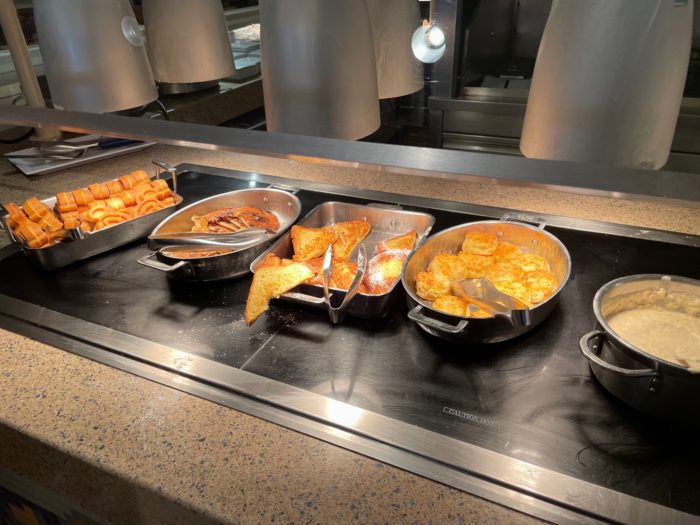 Unlimited bacon and sausage were a huge hit. I'm not an egg person, but everyone at the table who was said the scrambled eggs were horrible.
In the "adults" area of the buffet there are tiny breakfast potatoes. GTFO here with that. Instead you'll find me over at the "kids" area to grab some tater tots. Had to "sharpen my elbows" and do some light pushing and shoving, but these taters were cooked perfectly and worth it.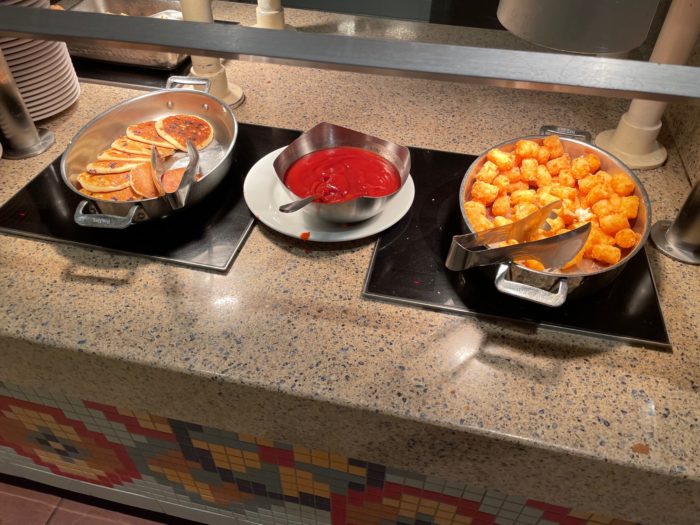 Babydoll said the asparagus was fantastic. I could eat at Cape May every single meal for a 100 years and would never know.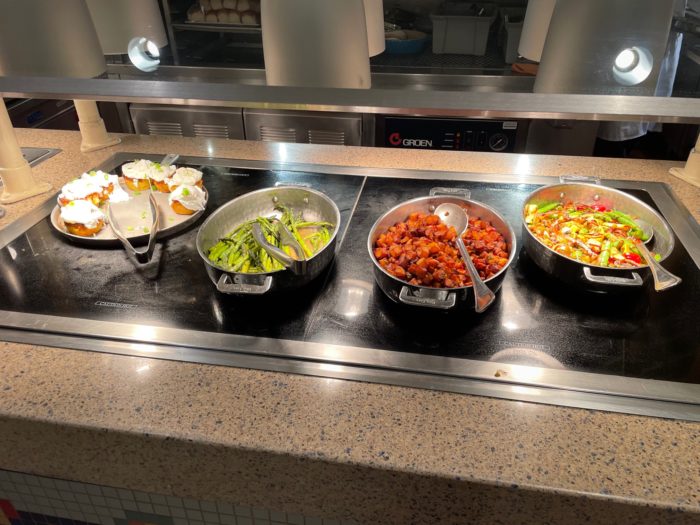 Apparently people get fruit at buffets too. This is what we call a "sucker's bet," like the free bread they give you at restaurants before the good food comes.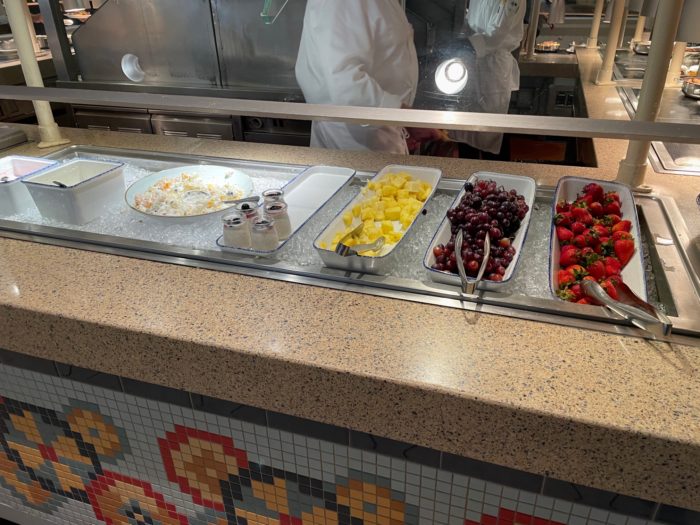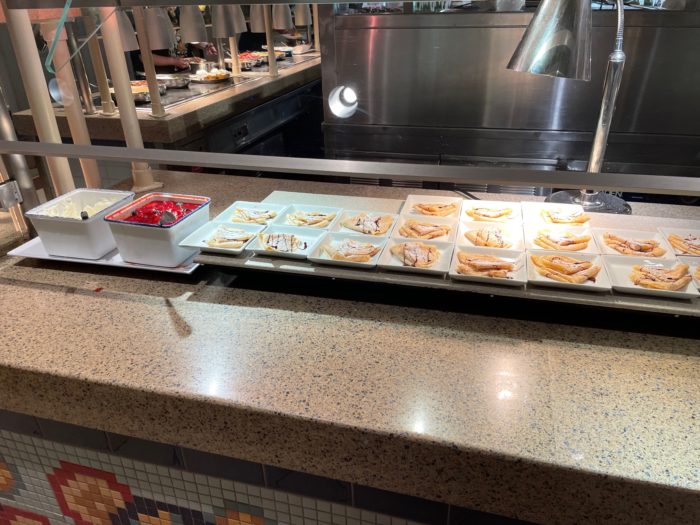 Again, I'm not an egg guy so I would never visit an omelet station, and the people at our table were convinced Disney was using the same cheap eggs that they used for the scrambled eggs and didn't want to waste their time. Others who have gone said that this station uses real eggs and are actually good. Again, I'll never know as you'll find me making my 6th trip up for Mickey and Minnie waffles.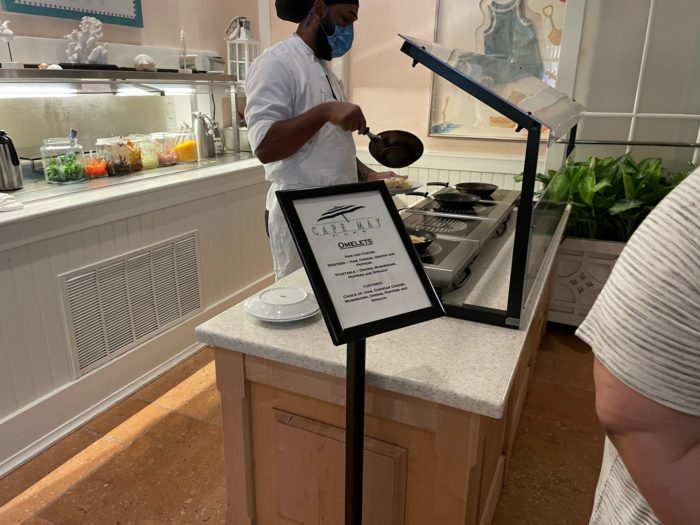 Overall the Cape May Cafe buffet was everything I wanted it to be. I'll be dreaming about Beach Buns until my next trip as they were absolutely "chef's kiss."
So there you have it: The SATURDAY SIX Takes a Quick Trip to Walt Disney World! See you next weekend for the latest installment of the SATURDAY SIX, where we'll look at something fun from the world of Disney and Universal. If you enjoyed yourself, be sure to check out the THEME PARK ENJOYMENT INDEX, giving a monthly recap of all the theme park news you need to know (and a lot more you don't need to know, but we're gonna tell you anyway). You can also follow Your Humble Author on Twitter (@derekburgan).
If you enjoyed this article, you will surely like the following: 
SATURDAY SIX UNLEASHED: How to treat your dog like Rock Royalty at the Hard Rock Hotel
SATURDAY SIX Presents: The Disney Signage Hall of Shame
SATURDAY SIX Presents: The Disney Food Hall of Shame
SATURDAY SIX: Tribute to Josh easyWDW
Special Thanks to The Elite Brandon Glover, Digital Maestro Scott Walker, the bio-est of all reconstructs @bioreconstruct, Captain Cruiseline Scott Sanders of the world famous Disney Cruise Line Blog, my personal protege Hunter "Elvey" Underwood, artist @SonderQuest, the mighty maven of merchandise Hedgehog's Corner, the SAT SIX Fun Squad of Parkscope Joe and "the Dadalorian" Nick, hot shot Michael Carelli, charter member of the Universal Four @Nitro230, the permit princess Alicia Stella, master cartographer Tommy Hawkins, and Hermione Granger's tutor Megan Stump for their invaluable assistance with this article. Absolutely no help was added by SeaWorld Influencer @SuperWeenieHtJr. The SAT SIX is inspired each week by goofballs Aengus Mackenzie and LitemAndHyde and you Potterheads will  enjoy Meg's other blog work over at the Central Florida Slug Club.