SATURDAY SIX: 6 Reasons We Love Loews SAPPHIRE FALLS RESORT at Universal Orlando
This week's SATURDAY SIX takes a look at LOEWS SAPPHIRE FALLS RESORT! Currently, the Universal Orlando Resort has seven on-site hotels, and they belong to four categories: Value (Universal's Endless Summer Resort – Surfside Inn and Suites), Prime Value (Universal's Cabana Bay Beach Resort and Universal's Aventura Hotel), Preferred (Loews Sapphire Falls Resort) and Premier (Hard Rock Hotel Orlando, Loews Royal Pacific Resort, and Loews Portofino Bay Hotel).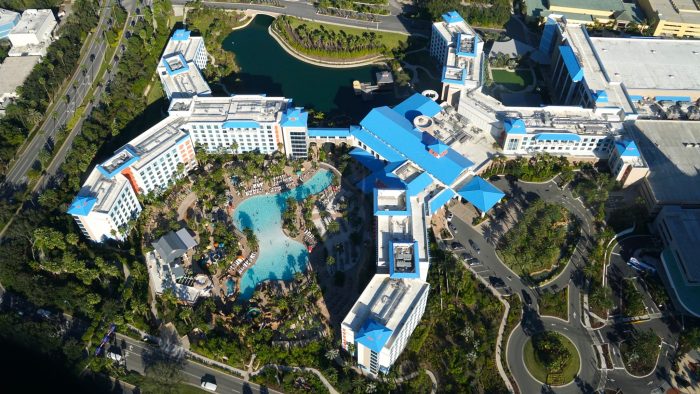 Sapphire Falls is located directly in between Universal's Aventura Hotel and Loews Royal Pacific Resort. In fact, Sapphire shares convention space with Royal Pacific. As part of the Loews brand, Sapphire Falls has the type of service you would receive at a higher-end hotel, and guests are allowed to pool hop at any of the Universal hotels. Today we're going to take a look at some of our favorite parts of Sapphire Falls, and let's kickoff the countdown with…
# 6 – The Lobby
The lobby at Sapphire Falls is the most guest friendly of any Universal hotel. Similar to the lobbies at Disney's Animal Kingdom Lodge and Polynesian Village Resort, guests walk into a wide open area with a huge window on the opposite end overlooking the property. One of the most oft-talked-about features here is the striking "beach ball" chandelier. Pictures do not do it justice and, when lit up at night, the fixture looks absolutely stunning.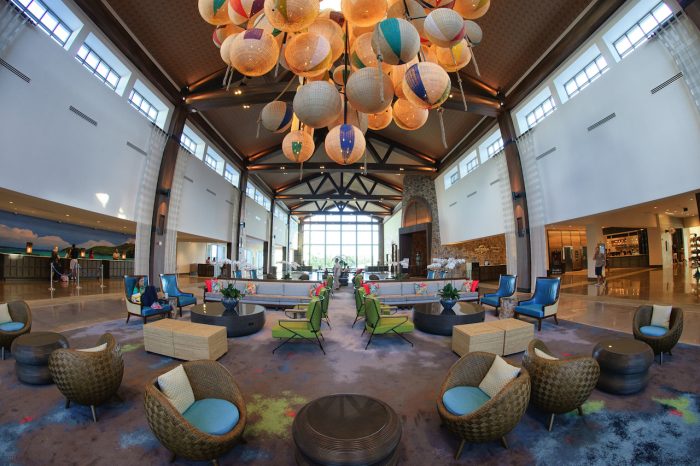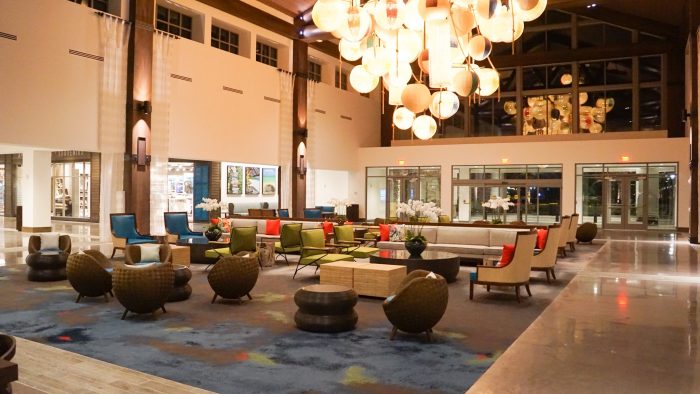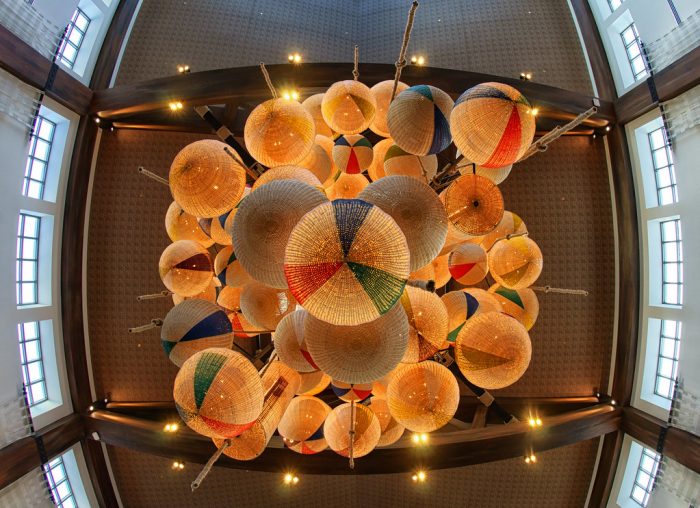 There is plenty of unique seating in the lobby, including one area with a huge TV. There are outlets all over the place to plug in  your electronic devices, including a large wooden table which has enough space for at least ten people to work from their laptops. If you need to spend time in a hotel lobby, this is just what you would hope for in terms of comfort and function.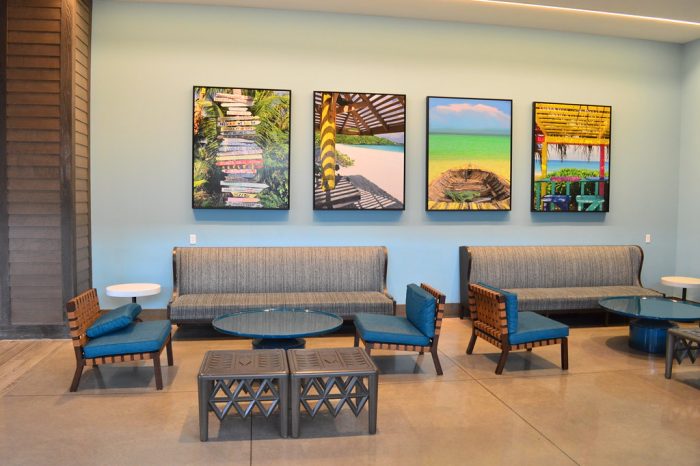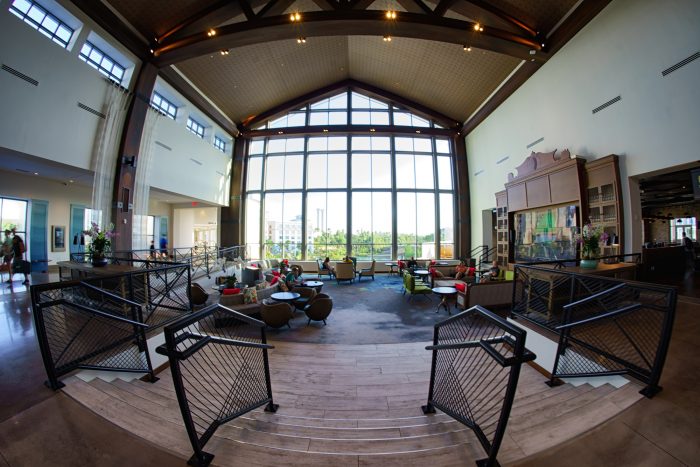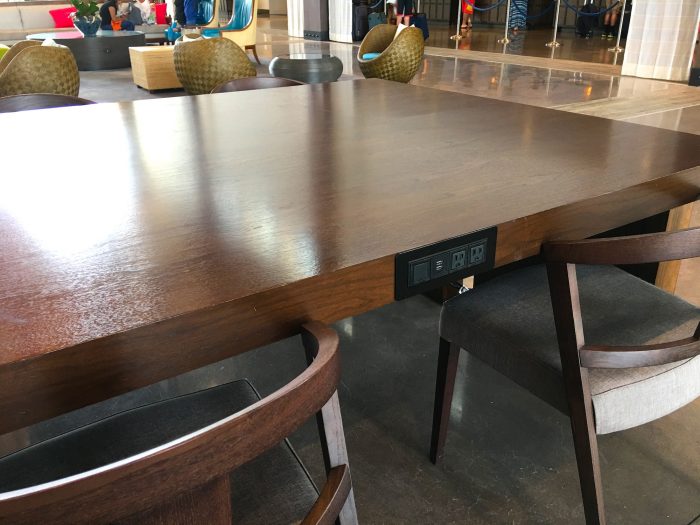 New Dutch Trading Co. – Connecting right off the lobby is one of my favorite features of the entire resort. The New Dutch Trading Co. is the "grab and go" that we've always wanted in a theme park hotel. Aside from the typical sodas, cereals, and snacks, there are stations for freshly made sandwiches and ice cream. Here is where you can get the awesome Sapphire Falls refillable cup, which works at all the Coke Freestyle machines in the resort. Along with New Dutch Trading Co. branded merchandise, you can also find items for the other dining venues on property, including hot sauce from the Drhum Club Kantine pool bar and seasoning from Amatista Cookhouse table service restaurant. As someone who loves buying a bottle of the Flame Tree Barbecue sauce at Animal Kingdom Lodge, this was greatly appreciated.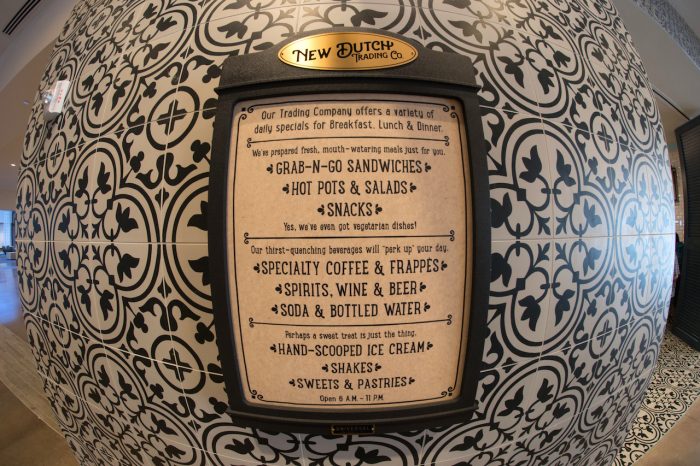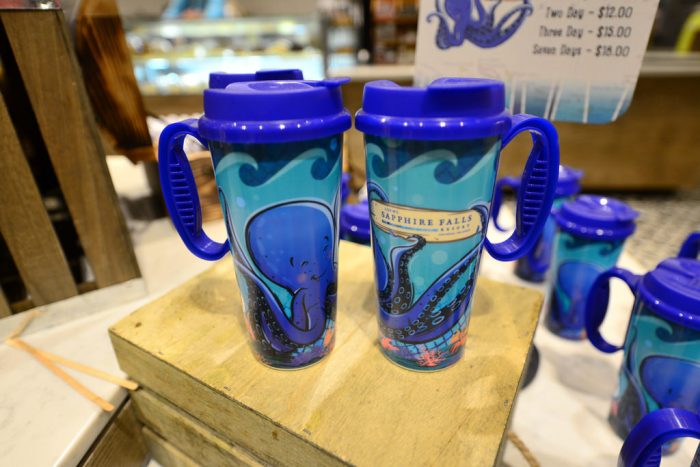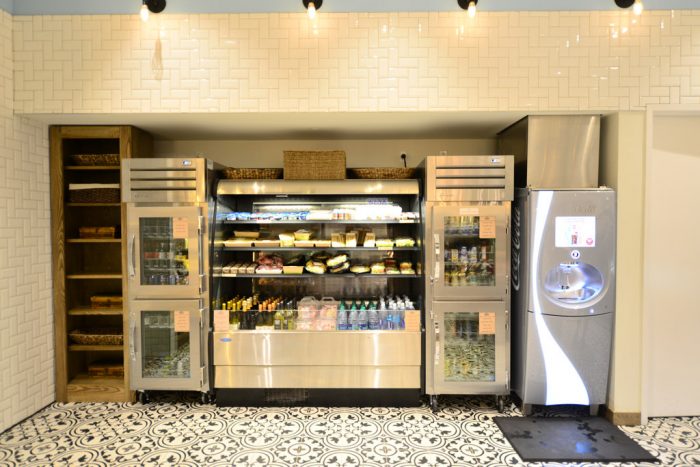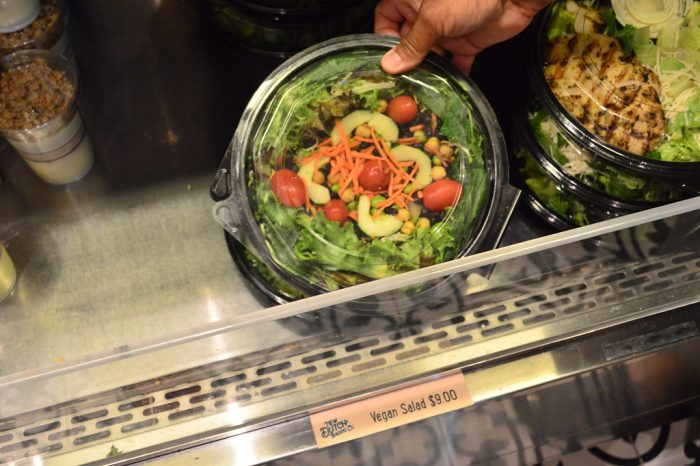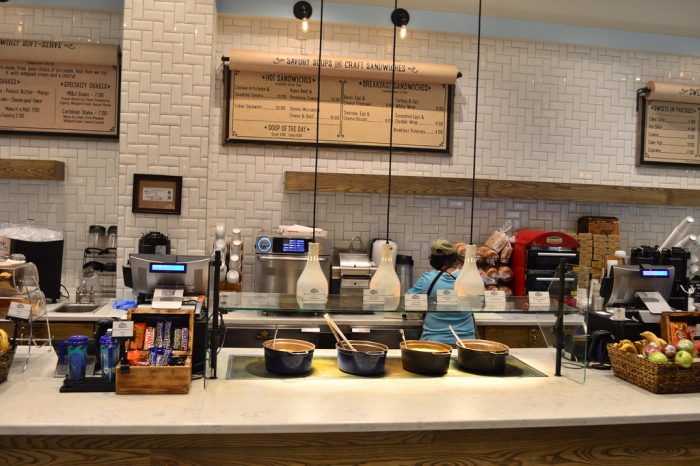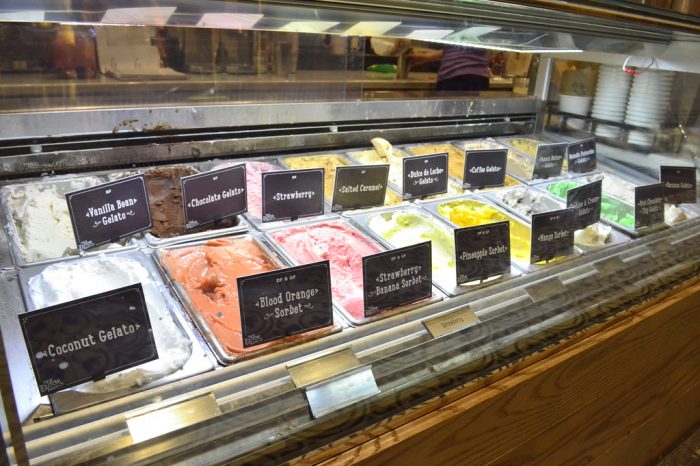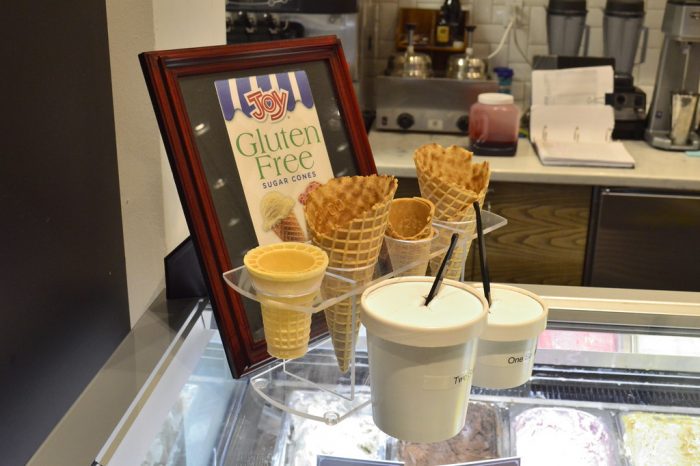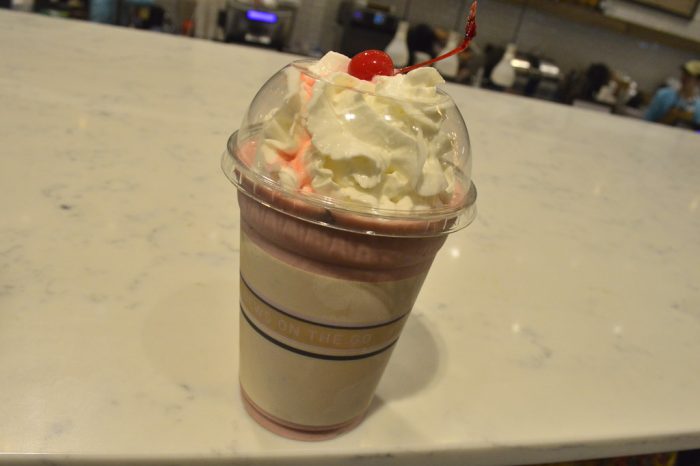 People that like treats are going to enjoy stopping by this area for a quick bite to take back to the room.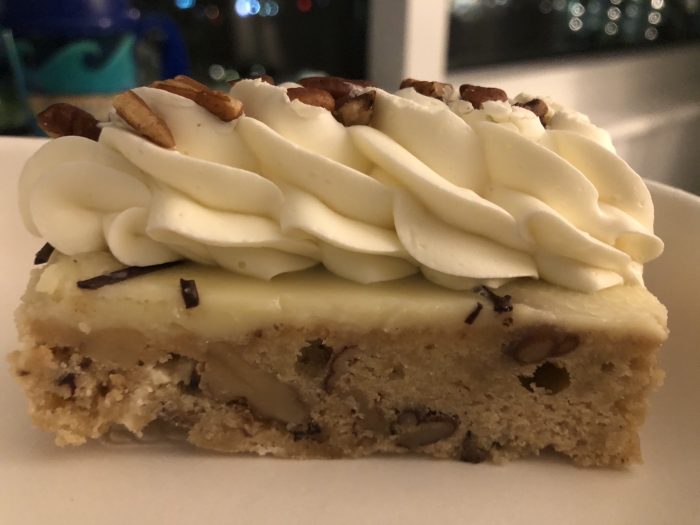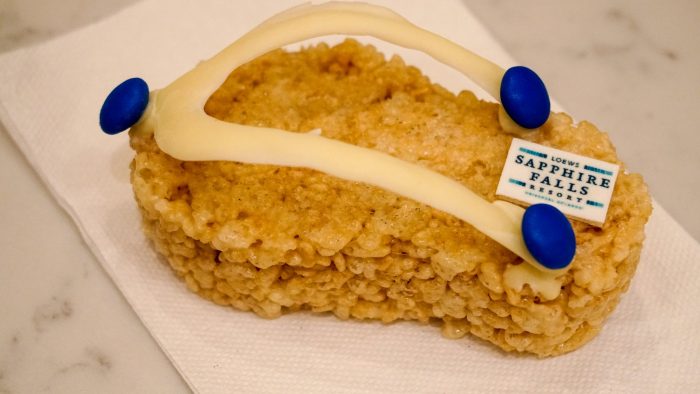 By the pool area, Sapphire Falls has fire pits which guests can use to roast marshmallows at night. At New Dutch Trading Co. you can purchase everything needed to make your own s'mores.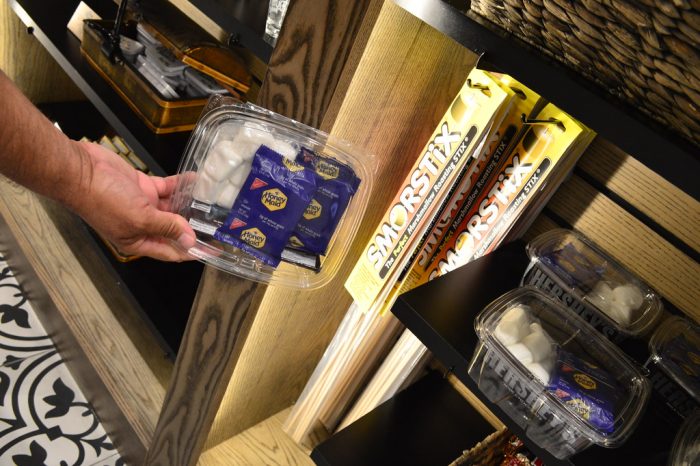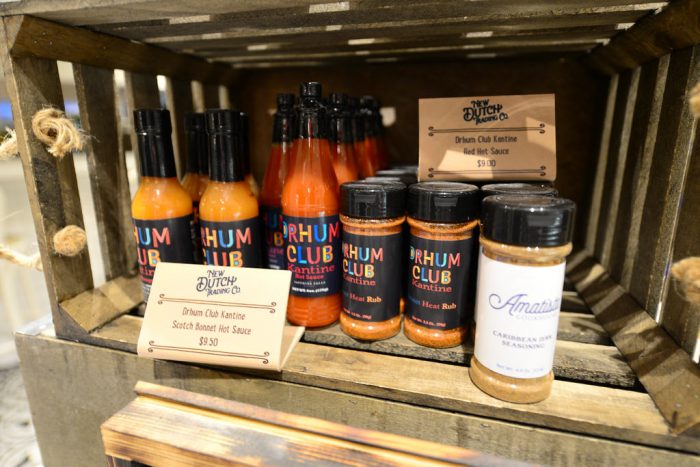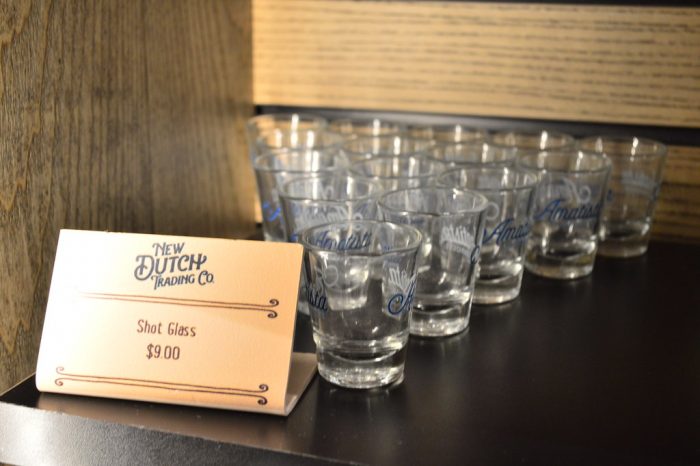 Across from New Dutch Trading Co. is a very large Universal Studios Store. Not only will you find a selection of Sapphire Falls merchandise, but basically any brand under the Universal parks umbrella. Harry Potter, Marvel superheroes, Minions, Jurassic Park, and more. This is also where you would go if you happen to forget anything at home, such as a charging cord for your phone.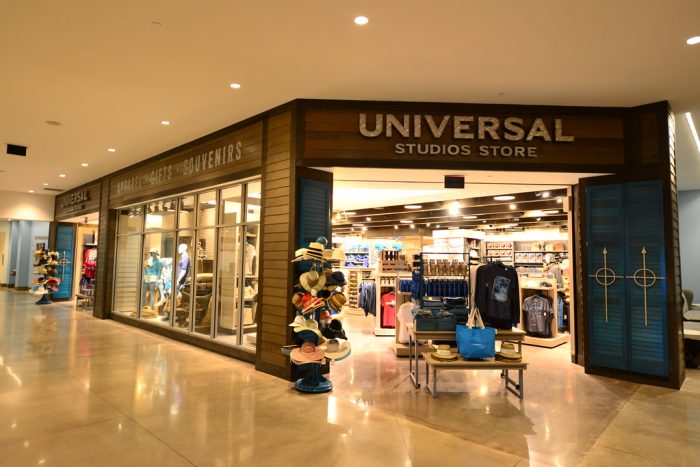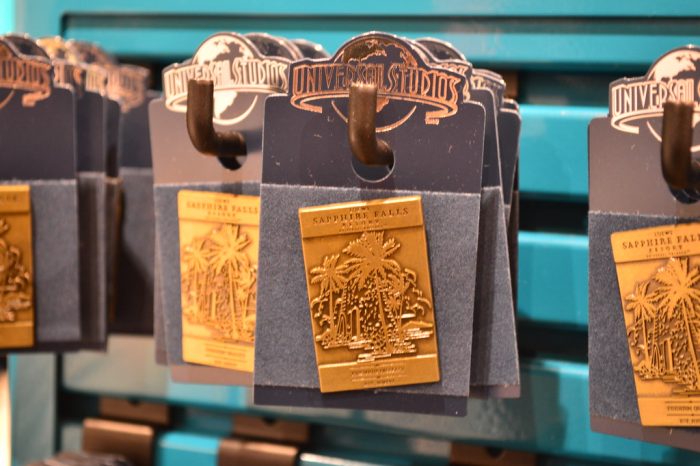 # 5 – Fitness Center and Arcade
One thing all Universal on-site hotels seem to have in common is an unusually large fitness center for a hotel. If you are one of those weirdoes dedicated few who enjoy getting a workout while on vacation, Sapphire Falls has everything you need to break a sweat. Treadmills, stationary bikes, Nautilus equipment, dumbbells, and more. The bathrooms connecting off the fitness center are fully equipped with lockers and showers as well.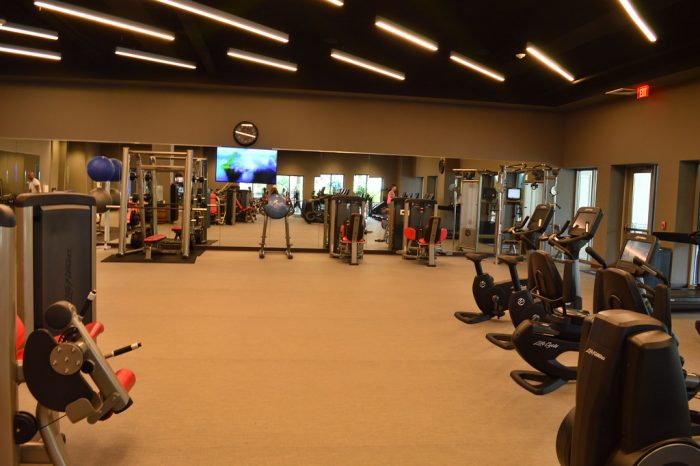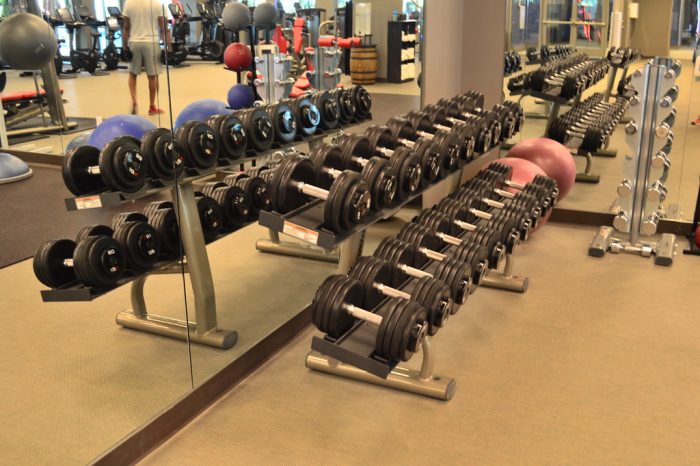 Since arcades have pretty much disappeared in the Real World, one of the only times I get to enjoy them is when I'm on vacation, so I love to see a nicely stocked arcade at my hotel. Sapphire Falls has a wide mix of games, and still offers the machines where you can win prizes, something that has been removed from all the Disney arcades.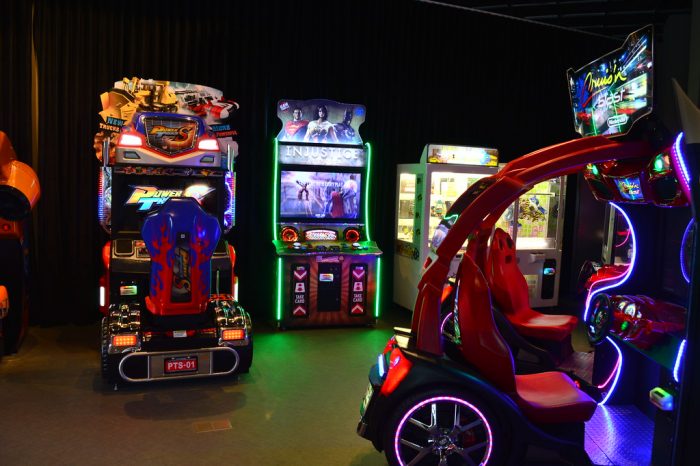 # 4 – Pet Friendly
We enjoy traveling with our four legged friends, and it has become easier than ever to take your pets with you on a theme park vacation. A couple years ago, Disney made several of their on-site hotels dog friendly. Universal offers four pet-friendly resorts with the Royal Pacific, Hard Rock Hotel, Portofino Bay Resort, and Sapphire Falls. What's more, each of Universal's properties were built with pets in mind, so the areas dedicated to them are much better. Each pet friendly room will accept up to two pets, but the cost is just $100 per room for the entire length of stay. Upon check-in, the Loews Loves Pets program gives each pet owner a "welcome kit" that includes treats, bowls, and a placemat.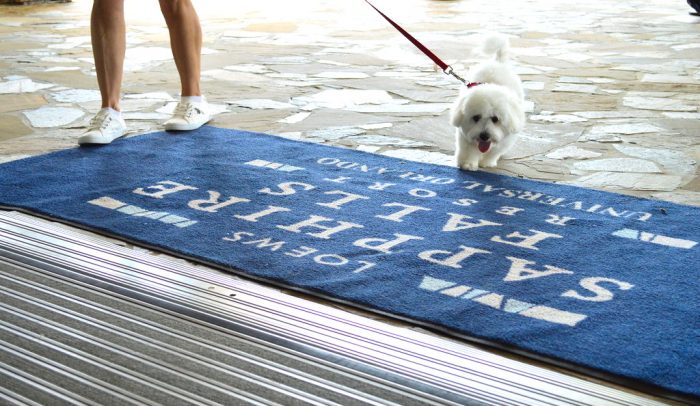 The pet friendly rooms are grouped together in an area of the first floor.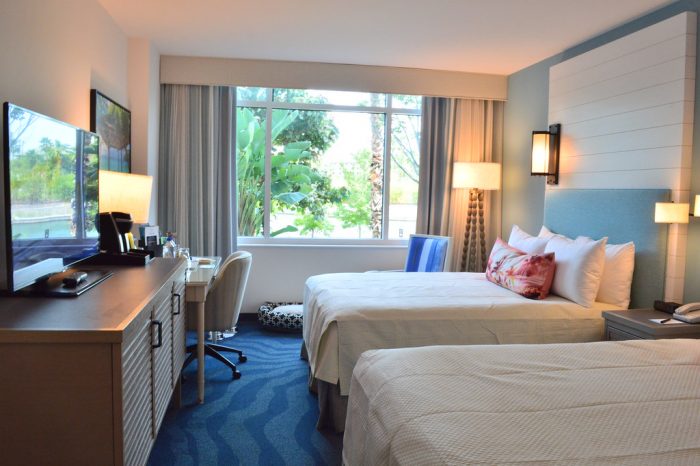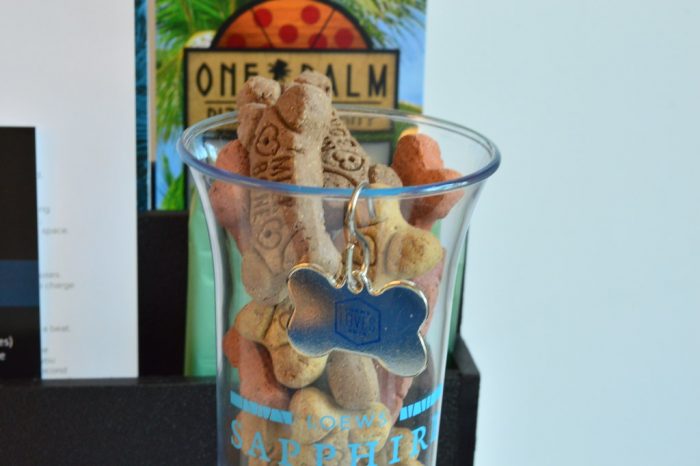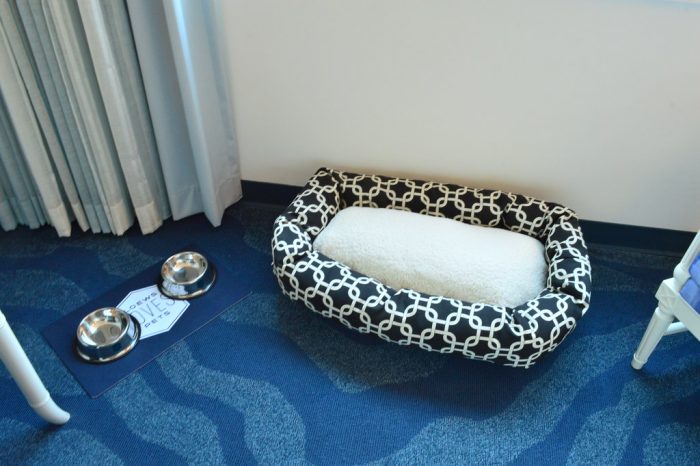 The pet relief area at Loews Sapphire Falls Resort is massive, with a lighted walking path and a gigantic area to play in.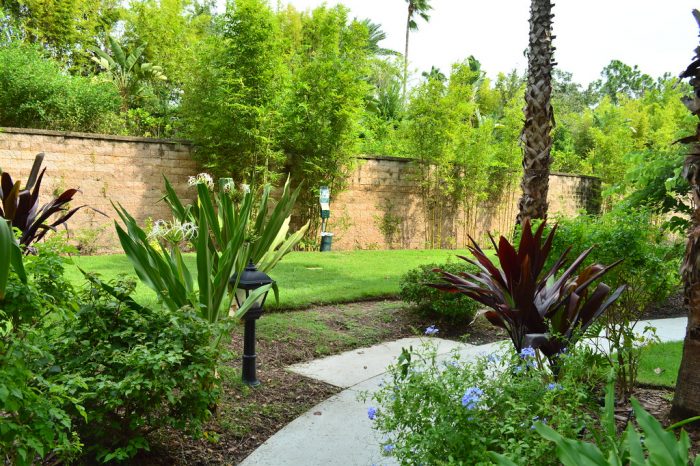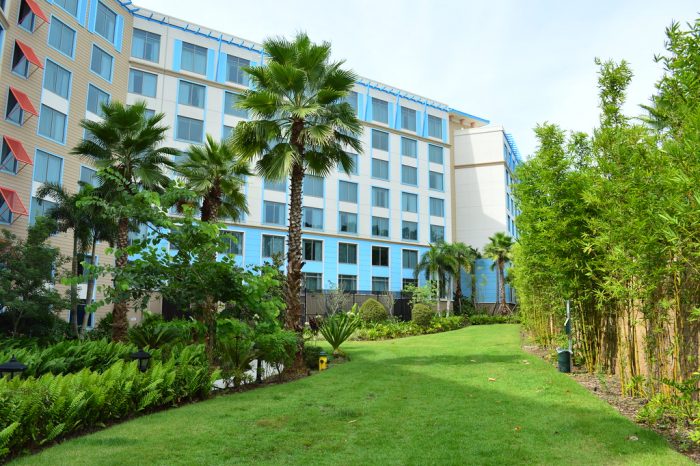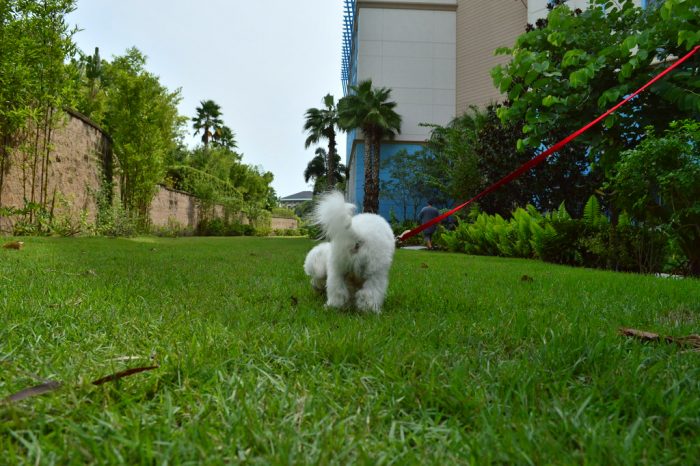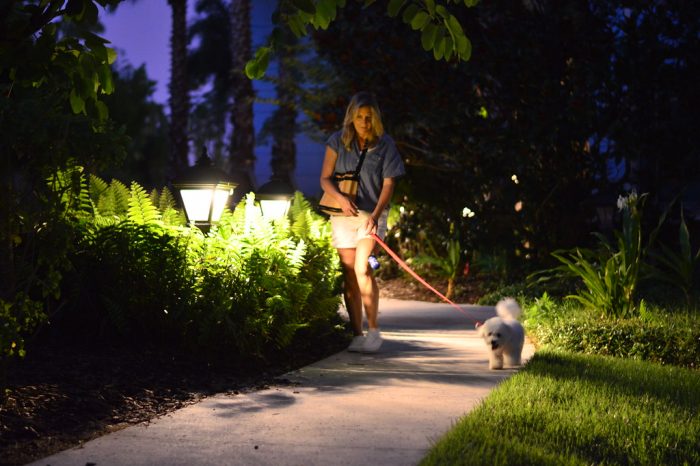 The other side of the building also has an area where guests enjoy taking walks with their pets. Unlike the dedicated pet relief area, this walkway is not closed off, but it is rarely used by any other other guests.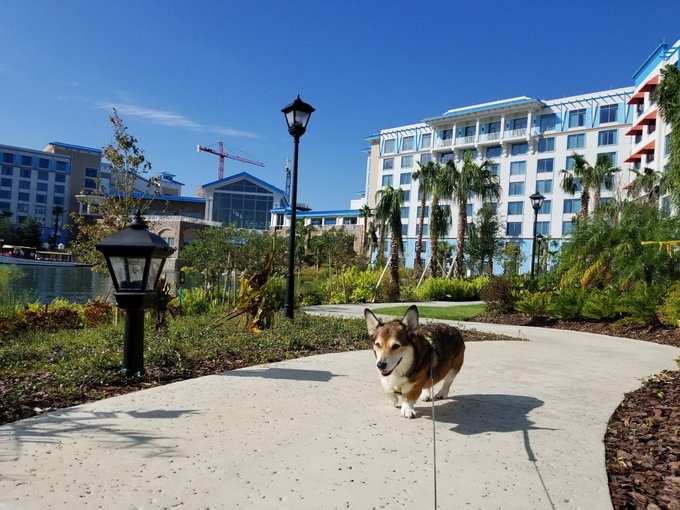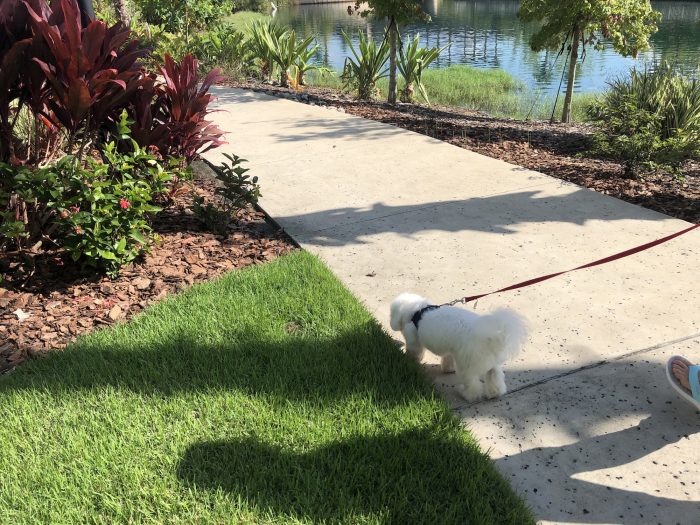 Sapphire Falls also offers in-room dining for pets. That's right, there are meals specifically made for dogs and cats. Each order comes with water, and you can also request items such as toys or pet waste bags.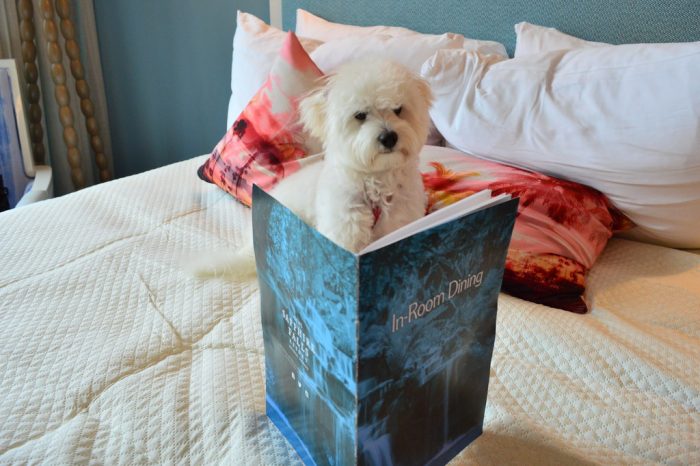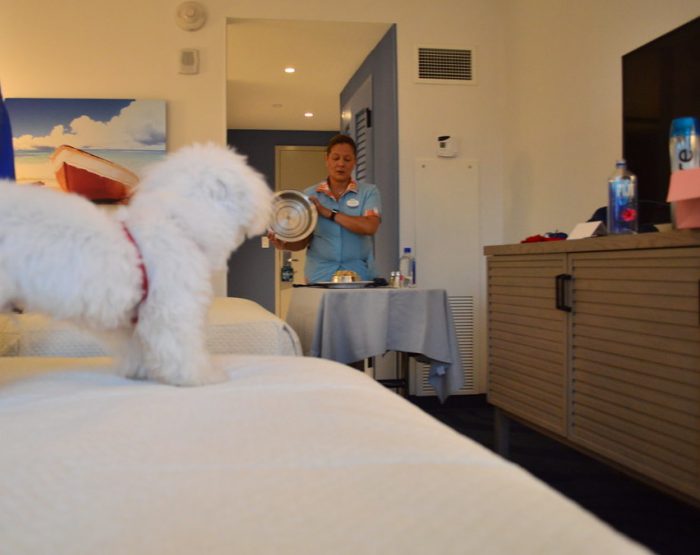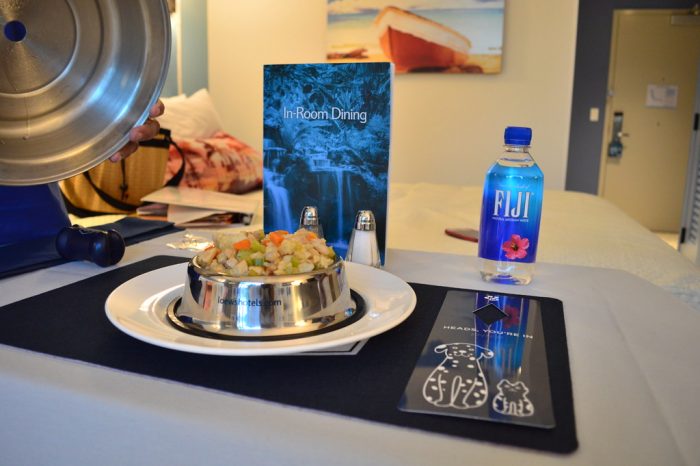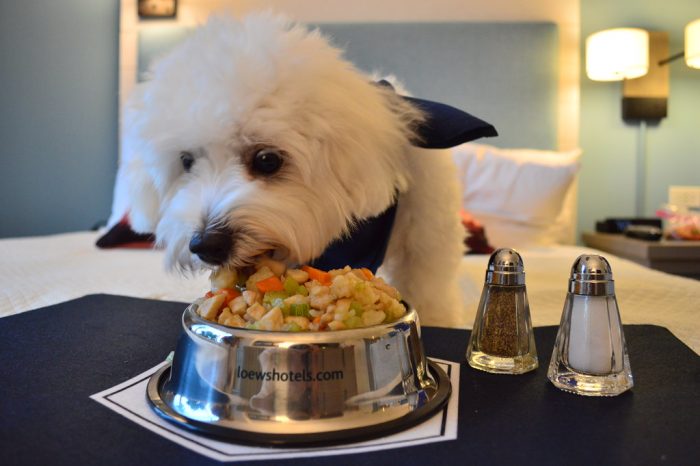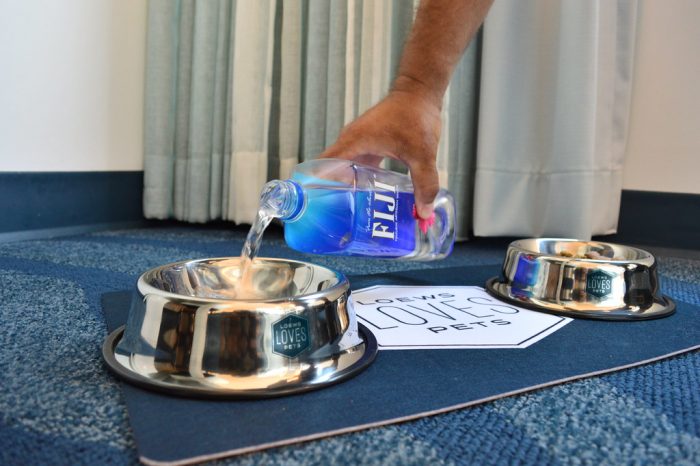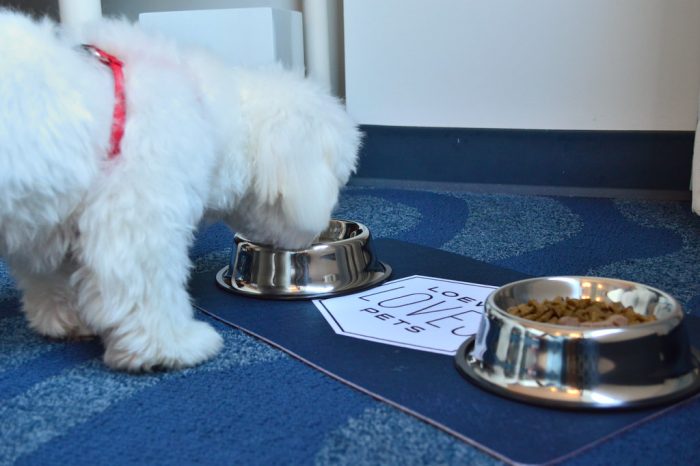 # 3 – On-site Dining:  Strong Water Tavern and Amatista Cookhouse
Strong Water Tavern – Readers of the SATURDAY SIX know how much we appreciate a good hotel bar, and Sapphire Falls' Strong Water Tavern takes it up a notch. It has both indoor and outdoor seating, along with seats at the actual bar. Strong Water specializes in rum (with over 60 varieties available) and a "Rum Captain" can help guide you through the extensive drink menu that is filled with flights, freshly squeezed juices, and a variety of punches that serve up to 6 guests. If you're used to bars and lounges with pre-made drinks that are poured from a jug, you've come to the wrong place.
Aside from the full bar there is an incredible food menu featuring various types of ceviche, as well as items based off the cuisines of Jamaica, Mexico, Cuba, Puerto Rico, Haiti, Colombia and the US Virgin Islands. That's right, a bar menu where you can get Curry Chicken, Lamb Pelau, and Fish Tacos. Amazing. There is a large TV in the room, made up of 9 smaller TVs, so Strong Water is also a great place to be able to watch major sporting events while enjoying a drink.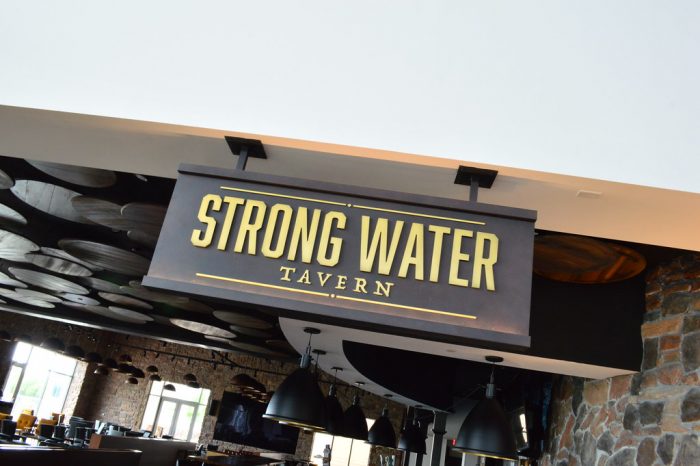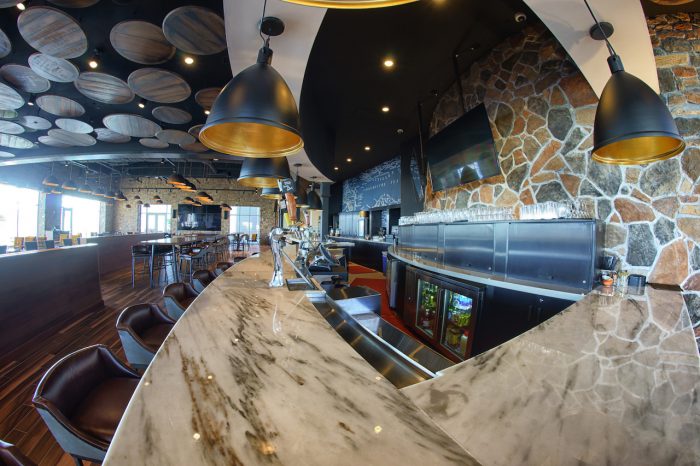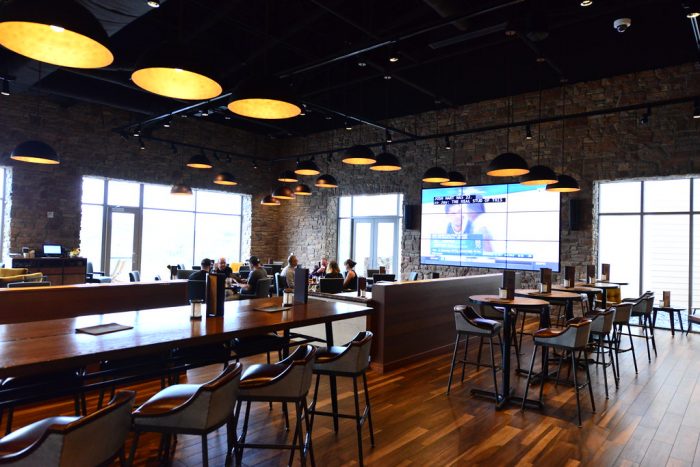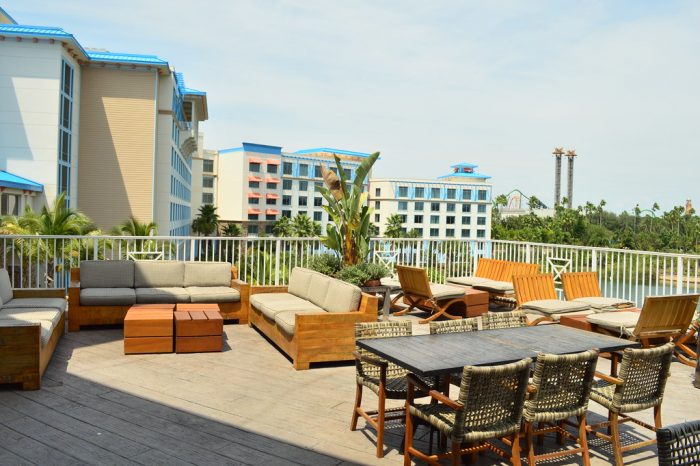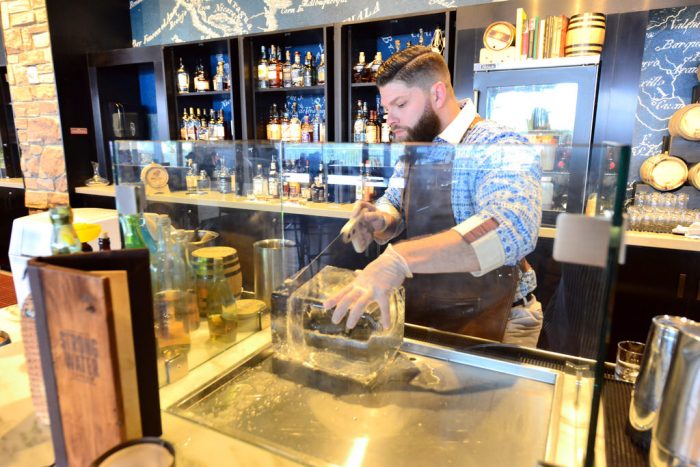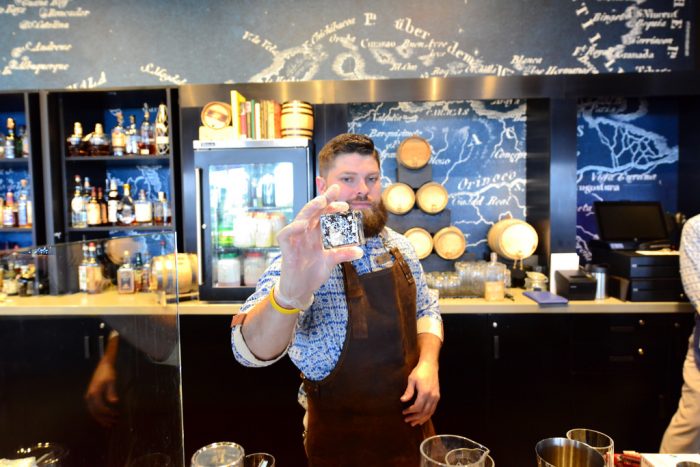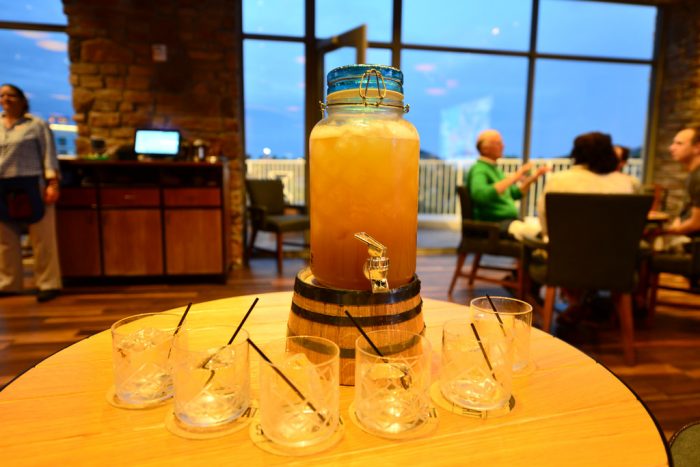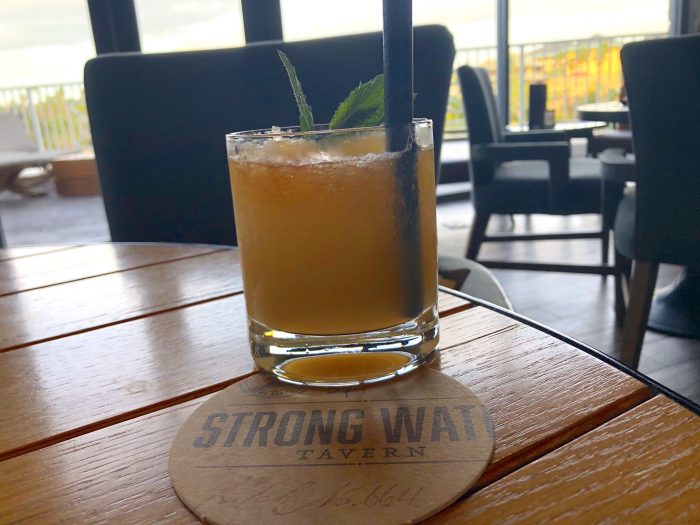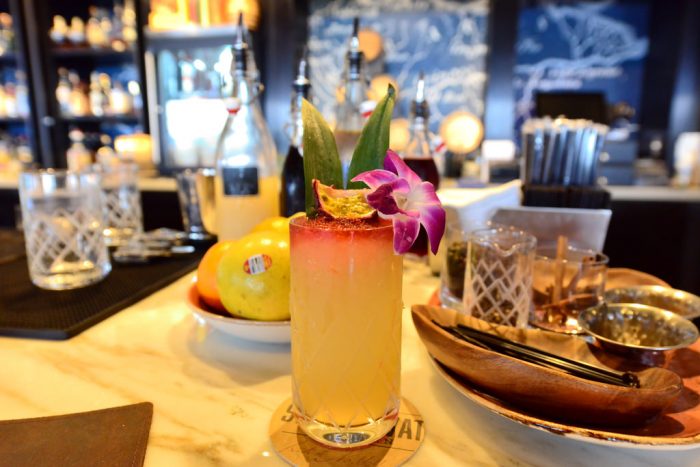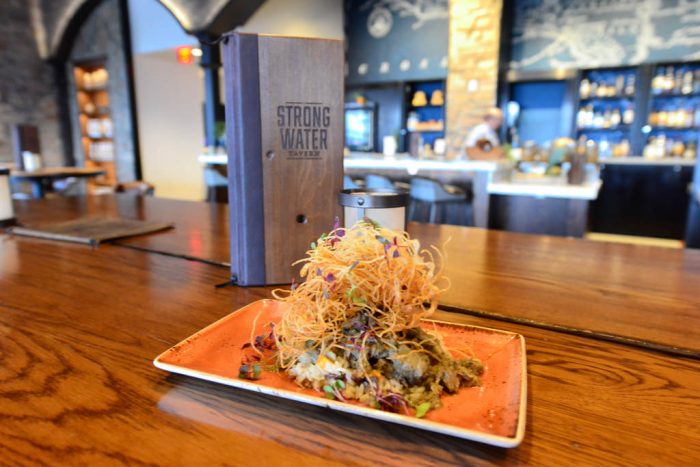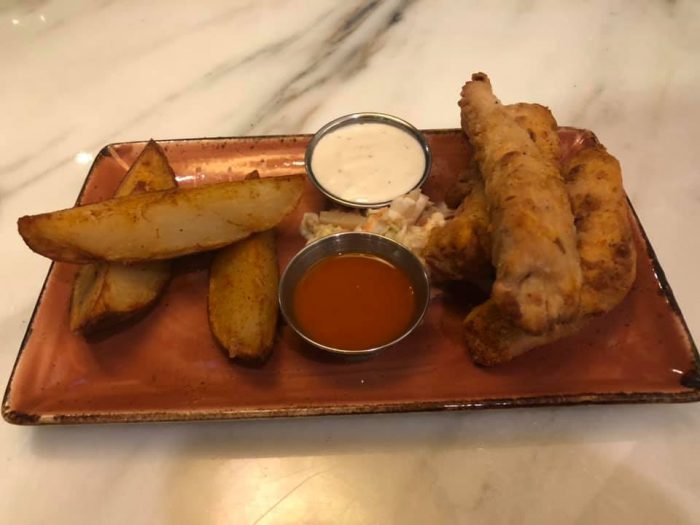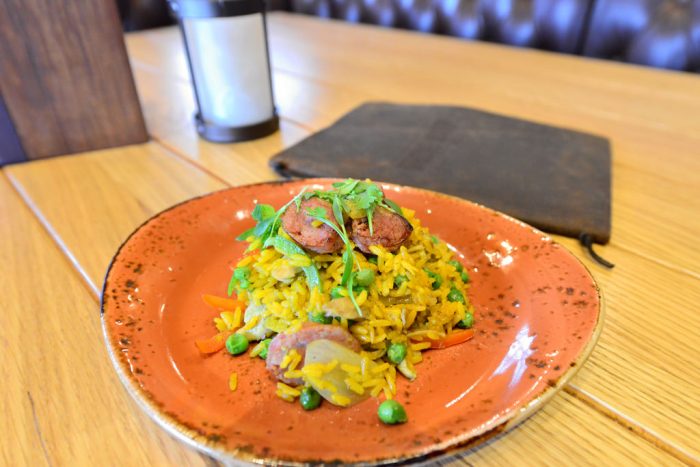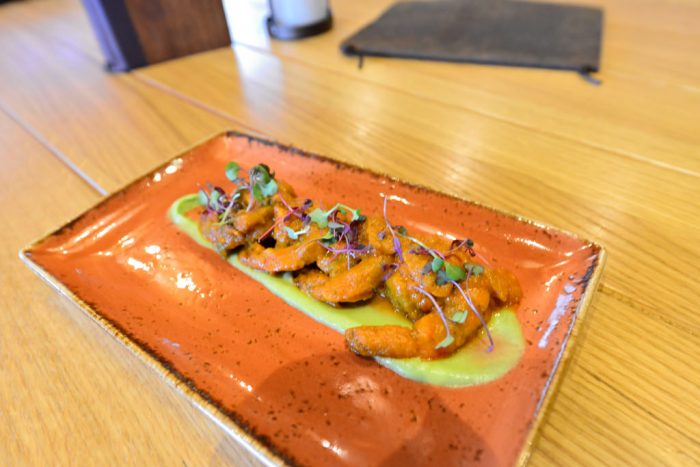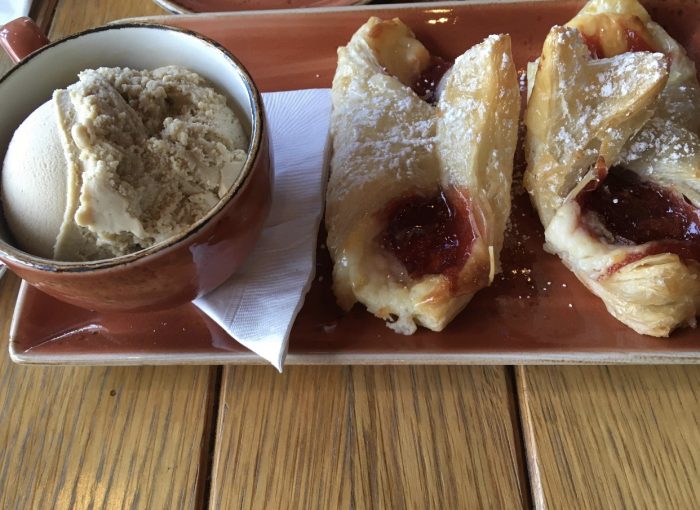 Amatista Cookhouse – Universal has set a high standard when it comes to on-site dining at its resorts. Hard Rock Hotel Orlando's Acoustic Brunch, Royal Pacific's Wok Experience, and Portofino Bay's Bice Ristorante should be on any theme park foodie's bucket list. Amatista Cookhouse at Loews Sapphire Falls Resort continues the tradition of solid table service along with a Caribbean themed menu, an open kitchen, and a great view. With high ceilings and large windows, natural light fills the restaurant and provides great atmosphere for a meal. Amatista is open for breakfast, lunch, and dinner.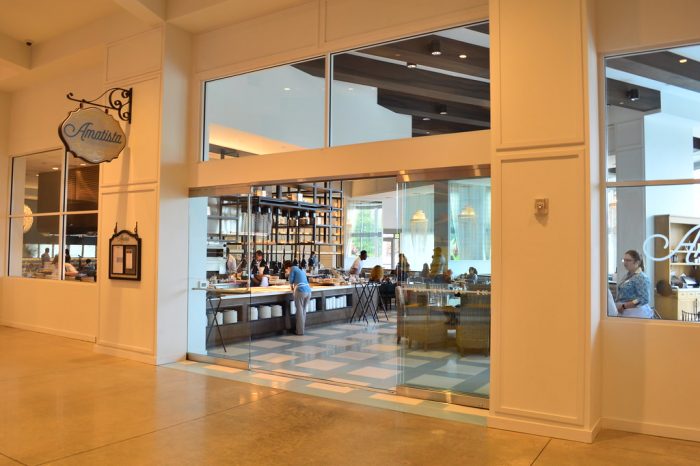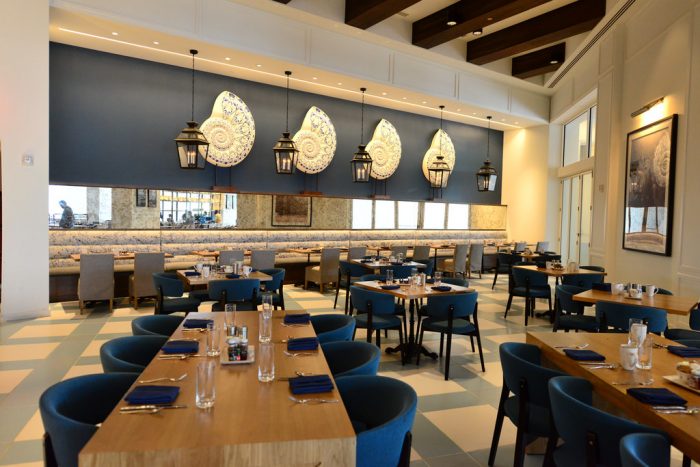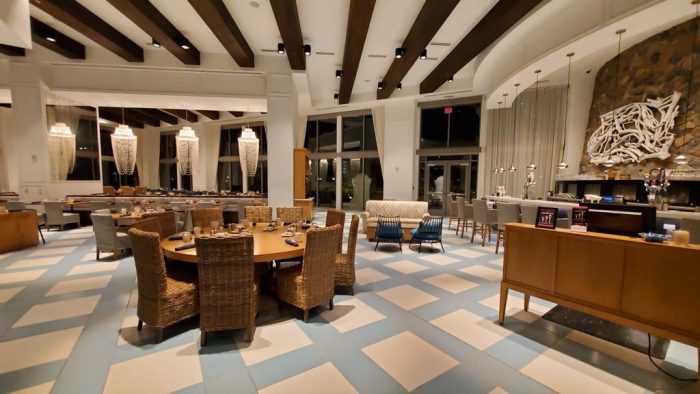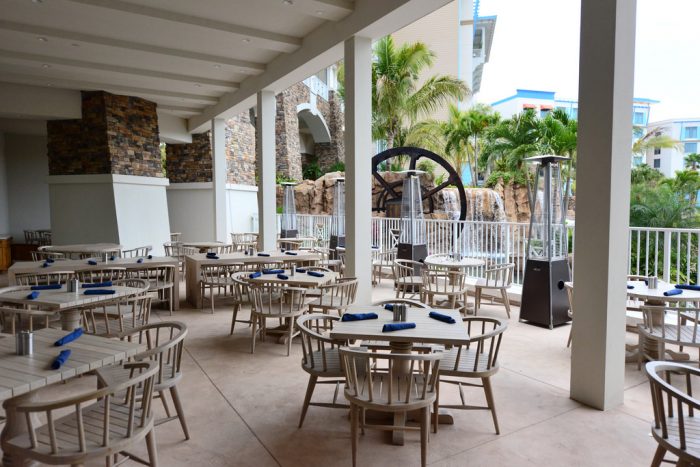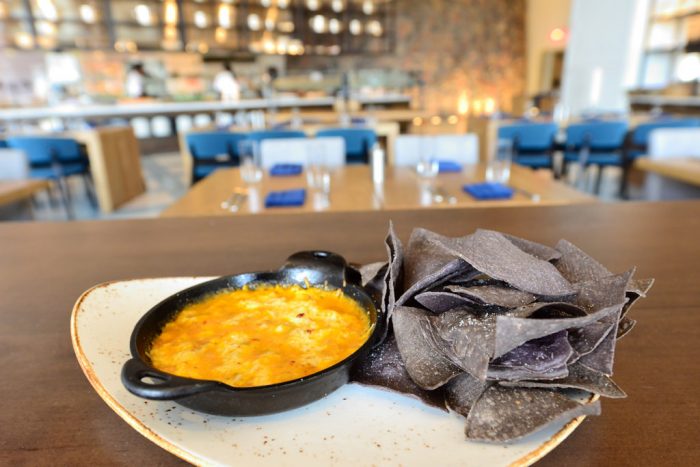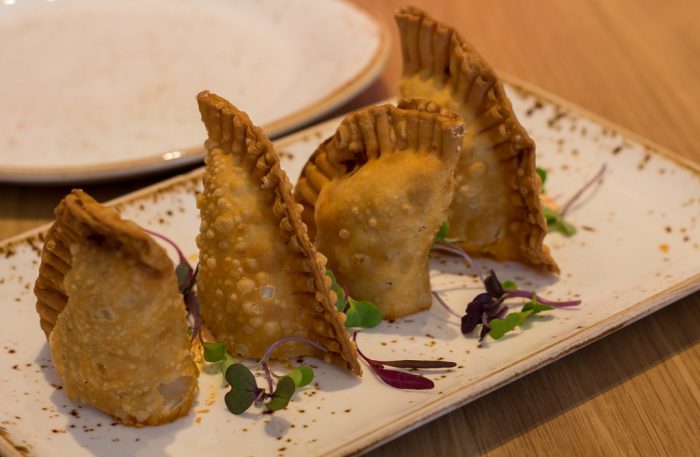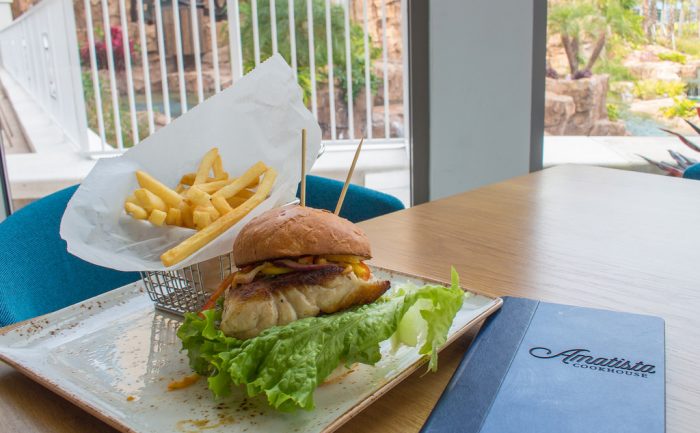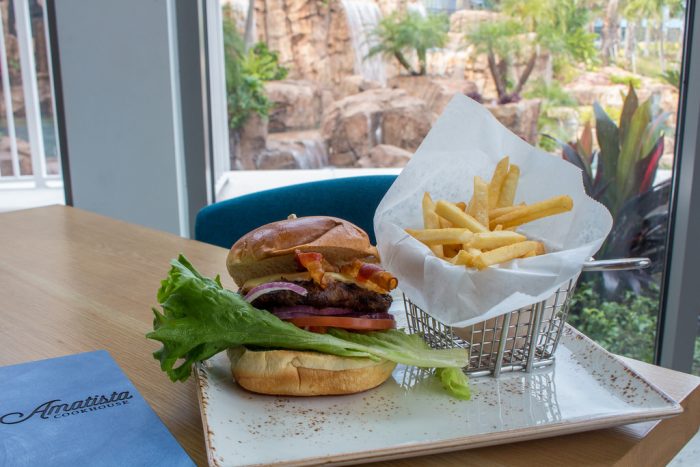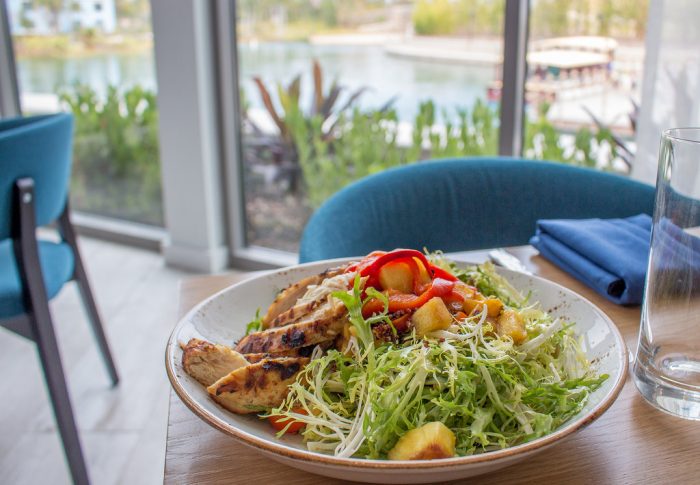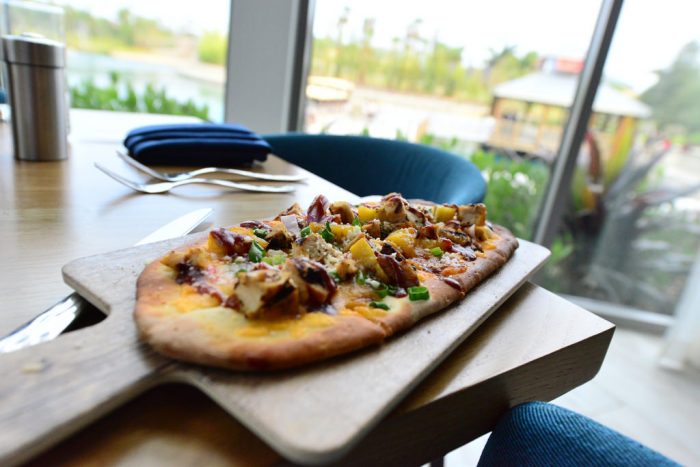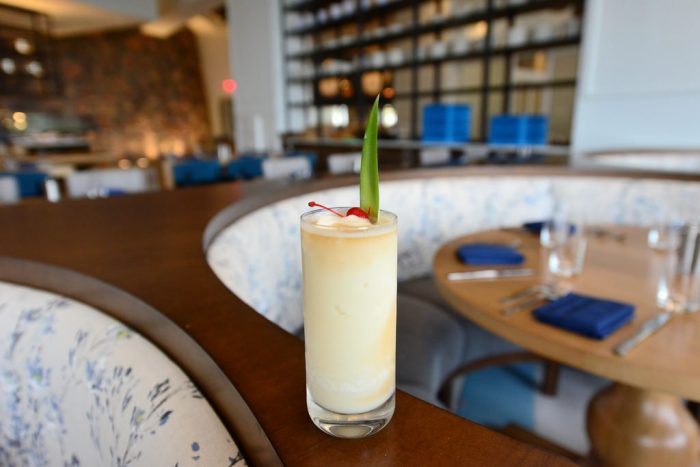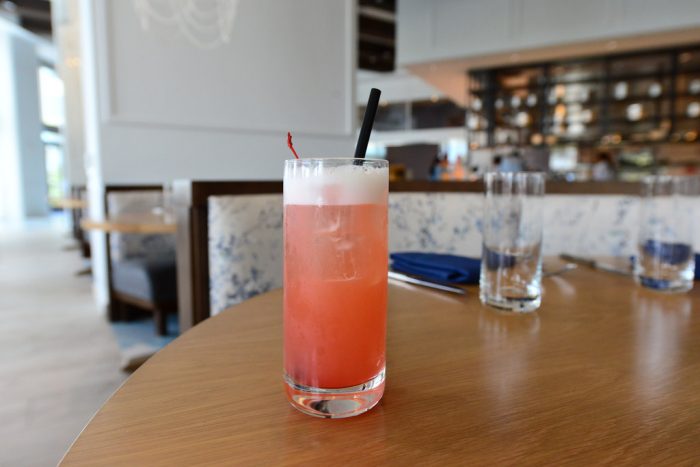 # 2 – Location, Location, Location
Sapphire Falls is on a quick (and complimentary) water taxi or walk away from the rest of the Universal Orlando Resort. That means you are always about 10 minutes away from enjoying a meal at The Cowfish, taking a ride aboard the Hogwarts Express, or even heading over to Cabana Bay for a set of bowling. There is no better way to get to the parks than a relaxing boat ride, but the short walk also allows you to burn off some of the calories you are surely about to take in with a bonkers milkshake from Toothsome Chocolate Emporium or a Voodoo Doughnut. For those used to bus transportation at Walt Disney World, buses are also arriving and departing seemingly non-stop to CityWalk. There was never a time we waited longer than three minutes for a bus.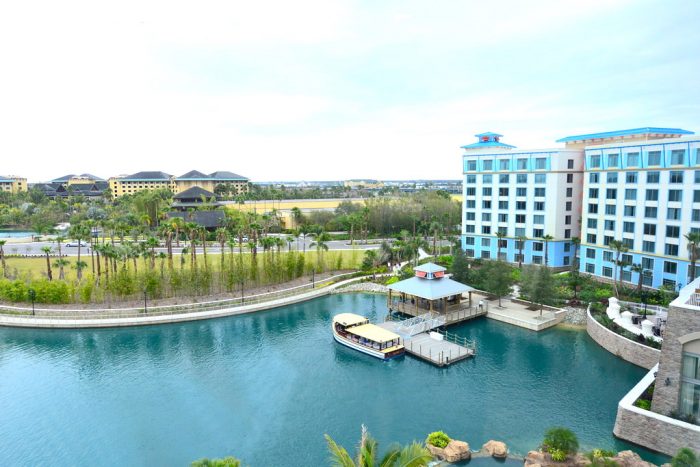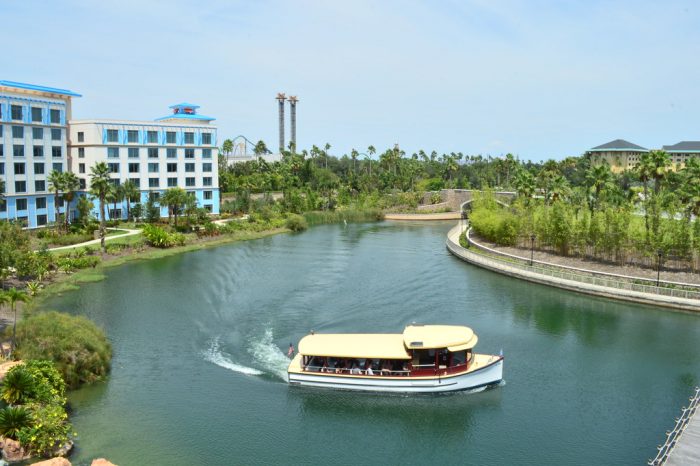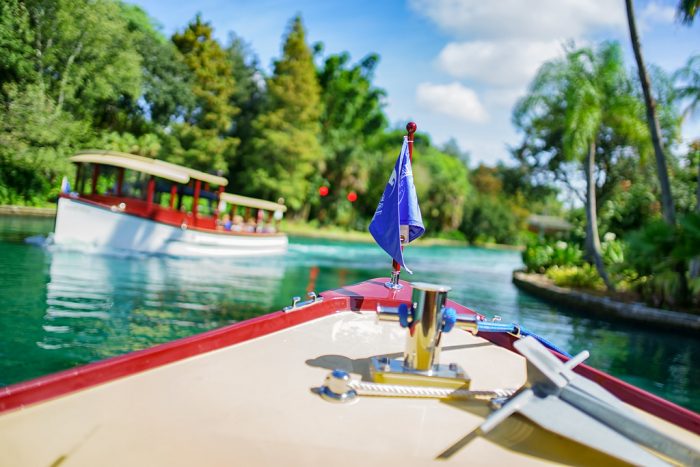 Walk to Volcano Bay – Once nice benefit to staying at Sapphire Falls is how close you are to Volcano Bay, pound for pound our favorite park in all of Florida. To time the walk, I took the longest possible route and still arrived in just over five minutes. Here's how the walk went: first we start off at the main entrance of Sapphire Falls…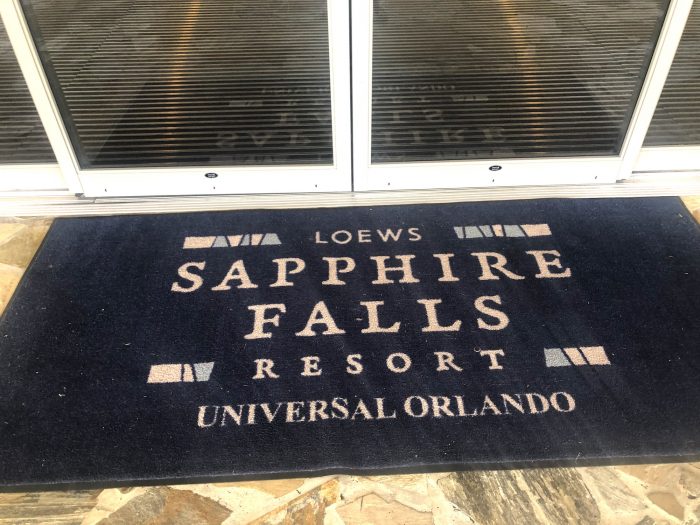 There is signage giving you directions the whole way. Here we are approaching the Sapphire Falls parking garage and we are directed to walk towards Aventura.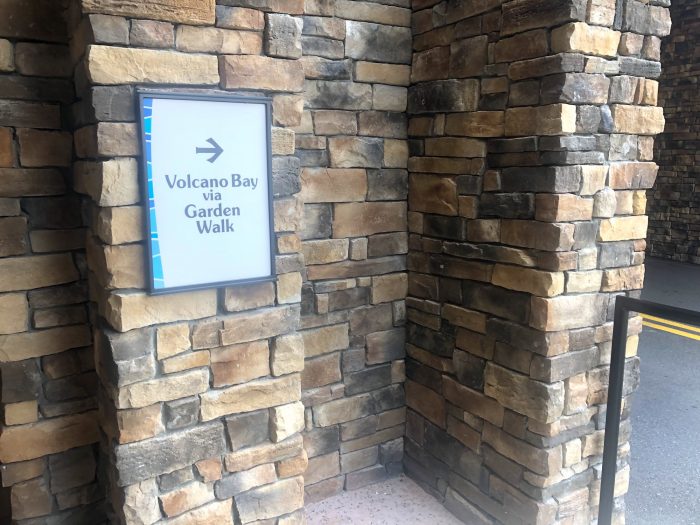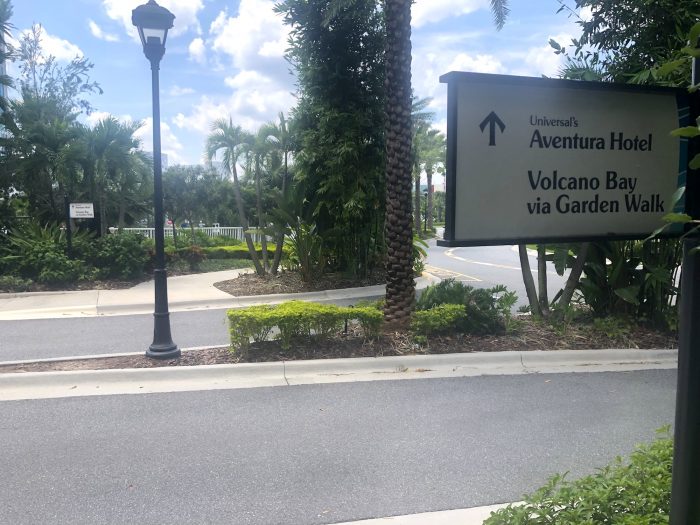 The walkway below is directly in front of Universal's Aventura Hotel.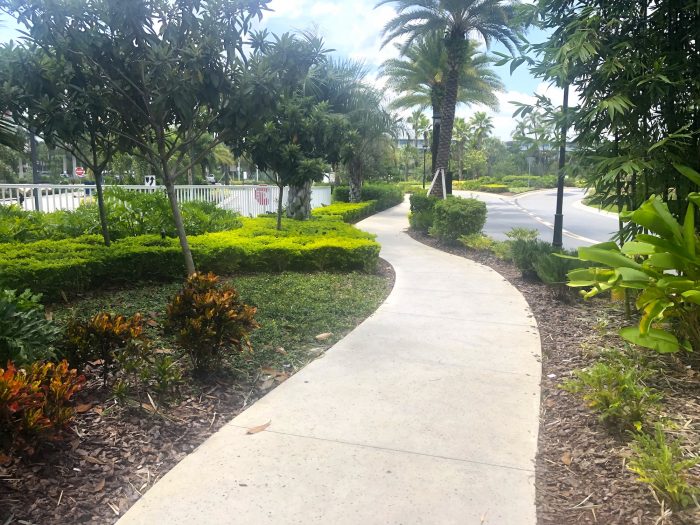 A few more steps and we find ourselves at an intersection. To our immediate left is Universal's Aventura Hotel and the Garden Walk which will take us to Volcano Bay. However, if you want to go right you will take the Garden Walk to either Cabana Bay or Universal CityWalk. In the picture below you'll also see a Universal bus about to pull into the resort. These buses are running nonstop and it appeared that as one bus was leaving the hotel, another one would be pulling in. The bus system goes from Universal's Cabana Bay Beach Resort to a shared bus stop for Universal's Aventura Hotel and Loews Sapphire Falls Resort to CityWalk and then back on a loop.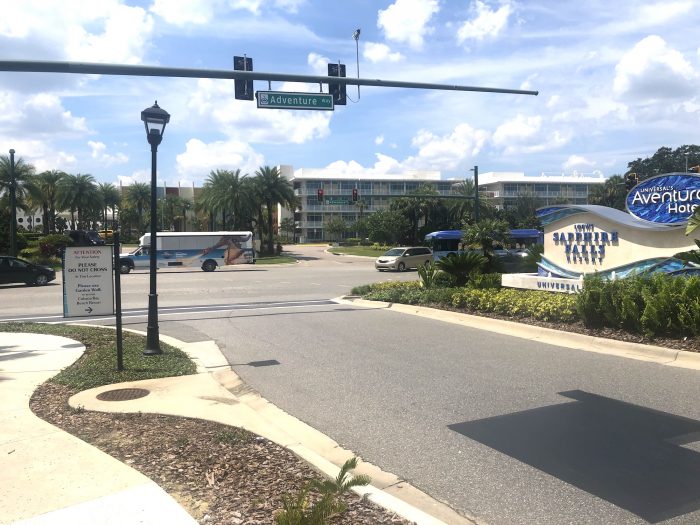 Okay, so we took a left at that intersection and here is the Universal Garden Walk which leads us to Volcano Bay.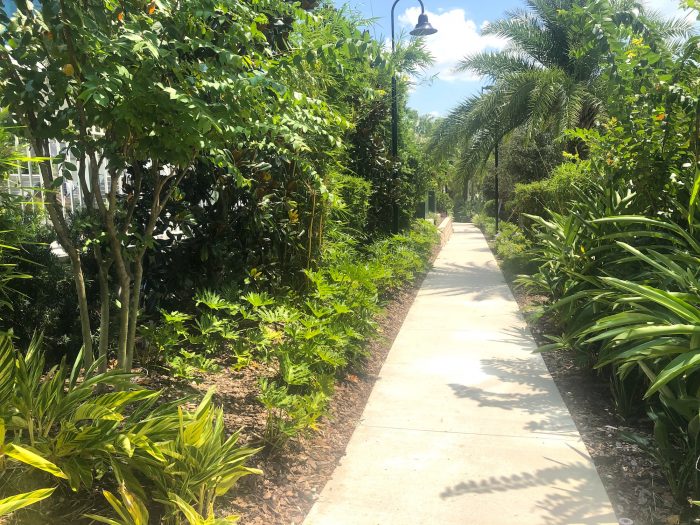 The Garden Walk ends at this section. I stopped timing the walk at the door by the end of this walkway. To the right of this fence is Volcano Bay's security area.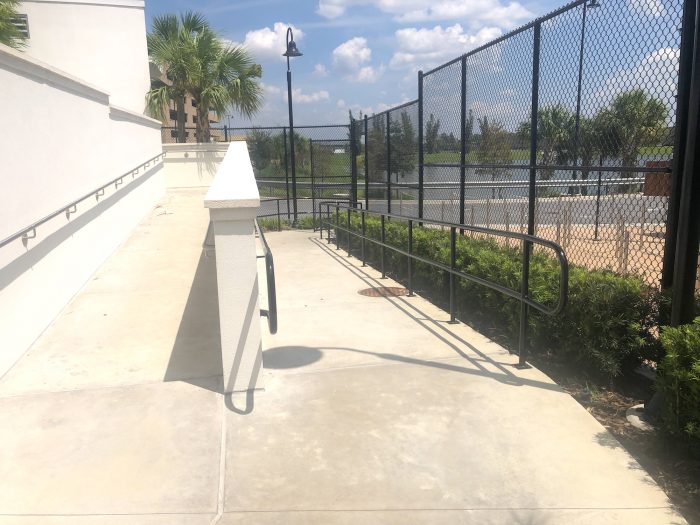 The total walking time was 5 minutes, 9 seconds and it was done at a leisurely pace.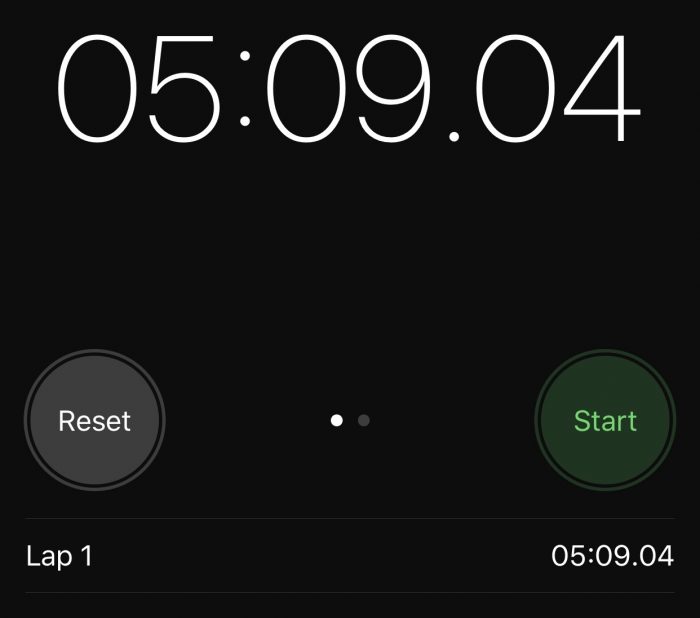 # 1 – The Pool
Sapphire Falls is home to the largest pool on Universal property: a 16,000 square foot pool that includes a water slide, a sandy beach area, and a top notch pool bar in the Drhum Club Kantine. For our family, pools have become a determining factor in where we choose to vacation and Sapphire Falls has something for all of us. The older kids love doing the slide, the younger ones build sand castles, and we adults sip on Drhum Club Punch trying to take every last minute in. We also enjoy that the middle of the pool is zero entry and it's designed to look like a sand bar.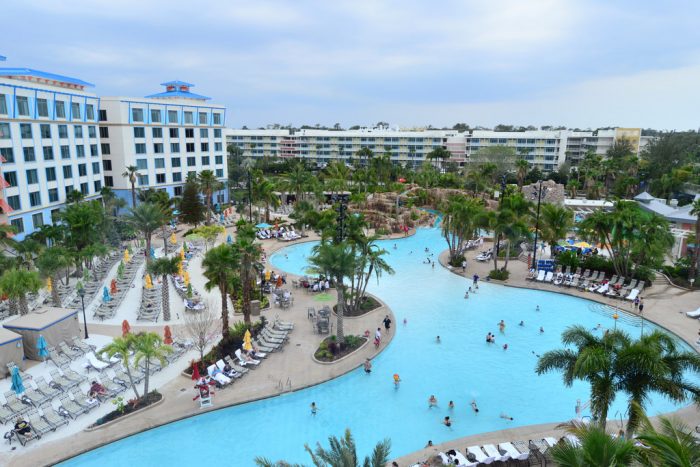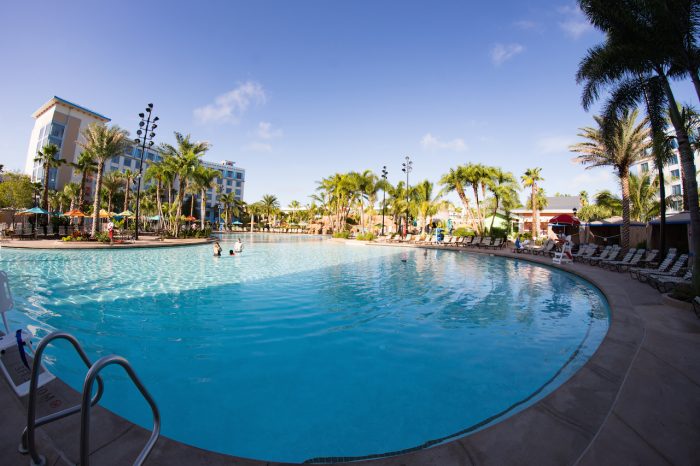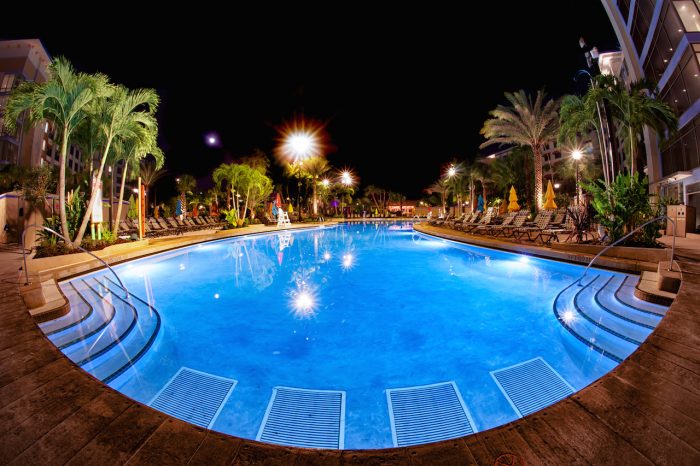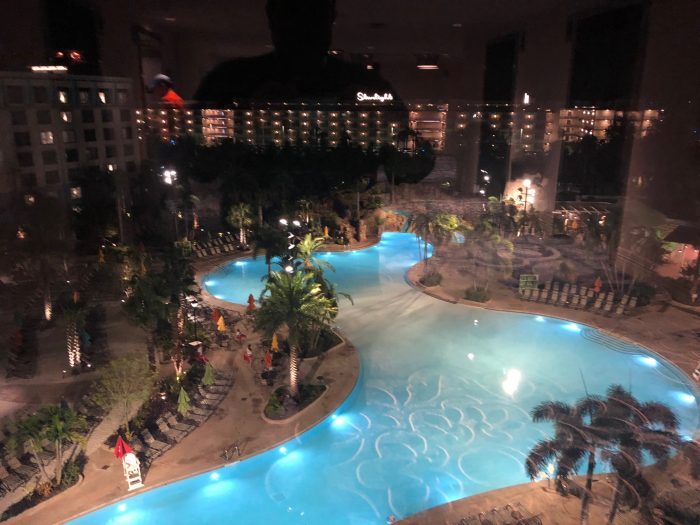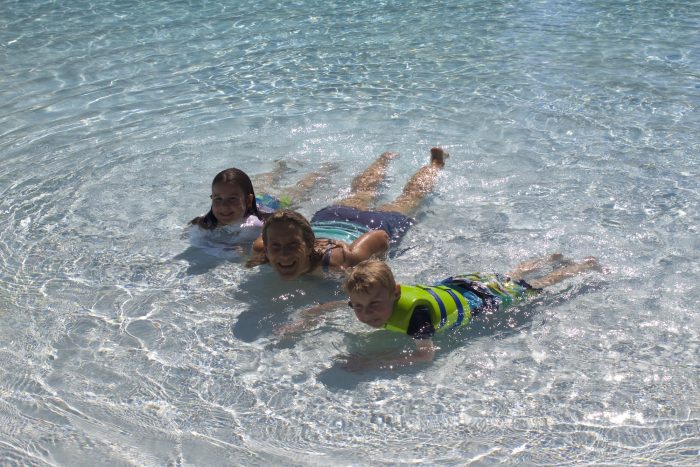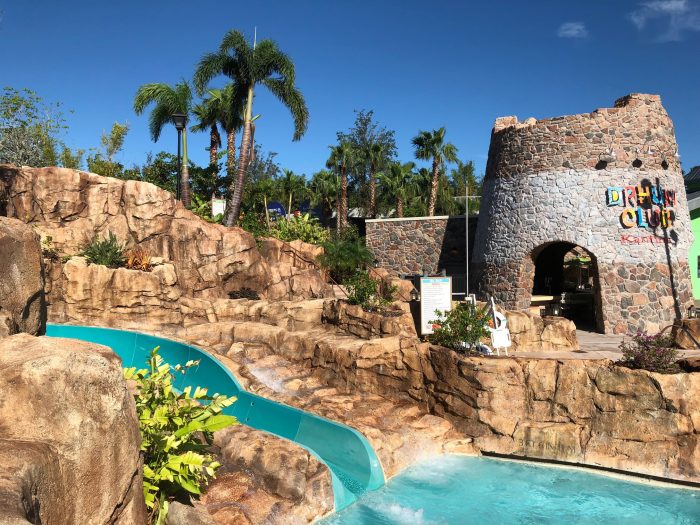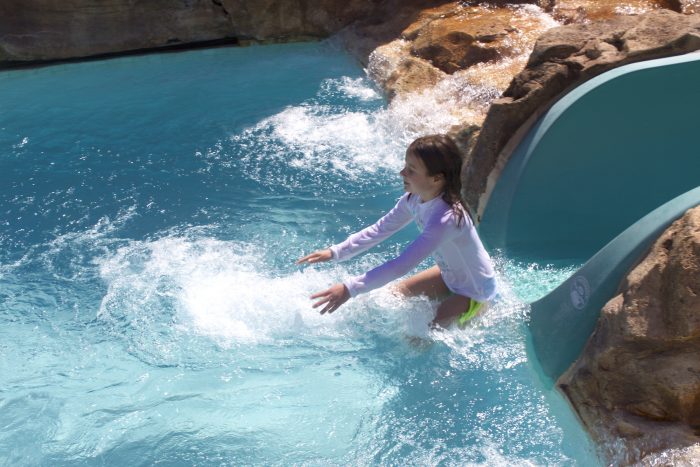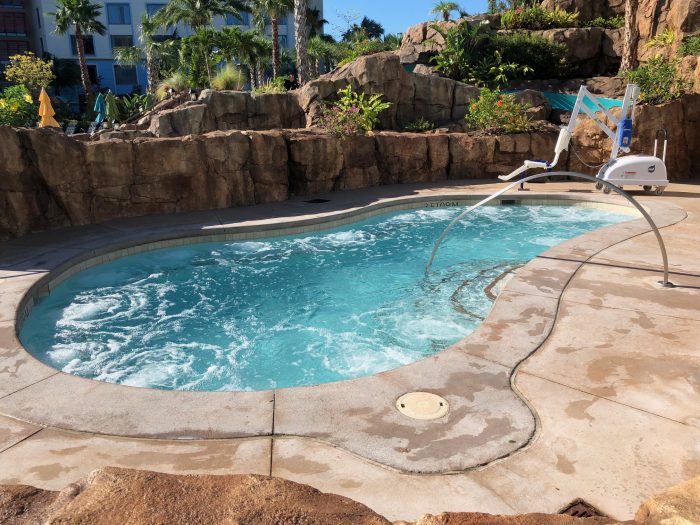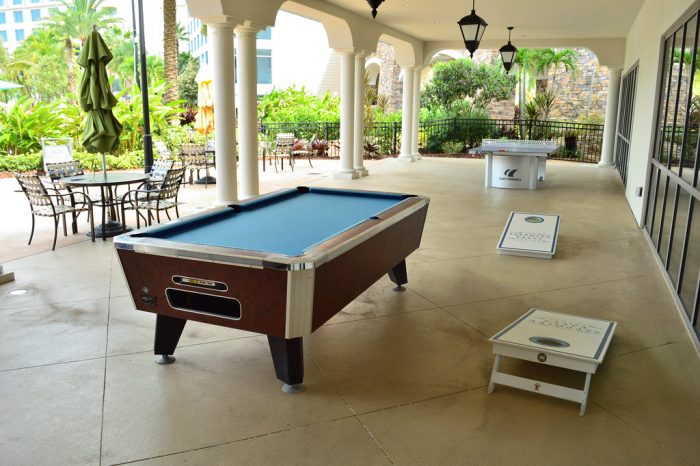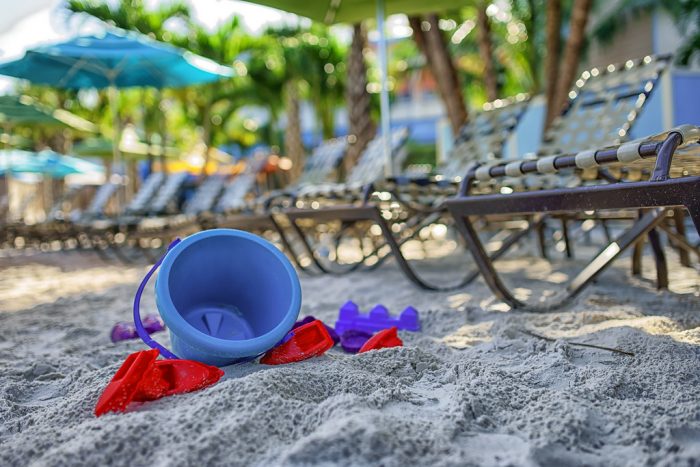 There are two bars by the pool, each with plenty of nearby seating. Servers will also walk around the entire pool area to take orders. The Drhum Club Kantine not only offers a full bar, but a wonderful menu that competes with many actual restaurants.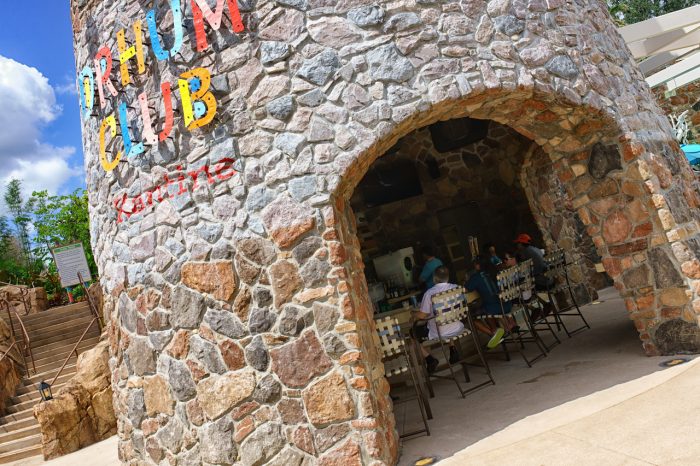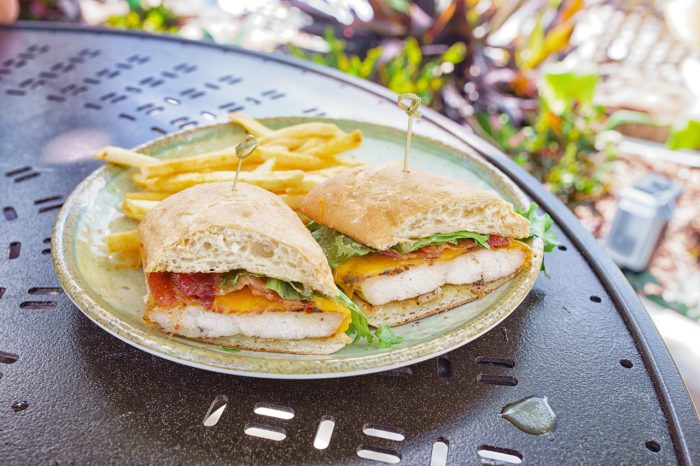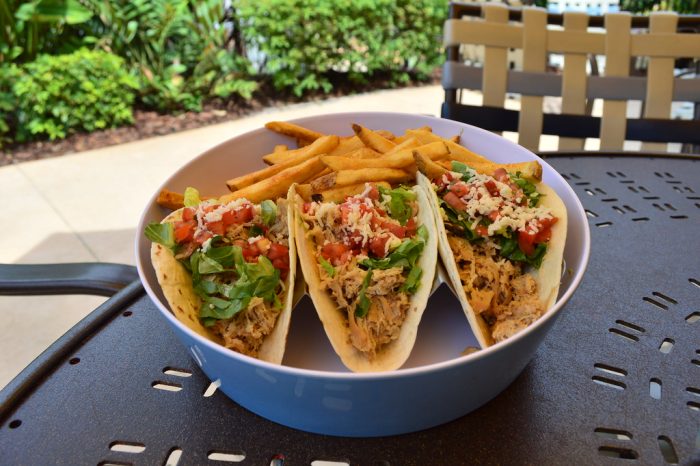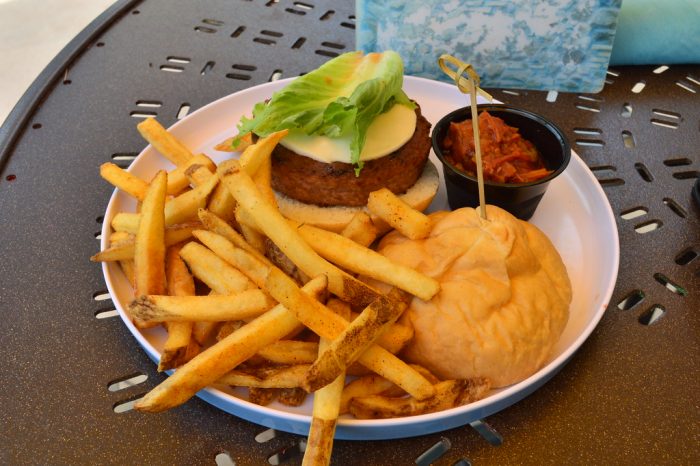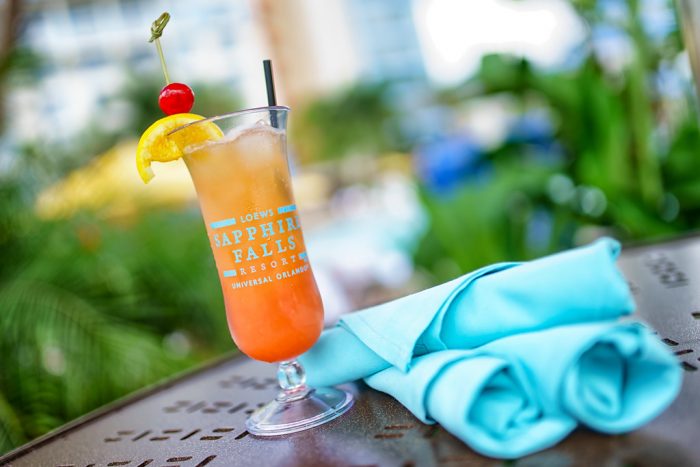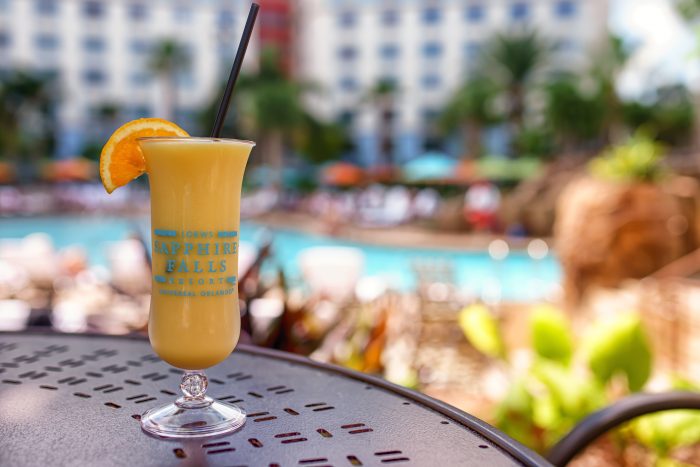 Sapphire Falls has a good amount of poolside cabanas to rent for the day. Our family discovered a couple years ago that we generally like to spend our first day on vacation by renting a cabana and staying by the pool. This means we can check in early, but don't have to worry about the room being ready. The cabana gives us space, along with plenty of shade (and fans) for anyone who needs to take a break from the sun (or just take a nap). The servers even brought us a pack and play to keep inside.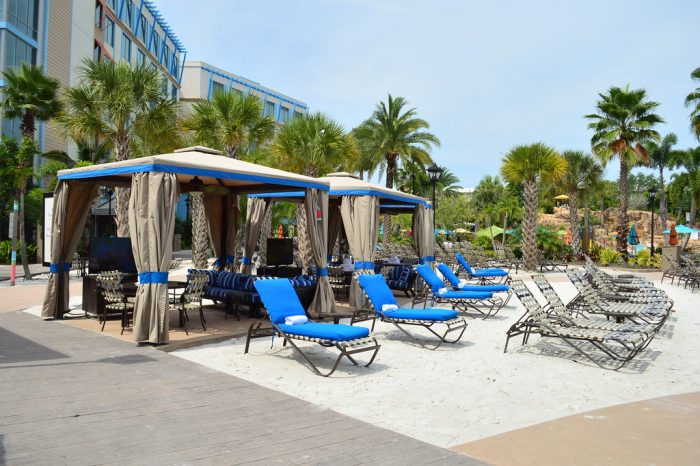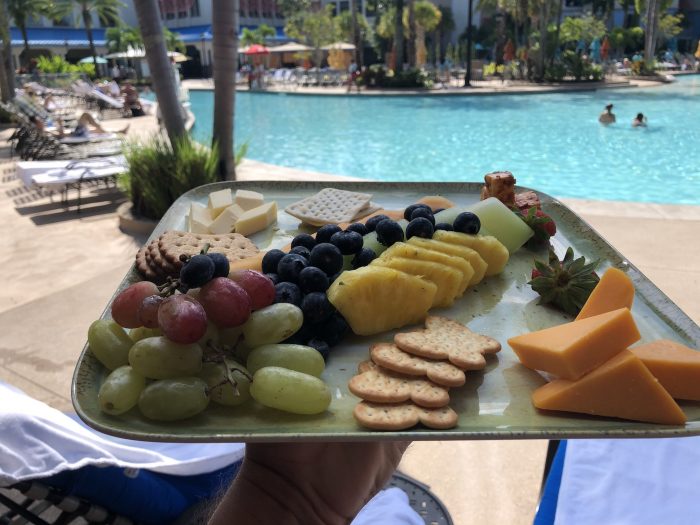 Honorable Mention – Early Admission
Like all Universal on-site hotels, guests at Sapphire Falls are eligible for early admission to the Universal theme parks and Volcano Bay. The extra hour you get ahead of day guests can be invaluable when enjoying the Wizarding World. We used Early Admission to do all the spells in Diagon Alley with absolutely no wait. Over at Volcano Bay, we were able to ride every single slide in the park with no wait. Now that's what I call a vacation.
Double Secret Honorable Mention – Island Time
When Sapphire Falls opened several years ago, I thought it was a great addition to the line-up of on-site hotels at Universal Orlando. Today, I feel even stronger about it. I actually had the opportunity to take Southern and Western Caribbean cruises on Royal Caribbean, and after visiting various islands, I've gained a new appreciation for the hotel as it does a great job bringing "island time" to Orlando.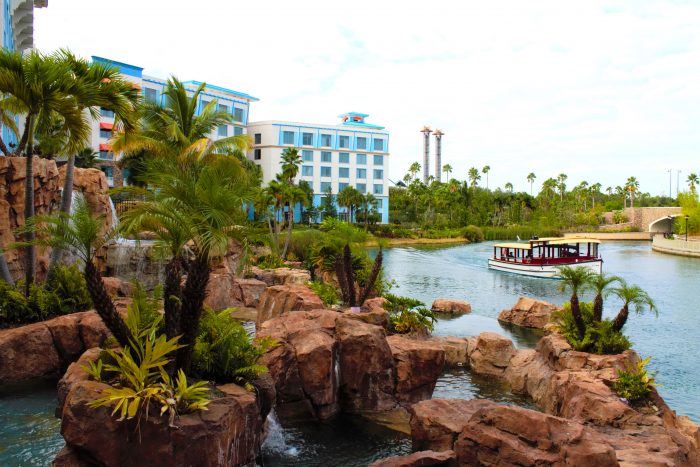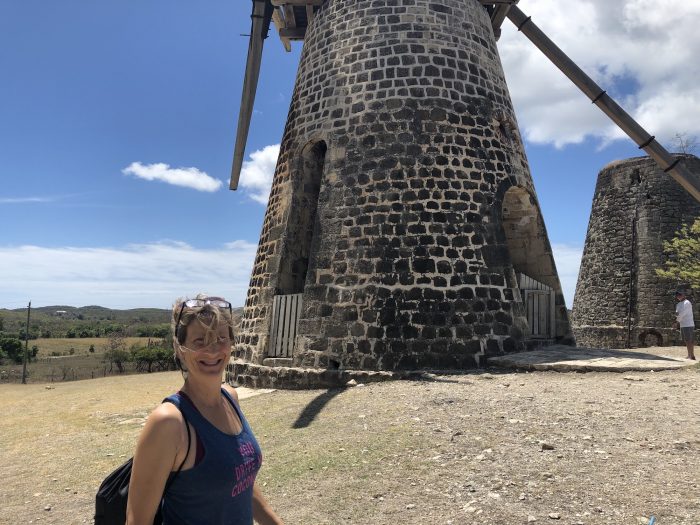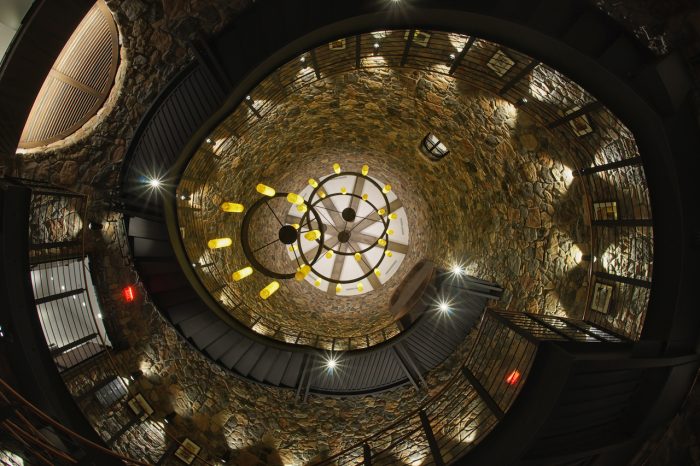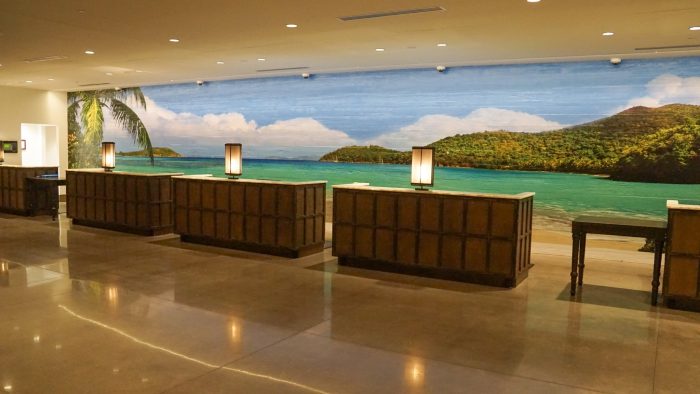 Bonus points for the lighting fixtures at Sapphire being next level great.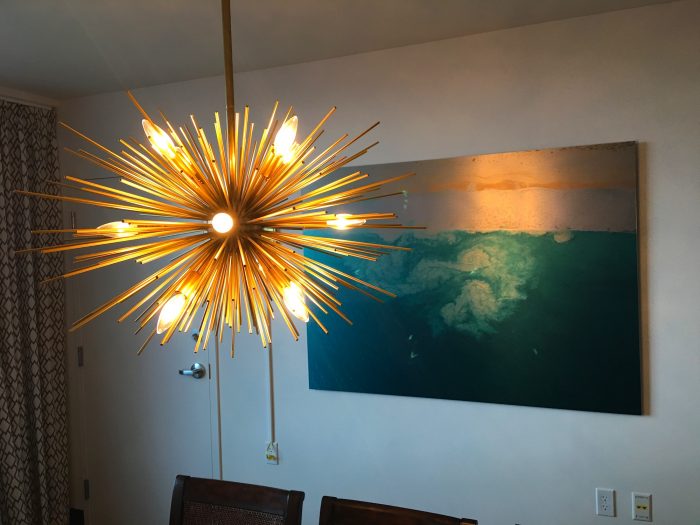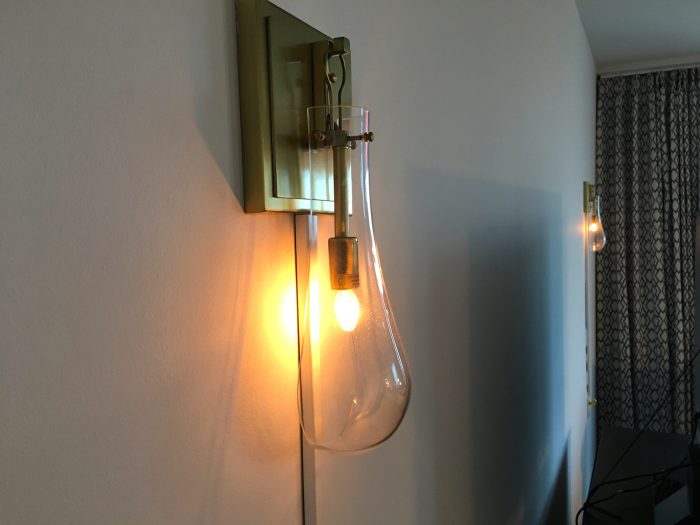 So there you have it: Six Reasons We Love Loews SAPPHIRE FALLS RESORT! See you next weekend for the latest installment of the SATURDAY SIX, where we'll look at something fun from the world of Disney and Universal. If you enjoyed yourself, be sure to check out The Magic, The Memories, and Merch! articles covering the latest from the Disney Outlet Stores. You can also follow Your Humble Author on Twitter (@derekburgan).
If you enjoyed this article, you will surely like the following: 
6 Reasons We Love Loews ROYAL PACIFIC RESORT
6 Reasons WE Love Universal's SURFSIDE INN & SUITES
6 Reasons We Love Universal's AVENTURA HOTEL
6 Reasons We Love Universal's CABANA BAY BEACH RESORT
6 Reasons We Love Universal's HARD ROCK HOTEL ORLANDO
6 Reasons We Love Loews PORTOFINO BAY HOTEL
UNIVERSAL DINING: Wok Experience at the Royal Pacific Resort
UNIVERSAL DINING: Acoustic Brunch at the Hard Rock Hotel
Special Thanks to The Elite Brandon Glover, photo wunderkind Mike Sperduto, Glitter Guy @FelipeWWoHP, the bio-est of all reconstructs @bioreconstruct, the only person on DisTwiter I'm personally jealous of, @LilDisFan, Captain Cruiseline Scott Sanders of the world famous Disney Cruise Line Blog, my personal protege Hunter "Elvey" Underwood, the SAT SIX Fun Squad of Parkscope Joe and Nick, hot shot Michael Carelli, and Hermione Granger's tutor Megan Stump for their invaluable assistance with this article. The SAT SIX is inspired each week by goofballs Aengus Mackenzie and LitemAndHyde and you Potterheads will  enjoy Meg's other blog work over at the Central Florida Slug Club.