The SATURDAY SIX Celebrates the Grand Opening of Universal's VELOCICOASTER
This week's SATURDAY SIX takes a look at the grand opening celebration of Universal's VELOCICOASTER! In 2020, when the pandemic was busy wreaking havoc on the theme park world – causing an unprecedented shut down of the parks along with a delay or outright cancellation of many projects – there was one attraction which kept chugging along because, well, life finds a way. The VelociCoaster in Islands of Adventure officially became the first true sign of things getting back to "normal," with theme parks doing what they do best, opening new rides for guests.
This week we're going to look at the grand opening of Universal's latest E-Ticket thrill ride, and all the fun stuff that came along with it, starting with…
# 6 – Grand Opening Pressed Penny and More
Readers of this fine blog series know how much we love our pressed pennies, and Universal Orlando went all out delivering a brand new machine for the VelociCoaster that includes a Grand Opening 2021 design. Now, readers who are used to Disneyland pressed pennies may be thinking, "What's the big deal? We get new penny designs all the time. In fact for the 60th anniversary of Disneyland we got 60 new designs!" Unfortunately that's not how it works down here in Florida, where a grand opening pressed penny for anything is pretty much unheard of.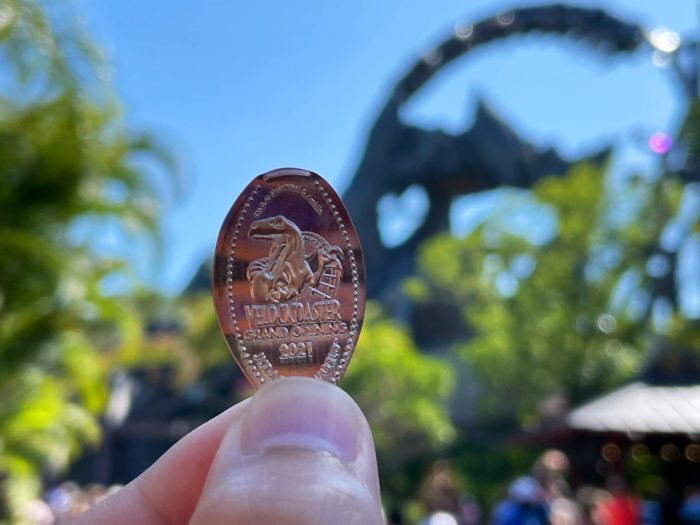 Back in May, Universal debuted a new snack in honor of the VelociCoaster opening with the Blue Churro. The blue marshmallow icing was a reference to the raptor Blue from the Jurassic World series of films. As for why the snack chose to represent the attraction was a churro, well, we will get to that later…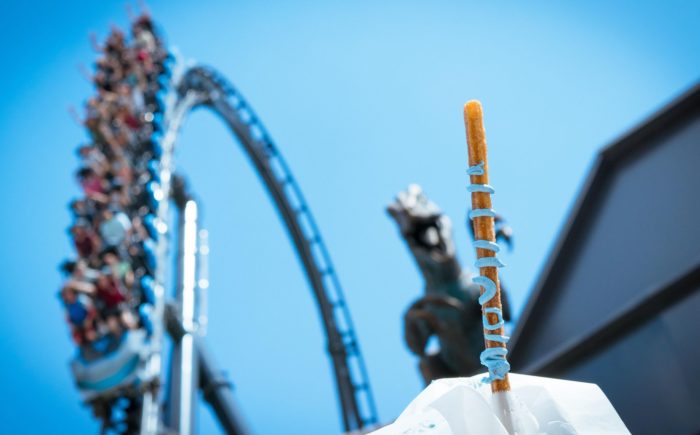 Last month also brought the Isla Nublar IPA, which has hands down the greatest beer tap in the history of beer taps (paying tribute to an unforgettable moment in Jurassic World).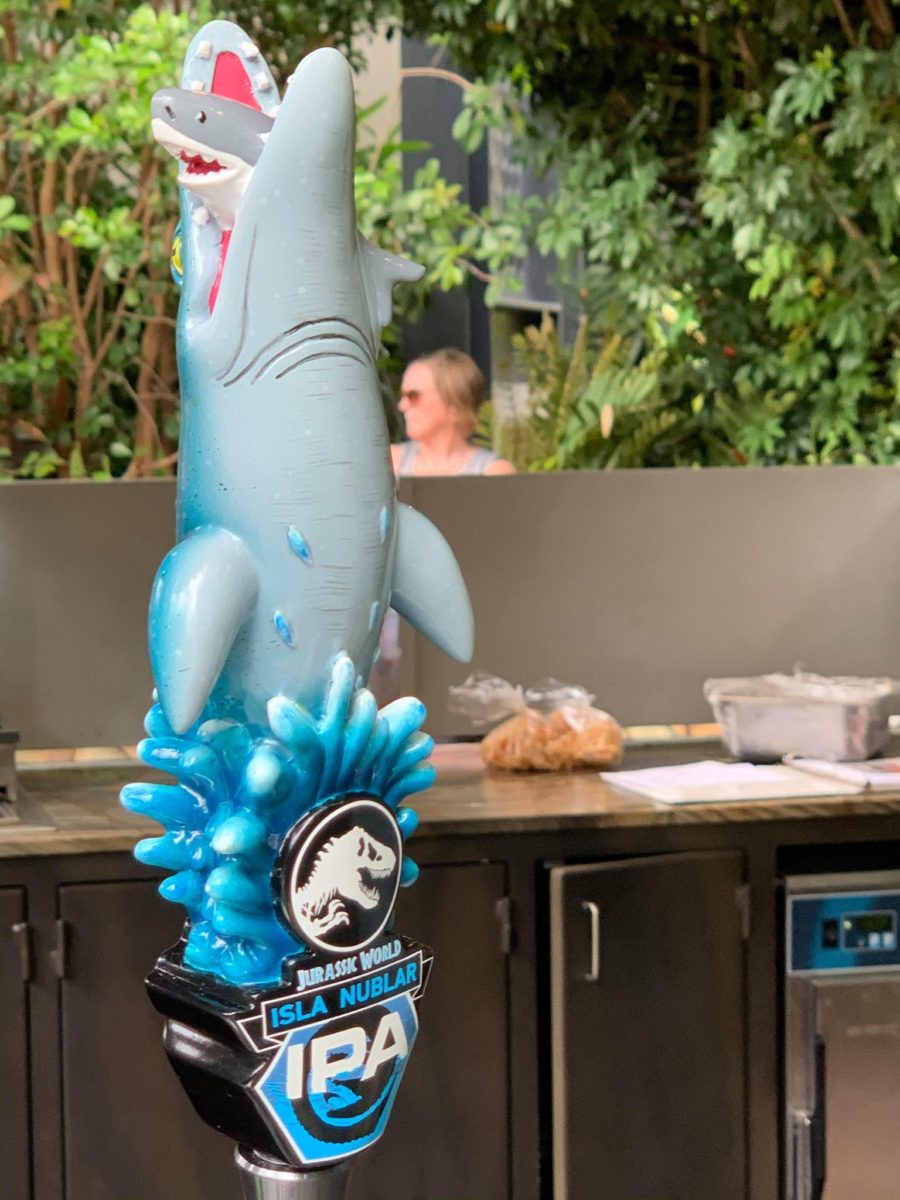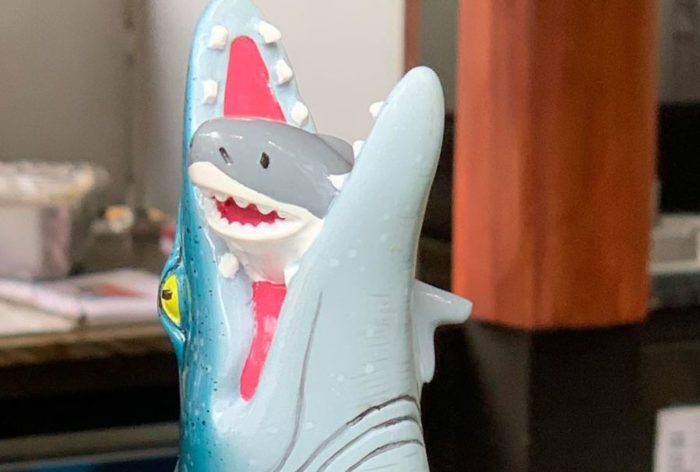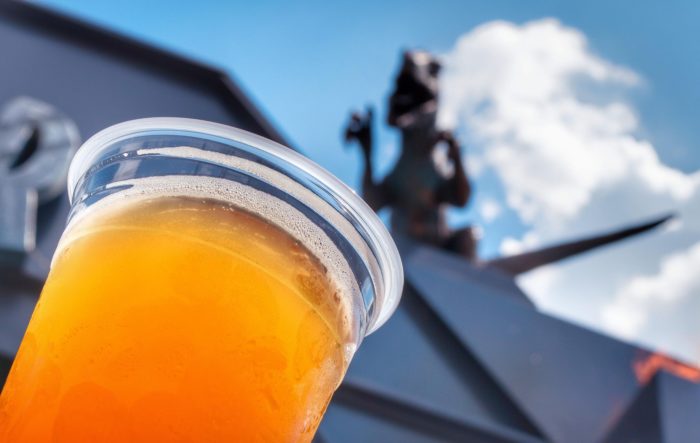 Other VelociCoaster themed drinks have also popped up across property, with each onsite hotel getting its own exclusive drink, along with the Raptor Claw available inside Islands of Adventure for annual passholders.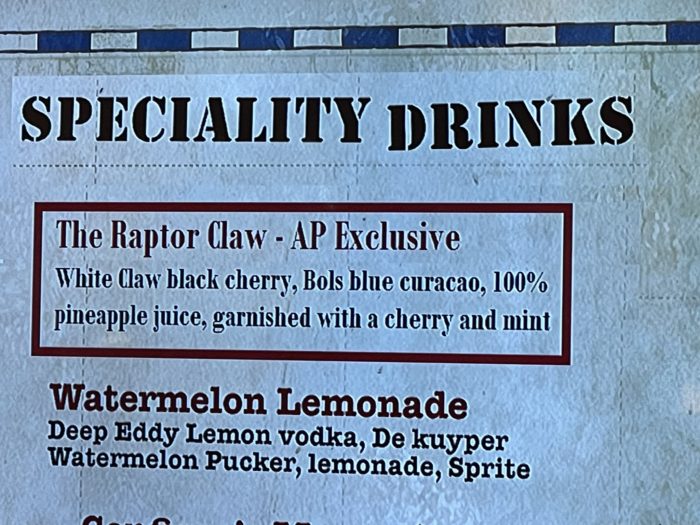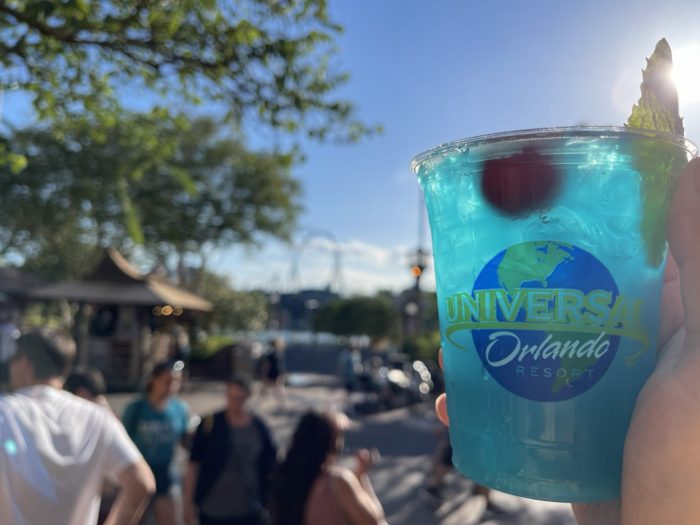 We'll be covering more VelociCoaster merchandise later this summer, but here is a look at some of the items released for the ride's grand opening.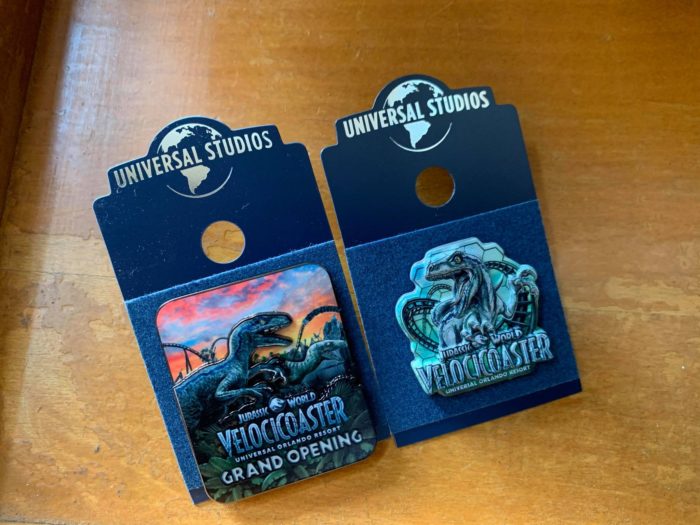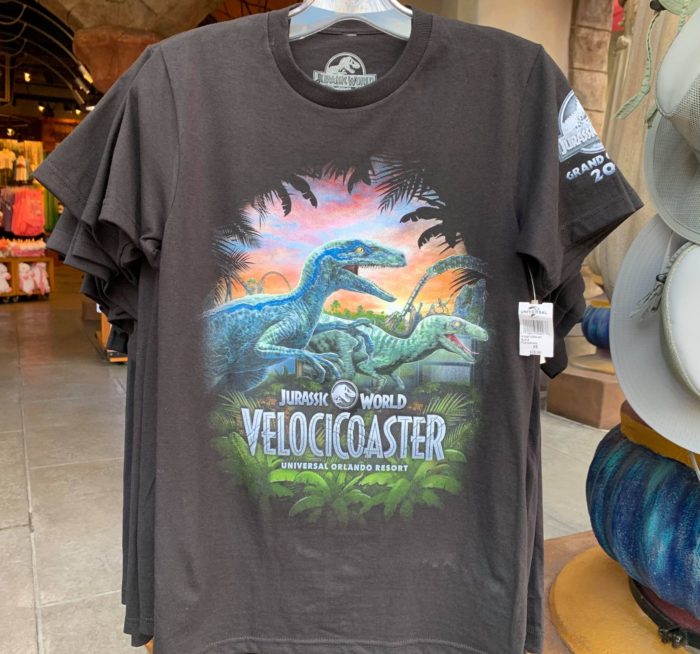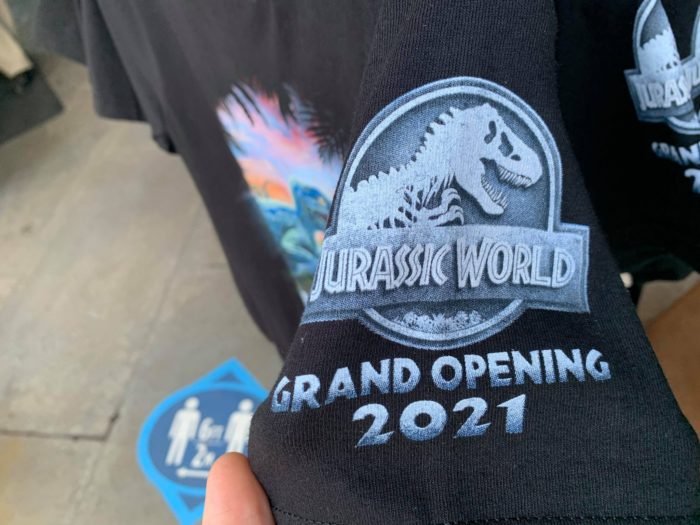 # 5 – Right Place, Right Time (But Don't Know It….)
Speaking of merchandise, one thing you will see Universal's social media team do on occasion is offer giveaways inside the parks. Universal did a giveaway during the grand opening of the VelociCoaster, which led to this absolutely amazing moment…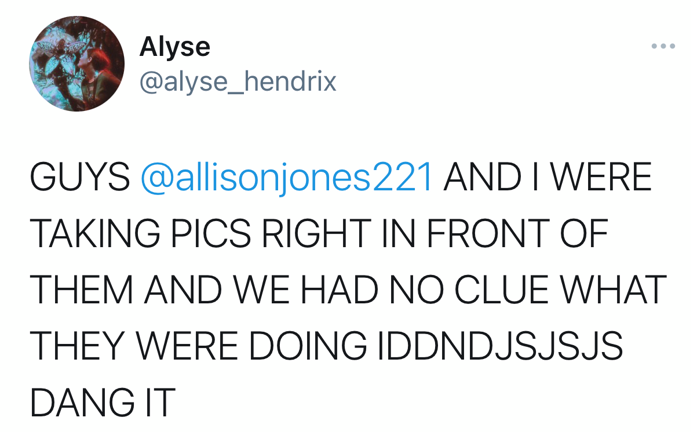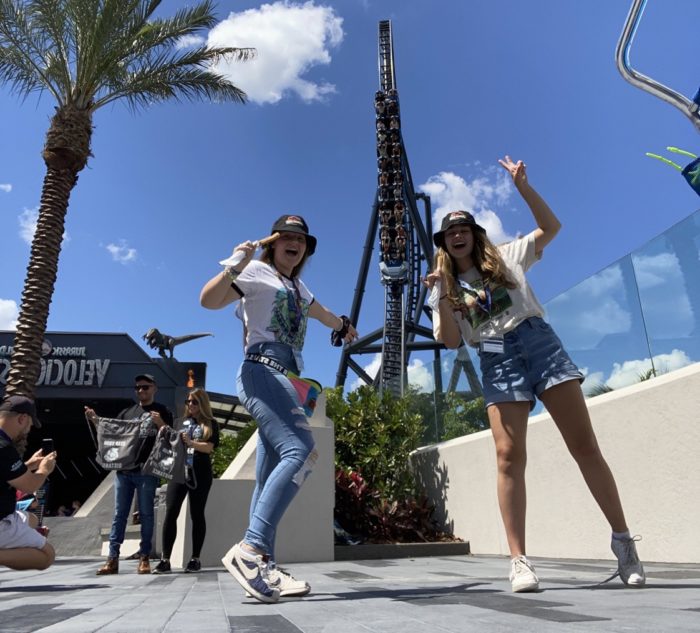 If you notice in the background of Alyse and Allison's photo there are two more people getting their picture taken while holding Jurassic Park bags. Who were these people? Well…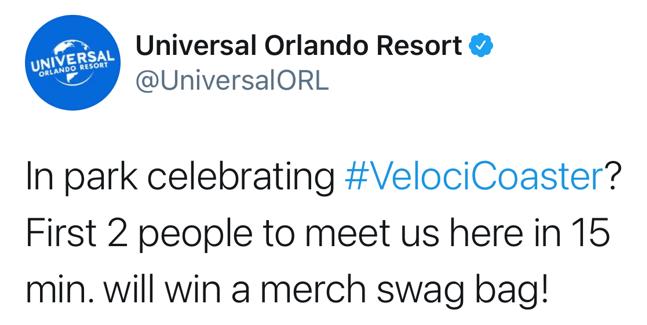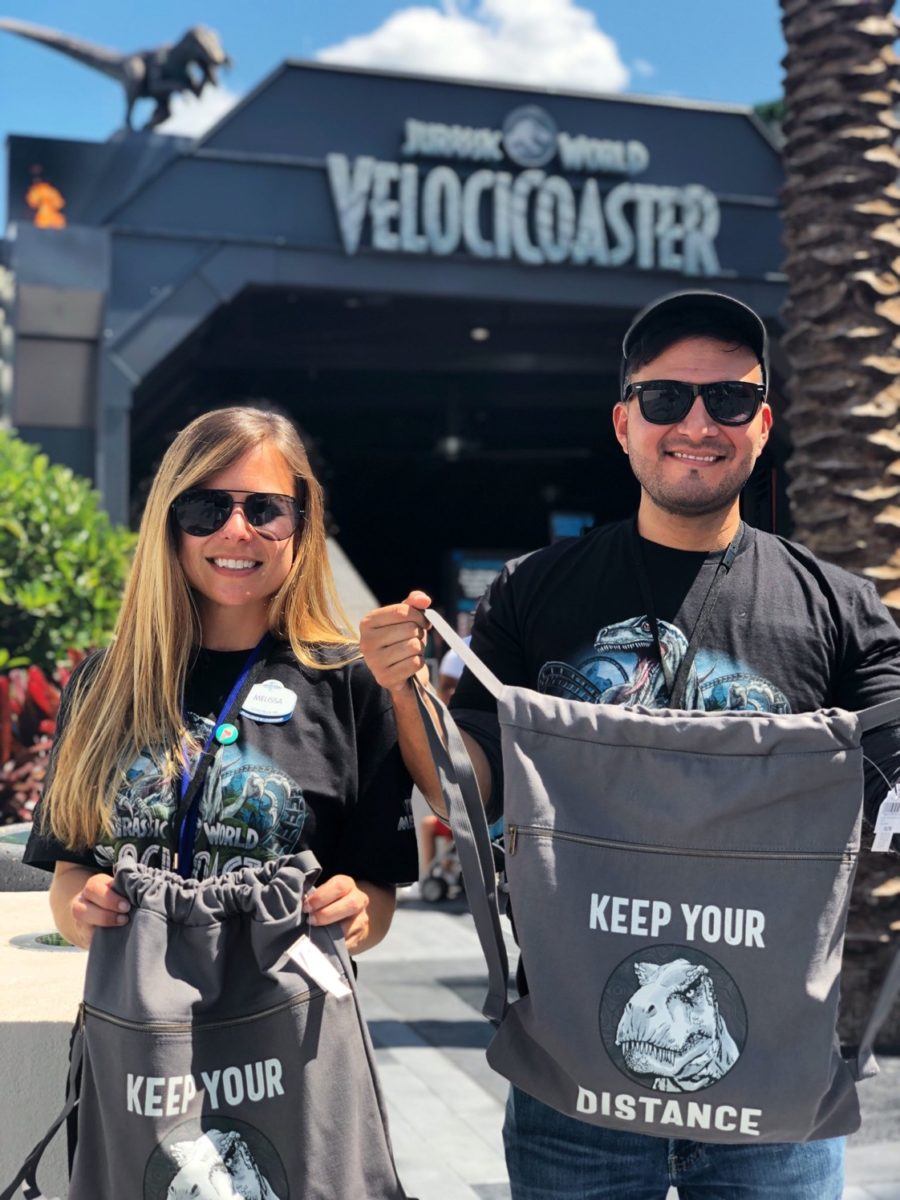 "It's like 10,000 spoons when all you need is a knife…" – Alanis Morissette, Ironic
# 4 – The Cosplay
We did an article earlier this year on how the VelociCoaster has inspired artists. Photographers, painters, and even LEGO builders have made some awesome creations based on this new ride. The cosplay community has also been drawn to the VelociCoaster, with the SATURDAY SIX's own Michael Carelli (the photographer behind our Plastic in the Parks series) leading the charge as Owen Grady (Chris Pratt's character from Jurassic World).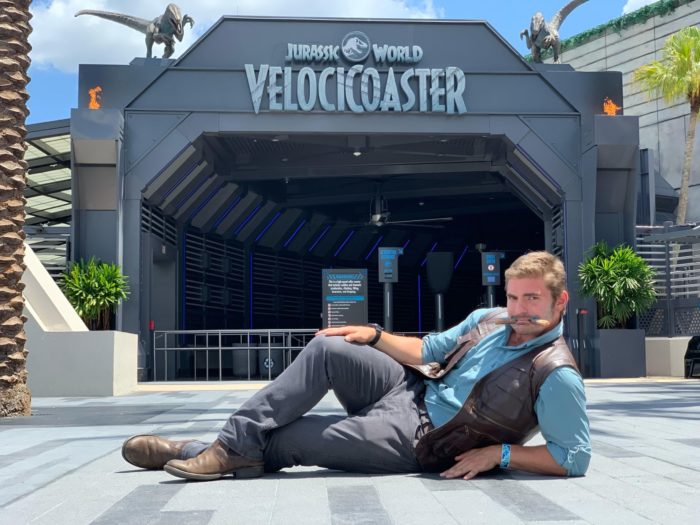 The character of Claire Dearing (Bryce Dallas Howard's character in Jurassic World) is portrayed by @OfficiallyEmi in this photo from inside the VelociCoaster queue.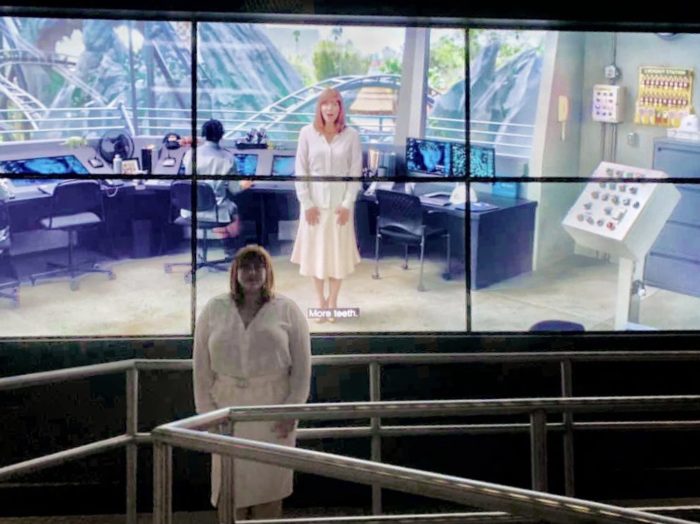 Here we have @OfficiallyEmi and Kelsea Marie doing a wonderful recreation of a popular Spider-Man meme with their versions of Claire Dearing.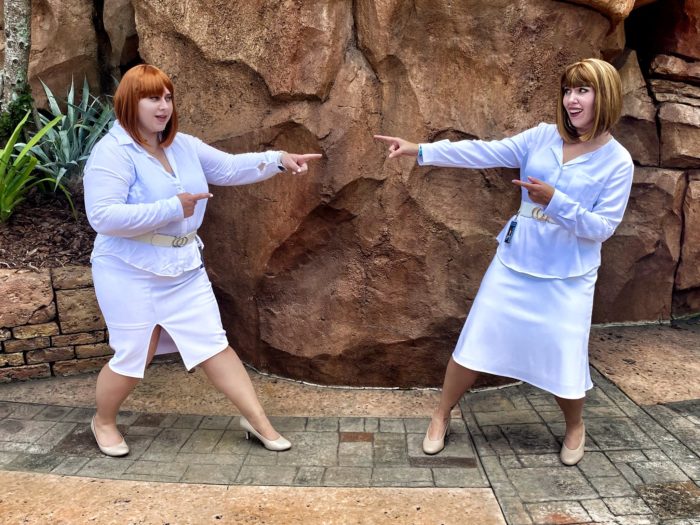 Dr. Henry Wu is the one character who has bridged the Jurassic Park and Jurassic World films, and his character is brilliantly cosplayed by Voltaire Timothy.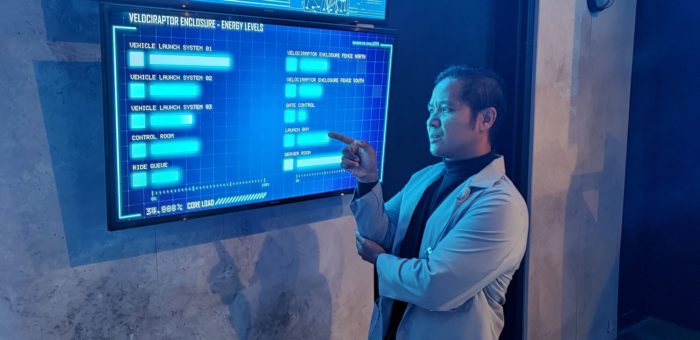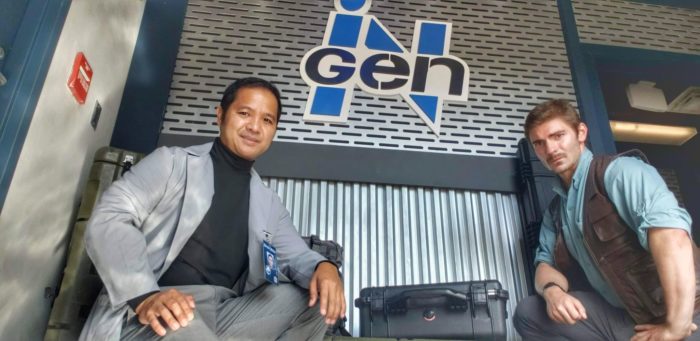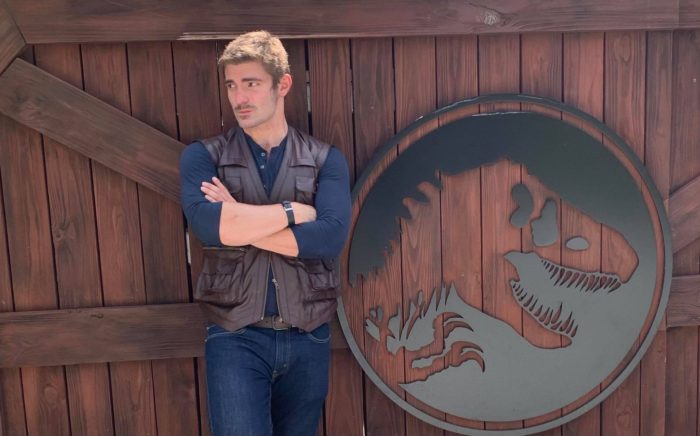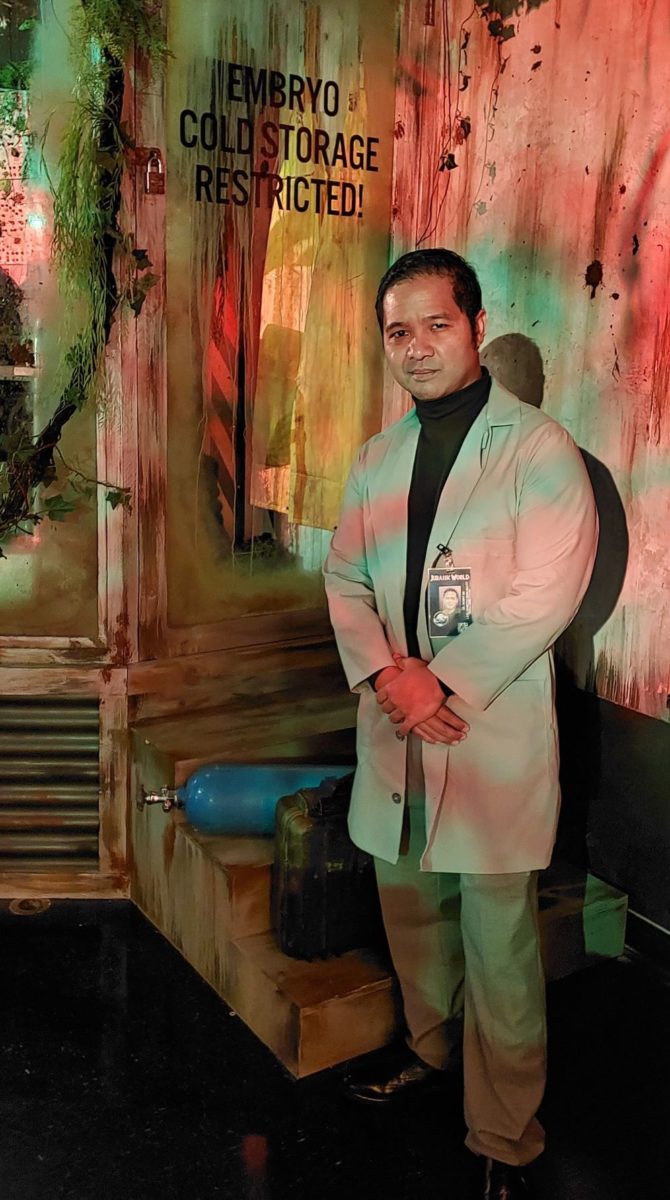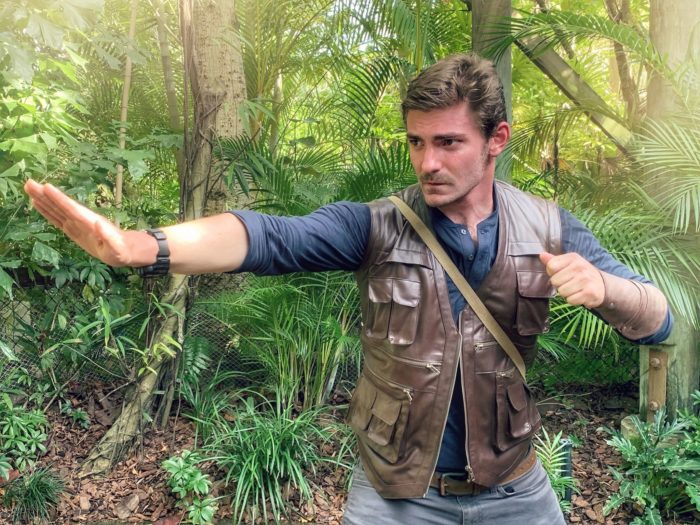 # 3 – A Very Special Raptor Enounter
We consider the Raptor Encounter in Jurassic Park to be one of the best meet and greets at any theme park. For the opening of VelociCoaster, the raptor Blue was able to have an even more intimate experience with invited guests…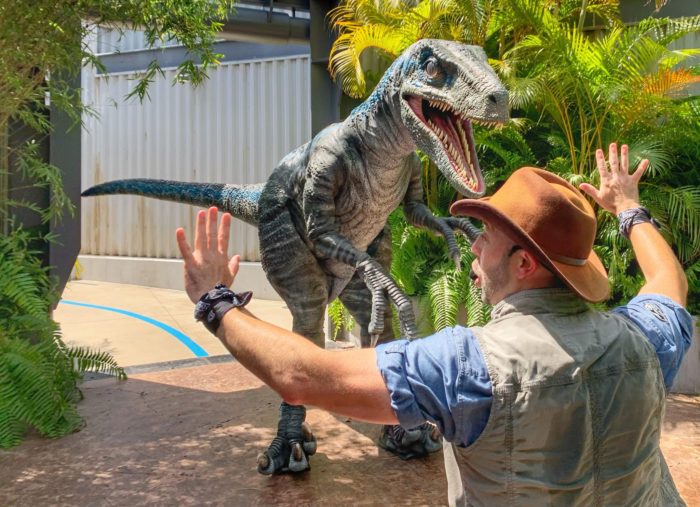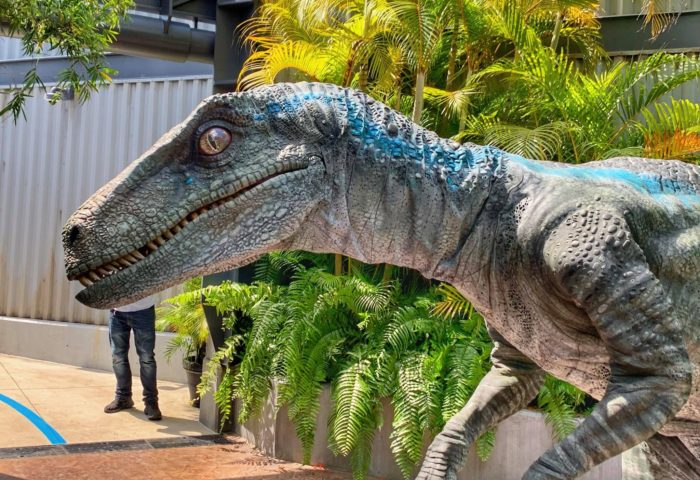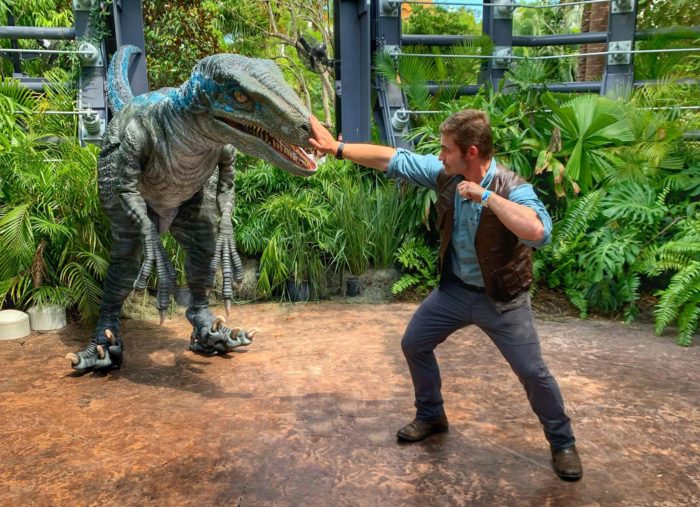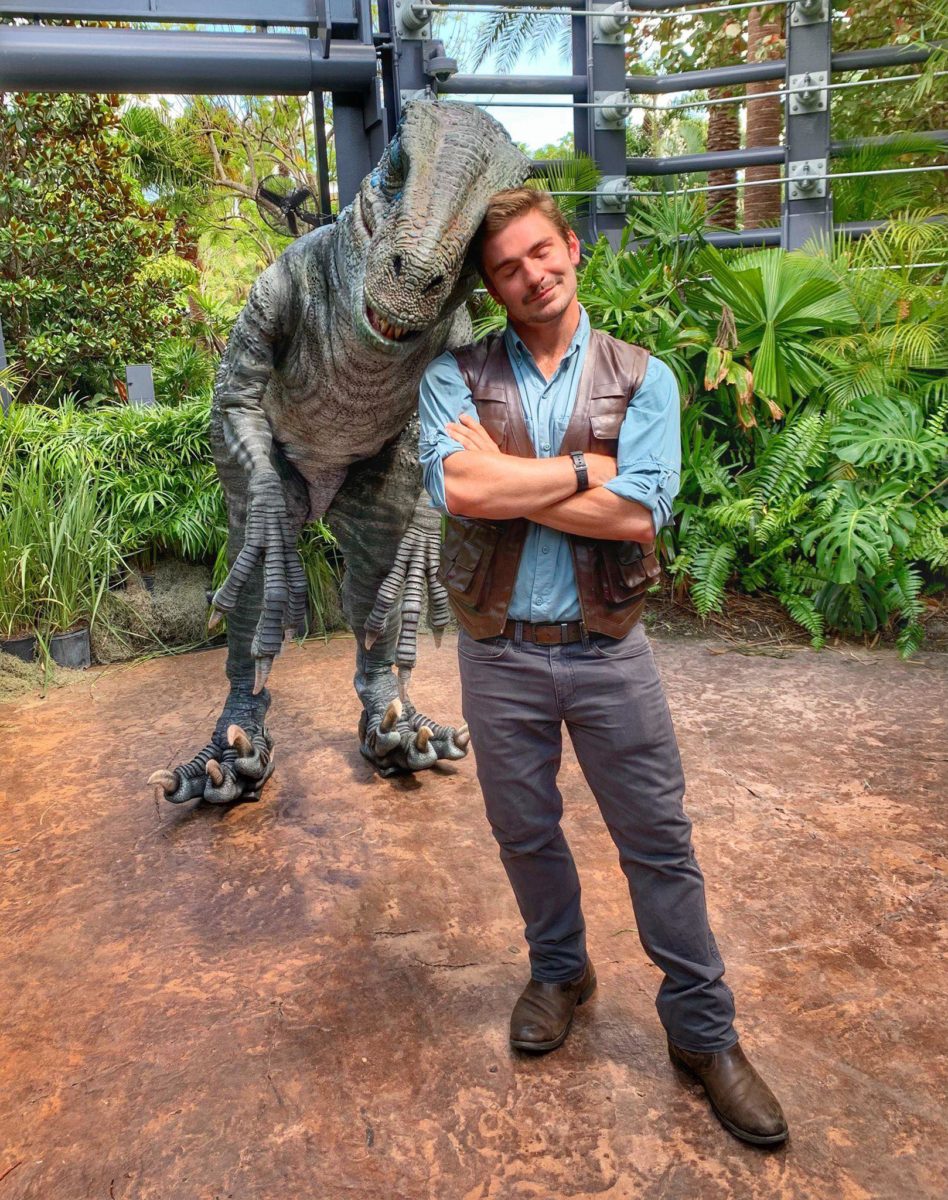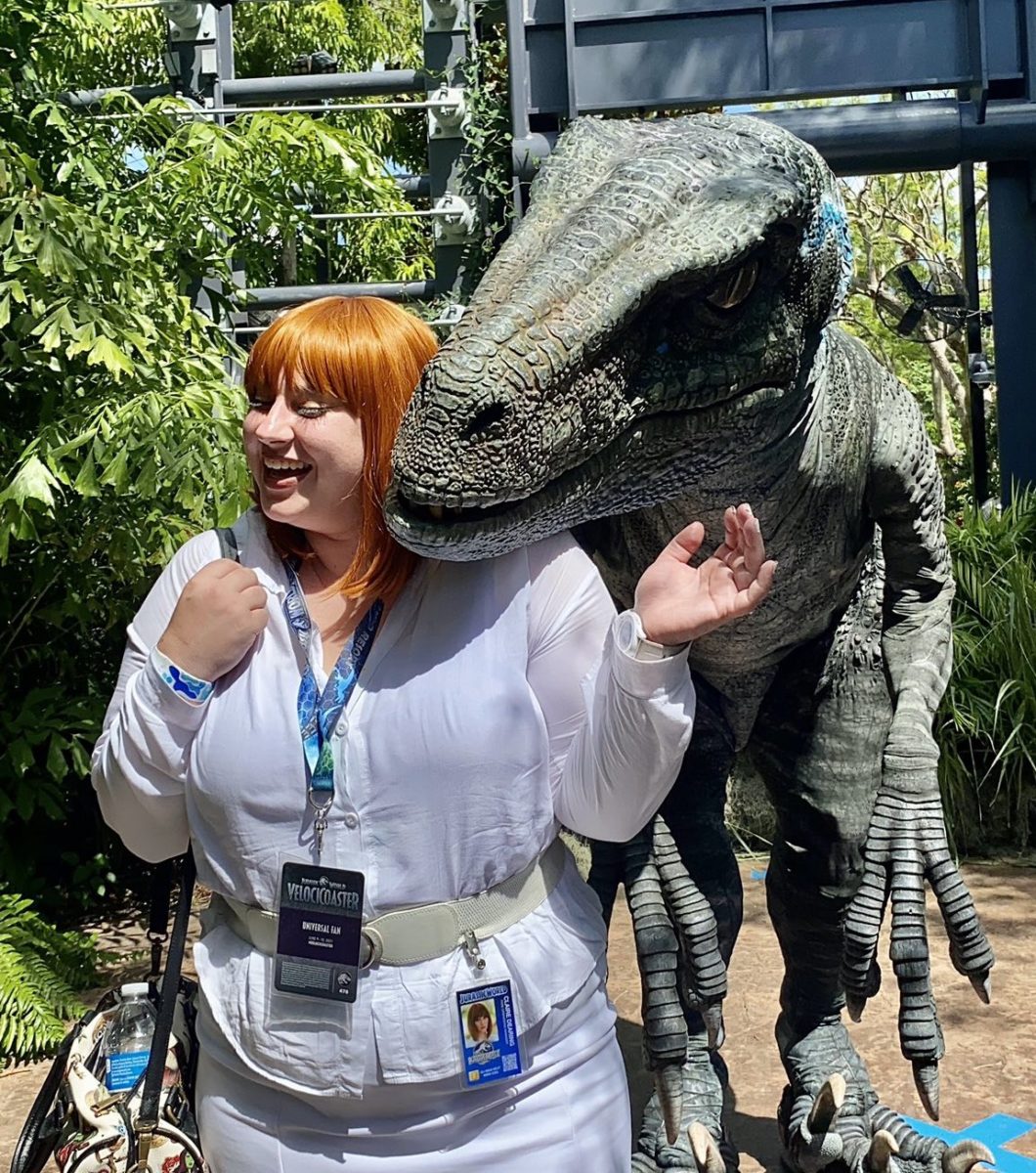 # 2 – Media Day
The official grand opening for VelociCoaster was Thursday, June 10, but on Wednesday there was a special media event. Here we have Shelby Honea and Gregory Hall, two of the lead creative Team Members behind VelociCoaster, talking about their latest creation and its resort wide impact.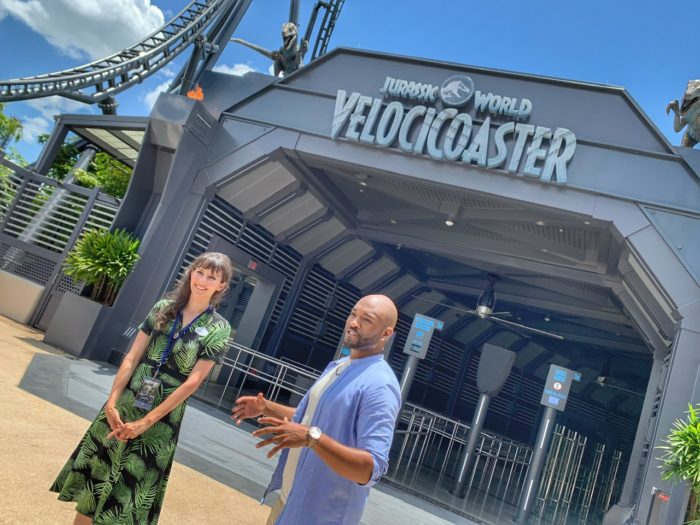 Over the past few weeks both Shelby and Greg have been around the VelociCoaster interacting with guests while the attraction has been in technical rehearsals. The two have developed a rapport and appreciation from the Universal fanbase, something we've seen in the Disney community with the respect they pay to Imagineers such as Tony Baxter, Joe Rohde, and Bob Gurr. For many theme park projects, us theme park fans are pretty much in the dark when it comes to the creative teams behind them. However, when you start to know the creative people more, you realize that they have also been a part of other things you really enjoyed (such as Greg Hall's part in the awesome reimagination of the Incredible Hulk Coaster from a few years ago). This "relationship" – for lack of a better word – between the creative people and the fans they are creating things for, is something that will pay dividends for years to come. How many us look forward to the next book our favorite author is writing or will see any film by a particular director?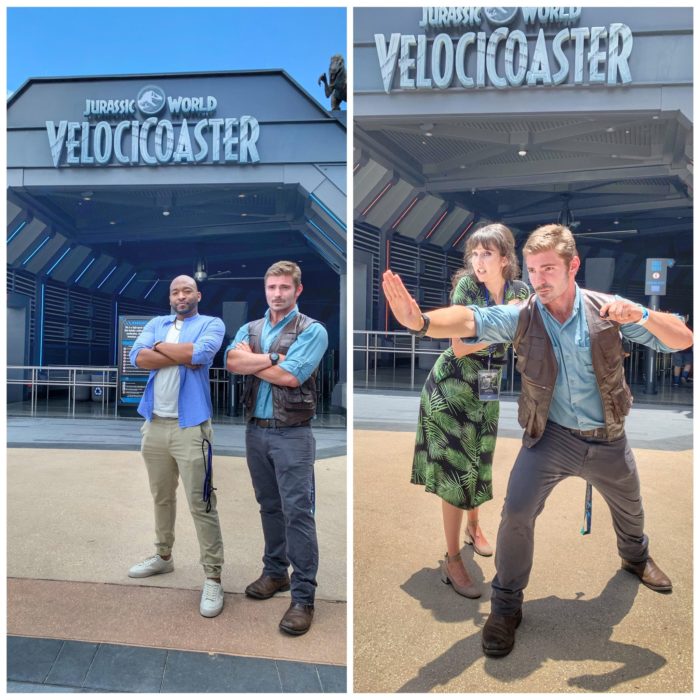 Saturday Night Live star Kenan Thompson was also in town for media day. Kenan is the celebrity Universal used for the Let Yourself Woah promotion that was intended to kick off a major advertising campaign in 2020. The first commercial aired in February, 2020. The parks shut down for the pandemic in mid March.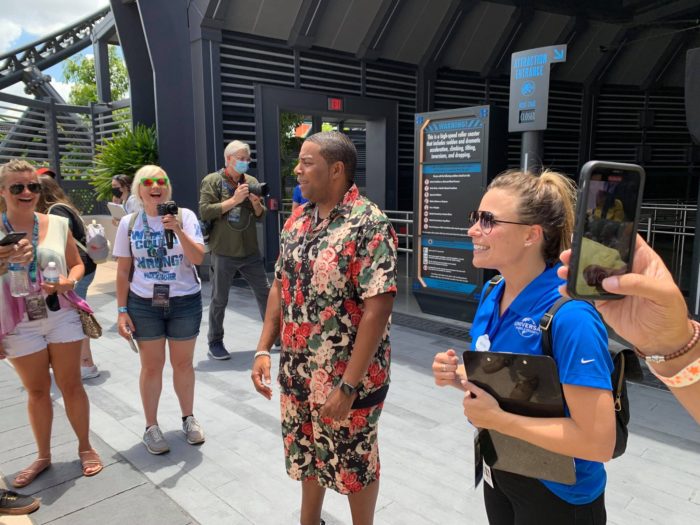 Kenan has an innate likeability that has come across from the days he was a child actor in such shows as Kenan & Kel or films like The Mighty Ducks 2.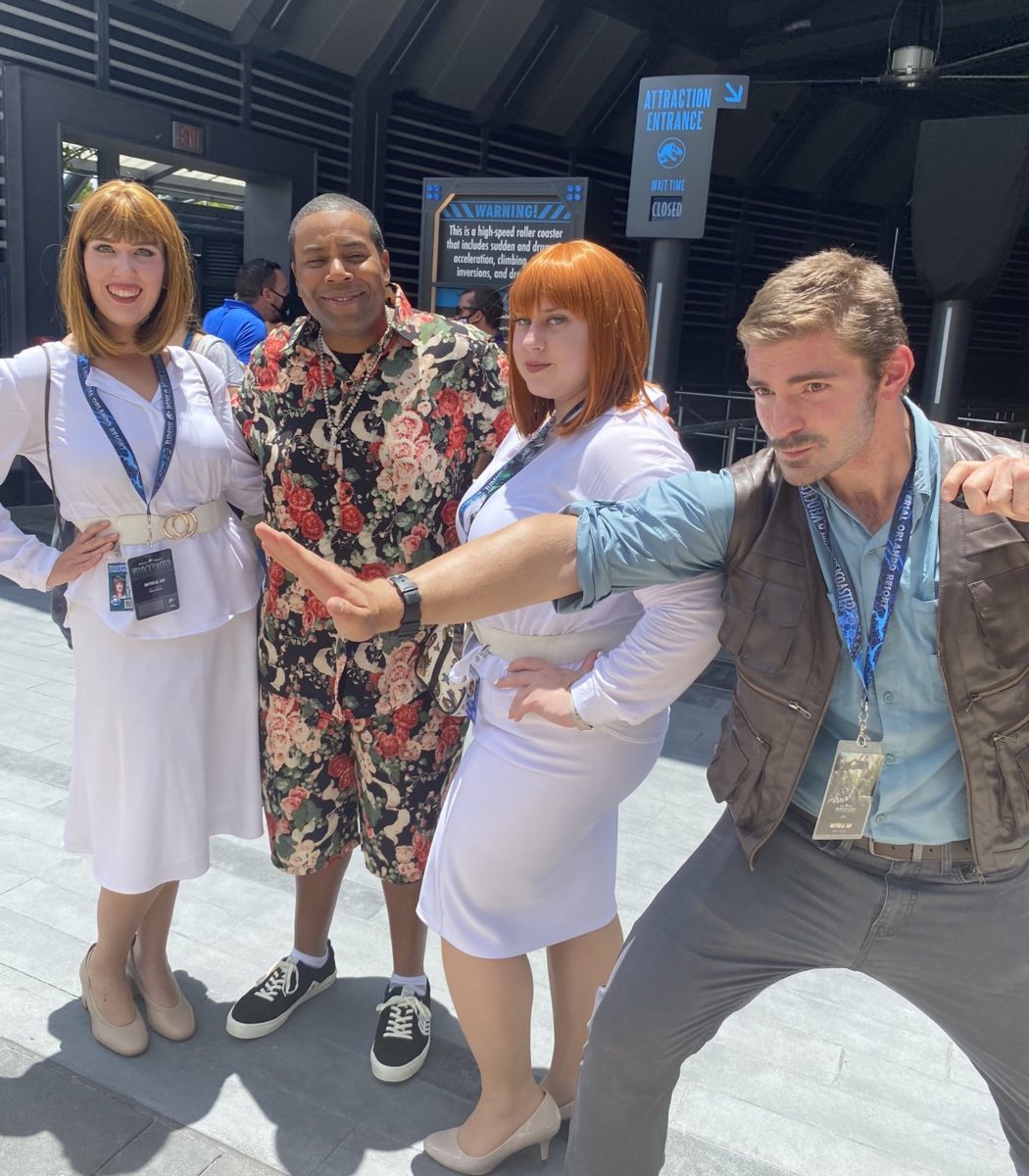 Here we have Kenan having a blast riding the VelociCoaster.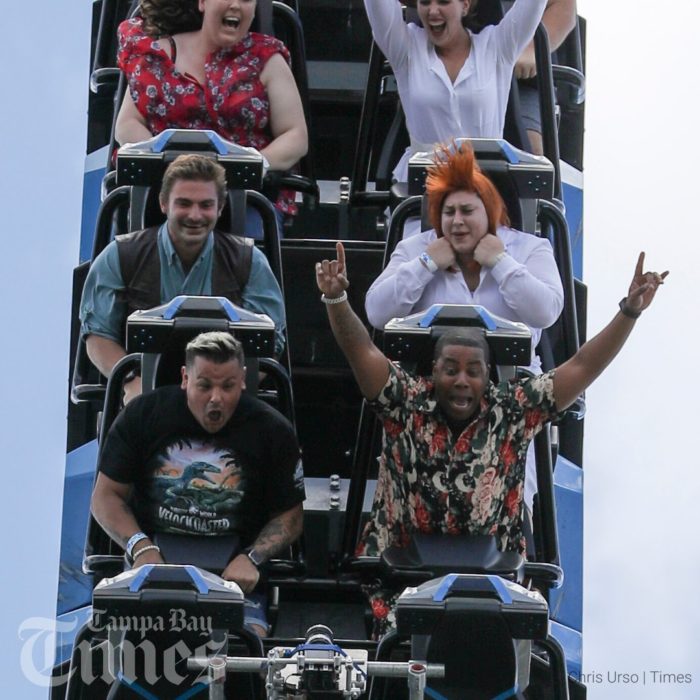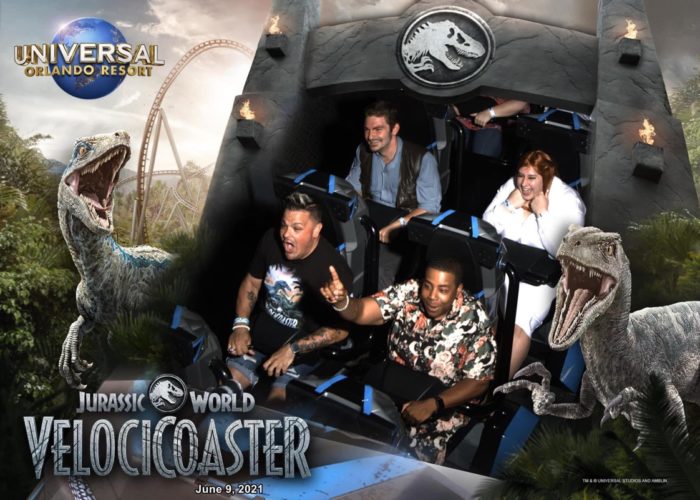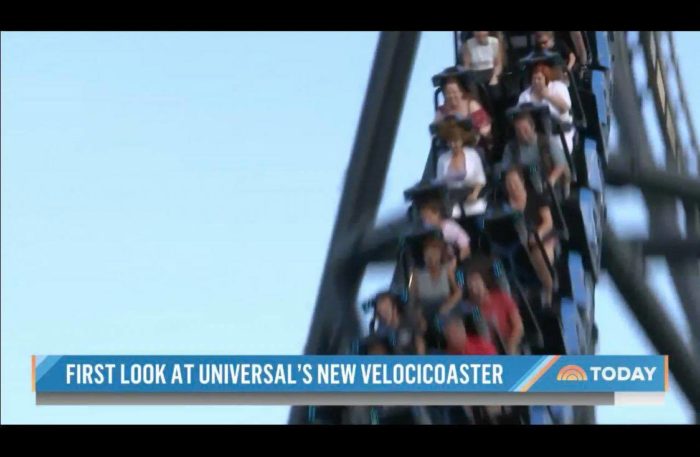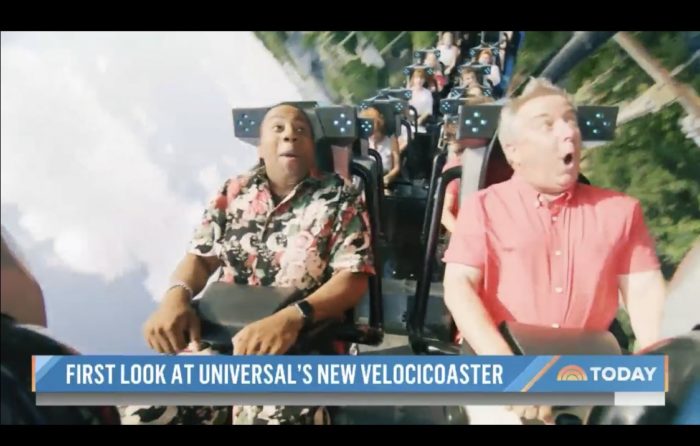 How can you not love this ride?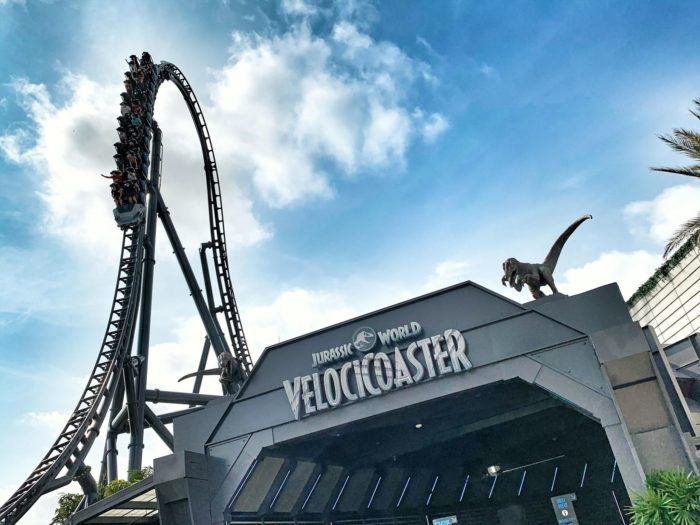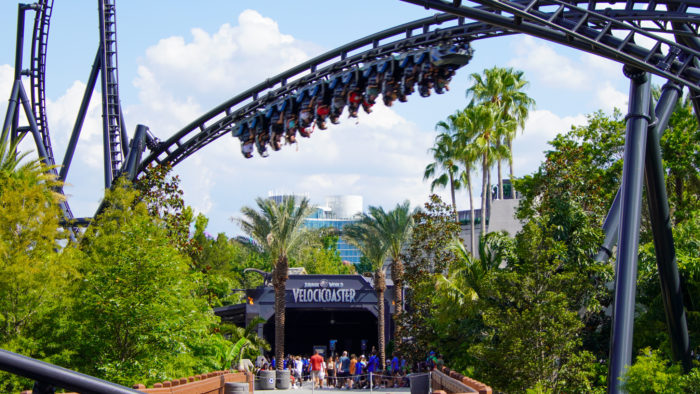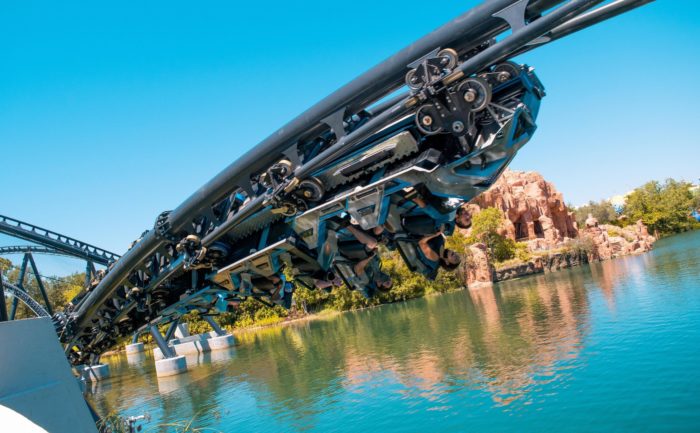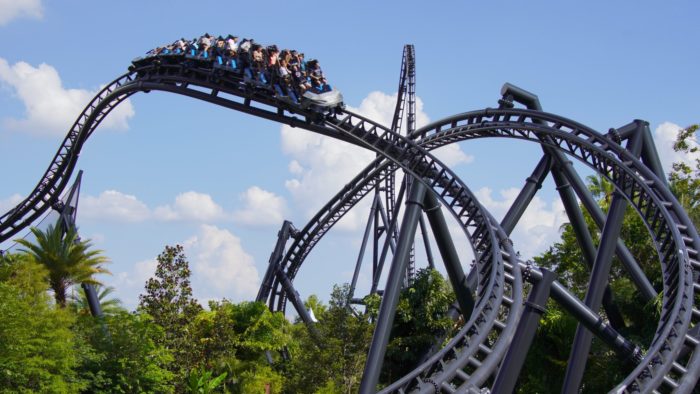 For media day, invited guests also got the opportunity to enjoy some Jurassic Park themed food and drinks.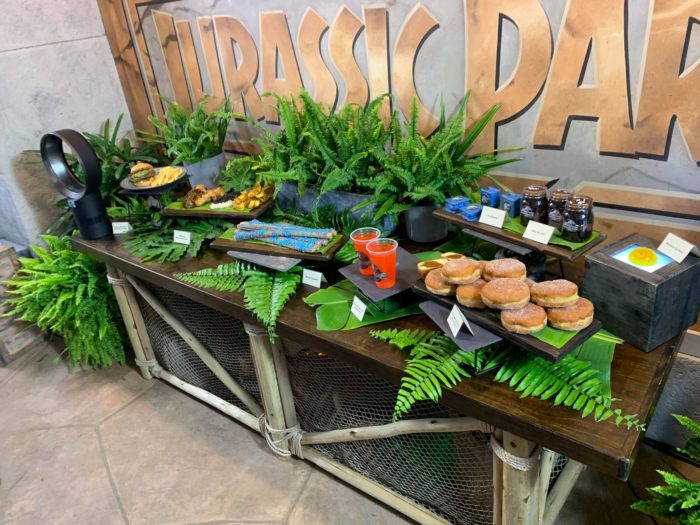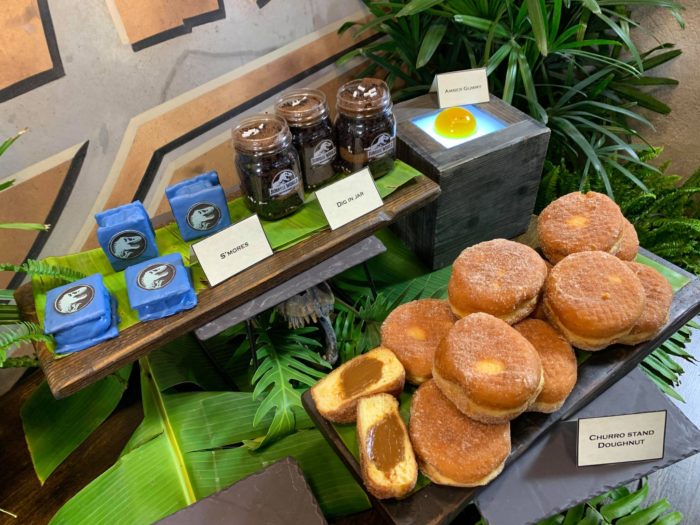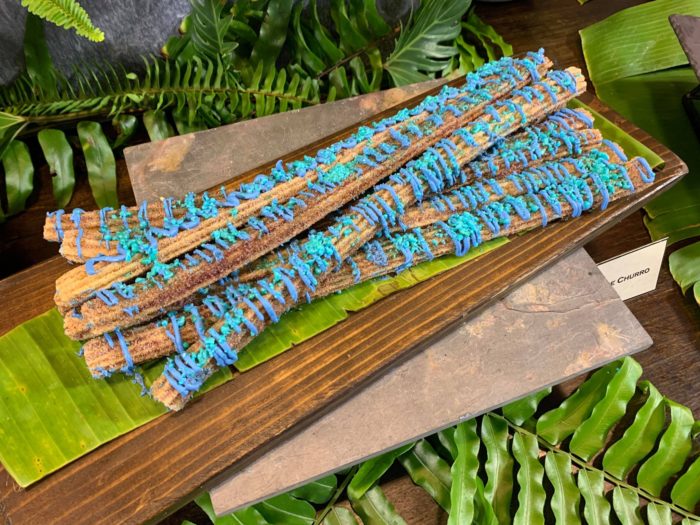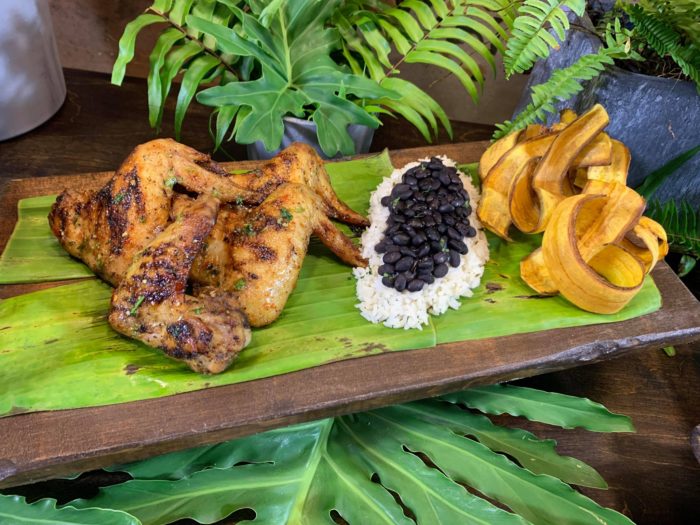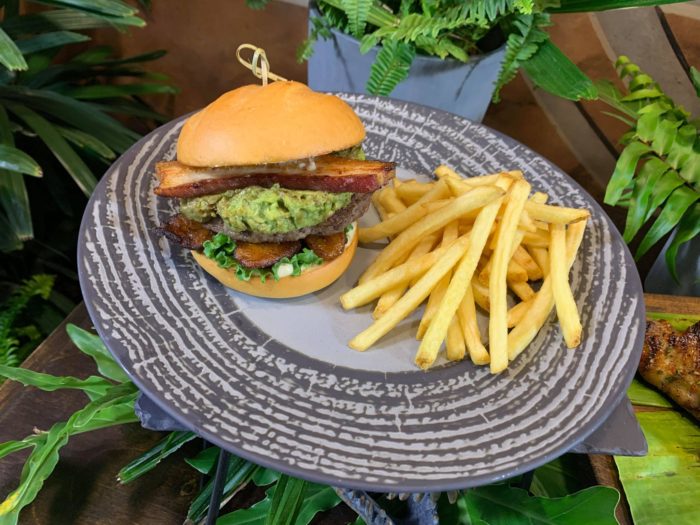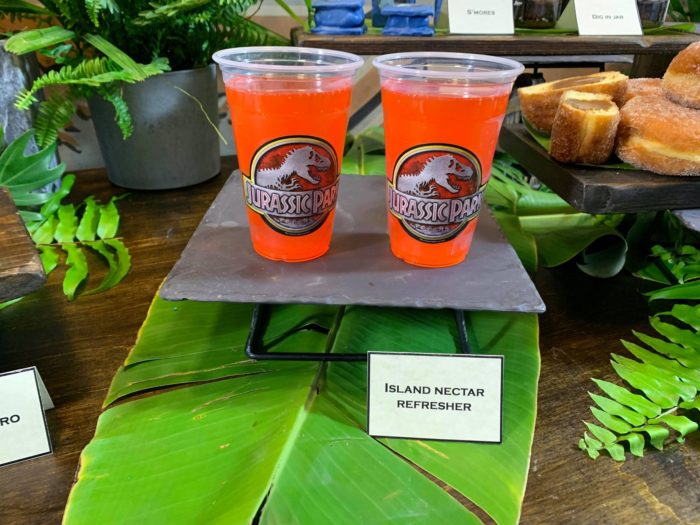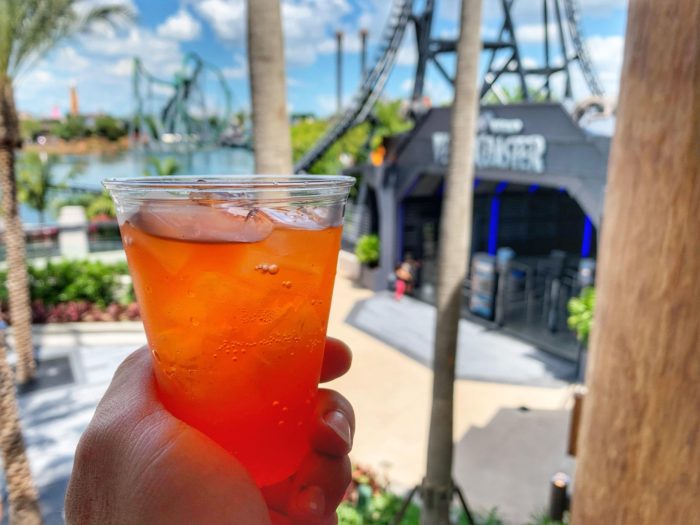 Invited guests to media day also received a swag bag which contained an AMAZING VelociCoaster print signed by both Gregory Hall and Shelby Honea!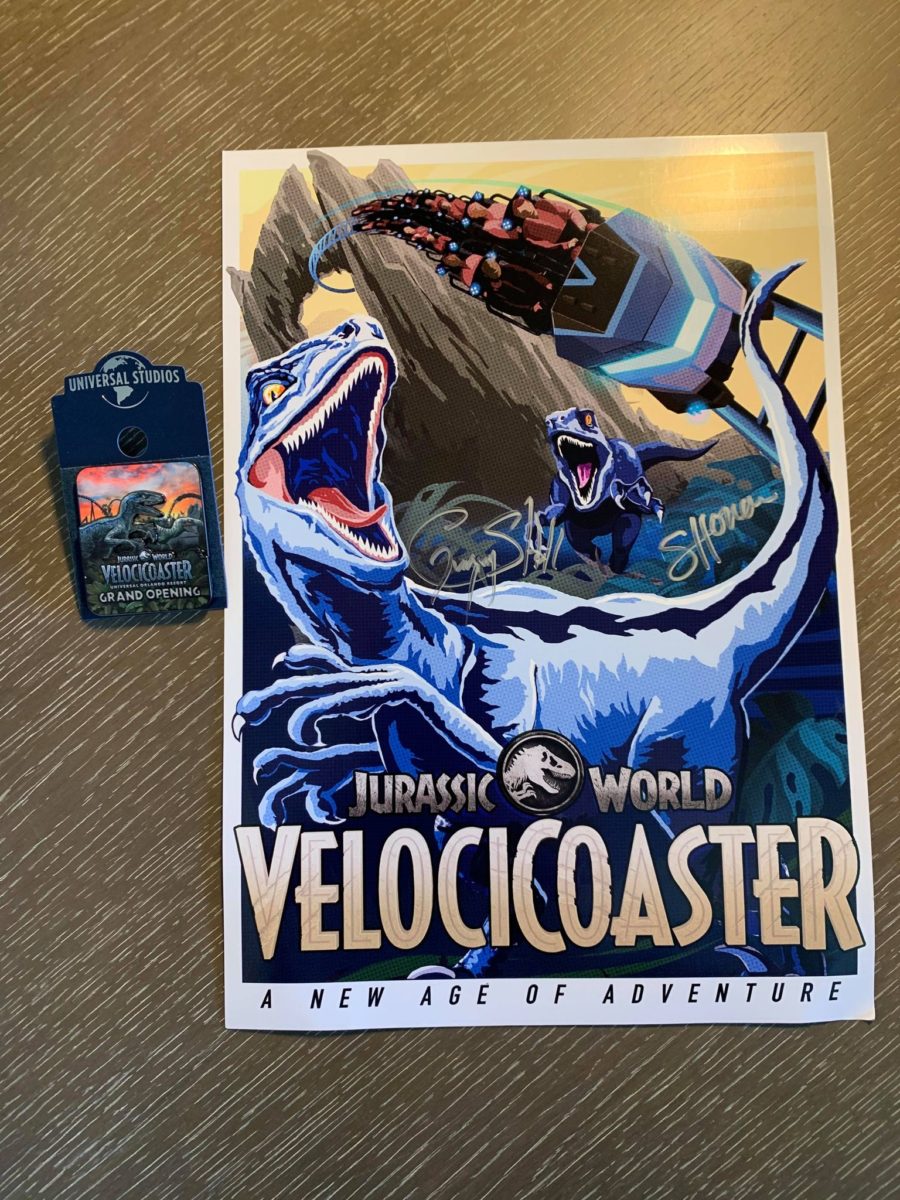 # 1 – The Churro Stand is Officially Open!
We mentioned the Universal Orlando social media team earlier, and they truly are the best in the game. One running theme they have had for a while was that Universal was building an elaborate churro stand in Islands of Adventure instead of a roller coaster. This gained a lot of traction online, and was even referenced in the radio ads for the Universal Orlando Resort. This was a whimsical take on the normal "no sell" response we get from theme parks when asking about construction projects.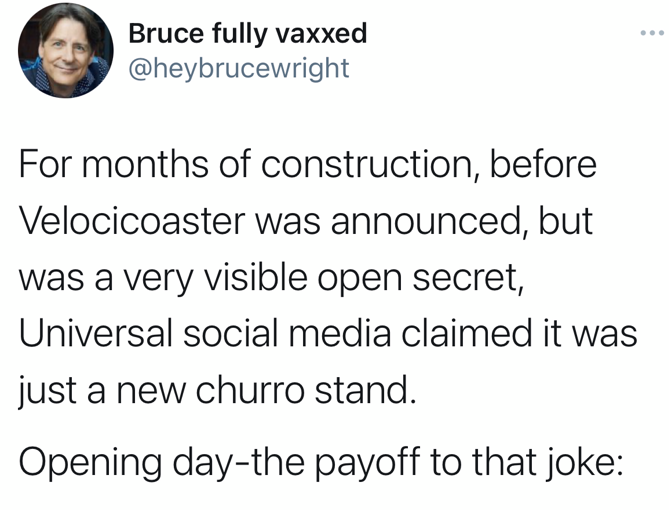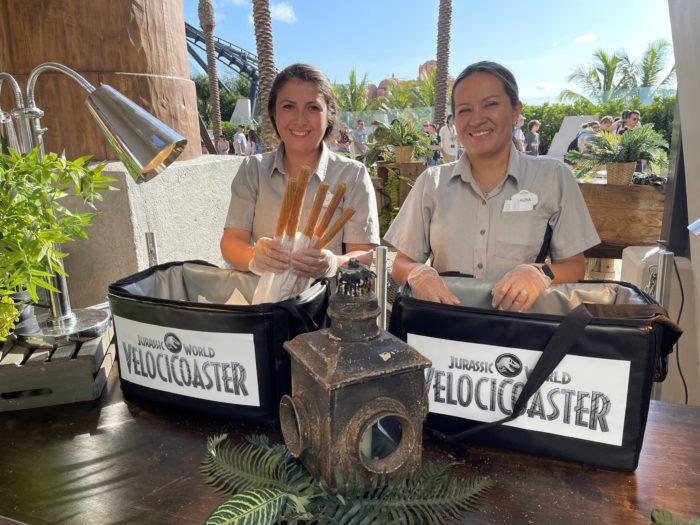 That's right, Universal did open a "churro stand" and offered a free churro to riders coming off the attraction!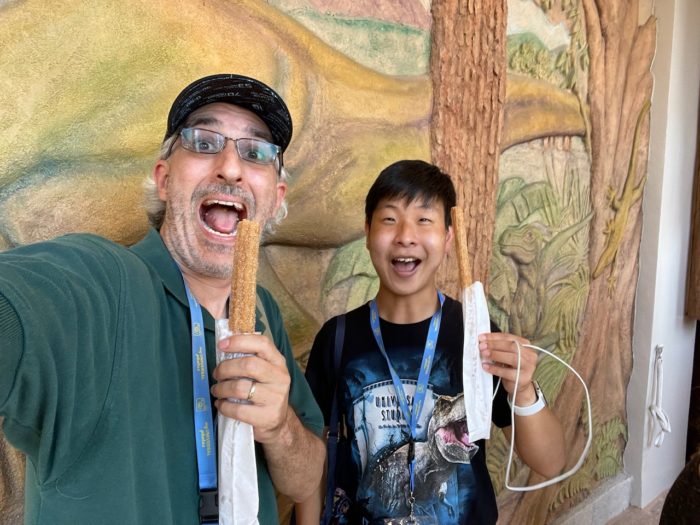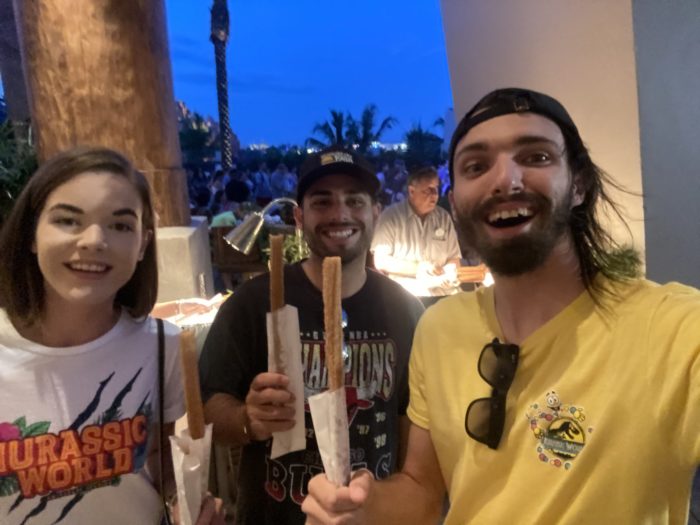 Henry Wu himself even covered the opening of this E-Ticket churro stand!
Honorable Mention – Bill Davis Meme
Before the VelociCoaster officially opened for guests, Bill Davis – the president of the Universal parks and resorts –  welcomed everyone. However, in a baller move, Davis was holding a churro. Thankfully someone was there to catch this moment on film…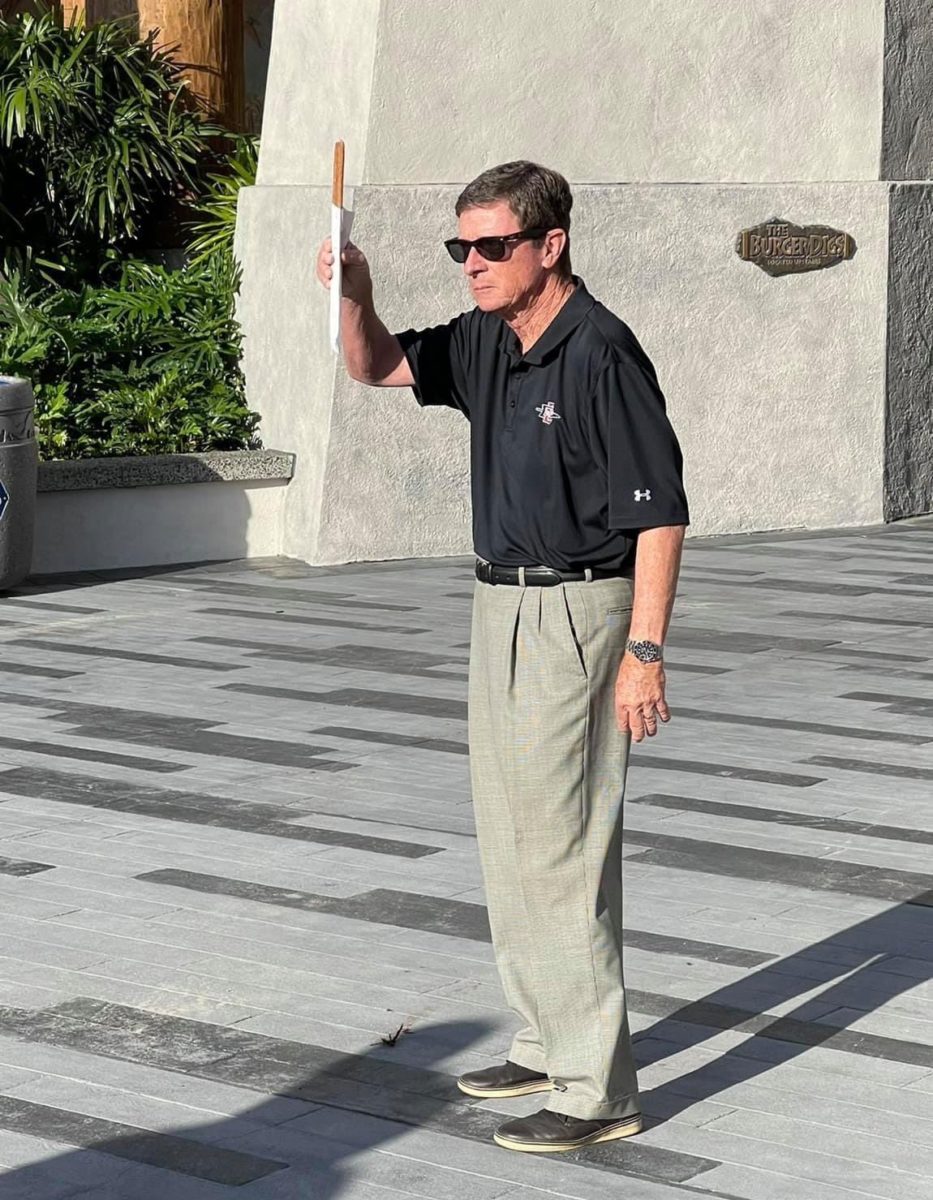 This picture then went viral on social media as people had a lot of fun with it.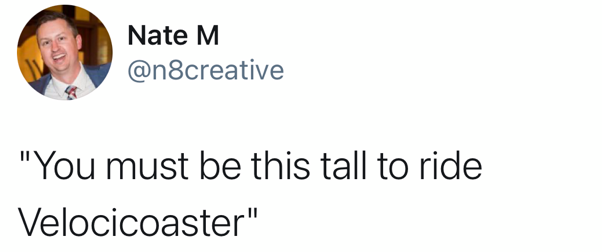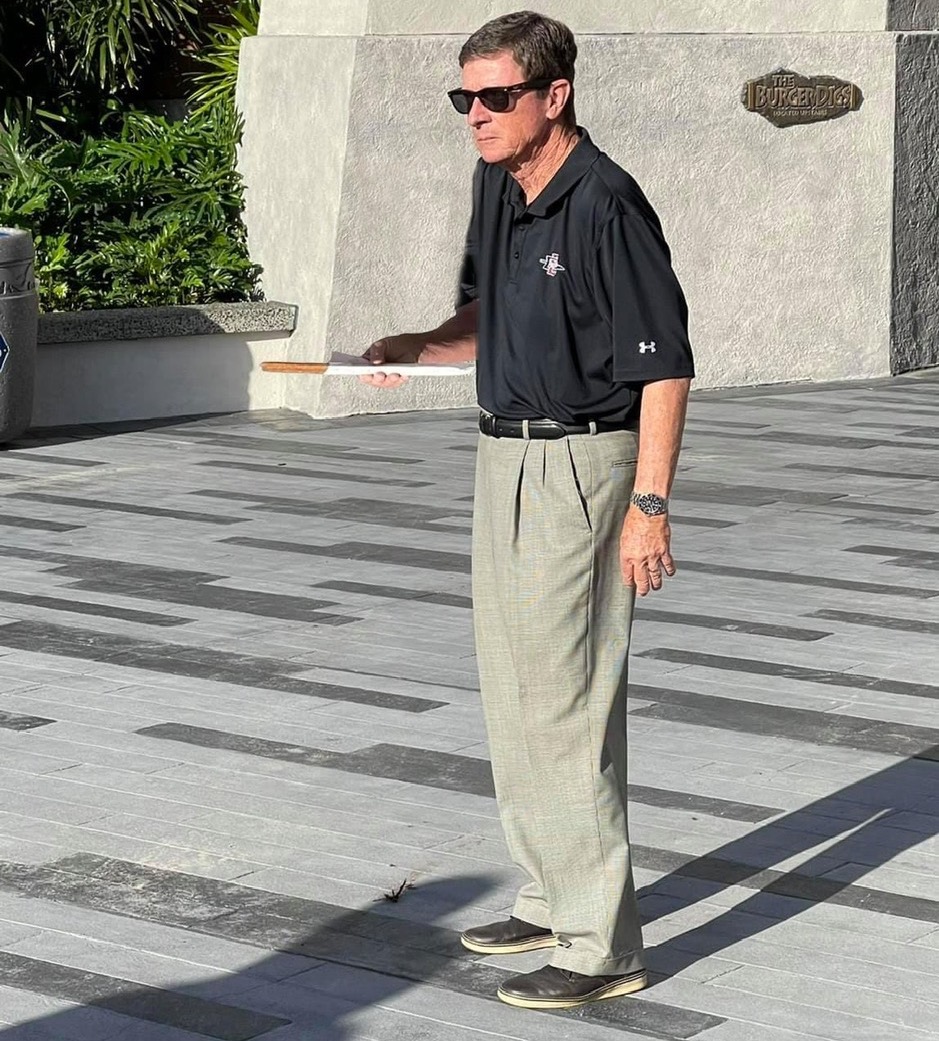 Bill plugged into a memorable moment from Jurassic World…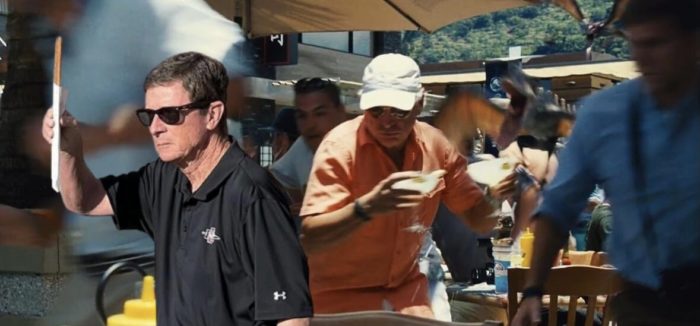 …and an even more memorable moment from Jurassic Park.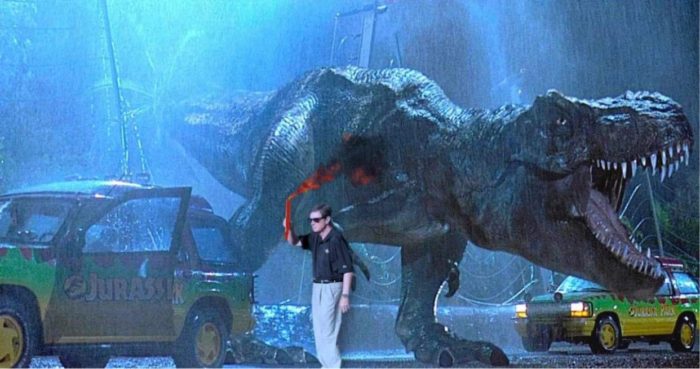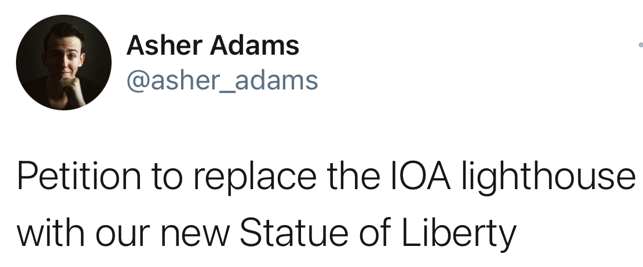 The following meme is an insanely great deep dive into the backstory of The Amazing Adventures of Spider-Man attraction and features a moment from a video seen in the queue.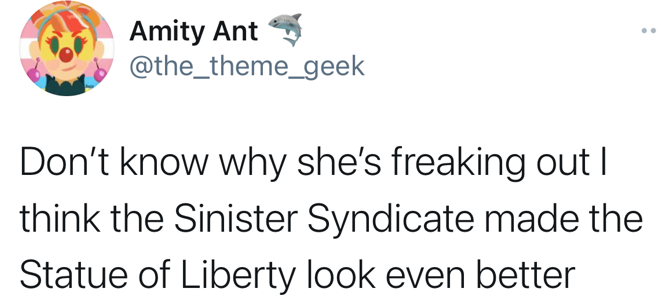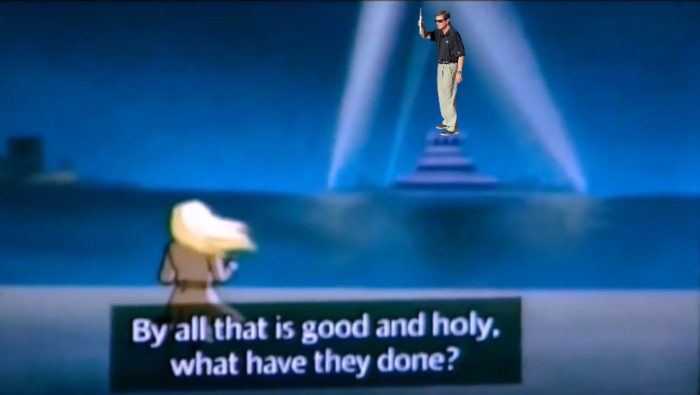 The more next level bonkers a meme is, the more I like it, such as Rob Yeo's use of Bill Davis in the game Tetris.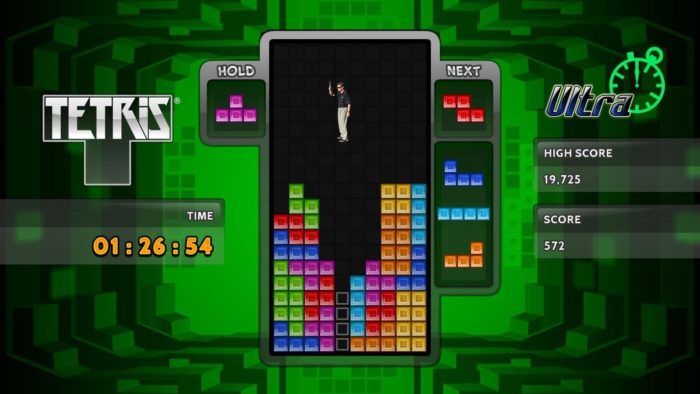 How about Bill at a classic photo-op from Disney's MGM Studios?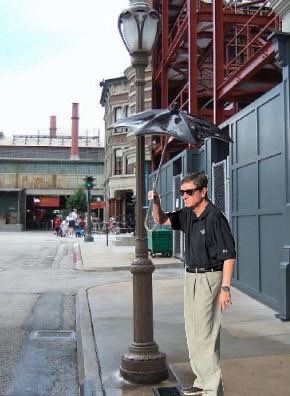 Or over in Avengers Campus…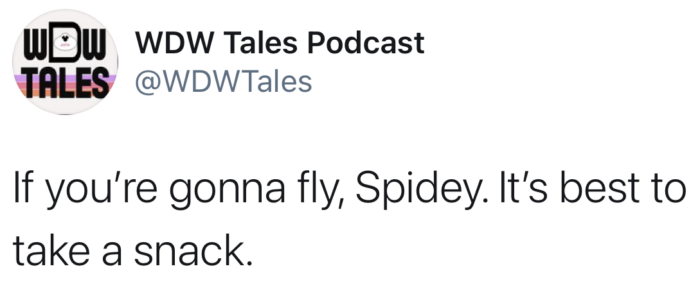 Bill shooting spider bots in WEB SLINGS: A Spider-Man Adventure.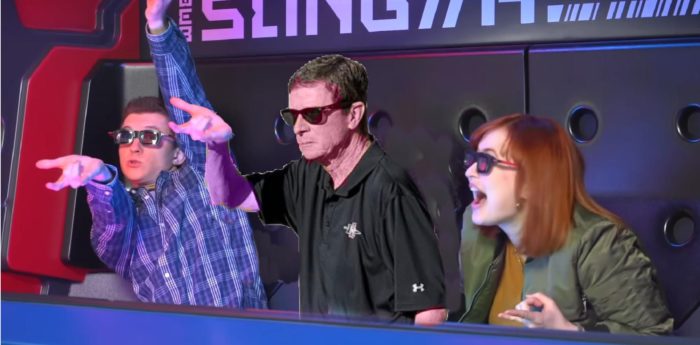 Even the UOR social media team got in on the action!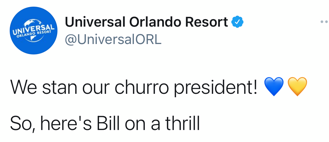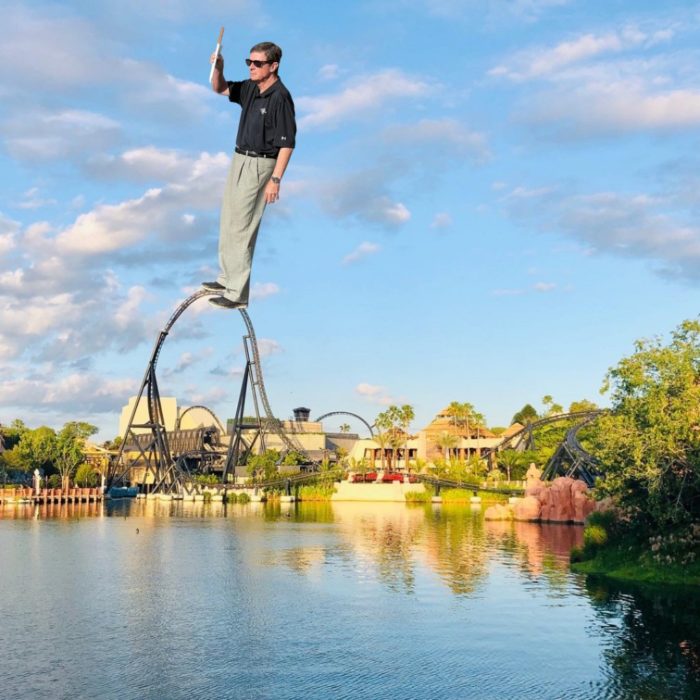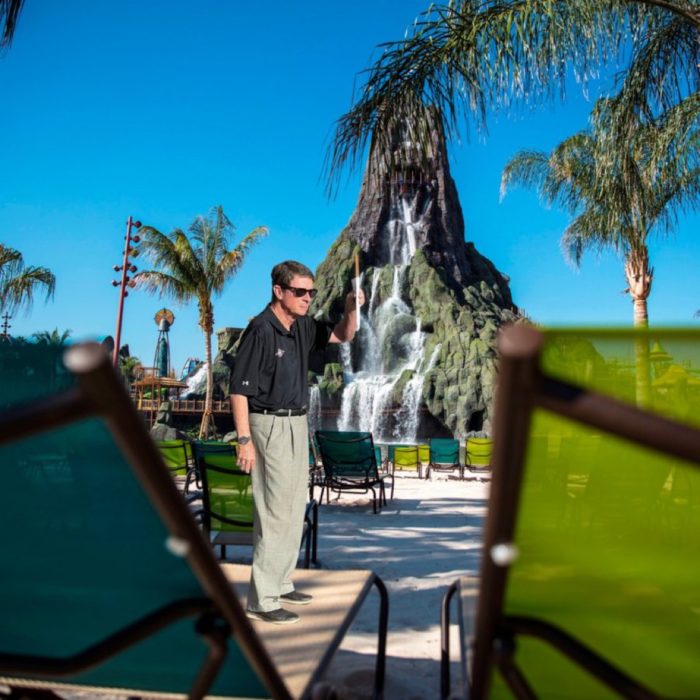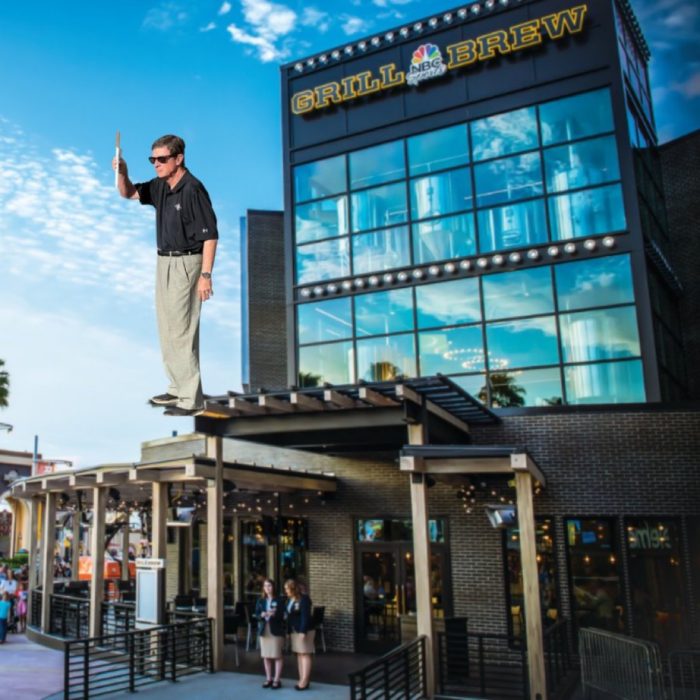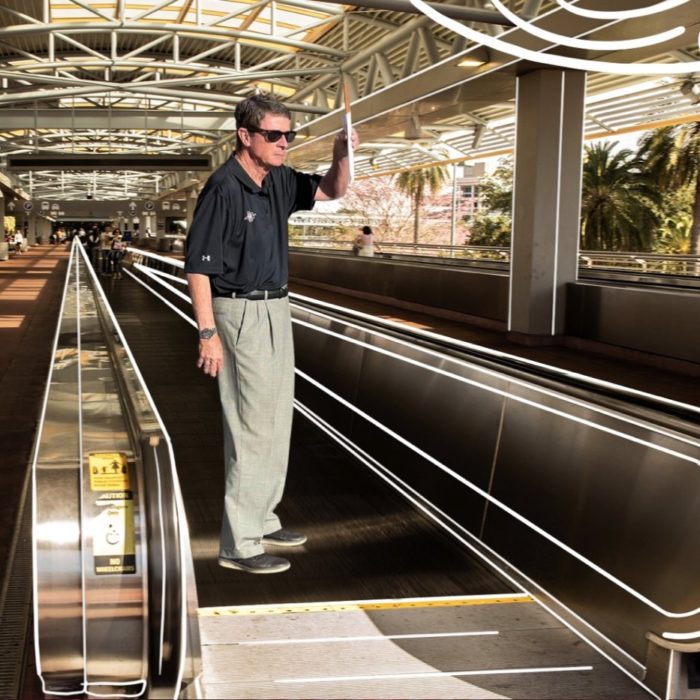 So there you have it: The SATURDAY SIX Celebrates the Grand Opening of Universal's VELOCICOASTER! See you next weekend for the latest installment of the SATURDAY SIX, where we'll look at something fun from the world of Disney and Universal. If you enjoyed yourself, be sure to check out The Magic, The Memories, and Merch! articles covering the latest from the Disney Outlet Stores. You can also follow Your Humble Author on Twitter (@derekburgan).
If you enjoyed this article, you will surely like the following: 
6 Reasons We Love JURASSIC PARK at Universal's Islands of Adventure
Movies and Television Shows Filmed at the Universal Orlando Resort
Walt Disney World Locations Used in Hulk Hogan's THUNDER IN PARADISE
SATURDAY SIX Investigative Report: Disney PET PEEVES
The SATURDAY SIX Uses Disney Villains To Explain Theme Park Blogging
6 Times Our Favorite TV Shows Went To Walt Disney World
Special Thanks to The Elite Brandon Glover, the bio-est of all reconstructs @bioreconstruct, Captain Cruiseline Scott Sanders of the world famous Disney Cruise Line Blog, my personal protégé Hunter "Elvey" Underwood, artist @SonderQuest, the SAT SIX Fun Squad of Parkscope Joe and "the Dadalorian" Nick, hot shot Michael Carelli, charter member of the Universal Four @Nitro230, and Hermione Granger's tutor Megan Stump for their invaluable assistance with this article. The SAT SIX is inspired each week by goofballs Aengus Mackenzie and LitemAndHyde and you Potterheads will  enjoy Meg's other blog work over at the Central Florida Slug Club.
…and a special HAPPY BIRTHDAY to reader @AdamWithAnA1!