The SATURDAY SIX Takes a Look at Our Favorite Universal Orlando Resort MEET AND GREETS
This week's SATURDAY SIX takes a look at our favorite Universal Orlando meet and greets! Over at Walt Disney World, meet and greets have become a major part of the vacation experience. In fact, for many guests, meeting characters is more important to their park day than rides or shows. Over the years, Universal Orlando has been upping their character game in a big way, and today we are going to look at our favorite character meets.
But before we get to our list, we're going to spend a little time going over some of the staple characters that you're all but guaranteed to encounter on your trip to Universal. First up? The Scooby Gang.
Having your picture taken with Scooby Doo is almost a rite of passage for any Universal guest. On any average day at Universal Studios Florida you're almost assuredly going to run into the canine sleuth along with Shaggy. Some days, you may find them posing with pics with Velma or Daphne. However, on great days you are able to find the entire Scooby Gang together and that can make for some really fun photos and character interactions.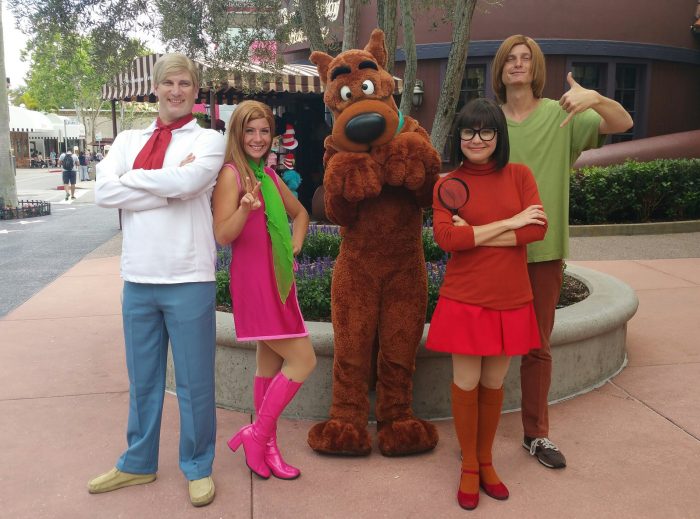 You also have to get a shot of the Mystery Machine, which along with K.I.T.T., the General Lee, and the Batmobile is one of the most iconic vehicles in TV history.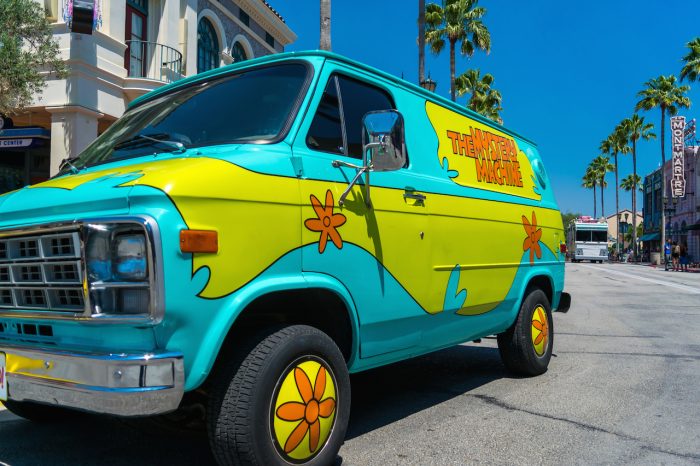 One of the most neat features of the Scooby Gang is that you never know which combination of characters you'll run into. Since they all have distinct personalities, each pairing can produce completely different experiences!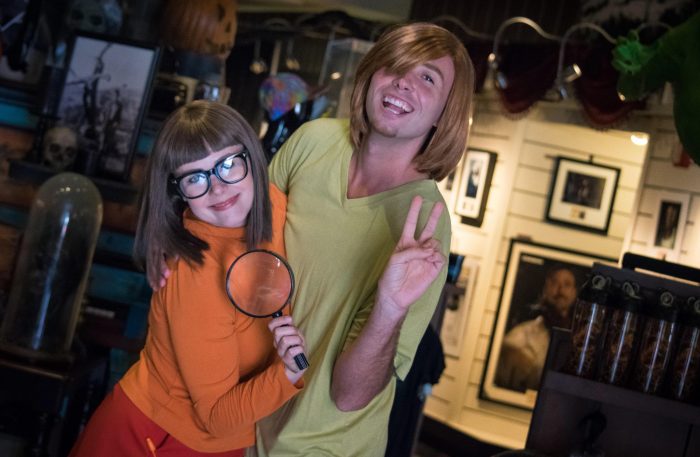 Scooby and Shaggy are always a blast!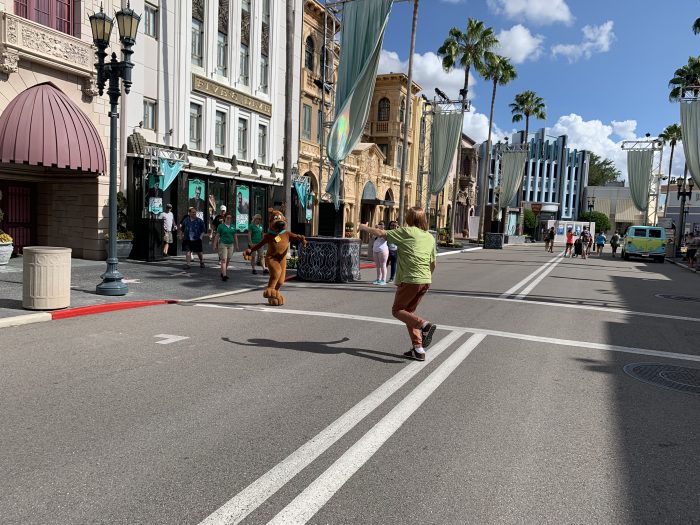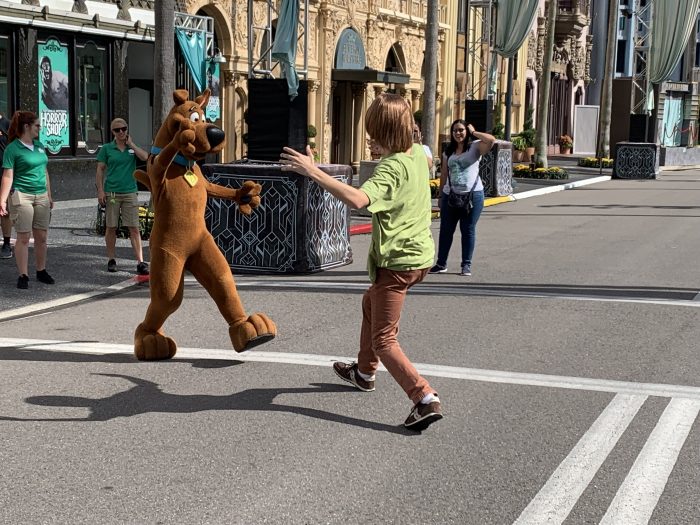 Diagon Alley may be where you find most people, but – for me – Springfield USA is my favorite place to be at Universal. The jokes, Fast Food Blvd, Duff Beer, and a bathroom themed like the Comic Book Guy's store? This place was made for a diehard Simpsons fan like me, but it also has some great meet and greets with The Simpsons family (Homer, Marge, Bart, and Lisa.)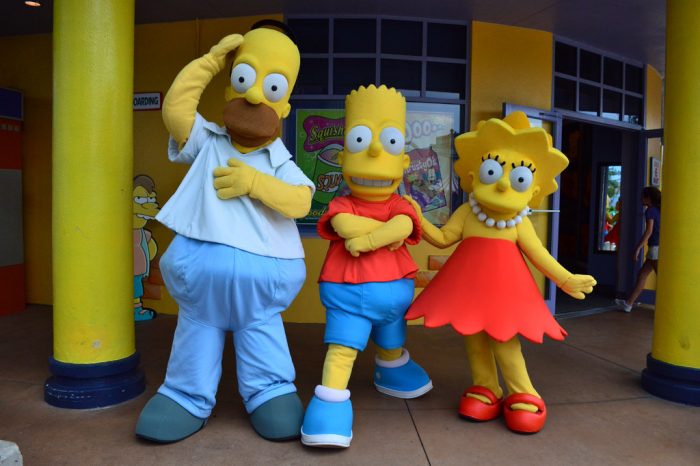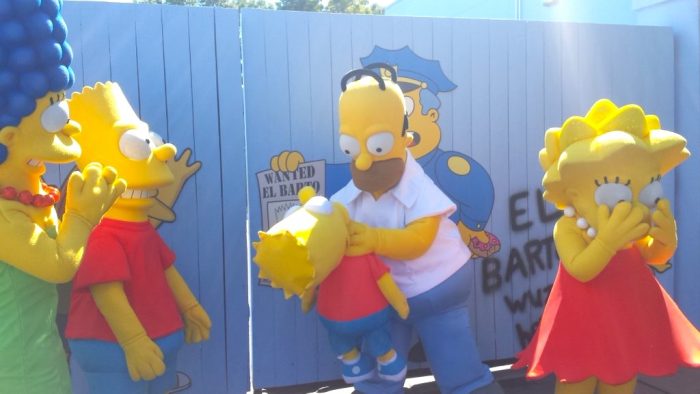 If you bring kids to USF they are going to be drawn to the Minions like us theme park bloggers are drawn to free food. All the Despicable Me characters are fun to take photos with, but there is just something extra cute about those lovable Minions. While many of Universal's meet and greets can talk to guests, the Minions do a great job of pantomiming to make some really fun interactions with the kiddos.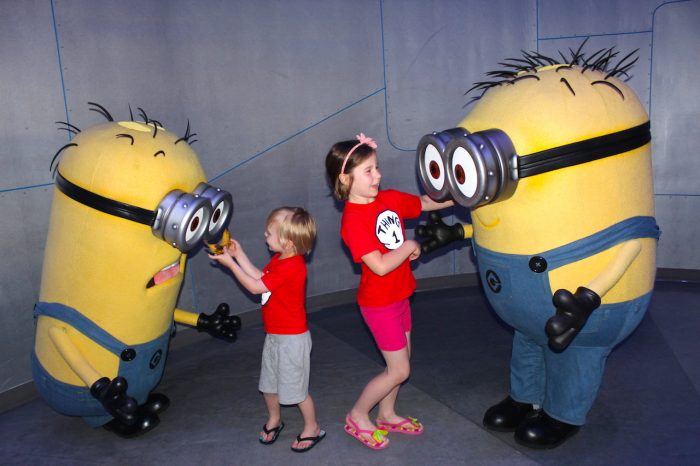 As we said earlier, many theme park guests miss the Good Olde Days of Walt Disney World when characters freely walked around and interacted with guests. While roaming characters are still a thing out in Disneyland, for the most part you have to plan ahead and wait in line to meet your favorites in the Florida Disney parks. Thankfully, Universal Orlando still has a whole bunch of characters who freely walk about in the parks. Having that spontaneity of running into characters adds a little extra something to your park day.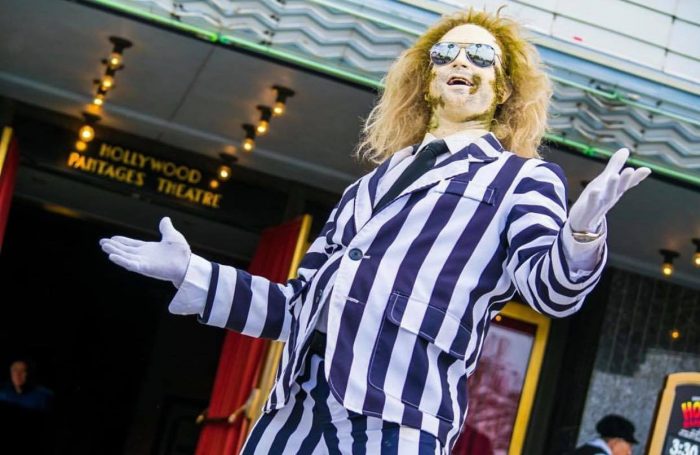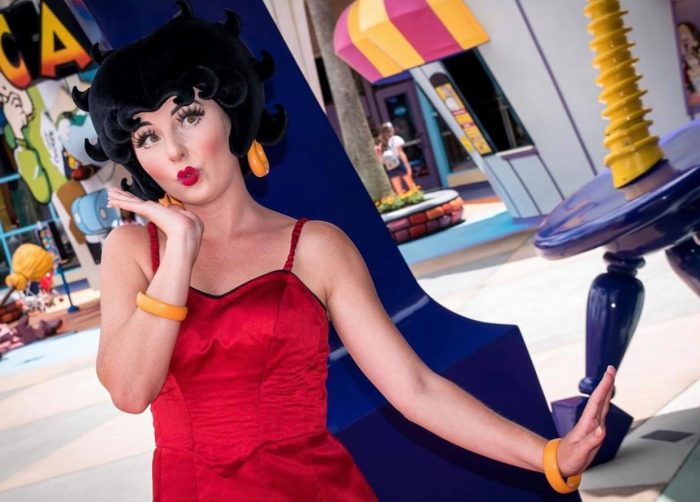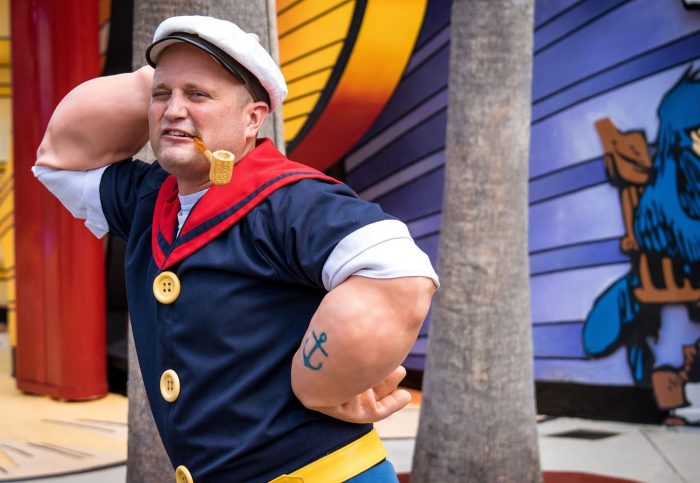 The parks aren't the only areas with characters, as you'll also find meet and greet characters in Universal CityWalk. Toothsome Chocolate Emporium regularly has Penelope Toothsome and her robot companion Jacques going table to table to meet guests.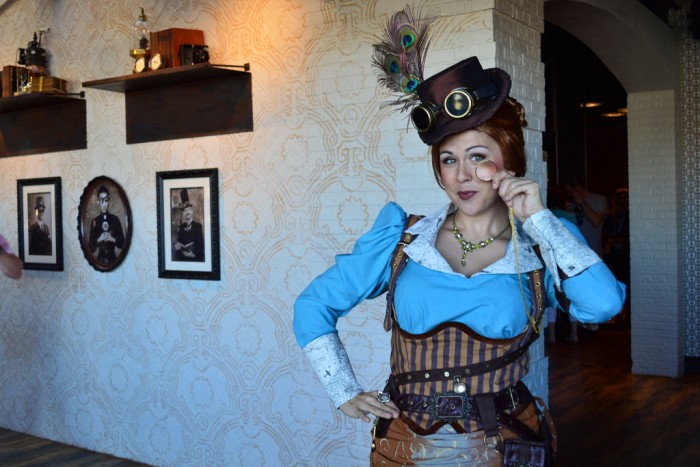 Pound for pound the most next level bonkers meet and greet character you'll meet in the theme park corridor? That goes to the Bubba Gump shrimp. The word "icon" doesn't do him justice.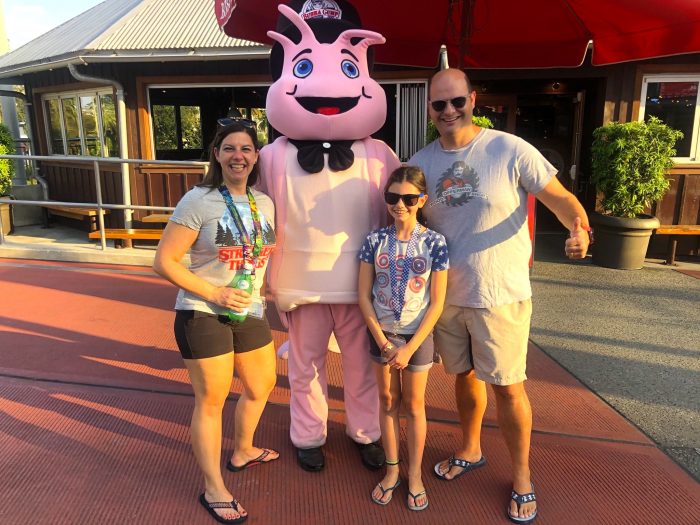 Okay, now it's time to get to our FAVORITE meet and greet characters at the Universal Orlando Resort, and we'll kick off the list with…
# 6 – Doc Brown
We all miss Back To The Future: The Ride, but while that may not be coming back, at least we still have Doc Brown and his time machines to take photos with. I've met with Doc Brown countless times and it is always amazing to see his character react to anything you toss at him. In fact, Doc Brown has been asked so much about The Simpsons Ride taking over his former residence, that sometimes you will see him with a clipboard detailing his plans to get the Institute of Future Technology back!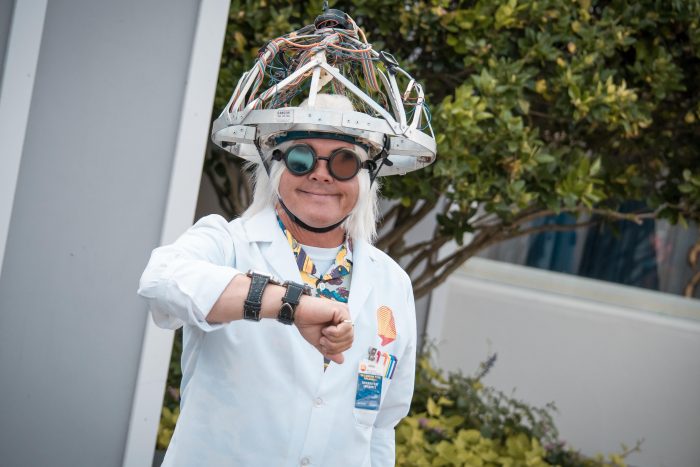 Let's face it, if you go to Universal and you don't come back with a picture with yourself and Doc Brown and/or the DeLorean you are officially doing it wrong.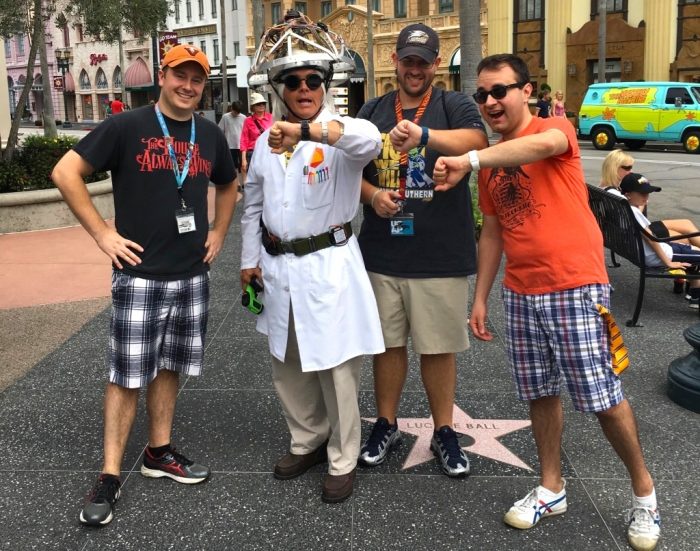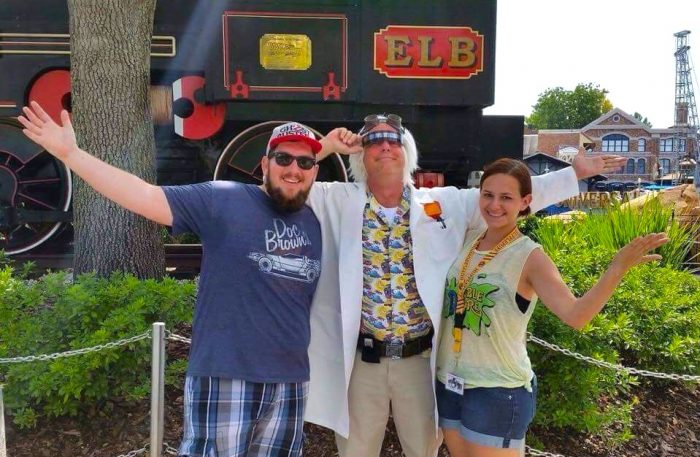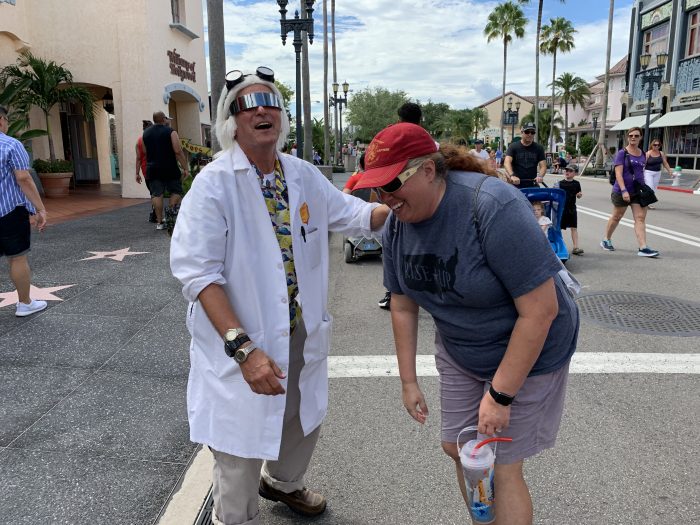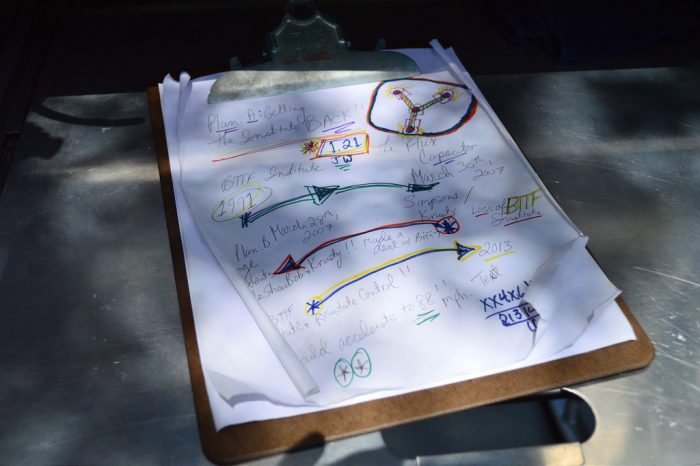 # 5 – Knight Bus Conductor and Shrunken Head
For me personally, it was the book Harry Potter and the Prisoner of Azkaban when the Potter series went an entertaining story on magic to this generation's Star Wars. Brilliantly written, the Azkaban book is filled with satisfying third act twists and memorable – shocking – moments that rival "Luke, I am your father" from Empire Strikes Back. For many Potter fans, the Prisoner of Azkaban movie is their favorite in the series because visually it is so different from the other 7 films. Shot by a creative visionary, Azkaban pops in a way the other movies don't, and no scene shows that better than when Harry Potter first encounters the Knight Bus. The entire sequence is exciting to watch, but it is also filled with humor.
Back in the theme park world, the opening of Diagon Alley brought with it a lot of surprises in the form of character entertainment. We all swooned for the soothing voice of Celestina Warbeck and marveled at the creativity of the Wizarding Academy of Dramatic Arts in their Tales of Beedle the Bard shows, but two characters who always bring smiles to Muggle faces are the Knight Bus conductor and his shrunken head sidekick. Both are quick on their feet (not literally in the case of one of them) and the meet and greet starts the guest's "Diagon Alley experience" in the best way possible.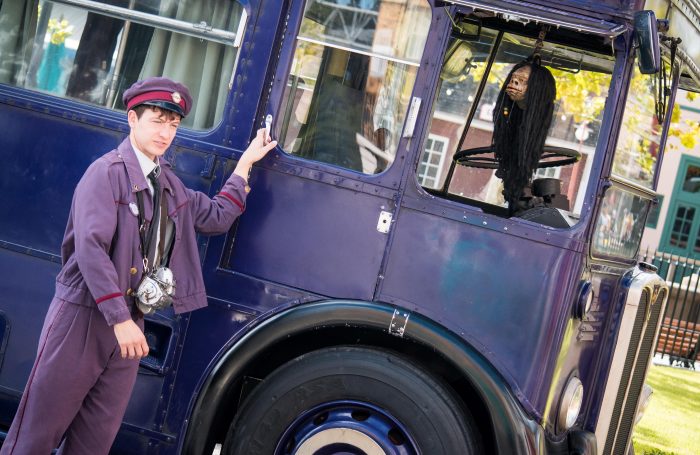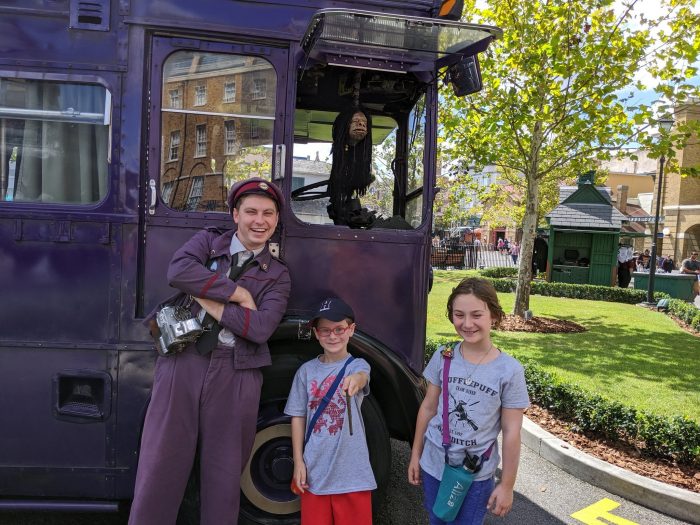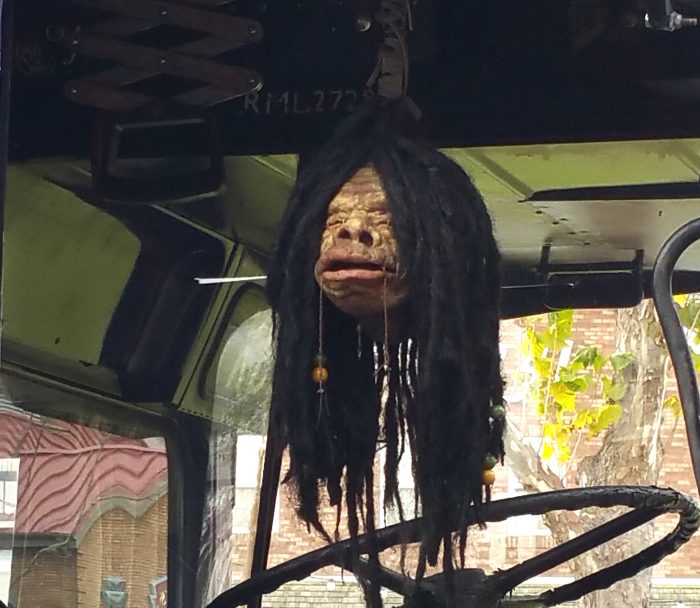 Not to be outdone, Muggles stepping foot into Hogsmeade Village for the first time are going to love the great photo op with the Hogwarts Express and interacting with the train's conductor. Holding his enchanted pocket watch, the conductor is the go-to person with any question on Hogsmeade as he is always well versed on Potter-lore and everything within this magical land.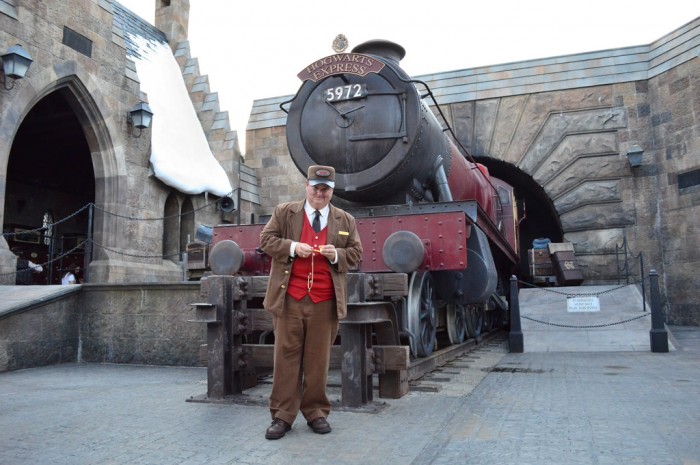 # 4 – Donkey and Shrek
This may be the most underrated meet and greet in all of Orlando. I personally GUARANTEE that if you stand outside the Shrek meet and greet (outside of Shrek 4D) and watch Donkey interact with guests, you will have a fun time. Donkey channels the good version of Eddie Murphy that we all love and not only talks to the people coming to take a picture, but will also have some fun with people watching or just walking by. Often times the two will also be joined by Princess Fiona.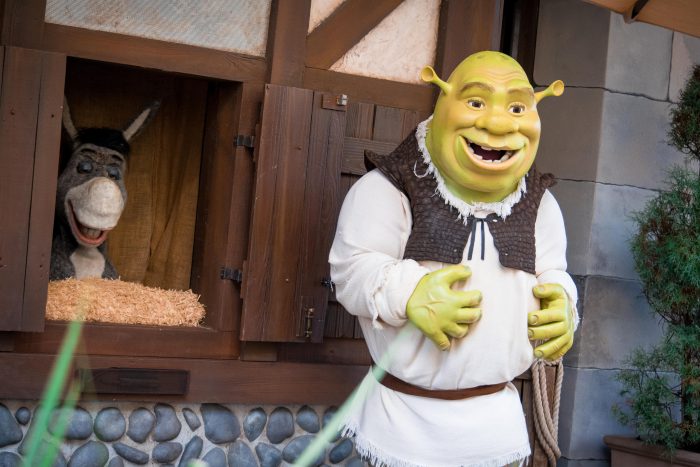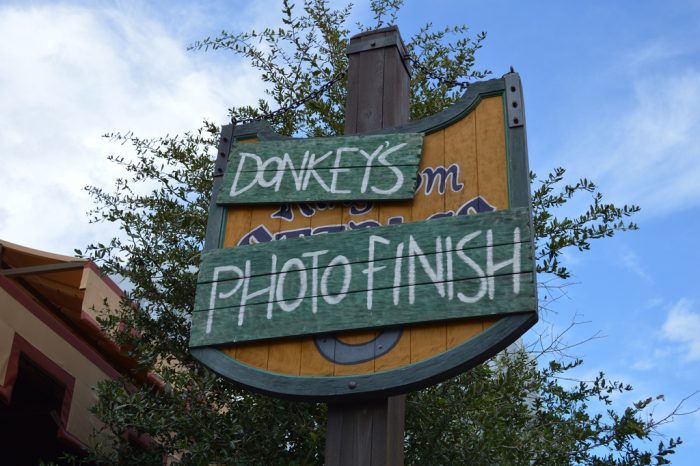 # 3 – Transformers
My #Millennial readers will have no idea what I'm about to talk about, but readers of a certain age will understand. In 2019, the character of Robocop is an ironic punchline. However, there was a specific time in this country when Robocop was cool. The simple feat of seeing Robocop walk had a nation talking. I bring up this story because that is the only thing I can compare what it is like seeing the Transformers at Universal interact with guests. It is unbelievable. Even when seeing it in person it is just about impossible to to find the seams in these larger than life robots.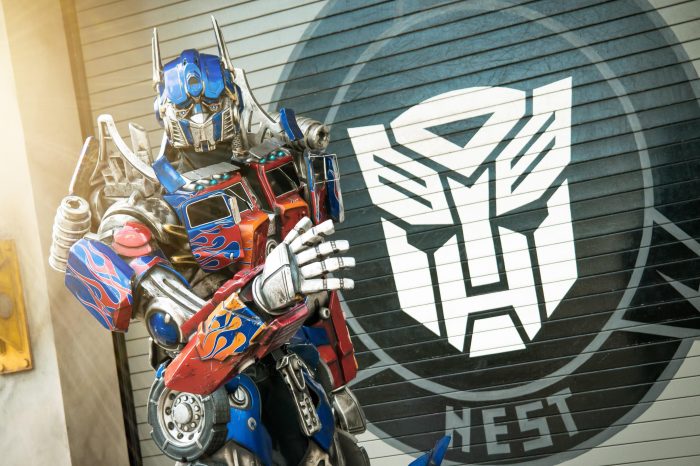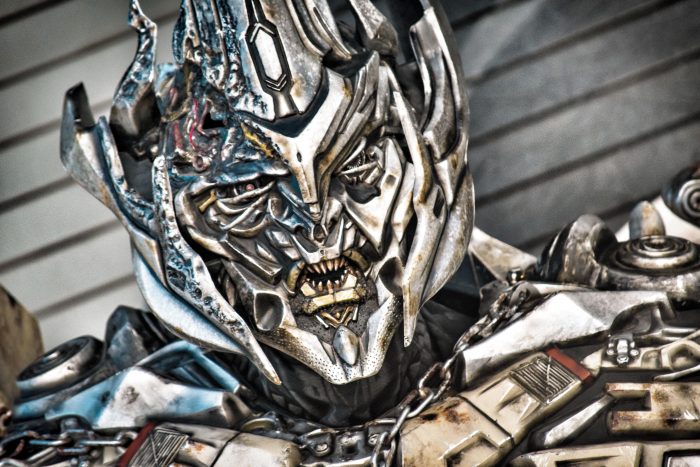 There are times when character meet and greets transcend being a theme park attraction and become something much more important. Like many kids, Matthew wanted to meet Optimus Prime. Unlike other kids, Matthew has had severe ear problems since birth, so the Team Members brought him up to Optimus so he could put his hand on Prime's body. This allowed Matthew to "feel" what it was like when Optimus talked to him. Wonderful moments like this happen regularly at Universal and Disney because so many Team Members and Cast Members do everything they can to make all kids feel special. One thing to remember is that almost all of these good deeds go unreported, because while many guests will jump in line at Guest Services to complain about something, its much rarer for them to take the time to ensure someone gets a compliment. Just keep that in your back pocket next time you're at Universal or Disney.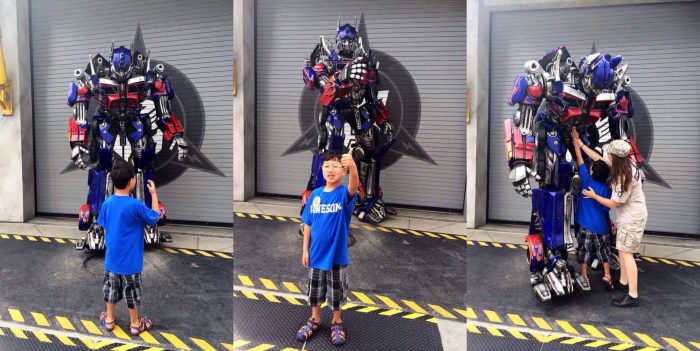 # 2 – Spider-man
Superheroes are hot right now, and Marvel Superhero Island has a whole bunch of then to meet including Captain American, Cyclops, Wolverine, Storm, and Rogue. But the best photo-op in the island, the park, and maybe the entire Universal Orlando Resort itself, is with Spider-Man. 
Like Donkey at Universal Studios Florida, Spider-Man spends time with each guest, especially children. This personal one-on-one interaction can make a good theme park vacation into an unforgettable one. Guests will get the opportunity to meet the ol' web head, take a picture in front of a green screen, and then have that photo put onto the cover of a Marvel Comics issue of Spider-Man! The "comic book cover" is a separate purchase, but Spider-Man will also pose for pictures taken with your own camera.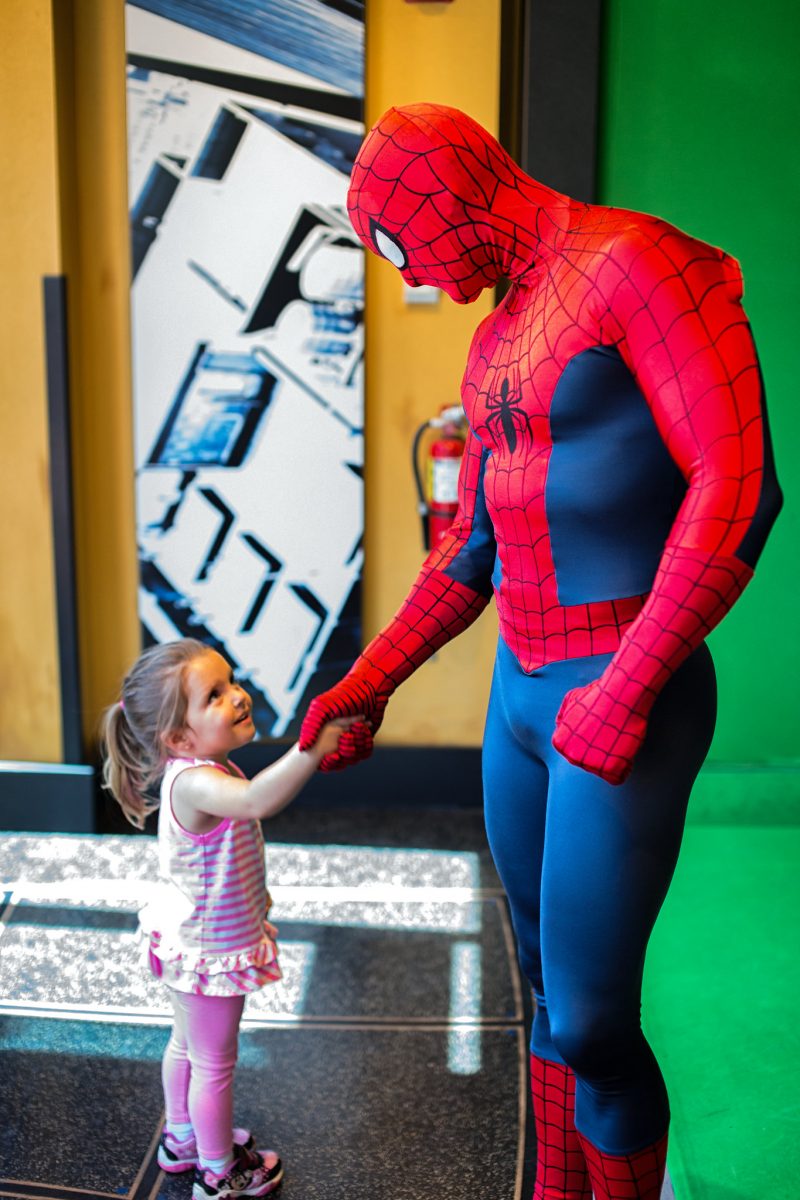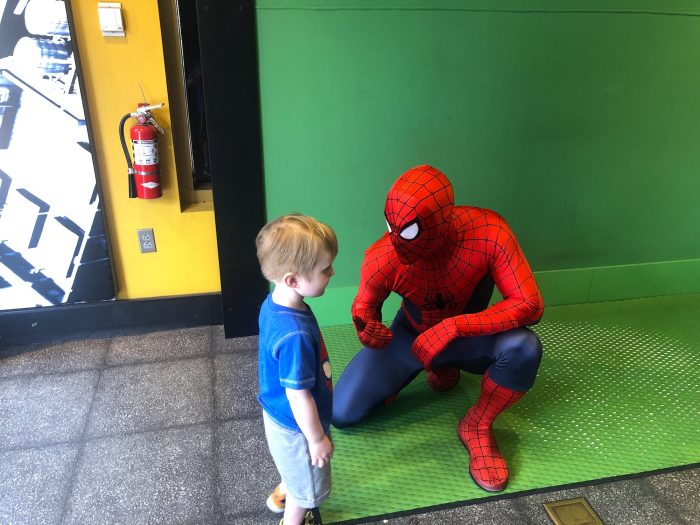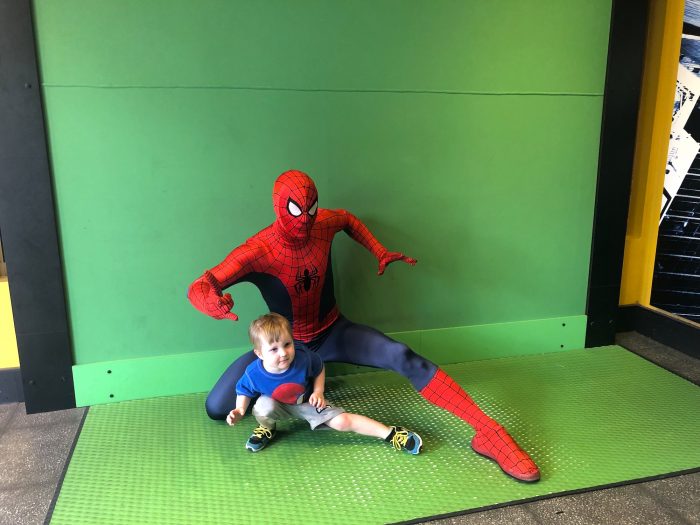 It takes a very special photo-op to make me even consider purchasing a photo at a theme park, but as a comic book fan the idea of a comic book cover was too good to pass up. Universal even offers a lenticular version, which brought me right back into my heyday as a "Marvel zombie" and buying books with gimmick covers.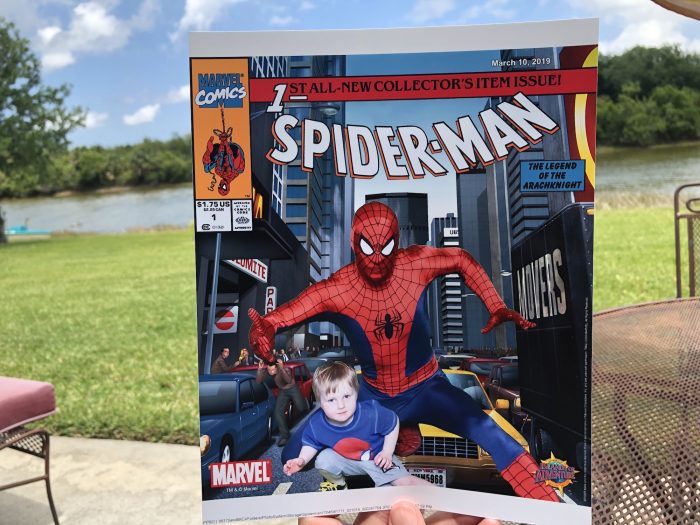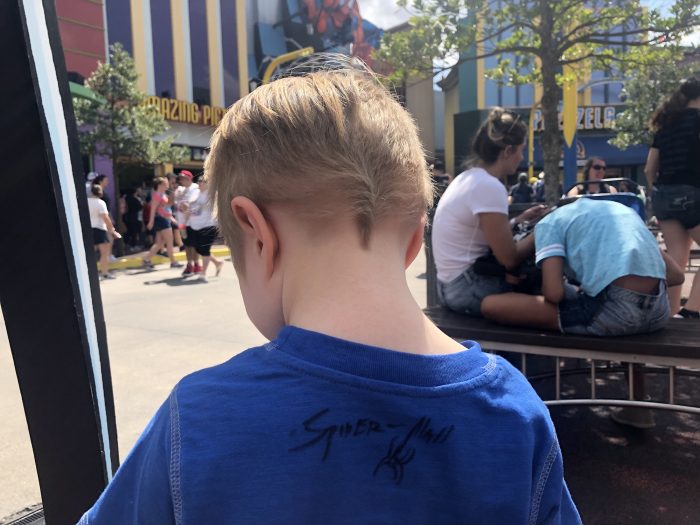 Believe it or not, some of the best pictures can be taken with the Marvel villains who come out: Spider-Man's arch nemesis the Green Goblin and the Fantastic Four's main baddie, Dr. Doom. The Goblin character is just plain creepy, and his sinister look and poses with guests make for some fantastic photos. Meanwhile guests can get creative with Dr. Doom, leading to some very fun interactions!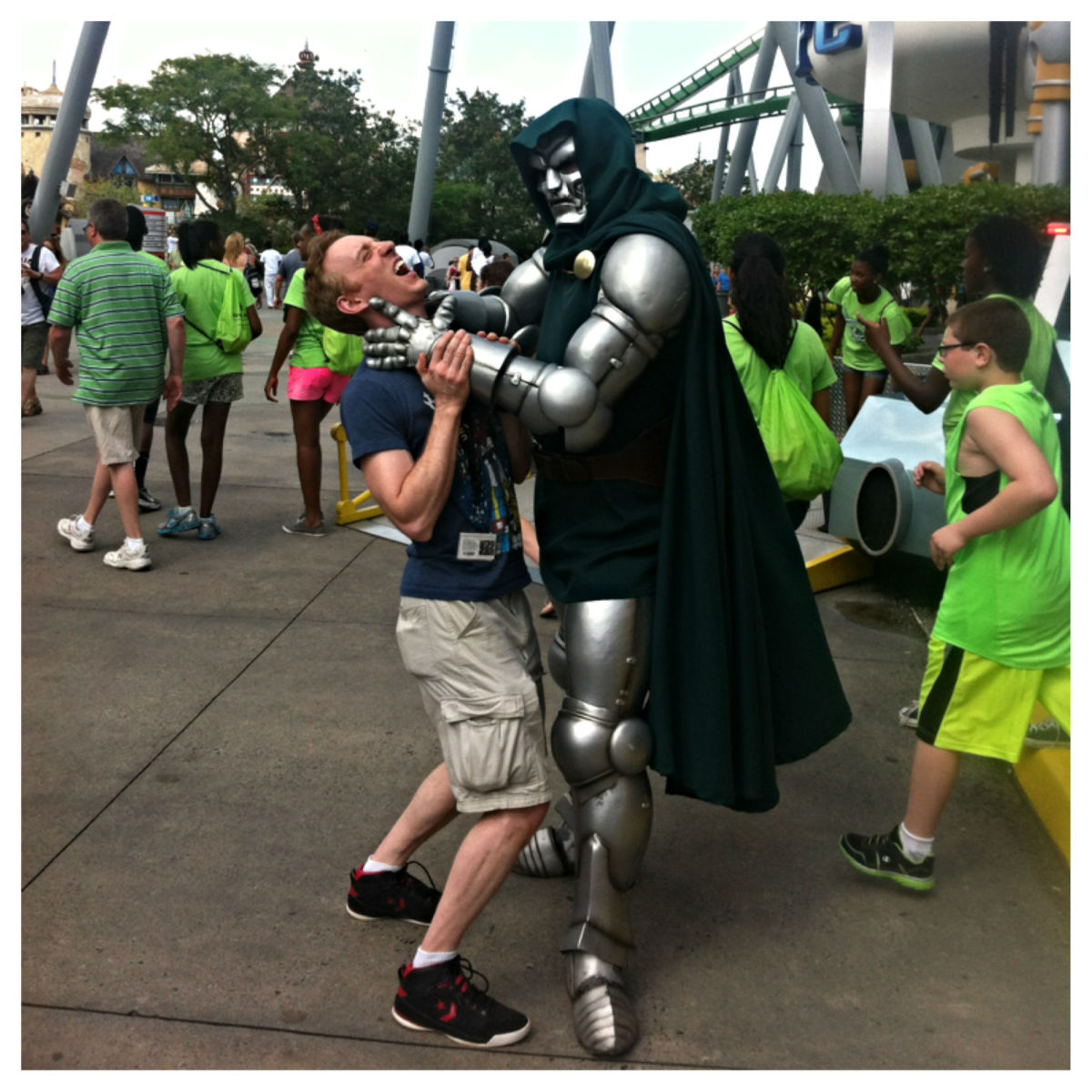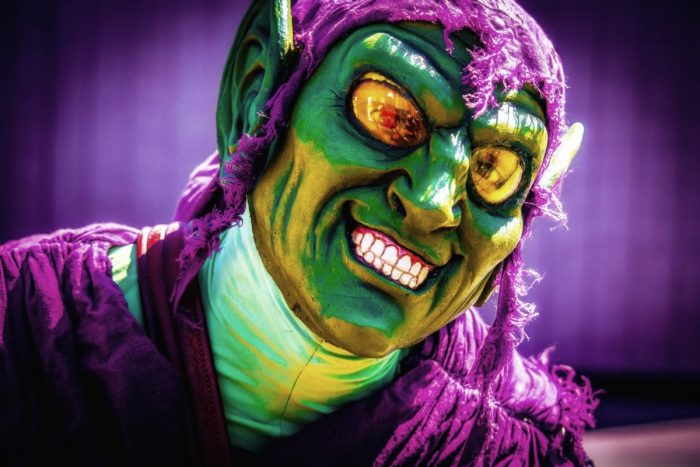 # 1 – Velocirapor Encounter
Some readers may remember the time that Walt Disney World tested a walking velociraptor experience at Animal Kingdom. It was something that was impossible for many of us to forget (no matter how hard we tried). So when Universal announced they were opening a Raptor Encounter, to say we were skeptical is an understatement. We should have had more faith in Universal Creative though, especially after they nailed the Transformers meet and greet over in USF. It turned out that the Raptor Encounter is perfect. With raptor puppets designed by Michael Curry (the same genius behind the puppets in Finding Nemo: The Musical and Epcot's legendary Tapestry of Nations parade) and a themed set that hides the human actor, this is a meet and greet that will bring you right back to the days of When Dinosaurs Ruled The Earth. The raptor sound effects and the Team Member "Gamekeeper" are the cherries on top of this awesome theme park sundae.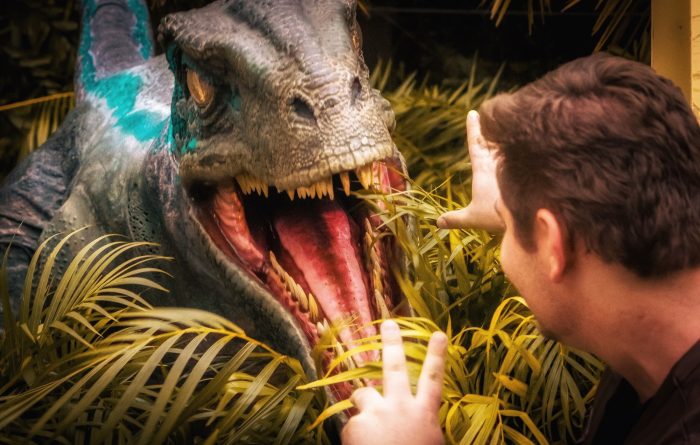 What I love about the Raptor Encounter is that it is one of the few theme park attractions where not only is your experience fun, but it's great just watching others interact with the raptor while waiting your turn in the queue. Now that Talking Mickey has taken a vow of silence, the Raptor Encounter has possibly become the best meet and greet experience in any theme park.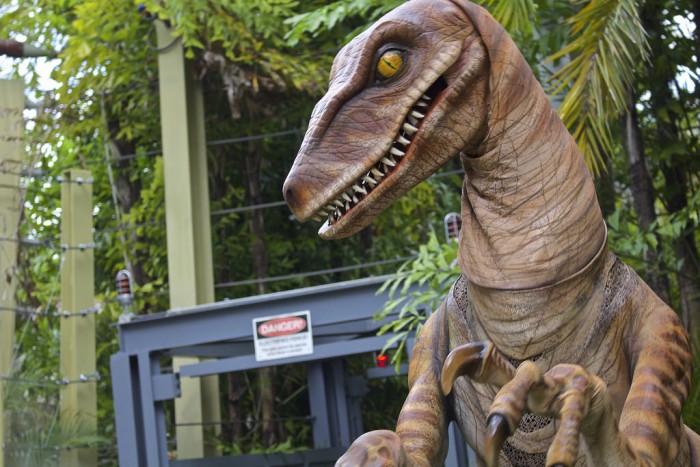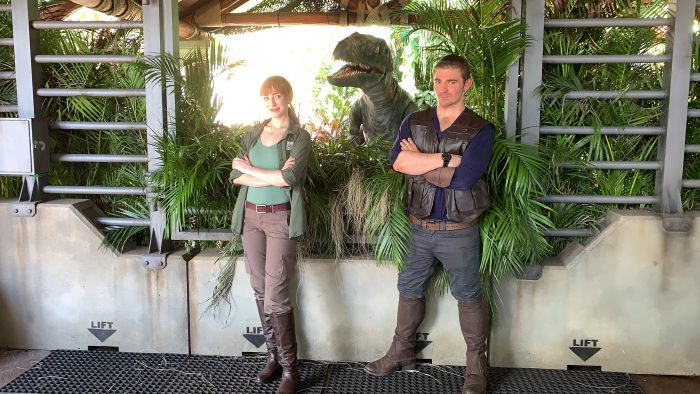 Honorable Mention – Hashtag
How about a meet and greet in an attraction's queue? That's what you get with Hashtag the Panda in Race Through New York Starring Jimmy Fallon.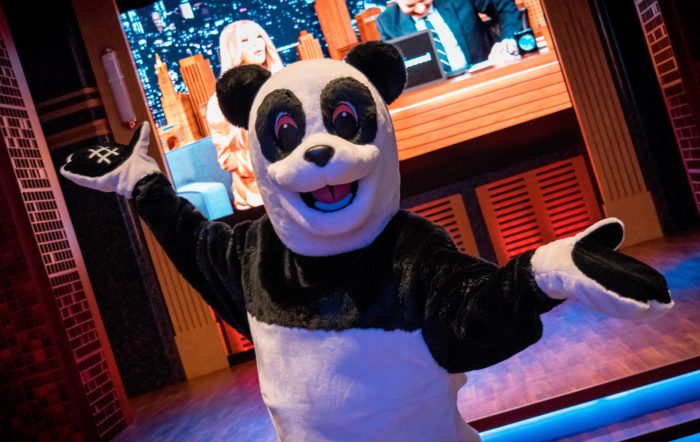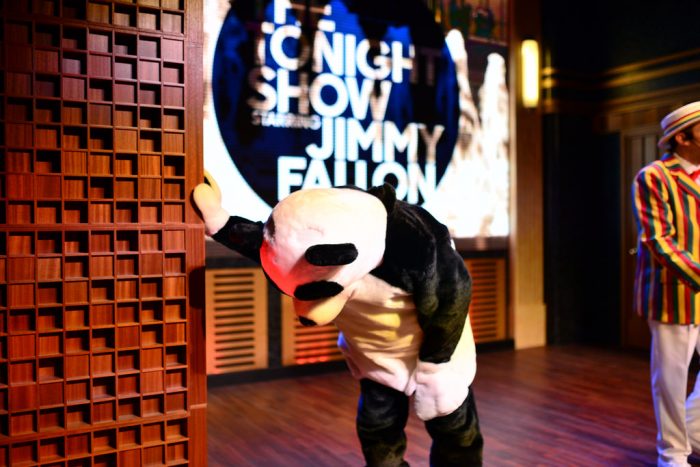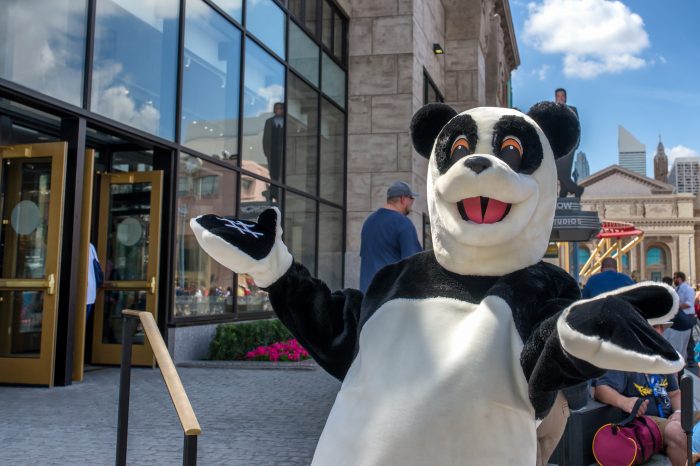 Double Secret Honorable Mention – She-Ra
This version of She-Ra is based on the recent animated show She-Ra and the Princesses of Power on Netflix. While Universal has a current working relationship with Netflix (including Stranger Things at Halloween Horror Nights), it also owns DreamWorks Animation, the company who makes the hit She-Ra cartoon.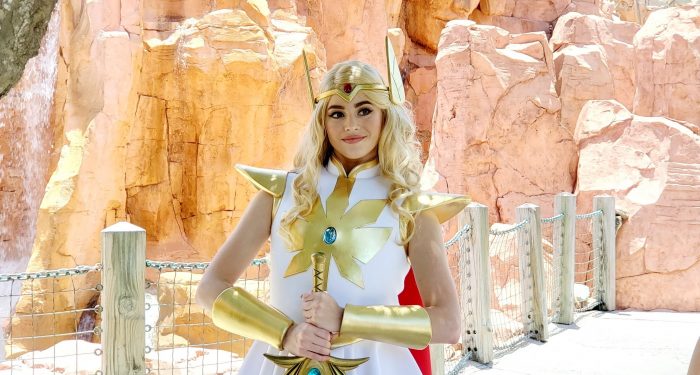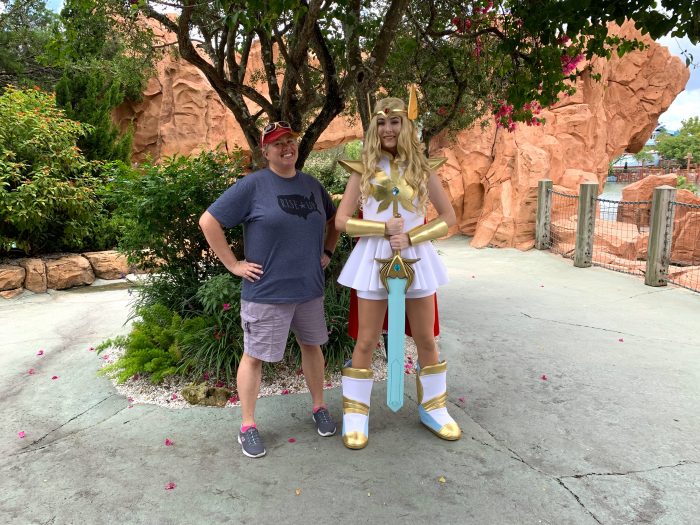 Triple Threat Honorable Mention – GLITTER FARTING TROLL
Speaking of DreamWorks Animation, one of their surprise hits back in 2016 was Trolls. I admit that I went into that movie with the lowest of all expectations. It couldn't possibly be good, could it?! Turns out, Trolls was shockingly good, filled with fun characters and some great music. One of the Trolls in the movie was Guy Diamond, a character who walked around naked and… farted glitter. Like you could make that up. Now, Universal had Poppy and Branch, the two main characters of Trolls, as meet and greet characters for a while. This year they brought in Guy Diamond. Just having the goofy, fun loving character of Guy Diamond would have been enough…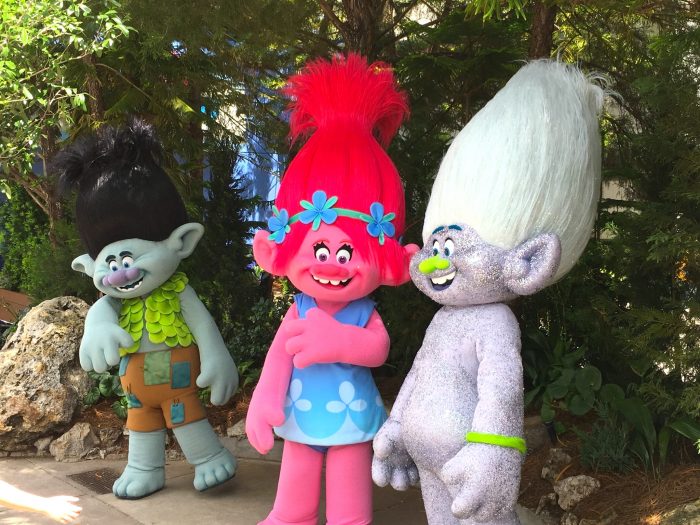 Nay Nay. Universal went the extra mile and this Guy Diamond also FARTS GLITTER.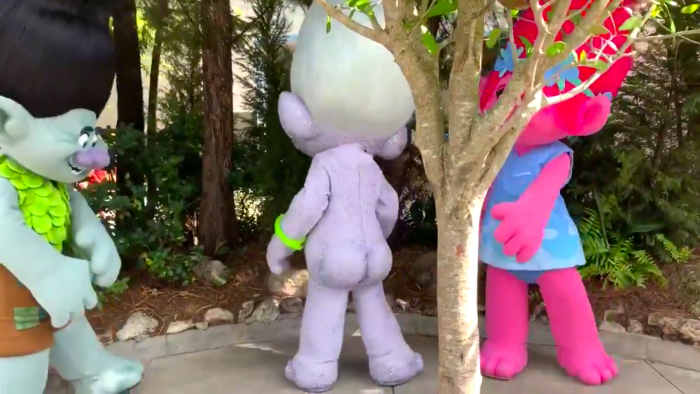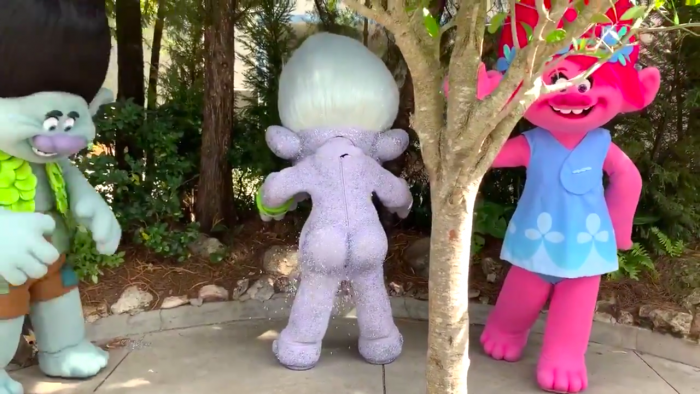 Yes, we invented the wheel, the TV, and cellular phones, but mankind's greatest achievement may be the creation of a meet and greet character who can actually fart glitter. What a time to be alive!!!
So there you have it: A Look at the Best Meet and Greets at the Universal Orlando Resort! See you next weekend for the latest installment of the SATURDAY SIX, where we'll look at something fun from the world of Disney and Universal. If you enjoyed yourself, be sure to check out The Magic, The Memories, and Merch! articles, or, for your listening pleasure, check out the E-Ticket Report podcast. You can also follow Your Humble Author on Twitter (@derekburgan).
If you enjoyed this article, you will surely like the following: 
The Best Meet and Greets at Disney's MAGIC KINGDOM
Six Reasons We Love TRANSFORMERS: The Ride 3-D
Six Times THE SIMPSONS Totally Nailed Being a Theme Park Fan
Six Surprising SECRETS of the Universal Orlando Resort
Special Thanks to The Elite Brandon Glover, hot shot Michael Carelli, Captain Cruiseline Scott Sanders of the world famous Disney Cruise Line Blog, my personal protege Hunter "Elvey" Underwood, the mistress of merchandise @HedgehogsCorner, The Insider Alicia Stella, the SAT SIX Fun Squad of Parkscope Joe and Nick, and Hermione Granger's tutor Megan Stump for their invaluable assistance with this article. The SAT SIX is inspired each week by goofballs Aengus Mackenzie and LitemAndHyde and you Potterheads will  enjoy Meg's other blog work over at the Central Florida Slug Club.