A SATURDAY SIX Tribute To Ian Barritt – Cherished Friend, Devoted Uncle, runDisney Hall of Famer
This week's SATURDAY SIX pays tribute to Ian Barritt. On January 10th, the theme park community lost a member who made everyone's life around them better and inspired countless lives. I often reference having a SATURDAY SIX "Fun Squad," referring to individuals who help put together this fine blog series for you, Dear Reader. I may get the lion's share of credit, but this series wouldn't exist without an incredible team as the foundation. Ian Barritt was a member of the Fun Squad, with his sense of humor and incredible photos having helped shape this blog over the last decade.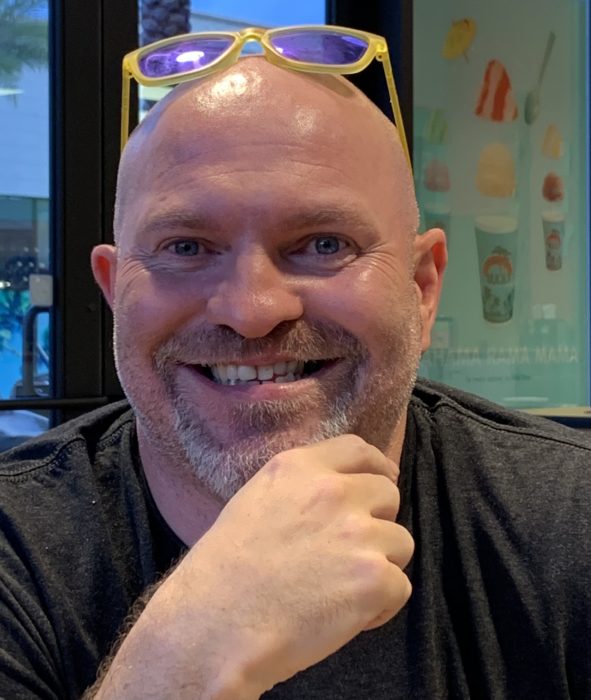 While Ian was not a theme park blogger, he made a large impact on the entire community over the years in more subtle ways. For example, in the Disney blogging world it can be a cutthroat battle to be "first" in covering anything, but Ian happened to be at Animal Kingdom when the infamous "poop snacks" were released and it was his photos which drew national attention. I was fortunate enough to meet Ian several times over the past few years (mostly at EPCOT because he was the go-to guy for recommendations on the best locations to see IllumiNations,) and I wanted to spend some time sharing my experiences with him as we say goodbye to one of the rarest things in the entire world: a person everyone likes. Throughout this memorial we'll also have testimonials from Ian's friends and his (runDisney) family. Let's start it off with the first time I met Ian in person, at the famous event…
# 6 – PizzaMania
While I had interacted with Ian for several years on social media, I met him in person for the first time in 2015 at an event I dubbed "PizzaMania." Some backstory, near the Universal Orlando Resort is a pizza place called Pizza Xtreme and something they offer is a 28″ pizza challenge. Much to my primary doctor's chagrin, one thing I am obsessed with in life is eating challenges. Every year I love watching the 4th of July hot dog eating contest and I will watch any tv show & read every book I can on the subject.
When I found out there was an eating challenge near the theme parks, and it involved my favorite food (pizza), I was over the moon. The pizza challenge consists of a 28″ one-topping pizza being eaten within one hour by a team of two people. If you complete the challenge, the pizza is free and you go on the wall of fame. If you can't finish the pizza, you must pay for it and your picture goes on the wall of shame. I invited Megan Stump and Brandon Glover – two of my closest Orlando-based friends – to also participate in the challenge. Megan brought Ian as her "pizza partner"  and I knew immediately that Ian and I would get along great. Ian liked everything that I liked, even professional wrestling, which is where I got the name PizzaMania from.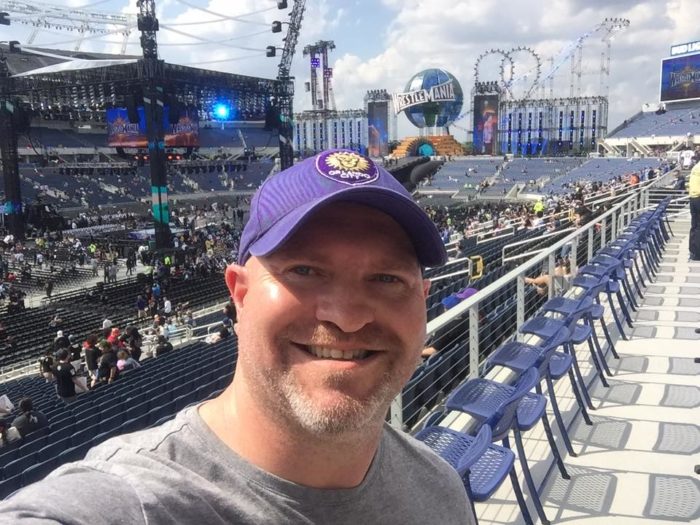 Believe it or not, a 28″ pizza is actually bigger than it sounds. I'm not exactly sure how the math works, but it turns out a 28″ pizza is MUCH bigger than two 14″ pizzas.  Going into PizzaMania, each of the three competing teams felt that they would easily finish the pizza. I mean, c'mon: one hour?!
To paraphrase boxer Mike Tyson, everyone has a plan until they take their first bite. Each team started off fast, but only my team was able to finish the pizza within the allotted time. Ian and Meg put up a valiant effort, but eventually had to tap out.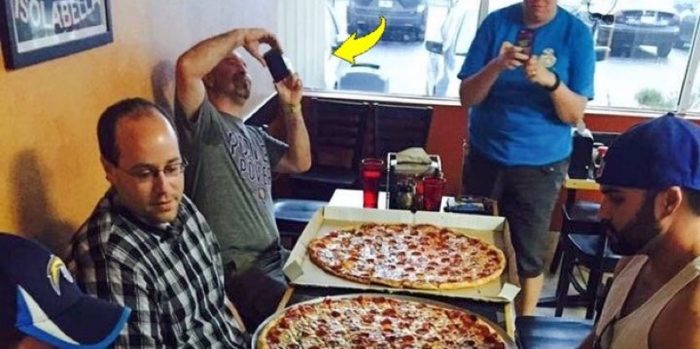 This was the first unofficial SAT SIX Meet Up, and you know we don't play games around here. Let's say you have a group of 6 adults, who all feel like they are about to literally burst from trying to eat as much pizza as they possibly can within an hour. What do you do next? Go home and digest for like two days, right?
NAY NAY.
We went to Disney Springs so we could order the legendary Baked Alaska at The BOATHOUSE, a restaurant which had just opened earlier that year. To answer your questions: 1) I'm not joking and 2) Yes, we are all insane.
You know how some people consider themselves "blood brothers?" Well, from that day on I considered Ian my "food brother." I knew if there was a crazy, over-the-top food item, he'd want to try it as much as I would… if not more.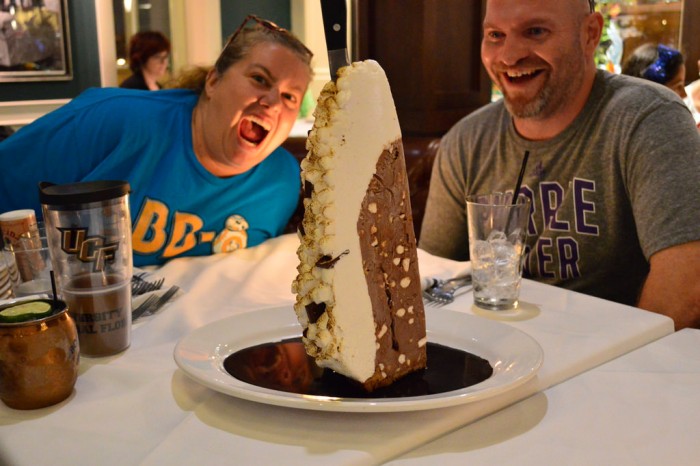 PizzaMania was one of the many fun things I was able to experience with Ian over the years. We first met at EPCOT's New Year's Eve celebration many years ago, running into each other with our friends Kelly and Shalon. Ian was just as energetic and funny in person as he was on Twitter, where we had interacted quite a bit before we'd ever met in person that night. Over the following years, Ian was always part of our group of friends with Meg and her husband Ricky that experienced all things theme park and running.
One thing I will remember about Ian is that he was always smiling and a force of positive energy wherever he went. He was quick to show encouragement and always supported the endeavors of his friends. For me, I will always think of Ian as "Dad." One night, Meg, Ricky, and I were joking that Ian was the old man of the group, to which he responded: "well I guess that makes you my son!" From that point on, whenever I'd see Ian, he would greet me with a smile and  an enthusiastic "Hi Son!" We kept the joke going, with me always making sure to send him a Happy Father's Day tweet each year.
While much of the times I spent with Ian were about having fun, he also provided a brilliant example of how to be a good and loving uncle. This is a trait that I looked up to him for having nieces myself. From Ian's example, we should fill our hearts with enthusiasm for adventure, love for our families, and being a light to all that we meet. We're going to miss you, Dad!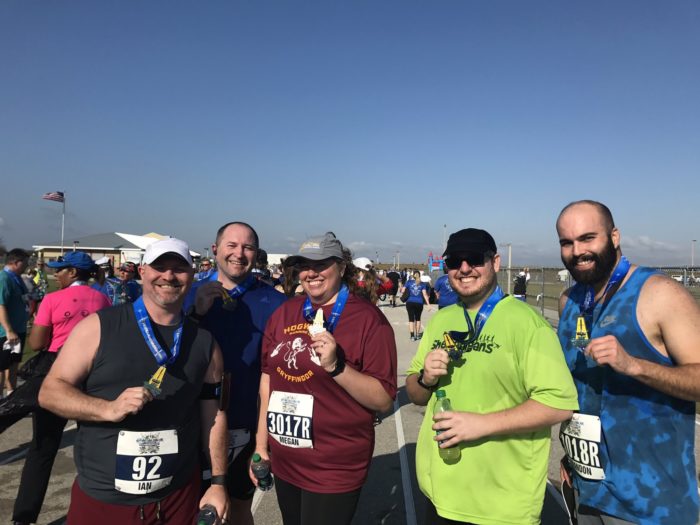 # 5 – Star Wars
Growing up, I always thought that I loved Star Wars. Turns out, I only liked Star Wars, because when I met Ian I met someone who loved Star Wars. Like me, Ian watched the shows, saw the movies, bought the merchandise and all that. However, Ian also went to the Star Wars Celebration fan event,…went to Star Wars Weekends every year at DHS… went to the hard ticket Star Wars parties held at Walt Disney World, and participated in all the Star Wars runDisney races…on both coasts!! Ian's love of Star Wars was infectious, and I will always be insanely jealous of all the amazing things he got to do over the years.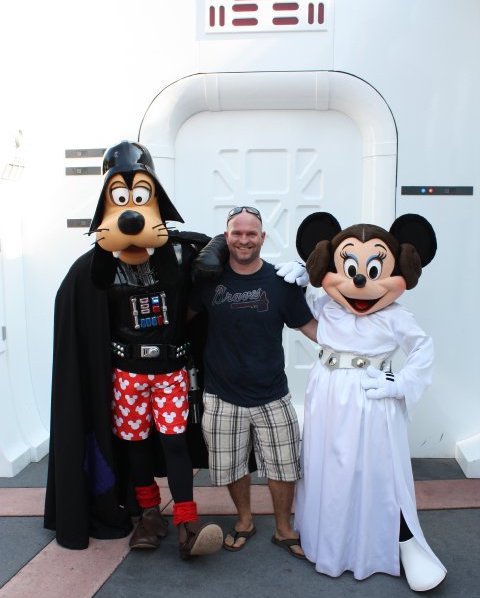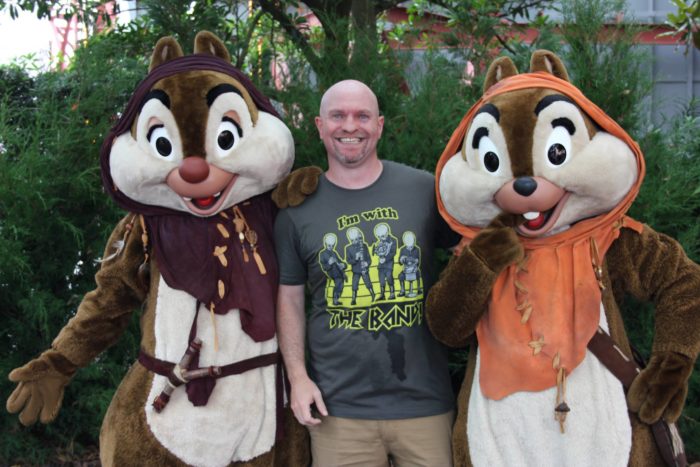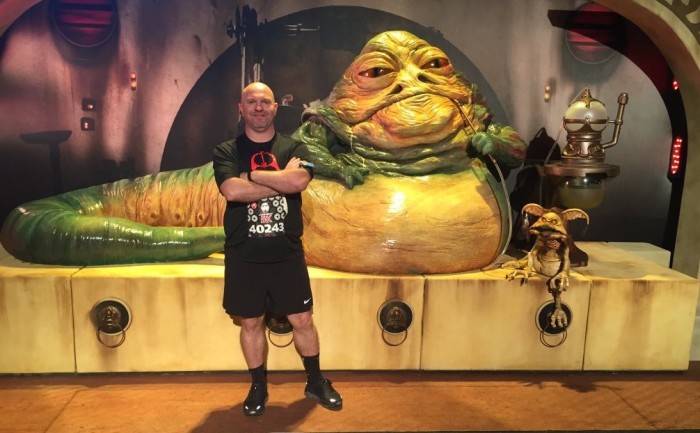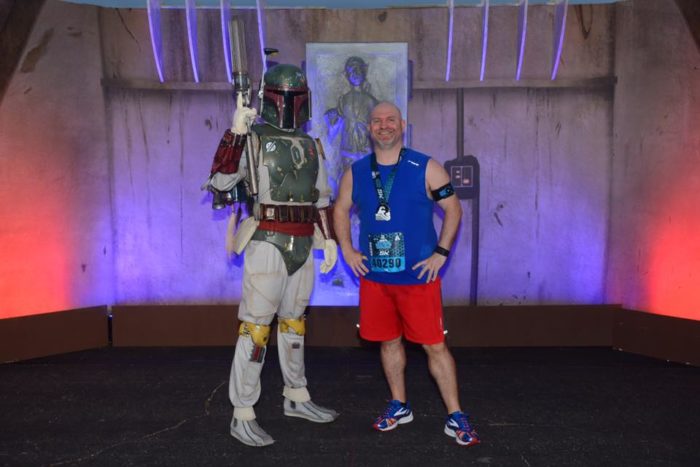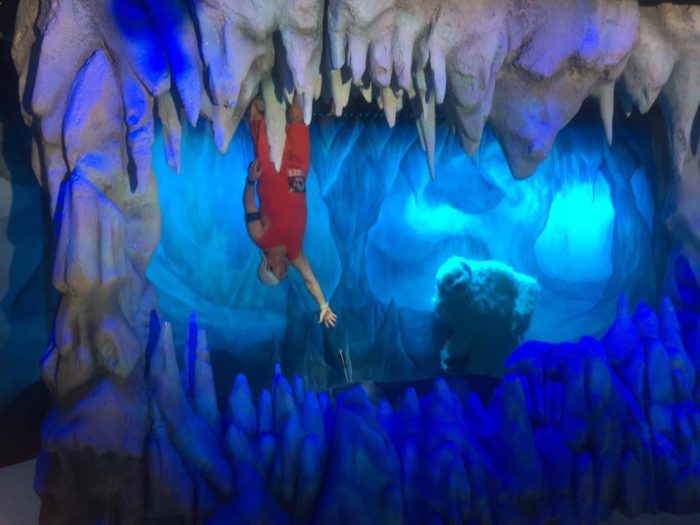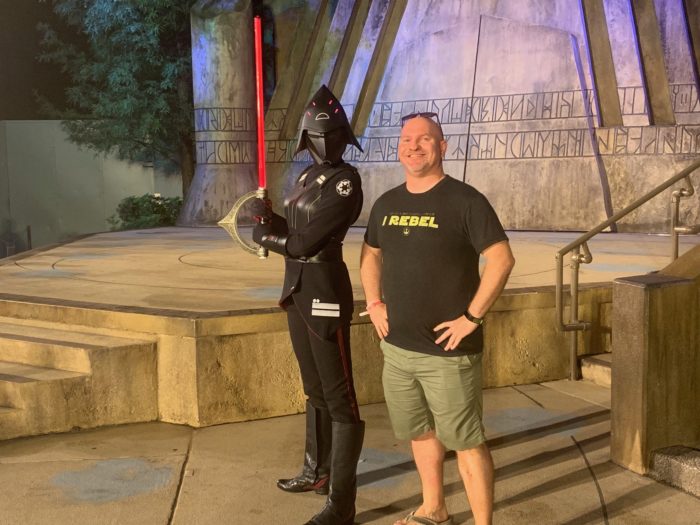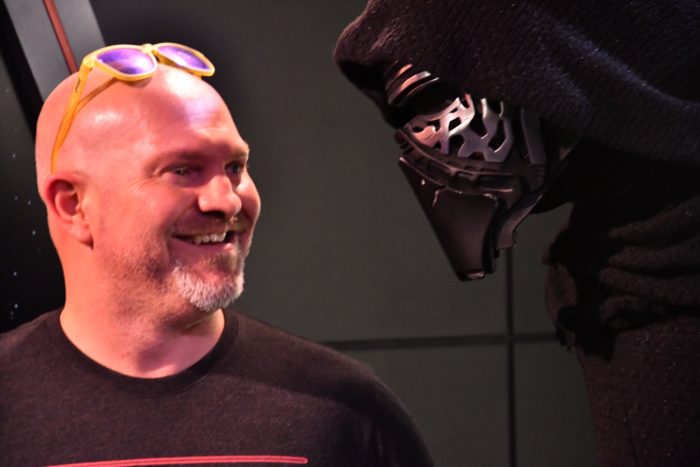 For most friendships, it would probably be a deal breaker if they skipped your wedding to go to an all day Star Wars movie marathon. But we kept Ian around anyway (and lightly roasted him for it, regularly). A favorite Underwood household memory of Ian has to be the day we accidentally got all of Fast Food Boulevard to ourselves during Stay & Scream crossover, and we heard the call go out to team members that the guests were coming in… and the first person through the door, way ahead of everyone else (including his niece) was Ian. We all had a good laugh at the predictability. We cherish the memories of all of the Stay & Screams we spent hanging out with Ian, crafting his "Hate List," and running a few houses together. The last time we saw Ian now feels like fate more-so than a coincidence. Ricky Stump, driving with his wife Megan and Ian, cut us off in traffic on 192, and when we figured out it was them, we all ended up meeting up in the Target parking lot — what seemed like just a typical Monday night of the five of us standing around Target and talking for ages, turned out to be a core memory that we're truly grateful for.
Whether we ran into Ian at Horror Nights, or EPCOT, or Target, or randomly around Kissimmee, it was always an absolute joy to stop and chat for a few moments. His energy was infectious, and even when he was encouraging shenanigans that had us rolling our eyes, we loved having him around. Ian, your shine and your light will never be replaced. We miss you, old man, and we love you dearly.
Oh, and that "Hate List"? Here are some things Ian hated beyond all reason: The wave at any sporting event – Sea Shanties – VAR – Black Olives – Various Wankers and Cockwombles – The weather during the Space Coast Half in 2022 – The Blizzard Beach parking lot.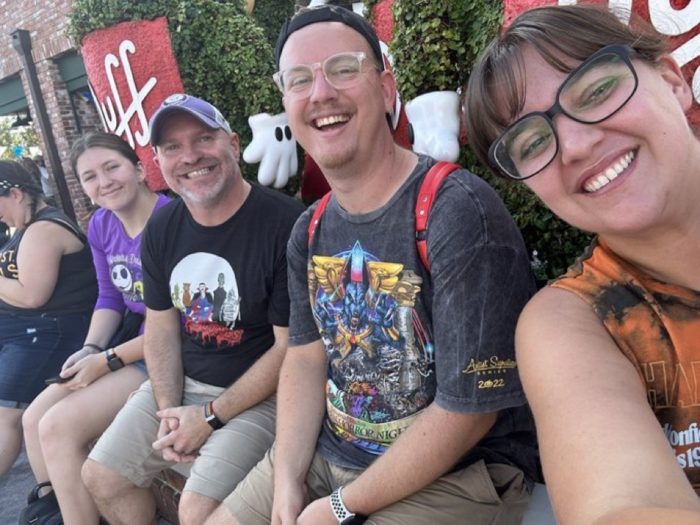 # 4 – Snack Connoisseur
I mentioned earlier that Ian and I were "food brothers," but I need emphasis that PizzaMania taught me that Ian was a kindred spirit to me in that we both loved extreme eats. When you see a food like the KFC Double Down, where chicken was the bread, most sane people would ask "why would they make that?" Not me and Ian. We ask, "how fast can I get one?"
For example, in June of 2015 at Disney's Animal Kingdom, four new snacks debuted that were made to resemble animal droppings. That's right, poop. The Match The Species snack series featured items designed to look like Elephant, Hippo, Giraffe, and Cotton Top Tamarin poop. You have to give credit where credit is due, that's a unique presentation. Who was the first member of DisTwitter on the spot to get us pictures? You guessed it, Ian.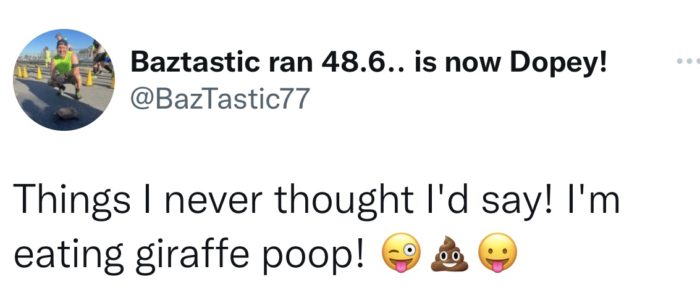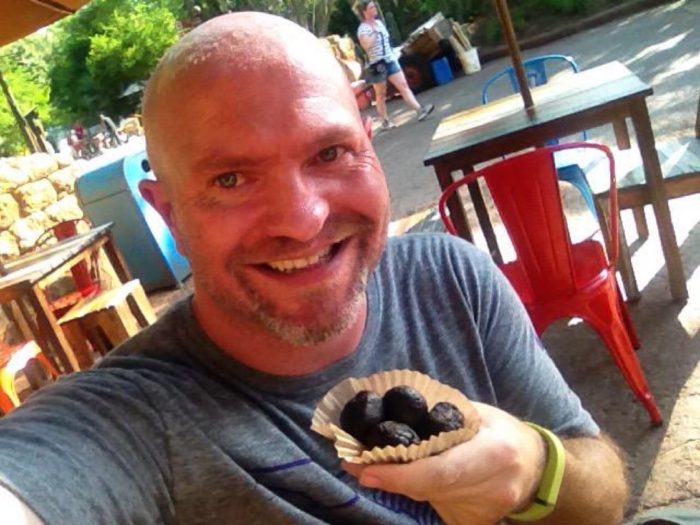 The snacks became an instant sensation on Disney social media, and quickly made the rounds to mainstream media as well because these snacks went viral. Whose photos did they use in the articles? Ian's photos. Now, the poop snacks were pulled from the shelves in less than two weeks, with Disney saying that they were just a test and were not coming back, but several sources claim that the reason they disappeared so fast was because of the numerous complaints by guests who didn't find the snacks amusing. We did though, and so did Ian, and him getting a bit of Internet Fame because of it was appropriate. Over the years any time I mentioned a crazy food I saw or wanted to try  – whether it was sugar laden breakfast cereals or the latest Oreo flavor – I was sure to tag Ian, because he'd get it.
Another thing I do from time to time on social media is create long-running WHICH _____ ARE YOU? threads where I would associate people I knew with things from pop culture such as the Muppets, horror movie characters, or Marvel superheroes. Ian was a staple of these lists, and I couldn't think of a more appropriate moment from a Christmas movie for Ian…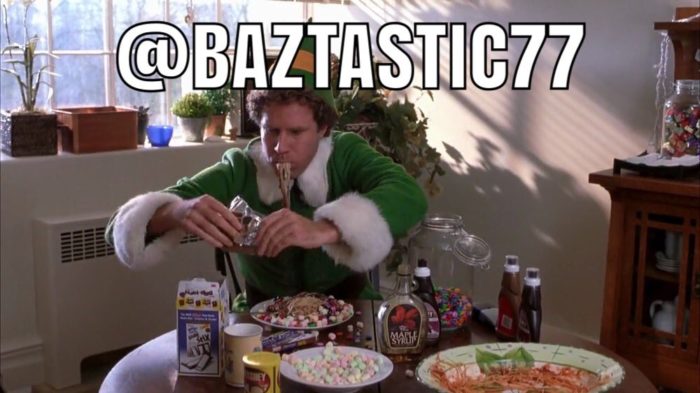 I have had the privilege of meeting many people through DisTwitter that have become friends and, in many ways, a second family to me. Ian is one of those people. Although we did not see each other as often as I would have liked, he was one of those people with whom it was easy to just pick back up where you left off as if no time had passed. Whether it was a random bumping into each other at Epcot or enjoying our time at Stay and Scream before hitting houses at HHN, Ian was always warm and welcoming.
Ian's love for races really sparked me to start back running. I had run for fun in college but let life get in the way of me keeping up the practice. Seeing Ian's constant posts about races on Twitter really helped give me the kick in the butt to start back. His love for races also was infectious and pushed me to finally check an item off my bucket list and complete a half marathon. I have now completed several of them and I'm beginning to think about completing a full marathon in the next year or two. This is not something I would have even considered a short time ago, but thanks to Ian's posts, I will hopefully make this a reality. His posts have made me healthier and have reinvigorated a passion that I lost many years ago.
Ian is a guy that I will truly miss seeing and talking to. Many activities will not be the same without his presence but I encourage us all to utilize those opportunities to remember the man that made many of us smile. The outpouring of emotions we have seen in the wake of his passing is a statement to the person we knew and loved.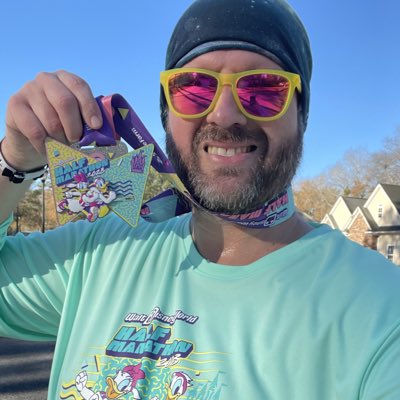 # 3 – British Invasion
For the longest time, Ian was the only British person I knew. Of course this meant I would use every British stereotype in the book any time I wanted to have a laugh with him on social media. constantly bringing up Benny Hill, BBC America, "tea & biscuits," Sherlock Holmes, black pudding and a thousand other foods that are next level bananas (chips & peas?!!) It was all done out of love though, because England is probably low-key one of the places I like most in the world and I can't explain why. Growing up I loved reading about Captain Britain in the Excalibur comic books. I love James Bond, the UK version of The Office, and the fact that English actors are better at playing Americans than most American actors. Fish & Chips at the UK Pavilion would be by far and away my #1 snack at EPCOT. I always thought being from England was something pretty cool, and Ian certainly never gave me any reason to doubt that.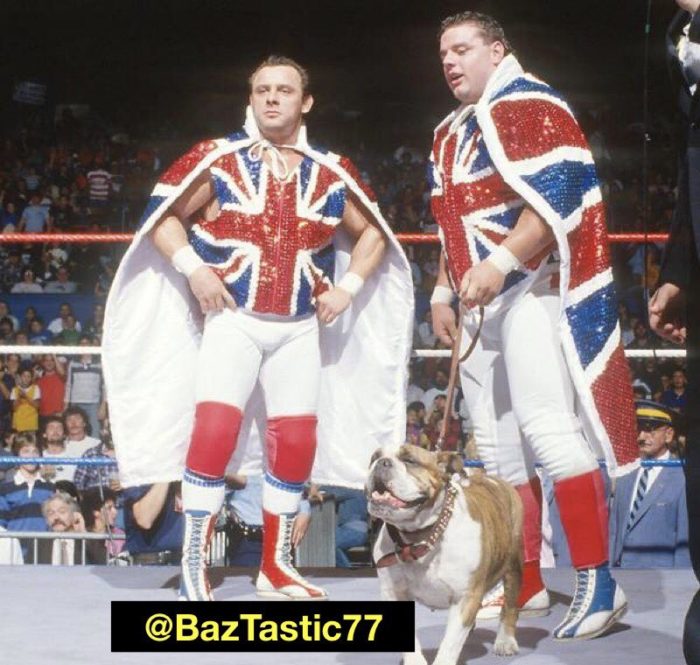 Reading all of the memories and stories people have of Ian over the past weeks has filled the hole in my heart that losing him has left. I always knew he was special but after seeing the outpouring of love and friendship from our friends and community it has definitely been solidified.
I first met Ian on November 14, 2014. We had been online friends for a while and when he said he would be coming to Disneyland (for what I believe was the very first time) for the first ever Avengers Race weekend, we knew that we would have to meet up. We chose a spot (the Mad T Party at DCA) and the rest is history. We hit it off right away. Friends forever.  Our friendship wasn't the kind where we bared our souls and told poignant stories about our lives and families. Our friendship was mainly based on two things: food and fun!  Sure we checked in on each other's lives, work, family etc but food and fun is always where it was at. There were so many times I would laugh until I cried and ate until I wanted to cry. I wouldn't have had it any other way.
Some of my favorite Ian highlights include the time I kidnapped him from Disneyland and took him for his first In-n-Out burger, the time he was at Disneyland and I surprised him in the parks after spending months telling him I wasn't going to be there, discussion about our shared love of The Muppet Christmas Carol and most recently, having dinner with him at 'Ohana. Ian is definitely the person you want to bring with you to a family style restaurant. I loved the random tweets and messages he would send just to let me know he missed me. He also sent the best birthday tweets! We also celebrated our friendiversary every year! Whether we were together or not, we would take a photo holding up our fingers to show what year we were celebrating.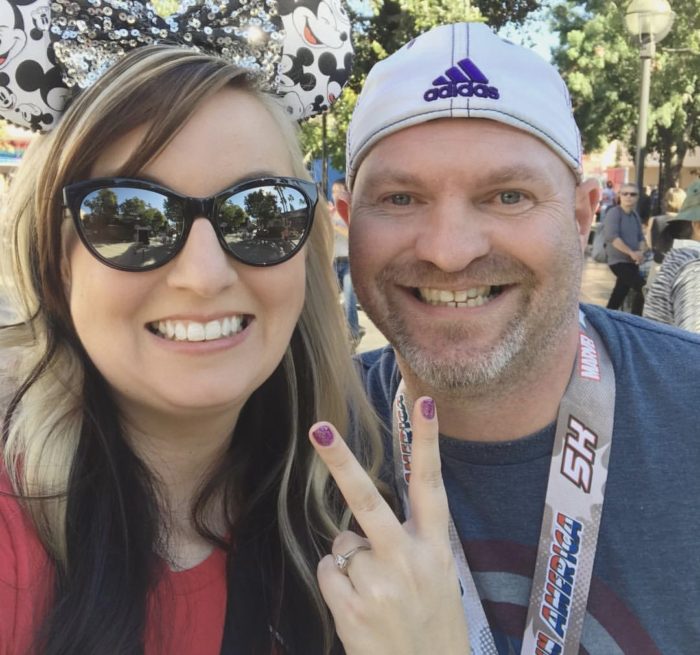 Then there were the Starbucks mugs. Oh man. Every time a new park Starbucks mug was released we were both running to the parks to grab the new mugs for each other. I made out in that deal because there were SO many more WDW mugs over Disneyland mugs. Ian never once complained and I never even had to remind him about the mugs. He would just go and get them asap. And I did the same. Even made sure to grab him one from my trip to Paris. Ian knew how happy having those silly mugs made me.
The last time I saw him in person was my WDW trip in December 2021. We hung out at Disney Springs one night, we had dinner with Meg and Ricky at Universal CityWalk another night, and then we had an amazing meal at 'Ohana with my mom. On December 2nd my mom and I spent the whole day at EPCOT. We got there when the park opened and by evening we were exhausted. We were making our way back around World Showcase to the international gateway to catch the Skyliner when I got a text from Ian.
Ian: are you still in EPCOT?
Me: yes, but we are tired and about to head out.
Ian: where in EPCOT are you?
Me: France. Why?
Ian: Perfect. You might want to take a look towards Norway.
I swear, the timing couldn't have been more perfect. Right as I turned my head the sky right above Norway lit up and there it was… a rocket!! I squealed so loud and ran to get a better view. It was absolutely magical. Ian and I had talked a few times about rocket launches and how I was so jealous that he had been able to see so many in person. The fact that he even thought to tell me about it because he knew how excited I would be still blows my mind.
But that was Ian. He made being thoughtful and kind look effortless. He was always up for a good laugh and an adventure. Whether that adventure was big or small, he didn't care. It was the company that mattered. The world lost a good one. A real good one. He has had a huge impact on my life and I will never ever forget how lucky I was to call him my friend.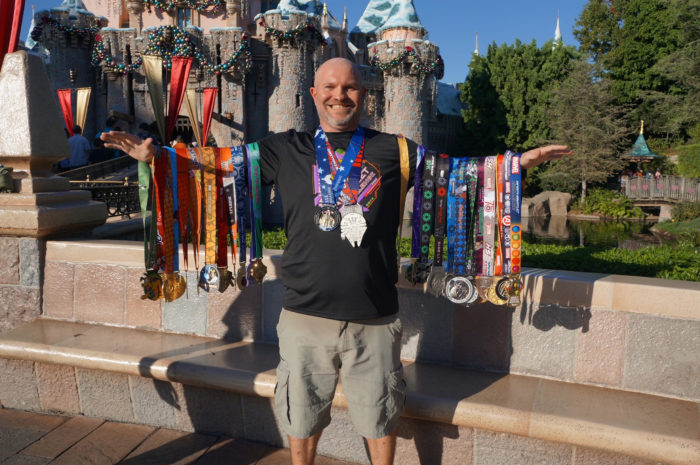 # 2 – Soccer
Now I just admitted one of my biggest secrets, that I am possibly in love with the country of England. THAT SAID, one thing I never liked was soccer. I'm willing to admit this may be a "the blogger dost protest too much, methinks…" though, because two of my favorite shows over the last couple years are Ted Lasso, and Welcome to Wrexham, both of which are based around soccer. Ian however, loved soccer. I would say from an outsider looking in, his passion for soccer was unrivaled. When Orlando, Florida finally got a legitimate Major League Soccer franchise, Ian was probably the first person to buy season tickets.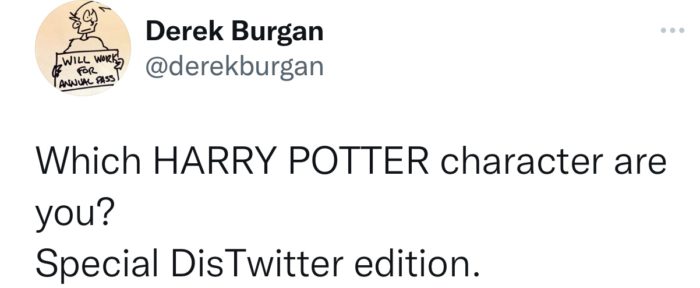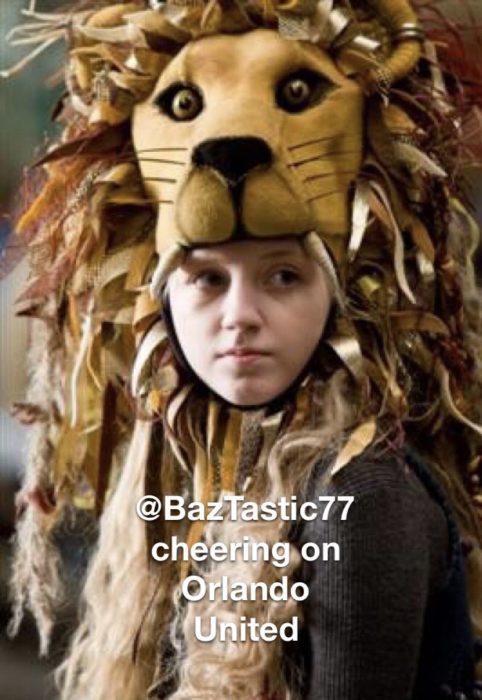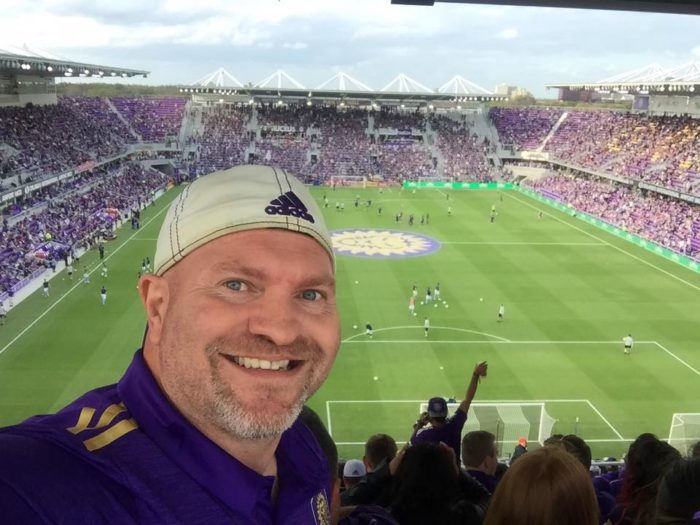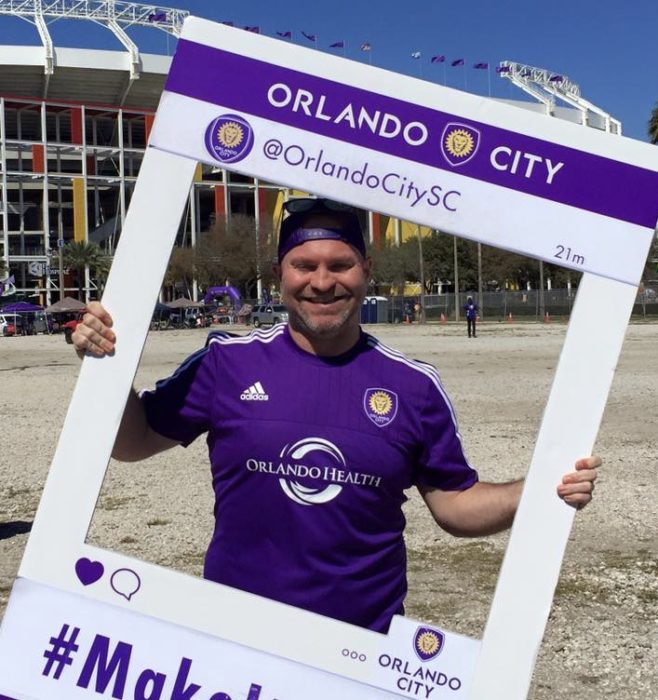 Emily Sanders:
My very first 10K was the WDW 10K in January 2016. I started running because I wanted a new challenge. My husband Scott & Ian followed each other on Twitter, and we ran into Ian & his family in Celebration, and I got a chance to meet Ian in person. I did my first half marathon in 2016 and just started signing up for more races per Ian's suggestion. One of my earliest memories was when the WDW 2017 half marathon was cancelled, everyone else suggested I defer since I only had run one half marathon, but not Ian – he wanted me to switch to the full marathon. WHAT?! Silly guy…I love Ian's (unfounded) belief in my running abilities, but I'm still glad I didn't listen to that advice! 🙂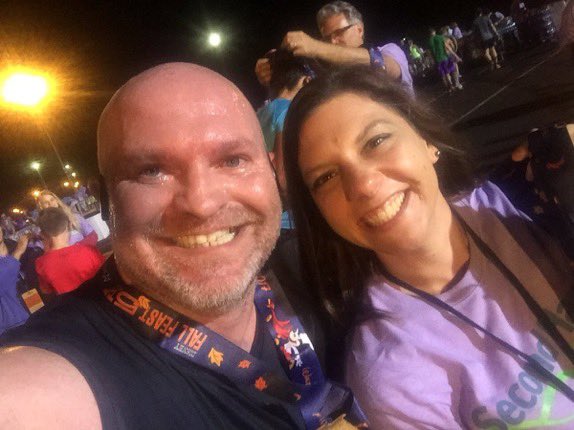 That started the many, many races with Ian. So many that I joked that he was my running husband. I would say 75% of the races I ran, Ian did too, & many with his brother and one (or both) of his nieces. It seemed like January-April we did a race every weekend for several years. We always met at the finish line no matter who finished first. The small races were the best because we could place in our age group. He was willing to give me a ride if I needed one, and took me out to a race on the space coast once. I went to one Wine & Dine post race party and only because Ian said he'd hang out with me so I wouldn't be alone, and then he gave me a ride home. We lapped Epcot 12 times, even after running 19.3 miles earlier in the day. When I was injured, but ran anyways, he texted Scott to let him know he'd watch over me & make sure I was ok.
One thing I admired about Ian is that he had a huge heart. The year the Star Wars 5K had a storm delay, I was volunteering and my daughter Isabelle was in the corral alone. Ian went to find her so she wouldn't be scared while being all alone in a gigantic sea of runners. My parents rent from his family business and he has been nothing but good to them. He was the best son, brother, and uncle. He was always at his nieces' events to support them and taking them regularly to the Disney and Universal theme parks to just have fun.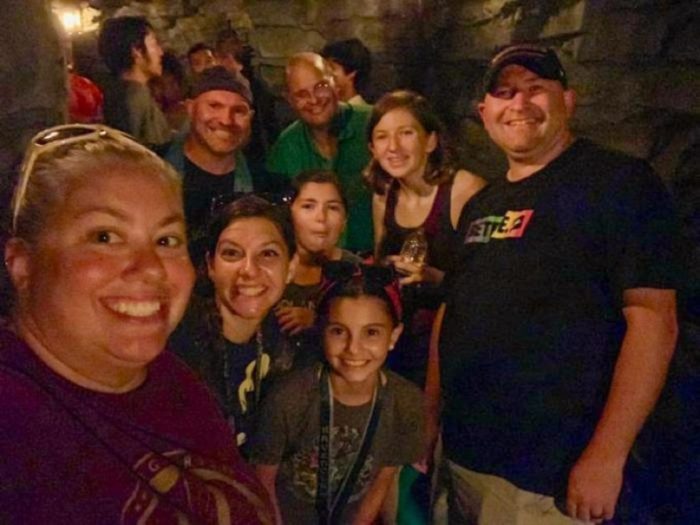 I retired after my 25th half marathon in January 2022, but came out of retirement for a 10 miler on December 10th, and boy am I glad I did, as that was the last time we saw Ian in person. There he was, at the finish with Scott & Izzy, cheering me on. We had a lot of quality time waiting for a bus to the parking lot just talking for 45 minutes. It was so great to catch up. Earlier this month we missed the finish line celebration after Ian completed the Dopey (running the 5km, 10km, half marathon, and marathon event on consecutive days – a total of 48.6 miles), but I'm glad for texting with him that day.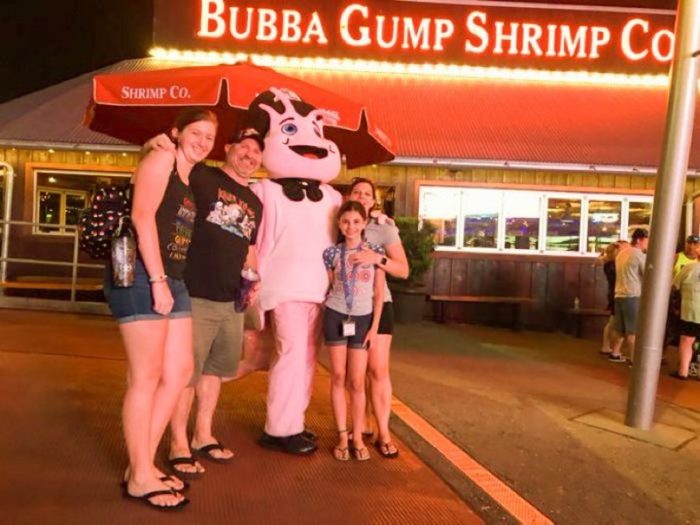 Ian loved space and every time I see a rocket launch, I'll remember Ian. My family & I will miss him dearly, but the imprint he left on us will remain forever. We will cherish the many memories. Rest easy, my friend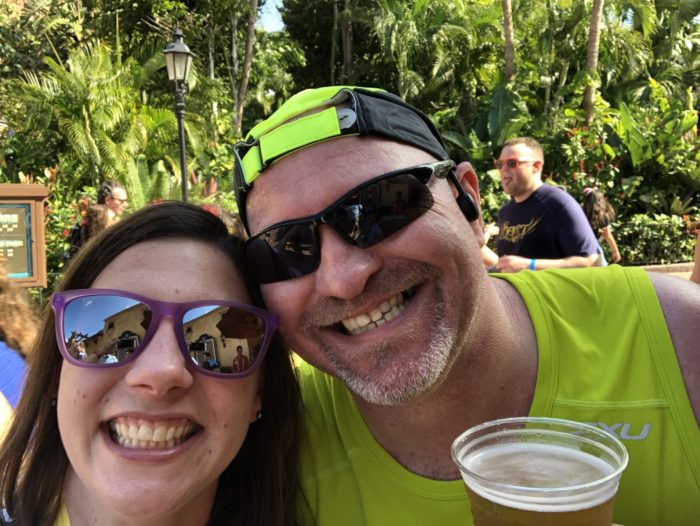 # 1 – runDisney
Over the years Ian has made many appearances in SATURDAY SIX articles through his runDisney photos. I am fascinated by the runDisney phenomenon, and while I have a strong desire to write articles on runDisney, I don't have as strong a desire to participate in them. You need someone to run a 5K on Disney's private island Castaway Cay, I'm your guy. Getting up at the crack of dawn to run in Orlando, Florida? Not so much.
Thankfully Ian was The Man when it came to providing me with awesome runDisney photos that I could use in this fine blog series. He'd get me photos from the runDisney Expo that takes place before each race weekend, photos of the characters that runners meet during the races, and the amazing medals that the runners get for finishing. Ian did the hard part by actually getting up early, waiting in the gigantic Expo queues & racing corrals, and actually running the races, while I sat at home eating leftover pizza and using "right click, save as" to collect all his photos. Because Ian would always sign up for every runDisney race available, he would get every photo I needed.
The runDisney marathon earlier this month had me in my usual routine. I'd save a bunch of Ian's photos from the various races to use for articles while also breaking his balls over taking too many of them in portrait. What I usually do on runDisney race weekends is save all of Ian's photos from over the course of the weekend, and then the following Tuesday email them to myself to upload and label for use in articles. That Tuesday, while uploading Ian's photos to WordPress, I got the word that he passed the previous night. To say I was in shock was the understatement of the century. "It's gotta be a different Ian," I kept thinking, even though I only know one Ian.
When I finally accepted the reality of the situation, of course I was saddened, but I immediately thought of all the amazing things Ian did just in the short time I was blessed to know him. So many of us "talk the talk" about wanting to do things and the places we should go, but Ian is the type that "walks the walk,' literally. The rest of us might be like "Dude, I know we planned to go to Star Wars Celebration, but I'm gonna have to ditch because life is too crazy right now." Ian found ways to go anyway. He had the fun and the memories, and never looked back with regret on all the things he could have done but didn't — because he did. Ian may have left this life early, but he got more out of it in less than 50 years than most of us would get in 100.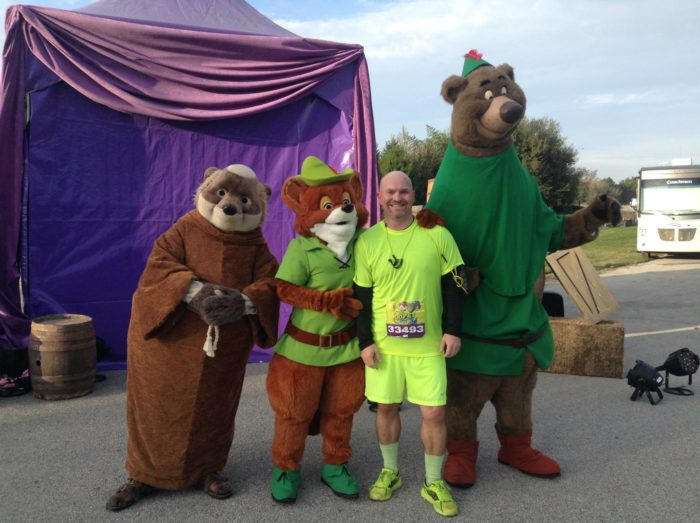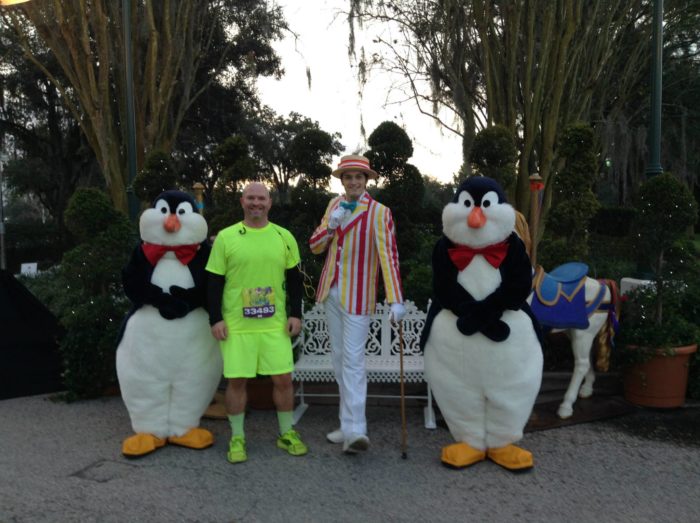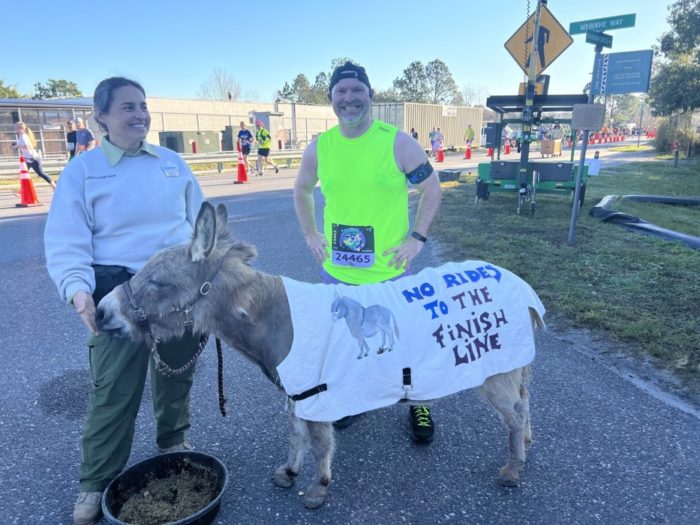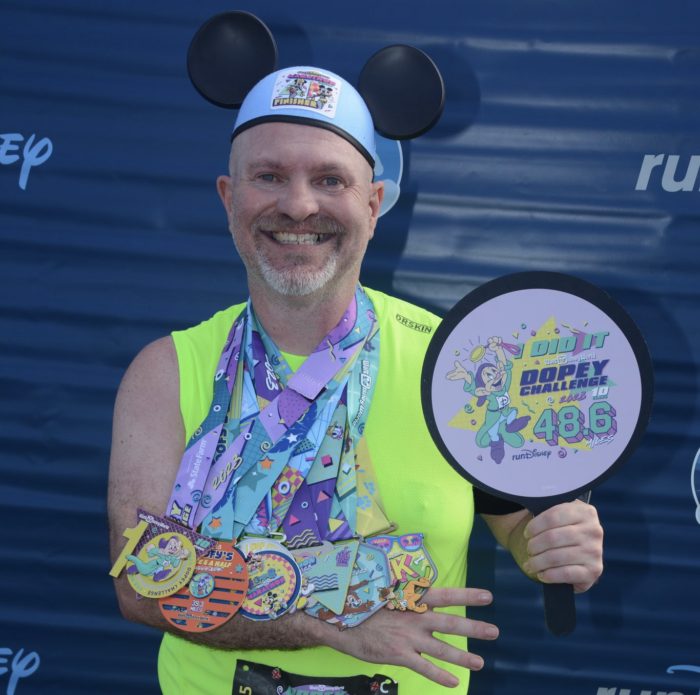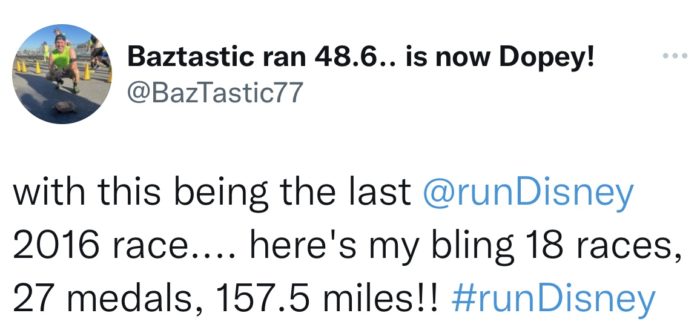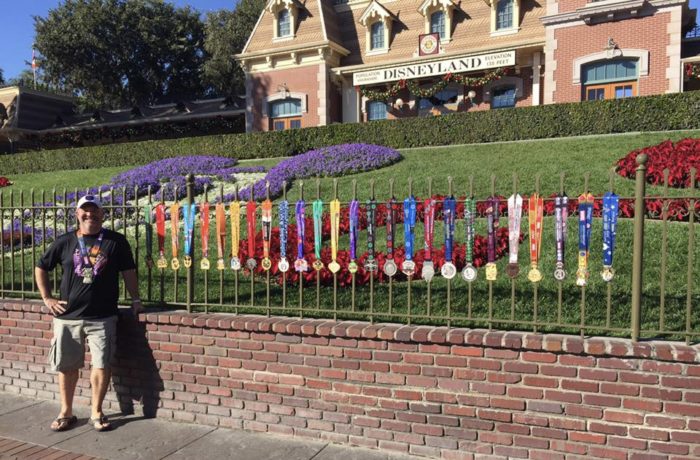 It's been really hard for me to write this bit about Ian. If I ramble, that's because of how our friendship was. It was definitely all over the place. I keep seeing people say "I met Ian on this day" and I have no idea when he and I became friends. We followed each other on twitter, and at some point in 2014 we met up. I'm pretty sure it was at a race at Universal where several of my friends and I had run. We talked about going to Disneyland for the first Avengers race, and exchanged numbers. From then on? Ian was just there. I introduced him to my husband Ricky, and they were immediately friends. We would go to the parks and just hang out. If you followed him for any amount of time before IllumiNations went away, you know that Ian was a bit of a fan. It turned into us wandering around the park and then making sure we were on the Odyssey bridge to watch ROE where we'd just hang out and complain when people stole our benches. I couldn't tell you how many nights we spent doing this, but trust me when I say that Ian did it at least 2 more times a week without us.
I didn't do as many races as Ian did (I don't actually like running, I just like medals you get) but when I did, we'd always make sure that we met and walked to the corrals together, and he and his family would always be waiting for me at the end. If we were going somewhere that wasn't Disney I'd jump in the car and let him worry about the driving. He even let me use his treadmill to train, which is one of my favorite stories. If you've ever met Ricky, he's very good at making things up in his head and thinking they were real. For example, he told me that Ian didn't like Italian. Ian wasn't aware of that, but Ricky swore up and down that he didn't. Well Ricky was convinced that Ian had a condo. So I'm driving around his development trying to find condos. I'm convinced I was lost so I called Ian and was like WHERE AM I? Turns around I was two houses down and Ricky was full of it again. We never did let him live it down, and I probably never will.
When we did make it out to Disneyland, I stayed with friends the first three years of Avengers because Ian liked to stay by himself. He always stayed in the Fairfield Inn across the street. It has a Pizza Hut on the third floor in case you wanted to know. Year 4 I was kind of in a bind, so Ian let me stay the first night. We definitely got Pizza Hut that night and hung out all day at the parks. It was kind of nice just hanging out with my bestie. It was also a running joke with us that Ricky needed to sell a house (he was doing the realtor thing at the time) so he could come to Disneyland. We had planned the three of us going back to Disneyland for the next race, but at least we're going to be staying at the Fairfield Inn.
Ian and I were HHN buddies for a while and then started bringing his niece Brooklyn. Soon thereafter Ricky got a better schedule so we were at Horror Nights as much as possible. He went pretty much every single night either with us or by himself. I always had people texting me "Found Ian! Where are you?!" if I happened not to be there. We finally got him to go to Howl o Scream in Busch Gardens, and the 4 of us made it a yearly trip, and when SeaWorld decided to have HoS, we were hot on those tickets. I'll never forget 2021 when I had broken my ankle and Ian and Ricky took turns pushing me around in my wheelchair. I made Ian take me down ramps because I just had this BAD feeling if anyone else tried. Ian also never got scared, so he was always the first of the group to go in a house. He also was good at just leaving us behind if we were too slow. I will always be thankful for the fact that we brought his niece Ashleigh to HoS with us this last season.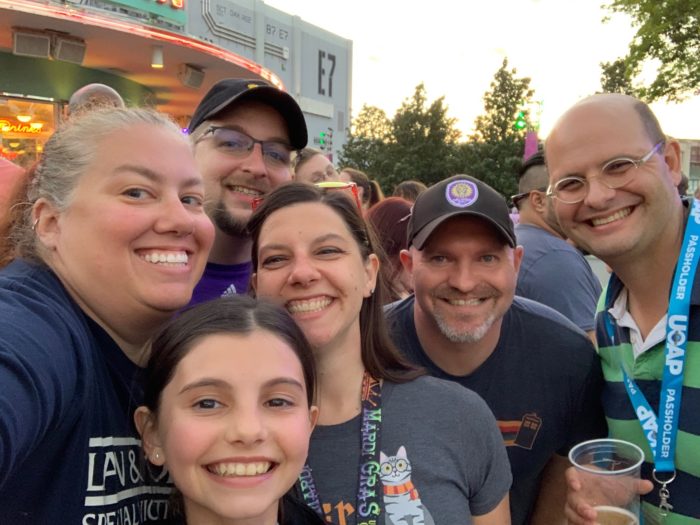 The best part of our friendship was just the day to day stuff. He was the first person I called when I found out Ricky had gotten into a car accident in Winter Haven. He dropped everything, closed up his office and made it down to the hospital in record time. He kept me calm when we didn't know what was going on, and drove us back home and helped us get settled. When I broke my ankle in 2021, he immediately made his way to ORMC to sit with us. Ricky called him every day on the way home from work. Ian listened to him every day. Every Tuesday was Target Tuesday. It started during the height of the pandemic and we just kept it going. Some days we would have to switch it to another day. Sometimes we went multiple times a week because we couldn't get into a park (thanks Chapek). We always had our routine. It would usually involve Ian and I breaking it down in the aisles if we heard a good song and embarrassing the heck out of Ricky. We had some of the best times in Target. In fact, that was what we did on his last Monday. We picked him up at the office and drove to Golden Corral (scoff if you must but it was SUCH an Ian dinner). We came back, ran around Target for our groceries and then dropped him back off at the office. Ricky had finally gotten his Christmas present for Ian and had just given it to him. I don't think I'll ever forget that last Target run. He got a gallon of milk, 2 bath sheets, 2 pints of ice cream and some other stuff, but those are stuck in my head. Our friendship was boring but constant. I knew that if I needed anything, I just needed to call Ian.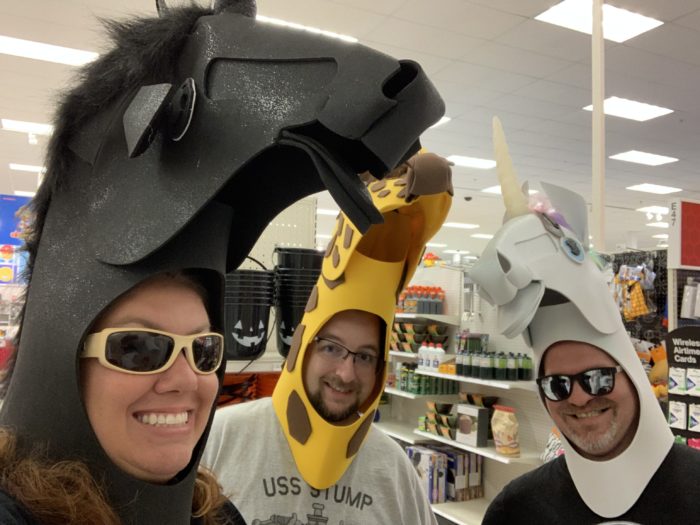 Ian was more than a best friend to me. He was a brother. His birthday wishes always said that he considered me more than just a friend, I was his sister. I love his family. They are such wonderful people, just like him. When we were talking and remembering him, it was always about the good times because there weren't any bad times. Ian loved things solidly. If he saw something negative about something he liked? He did not care. He loved it and that was the end of the story.  The whole world could hate it and he wouldn't care. He would always just let me lose my mind until I was ready to come back to earth.
So I'm going to miss the Target runs. I'm going to miss the movies. I'm going to miss wandering around Epcot, and every other park. I'm going to miss when we tweeted the same things at the same time. I'm going to miss his laminated lists of what is wrong with Ricky. I'm going to miss the dinners 3 or 4 times a week. I miss my friend, my constant, my brother, and the best friend of my husband. He was just such an integrated part of our lives, and living without him is going to be one of the hardest things I've ever had to deal with. If he doesn't start haunting us soon though, I'm going to lodge a complaint. Love you dude. You made us better people.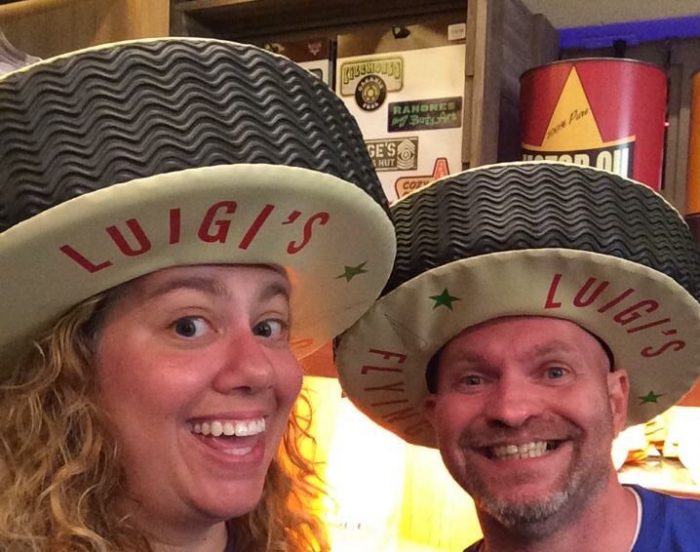 UPDATE: After seeing all the love outpouring from the online community, Ian's sister-in-law Amanda asked me if we could set up something at EPCOT so Ian's family could meet his friends. Neither Mark (Ian's brother) nor Amanda really use Twitter, so they didn't know the friends that Ian had made over the years. I knew that night would be rough, but also cathartic, and I wasn't disappointed. As the group started to grow, you could see the smaller groups break off, and it was kind of cool to see just all the people's lives that Ian had touched over the years. They didn't know each other, but they were there for one reason, and it was absolutely magical. Although it was a hard night, it really was wonderful seeing such a large group of people there to celebrate a guy we met over the internet.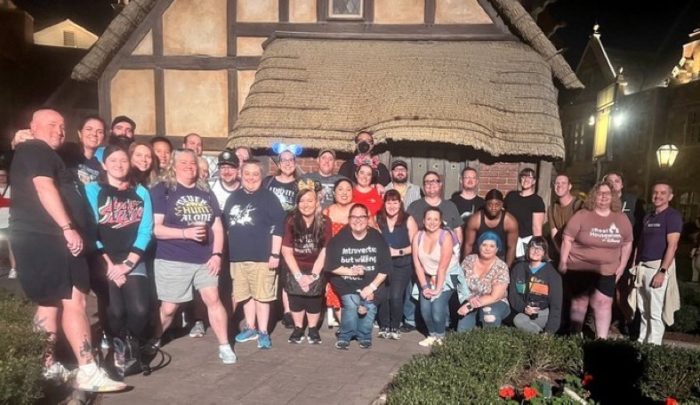 HONORABLE MENTION – Family Man
As a person who grew up in an extremely small family, one thing I always admired from a distance was the amount of time that Ian spent enjoying life with his family. Specifically his brother Mark, his sister-in-law Amanda, and his two nieces Brooklyn and Ashleigh. I think for many of us, there comes a time in our life when we realize that the most important thing is the time you spend with the ones you love and the memories you create.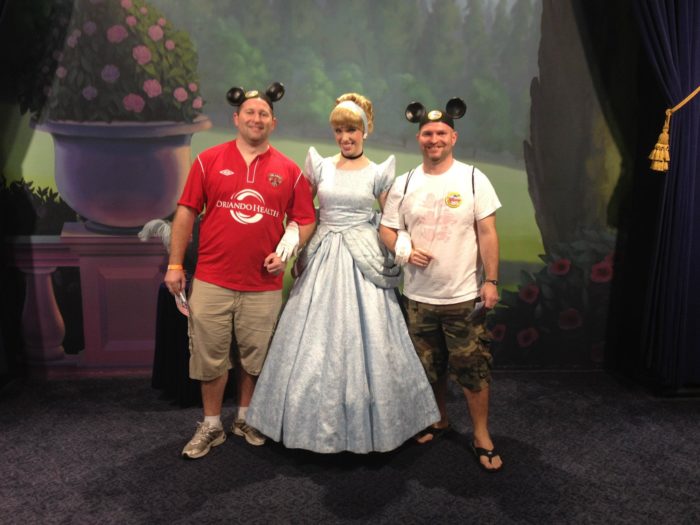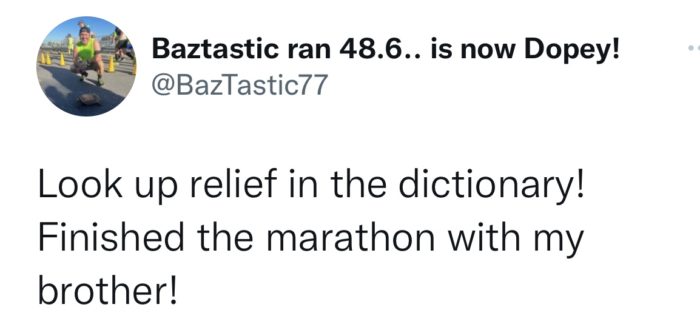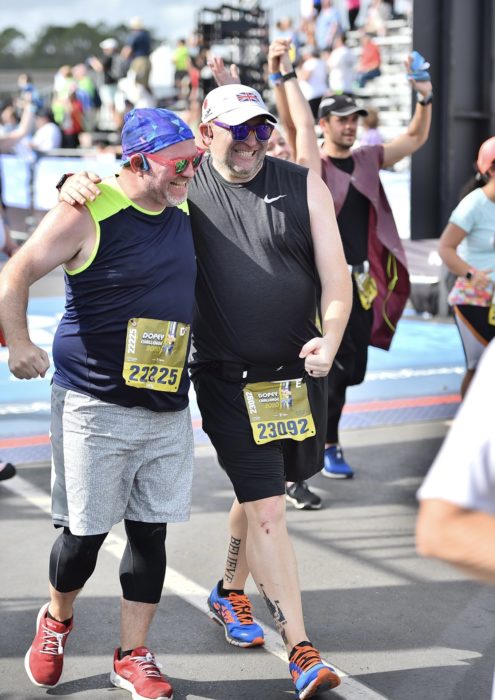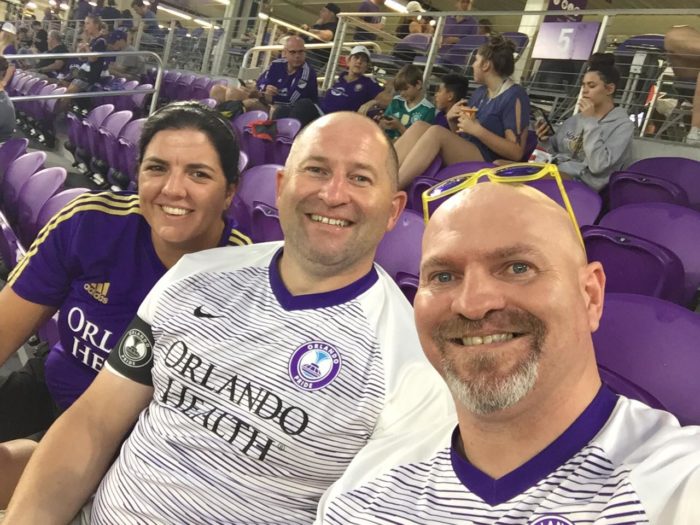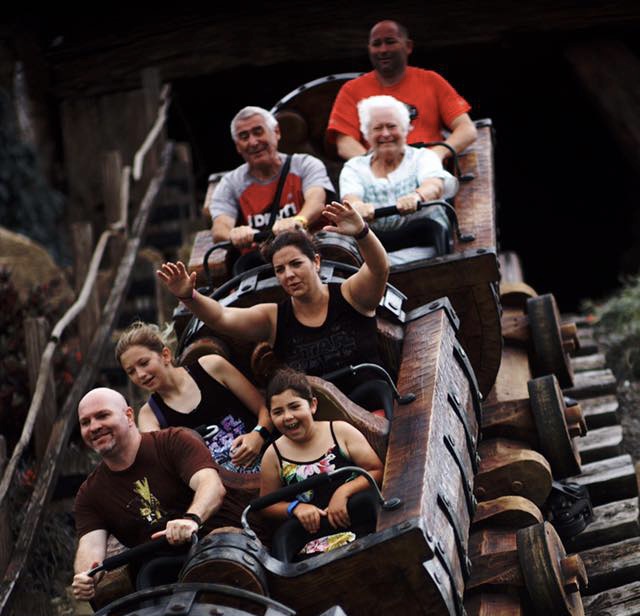 For those of us who mostly knew Ian from our interactions online, we got to see a clearly loving uncle give his two nieces the experiences we all probably wished we had growing up. While I have never met Ian's nieces Brooklyn and Ashleigh, I have been able to watch them grow up over the years via all the things they have done with Ian. My heart grieves with them during this tragic loss, but if there's one piece of advice I can offer them it's that time lessens the emptiness left behind by filling it with memories. Ian will live on through all the people he made laugh, who he inspired, and who he helped, always asking for nothing in return. If they made Ian's life into a movie, no one would find the main character believable because no one's that good. Ian *was* that good and I will always treasure the brief time I got to spend with him.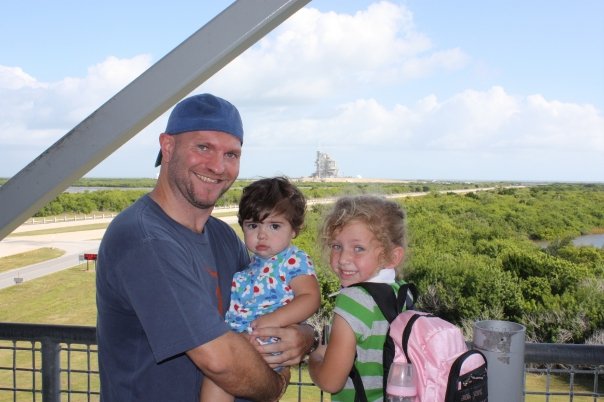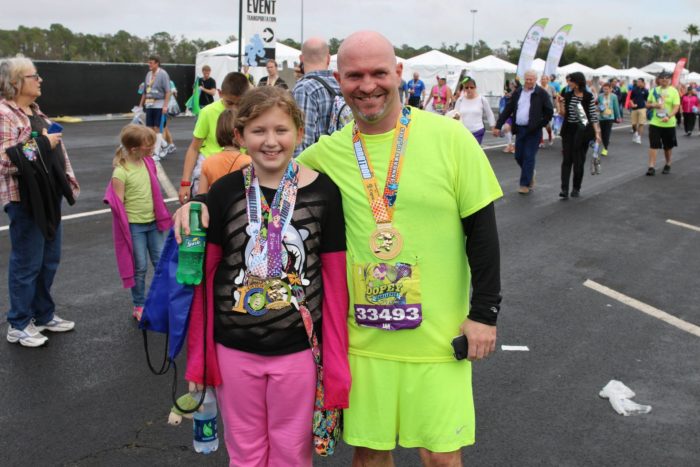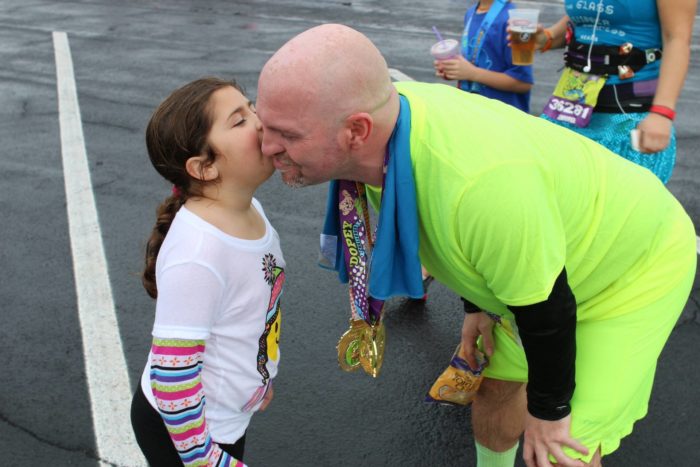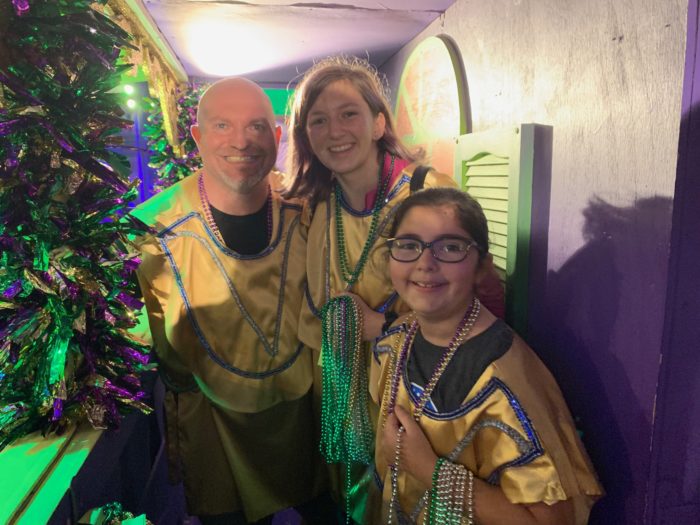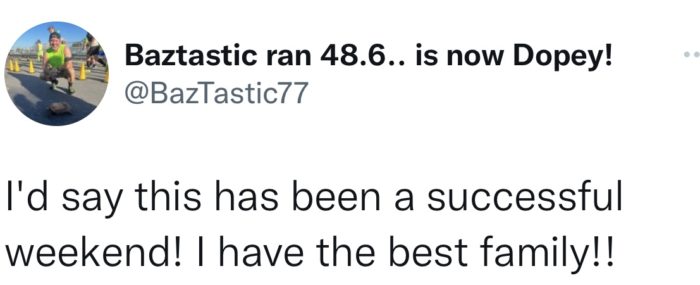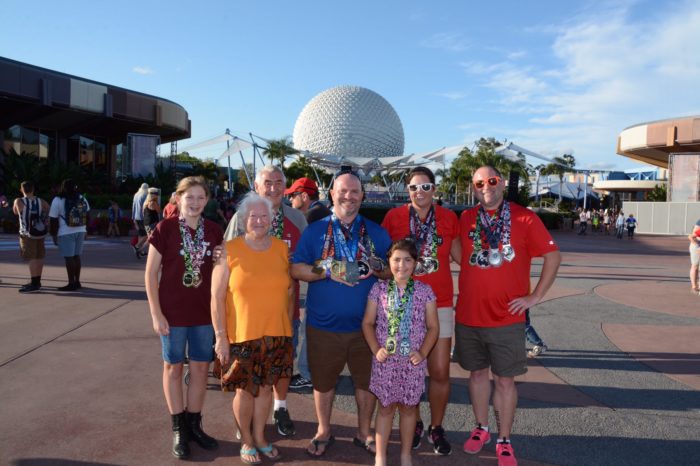 What can be said about Ian Barritt that hasn't already been said?
He's exactly how everyone describes him: the greatest friend, uncle, brother, OCSC fan… the list really is endless. It would be easy to repeat that, but the one thing I want to add to this: he was always there.
It wasn't until I heard about his passing that I realized I've talked to Ian almost everyday for the last five or six years. He truly was just woven into the fabric of our lives thanks to his daily posting online. I think that's why this is especially hard on all of us. He was our constant friend, our everyday cheerleader, and the best example we had of someone truly living life. Everyday included something that made me happy because he was happy.
While most of our friendship was online and seen in the swapping of quippy tweets, the smaller in-person moments made the world brighter. There was nothing like a simple wave across a crowded theme park or seeing his smile at the end of a race you didn't train for.
He wasn't just one of us, he was the best of us.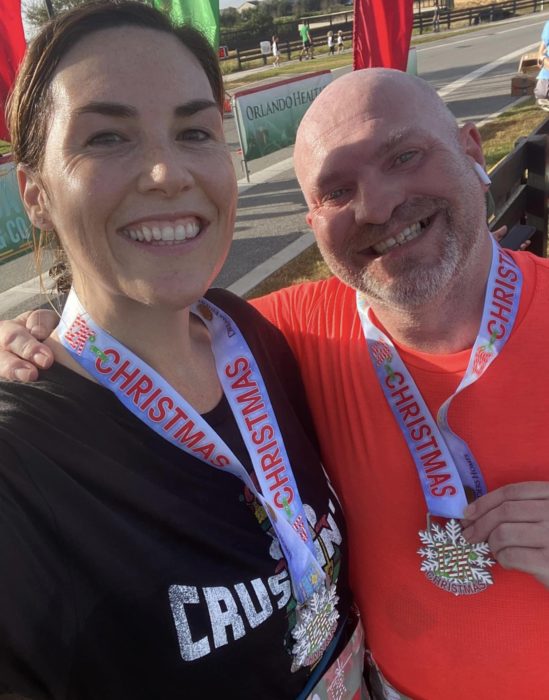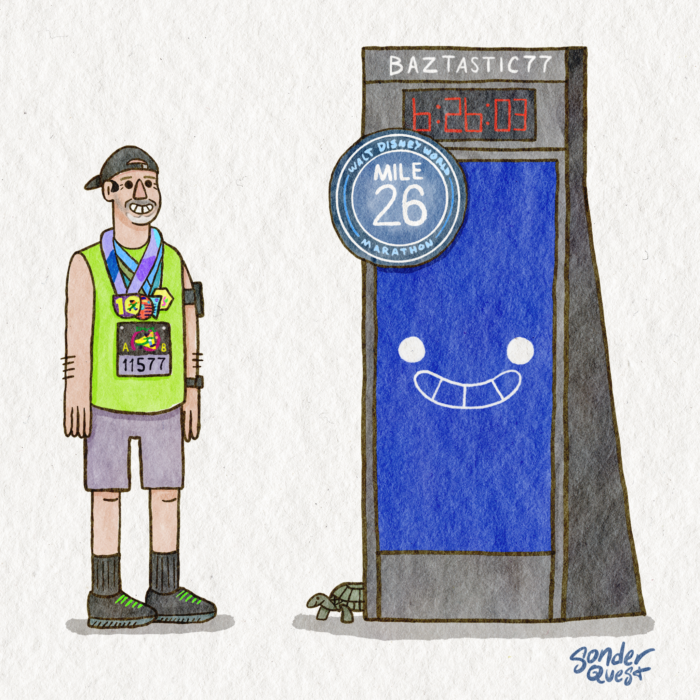 For local Floridians, a group has been started in honor of Ian for the upcoming Purple Pride 5K. This is an annual event put on by Ian's beloved Orlando City Soccer Club and for 2023 is taking place on Saturday, February 11th. The team name is Cwombles, and you can find more information about Purple Pride 5K – as well as joining the team – by CLICKING HERE.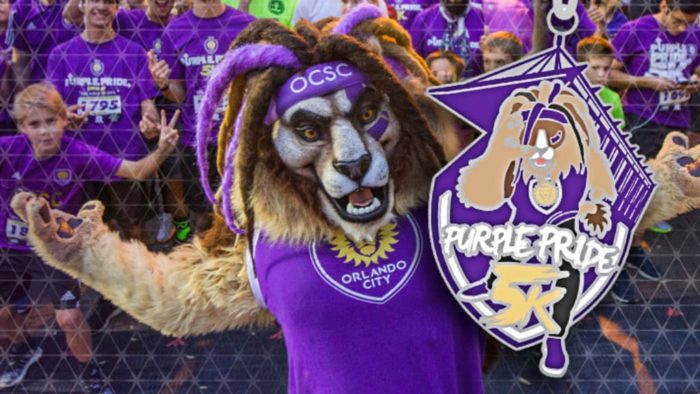 For anyone that isn't local and would like to honor Ian with a virtual run the same weekend as the Purple Pride 5K, Give Kids the World is hosting the 2023 Gingerbread Run and it offers a virtual option. Ian was a longtime supporter of Give Kids the World and his family asks that all donations in his honor should go to Give Kids the World Village. If you would like to participate in the Gingerbread Virtual Run, CLICK HERE, and if you would like to donate directly to Give Kids the World Village, CLICK HERE.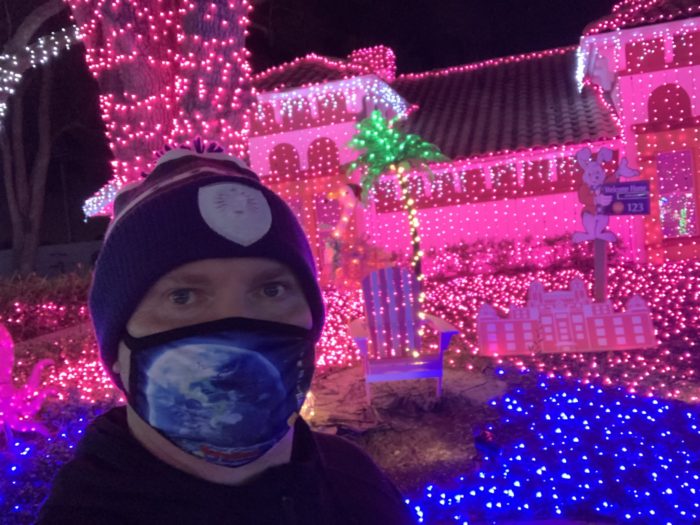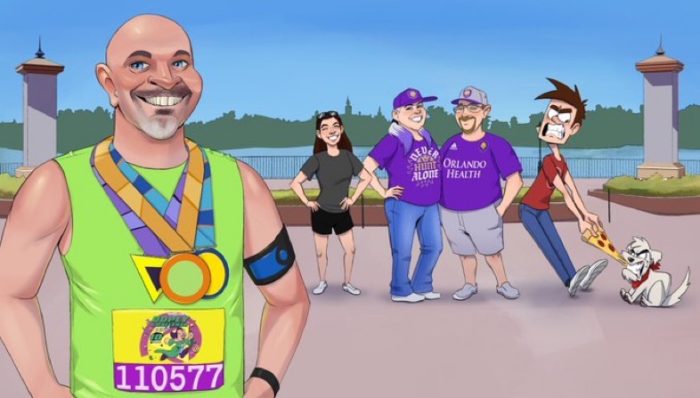 So there you have it: A SATURDAY SIX Tribute to Ian Barritt! See you next weekend for the latest installment of the SATURDAY SIX, where we'll look at something fun from the world of Disney and Universal. If you enjoyed yourself, be sure to check out the THEME PARK ENJOYMENT INDEX, giving a monthly recap of all the theme park news you need to know (and a lot more you don't need to know, but we're gonna tell you anyway). You can also follow Your Humble Author on Twitter (@derekburgan).
If you enjoyed this article, you will surely like the following: 
SATURDAY SIX Presents: The Disney Merchandise Hall of Shame
SATURDAY SIX Presents: The Disney Signage Hall of Shame
SATURDAY SIX Presents: The Disney Food Hall of Shame
SATURDAY SIX: Tribute to Josh easyWDW
Special Thanks to The Elite Brandon Glover, Digital Maestro Scott Walker, the bio-est of all reconstructs @bioreconstruct, Captain Cruiseline Scott Sanders of the world famous Disney Cruise Line Blog, my personal protege Hunter "Elvey" Underwood, artist @SonderQuest, the mighty maven of merchandise Hedgehog's Corner, the SAT SIX Fun Squad of Parkscope Joe and "the Dadalorian" Nick, hot shot Michael Carelli, charter member of the Universal Four @Nitro230, the permit princess Alicia Stella, master cartographer Tommy Hawkins, and Hermione Granger's tutor Megan Stump for their invaluable assistance with this article. Absolutely no help was added by SeaWorld Influencer @SuperWeenieHtJr. The SAT SIX is inspired each week by goofballs Aengus Mackenzie and LitemAndHyde and you Potterheads will  enjoy Meg's other blog work over at the Central Florida Slug Club.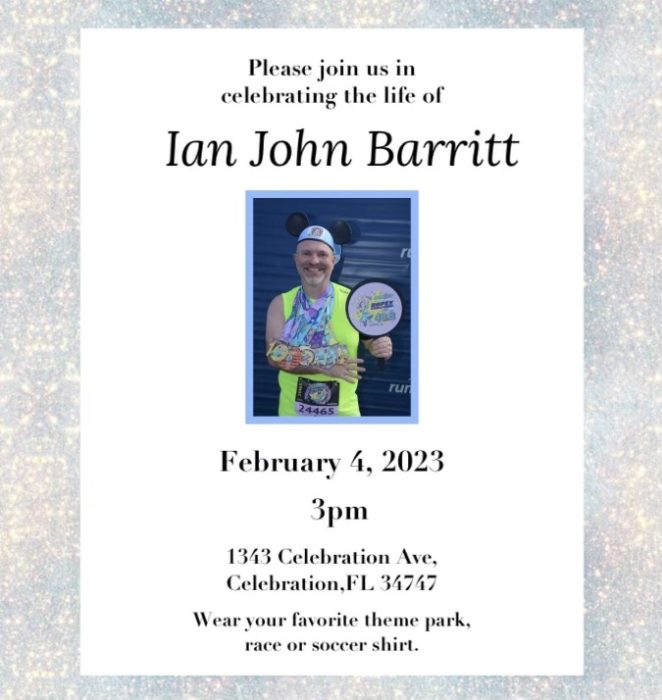 I was deeply saddened to hear of Ian's sudden passing this past week. My thoughts are with his family, friends and loved ones who are hurting with the loss of someone who filled this world with positivity. I've greatly enjoyed connecting with fellow Disney fans via social media for more than a decade now.
There are some individuals whom I consider staples of the fan community, and Ian was at the top of that list. It was a joy seeing the world through his posts and, like many, I enjoyed following his runDisney journey – particularly his most recent marathon. While looking back at our exchanges over the years, I laughed upon finding his question to me in August 2012 – "Do you know when the air fresheners are being released? I need my car to smell like a Turkey Leg?" Ian weaved his positive energy and good-natured humor into the fabric of so many lives. Do what you love, laugh more and share kindness – it's how I'll honor Ian's memory.