SATURDAY SIX: Introducing the Disney MERCHANDISE Hall of Shame
This week's SATURDAY SIX Presents: The Disney Merchandise Hall of Shame! Over the years in this fine blog series we have curated loving tributes to the theme parks that contain The Good, The Bad, and The Ugly… but mostly the ugly. In recent years we introduced the Disney Signage Hall of Fame (with members including EPOCT and and – of course – "wax been done") as well as the Disney Food Hall of Shame (with members such as the Animal Kingdom poop snacks, the Idaho Dog, and the Pop Tart Sandwich.) Today we are going to take it up a notch and are proud to present The Disney MERCHANDISE Hall of Shame.
Some people in the theme park community – like TouringPlan's own Len Testa – are experts on highfalutin subjects such as historical data, algorithms, and optimization. We at the SATURDAY SIX don't even know what those words mean. However, we have earned our credentials and are bonafide experts in another extremely important area: theme park merchandise.
Now we all have our favorite souvenirs. Some love the iconic Mickey Ears that are ubiquitous in Disney's Magic Kingdom. Others collect plush, pins, vinylmation, and Tsum Tsums (well, only the weirdoes collect Tsum Tsums). Disney puts out a lot of great pieces of merchandise, but then they also put out something like this…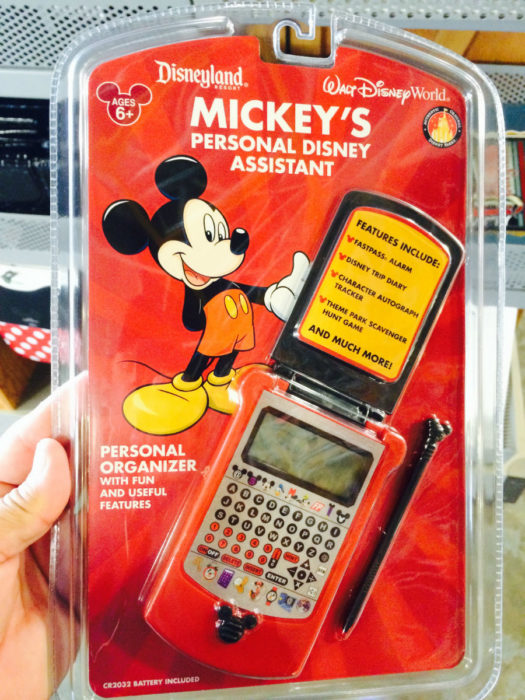 Seeing the next level bonkers Mickey's Personal Assistant put the idea of a Merchandise Hall of Shame in our heads many years ago, and today you are about to see some of the most jaw-droppingly crazy items which Disney has released over the last decade, starting with…
# 6 – Meet & Greet Mickey Figure
This Mickey "collectible figure" came straight from your nightmares, and was originally priced at $49.95 and limited to just 500 pieces. Each of these 500 figures was numbered. Now when you are selling numbered items, you start selling the lowest numbered ones first, because everyone wants a low number and they are the highest in demand. You can imagine how many of these figures Disney sold in the 'real world' when ones numbered as low as 50/500 made it to the Disney Outlet Stores in Orlando. Ok it looks weird, but here's the kicker. This figure is themed around the 13 REFLECTIONS OF EVIL trading event at EPCOT back in September of 2013.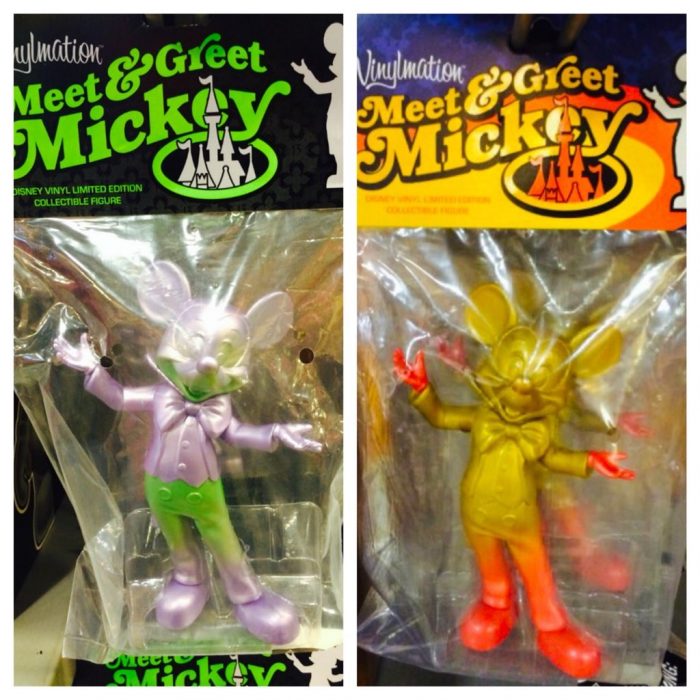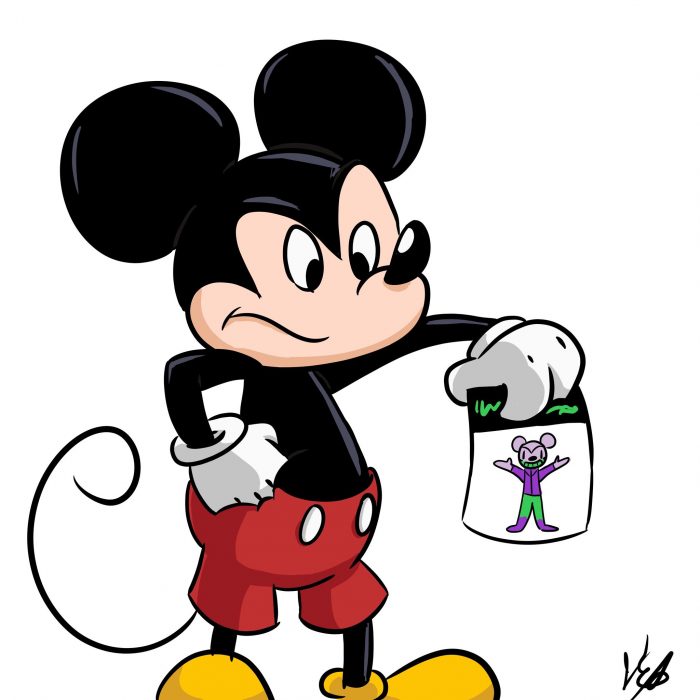 There have been a lot of weird looking pieces of merchandise featuring Mickey over the years. One item that the Outlets almost had to give away was this Mickey & Minnie plush doll set.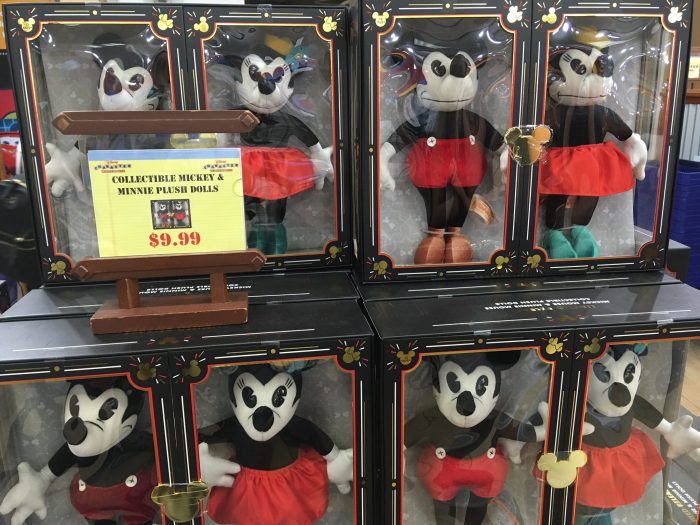 Those old timey Mickey & Minnie plush should be posed for pictures sitting on the even creepier Nanny chairs at Disney's Boardwalk Resort.  It's not hard to see why America was so tough and resilient in the first half of the 20th century. For our great-grandparents and our grandparents, these things were their version of "cute." We have Hello Kitty, they had nightmare fuel Mickey dolls and Nanny chairs.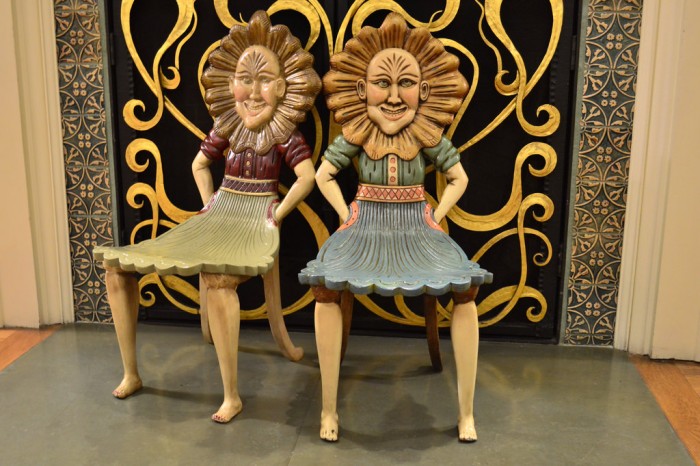 I loved this Mickey Mouse plush in which you could pull the arms and while one would grow longer, the other would shrink in size. It was ridiculous and made no sense, but I loved it.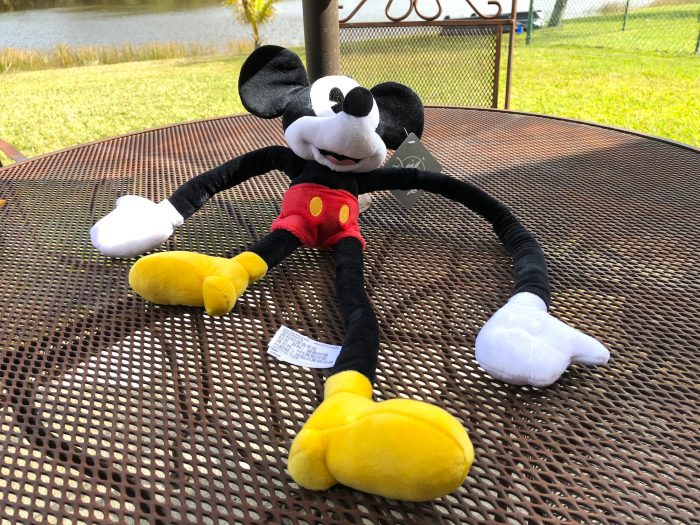 # 5 – Pandora: The World of Avatar
For a while, merchandise from Pandora: the World of Avatar had the unofficial record of "fastest time to the Outlets" in theme park history. The land opened in May of 2017, and the first discounted items showed up later that Fall. This record wouldn't last long though, as some items from Star Wars: Galaxy's Edge arrived at the Outlets before the land even opened (like we could make that up.)
In fact, before Pandora opened, many wondered how Disney would tackle the area of merchandise for the Avatar brand. Despite being the all time largest grossing movie in history, Avatar's lasting effects on pop culture was very small, but especially in the area of merch. The toy line didn't connect with buyers in 2009, cosplayers at conventions are few and far between, and no one ever saw Avatar t-shirts next to Star Wars, Star Trek, or even Minions in places like Wal-Mart or Target. Could Disney crack the merchandise code when Fox – who originally made Avatar – couldn't?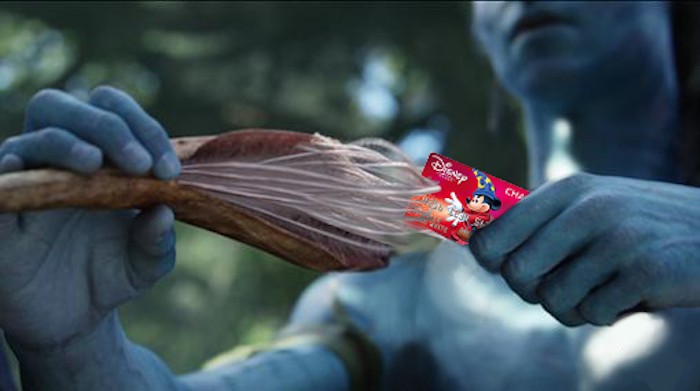 The simple fact is that the movie Avatar did not lend itself to the traditional methods of merchandising that Universal used for the Wizarding World of Harry Potter. The third act of Avatar hinges on the fact that the humans have nothing to offer the Na'vi, because the natives of Pandora have no use for materialistic things. What are those materialistic things? Shirts, action figures, magnets, and pretty much anything else you would find in a theme park gift shop. Disney's hubris even had them saying at the time that merchandise for Pandora: The World of Avatar would only be sold inside the land itself, and you wouldn't be able to buy it anywhere else in Animal Kingdom. This edict lasted less than a day, as by the end of the Grand Opening for Pandora, merchandise was available to purchase at the front of the park. Later you would even be able to find "exclusive" Pandora merchandise in Disney Springs.
The first items to show up at the Disney Outlet Store were keychains that were designed to look "homemade" on Pandora. To your average theme park guest, these look non-sensical, and I bet even a super fan of Avatar would have a hard time identifying what some of the designs were supposed to be.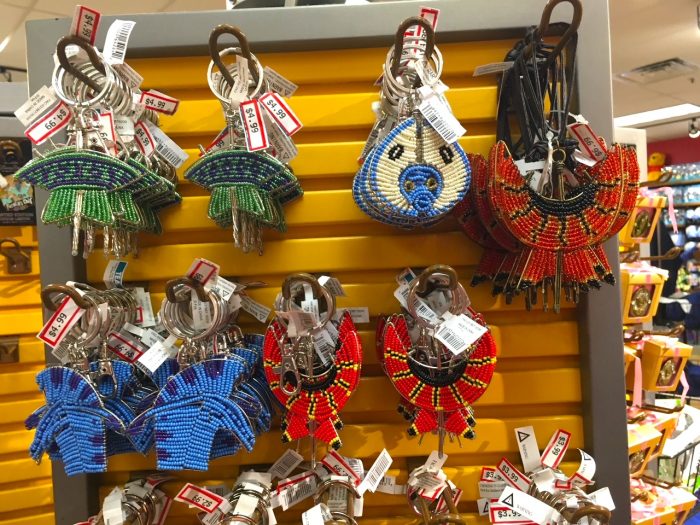 The keychains were closely followed by this INSANE pen set featuring the skulls of several creatures from Pandora. You might ask yourself, who is this pen set for? Kids most likely don't know what these creatures are, and if they did they probably don't want the skulls unless they are Sid from Toy Story. The pen set was also originally priced at $24.99, which would make sense if the pen set was released in 2154 – the year the movie Avatar takes place in – but not so much in 2018 when it came to the parks. The set came to the Outlets and was priced at $7.99, and sat on the shelves for months.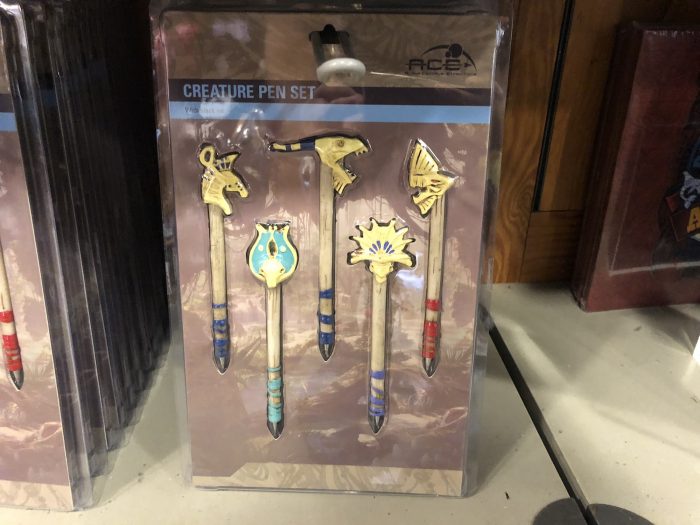 It's a rough guesstimate, but as a person who went to the Disney Outlet Stores several times a month for a decade I would say there is just about a complete turnover in merchandise at the Outlets every 4-6 weeks. It's rare for an item to last at the Outlets for a long time, and on the occasion it does, the item is generally something that is sold across the entire WDW property, like a Star Wars toy (which  you can buy at gift shops in all four Disney parks, at Disney Springs, and at many Disney hotel gift shops.) The Avatar pen set collected dust at the Outlets for over half a year. Believe me, I checked every single month to see if Disney came to their senses and lowered the price. FINALLY they did. The pen set was lowered to $3.99 and you better believe I bought it.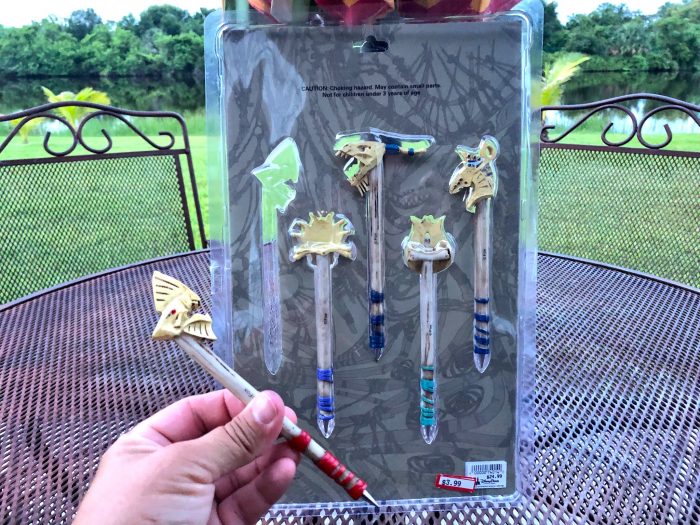 Turns out, the colors on the pens have absolutely no relation to the ink color. They all write in black. There is also no cover for any of the pens, nor a way to retract the tip, so it's just a matter of time before they all dry out. This may be the most ill thought out pen design in the history of mankind. That said, it does make a good writing instrument for the important documents in your life.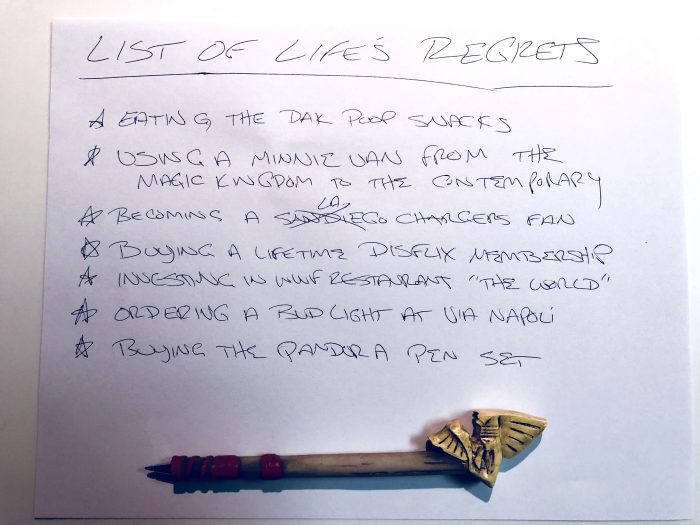 In the world of wrestling there is a term for a certain type of wrestler which is "they have a million dollar body with a ten cent brain." That's the best way I can describe the light up pair of Pandora flip flops. What an awesome idea in theory that is just horrible in execution. Seeing these show up at the Outlets was one of the greatest days of my life. There was no way they could be as bad as what some people were saying.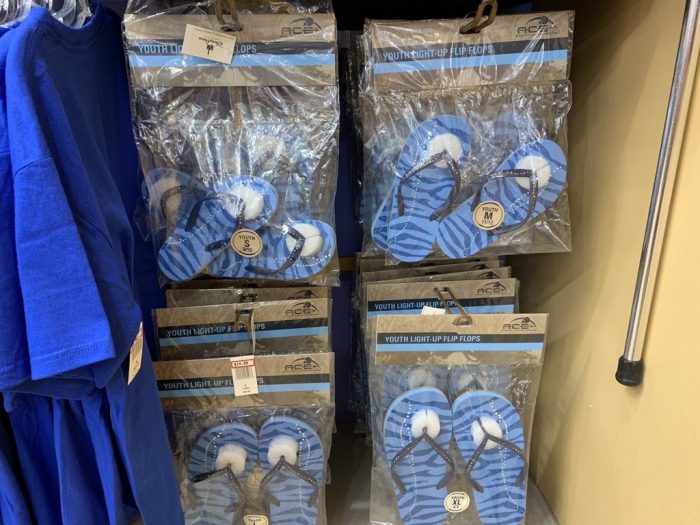 Actually, they were worse. The flip flops were the most uncomfortable pair of footwear I had worn in my life. When you took a step in the flip flops, the bottoms would light up. It was a really cool effect, but the shoes hurt to walk in. Tried multiple times to give them a chance and ultimately just had to pour out a 40 and throw them away.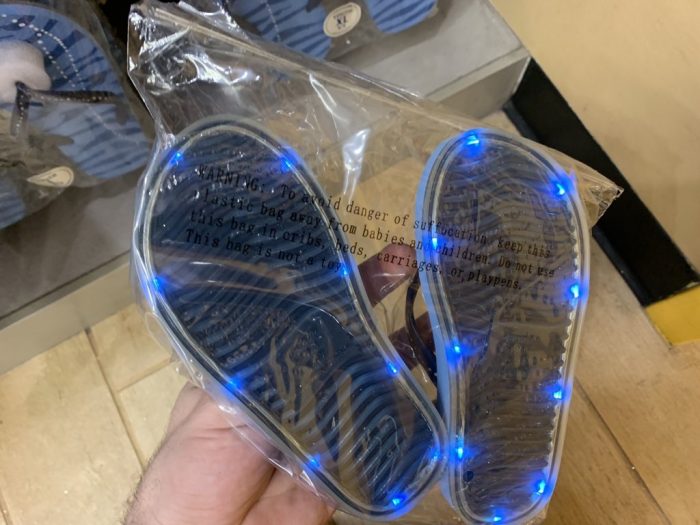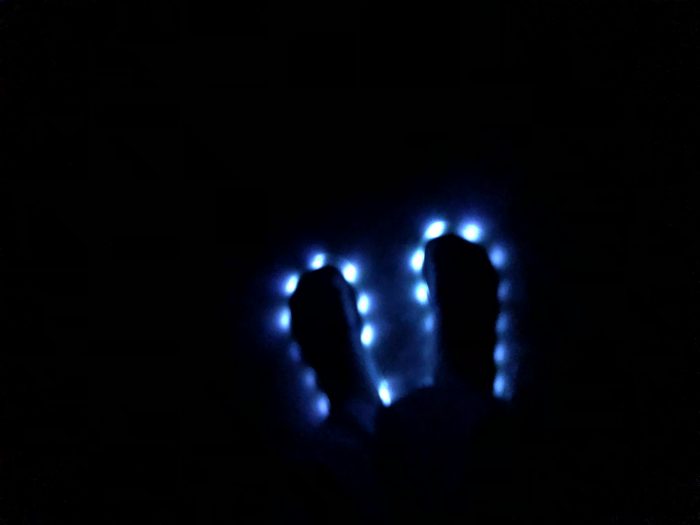 All the Avatar creature toys have made their way to the Outlets, but especially any that are based on the "Prolemuris." This blue monkey is one of the weirdest items to come out of Pandora: the World of Avatar, and imagine the ground that is covering.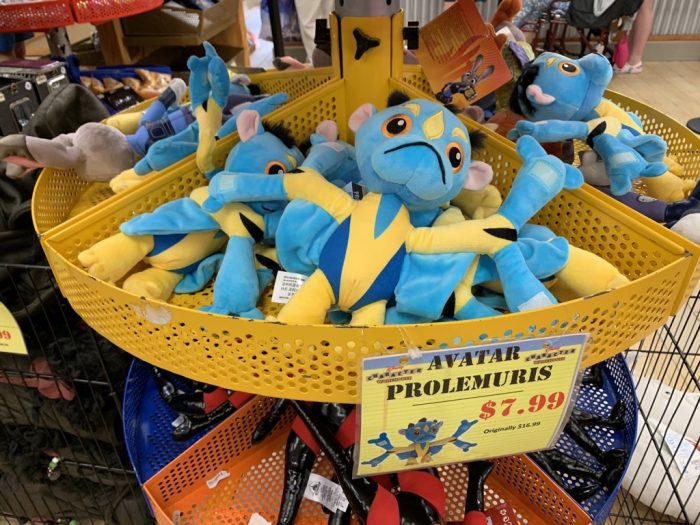 The plush is weird enough, but the giant plastic Prolemuris is a first ballot Merchandise Hall of Shamer. This figure had no moveable parts and was a solid piece of plastic, one that you could definitely use to beat to death anyone who gave it to you as a gift.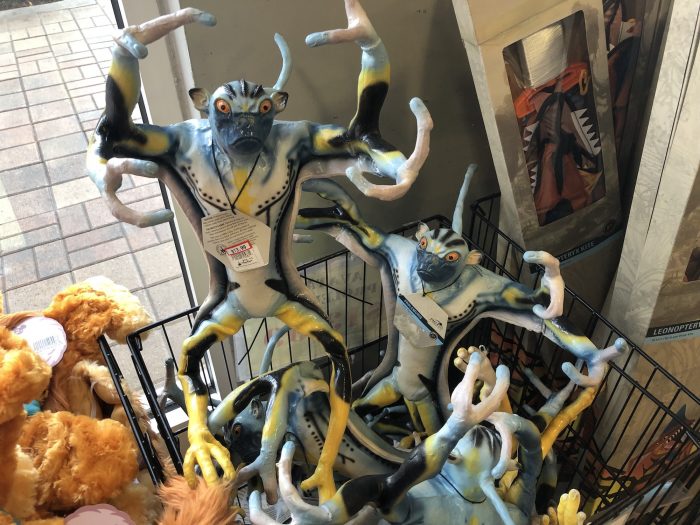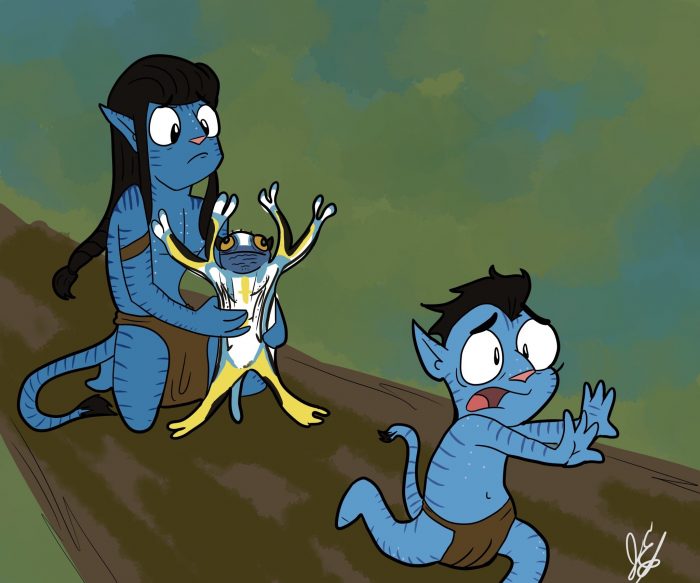 # 4 – Off Model Characters
One of the rare pieces of Disney merchandise to go "viral" is this creepy looking Belle doll from the live action Beauty & the Beast film. It's supposed to be based around the look of Emma Watson, but instead looks more like one of the Maharelle sisters that Kristen Wiig played on SNL's Lawrence Welk show.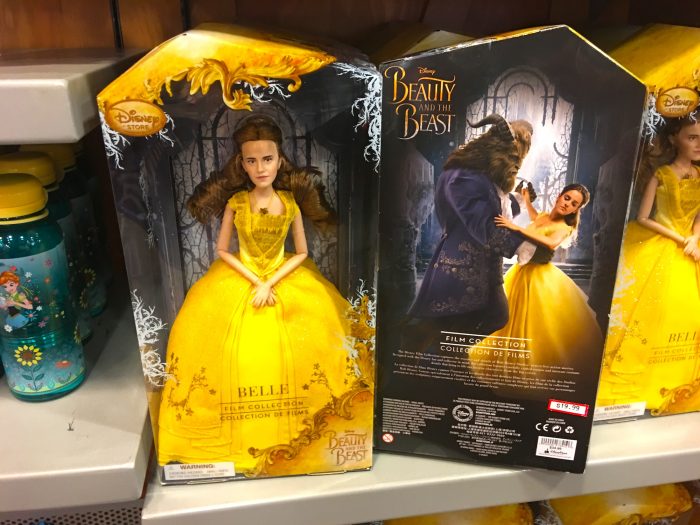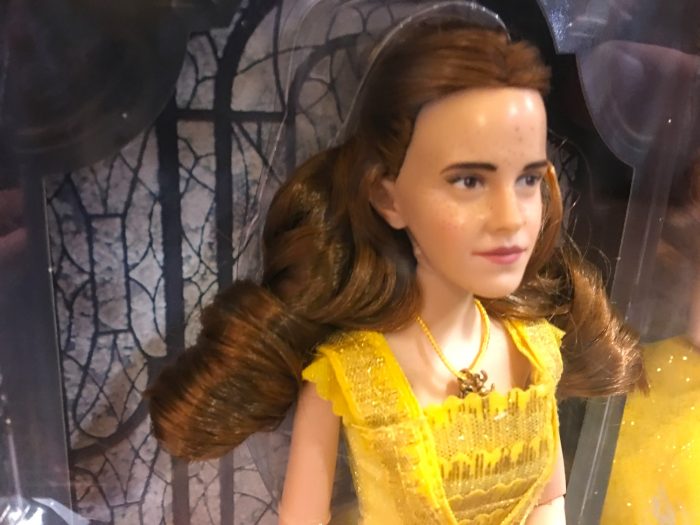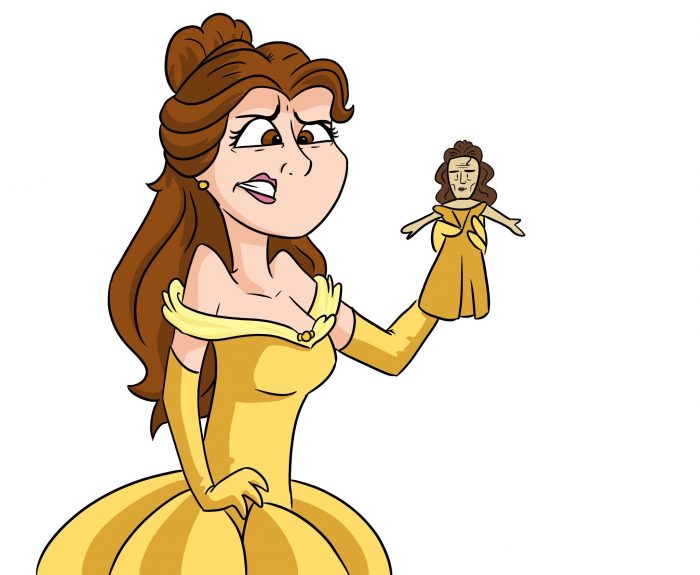 For our next item we're going to look at pin set that featured various Disney female characters along with a birthstone. For example, Snow White was the character for January and had red "garnet" stones.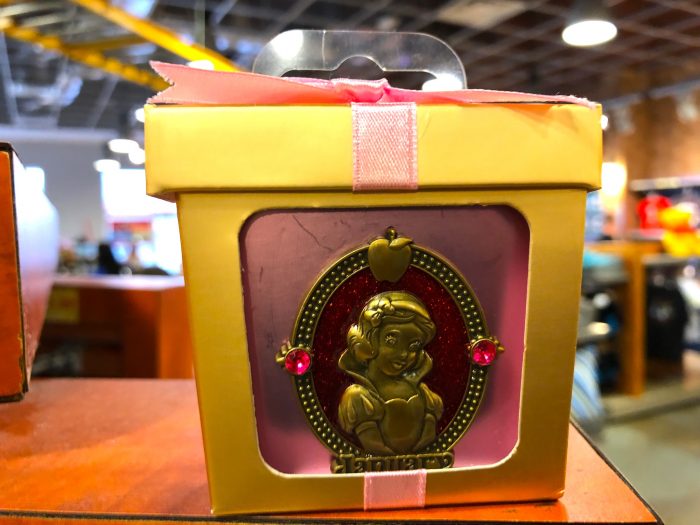 It's always odd when you see a Disney character "off model," but few were more off than these two birthstone pins featuring Frozen's Anna and Who Framed Roger Rabbit's Jessica Rabbit. The photos below are from the ShopDisney website. That's right, THIS was as good as they would look!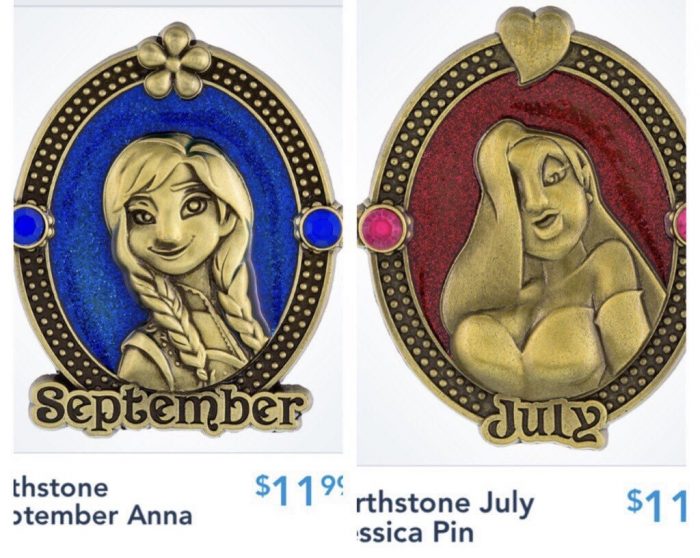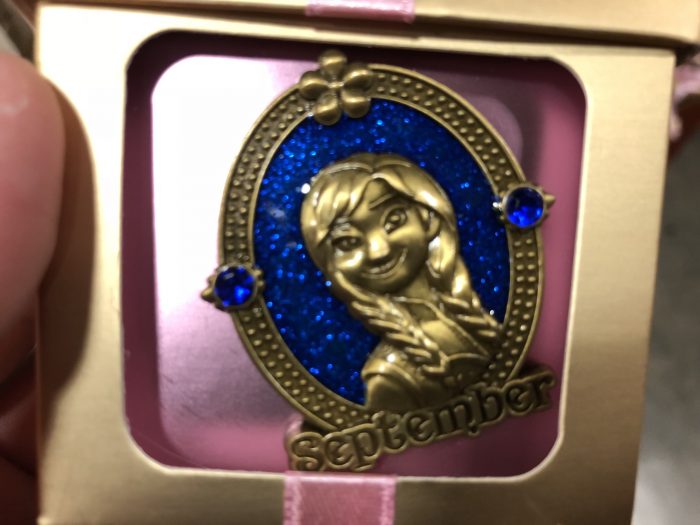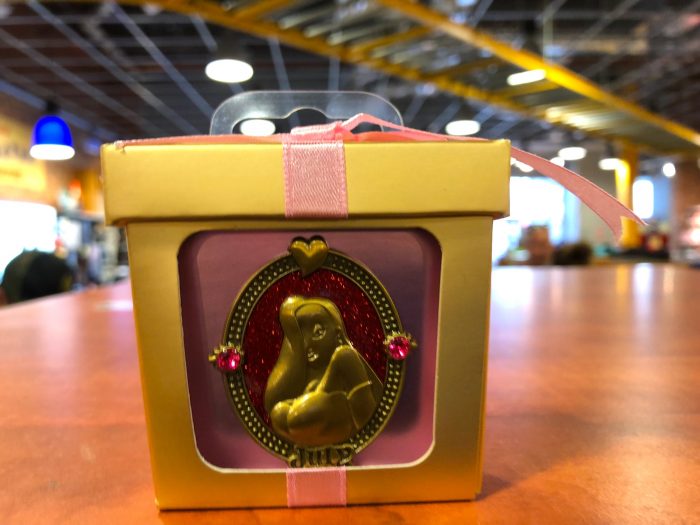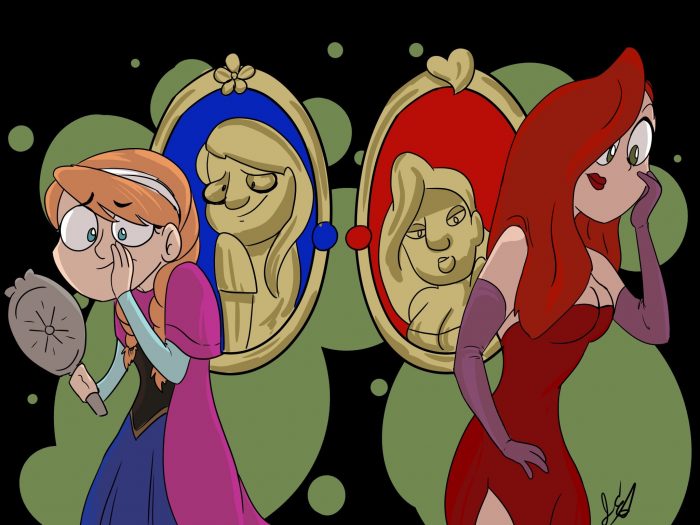 # 3 – Self Pleasuring Mickey Toy
Presented without commentary.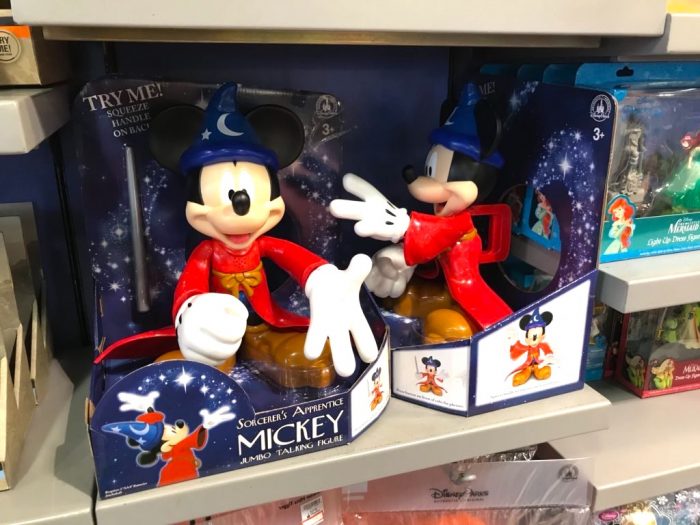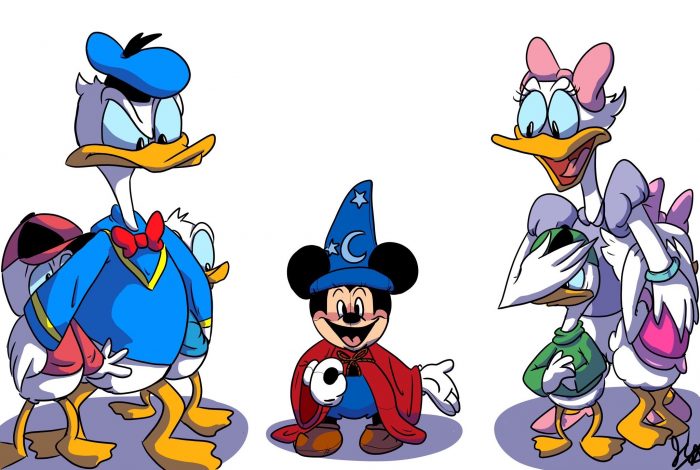 # 2 – Hats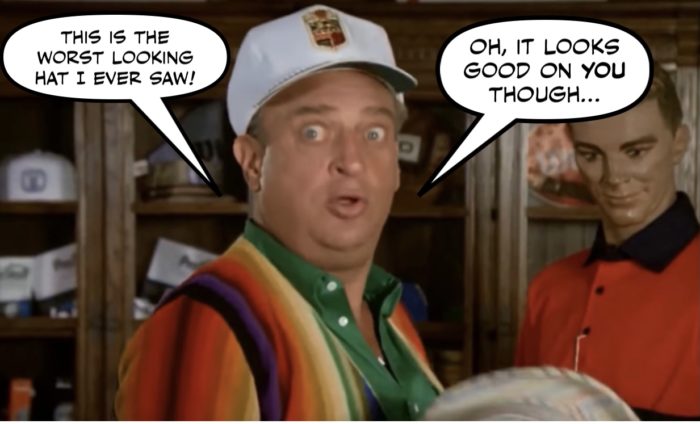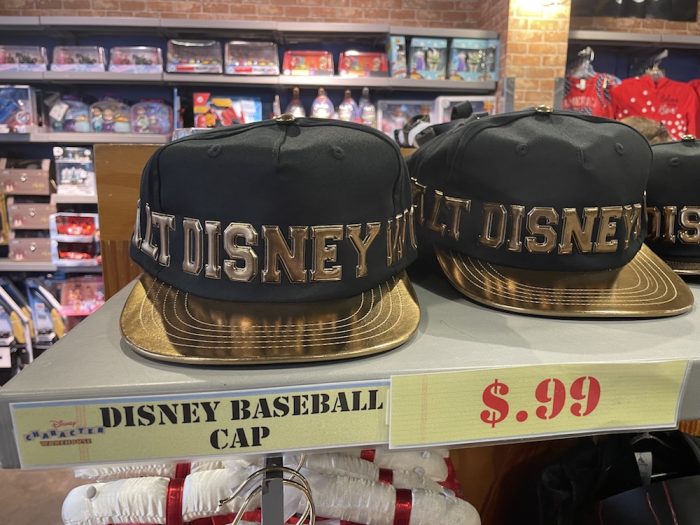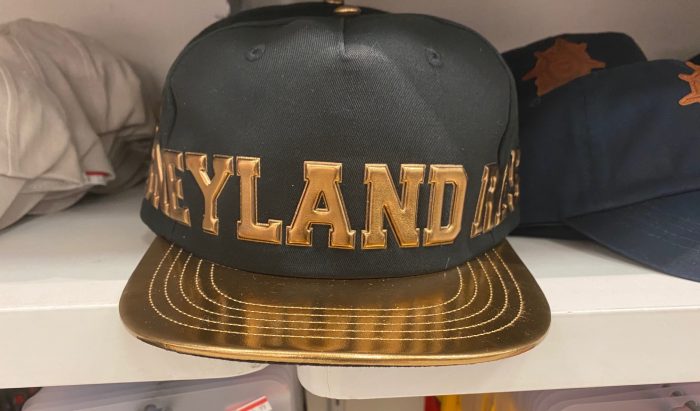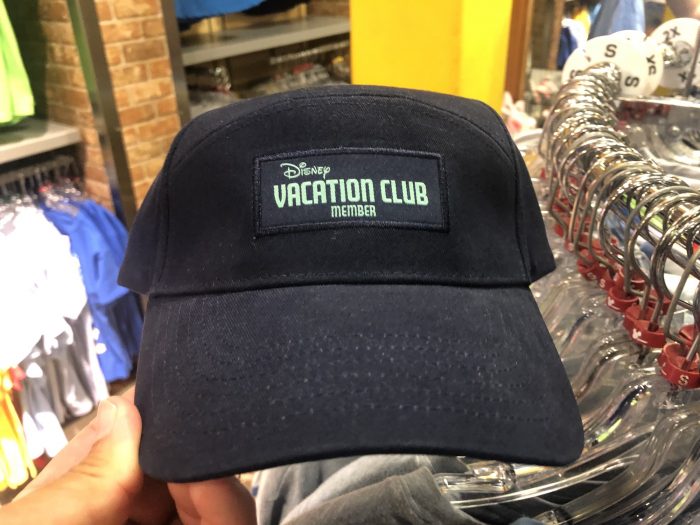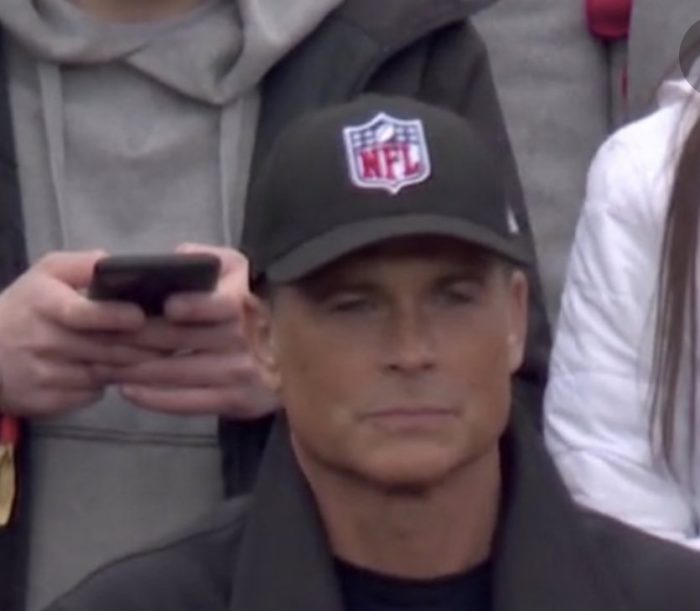 We've covered the rise and fall of the NBA Experience in our 2021 In Memoriam article, but you gotta love this hat. For a place literally no one wanted to go to, Disney thought they could get away with charging $50 for this hat. Just INCREDIBLE.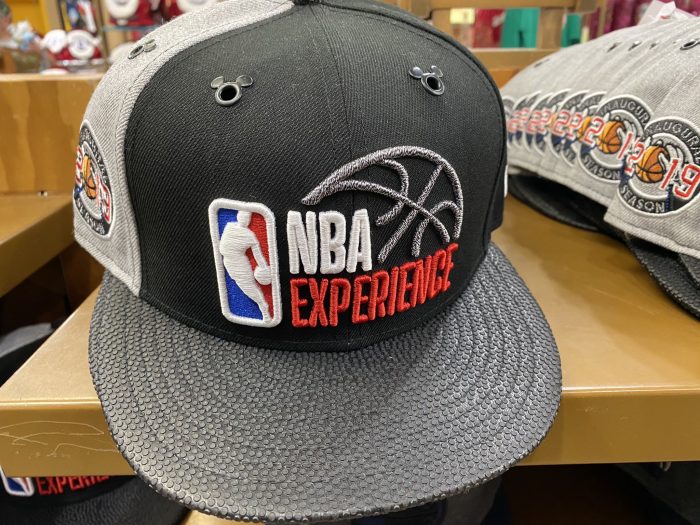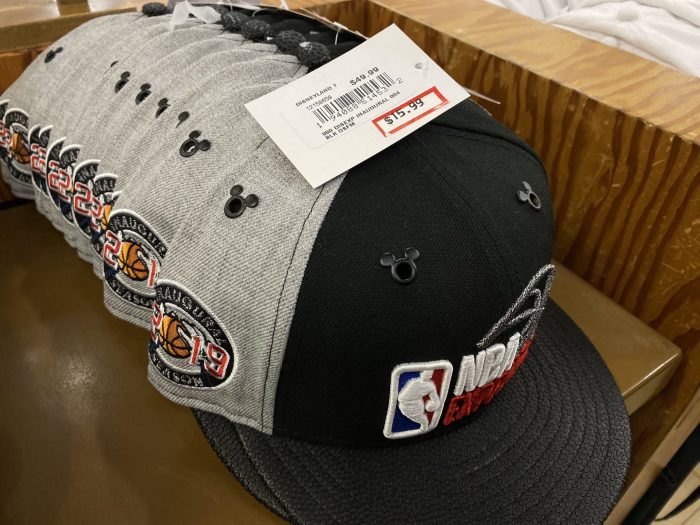 Another "what were they thinking?!" headwear item from the NBA Experience were these Minnie Ears headbands that were designed to look like they were made out of basketballs.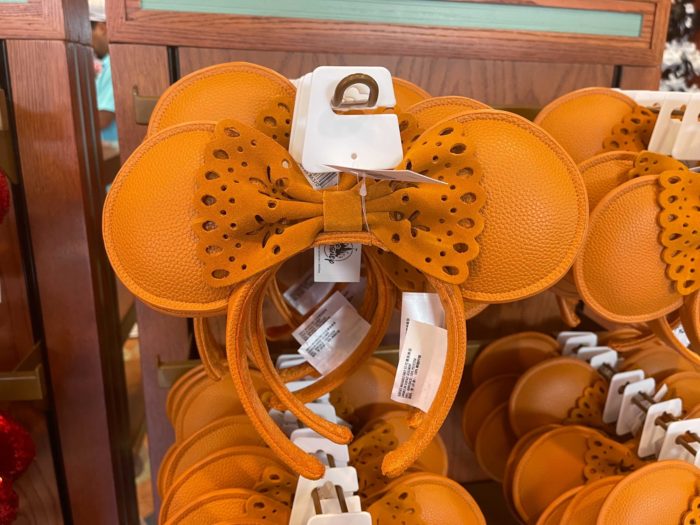 You think $50 for that NBA Experience hat is a pretty crazy price to pay for a baseball cap?  Well our next hat originally cost $75 when it was originally released for the 20th anniversary of Disney's Animal Kingdom.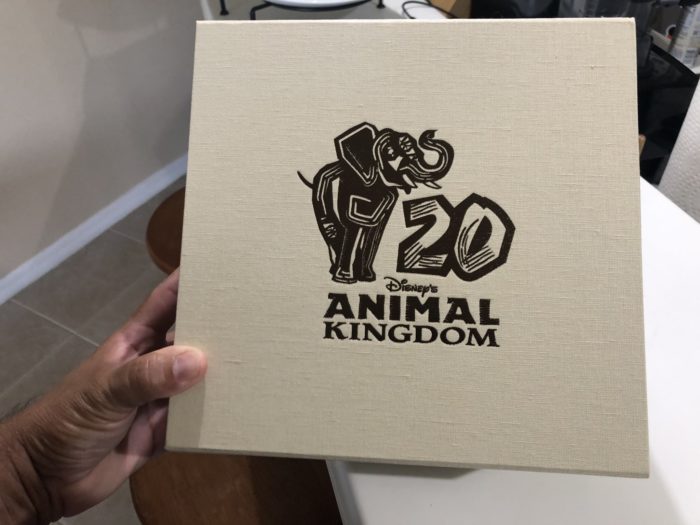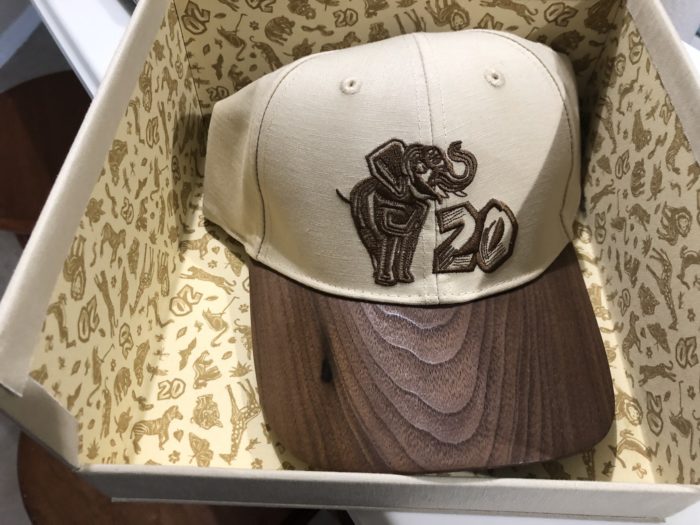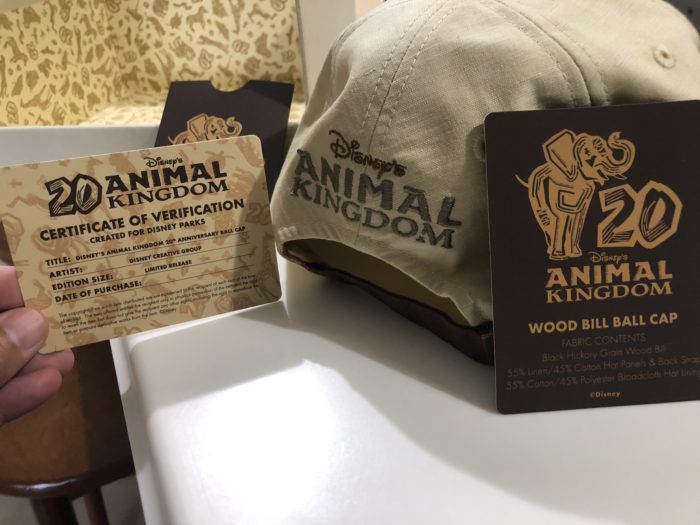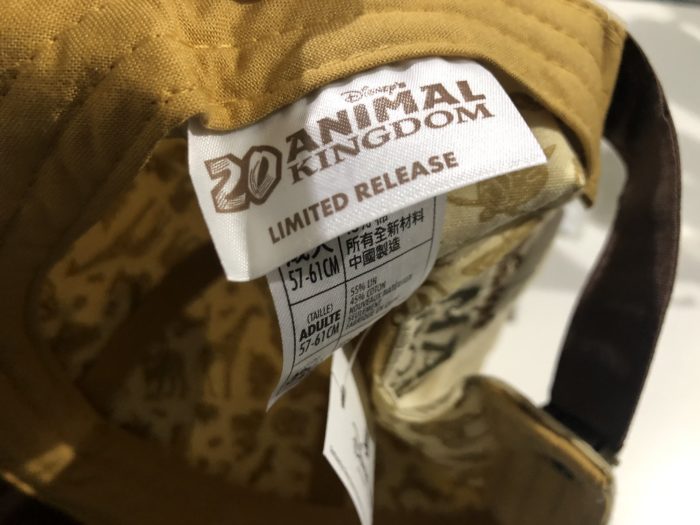 $75 has to be the tippy top price Disney can charge for a baseball cap. Right? NAY NAY. Prepare yourself for this one…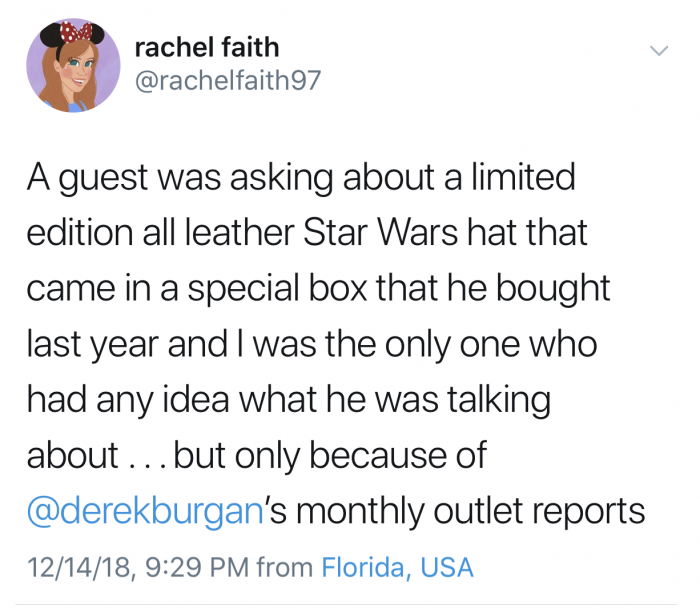 Our next baseball cap was also presented in a themed box.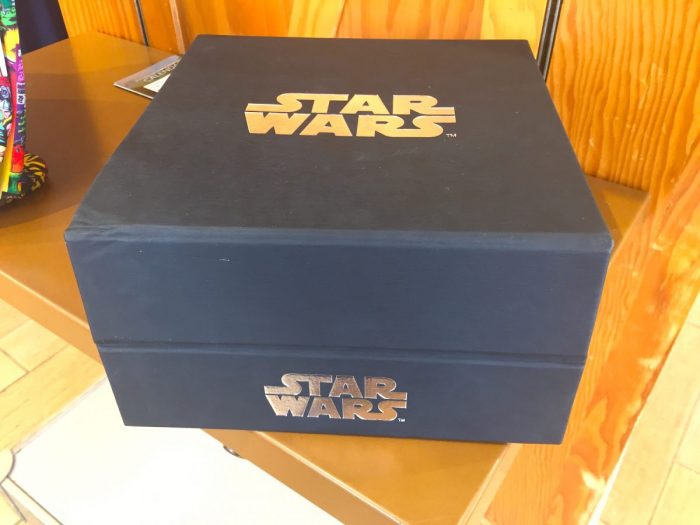 Inside was a leather Star Wars baseball cap which originally cost $128! Even the reduced price of $37.99 at the Disney Outlets was too much for me, and I've bought 3 different Force FX lightsabers (IYKYK.)
WHAT?!!!!!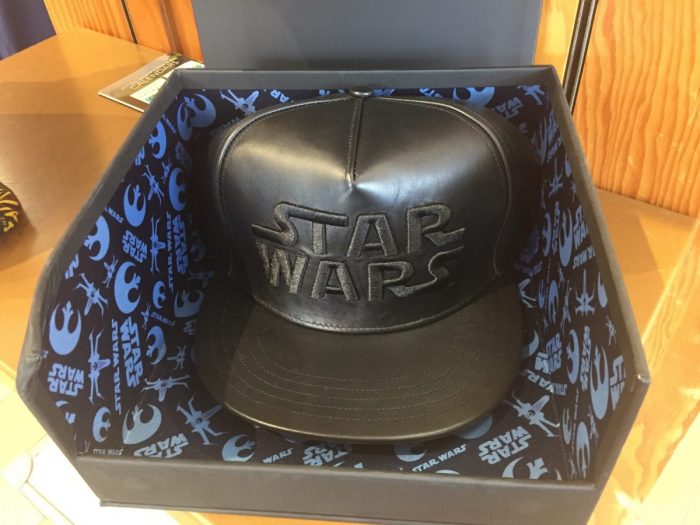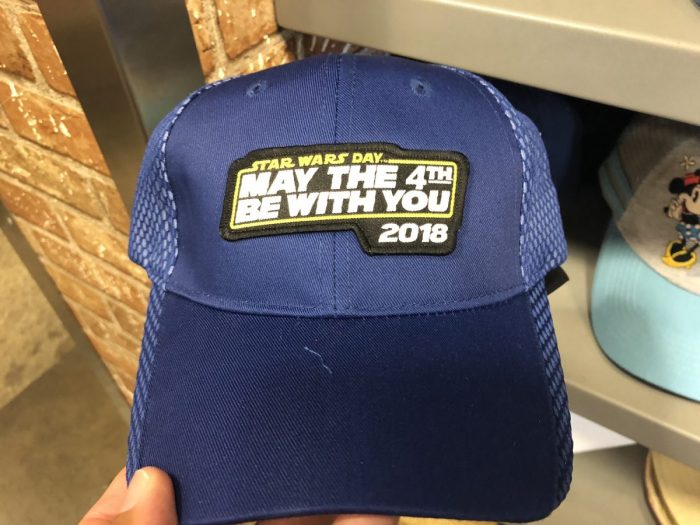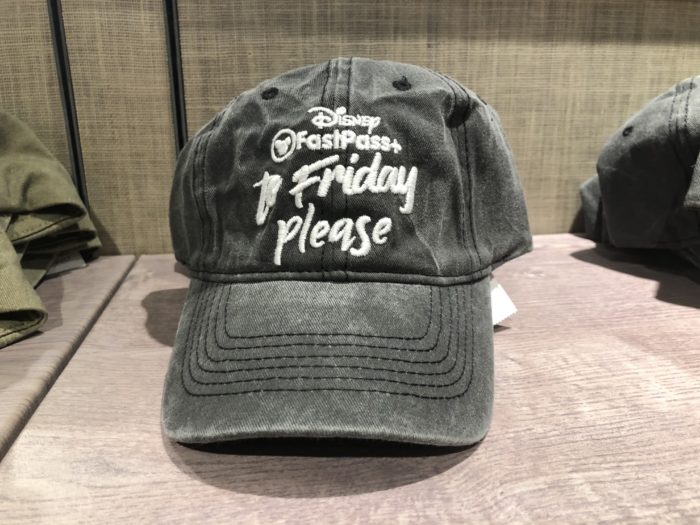 Really asking strangers to creep on you wearing a hat with a tease on the front…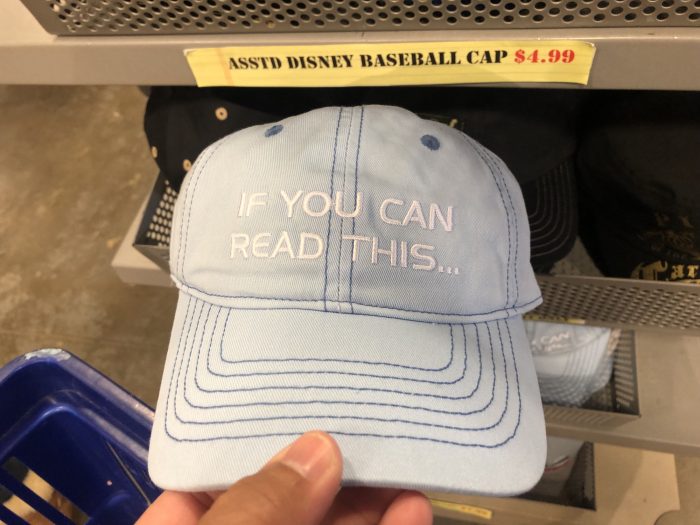 …with the finish on the back. You can't complain about anyone invading your personal space when wearing something like this. Add it to the list of "great idea in theory/horrible in execution" with the Pandora flip flops.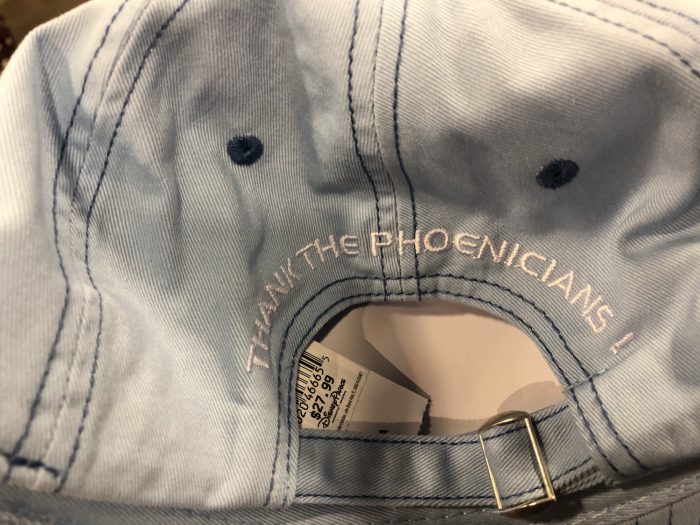 If this is the type of hat Disney will approve, I *have* to see the list of ideas they said were "too much."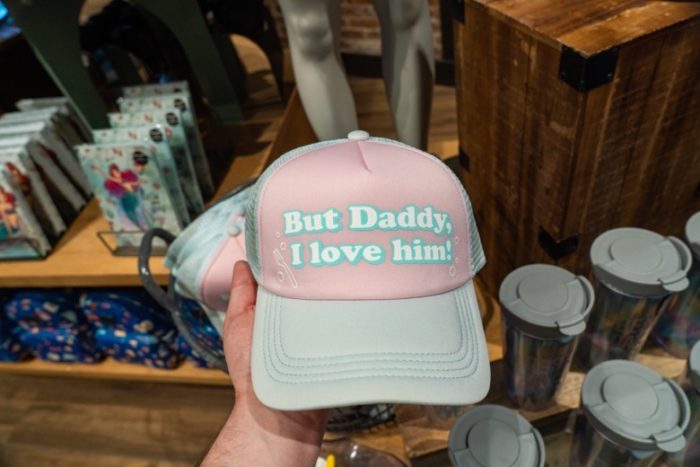 We're all shocked these hats from Cars Land didn't fly off the shelves.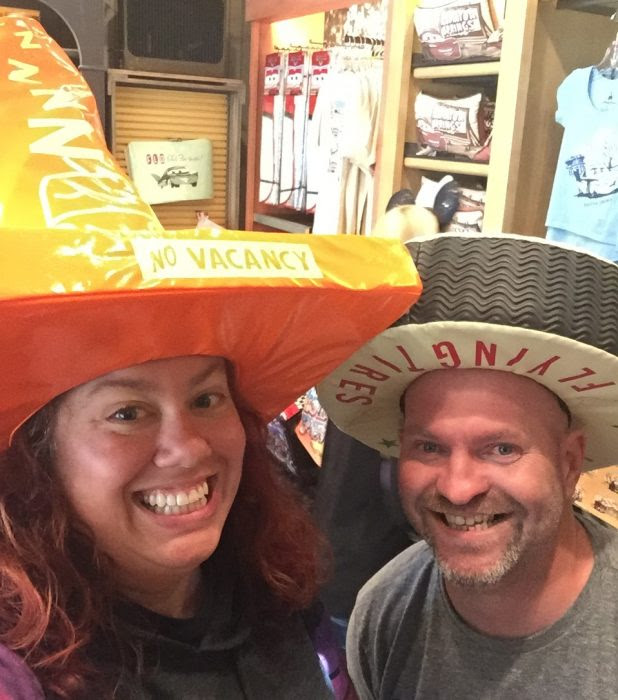 Several years ago, Disney came up with the Made With Magic product line which had products that lit up with different colors to Glow With the Show during some of the nighttime spectaculars at the parks. These included Mickey Ears.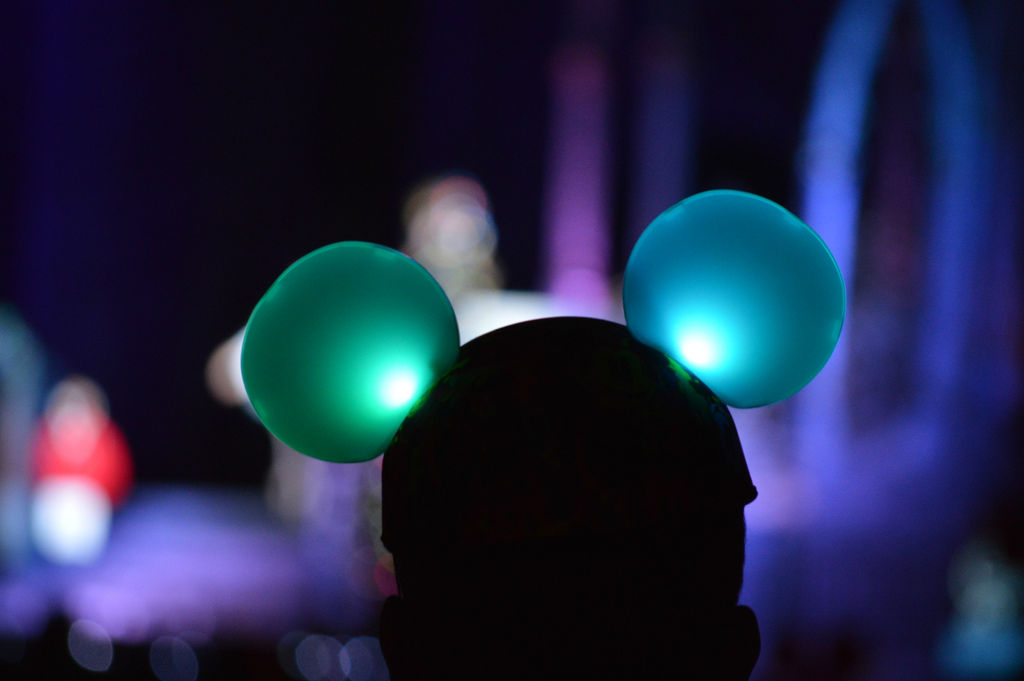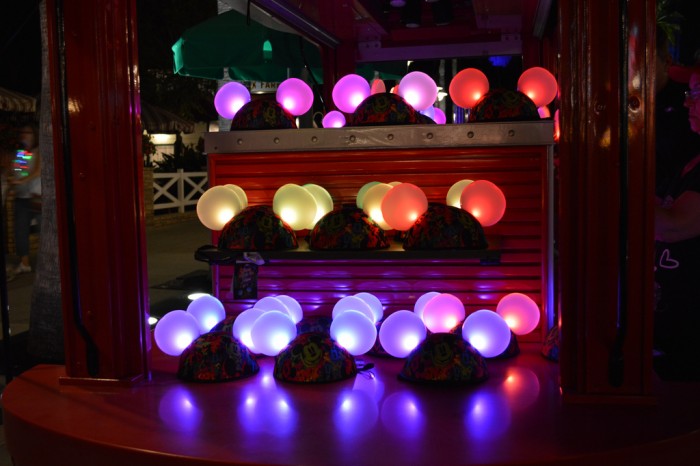 For various media events, Disney gave out a ton of Made With Magic Ears. It is truly impressive when a whole bunch of people are wearing them at the same time.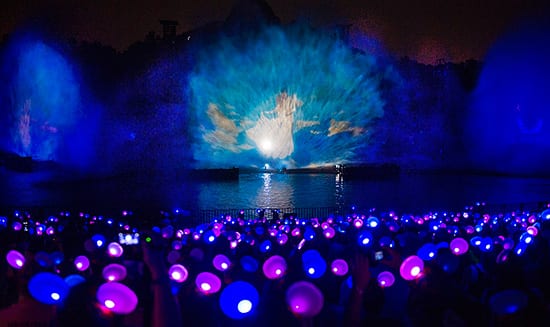 Now I have no actual financial numbers to support my theory, but having been inside the parks many, many times after the Made With Magic Line was released and only seeing a handful of guests wearing these, I'm going to assume Disney took a complete bath on this idea. In fact, that possibly gave away more to influencers and media then they sold to guests. It's an item that cost over $25, is heavier than a normal pair of Mickey Ears, and the person wearing it can't even see it glow.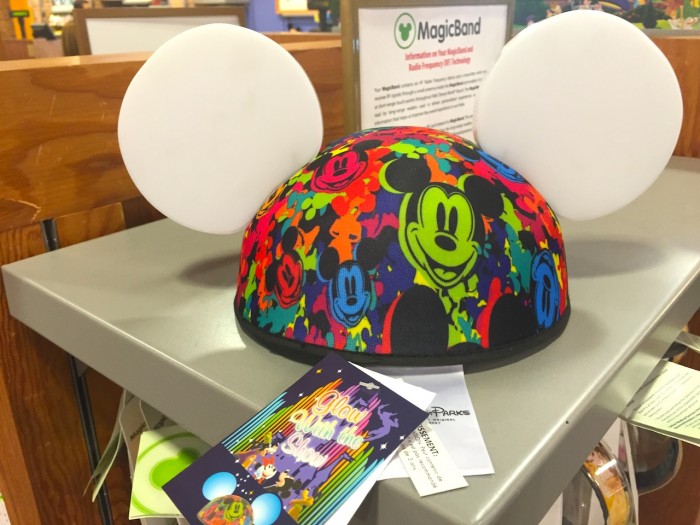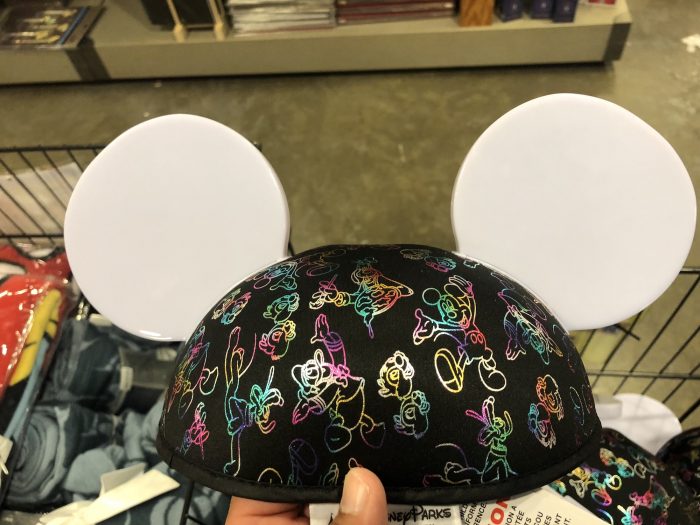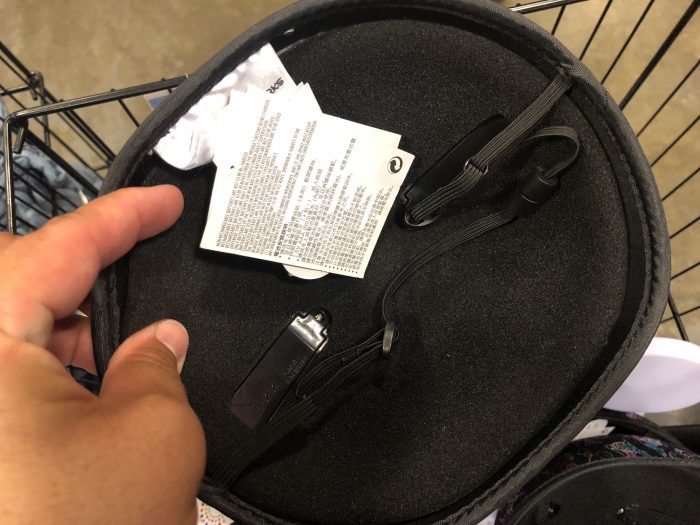 All of the Made With Magic product line made it to the Disney Outlet Stores, including the giant Mickey Hands and the Magic Wand.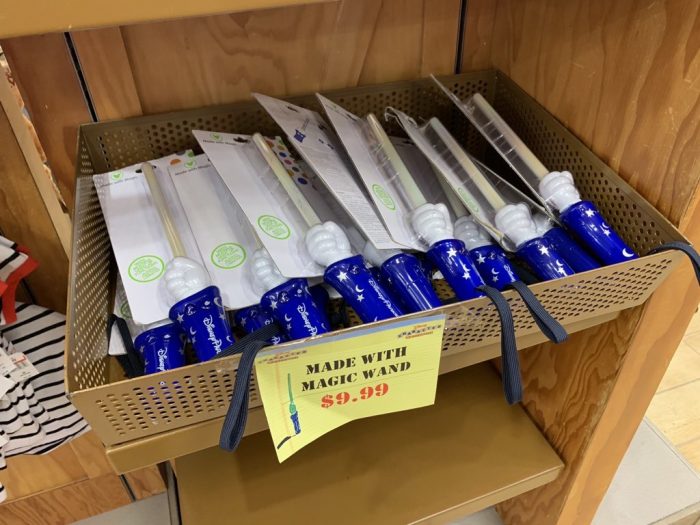 Our final hat is for the Rock 'N' Roller Coaster, which may hold the record for the single WDW attraction with most items sent straight to the Outlets. This RNRC hat is one for the all time record books and I'm wondering where you would actually wear it and not look like a cartoon character. Seriously, it looks like the love baby of Guy Fieri and Johnny Depp's Willy Wonka. After brainstorming it for a while I figured out the only place where this hat wouldn't stand out like a sore thumb: The Gathering of the Juggalos.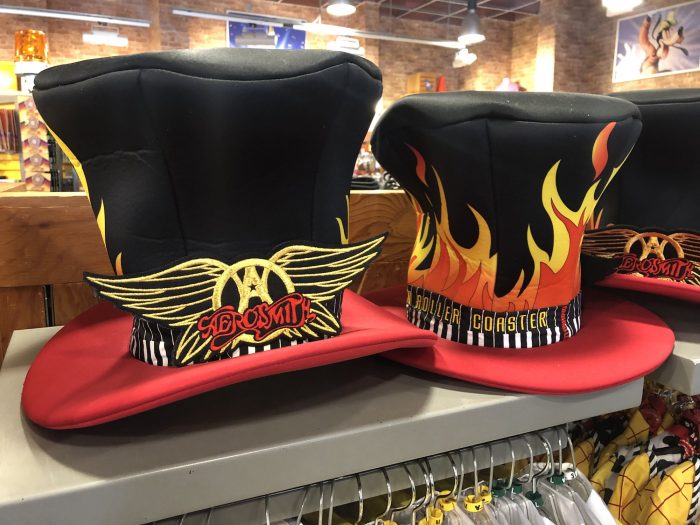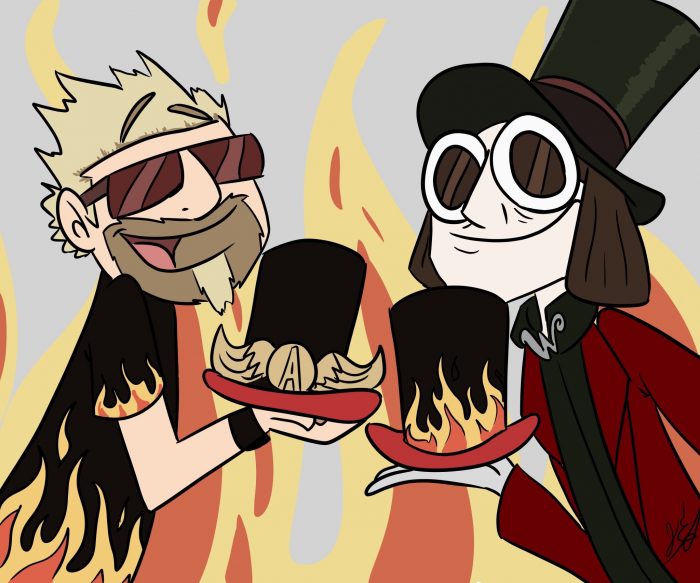 A bad shirt about hats? Well that is a nice segue into our next section…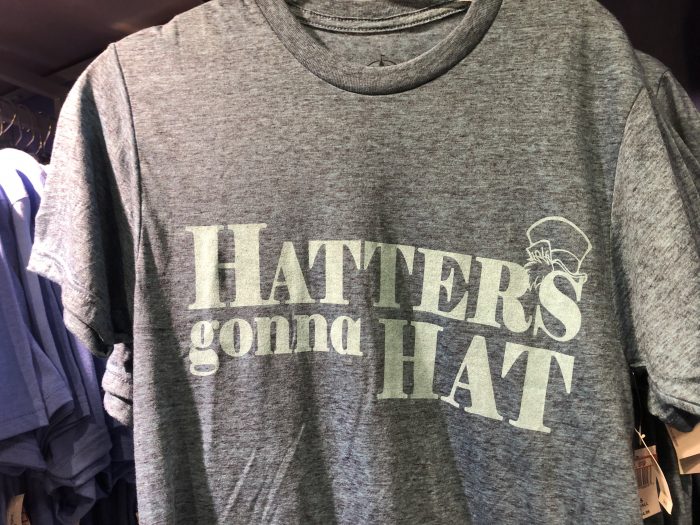 # 1 – Shirts
When you put out as many shirts as Disney does, you're gonna have some misses along with the hits. These are some of our favorites from over the years in the unanswerable "WHAT WERE THEY THINKING" list.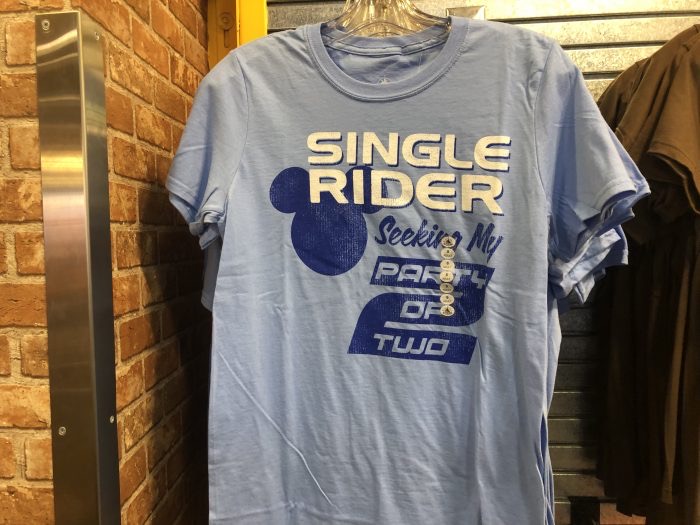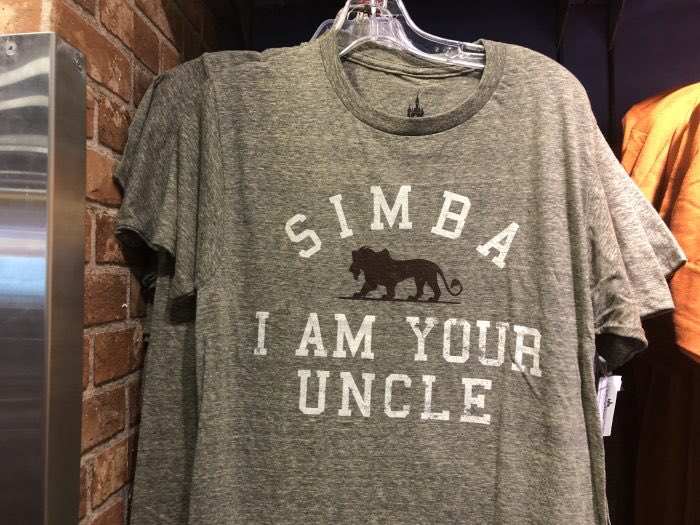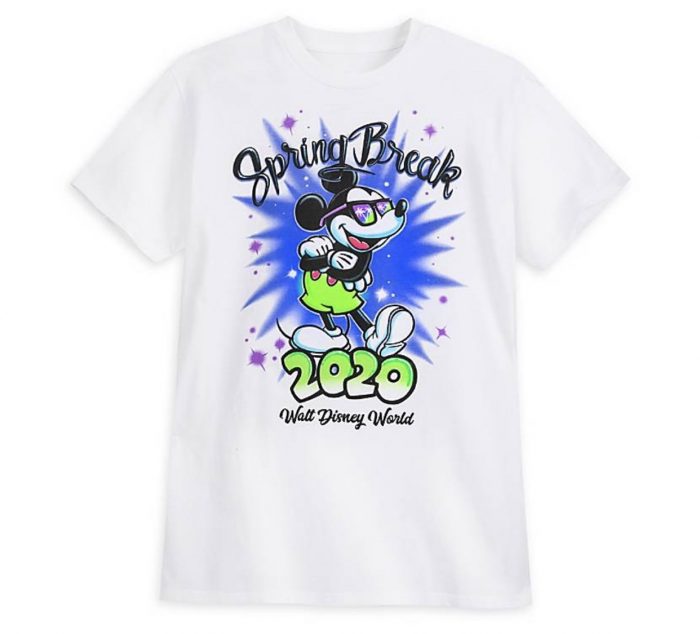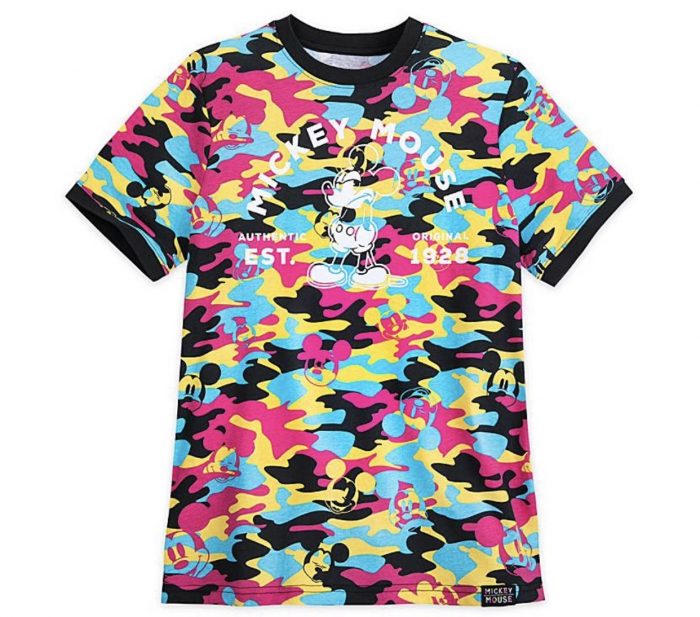 One thing I learned EARLY when looking at Disney t-shirts is that you always have to look at the back of the shirt. Always. I learned this after almost buying a shirt featuring "Dale" of Chip &  Dale. I thought the graphic of Dale's head on the blue shirt looked fantastic. I had the shirt in my cart to purchase, when I noticed the next shirt on the rack was turned backwards and saw the graphic on the back side of the shirt. Apparently there is a full line of Disney shirts with characters heads on the front, and their bodies are on the back of the shirt as if they are bursting through your chest like the movie Alien. Goes immediately from an E-Ticket shirt to a NAY NAY shirt in my book.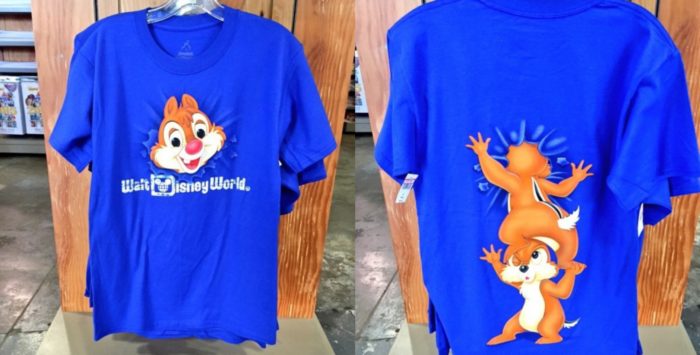 We'll miss the unique Morocco gift shops in EPCOT World Showcase, but we won't miss this shirt, because it's based on that bonkers concept.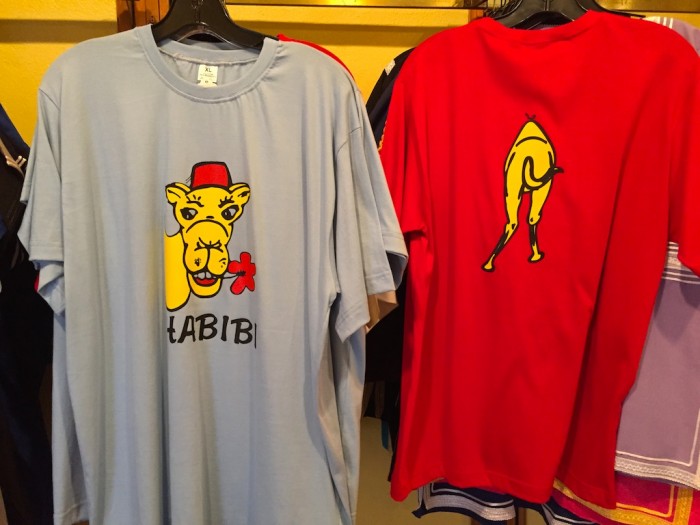 Morocco even sold a shirt featuring a more realistic version of the camel.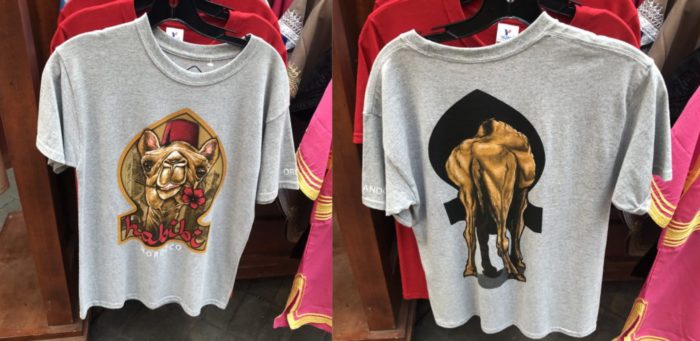 I'm a huge fan of MagicBands. They make life a lot easier getting in and around the Disney parks. When Disney first released MagicBands, they also released a line of MagicBand shirts and these were something else. I couldn't even believe my eyes when seeing them, they were that bad.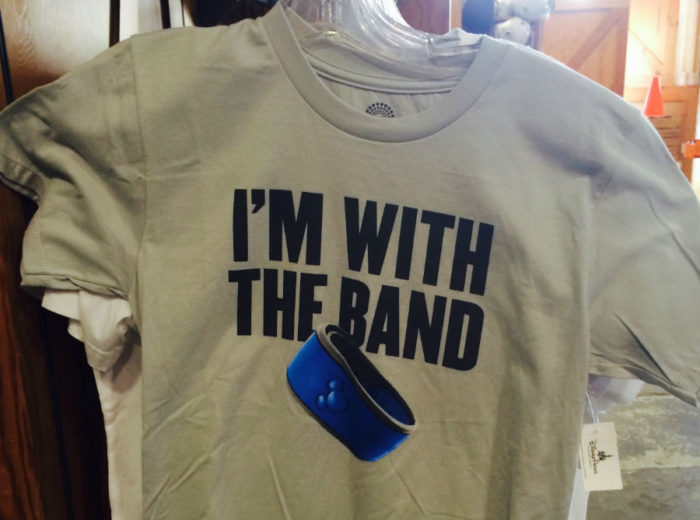 Since the time of their debut I have been many times to the parks, stayed at pretty much every Disney resort, and have made multiple trips to Disney Springs, and yet have never once seen a single person wearing one. For a while I thought Disney might be sending the unsold shirts to third world countries joining the merchandise made for sports teams that lose championship games.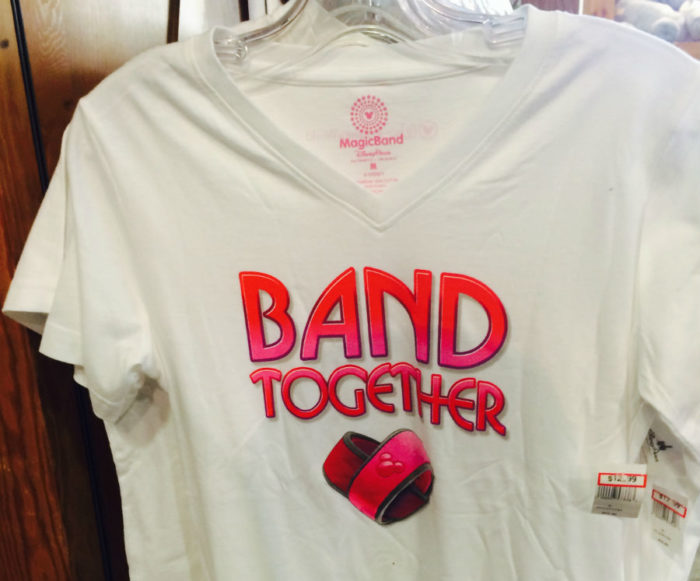 Anyone who did buy these shirts should have been immediately flagged in the system. No, you didn't do anything wrong, but we want to keep our eyes on you just in case.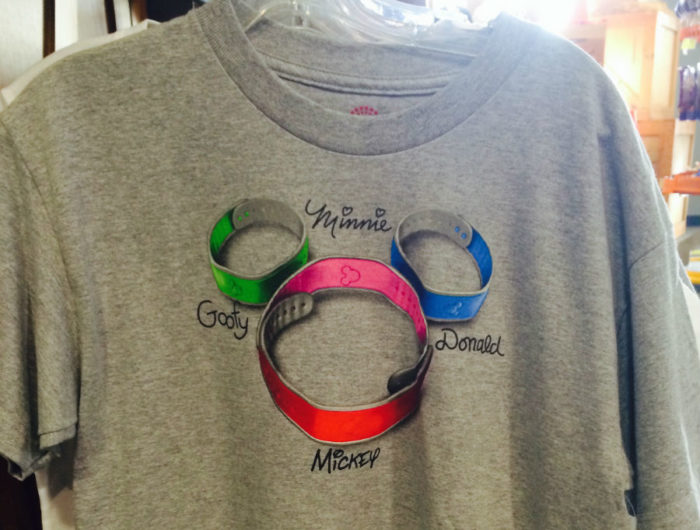 Whoever buys one of those Disney Vacation Club hats in the section above should get like an instant 20% off code to buy this Disney+ shirt, as they match perfectly. Maybe Disney can create a pair of Hulu-branded Crocs to complete the ensemble.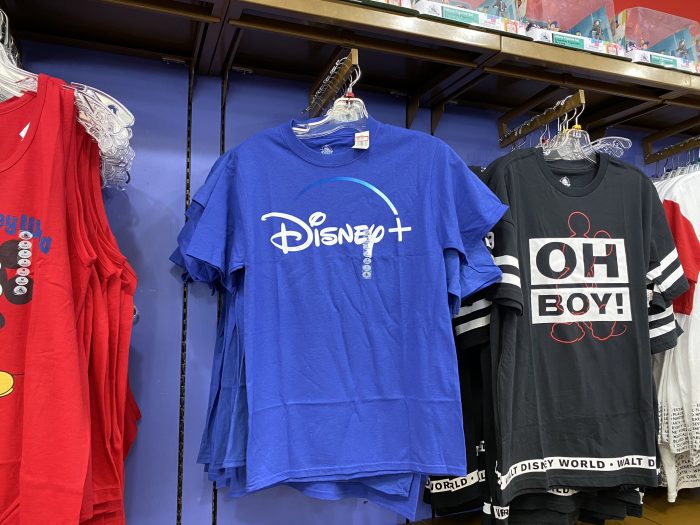 Just when you thought the Disney+ shirt was bad enough, the various Disney+ 1 Year Anniversary shirts were even more obnoxious. I get giving these out free to Cast Members and people that sign up for the service, but expecting people to pay money for stuff like this? That's BANANAS.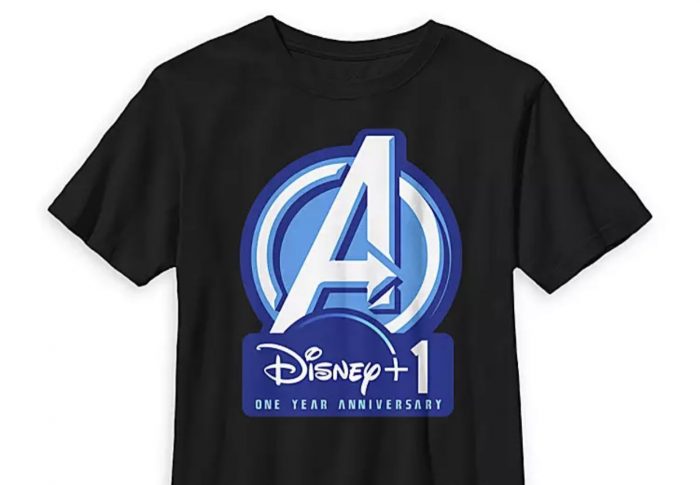 In the last couple years, Disney decided to hop into the "meme" trend. Things like this are exactly why the Serenity Prayer exists.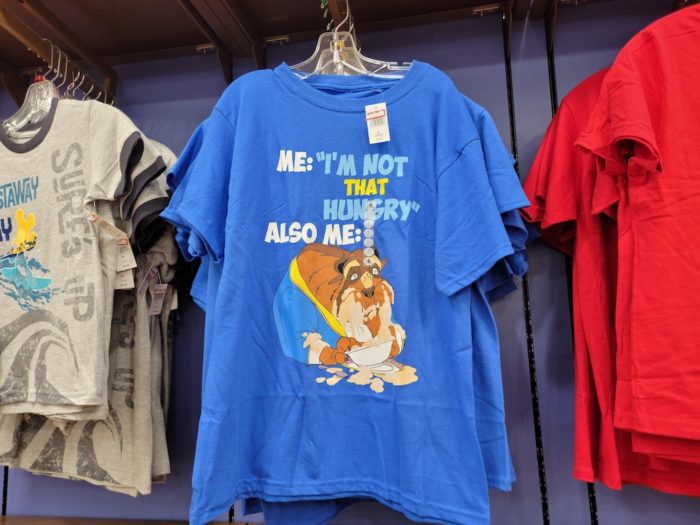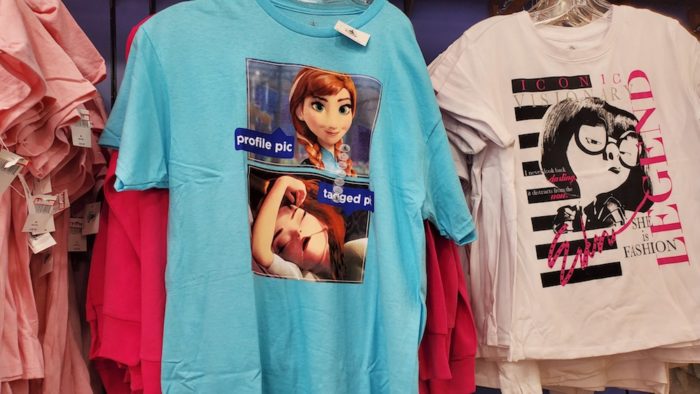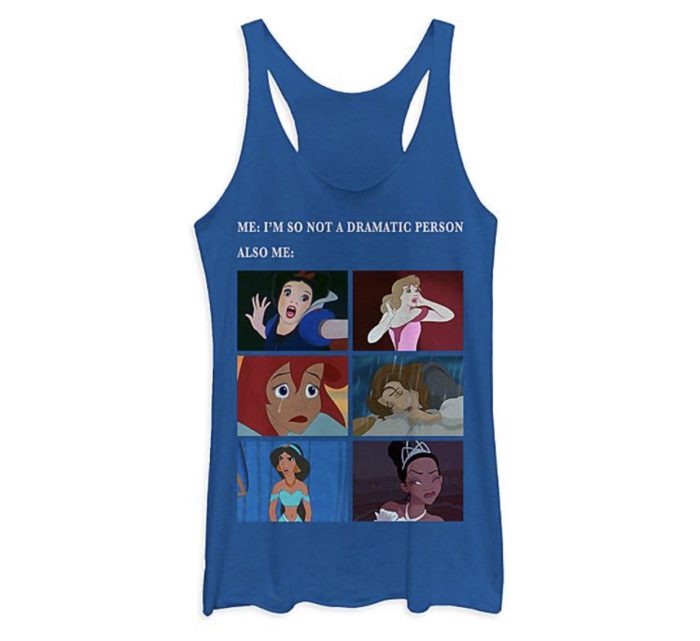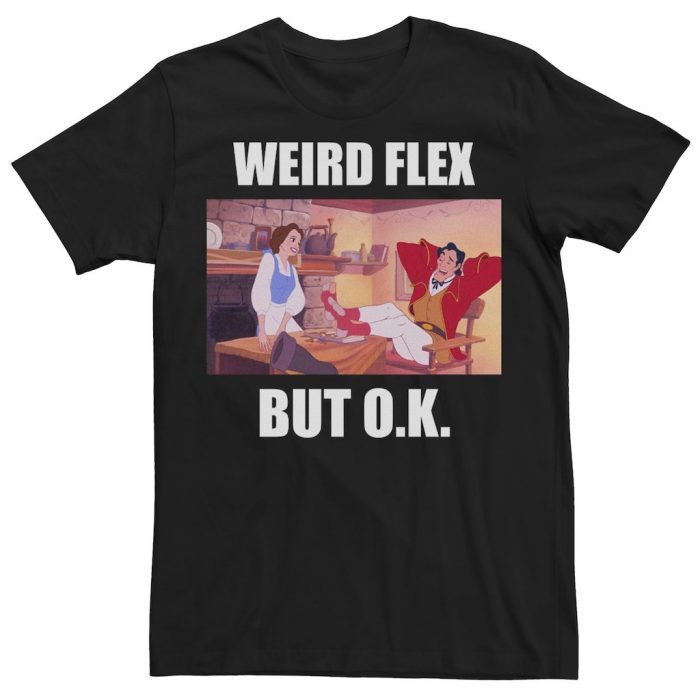 Once again we ask, who is this Eeyore shirt for? Who is the target audience?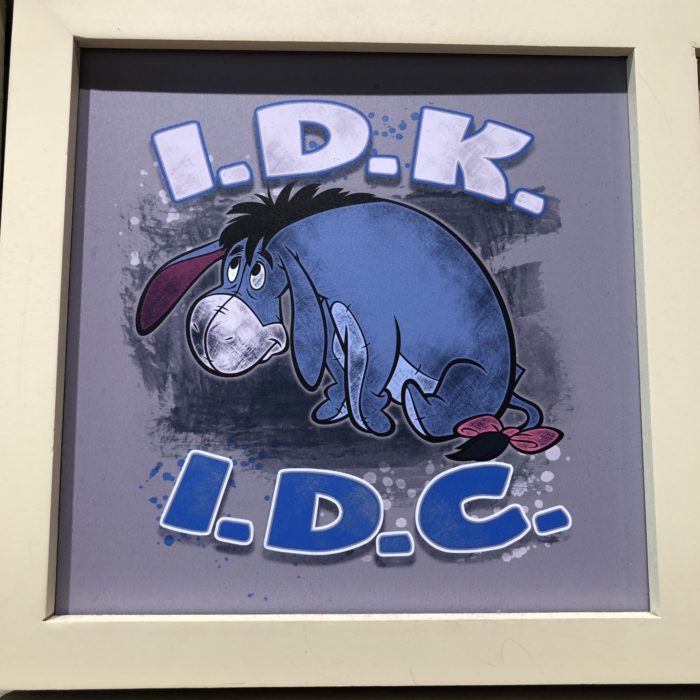 What in all that is Holy is going on with this Fantasyland shirt?!!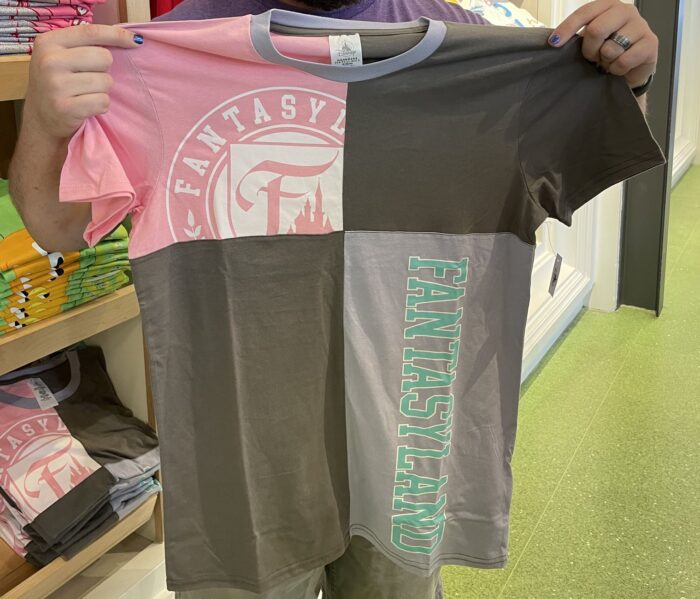 What is it with this ridiculous off set shirt designs…and why is it "MAR" on one side and "RVEL" on the other?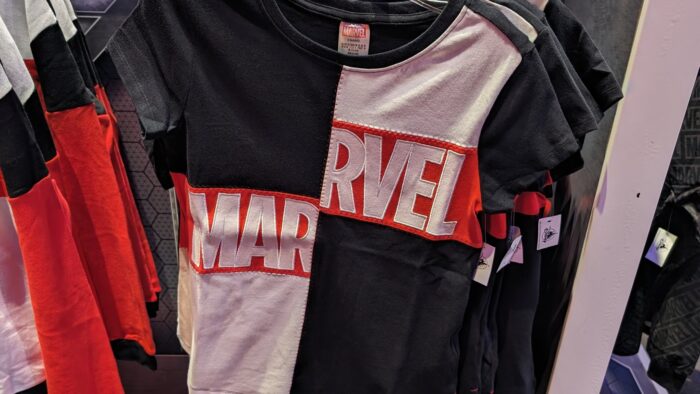 Me seeing that shirt above…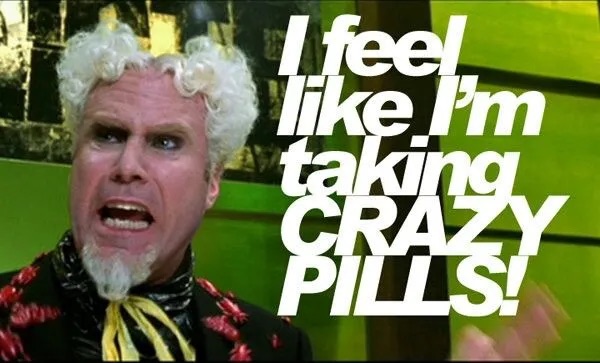 Imagine trying to clean this shirt. The bow design is made out of small little puff balls.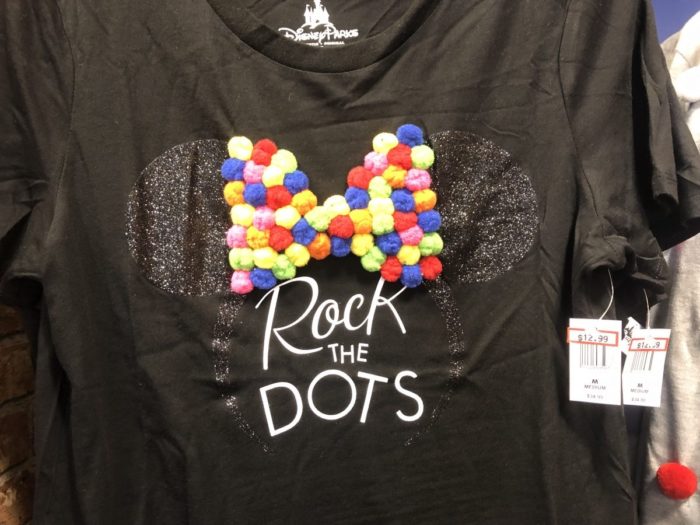 Turns out the above shirt is the "normal" one because our next Minnie shirt seems to have been created by committee in a lunatic asylum.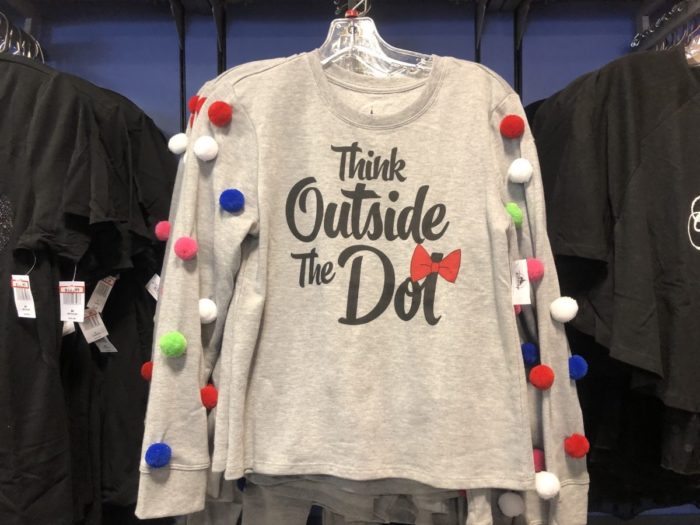 Speaking of "thinking outside the dot," tell me this Disneyland spirit jersey doesn't look like someone wearing a giant loaf of Wonder bread.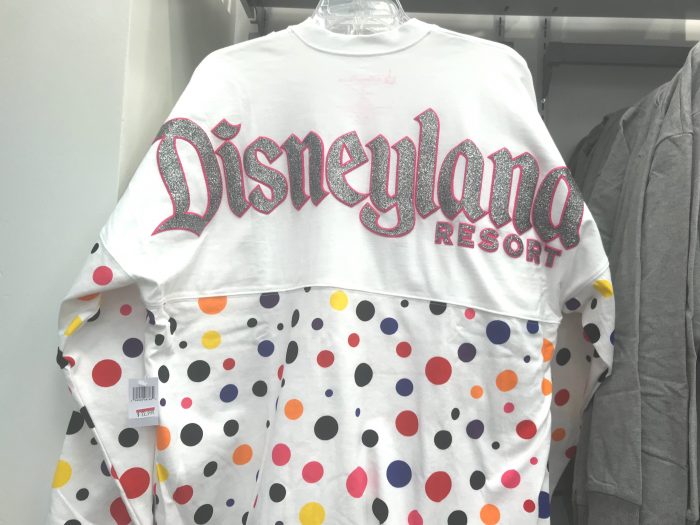 The all-time greatest Disney spirit jersey was this one for Walt Disneyland. Truly a "Chef's Kiss" if there ever was one.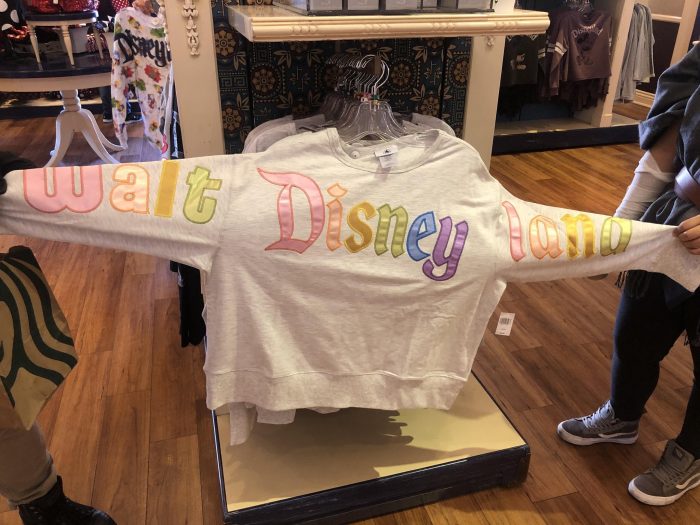 This completely bonkers Star Wars shirt is playing off Obi-Wan's line "These aren't the droids you are looking for" from A New Hope. Someone, somewhere, thought it was a good idea to do a twist on that line and then use the text as the body for C-3P0. If that person wasn't immediately drug tested there is a systemic failure at Disney Creative.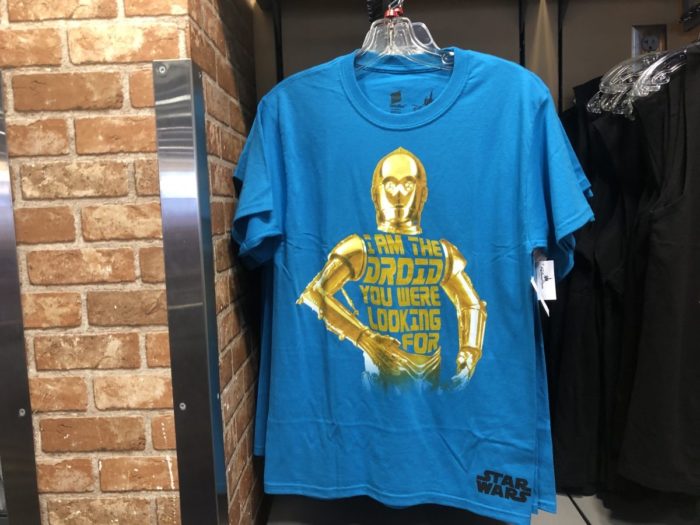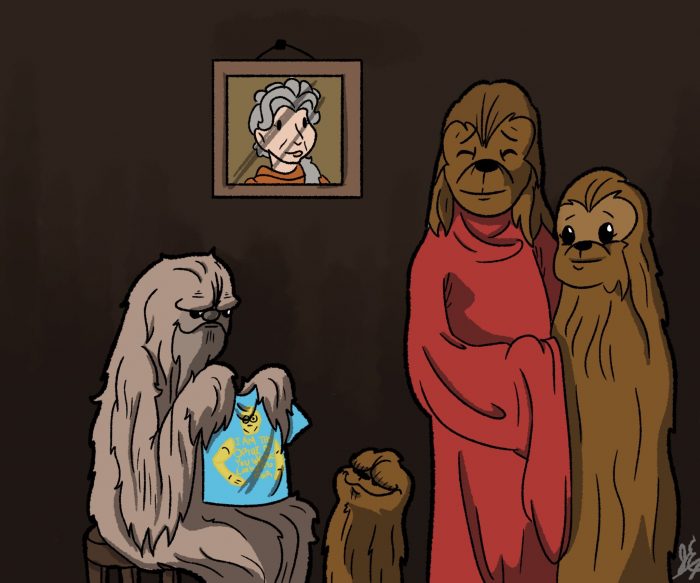 Still, that C-3PO shirt may not even be the worst Star Wars shirt….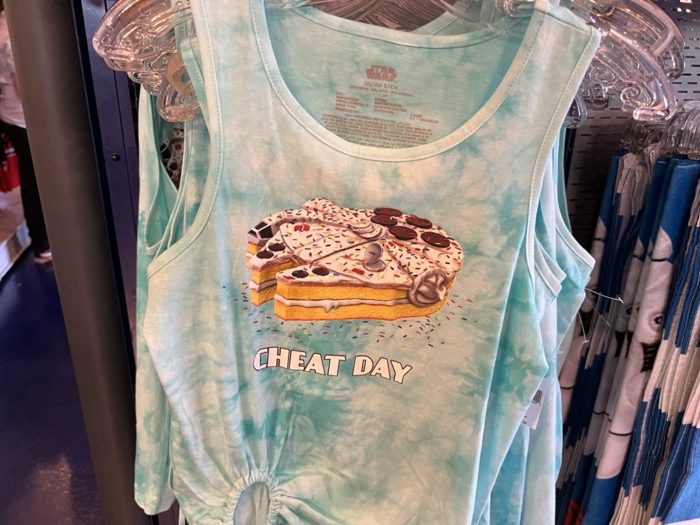 Speaking of nonsensical shirts featuring the Millennium Falcon…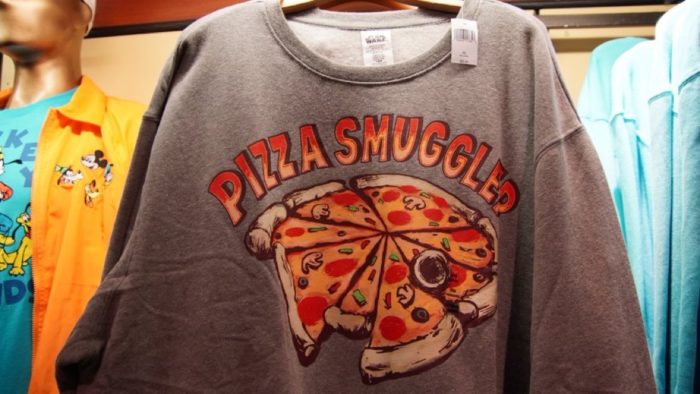 Our next shirt defines the phrase "never has so much effort been put into something that meant so little." That's right, Disney's high end 28 & Main clothing line produced a t-shirt for LEFOU'S BREW. This would be like finding out Dooney & Bourke created a luxury handbag for Eddie Murphy's Norbit, or if Tiffany put out a line of expensive jewelry in support of the KFC Double Down.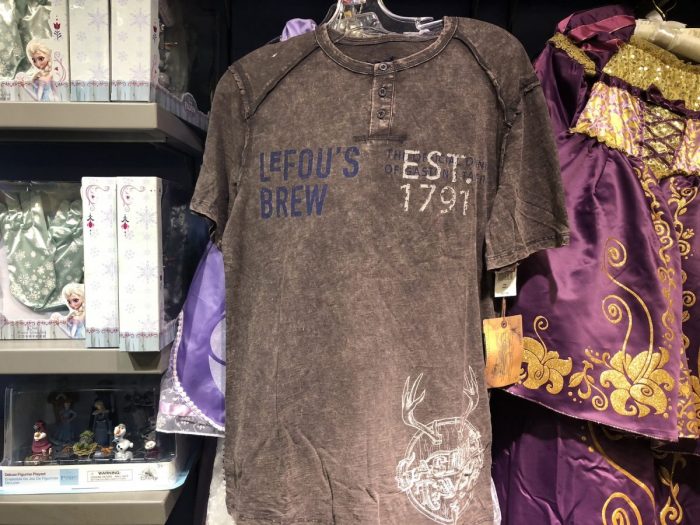 Look at the effort put into this. FOR A LEFOU'S BREW SHIRT.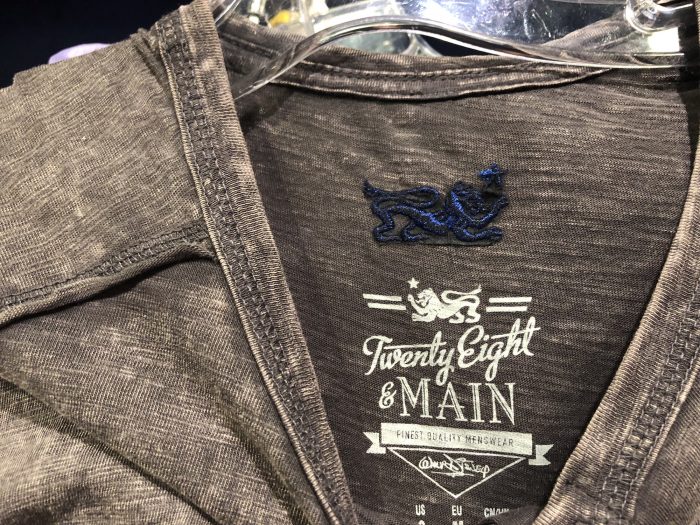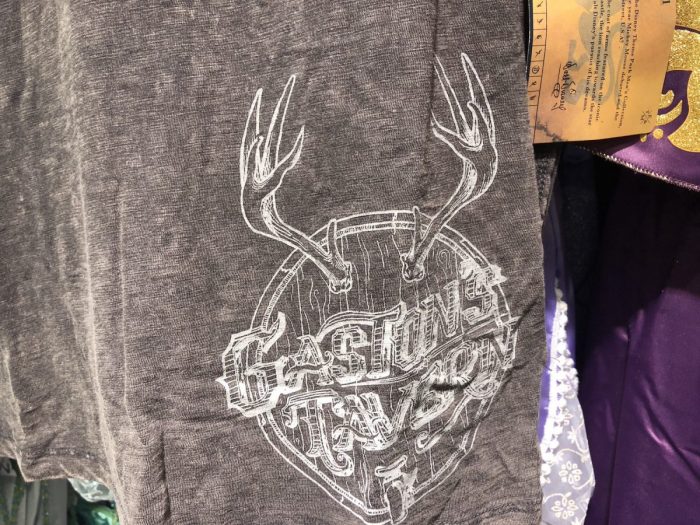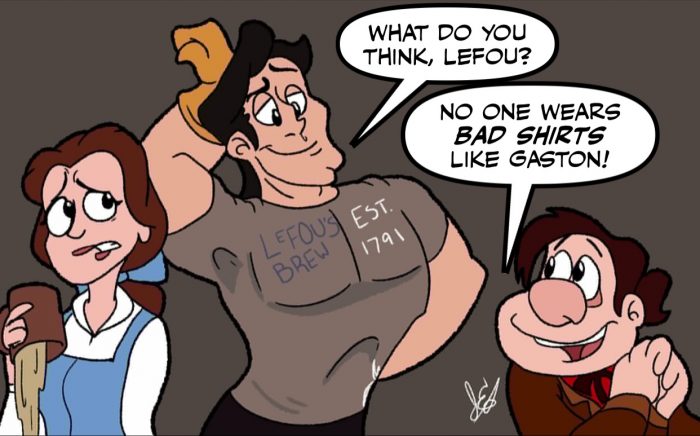 The shirt below is one for the all-time books. For the 2022 D23 Expo, Disney released a special shirt through Amazon which featured Mickey Mouse as a pilot. However, when the shirt arrived,  they actually printed the shirt design on the shirt. This is NEXT LEVEL BANANAS.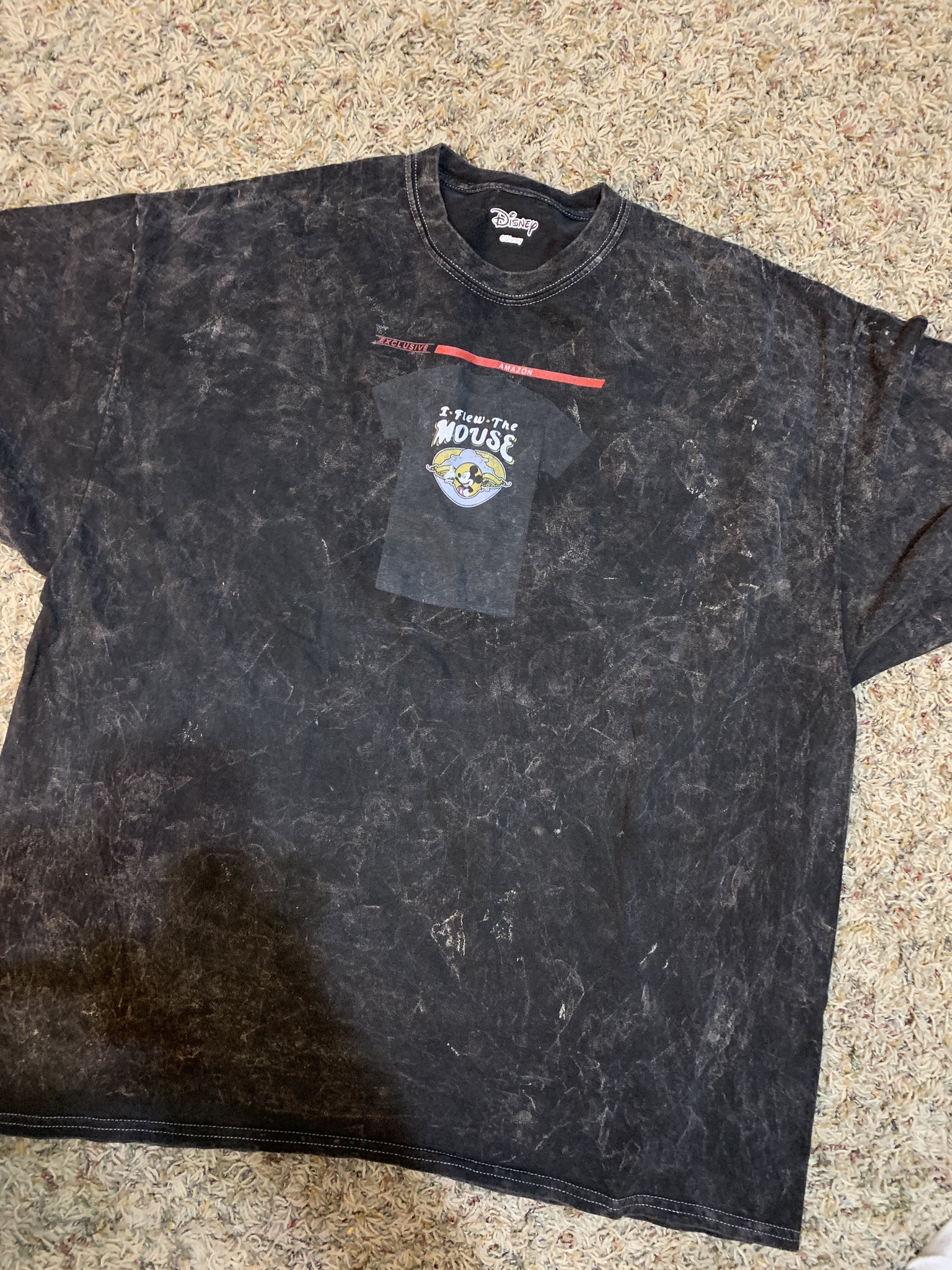 Let's take a closer look…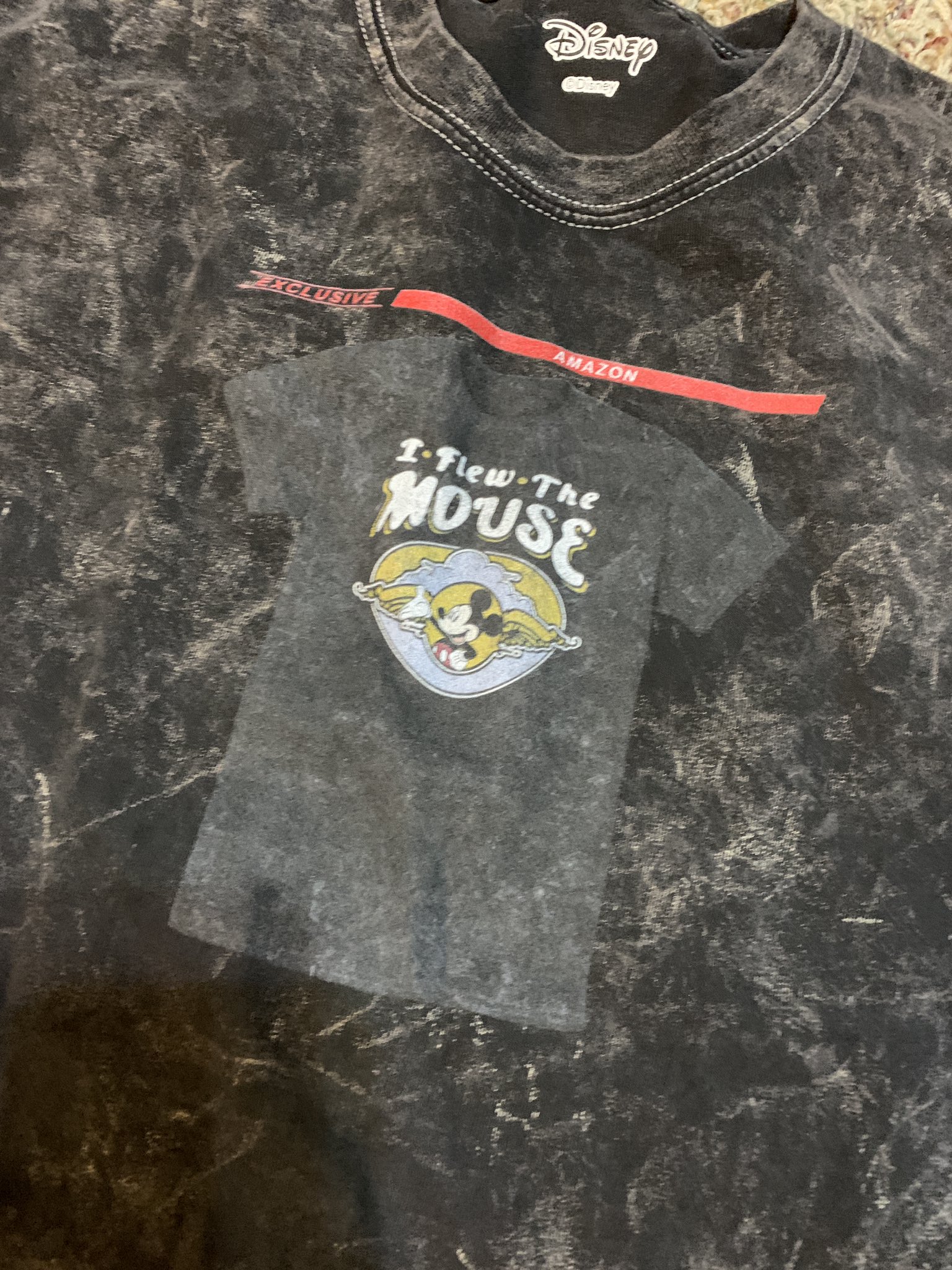 But of course our favorite shirt has to be this Pirates of the Caribbean: Dog With a Key shirt.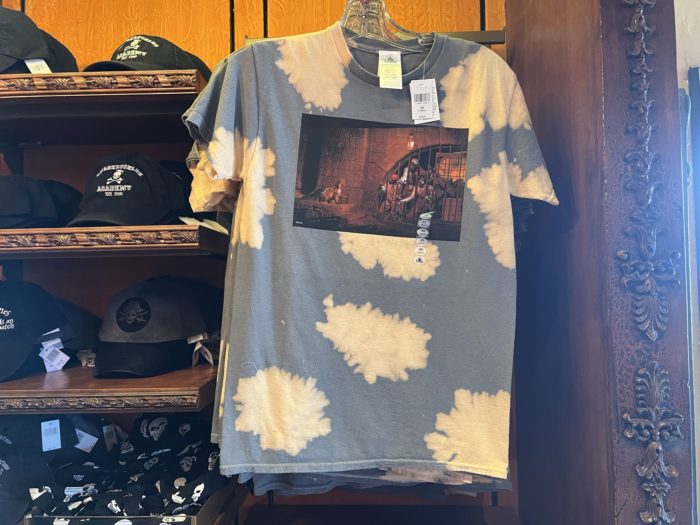 Just think about how many layers of approval this shirt had to go through in order to get approved and at no point along the way not a single person said "HAVE YOU LOST YOUR F—ING MIND?!"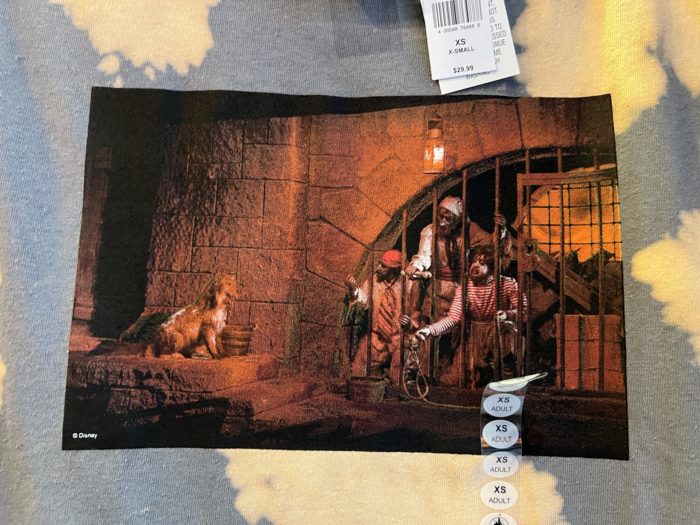 We are truly #blessed.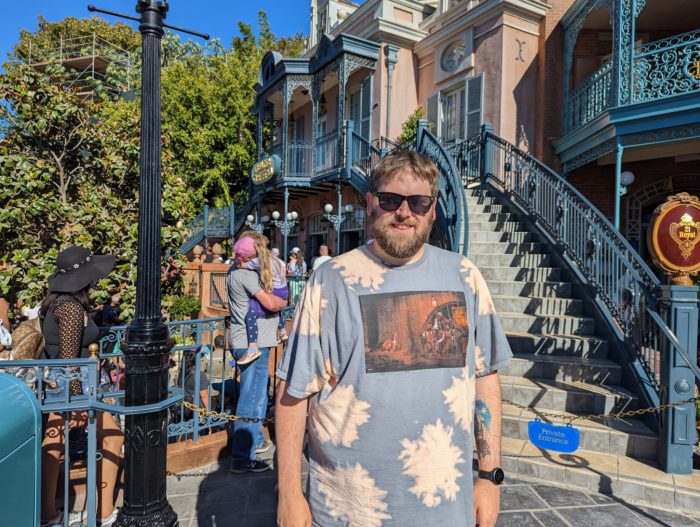 HONORABLE MENTION – Note Pads
For years I noticed Disney was selling a lot of themed "Post It Notes." I like using Post It Notes for both work and home, but Disney's didn't seem like they would work that well. Finally, when they started showing up at the Disney Outlet Store I figured it was time for an official SATURDAY SIX SPECIAL INVESTIGATION.
First step: I purchased a Disney Note Pad Set from the Outlets.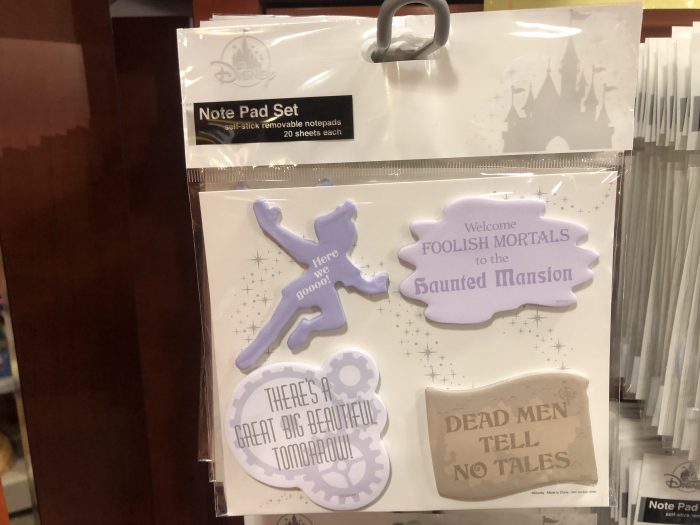 This set featured four designs themed to Magic Kingdom attractions.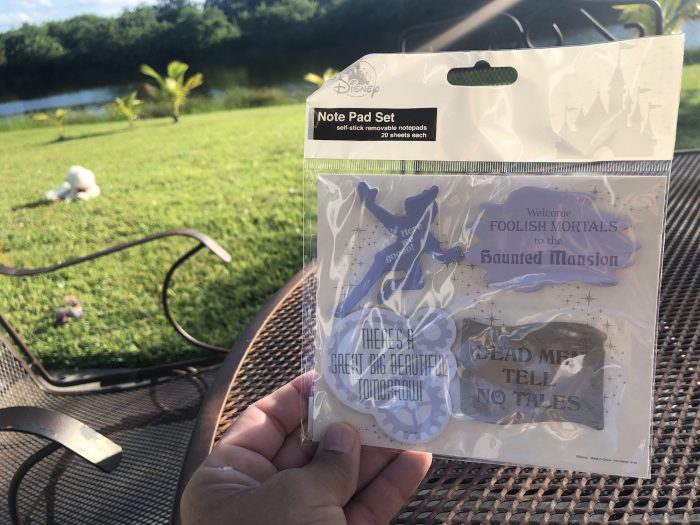 Step 2: Check the legibility of writing something onto a note pad which already has pre-printed words. End Result: Not great, Bob!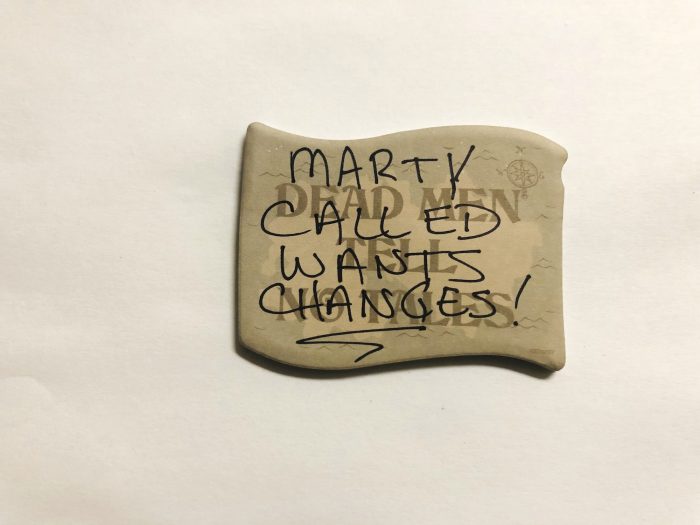 When peeling off one of the "Post It Notes" from the group, they often times destroy the one behind it. I also had wondered if maybe the very top note had the pre-printed graphics and the rest would be blank, but this was not the case.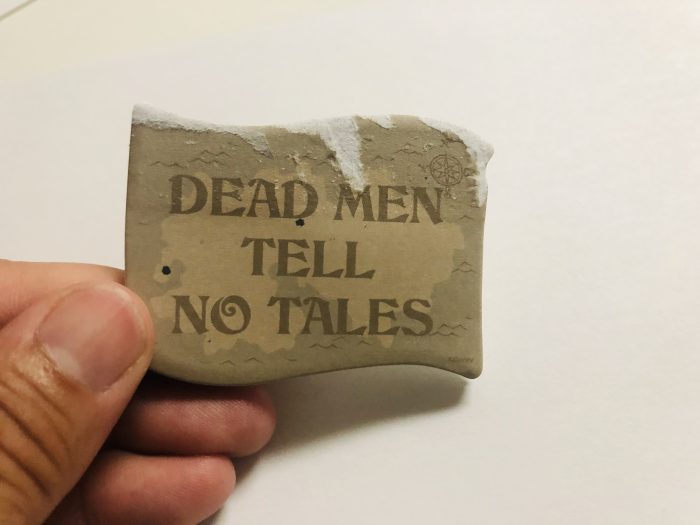 Step 3: Evaluating how well the notes would "stick" when placed on something. As you can see, not that well.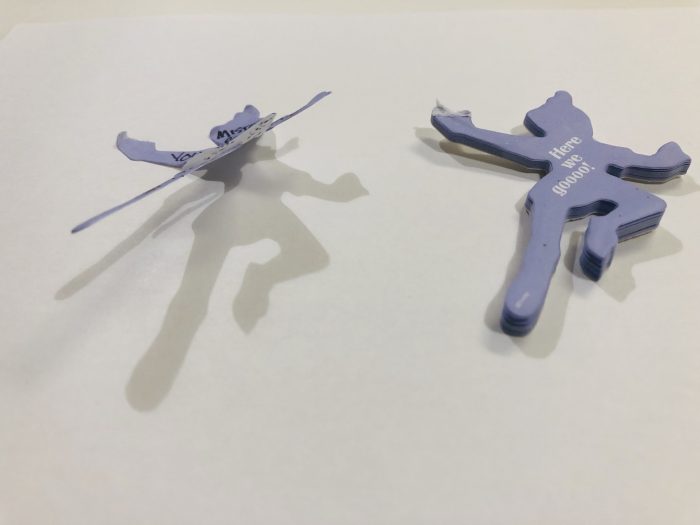 To get the note to lay flat, I had to use tape. CONCLUSION: These are the worsts Post It Notes in the world you could buy and are essentially useless.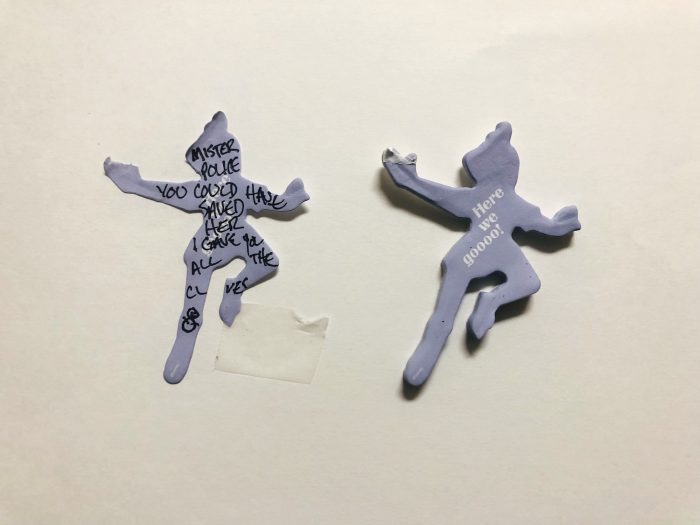 So knowing what we know now, what good is a note set in which most of the pads have dark backgrounds?!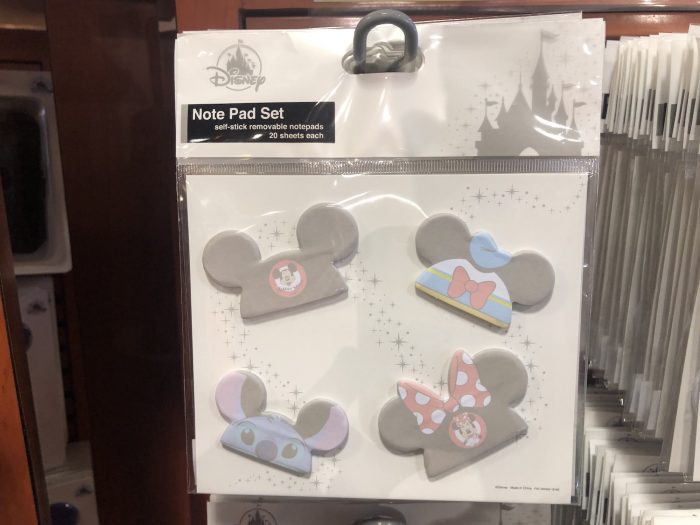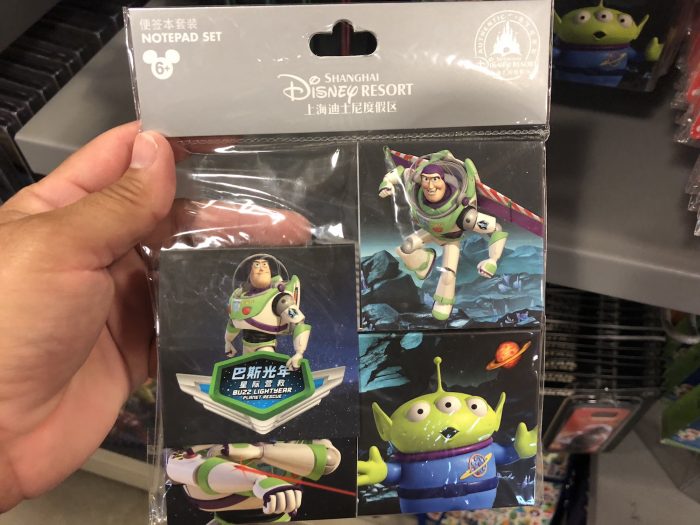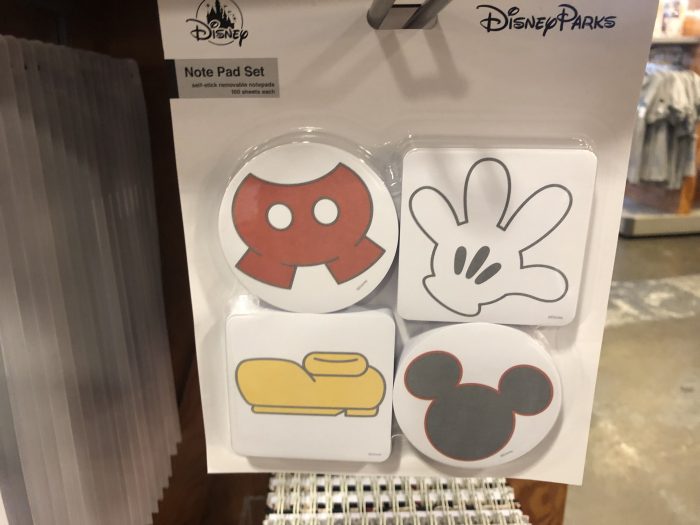 The official pen to write on these notepads? This Haunted Mansion inspired PHYSIC MEDIUM pen.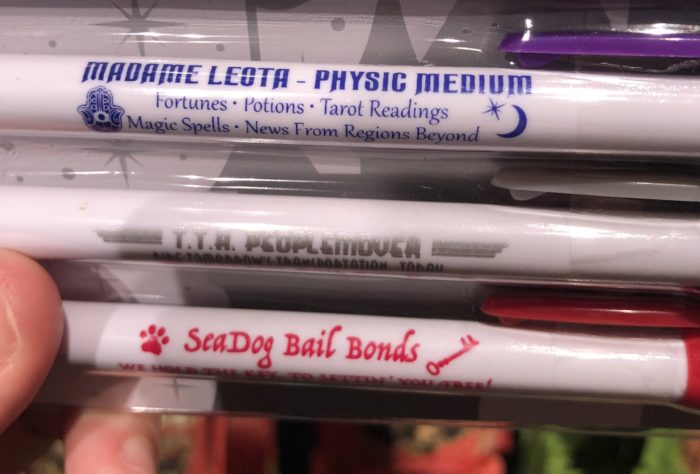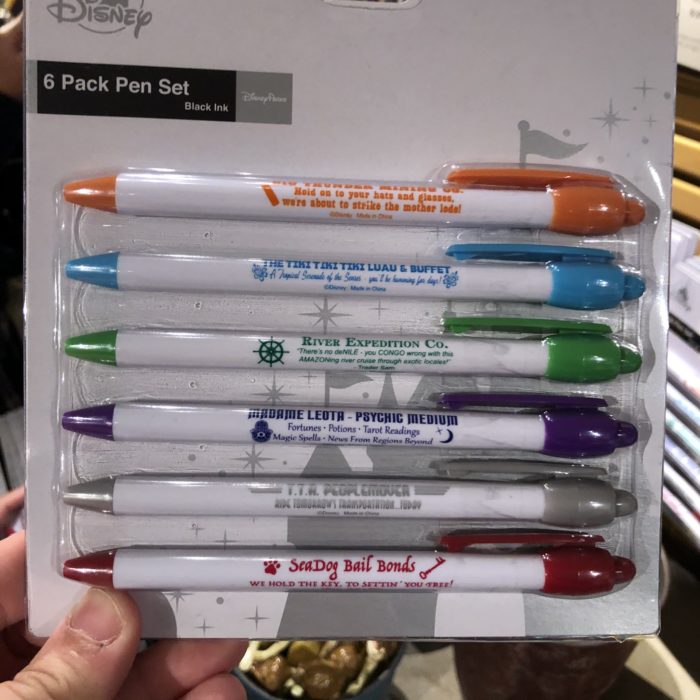 DOUBLE SECRET HONORABLE MENTION: Turkey Leg Merchandise
I could live 100 more years and still never understand why so much merchandise is made to support the Disney Turkey Leg. Yes, it is certainly one of the most iconic snacks in all of Disney, but it's also kinda disgusting.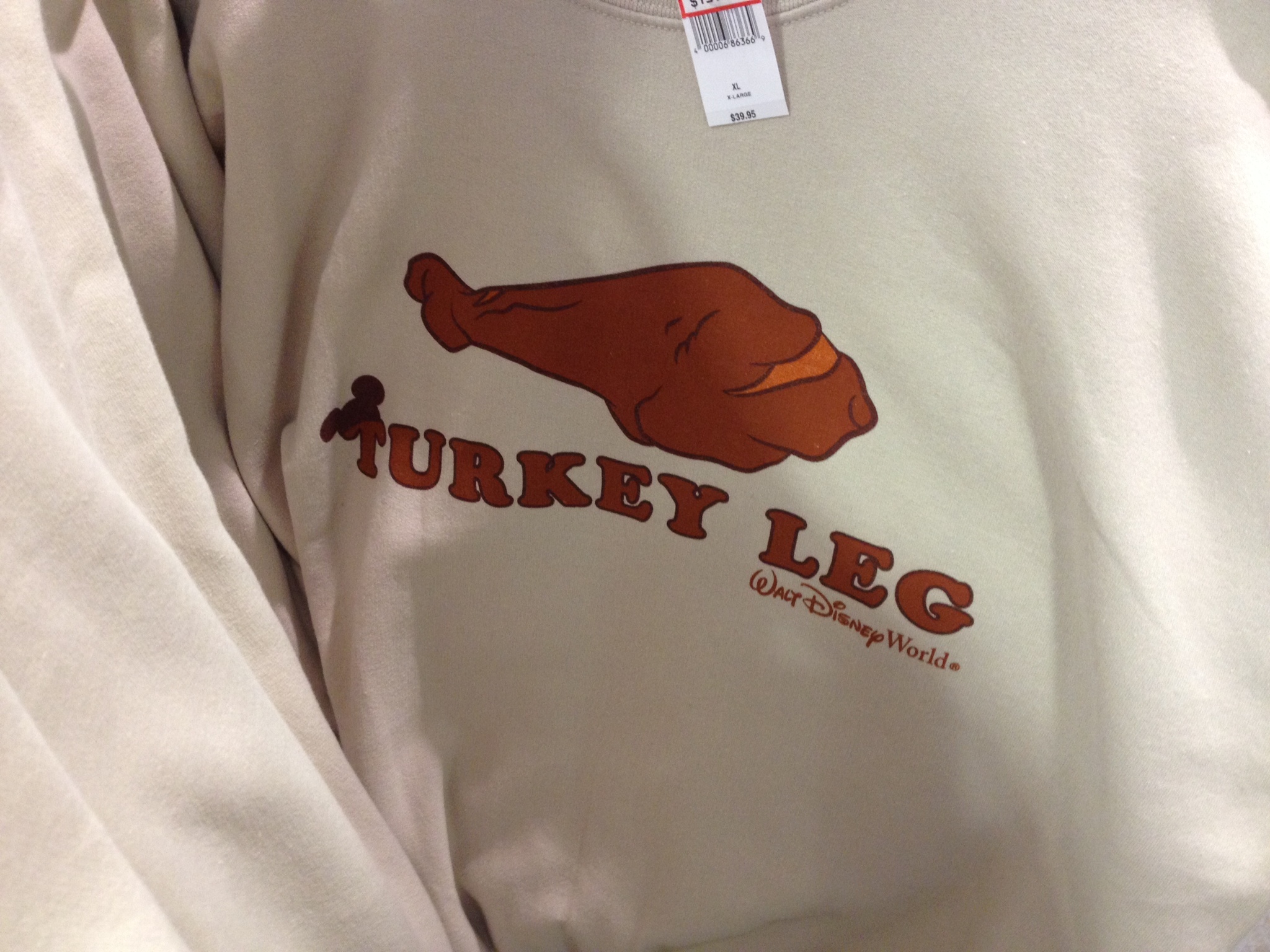 Turkey leg boxer shorts, turkey leg wallets, turkey leg hats, and even a TURKEY LEG AIR FRESHENER?!!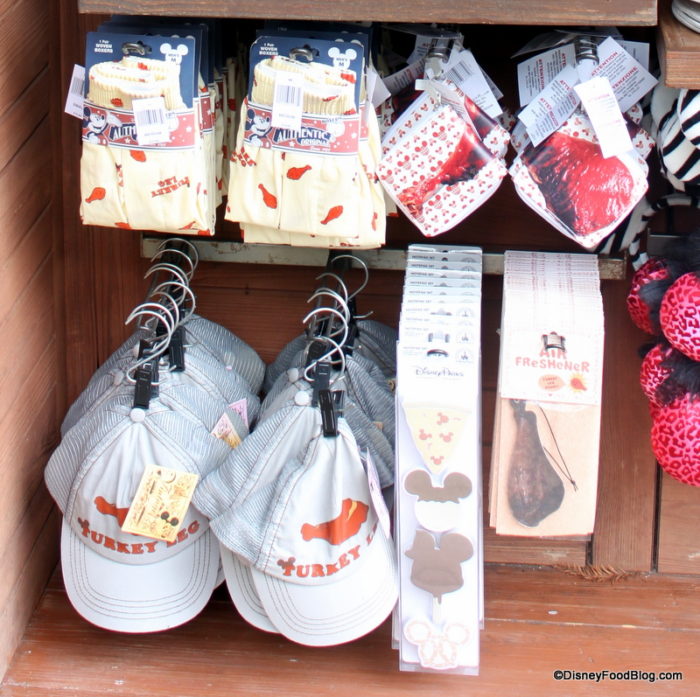 As God as my witness, an actual Turkey leg home decor item. HOW IS THIS REAL?!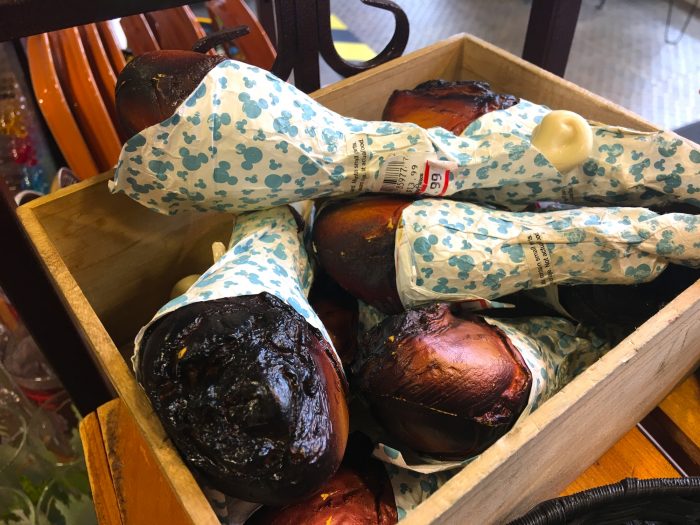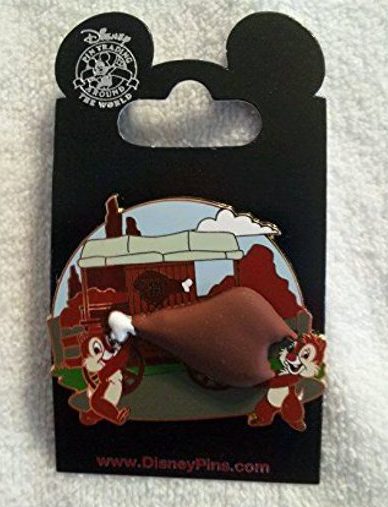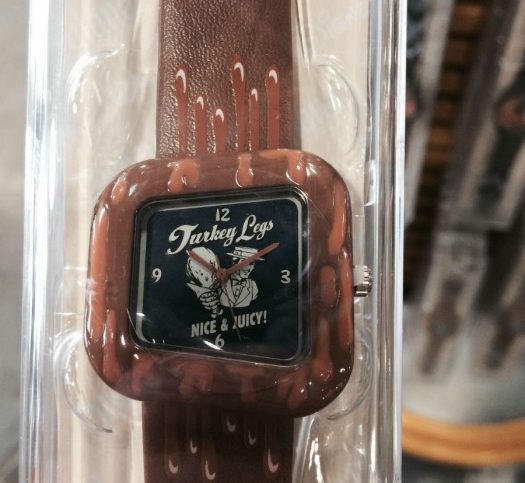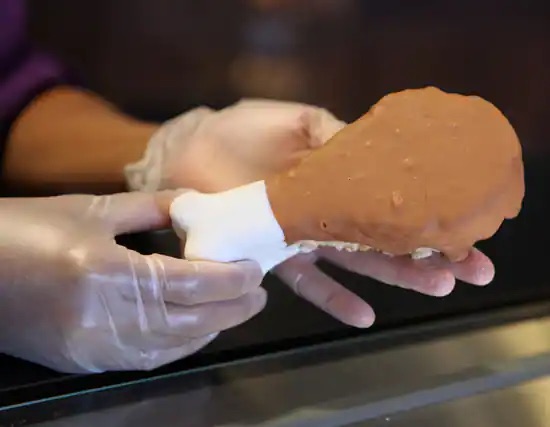 It's not just a plague in America either. Over at the Tokyo Disney Resort they offered a Turkey Leg themed shoulder bag. That's pretty weird right? Well guess what, that's not actually the crazy part about this bag. NAY NAY.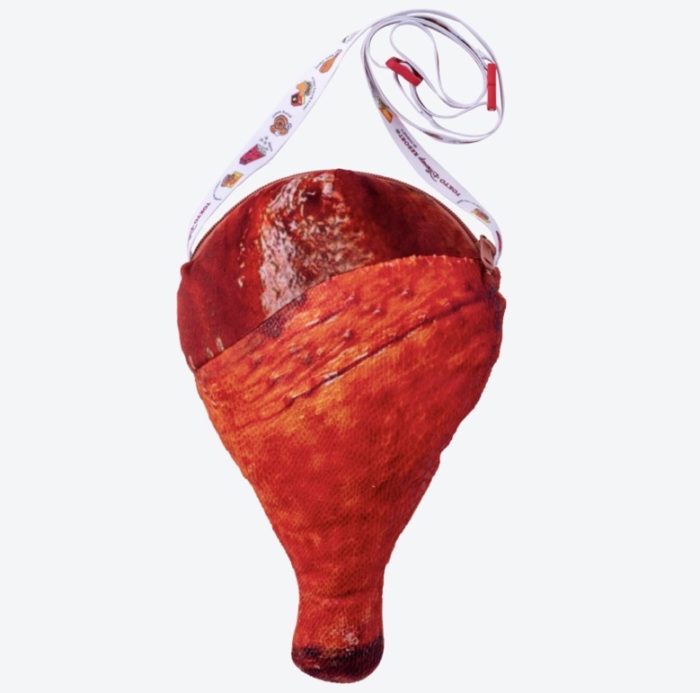 Just wait till you try to put something in….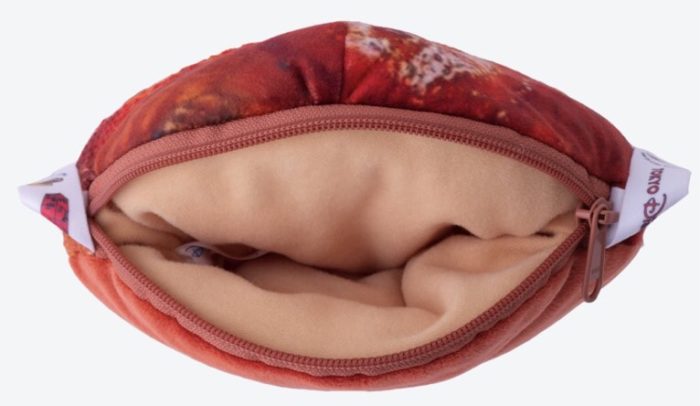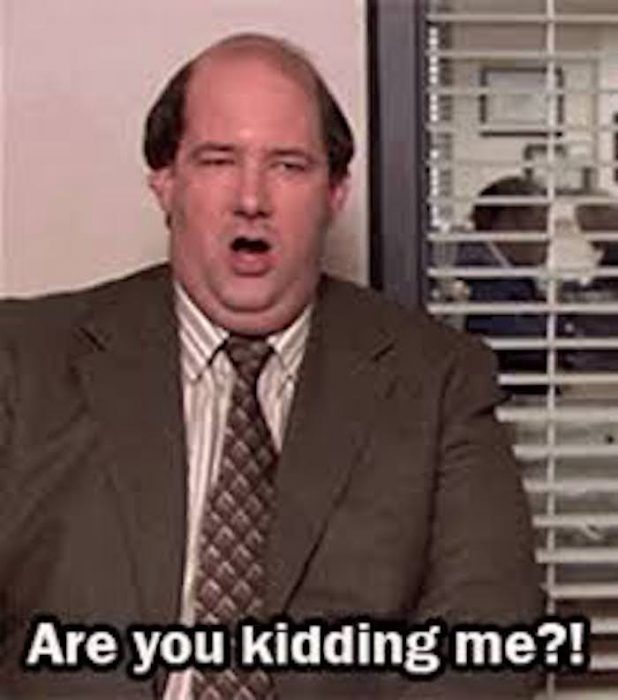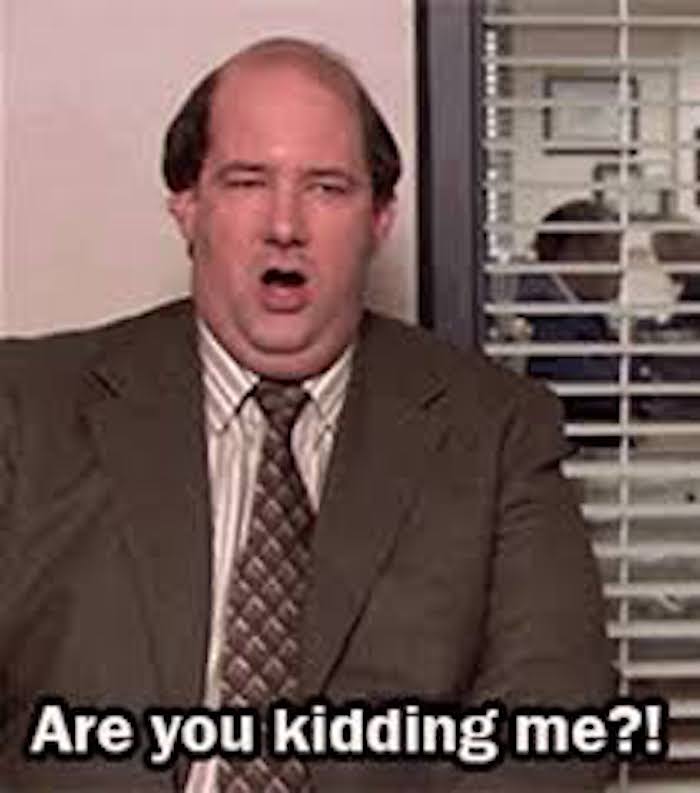 Triple Threat Honorable Mention – When You Break the Scale of "Creepiness"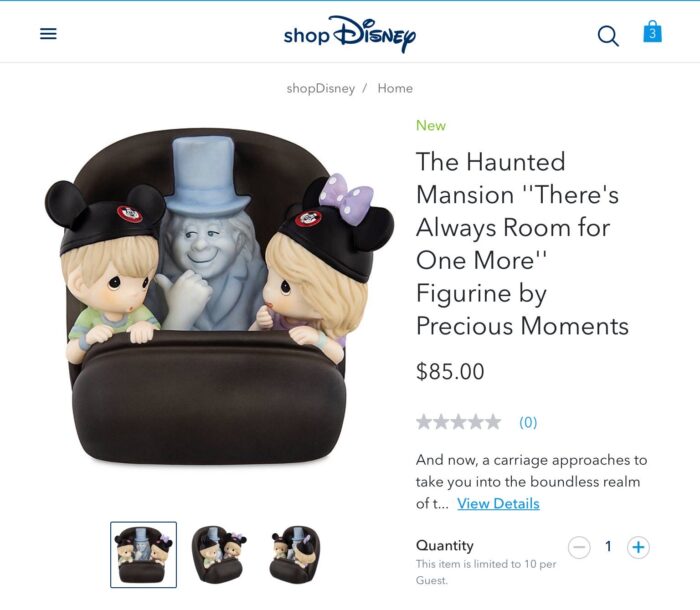 So there you have it: The SATURDAY SIX Proudly Presents: The Disney Merchandise Hall of Shame! See you next weekend for the latest installment of the SATURDAY SIX, where we'll look at something fun from the world of Disney and Universal. If you enjoyed yourself, be sure to check out the THEME PARK ENJOYMENT INDEX, giving a monthly recap of all the theme park news you need to know (and a lot more you don't need to know, but we're gonna tell you anyway). You can also follow Your Humble Author on Twitter (@derekburgan).
If you enjoyed this article, you will surely like the following: 
SATURDAY SIX Presents: The Disney Signage Hall of Shame
SATURDAY SIX Presents: The Disney Food Hall of Shame
SATURDAY SIX: Tribute to Josh easyWDW
Special Thanks to The Elite Brandon Glover, Digital Maestro Scott Walker, the bio-est of all reconstructs @bioreconstruct, Captain Cruiseline Scott Sanders of the world famous Disney Cruise Line Blog, my personal protege Hunter "Elvey" Underwood, artist @SonderQuest, the mighty maven of merchandise Hedgehog's Corner, the SAT SIX Fun Squad of Parkscope Joe and "the Dadalorian" Nick, hot shot Michael Carelli, charter member of the Universal Four @Nitro230, the permit princess Alicia Stella, master cartographer Tommy Hawkins, and Hermione Granger's tutor Megan Stump for their invaluable assistance with this article. Absolutely no help was added by SeaWorld Influencer @SuperWeenieHtJr. The SAT SIX is inspired each week by goofballs Aengus Mackenzie and LitemAndHyde and you Potterheads will  enjoy Meg's other blog work over at the Central Florida Slug Club.