The Best Food from the 2023 Disney California Adventure Food & Wine Festival
The Food & Wine Festival is back at Disney California Adventure! The 2023 iteration features 12 food booths serving up some creative and delicious items to chow down on. In this post we'll highlight some of our favorite items from this year's festival.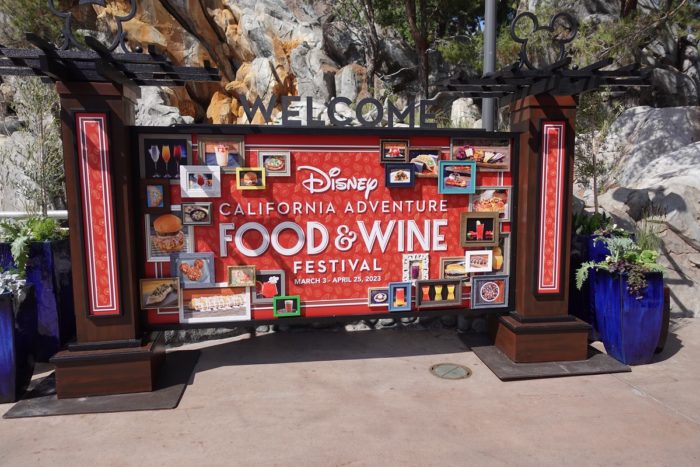 The Sip and Savor Pass is back for 2023. The cost is $59 for regular park guests, and $54 for Magic Key members. Keep in mind to make the Sip and Savor Pass a good value you should buy only the most expensive items at each food booth. You get 8 tabs to use on food and non-alcoholic beverages. That means each tab is worth $7.38 for regular guests, and $6.75 for Magic Key members. Most non-desserts are $8-$9, while desserts are around $7. Non-alcoholic beverages under $6.50 are NOT a good use of a Sip and Savor tab.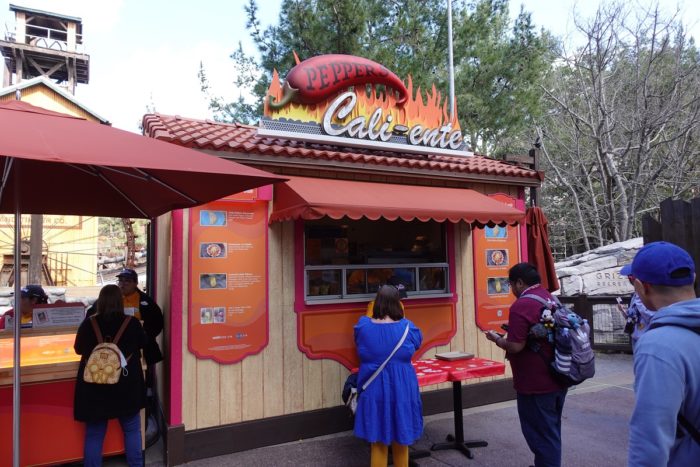 Food and Wine Festival booths are mostly located in the center of the park, but there is also two in Hollywood Land, as well as many festival items scattered at quick service restaurants around DCA.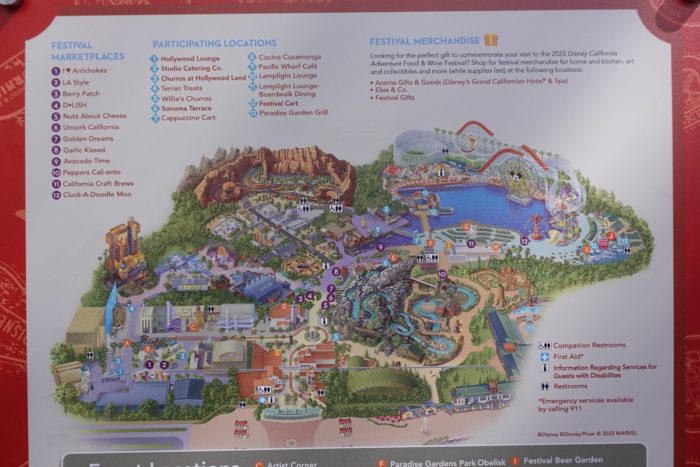 Our Recommended Disney California Adventure Food & Wine Festival 2023 Items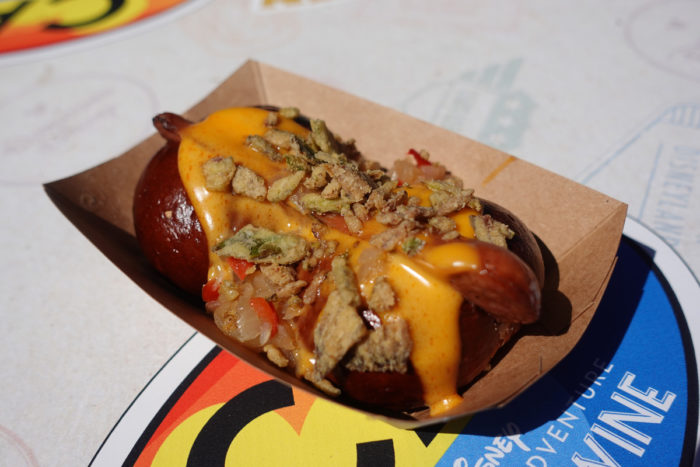 IPA Sausage Dog – California Craft Brews – $7.25 – California Craft Brews
Everything about this dog was heavenly. I may be easy to please, but pretzel buns make everything better, right? The dog is also topped with malt vinegar-jalapeno crunch, which is so good that I would eat it buy the handful if there was a bag in front of me. One thing I need to point out; why is it only one half of a sausage? This seems like a cost cutting measure to me.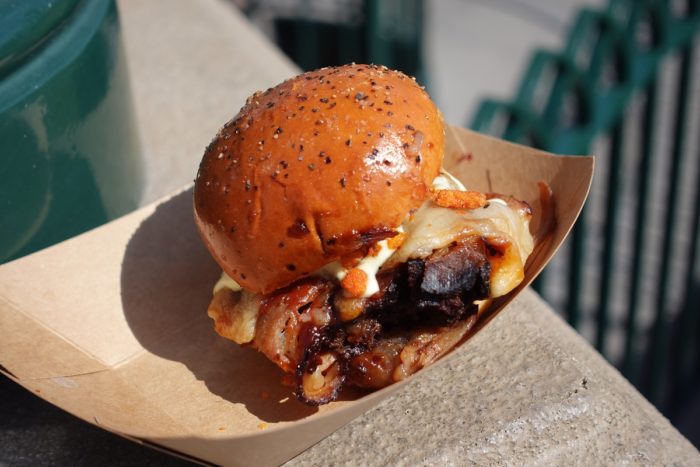 BBQ Beef Brisket Slider – $9.00 – Cluck-A-Doodle-Moo
The BBQ Beef Brisket Slider has a lot going for it. Tender and perfectly cooked beef brisket, gooey smoked cheddar, and a soft salt & pepper brioche bun. Sometimes you don't need anything fancy and a good chunk of meat will do just fine. This is also a great use of a Sip and Savor tab due to its high price tag.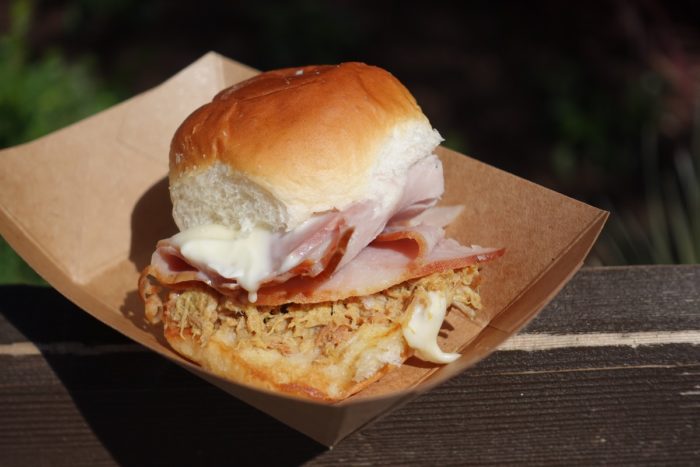 Cubano Slider – $9.00 – D-Lish
I'm a massive fan of Cubano sandwiches so my mouth is watering just thinking about this one. You get slow-roasted mustard-crusted pork and sliced smoked ham topped with melted swiss cheese and pickle. The best part of it all is that it's served on a Hawaiian roll. This is next level and definitely my favorite item of this year's offerings.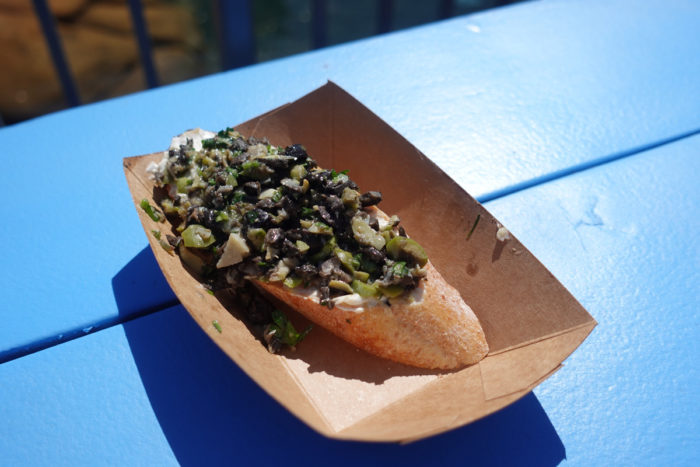 Artichoke Toast with Olive Tapenade – $7.25-  I ♥Artichokes 
Every year there is at least one ingredient at the Food & Wine Festival that I have no idea what it is. This year that ingredient was "Tapenade" (it's finely chopped olives, capers, and olive oil). I'm happy to confirm that I now love Tapenade! I'm a huge fan of both artichokes and olives, so because of that the Artichoke Toast ended up being one of my favorite items I tried from this year's festival.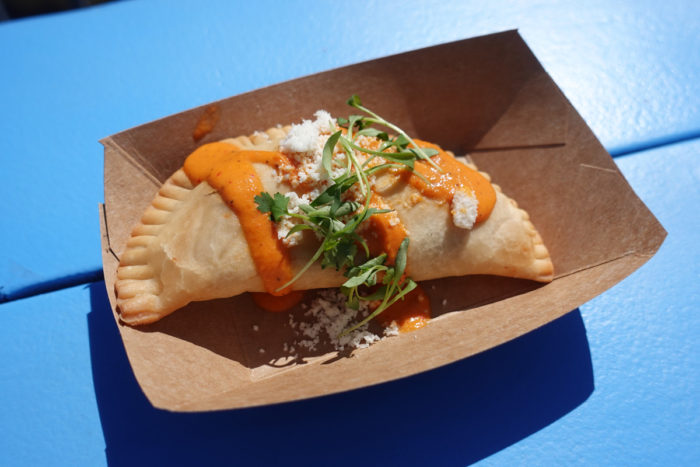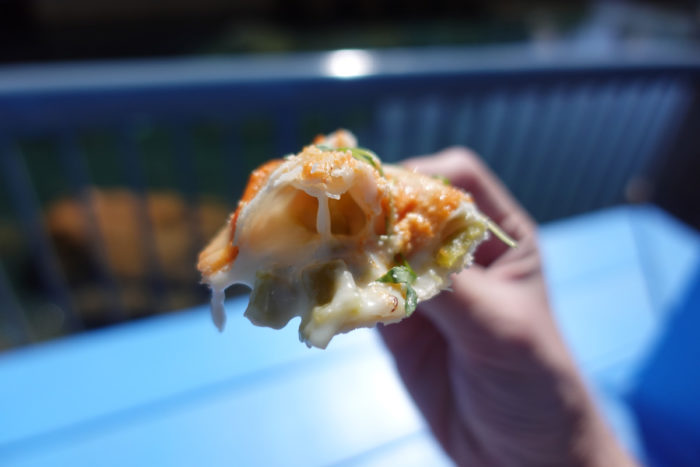 Chile Relleno Empanada – $8.50 – Peppers Cali-Ente
This empanada is one of the highlights of the festival, and one of the items I heard many people talking about in the park. It's delicious and has a nice little kick to it. I had to include a picture of the inside because it was gloriously gooey.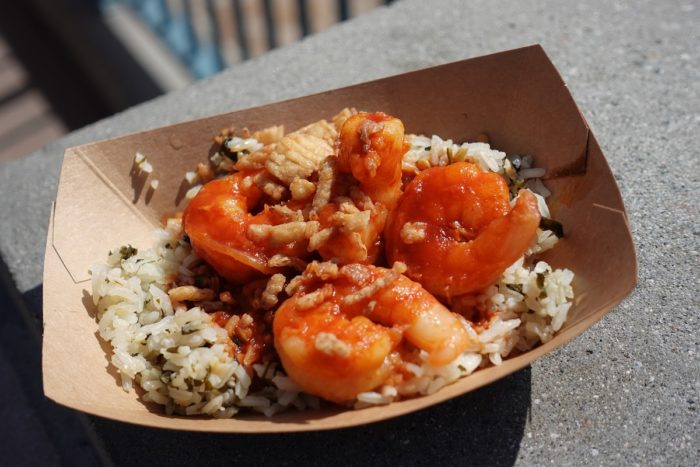 Camerones a la Diabla – $8.50 – Peppers Cali-Ente
The spicy shrimp in this dish was fresh and plump. Also, I really enjoyed mixing up the California chile with the included cilantro rice. It's a simple dish, but if you like spice and shrimp you won't want to miss out on this one.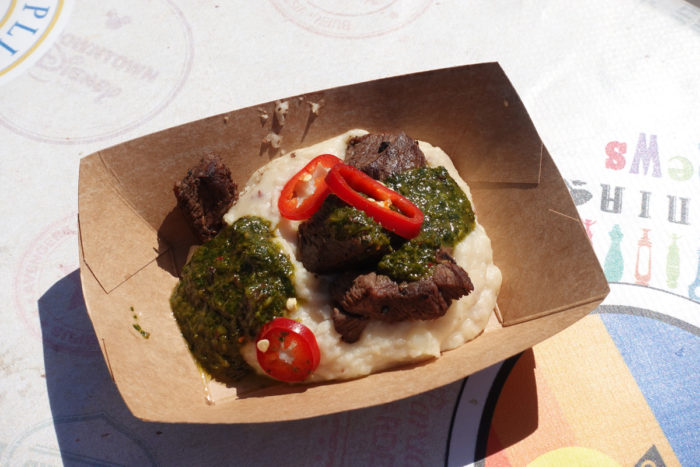 Grilled Top Sirloin – $9.00 – Garlic Kisses
This is probably the most "safe" item on the list, aka one that will appeal most to picky eaters, but it's still worth talking about. The black garlic chimichurri is *fantastic* and I wish I could dump it all over any meat I consume from now on. This item went up a full 75 cents since last year's Food & Wine. Ouch!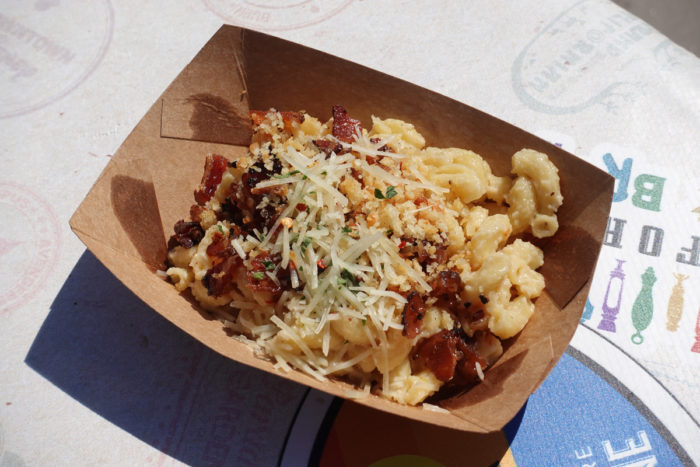 Carbonara-Garlic Mac & Cheese – $8.50 – Garlic Kisses
This is another winner from the Garlic Kisses booth, but I do have to say that I wish it had an even more intense garlic taste. This dish was far better than the usual theme park plastic tasting mac and cheese.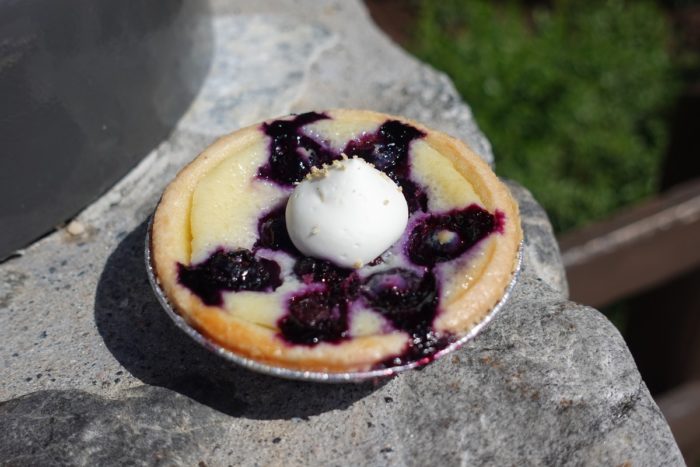 Blueberry-Buttermilk Pie – $6.50 – Berry Patch
First of all even though this is a tiny pie I was shocked at house dense it is. It had some decent weight when I picked it up. It's rich in buttermilk and berry flavor, which makes it a great dessert after all the salty food I ate from the other booths.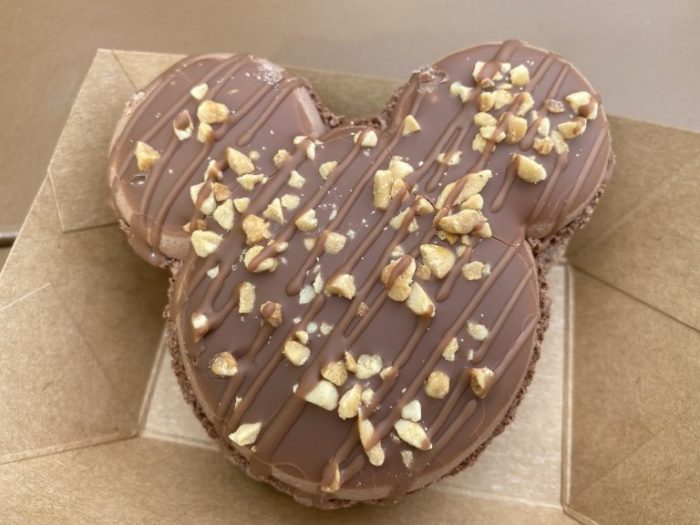 SNICKERS Caramel-Peanut Milk Chocolate Mickey Macaron – $6.75 – Nuts About Cheese
This fan favorite item is back for another year. It's a gigantic macaron that tastes like a Snickers candy bar. What more could you possibly ask for? This is a good item to share with a couple of people due to its huge size.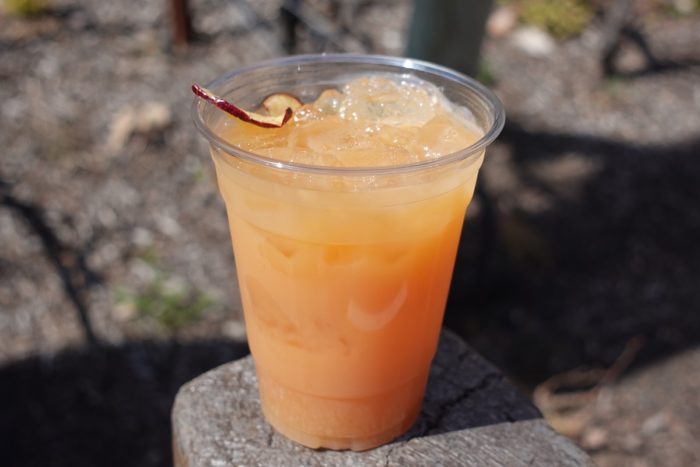 Central California Cooler (non-alcoholic) – $6.75 – Golden Dreams
This drink is made up of peach purée, apple, orange & lemon juices. I really enjoyed it, but as with most Disney drinks, it's very sweet. Overall this is a nice and refreshing drink with a great blend of flavors.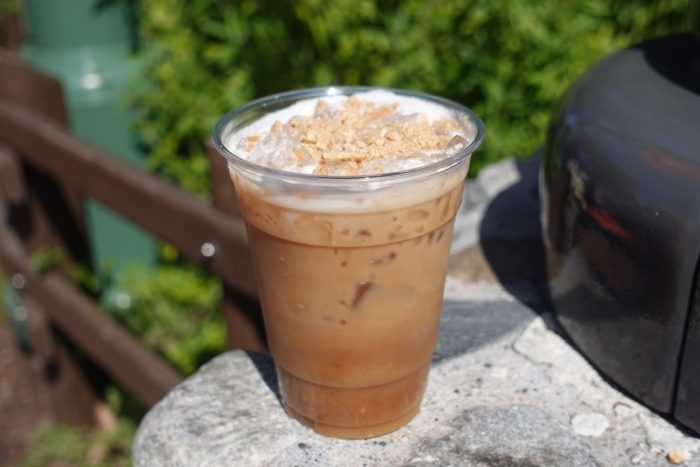 Blueberry Pancake Cold Brew – $6.75 – Berry Patch
This one is for all you coffee fans out there. List of ingredients from Disney's website: "Joffrey's Coffee & Tea Co. Mexico Origin Coffee, brown butter, maple and demerara syrup, and oat milk with a blueberry sweet cream made with cream, oat milk, vanilla syrup, and purée garnished with cinnamon-flavored cereal crumble (Non-alcoholic)." I don't drink coffee but the person who drank this mentioned you can really taste the blueberry flavoring. They didn't think the cinnamon cereal topping was necessary, but they felt overall it was a good drink.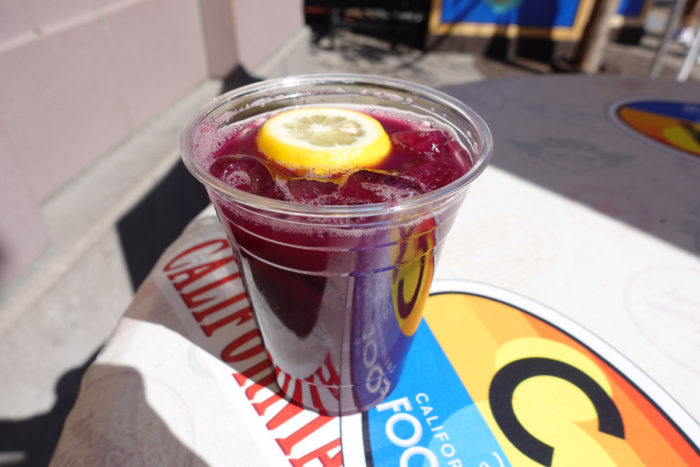 Blackberry-Lavender Lemonade (non-alcoholic) – $6.50 – Avocado Time
Blackberry, pineapple juice, lavender syrup, and lemon juice blend together perfectly for this wonderful drunk. We were expecting it to be sickeningly sweet, but it ended up being just the right amount of sweetness. It's worth noting we don't recommend using one of your Sip and Savor tabs on this items since it's on the cheaper side. But we wanted to review it so you have something to wash down all of the other great items on this list.
You don't want to miss this year's Food & Wine Festival at DCA. Be sure to check out our Disneyland Crowd Calendar, which rates every day of the year on a scale of 1 to 10 so you can see how busy Disneyland and DCA will be during your visit. Also check out our Disneyland Touring Plans. These itineraries can show you how to beat the crowds and spend less time in line at your favorite rides. Our Touring Plans can also be personalized! All of our tools are used by hundreds of thousands of visitors each year and are constantly being updated by our in-park team of researchers and data scientists. We can even book your vacation for you.
Disney California Adventure Food & Wine Festival 2023 runs March 3 through April 25, 2023. Let us know what items are your favorites in the comments below.