Top 3 Best Resort Breakfasts at Disney World
Breakfast. It's the most important meal of the day! Arguably it is even more so at Walt Disney World where you have flying pirate ships to ride, banshees to fly, and the First Order to escape from. Now while there are many places at Walt Disney World to fuel up for your day at the parks, being able to enjoy the most important meal of that day at your Disney resort is a plus, especially these days.
Since the parks are opening late and closing early these days, enjoying breakfast at a resort won't cut into those precious park hours and allows you and yours to be fueled up and ready to go when entering the park. Also, due to Disney's Park Pass system, in-park dining reservations are more difficult to plan since park hopping isn't available right now.
That's why we're showcasing the top 3 best resort breakfasts at Disney World right now! Not all of the Disney World's dining destinations have reopened yet, and some that have are unable to operate normally due to our current circumstances, so you may be surprised who is and isn't on this list. Are you ready? Bon Appetit!
3. Kona Cafe at Disney's Polynesian Village Resort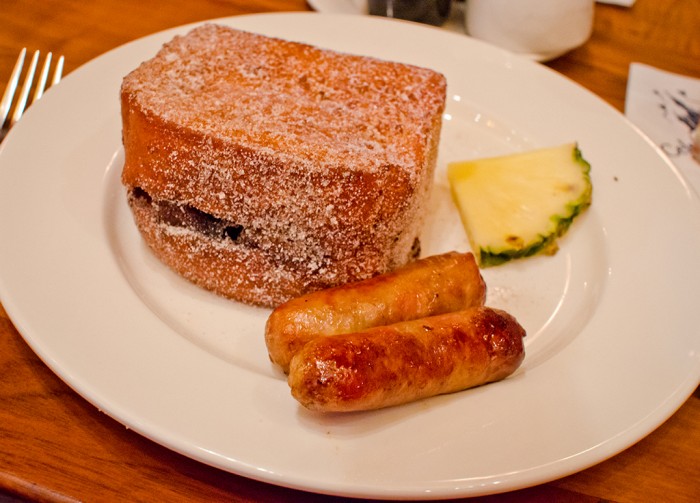 Kona Cafe at Disney's Polynesian Village Resort, located on the second level of the Great Ceremonial House, has never had the best location in comparison to other resort restaurants on Disney property. Unfortunately, that issue may become even more obvious as the Great Ceremonial House, along with rooms at the resort, is about to undergo a major refurbishment that will even shut down the resort's Monorail station for a time.
But where Kona Cafe lacks in atmosphere, it more than makes up for with its Polynesian-themed breakfast menu! And no breakfast dish better encapsulates the flavors of the Polynesian Village Resort better than Kona Cafe's Tonga Toast!
Tonga Toast is banana-stuffed French Toast rolled in cinnamon sugar and served with strawberry compote. It's legendary amongst Disney World fans and a truly themed breakfast item. Tip: If you can't get reservations for Kona Cafe, or you're looking for breakfast on-the-go, Tonga Toast is also available at the quick service restaurant Captain Cook's!
But the tropical-inspired menu doesn't stop there! Kona Cafe also offers Macadamia Nut Pancakes with Macadamia Nut Butter and pineapple sauce! I also love their customizable kid's menu with options like Minnie's French Toast and Mickey-shaped pancakes. Last, but in no way least, Kona Cafe offers the famous POG or Jungle Juice listed on the menu here as Liliko'i Juice. It's a blend of orange, passion fruit, and guava and seriously delicious.
2. Olivia's Cafe at Disney's Old Key West Resort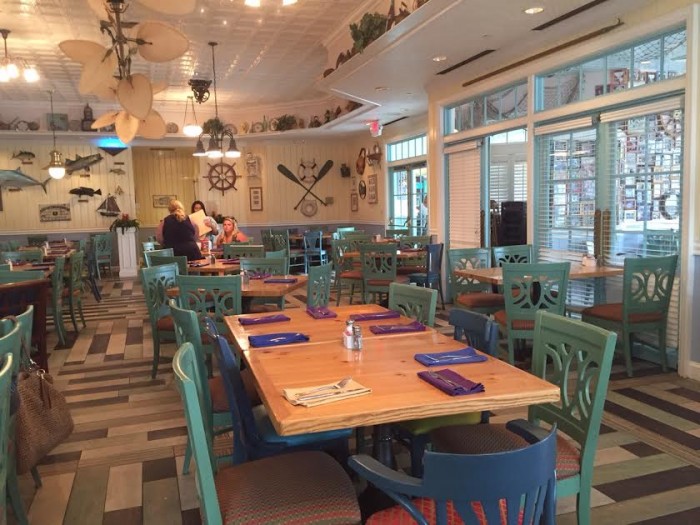 Olivia's Cafe at Disney's Old Key West Resort is absolutely a hidden gem of a restaurant! Those in the know about this laidback Florida-inspired hideaway hold it in esteem for its Southernmost Buttermilk Chicken, as do I, but it's also one of my favorite destinations for seafood, particularly its Seven Mile Sea Scallops.
But I digress… This post is about breakfast after all, and Olivia's Cafe more than delivers! For starters, Olivia's Cafe is home to Banana Bread French Toast. Yep. You read that right. But believe it or not, it actually gets better. This specialty French Toast comes with Bahamian banana-rum syrup, coconut whipped cream, and your choice of bacon or sausage. Convinced?
For something a little more classic, Olivia's Cafe also offers buttermilk pancakes, waffles, a standard breakfast plate, and more. Kiddos also can't miss here with their choice of french toast sticks or classic Mickey Waffles!
1. Whispering Canyon Cafe at Disney's Wilderness Lodge Resort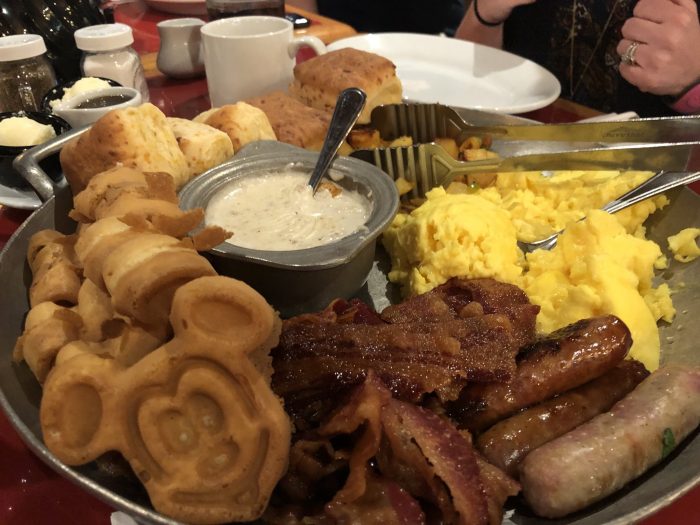 In the mood for a hearty breakfast? Look no further than Whispering Canyon Cafe at Disney's Wilderness Lodge Resort! At this rowdy, western-themed restaurant, you and yours can chow down on all-you-care-to-enjoy skillets heaped with buttermilk-cheddar biscuits, Mickey waffles, bacon, potatoes, and more. Each skillet is priced at $22.00; and let me remind you again, it's all-you-can-eat!
Whispering Canyon Cafe also serves breakfast entrees, such as two eggs any style and a Belgian waffle with berries! Kids can also enjoy their own junior size breakfast skillet or customizable breakfast entrees.
Runner Up: Primo Piatto at Disney's Riviera Resort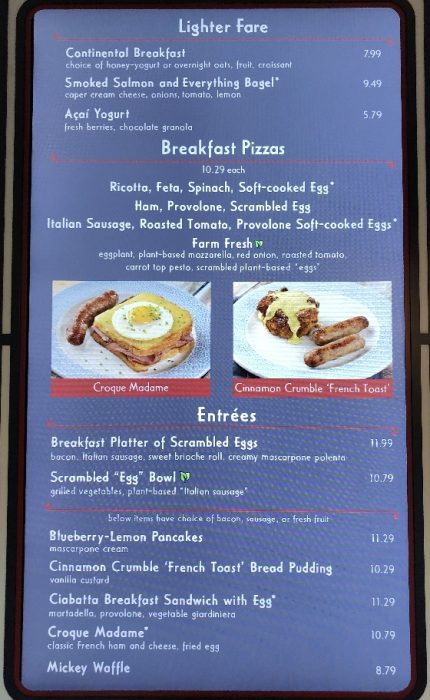 One of the newest spots for a resort breakfast Walt Disney World is Primo Piatto at Disney's Riviera Resort. This casual quick-service spot offers breakfast options you won't find at most Disney resort hotels and a budget-friendly quick-service price!
For starters, there's the Primo Piatto breakfast of scrambled eggs served over mascarpone polenta and a sweet brioche roll! There's also Primo Piatto's tall stack of fluffy blueberry-lemon pancakes topped with mascarpone cream and lemon zest! And who can go wrong with the Cinnamon Crumble 'French Toast' Bread Pudding for breakfast? As an added bonus, this menu item is also quite instagramable.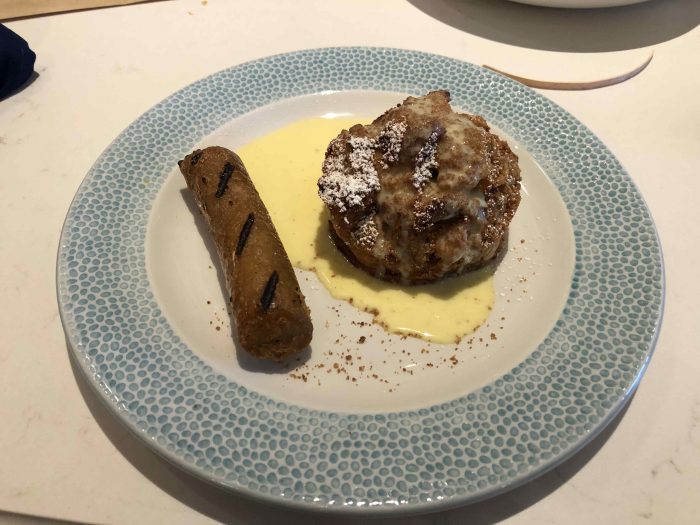 But if traditional is more your thing, Primo Piatto still has you covered with that classic Mickey-shaped waffle.
Which one of these resort breakfast locations is your favorite? Let us know in the comments!