Universal Orlando: Ranking the New Additions Since the Pandemic
Universal has been on something of a roll over the past 18 months.
Now, to be fair, the company has technically been on a roll since 2010, when The Wizarding World of Harry Potter – Hogsmeade first opened and ushered in an unprecedented wave of development at its Orlando resort – over the past decade, a new attraction, restaurant, hotel, or shop has opened each and every year. But the period of time that has transpired since May 14, 2021, when CityWalk got the reopening ball rolling after the 78-day COVID-19 closure, has been nothing short of breathtaking in its breadth and depth of new additions, far eclipsing anything seen at either Walt Disney World or SeaWorld Orlando.
Given this formidable collection of new debuts, we thought it would be fun to just quickly run them all down in a purely subjective order, starting with the smallest new items and working our way up to what have been the grandest and very best. Before we get started, however, do keep in mind that our focus will be on the new experiences proper, whether they be a quick-service eatery or a stage show – which unfortunately means, for our purposes, that such niceties as summer food trucks, hotel renovations, and Jurassic World Tribute Stores won't count, no matter how much they're also appreciated.
8. Endless Summer Resort – Dockside Inn and Suites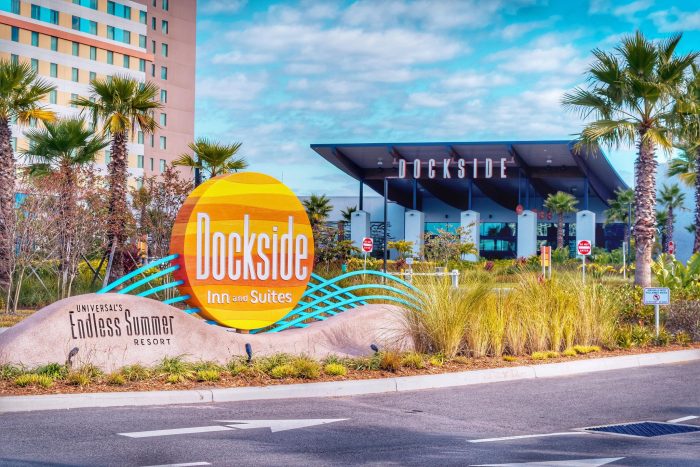 Opening date: 12.15.20
The second value hotel at Universal Orlando, Endless Summer Resort – Dockside Inn and Suites, offers much more of the same as its sister property, Surfside Inn and Suites, which opened back in June 2019. While this may result in more affordable rooms with a slight fun-in-the-sun theme, it also means that guests already knew exactly what they were getting well before its December bow – placing Dockside at the bottom of our hype list.
7. DreamWorks Destination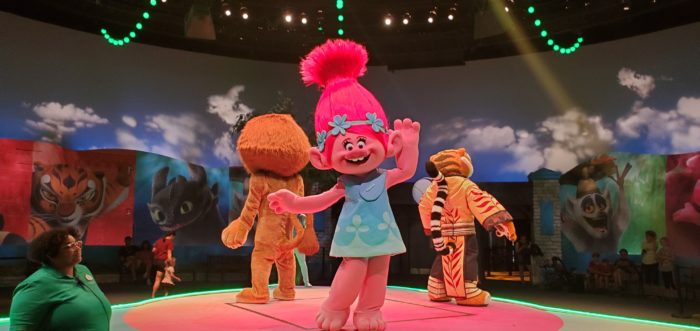 Location: Woody Woodpecker's KidZone, Universal Studios Florida
Opening date: 05.29.21
On paper, DreamWorks Destination, which took over from the long-lived A Day in the Park with Barney, works really well: an interactive character experience with singing, dancing, and social-distanced photo opportunities. In execution, however, it's a tad on the limited side, and it comes partially across as a mere lightly rethemed replacement.
Even with all that said, DreamWorks is still a worthwhile undertaking for the kids in your travel party, providing them with the opportunity to meet some of their favorite animated personalities. And especially considering that the Barney auditorium would've otherwise likely sat empty for a long time to come (just like the Eighth Voyage of Sindbad stunt show still does, three years later), we'll gladly accept the new attraction.
6. Bend the Bao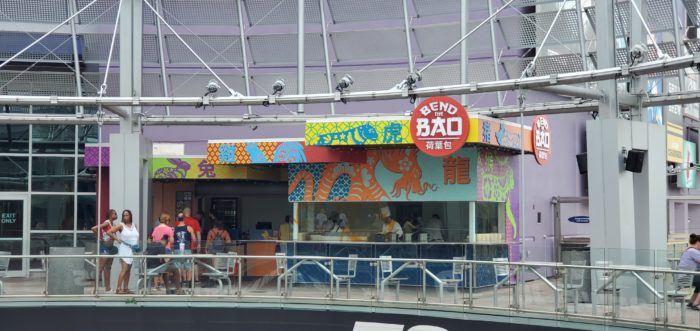 Location: CityWalk
Opening date: 06.15.21
A fun take on a small kiosk that was, unfortunately, chronically overlooked and underutilized, Bend the Bao offers some visual panache and culinary offerings both that were desperately needed at the resort's dining/shopping/entertainment district. Take your pick from a small collection of Asian fusion bao buns, which include such untraditional ingredients as crab cakes, duck, and, even, kimchee fried chicken, and then watch the chef put them together through the stand's large window.
Will Bend the Bao hop right to the top of your CityWalk must-eat list? No, probably not, but it's still some much-needed quick-service fare that'll be of gastronomical service during your vacation.
5. Universal Studios Store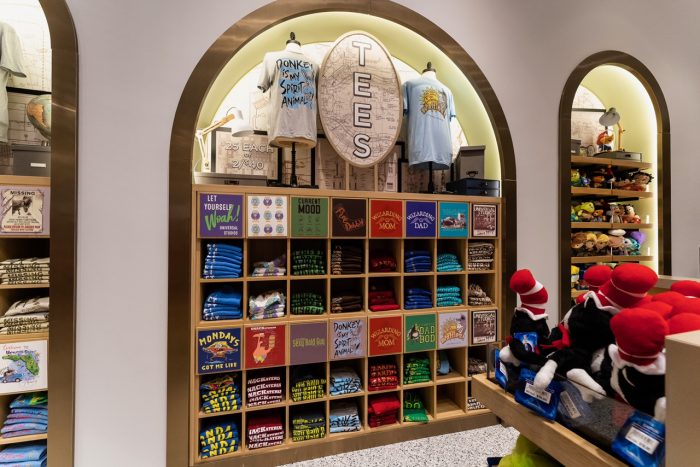 Location: CityWalk
Opening date: 04.01.21
Large, sleek, and beautiful, the new rendition of the Universal Studios Store ensures that it remains perched at the very top of Universal Orlando's retail roster. The aesthetics are subdued-but-classy, the layout is spacious, and the two rooms dedicated to The Wizarding World of Harry Potter are nothing short of elegant (the Gryffindor tapestry on the back wall in particular is an inspired touch). Oh, yeah – there are also some items that are exclusive to this new location, including a Harry Potter kitchenware line that really is a contender for your must-buy Universal souvenir.
4. Universal Legacy Store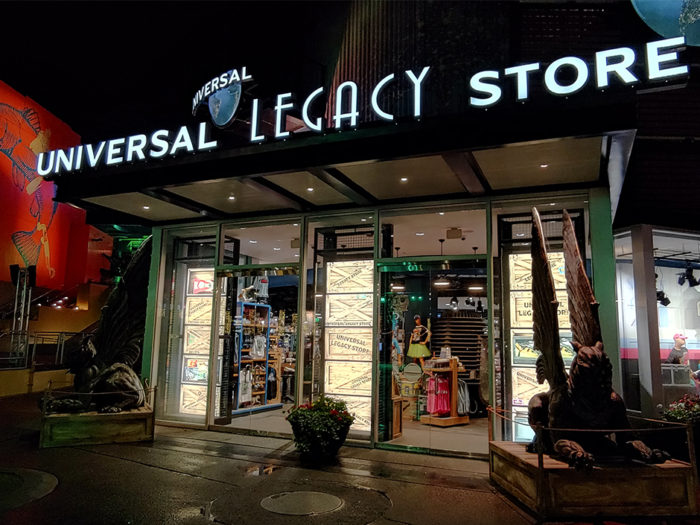 Location: CityWalk
Opening date: 03.24.21
The Universal Legacy Store is filled with its fair share of merchandise, yes (including some delightfully retro-themed wares), but it's everything else that's been packed within its walls that'll really catch your eye: props from former rides, memorabilia from the movies that helped inspire them, and a clever usage of video columns that sees a constant rotation through the virtual Universal Orlando vault, deploying everything from old photographs and commercials to, even, the preshow from the long-extinct Back to the Future: The Ride.
3. Central Park Crepes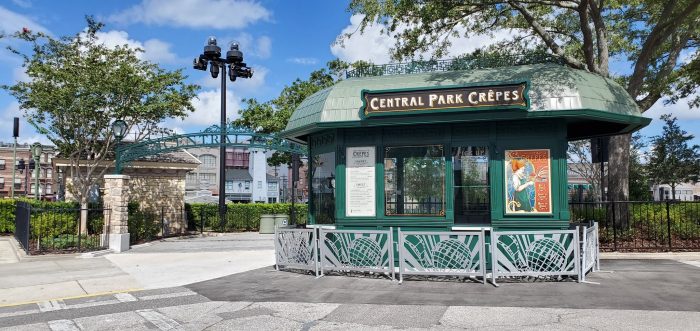 Location: Hollywood, Universal Studios Florida
Opening date: 08.17.20
Universal researched crepe locations all across America for inspiration for its newest restaurant addition to Universal Studios Florida, and it shows: at Central Park Crepes, you can find such offerings on the seasonal menu as Smoked Brisket, Chicken & Goat Cheese, Vegan Sausage, and Lemon Blueberry – or, in other words, potentially a choice for every member of the family. The light Art Deco-esque theming of the small stand only serves to seal the deal, making this a must-do stop on any excursion to the park.
2. The Bourne Stuntacular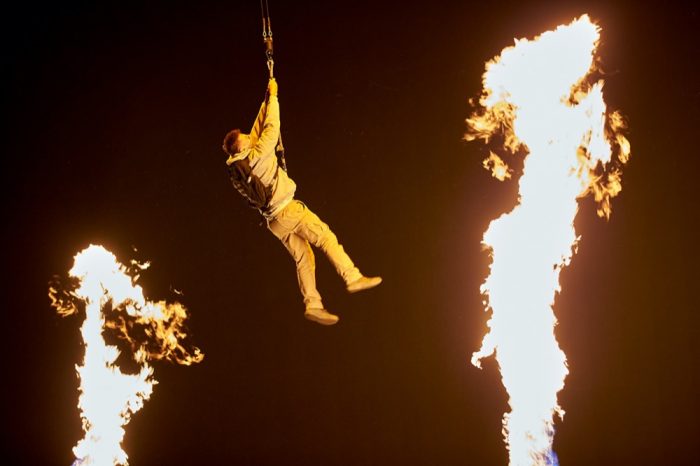 Location: Hollywood, Universal Studios Florida
Opening date: 05.25.20
Once you get past The Bourne Stuntacular's rather tame queue, you're in for quite the stunt-filled treat. Car chases, fisticuffs, shoot-outs, free falls, and some clever use of various props – including one memorable instance that plays out literally over your head – all unfurl against the backdrop of a mammoth, 3,640-square-foot LED screen that contains over 5,000 panels. That means it's sometimes difficult to discern where the real actors stop and the pre-rendered backgrounds take over – which only adds to the magic of the experience.
No offense, Horror Make-Up Show – if guests are only going to see one show at Universal Orlando, this is probably the one.
1. Jurassic World VelociCoaster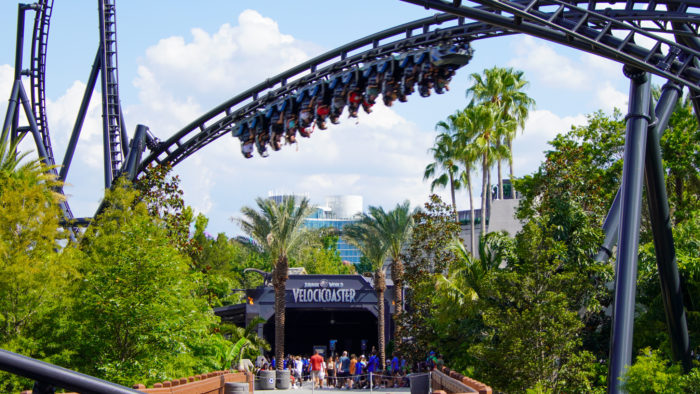 Location: Jurassic Park, Islands of Adventure
Opening date: 06.10.21
Was there ever any doubt that the tallest and fastest launch coaster in Florida would top our list? With speeds of up to 70 mph (in just 2.4 seconds), 40 instances of the track crossing over or under itself, a 155-foot-tall "top hat" with an 80-degree drop, and 100-foot-long upside-down weightless stall, Jurassic World VelociCoaster simply needs to be experienced to be believed. (Yes, we're only scratching the surface of the mammoth coaster here – there's also its queue, its unique ride lockers, overall narrative, and peculiar track layout, which sees the experience build in intensity as opposed to tapering off and winding down – but we believe the point is more than adequately made.)
Do you have anything else you'd add to this list? Would you switch the order up? Let us know what you think in the comments.