WDW Veteran, Disneyland Newbie
Subtitle: How a super-planner approaches her first-ever trip to the West Coast Disney Homeland
I've been to WDW more times than I can count (just kidding – I can count really high. It's a figure of speech). I've even travelled to Disney's hometown of Marceline, Missouri, which is something very few Disney fans can claim. As a Missourian myself, I highly recommend the Marceline experience if you're ever in the Midwest. But I've (gulp) never been to Disneyland. I feel like a Disney theme park poser. Now you all see me for who I really am! Honestly, I don't even research or read about Disneyland that much. I'm very WDW-obsessed.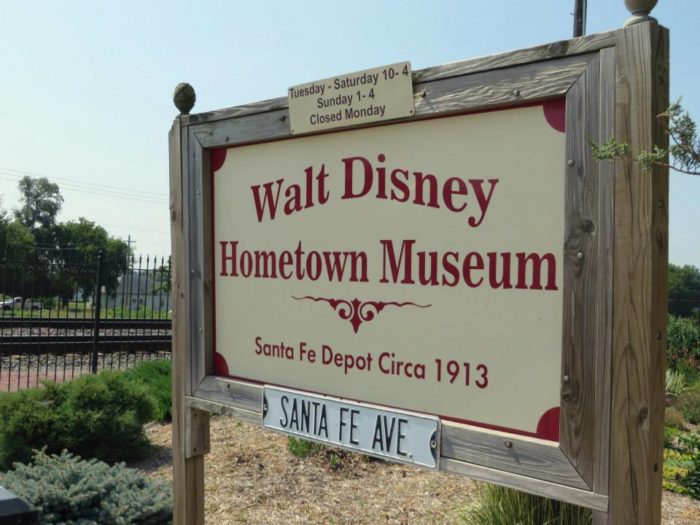 My husband and I have had grand plans to trek all the way to Tokyo Disney for our 10th anniversary. Unfortunately, now that the big day is less than 3 months away, it's very apparent that that's just not going to happen. I'll cross my fingers for our 15th instead. So we're editing our plans and still flying to a new-to-us Disney location. We're just not crossing any oceans to do it. We'll actually be doing a mini-road trip in California, visiting Disneyland and San Francisco, with a couple of days trekking along the coast in between.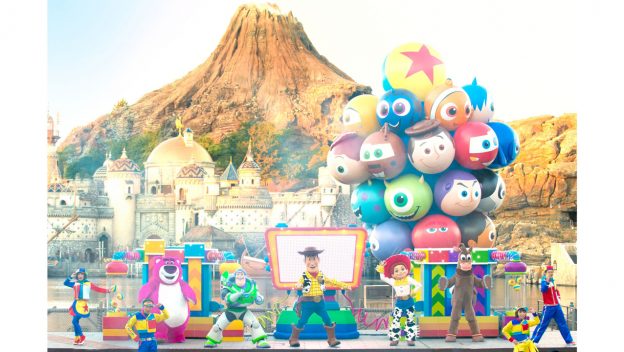 I've previously written about how I applied my Disney trip planning savvy to non-Disney trips, and several people reached out saying how they found it to be helpful for them. So in this post I'll walk you through how I'm approaching this new-to-me Disney vacation. I have lots of WDW knowledge and experience, but I'm a total Disneyland newbie. If any of you are in the same boat, follow along to find out how you can use that WDW fandom to plan your own Disneyland trip too.
A Newbie Decides When To Go
We're starting off with a section that is … slightly misleading. I pretty much already knew when I wanted to go – ideally, I want my first day in Disneyland to be the actual date of our anniversary. But I at least needed to do a sanity check and make sure that date wasn't already set aside for a "Locals All Descend on Disneyland" event.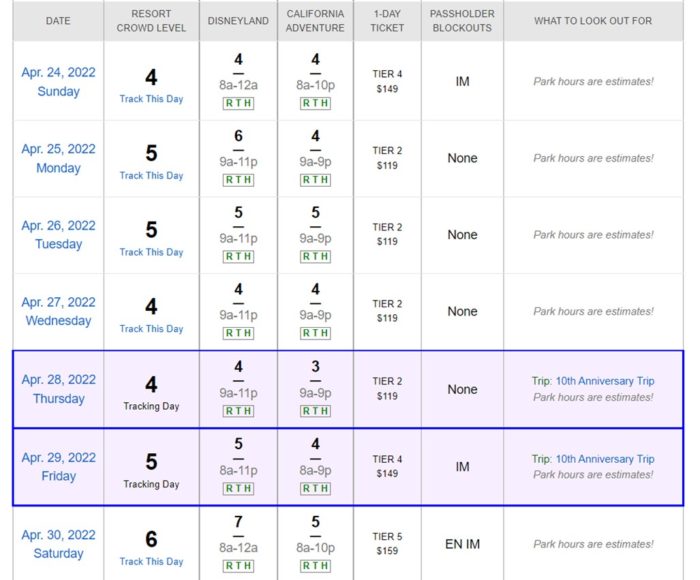 I looked at the Disneyland crowd calendar, and while I know thanks to Jennifer's retrospective that these numbers won't always be 100% accurate, they're definitely a good gut check. 4s and 5s don't bother me. We're generally spoiled by only experiencing 1s and 2s since we do early September trips to WDW, but we can handle 4s and 5s with a plan.
The dates of our trip are also somewhat (or totally) boxed in by another constraint. Childcare! Because if the kids come, it's not a vacation – it's a trip. School calendars dictate that it would be easiest to get the younger members of our family cared for on a Wednesday-to-Wednesday schedule. That means we'll start the vacation by flying into LA so that we can be in Disneyland on our actual anniversary, which is Thursday.
A Newbie Decides How Long to Visit
We typically don't do less than 5 days at WDW. A full day for each park, and a down day built in to the middle to enjoy the resort and let our kids recover. But I know enough to know that 5 days at Disneyland is totally overkill. There are just two parks to explore, and they are steps from each other. On top of that, we also want to explore other parts of the state, and that means we're not going to go crazy with Disney days.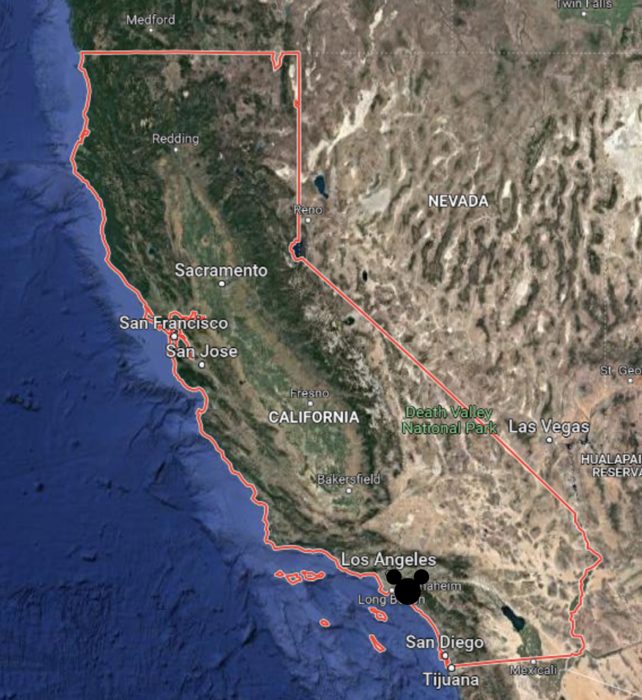 I should've put a spoiler alert on the crowd calendar picture above, since I've already built my trip, and it highlighted my two parks days. Why just two? We're not travelling with kids, so we can easily revert back to the good ol' rope drop to park close days, and – gasp – not even break for nap time! And bonus, since it's a vacation celebrating three different special occasions (milestone anniversary, first Disneyland trip, not having to pay for cross-Pacific flights), budgets are quite a bit higher than normal. That means that I don't mind springing for Park Hoppers or Genie+ if it saves me time. Taking all of that into account, and knowing that we don't have to experience every single thing, two days should be plenty of time to do what we want to do.
Thankfully, TouringPlans offers one-day suggested plans for both Disneyland and California Adventure. It's a safe bet that I'll be making my own personalized touring plans for our park days, but these give me a starting point for what is feasible in a day, and what those awesome Disneyland experts recommend doing with limited time.
A Newbie Decides Where To Stay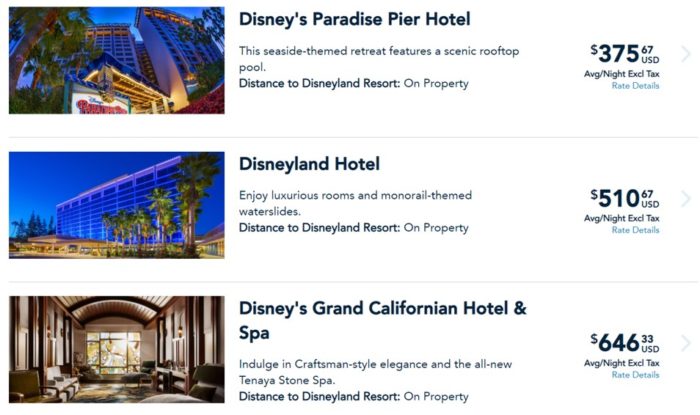 Now, while celebrating three special occasions means the budget is higher than normal, it's apparently not "stay on property" high. I did my normal trick of checking for DVC rentals, but that came up with nothing. No confirmed reservations for my dates, and all rooms booked out when I check availability for point rental. And I don't want to pay $376 a night to stay at Paradise Pier. Not exactly "hey, this is a nice milestone anniversary vacation" vibe.
So I did my research! I found this lovely room review and video tour from last summer. The JW Marriott sounds great! It's definitely not somewhere that I'd bring my kids, but with a 12-ish minute walk to/from the parks, and the upscale feel, it's going to be a great place to enjoy our evenings. I even booked the "upgraded" theme park view with king bed for $315 a night – $60 less each night than even Paradise Pier. I'll take that trade any day. If I had gone with a standard, two-queen room, my savings would have been even higher, since that cost was $275-ish a night at the time I booked.
In addition to the walk to the parks being very doable, there's a bonus to the location for our specific trip. Since, after our two days at Disney, we're going to be driving up the coast to San Francisco, we need a rental car! But I don't want to pick one up at LAX since that means driving ourselves to Disneyland and paying for parking for three nights when we won't be using a car. Thankfully, my rental company of choice (Alamo) has a rental pickup location less than a 5 minute walk from the JW Marriott. So on Saturday morning we can leisurely walk over and pick up our ride.
A Newbie Decides Which Parks to Reserve
Park reservations are definitely sticking around for … a while. And that meant when I bought my two-day park hoppers, I also need to make park reservations. I'll be able to hit both parks each day, but I will be stuck in my first park until 1:00 pm. That's at least less restrictive than WDW's park hopping limitations, but it still means that I need to make a choice for where to be each morning.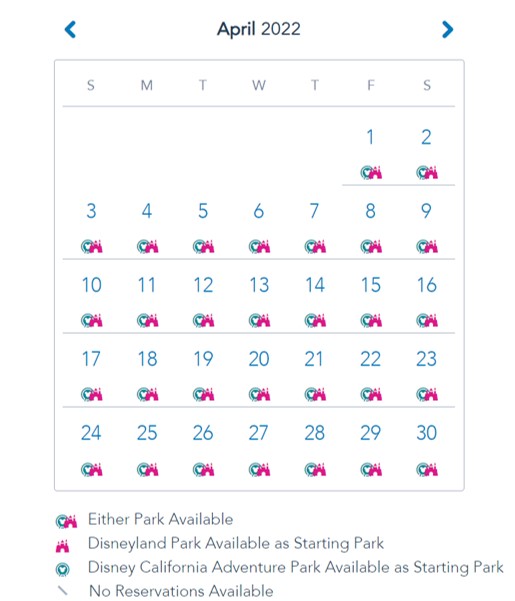 I want to take full advantage of rope drop at each park, to hopefully avoid purchasing ILL for the "big" rides. That means I'll need one morning reserved for each park. The crowd calendar isn't much help here, since each park is one crowd level higher on Friday than it is on Thursday. I can't really play the crowds game to make my decision. So I'll do it based on gut and say that I want to go to Walt Disney's wonderland for our first morning and be all excited about walking down the original Main Street instead of rushing into California Adventure. It's an emotional decision, but I'm running with it. As in, I'll probably be literally running to Rise of the Resistance instead of actually absorbing my environment. But when the crowds start picking up, then I'll start really soaking it in. Ha!
That means my Thursday park reservation will be for Disneyland and I'll rope drop Rise. My Friday park reservation will be for California Adventure and I'll rope drop Web Slingers at California Adventure. The other Individual Lightning Lane attraction at that park, Radiator Springs Racers, offers a single rider line. And since we won't have our kids with us, we'll take that route to cut down the wait!
A Newbie Decides … What Else There Is To Plan
Obviously, choosing dates and where to stay does not a plan make. There are so many more details that I get to work through! In about a month, I'll post again with some other details and how I decided upon them:
A Newbie Decides Where To Eat (this might be the most important decision for me)
A Newbie Decides What and When To Ride (aka, TouringPlan creation)
A Newbie Decides How To Pack
And probably more things that I'm forgetting now.
What Can You Learn From This Newbie?
If you're deciding when to visit, check out the crowd calendar to get an overall idea of what you might run into. Our Disneyland refurbishment page can also come in handy if you're absolutely set on experiencing something specific.
If you're deciding where to stay, the lovely folks at the TouringPlans Travel Agency can help you find the perfect spot for you, and get you the best deal on it.
If you're deciding how long to visit, take a look at some of our Disneyland TouringPlans. Even if you don't use them, you can look through to get an idea of how various trip lengths will impact the "pace" of your days.
Do you follow some of these same strategies when you're planning your vacations? Or do you suggest them to WDW/Disneyland newcomers? Do you have any suggestions for me and other Disneyland newbies? Let me know in the comments!