We Sent a Disney Cupcake to the Lab
Let's start off by saying that we're firm believers that calories do not count when on vacation. As a result, this article is more in the category of "isn't that interesting" instead of "drop that cupcake".
As a rule, Disney doesn't share nutritional information about their foods, aside from prepackaged foods that are bound by government regulations. Disney does do a good job when it comes to allergies, but if you're looking for Calorie content, sodium levels, net carbs, or other items of that nature, you're out of luck.
To get to the bottom of one of the bits of nutritional information that everyone wants to know but doesn't want to know, we decided to send a Disney cupcake to Deibel Laboratories to find out just how many calories are in a typical Disney cupcake.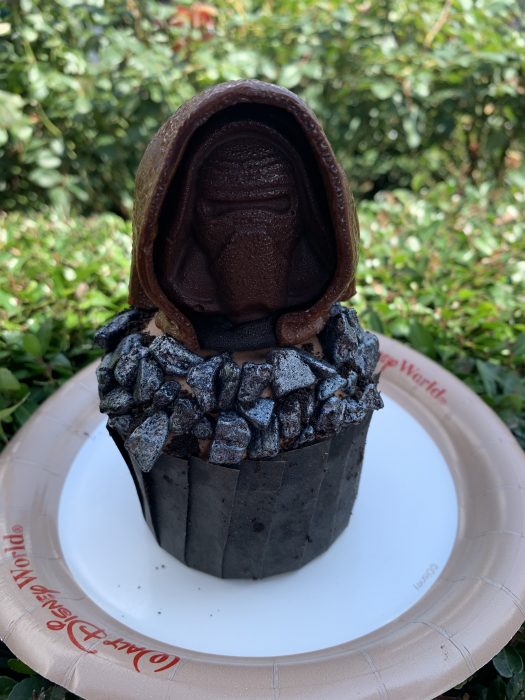 The cupcake we chose was the Kylo Ren cupcake from Disney's Hollywood Studios. No particular reason for this choice aside from the idea of Kylo Ren meeting a fiery doom was amusing, perhaps. The Kylo Ren cupcake is a chocolate cupcake with a peanut butter whipped frosting, chocolate rocks, and a chocolate topper. Yummy.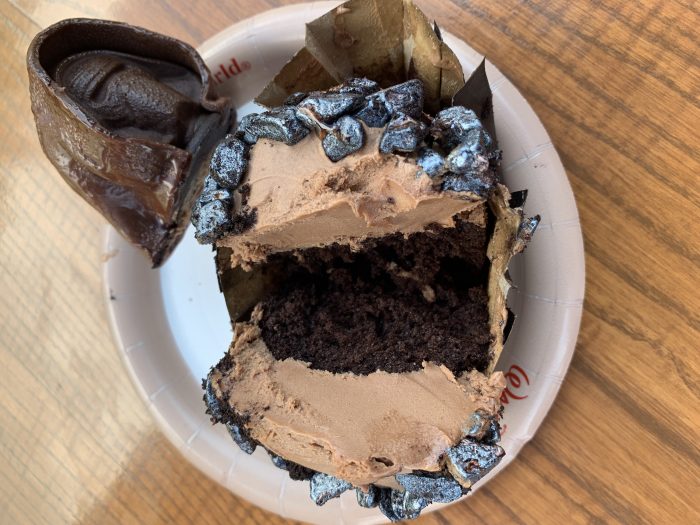 It is worth noting that different cupcakes with different contents, different fillings, different amounts of frosting, and different decorations will yield different results. In fact, the exact same type of cupcake will have a variation based on how heavy-handed the frosting application method was or how much batter was put into the tin for a cupcake. With those disclaimers in mind, here's the official lab results.

And, at first, a cheer was heard in the land–425.39 Calories! It's a miracle! Unfortunately, that's not the full story (or the full Calorie count).
In order to have standardization, the unit measure is important to note. While packaged foods state Calorie counts based on serving size for your convenience, from a scientific standpoint, Calories are normed to make it easy to compare Calorie counts between items of different size and weight. (It is also worth noting that in years past, companies would play games with serving size to make their products seem lower in Calories than they really are. A good example would be a 20 oz. bottle of soda. To most people, a serving size would be one bottle, but Calorie counts in the past were based on a serving size of 12 fl. oz., or 3/5 a bottle.) As a result, the result listed above isn't for one cupcake (which is what most people would think of as a serving size for a cupcake), but for 100 grams of Kylo Ren cupcake.
How much does a Kylo Ren cupcake weight? Thankfully, our food scale-toting researcher Christina has that answer. A typical Kylo Ren cupcake weights 8.9 oz. or about 252 grams. Doing the math, that means our dear cupcake actually comes in at approximately 1,072 Calories. To paraphrase Luke Skywalker, If there's a health food center in the Disney universe, this cupcake is on the planet that it's farthest from.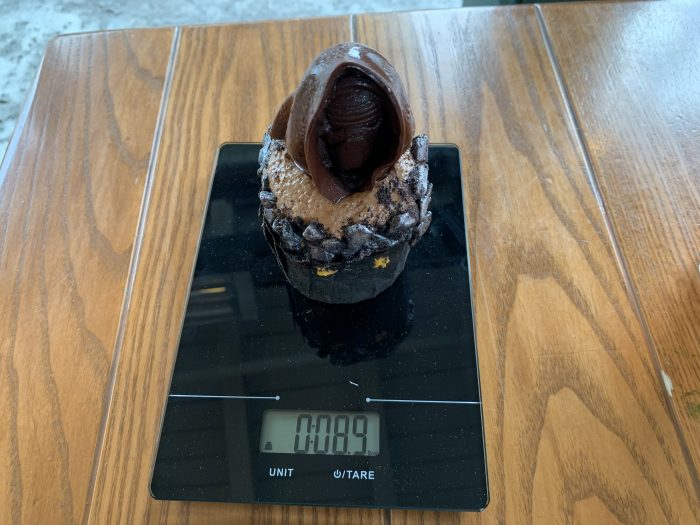 If you decide to eat a cupcake like this on your vacation, what would you need to do to make sure that cupcake doesn't come back with you as a bit of unwanted vacation souvenir pudge? To make it simple, a 180-pound person burns approximately 100 Calories per mile walked. On an average Disney day, it is entirely possible to walk 10 miles and burn off most of that cupcake. In other words, as long as you are mindful of what else you're eating during the day, that cupcake isn't going to wreck the diet of the average person. That said, doing a cupcake crawl, or having cupcakes with every meal, might not be the best idea if you're trying to stay somewhat healthy on vacation.
Back in 2017, we ran a poll here at TouringPlans asking if Disney should post Calorie counts, and the majority of you said that they should. Whether having these Calorie counts posted would change people's cupcake consumption is debatable. It is vacation, after all. But having this kind of information would prove useful to the consumer who might decide to split a cupcake at lunch to feel okay snagging a churro after dinner. In this way, you could have your cake and eat it too.
*For those who want to geek out about how a food calorimeter works, you can check out this video.
**If you're curious how the government divides up how a serving size would be labeled, you can read the regulations here.
***Want to really impress your friends? Calorie counts (with a capital C, which is what is standard for the labeling of foods) are actually kilocalories, or 1,000 calories. That means that cupcake contains a whopping 1,072,000 calories. Suddenly that 1,072 Calorie count doesn't seem quite so bad, does it?
Got any other "burning" questions about Disney food, Calorie counts, or other things that we could test in a lab? Let us know in the comments.