Step-By-Step Guide For How To Get a World of Color Virtual Queue Spot
World of Color is a nighttime spectacular at Disney California Adventure. The ongoing popularity of this water, light, and music extravaganza makes every show have huge demand.
Unfortunately you can't just walk in to the viewing area for World of Color during one of the show's two nightly showings. There's also no standby queue for the viewing area. Instead, the only way you can watch is to get in a virtual queue.
What is a World of Color Virtual Queue?
A virtual queue means it's not a physical line you have to stand in all day. Your spot in the virtual queue must be obtained through the official Disneyland app on iOS or Android phones.
Okay, so you grab a spot in line via the virtual queue system and then wait for Disney to notify you when it's your time to see the show. Sounds easy, right? Unfortunately virtual queue spots for World of Color in DCA can run out in a couple of seconds. Your chance to watch will quickly evaporate if you're not aware of how the system works ahead of time.
In this post we'll go over a step-by-step guide for how to get a spot in the World of Color virtual queue.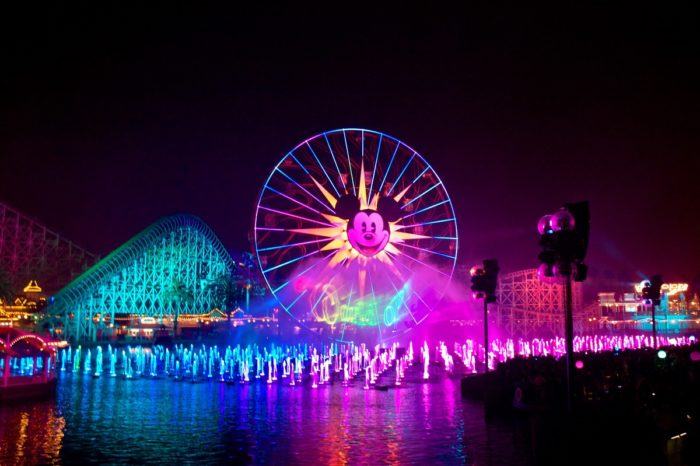 What You Need to Get a Virtual Queue:
The official Disneyland Resort app.
Valid theme park admission.
A park reservation for Disney California Adventure (or Disneyland with the park hopper add-on) for the day of your visit.
Any friends and family's tickets scanned in to the app ahead of time.
Rules For Getting a Virtual Queue Spot:
Rule #1: Virtual queue is only available to book ONCE per day. 
Currently Disney opens up virtual queue reservations at 12:00 p.m.
You must either be inside Disney California Adventure for the day, or at least entered the park already by 12:00 pm (this means you can enter DCA in the morning and try for the virtual queue from your hotel room). If you are in Disneyland, you can also try to enter the virtual queue at 12:00 pm IF you have the park hopper option added on to your ticket.
Rule #2: If your virtual queue group includes your family and friends, they must also have valid park admission and a park reservation for that day. 
All members of your party need to have valid theme park admission tickets and a park reservation for the day you are attempting to obtain a virtual queue. Again, it is extremely important that you have your group's tickets added in the app BEFORE it's time to get a virtual queue.
How to add friends and family tickets to your party:
In the Disneyland app, press the three bars icon in the bottom right corner of the screen.
Press "Tickets and Passes"
You should already see your own ticket if you're logged in to the same account that you used to purchase the ticket. If not, contact Disney.
Press the blue button with the "+" sign in the top right corner of the screen.
Press "Link Tickets & Passes."
Scan your friend's/family member's ticket and it will be added to the app.
Repeat these steps for the remaining members of your party.
Step-By-Step Guide To Get a World of Color Virtual Queue Spot
1. Open the Disneyland app before 12:00 p.m. Click the three bars icon in the lower right corner of the screen, and then press Virtual Queues.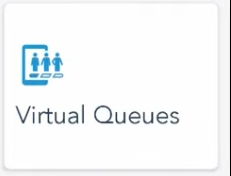 2. On the "My Queues" screen, press "Join Virtual Queue."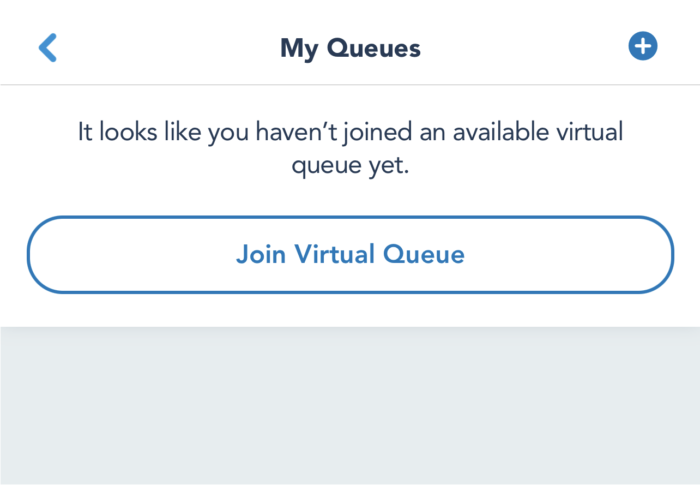 3. On the next screen you'll see tabs for Disneyland Park and Disney California Adventure Park. Click on the DCA tab and you'll see World of Color along with information like the time the next queue opens.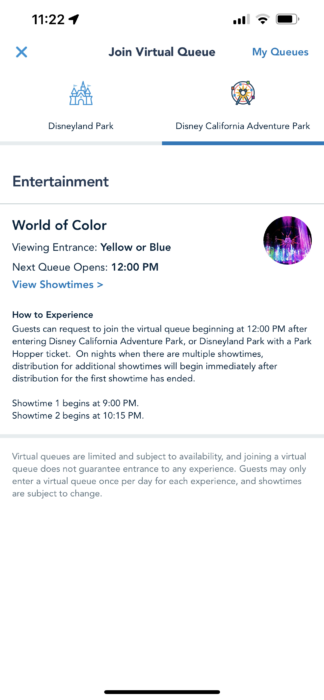 Also, 15 minutes before it's time to enter the virtual queue you can also confirm your party. This a way to make sure that everyone in your party is accounted for in the app. Between 11:45 am and 12:00 pm, press the "Confirm Your Party" button and you'll be taken to the following screen.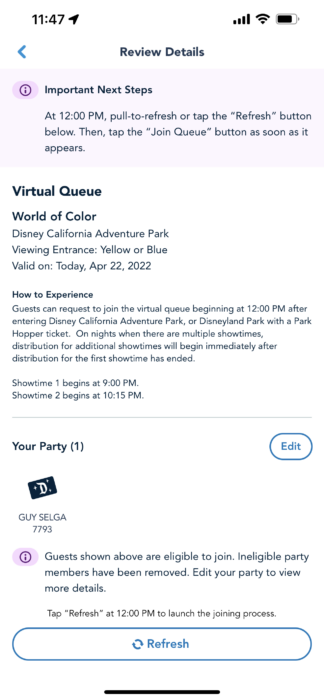 4.  Stay on this page and be prepared to pull it down or press the button to refresh when it's 2-3 seconds before 12:00 p.m.
Be ready to click join exactly at 12 p.m., not 12:01, and not even 12:00 and 5 seconds. Every second counts if you want to get a spot in the virtual queue. 
5. Once you've refreshed the screen at or 12, click the "Join" button.
6.  If you were fast enough (and your cell/Wi-Fi signal was good enough, or the Disneyland app didn't crash, your battery didn't die, and you didn't get a phone call, etc.) you will be blessed with the following screen. A coveted World of Color virtual queue spot.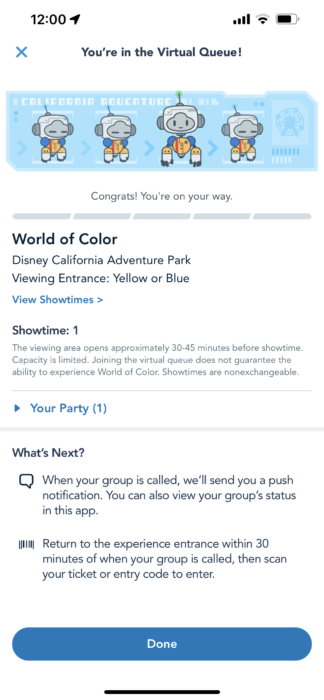 Also on this screen is which showtime you're assigned to. Showtimes can not be selected, it's first come first serve. You'll also be assigned to a viewing area. As you can see above I was given showtime #1 in the yellow or blue viewing areas.
If you don't see a virtual queue confirmation page, you'll see a messaging saying that all virtual queue spots are full.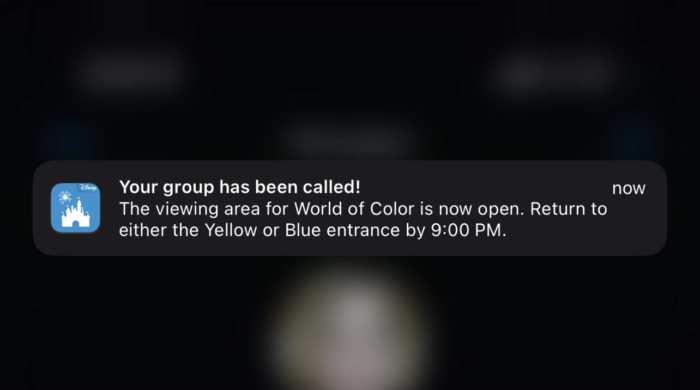 When it's getting near showtime you'll be given a notification on your phone that the viewing areas have opened, which is usually 45 minutes before showtime. You may want to go to the viewing area even earlier than that to see if people have already lined up. The earlier you are, the better spot you'll have inside the viewing area.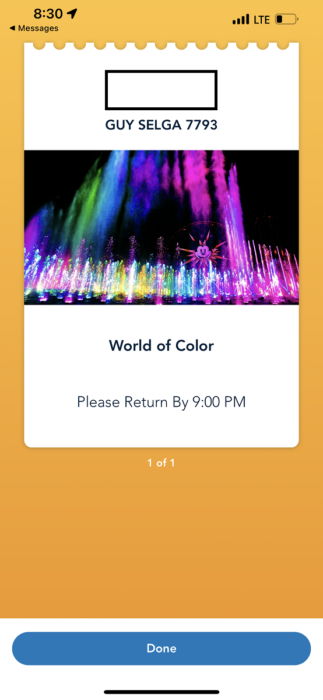 Starting 45 minutes before showtime you'll be presented with your World of Color viewing area ticket inside the Disneyland app. Show this to a Disney cast member and they will let you in the viewing area.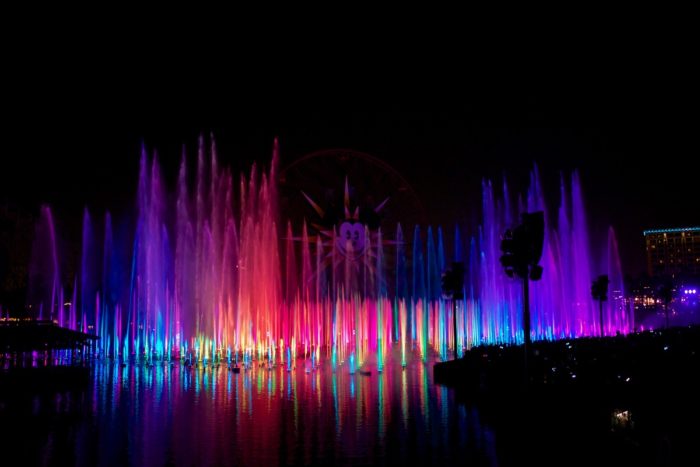 One other tip I wanted to share is that you can have multiple people in your party trying to get in the virtual queue. This gives you more than one shot at obtaining virtual queue in case something goes wrong on someone's phone. All you have to do is follow these same steps on each person's phone. Just be sure to add everyone's tickets in the Disneyland app on each device.
Don't miss your chance to see this unforgettable nighttime spectacular. Our agents are the best in the world and they're ready and waiting to help you plan your perfect Disneyland trip. Click here to get a quote!
Good luck! Share any tips or strategies for booking a virtual queue spot for World of Color in the comments!