What's On TV? Your Disney World TV Channel Line Up
I just returned from another incredible Walt Disney World vacation a couple of weeks ago, and I am still suffering from the post-Disney blues! One of my family's favorite things about a Disney vacation is being able to stay in the "Disney Bubble" from the moment we arrive until the moment we leave. An integral part of that "Disney Bubble" is only watching Disney World TV and turning on the Must Do Disney channel as soon as we arrive to listen to Stacey talk about all of the fun things we will be doing during our visit. During this vacation, my boys and I spent a little time each morning while we were getting ready and a little time each night while we were winding down watching some of the Disney World TV channels that were offered at our resort hotel, the Art of Animation. Have you ever wondered about what is on TV at Disney World or have you ever wanted to know more about our favorite Must Do Disney gal – Stacey? Please read on for the full Disney World TV channel line up as well as my interview with Must Do Disney's Stacey Aswad!
Before I had my two boys, I'm not sure that I ever turned on the TV while I was in Disney World. Now that I have kids, I find that we actually spend some time watching TV while we are on vacation. Having them watch TV comes in especially handy when it is just the three of us traveling together. On this particular trip in October, I forgot to mention to them that they could turn on something like the Disney Classic Cartoons before I headed in to take a shower. When I went in, they were calmly reviewing Magic Kingdom maps talking about our day, and when I came out, my boys were engaged in a very serious game of Olaf ball that appeared to be a highly-competitive combination of football, WWE wrestling, and mixed martial arts. Needless to say, I made sure to set them up with something to watch the rest of the trip! Nothing was damaged, and no one was seriously injured, however one of my sons did say that he was suffering from Olaf arm after having thrown everyone's favorite snowman across our hotel room a few too many times. If you are looking for a way to unwind, get information, or entertain your troops, Disney has you covered. Disney Resort Hotels offer over 75 channels of programming, with several of them dedicated to Disney World to help keep you in the "bubble." Here's the channel line up as of October 2014 (subject to change):
2 – Your Disney Resort
3 – TV Guide
4 – WDW Today
5 – Must Do Disney
6 – Downtown Disney
7 – Disney Vacation Club
8 – ABC
9 – NBC
10 – CBS
11 – FOX
12 – Weather Channel
13 – Disney Channel
14 – Disney Junior
15 – Disney XD
16 – ABC Family
17 – Disney Classic Cartoons
18 – Radio Disney
19 – ESPN
20 – ESPN2
21 – ESPN News
22 – ESPNU
23 – ESPN Classic
24 – ESPN Spanish
25 – ESPN Wide World of Sports
26 – MLB Network
27 – NFL Network
28 – CBS Sports Network
29 – NBC Sports Network
30 – Golf
31 – Headline News
32 – CNN
33 – CNBC
34 – MSNBC
35 – FOX News Channel
36 – Disney Company Clips
37 – TBS
38 – TNT
39 – USA
40 – AMC
41 – Discovery
42 – National Geographic
43 – History
44 – Animal Planet
45 – Travel
46 – Destination
47 – Disney Vacation Beyond The Parks
48 – FYI
49 – The Learning Channel (TLC)
50 – Food Network
51 – Cooking Channel
52 – Home & Garden (HGTV)
53 – A&E
54 – BET
55 – Oxygen
56 – Lifetime
57 – LMN (Lifetime Movie Network)
58 – WE
59 – Bravo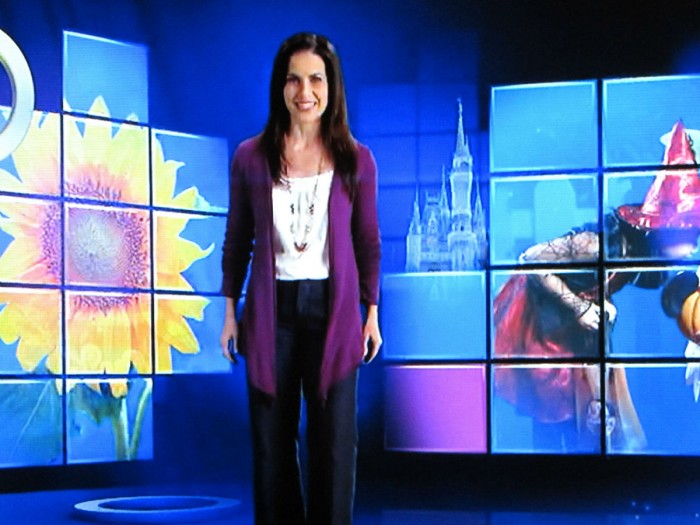 60 – TVLand
61 – WeatherNation
62 – SyFy
63 – CMT
64 – The CW
65 – PBS
66 – WRDQ Orlando Channel 27
67 – WHLV Christian Channel
68 – WACX Christian Channel
69 – ION
70 – WRBW Orlando Channel 65
71 – Good Life 45
72 – UMAS Spanish
73 – Must Do Disney (Spanish)
74 – Disney Vacation Club (Spanish)
75 – TV Japan
76 – Disney CoventionEARS
77 – Disney Youth Events
78 – Disney Nature TV
By far my family's favorite Disney World TV channel to watch is Channel 5 – Must Do Disney hosted by my Twitter Pal, Stacey Aswad. This channel is perfect for first time guests trying to get some information on the best things to see and do during their vacation and a fan favorite among return guests helping to get us ready for some Disney fun. I asked Stacey if she would be kind enough to answer some questions for all of us fans out there and she very graciously obliged. "So without further ado," here's some interesting tidbits from Must Do Disney's Stacey Aswad:
How did you get started doing Top 7 Must Sees/Must Do Disney?
I auditioned in Atlanta for the Top 7 Must Sees back in 2005. It was supposed to be only a one-year contract. Must Do Disney started in 2009 and I was thrilled to continue on as the host. I am so honored to still be here today and be a part of people's magical memories. It is AWESOME!
How often do you update Must Do Disney?
There is really no set schedule for it. When there is something new for me just to talk about I will record here in Los Angeles and when I need to be in the Parks, I happily fly to Walt Disney World to shoot on-camera. Those are always my favorite and so much fun! 
How long does it usually take you to film Must Do Disney?
It really depends on how much I have to do, how many Parks are involved and how the schedule is laid out. To date, I have been at Walt Disney World for as short as 36 hours, sometimes 4 days and as long as 10 days.
Do you usually film when the parks are open or closed?
We film a lot of the footage when the Parks are open but sometimes we will start and/or finish when they are closed. It is really neat to be in a Park before the sun comes up or late at night. The magic is so palpable!
Do you often get recognized for your work on Must Do Disney?
I do. Sometimes it happens when I am auditioning for other things here, but mostly in unusual situations that I would not expect like in a store or at a friend's wedding. People are always really sweet about it, it means a lot to me that so many people watch the show and appreciate what I do. 
Were there any attractions you were nervous to ride when doing the filming?
Not really. I really do love roller coasters and thrill rides so I pretty much just go for it and see what happens. While we are filming, I have so many other things to think about that the actual experience of riding the attractions is the big cherry on top for me! And, I love it when we have to shoot things multiple times!
When did you first visit Walt Disney World?
I had never been to Walt Disney World before booking the gig in 2005 so all of that was new for me the very first time. And I will say that it never gets old for as many times as I have been back there over the years. I find something new to love and appreciate every time I go. 
What is your favorite Walt Disney World park?
These questions are always hard for me because I really adore different things about each Park. Today I would say Magic Kingdom Park and Animal Kingdom Park.
What is your favorite Walt Disney World food or treat?
Well, I love the homemade milk or dark chocolate peanut butter cups you get on the Boardwalk. I have still not had a Dole Whip … I know, I know. It's on my Walt Disney World Bucket List next time I go. 
What are your top 5 Must Dos in Walt Disney World?
Okay, here we go again but this is what jumps out to me today: Rock 'n' Roller Coaster Starring Aerosmith, Expedition Everest, Space Mountain, Kilimanjaro Safaris, and Twilight Zone Tower of Terror. Once I ride Seven Dwarfs Mine Train, I bet that will make the list too! And of course, I always MUST have fun, appreciate every moment as it happens and drink lots of water! 
Wondering what Stacey is up to when she isn't working on everyone's "dream job?" You can check out her website StaceyJAswad.com to find out more about her other pursuits as well as her charity work with animals.
Do you ever watch TV while in Disney World? Do you love Must Do Disney?
Please leave a comment – we would love to hear from you!