10 Tips for Visiting Walt Disney World While COVID-19 Precautions Are in Place
If you choose to visit Walt Disney World during this unique time, it's best to be as prepared as possible. On the surface it can look like a visit to Walt Disney World right now is very different, but there is still a lot of magic to enjoy. We find the more you prepare and set the right expectations, the more you will enjoy your Walt Disney World vacation.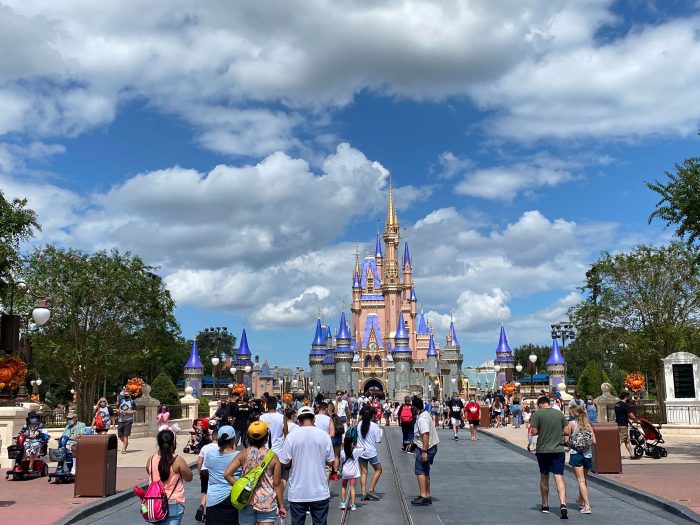 Our field team is in the parks daily, and I myself have visited multiple times since Walt Disney World reopened in July. I am concerned about safety and health, and have modified how I normally visit the parks as a result. Despite deciding to change some of my normal behaviors in the parks, our family still has an enjoyable time. Every person must decide where their level of comfort is. For me, I prefer to stay outside. This includes outdoor dining and outdoor attractions only, with minimal time in any shops and even minimal time in restrooms.
Here's some of our tips for making the most of a Walt Disney World vacation with COVID-19 precautions in place.
Bring multiple masks / face coverings.
Bring your own sanitizing spray or wipes, and your own water.
Take frequent breaks.
Be prepared to be outside more, including in extended queues.
Be prepared for having to walk around a store to find the entrance and exit.
Be prepared to be stationary in order to eat or drink; no roaming around while eating or drinking.
Talk to your family members, including kids, ahead of time to set expectations about masks, distancing, and other changes.
Get to the parks for "rope drop", take a midday break, and come back for the final hour or two of operation.
Check our Crowd Calendar; typically weekends are busier than weekdays.
Since FastPass+ is no longer available, use our Lines app to make a Touring Plan and to know which attractions to visit when.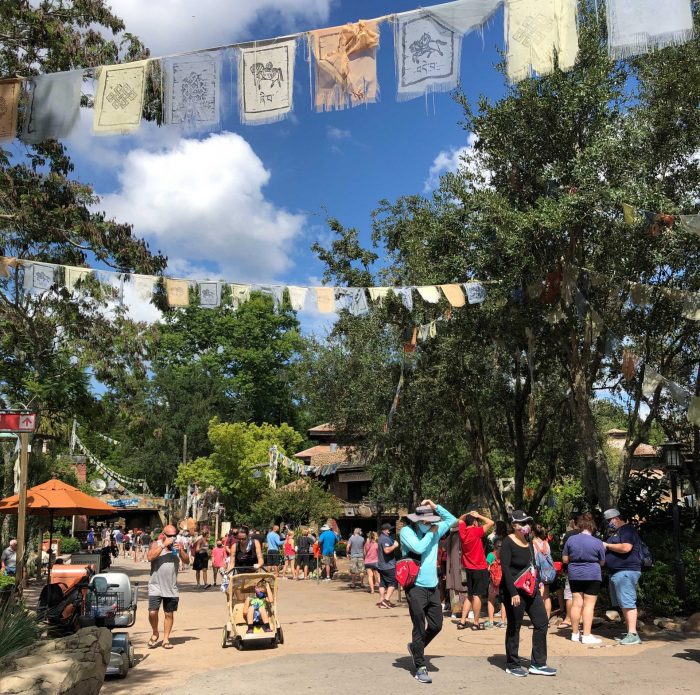 Masks or face coverings must be worn at all times by all guests ages two and older. The mask must cover your nose and your entire mouth. Review Disney's guidelines on what masks are acceptable. Cast Members will check for proper compliance and there are signs and overhead announcements stating that guests who do not comply will be asked to leave.
Our almost-three-year-old boy is good about wearing his mask, in part because we talk with him about it multiple times. We also bring at least two masks for each of us so we can switch to a fresh one after about two or three hours. The longest our family is usually in one of the parks is about five hours. Bring a bag to place the used masks in so they do not potentially contaminate other items. Wash your hands any time you touch your mask, remove it, or put it on.
There is plenty of hand sanitizer around each of the Disney parks. Still, it brings me comfort to know I have my own in case I touch something questionable and want to sanitize as quickly as possible. Most water fountains are turned off, and Disney's bottled water runs over $3.00 per bottle. We bring our own water container and when we need a refill we ask for some water at a quick service location.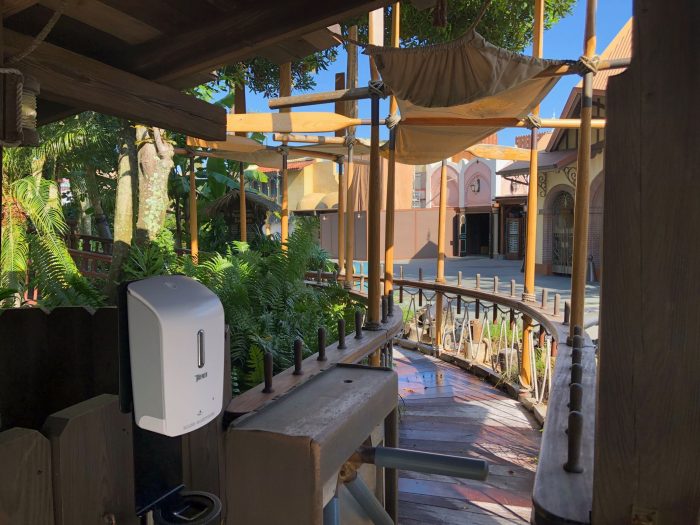 Being mindful about my mask, my son's mask, and keeping our distance from folks is mentally taxing on me, and I am sure others too. Taking breaks often is a great idea so you don't get worn out. There are multiple Relaxation Stations at each park where you can sit, relax, and take your mask off.
Because of physical distancing, many of the lines for attractions extend well beyond the normal ride entrance. Some extended queues are in the sun for a bit. Plus, you may prefer to be outside more as a safety precaution.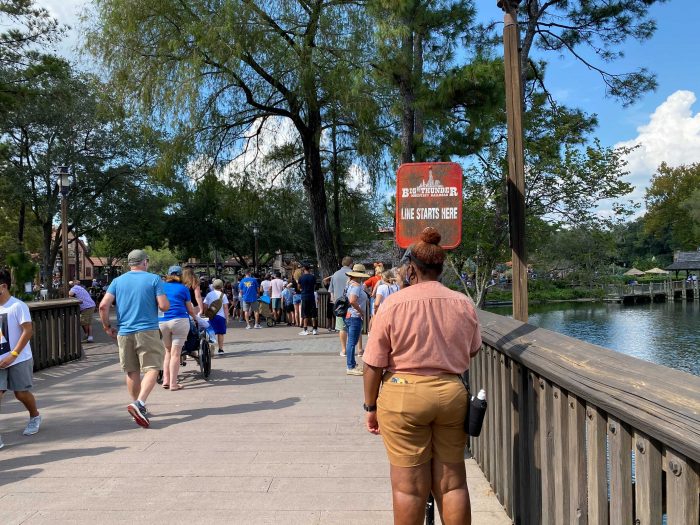 Many merchandise shops, and some dining locations, now have designated entrances and exits. This is to help with distancing as well as managing capacity. Sometimes you'll end up having to walk a little bit to get to the proper entrance. They are usually well marked, and manned by Cast Members who can help direct you.
Eating or drinking while walking is currently not permitted. Because you obviously have to remove your mask to eat or drink, it is not safe to have guests walking around with food or drink with their masks off. So, you will need to be prepared to be stationary to eat or drink.
If you're traveling with a group chances are one or two of you are the big planners while everyone else just follows your directions. As the planner of the group, it's a good idea to talk with your family about Disney's guidelines, extended queues, and other changes. Setting the right expectations can make all the difference in enjoying your trip to the fullest.
Our site and app collects real-time data constantly. We're able to collect Disney's posted wait times as well as measure expected wait times. Over and over the data shows us how visiting any park at its opening will give you the ability to ride multiple attractions with minimum waits during the first hour. It also shows us that the last hour of operation is a good opportunity as well.
Our Crowd Calendar will show you the best days to visit each park based on predicted crowd level. In general weekends are much busier than weekdays, but even some weekdays can be busy at certain parks.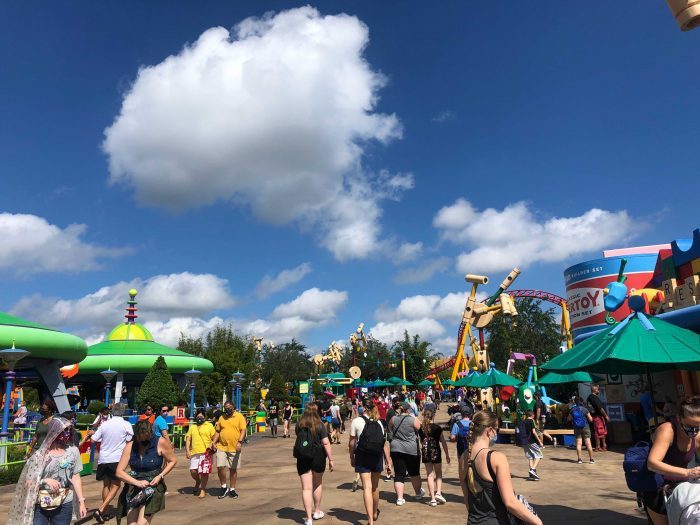 Even though there are some days with relatively low wait times, using our Lines app will save you hours of time. You can create your own Touring Plan, or use one of ours that is ready to go. You can also visit without a plan, but view Expected Wait Times in our app and know whether you should wait until later in the day to ride any particular ride.
Have you been to Walt Disney World since its reopening? What are some of your tips?