Top 5 Best Tokyo DisneySea Quick Service Restaurants
Tokyo Disney Resort, which includes Tokyo Disneyland and Tokyo DisneySea theme parks, are currently inaccessible to international tourists thanks to Japan's current restrictions. But it's never too early to start dreaming about your next/first visit. Our free TouringPlans for Tokyo Disney website contains a wealth of information about this wonderful Disney destination. One of the topics that has generated the most interest and feedback is Tokyo Disney dining. Tokyo DisneySea is filled with many delicious and high-quality food items. There's so many that as a first time visitor you may not know where to start. In this post we'll go over the top 5 Tokyo Disneyland quick service restaurants. We took several different types of criteria into consideration when making this list, including quality, taste, and theming. Something to keep in mind, Tokyo Disney Resort eateries will usually pick a specialty (such as curry, pizza, noodles, etc.) and stick to it. Also, if nothing on this list sounds too exciting, the parks have a small army of food carts that have a large variety of delicious and photogenic seasonal treats to try out.
1. Casbah Food Court – Arabian Coast
Casbah Food Court is easily one of the best restaurants in DisneySea. Casbah specializes in one thing, curry, with usually chicken, seafood, beef, or vegetarian curries available. Curry entrees are served with rice and naan bread. Side salads, seasonal desserts, and drinks are also on the menu. Be sure to take a look around the restaurant's various dining rooms for a bit as they are beautifully themed.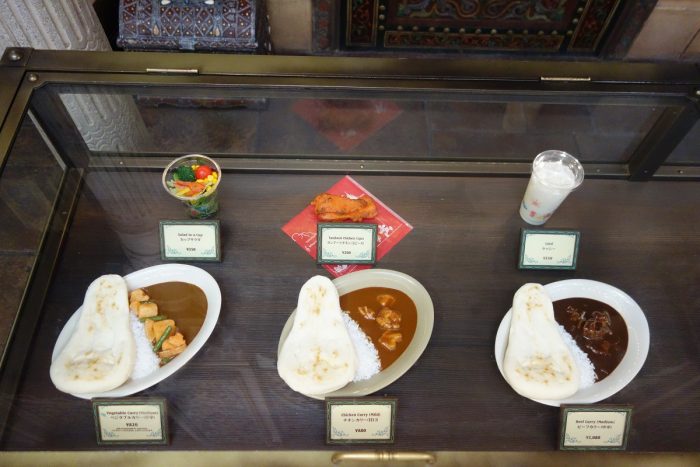 You can order curry with tofu, chicken, beef, seafood, or….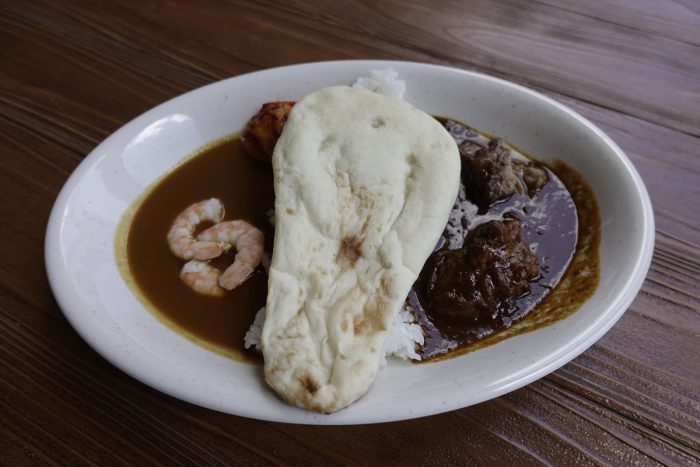 There's this glorious dish with shrimp, chicken, beef, AND two types of curry sauce. Personally this is my favorite quick service entrée in Tokyo DisneySea. Delicious.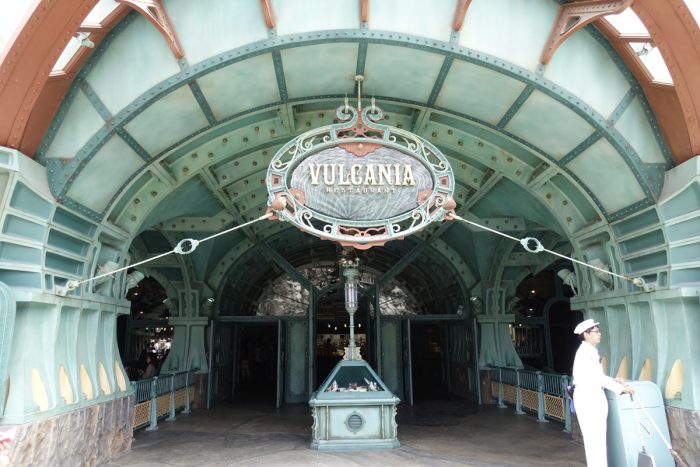 2. Vulcania Restaurant – Mysterious Island
Mysterious Island is a land heavily influenced by Vulcania Island, from the Disney movie 20,000 Leagues Under the Sea, which also has an attraction here by the same name. Vulcania Restaurant is themed as the island's power station, which Captain Nemo has repurposed into a mess hall for his crew.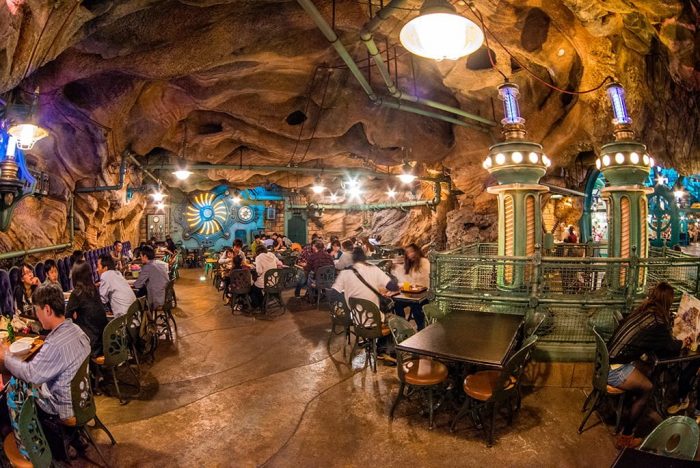 Inside you'll eat amongst rockwork and electrical equipment which pulse and hum randomly. It's one of the park's best restaurants in terms of theming.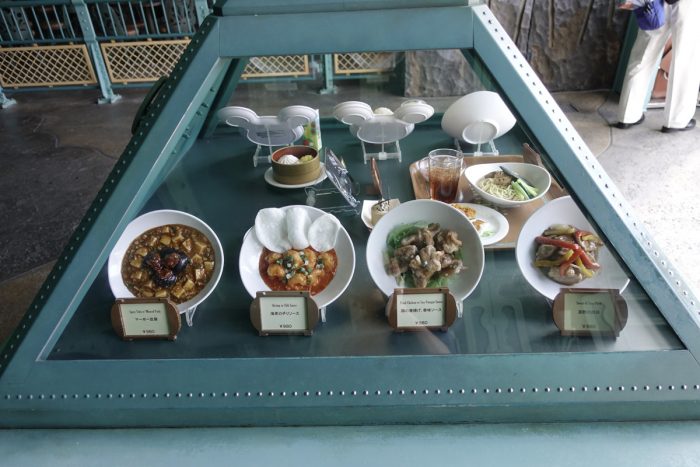 As for the menu, there's a good selection of Chinese food, including some great rice and noodle dishes.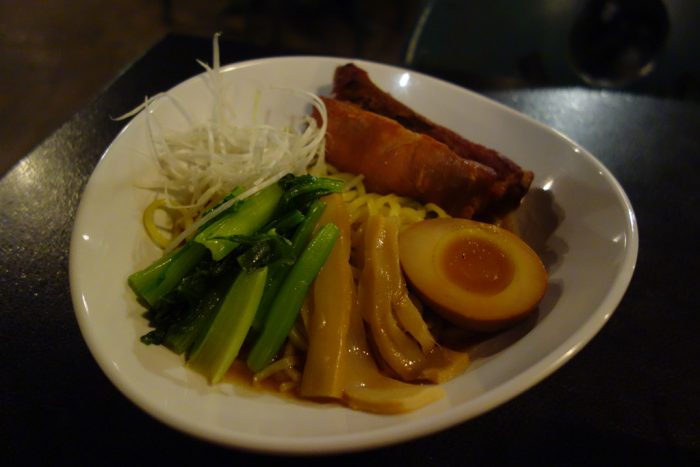 The highlight of Vulcania's menu is the black pepper pork tsukemen ramen. You will not be disappointed with this one.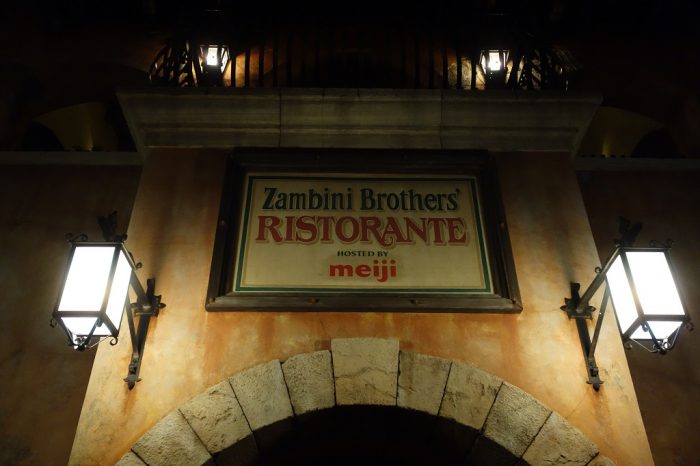 3. Zambini Brother's Ristorante – Mediterranean Harbor
Zambini Bros' Ristorante is an Italian restaurant serving pizza and pasta. Like us, you may be surprised to find that the pizza and pasta served here is surprisingly good. Overall we'd rank it near the top of our favorite DisneySea quick service restaurants thanks to menu items being affordable, relative to other eateries in the park. Most entrees are under $10 USD.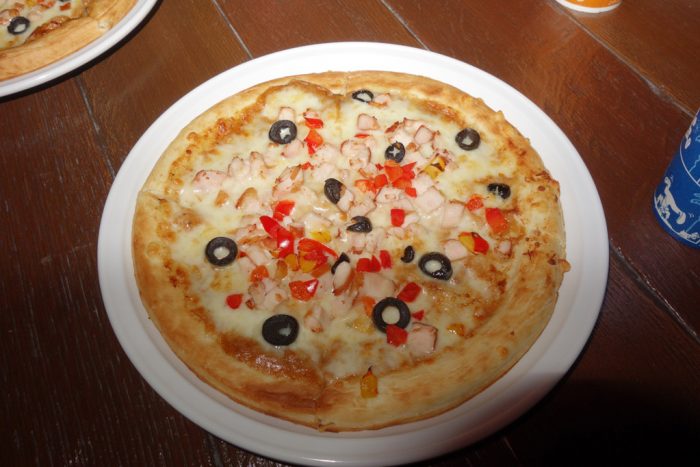 Please forgive the poor picture quality. I can assure you the food is much more appetizing than my poorly-lit photos make them appear to be. Anyway, this is the chicken & olive pizza. If you don't want any protein on your pie, the tomato & mozzarella pizza is also very good.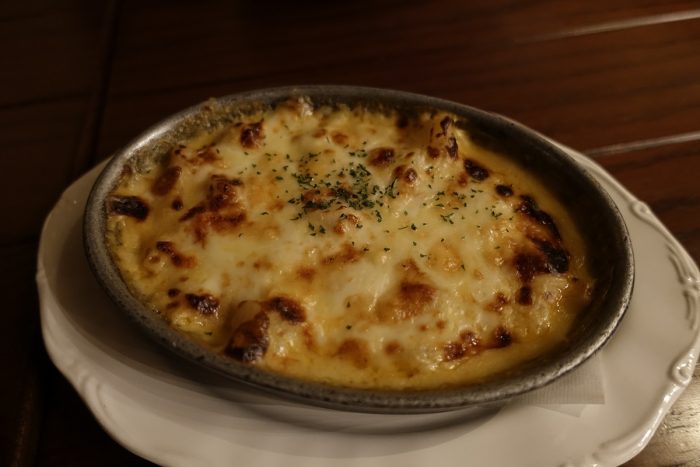 Seafood au gratin will occasionally appear on the menu as well. This dish was extremely cheesy, so if you're into that sort of thing you'll enjoy it. This is also a good time for me to point out that Tokyo Disney Resort and its two parks have dining menus that are constantly being changed and updated. While many of the park's signature entrees remain on the menu for years, secondary dishes such as this seafood au gratin, come and go. But that's one of the great things about the Tokyo parks, there's always new food items to discover!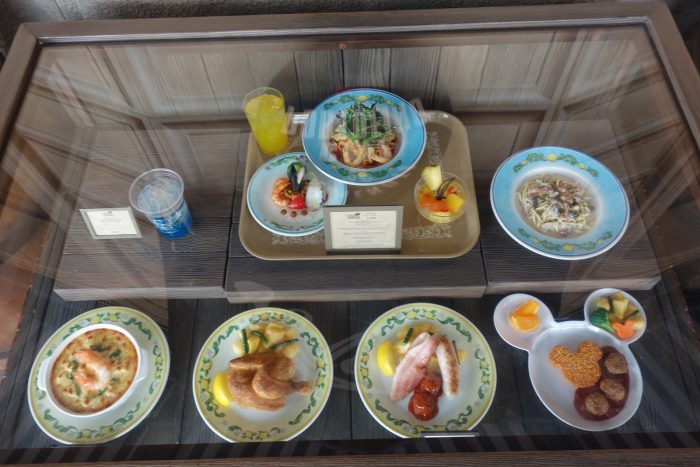 4. Cafe Portofino – Mediterranean Harbor
Located in Mediterranean Harbor near the front of the park, Cafe Portofino's menu is made up of pasta, chicken, and fish dishes. Salads and desserts are also available. Overall the menu is good in quality, and the inside of the restaurant is nice to look at. It's not the most exciting menu in DisneySea, but Portofino offers a decent variety of entrees for most tastes.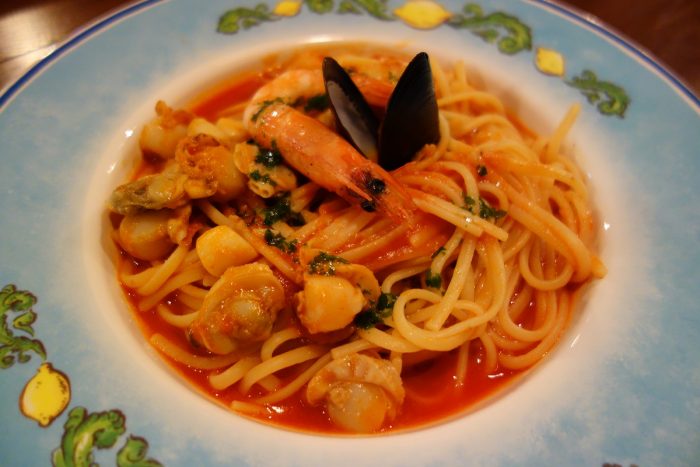 The standout item in my opinion is the seafood linguine. During our most recent this dish packed with fresh seafood was a very reasonable $11 USD. A comparable dish in the US Disney parks would be double that.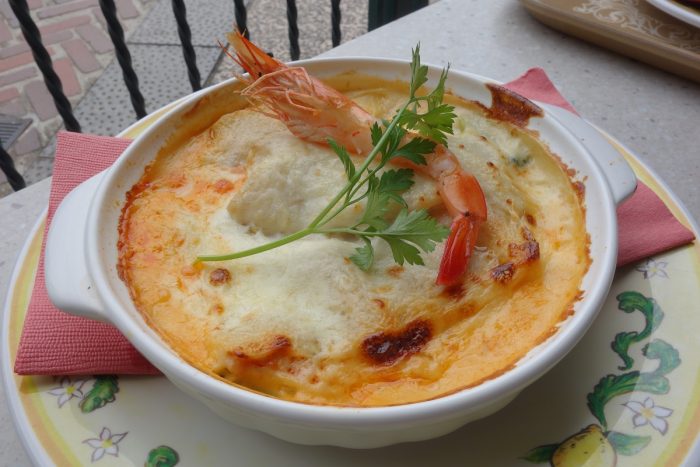 The seafood lasagna, which is occasionally served here, is also quite good.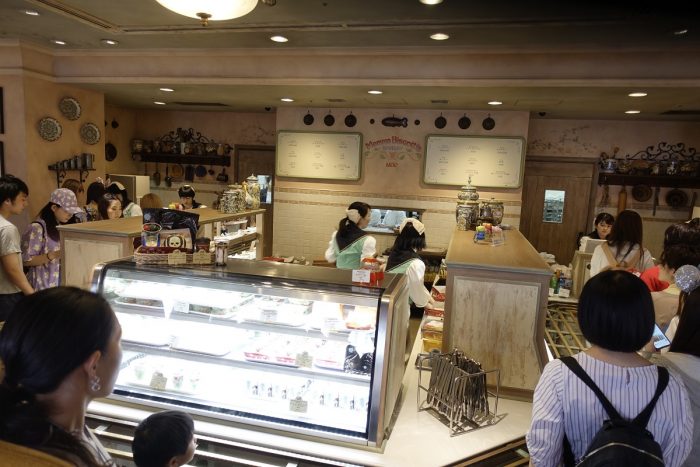 5. Mamma Biscotti's Bakery – Mediterranean Harbor
Located near the front entrance of the park, Mamma Biscotti's Bakery is a perfect place to grab a quick breakfast in the morning before you start your day in DisneySea. The best thing about it is the variety and cost. Nothing on the menu too big or expensive.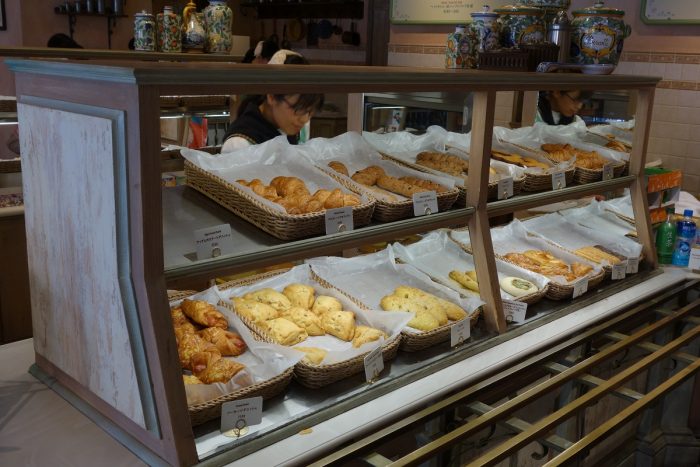 Pastries, sandwiches, desserts, drinks, and coffee are available.
As I mentioned, Mamma Biscotti's is a convenient spot for breakfast. However, we do not recommend heading directly there after the park opens. First head to Soaring: Fantastic Flight or Journey to the Center of the Earth and grab a FastPass. Then get a bite to eat.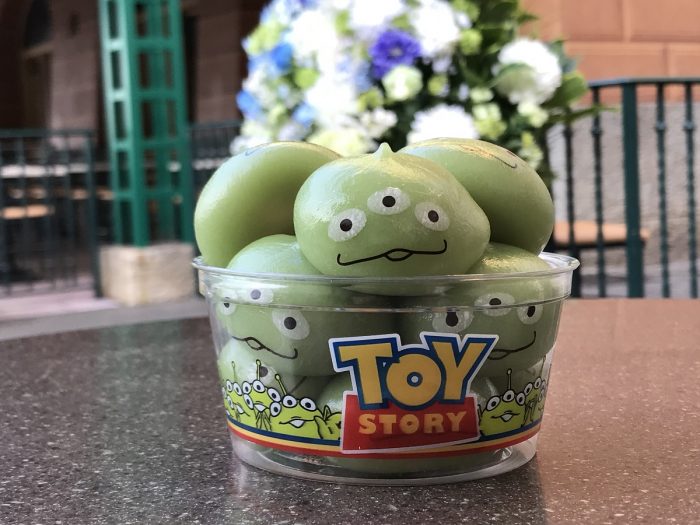 Mamma Biscotti's is also one of the locations that serves Tokyo Disney Resort's famous Little Green Men dumplings. These mochi ice cream balls are delicious and photogenic.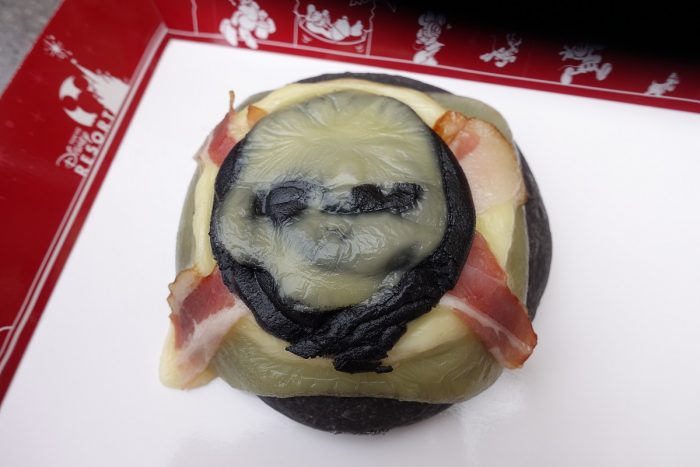 Occasionally Mamma Biscotti's will have a seasonal item that must been seen to be believed.  Like this pastry sold a few years ago during DisneySea's Pirates Summer event. Yes, that's a skull made out of cheese.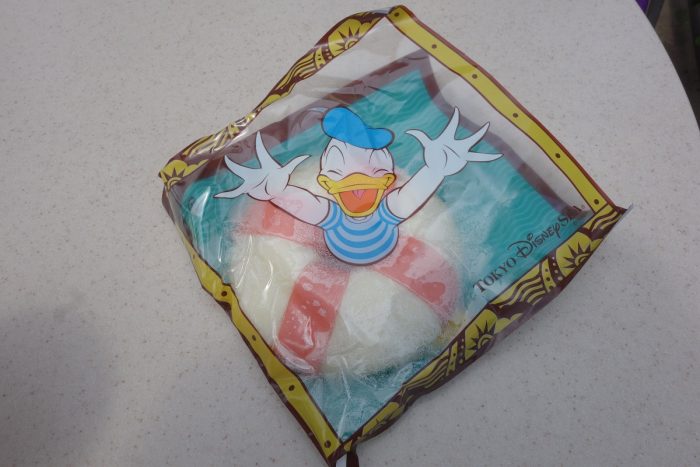 Honorable Mention: Eukiwa Buns from Seaside Snacks
Seaside Snacks is technically not a quick service restaurant, but I had to include this item on the list. The Eukiwa Bun has a one-two punch of a great taste and fantastic packaging. The roll itself is a gyoza bun filled with delicious juicy shrimp. The bun is shaped like a inner tube, which ties in perfectly to the packaging. It makes it look like Donald is inside the inner tube. How great is that?! This item is very popular, and it usually has a long line of people waiting to enjoy it.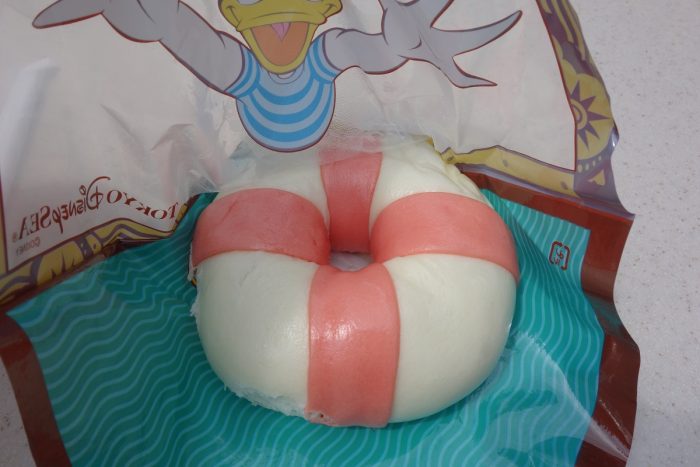 How great is that?
What are your favorite quick service restaurants at Tokyo DisneySea? What are you looking forward to trying during your visit? Let me know in the comments below.