24 Holiday Gift Ideas for Disney Cruise Travelers
Going on a Disney cruise for the holidays? Ahoy there and lucky you! Here are some ideas for gifts, both practical and pleasant, that will enhance the voyage. If the trip itself is a gift for your family, perhaps combine some of the smaller items into a bag or basket as part of the big reveal. Links have been included below for your convenience; TouringPlans earns a small affiliate fee for links that go directly specific items on Amazon.
1. Door Magnets
Stateroom doors on Disney Cruise Line are made of metal, which makes them a great surface for displaying magnets. Passionate cruisers have been known to invest significant time or significant money on sites like Etsy to create elaborate personalized magnets. I'm not a fan of displaying personal details outside my stateroom, but I do find that having something adorning your cabin door can aid in finding your room along the endless hallways, as well as adding a bit of fun to your travels. For this reason, my magnets of choice are versions of Magnetic Poetry. It's a hoot to come back to your room and find cute messages left by other guests. Great choices for cruises in the islands is the Pirate Magnetic Poetry kit or the Beach Magnetic Poetry kit. There is  also a Christmas version and an Edgar Allen Poe version that might be fun if you're sailing on a Halloween cruise. Just be aware of what words you're displaying as you put them on your door. At Disney, PG13 language is about as racy and you want to get.
Note: Some concierge-level staterooms have a wood veneer that make magnets useless. If you're sailing concierge, you might want to call DCL, or have your travel agent call DCL, to make sure that your door is magnet compatible. 
2. Luggage
Most folks have strongly held opinions about luggage: hard-sided vs. soft-sided, two-wheels or four, exterior pockets, interior compartments – all may seem incredibly important depending on your habits. While you know best what your family prefers, my two cents is that for a cruise vacation, with multiple guests staying in the same stateroom, a soft-sided bag will be more practical.
You'll almost certainly be storing your luggage under the bed. Many guests like to use their suitcase as a repository for dirty clothing, slipping their used duds into the bag at the end of the day. In my opinion, this is MUCH easier if you have a soft sided bag with a flap you can just open an inch or two to shove in a sweaty tee shirt. Something like this Travelpro Spinner works well. With a hard-sided bag like this Amazon basics model, you're more likely to have to pull the whole suitcase out to stuff in a tee. Obviously your mileage may vary with this one.
3. An E-Reader
Unlike a frenetic Disney theme park vacation, a cruise vacation can be much more focused on relaxation – kicking back with a good book by the pool or on the beach. Since the pandemic, DCL has not carried reading material in its gift shops. With an e-reader like the Kindle, you can bring a complete series of beach-reads with you on vacation with no worries that you'll run out of books. Make sure to download all your Bridgertons before you embark the ship because onboard WiFi can be expensive.
4. Magnetic Hooks
Just like your stateroom door, your cabin walls are magnetic. You can increase your storage space by placing some magnetic hooks strategically around your room to hold your day bag, jacket, beach cover-up, or other doo-dads.
5. Towel Clips
DCL provides towels on the ship and on its private islands, so you don't have to bring those with you. But it can get windy on deck or on the beach. A few sets of towel clips or towel bands can help keep your towels in place while you're off getting another serving of chicken nuggets.
6. USB Outlet
There are MANY devices that need charging on vacation: phones, cameras, DisneyBands, tablets, e-readers, headphones, and more. If you have four teens or adults in one stateroom, you'll almost certainly find they you can't find enough power outlets in your room. It may be tempting to bring a power strip on board, but these are prohibited as a safety hazard. Instead, pack a couple of USB hubs to maximize your charging ability. Avoid anything with a cord; these are most likely to be confiscated at the embarkation port.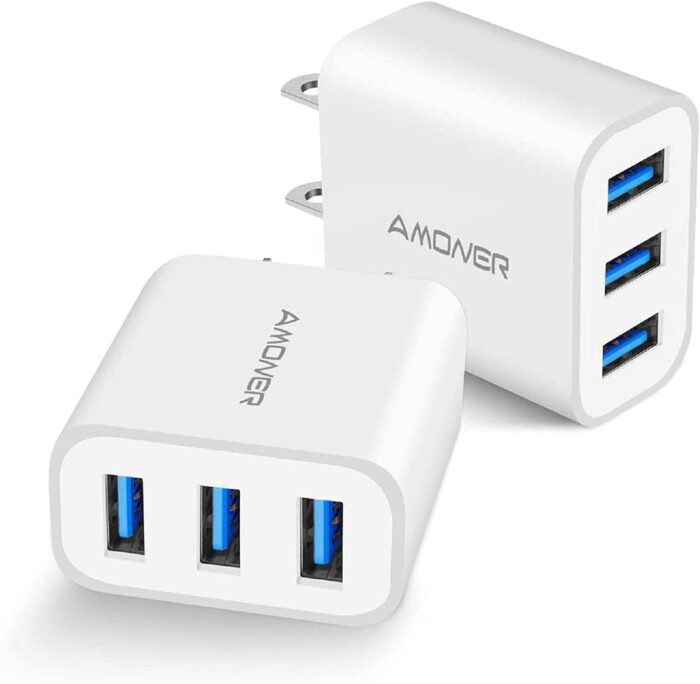 7. A Waterproof Phone Case
If you want to keep your phone with your while on a water-based port excursion (swimming with dolphins or any boat trip, for example) or while strolling along the edge of the beach, then you'll want to protect it from potential water and sand damage. Waterproof phone cases are inexpensive, but they can be tricky to seal properly. A word to the wise — practice closing the case and submerging it in a sink several times filling it with something innocuous like a piece of paper rather than with your expensive gadget.
8. A Waterproof Camera
You should be able to take photos of your underwater snorkeling finds with your phone inside a waterproof case, but I've never been able to get good shots through a case's thick plastic. You'll have better luck with something like a disposable underwater camera for kids or with a waterproof Go-Pro for adults.
An additional bonus with a Go-Pro – Disney will not allow you to hand operate any camera while going down an onboard slide such as the AquaMouse (Wish) or AquaDeck (Dream and Fantasy), even if it's secured to your body with a lanyard or grip. Most cast members will allow you to slide with a Go-Pro attached to your body with a harness.
9. Sleep Headphones
Ship staterooms are small and any noise will inevitably be heard by everyone in the room. If you need sound to fall asleep, such as a podcast, or even white noise, do everyone a favor and invest headphones that are comfortable enough to wear as you drift into sleepyland. If you can't sleep with something on your head, a SleepBar can be another helpful option.
10. A Hanging Shoe Organizer
A hanging shoe organizer is a great way to corral, well, shoes in your stateroom. But it's also a useful tool to help organize many other items related to your travel: hairbrushes, small toys, sunglasses, sippy cups, and on and on. Be absolutely sure to get a version that will hang in your closet rather than one with hooks that go over a door. Scratching the paint in your cabin can result in a hefty fee.
'Nuff said.
12. A Battery-Operated Fan
Some folks absolutely need a fan breeze to fall asleep. Corded electric fans are another item than is often confiscated at boarding. The good news is that there are many varieties of battery-powered fans that work just as well.
13. Packing Cubes
I recommend packing cubes for most travel, but I find them a near imperative for travel on the Disney Wish. The primary stateroom storage on the Wish takes the form of shelves rather than drawers. It's much easier to keep track of items when they're contained in a packing cube rather than loose on a shelf.
14. Lanyards
DCL gives lanyards as a gift to Silver level and higher Castaway Club members. They're by no means necessary, but some first-time cruisers like to have them on hand.
15. SeaBands or Other Motion-Sickness Remediation
Not everyone feels ill-effects from ocean travel, but even mild seasickness can quickly derail an otherwise lovely vacation. Head trouble off at the pass with motion-sickness remediation such as SeaBands, motion sickness glasses, or good old-fashioned Dramamine. Speak to a medical professional if you have serious concerns about this issue.
16. An Insulated Travel Mug
There are plenty of free soft drinks available on the ships' pool decks, but that's not much help if you're watching a three-hour movie six decks below. Fill an insulated travel cup and you're good to go. My favorite is the colossal Stanley mug, but there are numerous other brands and sizes.
17. Binoculars
Binoculars can be a great tool for anyone who wants to scan the ocean for other vessels or for wildlife such as whales and dolphins. Binoculars can be particularly useful in sailings in Alaska (to better see glacier features) and the Norwegian fjords where animals are sometimes visible onshore.
18. Sunscreen, Aloe Vera, and other Skin-Care Necessities
The sun and wind of ocean travel can be hard on anyone's skin. While sunscreen is available in the shipboard shops, Coppertone is likely the only brand you'll find. A favorite luxury brand is often a welcome gift. If you want to give an assortment of products, check out one of my favorite travel shopping sites minimus.biz, where you can find single-serve packages of toiletries, snacks, baby care items, over-the-counter medications, and more.
19. Family Passport Holder
Cruise travel requires lots of documentation. Keep all your paperwork in one safe spot with a family passport holder.
20. Costume Items
Most Disney cruises have a pirate night or some other themed evening. A pirate eye patch or vest can help get the costume planning started.
21. Sun Hats
A big floppy hat can help ward off sunburn while helping you accessorize a fabulous look.
22. Water Shoes
Hot sand and shells can be brutal to walk on. Keep everyone's feet safe while you explore the beach by investing in quality water shoes. I'm partial to Tevas but there are many brands to explore.
23. A Gift Card
Not sure what to give? A Disney Gift Card can be used at the ship's onboard shops or applied to a stateroom balance.
24. The Unofficial Guide to Disney Cruise Line
You knew I had to put in a shameless plug for my book, The Unofficial Guide to Disney Cruise Line. The 2024 edition is chock full of information on how to have the best Disney Cruise experience ever.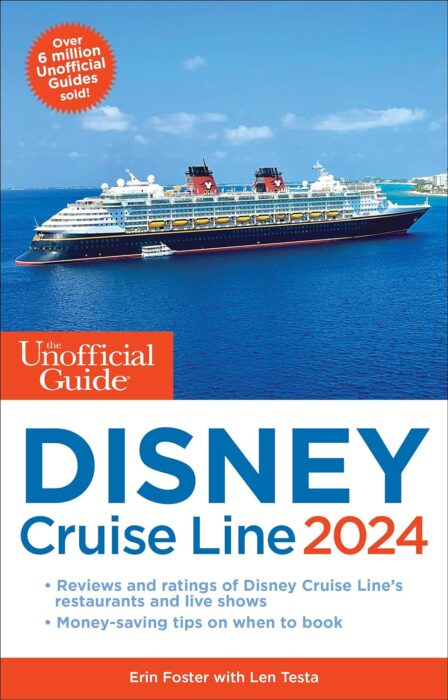 If you need additional help planning a cruise vacation, don't hesitate to call upon the expert planning team at Touring Plans Travel.
Have you gotten (or given) a cruise-related gift that you absolutely loved? Tell us all about it in the comments.