7 Places to Get a Steak at Walt Disney World
For some folks, nothing says vacation like a big, juicy steak. Not surprisingly, Disney has that topic covered, with seven restaurants on property featuring indulgent cuts of meat served with steakhousey sides. Here's the scoop on all the options to help you decide where to dine.
Note: Reservations are strong recommended for all these locations.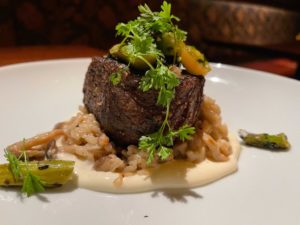 Location: EPCOT, Canada Pavilion
TouringPlans Reader Quality Rating: 87%
Price Range: Entrees $34-59
Menu Highlights: Le Cellier's cheddar cheese soup is the ne plus ultra of the genre
Whether you want to eat cheese soup when it's 95 degrees out is your business. The shareable charcuterie board comes with a candle made of beef tallow so you can drip some extra fat on your meats and cheeses (delicious, by the way). Our filet is always cooked perfectly.
Notes: Le Cellier is the only restaurant on this list that is located inside a theme park. You'll have to have a park admission ticket and an EPCOT park pass (or a Park Hopper ticket) in order to dine here. The dining room is dark and dungeony; this place is short on atmosphere. The mac & cheese side dish is worth the splurge.
Location: Dolphin resort
TouringPlans Reader Quality Rating: 87% positive
Price Range: Entrees $34-69
Menu Highlights: The 22 oz cowboy ribeye or the 24 oz porterhhouse could be shared by two, or you could conquer the plate all on your own.
Notes: Shula's is small chain. If you live near one of the other locations, you could choose to eat at your home location and instead have a meal at a more uniquely Disney venue. Crab cakes are not officially on the appetizer menu, but we sometimes split the crabcake entree as a starter.
Location: Disney Springs
TouringPlans Reader Quality Rating: 71% positive
Price Range: Entrees $44-152
Menu Highlights: There is a steak option for every appetite, from a petite 6 oz filet, to a 34 oz dry-aged tomahawk ribeye. Any of the meat options can be topped with a peppercorn crust, truffle butter, shrimp, or king crab Oscar, for a fee. There are also several sauce options (chimichurri, horseradish, etc.) and they all cost extra.
Notes: STK has more non-steak options here than some of the other steakhouses on site. If you're dining with a non-beef eater, this might be more appealing to them than some of the other options. That 71% approval rating places STK at #96 of the 99 restaurants our readers have reviewed. It's not that the food is all bad, but most find it's just not worth the money. STK is also part of chain. Here is another instance where your time is probably better spent on a more Disney-esque experience.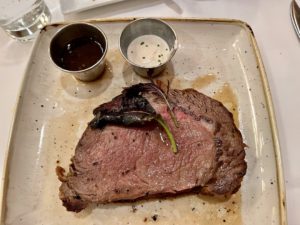 Location: Yacht Club resort
TouringPlans Reader Quality Rating: 89% positive
Price Range: Entrees $36-139
Menu Highlights: We love most of the non-seafood appetizers and all the desserts. The beef entrees have had recent problems with temperature, which is unacceptable at this price point. The bread, salad, drinks, and sweets are all divine though.
Notes: The relatively high rating is based primarily on pre-COVID reviews (Yachtsman was shuttered for over a year). We've had lackluster experiences since the reopening, but have high hopes that better days are ahead.
Location: Coronado Springs resort
TouringPlans Reader Quality Rating: 82% positive
Price Range: Entrees $28-89
Menu Highlights: Toledo offers steakhouse favorites like rib-eye for two, marinated hanger steak, and filet, along with classic side dish options such as roasted cauliflower and olive-oil potato puree (aka mashed potatoes), but if you want to skip the meat, you can make a meal of the tapas-style starters.
Notes: This is one of the few Disney steak places that seem to treat children as more than an afterthought. Kids can create their own entrees from a selection of five main dishes and eight sides.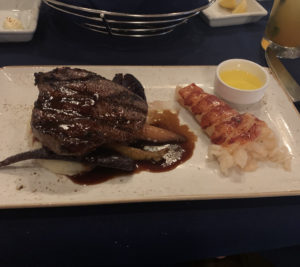 Location: Disney Springs
TouringPlans Reader Quality Rating: 94% positive
Price Range: Entrees $18-55
Menu Highlights: We've had terrific filet and New York strip steaks here in recent months. You can crown your steak with a full lobster tail or if you're feeling antisocial, have it topped with a roasted garlic cloves.
Notes: Given the name "Boathouse" you'd be right to assume that this location is as much about seafood as it is about steak. If you're feeling adventurous, head next door to the amphicar stand and take a boat ride in an automobile; there is often a discount for Boathouse diners. Brunch is an option here as well as dinner.
Location: Contemporary resort
TouringPlans Reader Quality Rating: TBD
Price Range: Entrees $24-38
Menu Highlights: There doesn't seem to be as many over-the-top cow-for-two options here, which is probably a good thing. Basic sides and sauces are included in the price here, which is not the case at most of the Disney steakhouses.
Notes: Steakhouse 71 opened on October 1. Stay tuned for a full review.
Where's the best steak that you've had at Walt Disney World? Let us know in the comments.