Best Evening Extra Magic Hours Attractions at Disney World
Staying on property during your next Walt Disney World vacation? Then you should absolutely be taking advantage of Disney's Extra Magic Hours, which offer resort guests the opportunity to get to a park early or stay late. Simply show that you're staying in a Walt Disney World resort and you can have fun in the parks beyond the normal operating hours. And if you're using our Personalized Touring Plans, you can also extend your plan hours for both morning and evening Extra Magic Hours. As stated, Extra Magic Hours are offered both in the morning and the evening but for now we're going to concentrate on some of my favorite Evening Extra Magic Hours attractions. While not every attraction is operating for Extra Magic Hours, some of the best and most popular attractions across Magic Kingdom, Epcot and Disney's Hollywood Studios are open to resort guests. Unfortunately, as of this writing, Disney's Animal Kingdom does not offer evening extra magic hours. Perhaps that could change with the eventual opening of the park's new Avatar Land but for now, park guests will have to get their Extra Magic Hours fill at the first three Walt Disney World theme parks. So without further ado, here are my top Evening Extra Magic Hours attractions for each park.

Best Evening Extra Magic Hours Attractions at Walt Disney World
Magic Kingdom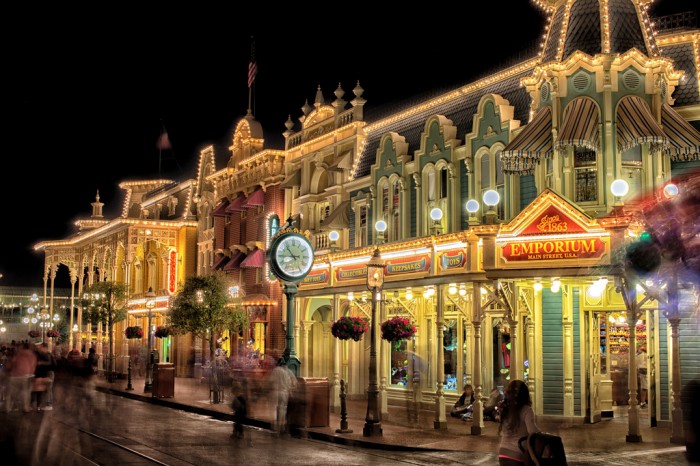 With Splash Mountain disappearing from the Evening Extra Magic Hours rotation, it falls on Big Thunder Mountain Railroad to provide Disney guests with their outdoor mountain thrills late at night. As a general rule, I often find that the best Evening Extra Magic Hours attractions are outdoor ones and Thunder Mountain doesn't disappoint. Be sure to hit this up at night on your next late night Magic Kingdom adventure.
"The Jungle Cruise is old." "The animatronics are cheesy." All valid points and yet I still can't get enough of this classic attraction. Maybe it's because I love stupid jokes or maybe it's because of nostalgia, but I still think there's something special about this attraction. Throw in the element of darkness and it transforms into a new experience entirely. This is especially true for the temple portion of the attraction, which gets an eerier vibe thanks to nightfall. And don't worry about being unable to see what's happening. Lighting throughout the attraction will ensure that you won't miss a thing even in the pitch dark.
This one's just too easy. "Scary" experiences were meant to happen at night. While the attraction may take place indoors, the upgraded interactive portions of the waiting queue for Haunted Mansion along with the classic tombstones just feel right at home during nighttime. When's the last time you told a ghost story during the day? I thought so.
Confession time. I haven't been to Walt Disney World since the opening of New Fantasyland's centerpiece attraction. Although I'll be remedying this very soon, I can't say how the experience changes at night. Although, being an outdoor attraction, it has a very good chance of officially making the list once I go on the attraction.
Epcot
The final outdoor high speed portion of Test Track is one of the most exhilarating experiences available at Disney World. With the lights of the attraction shining, this becomes a no-brainer when it comes to Evening Extra Magic Hours must-do's. If you don't care about designing your own vehicle for Test Track and the line is still too long during Extra Magic Hours, take advantage of the Single Rider Line, which offers a significantly shorter wait time.
Maelstrom might just be the strangest attraction in all of Walt Disney World. What starts as an attraction about "present day" (1980s) Norway suddenly turns into a mythical and fantastical boat ride. The attraction also features a short portion where you can see outside into the World Showcase. Anybody who's ever been to Epcot at night knows how beautiful each pavilion looks all lit up so why not take the opportunity to experience that on a dragon boat with a few trolls. Be sure to experience the weirdness firsthand while you can as it's rumored that the ride will be shut down soon to make way for a Frozen re-theming.
Gran Fiesta Tour Starring The Three Caballeros
I love the simulated nighttime sky of the indoor Mexico pavilion. The illusion is even greater when it's actually dark outside as well. I think the addition of The Three Caballeros to this attraction has definitely enhanced it and given it a more "Disney" vibe. It also doesn't hurt that the Gran Fiesta Tour almost never has any kind of significant wait. So why not knock back a few at La Cava Del Tequila and take a relaxing boat trip across Mexico with Donald and his friends.
Disney's Hollywood Studios
The Twilight Zone Tower of Terror
Thanks to Splash Mountain's absence from the current Evening Extra Magic Hours roster, I'm officially declaring the Tower of Terror the king of nighttime attractions. Scary ambiance and backstory? Check. Outdoor portions? Check. Visually distinct nighttime appearance? Check. Tower of Terror is a great attraction but at night it's an amazing one. If you've never been, do yourself a favor and wait until nightfall for your first Twilight Zone experience.
The inclusion of Toy Story Mania! on this list isn't because the attraction is particularly better at night. Basically it should be on your list if you forgot to get a FastPass+ during the day and didn't want to wait 120+ minutes in the Stand-by line. While the line won't be short by any conservative definition, it will almost certainly be less than what you'd experience during normal park operating hours.
Star Tours: The Adventures Continue
While the attraction is indoors, the Endor themed line is definitely more immersive at night and okay you got me. There usually isn't a line for Star Tours during Evening Extra Magic Hours and I can't even remember the last time I had to go through the full line queue during the later parts of the evening. I just love Star Wars and I'm adding it. It is my list after all. Really, in my opinion, it speaks to the fact that Hollywood Studios needs more attractions. I suggest adding the rumored Star Wars Land and a version of Car's Land. Disney, if you need any other ideas on how to improve the park, call me.
So there you have my list of the top Evening Extra Magic Hours attractions at Walt Disney World. Of course, there are plenty of other awesome attractions open during that time as well and I'd love to hear some of your favorites. Be sure to leave a comment below to tell me your favorite Extra Magic Hours attractions, attractions you wish were available during that time (cough Splash Mountain) or just say, "Hi!"
Please welcome TJ Van Fechtmann to the TouringPlans blog team. TJ lives in Rhode Island and enjoys writing about Disney for young adults.