Best Magic Kingdom Attractions for Teen Boys
The Disney Parks were designed with families in mind, to serve as escapes from the real world; where parents and kids can have fun together. But have you ever noticed that a certain element of the family tends to be overlooked? Do you know what it is? It's the demographic Disney forgot: Teen Boys.
Now, I'm not a teenage boy, but I do have a teenage brother who loves Disney World, despite the lack of commercials and ads directed toward his age group: So I sat down with him for the scoop on what Disney World has to offer teen boys like himself. In the past I've covered the Best Disney World Restaurants for Teen Boys and Best Disney World Resorts for Teen Boys, but for today I'm focusing on the Magic Kingdom in this installment of The Demographic Disney Forgot: Best Magic Kingdom Attractions for Teen Boys.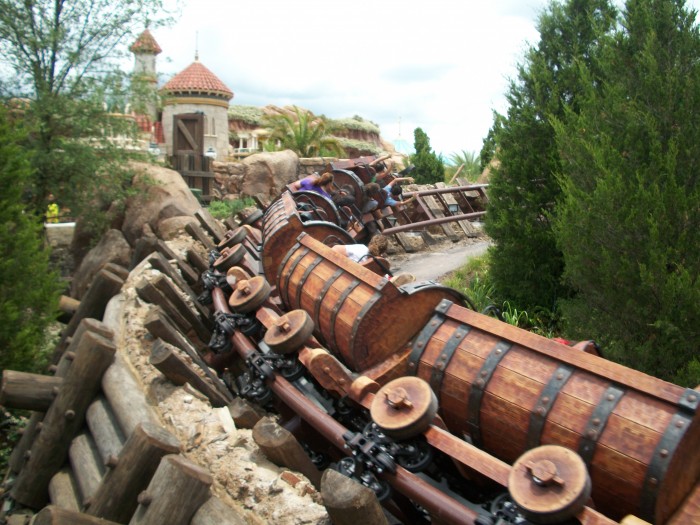 One of the Magic Kingdom's newest additions, the Seven Dwarfs Mine Train is very popular (and known for its lengthy wait times). This gentle coaster focuses on the Seven Dwarfs from Disney's Snow White and the Seven Dwarfs as guests ride in swinging mine carts in and out of the mine where a million diamonds shine! I consider it to be the perfect family ride in that it's gentle enough for little ones, but still manages to entertain older kids. My teen Disney Bro admits that the Seven Dwarfs Mine Train is rather tame, but the ride experience is smooth and a lot of more fun than just passing by scenes on a slow moving track. Also, the audio-animatronic dwarfs inside the mine are really impressive and worth seeing!
9. Big Thunder Mountain Railroad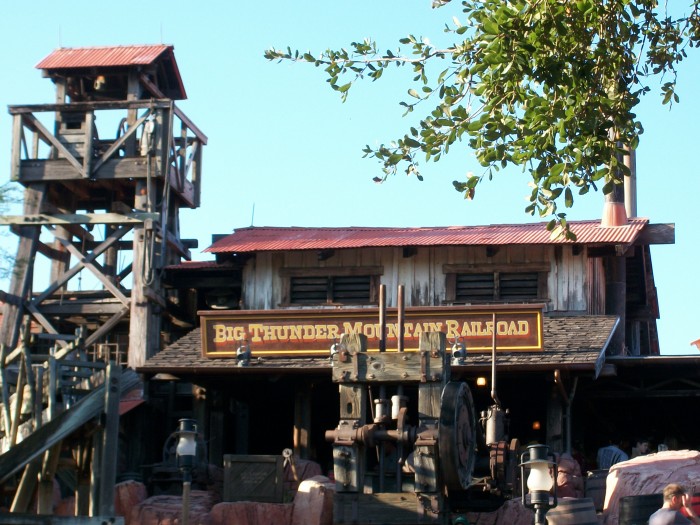 Located in Frontierland, Big Thunder Mountain Railroad takes guests on a wild, runaway train ride through the Old West in the days of the Gold Rush. It's a rickety, bumpy experience, but a lot of fun and a good testing ground for how little guests handle thrill rides. According to my teen Disney Bro, Big Thunder isn't his favorite coaster at Disney World; but the ride experience is a lot more thrilling and geared more towards his interests than what's to be found in Fantasyland. He's always been one to appreciate a good gag too, so several of the amusing sights in the queue and in Big Thunder are appreciated. Our family especially likes to ride Big Thunder at night, particularly during Wishes. It's a cool and unique way to take in the park's nightly fireworks display.
8. Tomorrowland Transit Authority PeopleMover
The PeopleMover is one of my family's favorite attractions! It's an elevated tram in Tomorrowland that's powered by magnets and whisks guests in and out the land's attractions at a surprisingly brisk speed. So what's the appeal for teens? My teen Disney Bro claims that it's one of his favorite places to relax and cool off and maybe even check his phone. Also, since the PeopleMover is elevated, you can also get some great views; and the sneak peeks into a few Tomorrowland attractions are pretty cool too, especially if the lights are on in Space Mountain when you pass through!
This show is truly unique and somewhat of a hidden park gem. Themed after Pixar's Monsters, Inc., the story is that Mike and other monsters have opened a comedy club to collect guest laughter in order to power Monstropolis. What makes this show so cool is that Mike, Roz, and the monsters actually interact with the audience and much of the show is improvised! How Disney pulls this off all day, I don't know; but it's impressive, a lot of fun, and one of my teen Disney's Bro's favorite shows at Disney World. A Monsters, Inc. fan and a bit of a comedian himself, he enjoys a good joke and the Monsters, Inc. Laugh Floor does offer some funny ones! He also appreciates how the show is interactive and how you don't know how people will react or what might happen. Basically, if your teen is weary of the princess dresses and carousel rides, the Laugh Floor is sure to pull out a grin and a chuckle or two.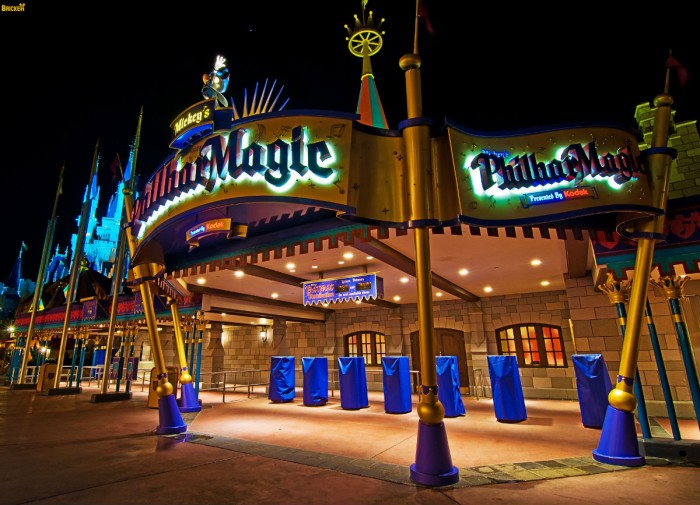 Another show that made my teen Disney Bro's list was Mickey's PhilharMagic. This 3-D Fantasyland show is supposed to be a concert put on by Mickey and the gang, but let's just say that Donald Duck gets a hold of something magical and whisks the audience into some popular Disney music numbers instead. Surprised that this show makes a teen boy's favorites list? So was I! But my bro says that Mickey's PhilharMagic is one of the best 3-D shows he's seen as objects, and even Donald himself, truly seem to be just inches from your face. Plus, with Donald driving the show, you know it's going to be amusing. Personally, I also think that Mickey's PhilharMagic and is a great way for teen boys to revisit some of their favorite Disney characters and movie moments in a cool way that's not cheesy or too geared towards little kids.
5. Buzz Lightyear's Space Ranger Spin
Located in Tomorrowland, this interactive attraction has guests fire laser cannons mounted on their ride vehicle at numerous "Z's" that are scattered throughout different ride scenes in order to help Toy Story's Buzz Lightyear defeat the evil Emperor Zurg. Every time a cannon hits a "Z," it increases that guest's score. For my teen Disney Bro, Buzz Lightyear's Space Ranger Spin is like stepping into a video game and is all about the competition! He insists we ride each trip; and despite my best efforts, he beats my score every time. He and I both would recommend Buzz Lightyear's Space Ranger Spin for teen boys, but be warned that gloating and begs for another ride are sure to follow.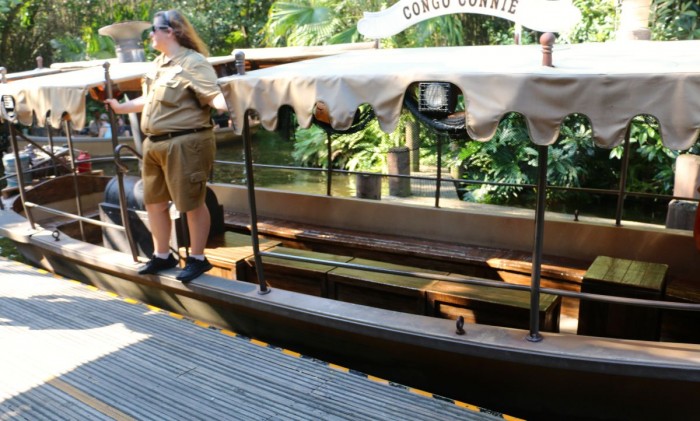 This iconic Adventureland attraction has been running since opening day in 1971, but guests today still pack in the queues for this humorous cruise down the rivers of the world, including my teen Disney Bro. When he was little, he was interested in seeing the different audio-animatronic animals; but now that he's older, he enjoys the Jungle Cruise for a very different reason: the jokes. The Jungle Cruise is more famous for its cheesy jokes than it's animals these days; and while it's still fun to take in the sights on either side of your boat, my teen bro has a special appreciation for a Jungle Cruise Skipper with good comedic timing. He also explained that the Jungle Cruise is refreshing in that it's not like anything else. It's not meant to be educational or informative, just witty and purely entertaining in a way that you only appreciate the older you get.
It's truly a log flume ride in that guests really do ride in what looks to be a log and follow Brer Rabbit from Song of the South as he leaves home for adventure and has a few run-ins with Brer Fox and Brer Bear; but what makes this attraction famous is its huge drop that leaves most riders soaked! My teen Disney Bro has loved this attraction for years, mainly because of that thrilling drop; but he also enjoys the build-up and anticipation of that huge slide down into the Briar Patch. He explained that you don't quite know when the drop is coming if you haven't rode it before; and there are smaller drops found throughout the attraction that keep things interesting and guests guessing! Finally, Splash Mountain is one of Disney World's longer rides, making it well worth the wait in line.
Space Mountain is a roller coaster that takes place inside a pretty awesome looking building and almost completely in the dark! It's a classic and has been thrilling guests for generations; however, my teen bro does have a few complaints with Space Mountain to start with. First of all, he's tall and hates the feeling that his head might hit the track overhead, even though he knows it won't. He also says that rides a little too bumpy and jerky in his opinion. Beyond that, Space Mountain is an attraction that's somewhat of a Disney rite of passage and appeals to teens in that it's one of the few attractions geared to their particular demographic and makes you feel like you're in a futuristic action film. If you have teens in tow looking to get their adrenaline pumping, look no further than Space Mountain.
Who wouldn't love Pirates of the Caribbean? Located in Adventureland, Pirates of the Caribbean is one of the park's most popular attractions and inspired the hugely successful Pirates of the Caribbean film franchise. At this attraction, guests board boats in what looks like an old Spanish fort and then float back in time to the days where pirates looted and pillaged villages. Along the way, you may see Captain Jack Sparrow or Captain Barbossa make an appearance or two. Naturally, my teen Disney Bro loves Pirates of the Caribbean and we usually ride it at least twice each trip. He says that Pirates of the Caribbean is one of the Magic Kingdom's more masculine attractions and loves the additions of Captain Jack Sparrow. It also manages to offer danger, adventure, and humor all at the same time. What more could a guy want? Note: Pirates of the Caribbean will be closing for maintenance beginning June 8th, 2015 and is planned to reopen in the Fall of 2015.
So these are my own teen Disney Bro's favorite Magic Kingdom attractions, but that doesn't mean that those are the only. The Magic Kingdom has many other attractions and experiences that may entertain teens and I want to hear from you! What's your teen's favorite Magic Kingdom attraction? Did it make the list?