Disneyland Area Hotel Ramada by Wyndham Anaheim Convention Center Review
Ramada by Wyndham Anaheim Convention Center is a hotel near Disneyland Resort in Anaheim, California. In this post we'll review a standard room with 2 queen beds. This hotel is located 1 mile from Disneyland and Disney California Adventure, and has the advantage of being next door to Disney's Toy Story parking lot, where guests can catch a Disney bus to Disneyland Resort.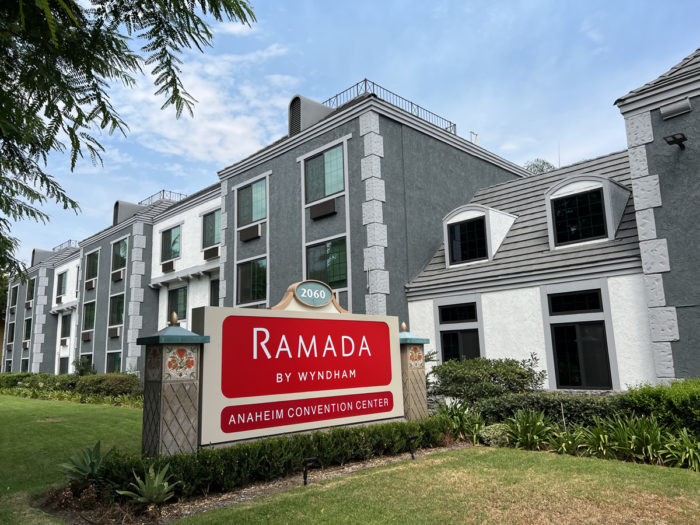 Ramada by Wyndham Anaheim Convention Center is located on Harbor Boulevard, up the street from Disneyland Resort. It's in a big long strip of similar looking hotels and motels. This Ramada location is a motel configuration with outdoor hallways. Steps and elevators are available for upper levels. The location is well lit and regularly patrolled by security. Nothing felt sketchy or unsafe during my 3 day stay.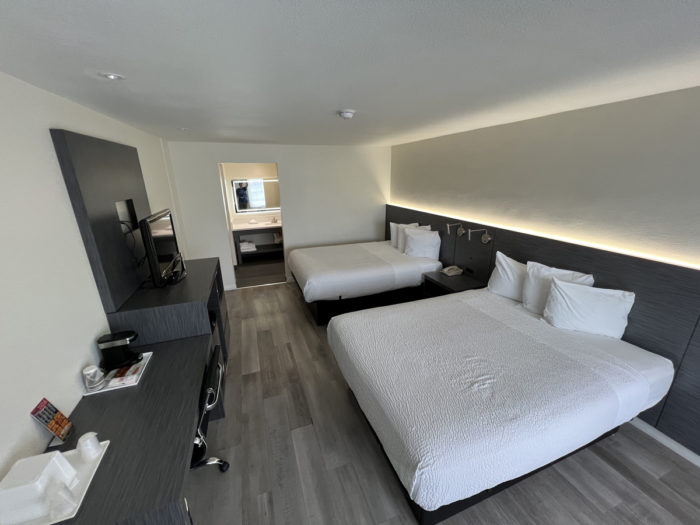 Here's a look at a standard room with two queen beds. It looks like the rooms received a update within the last couple of years. The decor is fresh and modern and everything is in good condition.
The beds are comfortable, not too firm, and not too soft. There's three pillows on each bed. One of the pillows is firm, while the other two are soft. It's good to have variety like this.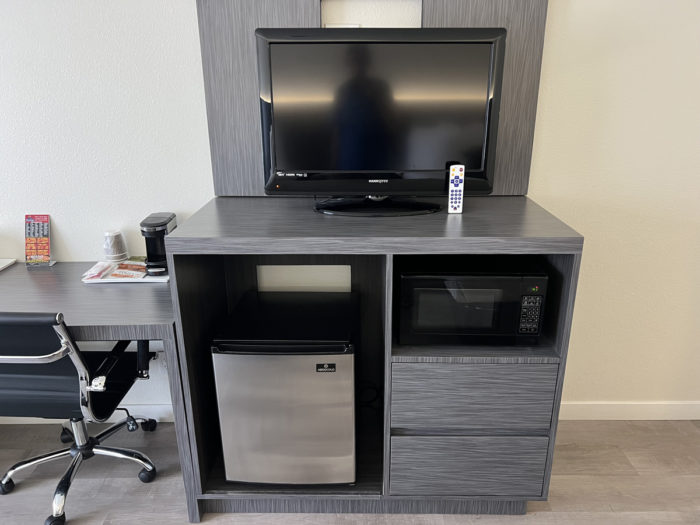 The dresser and TV stand has two drawers, a mini fridge, coffee maker, and a microwave.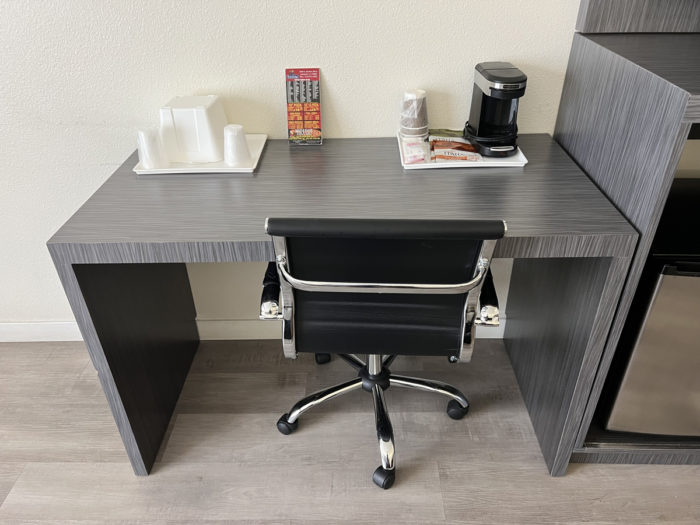 The desk has plenty of room to eat a meal or get some work done. I usually work on my laptop in hotel rooms so it's always nice to have desk space that is actually functional and usable along with a moderately comfortable chair.
Between the two beds is this nightstand with shelves, along with two lamps. Speaking of lighting, the room has plenty of light thanks to a long strip of lighting that runs along the entire length of the bed headboards.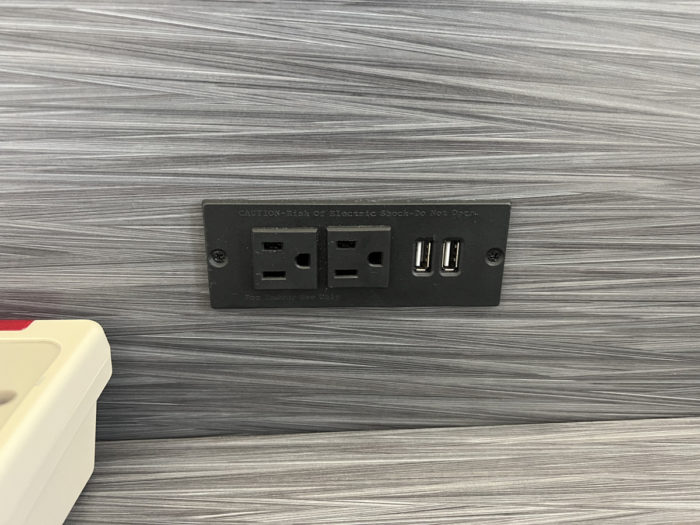 Above the nightstand is two electrical outlets and two USB plugs. There's not many other outlets in the room, so if you have a lot of devices you may want to bring some sort of USB charger station with extra ports.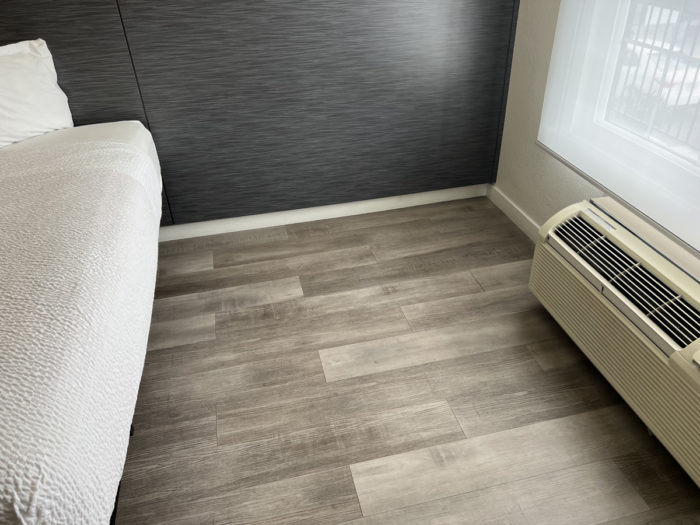 There's plenty of empty space in the front corner of the room. You definitely wont have to worry about luggage or strollers getting in the way.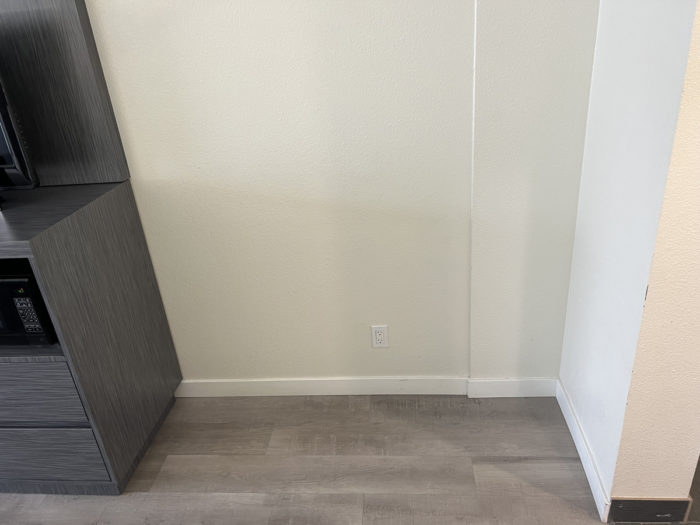 More empty space in the corner of the room next to the dresser/TV stand.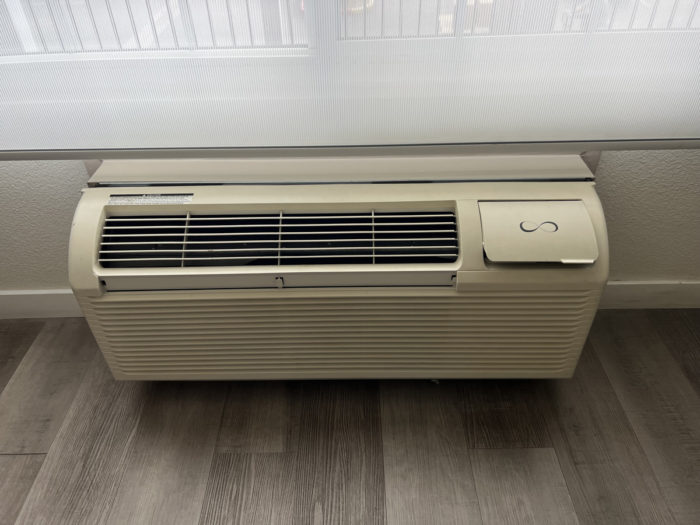 The air conditioning unit is one of those loud older units but it did a great job at keeping the room cool. My stay was during a brutal Southern California heatwave and the temperature was never a problem.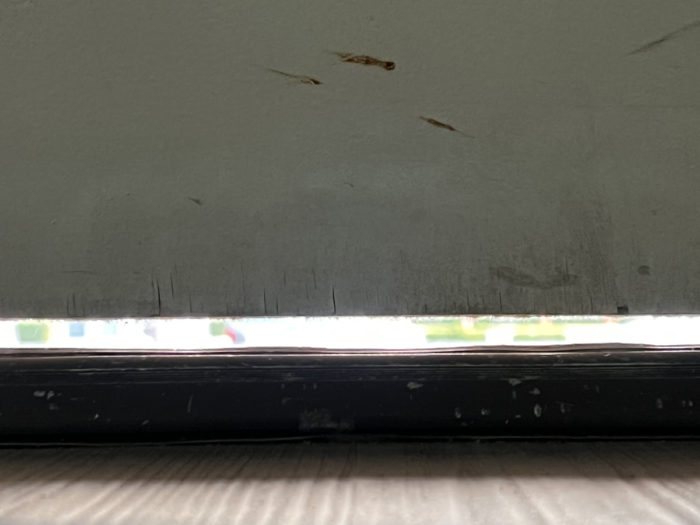 One very odd thing, and my only bit of criticism, is this noticeably large gap under the room's door.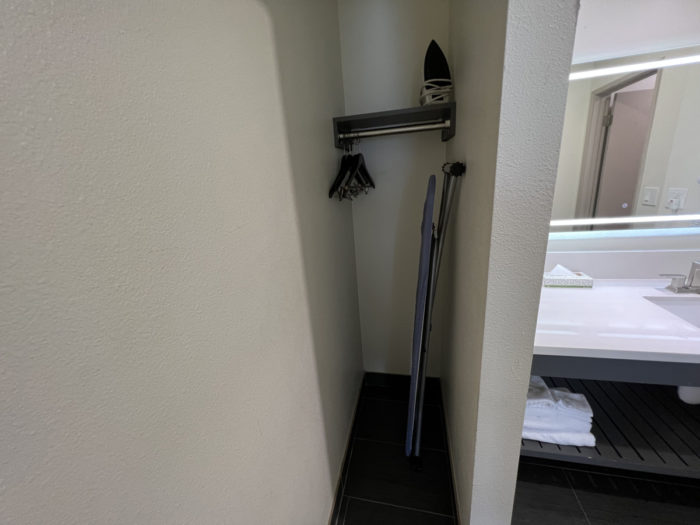 There's no traditional closet, but there is this little sliver next to the bathroom with a rack and hangers. It was more than enough room to hang up a few shirts and tuck a suitcase.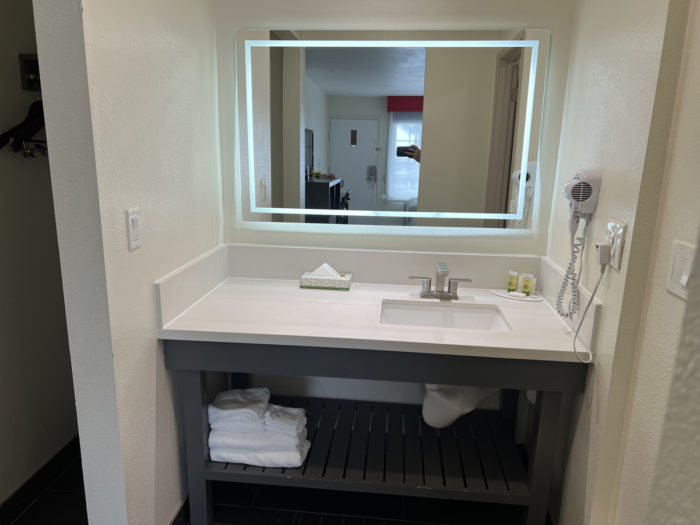 The bathroom and sink area are separated by a door, which is nice when people need to shower and get ready at the same time. There's a good amount of counterspace for everyone's items, and lighting is good thanks to strips of LEDs along the edges of the mirror.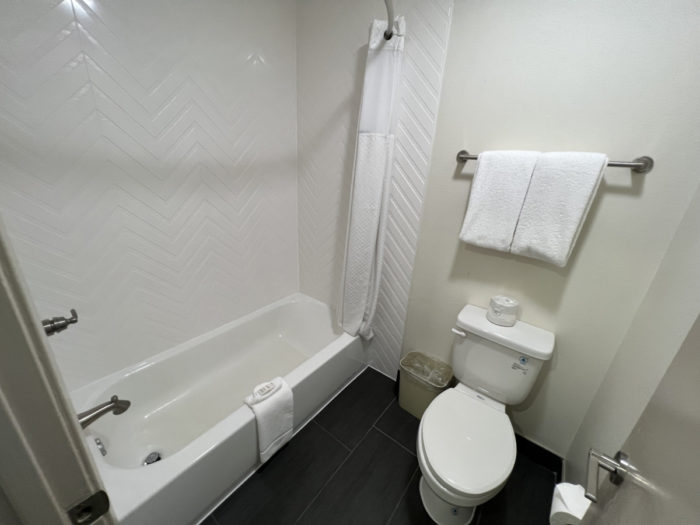 The bathroom is not glamorous but it's clean and functional. Water pressure is good and the temperature rose to a adequate level in a short amount of time.
Ramada by Wyndham Anaheim Convention Center offers clean, affordable and functional hotel rooms. There's some great perks to staying here, such as being next door to Disney's Toy Story parking lot and the Disney buses, and free breakfast. It's also a great hotel if you're in town for an event at the Anaheim Convention Center. I was able to walk to the Convention Center in under 10 minutes each morning. I would definitely recommend this hotel to anyone visiting Anaheim, especially to families looking to save some money on breakfasts, and who need a little extra room for luggage and strollers.
Plan your perfect Disneyland trip with us! Check out our Disneyland Crowd Calendar, which rates every day of the year on a scale of 1 to 10 so you can see how busy Disneyland and DCA will be during your visit. Also check out our Disneyland Touring Plans which show you how to beat the crowds and spend less time in line at your favorite rides. We can even book your vacation for you. Our agents are the best in the world and they're ready and waiting to help you plan your perfect Disneyland trip. Click here to get a quote!
Have you stayed at Ramada by Wyndham Anaheim Convention Center? Do you plan on staying there? Leave a comment or let me know if you have any questions.
Note: Ramada by Wyndham Anaheim Convention Center did not sponsor this post and did not pay for, or receive copy approval.