Disneyland French Market Review: Is It Still a Quality Option?
French Market is a quick-service restaurant in the New Orleans Square area of Disneyland in Anaheim, California. It has a solid reputation with our readers, and it ranks as the 6th highest rated quick-service restaurant in Disneyland with a 92% thumbs up rating. French Market has a reputation for having a robust and high-quality menu, but is it suffering from downgrades like many of the quick service restaurants in Disneyland Resort? Keep reading to find out.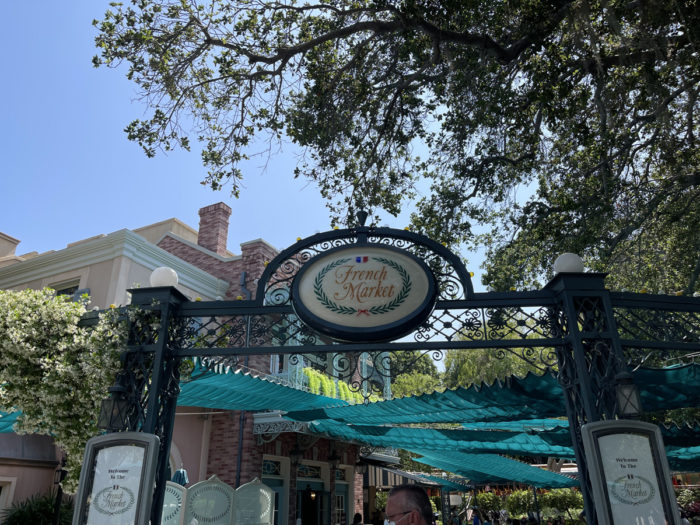 French Market is located in a bustling area of the park near Haunted Mansion and the New Orleans Square Disneyland Railroad station. This highly visible location along with a menu that has a good reputation makes it an absolute mad house during most of the day. Most of the time finding a place to eat can be difficult, even though French Market has a large outdoor seating area. You'll often see families on benches and ledges outside of the restaurant with trays full of food balancing on their laps as they chow down.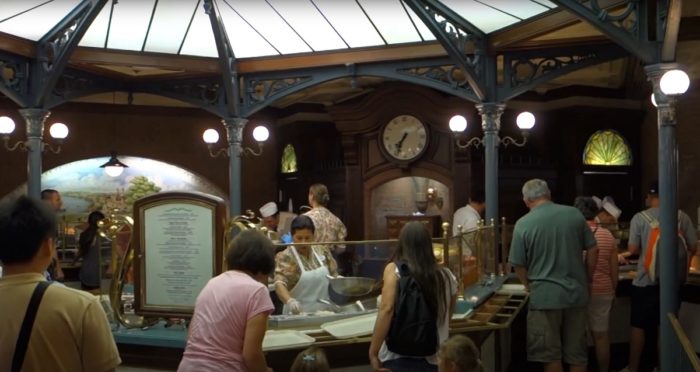 The interior of French Market uses a buffeteria system where you slide your tray along and grab the food you want from a cast member. Mobile ordering is also available.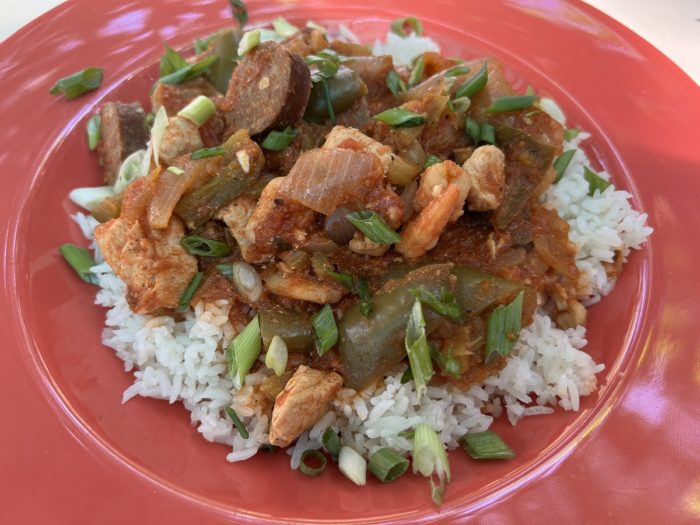 My favorite item on the menu is the Jambalaya with shrimp, chicken, and andouille sausage stew served over rice ($14.99). This is one of the highest quality quick service meals you'll find in ANY Disney theme park. The chicken is tender and perfectly spiced with just a little bit of kick. It may not be the best jambalaya you'll ever have but it's very good, especially for theme park food. A Vegetable Jambalaya is also available on the menu for $12.99.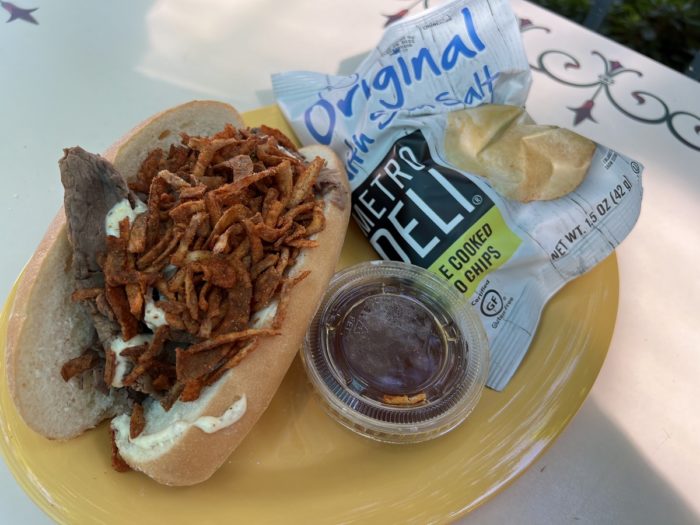 Next up is the slow-roasted Beef Po' Boy with fried onions and horseradish sauce served on a rustic roll with au jus and chips. Unfortunately this entrée received a significant downgrade from what it once was. Originally the sandwich had a bigger portion of beef, and was served with a side of grapes and house-made potato chips. The price has, of course, gone up. It's now $14.49.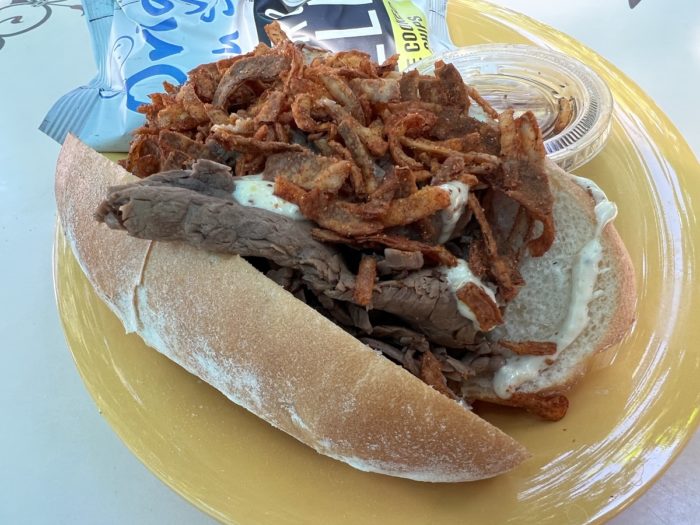 With all that said it's still very tasty. And who doesn't love horseradish sauce?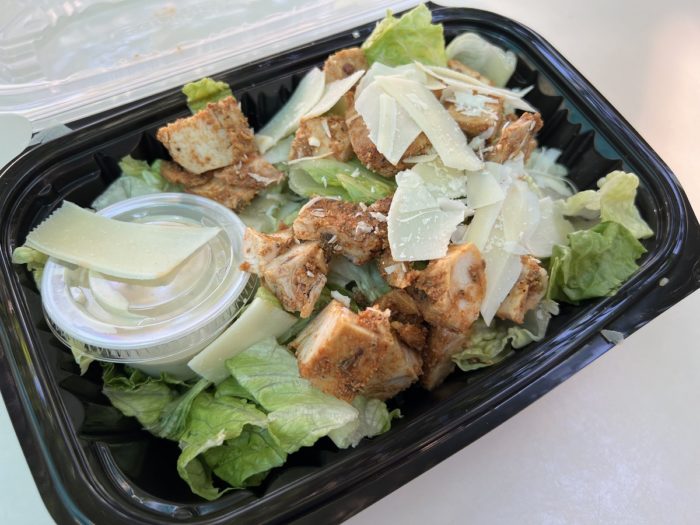 This is the Cajun-style Chicken Caesar Salad with romaine lettuce, parmesan cheese, and house-made croutons, and caesar dressing ($11.99). I'm a big fan of the chicken that is served with this salad; it's delicious. This dish also received a big downgrade in terms of serving size. When the Cajun-style Chicken Caesar Salad was double in size it was substantial enough to make a meal out of. But with it's current portion you're better off having it as a side, unless you're a light eater. And $12 is a lot of money for a quick-service side salad.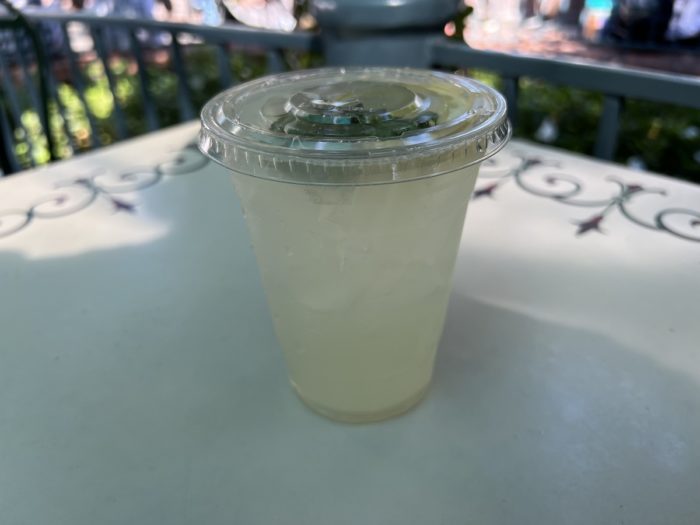 Disneyland mint julip fans rejoice! The parks popular mint julip drink can be ordered along with your meal at French Market. This makes it a lot easier than having to wait two separate lines.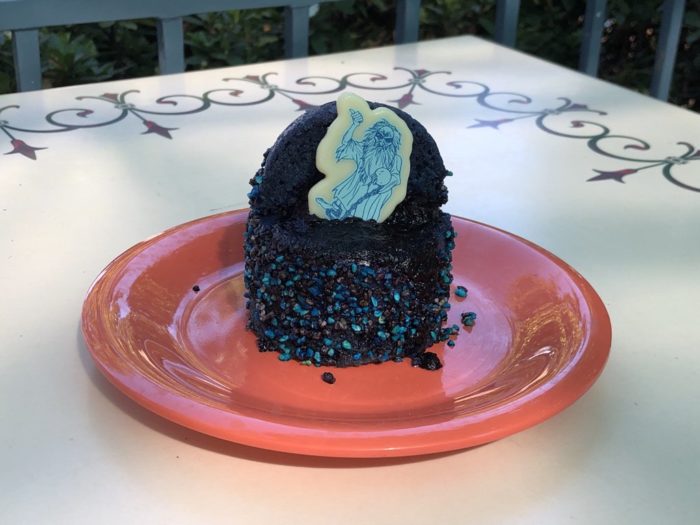 French Market is also home to delicious and wonderfully photogenic seasonal desserts. Here's a cupcake shaped like a doom buggy from Haunted Mansion.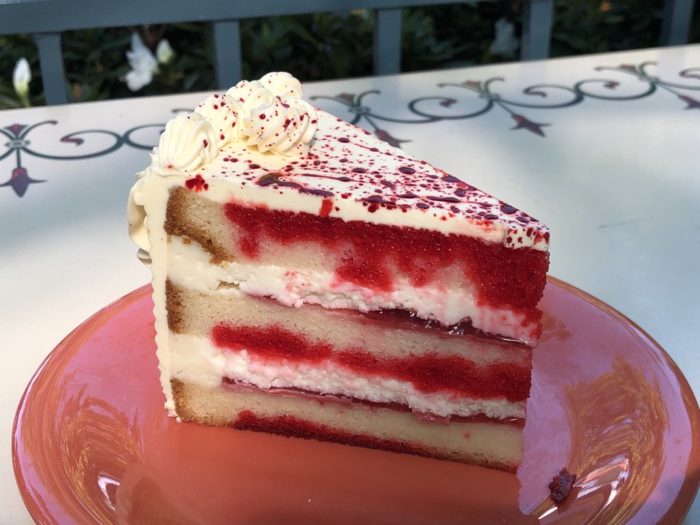 My personal favorite was this delightfully spooky bloody wedding cake.
Other menu items include a Herb-roasted Chicken and Buttered Shrimp Po' Boy. French Market's menu had many items removed after Disneyland reopened earlier this year, which is unfortunate because the restaurant's variety was always one of its strong points. Overall the menu is still solid, and the jambalaya and seasonal desserts alone make it worth a visit. Also, when you're done eating you're steps away from one of the greatest theme park rides on the planet!
What's your favorite menu item from French Market? Is this one of your go to quick service spots in Disneyland? Let us know in the comments.