Disneyland vs. Disney World Attractions: Space Mountain
Walt Disney World and the Disneyland Resort share a number of the same attractions, such as Pirates of the Caribbean, Peter Pan's Flight, "it's a small world," and many others. But if you think that these attractions are the same on both coasts, you would be mistaken. One of the many things I love about Disney is that they never do the same thing twice; and while the attractions that can be found on both coasts may share the same names and themes, they do have differences too. Hey, who doesn't like variety, right? But you have to wonder, which resort has the best version of a popular attraction? Which Disney Park has the bragging rights? Well, that's what I'm going to find out beginning with a classic attraction from the future in Disneyland vs. Disney World Attractions: Space Mountain!
What is Space Mountain?
Space Mountain is a big favorite among Disney Park fans and has been for decades. The attraction is set in the future where rocket rides through outer space are a norm, however, Space Mountain is anything but. Unlike most coasters, Space Mountain is completely indoors and set almost entirely in the dark! It's thrilling, but has no inversions and feels a lot faster than it is. I consider it a great "test" coaster for kids who aren't quite sure if they're ready to take on California Adventure's California Screamin' or Hollywood Studios' Rock n' Roller Coaster Starring Aerosmith. What's also cool about Space Mountain is that it's sparkling white structure and spires are just as iconic to Disney Parks as the ride itself.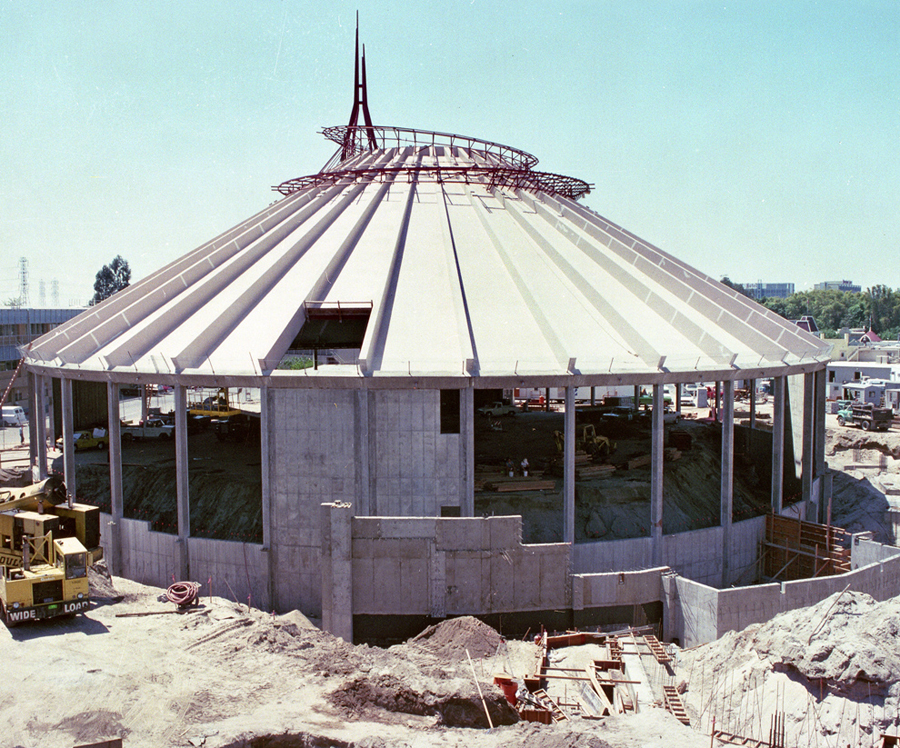 History:
Even though Disneyland was the first Disney park, Space Mountain debuted at Walt Disney World's Magic Kingdom first in 1975. It provided some much needed adrenaline to the park and was quite a technological achievement at the time, being one of the first attractions to be regulated by a computer system. Long lines are still common at Space Mountain today, but the attraction isn't exactly the same as it was in the seventies. It has undergone a number of refurbishments over the years.
In 1977, Disneyland gained its own Space Mountain and that one was also hugely popular with guests. Disneyland's Space Mountain has also undergone changes in years past, although its refurbishments have taken notably longer than Disney World's. Disneyland's Space Mountain has also added themed overlays throughout its history, such as Ghost Galaxy for Halloween featuring additional spooky projections and effects for the holiday season.
To determine which coast boasts the best version of Disney's beloved attractions, I'm zeroing in on different categories to determine which park does it best. The version with the most category wins will be the winner! Ready? Let's do this.
Location: This first category is a difficult one as both Space Mountains are located in each park's Tomorrowland; although in my opinion, one is more conveniently located than the other. For starters, Disney World's Space Mountain can be found at the left rear of Tomorrowland, next to the Tomorrowland Speedway while Disneyland's Space Mountain can be found tucked behind Star Wars – The Adventures Continue in its own little space. The problem with this location is that it can be easily missed, especially since Tomorrowland is somewhat of a bottleneck. Also, once you reach Disneyland's Space Mountain entrance, you haven't actually reached the real entrance! Yes, guests eager to launch into space have to descend and ascend walkways before they even reach the attraction's queue, not counting the trek through the queue itself to reach the loading area.
Winner: Disney World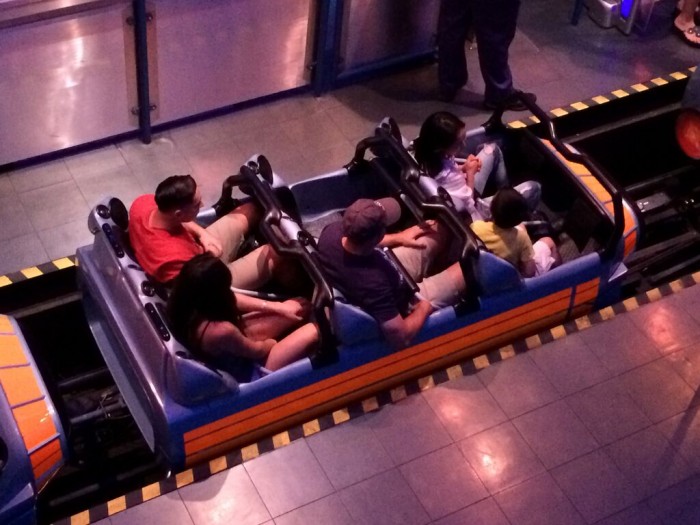 Ride Vehicle: Naturally, Space Mountain's ride vehicles are going to be rockets; but each Space Mountain has its own version. Disneyland's rockets seat two guests side by side while Disney World's seat guests in single file. The seats themselves are different as well. For example, Disney World's rockets require guests to sit low with their feet stretched out or around the seat in front of them. They're not very comfortable or easy to get in and out of. Disneyland's rockets are much more comfortable and more like sitting in an actual seat. Plus, they have built-in speakers! Lastly, Disney World's rockets have 2 cars per vehicle and can seat 6 guests; and while Disneyland's rockets also have 2 cars per vehicle, they can seat 12 guests!
Winner: Disneyland
Tracks: Disneyland's Space Mountain has only one track, but Disney World has two: Alpha and Omega. Most guests may not even know this since most of the ride is in the dark; but if they were to look over when their rocket is making that steep climb up the hill towards the start of the ride, they will see another rocket filled with guests also making the climb to launch. Bonus: Disney World's popular PeopleMover offers a glimpse into Space Mountain — and on occasion, riders may get a look at the system of tracks with the lights on if the attraction is undergoing maintenance!
Winner: Disney World
Height Requirements: Disney World requires guests to be at least 44 inches tall to ride Space Mountain. If your little one is just hovering under the requirement, they have a better chance at Disneyland where guests only have to be at least 40 inches tall.
Winner: Disneyland
FastPass: Both Space Mountains offer FastPasses, but they are far from being the same. Disney World's FastPass system is new and known as FastPass+, where guests can book their ride ahead of time on the My Disney Experience app or website, or at one of the kiosks in the park. When returning to ride, guests must scan their park ticket or MagicBand to prove they have a FastPass+ reservation. Disneyland, however, is still using the old school paper FASTPASS tickets which must be acquired at FASTPASS machines located near the attraction and then return to ride within the time span printed on the ticket.
Both systems have their pros and cons. For example, booking a FastPass+ ahead of time and not having to keep track of a paper ticket is great at Disney World, but if you plan a last minute trip or you're not so good with technology, you probably won't like it. Disneyland's FASTPASS system is great in that it's a first come first serve basis and you're not restrained to the FastPass+ system rules or forced to navigate the sometimes precarious technological waters. However, you do have to travel all the way to an attraction to obtain a ticket that you won't be using until later in the day. Also, in order to get a Space Mountain FASTPASS, Disneyland guests have to walk quite a distance to get to the attraction's FASTPASS machines.
Winner: Disney World
Sound: In 2010, Disney World's Space Mountain debuted Starry-O-Phonic Sound. It's a combination of sound effects and a zippy, upbeat soundtrack playing through 60 speakers scattered throughout the attraction. Personally, I'm not a fan. The music sounds like something you would hear at an arcade and makes it difficult to take the attraction seriously or believe that you're rocketing through outer space. A complaint I've heard from others is that the music and sound effects are louder in some places than others, and the drastic change of volume can take guests off guard, especially when in the dark. Disneyland's Space Mountain, on the other hand, boasts a soundtrack composed by Michael Giacchino who worked on Lost, The Incredibles, both new Star Trek films, Ratatouille, and most recently, Jurassic World which is played through built-in speakers in your ride vehicle! Hmmm… Starry-O-Phonic or Giacchino… Folks, this isn't even a contest! I should also mention that Disneyland's Space Mountain soundtrack includes voices giving updates from mission control and a countdown to your launch, which I love because it makes the story that much more believable.
Winner: Disneyland.
Queue: Even though both Space Mountains resemble one another and are both found in Tomorrowland, their queues are very different! For starters, Disney World's queue immediately plunges you into the darkness of space with its long dark hallways and panels showcasing stars and other heavenly bodies, as well as interactive screens that help to pass the time. I have been known to refer to this as the never ending queue because it seems to keep going and going! When guests finally do reach the loading area, they will find a maze of lines as the queue splits into two sections for the Alpha and Omega tracks. Years ago, guests waiting in line could see projections of stars and asteroids on the smooth dark ceiling of Space Mountain. Sadly, that's no longer the case and I'm still a little bitter about that.
Now, as I've already said, it takes some walking to reach Disneyland's Space Mountain queue, but once you're inside, it is similar to Disney World's in that it's mostly dark, futuristic-style hallways. I have noticed, however, that the halls seem to be a bit more illuminated than what you find at the Magic Kingdom in Florida. The biggest difference between the two comes at the loading area. At Disneyland, guests find themselves on the second floor and eye to eye with a suspended space craft before they can descend downstairs to board their rockets, a very different set-up than what you find at Disney World.
Winner: Disneyland
Speed: Both Space Mountains are known for making guests feel as if they going much faster than they actually are. However, the two stateside versions do differ in average speeds, but not by much. Disneyland's Space Mountain rockets guests through space at 32 mph while Disney World only does so at 30 mph.
Winner: Disneyland
Overall Ride: For me, Disneyland's Space Mountain wins the category. While neither version of Space Mountain can be referred to as smooth, Disneyland is not nearly as jerky or punishing as Disney World's. Although that means that Disneyland's version, while still thrilling, has less sudden drops and plunges, a factor which could cause thrill junkies to disagree with me. I also believe that Disneyland's Space Mountain has better effects and does a better job of making as guests feel as if they're traveling through space more than Disney World's. Finally, Disneyland's version is actually longer at 2 minutes and 45 seconds while the Magic Kingdom's is only 2 minutes and 30 seconds. I know 15 seconds isn't that much time; but I like as much ride time as I can get!
Winner: Disneyland
So which Space Mountain is the winner? Disneyland's Space Mountain! Yes, Disneyland's Space Mountain has the better rocket; a longer, smoother, a faster ride; and the best sound; and while I'm not thrilled about where it's located in Tomorrowland or how far I have to walk to get a FASTPASS, it's still worth the effort. But do you agree? Is Disneyland's Space Mountain the superior of the two, or do you think Disney World deserves more credit?