Do the Monorail Monster Mash – A Halloween Treats Crawl
Spooky sweet treats can be found all around Walt Disney World right now. One of the best ways to enjoy all the tasty fun is to do your own crawl around the monorail resorts. Our team recently did their own monster mash monorail crawl to scope out all the Halloween treats.
Disney's Contemporary Resort – Halloween Cupcakes
Over at Contempo Cafe you can enjoy monstrous treats with a view of the monorail. Our team tried out the Monster Cupcake, with confetti cake and Candy Bar Custard. As cute as this cupcake is, the Candy Bar Custard's texture didn't thrill us. There are two other specialty cupcakes available here too. Each one is $5.99 and available for mobile ordering.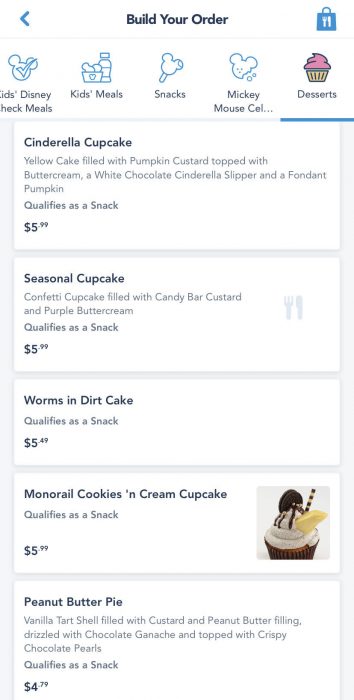 Disney's Polynesian – Halloween Treats
Hop on over to Disney's Polynesian Village Resort and Captain Cook's for two more thrilling Halloween treats. The Minnie Mouse Halloween Cupcake is a hit for chocolate lovers. A chocolate cupcake is filled with Rocky Road filling and topped with buttercream frosting. It's a marvelous Minnie Mouse creation.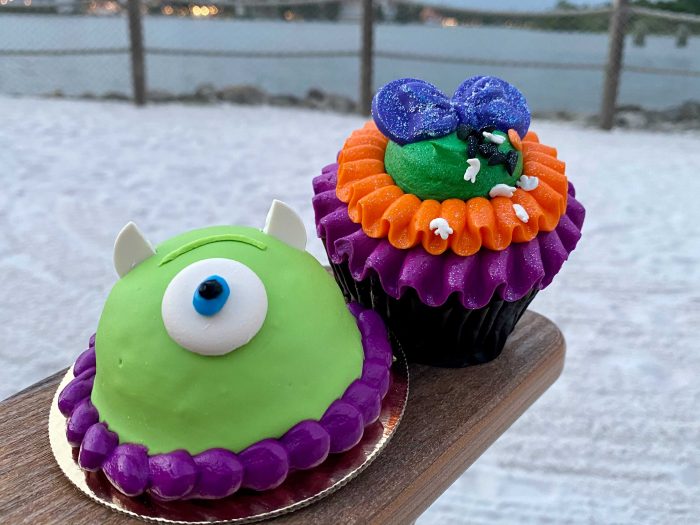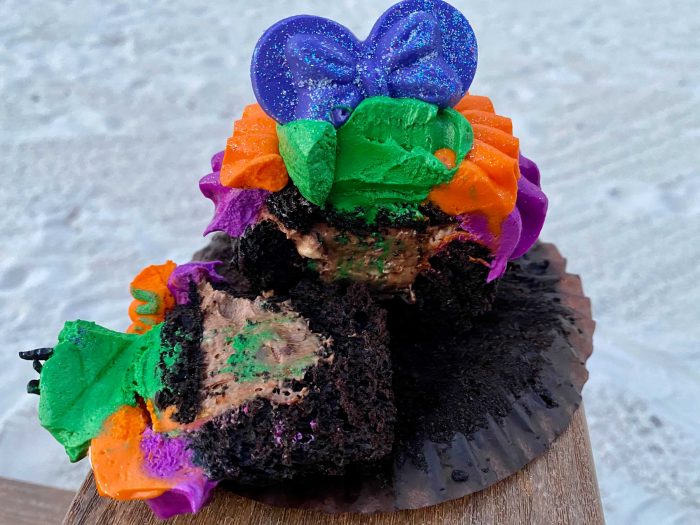 There's also the Mike Wazowski Dome Cake, a double chocolate cake with white chocolate ganache and buttercream frosting. Lots of sugary sweetness in this one–even the double chocolate cake is on the extra sweet side. We preferred the Minnie Mouse cupcake to this one. Each one is $5.99 and available through mobile ordering.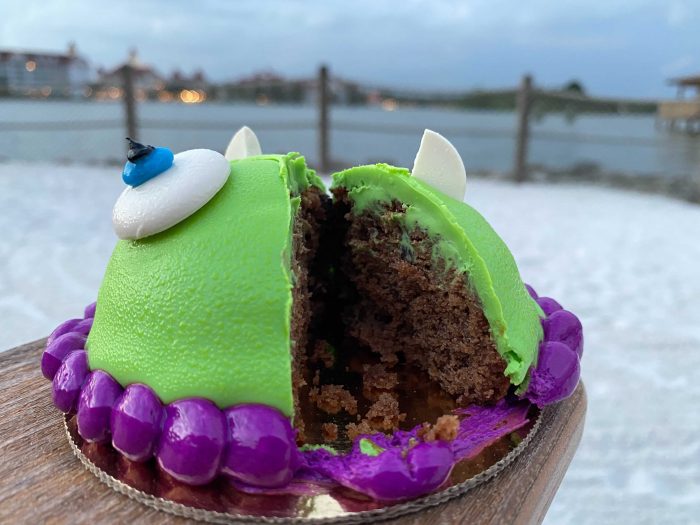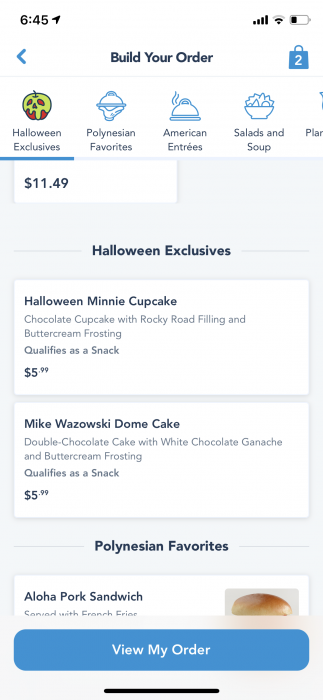 A Trio of Halloween Treats at Disney's Grand Floridian
Over at the grandest Disney resort of all, Disney's Grand Floridian, there are three Halloween treats to finish up our monster mash monorail crawl. Head to Gasparilla Island Grill. We'll go from zero to hero, starting with the Zero Dog Bone Eclair, in honor of Jack Skellington's ghost dog Zero. You can skip this one: the eclair was soggy and not very flavorful, a pass for $5.49.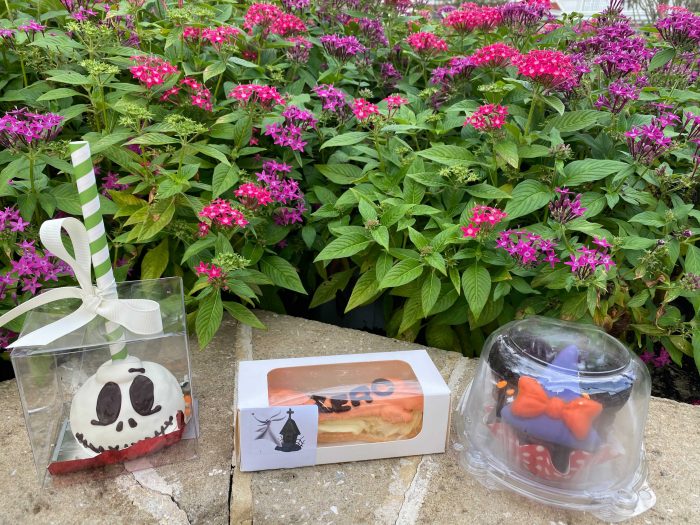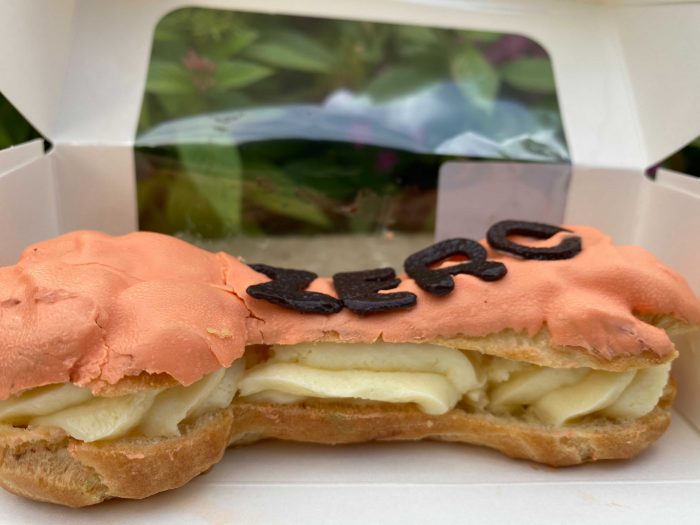 Minnie Mouse gets her own cupcake here at the Grand too, a chocolate cupcake with Cookies and Cream filling, enrobed in chocolate ganache. A chocolate candy witch hat and two cookies for ears top it all off. This is a strong contender for the best cupcake on the crawl, at $5.99.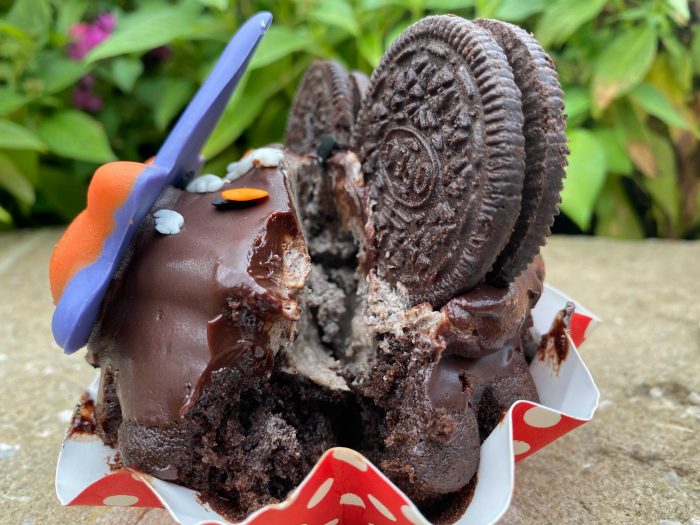 Our team's favorite food find of the monster mash monorail crawl is the Jack Skellington Pumpkin Spice Cake Pop. If you can't get enough pumpkin spice in your life, this is the treat for you. A simply sweet jumbo cake pop is packed with pumpkin spice flavor and enrobed in white chocolate ganache. For $7.99 it is a little pricey, but large enough to share with 2-3 people.
Treat yourself to a TouringPlans Subscription and you won't miss a beat on your Walt Disney World vacation. Our Lines app includes ratings and rankings of all Walt Disney World dining options, including all three spots featured here in our monster mash monorail crawl.
Have you ever done your own monorail crawl? Tell us about it in the comments.