How Can Kids and Teens Pay for Things at Disney World?
If you're visiting Walt Disney World with your child or teenager and you're going to be with them all the time, then the question of how they can pay for things may be of little concern to you. You'll always be there to do the paying. If they're going to be on their own, it's very likely that payment questions will come up. Below, I'll run down common payment scenarios and talk about what the options are for guests who are under 18.
What Can Everyone Use to Pay?
Hot tip: if an adult can't use it a kid can't either. So it's important to know what options there are for adults. The most common payment methods are:
Cash
Credit or Debit Card
Disney Gift Card
MagicBand or MagicMobile (if staying at a Disney World Resort)
If you're curious about something that isn't on the list above, check out our FAQ on how to pay for things at Disney World.
Now let's move on to kids, and I'm going to break it up into two sections: payment at Point of Sale, and payment in the My Disney Experience app.
Payment at Point of Sale
Point of sale means anywhere that your kid will be able to interact with a person at a cash register.
Cash
The green stuff always works. Early in the pandemic Disney worked to bring contactless payment methods to all its point of sale registers, but cash is still accepted everywhere.
Credit or Debit Cards
In the U.S., the minimum age to open a credit card or checking account on your own is 18. But plenty of kids have debit cards to accounts that have their parents as joint account holders. Similarly, many parents add their kids or teens as authorized users on their credit accounts.
MasterCard and Visa both offer prepaid cards that can be purchased at supermarkets as well as large retailers such as Target or Walmart. These can be used wherever credit or debit cards are accepted.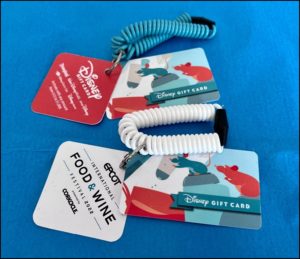 Disney Gift Cards
Disney Gift Cards can be purchased online before you arrive, or at many Disney World locations. They can be activated with any amount from $15 to $1000, and reloaded at any physical location that sells them.
You can register your cards at www.disneygiftcard.com and transfer balances between them. This can be a good way to manage spending on a kid's card: keep a parent card with a larger balance and refill your child's card as needed.
Disney gift cards are as good as cash at every Disney-owned register. One thing to be aware of: most locations in Disney Springs accept them even if they aren't Disney-owned, but non-Disney hotels such as the Swan & Dolphin and a few non-Disney-owned retail locations don't.
MagicBands
If you're staying at a Disney World Resort hotel, you can use a MagicBand to charge back to your room's account. There is no age limit on who can charge, so it's up to you to decide if your child is old enough to pay.
Disney has flip-flopped a few times on whether everyone in the room has charging privileges by default or not, but you can always change the charging privileges of anyone in your room by stopping at the front desk.
Paying with a MagicBand requires you to enter a PIN code which is the same for everyone on the account, so granting or withholding the PIN is another way to control whether your child is able to use their MagicBand for purchasing. If you need to change your PIN, it can be done in the My Disney Experience app where you set your payment method.
One nice feature of purchasing with MagicBands is that your resort bill shows who charged what. When I see 17 lava smoothies on my bill, I can confirm which of my kids paid for them before I start making cranky noises at the wrong one.
Granting or withholding charging privileges or the PIN is an all-or-nothing approach. If you'd like to let your kids charge to MagicBands but still put a limit on their spending, it's possible to link different MagicBands to different credit cards. You'll need to visit your hotel's front desk, but you can link your child's MagicBand to a pre-paid debit card instead of the card associated with your room account.
MagicMobile
If your child has a phone, MagicMobile is another option that can be used for making charges to your room. This is a digital pass that can be stored in your smartphone's wallet (it works on both Apple and Android) and used in the same way as a MagicBand.
Something that might be a little tricky here is that if your child is under 13 they won't have a My Disney Experience account and won't be able to login on their phone to create the MagicMobile pass. In this case, you can login on their phone and create the pass for them, then logout of the app so that they only have access to the pass. For more details, see Everything You Need to Know About Disney's MagicMobile.
Key To The World Card
In the way-back days before MagicBands and when the iPhone was a twinkle in Steve Jobs' eye, all guests checking into Disney World Resorts received a Key to the World card. Both tickets and resort info were linked to the KTTW, so it worked exactly like a MagicBand. It could be used in place of your ticket card, for charging purchases, and of course it was your room key as well. If you're staying at a Disney World Resort, you can still request a KTTW card at the front desk and link it to a specific guest. That guest can use it for charging the same as they would use a MagicBand.
Payment in My Disney Experience app
In the MDE app, paying cash is not an option. To purchase Individual Lightning Lanes or Genie+, or to place a Mobile Order, you must use something you can enter digitally. Same goes for Merchandise Mobile Checkout.
If your kids are under 13, they won't be old enough to create a My Disney Experience account. If they have phones and you want them to be able to use MDE and pay for things, you can. But you'll have to sign into the app on their phones using your own account. You may or may not feel like that's a good idea, but if you take this route they can use any stored payment info from your account.
What if they're 13+? At this age, kids are old enough to have their own MDE account and sign into the app as themselves. (See: Should Your Kids Have Their Own My Disney Experience Accounts?) But if they're under 18, they won't be permitted to store a payment method, which makes purchasing through the app less convenient.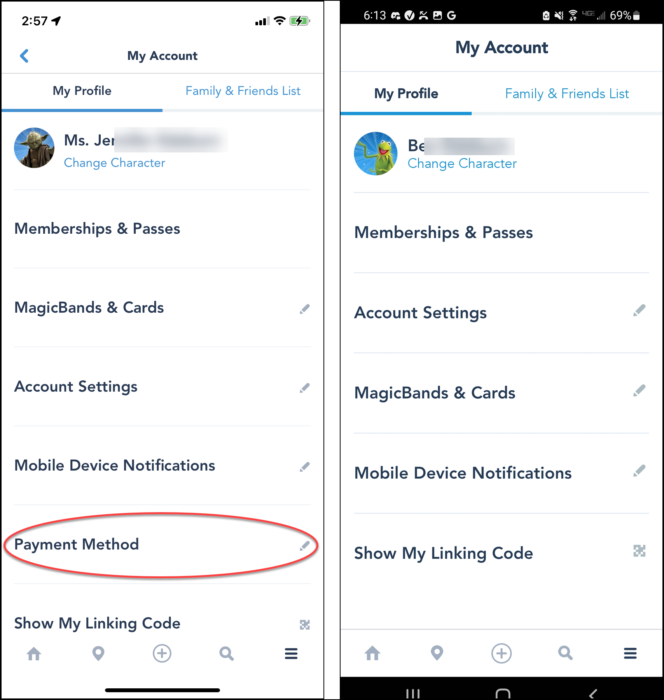 Can your under-18 kids use Mobile Order and pay for things in MDE? The answer is yes. The place your teens are most likely to run into the need to pay for something in MDE is when using Mobile Order or Mobile Merchandise Checkout, so I've chosen to use Mobile Order as an example.
The good news is that teens can use Mobile Order. The bad news it that they'll need to enter the payment method manually every time. This is what they'll see when they get to the checkout screen; they can choose to pay with either a credit card or a Disney Gift Card.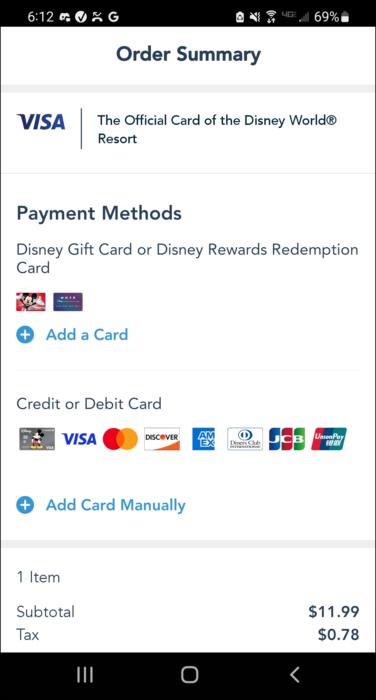 MDE does not allow you to scan the front of a credit card with your camera instead of typing in the number, but it does have a feature to scan the barcode of Disney gift cards. So if your teens will be doing a lot of mobile ordering (or other purchasing through MDE), they may find it more convenient to use gift cards than credit/debit cards.
Do you have kids or teens who are out on their own at Disney World? Are you a kid or teen who pays for things at Disney World? Let us know what methods you prefer in the comments!