Le Cellier Steakhouse Review – O Canada
EPCOT's Le Cellier Steakhouse is a popular signature restaurant located at the World Showcase's Canada Pavilion.
Le Cellier is famous for several of its menu items, specifically its pretzel rolls, cheddar cheese soup, and filet mignon with mushroom risotto. But unfortunately, it's also known for its high prices.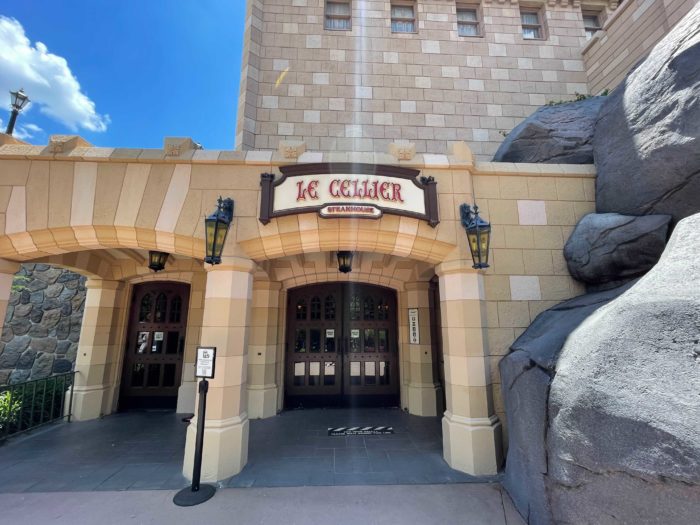 Currently serving lunch from 12:00 p.m. to 3:55 p.m. and dinner from 4:00 p.m. to 9:30 p.m., Le Cellier is dark, intimate, and designed to resemble a wine cellar with various sections intended to represent the various provinces of Canada.
But due to its small dining room and iconic dishes, reservations were difficult to get even before social distancing requirements limited the number of tables per restaurant.
If you're looking to dine here during your day at EPCOT, be sure to book a reservation at least 60 days out. But if you're already within that window, consider using the TouringPlans Reservation Finder.
During a recent visit to EPCOT, our in-park reporters Chrissy and Ivonne dropped by Le Cellier to see if it still lives up to the hype. (Spoiler Alert! It did.)
The Menu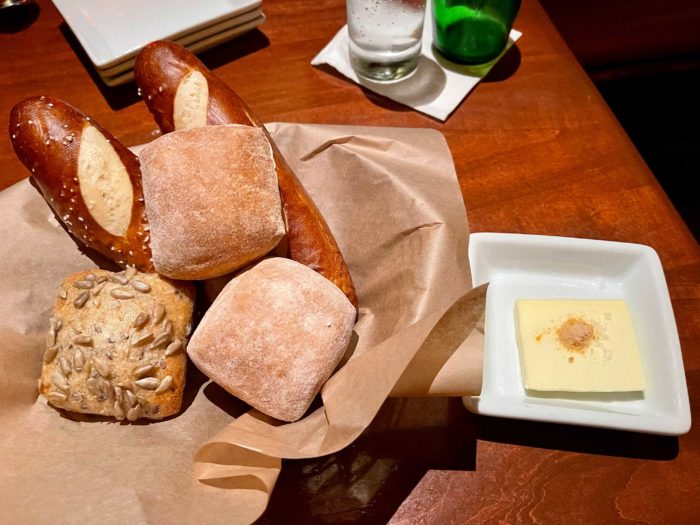 Free bread is always welcome, but Le Cellier's bread service is a combo of pretzel bread, ciabatta, and a sunflower seed roll along with butter topped with maple sugar. Zero complaints here, especially in regard to the pretzel bread.
The Drinks
Considering Le Cellier is a signature EPCOT restaurant with a dining room themed after a wine cellar, guests can expect an extensive list of wines and other alcoholic drinks.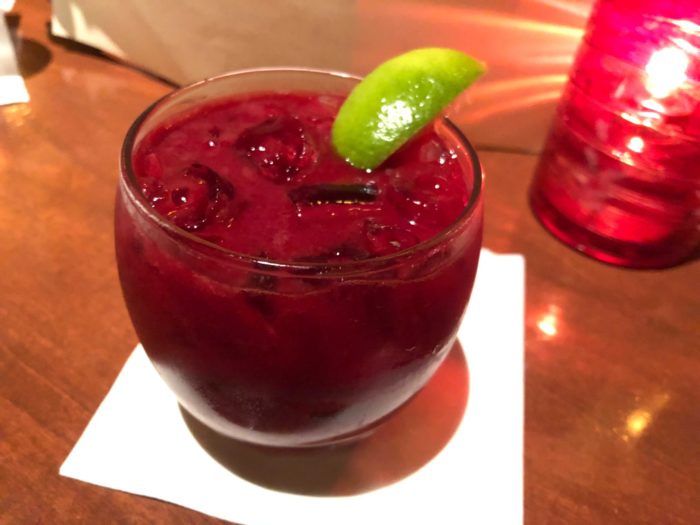 Ivonne tried the Victorian Raspberry cocktail. It was tart, but that's exactly what she was looking for. Plus, the raspberry purée gave it something a little extra as supposed to it just being juice, and the lime also gave it a nice sour flavor that complimented the raspberry.
The Appetizers
Le Cellier has an impressive selection of appetizers ranging from Prince Edward Island Mussels, a charcuterie plate, salads, plant-based meatballs, and more.
But the most famous is its cheddar cheese soup which, due to its cult following, is also served during EPCOT's Food and Wine Festival.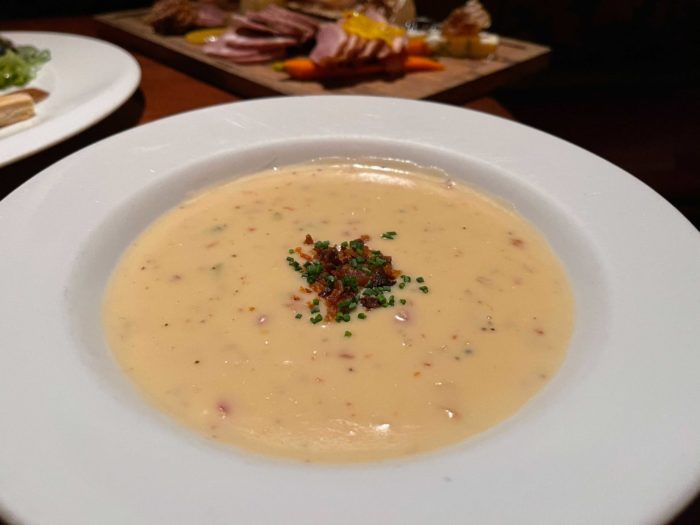 In Chrissy's words, Le Cellier's Canadian Cheddar cheese soup is smoky, salty, creamy, and totally worth the $13.00. It's made with Moosehead Pale Ale and Nueske's applewood-smoked bacon.
Chrissy claims she would be happy with the pretzel bread and cheddar cheese soup alone, and she's not wrong.
Next up was Le Cellier's Seasonal Salad for $15.00. The menu describes this option as local greens, candied walnuts, blueberries, sweet apple cider vinaigrette, and a Phyllo Crisp.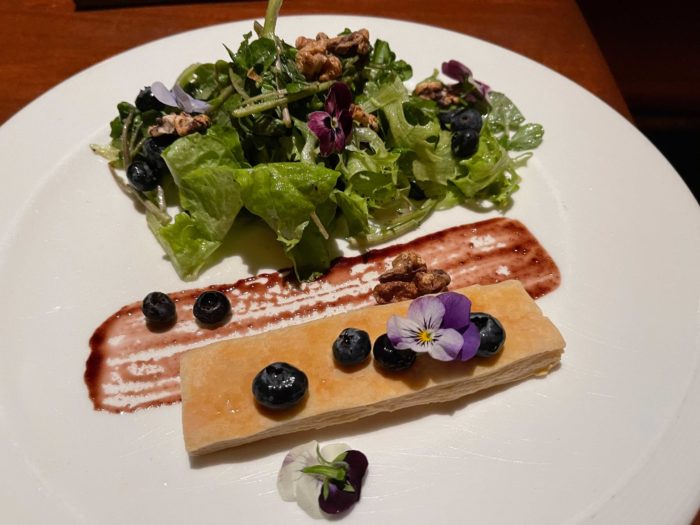 It was delicious (and gorgeous!) but not the star of this lineup. After all, one doesn't go to Le Cellier for beautifully dressed greens but rather that leather-booth-cigar-and-maple-brandy-sipping-while-Celine-Dion-covers-Frank-Sinatra feeling.
Now even though Le Cellier is a steakhouse, it also offers several plant-based options including their plant-based house-made Chorizo Meatballs for $18.00.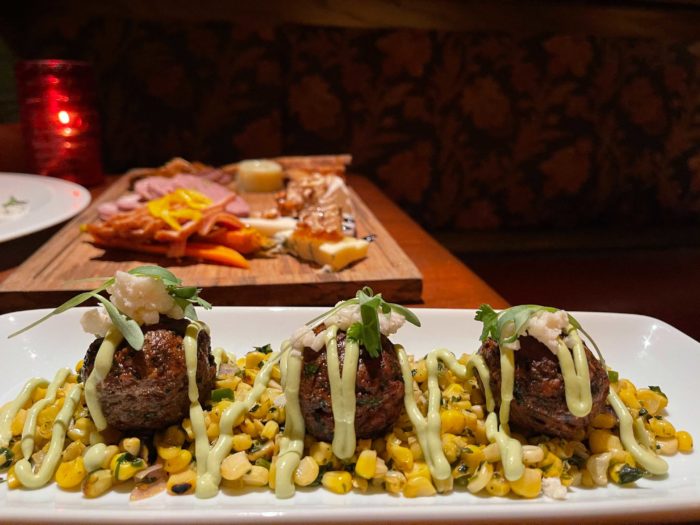 The meatballs are served with street corn, avocado crema, and "cheese" shreds, and it was definitely a decent serving and very good. However, for our carnivorous palettes, it just takes up too much room where the steak should be.
Last (but certainly not least!) of the appetizers was the Artisan Cheese and Charcuterie plate for $21.00.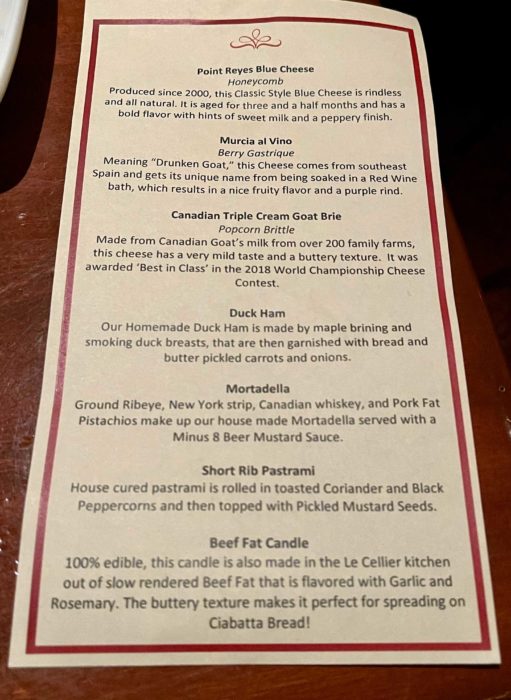 Listed as a selection of house-made charcuterie paired with Artisanal Canadian and French cheeses with seasonal accompaniments, Chrissy says everything on the board was delightful, especially the short rib pastrami. The duck ham was very smoky and different; however, you could still identify it as "ham."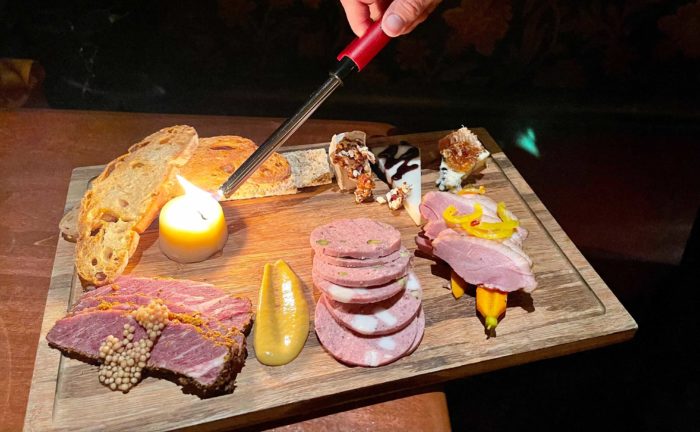 But the absolute star was definitely that beef fat candle. And yes, you read that correctly.
As this edible candle melts, you're supposed to use it as a spread. And while, it's a novelty, it's SO GOOD. Overall, this appetizer is so well executed and so on-brand for Le Cellier, and its Chrissy's new favorite charcuterie second only to that at EPCOT's Via Napoli.
The Entrees
Of course, we have to start off with the famous Le Cellier Filet Mignon!
Priced at $59.00, the filet is AAA Canadian Tenderloin topped with mushroom risotto, asparagus-tomato relish, and heavenly truffle-butter sauce.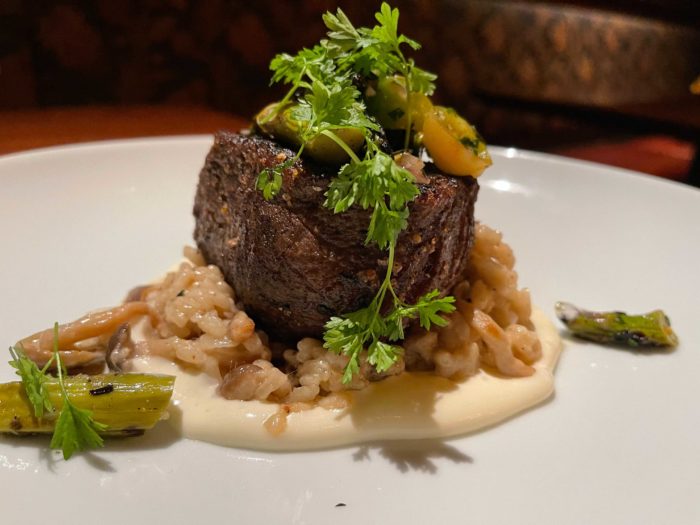 According to Chrissy, the filet was prepared perfectly with a beautiful char on the outside; and hey, if you're going to pay almost $60 for a steak, you want it to be perfectly cooked, seasoned, and memorable and this was 100% all of that.
For something totally different, she also tried the steamed Asian Impossible dumplings which looked like art but was also priced like art at an offensive $34.00.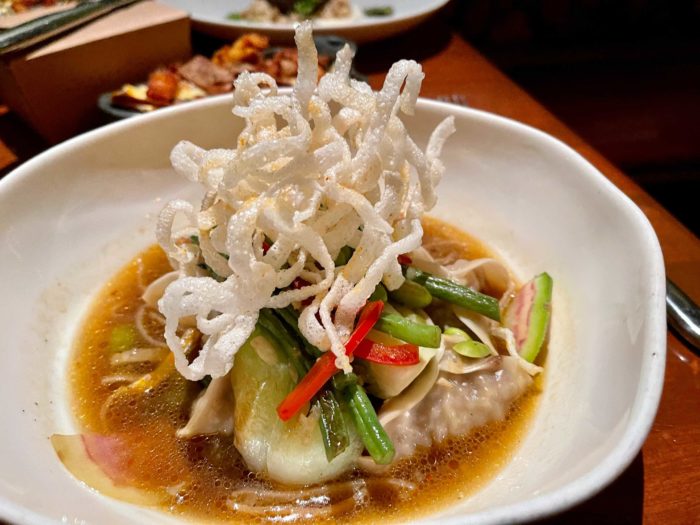 Described as Impossible Meat dumplings with bok choy, Chinese long beans, red papers, radish, and fragrant Asian broth, it kinda felt like they just needed to have an expensive entree for vegetarians.
The Sides
Le Cellier's menu also includes sides or "enhancements," if you will.
Chrissy tried the Canadian Cheddar Creamed Spinach for $10.00 which was a delightful blend of garlic, cheddar, heavy cream, and maybe the smallest pinch of nutmeg?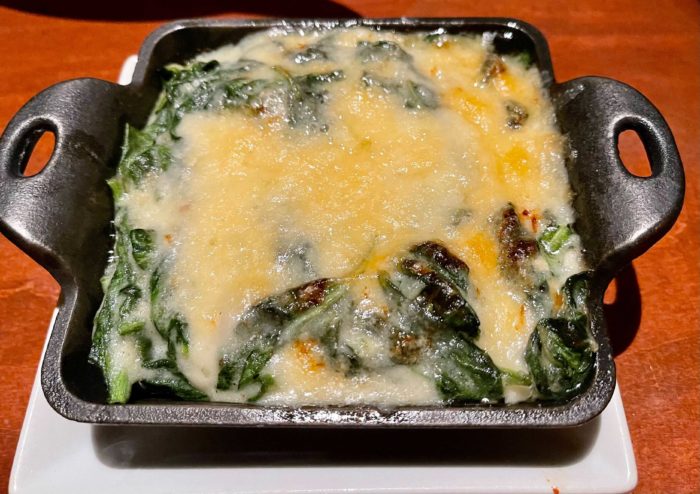 Basically, it's exactly as a pricey steakhouse side should be.
Naturally, the Five-Cheese Macaroni and Cheese was a must.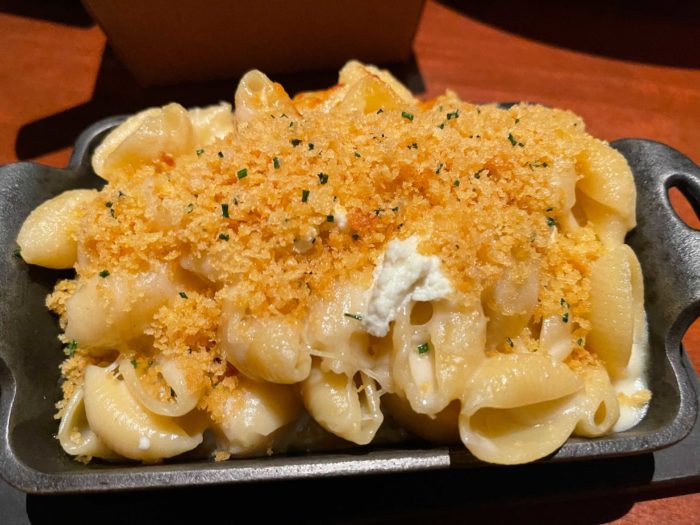 Even at
$11.00
, Chrissy claims she would fight a kid for this. It was that good.
The Loaded Boursin Mashed Potatoes priced at $10.00 was so much goodness. It was actually too much for even three people to split!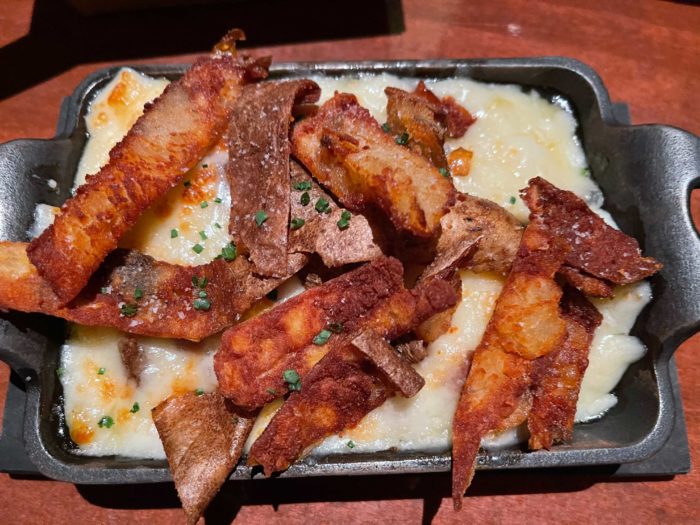 And since this is a Canadian-inspired restaurant, the Le Cellier Beef Bourguignon Poutine was in order.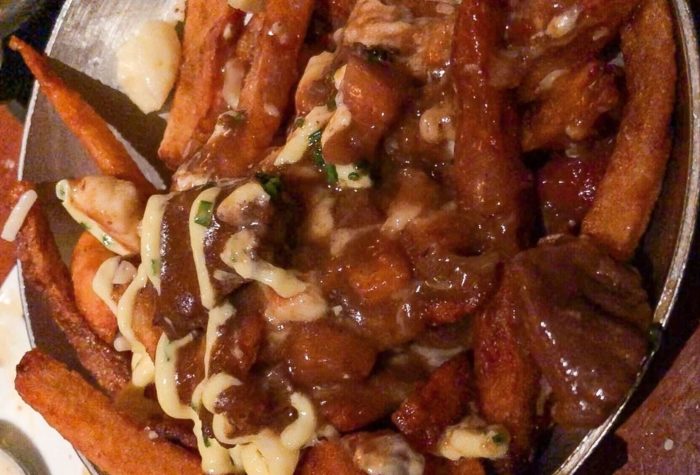 The menu described the $15.00 dish as fresh-cut French Fries, Gruyère, Beef Bourguignon Gravy, Garlic Aïoli, and truffle which Chrissy claims makes the poutine from the Refreshment Port look like a plate of sadness. The pieces of beef were a huge plus too by the way.
The Desserts
Le Cellier's signature dessert is its Maple Creme Brulee for $13.00 that comes with topped with a shortbread Maple Leaf cookie.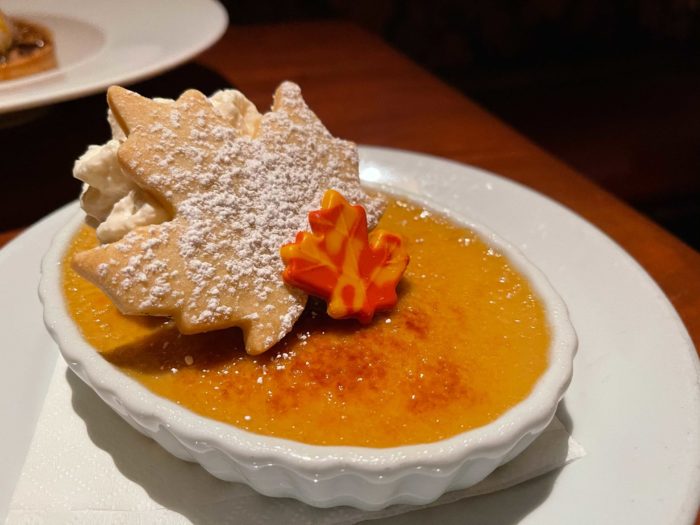 Ivonne ordered this classic as she loves Creme Brulee; but despite concerns that it would be too sweet, she found the maple flavors subtle and the custard deliciously creamy.
Chrissy went for the Warm Pecan-Brown Butter Tart priced at $14.00 which comes with maple ice cream, brown sugar anglaise, and whisky caramel.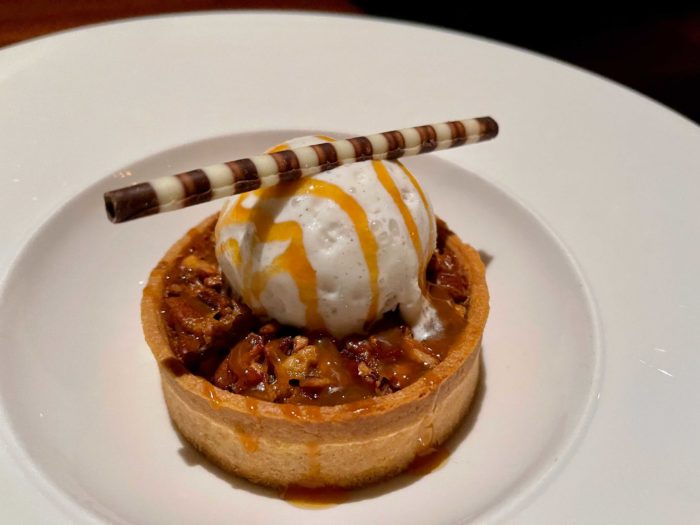 She described it as salty, sweet, and like the best pecan pie you've ever had coupled with whisky caramel flavors.
Now, the restaurant's Chocolate Caramel Bar must be discussed. I mean, just look at it!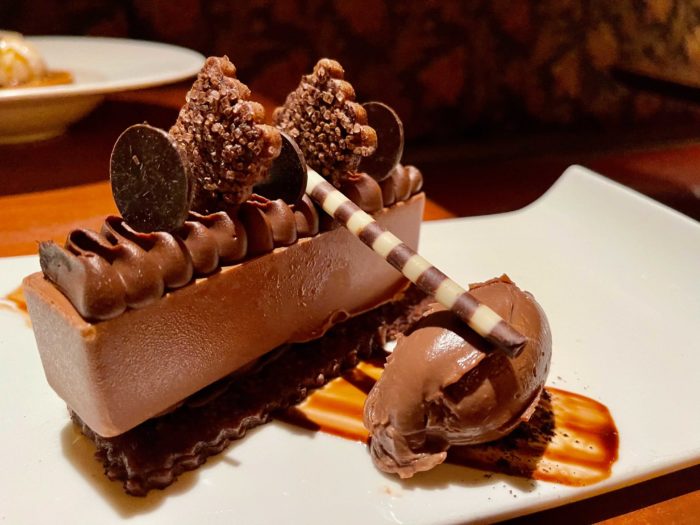 Despite its name sounding like a dessert for one, this $13.00 treat was just too much. While Chrissy says she doesn't share dessert (and more power to her), you could easily share this between four people. It was so rich and decadent!
Final Thoughts
Le Cellier prices are steep for even Disney, and the meal takes a long time (theirs took 2 hours!), but it still offers a truly wonderful experience.
Apart from the pretty but overpriced vegetarian options, the menu is thoughtful and special. So if you choose to visit, go for the items everyone talks about. There's a reason for why they do.
Are you a fan of EPCOT's Le Cellier Steakhouse? Let us know in the comments!