Review: Disneyland Resort's Best Halloween Food 2019
It's Halloween time at Disneyland Resort. If the spooky decorations and fall colors at  Disneyland and Disney California Adventure aren't enough for you, there's also a scary amount of food to try during this year's Halloween season. In this post we'll share our thoughts on some of Disneyland Resort's best Halloween food.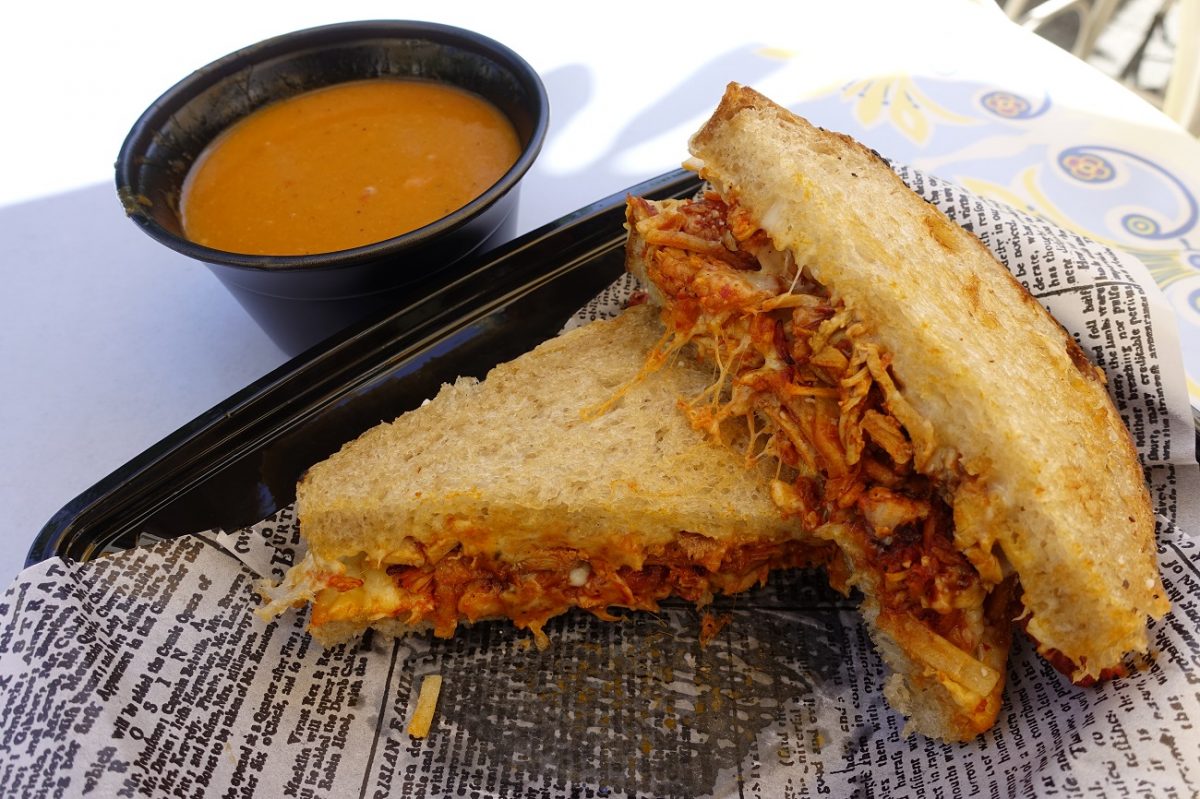 Toasted Salsa Roja Chicken Sandwich Combo – Jolly Holiday Bakery
With all the great desserts available during Halloween time, it's easy to overlook the savory options. New for this year is the Toasted Salsa Roja Chicken Sandwich (Salsa roja shredded chicken on rustic bread with Jack and cotija cheeses), which ended up being my favorite of the new Halloween food options. The chicken is succulent and flavorful, and tortilla strips mixed in add a very satisfying crunch. The included tortilla soup is also quite good.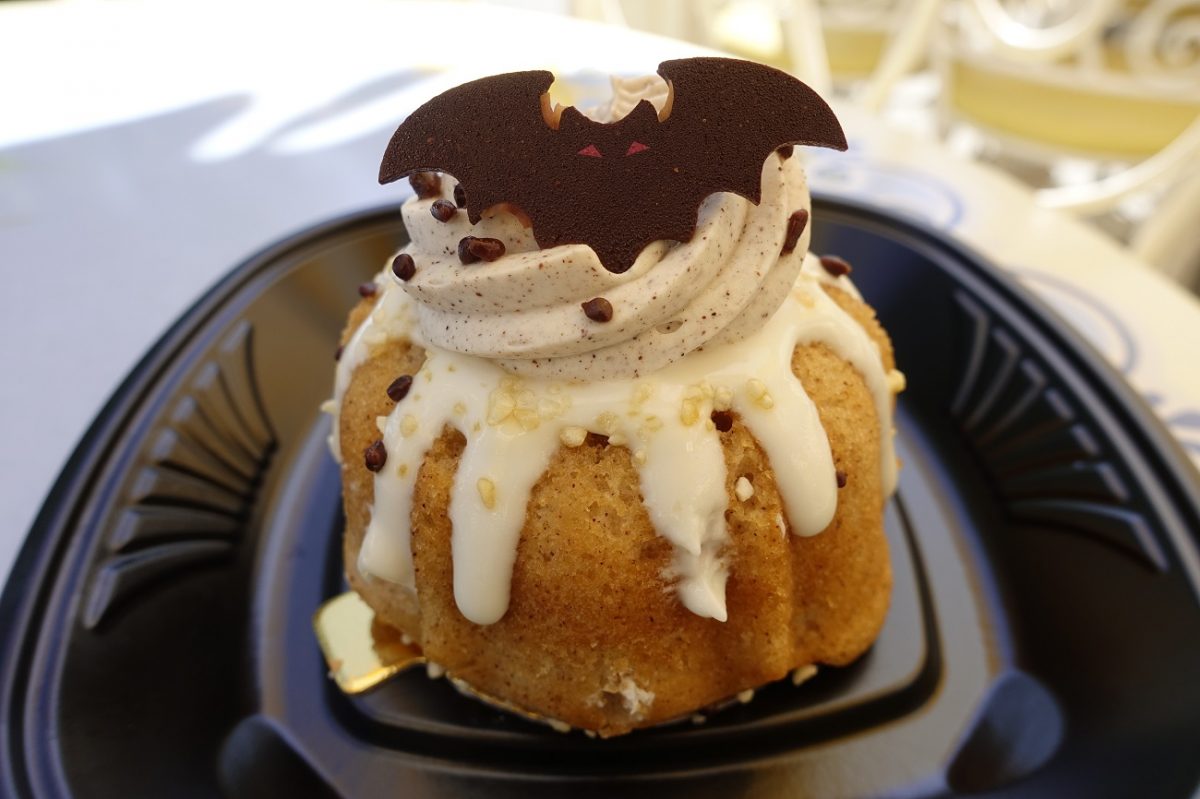 Spiced Bundt Cake – Jolly Holiday Bakery
Everyone loves bundt cake, but how do you make it better? You put a spooky little bat on the top, that's how.
Before we move on, we recently posted a video of our favorite Disneyland Halloween food as well: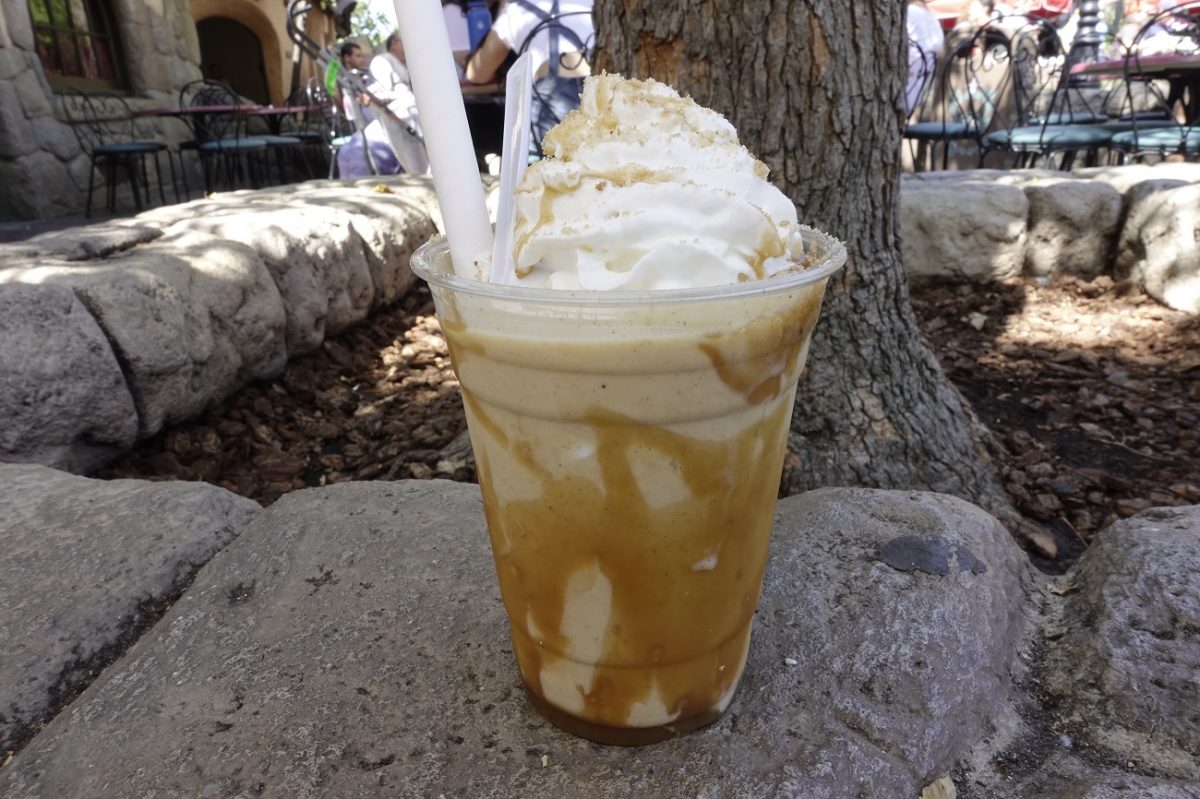 Pumpkin Spice Shake – Red Rose Taverne
I find a good pumpkin spice shake to be almost irresistible, and this one from Red Rose Taverne did not disappoint. The description says the shake is a "a blend of white chocolate and pumpkin spice with salted caramel," but I didn't notice a white chocolate taste at all. Overall the Pumpkin Spice Shake was tasty, but very heavy. Get an extra cup and split it with a friend, loved one, or stranger.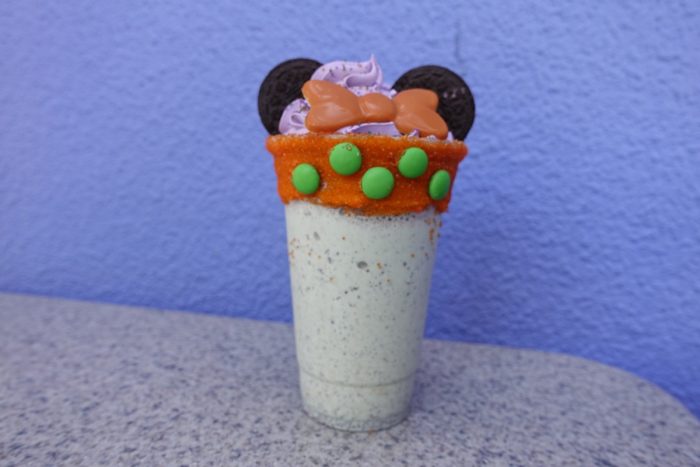 Minnie Witch Shake – Schmoozies
This may look like a normal cookies & cream shake with some junk sitting on top, but…. okay that's exactly what it is. Aesthetics and high cost aside ($8?!?), this is a damn good shake. You can tell this isn't some pre-mixed concoction like they have at Flo's V8 Cafe (who's shakes taste suspiciously like McDonald's), the Minnie Witch Shake uses real ice cream and tastes great.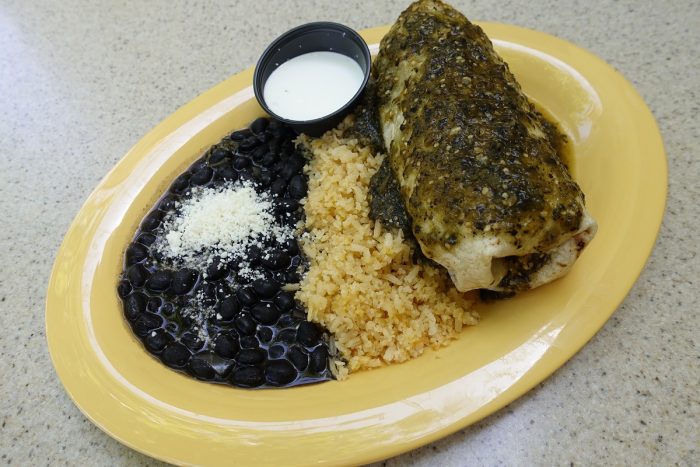 Pollo Verde Wet Burrito – Paradise Garden Grill 
It's surprising that a theme park burrito would stand out in a region where delicious Mexican food can be found on almost every corner, but the Pollo Verde Wet Burrito holds was delicious. Inside you'll find chicken cooked in grilled salsa verde, golden rice, and served with rice and black beans on the side. Thanks to its size you get a good bang for your buck with this entree.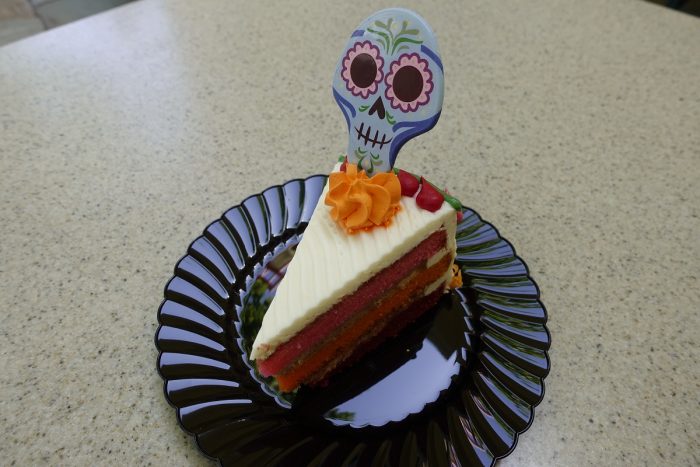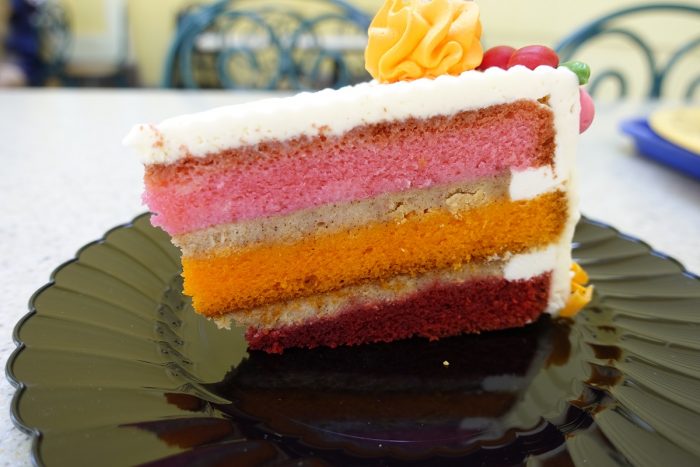 Coco Cake – Paradise Garden Grill
The Coco Cake has layers of vanilla cake filled with cinnamon churro mousse and sweet cream cheese frosting. First of all just look at how beautiful that cake is. Second, the taste is fantastic.  This should be high on your list of Halloween foods if you're a fan of cake and/or churros.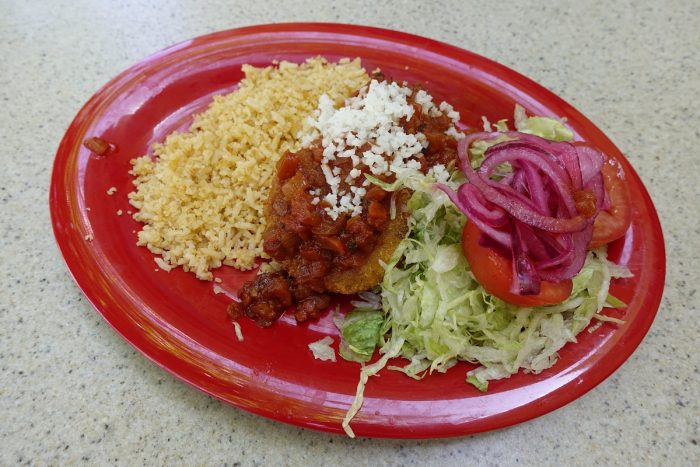 Tortitas de Papa – Paradise Garden Grill
Another winner from Paradise Garden Grill. These vegan crispy potato cakes are filled with sautéed spinach, and served with ranchero salsa, golden rice and pickled onion salad. The salsa has a nice spice to it and the the potato cakes were delightfully crispy.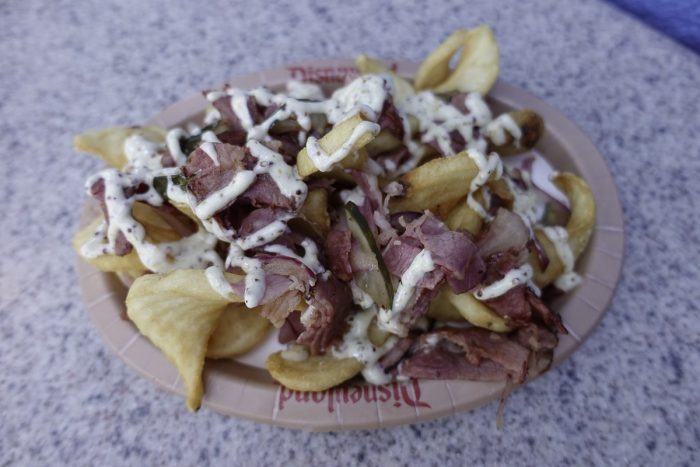 Rest in Peace-Strami Fries – Award Wieners 
A+++ for the name alone. Luckily these were also as good as the name. Award Wieners "Filmstrip fries" come topped with pastrami, caramelized onions, pickles and mustard sauce. This dish is probably one of the best side entrees in the entire park.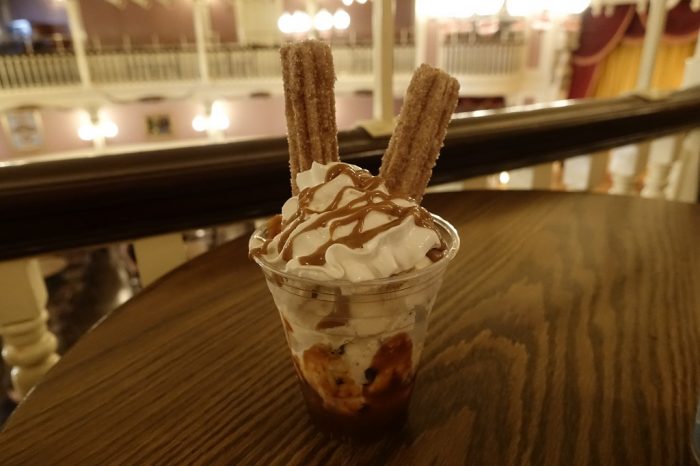 Churro Sundae – Golden Horseshoe 
This item is one of the many returning favorites from last year. The name "Churro Sundae" makes this item sound so inconspicuous that I almost skipped it thinking it would be another simple and unexciting ice cream sundae. But wow, am I glad I tried it. The sundae includes cookie butter gelato, a cinnamon churro, and is topped with cajeta and whipped cream. The cookie butter gelato is heavenly, and getting a spoonful of it with the cajeta (caramel sauce), and a bite of churro almost sent me off this planet. Incredible. A must try.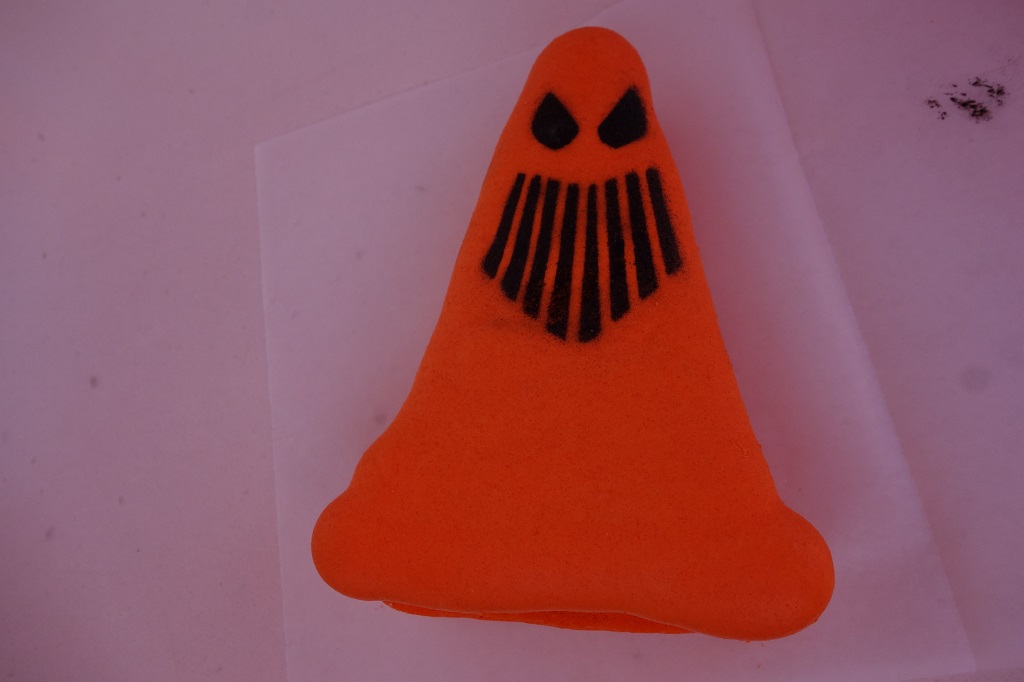 Spoke-y Cone Macaron – Cozy Cone Motel
Candy corn buttercream filling? Bright orange macaron shell? Spooky face? This dessert has it all.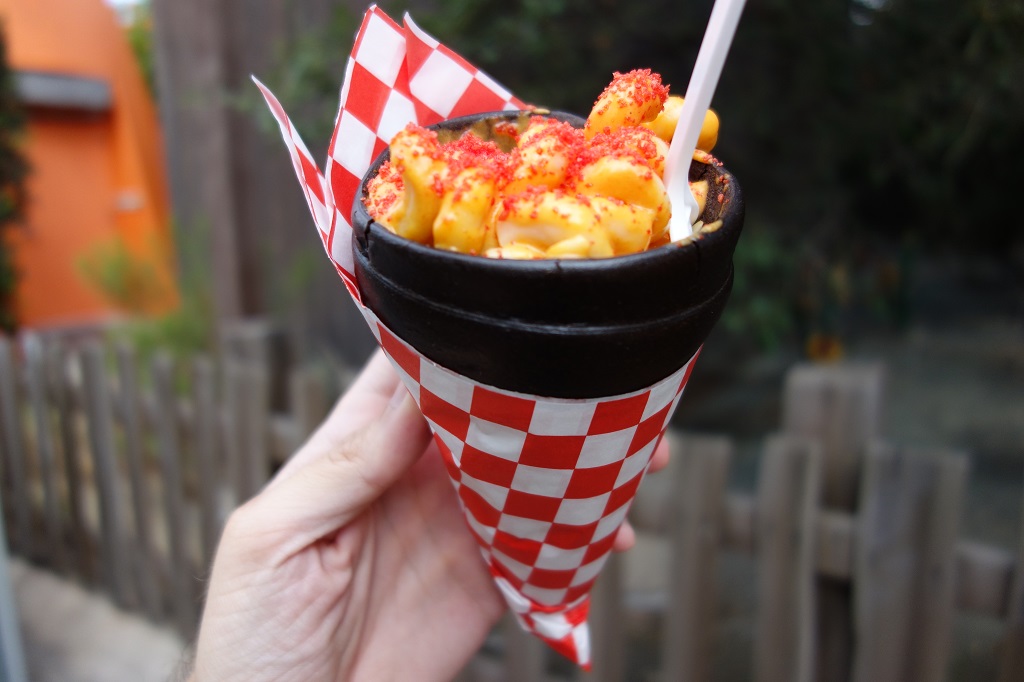 Slow Burnin' Mac & Cheese Cone from Cozy Cone Motel
This shouldn't be as good as it is. The mac & cheese is of the usual mass produced theme park variety, but it somehow all works when mixed with the cone and Flamin' Hot Cheetos. Its visuals take it a long way and I think it's perfect for the season. The neon orange mac & cheese, the vibrantly red crushed Flamin' Hot Cheetos, and the black-as-my-soul bread cone makes me feel like I'm eating Halloween.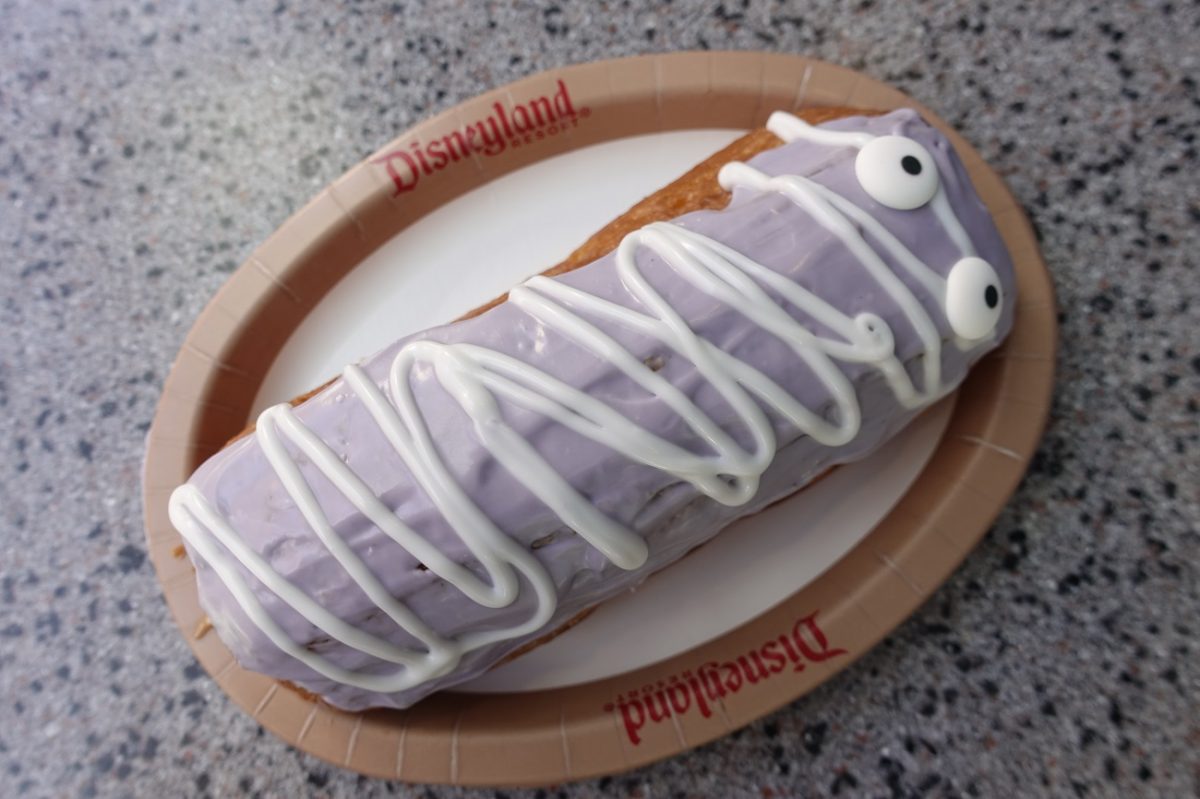 Mummy Donut – Schmoozies
You can't tell from the picture but the Mummy Donut is huge. I didn't have any measuring tape handy but it was easily over a foot long. It's also heavy thanks to it bursting at the seams with peanut butter and jelly.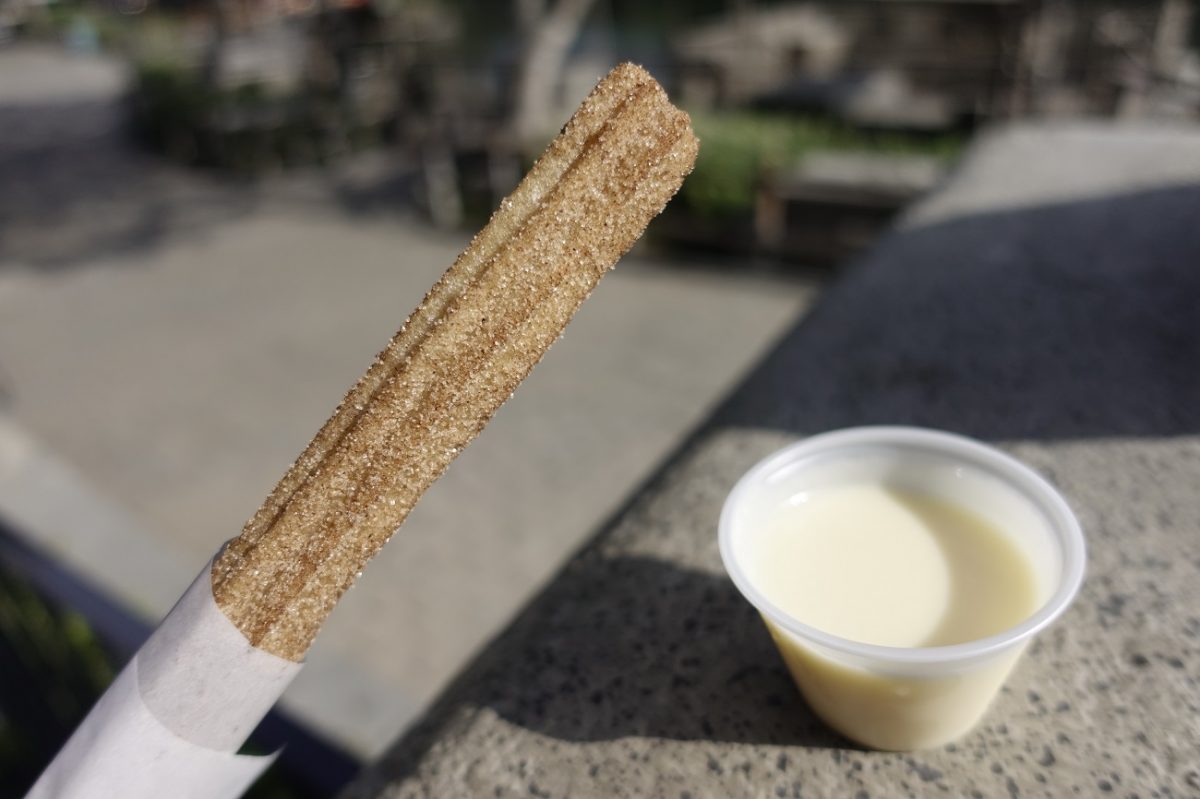 Assorted Churros – Around Disneyland and Disney California Adventure
For Halloween 2019 there are 10 different kinds of churros available in both parks, including a Maleficent Churro covered with chocolate cookie crumbles and colored sugar with marshmallow dipping sauce, bride and groom Haunted Mansion-themed churros (one is covered in white vanilla powder, while the other is covered with chocolate powder), a S'mores Churro rolled in graham cracker crumbs topped with chocolate chips and a marshmallow drizzle, and many more. Pictured here is the pumpkin spice churro, which wasn't as intensely pumpkin-flavored as I wanted, but was still good.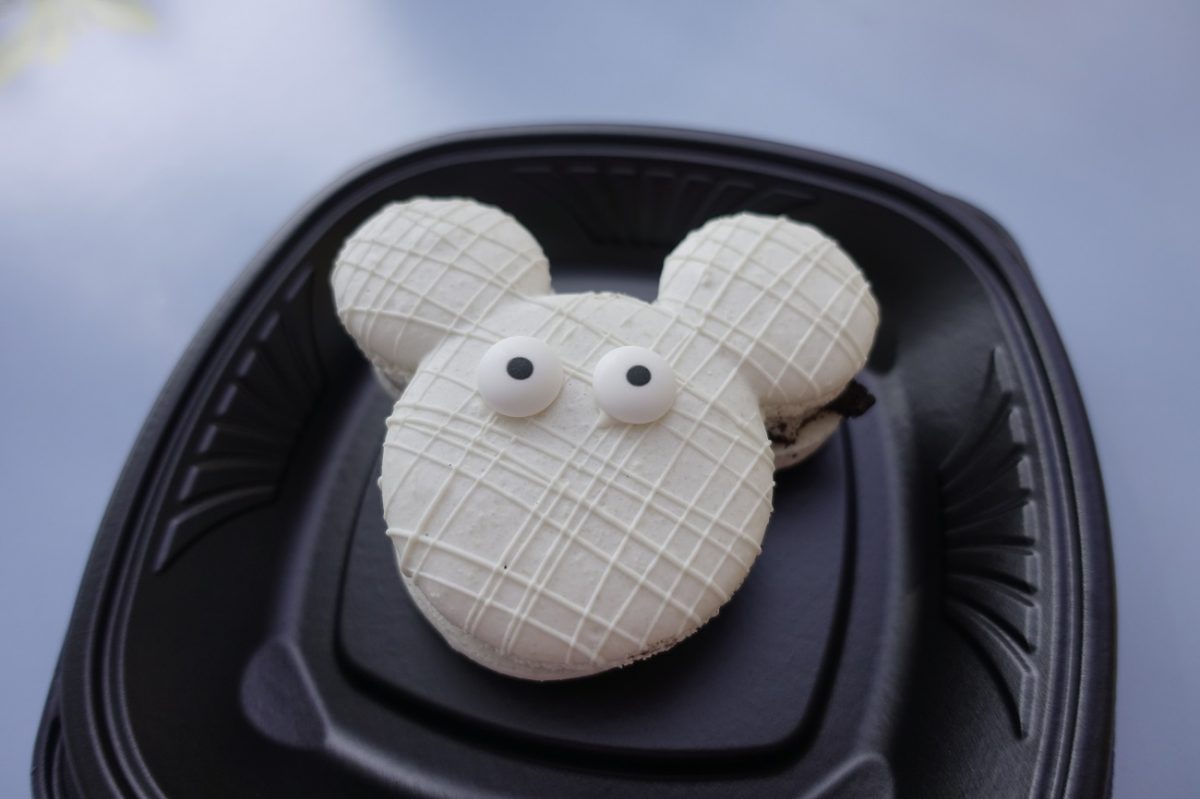 Mickey Mummy Macaron – Jolly Holiday Bakery
The outside is nice and flaky as you would expect, while the middle layer is made up of cookies & cream frosting. This item is extremely sweet. My favorite part about this macaron are those piercing and emotionless eyeballs.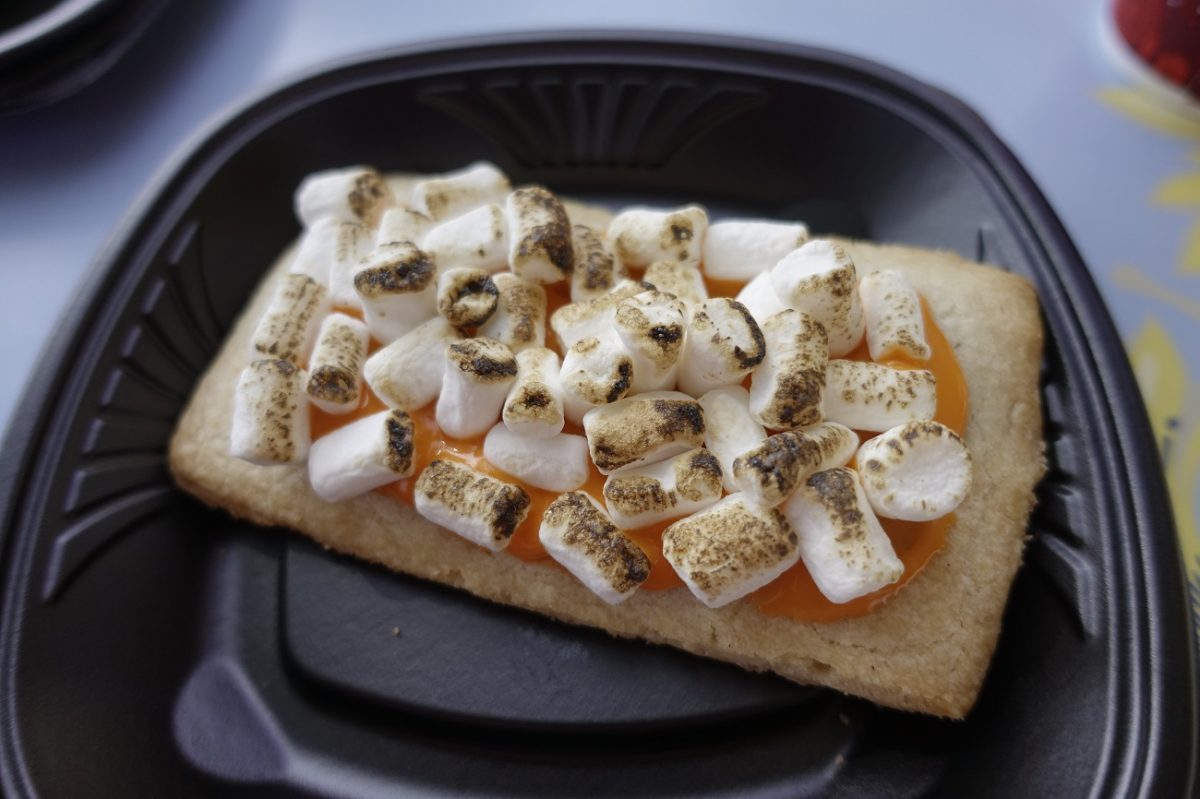 Sweet Potato Hand Pie – Jolly Holiday Bakery
This one really sneaked up on me. My first couple of bites were of just the "pie" shell, which didn't contain much flavor. I was ready to give up but then I hit the glorious sweet potato filling. Aesthetically, I appreciate that the Hand Pie looks more "Fall" than "Halloween." I may be crazy, but the visual of the roasted marshmallows give me a calm campfire feeling.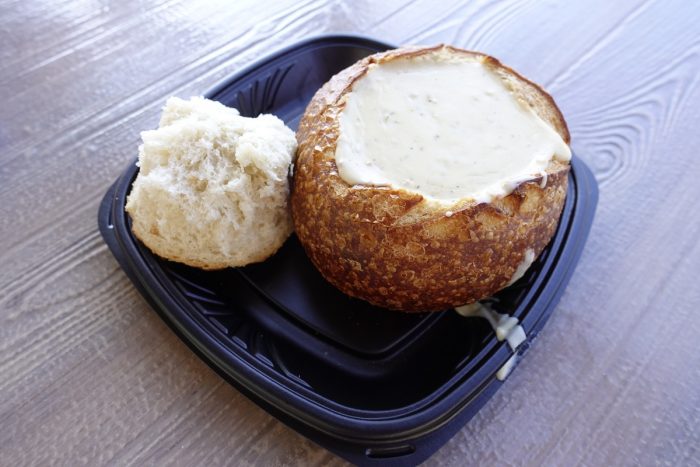 Bacon Cheddar Ale Soup – Pacific Wharf Café
You can't go wrong with any of the bread bowls at Pacific Wharf, and this one is no exception. The Bacon Cheddar Ale soup was thick and hearty, and we can't wait to eat this dish again during some pleasant autumn evenings at DCA.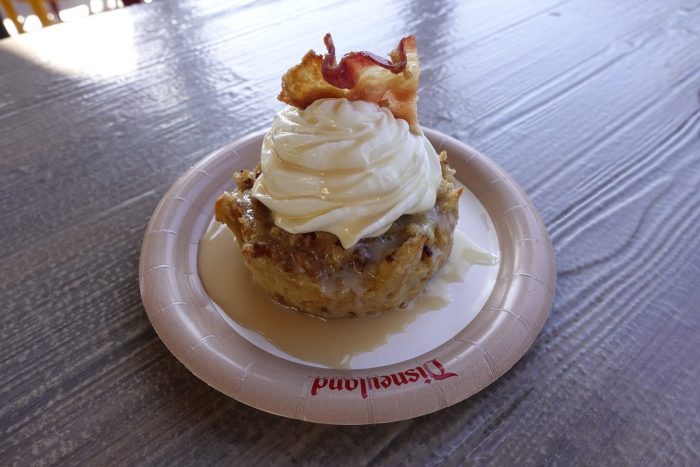 Maple-Bacon Bread Pudding – Pacific Wharf Café
I've heard the best thing to pair with bacon is MORE bacon. Thankfully the Maple-Bacon Bread Pudding is now available to go with your Bacon Cheddar Ale Soup. Here you've got bread pudding topped with whipped cream, maple glaze and candied bacon. It's a delicious combination.
There's a ton more items to try during this Halloween season so we'll be sure to update this post in a few weeks. Let us know what your favorite Disneyland Halloween food is and also tell us what you're looking forward to trying.