SATURDAY SIX: 6 Reasons We Love GIVE KIDS THE WORLD's "Night of a Million Lights"
This week's SATURDAY SIX takes a look at Give Kids The World's NIGHT OF A MILLION LIGHTS! For theme park fans, the Christmas season has always been something to look forward to every year. At the Disney hotels there were elaborate gingerbread houses, while at Universal there was the Grinchmas Who-liday Spectacular, one of the best stage shows of any park. Unfortunately, because of the "unprecedented times" we are currently in, much of what we have grown to love over the years (including the Candlelight Processional, Mickey's Very Merry Christmas Party, and the annual Mannheim Steamroller concerts at Universal) aren't taking place this year. It's a tough pill to swallow, and one we've unfortunately had practice with when Disney got rid of the Osborne Family Spectacle of Dancing Lights several years ago to make way for Star Wars: Galaxy's Edge.
For me personally, the Osborne Lights at DHS were one of my favorite things at Disney or Universal. I looked forward to seeing them every year more than experiencing any ride or show. Being enveloped in a sea of lights, with Christmas music playing in the background and a ton of Easter Eggs to look for was simply magical, and something I couldn't experience anywhere else. When the Streets of America were removed from DHS, and along with them the Osborne Spectacular, it was a painful loss for me because there was nothing quite like that experience anywhere….until now.
# 6 – Give Kids The World
Give Kids The World Village – located in Kissimmee, Florida – is a nonprofit resort dedicated solely to help fulfill the wish of critically ill children from around the world that want to visit Florida. Covering the entire cost of the trip, GKTW has the children and their families stay in its elaborate and whimsically designed 89 acre resort that is staffed by thousands of volunteers. The selfless work that GKTW does is extraordinary, and while the village isn't currently hosting any families due to COVID, they still need donations to make sure they can operate for the sick children and their families once things get anywhere close back to "normal." Over 4,000 wishes (and counting) were lost due to the pandemic, so GTKW wants to be bigger and better than ever once they can safely reopen.
This year GKTW has Night of a Million Lights, which allows guests to opportunity to walk the village and see it decorated with over three million lights! Back to Disney Hollywood Studios for a moment; before the Osborne Lights were part of the Spectacle in the Streets of America, they were part of the studio backlot experience and decorated houses on Residential Street. The setup at GKTW Village is more akin to the original version of Osborne Lights at Disney, except even more elaborate and dazzling!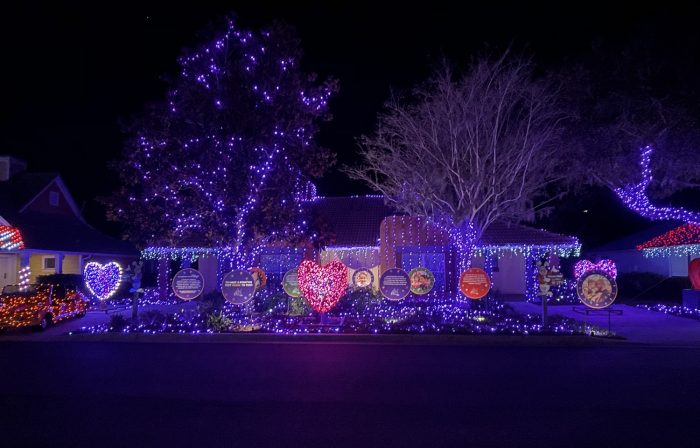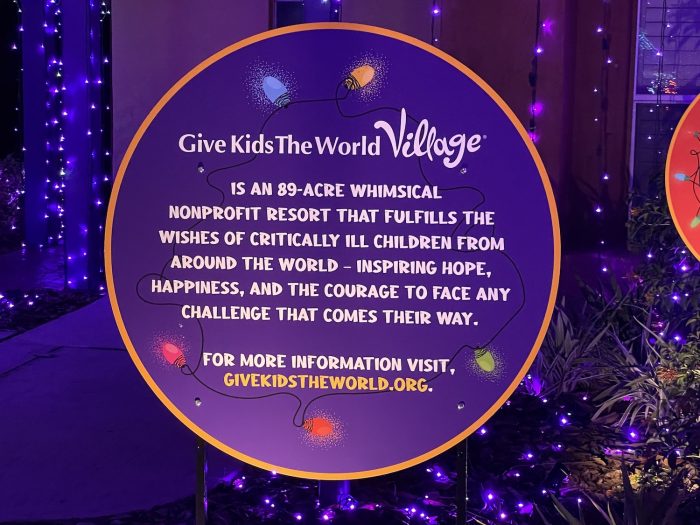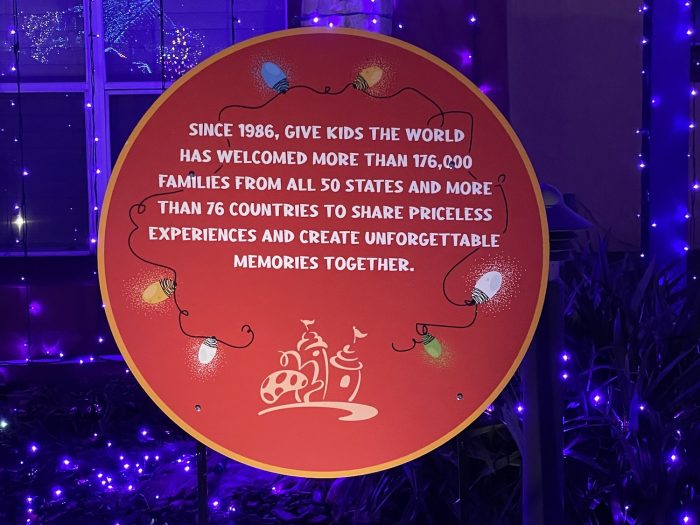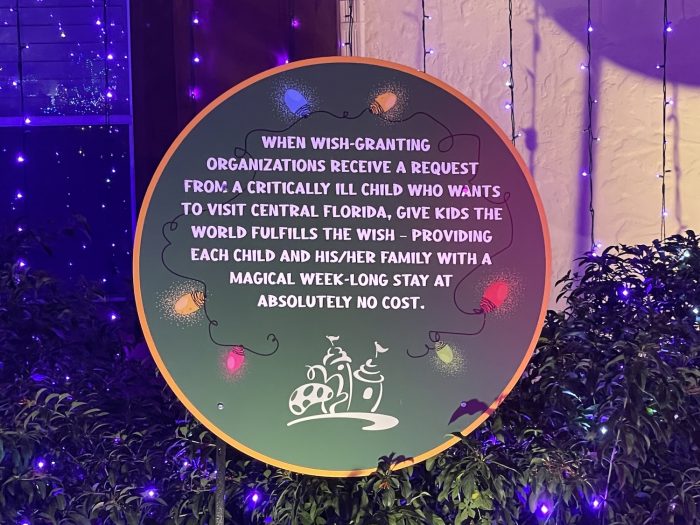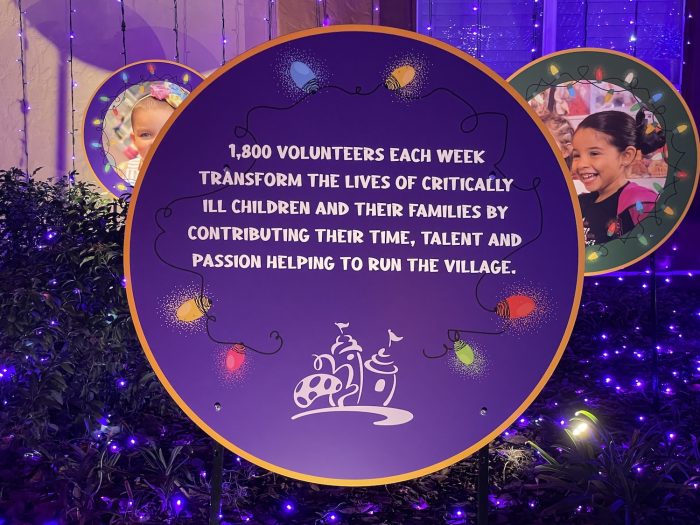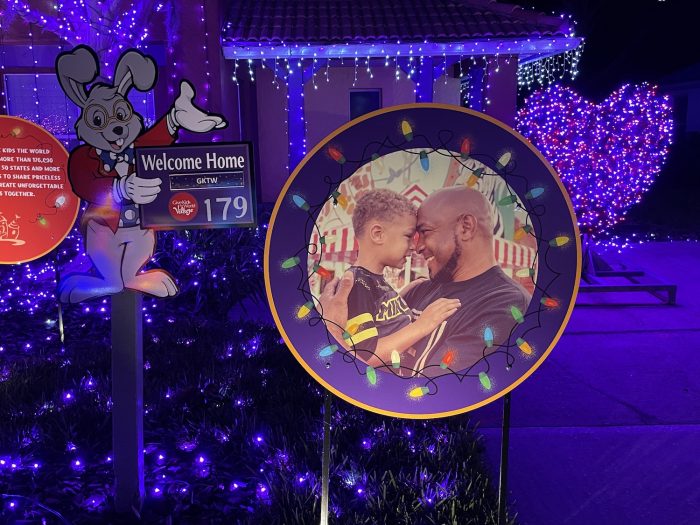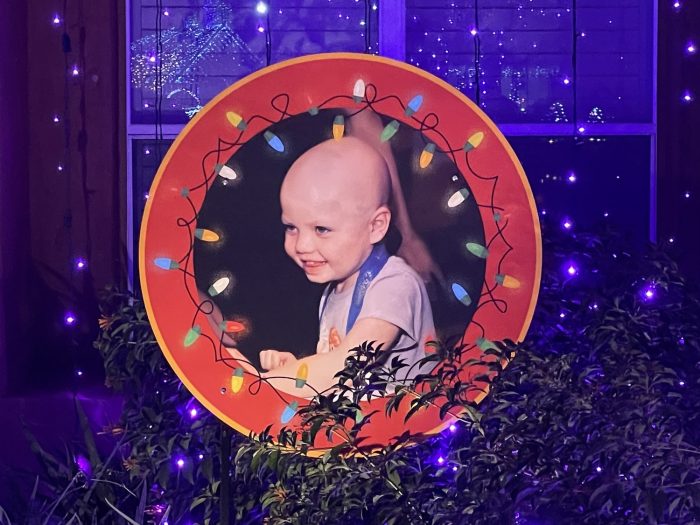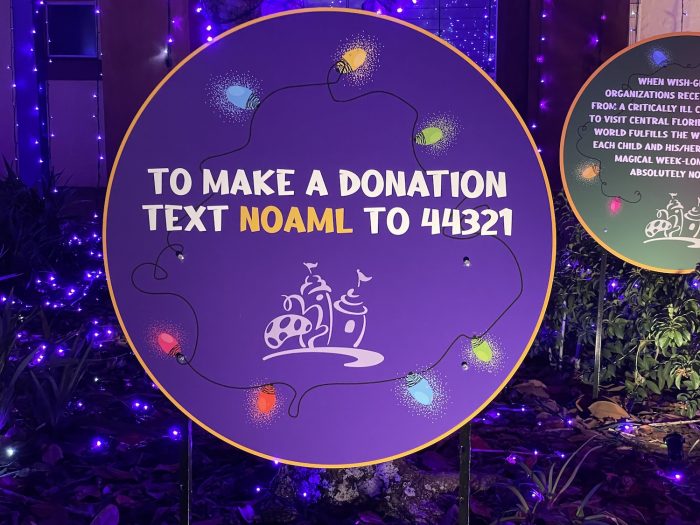 Okay, let's check out the event. Keep in mind that this is the first time in the history of the village (outside of other charity related events) that guests are allowed to walk the grounds and see the wonderful world that they have created.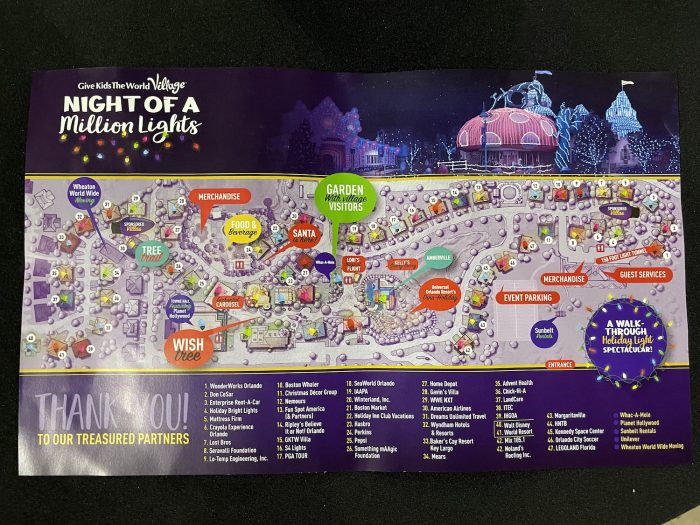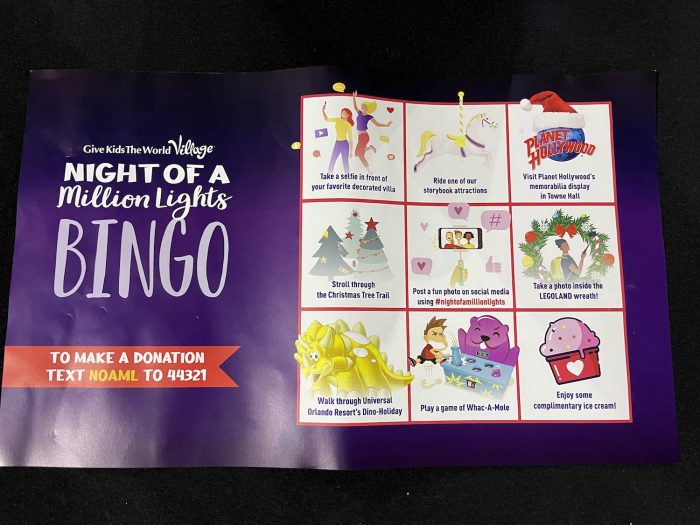 # 5 – The Rides
GKTW Village has several themed rides available for families staying at the resort, and the attractions have been fully decorated and available to guests experiencing Night of a Million Lights. There is no extra charge to ride these attractions, and they are the family-friendly rides you would find at places like LEGOLAND Florida or SeaWorld's Sesame Street area.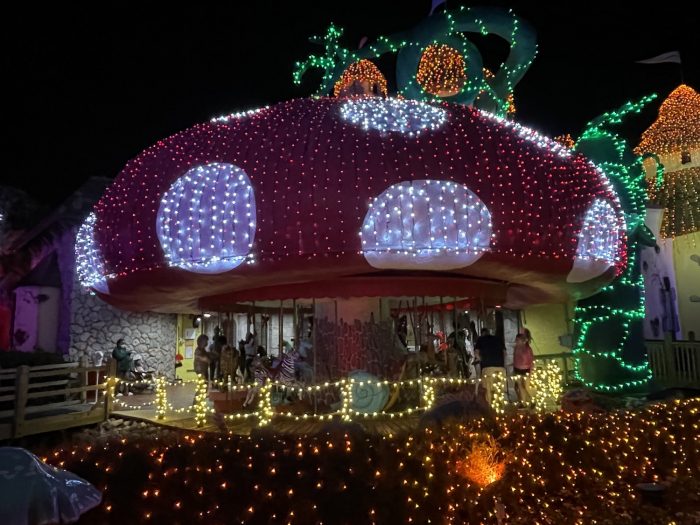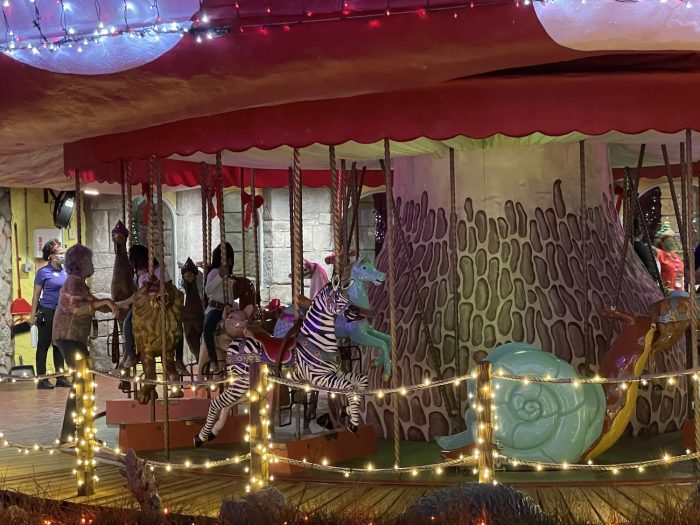 Near the Enchanted Carousel you'll find some trees donated by Walt Disney World that many of us have seen before in Disney Springs as part of their annual Christmas Tree Trail.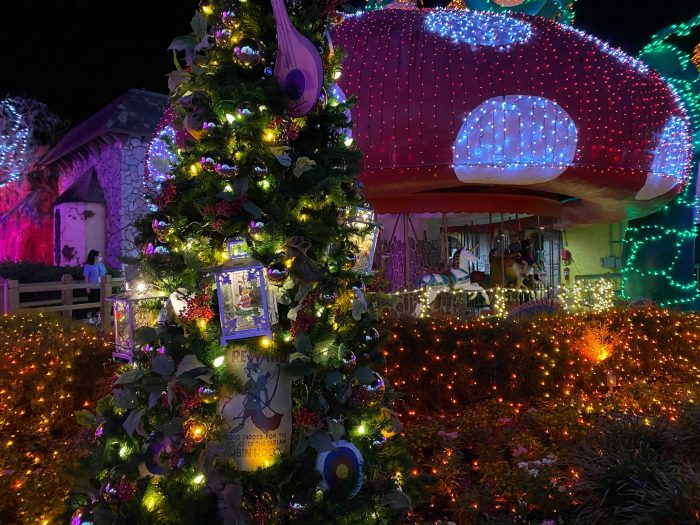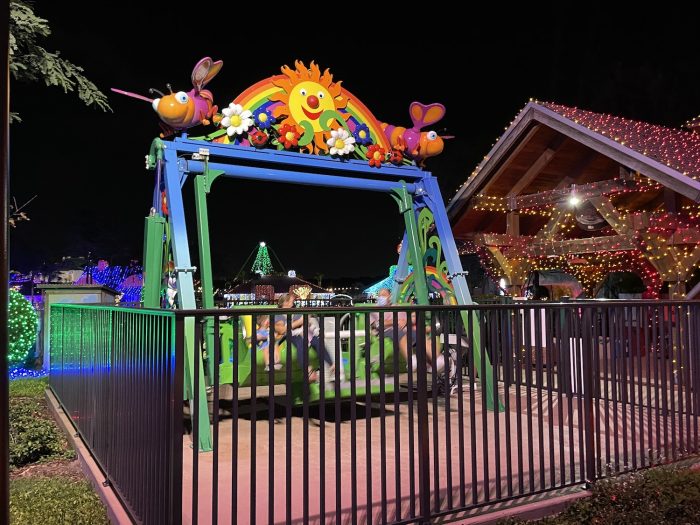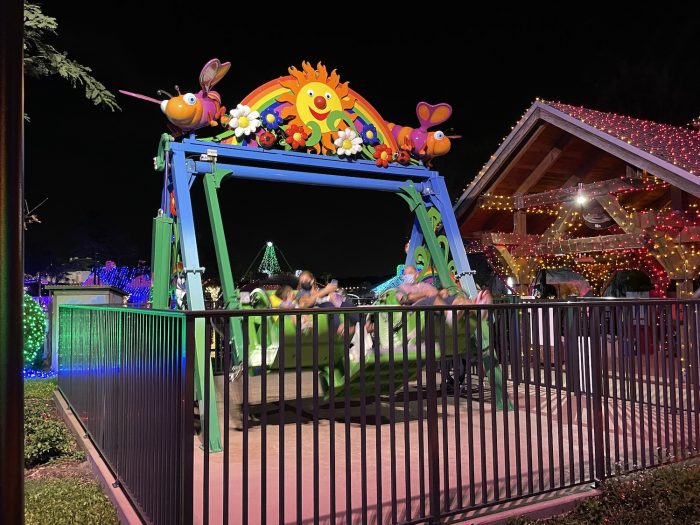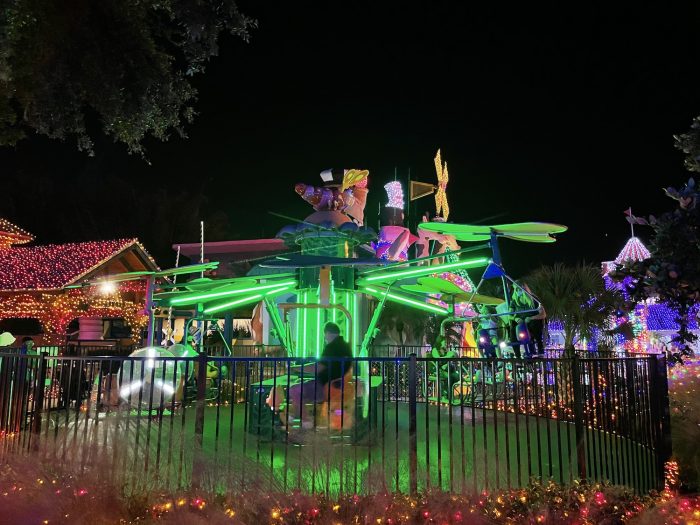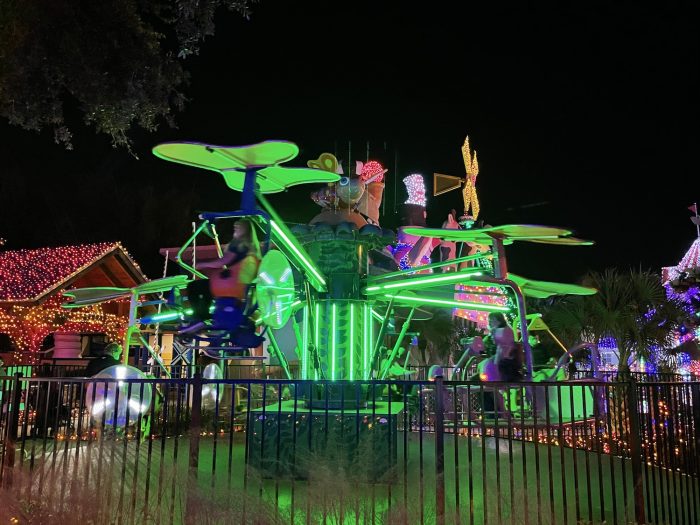 # 4 – Planet Hollywood Christmas Movie Exhibit
If you're like me, Christmas movies are as big a part of your holiday season as the Christmas tree, gingerbread cookies, and Bing Crosby singing "White Christmas." Planet Hollywood has sponsored an exhibit which features film-used props from several well known Christmas movies.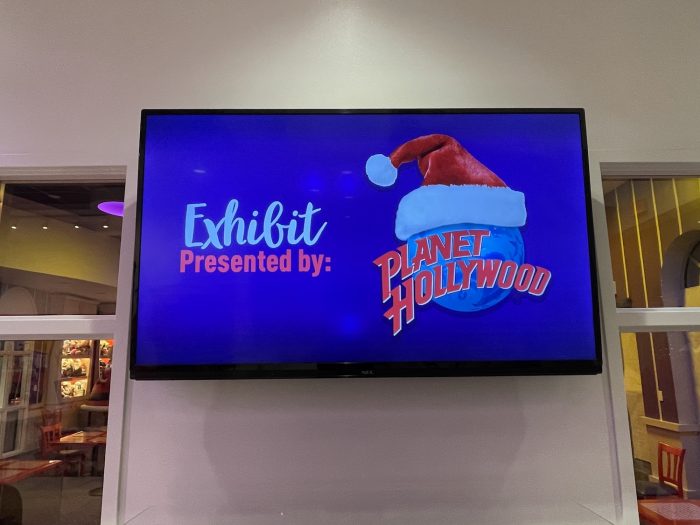 We watch Arnold Schwarzeneggar's Jingle All The Way every year as a guilty pleasure, and there are several props from this film at the exhibit. First up is a Santa hat that is accompanied by some of the Turbo man action figures there were released to consumers when the film came out.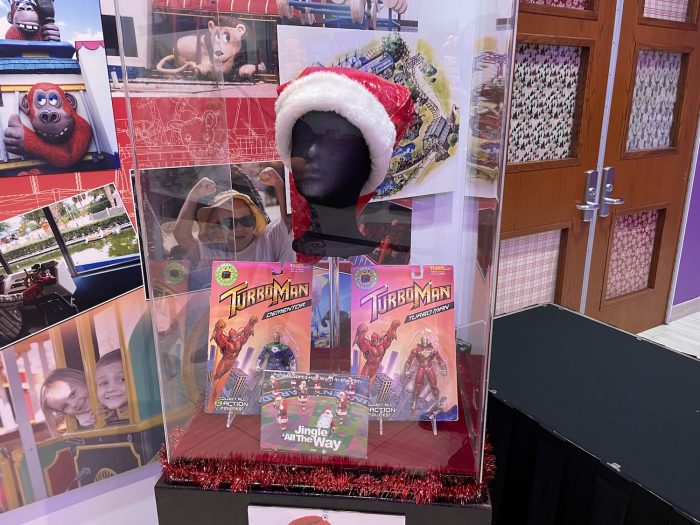 This mask was worn by one of the members of the Demon Team who attack Turbo Man in Jingle All the Way.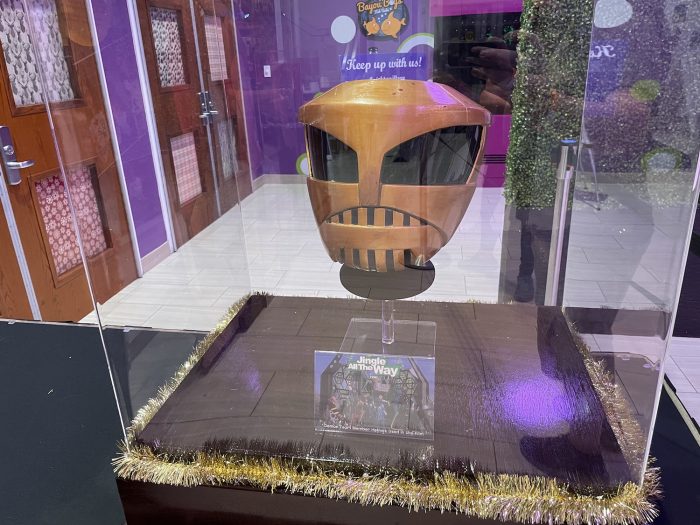 Bill Murray's Scrooged is one of my favorite versions of A Christmas Carol, as I will never not laugh at the trailer for Bob Goulet's Old Fashioned Cajun Christmas. The prop for this movie is the taxi cab operator's license for The Ghost of Christmas Past.
You have anything related to either of the first two Home Alone films and I'm in. Watch both every single year.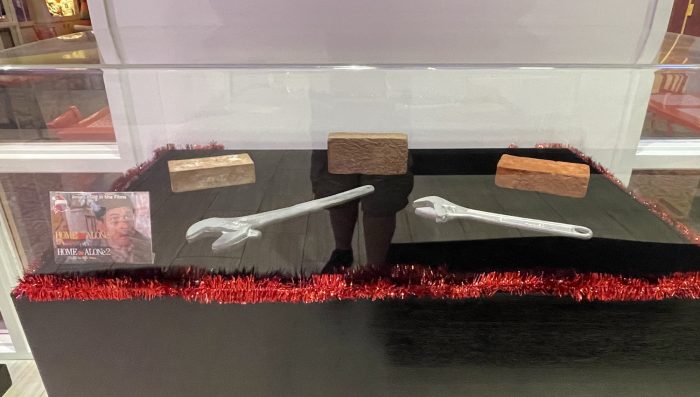 This Santa suit is from the original Miracle on 34th Street, which is in my Christmas movie Hall of Fame.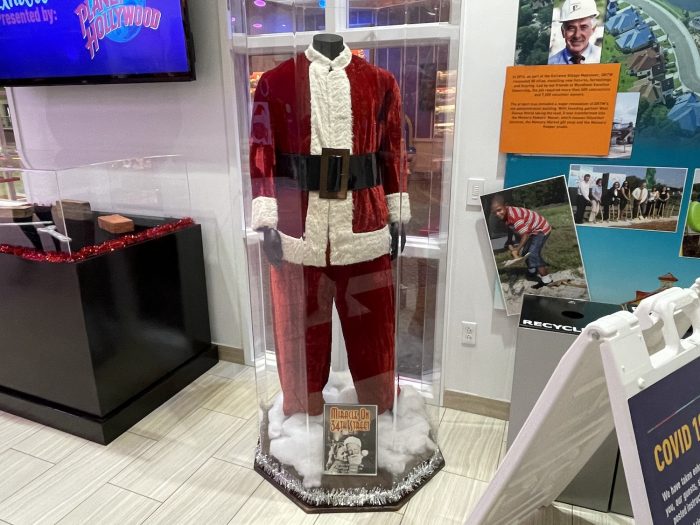 This sled was used in the film Jack Frost, which is so bonkers that it must be seen. In the film, Michael Keaton plays a father who comes back to life as a snowman. Yes, a snowman. Even better? The snowman was made when George Clooney was originally slated to play the father and the film didn't change it's look when Keaton got the role instead. If we did a Turkey of the Year Awards for Hollywood instead of theme parks, that would have been a clear winner.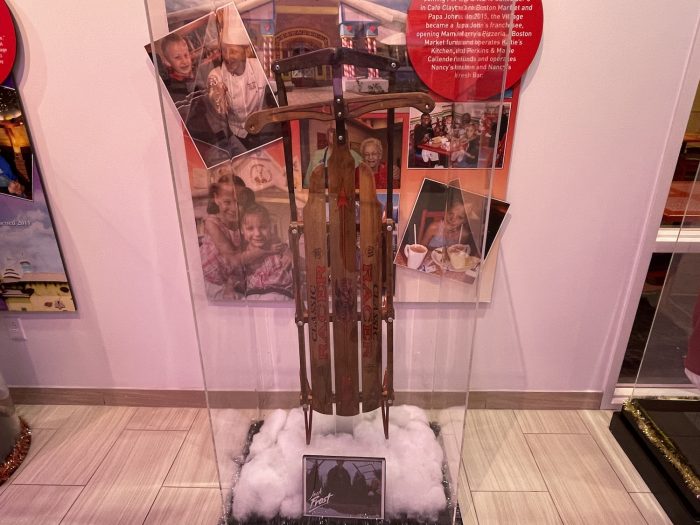 This prop comes from a movie called The Preacher's Wife, which I haven't seen but stars Denzel Washington, Whitney Houston, and Courtney B Vance, so I'm definitely going to check it out now.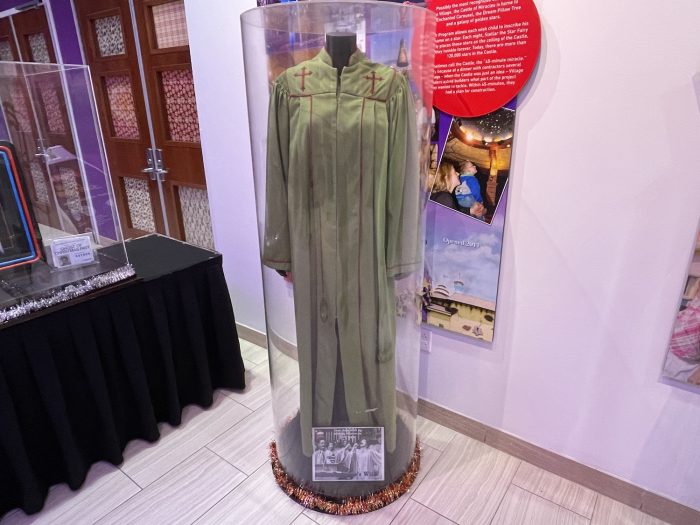 Love the show 30 Rock. LOVE the character Jack Donaghy who wore this sweater.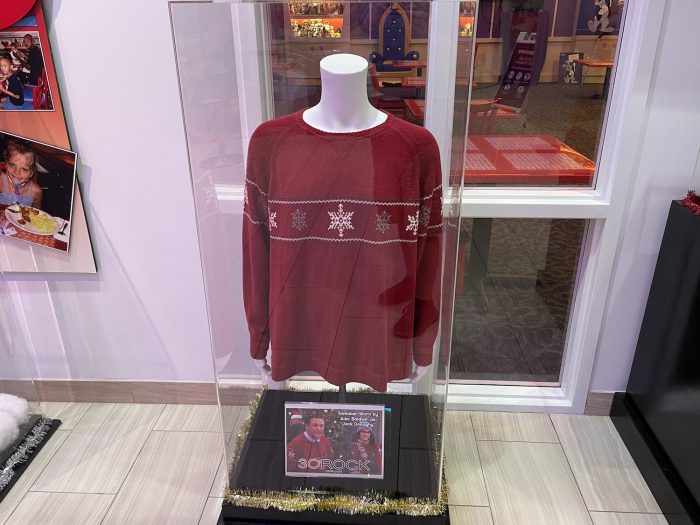 # 3 -The Spectacle (and The Photo Ops!)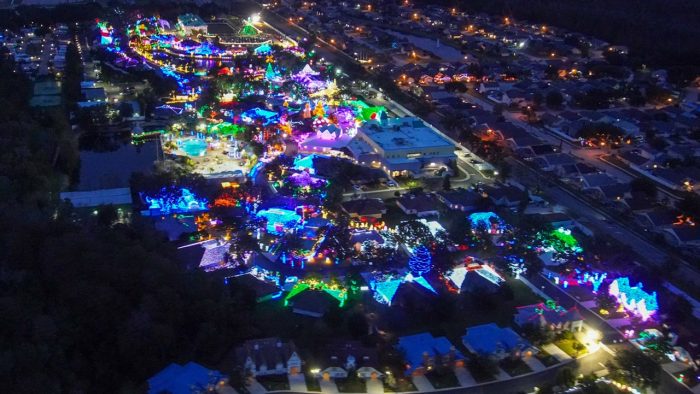 Aside from supporting a great cause, the main reason to come to Night of a Million Lights is to see, well, the lights. It's impossible not to be almost slack-jawed from the amount of work put into the entire experience. Everywhere you go there are lights and decorations.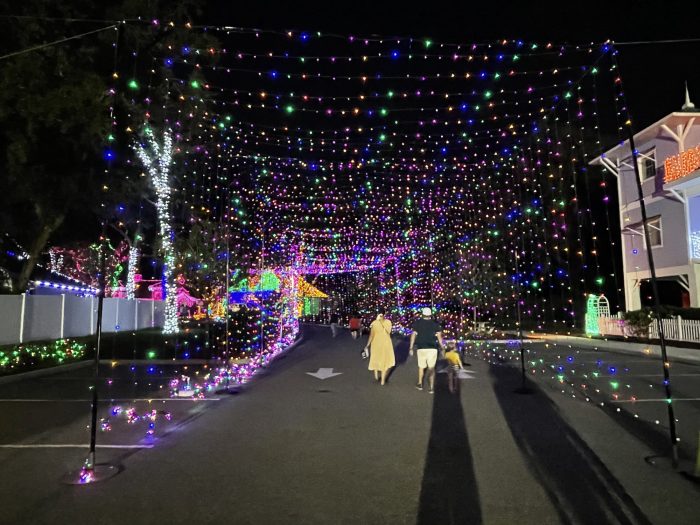 Truly a "winter wonderland."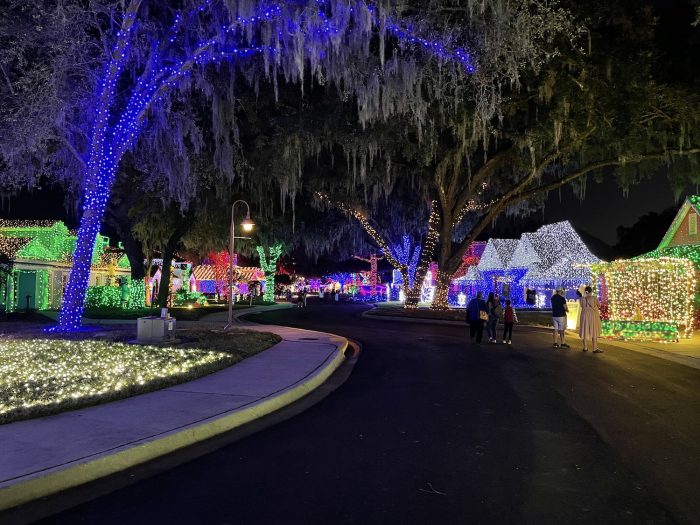 If America looked like this during the holiday season, I'm convinced crime would go down by at least 90%. It is just about impossible to not be uplifted in a setting like this.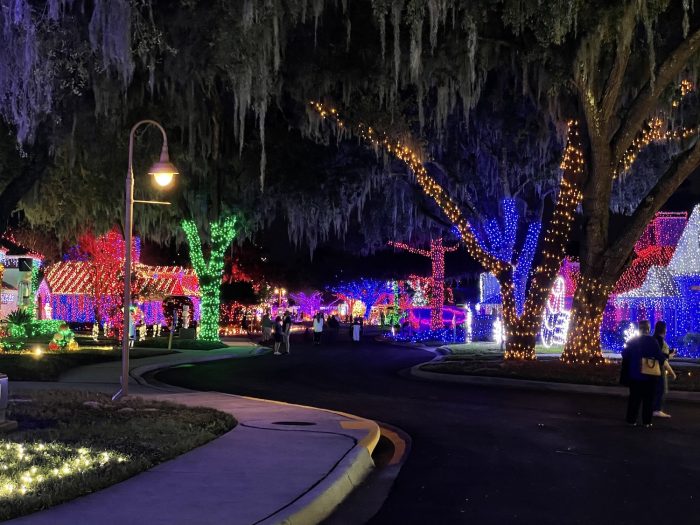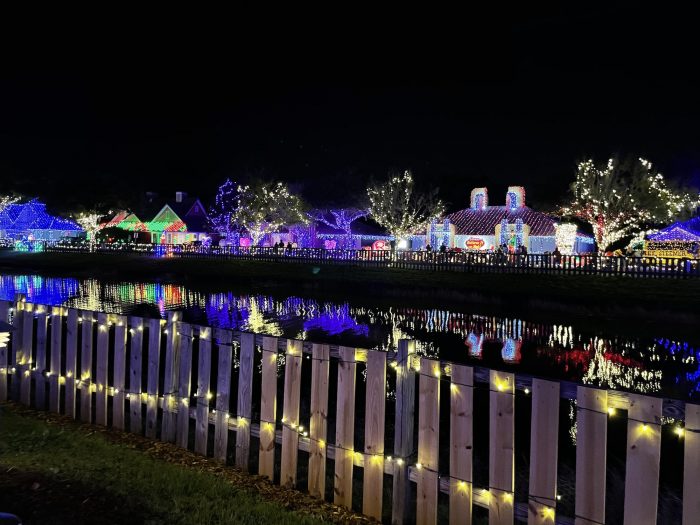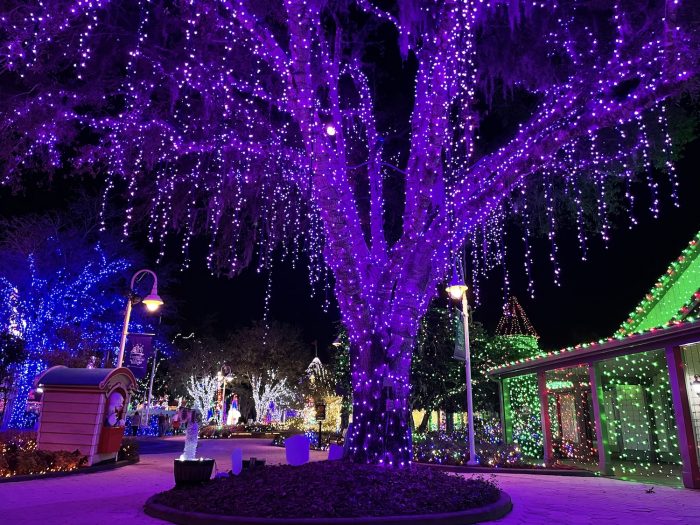 The various themed villas are just awesome. My family enjoys taking walks around our neighborhood to see houses decorated and this is sort of like that except on steroids.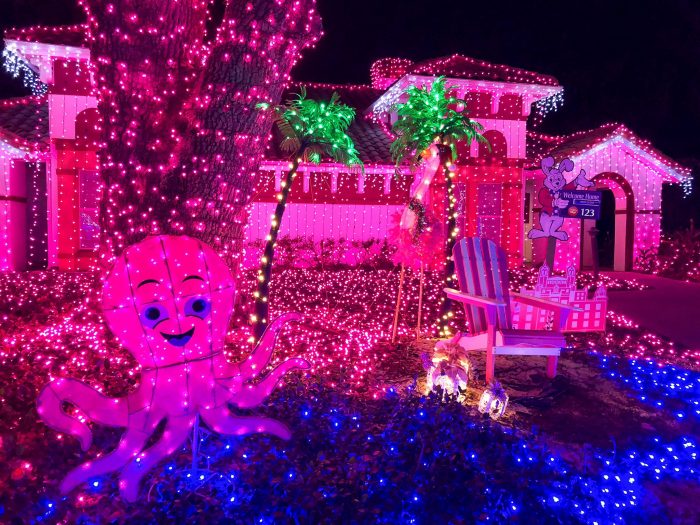 Tons of whimsical and cute designs.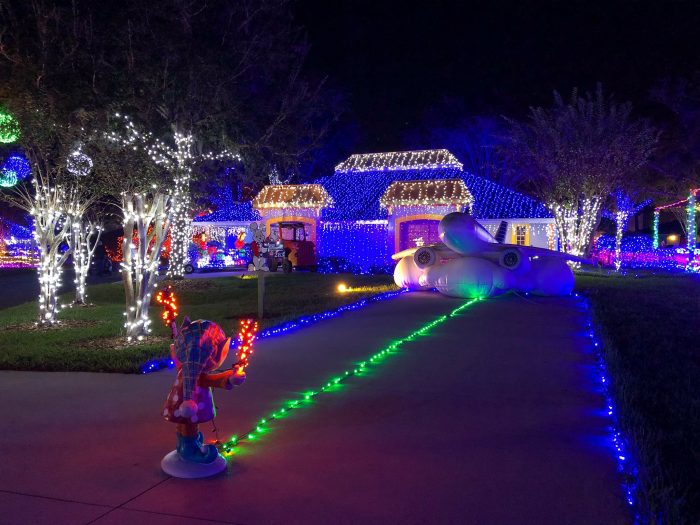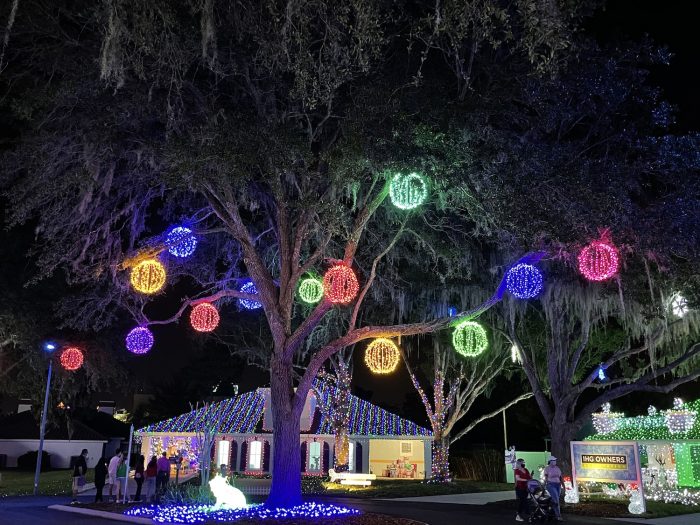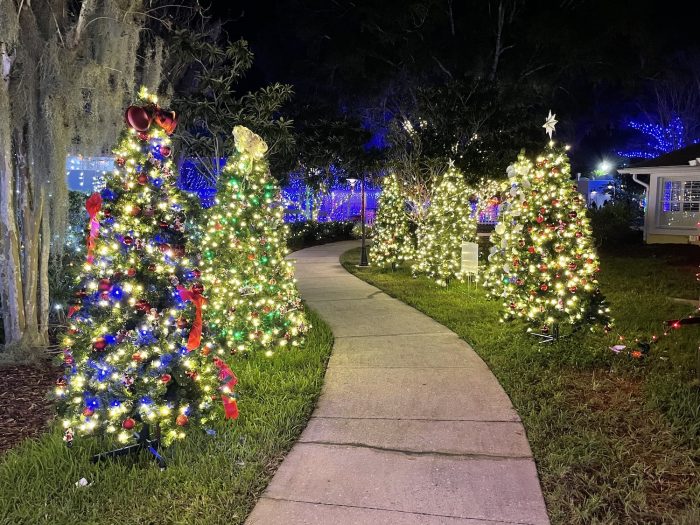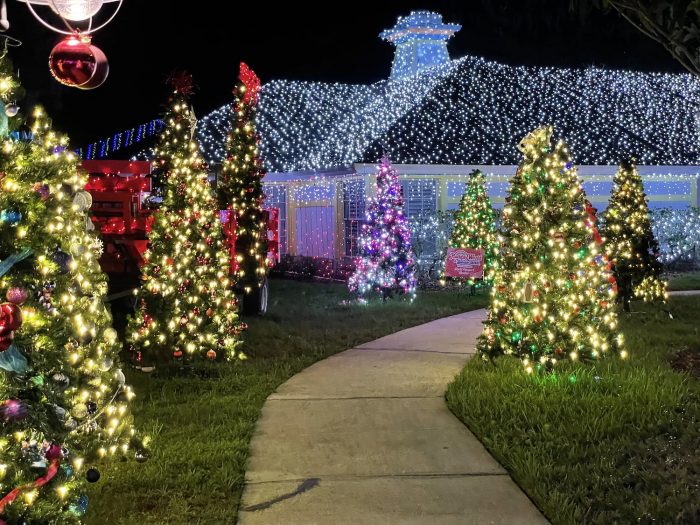 Night of a Million Lights has many sponsors, and most took the time to also incorporate some fun photo-ops for guests to take photos with, including this one by The Lost Bros.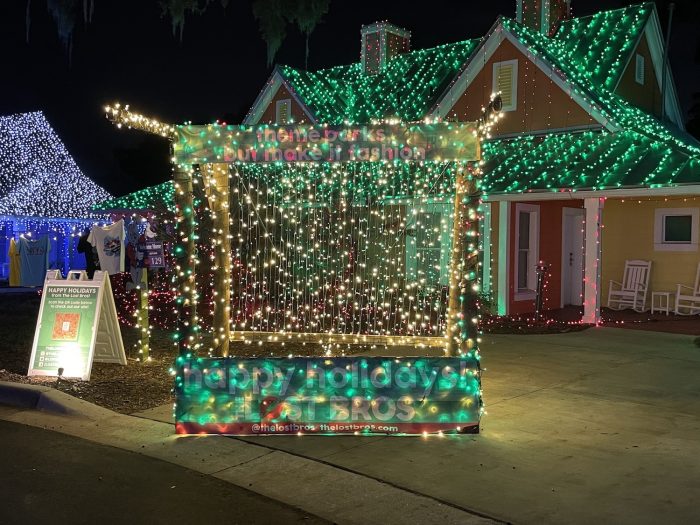 Dreams Unlimited Travel have been raising money for GKTW Village for years.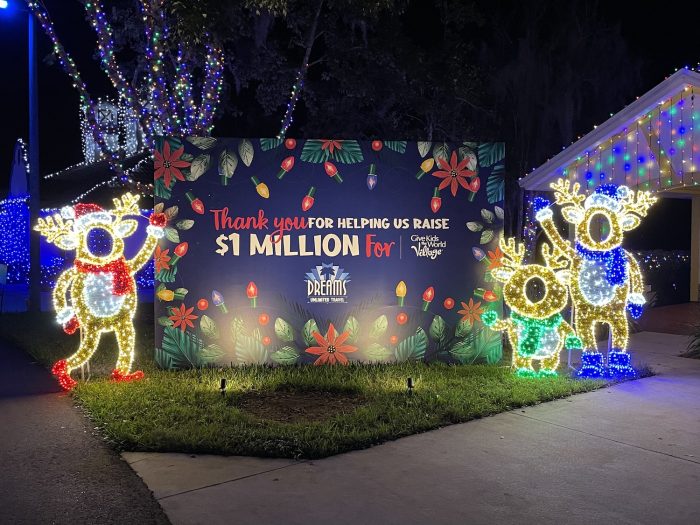 This polar bear from Dreams Unlimited Travel was a big hit with guests, including TouringPlans' own Ivonne.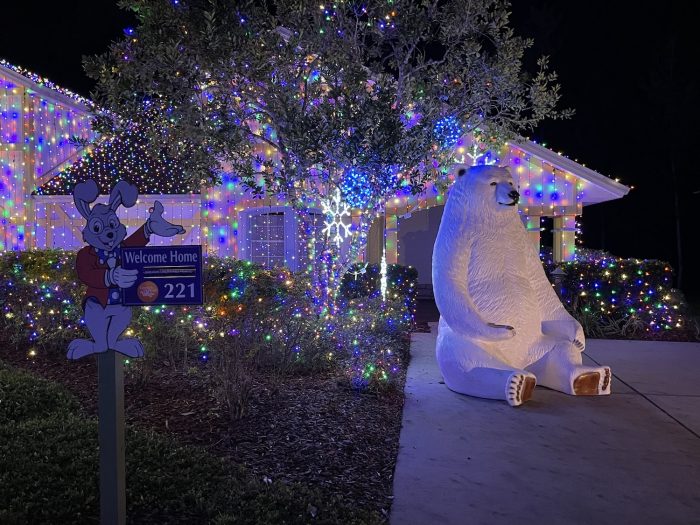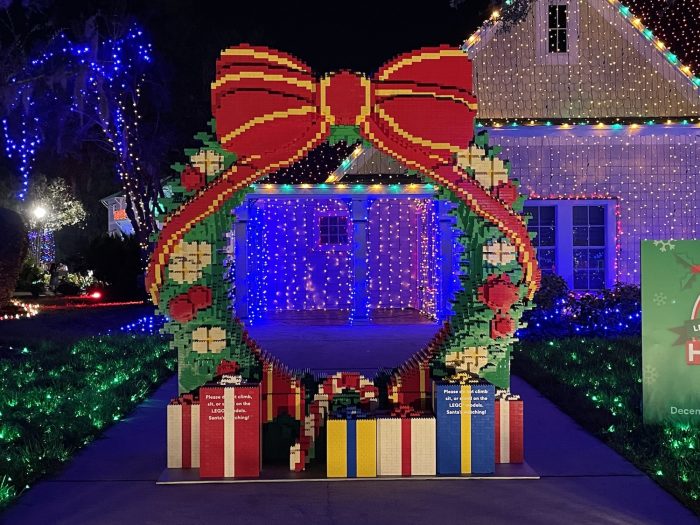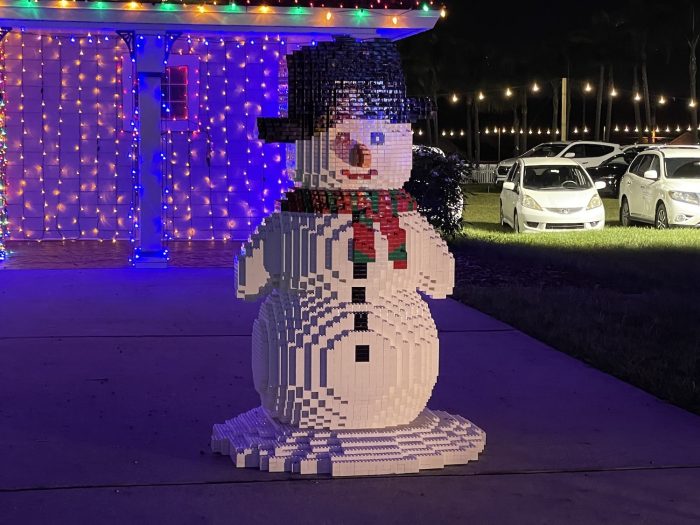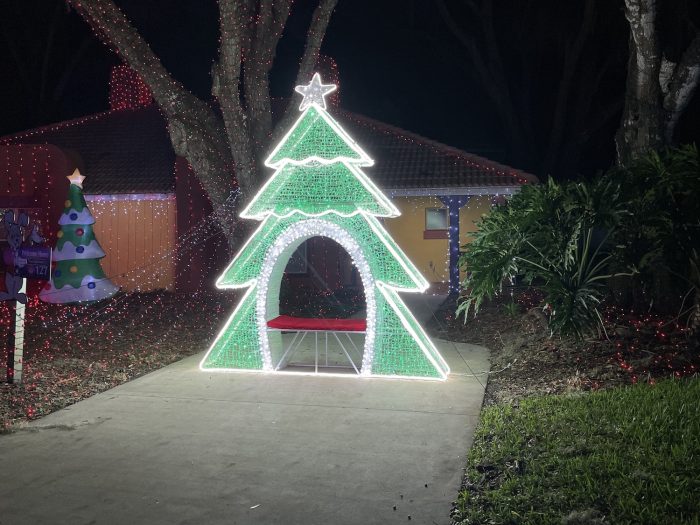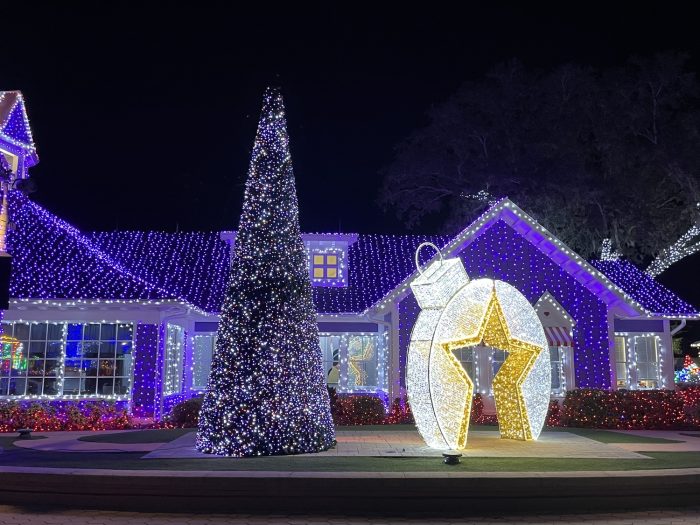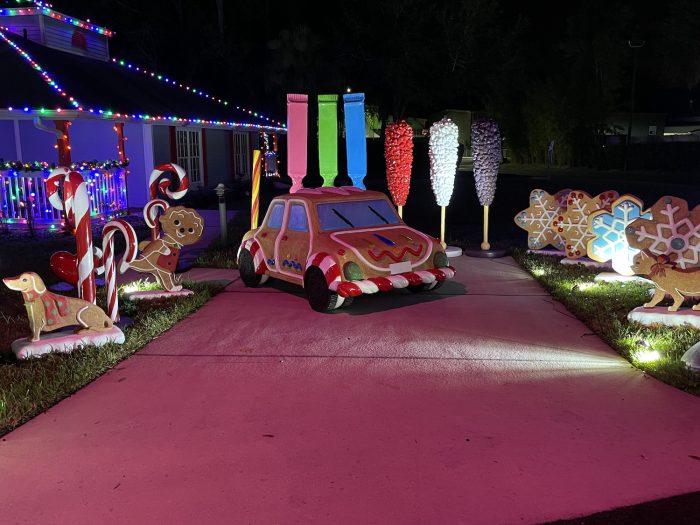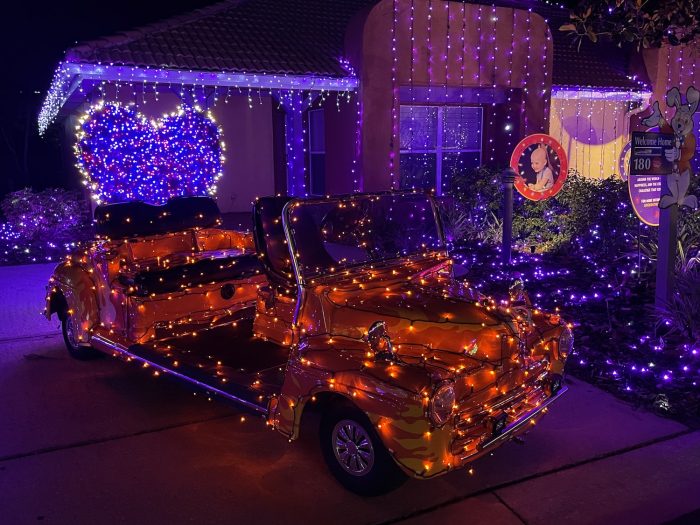 What photo-op is more "Christmas" than Santa Claus himself?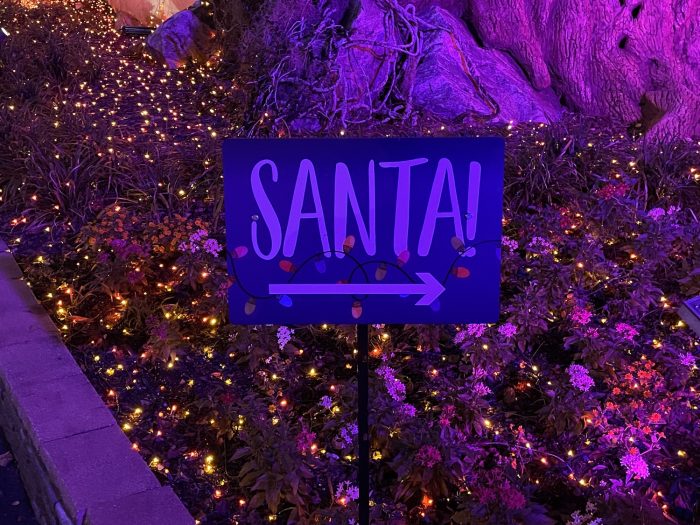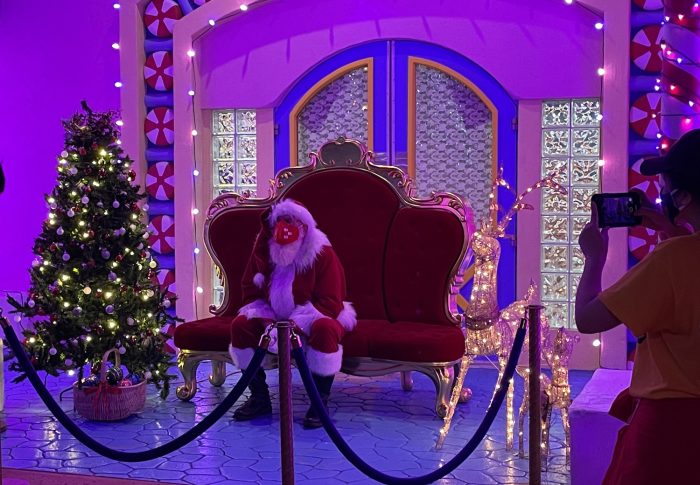 # 2  – The Connection to Florida
Night of a Million Lights has a bunch of wonderful sponsors decorating the villas – all of whom are based in Florida or have locations in the state. For ME, there's a big difference between Home Depot, Mattress Firm, and Enterprise Rent-A-Car and locations that we all think of when people mention "Florida" as a destination. For instance, the Space Coast is just a hop, skip, and jump away from Central Florida and GKTW Village, so it was nice to see a display from NASA and the Kennedy Space Center.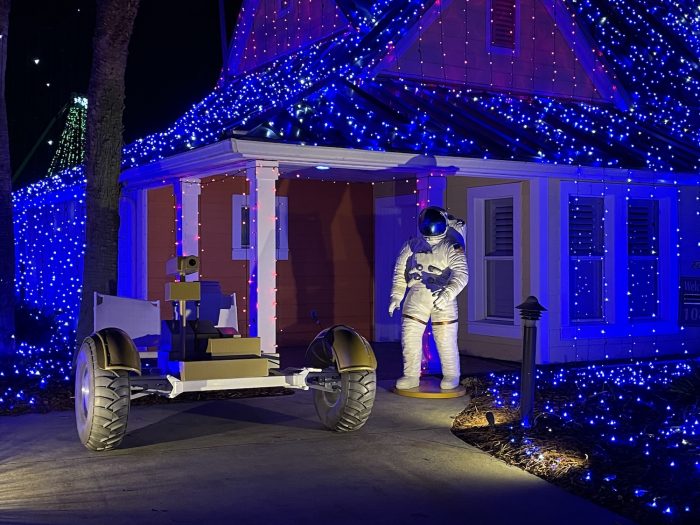 Hard to get more "Florida" than Margaritaville.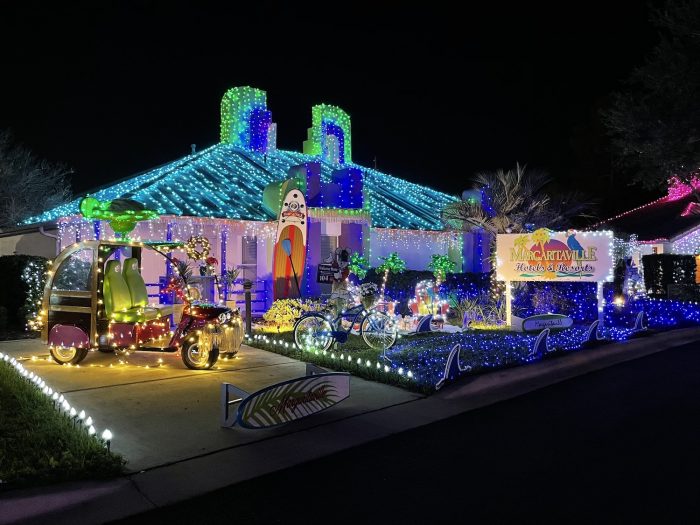 The Orlando City soccer club has made huge roads in building a rabid fanbase in Central Florida and is coming off one of their best seasons ever and even made the playoffs!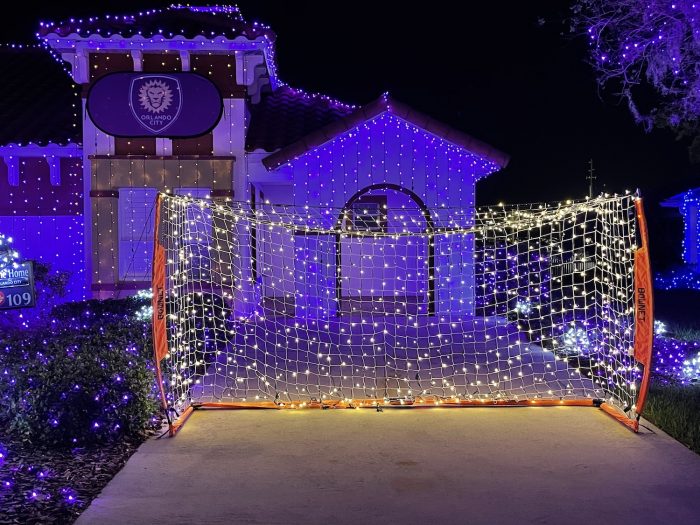 For fans of professional wrestling, WWE has their developmental territory NXT based in Orlando which has been running many live events at the Amway Center in Orlando.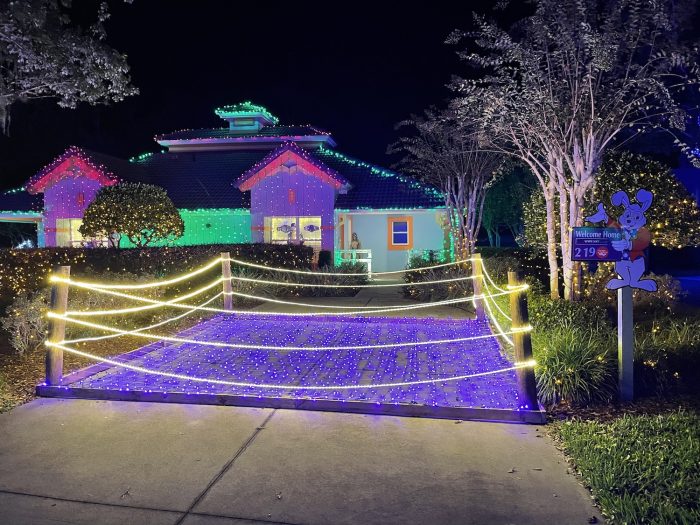 mix105.1 is a popular Orlando based radio station.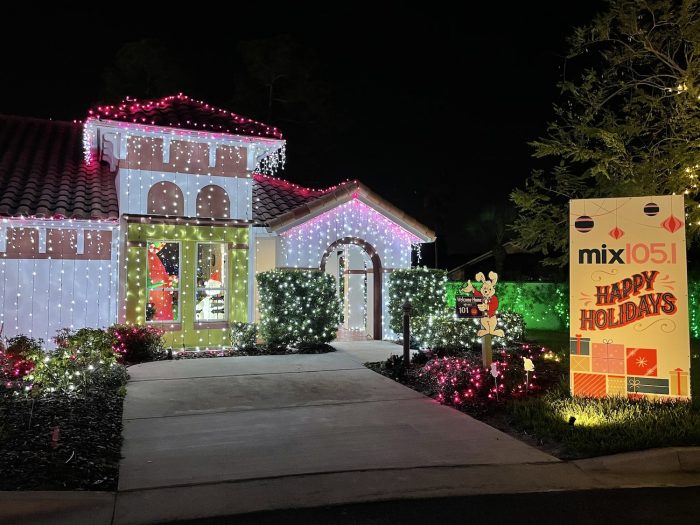 The Crayola Experience flies under the radar in Orlando, but it is a really fun time for families.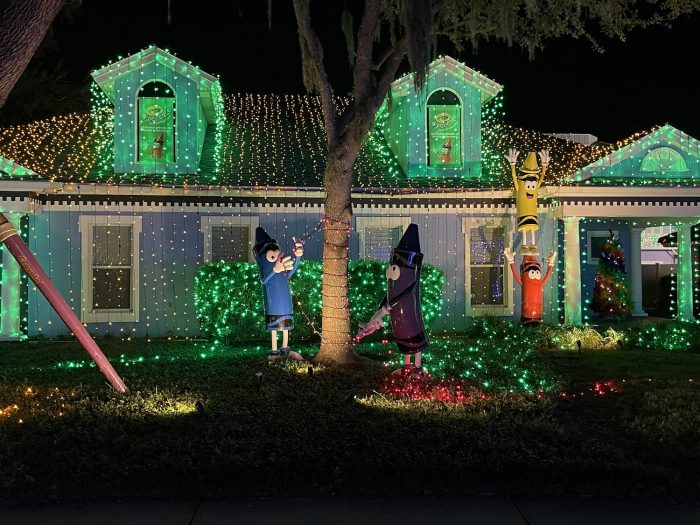 WonderWorks and Ripley's Believe It or Not! are two fun "day trips" for families spending time in Central Florida. There's things in both locations that are just mindblowing to see.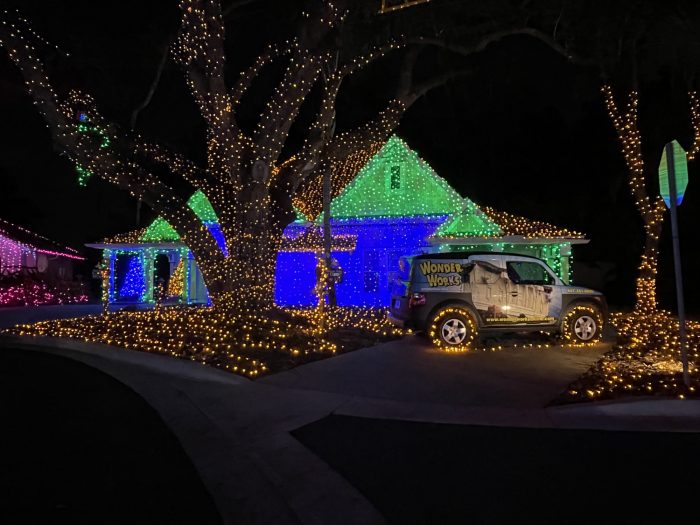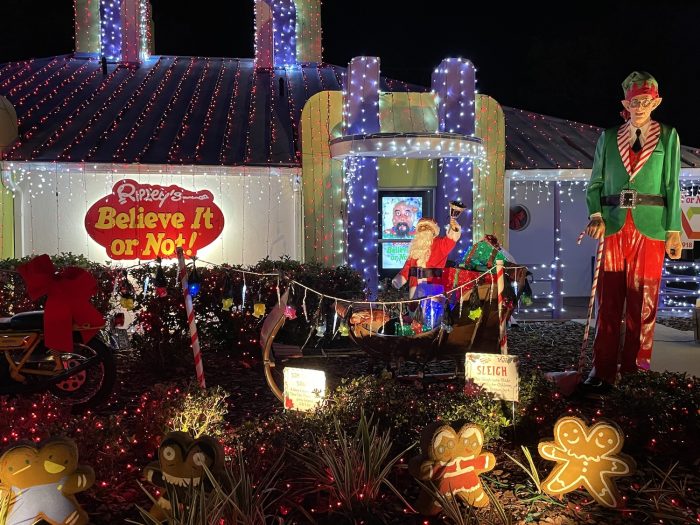 Love these gingerbread men!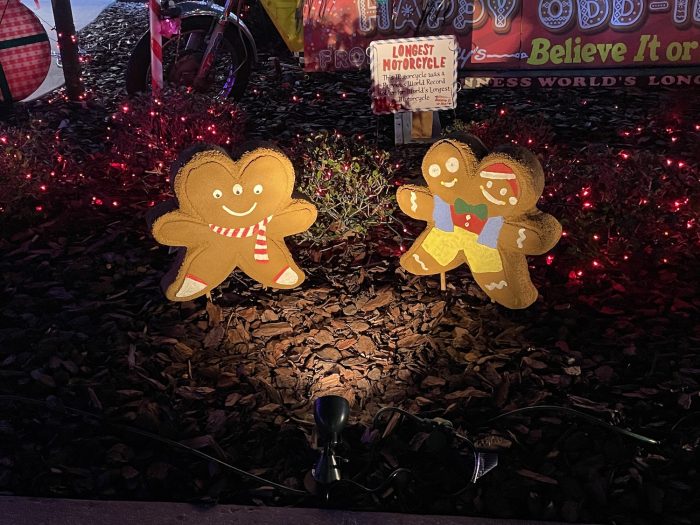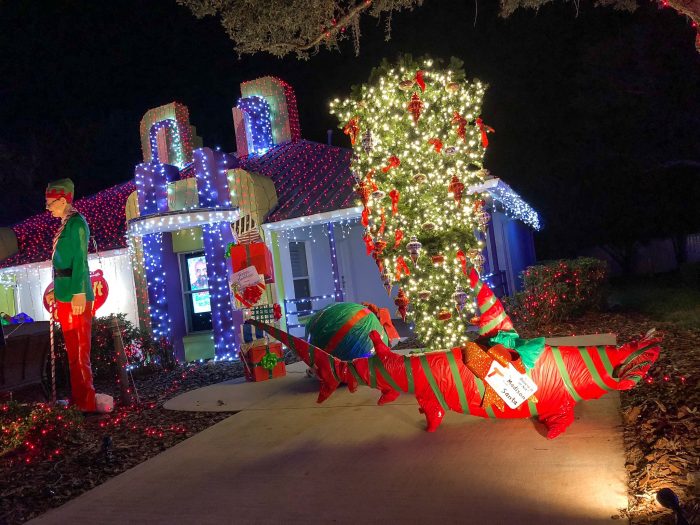 There are two Fun Spot America locations in Central Florida, including one close to Universal Orlando and my beloved Disney Outlet Store off International Drive.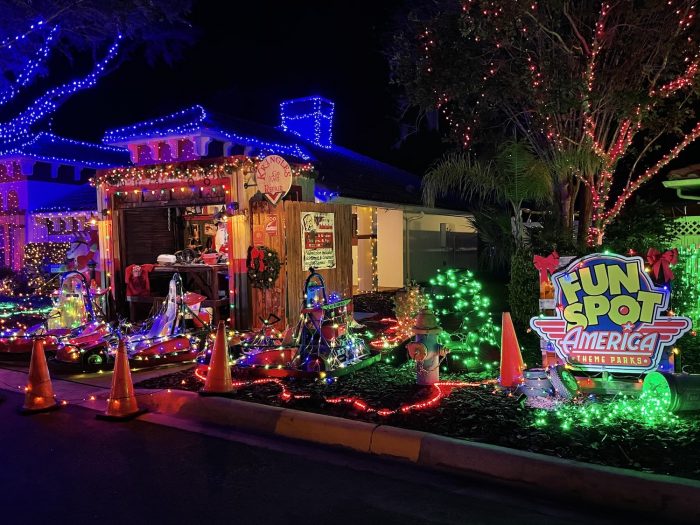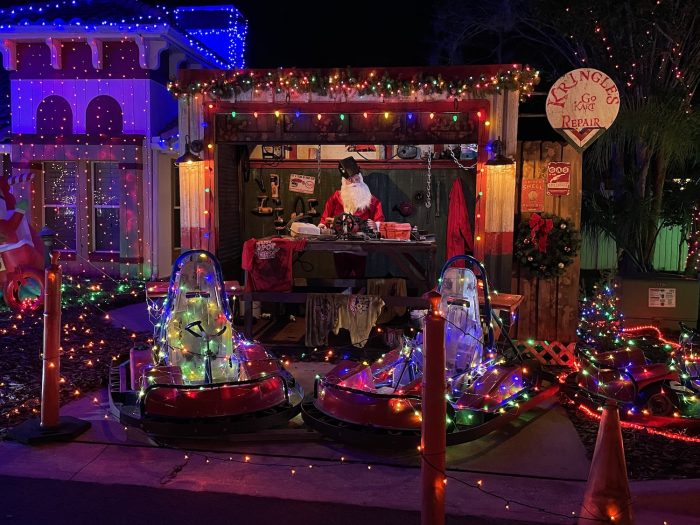 # 1 – The Orlando Theme Parks
This is the SATURDAY SIX, and we love our Orlando theme parks, so of course we're going to really enjoy seeing them as part of such a great event. To start off, Disney donated 3 million lights to the event!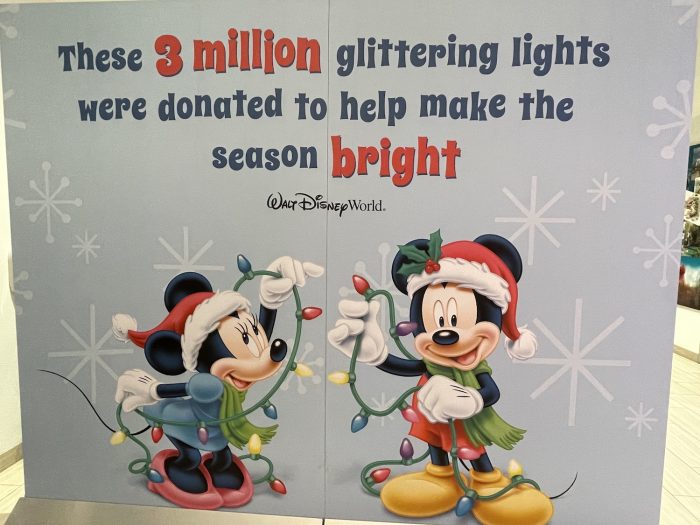 Those keeping their head on a swivel will notice props that Disney has donated, such as this Santa Claus who formerly had a home at DHS.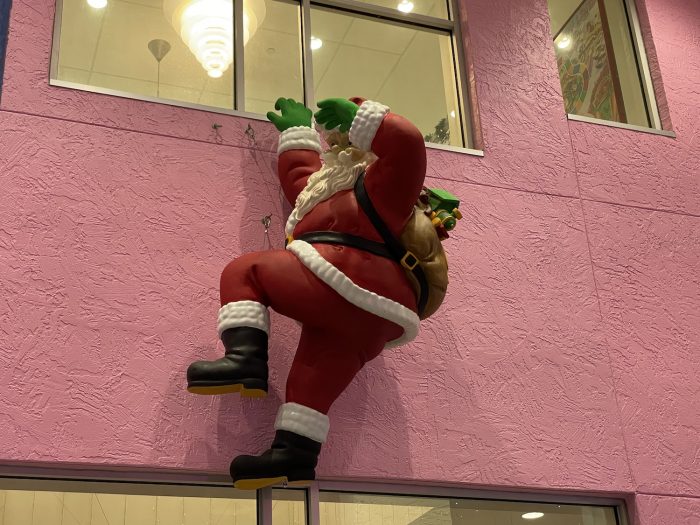 Disney also decorated two villas, including one to Belle & the Beast.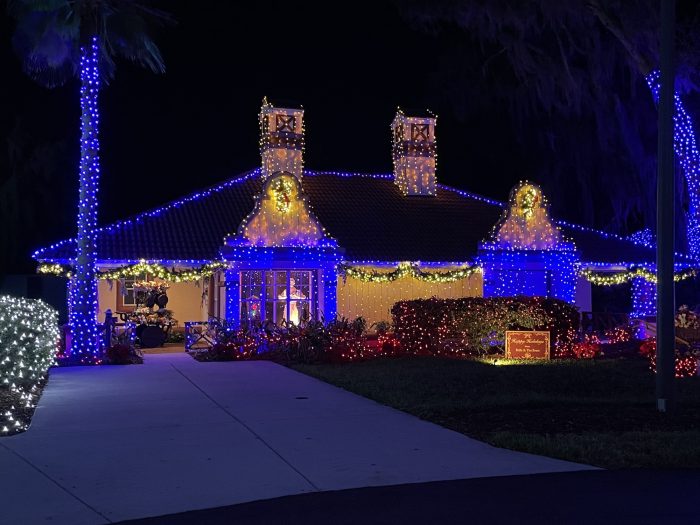 With the other to Cinderella and Prince Charming.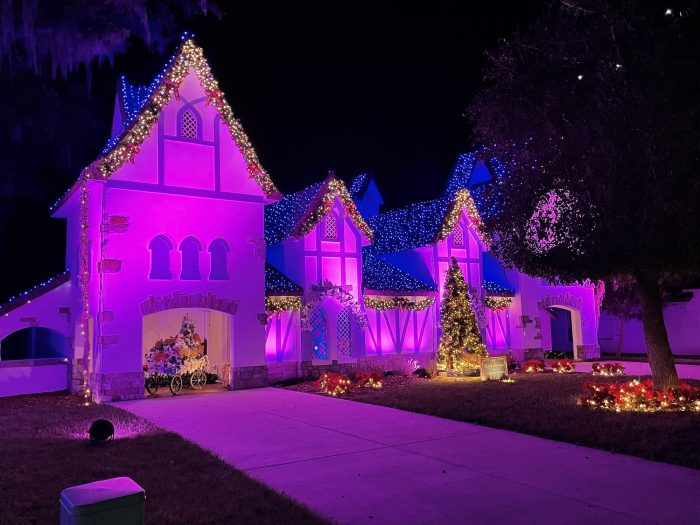 During regular operations, GKTW Village has its own mini-golf course. While guests can't play the course during Night of Million Lights, Universal Orlando sponsored the course and designed a dinosaur theme into it. Guests can walk the course and get a ton of great photos.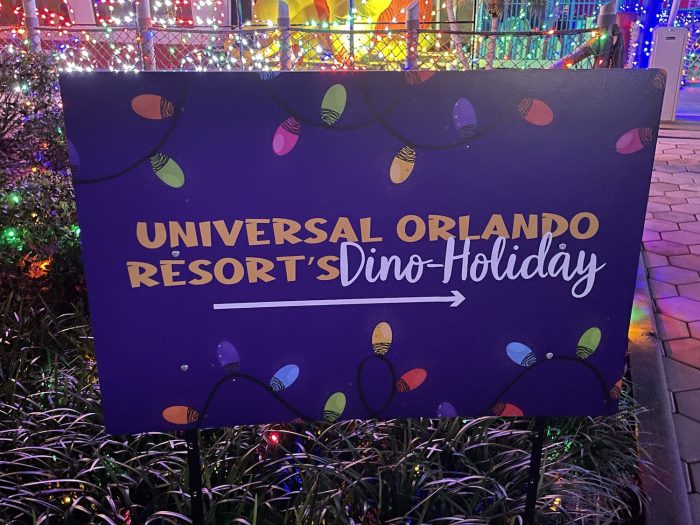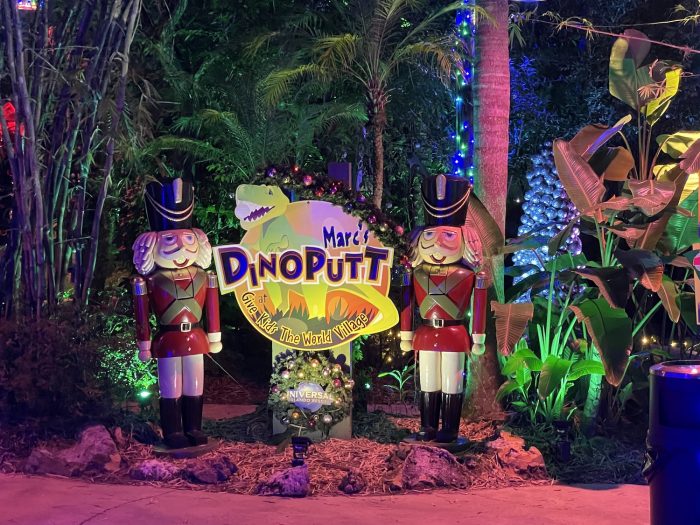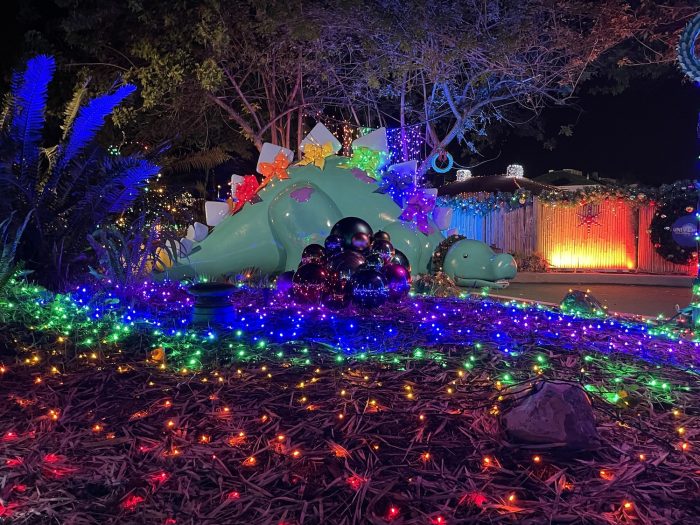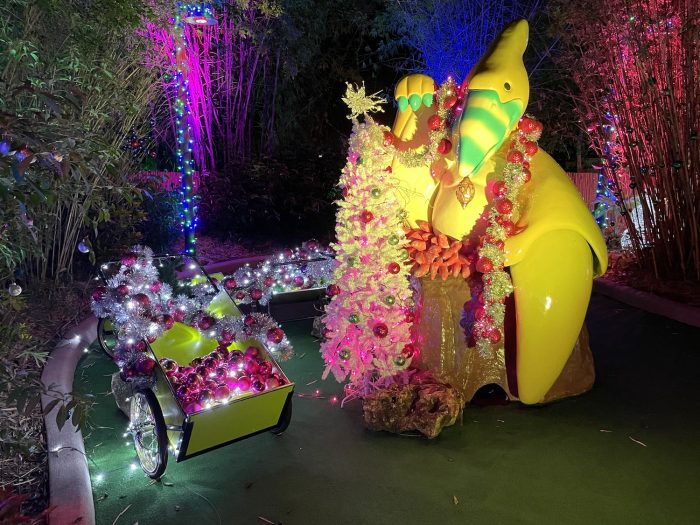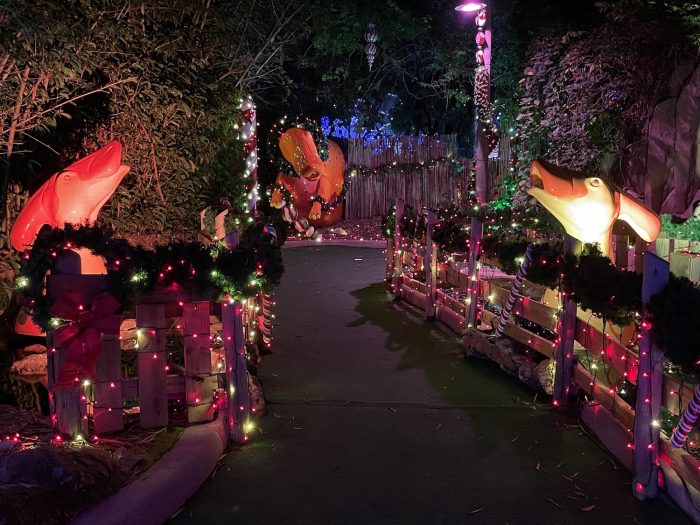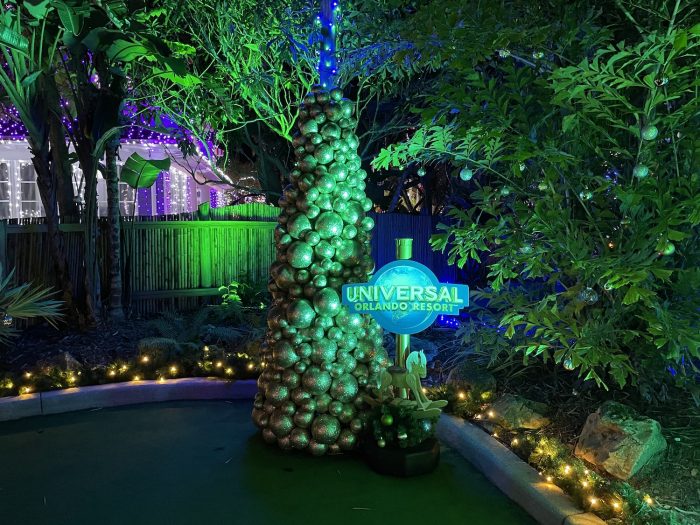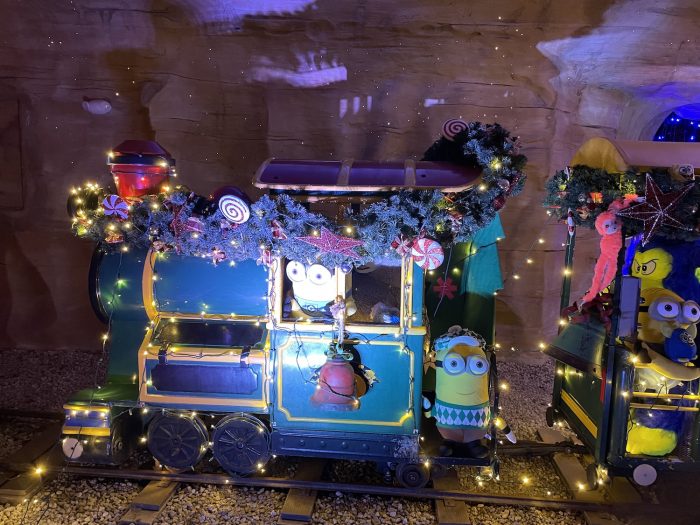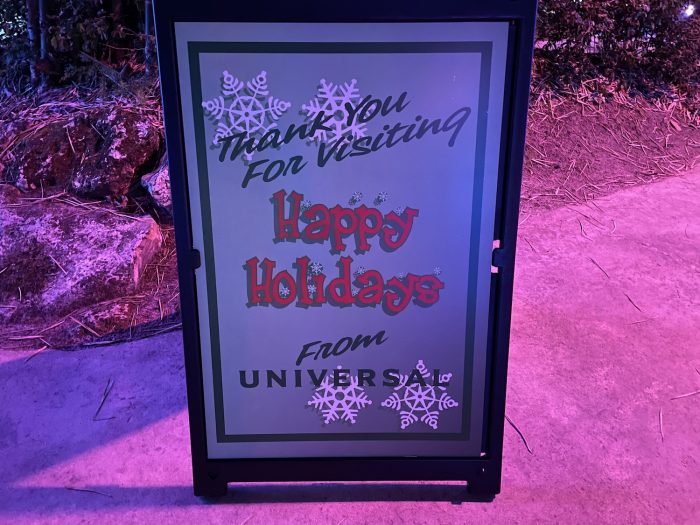 SeaWorld joined in the fun as well!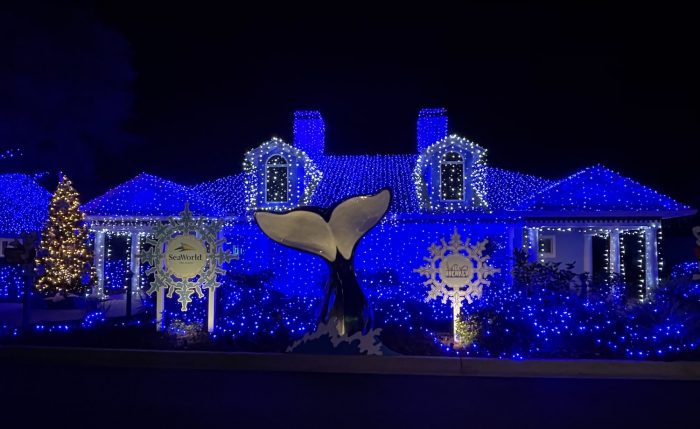 To experience Night of a Million Lights you need to purchase your tickets in advance, which can be done so by CLICKING HERE. Many dates have SOLD OUT, so if you're interested in this incredible experience, don't hesitate! The phrase "the reason for the season" has become cliche and many times used as a punchline, but there is no better cause than GKTW. In normal circumstances you can't just "stop by" and see this wonderful village, but now you can AND get the chance to see some world class decorations and everything combined will remind you what Christmas is all about.
Keep in mind that temperature checks are taken, face masks must be worn, and social distancing measures are in place.
HONORABLE MENTION – The Gimmick Table
In today's theme park world, just about everything we get at the parks comes with a merchandise component, and Night of a Million Lights has items to purchase as well. This money goes directly to GKTW Village.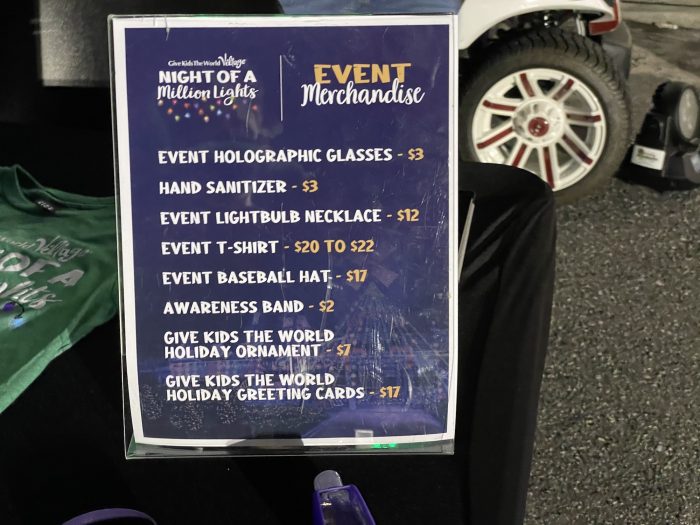 Branded hand sanitizer is the official item of 2020.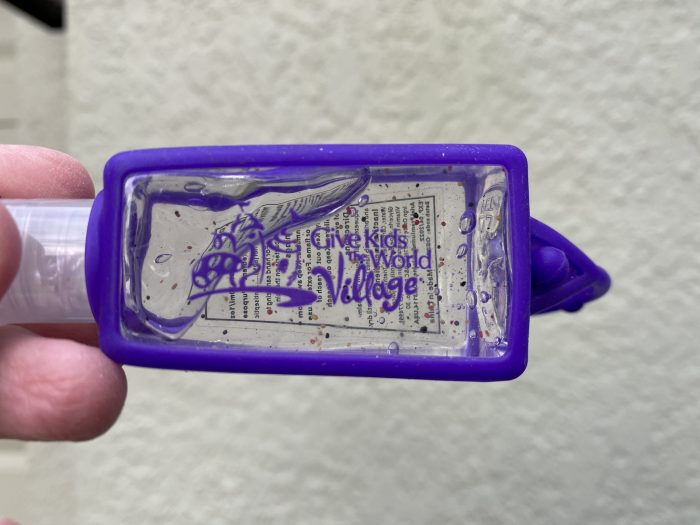 Nicely themed event t-shirt.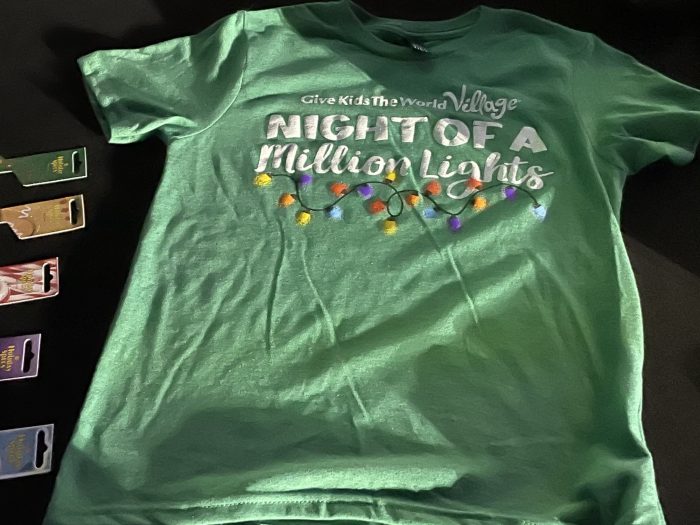 We've purchased these holographic glasses to look at our decorated house and it is wild. At Night of a Million Lights it's that's same "holy cow" moment times a thousand. I've never had an "acid trip" but I can't imagine it's much different than looking at these elaborately lit up houses wearing these glasses!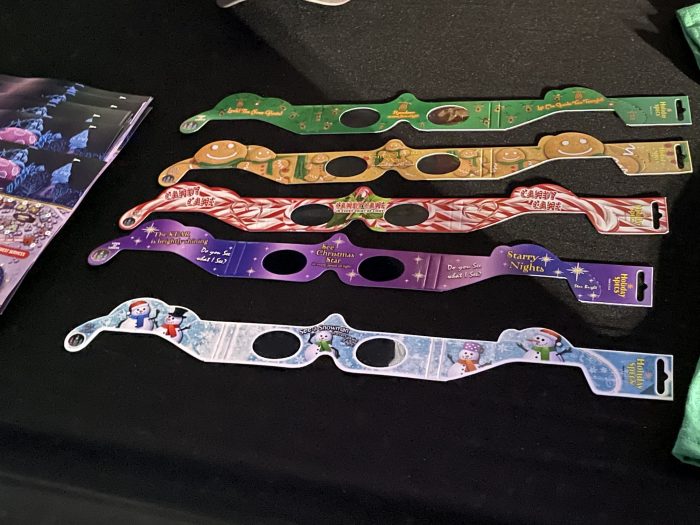 Hot chocolate and ice cream are complimentary~!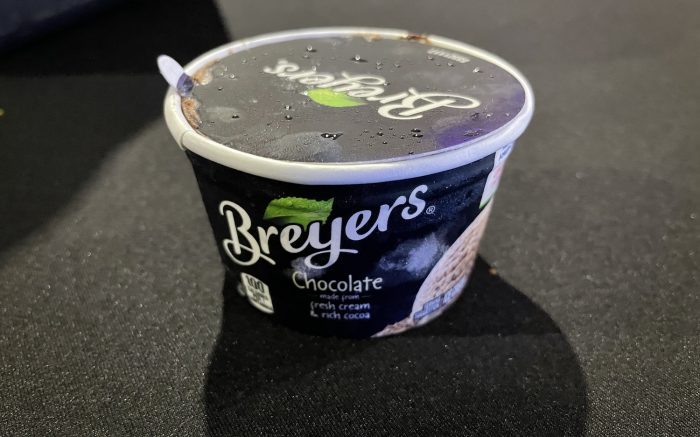 So there you have it: Six Reasons We Love GKTW's NIGHT OF A MILLION LIGHTS! See you next weekend for the latest installment of the SATURDAY SIX, where we'll look at something fun from the world of Disney and Universal. If you enjoyed yourself, be sure to check out The Magic, The Memories, and Merch! articles covering the latest from the Disney Outlet Stores. You can also follow Your Humble Author on Twitter (@derekburgan).
If you enjoyed this article, you will surely like the following: 
DAVID & DEREK: The Do's and Don'ts of COVID-19 Safety Protocols at the Theme Parks
6 Pieces of Disney Merchandise That Don't Exist (but Totally Should)
SATURDAY SIX Presents: The Disney Signage Hall of Shame
Special Thanks to The Elite Brandon Glover, the bio-est of all reconstructs @bioreconstruct, Captain Cruiseline Scott Sanders of the world famous Disney Cruise Line Blog, my personal protege Hunter "Elvey" Underwood, the SAT SIX Fun Squad of Parkscope Joe and "the Dadalorian" Nick, hot shot Michael Carelli, charter member of the Universal Four @Nitro230, and Hermione Granger's tutor Megan Stump for their invaluable assistance with this article. The SAT SIX is inspired each week by goofballs Aengus Mackenzie and LitemAndHyde and you Potterheads will  enjoy Meg's other blog work over at the Central Florida Slug Club.