SATURDAY SIX: 6 Reasons We Love DIAGON ALLEY in the Wizarding World
This week's SATURDAY SIX takes a look at DIAGON ALLEY! When Diagon Alley opened at Universal Studios Florida it changed the way we looked at immersive lands inside a theme park forever.  Back in in 2010, when Hogsmeade Village opened in Islands of Adventure, it immediately became a gold standard and had industry-changing effects on themed merchandise as well as food and beverage. You can make a case that Butterbeer alone changed the entire future of the Universal parks by becoming such a phenomenon that it helped the $250 million land pay for itself within six months. That immediate and unqualified success led to a fast tracking of many other things, including Diagon Alley. 
However the question would have to be asked… could Universal Creative top Hogsmeade Village, with the iconic Hogwarts Castle facade for Forbidden Journey, interactive show stopper Ollivanders, and wonderfully detailed areas like the Hog's Head pub? SPOILER ALERT: YES. Yes, they did. Today we are going to look six of the many reasons we love Diagon Alley and to narrow down our list we consulted with an expert in Muggle Studies, Megan Stump. A diehard Harry Potter fan, Meg was the patient zero for #PotterWatch, where she was on hand inside USF for 30 straight days leading up to the grand opening. So grab your favorite Pygmy Puff (or Horcrux, if you're He Who Must Not Be Named) and settle in for the countdown, starting with….
# 6 – The Entrance
One of the most unforgettable moments of Harry Potter and the Sorcerer's Stone was Harry's entrance into Diagon Alley. It was Harry's introduction to the wizarding world, but was also ours. It was something both real and fantastical at the same time. Harry entered Diagon Alley through a magical brick wall, which revealed an entrance after an elaborate shifting of the bricks. In order to accommodate more than 50 Muggles a day into the land, Universal had to be a little creative in recreating this experience for a practical version. They succeeded by having guests walk through a brick wall which slowly reveals the wonder of Diagon Alley before them.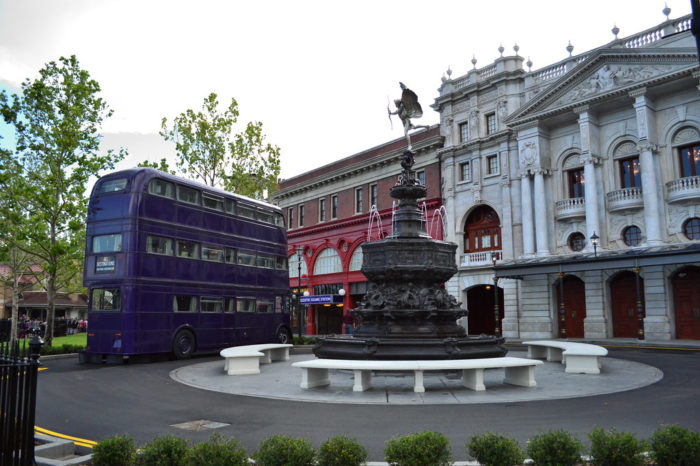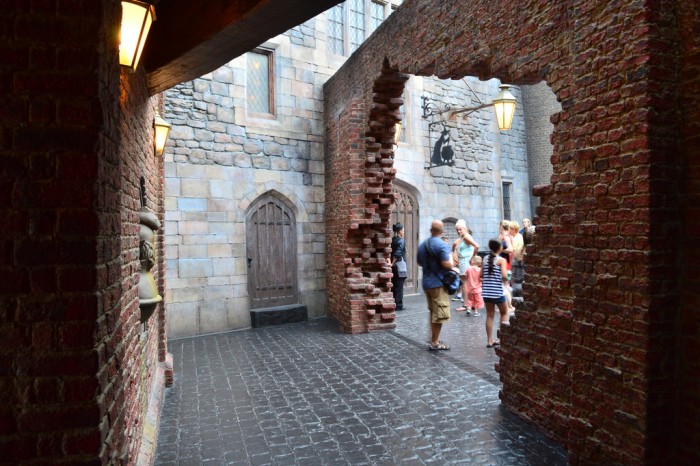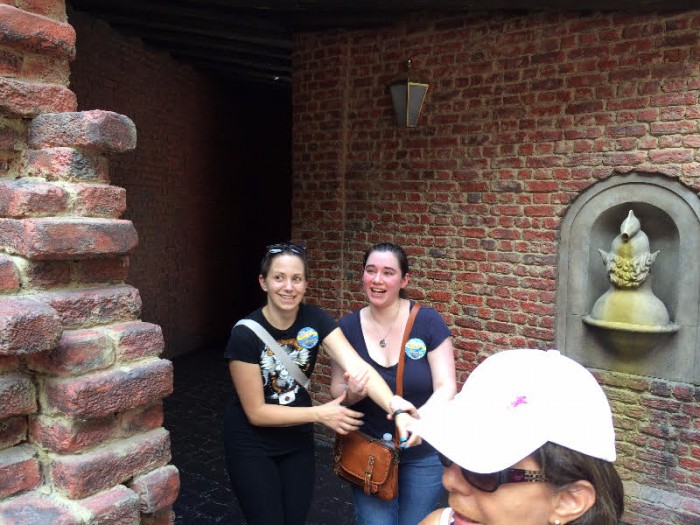 This transition into Diagon Alley is very similar to what Walt Disney World and Disneyland have done to bring guests into some of their lands. Think of walking under the train station in Magic Kingdom to reveal Main Street USA, or under the archway out in California Adventure before the jaw-dropping reveal of Cars Land, or even the bridge and subtle change in landscape between Port Orleans Riverside and French Quarter. It is an unbelievable experience and one that truly brings guests straight into the story. One thing that is fun to do at theme parks is to people watch, and nowhere is that a more heartwarming experience than to stand near the Diagon Alley entrance and see the faces of people coming through for the very first time. True magic.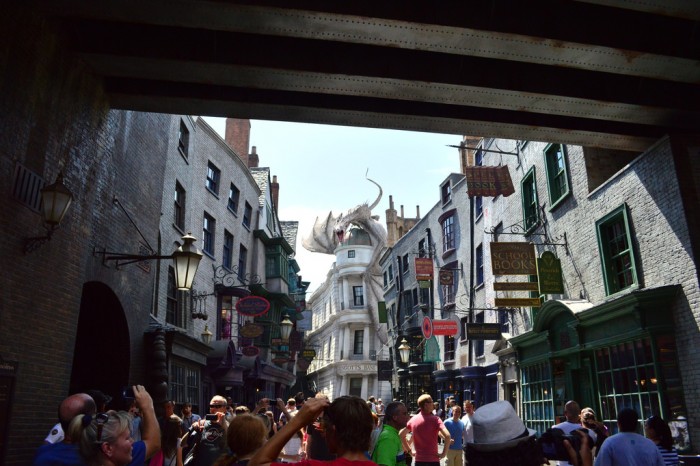 # 5 – The Shows
If there was one disappointment – for lack of a better word – in Hogsmeade Village, it's that the two outdoor stage shows (Frog Choir and Triwizard Spirit Rally) are just "ok." Both shows are perfectly acceptable, but neither are what I would consider worth going out of your way to see. Diagon Alley also made its debut with two outdoor stage shows, and both are AMAZING.
The Tales of Beedle the Bard – The Wizarding Academy of Dramatic Arts (WADA), a roaming street troupe, performs hourly in Diagon Alley to recreate the tales from Wizarding World's equivalent of Aesop's fables. Using Michael Curry puppets (Finding Nemo: The Musical, Tapestry of Nations, many Olympic performances) WADA brings to life the morality plays central to the Wizarding World. 
The troupe uses props to perform two stores from The Tales of Beedle the Bard. The Tale of Three Brothers is a parable about the power of wishes and instant gratification (and the basis of the Deathly Hallows), while The Fountain of Fair Fortune is an inspirational tale about the rewards of overcoming ones hardships and setbacks. Performances from the talented, comedic cast celebrate the many types of dramatic personas to create a real personality that melds with the the stories. This unique style adds style and texture to an already realized world. Highest possible recommendation.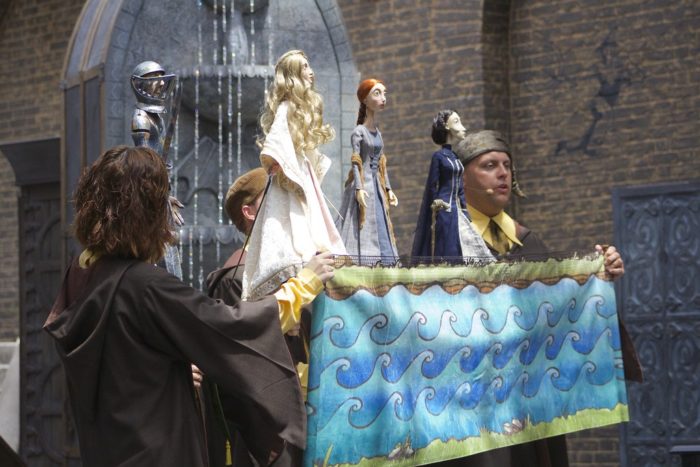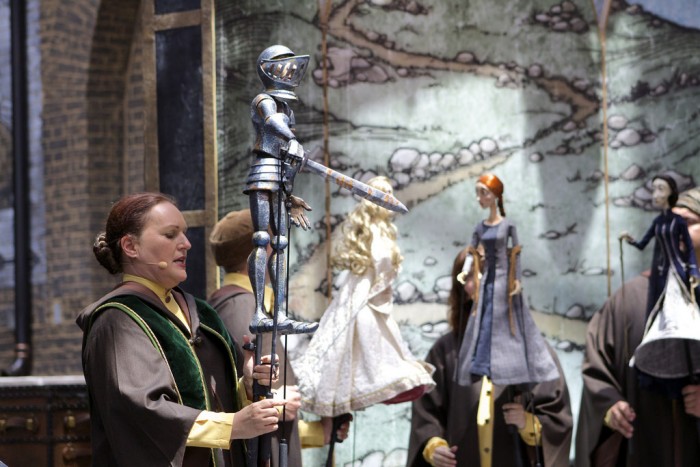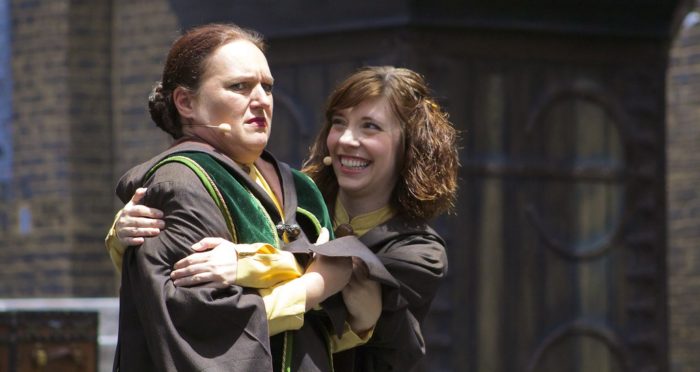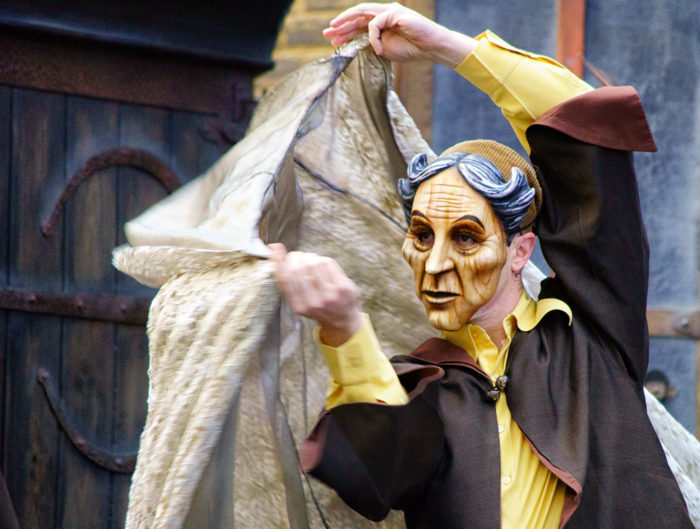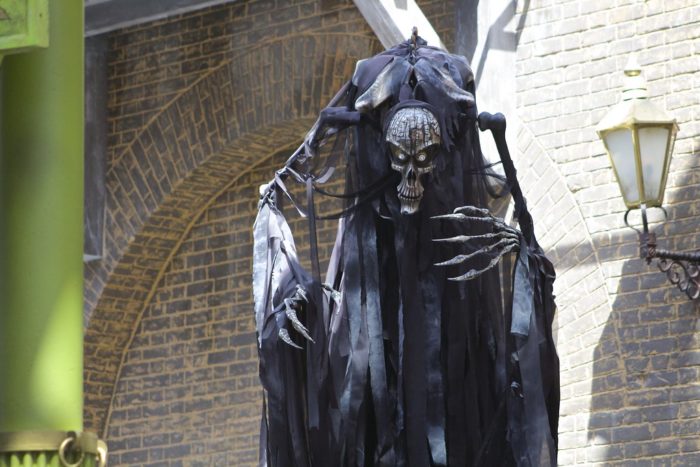 Celestina Warbeck and the Banshees – With song titles created by J.K. Rowling herself, Celestina Warbeck and the Banshees belt out wizarding world tunes in a show that has quickly become one of the best live acts in theme park history. The character of Celestina Warbeck was one that was only mentioned briefly in the Potter books (Rowling has since gone on to write a small historical essay on Celestina for Pottermore) but Universal Creative took that small piece of coal and pressed hard enough to produce a true diamond. The crowd interaction is always a blast to watch, and the catchy songs will have you looking forward to the next performance. Fun note: the show's music and lyrics are courtesy of Weiner & Alan Zachary, the duo behind Disney Cruise Line's Twice Charmed: An Original Twist on the Cinderella Story.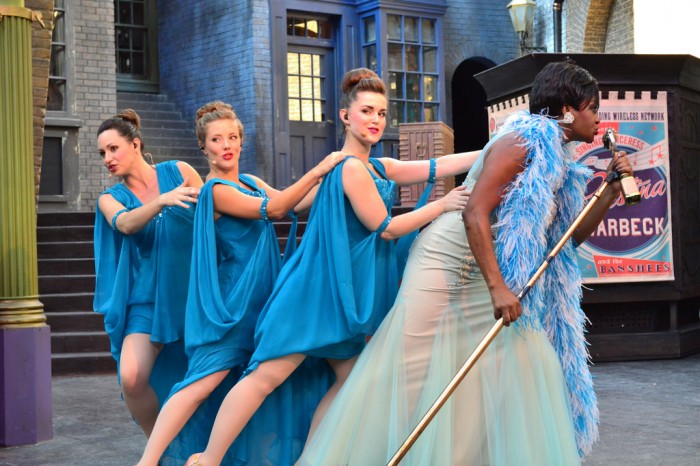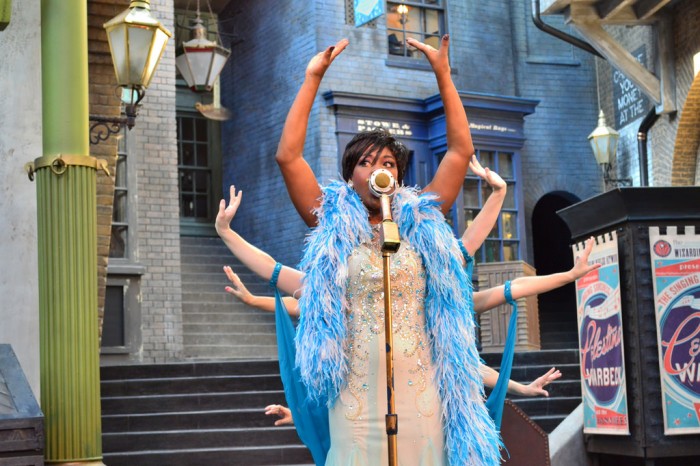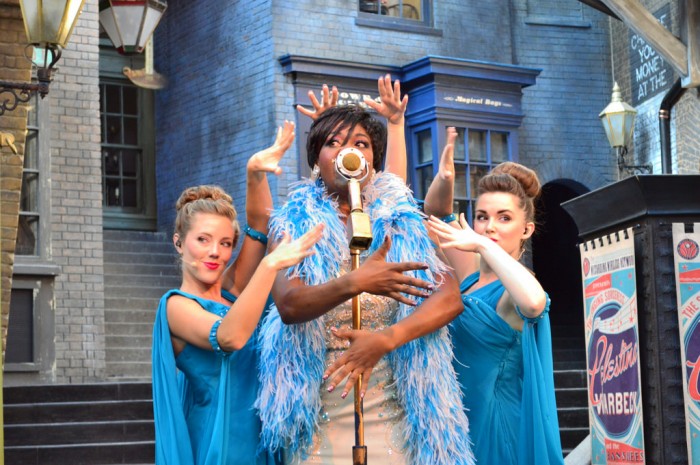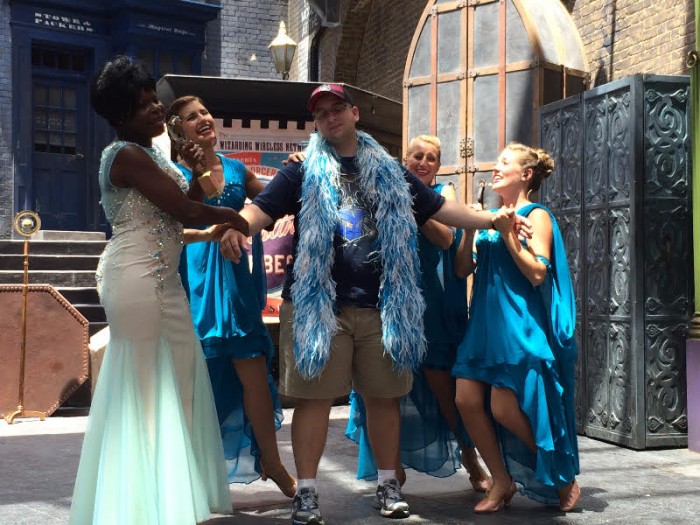 One thing Universal does almost better than everyone is bringing their Christmas celebration to the entire park, and that means a seasonal overlay (of sort) to even singing shows like the Blues Brothers and Celestina. These holiday shows feature new outfits, new songs, and the same ol' incredibly great performances.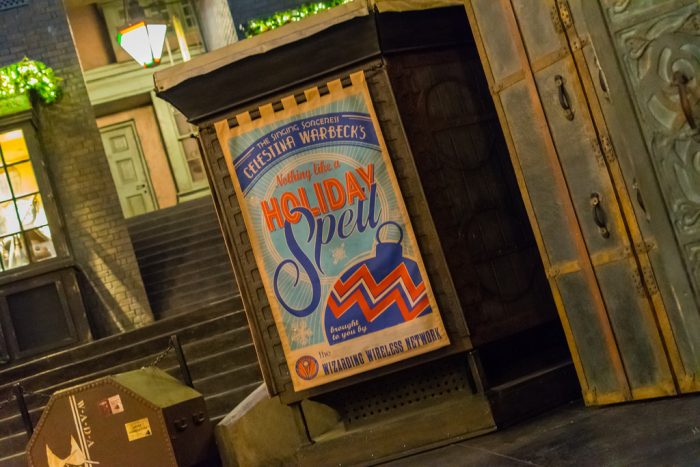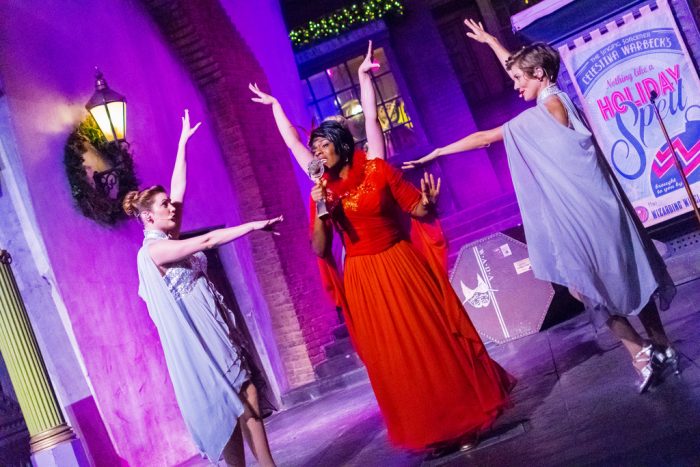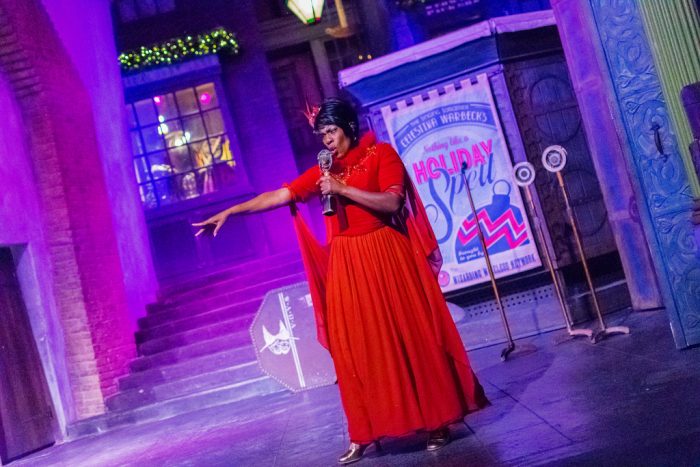 # 4 – Leaky Cauldron
When Three Broomsticks opened with Hogsmeade Village, immediately people wanted The Leaky Cauldron and with Diagon Alley, Universal delivered in a major way. Everything we love about Three Broomsticks was taken up a notch, including an unbelievable menu that includes Bangers and Mash, Toad in the Hole, Fisherman's Pie and Beef, Lamb & Guinness Stew. For a theme park counter service restaurant this is as close to a Twilight Zone experience as you can have, and you will have to leave Diagon Alley for your traditional hot dogs, hamburgers, and chicken nuggets. The decor and atmosphere inside Leaky is off-the-charts, and the namesake cauldron is perfect for photo-ops.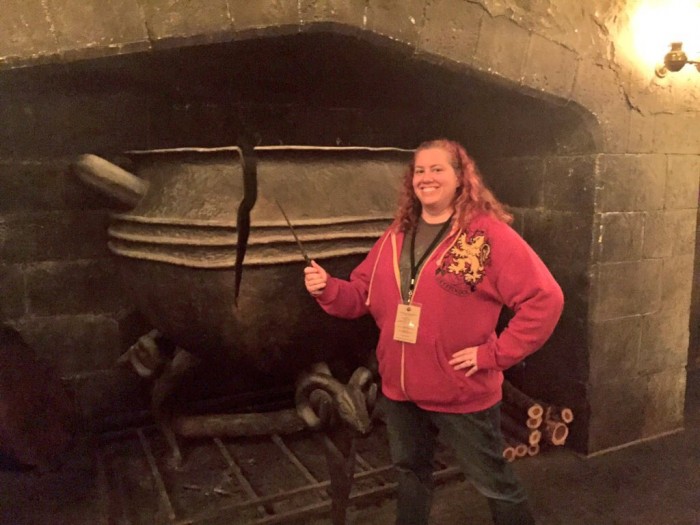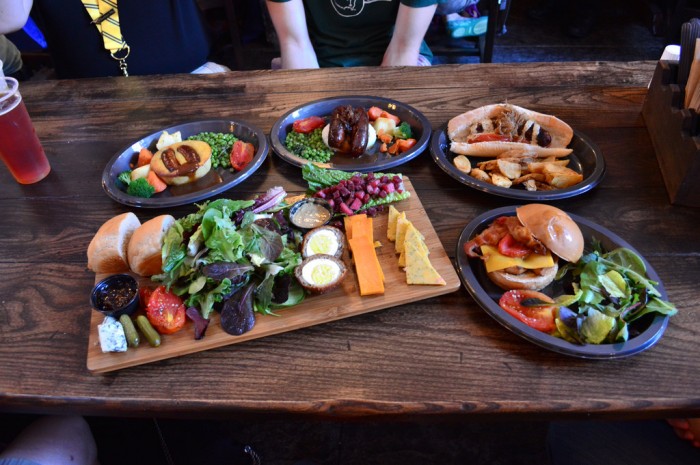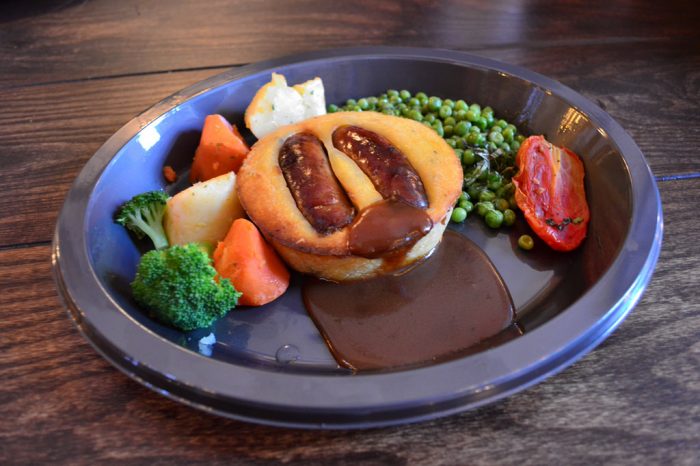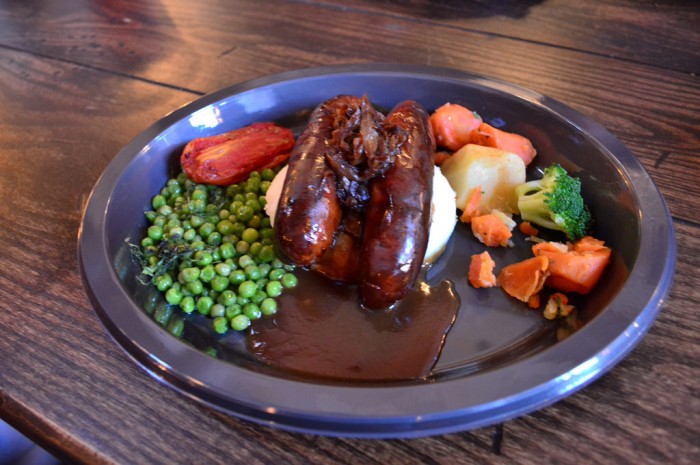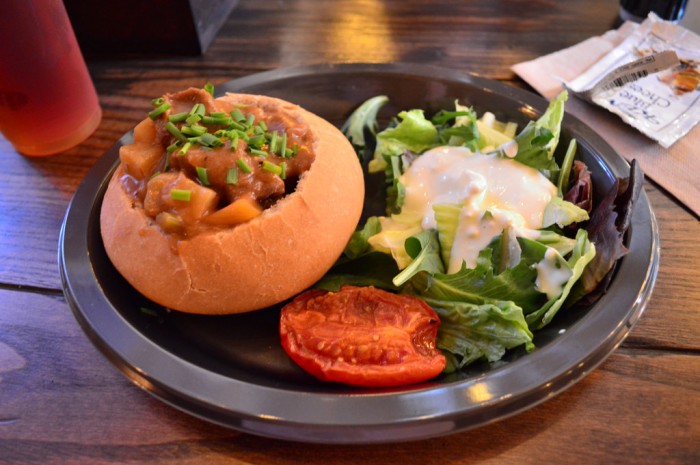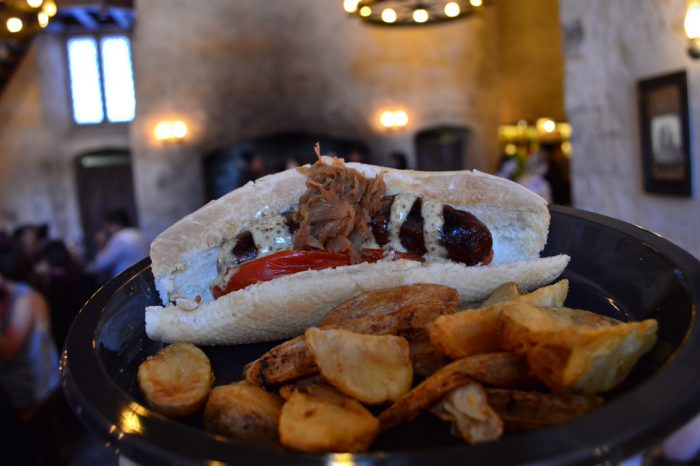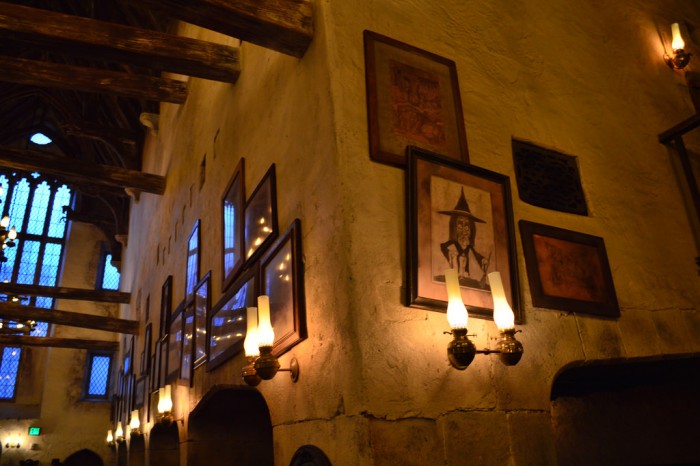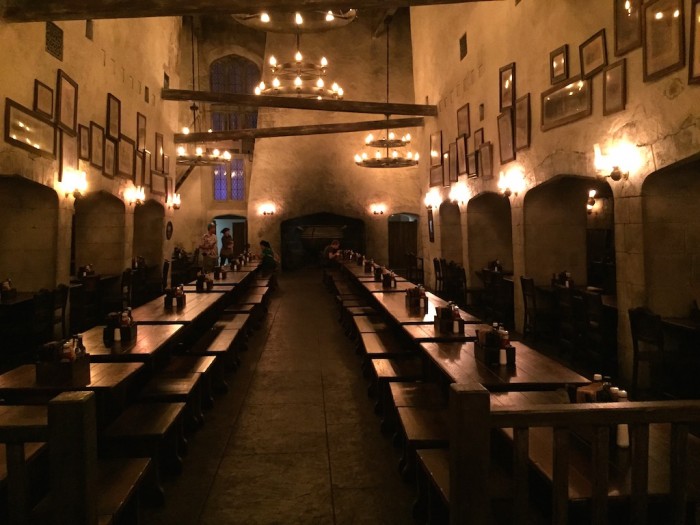 The amount of new drinks that made their debut with Diagon Alley is stunning, and all of them are available at the Leaky Cauldron. This includes the exclusive beers Dragon Scale and Wizard's Brew.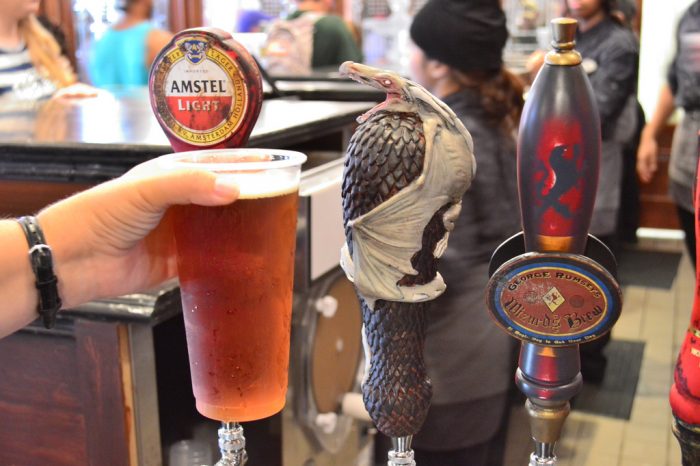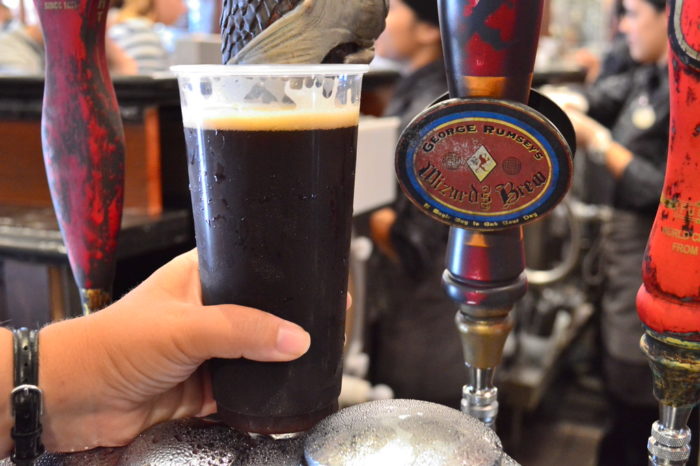 Several of the non-alcohol based drinks rise even above Butterbeer in my book, with the Tongue Tying Lemon Squash being the best version of lemonade I have ever had in my life. It's a must get every trip in the park.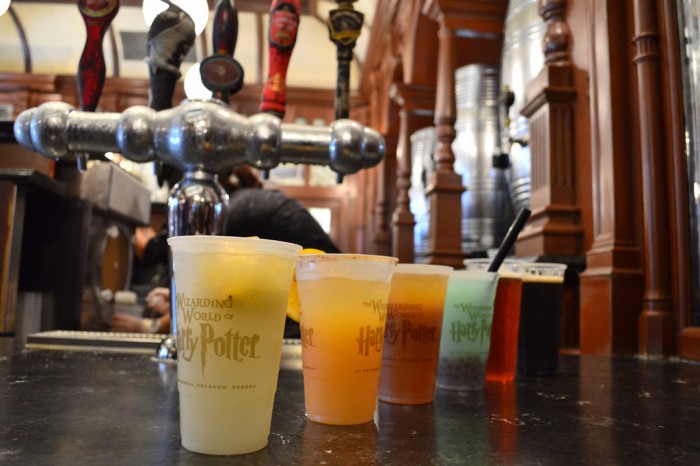 We've always felt that Chocolate Frogs in the Wizarding World are one of the best souvenirs to buy when on vacation (in fact, we did a whole article explaining why.) Relatively inexpensive, easy to travel home with, something you can eat yet still have a themed box and trading card as a memento…it's almost the perfect theme park item. For Potter super fans, they are even better because Universal has done a deep dive into the Wizarding World by creating Wizard Cards for characters only the most die-hard fans of the books would have ever even heard of. One of these cards was for Daisy Dodderide, who in Potter canon built the Leaky Cauldron. For Disney theme park fans, this would be like if WDW put out a new toy line and of the first dozen figures released was one for Bonnie Appetite from the Kitchen Kabaret attraction. Fan service to the nth degree.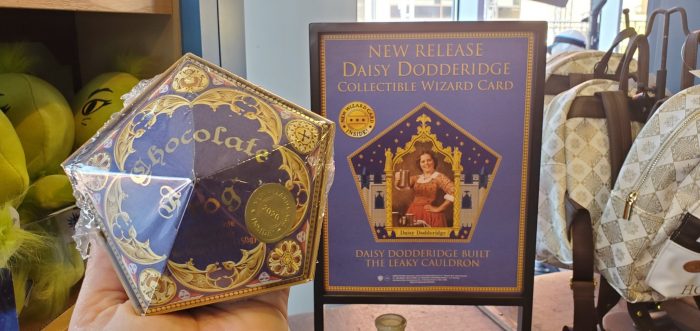 # 3 – Knockturn Alley
It is very rare for us in the theme park world to have an area to celebrate the bad guys. There's Gaston's Tavern in the Magic Kingdom and Villain's Alley in IOA's Marvel Superhero Island.  When I was growing up there was a wonderful retail store in DHS called Villains in Vogue, which focused on items themed to Disney movie villains. However the name of that store has been changed to Reel Vogue and it now sells the exact same merchandise available at about 100 other stores on Disney property. Good news though, not only does Diagon Alley have a section dedicated to the "baddies," it also  happens to be one of the coolest places in the entire land! Knockturn Alley brings guests into the darkness regardless of the time of day thanks to being completely enclosed. Animated wanted posters of Death Eaters line the cold brick walls and the entire area feels sinister. Borgin and Burkes, the area's gift shop, is hands-down the creepiest retail store ever created for a theme park. Filled with objects from the Dark Arts (including a vanishing cabinet that you should get close to. You just might hear something…), this is also your go-to place for merchandise dedicated to the villains of the Harry Potter Universe, how great is that?!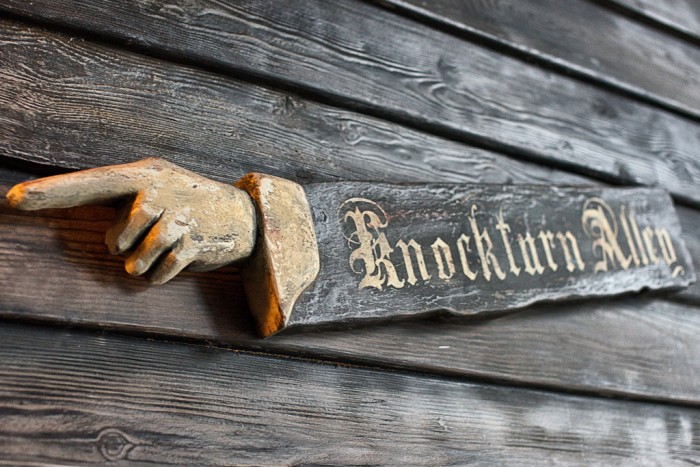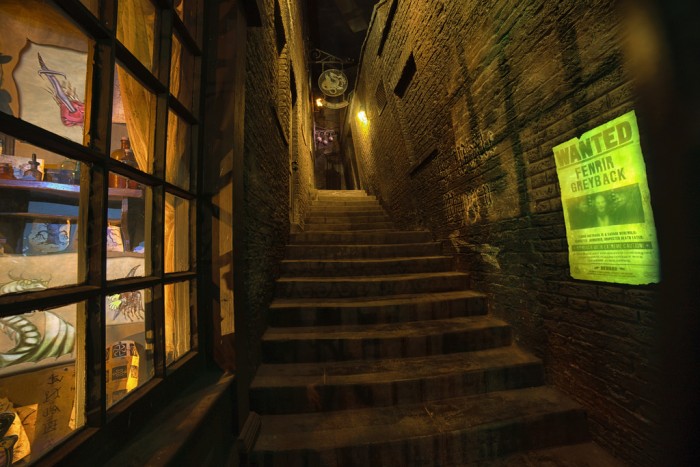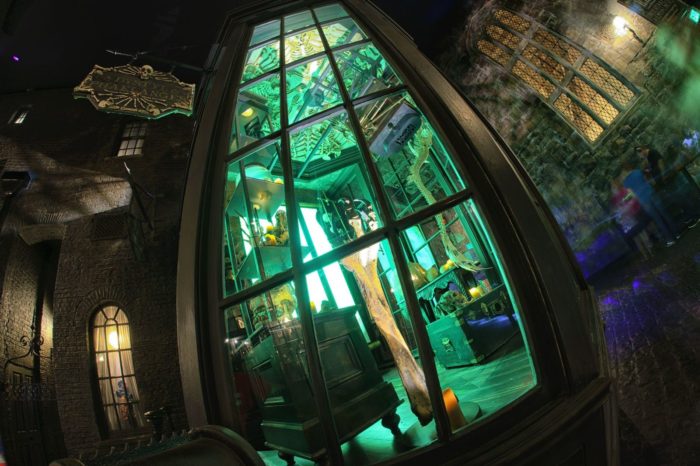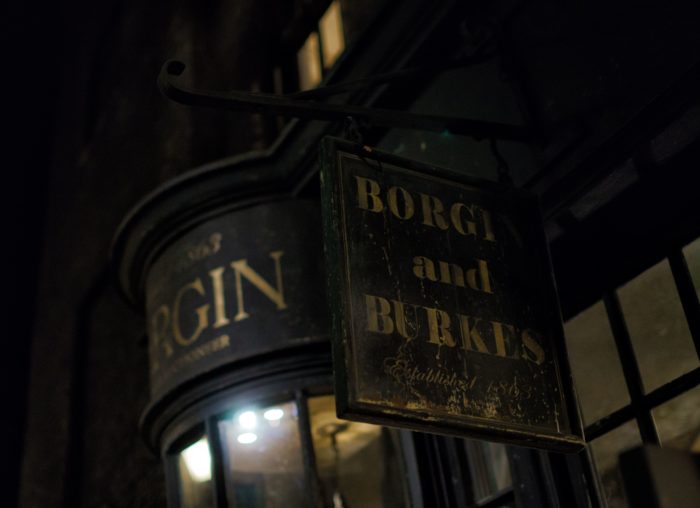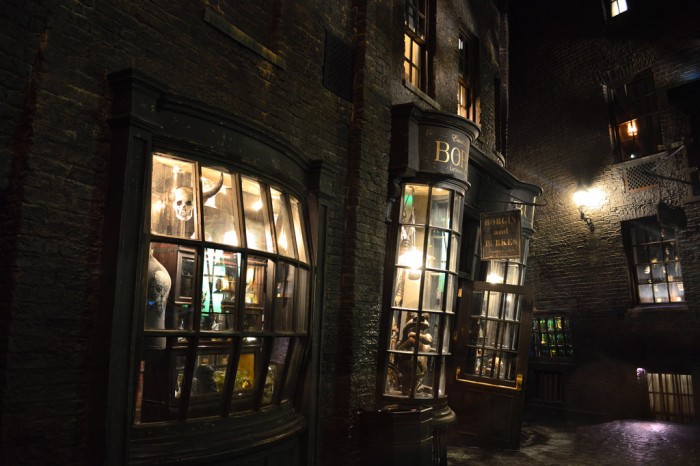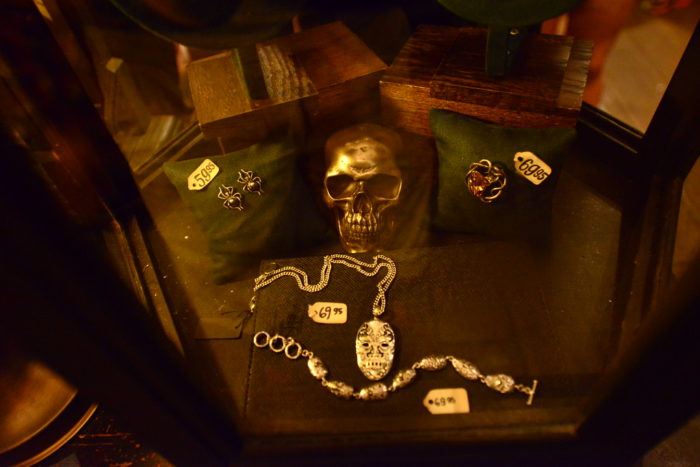 One item available for sale was this Slytherin locket, which any one who has seen the Potter movies should remember quite well.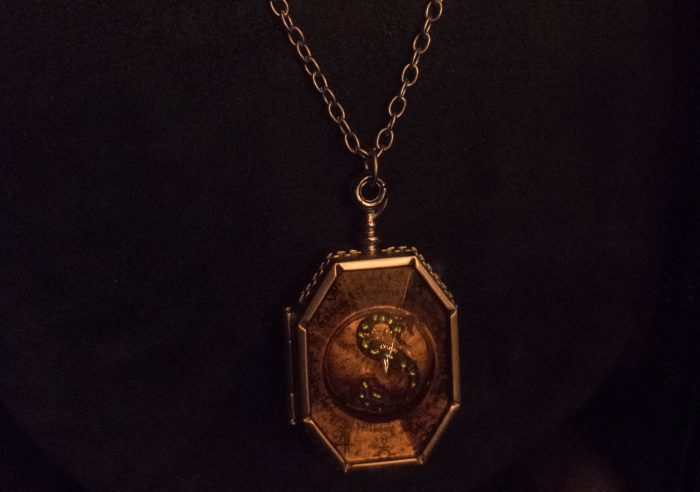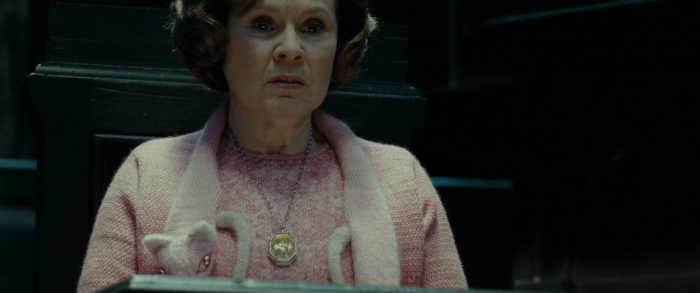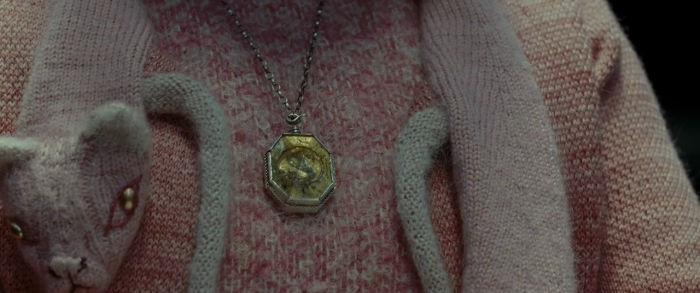 # 2 – Weasleys' Wizarding Wheezes
Speaking of straight from the movies, Weasleys' Wizarding Wheezes is the wizard's joke store we always wanted. You can argue that the only true "failure" from the original Hogsmeade village was Zonkos, a joke store which had some fun bits of theming, but mostly sold generic items. No one shed a tear when that store was removed shortly before Diagon opened as Weasleys' Wizarding Wheezes not only looks incredible, but also sells merchandise more in line with the quality of Potter items we have become accustomed to. For the theming we have Peruvian Instant Darkness Powder on the second floor and Dolores Umbridge on a unicycle (both seen in Half Blood Prince), along with fireworks on the ceiling. Meanwhile you can purchase love potions, Pygmy Puffs, and even a toy version of Dolores Umbridge on the bike!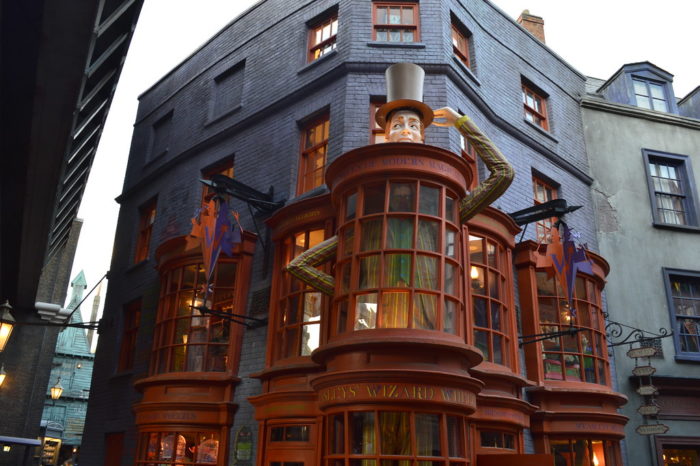 Just like the movies, the facade of Weasleys' has a man pulling a hat off his head to reveal a rabbit.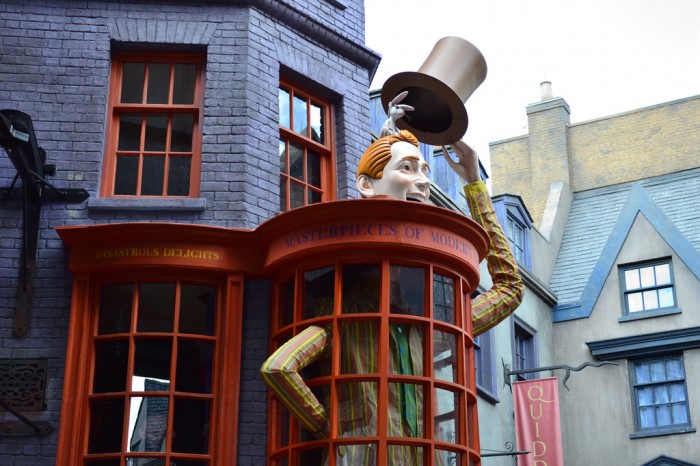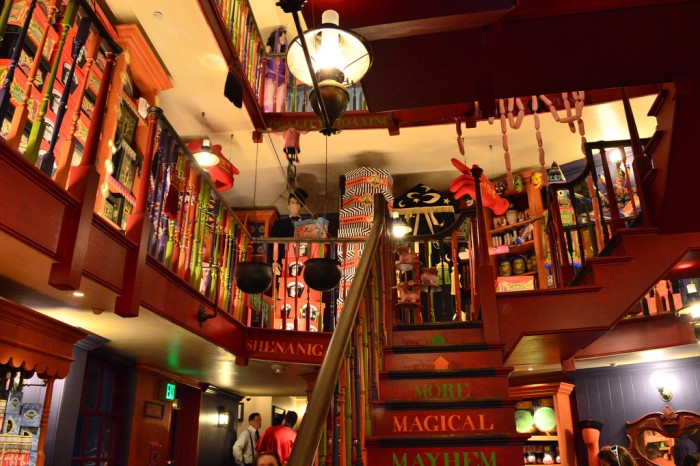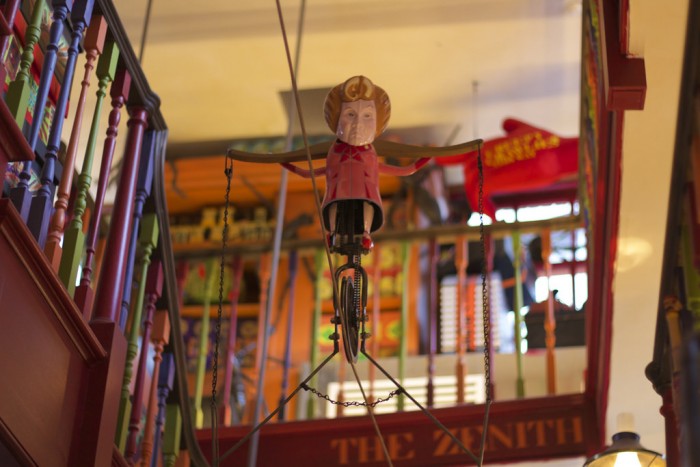 So many items in the store are stuff we have seen in the films or have been described in the books. It is a Potter fan's dream come true. Pygmy Puffs, which were a blink-and-you'll-miss-it moment in the films became an instant hit with theme park fans.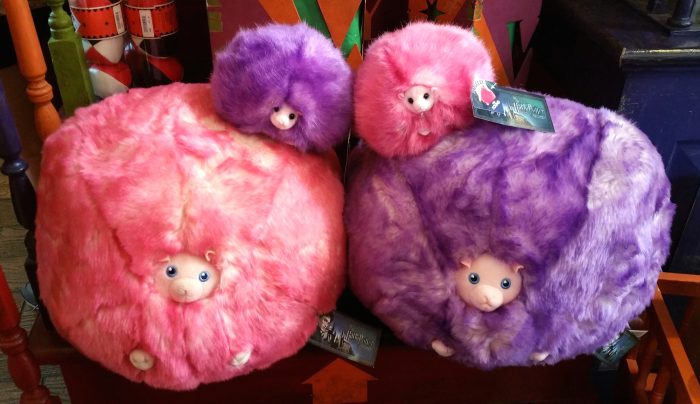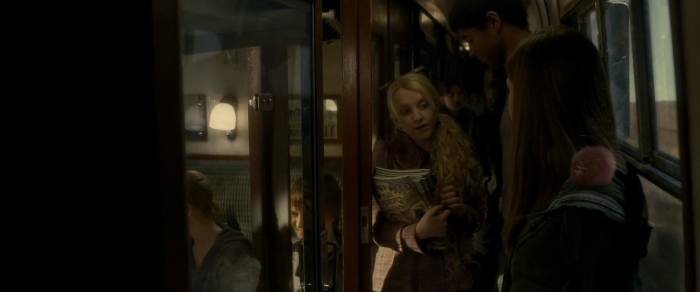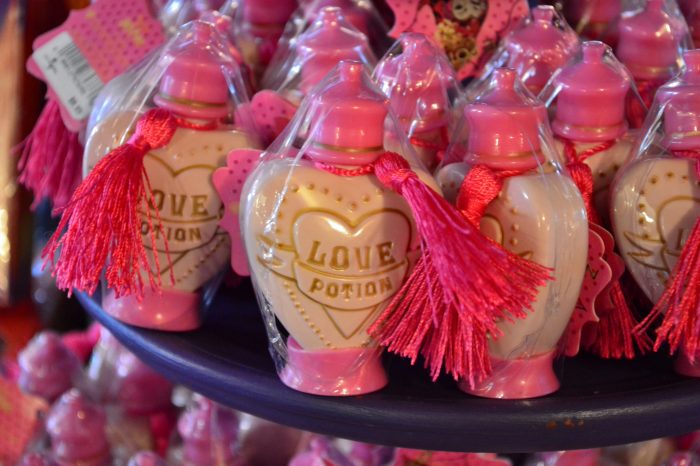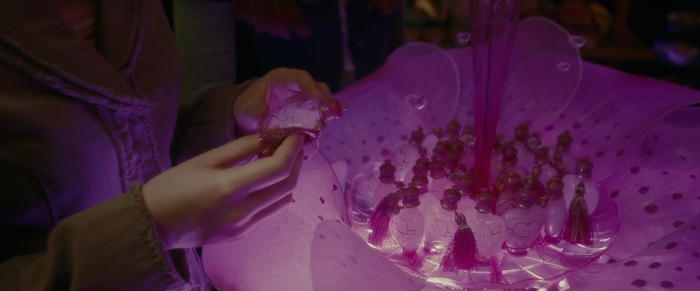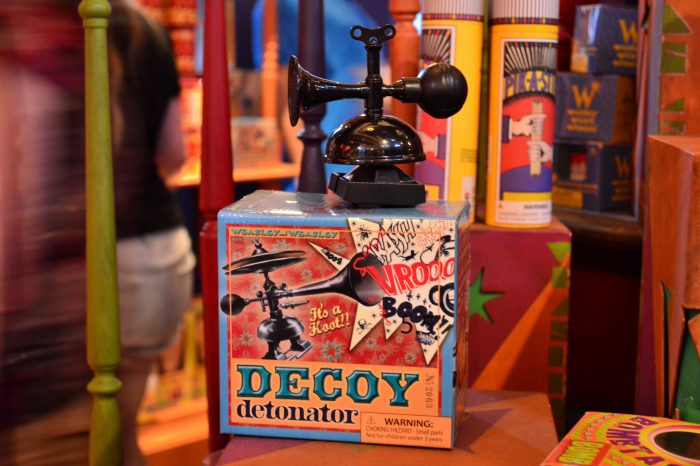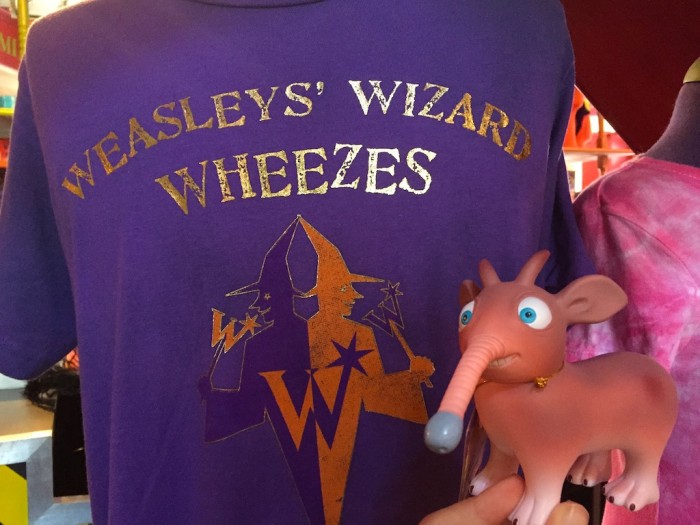 Skiving snackboxes. Sweets that will make you ill. Get out of class whenever you like." – Harry Potter and the Order of  the Phoenix
From it's debut, one of our favorite items found in the store was the Skiving Snackbox. In the movie Harry Potter and the Order of the Phoenix, Fred and George Weasley are shown trying to sell other students the Skiving Snackbox. These boxes unfolded to display four different snacks, all guaranteed to cause maladies that would get the students out of class. The four candies included in the box are Fever Fudge, Puking Pastilles, Nosebleed Nougat, and Fainting Fancies. The Skiving Snackboxes have been beautifully recreated in the Wizarding World and don't worry, you can buy each of the candies separately as well.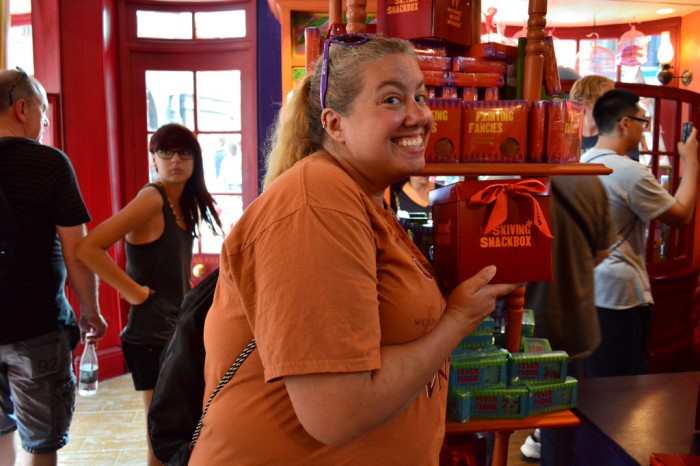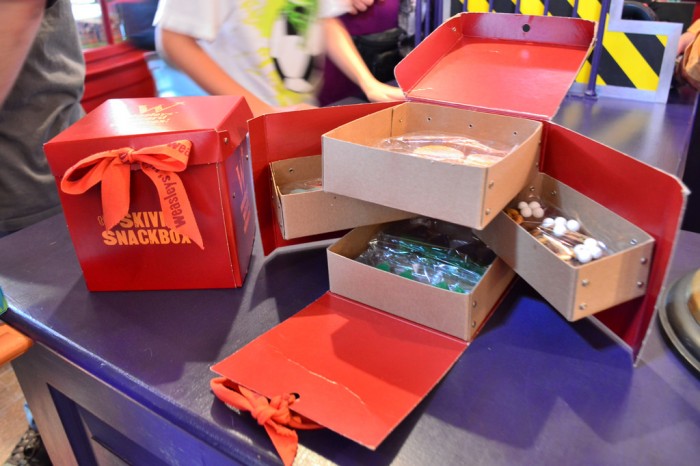 # 1 – Harry Potter and the Escape From Gringotts
While Diagon Alley eschews the normal theme park weenie concept by having the London Waterfont be its facade, once guests step into the land they get one of the all time greatest theme park weenies with Gringotts Bank. All eyes become focused on this "not quite normal" building along with the GIANT dragon sitting atop of it.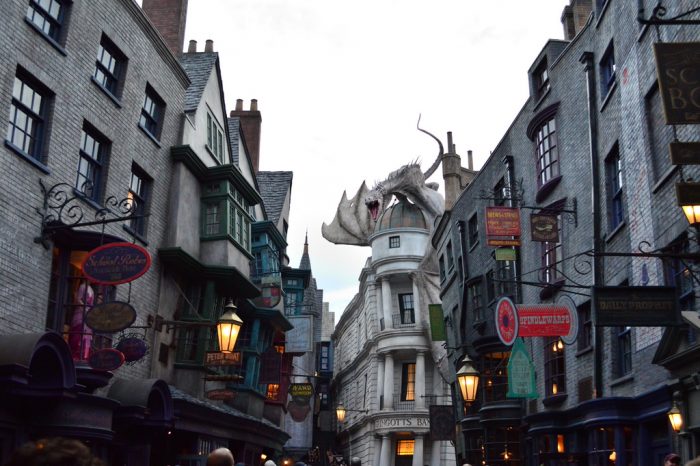 The dragon itself is stunning to look at from any direction.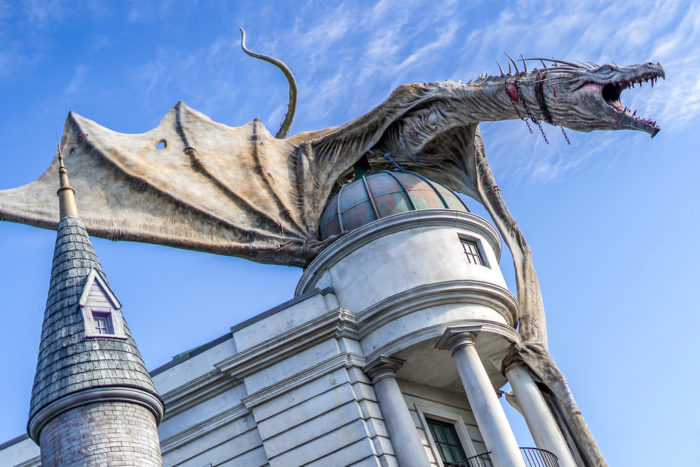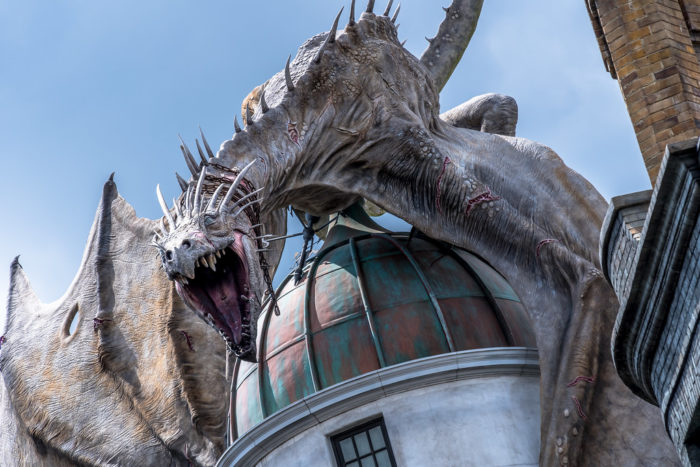 The details are what we in the industry like to describe as next level bonkers.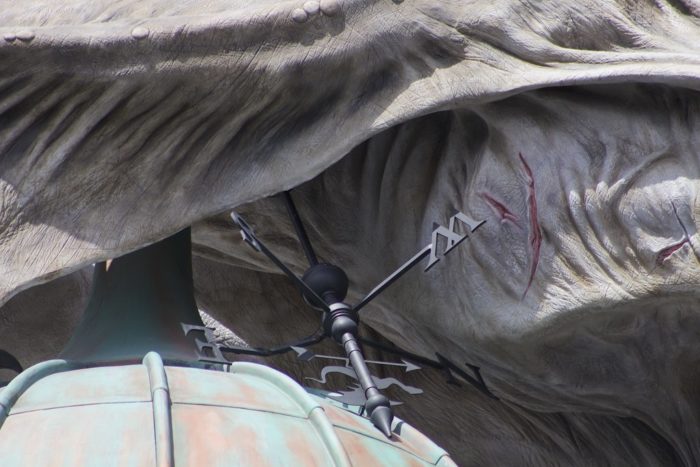 We're already at a 10 out 10 in terms of a theme park show building, but just like Spinal Tap, Universal Creative took it up to 11 by having the dragon breathe FIRE! This happens throughout the day and guests always love it.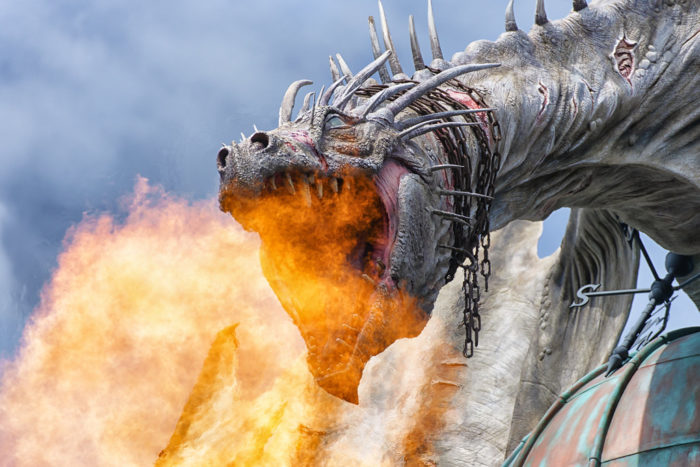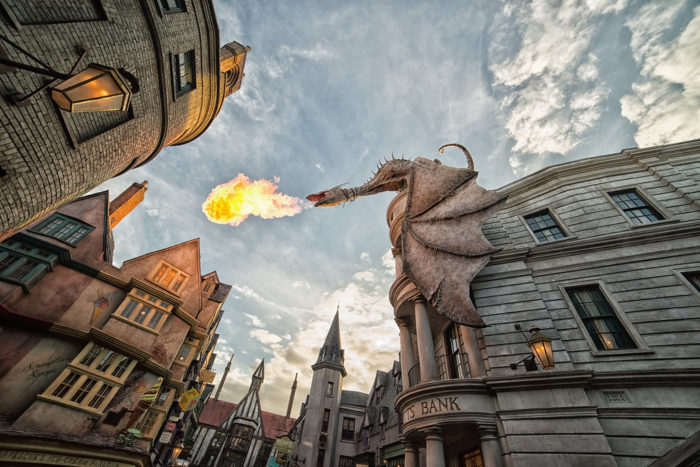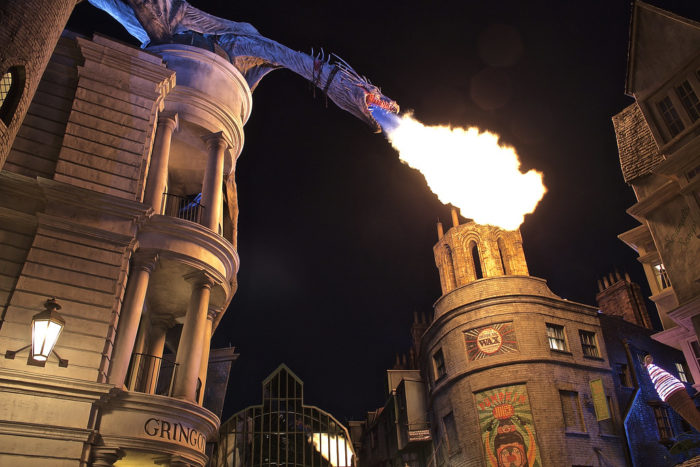 Walking into the bank's lobby is akin to stepping onto the set of Harry Potter and the Deathly Hallows Part 2, and you may have to pinch yourself as a reminder that you are not dreaming and that this is all inside an American theme park. The chandeliers are stunning and the room has more audio-animatronics than you will find on the Seven Dwarfs Mine Train at Disney's Magic Kingdom. Meanwhile the attraction itself gives us some major names from the Potter Universe, including Voldemort, Bellatrix LeStrange, and Bill Weasley along with a thrilling ride.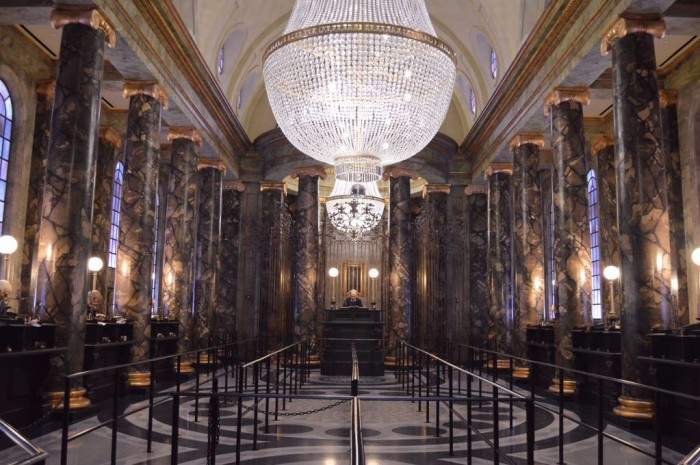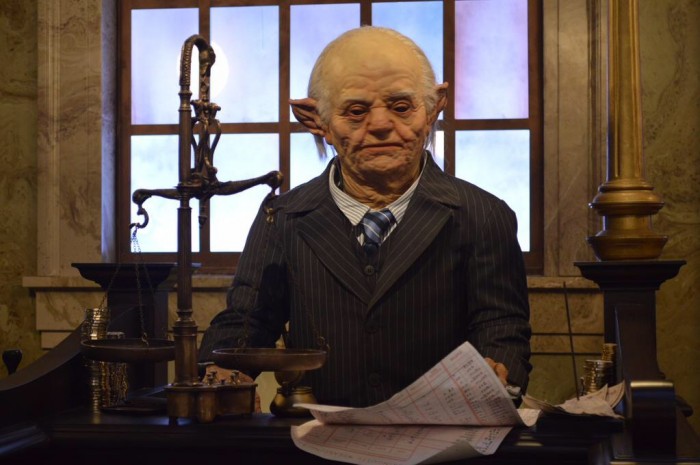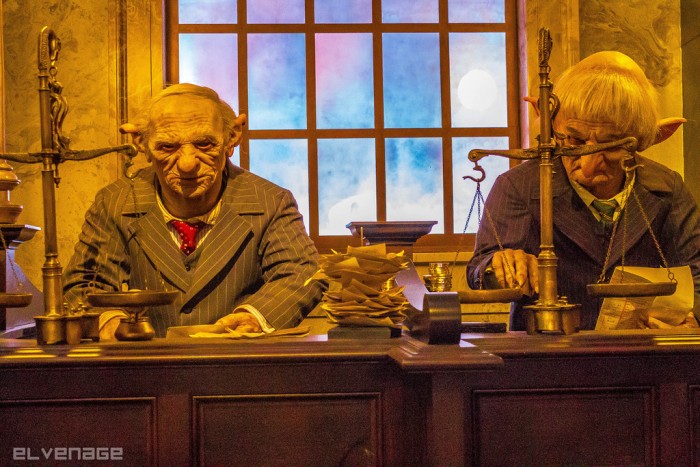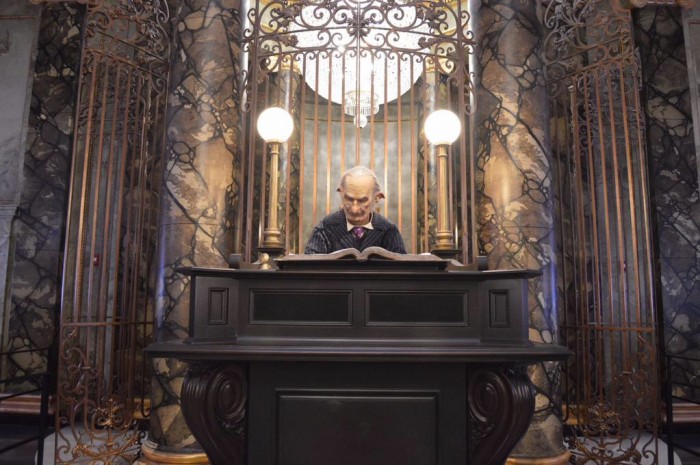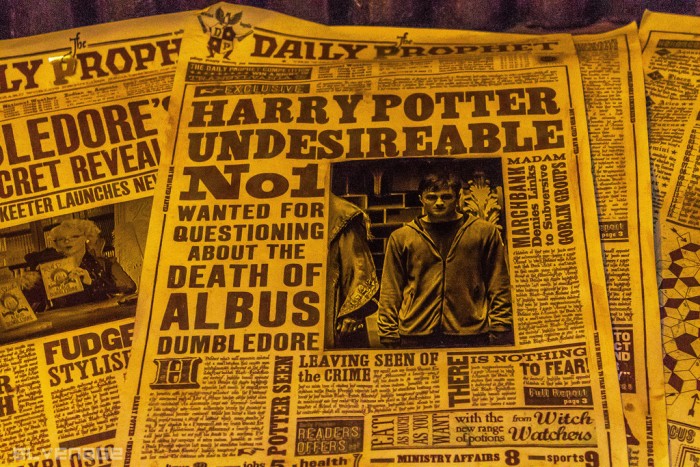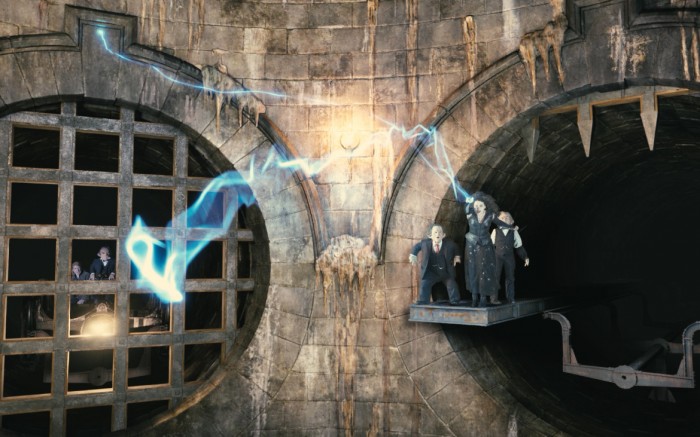 HONORABLE MENTION – Casting Spells
Wands were a hot seller when Hogsmeade Village made it's debut, but shortly before Diagon Alley opened Universal created interactive wands in which Muggles could cast their own spells while interacting with the land. Both Diagon Alley and Hogsmeade are filled with spell locations and it's something our kiddos love doing (and it seems to be a pretty big hit with adults too.)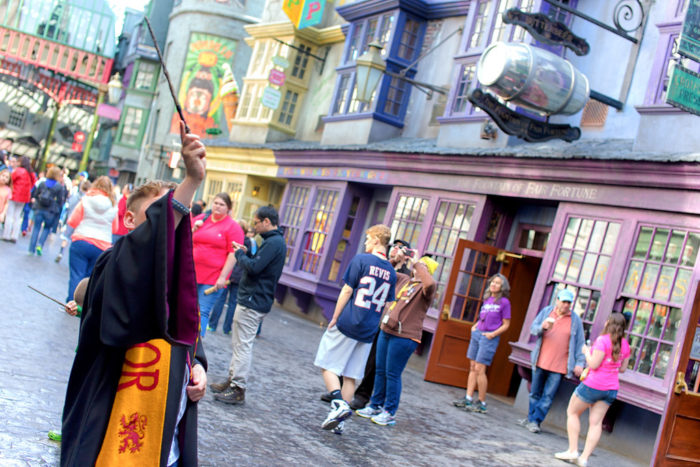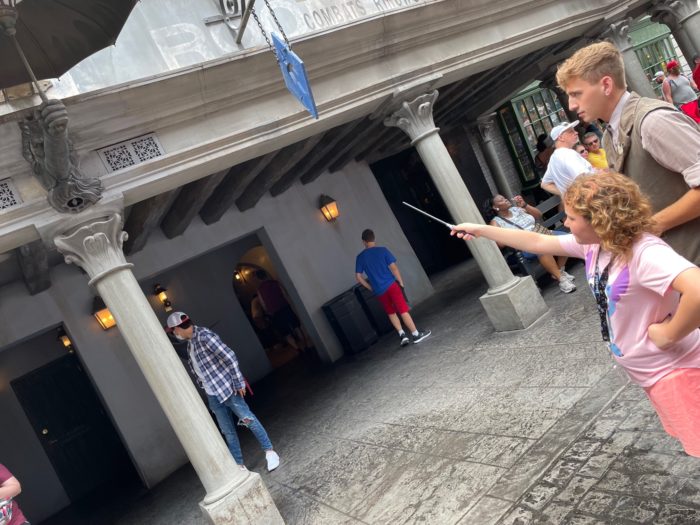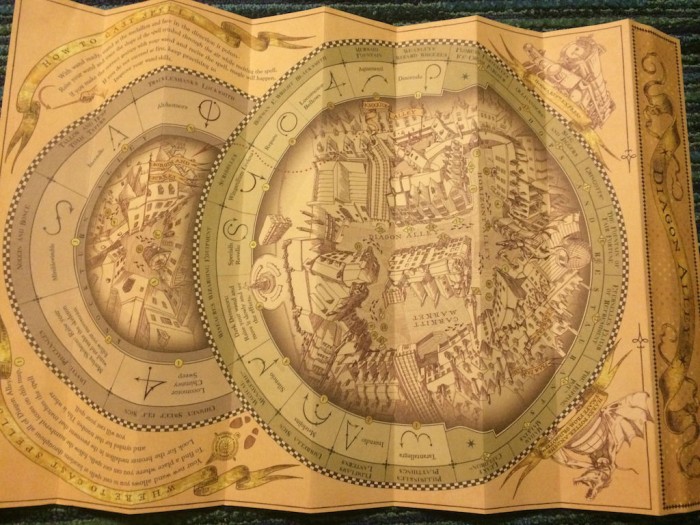 DOUBLE SECRET HONORABLE MENTION: Florean Fortescue's Ice Cream Parlour
While we were all expecting The Leaky Cauldron to be a success from the minute we heard about it, no one knew the surprise hit of Diagon Alley would be its ice cream shop, Florean Fortescues. Just as it was impossible to believe people would queue up to 30 minutes for a Butterbeer when Hogsmeade Village opened, who would have guessed people would be lining up 50 deep to get their hands on a scoop of Butterbeer, Apple Crumble, or Strawberry & Peanut-butter ice cream? Here's the thing….this ice cream is GREAT. At this point we may sound like a broken record, but Florean's is the best ice cream shop inside of a theme park. With unique flavors that deliver spectacularly on taste mixed with a backstory straight out of Harry Potter canon, it's no wonder this store appeals to both Potterheads and people who know nothing about the boy who lived.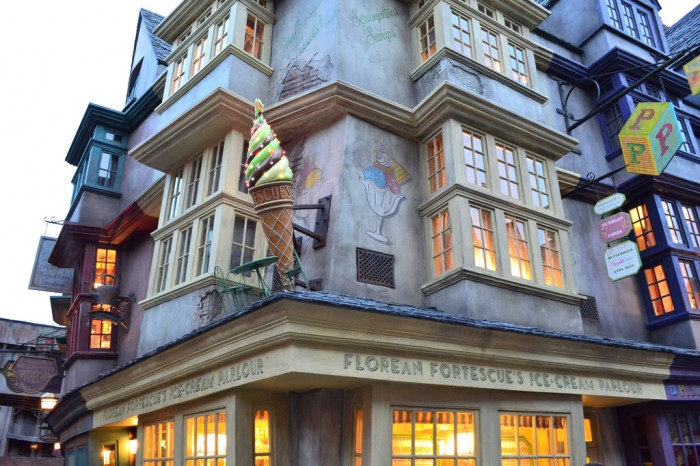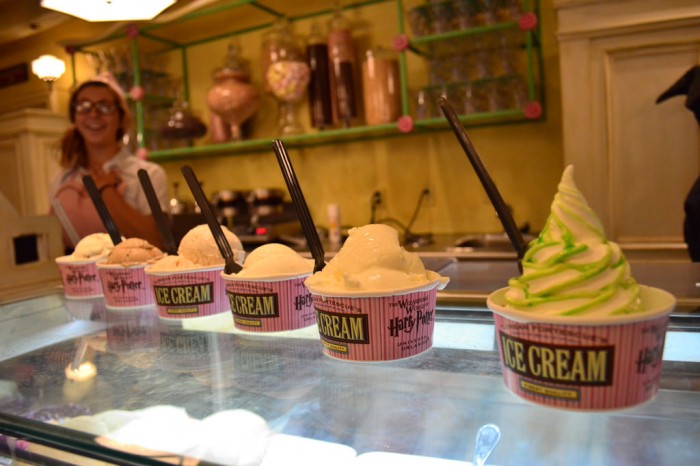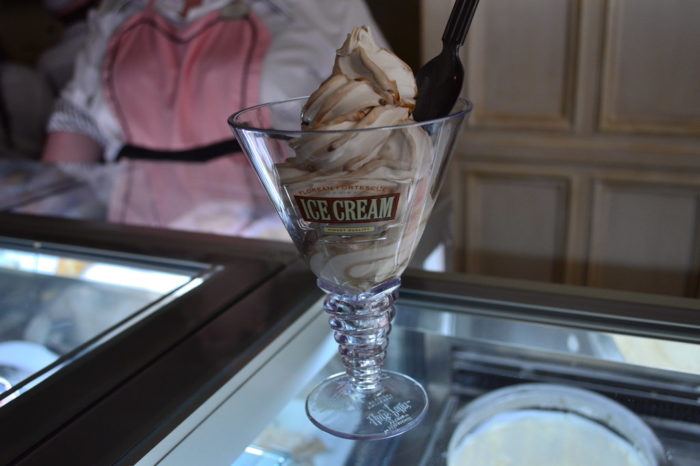 TRIPLE THREAT HONORABLE MENTION: The References to JAWS
Theme park fans love rides, but what the hardcore fans seem to love even more is references to their favorite rides and attractions that no longer exist. In the Magic Kingdom there is a reference to the Nautilus from 20,0000 Leagues Under the Sea in the amazing rock work for the queue of Under the Sea ~ Voyage of the Little Mermaid and a Mr. Toad appearance in The Many Adventures of Winnie the Pooh, while over at Universal Studios Florida Doc Brown from Back to the Future: The Ride makes an appearance in the queue video of The Simpsons Ride and a small statue of King Kong sits in the throne room of Revenge of the Mummy.
The Universal parks will almost always be tied to the iconic character of JAWS, and the removal of the JAWS attraction in 2012 may have caused a riot if people didn't know the Wizarding World was coming to replace it. A beloved ride that had major problems from literally day one, JAWS holds a special place in the hearts of many Universal fans. Now, when Hogsmeade Village opened in 2010, it contained exactly zero references to any of the elements of Lost Continent that it replaced, such as the Enchanted Oak Restaurant, so not everyone was convinced that there would be any JAWS references in Diagon Alley.
You can now rest easy, as there are multiple references to JAWS in Diagon Alley, including this one at the record store in the London Waterfront facade.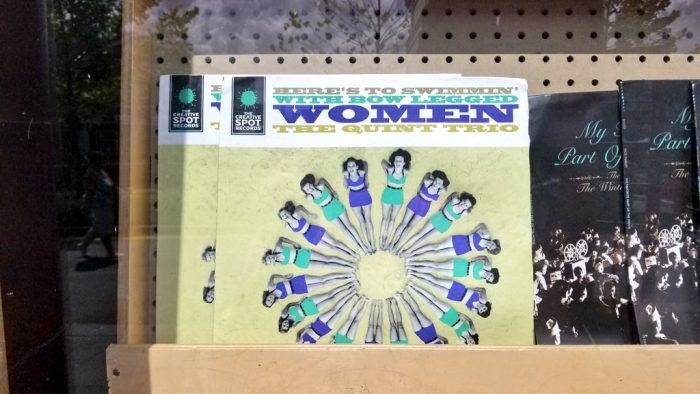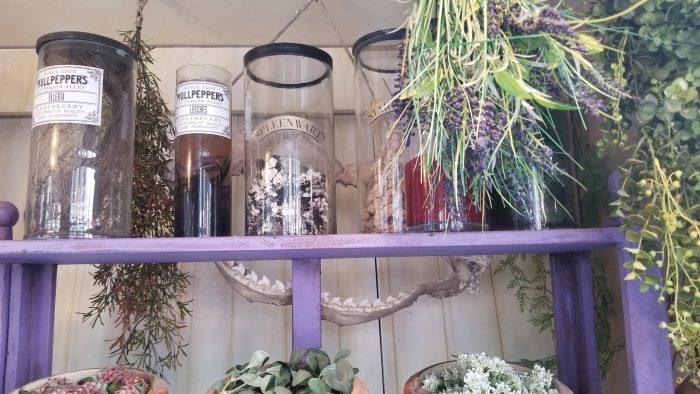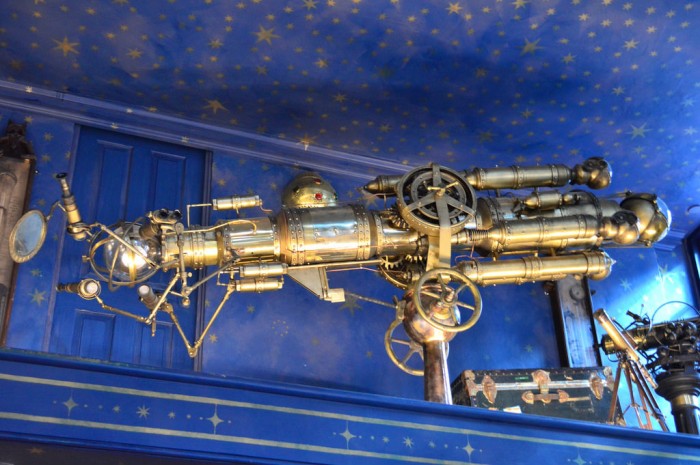 If you have an interactive wand, head into Knockturn Alley and you just may be able to get the shrunken heads to sing a very memorable song from JAWS….
One Last Bit Of Trivia…
Like the album cover featuring The Quint Trio mentioned above, another cover that is displayed is a deep cut for theme park fans. Team Calamity "The Singles" is a blind-item referencing tragedies and mishaps that happened to the Universal Creative team during the construction of Diagon Alley.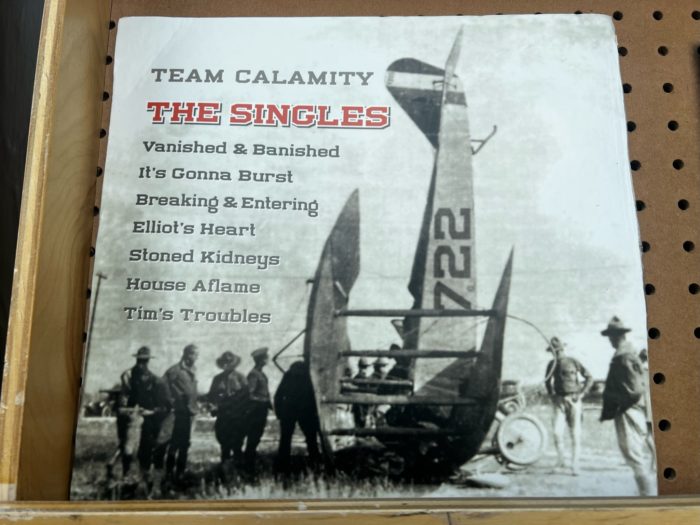 So there you have it: Six Reasons we Love DIAGON ALLEY! See you next weekend for the latest installment of the SATURDAY SIX, where we'll look at something fun from the world of Disney and Universal. You can also follow Your Humble Author on Twitter (@derekburgan).
If you enjoyed this article, you will surely like the following: 
Wizarding World Merchandise Straight From the Movies
BUTTERBEER Showdown: Which Version Reigns Supreme?
PLASTIC AT THE PARKS – Wizarding World of Harry Potter
Special Thanks to The Elite Brandon Glover, Digital Maestro Scott Walker,  the bio-est of all reconstructs @bioreconstruct, Captain Cruiseline Scott Sanders of the world famous Disney Cruise Line Blog, my personal protege Hunter "Elvey" Underwood, artist @SonderQuest, the SAT SIX Fun Squad of Parkscope Joe and "the Dadalorian" Nick, hot shot Michael Carelli, charter member of the Universal Four @Nitro230, and Hermione Granger's tutor Megan Stump for their invaluable assistance with this article. Absolutely no help was added by SeaWorld Influencer @SuperWeenieHtJr. The SAT SIX is inspired each week by goofballs Aengus Mackenzie and LitemAndHyde and you Potterheads will  enjoy Meg's other blog work over at the Central Florida Slug Club.