SATURDAY SIX Presents: Flights with @bioreconstruct vol 3 (EPIC Universe, Tiana's Bayou Adventure, the Destruction of Harmonious and more!)
This week the SATURDAY SIX Proudly Presents: Flights with @bioreconstruct! Buckle up, pop a couple Dramamine, and join us inside the helicopter as we join the blogger-in-the-sky 3,000 feet up in the air getting a bird's eye view of the theme parks we love so much. BUT FIRST, a quick health update on Bio. For those who don't know, this year has been absolutely crazy for Bio starting with a serious trip to the hospital back in January. We have covered Bio's recovery progress in our monthly Theme Park Enjoyment Index over past few months and today we are going to start off with an update from Bio himself…
Health status: It'll be 41 days of stable health and increasing strength in exercise when this article is published. I had sudden onset of Leukemia in January, and it's been a wild adventure! Probably the craziest hospital stay was due to a 16-hour nosebleed.

Current blood analysis numbers are good, stable. Chemo continues.

In a few weeks I'll probably be on the Tron and Pipeline coasters for the first time. – @bioreconstruct, June 16th, 2023
Feel free to check out our previous flights with Bio (both Volume 1 and Volume 2), but after that bit of great news we're ready to hit the air and we'll start our journey circling over…
# 6 – EPCOT
My personal favorite photos from Bio are these "Big Picture" types that give a look at Walt Disney World you can't get on the ground and put everything into perspective. In the photo below not only do we have EPCOT, but the nearby resorts including the Boardwalk, Yacht & Beach Clubs, and the Swan & Dolphin. At the very top of the photo in the background you can also see Disney's Caribbean Beach and Art of Animation. These type of pictures just take my breath away.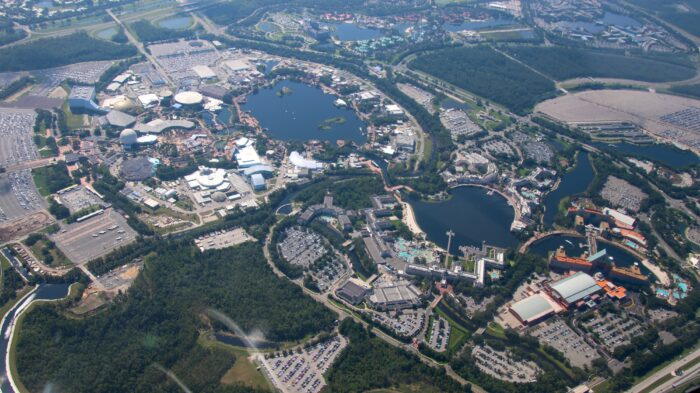 Let's take a closer look at some construction inside EPCOT, including what seems like Year 5 of building a walkthrough attraction for Moana.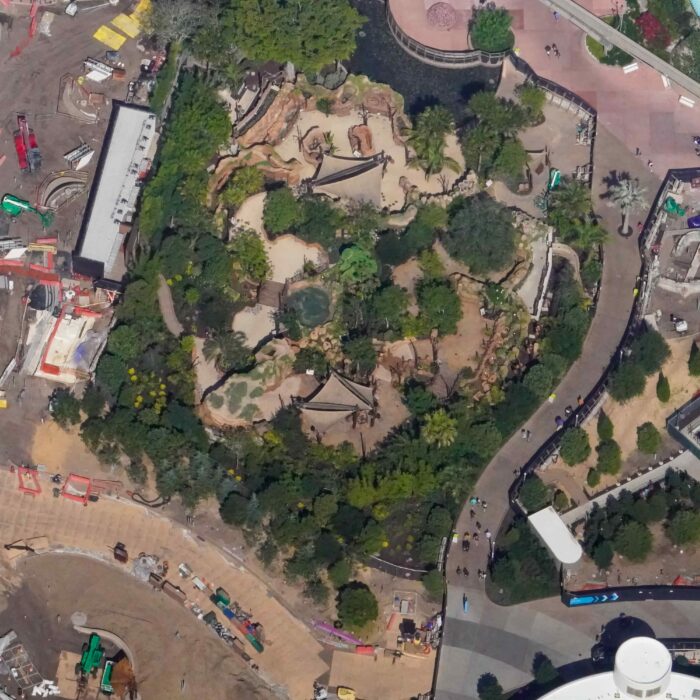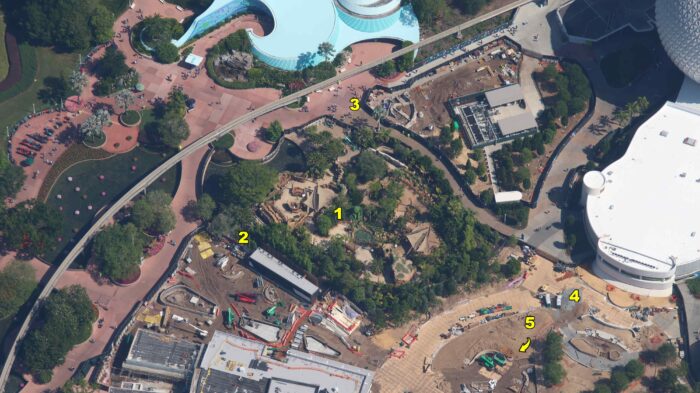 Here we have a look down at the current construction pit of World Celebration, although with Bob Chapek gone I wonder if Disney is going to end up keeping the "World" gimmick for naming the park's lands neighborhoods (World Celebration, World Nature, World Discovery, and World Showcase) and instead pivot to something else.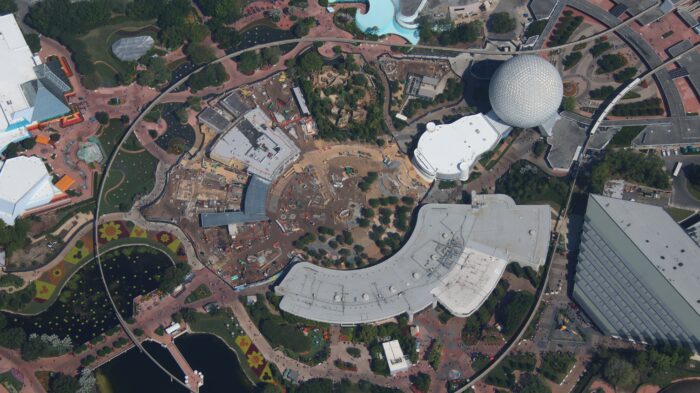 I think the worst part of the construction taking forever is that the final result doesn't seem like its going to be that impressive anyway. Have you been into Creations Shop? The most generous term you can use to describe it is "fine." It is sterile, generic, minimally themed, and – when comparing it to the MouseGear, the store it replaced – you have to wonder how did this take so long to build?!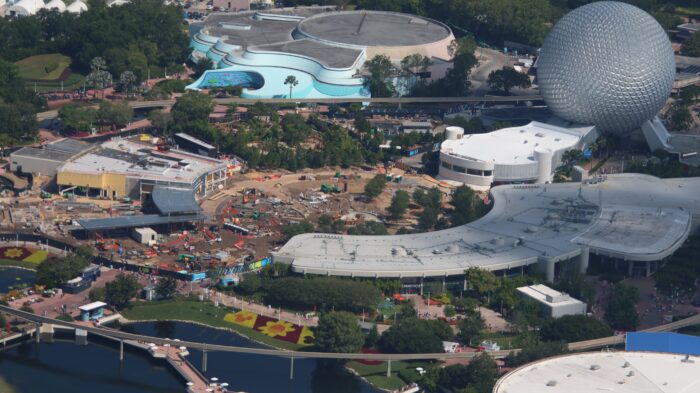 Loving this new gimmick from Bio where not only do we have his patented yellow arrow pointing us to something of note in the picture, but now he's including close up inset pictures as well. ARE YOU KIDDING ME?!!! Bio isn't the hero we deserve in these times, but he's the one we need.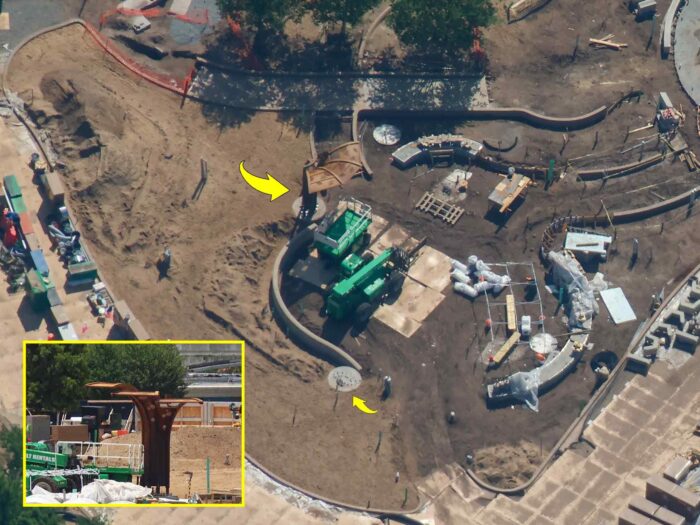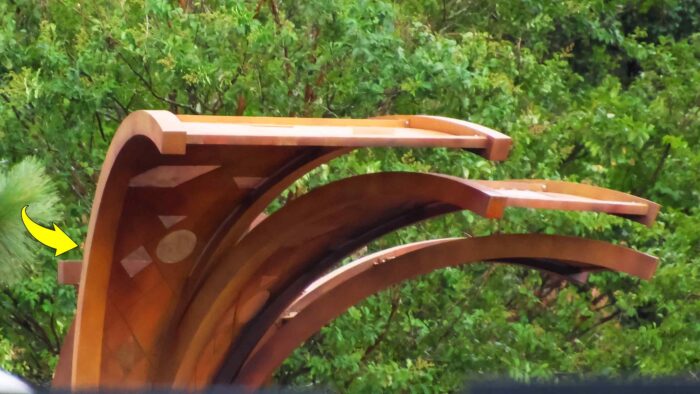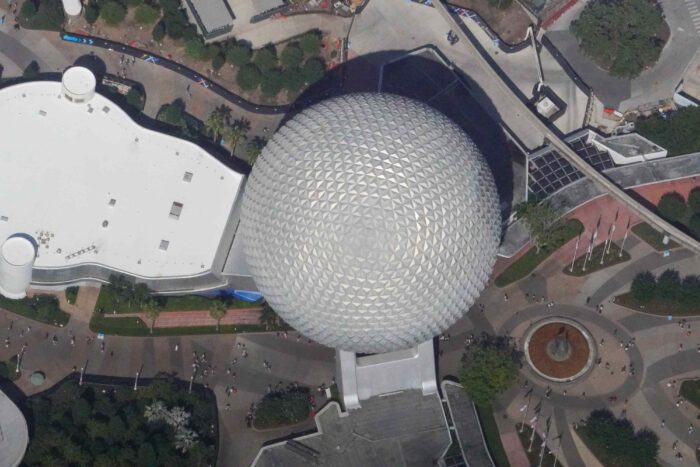 Another photo style I enjoy from Bio are this "very wide aerial photos" that show you iconic buildings and attractions popping up in the background.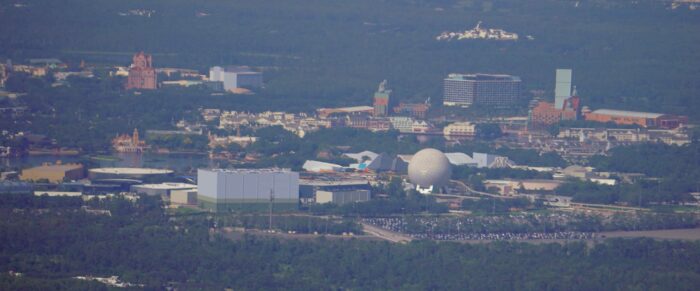 We're going to take a quick look at World Showcase and give you one of the 4,783 reasons you should be following Bio on Twitter. One day he'll just post a photo like the one below featuring an interesting look at the American Adventure and other nearby countries in World Showcase. Cool to see them from this vantage point, getting a whole new perspective on the scale of how large these Pavilions actually are.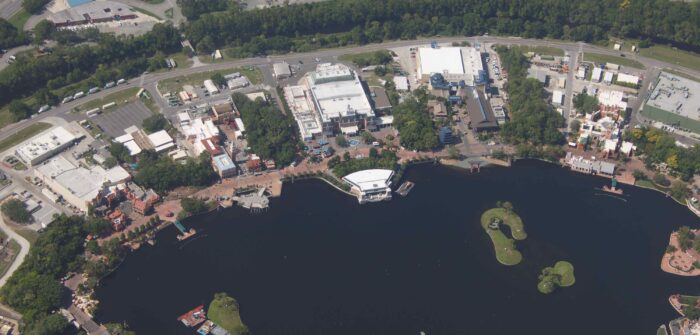 He'll follow up usually with another angle, again giving us a unique and cool look at something.
Then he immediately follows up with a picture from decades earlier showing what the area looked like when it was under construction. It's absolutely awesome.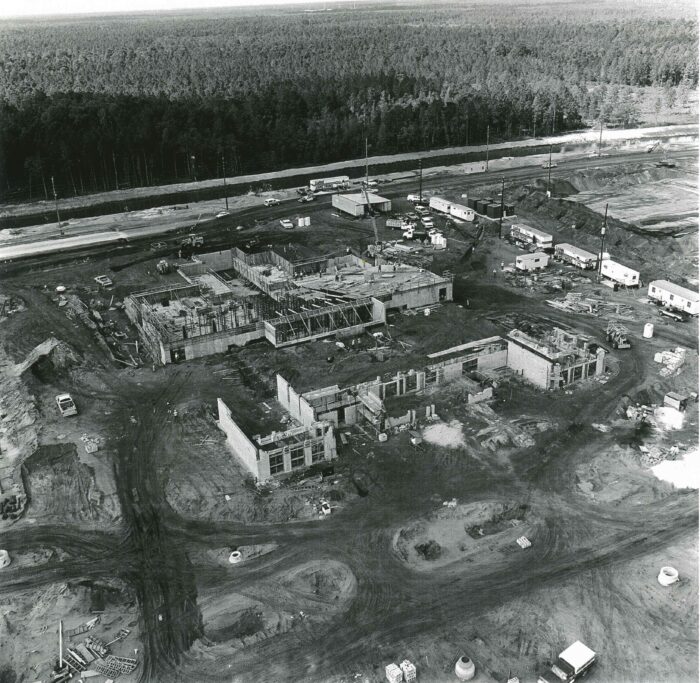 Oh, you think that was it? NAY NAY. Then he'll break down the decades-apart photos to compare them to each other.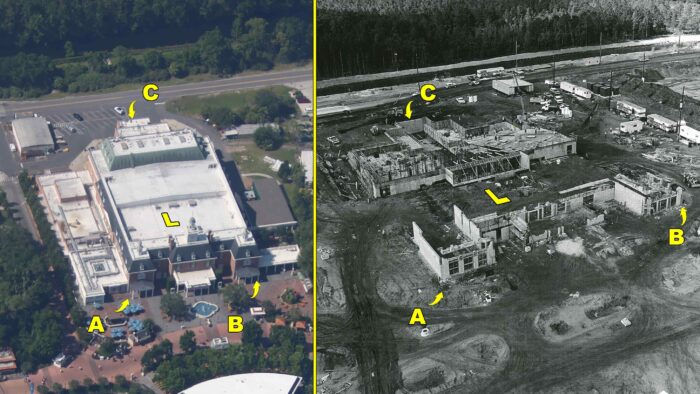 Okay, back to current day aerials. This one is showing the Golden Dream ship docked backstage for refurbishment.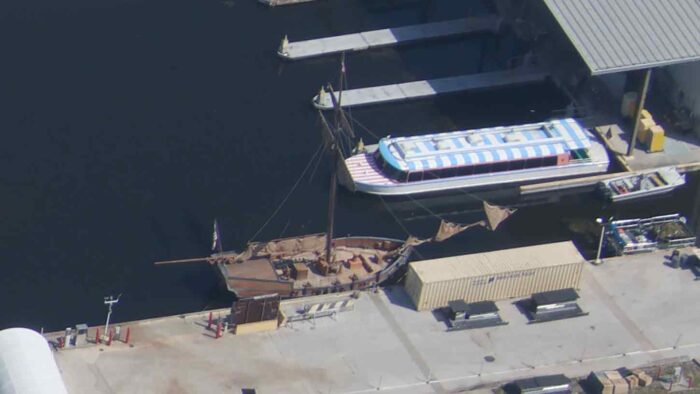 For those who don't know, the Golden Dream is generally "parked" out front of the American Adventure Pavilion.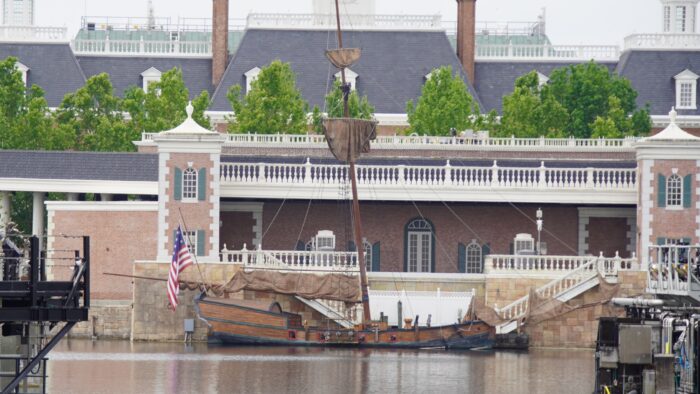 Let's take another trip back in time back to 2020 when the Golden Dream was also backstage for a refurbishment. In the photo below you'll see the Golden Dream in the bottom right of the photo with newly constructed Harmonious barges in the center, which leads us to our next section…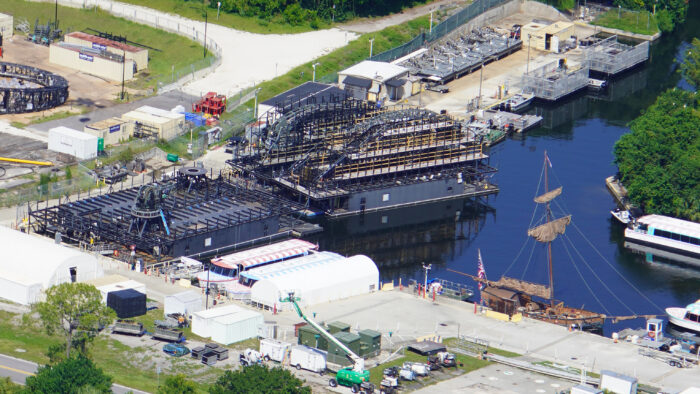 # 5 – The Final Destruction of Harmonious
In last month's TPEI we wrote about the shocking announced closure of the Star Wars: Galactic Starcruiser, and right behind that in my book is Disney shelving the Harmonious nighttime spectacular so fast. The reason both are so surprising – for me – is because of how much time, effort, and – most importantly –  money was spent on developing them. Over at Universal Studios Florida I think Fast & Furious – Supercharged is one of the all time worst attractions ever built (maybe THE worst when you consider the expectations a guest has for "Fast & Furious" going into the ride) but I understand why Universal keeps it around when they have no problem replacing things. Getting rid of it quickly would leave major egg on the face of anyone involved with Supercharged: from the management who green lit it…to the Universal Creative who designed it… all the way up to box office superstars like The Rock and Vin Diesel who appear in it. All of them individually are incredibly good at their jobs, just for whatever reason this project was unsuccessful.
Harmonious' success (or lack thereof depending on your POV) was certainly subjective, and the show certainly had its share of fans. However, the amount of vitriol posted online about the barges in World Showcase lagoon during the day was something rarely seen in a community filled with pixie dust. Below we have a picture which shows the very last barge being taken apart backstage.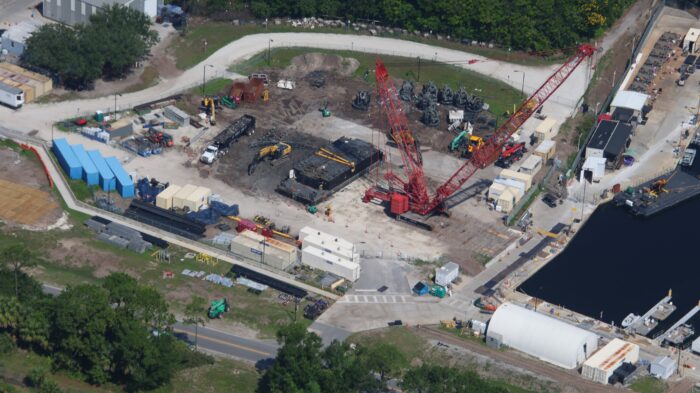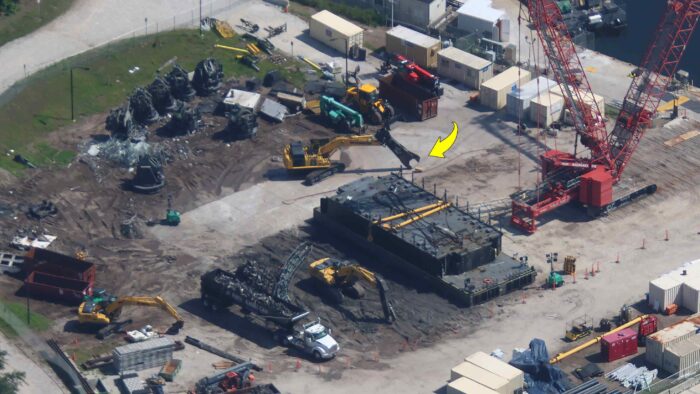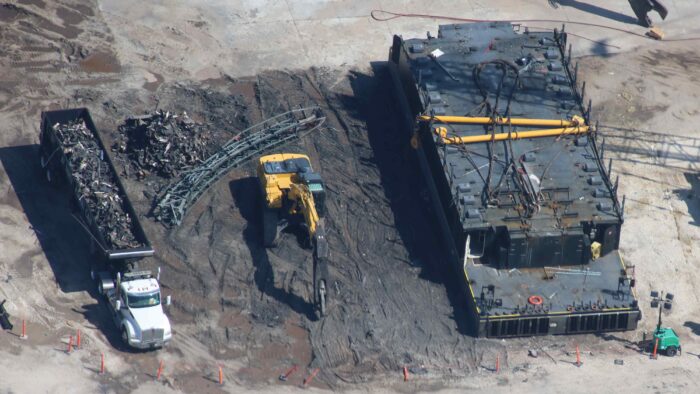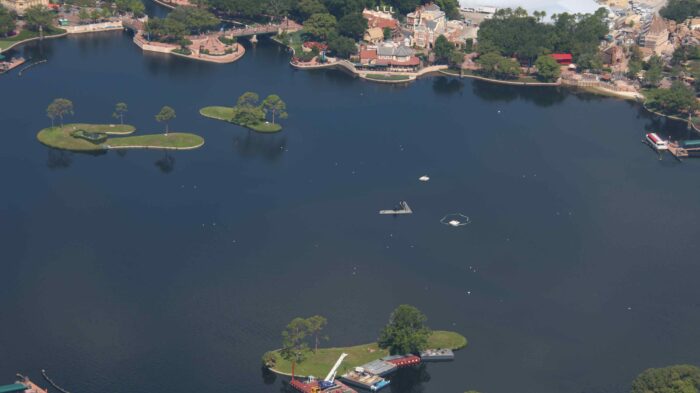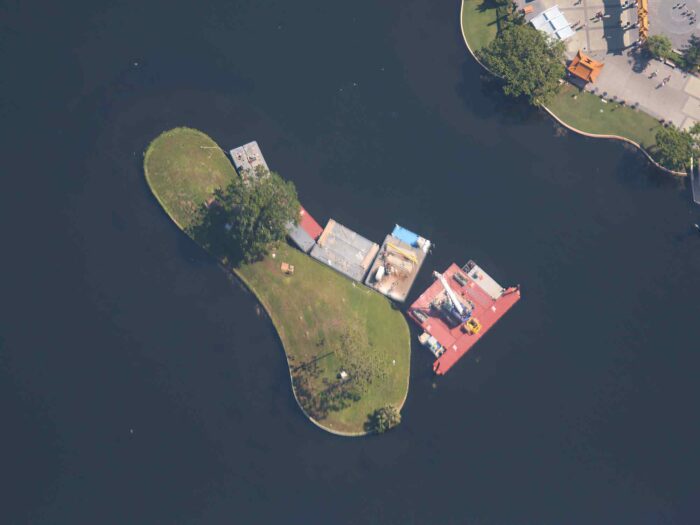 # 4 – Holy Land Experience
Heaven needed a theme park.
Obviously Walt Disney World and the Universal Orlando Resort get the lion's share of attention in Central Florida, but there are a lot of other places to visit as well during  your Orlando vacation. One of those places was Holy Land Experience, a religious based park which featured exhibits, shows, and restaurants. The Holy Land Experience was a registered non-profit, and they took that literally as the place was a gigantic money pit. In 2021 the property was sold to Advent Health who have plans to open medical facilities on the land.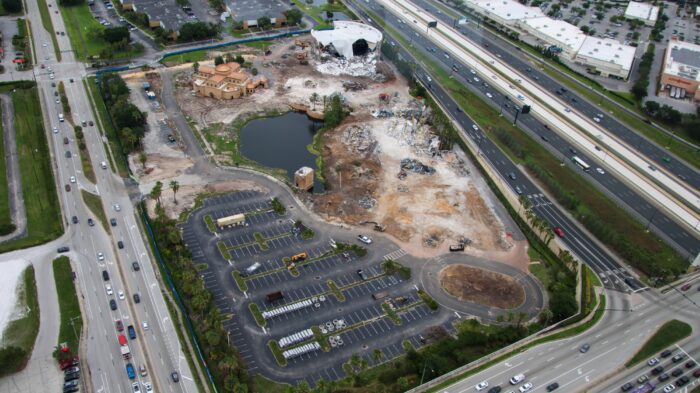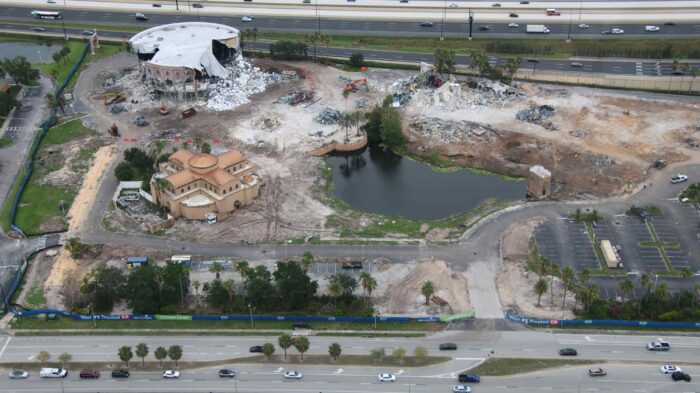 The Holy Land Experience opened back in 2001, and in 2012 the Church of All Nations was built on the property. This was a 2,000 seat venue that hosted biblical re-enactments along with concerts and church services.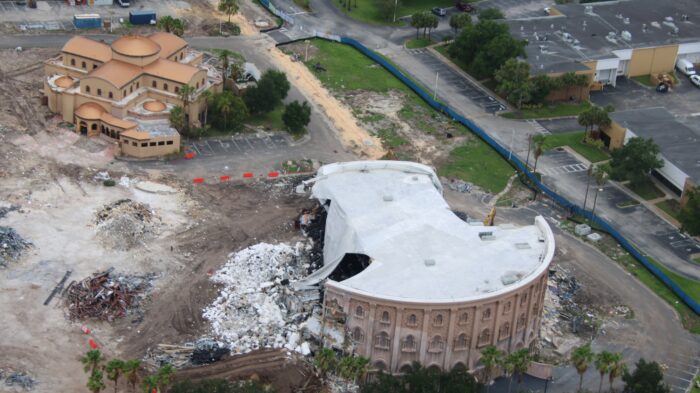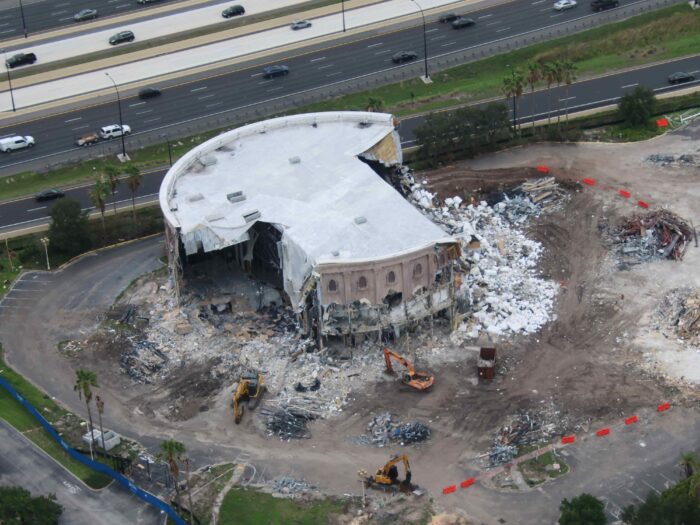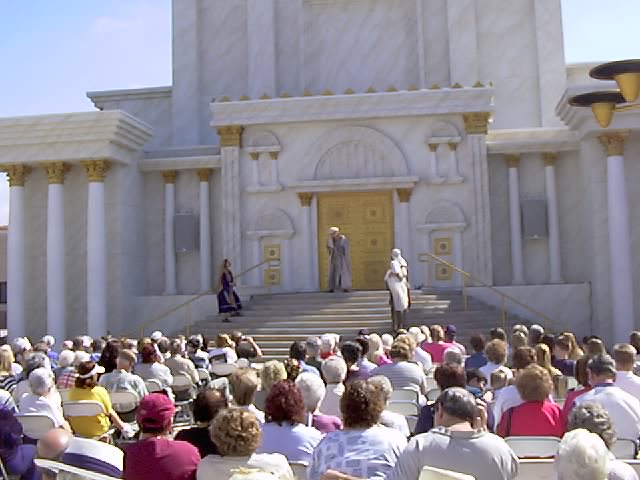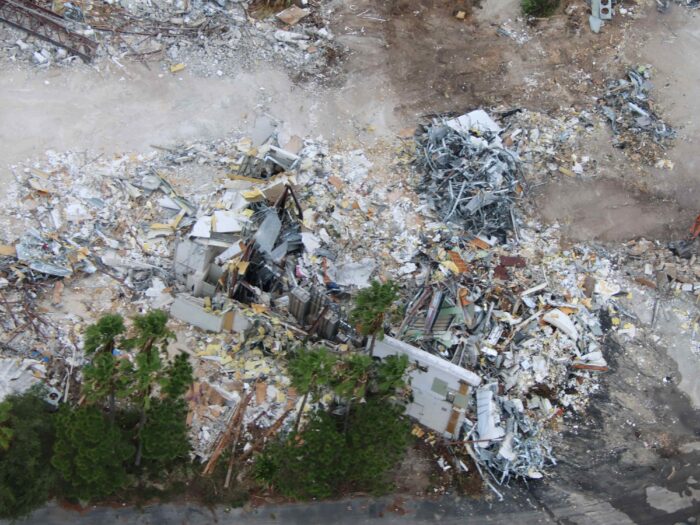 # 3 – Orlando Malls
Speaking of other things you can do while on your next Disney or Universal vacation, Orlando has some very large shopping experiences including two gigantic Orlando Premium Outlets. One of the outlets is located close to Walt Disney World on Vineland Ave. (off SR535.) The other outlet is located near the Universal Orlando Resort, at the very end of International Drive. They are appropriately named the Orlando Vineland Premium Outlets and the Orlando International Premium Outlets. Picture below is the Orlando International Premium Outlets.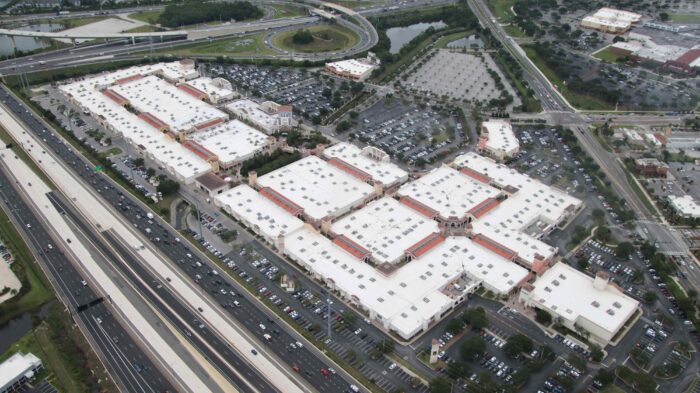 Here is another angle of the Orlando International Premium Outlets with a yellow arrow pointing to the location of the Disney Character Warehouse. This is my personal Mordor as for over 8 years we covered the Disney Character Warehouse every single month in the Magic, Memories, and Merch! series. For more info on the Disney stores you can check out this FAQ I wrote titled Everything You Wanted To Know About The Disney Outlet Stores (But Were Afraid To Ask) and you may also enjoy the special Disney Merchandise Hall of Shame article, which showcases many of the items I saw during my monthly trips.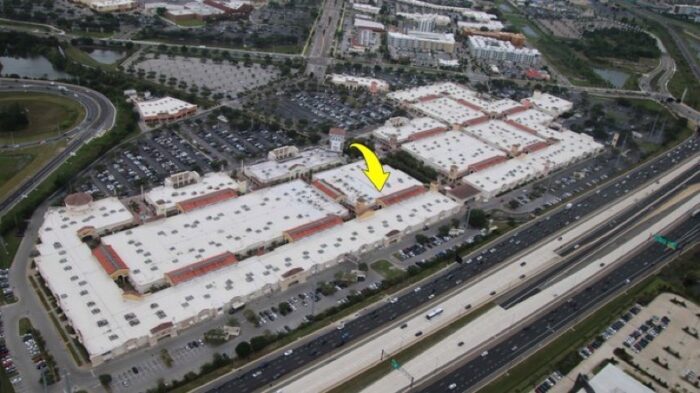 Here is a closer look at where the Disney Character Warehouse is located. The store used to be much larger, but had more than half of its retail space converted into a Panera Bread location. The Disney Character Warehouse off Vineland Ave is MUCH larger.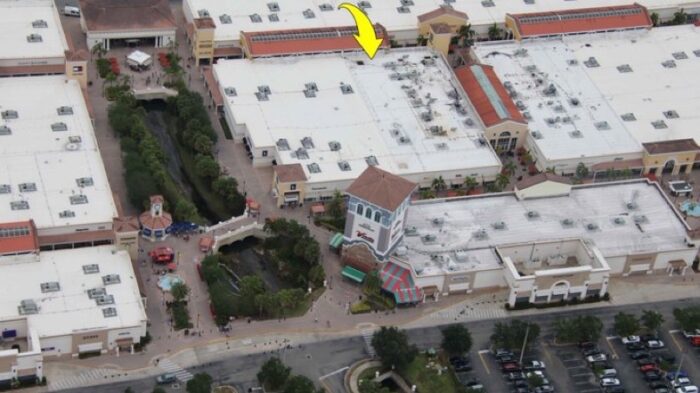 Now let's do a quick flyover of another notable mall, The Mall at Millenia. You can see in the top right of the photo the mall is located right next to an IKEA…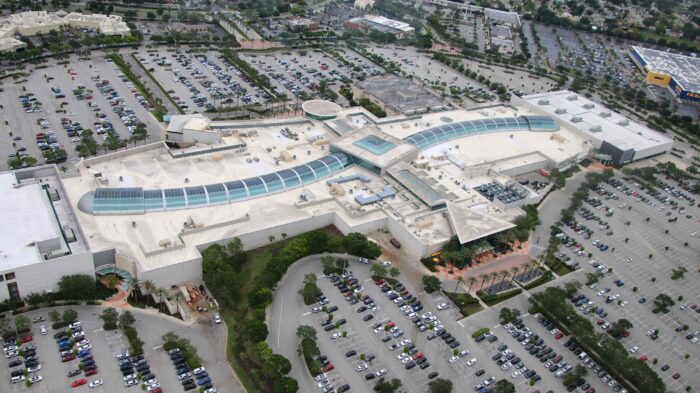 …which of course Bio also got an aerial of.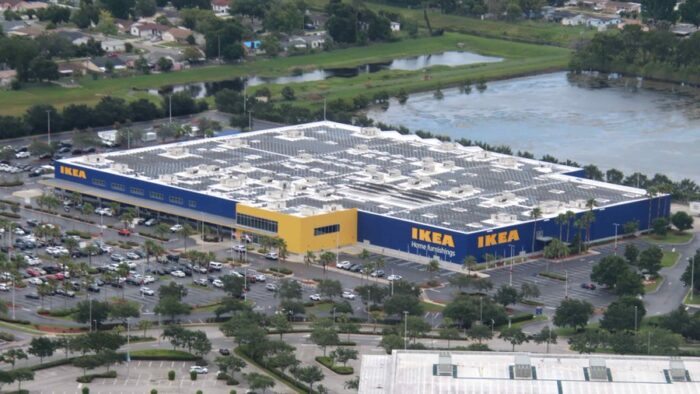 The Mall at Millenia is loaded with a lot of great looking design elements .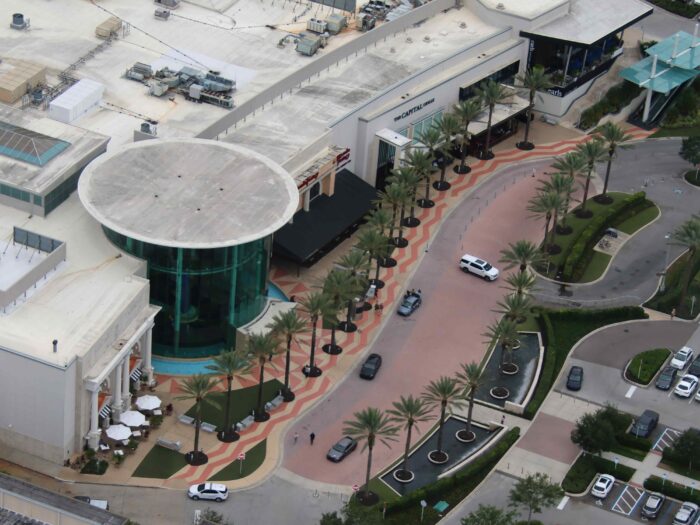 The Mall at Millenia itself is basically if Central Casting created a mall and put in all the brand name stores and restaurants you know: Apple, Macy's, Victoria's Secret, Abercrombie & Fitch, Lacoste, The Cheesecake Factory, California Pizza Kitchen, Chik-Fil-A, S'barro pizza and many, MANY  more. Unfortunately, there are no theme park related stores in the mall.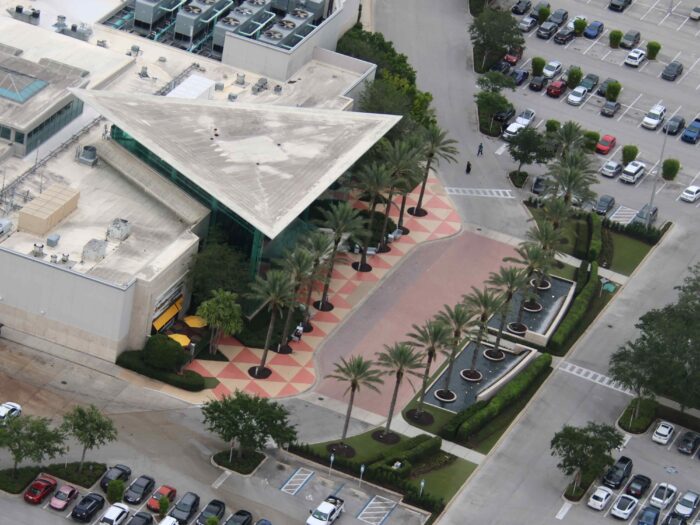 As you can see, the design elements of the Mall at Millenia are incredibly unique, including this snake-like series of glass windows on the roof of the mall.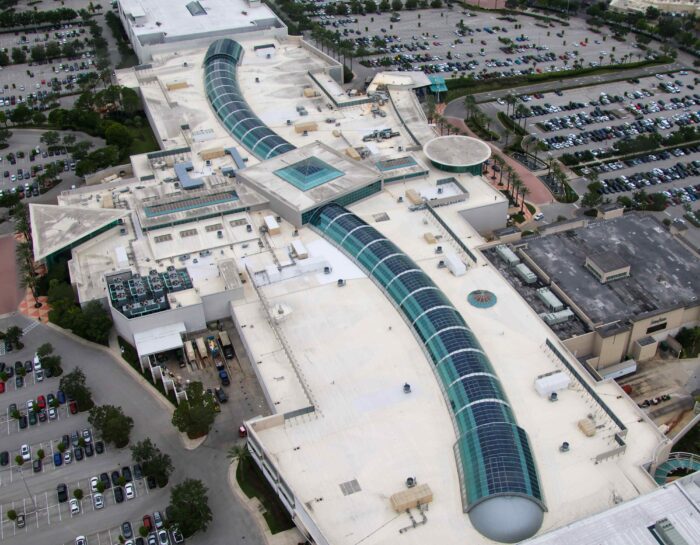 Thanks to Bio's aerials, DisTwitter member John Sebastian noted that the Mall at Millenia as clearly used as reference for the Cities: Skylines game.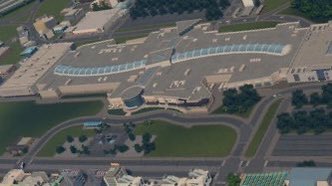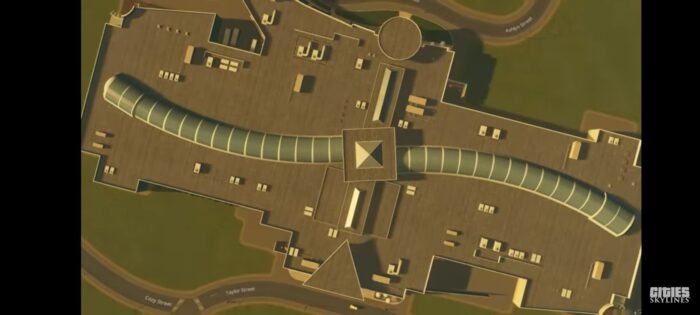 # 2 – Magic Kingdom Area
There are times where even the photos posted in this fine blog series don't do the pictures justice. The stunning photo below – of Disney's Magic Kingdom taken above the no-fly zone ceiling at 3,000 feet – is one of those cases. Over on his Twitter feed, Bio has presented this photo in high quality for people to save for their personal use. One is UHD 3840 x 2160 while another is HD 1920 x 1080. You can view – and save – either of those photos by CLICKING HERE.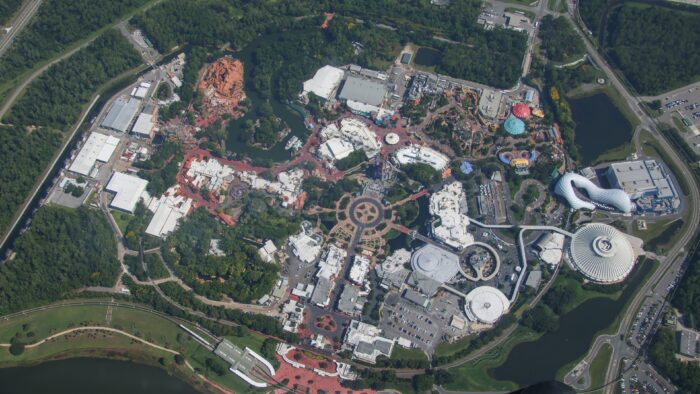 Closer Look at Space Mountain, Tomorrowland Speedway, and Tron Lightcycle Power Run.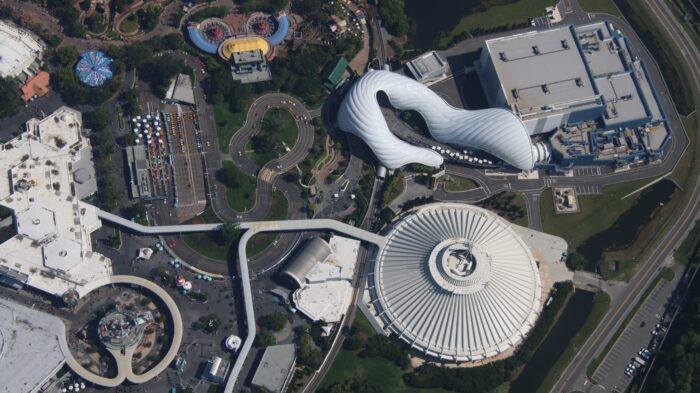 How about this comparison showing the same area in night. That's our Bio, leading theme park photographers in homeruns.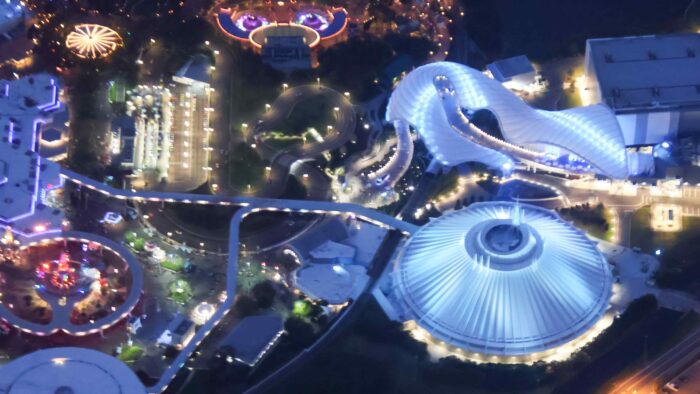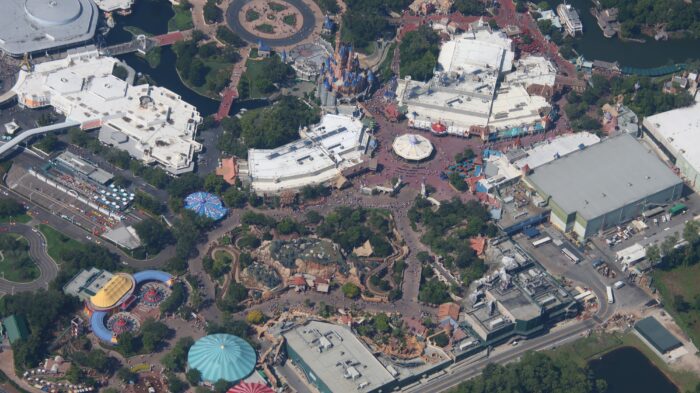 One of the most underrated lands in ANY theme park has to be Liberty Square.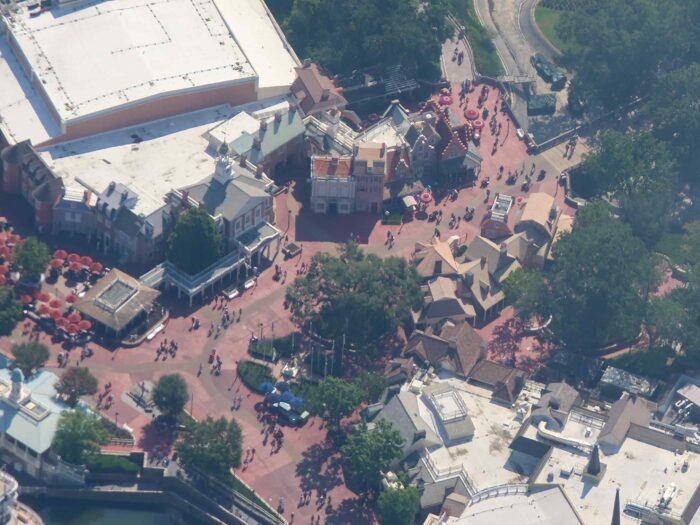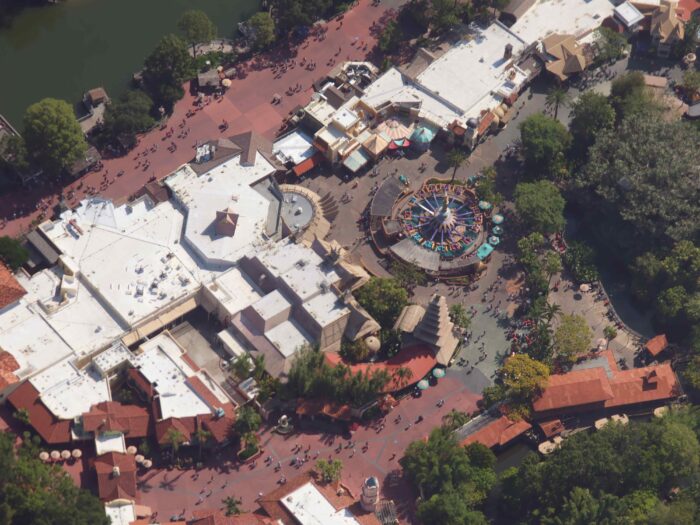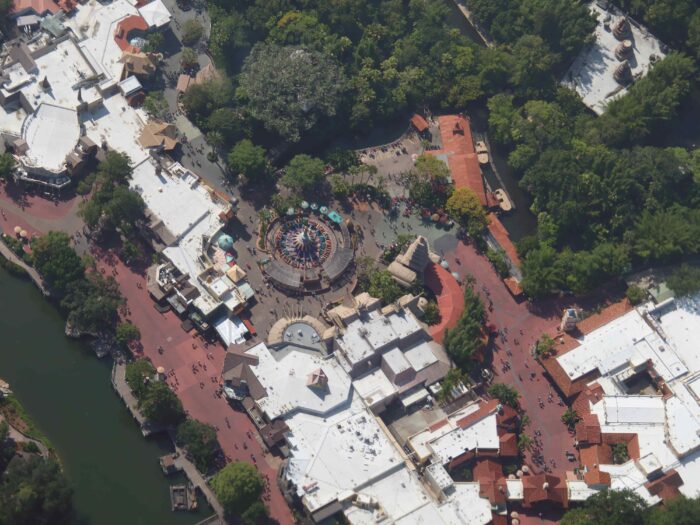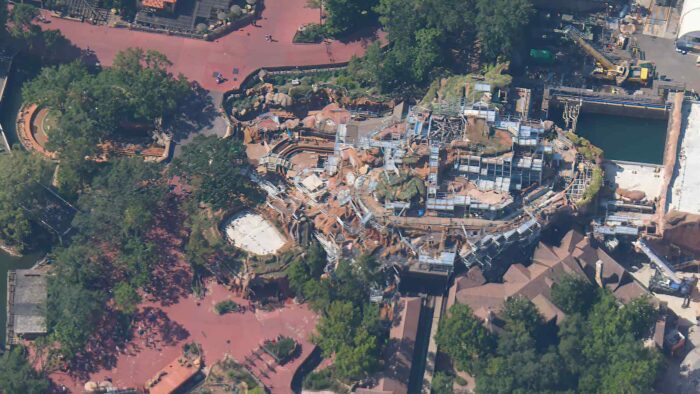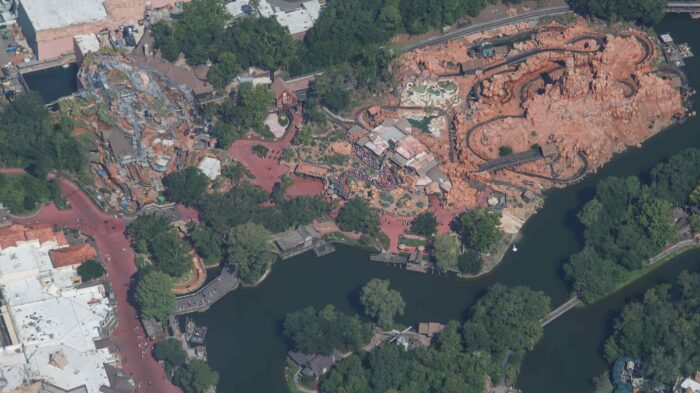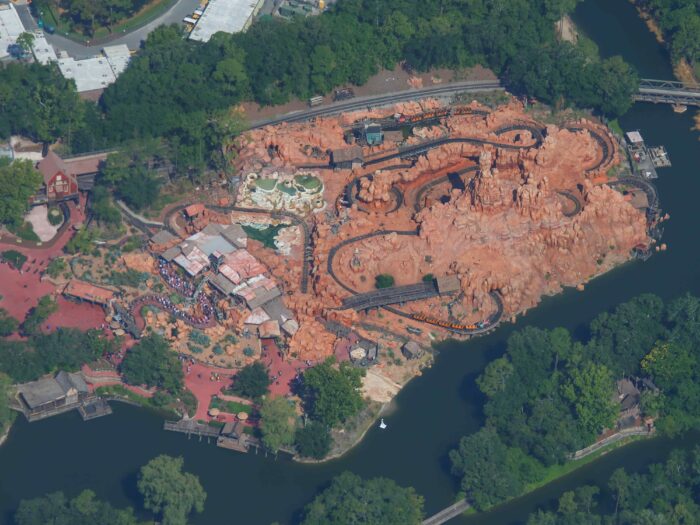 This shot below is something you don't see every day, a look at the Magic Kingdom fireworks storage area. This is located West of Fantasyland.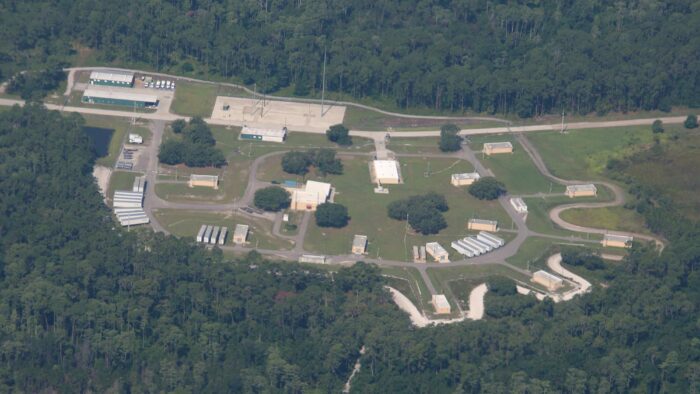 Let's take a gander at some of the "Big Picture" shots…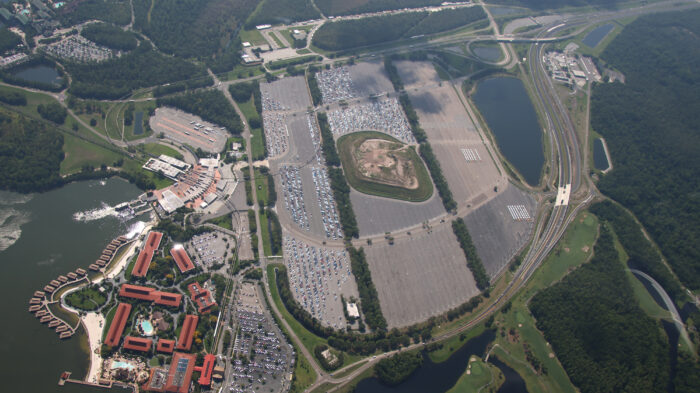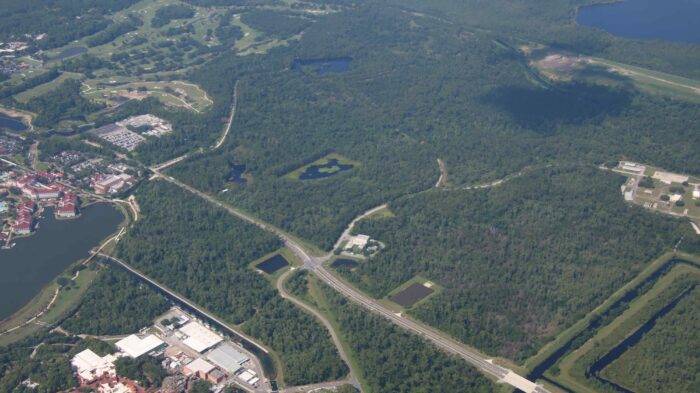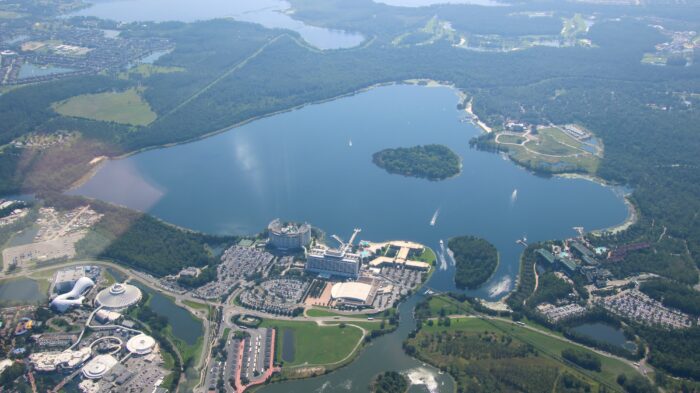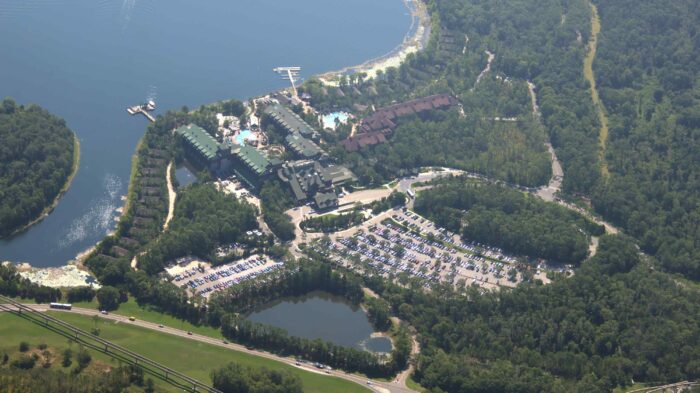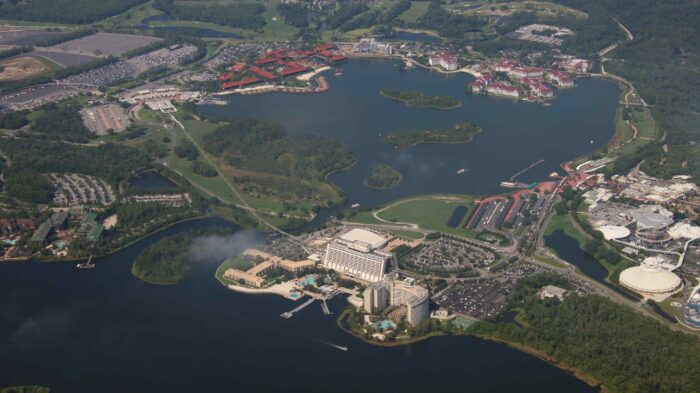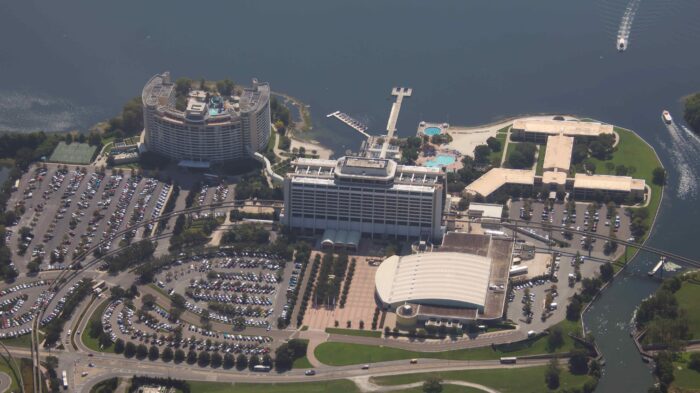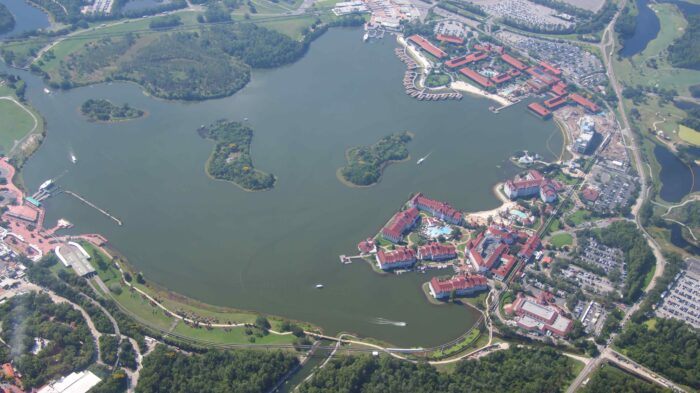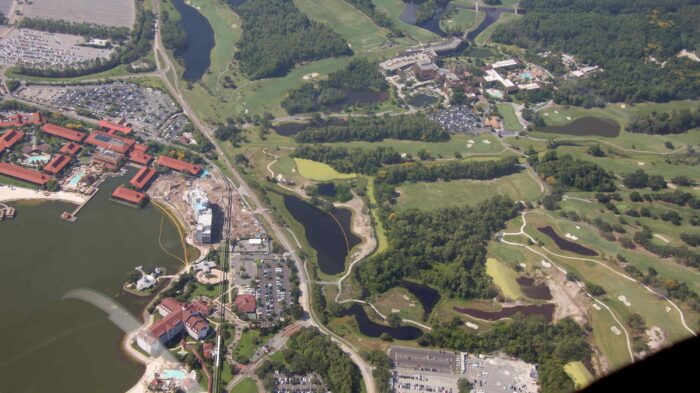 I know you need to take a "wait and see" on some things, and in this area there have been some really great looking additions including Bay Lake Tower, the water side cabins at Wilderness Lodge and the over-the-water bungalows at the Poly, but this DVC tower looks hideous so far.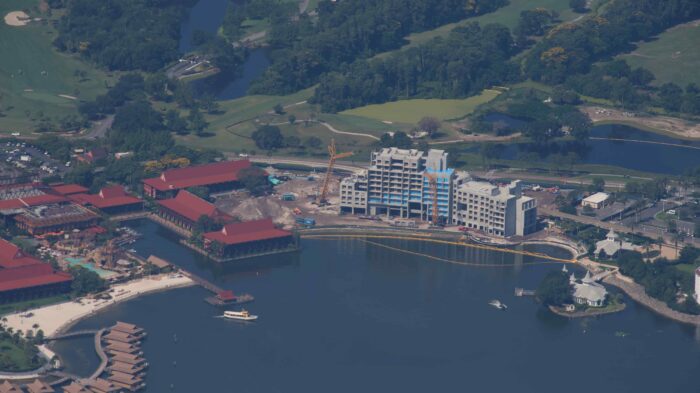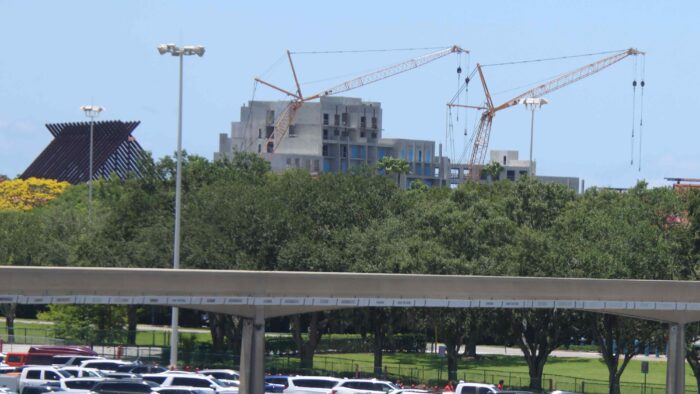 This may be a first in the 10 year history of the SATURDAY SIX, an aerial look at the Shades of Green resort at Disney. This is a hotel complex that is exclusive to active and retired members of the military.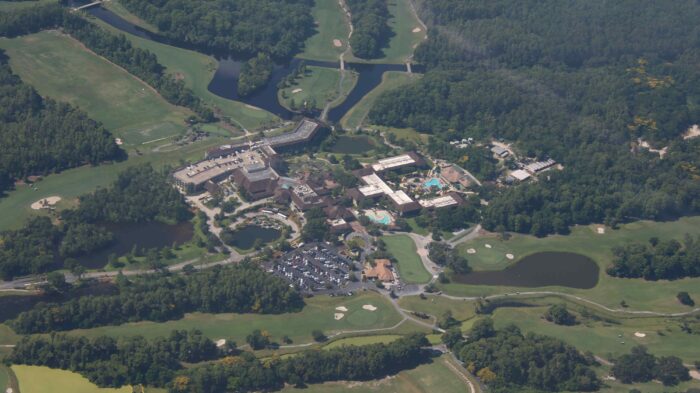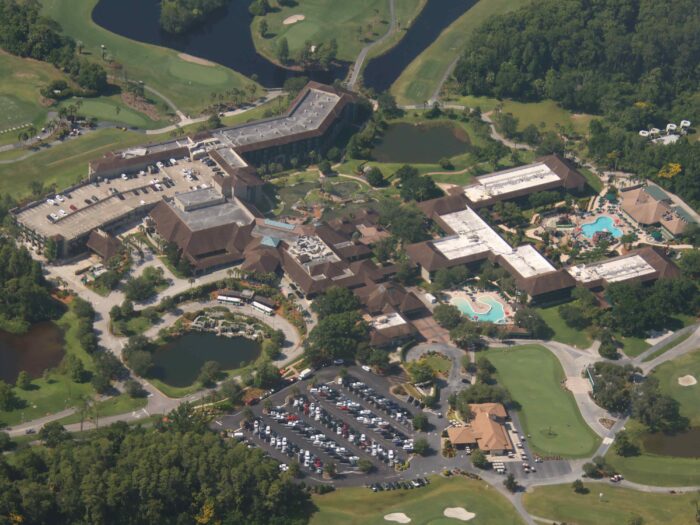 Now lets head over to another area that has received almost zero coverage from the SAT SIX over the years… the Walt Disney World North Service Area.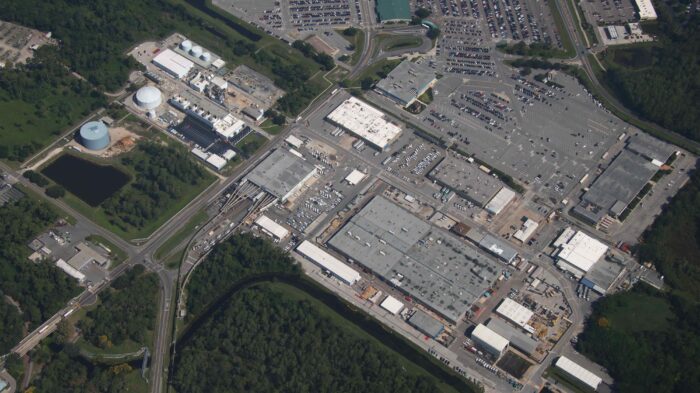 The largest building in this complex is called Central Shops and all WDW ride cars go here for refurbishment. They also manufacture things for the parks, not just WDW but also Disneyland in California and Disneyland Paris. The Christmas warehouse is located here. Monorail and steam train round house. Boats including ferries, and Liberty Belle from Frontierland get refurbished here.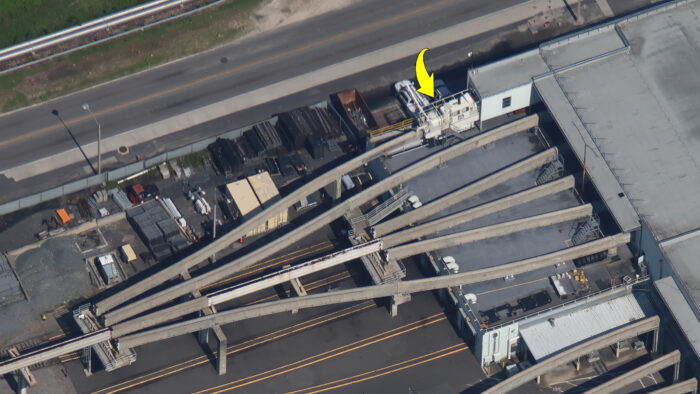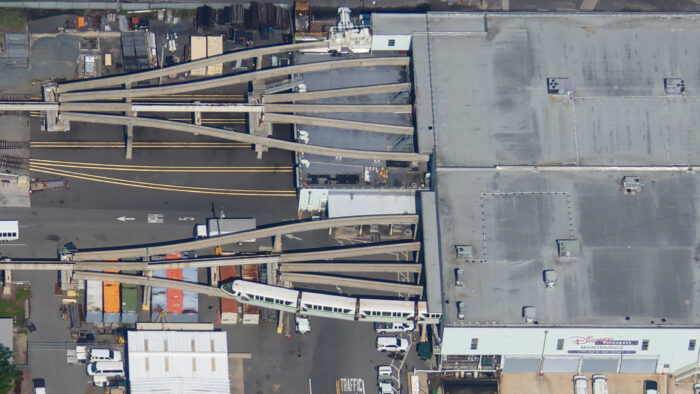 Okay, now we're going to check out a property that is located very close to the WDW Service Area, but isn't part of Disney. The construction of the Evermore Orlando Resort is getting closer to completion, including the filling of the resort's STUNNING 8-acre pool.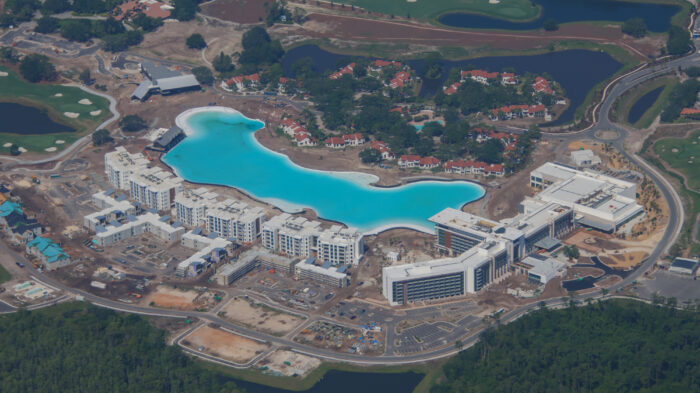 #1 – EPIC Universe
We started off this article with a look at Journey of Watching Paint Dry: Inspired by EPCOT Construction, now we are going to head across town and check out a work site that seems to be moving at warp speed. That's right, we're checking out the current status of Universal's next theme park: Epic Universe. We'll start with a Big Picture look showing at where Epic Universe sits in relation to another well known location off International Drive.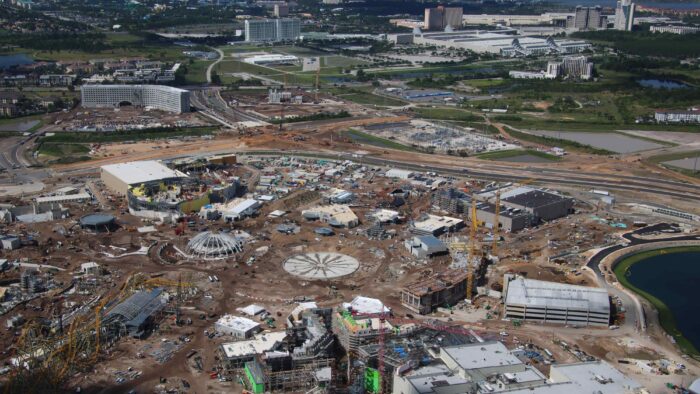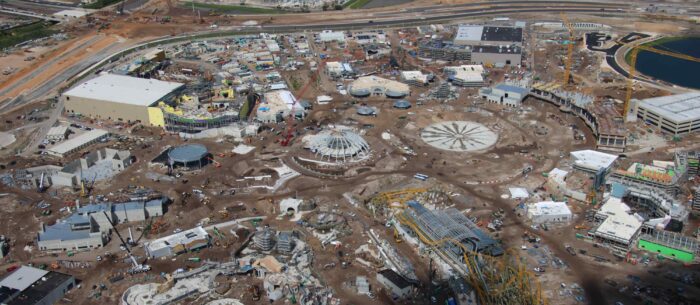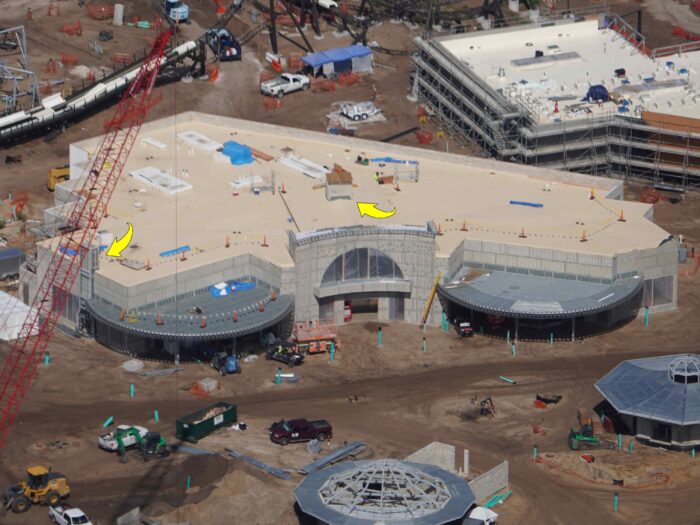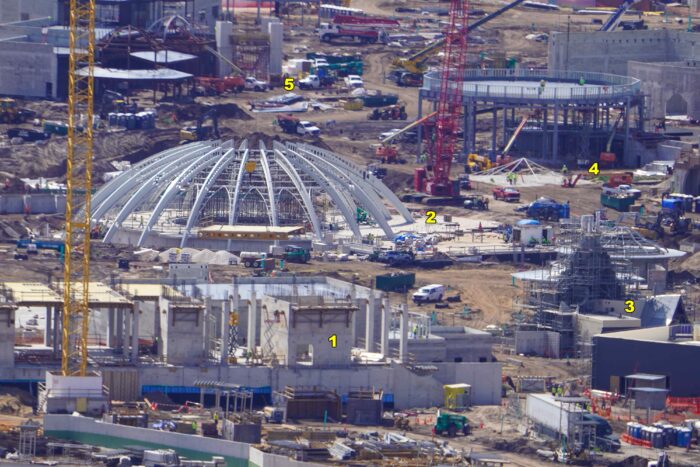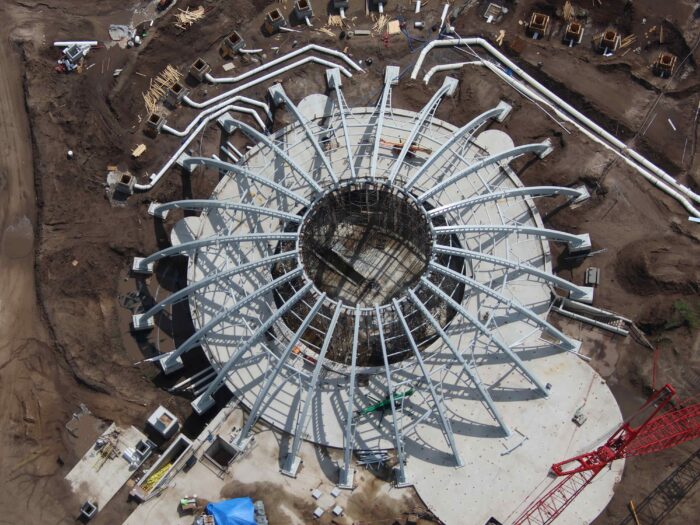 I look at the photo below and my jaw just drops…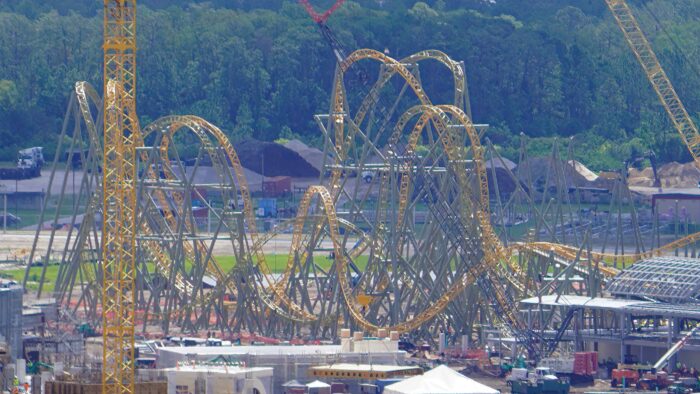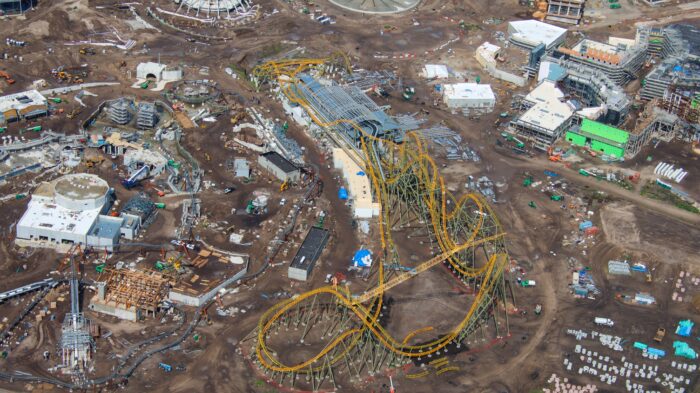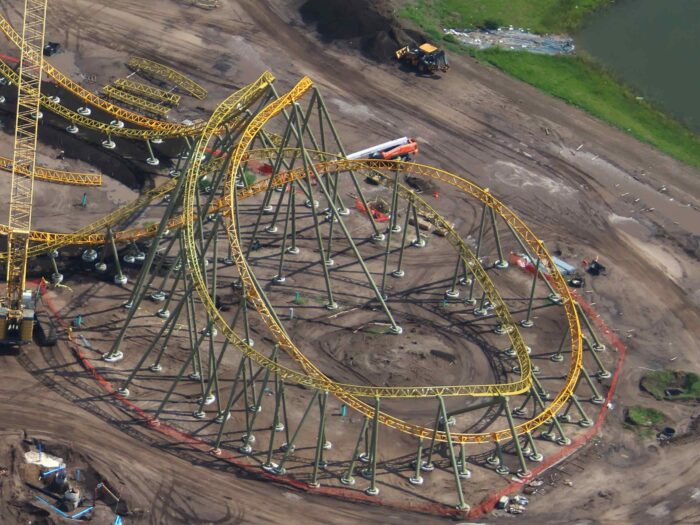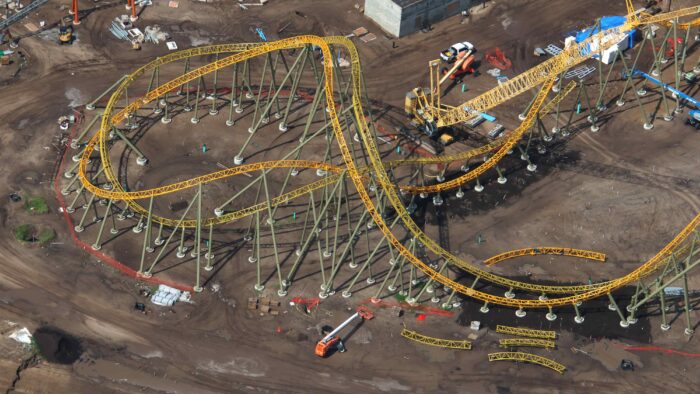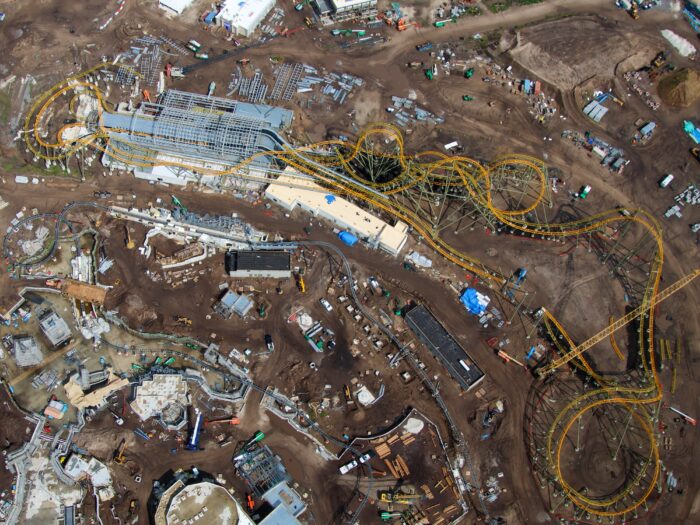 My gut tells me that Super Nintendo World is going to "move the needle" for Universal in a similar way that the Wizarding World did over a decade ago, and here is a look at that upcoming land.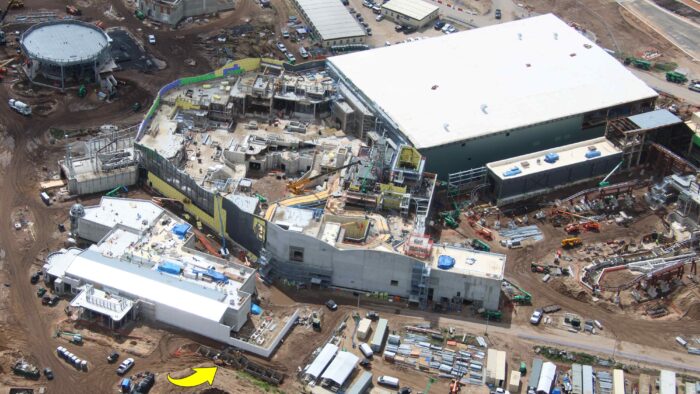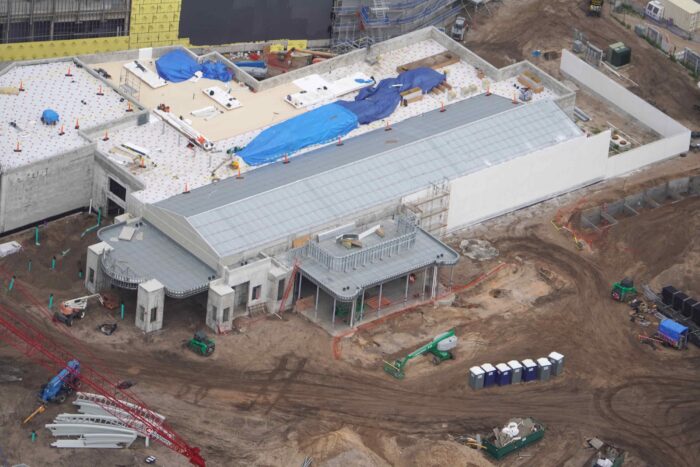 Each "land" at Epic Universe will be accessible by a portal. Not only should this present a cool experience for each guest walking into a land (getting that "walking out of the train station" moment at Disney's Magic Kingdom) but in theory will make it much easier and more natural to close off specific lands for park buy outs.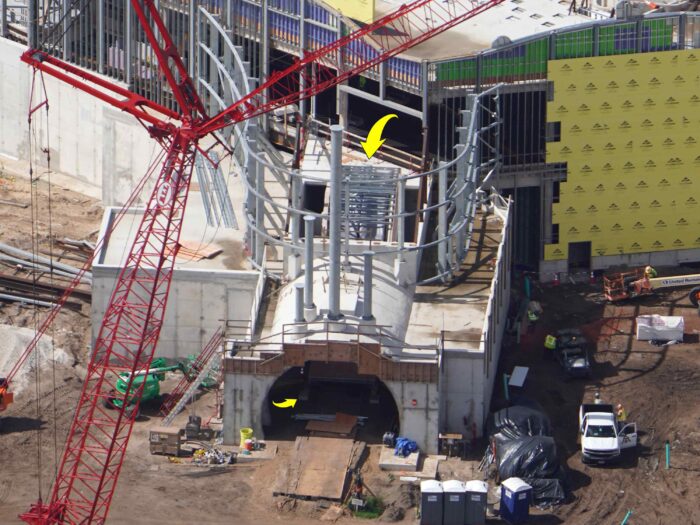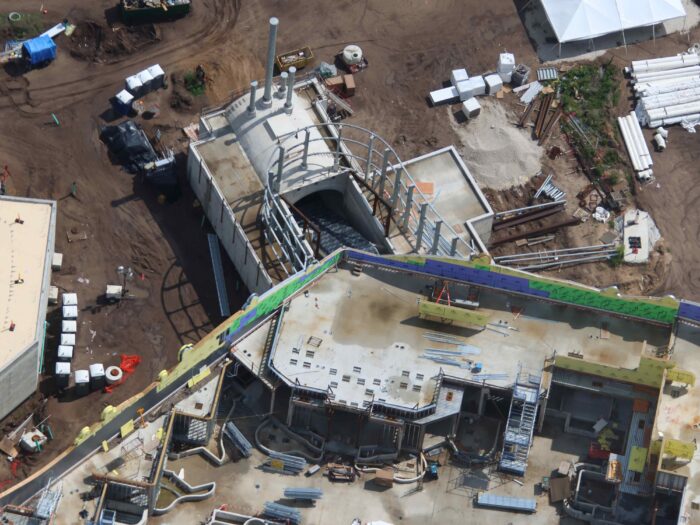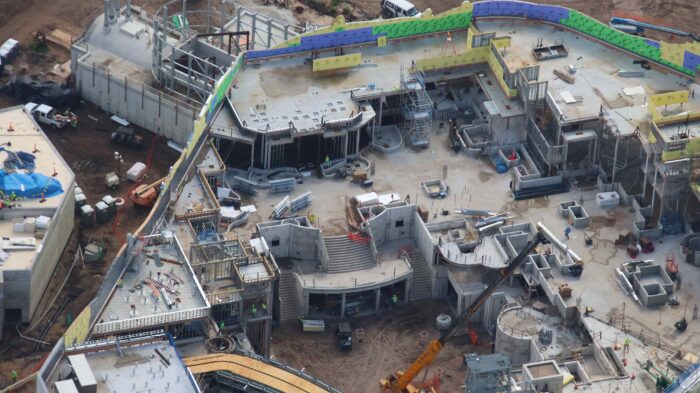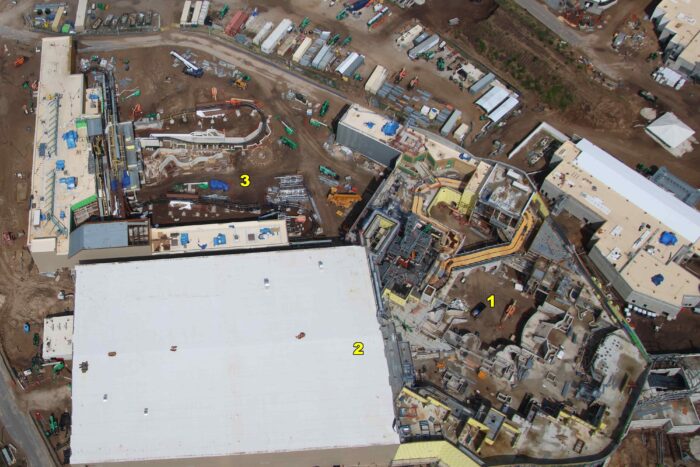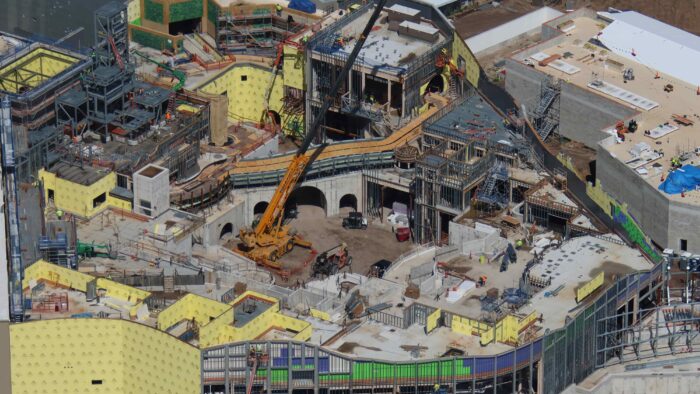 Now let's head on over to the Wizarding World section of Epic Universe where Rumors and Innuendo suggest we'll be getting a look at the Ministry of Magic located in Paris, France. I'm looking forward to this land just to see how Universal ends up playing it out, because when it was originally designed years ago I'm assuming everyone (including myself) "knew" that the Fantastic Beasts series of movies would be huge hits. Well, they weren't. That and other reasons make me think that Universal may try to figure out a way to present this land while ignoring that those movies even exist. We'll just be a getting a cool Wizarding World experience based in Paris, France.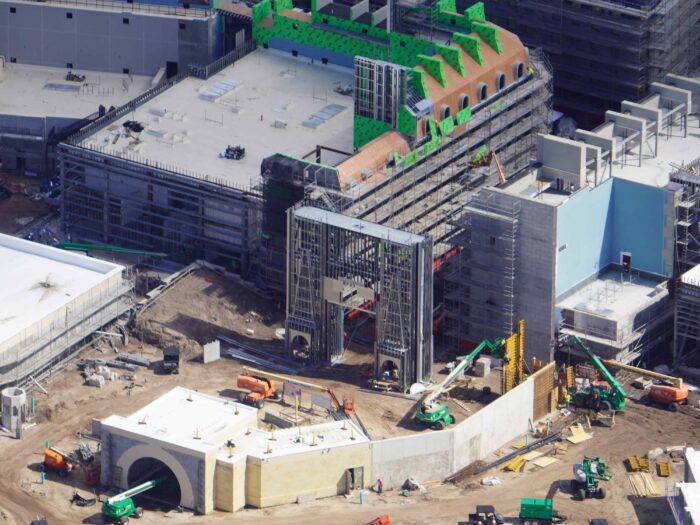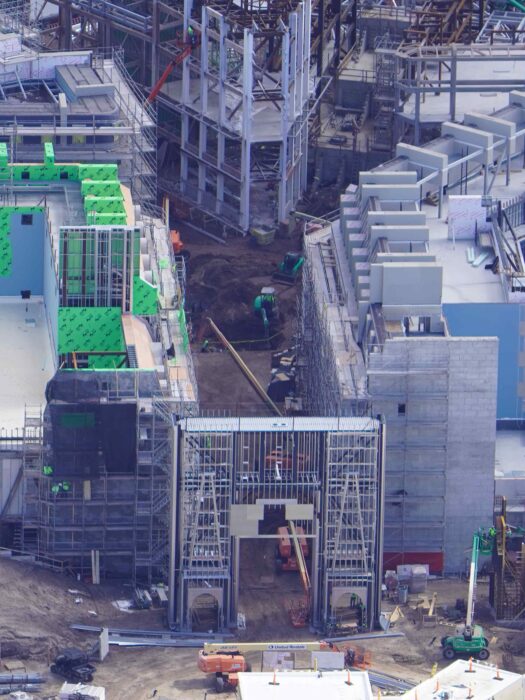 Having never been to Paris, I had to Wikipedia what Porte Saint-Denis was and, wow, looks like Universal is on the way to nailing this one.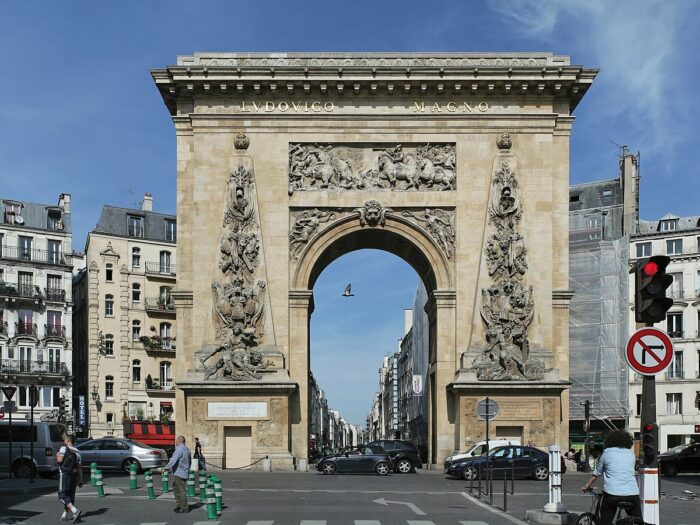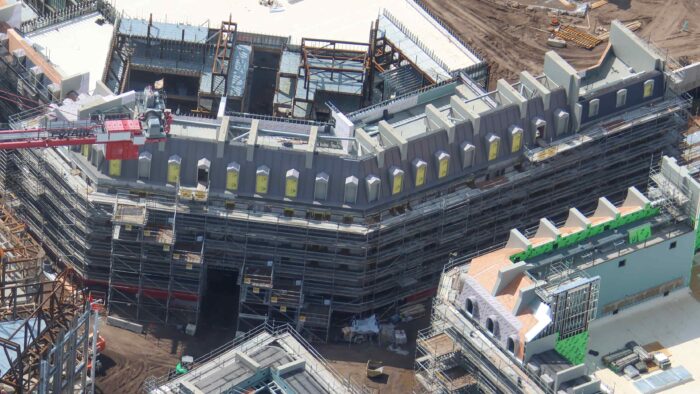 Now let's look at an area which I may personally find myself in more than any of the other lands, the one based on the Universal Classic Monsters.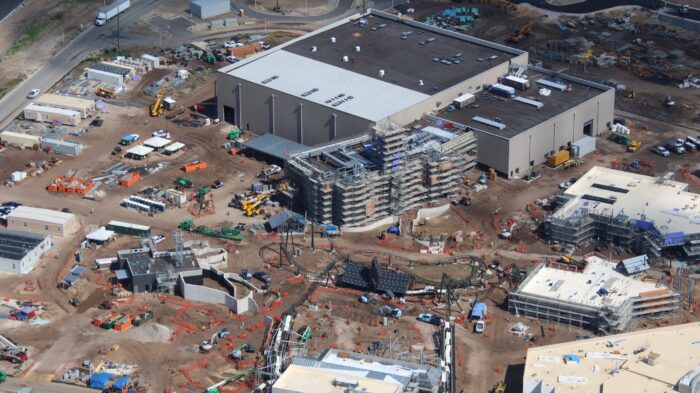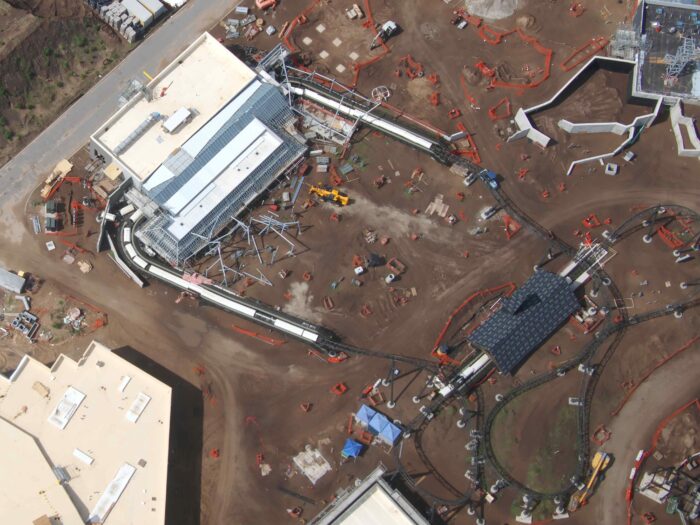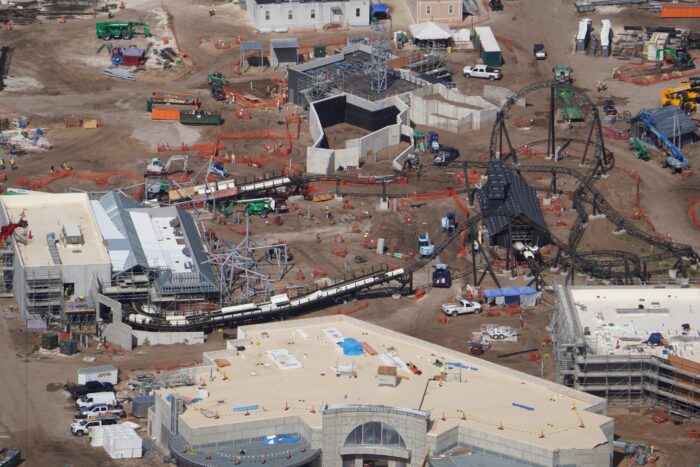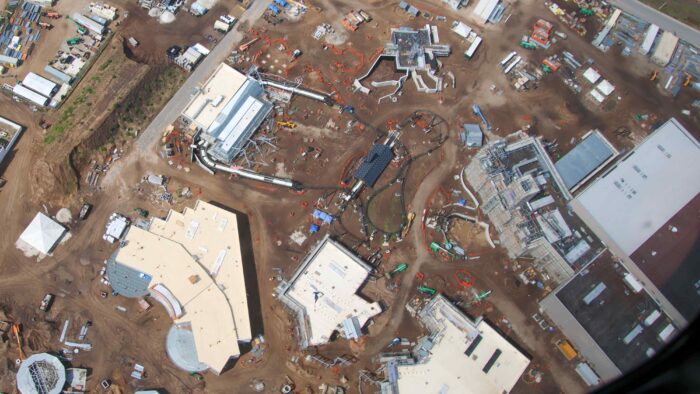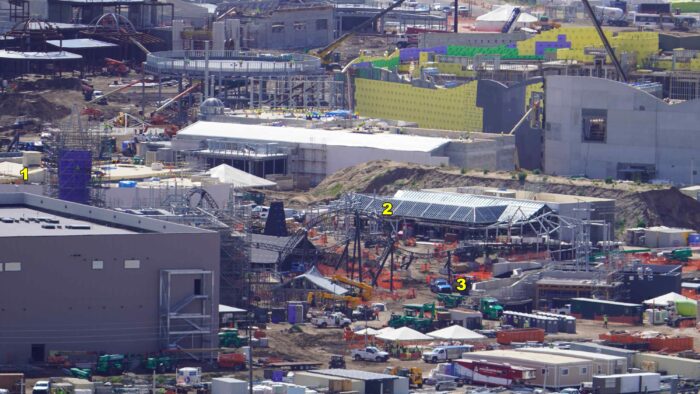 I believe that the land which will most likely have the least amount of attention given pre-opening, but will end up being the "talk of the town" after opening, will be the one for How To Train Your Dragon. These movies don't get anywhere near the love they deserve, and the rides, shows, and dining experiences have the potential to absolutely blow people away. For most of the other IPs, people will walk in with a series of expectations, but I think this land will be like the Bourne Stuntacular at USF with guests walking in thinking "this should be okay, I guess" and walk out with their jaws on the floor.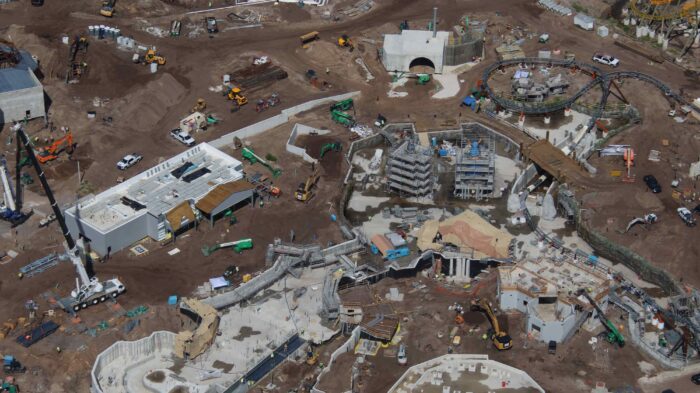 This photo doesn't do justice to the scale of just how large this dragon statue is. Guests are going to be amazed when walking into the land.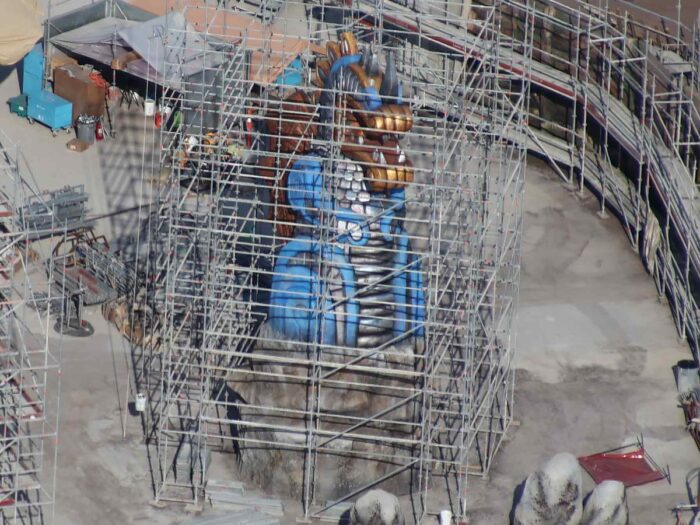 Okay, now let's look at some of the stuff being prepped for the onsite hotel. Seeing what Universal has done in the hotel game over the past two decades (including Loews Royal Pacific Resort, Sapphire Falls, and Cabana Bay Beach Resort) how can you not be excited for how awesome this upcoming hotel is surely going to be?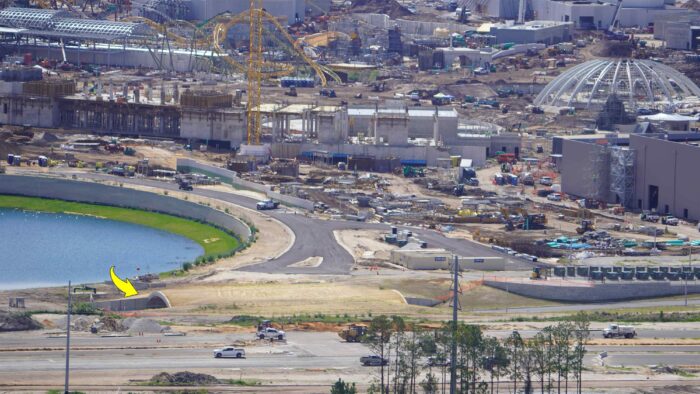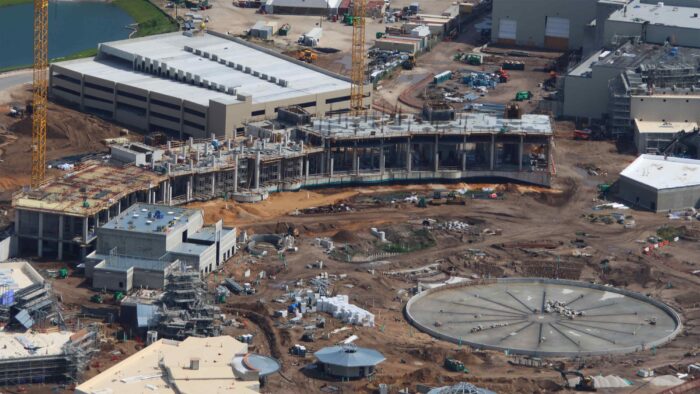 There will be one hotel directly on-site at EPIC Universe and two more directly south of the property (still extremely close though.) Rumors and Innuendo suggest that those hotels may open well before the land, maybe as early as next Spring.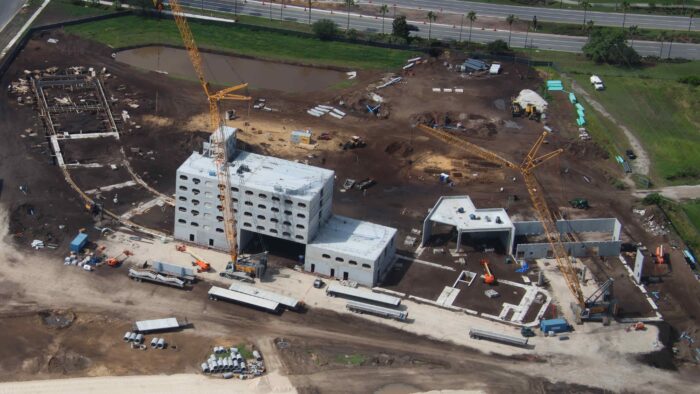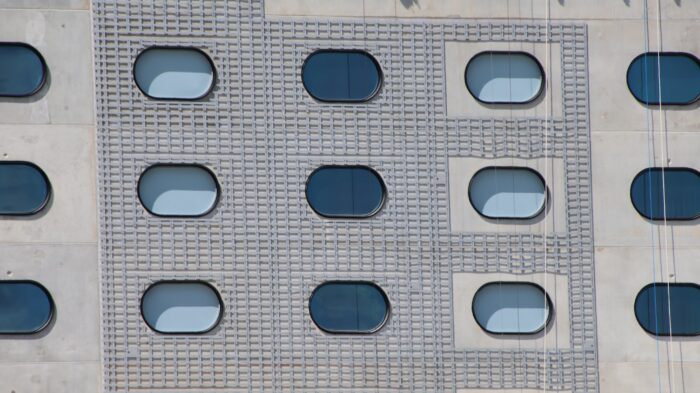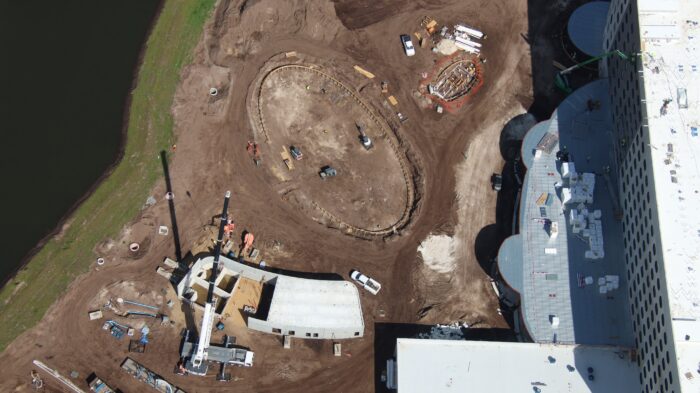 Let's close this section with one more Big Picture look at the entire EPIC Universe construction, with two upcoming Loews hotels in the foreground.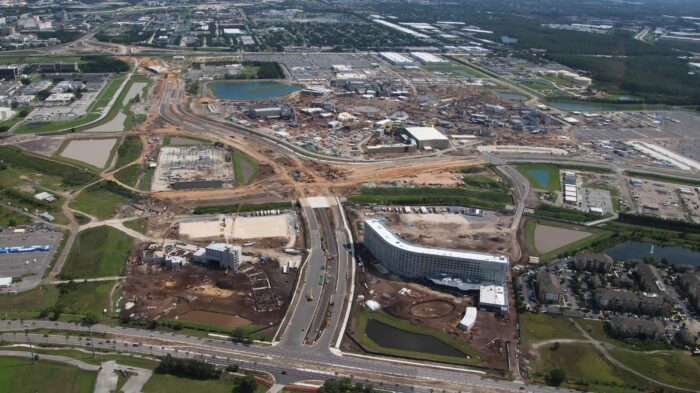 Even better, Twitter user Dave Harper put some helpful labels on everything to put everything in perspective. CLICK HERE to see his original tweet.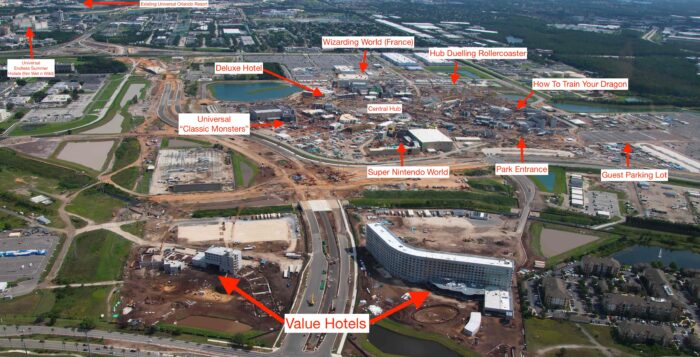 HONORABLE MENTION – "Never Have I Ever" shots at Universal
Like the Shades of Green aerials we saw earlier, it is always neat to see photos from Bio giving us views that we have never seen before. For instance, Bio has taken literally thousands of photos of various aspects of the Universal Orlando Resort, but he's never taken one from this particular angle giving us a view of EVERYTHING. In the photo below you have the large CityWalk parking garages in the dead center of the picture, and they are surrounded by the entire resort – from Endless Summer at the middle  left hand side of the photo all the way other to Lowes Portofino Bay at the lower right hand portion of the photo. The theme parks, Volcano Bay, CityWalk, the onsite hotels? They are all here. Amazing.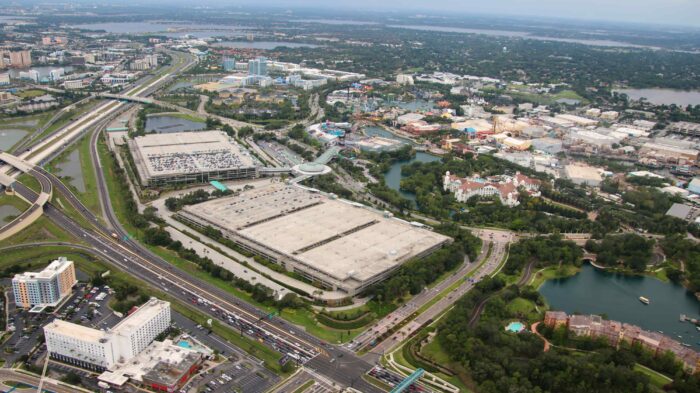 We also never got this unique look before that sow a Murderer's Row of awesome hotels at Universal. From bottom to top you have Lowes Royal Pacific Resort, Sapphire Falls, Aventura Hotel, and Cabana Bay Beach Resort. We also have a bonus appearance of Krakatau in Volcano Bay!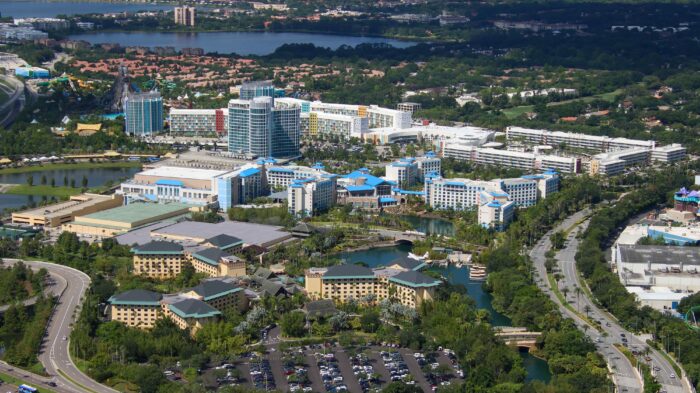 So there you have it: SATURDAY SIX Presents: Flights with @bioreconstruct vol 3! See you next weekend for the latest installment of the SATURDAY SIX, where we'll look at something fun from the world of Disney and Universal. If you enjoyed yourself, be sure to check out the THEME PARK ENJOYMENT INDEX, giving a monthly recap of all the theme park news you need to know (and a lot more you don't need to know, but we're gonna tell you anyway). You can also follow Your Humble Author on Twitter (@derekburgan).
If you enjoyed this article, you will surely like the following: 
SATURDAY SIX Presents: Flights with @bioreconstruct vol 1 (Starcruiser, Disney Lake Nona Land)
SATURDAY SIX Presents: Flights with @bioreconstructi vol 2 (EPIC Universe, Tron Lightcycle Run)
The SATURDAY SIX Celebrates 10 Years of @bioreconstruct
The SATURDAY SIX Presents: @bioreconstruct's favorite aerial photos
The SATURDAY SIX Takes 3 Flights in a Single Day with @bioreconstrut
The SATURDAY SIX Presents: Our favorite @biorconstruct photos of 2022
The SATURDAY SIX Presents: Our favorite @bioreconstruct photos of 2021
The SATURDAY SIX Presents: Our favorite @bioreconstruct photos of 2020
SATURDAY SIX: Tribute to Josh easyWDW
SATURDAY SIX: Tribute to Ian Barritt
Special Thanks to The Elite Brandon Glover, Digital Maestro Scott Walker, the bio-est of all reconstructs @bioreconstruct, Captain Cruiseline Scott Sanders of the world famous Disney Cruise Line Blog, my personal protege Hunter "Elvey" Underwood, artist @SonderQuest, the mighty maven of merchandise Hedgehog's Corner, the SAT SIX Fun Squad of Parkscope Joe and "the Dadalorian" Nick, hot shot Michael Carelli, charter member of the Universal Four @Nitro230, the permit princess Alicia Stella, master cartographer Tommy Hawkins, and Hermione Granger's tutor Megan Stump for their invaluable assistance with this article. Absolutely no help was added by SeaWorld Influencer @SuperWeenieHtJr. The SAT SIX is inspired each week by goofballs Aengus Mackenzie and LitemAndHyde and you Potterheads will  enjoy Meg's other blog work over at the Central Florida Slug Club.
NEXT WEEK!
The last SATURDAY of the month means only one thing… it's time of the THEME PARK ENJOYMENT INDEX!!!
Featuring: Even MORE awesome photos from @bioreconstruct…Universal opens a new store themed to the CLASSIC MONSTERS…Universal soft opens MINION CAFE… Disney opens LOL got ya!!… Jurassic Park turns 30… Disney+ edits movies on the sly… Guest "escapes" Guardians of the Galaxy Rewind… the highly anticipated dreaded return of the Disney Dining Plan and so much more!!