The SATURDAY SIX Looks at the BEST Replacements in Theme Park History (Pandora, Galaxy's Edge, Diagon Alley, and more!)
This week's SATURDAY SIX is taking a look at the Best Replacements in Theme Park History! Down here in Florida we have a big month ahead of us with Minion Land about to fully open with the official debut of Villain-Con – Minion Blast on August 11th. For the most part, every time we get something new at the parks it means we have to say goodbye to something we previously had enjoyed. Minion Land is replacing two longtime residents of Universal Studios Florida: Shrek 4D and Universal Classic Monsters Cafe.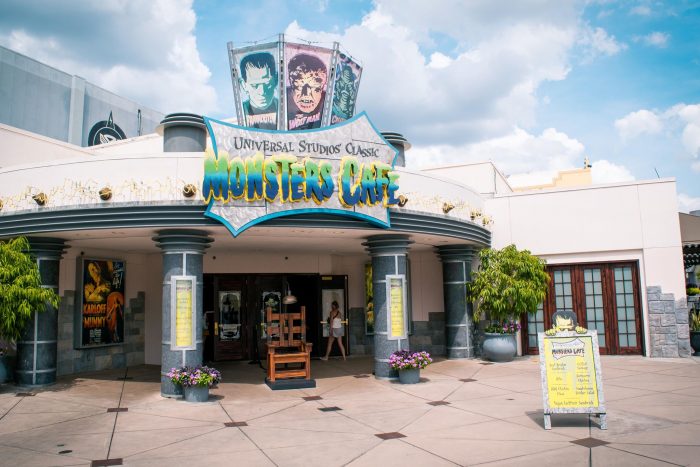 Now, I say this as one of the top 1% of people who love both Shrek 4D (you can read my love letter to the attraction by CLICKING HERE) and Monsters Cafe (which was my go-to place for USF food for years)…they both needed to go. Both had been around forever and added to the hodge podge nature of the park that Universal has been spending more than a decade trying to fix. Where there was once collection of attractions and areas that had absolutely nothing to do with each other except the fact they were all based on a popular movies or tv shows, now stands a park filled with distinctive lands.
Shrek 4D, a sit-down movie experience (which one could literally watch at home after Dreamworks released the film as a bonus feature on the Shrek 3D DVD release back in 2004) is being replaced with a family friendly interactive game experience with Villain-Con Minion Blast. Monsters Café is now the home of several venues including a meet-and-greet area, a bakery, a grab-and-go freeze pop stand, and the ultra themed Minion Cafe. Right across from all of this is the popular attraction Despicable Me: Minion Mayhem.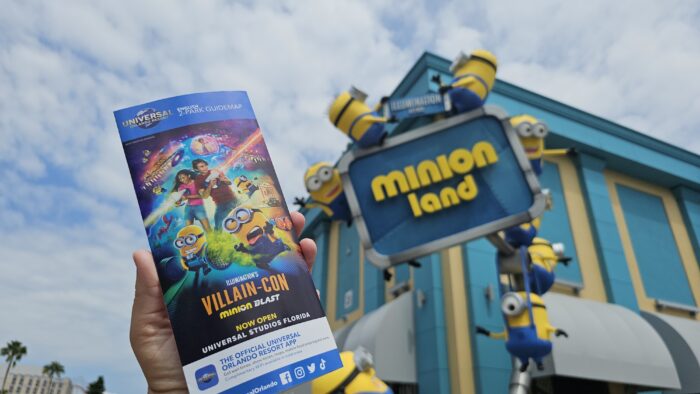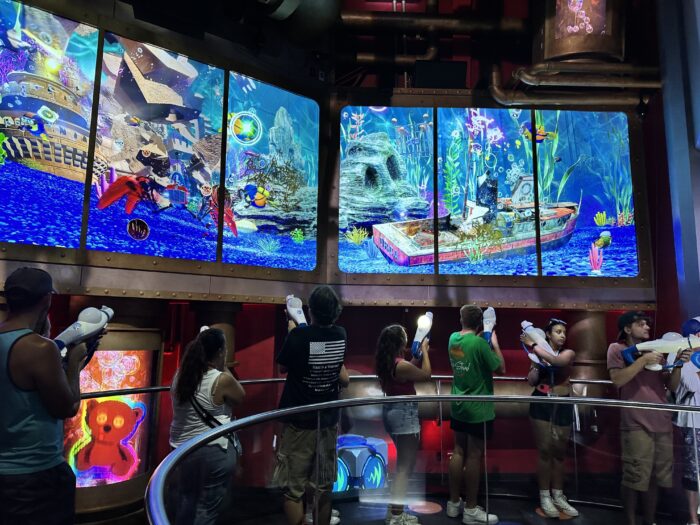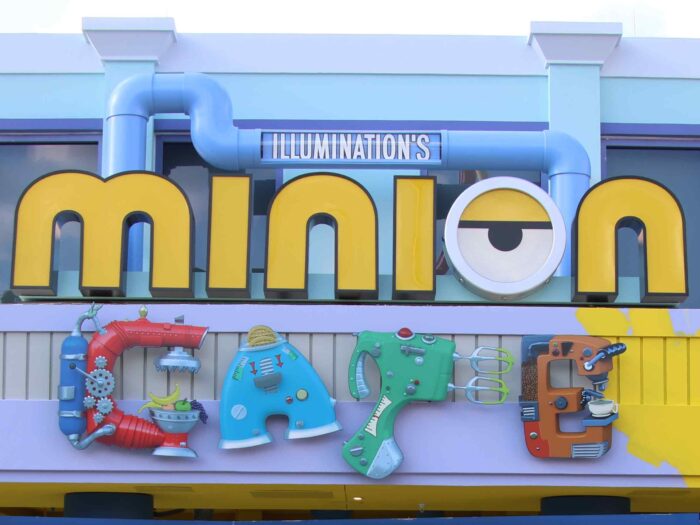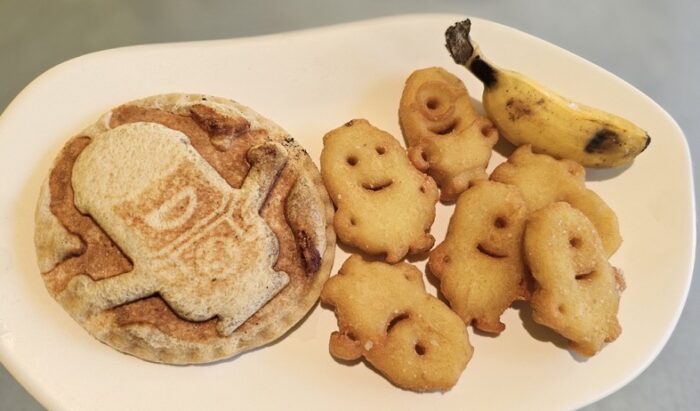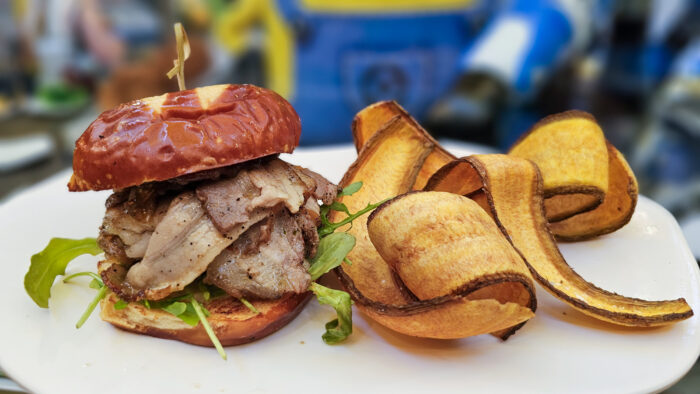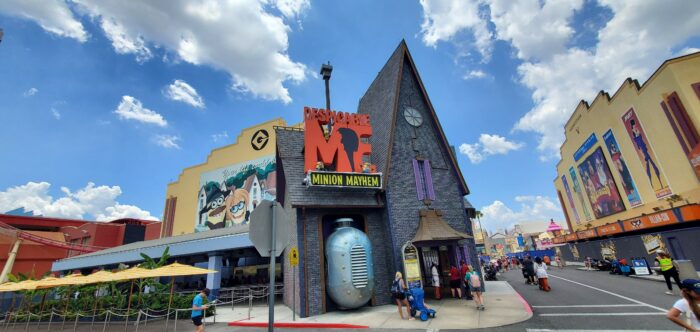 No matter how much I loved Shrek 4D and Monsters Café, the replacements are hands-down much better for the vast majority of guests along with the future of USF. Minion Land is now a vibrant and cohesive area filled with kid-friendly places. It got us to thinking… what were the other best replacements in theme park history? Of course when I say "theme park history" I mean "Florida" because we are the center of the theme park universe, and we're going to start our list off with…
# 6 – 20,000 Leagues Under the Sea and Mickey's Toontown Fair to New Fantasy Land
We're going to start off list off with what technically is a bit of a cheat, as 20,000 Leagues Under the Sea: Submarine Voyage was replaced in the mid 1990s by Ariel's Grotto and, even later, a play area based around Winnie the Pooh. 20,000 Leagues was the much more memorable attraction though, and a ride that is distinctly Disney.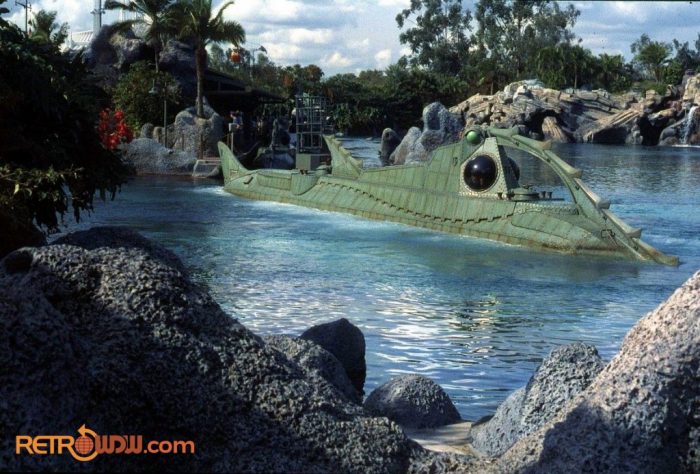 While the gimmick of 20,000 Leagues was guests being in a submarine, technically they were in an elaborately themed boat whose seating area was below sea level. This gave guests the ability to feel as if they were in a submarine and traveling fully underwater.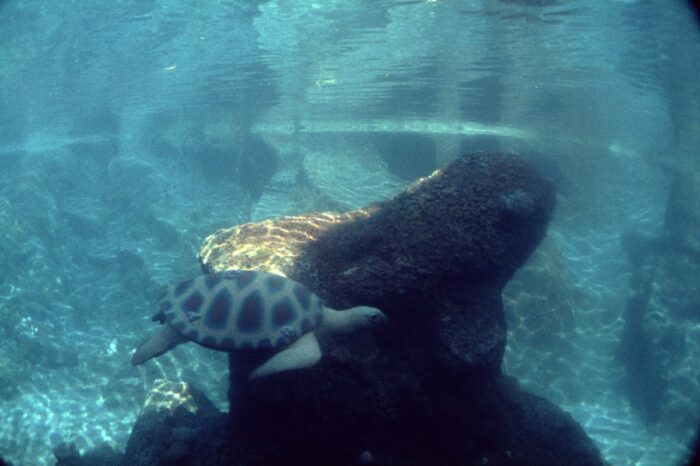 Mickey's Toontown Fair was originally created as Mickey's Birthdayland in 1988 to coincide with the 60th anniversary of Mickey Mouse. In the 1990s it was rebranded to Mickey's Starland, and later to Mickey's Toontown Fair. It allowed guests the chance to get to be "in a cartoon" per se, and see where Mickey Mouse lived along with walking through Duckburg (which at the time had renewed popularity thanks to the cartoon Duck Tales on the Disney Afternoon.)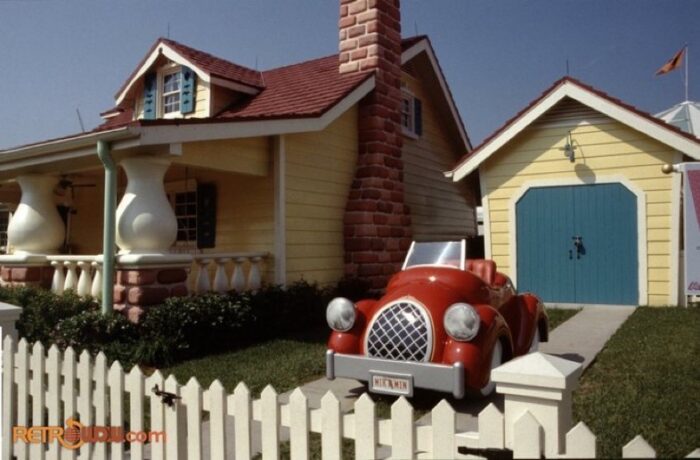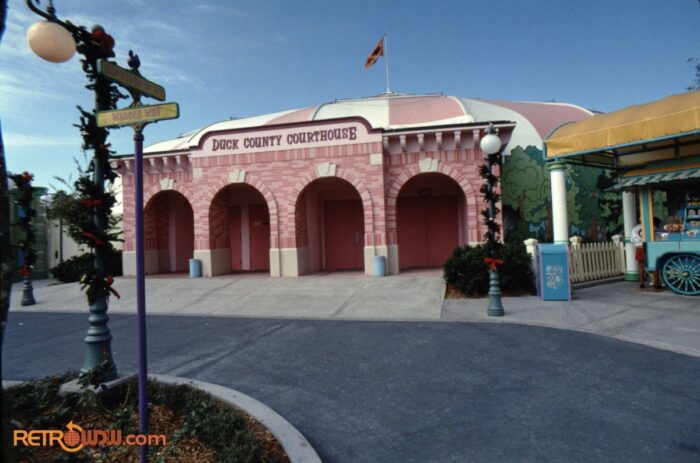 Grandma Duck's farm even had a petting zoo where you could meet the one and only MINNIE MOO.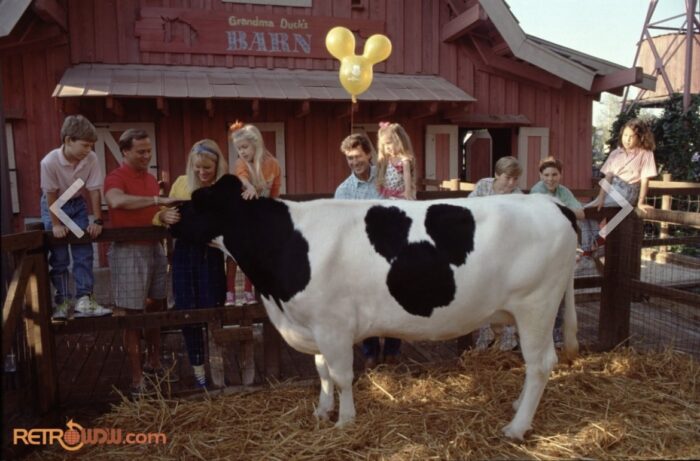 In 2011, Mickey's Toontown Fair was closed for good. Some elements were converted over to Storybook Circus, while the rest was combined with the former home of 20,000 Leagues Under the Sea to create New Fantasyland.
New Fantasyland brought some of Disney's biggest animated hits to the park, along with a brand new roller coaster dedicated to characters from the 1939 animated film that changed everything, Snow White and the Seven Dwarfs. We all know that the original Fantasyland areas at both Disneyland and Disney's Magic Kingdom have been beloved by generations of families, but they were built in a different era. So much advancement has been made in the area of theme park attractions that New Fantasyland is filled with breathtakingly beautiful attractions such as Under the Sea – Journey of the Little Mermaid.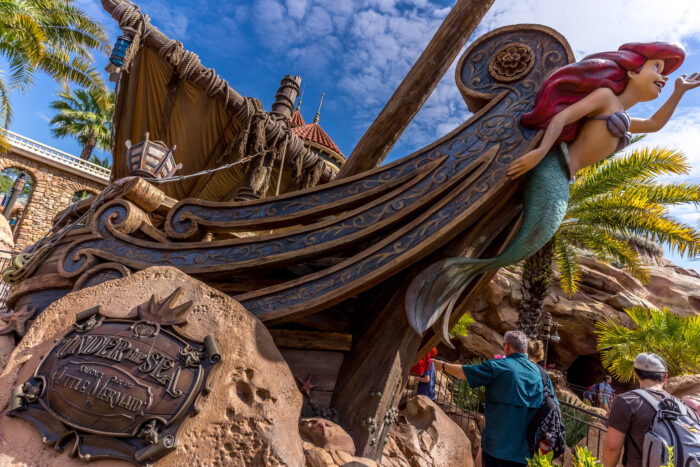 Not only does the Little Mermaid attraction feature a nod to 20,000 Leagues Under the Sea with the title of the ride itself, but eagle-eyed guest will also see an Easter egg referencing a Nautilus in the queue.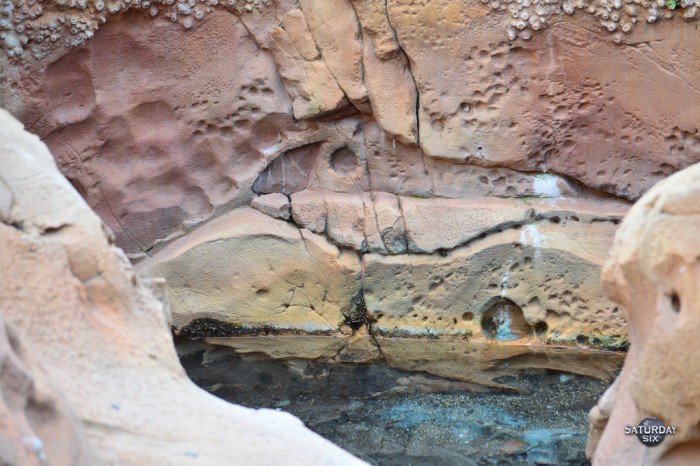 The Ursula audio-animatronic was one of our first looks at a new generation of AAs that were game changing in the theme park world, once again reestablishing Disney as the gold standard.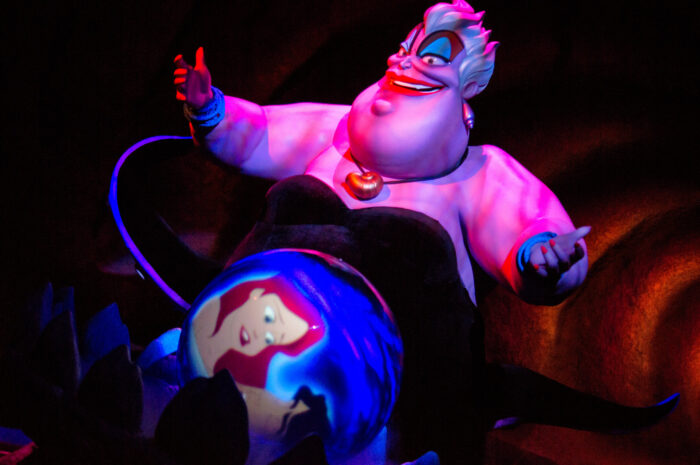 Connected to the Little Mermaid attraction was a new and improved version of Ariel's Grotto as well. Here guests of all ages could meet the Little Mermaid herself in a well themed spot.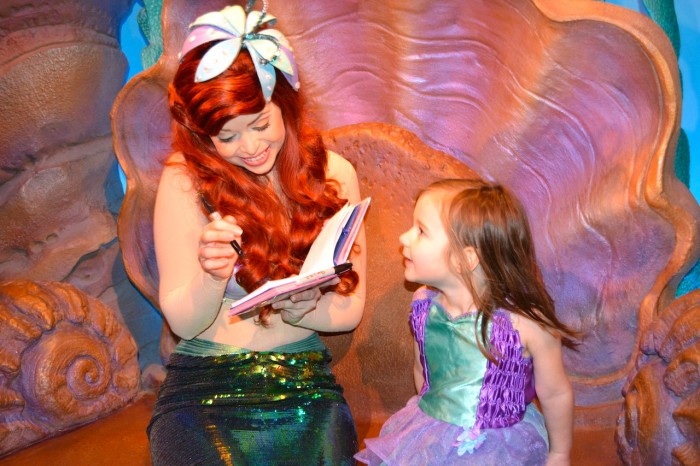 Across from Under the Sea ~ Journey of the Little Mermaid was Seven Dwarfs Mine Train, a family friendly coaster that was a smash hit with guests from day one.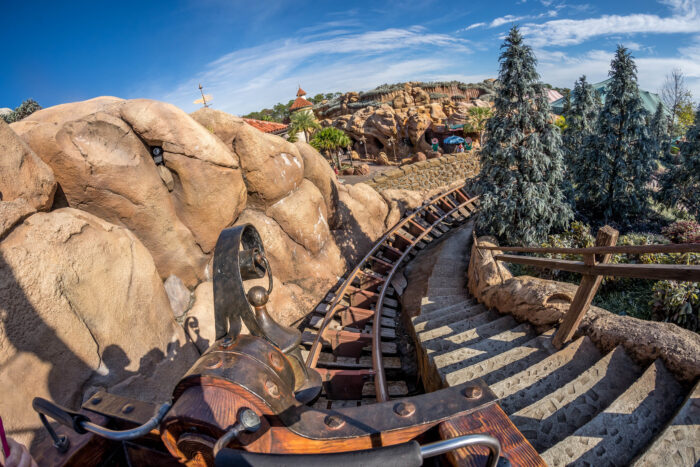 With dark ride elements and a thrilling coaster experience, Seven Dwarfs Mine Train immediately became the #1 "Must Ride" attraction at Magic Kingdom, even drawing lengthy lines during hard ticket events when most rides were a walk-on.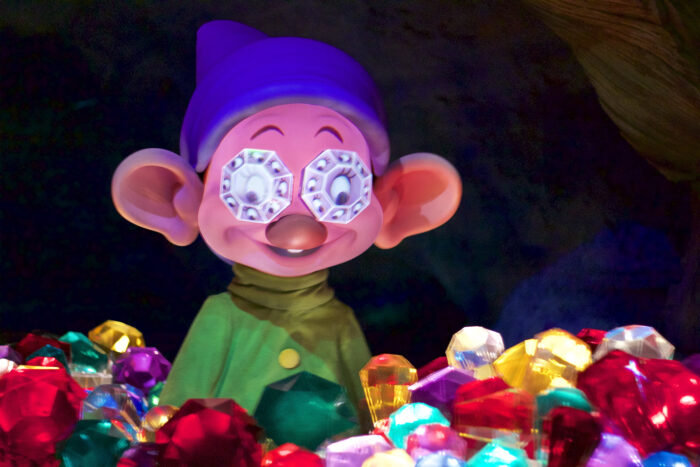 Guests on Mine Train got a chance to see several castles, including the iconic Cinderella Castle…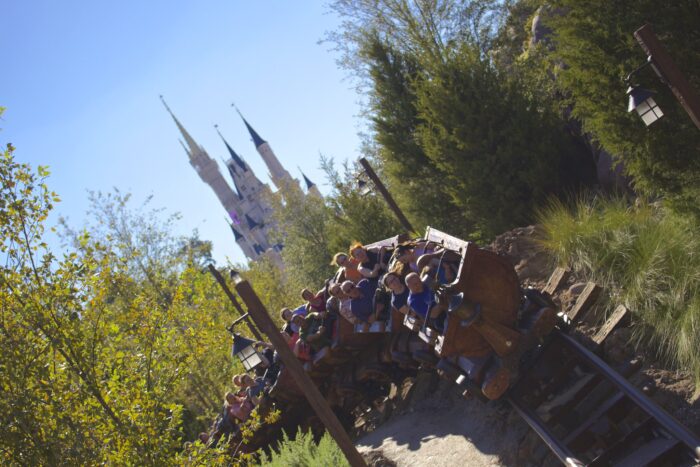 …and Beast's Castle, which was created for New Fantastyland.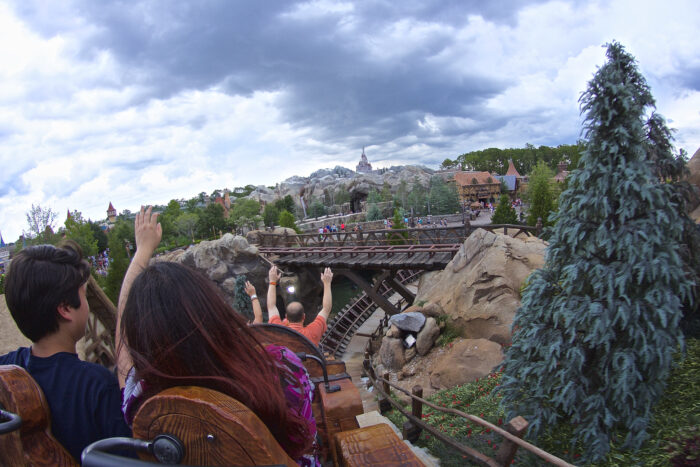 Beast's Castle was theming for the mega popular Be Our Guest Restaurant, which was set in the world of Beauty & The Beast.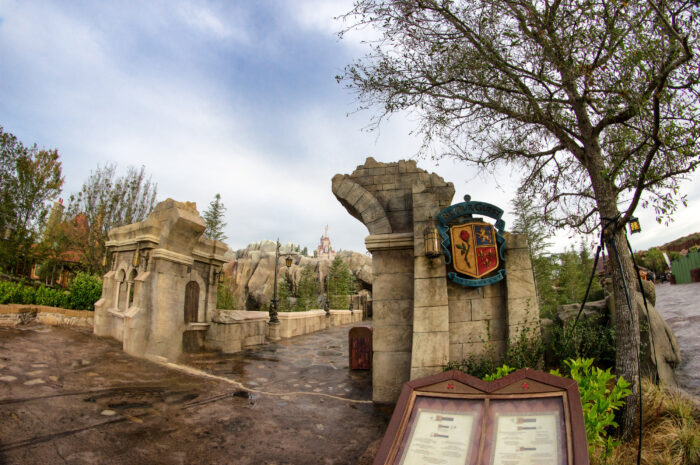 Disney has always had plenty of dining venues that were hard to score reservations for, but the early years of Be Our Guest were as popular as anything Your Humble Author has ever seen. Rightfully so, because Disney hit a gigantic home run by bringing guests into the world of Beauty & the Beast. There was nothing to compare Be Our Guest to, and it stood alone as a true dining experience for fans of the animated film.
One thing that may be impossible to believe was that when Be Our Guest Restaurant opened, guests could not order The Grey Stuff dessert. NAY NAY. The Grey stuff wasn't on the menu and instead it was something bestowed upon lucky diners at the discretion of their server. If that sounds next level bonkers, that's because it is. Yes, it was a true "surprise" for the guests who received it, and one could make the case it was a Magical Moment, but it also left many other guests disappointed. I remember the very first time I went to Be Our Guest Restaurant and didn't get the dollop of The Grey Stuff at dessert but the table next to me did. Despite an overall great experience, it left a sour taste in my mind, and that's not how you want to leave a restaurant…any restaurant.
It wasn't long after when The Grey Stuff was converted to an actual dessert item that could be ordered by anyone, and it truly was delicious.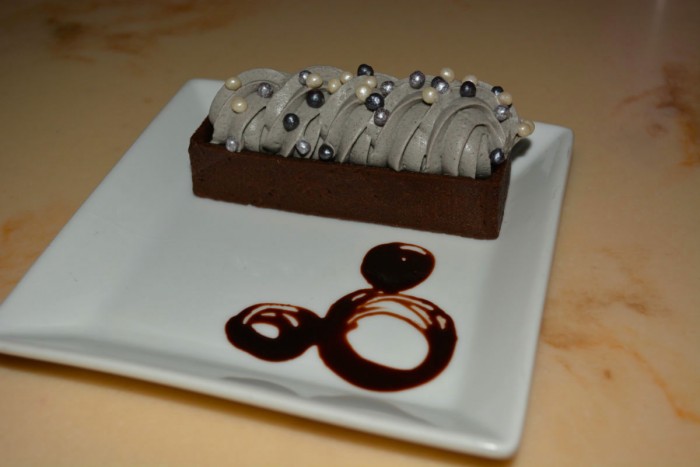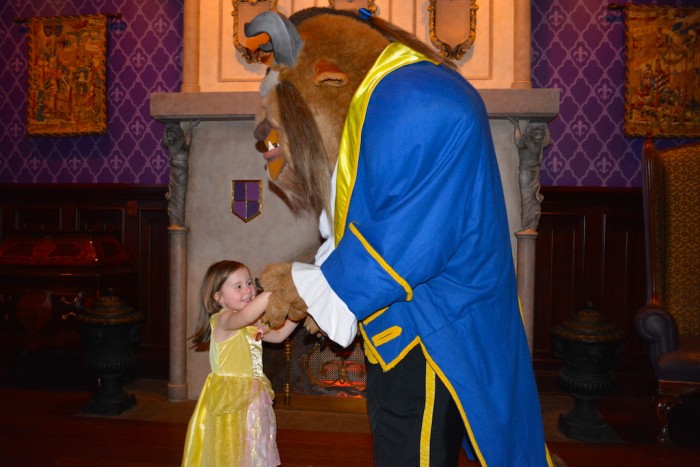 Gaston's Tavern is a quick service location created for the area, one of the only places in all of Walt Disney World that is themed to a villain.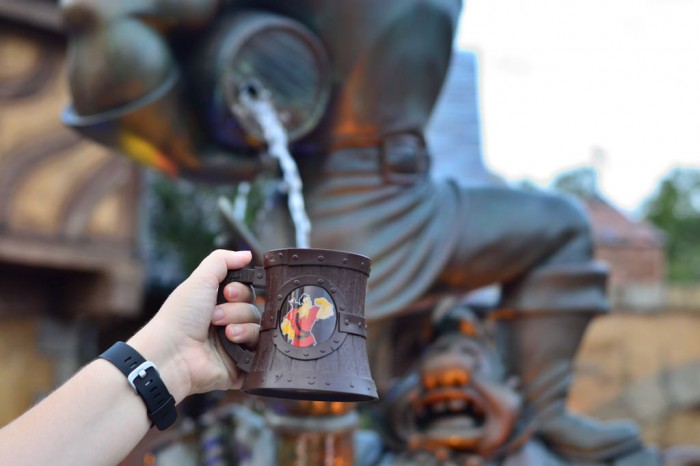 While it doesn't get nearly as much attention as the other attractions in New Fantasyland, for my family Enchanted Tales with Belle may be the best addition of all.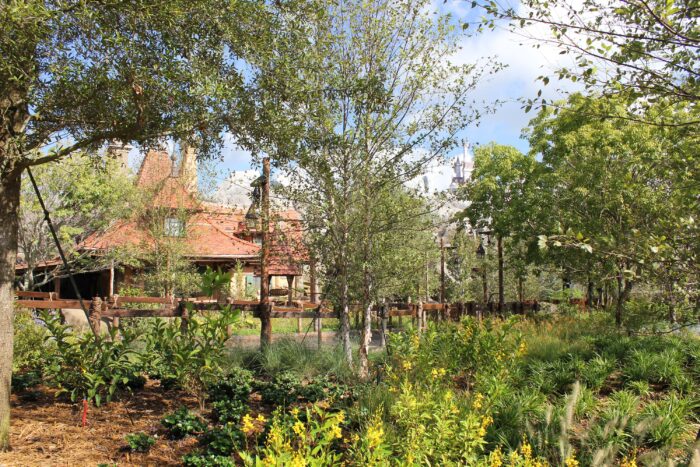 First there is a true "how did they do that" moment with the Magic Mirror…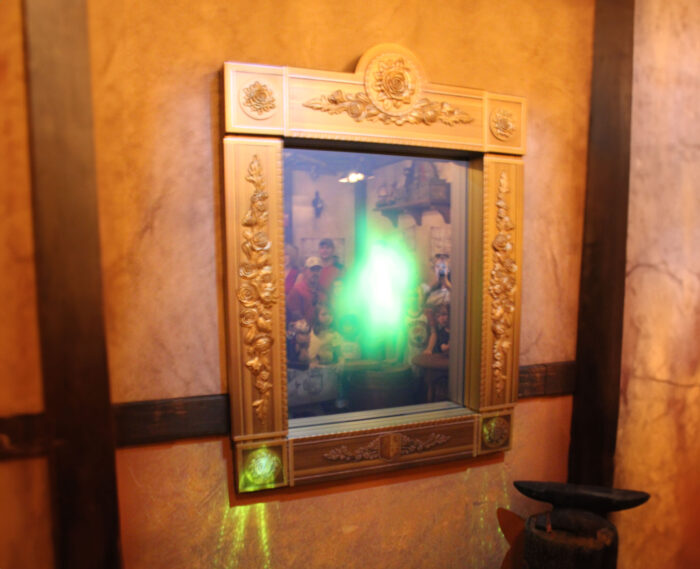 … followed by some truly stunning character work with Lumiere and the Wardrobe.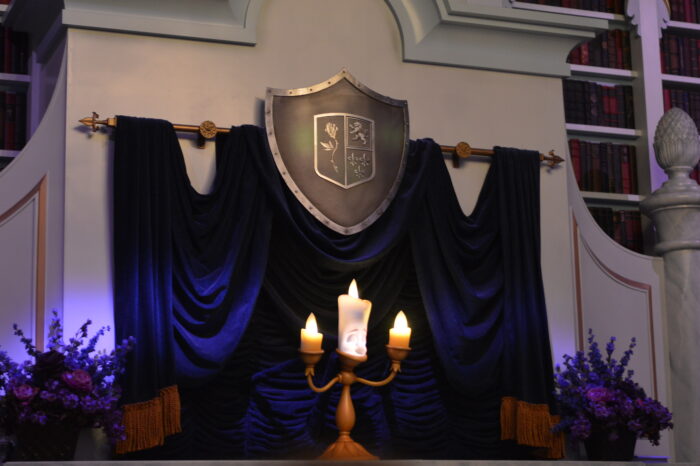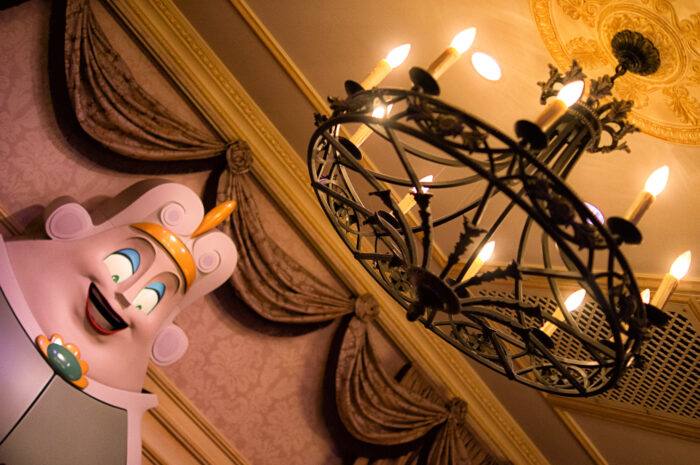 The attraction concludes with guests meeting Belle herself, and acting out the events from Beauty & the Beast. It is always special to see the younger kids interact with Belle…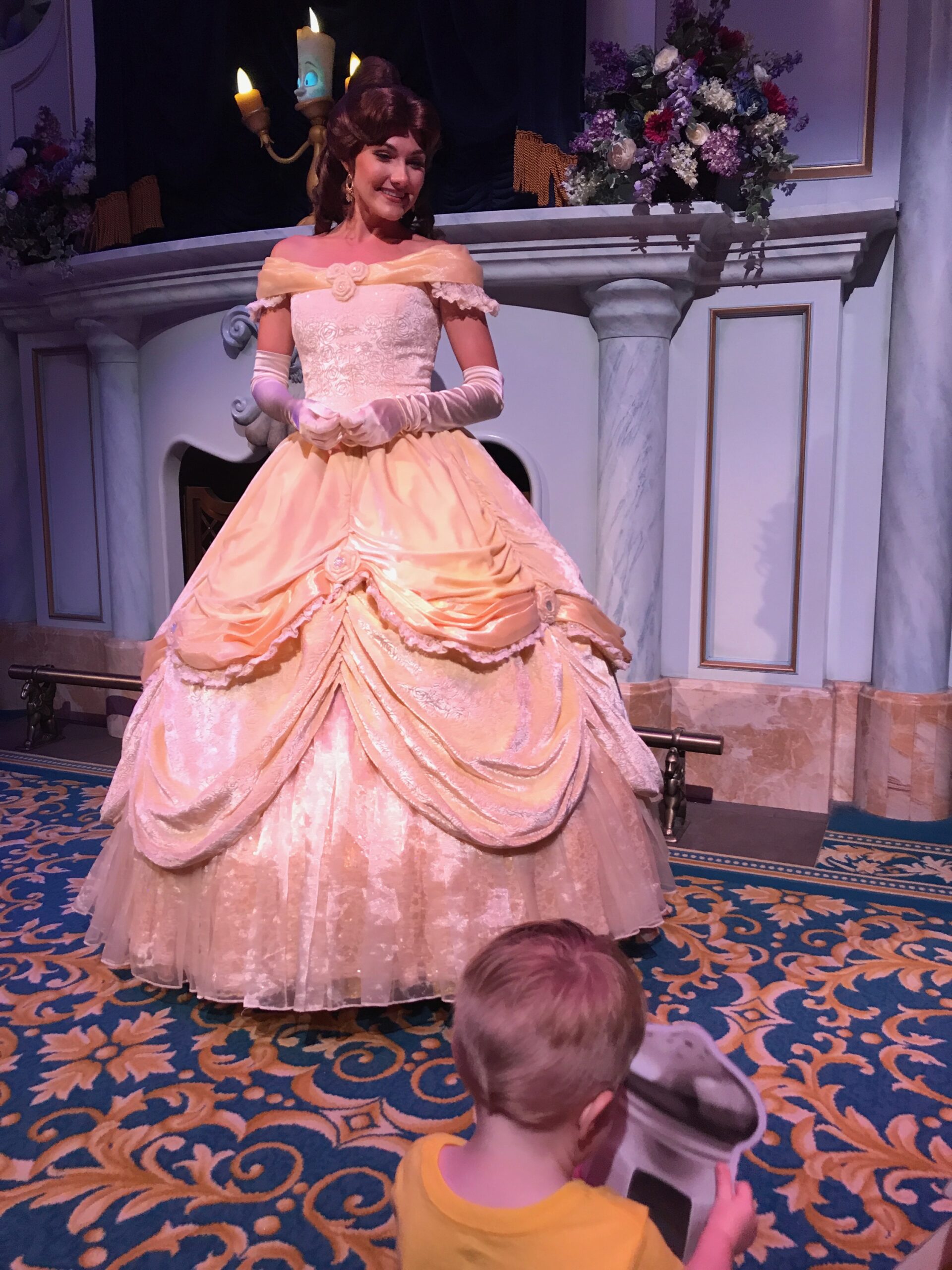 …and there is always a part in the show to be played by your friendly neighborhood theme park blogger.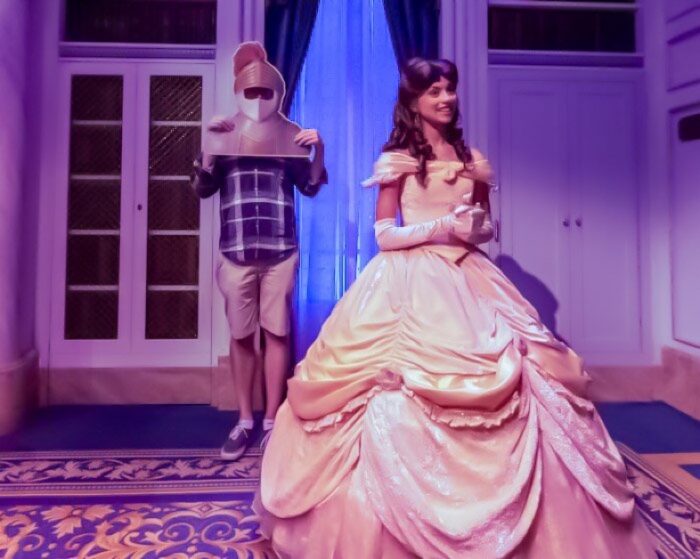 # 5 – Back to the Future: The Ride and International Food & Film Festival to Springfield
The Back to the Future trilogy of films is – in this author's opinion – one of the greatest of all time. Because the movies were so good, many theme park guests still miss Back to the Future: The Ride at Universal Studios Florida. However, I'm here to tell you, even as a super fan of the film series, the ride itself wasn't that good. Let's take a look at the façade of the attraction, the Institute of Future Technology. Granted we are spoiled by the theming we see everywhere in 2023, but even for it's time this generic façade wasn't good but "good enough."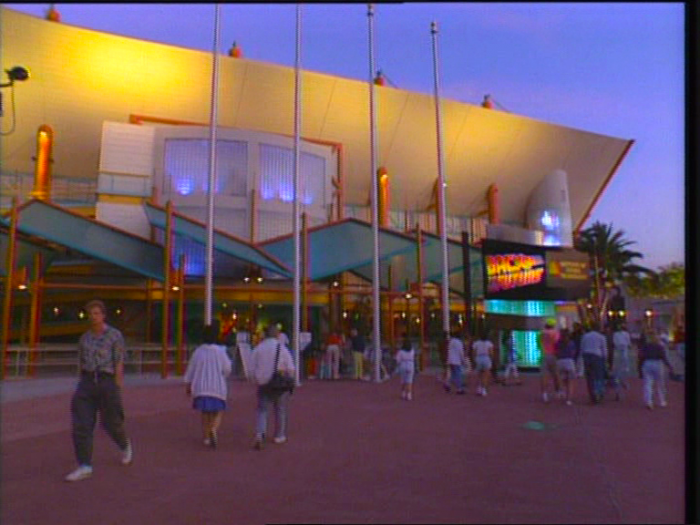 Don't get me wrong there were some great things about BTTF: The Ride, including the fact that it brought back two major characters from the series in Doc Brown and Biff Tannen.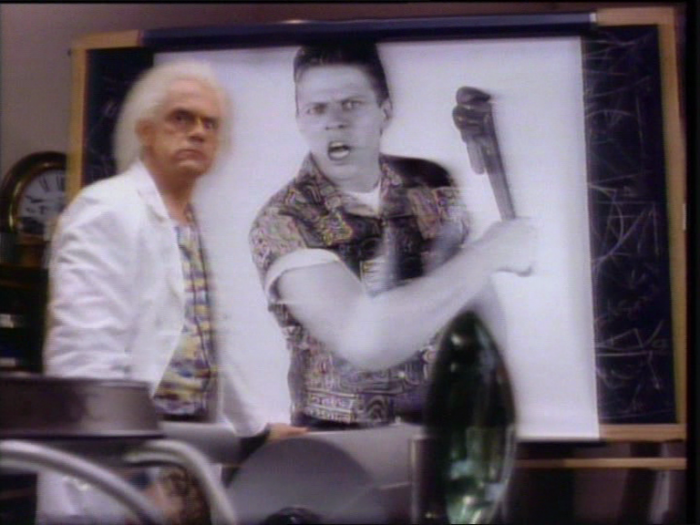 BTTF: The Ride was a large simulator attraction, and your ride vehicle was a DeLorean. This was an E-Ticket idea executed flawlessly. Full Stop. In fact, I think many people "miss" BTTF: The Ride just because it fulfilled so many of our dreams to get into a DeLorean from the movie.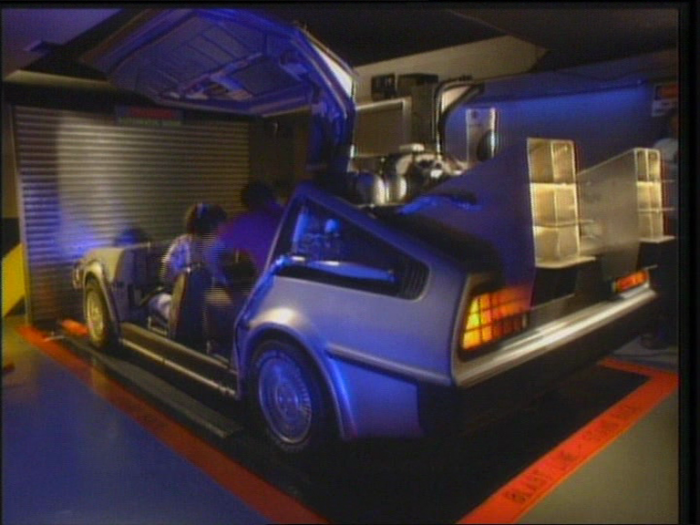 The nearby International Food & Film Festival food court was… well, the less said the better.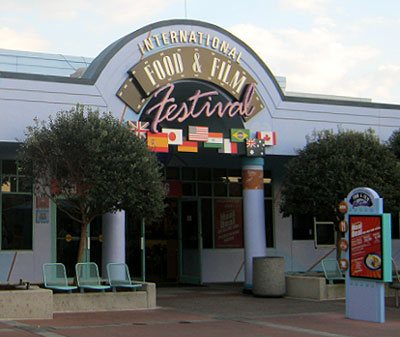 To think that BTTF: The Ride and a poorly themed food court became Springfield blows my mind.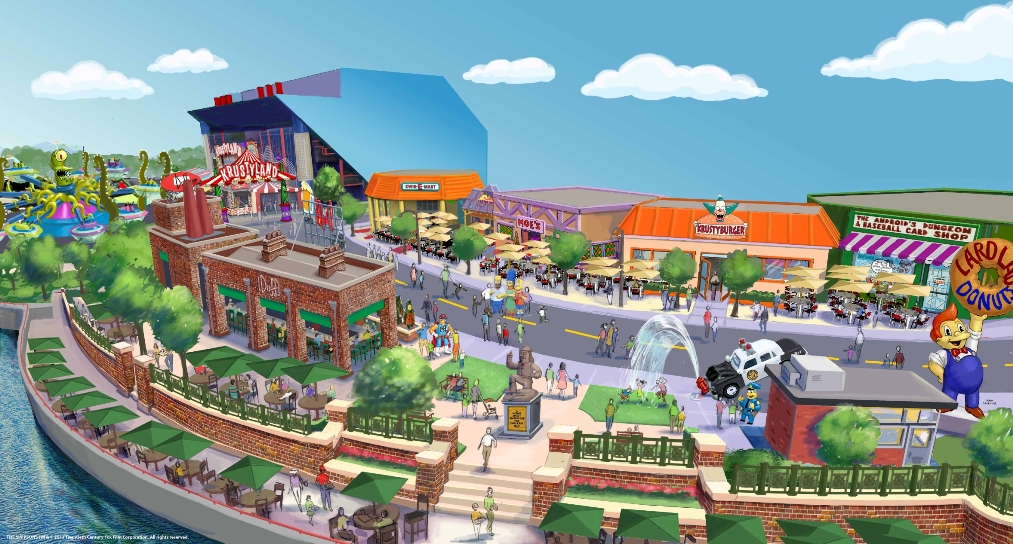 Like the hidden Nautilus in the Little Mermaid's attraction, we love when new attractions pay tribute to what they replaced. The Simpsons Ride directly replaced BTTF: The Ride, and not only does it reference BTTF, it gives an entire backstory of how the building changed from the Institute of Future Technology to Krustyland!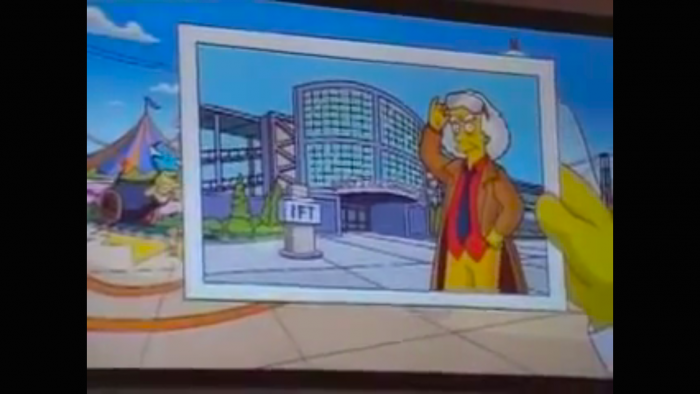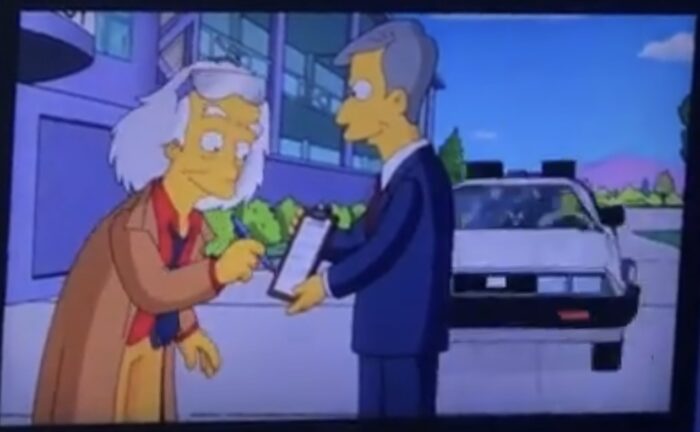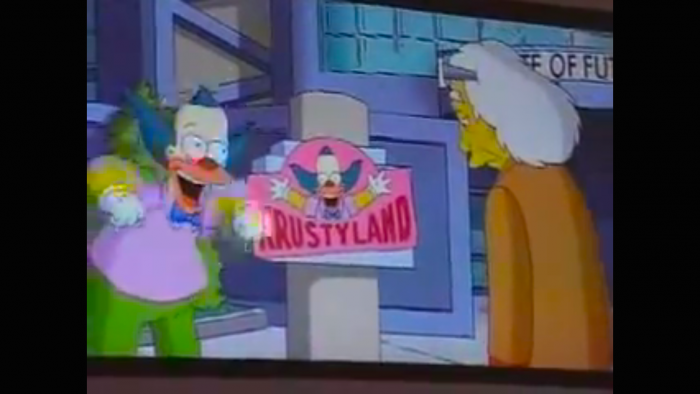 The Simpsons Ride itself mocks the very theme parks we love while being inside a theme park, how incredible is that?!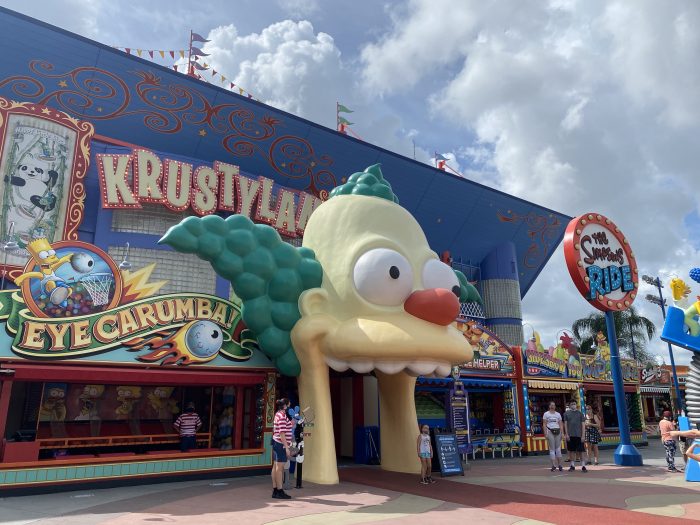 There are several references to Disney attractions during The Simpsons Ride queue experience.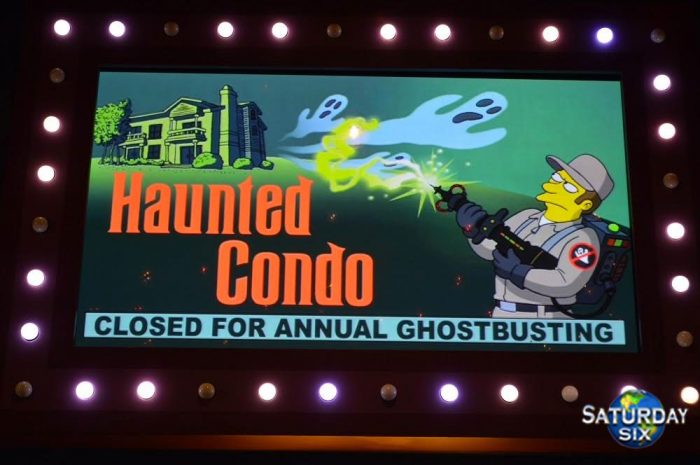 The story of Krustyland is that it is a theme park run by a person who has no problem ripping off all his guests, so it makes sense that up-charge skill games are everywhere. THAT SAID, these skill games are well themed, have some great jokes and you can win E-Ticket prizes.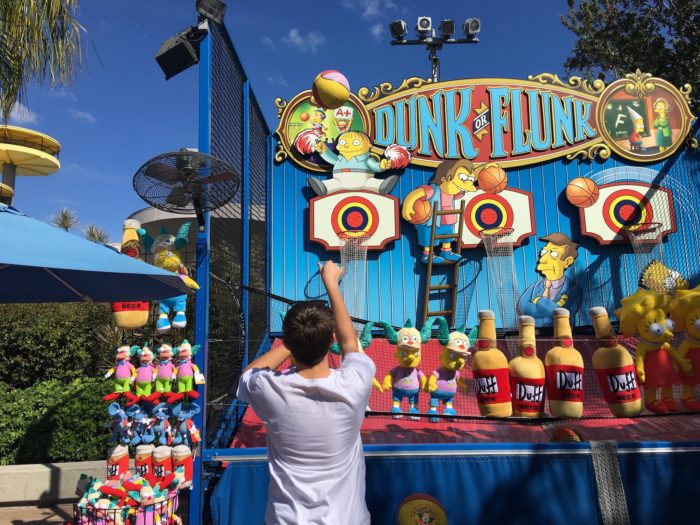 The Kwik-E-Mart gift shop is one of my favorite stores in any theme park, filled to the brim with great merchandise and even better gags.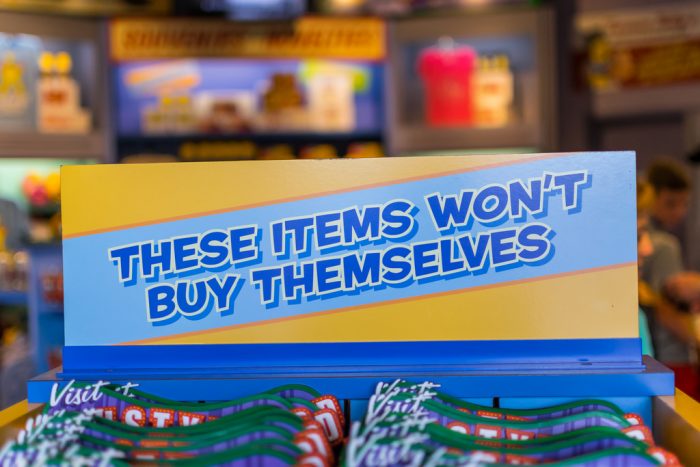 Fans of The Simpsons will know exactly what this Bort name reference is.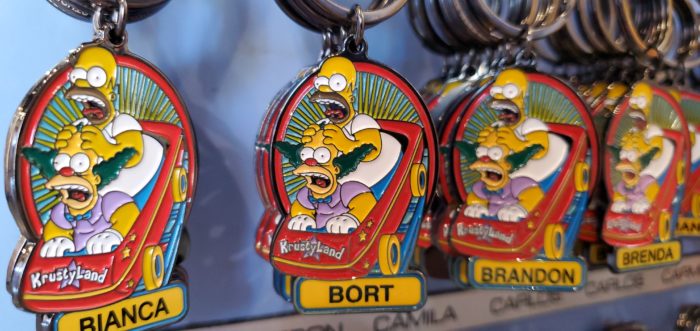 Kang & Kodos' Twirl 'n' Hurl not only has a wonderful name for a spinner attraction, but is also loaded with hilarious jokes in the queue.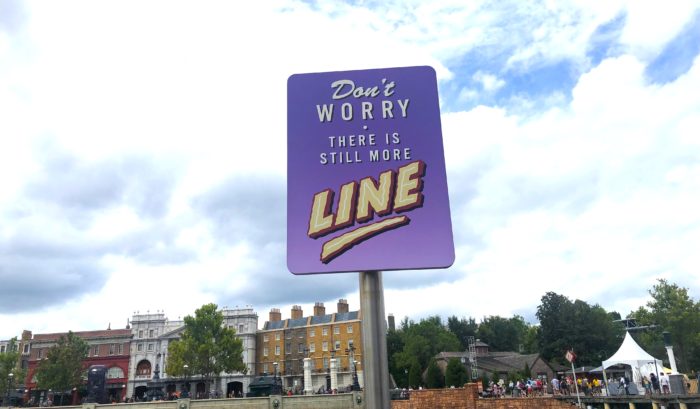 Duff Brewery has multiple references for fans of The Simpsons, including a statue of Jebediah Springfield and topiaries of the 7 Duffs (which was making fun of the Disney seven dwarfs.)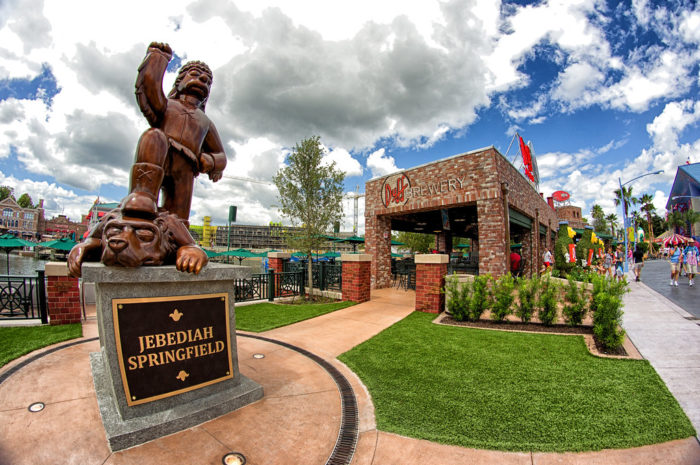 As a huge fan of The Simpsons myself, being able to actually order a Duff beer was a dream come true and something I didn't think I would ever see happen.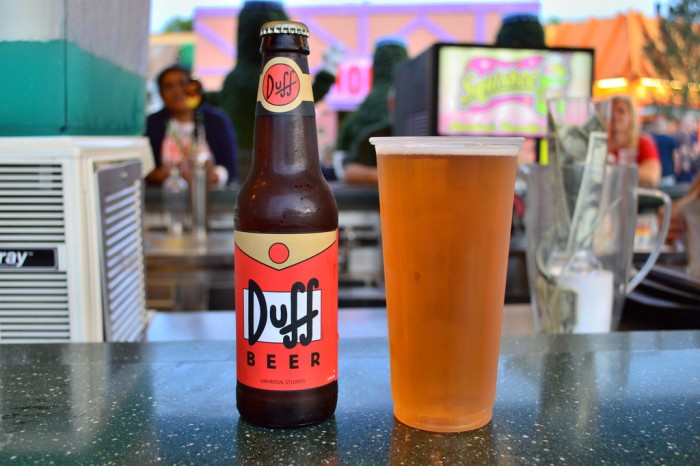 Bumblebee Man's Tacos is fantastic.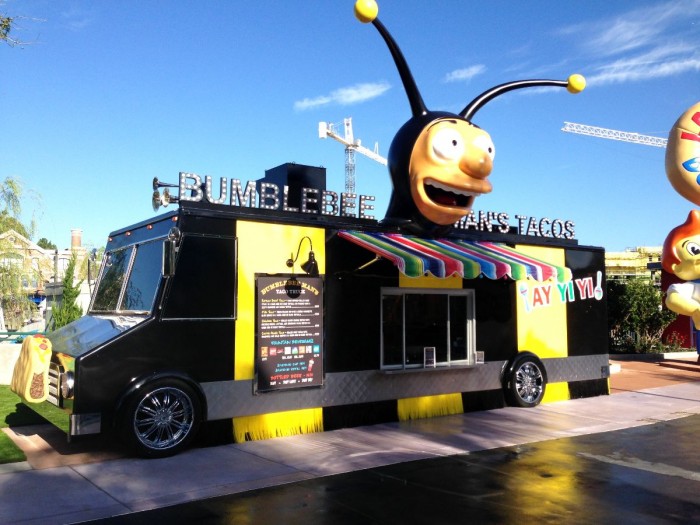 Aside from the wonderful name, Lard Lad Donuts was serving bonkers donuts years before Voodoo Doughnut and Everglazed came to Universal CityWalk and Disney Springs.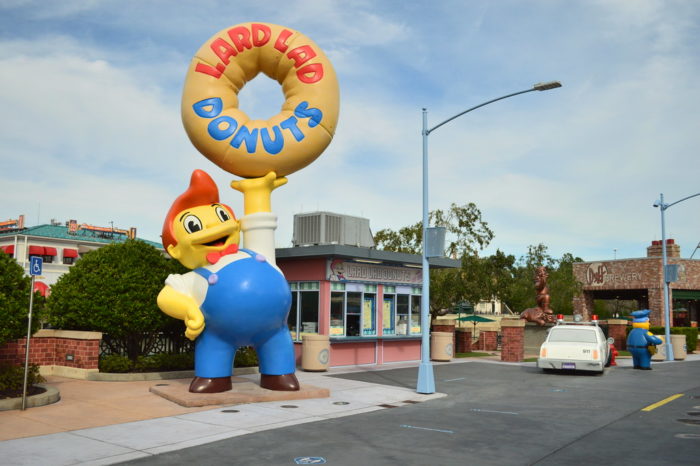 Lard Lad Donuts also offered maybe my favorite snack in any theme park, the Brain Freezin' D'oh-nut Sundae, which include soft serve ice cream in-between a donut.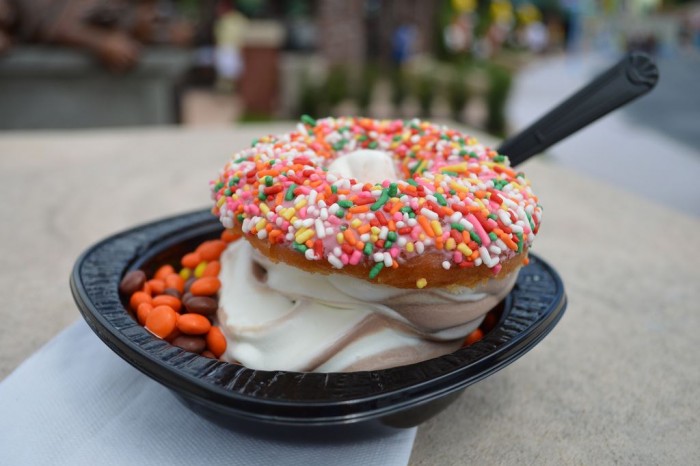 We recently did an entire article on Fast Food Boulevard and why that food court needs to be on your Must Do list.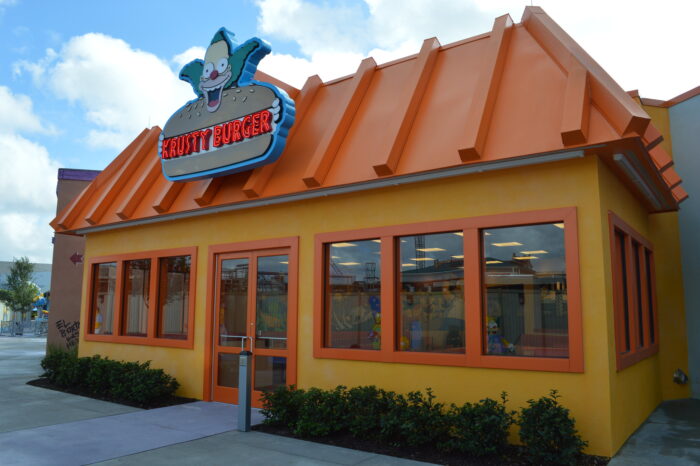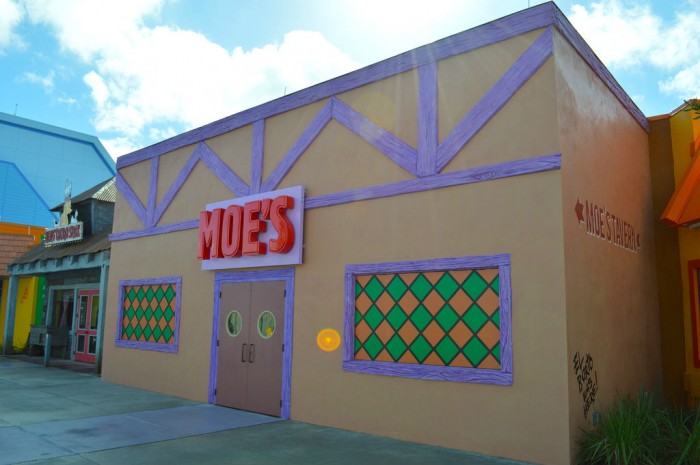 # 4 – Streets of America and Lights, Motors, Action! to Star Wars: Galaxy's Edge
At Disney's Hollywood Studios, the Streets of America was a land themed to New York and San Francisco where guests could take their picture in front of well known areas from popular movies and tv shows.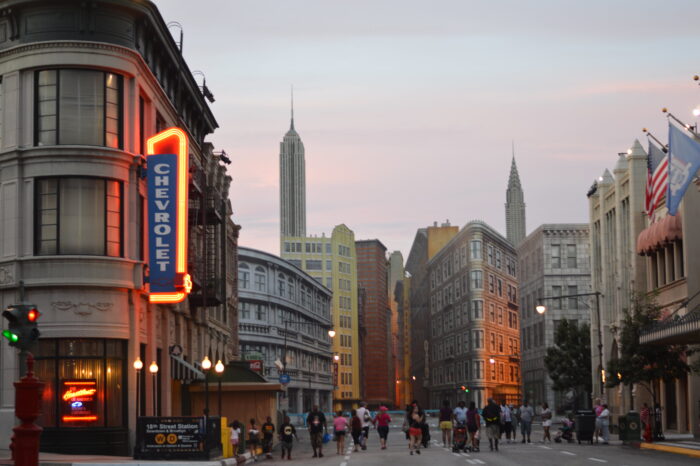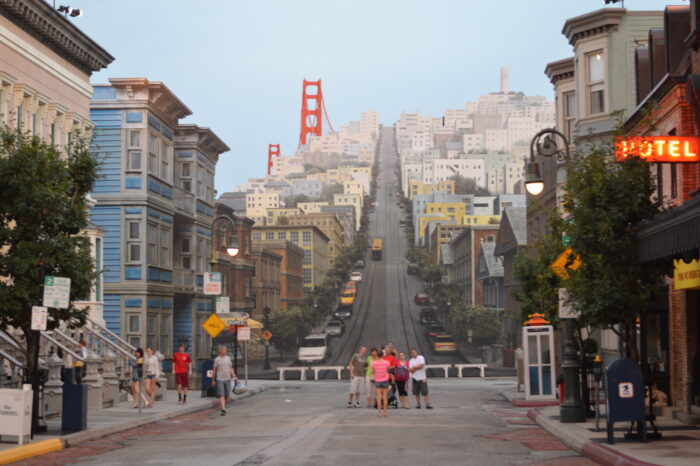 The area wasn't that impressive…until Christmas time when the Streets of America became home to the Osborne Family Spectacle of Dancing Lights. I'd have a hard time figuring out my all time top five favorite things in theme park history, but I know that walking through the Osborne Lights would be one of them.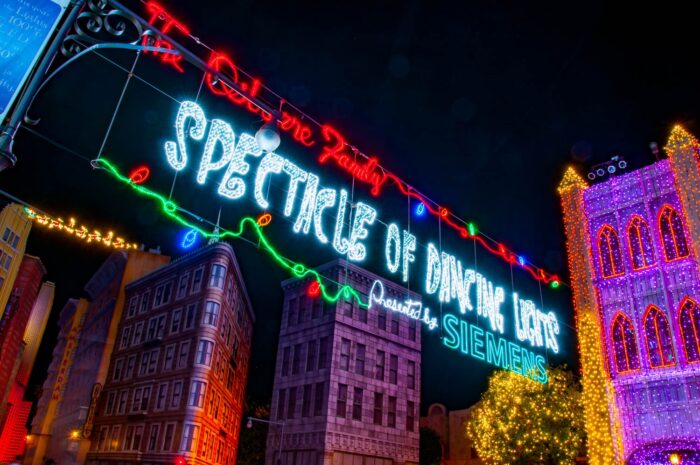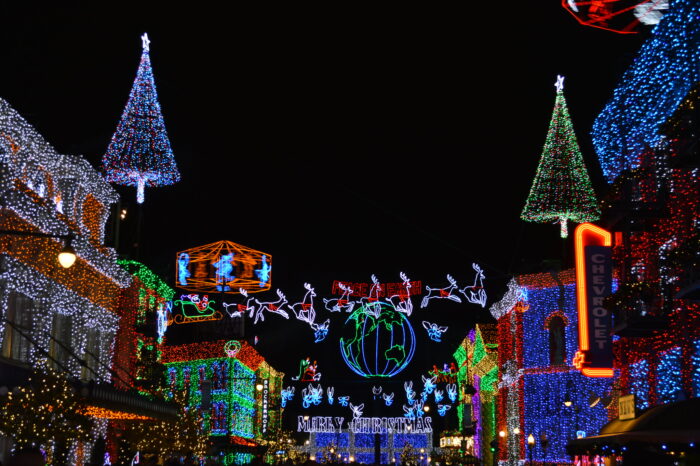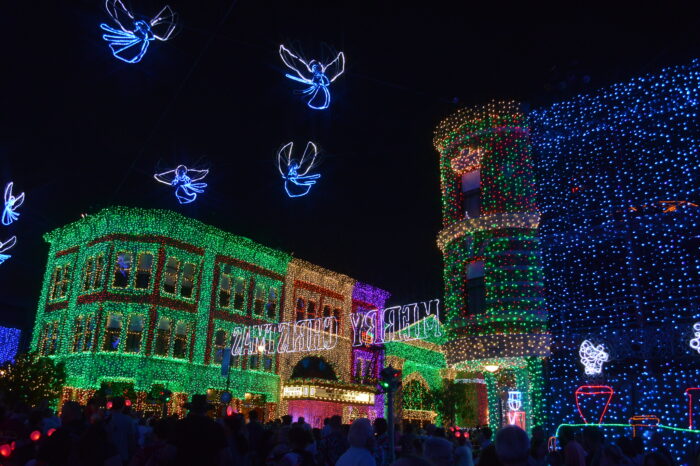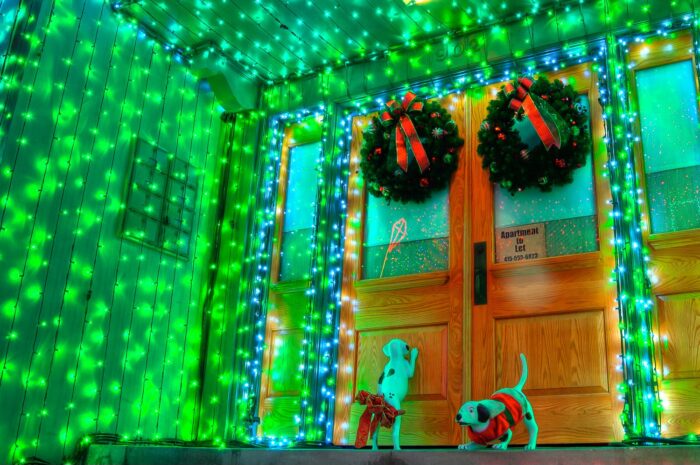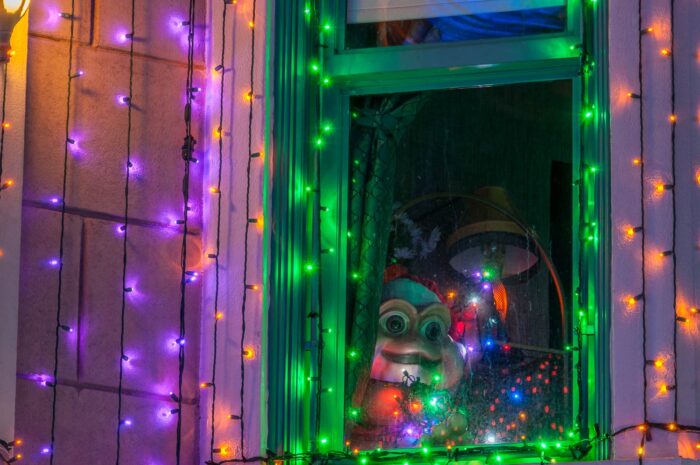 The Lights, Motors, Action! was a stunt show that originally made its debut at Disneyland Paris. It was presented to Walt Disney World as a "gift" as part of the Happiest Celebration on Earth. As a reminder, the Trojan Horse was a gift to the city of Troy by the Greeks. Long story short, make sure you save the receipt anytime you're given a gift from a European country…
The show was originally based around Herbie the love bug, but eventually transitioned to feature Lightning McQueen.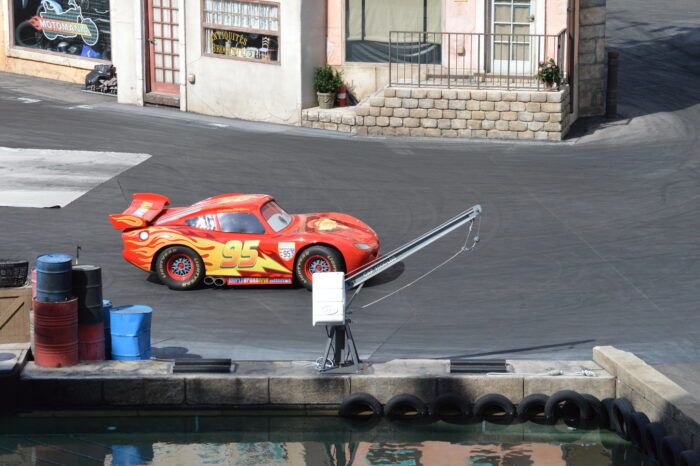 Star Wars: Galaxy's Edge made its debut at DHS in 2019 and was absolutely incredible.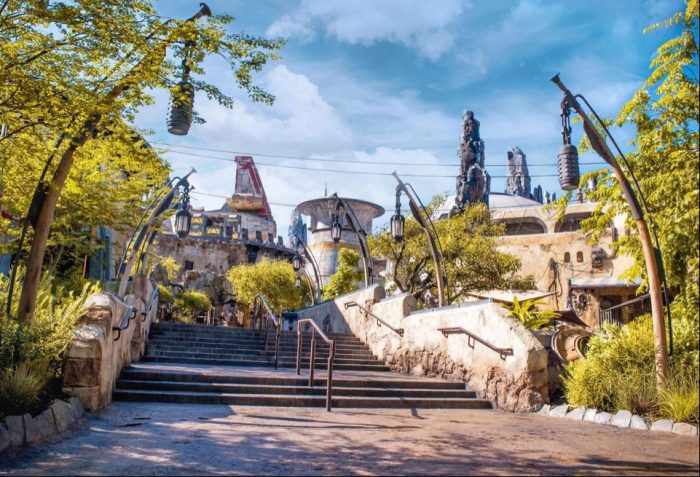 As a lifelong fan of Star Wars, I can't tell you what it feels like to walk around and see life-sized versions of vehicles like X-Wing fighters…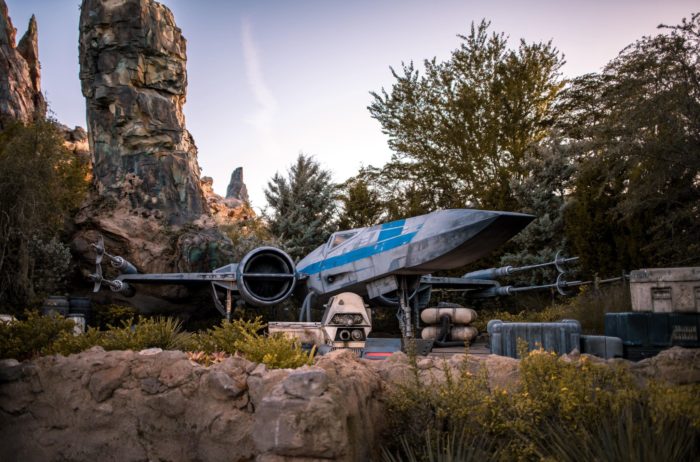 …or landspeeders.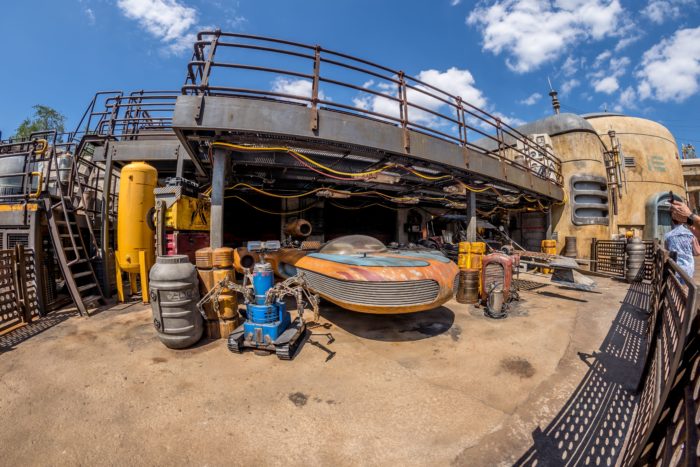 The main attraction at Galaxy's Edge, Star Wars: Rise of the Resistance, just may be the single greatest attraction in theme park history.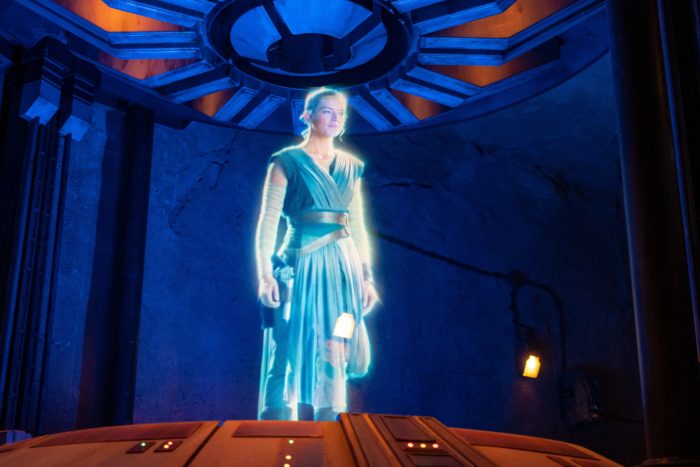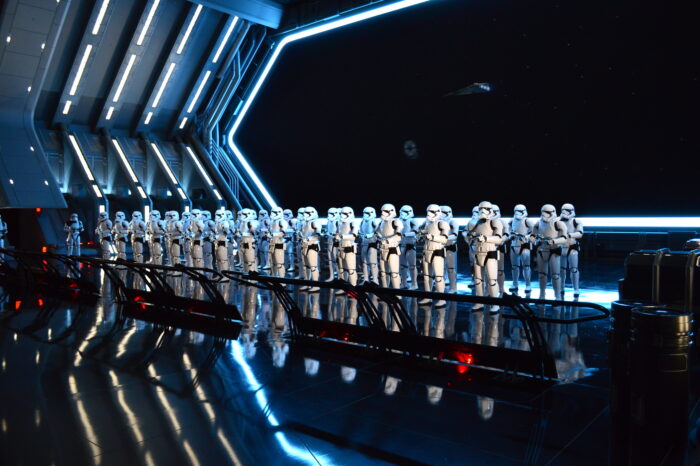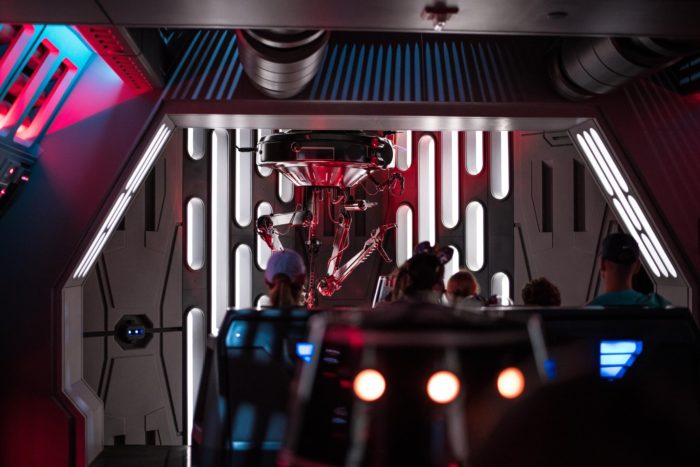 The centerpiece of Galaxy's Edge is a recreation of the Millennium Falcon that is beyond stunning to see in person.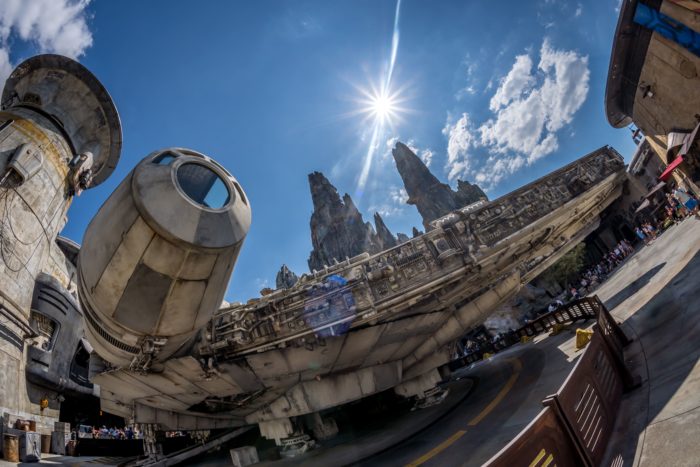 Millennium Falcon: Smugglers Run is the other attraction in Galaxy's Edge and features the mind blowing Hondo Ohnaka audio-animatronic.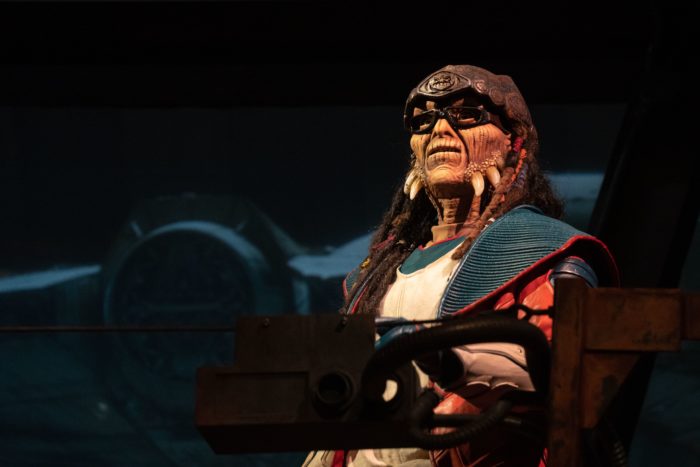 Much like guests always wanted to get in a DeLorean at BTTF: The Ride, Smugglers Run lets guests into the Falcon and even experience hyperdrive.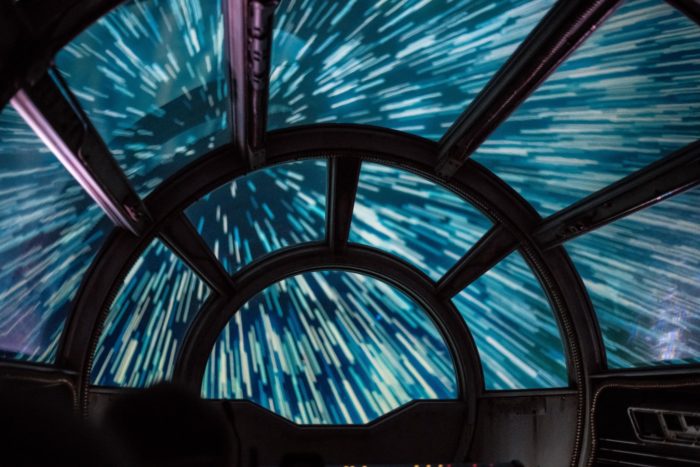 Unlike Disney's traditional offerings of awful pizza and chicken fingers, the main dining option at Galaxy's Edge – Docking Bay 7 – had a menu filled with interesting options.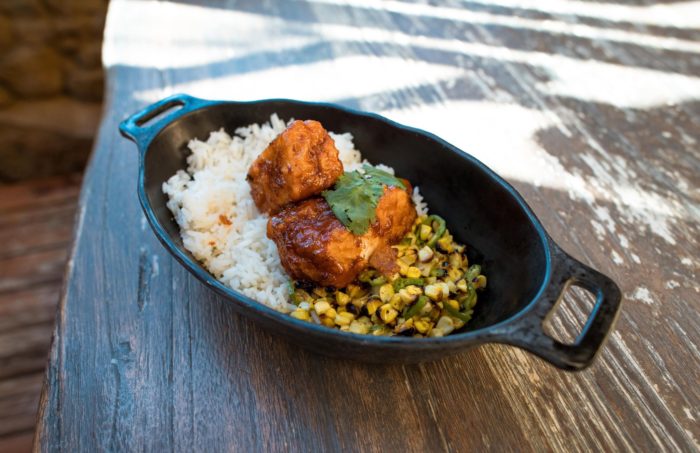 Ronto Roasters quick service location featured the instantly popular Ronto Wrap.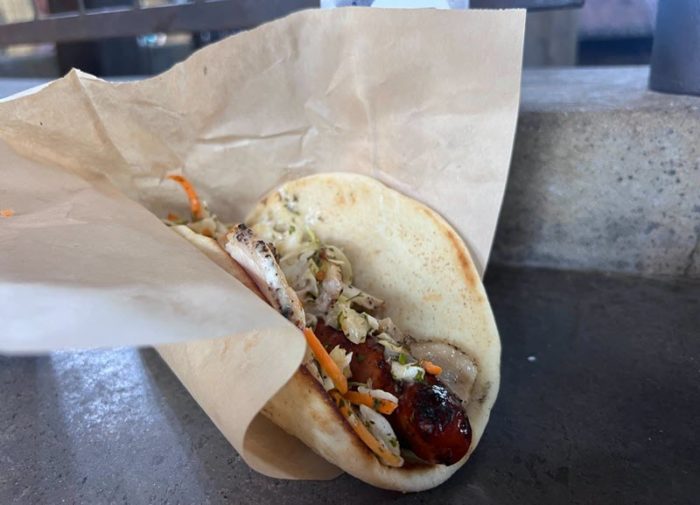 I would make the case that one thing many Star Wars fans were looking forward to trying when Galaxy's Edge opened was Blue Milk. Luke Skywalker had Blue Milk all the way back in the very first Star Wars movie (A New Hope) and this was one of the only food and drink options that the original Star Wars trilogy featured. Galaxy's Edge featured both a Blue Milk option along with a Green Milk (which made its film debut in Star Wars: The Last Jedi.)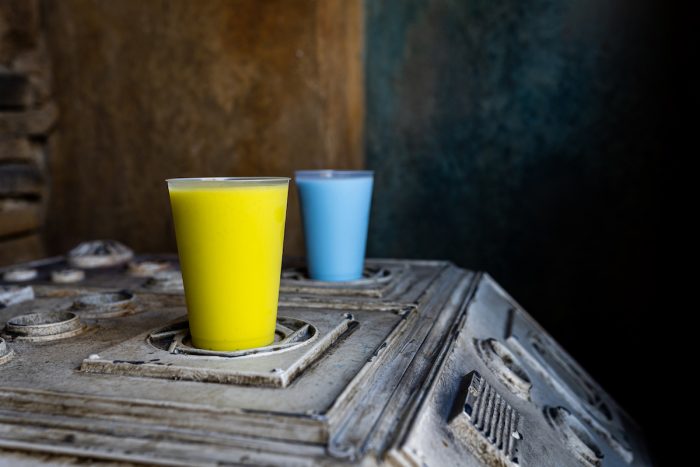 Oga's Cantina is a bar in Galaxy's Edge featuring a wide variety of exotic drinks.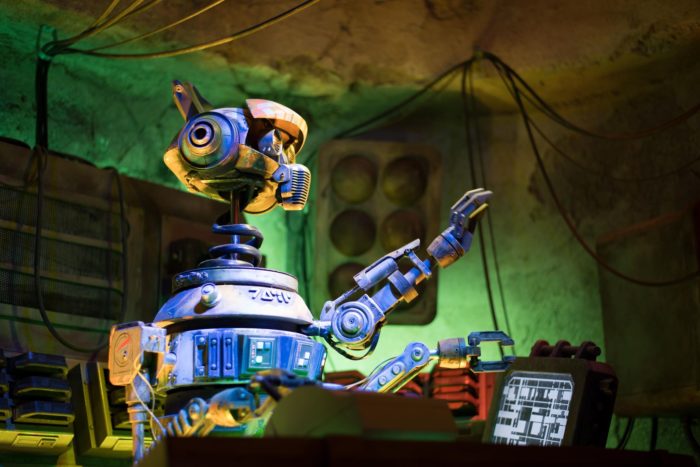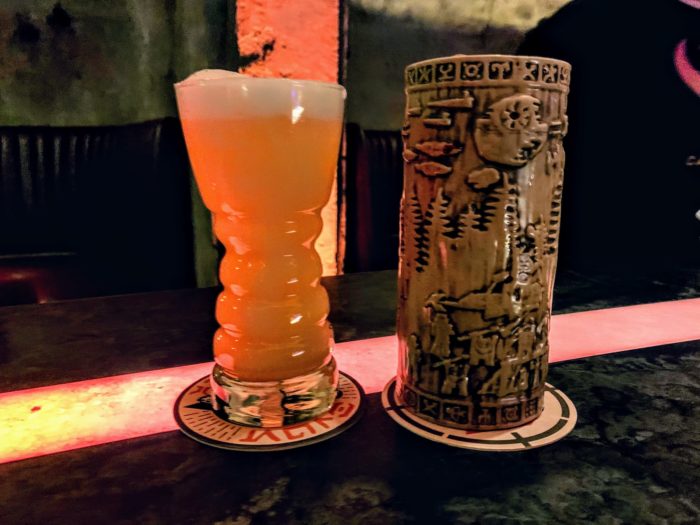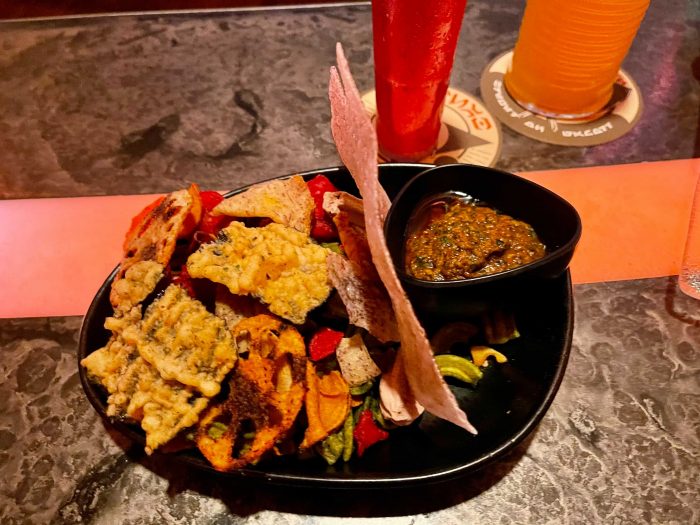 While its an upcharge experience at Galaxy's Edge (and a pricey one at that), building a lightsaber at Savi's Workshop is one of the most satisfying things this Star Wars fan has ever done.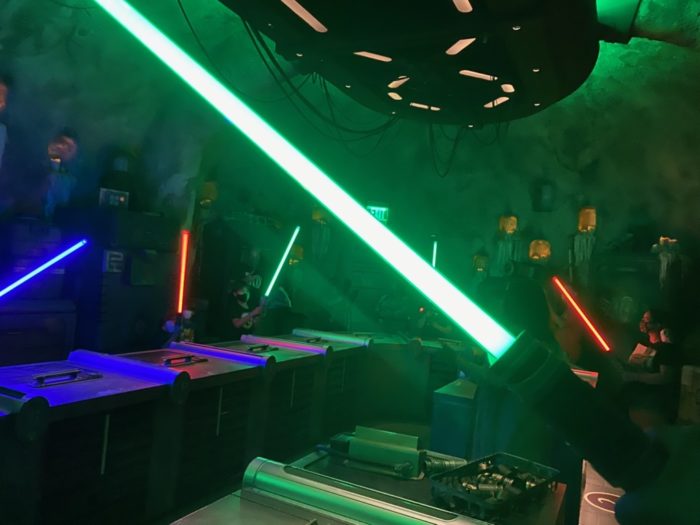 Dok Ondar's den of antiquities is a shop in Galaxy's Edge featuring a stunning audio-animatronic of Dok himself.
The low key surprise hit of Galaxy's Edge? The presentation of Coke, Diet Coke, and Sprite, which can be served in bottles that look like thermal detonators.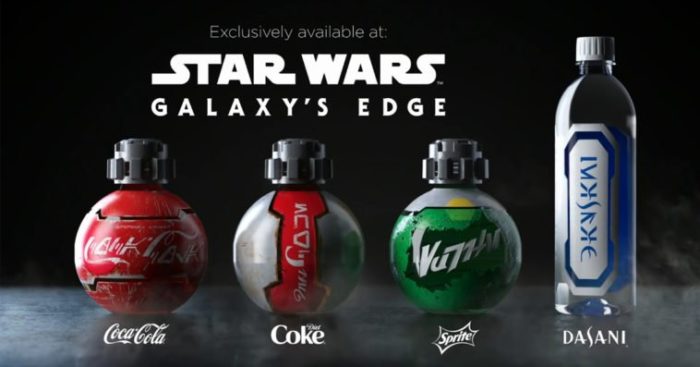 # 3 – Jaws and Amity to Diagon Alley
My favorite type of attraction is probably anything related to a boat ride, including Jungle Cruise, Living with the Land, and Gran Fiesta Tour at Disney. Universal doesn't have nearly as many boat rides as Disney, but one it did have was beloved by many: Jaws.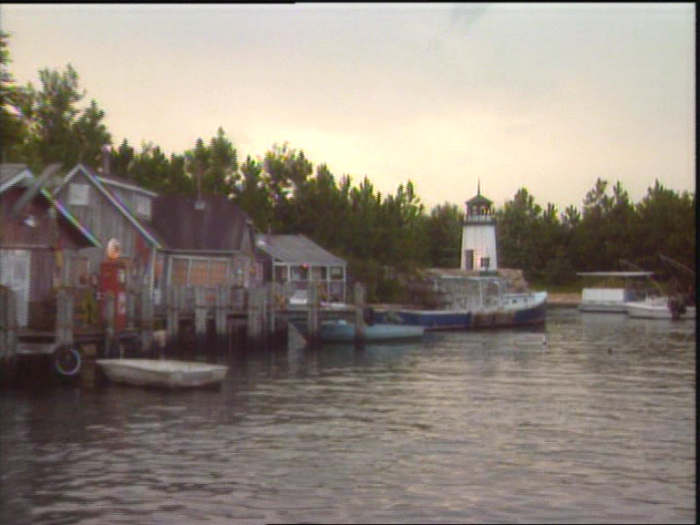 The Jaws ride at Universal was snake bit from day one, and we mean literally day one as Jaws was an opening day attraction at Universal Studios Florida in the summer of 1990. Over the years the ride went through many changes to help get it running more consistently. In fact, one early version of Jaws had the shark actually taking a bite out of the boat!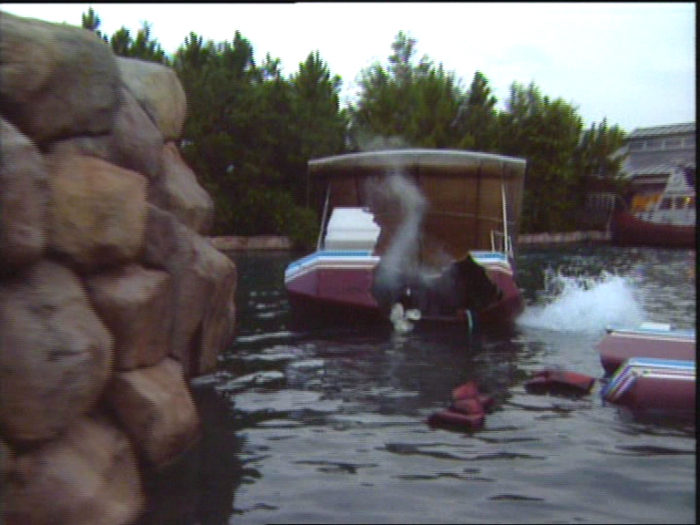 Like the Jungle Cruise, Jaws boats were helmed by a spieling skipper.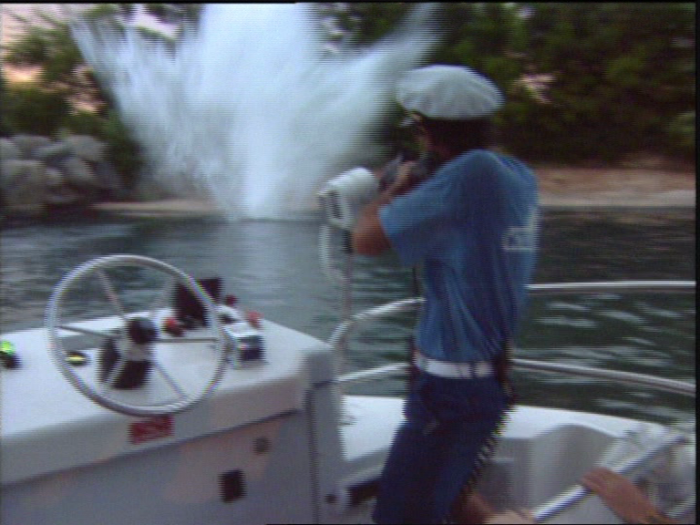 With Jaws being one of my all-time favorite movies, seeing a great white shark come out of the water will always be a wow moment to me.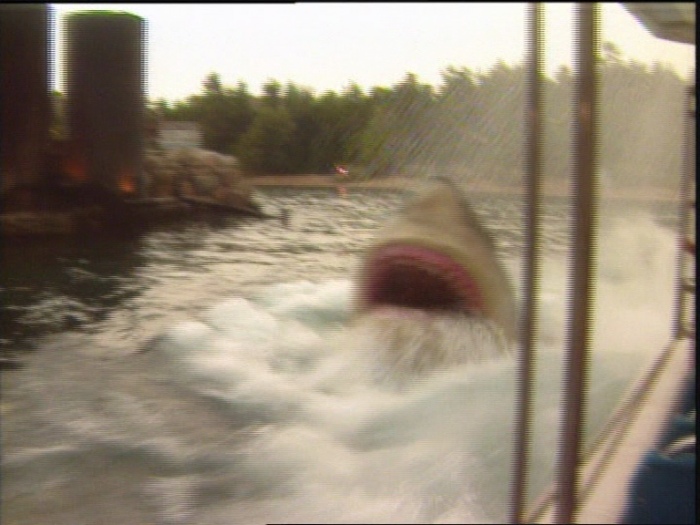 The town of Amity, which was the land which had the Jaws ride, was little more than a town fair.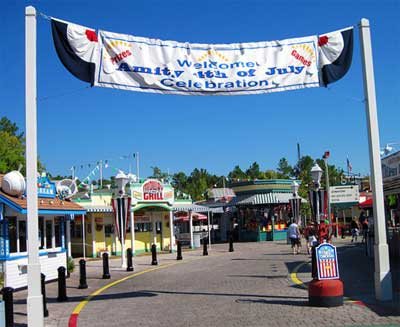 Out with the old and in with the new, and Jaws and Amity were replaced by the Wizarding World of Harry Potter – Diagon Alley in 2014. Here we saw theming taken to a new level, as Diagon Alley actually sat behind a huge London Waterfront façade.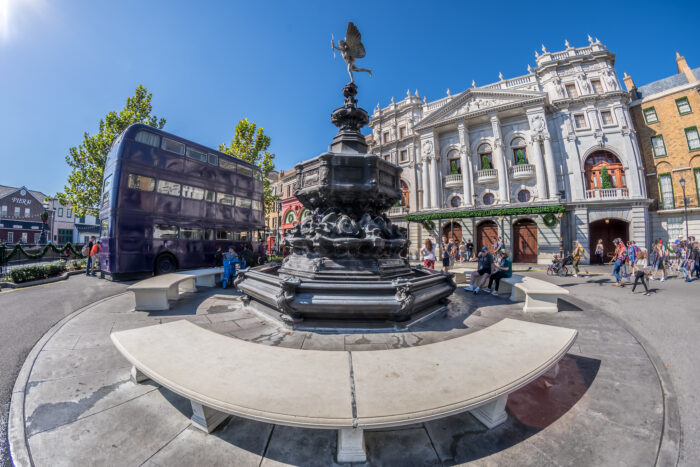 The London Waterfront area has its own meet-and-greet area with the Knight Bus.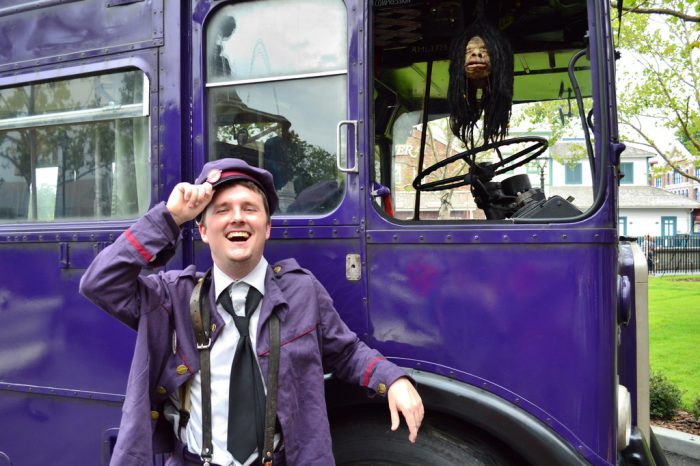 Once inside Diagon Alley, prepare to have your mouth drop straight to the floor.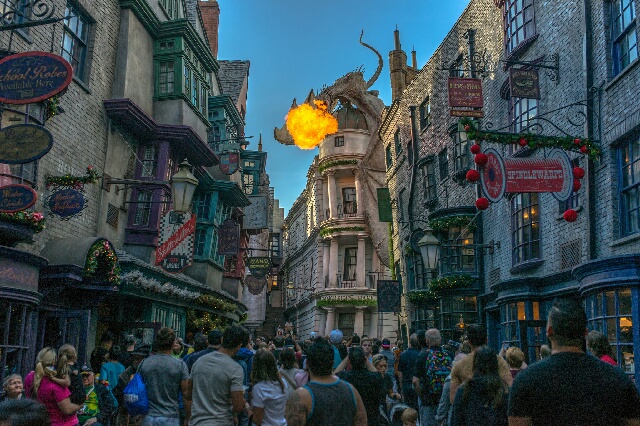 The dragon atop Gringott's Bank gets the attention of EVERYONE.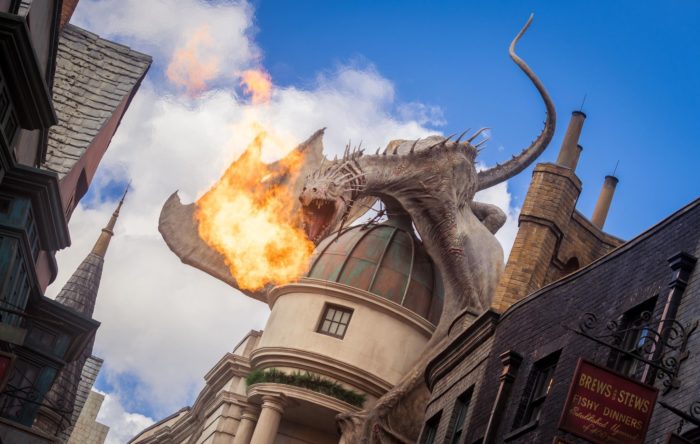 Gringotts Bank is the home to Harry Potter and the Escape from Gringotts attraction. The queue for this ride is like you are stepping inside the films set of Harry Potter and the Deathly Hallows Part 2.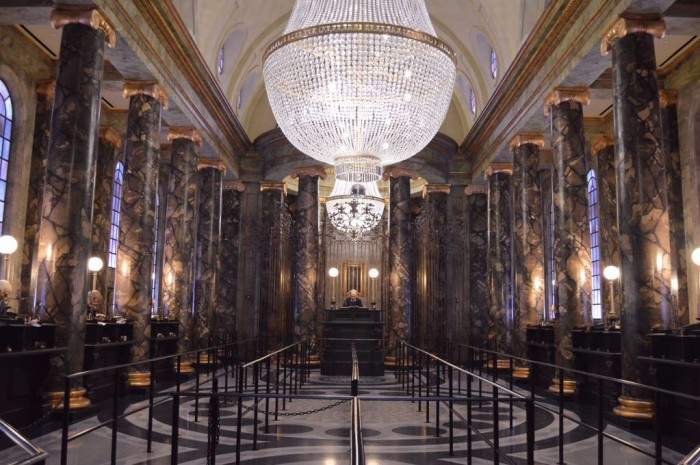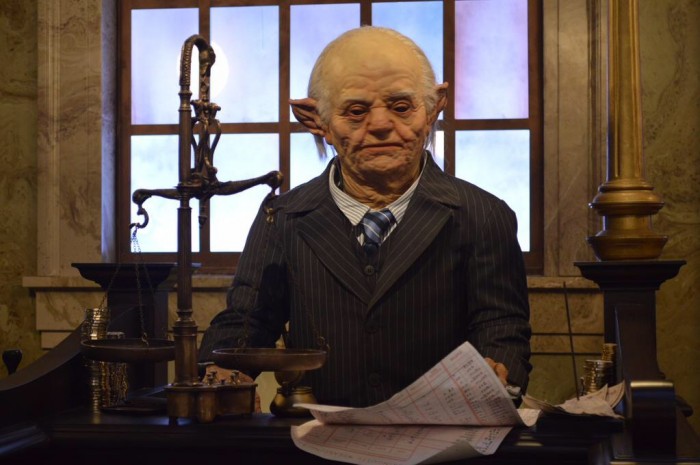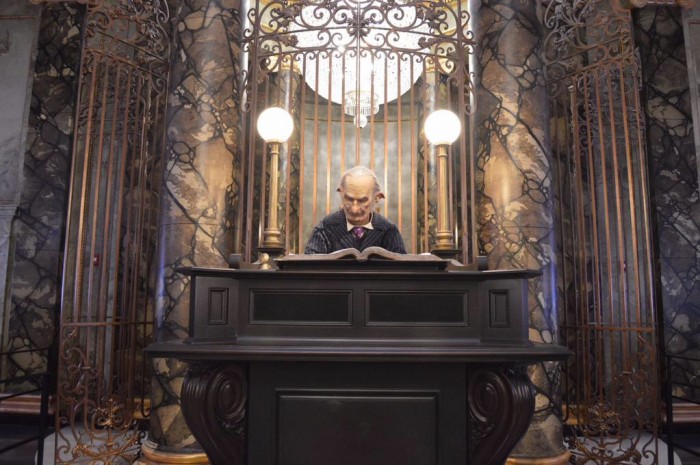 The ride experience itself features characters directly from the films, including Harry Potter, Ron Weasley, Voldemort, and Bellatrix Lestrange.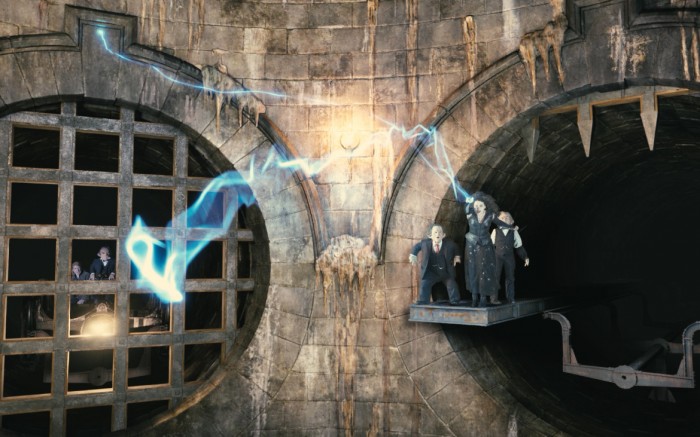 Universal saw what a HUGE success the Ollivanders Wand Experience was in Hogsmeade Village, and made a much bigger Ollivanders in Diagon Alley.
The Leaky Cauldron restaurant is one of my favorite places to eat in all of Universal.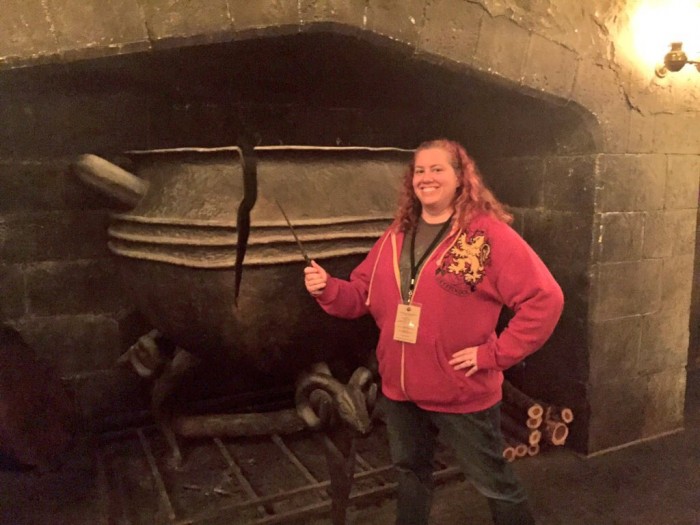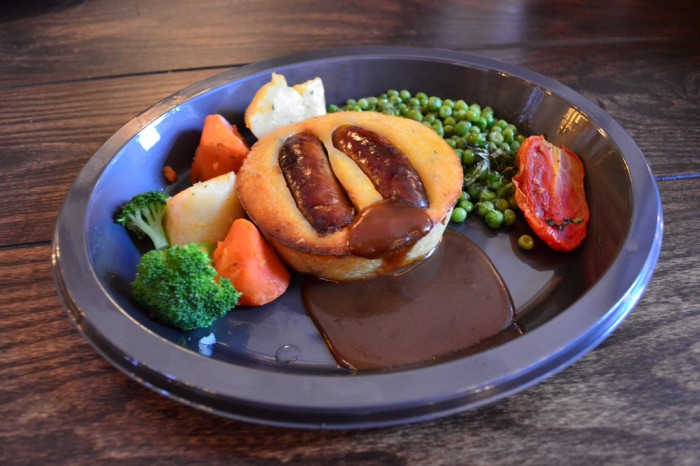 Diagon Alley opened with a full array of new drinks, including my personal favorite, Tongue Tying Lemon Squash.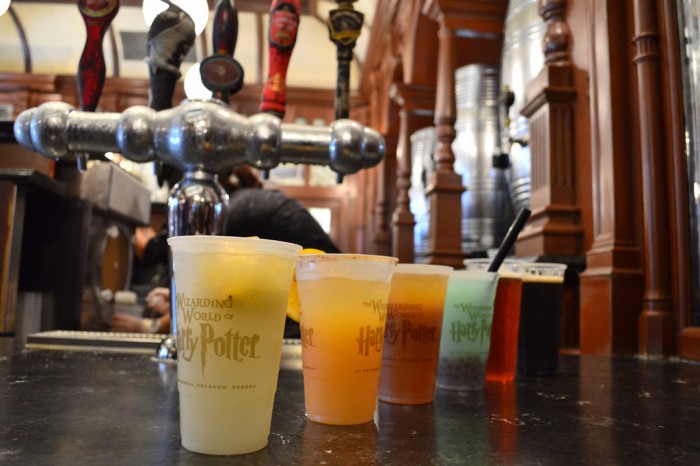 Florean Fortescue's Ice-Cream Parlour features some wonderful flavors you don't see anywhere else (like strawberry peanut butter and chocolate chili), but don't sleep on Butterbeer ice cream, it's actually great!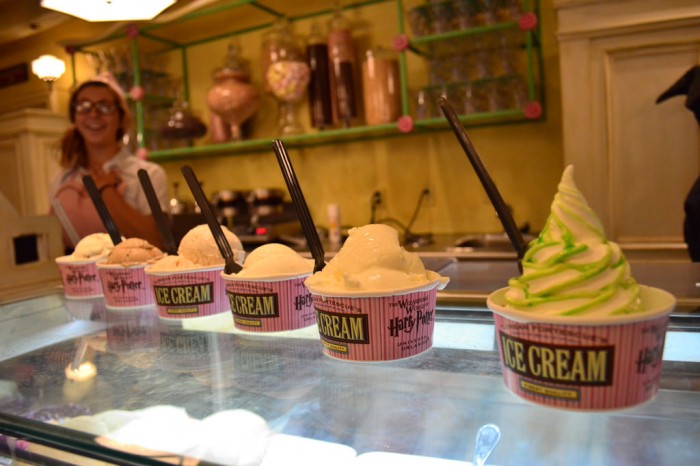 Weasley's Wizarding Wheezes is straight out of Potter film and book lore, and Diagon Alley in USF does the store justice.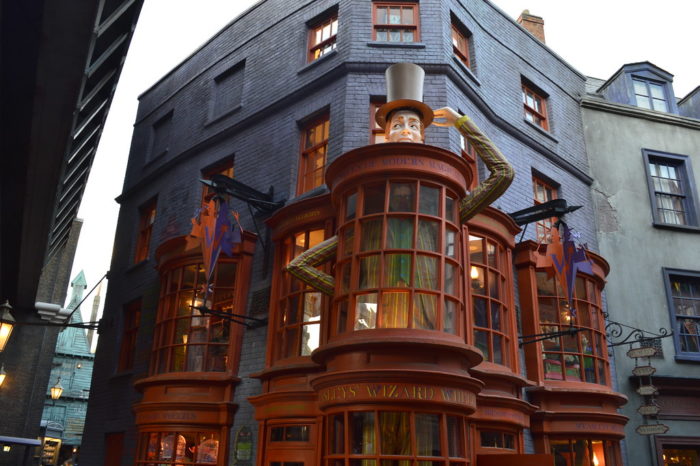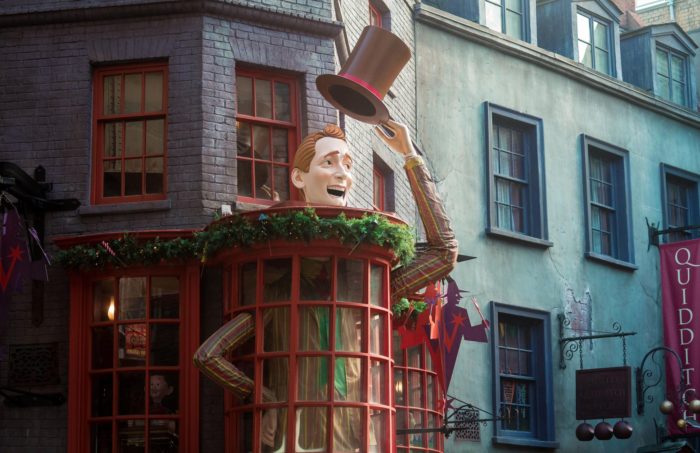 Not only does the store feature many items featured in the Potter films and books, but you'll also see things taken straight out of the movies.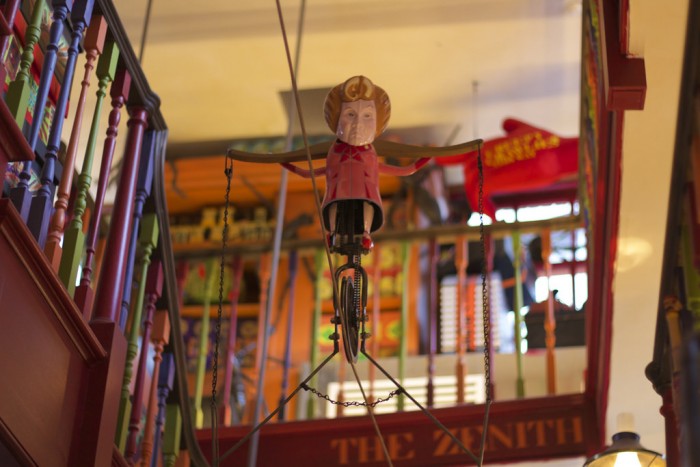 The shows in Diagon Alley are next level great, including the singing sorceress Celestina Warbeck and the Banshees.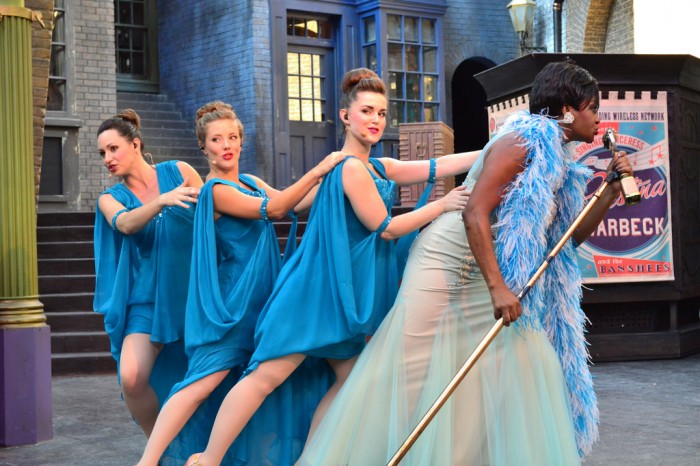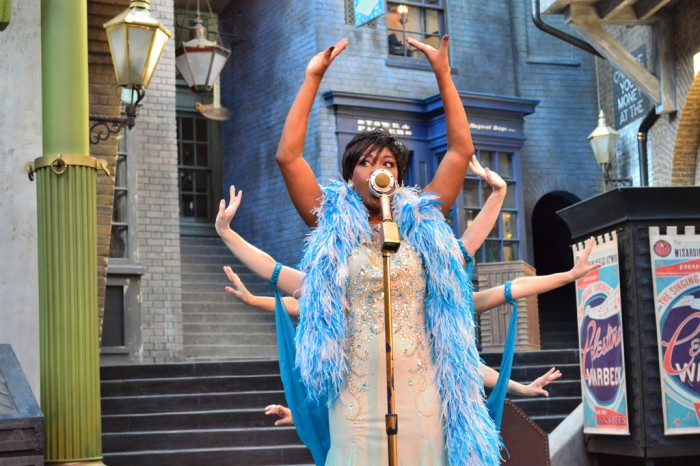 The Wizarding Academy of Dramatic Arts also present two tales from Beedle the Bard, the Fountain of Fair Fortune and The Tale of the Three Brothers.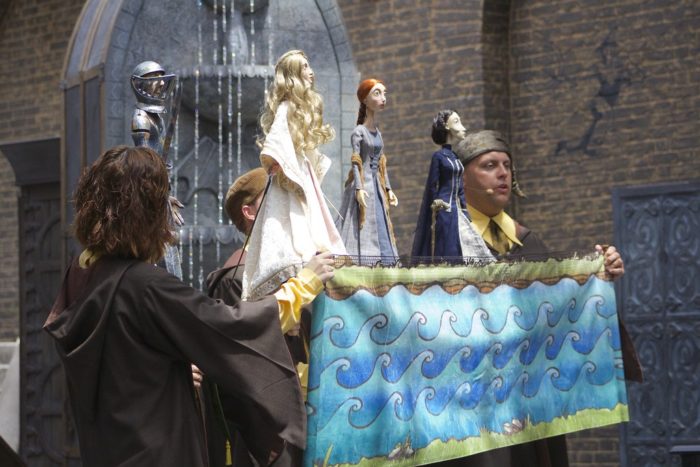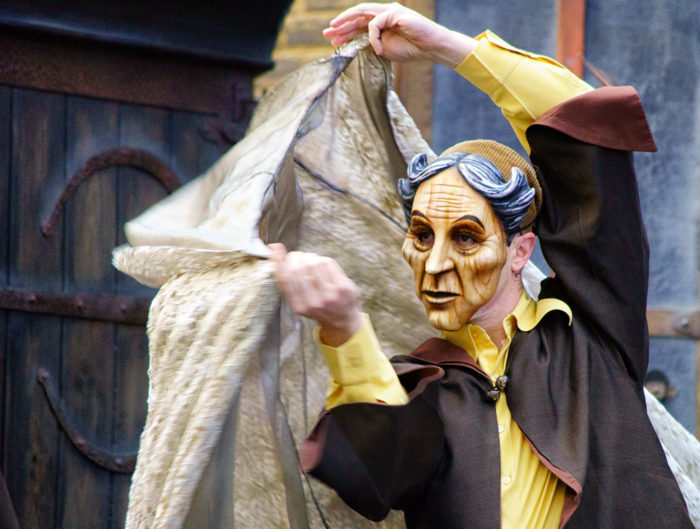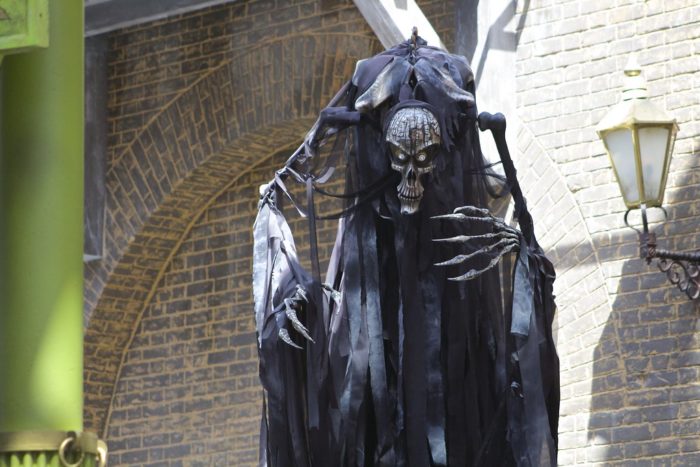 Like Dok Ondar in Galaxy's Edge, Diagon Alley also has a shop (the Wizarding Currency Exchange) run by a audio-animatronic with this goblin.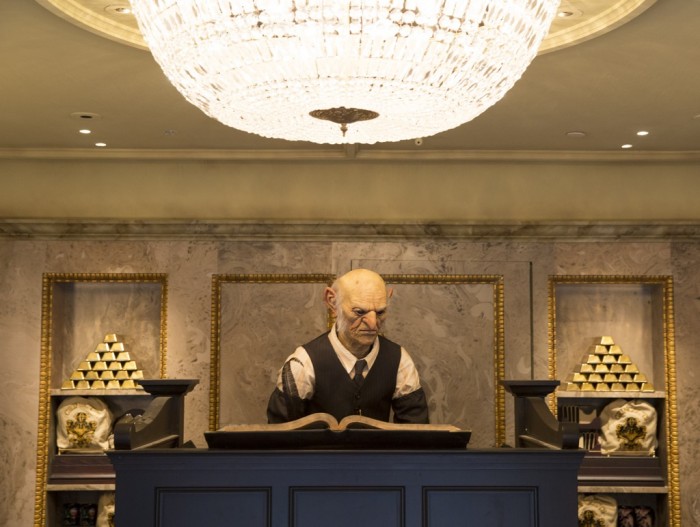 Our favorite area of Diagon Alley? Knockturn Alley, home of the baddies..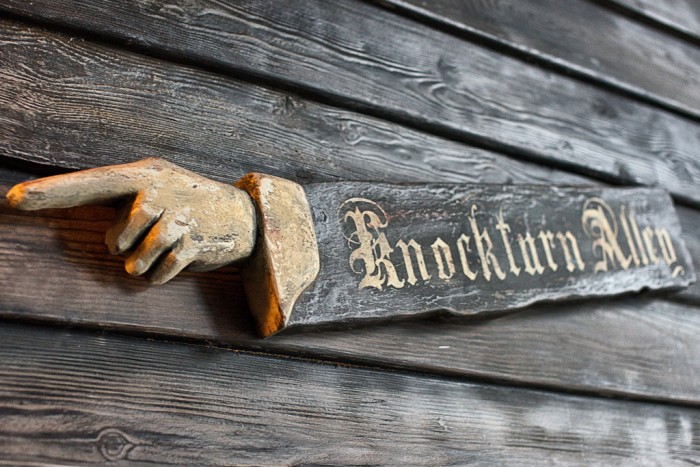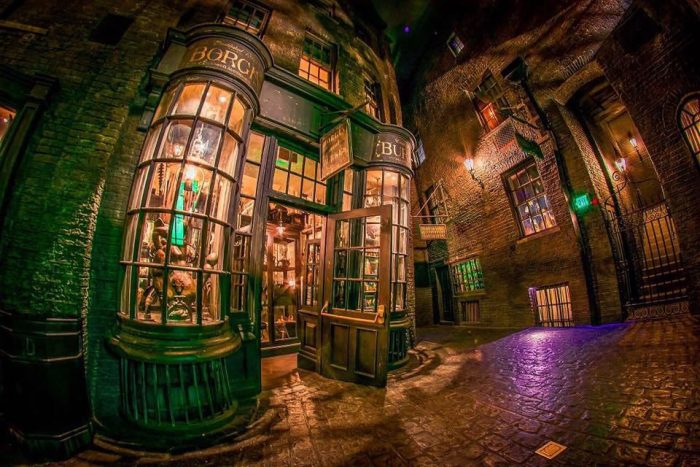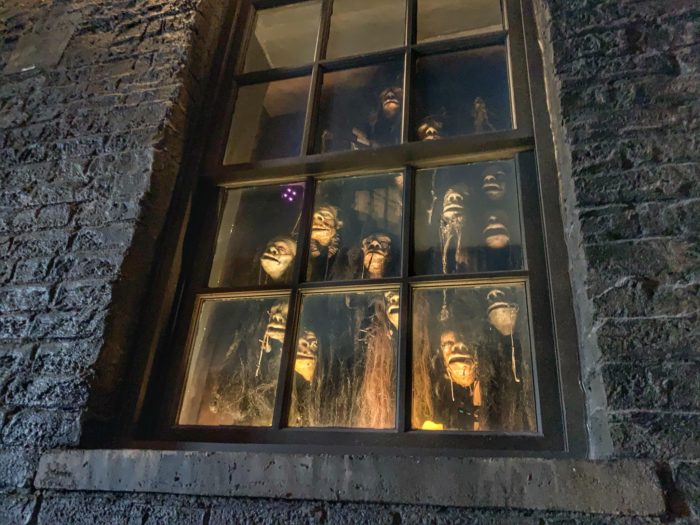 # 2 – Camp Minnie-Mickey to Pandora: The World of Avatar
Camp Minnie-Mickey was designed to be the Disney characters' Animal Kingdom headquarters. A small land, Camp Minnie-Mickey has a rustic, woodsy theme like that of a summer camp. In addition to a character meeting-and-greeting area, Camp Minnie-Mickey is home to a live stage production featuring Disney characters.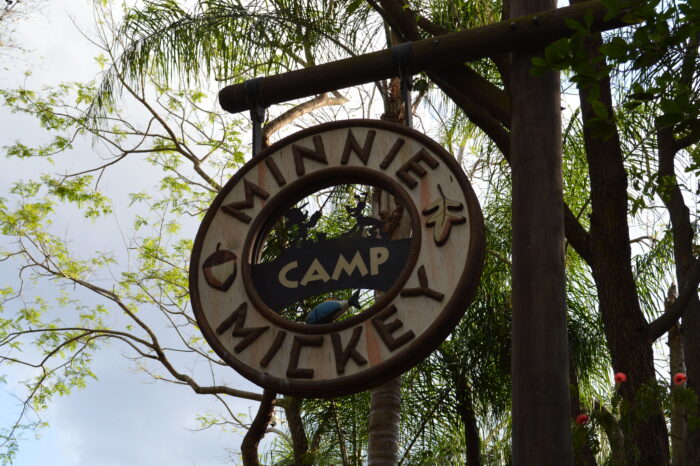 Situated in a cul-de-sac, Camp Minnie-Mickey was a pedestrian nightmare. Lines for the stage show and from the character-greeting areas often spilled out into the congested walkways, making movement almost impossible. To compound the problem, hundreds of parked strollers clogged the paths, squeezing the flow of traffic to a trickle. Meanwhile, hordes of guests trying to enter Camp Minnie-Mickey collide with guests trying to exit on the bridge connecting the camp to Discovery Island. It was a planning error of the first order. But it did have some very cute theming…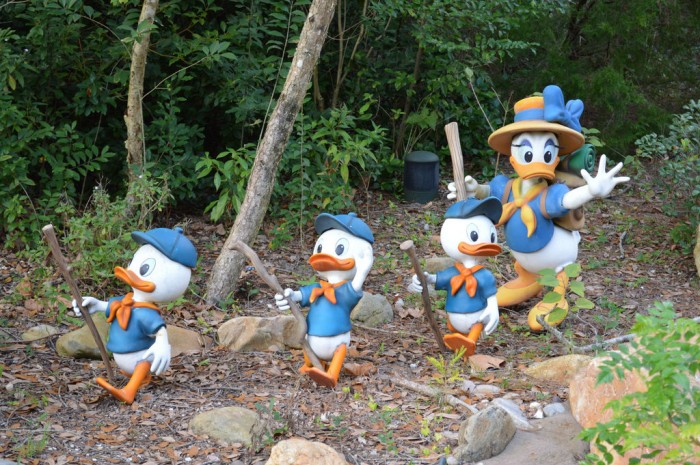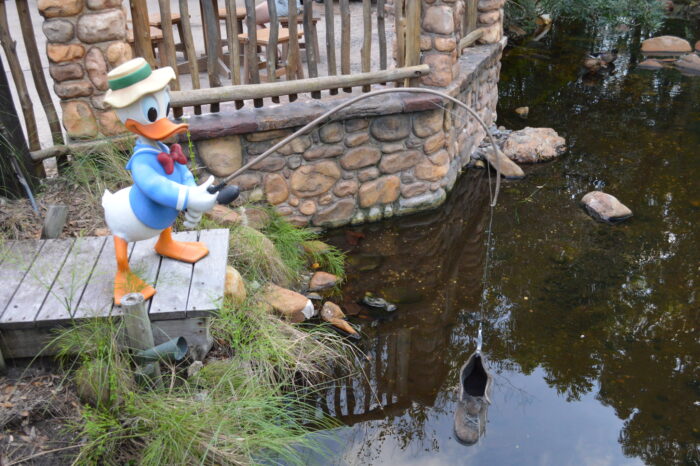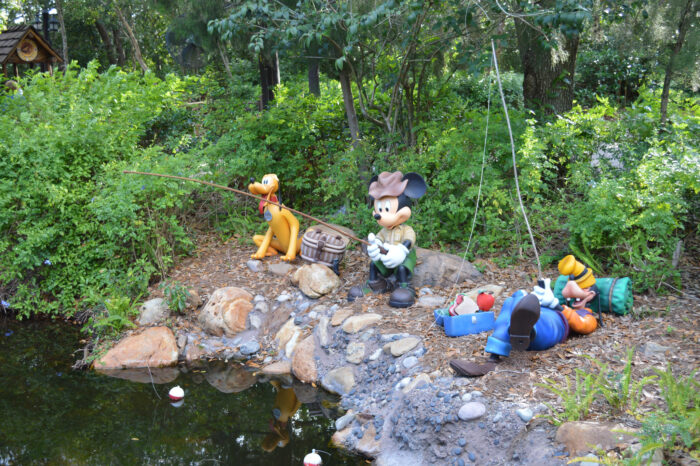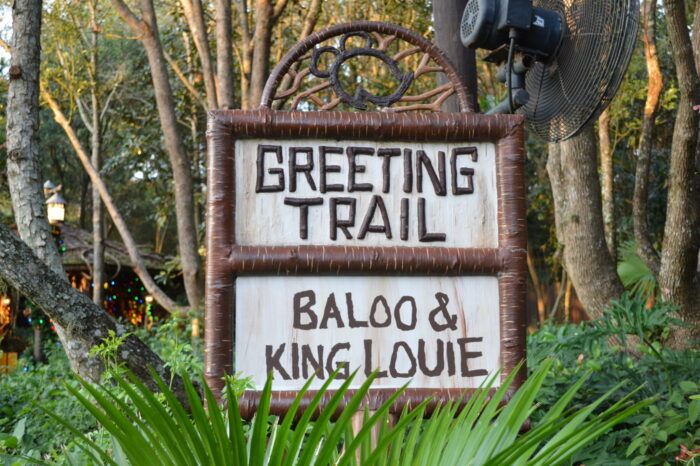 Camp Minnie-Mickey was the former home to the Festival of the Lion King, which was moved to Harambe Village.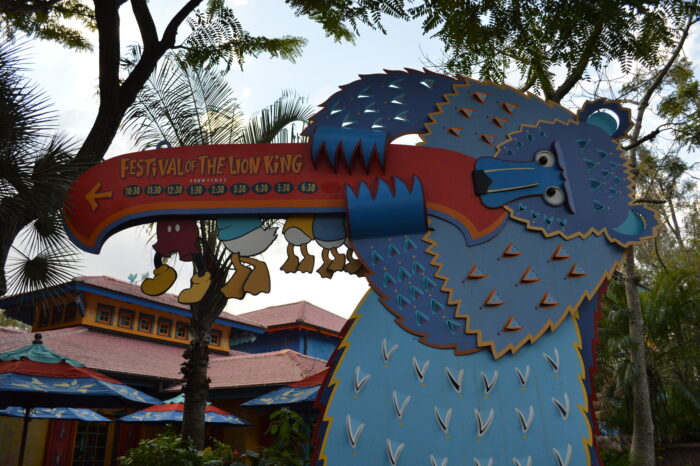 When you walk into Pandora: The World of Avatar, it literally is like walking onto another planet compared to Camp Minnie-Mickey.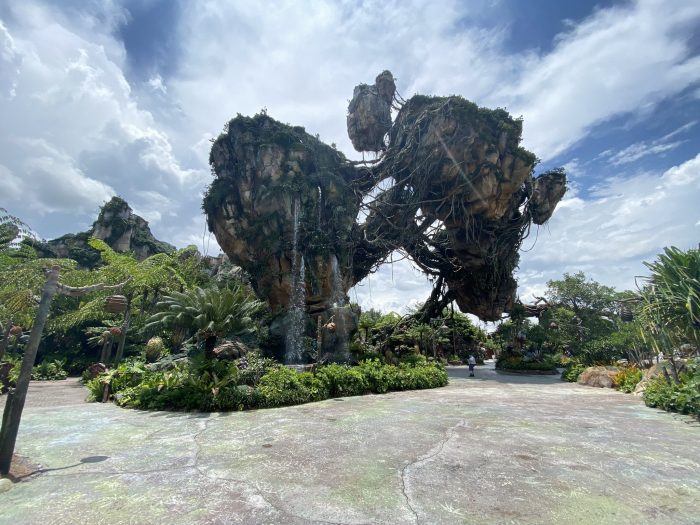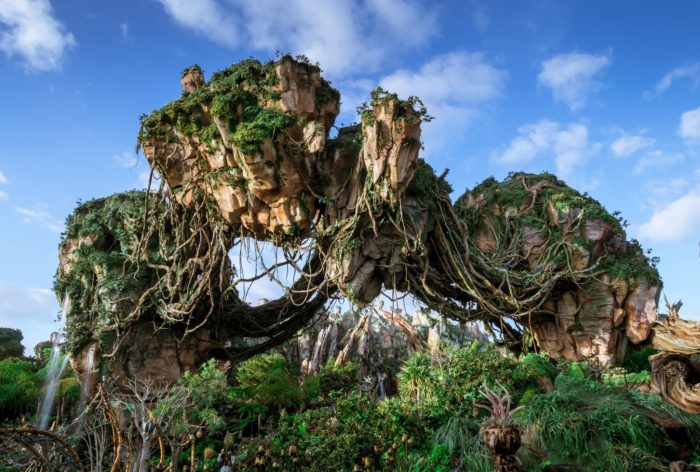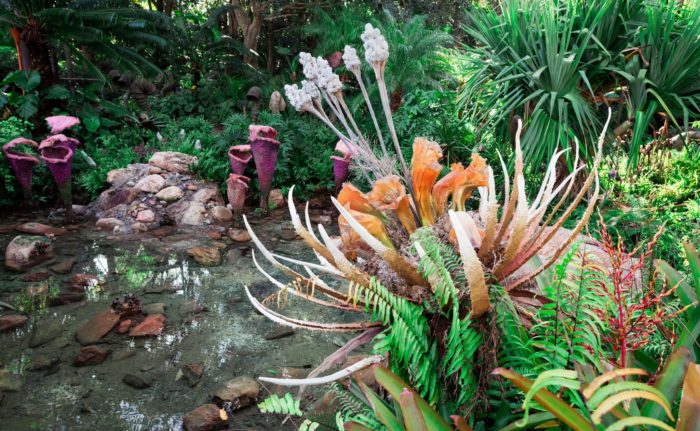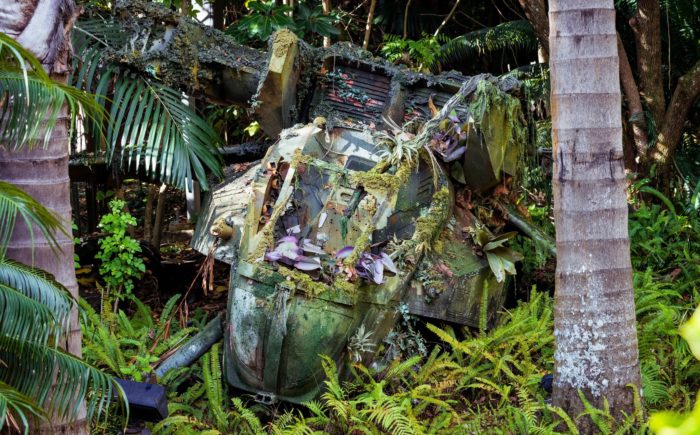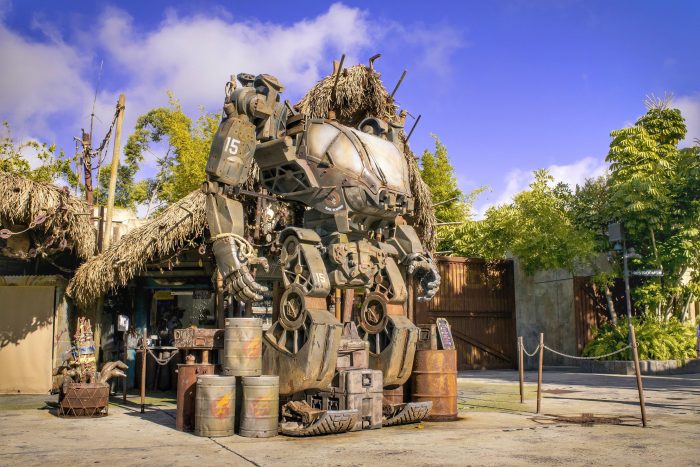 A big component of the land is how different Pandora looks at night compared to the daytime.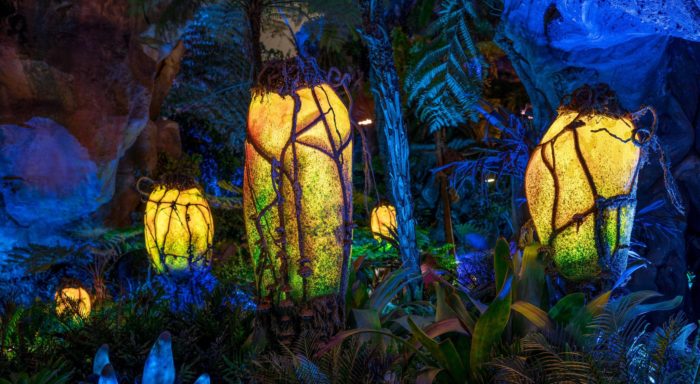 The main attraction in Pandora is Flight of Passage, whose queue has guests making their way through caves into a  research facility. In my mind it is the greatest queue Disney Imagineering has ever created.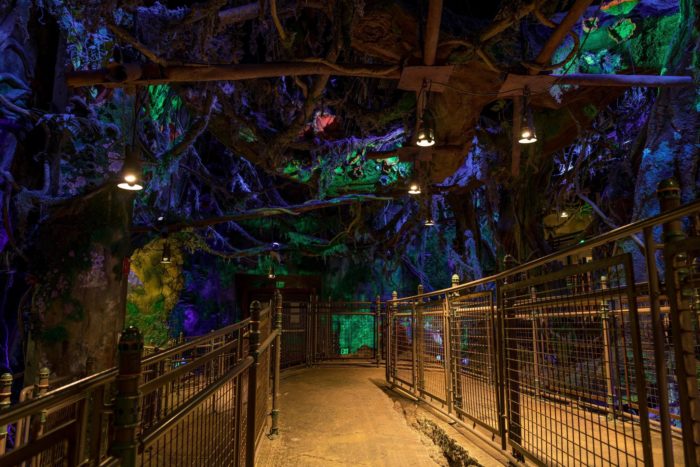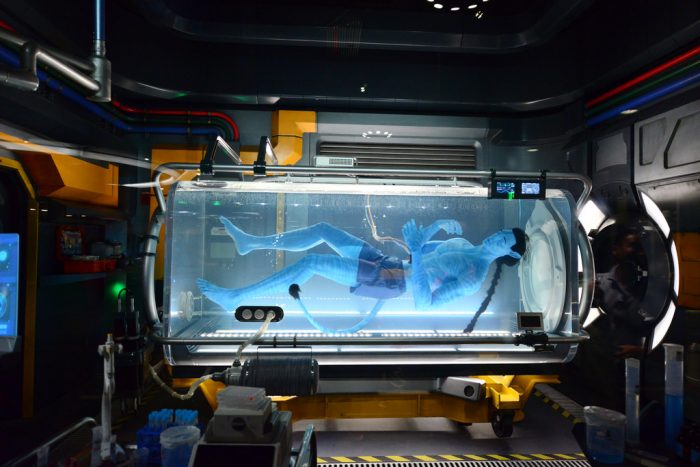 The ride experience of Flight of Passage is essentially Soarin' (the good Soarin', not the current Soarin' Around the World version) through the planet of Pandora and it is absolutely awesome.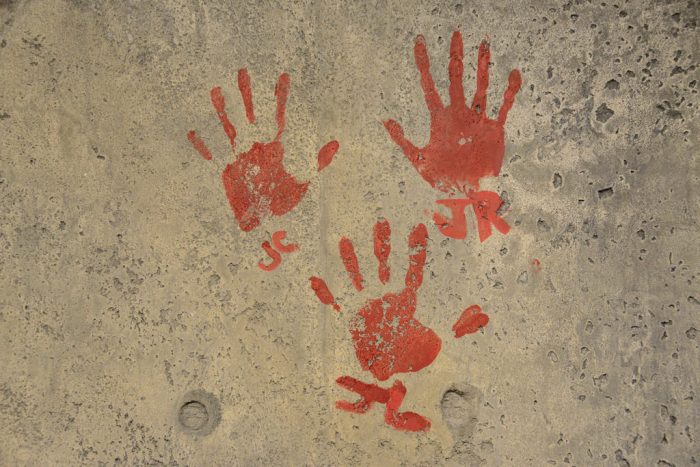 The other attraction in Pandora is Na'vi River Journey, a slow moving boat ride through the nighttime bioluminescent effect of Pandora.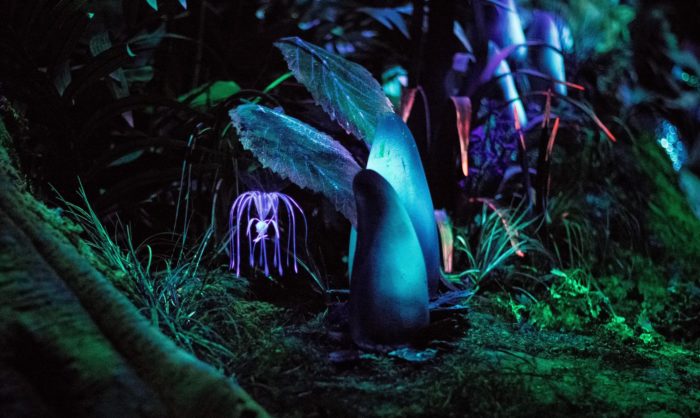 Na'vi River Journey features the Shaman of Song, one of the most detailed audio-animatronics in Disney history.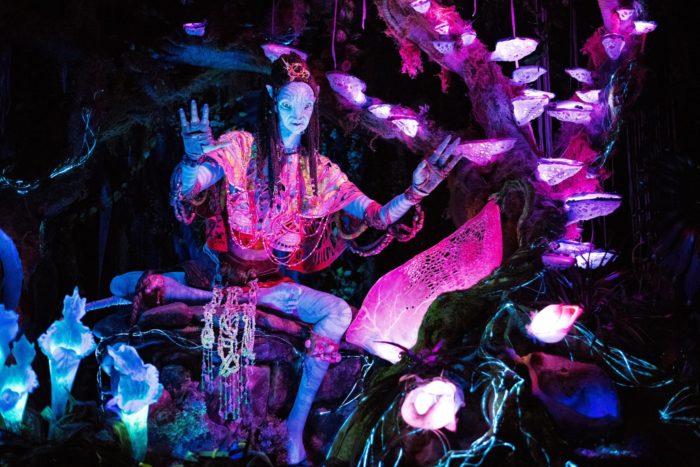 Satu'li Canteen is generally regarded as one of the best quick service restaurants in any Disney theme park.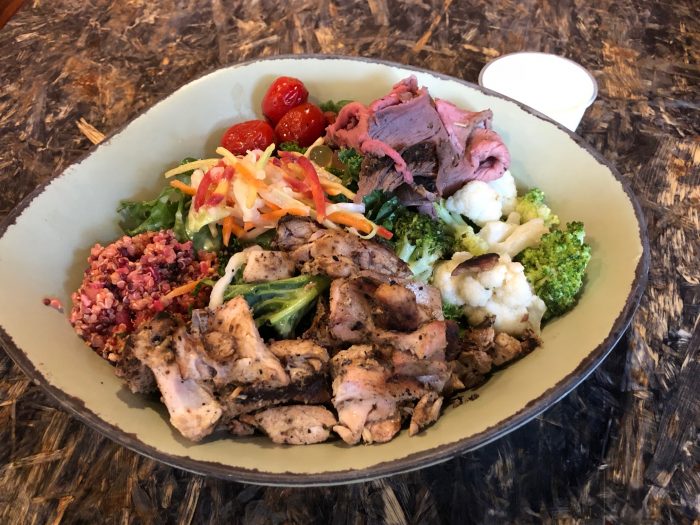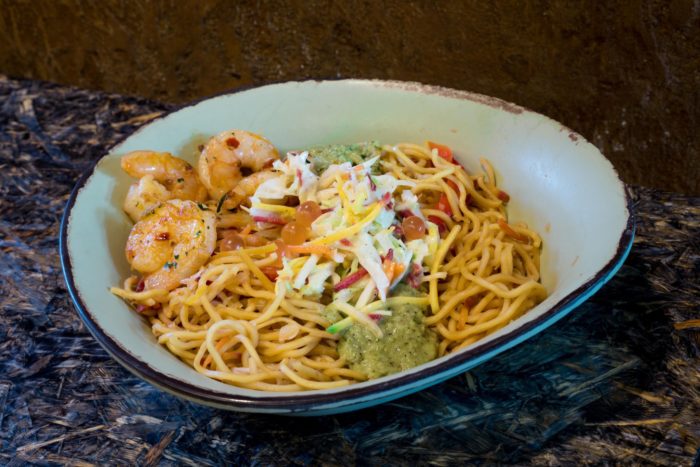 Pongu Pongu is Pandora's bar with a small, but extremely unique menu. The signature drinks include the non-alcoholic Night Blossum, which is strikingly colorful and topped with passion fruit boba balls, and the Mo'ara Margarita, which is topped with strawberry boba balls. Even the cole slaw in Satu'li Canteen is served with boba balls, so if you don't like boba balls now, you better to learn to like them soon.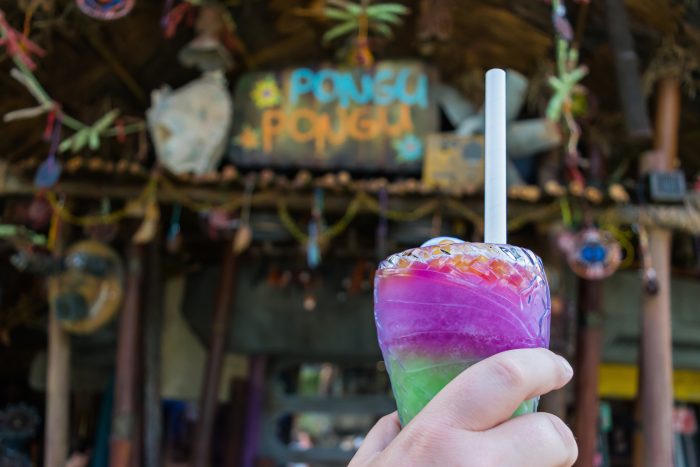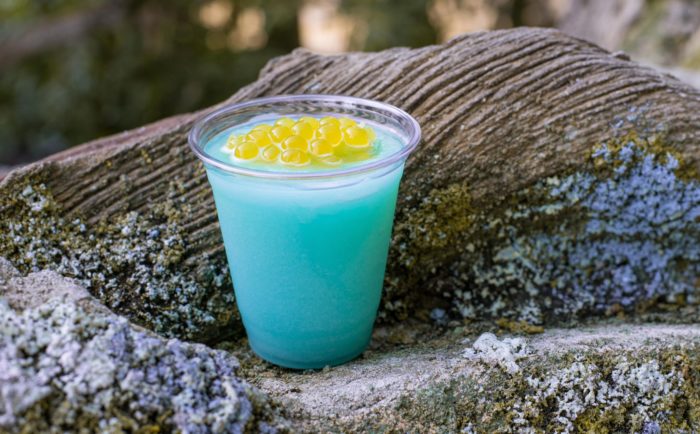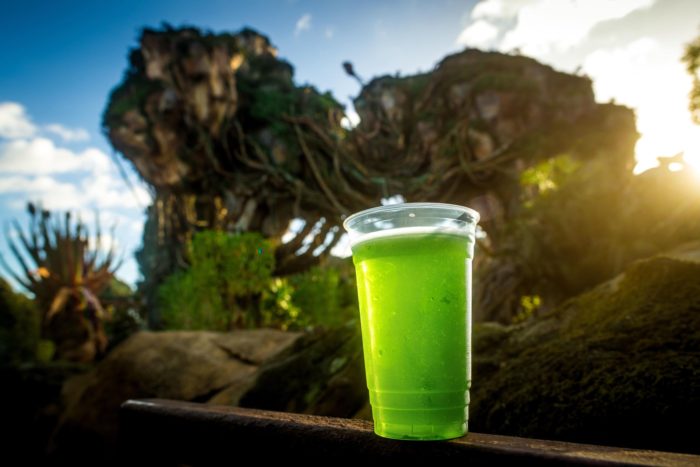 # 1 – Merlinwood to Hogsmeade Village
Time for the replacement that Changed Everything.
It is hard to understate the predicament that the Universal Orlando Resort was in during the early 2000s. The introduction of Islands of Adventure, CityWalk, and onsite hotels in 1999 was a disaster thanks to a botched marketing campaign advertising Universal Studios Escape. They needed to make a big move, and they went all in on Harry Potter. The area which the new Harry Potter-themed land would reside in what was a part of Lost Continent. At the time, Lost Continent consisted of three areas: Lost City (home of Poseidon's Fury, which closed earlier this year,) Sindbad's Bazaar, and Merlinwood. The new Potter area would take over the Merlinwood section, which was home to the Enchanted Oak Tavern…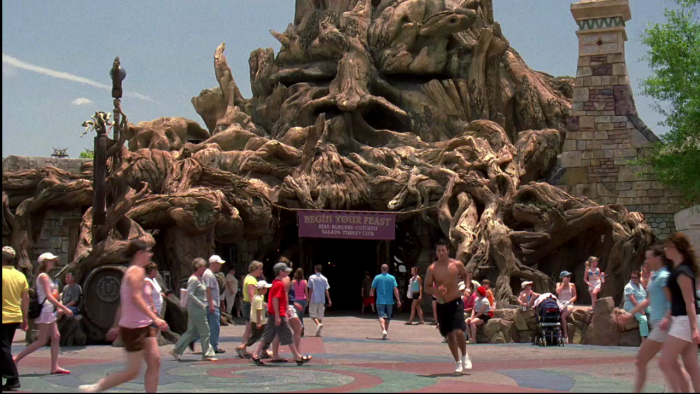 …and Dueling Dragons, one of IOA's signature attractions.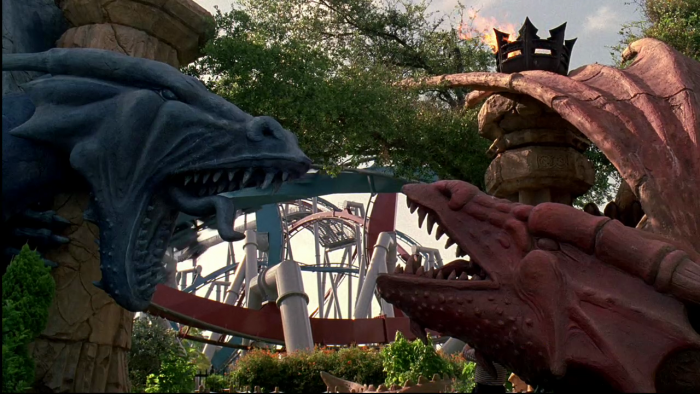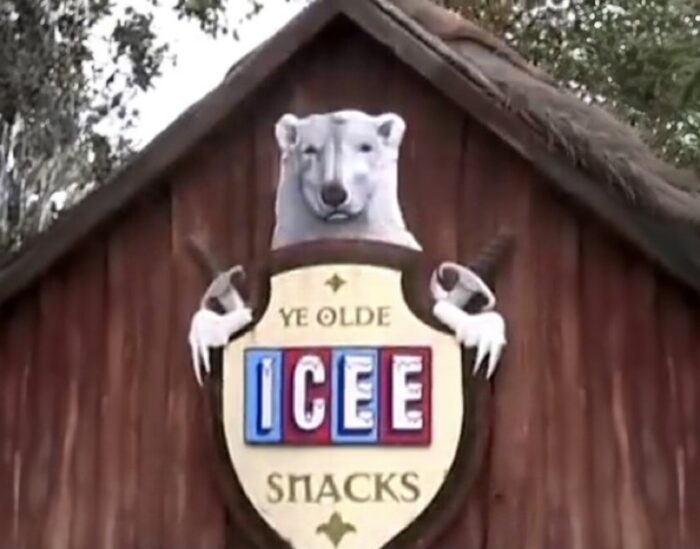 It was expected that the new Wizarding World of Harry Potter would be popular, but no one was ready for just how popular…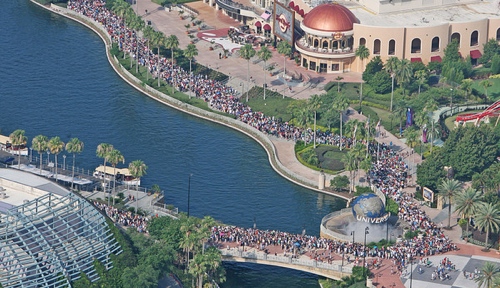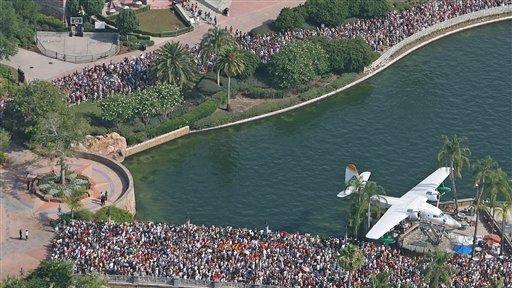 Hogsmade Village opened in 2010 and since then we have been on a whirlwind ride.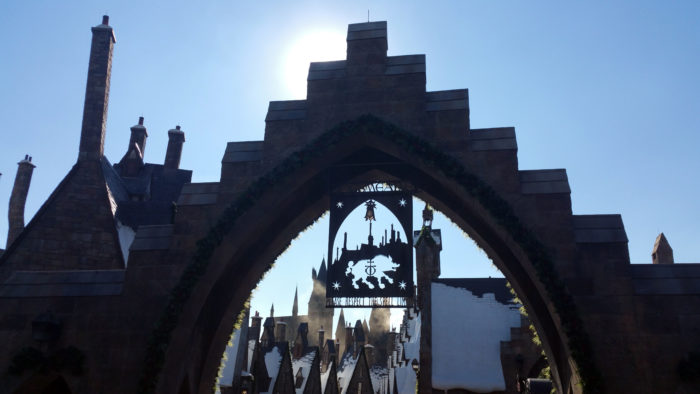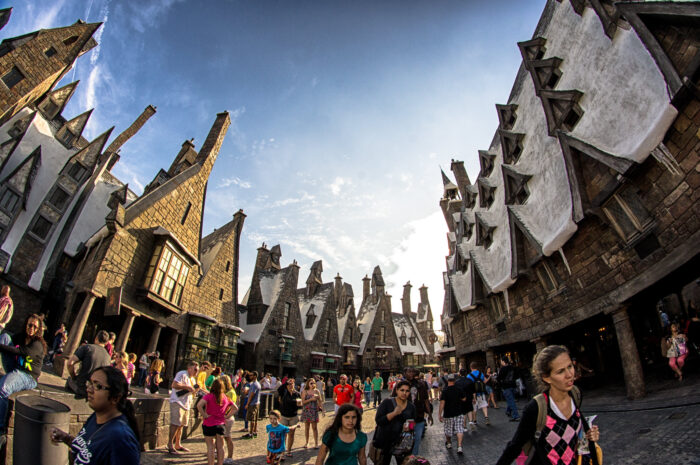 The introduction of Butterbeer completely changed the fortunes of the Universal parks. It is said that Universal made more money on Butterbeer sales in the first six months than it cost to build the entirety of Hogsmeade Village, the drink was that popular.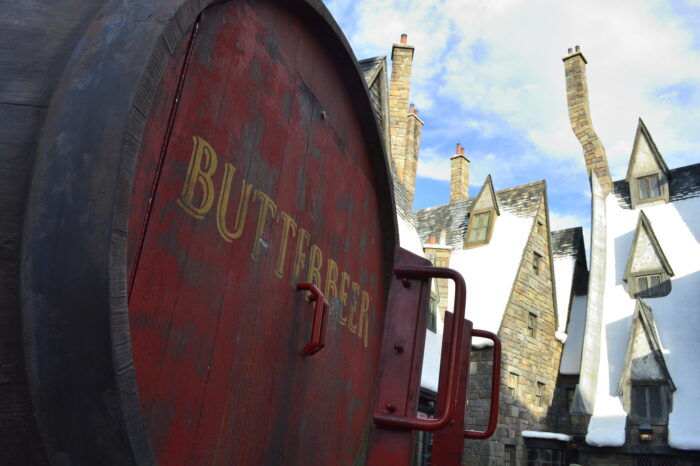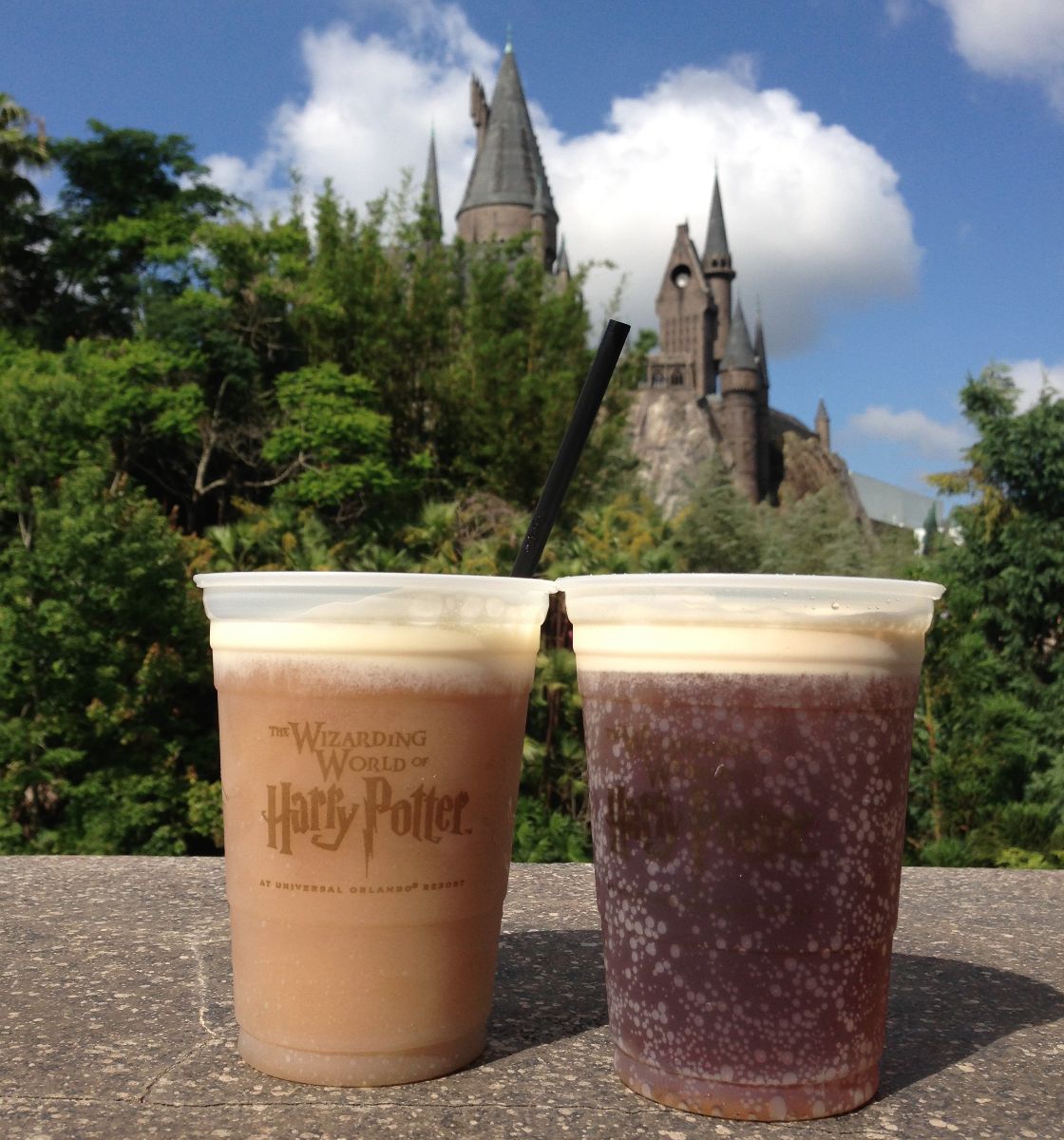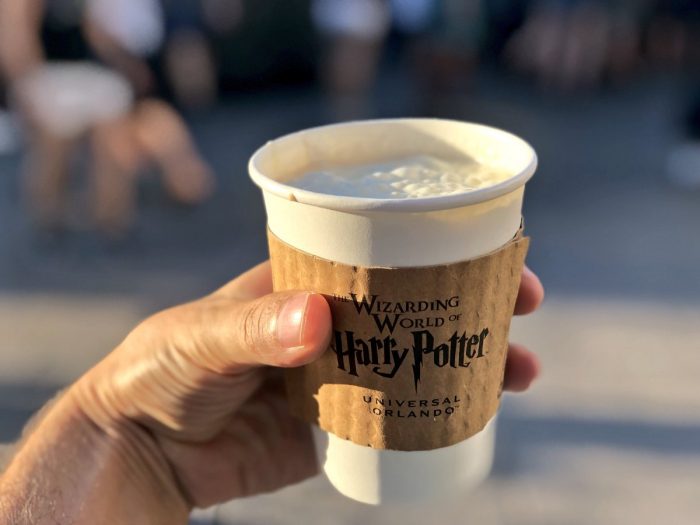 Hogsmeade Village also took the art of merchandising to a level we had never seen before. Stores themselves became an attraction, filled with items taken straight from the Harry Potter films and books.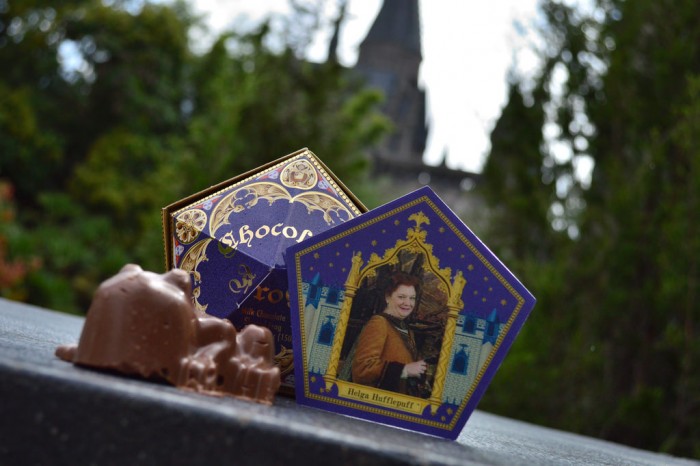 The Ollivanders Experience in Hogsmeade was a fun show to watch as a guest, but if you were chosen to participate in the show – and ultimately, have a wand choose you – it became the first attraction in theme park history to have guests wanting to buy an item IMMEDIATELY.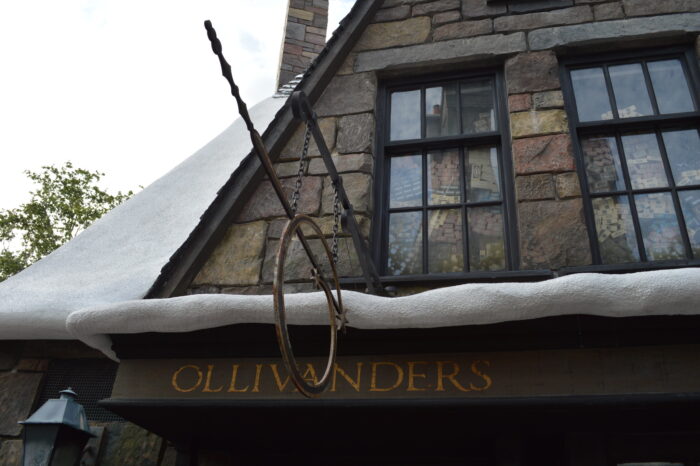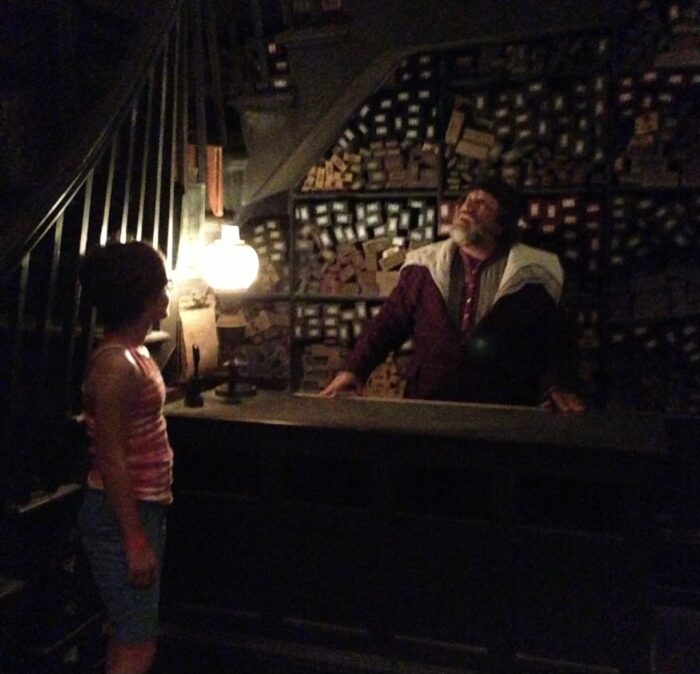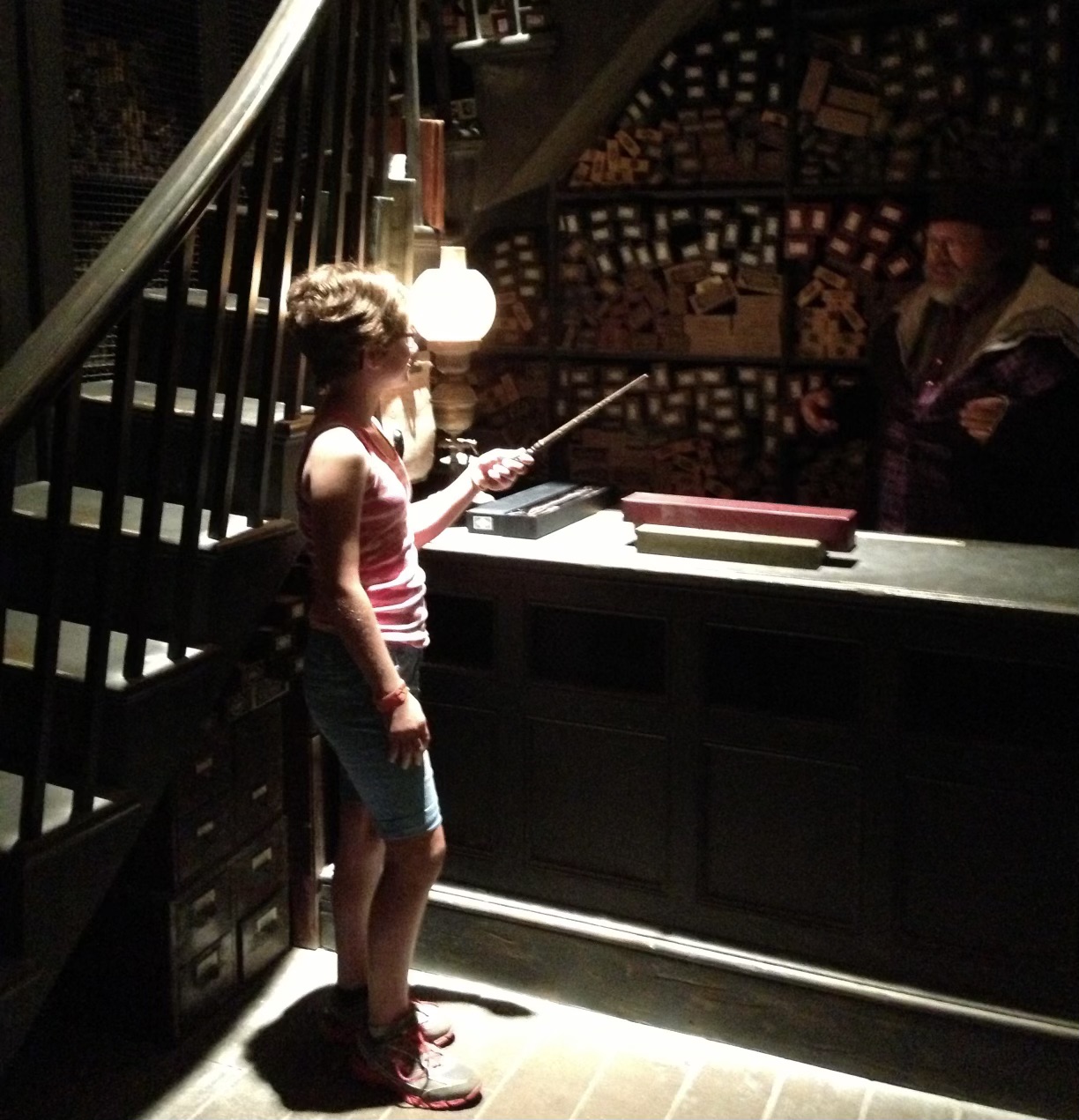 The main attraction in Hogsmeade Village took place in Hogwarts Castle.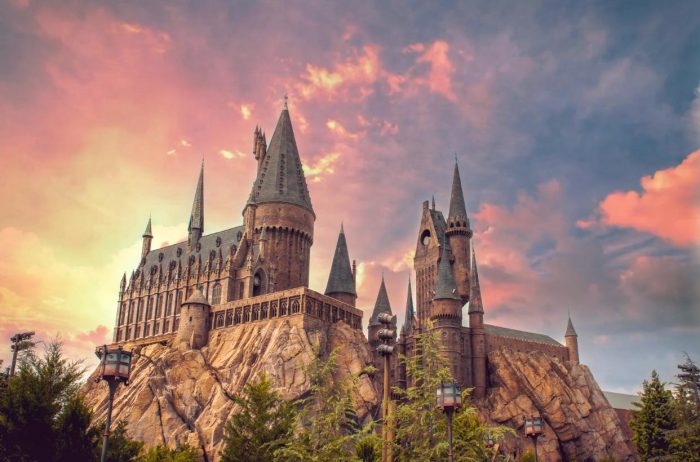 Harry Potter and the Forbidden Journey had a lot of hype heading into it…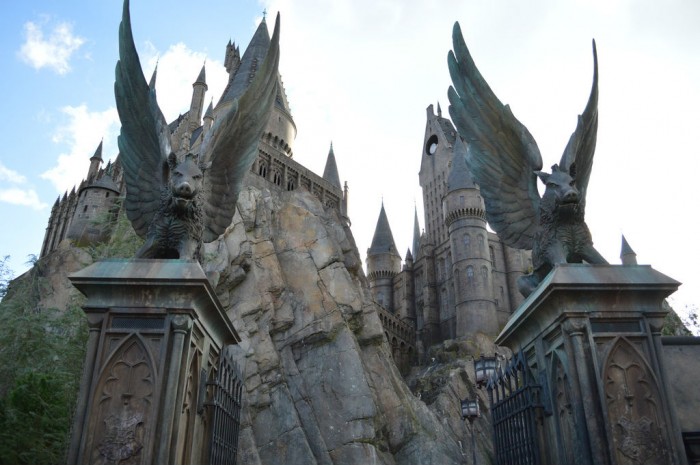 …and it became an instant sensation. The queue for Forbidden Journey was the first time in the history of theme parks in which guests wanted to spend more time in the queue, letting other guests pass them in line so that they could soak up more of the details. Universal Creative nailed the "living paintings" concept and even had the debut of the Four Founders of Hogwarts, with the four having a conversation about the guests through their paintings. Fans of the Potter series get to walk through places such as Dumbledore's office, the Gryffindor Common Room, and the Defense Against the Dark Arts classroom.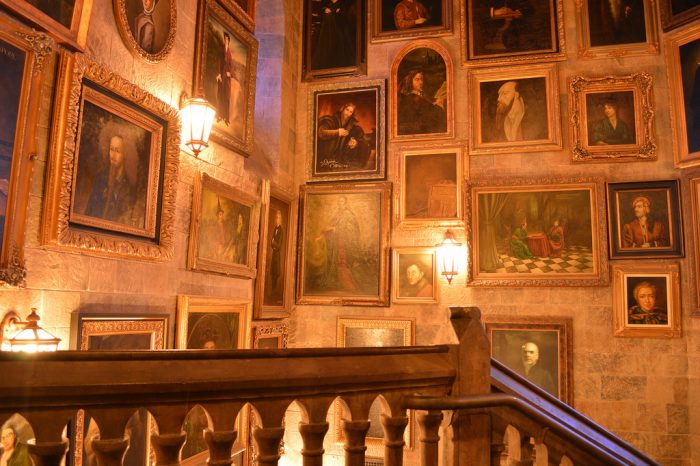 The ride itself has guests going through the greatest hits of the first several Harry Potter films, including a stop into the Chamber of Secrets, a fly through of a game of Quidditch, and even a run-in with Dementors. This is all done spectacularly through the use of live-action sets and screens that work seamlessly together to provide an experience like no others. The cherry on top of the sundae is the use of all your favorite Harry Potter stars both in the queue and in the ride.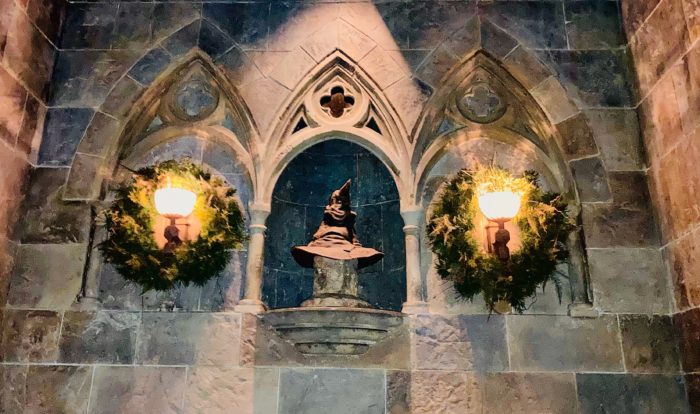 The Three Broomsticks quick service restaurant walked so that places like the Leaky Cauldron, Satu'li Canteen, and Docking Bay 7 could run. Universal showed there was demand for a themed restaurant that didn't just served the same ol' same ol' that you can get anywhere else in the park. Another shocking surprise? No Coca Cola products would be sold in the Wizarding World. Imagine how nervous Universal execs were before Hogsmeade Village opened thinking of how much money they were leaving off the table by agreeing to that stipulation. It is almost unfathomable.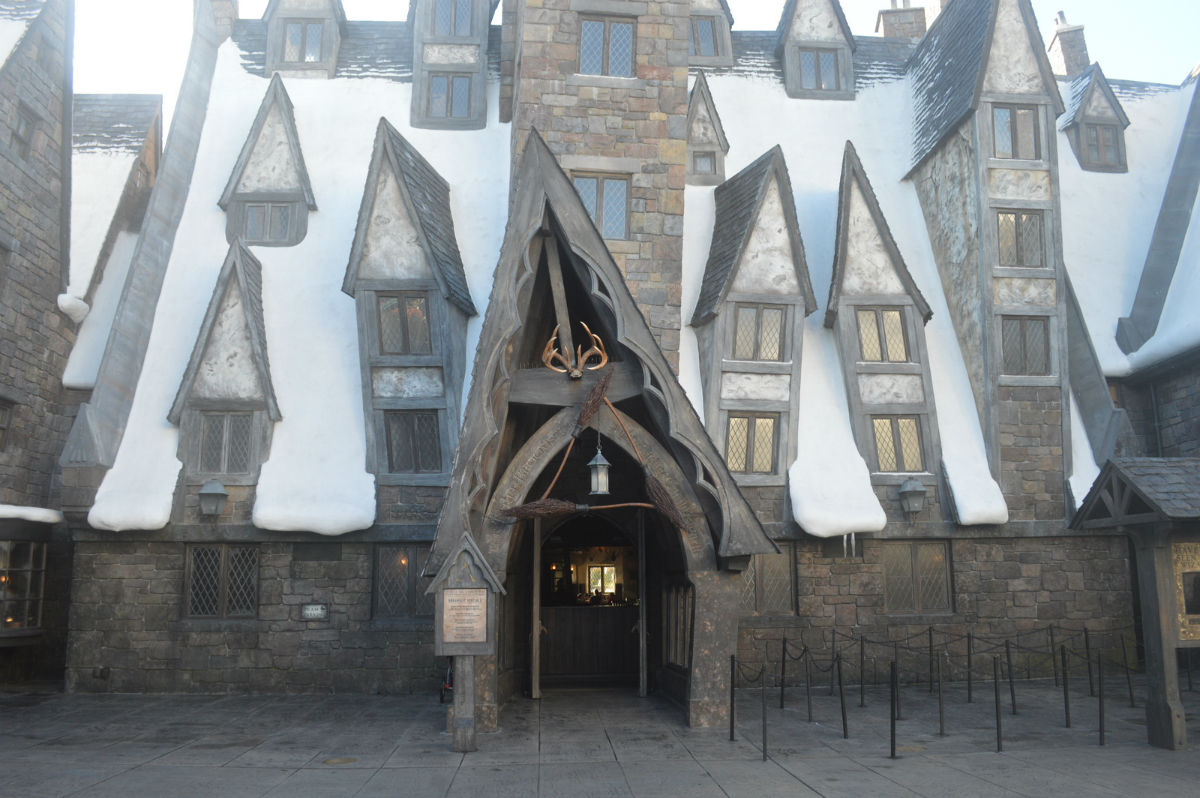 Directly next to the Three Broomsticks is the Hog's Head pub, and here is where you can find the exclusive-to-Universal Hog's Head Brew. The pub itself is themed perfectly, complete with a working animatronic Hog's Head directly behind the bar. The Hog's Head has many beers on draught, including Yeungling, Newcastle, Boddingtons, and Guinness, but the real draw here is the Hog's Head Brew. An Irish red beer, Hog's Head Brew doesn't have the bitter taste that is found in a lot of dark beers.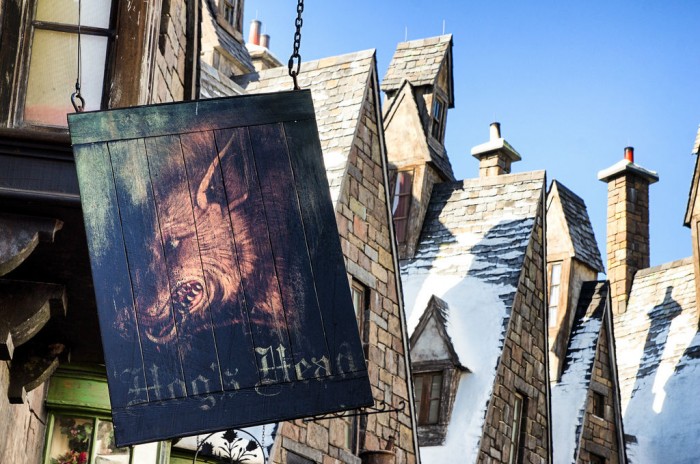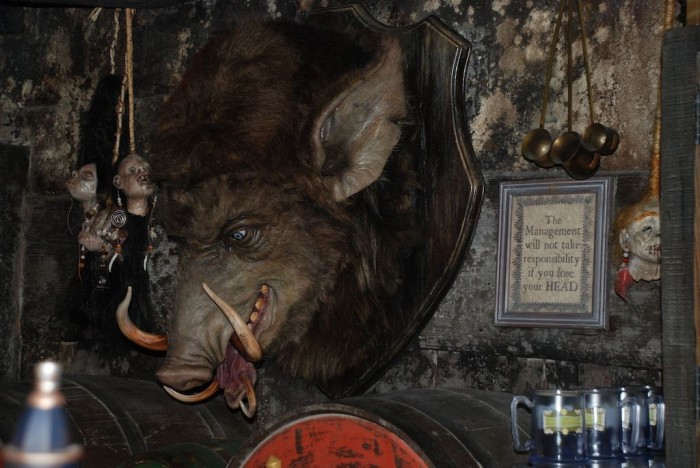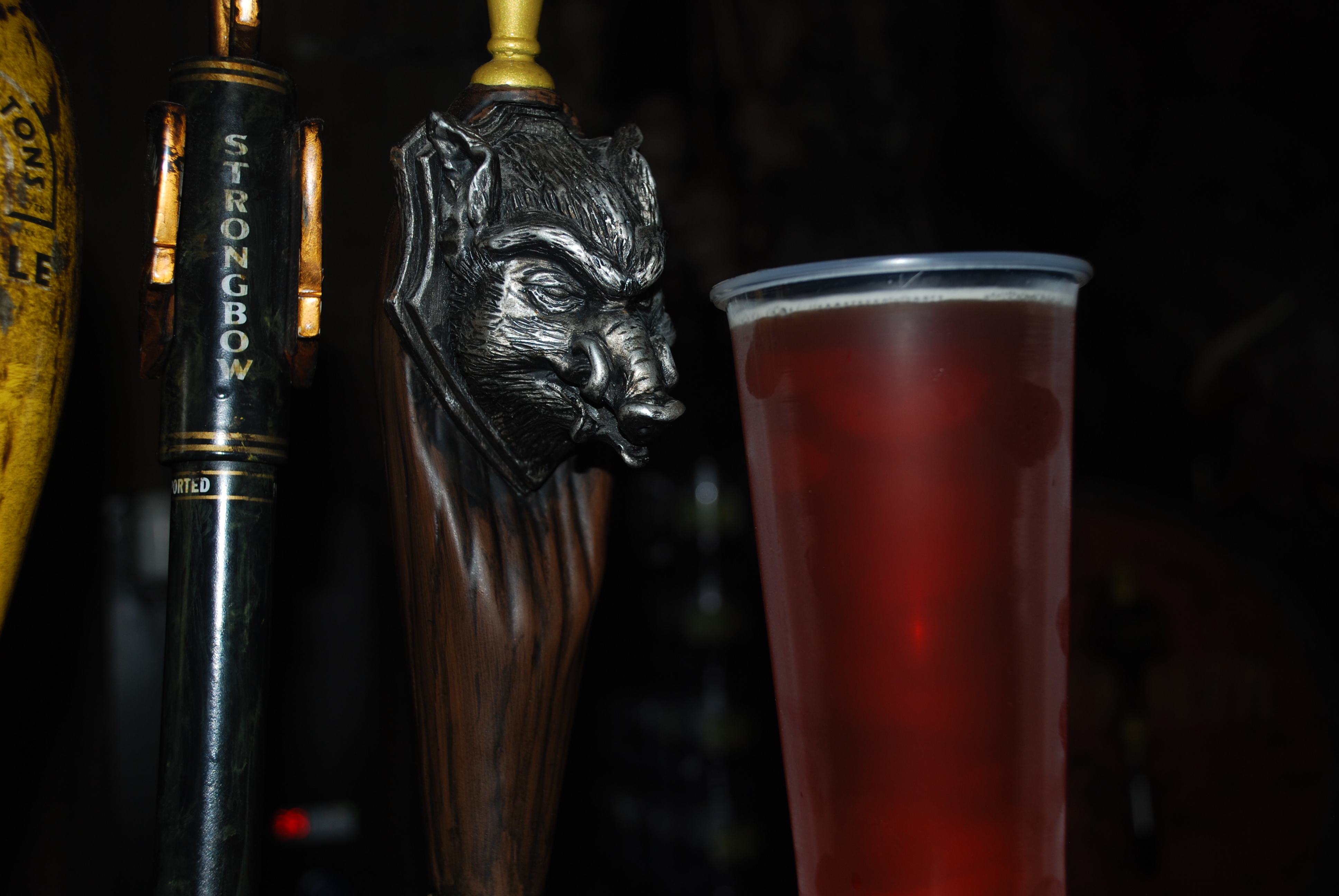 Hogsmeade Village includes two shows, the Frog Choir (an acapella show featuring songs set from the Wizarding World)…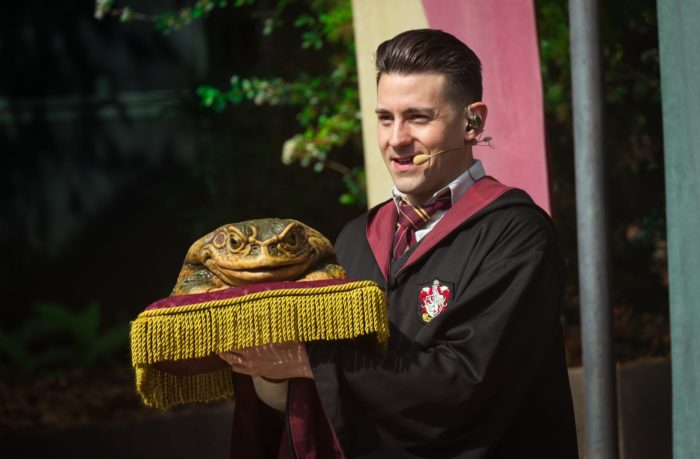 …and the Triwizard Spirit Rally, which features performances from students of Beauxbatons and Durmstrang.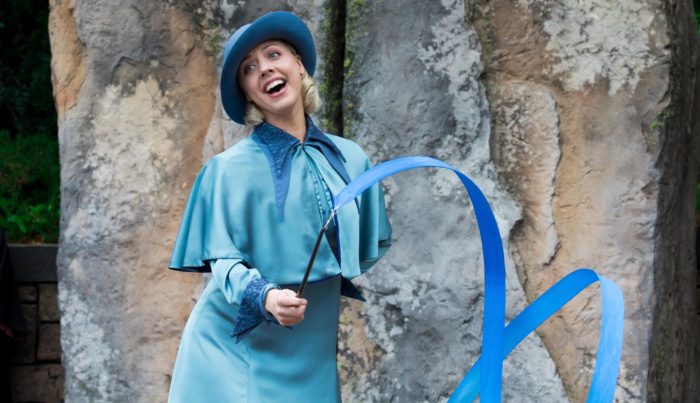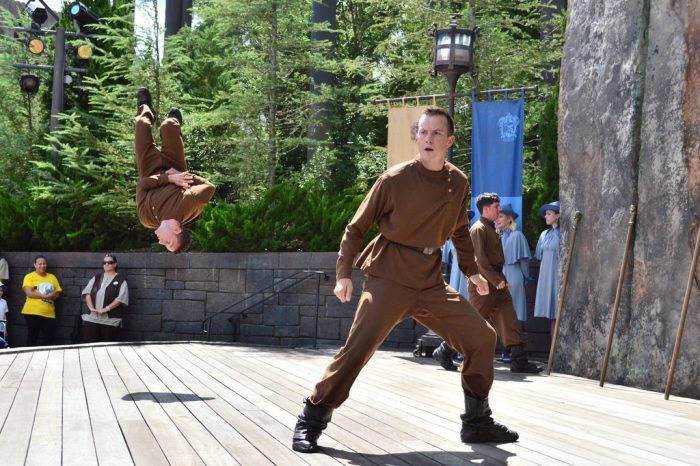 Muggles stepping foot into Hogsmeade Village for the first time are going to love the great photo op with the Hogwarts Express and interacting with the train's conductor. Holding his enchanted pocket watch, the conductor is the go-to person with any question on Hogsmeade as he is always well versed on Potter-lore and everything within this magical land. Years after opening Hogsmeade Village, Universal would have an actual Hogwarts Express attraction take guest from Islands of Adventure to Universal Studios Florida, but this photo-op and character interaction is always a great one.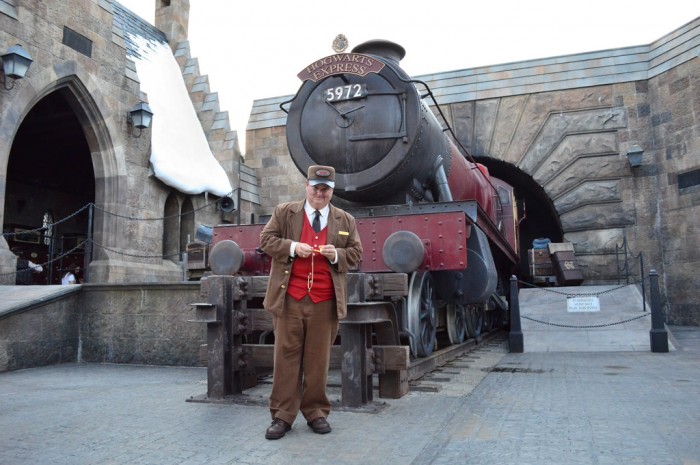 The Lost Continent's Flying Unicorn kiddie coaster was rethemed to Flight of the Hippogriff.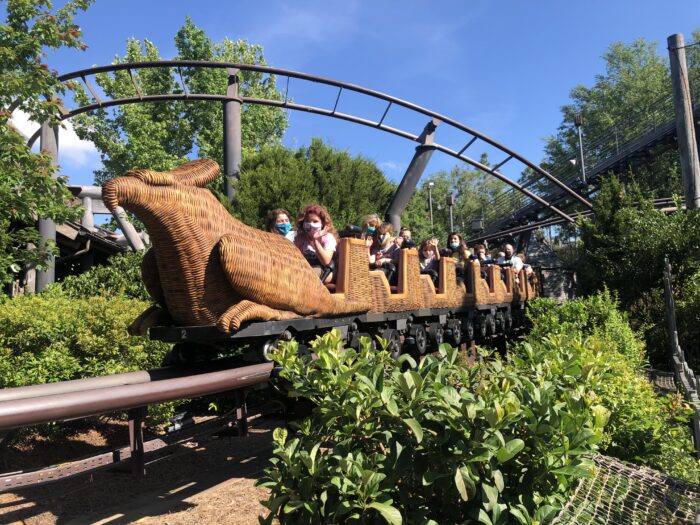 When Hogsmeade Village opened, it re-branded the Dueling Dragons roller coaster as Dragon Challenge. There was some minimal theming in the queue which referenced several Potter movies including Chamber of Secrets and Goblet of Fire.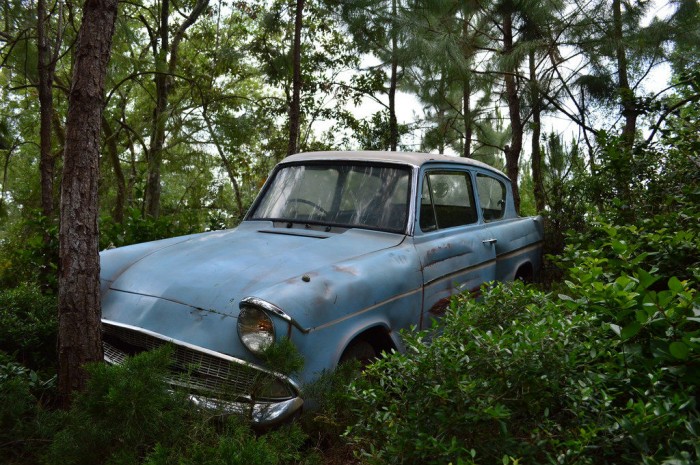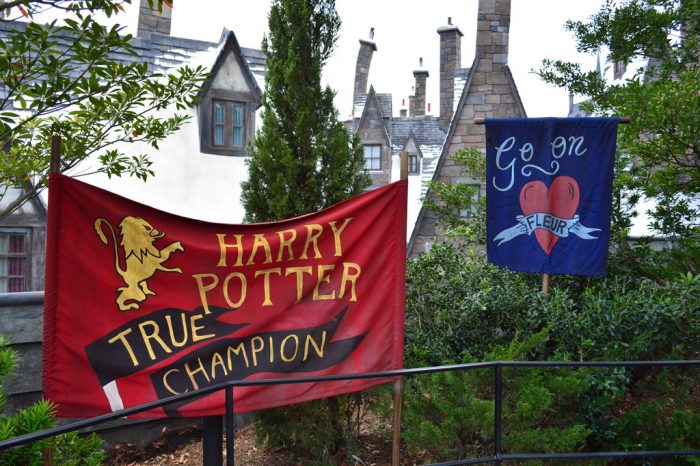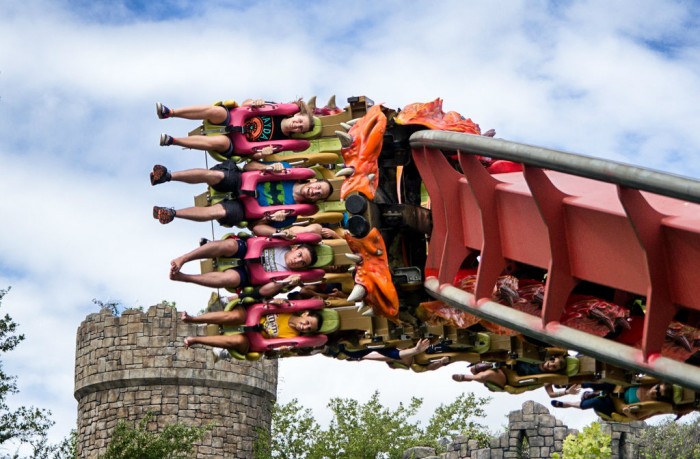 In 2019, Dragon Challenge was replaced by Hagrid's Magical Creatures Motorbike Adventure, one of the most fun coaster experiences I've ever had.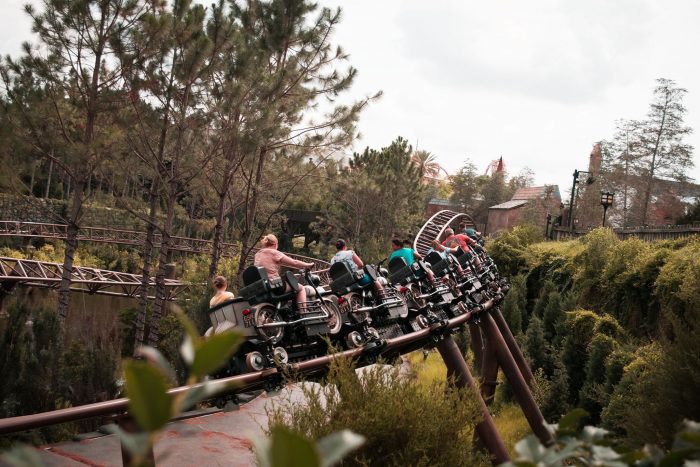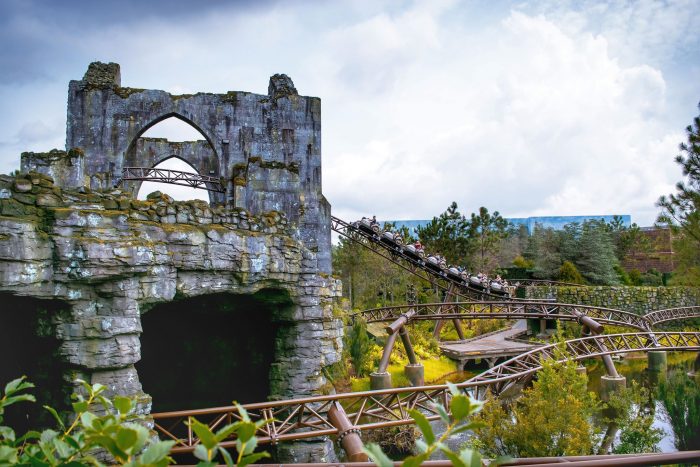 The queue for Motorbike Adventure pays tribute to Dueling Dragons.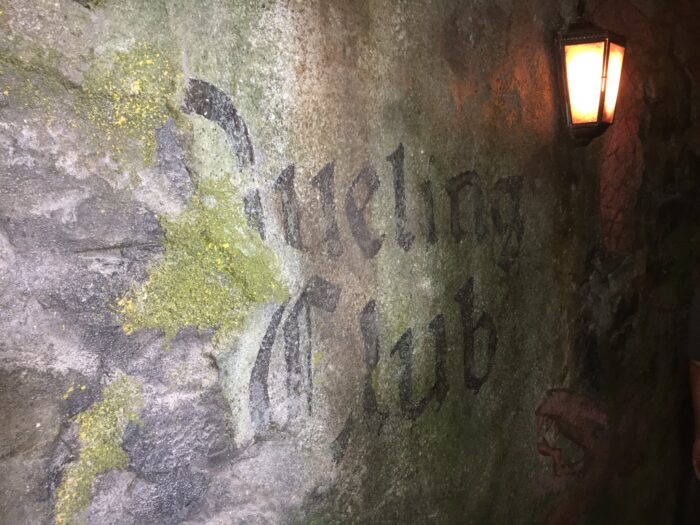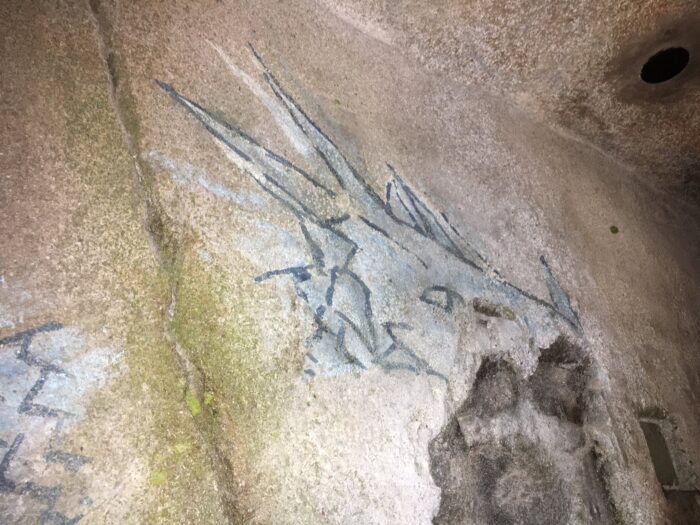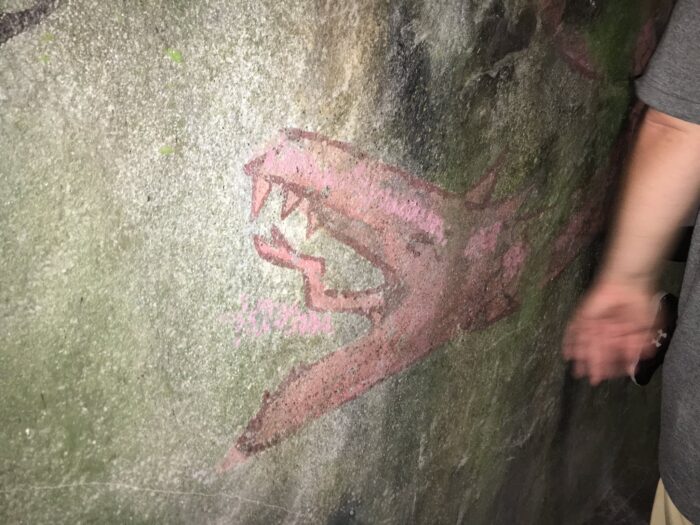 Honorable Mention – Triceratops Encounter to VelociCoaster
The Triceratops Encounter in Jurassic Park at Islands of Adventure closed in 2010, but the area sat dormant for years.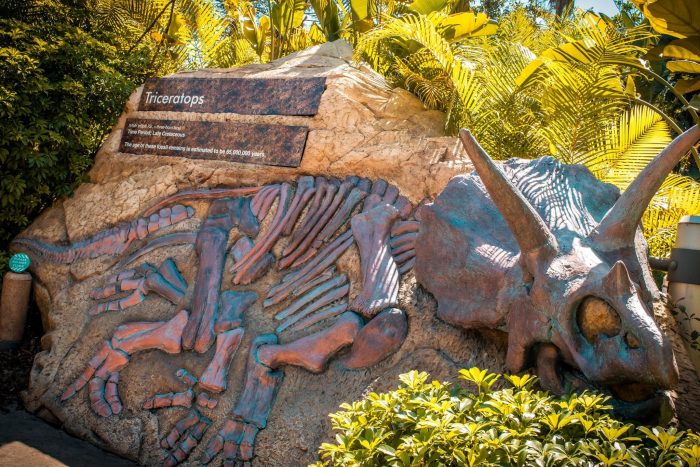 Theming elements from Triceratops Encounter made their way to the prop shop in Universal Studios in 2018 because Universal was finally going to use the area for a new attraction…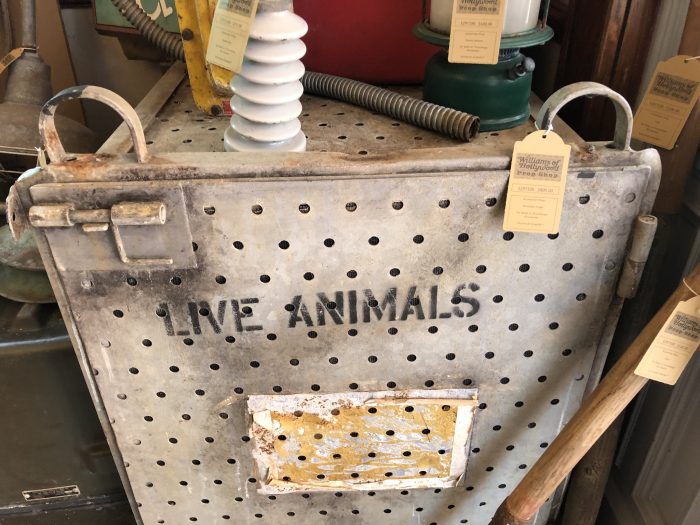 …which ended up being The VelociCoaster, one of the best – if not THE BEST – coaster experiences in all of Florida.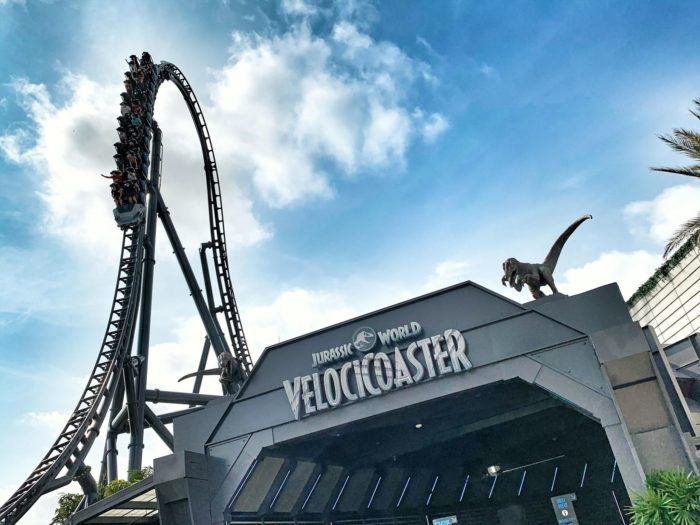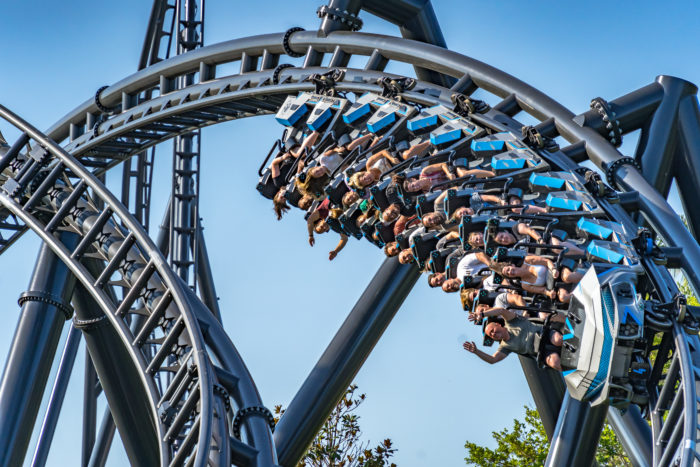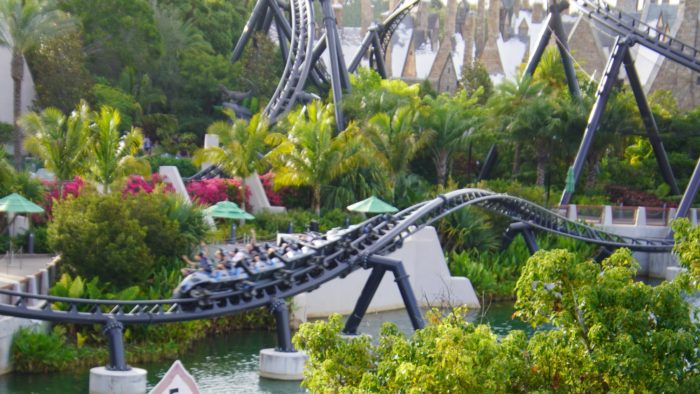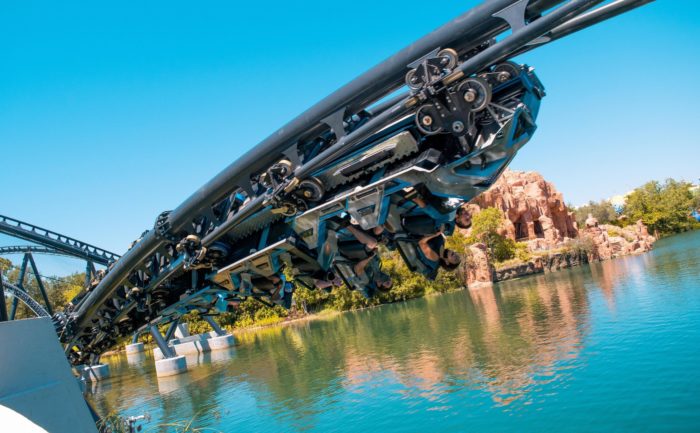 So there you have it: The BEST Replacements in Theme Park History! See you next weekend for the latest installment of the SATURDAY SIX, where we'll look at something fun from the world of Disney and Universal. If you enjoyed yourself, be sure to check out the THEME PARK ENJOYMENT INDEX, giving a monthly recap of all the theme park news you need to know (and a lot more you don't need to know, but we're gonna tell you anyway). You can also follow Your Humble Author on Twitter (@derekburgan).
If you enjoyed this article, you will surely like the following: 
The SATURDAY SIX Celebrates Ten Years with TouringPlans
SATURDAY SIX Presents: The Disney Merchandise Hall of Shame
SATURDAY SIX Presents: The Disney Signage Hall of Shame
SATURDAY SIX Presents: The Disney Food Hall of Shame
SATURDAY SIX: Tribute to Josh easyWDW
SATURDAY SIX: Tribute to Ian Barritt
Special Thanks to The Elite Brandon Glover, Digital Maestro Scott Walker, the bio-est of all reconstructs @bioreconstruct, Captain Cruiseline Scott Sanders of the world famous Disney Cruise Line Blog, my personal protege Hunter "Elvey" Underwood, artist @SonderQuest, the mighty maven of merchandise Hedgehog's Corner, the SAT SIX Fun Squad of Parkscope Joe and "the Dadalorian" Nick, hot shot Michael Carelli, charter member of the Universal Four @Nitro230, the permit princess Alicia Stella, master cartographer Tommy Hawkins, and Hermione Granger's tutor Megan Stump for their invaluable assistance with this article. Absolutely no help was added by SeaWorld Influencer @SuperWeenieHtJr. The SAT SIX is inspired each week by goofballs Aengus Mackenzie and LitemAndHyde and you Potterheads will  enjoy Meg's other blog work over at the Central Florida Slug Club.