The SATURDAY SIX Presents: Theme Park Hills To Die On – Vol 1. SKILL GAMES in Springfield USA
This week's SATURDAY SIX presents a brand new series…Theme Park Hills To Die On! We all have our favorite things about theme parks. Many of us enjoy the E-Ticket rides and amazing shows. Some enjoy the incredible dining experiences. Others fall in love with the unique hotels such as Disney's Animal Kingdom Lodge or Universal's Cabana Bay Beach Resort. However, there are the occasional times we enjoy things that it seems no one else does. Despite the rolling eyes and incredulous gasps from our family and friends, we will defend these treasured moments to the death.
Enter the Theme Park Hills To Die On series, where myself and celebrity guest authors will take something from the theme park world that many scoff at and explain why we love it so much.
Skill games at Disney and Universal can be a controversial subject. There are many guests who believe they should be nowhere near our beloved theme parks and instead relegated to amusement parks like Six Flags or our local carnivals and state fairs. They look down upon skill games as a simple cash grab, as if the entire theme park industry itself isn't built upon the simple concept of separating a guest from their wallet.
To be clear, I'm not here to defend unthemed skill games featuring prizes that have absolutely nothing to do with theme park land they reside in. You want to burn down the skill games in IOA's Toon Lagoon? I'll light the first match. But the skill games located in Pixar Pier, Dinoland, and Springfield USA deserve your love, not your contempt, and here's why….
# 6 – Fit in Perfectly at Krustyland
From beginning to end, The Simpsons Ride at Universal Studios Florida is an unbelievable meta takedown of the theme park industry. Poking fun at Disney and Universal is nothing new to The Simpsons on TV, but the attraction in Universal Studios Florida takes everything to an "11."  The facade of The Simpsons Ride is based on Krustyland, the fictional theme park owned and operated by Krusty the Clown. When you first walk into the attraction there is a giant park map of Krustyland featuring attractions such as Unoriginal Log Ride, Krusty's Haunted Condo ("Visit our 999 Unhappy Teen Employees!"), and – my favorite – it's a long, long line. You also have to love the restaurants such as Krusty's One-Plate-Maximum Buffet and Duff Pavilion ("Where fake ID's get you beer.") The queue is filled with sharp jabs poking fun at our cherished theme park experiences. It's only natural that – in storyline – Krusty's park would be filled to the brim with money-grabbing skill games.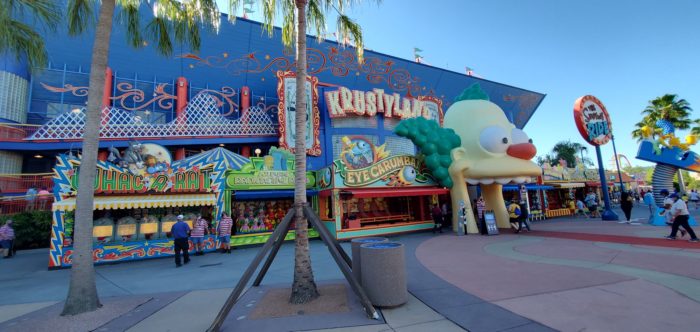 # 5 – Ultra Fan Service for The Simpsons Television Show
The cast of characters for The Simpsons show is possibly the deepest in the history of television, and everyone has their favorite (as a longtime fan of comic books, mine is unsurprisingly the snide and dismissive Comic Book Guy). Generally speaking, theme parks often go for the low hanging fruit, and use the characters the most amount of guests would know. Certainly makes sense from a business perspective and no one blames them. Universal could have easily made all the skill games in front of Krustyland based on The Simpson family (Homer, Marge, Bart, Lisa, and Maggie), but instead they are almost all based around beloved secondary characters.
These characters include, Santa's Little Helper, the Simpson family's dog.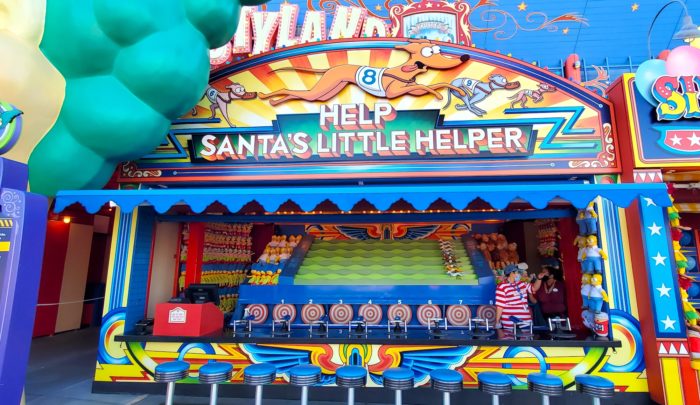 Iconic villain Sideshow Bob.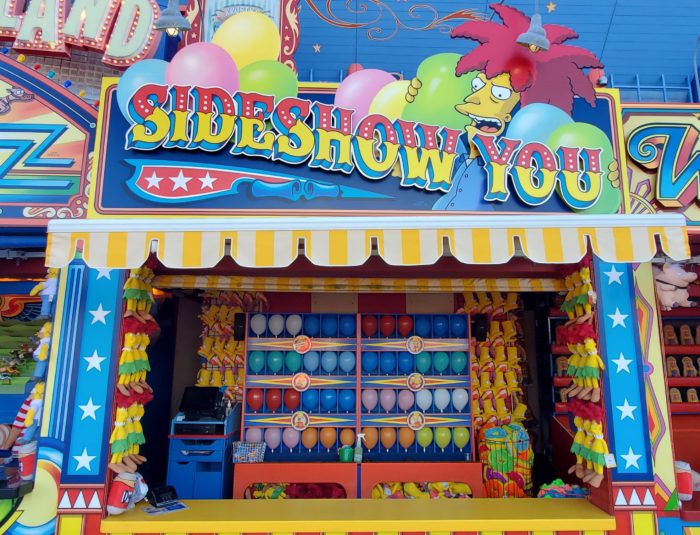 Itchy and Scratchy.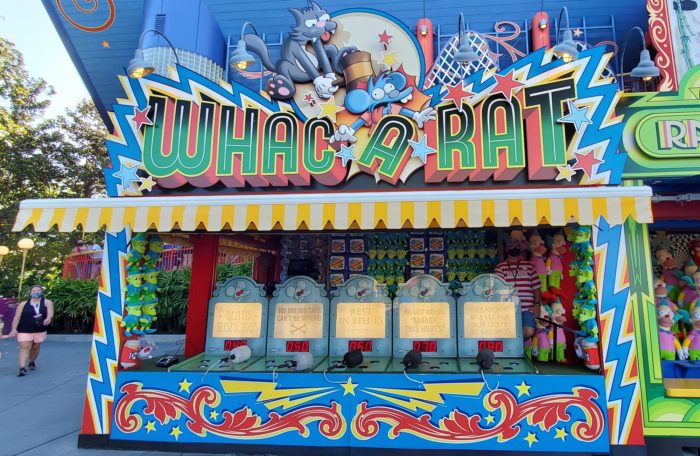 Smilin' Joe Fission, the mascot for the Springfield Isotopes baseball team.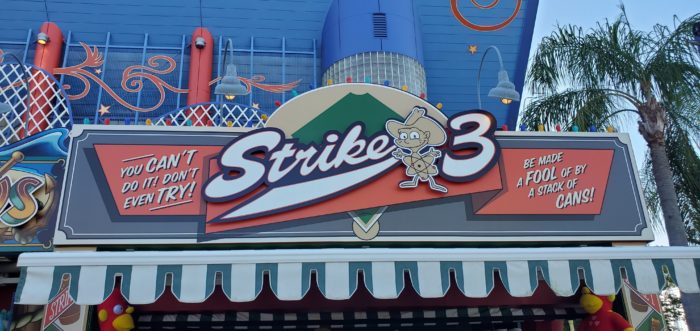 The Sea Captain.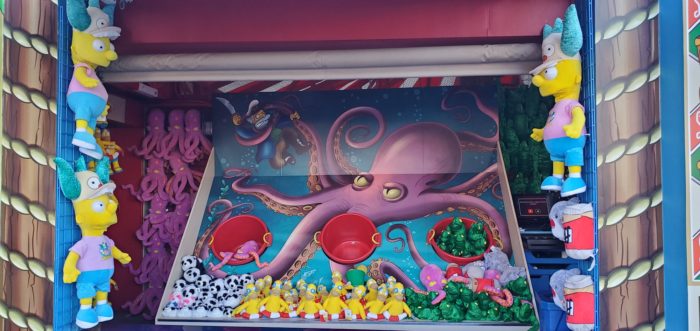 Groundskeeper Willie.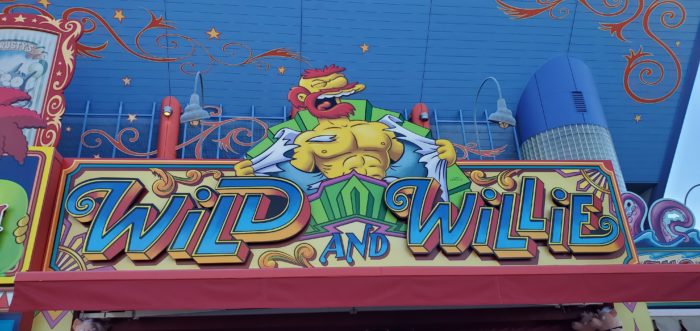 Mr. Burns.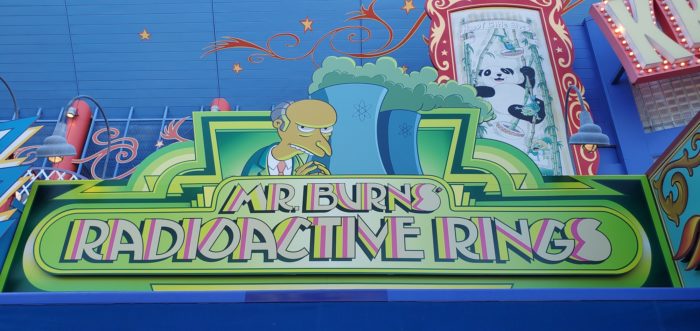 Several characters from Springfield Elementary are featured for Dunk Or Flunk, including Milhouse Van Houten, Ralph Wiggum, Nelson Muntz, Principal Skinner, and Edna Krabappel.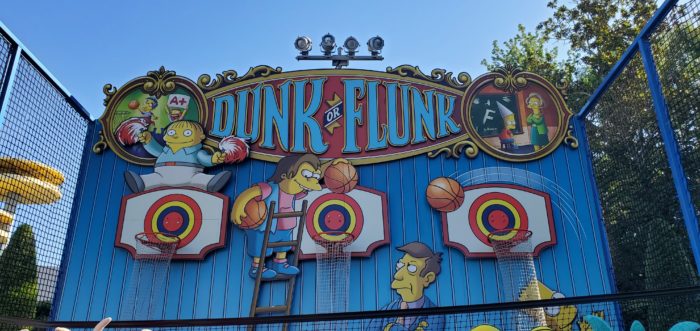 Of course we do have games based on Bart Simpson…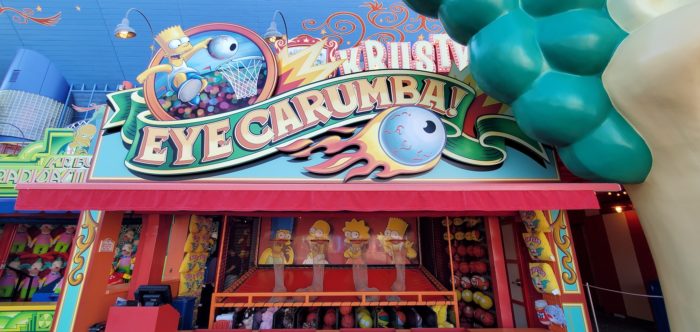 …and his dad Homer.
# 4 – Little Touches
The skill games in Springfield have the same level of humor and attention to detail that you'll find throughout Springfield USA. The Sea Captain's game is the pun-tastic Thar She Throws.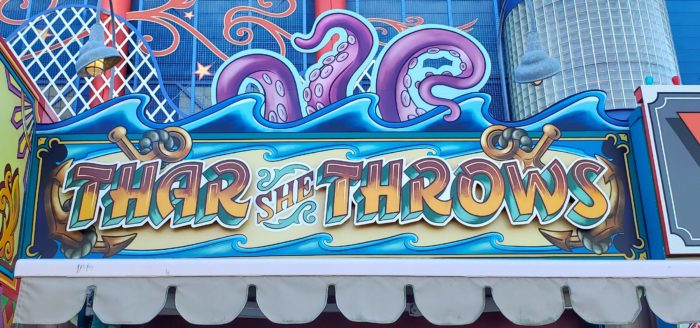 The basketballs used for the games have Krusty's smiling face on them.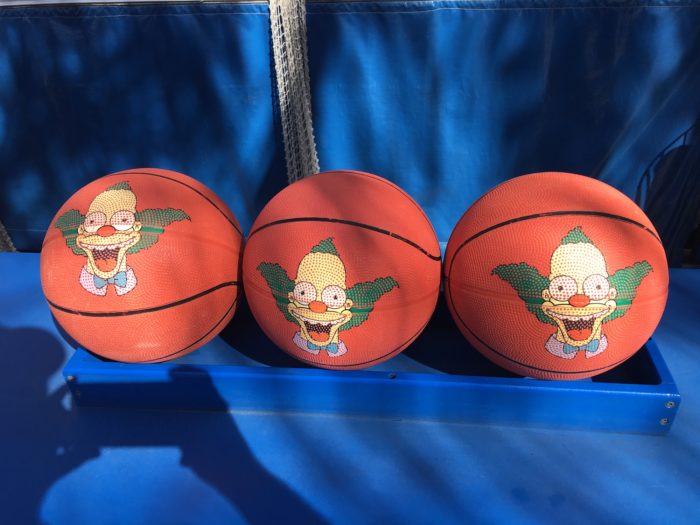 The Wild And Willie game has guests trying to knock down small versions of Willie…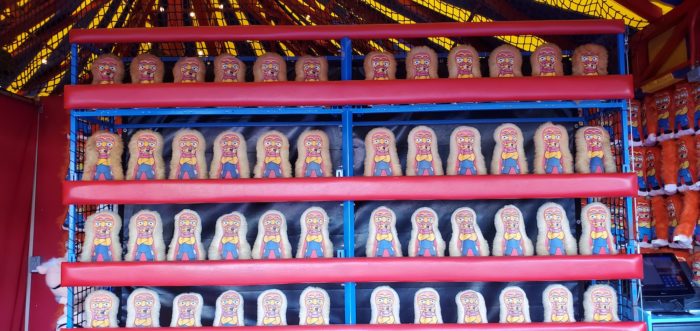 …which you can then win if you knock enough down. Essentially this is getting to take home part of the theme park experience with you and I absolutely love that!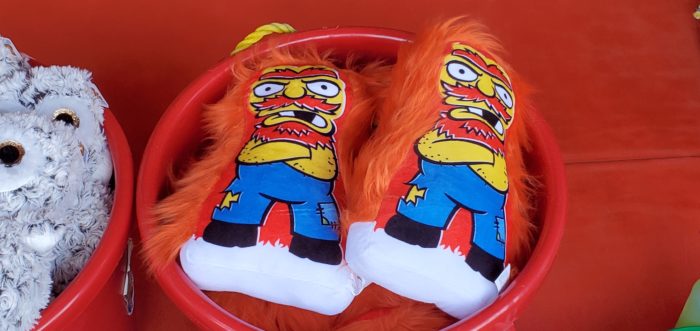 The epitaphs on the Itchy tombstones are wonderful.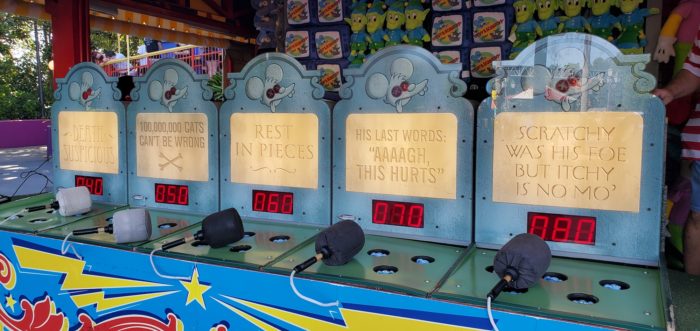 Let's face it, this is one of the all time great signs in ANY theme park!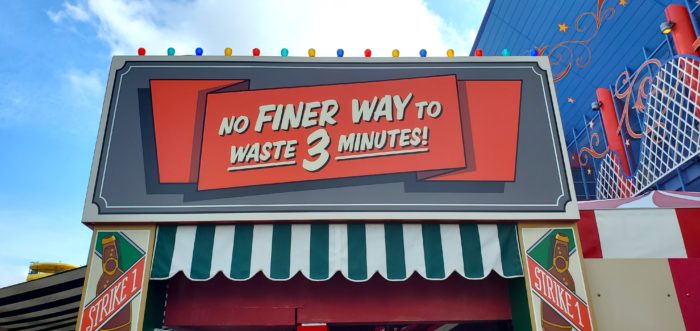 # 3 – Family Friendly
What makes skill games so attractive at carnivals and fairs across the country is that they allow multiple generations of family members to "compete" with each other (along with the ability to win actual prizes). When I watch the kiddos at home play games like Fortnite or Minecraft, it's challenging to engage with them on the level that they have with the games. Similarly, the games I enjoy, like Call of Duty, Red Dead Redemption, or The Last of Us, aren't appropriate for them. When we are all playing games in Springfield, everyone gets to have a blast. It's the fun of theme park family game attractions like Toy Story Midway Mania or MIB: Alien Attack, but with something extra.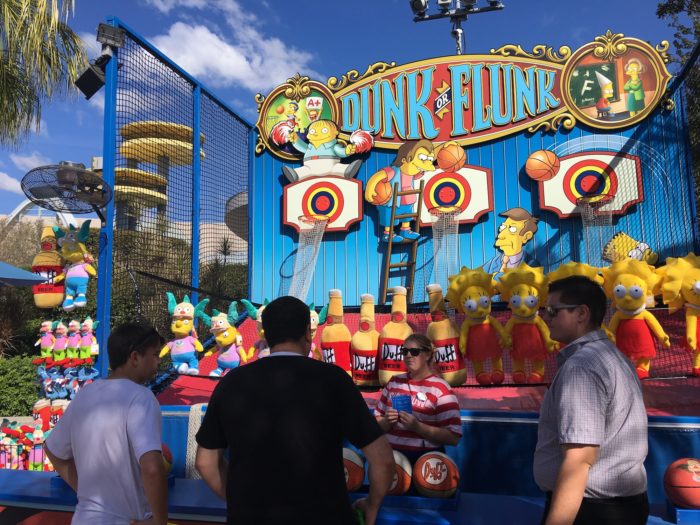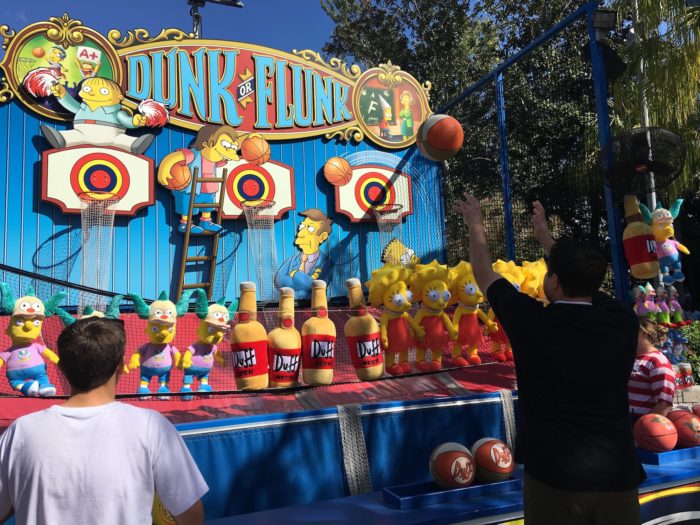 Win or lose, it's fun just playing the game and experiencing them together.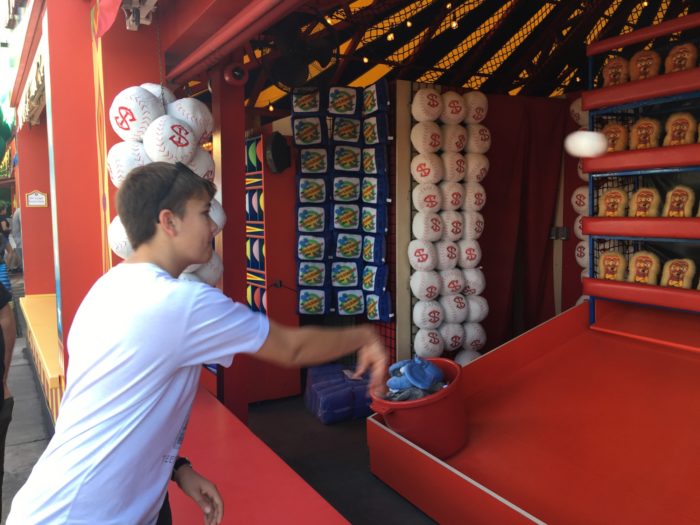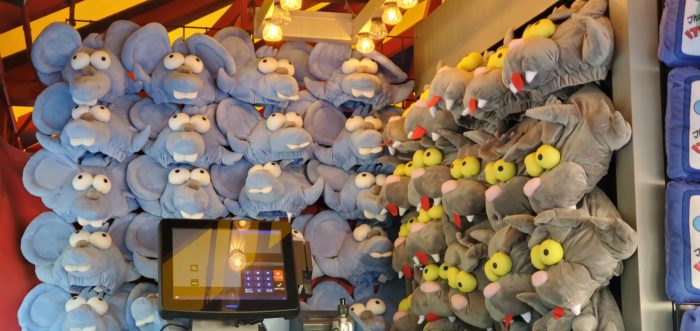 (But it's better if you do win…)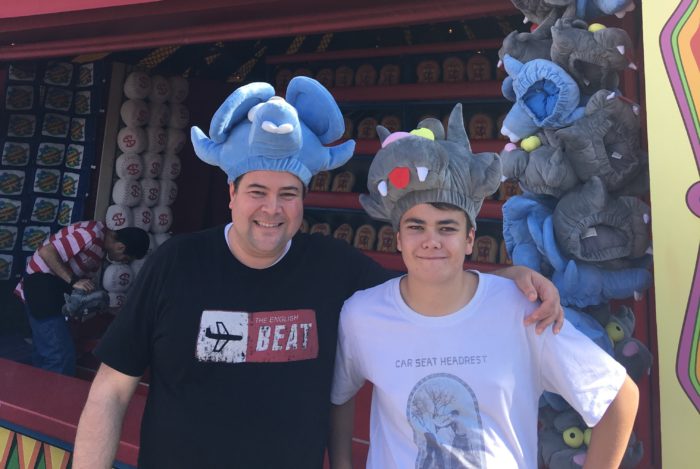 # 2 – Game Play Card
For fans of skill games at Universal, one pro tip is to buy the Game Play card. A regular skill game costs $6 per play. The Game Play card offers 5 games for $25, saving you $1 per game. Annual Passholders get an extra game free, making it a total of 6 games for $25. There are even bigger discounts for larger game purchases, and those also come with a complimentary gift.
Once purchased, the Game Play cards can be used at any of the skill game areas at the Universal Orlando Resort.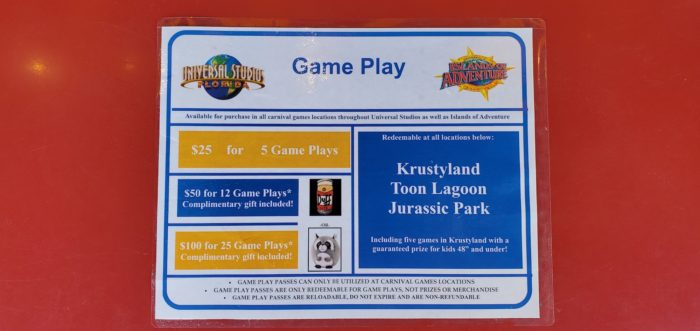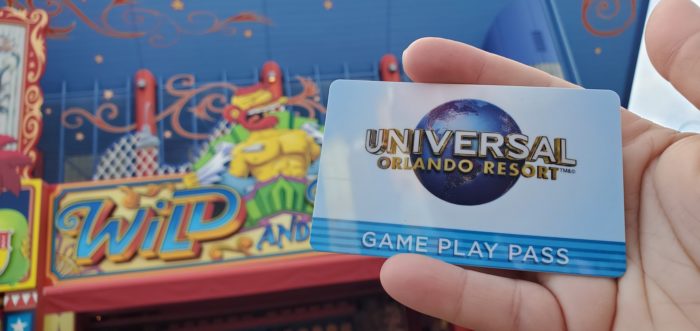 # 1 – Prizes You Actually Want (and can't buy in any gift shop…)
Readers of this fine blog series should know by know how much I love theme park merchandise. We've done several articles on our favorite items from the parks, the onsite hotels, and even some featuring theme park merchandise that doesn't even exist (but totally should!). Springfield USA already has some amazing  items in the Kwik-E-Mart gift shop, but the skill games take it up a notch offering some must-have items for fans of The Simpsons. Years ago, I won one of my all time favorite pieces of theme park merchandise: this Spider-Pig plush. This is something that I would have bought in the real world if any store was selling it, but the only way I could get one was to win it!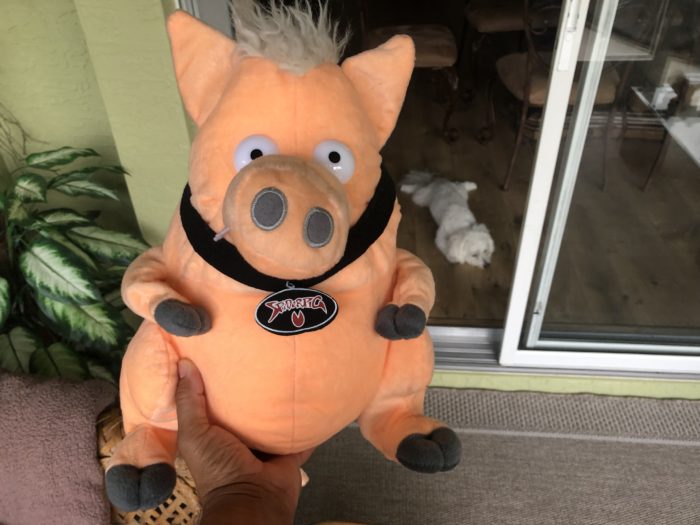 Almost all the games in Springfield feature prizes directly related to the game itself, including this Santa's Little Helper plush we won.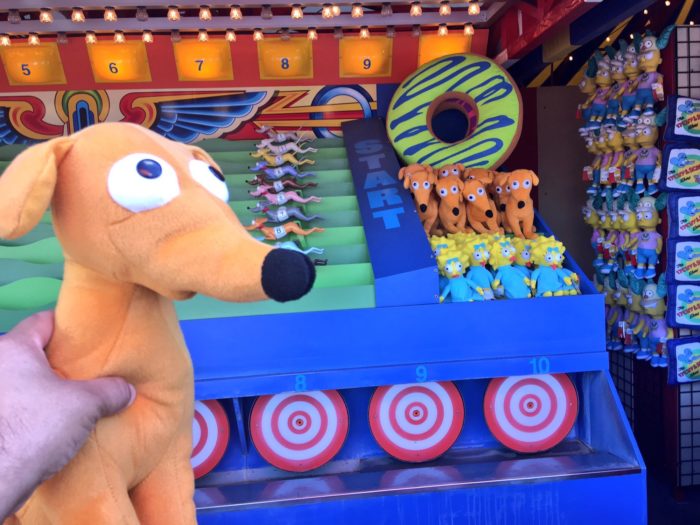 Santa's Little Helper pillow plush.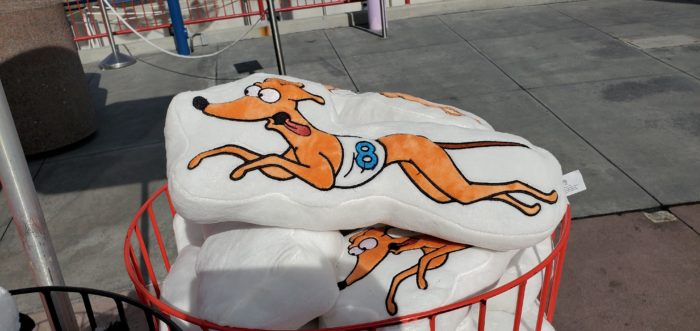 The three eyed fish, from one of the most amazing episodes of The Simpsons ever.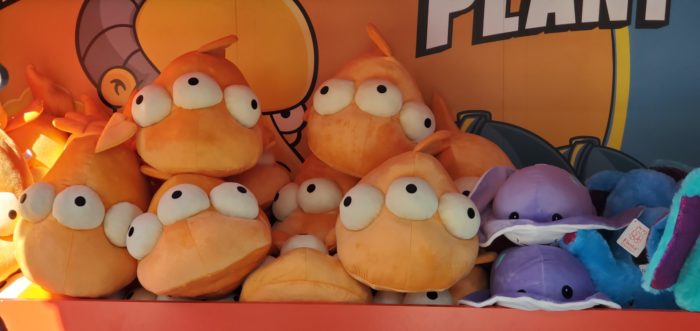 Large Groundskeeper Willie plush.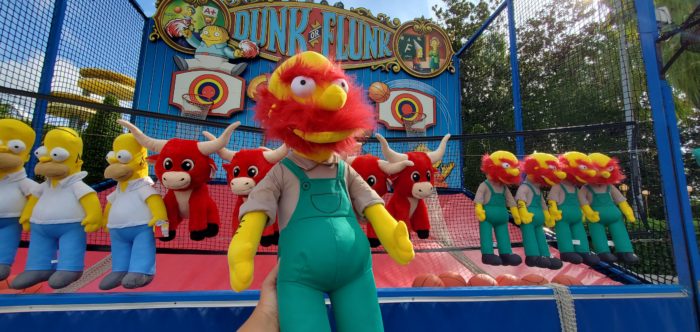 PRO TIP for merchandise nuts like me, all plush is for sale. Credit cards are accepted. Here's an example of some of the pricing: Fuzzy Orange Willie (like the one you can knock down in Wild And Willie game we featured earlier) is $17 + tax. The large Willie plush above is $45. Big 3 eyed fish plush $30. Racing Santa's helper dog $13. If there is a "must have" item for collection, first you should attempt to win it, but feel secure that at least you're not going to have to sink $100 into games to get the prize you want.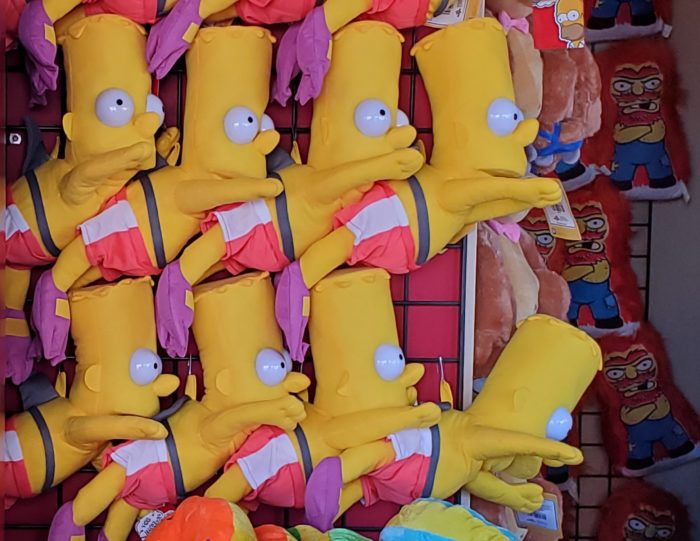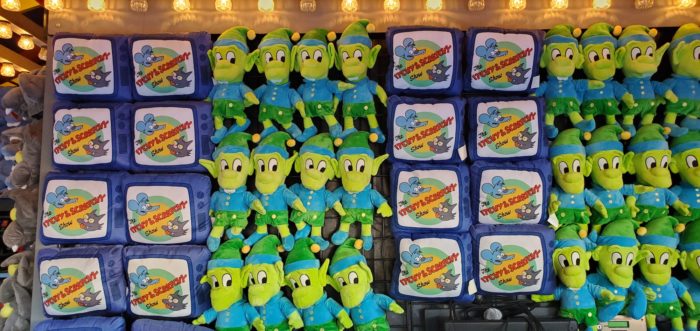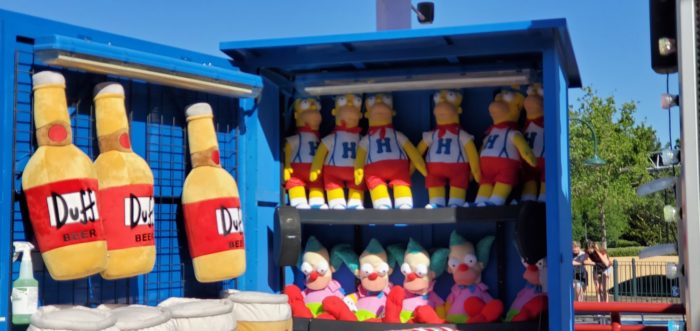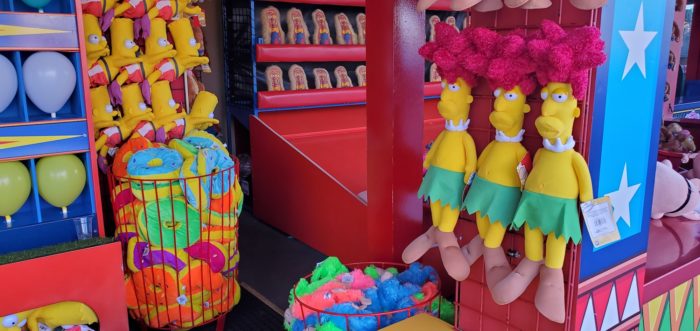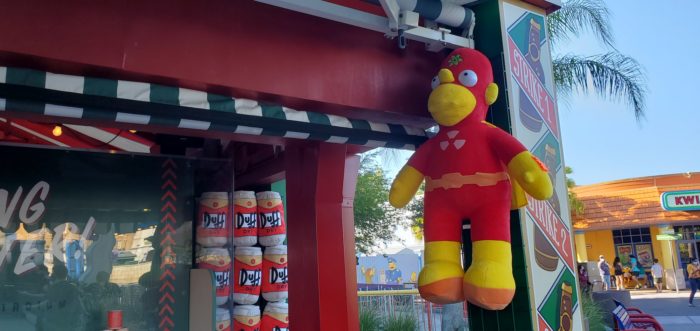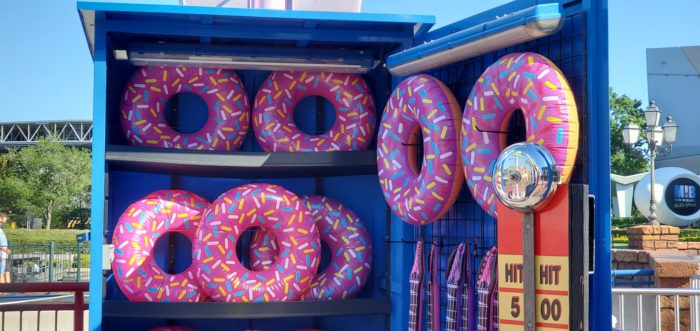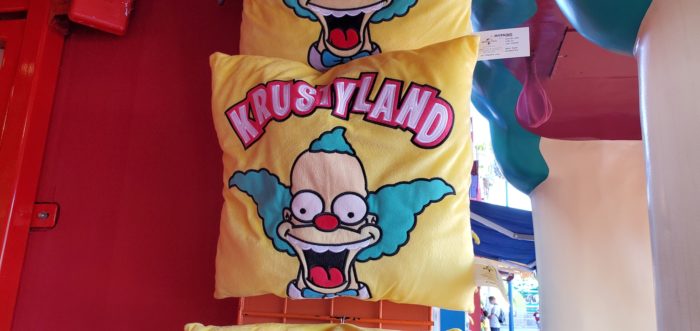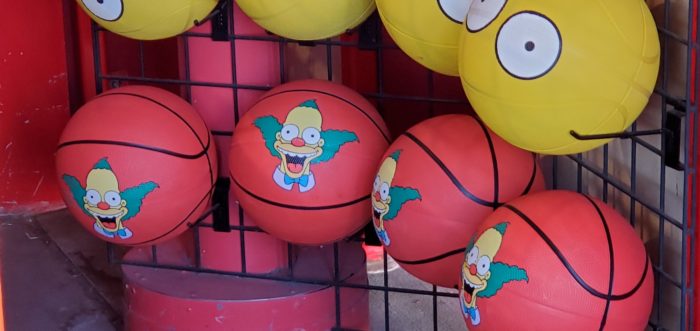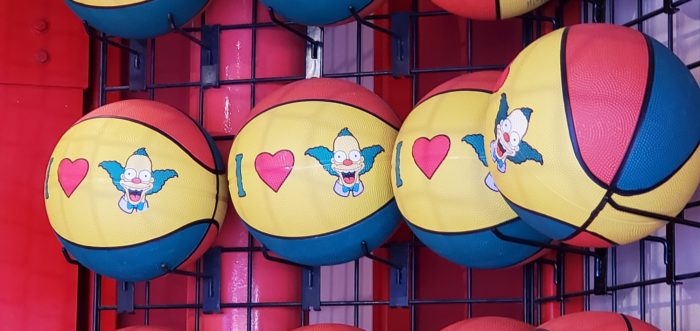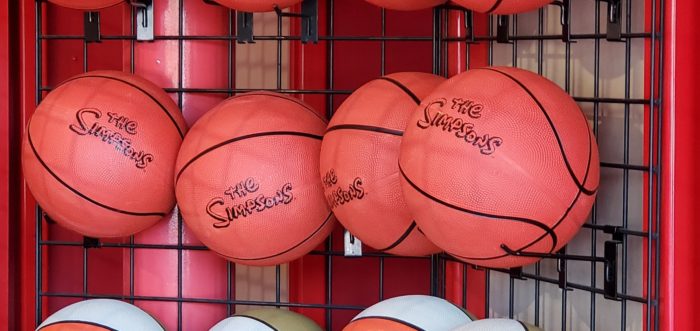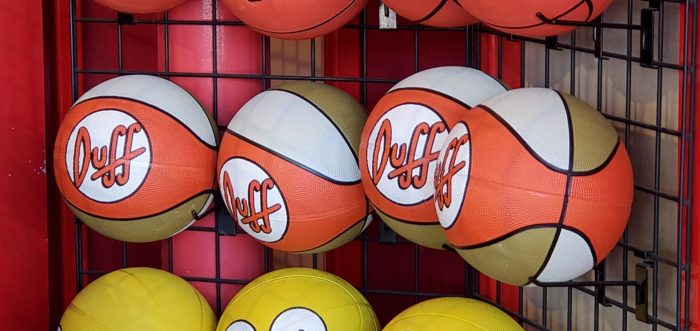 So there you have it: The SATURDAY SIX Presents: Theme Park Hills To Die On – SKILL GAMES in Springfield USA! See you next weekend for the latest installment of the SATURDAY SIX, where we'll look at something fun from the world of Disney and Universal. If you enjoyed yourself, be sure to check out The Magic, The Memories, and Merch! articles covering the latest from the Disney Outlet Stores. You can also follow Your Humble Author on Twitter (@derekburgan).
If you enjoyed this article, you will surely like the following: 
Six Times THE SIMPSONS Totally Nailed Being a Theme Park Fan
Six MORE Times THE SIMPSONS Poked Fun at Theme Parks
SATURDAY SIX Presents: The Disney Signage Hall of Shame
SATURDAY SIX Presents: The Disney Food Hall of Shame
The SATURDAY SIX looks at the Do's and Don'ts of Vacation Planning (Featuring David & Derek)
Special Thanks to The Elite Brandon Glover, the maven of merchandise Hedgehog's Corner, the bio-est of all reconstructs @bioreconstruct, Captain Cruiseline Scott Sanders of the world famous Disney Cruise Line Blog, my personal protege Hunter "Elvey" Underwood, the SAT SIX Fun Squad of Parkscope Joe and "the Dadalorian" Nick, hot shot Michael Carelli, charter member of the Universal Four @Nitro230, and Hermione Granger's tutor Megan Stump for their invaluable assistance with this article. The SAT SIX is inspired each week by goofballs Aengus Mackenzie and LitemAndHyde and you Potterheads will  enjoy Meg's other blog work over at the Central Florida Slug Club.