TouringPlans Travel Beat 11-11-2023
At Travel Beat we have all the "other" news from the last week or so—the stuff that wasn't big enough to stop the presses for. What did the newsroom bring us this week? (Sneak peek: it was kinda quiet.) Bullets are just ahead if you're in a hurry, and more details follow below. Don't forget to check out the Headline News Recap, in case there was something you missed!
Updates to Pin Trading Guidelines at Disneyland
Epic Universe Hotel News
Fantasmic Returning at Disneyland
Parks News from Disney's Earnings Call
Earl of Sandwich Saga Continues
World of Color Refurbishment in Early 2024
Marvels Characters Meeting at Avengers Campus
Holiday Photo Report from Disney World
Headline News Recap
If anything you read below tickles your feet, feel free to reach out to our friends at TouringPlans Travel for a free quote.
Updates to Pin Trading Guidelines at Disneyland
The Disneyland Resort updated its pin trading guidelines last week. Notable changes include:
"Scrappers" (unofficial pins) are no longer allowed for trading
Benches may not be used for pin displays or trading
Outside of pins worn on a lanyard, displays set up for trading are only permitted near Westward Ho Trading Company in Disneyland Park.
The full etiquette guide can be found on Disneyland's website.
Epic Universe Hotel News
Epic Universe at Universal Orlando is scheduled to open in the summer of 2025, and this week we saw concept art for the pair of resorts that are being built alongside it. The new resorts are a pair of towers named Stella Nova and Terra Luna, and will be wrapped in reflective colorful tiles.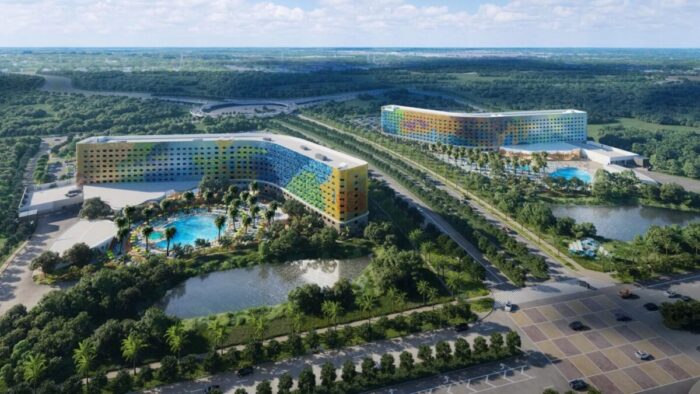 The concept art was briefly available on Loews Hotels' website for the Stella Nova resort, with a scheduled opening date in January 2025. The Terra Nova website was never active, and the listing for Stella Nova is no longer available. While it seems clear that the listing was never supposed to be up, there's no reason to believe the concept art is inaccurate.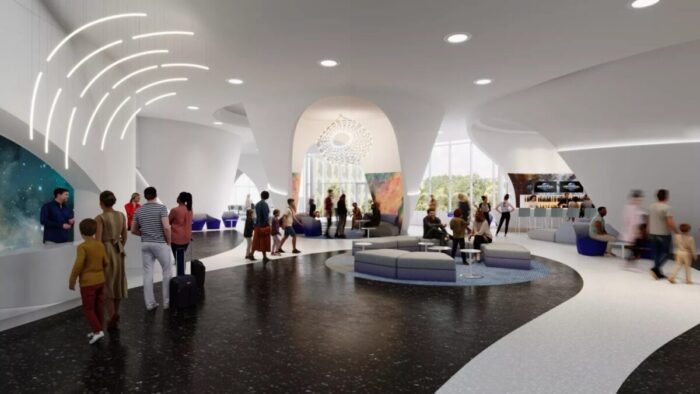 Fantasmic Returning at Disneyland
Fantasmic will once again light the sky at Disneyland on May 24, 2024. The show has been shuttered since the fire-breathing dragon burned down in April, 2023. When it reopens, the dragon will no be in the cast, but Disney has previously announced that the show will include new special effects and a new showdown between Sorcerer Mickey and Maleficent.
Parks News From Disney's Earnings Call
At Wednesday's earnings call, Bob Iger spoke about "Turbocharging growth in the Experiences segment" as one of four key building opportunities. (The Experiences segment includes the parks and Disney Cruise Line.) Exciting news! But maybe we want to exercise a little scrooge-ly skepticism; Disney also released the timeline for the debut of upcoming experiences.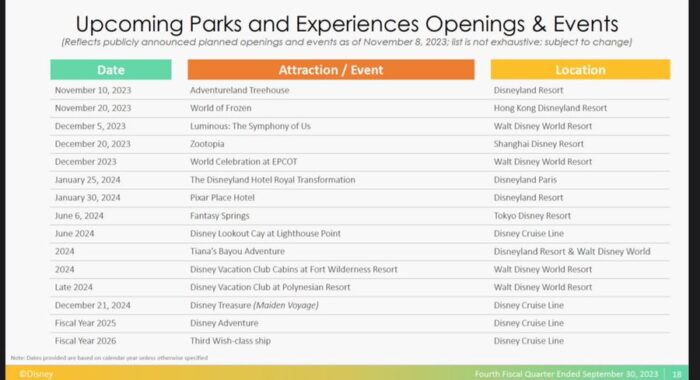 There were a lot of exciting announcements earlier this year at Destination D23, but aside from the ones that were already in the works, none of them appear on that slide. Astute commenters elsewhere have noted that "turbocharging" implies some kind of fast take-off and it's kind of hard to see a whirlwind of new activity here. And indeed, later in the call Kevin Lansberry (Disney's interim CFO) indicated that planned investments to "turbocharge" the Experiences segment will take place over 10 years and will "ramp up" towards the "back half of that 10-year period".
Earl of Sandwich Saga Continues
Earl of Sandwich has long been a favorite of visitors to the Disney parks on both coasts. The Disney World location is alive and well in Disney Springs, but the Disneyland location in Downtown Disney is currently scheduled to close and make way for a new eatery. But wait! What's this? Disneyland has now announced that the Earl will have a pop-up location on the West Side of Downtown Disney beginning this winter. The pop-up location will have a limited menu of favorites for guests to enjoy.
World of Color Refurbishment in Early 2024
The World of Color "stage" at Disney California Adventure is currently running the holiday show: World of Color – Season of Light. When that wraps in early January, the show will close for refurbishment from January 8 through February 29, 2024 before reopening with World of Color – ONE.
Marvels Characters Meeting at Avengers Campus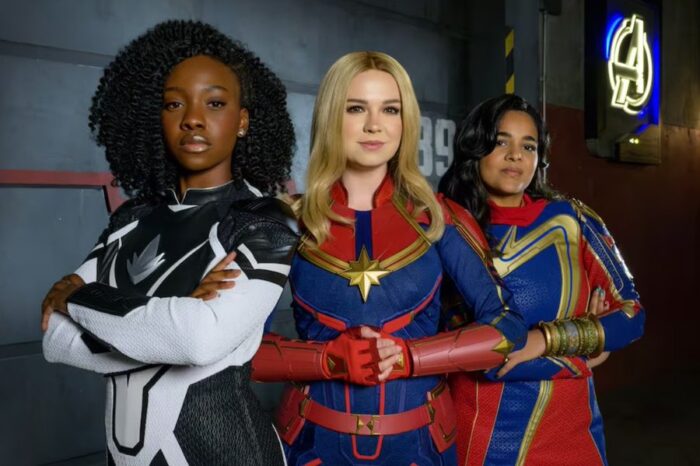 As of  November 10 (that's the release date of the Marvels movie, dontcha know), Carol Danvers, Kamala Khan and Captain Monica Rambeau are making appearances in Avengers Campus at Disney California Adventure Park. An end date for these appearances hasn't been announced, but they are "for a limited time".
Holiday Photo Report from Disney World
It was a slow news week this week, and that means we have time for a few great pictures our parks reporters took this week. Enjoy!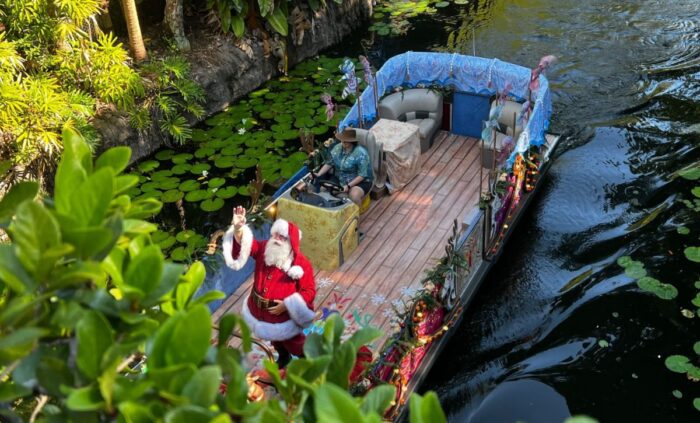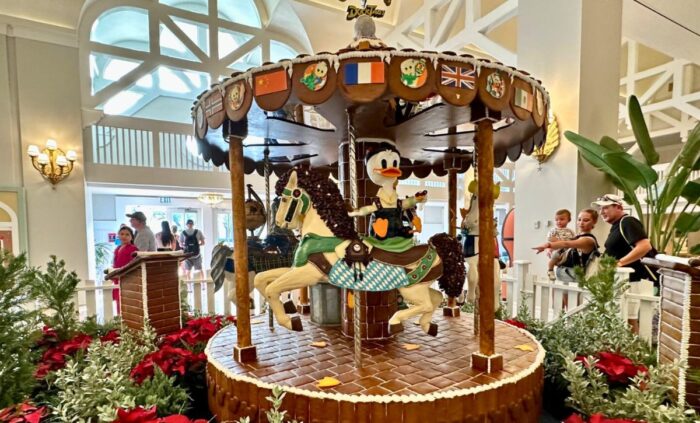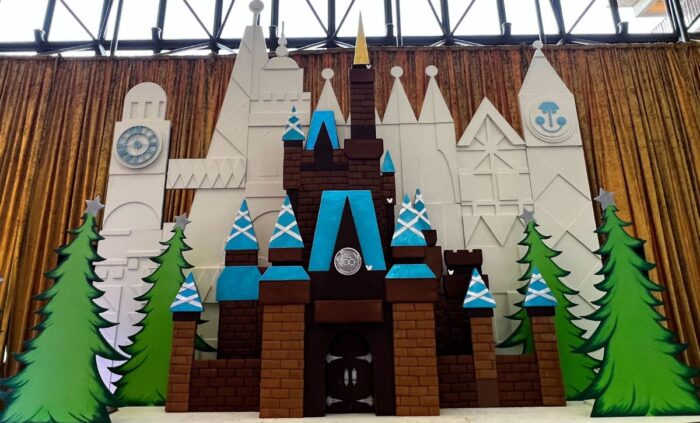 Headline News Recap
EPCOT's Festival of the Holidays is coming up fast, and menus for the holiday kitchens were announced this week. 2023 EPCOT Festival of the Holidays Menus. Have you been? Which of your favorite items are coming back?
Adventureland Treehouse reopened at Disneyland this week, and Guy was there to get pictures. PHOTOS: We Explore Disneyland's New Adventureland Treehouse.
That's it for this week's Travel Beat. What news are you most excited about? Let us know in the comments!