Why Wilderness Lodge is the Only Deluxe Resort For Me
When planning a Disney World Vacation there are a number of decisions to make ranging from which FastPass+ reservations to book, what ticket option is best for you and your group, and even how to get there. But one of the most important, if you're staying on property, is which Walt Disney World Resort to choose as your home away from home during your stay!
Now as you may have guessed, the size of your budget will help with the decision-making process. This is why Disney has conveniently grouped the Disney Resorts into three different categories based on price with Deluxe Resorts being the most expensive, Value Resorts being the least, and Moderate Resorts falling somewhere in the middle. I've covered my Why Port Orleans Riverside is the Only Moderate Resort for Me in the past for when I have to keep to a budget; but for today's post, I'm totally tossing the budget out the window and splurging with Why Wilderness Lodge is the Only Deluxe Resort for Me!
But first, a little more info about the Disney World Deluxes!
The Disney World Deluxe Resorts offer the most benefits and the best theming and consist of Animal Kingdom Lodge, the Yacht and Beach Club, the Boardwalk Inn, the Contemporary Resort, the Grand Floridian Resort and Spa, the Polynesian Village, and Wilderness Lodge. All of the Deluxe Resorts now offer Disney Vacation Club Villas, where non-Disney Vacation Club guests can also stay if there's availability. Disney's Saratoga Springs Resort and Spa and Disney's Old Key West Resort are Deluxe Villa Resorts only; but again, non-members can book stays here too.
So with all of these resort options, how could I possibly choose? Believe me, it was difficult and my choice can vary depending on when and why I'm visiting; but if I had to just one Deluxe Resort, it would have to be Disney's Wilderness Lodge Resort!
Here's why…
Lobby
Of all the Disney World Resort lobbies, Wilderness Lodge's lobby is my absolute favorite. I know the Grand Floridian's lobby is breathtaking and Animal Kingdom Lodge's Jambo House lobby is truly something to behold, but the lobby of Wilderness Lodge is the one where I like to spend the most time. The majesty and ambiance of the place wows me each time I visit, and l love the perfect balance of comfort and grandeur so I'm impressed but still feel right at home. I also love the little sitting areas and decks hidden throughout the upper floors and gorgeous walkway from the lobby down towards the Roaring Fork.
Two Vacations in One
Wilderness Lodge's theme is that of America's National Parks and the Great Northwest; and when you visit this resort, you truly do feel as if you're there and not in Central Florida at all! Now while I love Florida, I also love that a stay at Wilderness Lodge grants me two different vacation experiences in one and makes me feel like I'm getting more bang for my buck. For instance, when I'm at the parks and water parks, I get the Florida sunshine; but when I return to my resort, I get the coziness of a mountain lodge.
Value
One of the most influential reasons for why the Wilderness Lodge Resort is the only Deluxe Resort for me is its price tag. Compared to the other Deluxe Resorts, Wilderness Lodge is often considerably cheaper. Why? Well, there could be a few reasons for this, such as the fact that Wilderness Lodge is the only Magic Kingdom Resort that doesn't offer Monorail access and while the resort does sit on Bay Lake, it doesn't offer a clear view of the Magic Kingdom. Also, Wilderness Lodge rooms are smaller on average than other Deluxe rooms. While these facts may sound like downsides, they have never been a problem during my stay and the rest of the resort more than makes up for it in my experience. Also, for those concerned about the smaller rooms, Wilderness Lodge offers a number of rooms with bunk beds. In fact, Animal Kingdom Lodge and Wilderness Lodge are the only Deluxe Resorts that currently do. A room with a bunk bed can be a space saver, plus a ton of fun for the kids!
Location
Disney's Wilderness Lodge, along with the Polynesian Village, Grand Floridian Resort, and the Contemporary Resort, is only a short boat ride from the Magic Kingdom. The other three resorts do have an advantage in that they have Monorail access while Wilderness Lodge does not; however, being so close to the Magic Kingdom is a huge perk regardless of how you get there.
Also, Wilderness Lodge is practically situated next to Disney's Fort Wilderness Resort and Campground, giving Wilderness Lodge guests close proximity to Fort Wilderness' amenities and activities. I especially like the wooded trail and bike path between the resorts. It's only .75 of a mile and maintains the illusion that you're in the woods. If you're planning to use the path for running or jogging, you will especially appreciate the fact that it's mostly shaded and not in clear view of the Florida sun! I personally appreciate being near not just Fort Wilderness, but the other Magic Kingdom Resorts to take advantage of their dining and shopping. I could easily spend a day just hopping from one Magic Kingdom Resort to the other to hang out and explore. They are worlds unto themselves and Walt Disney World must-sees for sure.
Dining
Regardless of where I stay at Walt Disney World, I always end up eating at Wilderness Lodge at one point during my trip. While some argue that it's a little small, the Roaring Fork is one of my favorite resort food courts. I like how it's sort of tucked into the rockwork and its menu always has something for everyone in my group. Most importantly, the Roaring Fork is home to one of my favorite breakfast dishes on property: the Bananas Foster Mickey Waffles. They're so good that I have been known to make an early trek to the resort, just for the waffles. For fellow Mickey Waffle connoisseurs, the Roaring Fork has other Mickey Waffle platters too, including one for chocoholics! Wilderness Lodge is home to a famous restaurant with a rowdy, Wild West theme: Whispering Canyon Café. But trust me, the name of the restaurant is totally misleading. Whispering Canyon Café offers hearty, home-cooked fare for all three meals and amusing antics courtesy of your hilarious waiters and waitresses. It's not just good home-cooking, it's an experience!
Wilderness Lodge's signature restaurant, Artist Point, offers a more refined dining experience with a Pacific Northwest theme and beautiful views of the resort grounds. Artist Point serves up unique, although perfectly themed, items like Buffalo, Salmon, Portobello Soup, and my personal favorites, house-made donuts with dipping sauces and Blackberry Ice Cream! But of all the places to eat at Wilderness Lodge, my favorite is the Territory Lounge. First of all, I love its cozy, Americana décor, particularly the ceiling which is covered with a map. But really, for me, Territory Lounge is all about the food. Several items on Artist Point's menu are available here, which I love because I can enjoy them with the Artist Point bill and reservation. I'm also a huge fan of Territory Lounge's fries with roasted garlic aioli, the fondue, and popcorn with mushroom truffle.
Unique Extras
Wilderness Lodge is chock full of awesome extras and details and activities. The most obvious, like the gorgeous Grand Canyon fireplace and the bubbling spring, are found in the lobby; but just outside, guests can check out the geyser near the lake which shoots water up into the air every hour just like Old Faithful at Yellowstone. Wilderness Lodge also offers a free tour of the resort to learn about the historical artifacts that are on display; and, if guests ask in advance, they may get the opportunity to be the flag family of the day meaning they get to help raise the flag above the resort in the morning!
There's also Wilderness Lodge's Villas, and its lobby is absolutely worth experiencing and all guests are free to do so, even if they are not Disney Vacation Club Members or staying in the villas themselves. The lobby consists of a gorgeous rotunda with a large fireplace, but a big favorite is the Carolwood Pacific Room which showcases Walt's passion for trains and has some board games for the family to play.
Now let's talk about the pool; the main pool at Wilderness Lodge is the Silver Creek Springs Pool and its setting and view can't be beat. What I especially like, apart from the fun rock water slide, is that the water from the lobby's bubbling spring flows under the lobby windows and dumps into the pool via waterfall!
Seasonal Setting
I love visiting Walt Disney World around the holidays. But I must confess, as I am accustomed to traditional, snowy Christmases, it can be hard to get into the holiday spirit in Central Florida! But that isn't a problem when I stay at Disney's Wilderness Lodge. Like I've already explained, this resort fools you into feeling as if you're in the mountains and the rustic, log architecture, abundance of fireplaces, and the resort's famous towering tree creates the perfect setting for a homey, comfy Christmas.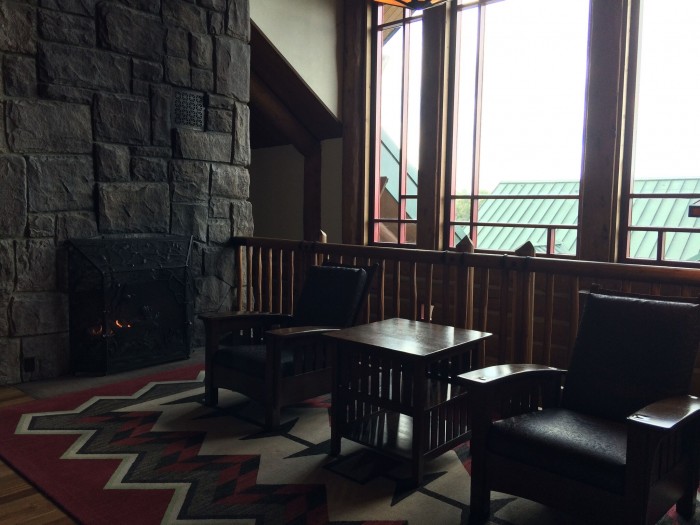 Sturdy Branches
Sturdy Branches is Wilderness Lodge's Health Club which just happens to offer massages for a cheaper rate than what you find at the Grand Floridian or Saratoga Springs' spas. Currently, a 50 minute Swedish Massage at Sturdy Branches is $115 while an 80 minute is $175. That's a bit cheaper than the Grand Floridian and Saratoga Springs' Swedish Massage rates which run $135 for 50 minutes and $195 for 80 minutes. Granted, Sturdy Branches doesn't offer as many options as the other resort spas, but any savings at Disney is worth taking advantage of and I love the tranquility and relaxed atmosphere of Wilderness Lodge's Sturdy Branches. It's also a little more intimate and less intimidating for guests who have never been to a spa before.
While every Disney World Resort offers its own unique theme and perks, Disney's Wilderness Lodge Resort meets all of the requirements on my Disney Resort check-list better than the other Deluxe Resorts. This is why Wilderness Lodge is the only Deluxe Resort for me! But now I want to know if there are any other Wilderness Lodge fans like me out there? If so, what is your favorite thing about this resort? Let me know!