10 Great Rides at Disneyland You Won't Find at Disney World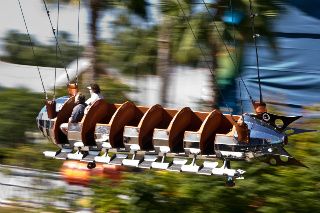 As I mentioned in a previous blog post, some of the best rides and shows at Disneyland aren't at Walt Disney World.  So let's start with the rides!  Here are ten rides that you won't want to miss at Disneyland.
1.  Number one has to be Indiana Jones Adventure.  It has to be!  Indiana Jones is an amazing ride.  You start off in the beautifully detailed queue.  It's easy to forget you are in Disneyland at all once you go inside that queue.  You are suddenly transported to Indy's world.  Once the ride itself begins, it's a feast for the eyes and other senses.  I won't give anything away, but this ride is not to be missed.  It's one of the best there is.  DINOSAUR uses the same technology at Disney World, but doesn't "pull it off" nearly as well.
2.  California Screamin'.  Some people think of this as an outdoor Rock 'n' Roller Coaster.  There are some definite similarities like the launch that literally takes your breath away, but California Screamin' is no knock-off roller coaster.  It's one of the smoothest roller coasters I've been on, and it's a long ride at over 2 minutes.  It's also one of the few roller coasters I've ridden where I feel it's worth waiting for the front row.
3.  The Matterhorn Bobsleds.  The Matterhorn is a Disneyland classic and one of the iconic skyline views in the park.  It opened in 1959 and was the first steel coaster in the world.  It's an old-fashioned, herky-jerky roller coaster, but it's great fun.  Zipping inside and outside of the mountain with Yeti-like creatures (that work) spooking you throughout.   FYI – the left side is more thrilling at 2 minutes, while the right side runs at a more leisurely pace and offers a 2.5-minute ride.  Until a few years ago, Mickey and his friends climbed the Matterhorn during a regular show.  It was crazy cool to see Mickey in climbing gear scaling the side of a mountain.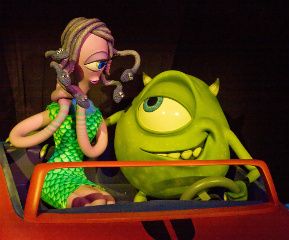 4.  Monsters, Inc: Mike and Sully to the Rescue.  Monsters Inc is not a thrill ride by any stretch.  It's a dark ride.  And it's a great one.  The special effects are wonderful.  At one point you travel through what is likely a relatively small room and yet it feels like you are in a room with hundreds of flying doors.  Don't miss Roz at the end!
5.  Finding Nemo Submarine Voyage.  Finding Nemo is Disneyland's modern adaptation of the old submarine ride that was such a classic.  In the ride, you are transported through a quick version of the Finding Nemo story.  The Unofficial Guide to Disneyland points out that you do not have to be a Nemo fan to enjoy the scale and effects.  It can be a long wait, but it's a visual thrill.
6.  Roger Rabbit's Car Toon Spin.  Tucked away in Toontown, Roger Rabbit's is a spinning dark ride.  The car spins on its own, and you can make it spin even more.  While a little disjointed at times, it's still a fun place to cool off and take in the sights.  Well, whatever sights you can take in between spins.
7.  Davey Crockett's Explorer Canoes and the Sailing Ship Columbia.  Disneyland has several great ways of traveling the Rivers of America.  One is the canoes.  While not exactly a thrilling ride, it's a fun diversion.  It does take some work!  The riders actually do paddle the canoes.  A fun canoe guide can make this a hilarious trip around the river.  Another way around is the majestic Sailing Ship Columbia.  It's a beautiful ship with two decks to explore.
8.  Alice In Wonderland.  Alice in Wonderland is nothing spectacular, but it's a very cute diversion.  Your caterpillar buggy takes you through the story of Alice and Wonderland.  There's no Johnny Depp in this version, but there are some nice surprises.  At one point you pop outside on the second story!
9.  Storybook Land Canal Boats and Casey Jr. Circus Train.  I put these in the same category because they take you to the same sights.  They are very different rides.  On one you are floating in a boat through Monstro's open mouth, on the other you are riding in a small circus train.  Both take you through a very detailed, miniaturized version of some movie favorites.  Even the plants are miniaturized!  For many Disneyland lovers, these rides are some of the most magical in the park.
10.  Mr. Toad's Wild Ride.  Who can forget Mr. Toad's Wild Ride?  Long since gone at Disney World, this classic can still be found at Disneyland.  It's just good mindless fun.  Not the best special effects, but it's been there since the park's beginning.  That alone explains its popularity.
And there's more!  A Bug's Land rides, Silly Symphony Swings, Mickey's Fun Wheel, Goofy's Sky School, the Golden Zephyr, and many more!  When Cars Land opens, I've heard Radiator Springs Racers alone may be worth the admission price.
So how about you?  What are your favorite rides you can only find at Disneyland?